Marcel Fortney managed the Yoshimura race team in the early '80's. Editor Gianatsis developed the Fox Twin Clicker Single Shox on Wes Cooley's GSXR750 bike, and designed the Fox Track Paw Golves which Wes is wearing here.
Marcell Fortney Dies
Unexpectedly at Age 49
Jan 15th - Well known motorcycle industry insider. all around good guy and one of our closest friends Marcel Fortney, 49, passed away suddenly from a fatal heart attack this week at his ranch in Templeton, CA, near Paso Robles. Marcel served as general manager at Yoshimura R&D of America from the late 1970s to the early1980s under Pops Yoshimura, helping Yoshimura to garner their first AMA Superbike titles and helping turn them into the most dominate team in AMA roadracing.
Marcel worked together with FastDates.com publisher Jim Gianatsis, then the marketing director at Moto-X Fox, who sponsored the race team and prepared the team's race bike suspensions. Team rider Wes Cooley won the AMA Superbike Championship in 2001 on a Suzuki Katana 1000 with Fox Shox suspension and sponsorship. Here Wes races the new single shock GS750 at Riverside in 1984. See Marcel's biography and scheduled Memorial Service at right.
---
Domenicali, Capirossi, Stoner, Minoli, Guareschi, Suppo with the new Ducati GP07.
Business Expense or Subversive Ski Vacation?
Ducati Desmosedici GP7 Unveiled at Madanna Di CampiIglo

Wrooom 2007, Madonna di Campiglio (Italy), 17th January - The Dolomite mountain scenery of Madonna di Campiglio formed the spectacular backdrop for the official launch of the new Ducati Desmosedici GP7 today. The wraps were pulled off the all-new Italian bike by Loris Capirossi and Casey Stoner, the two Ducati Marlboro Team factory riders who will spearhead the Italian manufacturer's attack in the first year of the new 800cc category.
It took place at Wroom 2007, a blantant and shamless atempt by Ducati employess to write off their annual winter skiing vacation as a business expense with the traditional ski meeting held on the snows of Madonna di Campiglio and reserved for the international press which offers the chance for media and journalists from all over the world to meet Ducati Marlboro Team riders and management (We're still waiting for our prepaid ticket -Ed.).
Following yesterday's first conference with Federico Minoli (Chairman and Managing Director of Ducati Motor Holding) and Casey Stoner, the Australian rider who has joined the team this year, today it was the turn of Claudio Domenicali (Ducati Corse Managing Director and Ducati Motor Holding Director General of Product) and Loris Capirossi to meet the press immediately after the presentation of the Desmosedici GP7.
The Desmosedici GP7 is characterized by having a new and exclusive colour scheme called "Red Racing Chrome", produced with a special paint that is destined to highlight the lines and the design of the new machine as well as guaranteeing an extremely technological and innovative chrome effect.
Naturally the new livery is not the only innovation surrounding the 2007 MotoGP bike.
The 800cc engine is also completely new. Smaller and narrower than the 990 unit, the new engine is characterized by having a conventional firing-order that benefits the maximum power and helps with the fuel consumption.The concept of the engine as a load-bearing structure, with a shorter chassis and the sub-frame mounted directly on the engine and no longer on the frame, has also been optimized, thus allowing a strengthening of the entire foot-peg area. Major attention has also been dedicated to a lightening and further refining of all components.
"I am proud to present the new Desmosedici GP7, a project that currently represents the peak of Ducati know-how" declared Claudio Domenicali during the press conference. "The bike features a mixture of technology and evolution and has already given us excellent results on the track in the first tests. In particular we are particularly proud of the opportunity that the project offers to transfer experience accumulated in racing to our road-going products.

I am really happy to be here today with Loris. We began this challenge together and, five years later, we are still here, ready to tackle a new season in MotoGP with a project that has grown, matured and improved over the years and which is destined to give us great satisfaction. I am just as pleased to welcome Casey: together with Loris they form a fantastic pairing.

All this would not be possible without the aid of our sponsors. A big thanks to all those who have given us their support for many years and a warm welcome to SanDisk, a world leader in the production of flash memory cars and portable multimedia accessories, who today have officially announced their partnership agreement with us."
"They tell me I'm a MotoGP dinosaur and for this reason I have decided to play on this description by changing my classic Capirex logo to Capi-T-rex" commented Loris Capirossi at the start of the press conference at Madonna di Campiglio. "This is my eighteenth year in the world championship but you can be sure of one thing: the feeling with the bike is the same as ever and I still really enjoy my racing, so now I am in form, fired-up and ready to give my everything again in this new season.

This is my fifth year with Ducati, which is also a major achievement; it's not the first time I have said it but once again I'd like to take the opportunity to underline that I have found a family in this company, something which makes me feel very proud and happy.

We are ready to face up to this new season in the best possible way, so far we have worked well with the new bike and its development. Filippo Preziosi and his team, together with Vitto, have been great as always. I can't wait to get back on the bike at Sepang to start preparations for the new season and obtain the result that I have been chasing for years and which I feel I have all the right cards to achieve."
The Ducati Marlboro Team will leave Madonna di Campiglio on Friday morning for Malaysia, where it will take part in the first tests of the 2007 season at Sepang from January 22-24.

Ten Kate Honda's new 2007 Hannspree TV sponsored CBR1000RR World Superbike • ScreenSaver

Superbike & Supersport World Championships
Superstock FIM Cup 2007 Provisional Calendar & Teams Announced
Rome Italy Jan 10th - The 2007 calendar of the Superbike and Supersport World Championships will count 14 rounds, of which one is still to be announced. Great Britain which normally pulls some 100,000 spectators for an SBK round will get three races this year at Donnington, Silverstone and Brands Hatch. You will note the TBA date is July 8th, previously the date set aside for a World Superbike round in America with a necessary 2 week travel margin before and after that date.
Discussions are currently underway with Indianapolis Motor Speedway in Indiana, and Barber Motorsports Park in Alabama to hold that round. We don't expect that open SBK date to be utilized until 2008 after the current 3-year MotoGP contract expires this year with Laguna Seca. Indianapolis Speedway may trying to pull the MotoGP away from Laguna Seca and is juggling the two Championship options. In that case SBK could return to Laguna Seca. Another possibility is if two MotoGP rounds come to America beginning in 2008 to take place at both Laguna and Indianapolis, then Barber may get the SBK American round by default. The current 2007 calendar is as follows:

Confirmed Riders and Teams

1
2
3
4
5
6
7
8
9
10
11
12
13
14
15
16
17
18
19
20
21
22
23
#
21
57
42
11
3
71
52
44
55
10
84
99
38

111
42

53
31
75
76
73
36
Name
Troy Bayliss
Lorenzo Lanzi
Noriyuki Haga
Troy Corser
Max Biaggi
Yukio Kagayama
James Toseland
Roberto Rolfo
Regis Lacini
Fonsi Nieto
Michel Fabrizio
Steve Martin
Shinichi Nakatomi
TBA
Ruben Xaus
Dean Ellison
TBA
Alessandro Polita
Karl Muggeridge
Joshua Brookes
Max Neukirchner
Christian Zaiser
Jiri Drazdak



AUS
ITA
JPN
AUS
ITA
JPN
GBR
ITA
FRA
FRA
ITA
AUS
JPN

ESP
GBR

ITA
AUA
AUS
GER
AUT
CZE

Bike
Ducati 999F07
Ducati 999F07
Yamaha YZF R1
Yamaha YZF R1
Suzuki GSXR1000 K7
Suzuki GSXR1000 K7
Honda CBR 1000RR
Honda CBR 1000RR
Kawasaki ZX10R
Kawasaki ZX10R
Honda CBR 1000RR


Honda CBR 1000RR




Yamaha YZF R1


Yamaha YZF R1
Ducati 999F06
Ducati 999RS
Ducati 999RS


Suzuki GSXR1000 K6




Honda CBR 1000RR




Honda CBR 1000RR


Suzuki GSXR1000 K6
MV Agusta


Yamaha YZF R1

Team
Ducati Xerox Team
Ducati Xerox Team
Yamaha Motor Italia
Yamaha Motor Italia
Team Alstare Suzuki Corona Extra
Team Alstare Suzuki Corona Extra
Ten Kate Hannspree Honda Team
Ten Kate Hannspree Honda Team
PSG-1 Kawasaki Corse
PSG-1 Kawasaki Corse
D.F.X. Treme
D.F.X. Treme
Yamaha Motor France - IPONE
Yamaha Motor France - IPONE
GMB Racing


Team Pedercini


Team Pedercini
Celani Team Suzuki Italia


Alto Evolution Honda


Alto Evolution Honda
Suzuki Germany
LBR Racing Team
Pro SBK CZ Republic
Superbike & Supersport World Championships Dates
Date / Country / Circuit / X- Superstock Class Included
February 24 *Qatar, Doha Losail
March 4 Australia, Phillip Island
April 1 Europe, Donington Park, GB X
April15 Spain, Valencia X
April 29 Netherlands, Pays-Bas, Assen X
May 13 Italy, Monza X
May 27 Great-Britain, Silverstone X
June 17San Marino, Misano X
July 8 TBA
July 22 Czech Republic Brno X
August 5 Great-Britain Brands Hatch X
September 9 Germany Eurospeedway Lausitz X
September 30 Italy, Vallelunga X
October 7 France, Magny-Cours X
*Saturday race
The European TV ban on cigarette advertising, just like in America, will see all the cigarette brand advertsing pull out of international motorsports this year. Last year 2006 (see below) Ten Kate Honda disguised their Winston cigarette sponsorship by changing the name to WinWin. Now Winston is gone entirely, replaced by Tiwanese TV flat screen manufacturer Hannspre (see new 2007 bike above).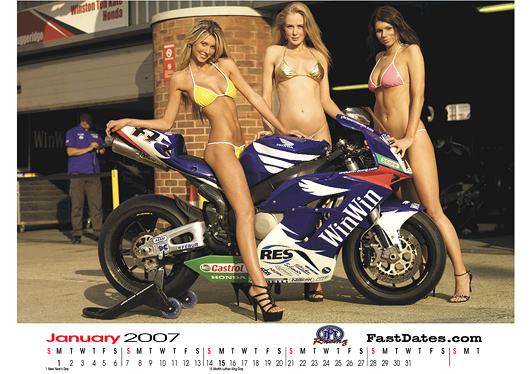 World Superbikes and Supermodels...
Start the year off right with a Fast Dates Screensaver!
---
Fast Dates Superbike Calendar girl Janelle Pierzina, Katharine McPhee win VH1's Big In '06 Viewer Awards

Jan 1st - On last month's Big in 06 Awards on VH1, one of those viewer;s choice awards ceremonies that tells the celebrities in advance that they won so they'll bother to show up, our own FastDates.com Calendar Kitten and official SBK Fast Dates Ducati Corse World Superbike model Janelle Pierzina was named the "Big Reality Star" of the year, and American Idol's Katharine McPhee was named the "It Girl of the Year", Paris Hilton got some award from Perez Hilton, and America's Got Talent judge David Hasselhoff won for biggest comeback.

Janelle served as the official SBK Fast Dates Team Ducati Corse grid girl for Ruben Zaus at the 2003 Laguna Seca World Superbike round together with other SBK Fast Dates Racebike PinUp Calendar Calendar Kittens Nicki Lane and Andra Cobb. She was featured in all the 2004 and 2005 FastDates.com Calendars before leaving behind modeling in Los Angels to move to Miami and soon after appeared in TV's hot reality program Big Brother 6.
Janelle defeated Flavor Flav, Chris Daughtry, and Mario Lopez for the reality star award. Of Janelle, comedian/commentator Arden Myrin said Janelle was nominated because "she won a lot of the challenges, she played the game really well. Oh, and she has huge breasts and blonde hair."
Accepting the award, Janelle said, "Oh, wow. Thank you guys. This award is so unexpected. I had no idea I would win this," she said, completely, utterly unsurprised. "I just want to thank my friends and family, and most importantly, the fans who voted for me to win this. Thanks, America! [giggle]"
To see more of our beautiful Janelle go to: Meet the Models • Collectors Corner • Members Corner
Janelle on the starting grid at Laguna Seca World Superbike with Ducati's Ruben Xaus.
---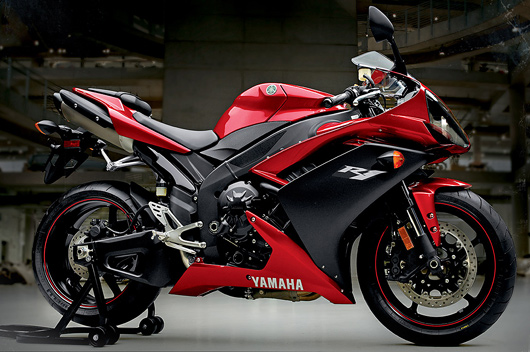 All New and Faster Ugly Betty Yamaha R1 for 2007
January 1st - In the never ending battle for top dog Superbike honors, Yamaha has introduced an all new generation and higher performing R1 model 1000cc class Superbike for 2007. On first look the immediate impression is that the bike in any of its three different color schemes is strikingly UGLY. It suffers from an overly clutterd and busy Batmobile like styling design, intensified with conflicting bolt-on components, and hideous paint schemes and color choices.
The styling is so hideous it gives you a headache just looking at it. Like the mismatched, winged and cut-out lower chin spoiler that doesn't match up to the front side panels. Or the black bolt-on rear muffler heat shields which could have been left off completely and the rear seat cowling extended back on in a smooth line for heat protection. Why couldn't Yamaha just have styled the new R1 like their MotoGP race winner and ditched this Penny Arcade nightmare in the trash bin? If Ducati had the ugliest Superbike in 2003-2006 with their outgoing 999, then Yamaha has picked up that fallen crown with the new 2007 R1.
If you can get past the looks, the new R1 bristles with major changes and design innovations. Key features in
the all-new, light, powerful YZF-R1 packed with trickle-down MotoGP trickery, include in the engine bay:
• All-new inline four-cylinder engine is the most powerful, tractable R1 power plant ever, thanks partially to the world's first electronic variable-length intake funnel system.
• Gone is the trademark Yamaha 5-valve head design which was first introduced 20 years ago as the ultimate performance design, replaced by a more conventional 4-valve head which fill the combustion chamber, hardly leaving room for the spark plug.
• The YZF-R1 uses the YCC-T fly-by-wire throttle system for flawless response under all conditions.
• Slipper-type back torque-limiting clutch greatly facilitates braking/downshifting from high speed.
And in the rolling chassis:
• An all-new Deltabox frame tuned for optimal flex carries the lay-down four-cylinder stressed-member style, for great handling and efficient aerodynamic penetration.
• A new truss-type swingarm is extremely strong and tuned for optimal traction and feedback.
* New dual 310mm front disc brakes with new 6-piston radial-mount calipers and Brembo radial-pump front master cylinder with adjustable lever deliver amazing braking power and feel.
• Fully adjustable KYB inverted telescopic front fork with 43mm tubes has been revalved to complement other chassis changes.
• Piggyback rear shock now offers both high- and low-speed compression adjustability, rebound damping and a new, twist-style spring preload adjuster.
• Light, five-spoke wheels enhance acceleration, deceleration, handling and suspension action.
We will have to wait and see how the new ugly duckling R1 stands up this season in the sales department against reigning AMA Superbike Champion Suzuki's new GSXR1000R and reigning SBK World Superbike Champion Ducati's exciting new 1098 Superbike. The fact that Yamaha USA is now back in AMA Superbike racing should help with marketing, plus Troy Corser's move to Yamaha in World Superbike, and of course there's favorite Valentino Rossi in MotoGP. But the talent competition will be fierce going in, and Yamaha has already conceded the swimsuit competition. More R1 details and Track Ride in News Bikes
MSRP: $11,599 (Team Yamaha Blue) Available from November 2006
$11,699 (Charcoal Silver) Available from November 2006
$11,699 (Candy Red) Available from November 2006
---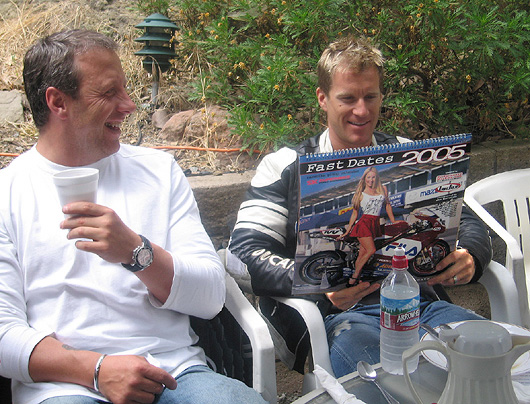 Above, Neil hooks up with Fast Dates on his 2004 World Championship winning Ducati.

Will Neil have to eat shit?
Fogarty and Hodgson to team in World Superbike with MV Agusta?

Jan 15th - The match made in Hell might just be coming a little closer to reality. Following the announcement a few weeks ago from Eraldo Ferracci that his former Championship winning team Fast by Ferracci team will be fielding a MV Agusta team in AMA Superbike this season as a prelude to going World Superbike racing for MV Agusta in 2008, Carl Fogarty has let it be know that he is also in negotiations with MV Agusta to enter World Superbike this year if the right deal can be struck.
The former WSB Champion turned team owner, Fogarty has been sitting oh his butt the last few years as he rode the Petronas Gravy Train with their underpowered 3 cylinder 900cc Superbike, and the team's big spending budget with minimal results has hardly endeared Carl to any potential new sponsors. Nor has Carl's harsh outspoken opinions of fellow riders like other British WSB champ Neil Hodgson, who replied last August when queried by the media if he'd ride for Carl "I rather eat my own feces than ride for Fogarty!"
When FastDates.com interviewed Ducati Corse Superbike Team Director Paolo Ciabatti at Brands Hatch WSB last August, Paolo told us he was expecting Neil Hodgson to be on the official Ducati Corse team or a Ducati factory supported Ducati satellite team in World Superbike for 2007. And Carl Fogarty was expecting that Ducati satellite team to be him. But in the following months it became apparent that Fogarty had no sponsors to support his proposed team, and Ducati Corse didn't have the budget to carry his team alone.
The real surprise, though, was not that Ducati resigned their new World Champion Troy Bayliss to head their team again for 2007 and 2008, but Hodgson wasn't given the 2nd spot alongside the Aussie. Instead it stayed with Lorenzo Lanzi who continually ran behind the leaders all year. Was it internal politics to keep an Italian on the team, or was their rider budget blown to keep Bayliss and Lanzi's now riding for purse money alone? Ciabatti is keeping tight lipped and we won't know the real story anytime soon.
This leaves poor Neil with no one to ride for in 2007 except Fogarty if he can put together a team with very little sponsor support. And Fogarty needs Hodgson as the only rider available that's capable of winning races in World Superbike. Unless, of course, you consider another rider let go by Ducati in MotoGP this past year, Sete Giberneau.
---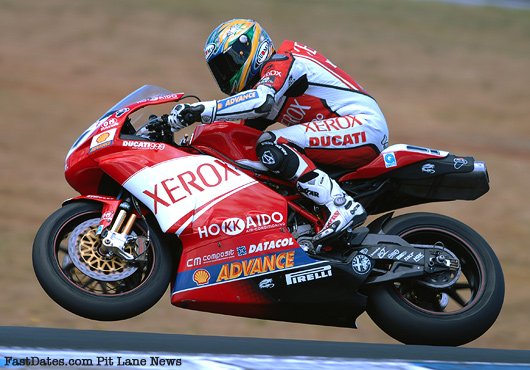 2007 SBK Corona Extra Superbike World Championship®
Troy Bayliss Unmatched in 3 Days
of World Superbike Winter Testing at Phillip Island

Phillip Island, Monday 15th January 2007 - Troy Bayliss (Ducati Xerox) continued his run of extreme performance on his 999F07 machine to record the fastest time of the tests with a 1'30.7 lap, set in the morning of the final day of the 3-day World Superbike teams teat at Phillip Iland, Australia. Such was his pace on track, and the pace at which he tested the new generation of Pirelli tyres, that Bayliss was finished his programme by lunchtime, leaving the track to his main 2007 championship rivals - none of whom could match his remarkable single lap best. Once again his team-mate Lorenzo Lanzi (Ducati Xerox) came closest to the reigning champion, scoring a best lap of 1'31.2.
"It's been a good three-day test" declared the 2006 world champion, Bayliss. "We tried some new settings and electronics and the latest Pirelli tyres and were able to set some fast lap times although over the race distance things were a bit different. Even though today's long-run didn't go as well as we had hoped, yesterday's simulation was good and we learnt a lot of things that will benefit us for the race here in March. I'm very happy with the way the bike is working and we went faster than the race pace of last year so everything is going really well".
"Everything went well in these three intense days of testing" commented Lorenzo. "We tried out a lot of things and the results are plain to see. We were always amongst the quickest, except for the first day when I didn't go for a fast time. With the race tyre we did a great job and we sorted out a lot of things to improve the set-up of the bike. Last year I was one and a half seconds off Troy's pace on race tyres on this track, this year the gap is only four tenths of a second so this for me is an excellent performance".
James Toseland (Hannspree Ten Kate Honda) secured third spot for himself on the last day, and set a fast series of race simulations to boot. His best single lap was a 1'31.7. It was a draw for fourth fastest time of the test, with Troy Corser (Yamaha Motor Italia) and Regis Laconi (PSG-1 Kawasaki Corse) both on 1'32.2, although Corser had to count on his second day time.
Another dead heat on the stopwatch saw Yukio Kagayama (Alstare Suzuki Corona Extra) use his day two time of 1'32.3 to match Fonsi Nieto (PSG-1 Kawasaki Corse) and his final day push on the second Kawasaki. Max Biaggi (Alstare Suzuki Corona Extra) finished his test in an unexpectedly low position after setting a 1'32.4, but his fast race simulations were an important boost to his pre-season confidence.

The top ten was rounded out by Noriyuki Haga (Yamaha Motor Italia), who had to rely on his second day time of 1'32.8 to finish ninth overall and Roberto Rolfo (Hannspree Ten Kate Honda) who closed up on the leaders somewhat with a 1'33.2.
SUPERSPORT WORLD CHAMPIONSHIP
Once more the new batch of Pirelli test tyres carved into the WSS records at PI, with Kevin Curtain (Yamaha Supersport Racing) and Kenan Sofuoglu (Hannspree Ten Kate Honda) evenly matched, on a remarkable 1'33.9. On his own in third place came the Caracchi Ducati of Gianluca Nannelli, with a 1'34.3 while three time faller over the three day test, Sebastien Charpentier (Hannspree Ten Kate Honda) went fourth fastest, on 1'34.4. Broc Parkes (Yamaha Supersport Racing) could not improve his best time from yesterday and thus went fifth fastest overall, on a 1'34.8.

The improving Hoegee Suzuki rider Barry Veneman scored a final best of sixth, with a 1'35.6, as Fabien Foret (Gil Kawasaki) posted a 1'35.7, just a tenth behind. Pere Riba (Gil Kawasaki) was eighth, on a 1'36 flat, with Vesa Kallio, ninth on a 1'37.0.
SUPERBIKE WORLD CHAMPIONSHIP:
Pirelli DIABLO SUPERCORSA - 16.5" race tyres
1. Bayliss (Aus-Ducati) 1'30"7; 2. Lanzi (Ita-Ducati) 1'31"2; 3. Toseland (UK-Honda) 1'31"7; 4. Corser (Aus-Yamaha) 1'32"2; 5. Laconi (Fra-Kawasaki) 1'32"2; 6. Kagayama (Jap-Suzuki) 1'32"3; 7. Nieto (Spa-Kawasaki) 1'32"3; 8. Biaggi (Ita-Suzuki) 1'32"4; 9. Haga (Jap-Yamaha) 1'32"8; 10. Rolfo (Ita-Honda) 1'33"2.

SUPERSPORT WORLD CHAMPIONSHIP:
Pirelli DIABLO SUPERCORSA - 17" DOT tyres
1. Sofuoglu (Tur-Honda) 1'33"9; 2. Curtain (Aus-Yamaha) 1'33"9; 3. Nannelli (Ita-Ducati) 1'34"3; 4. Charpentier (Fra-Honda) 1'34"4; 5. Parkes (Aus-Yamaha) 1'34"8; 6. Veneman (Hol-Suzuki) 1'35"6; 7. Foret (Fra-Kawasaki) 1'35"7; 8. Riba (Spa-id) 1'36"0; 9. Kallio (Fin-Suzuki) 1'37"0.
---
There's more! Go to Pit Lane News NEXT PAGE

Hot Calendar Girl and Bike News! Go to: Fast Dates • Calendar Girls • Iron & Lace





BikerKiss.com - the largest biker personals site!

New 2007
Fast Dates Racebike,
Iron & Lace Custom
& Garage Girls Calendars
Click to Order Now!


NEW! FastDates.com
Cell Phone Wallpapers!


Marcel Fortney 1958-2007
Mon Jan 15th - A long time close friend and associate of ours, industry insider Marcel Fortney passed away suddenly today from an unexpected heart attack. Marcel was just 49 years old. He his survived by his long time girlfriend and more currenty wife of 3 years, Kristy, her daughter Mackie, from a previous marriage, and Marcel's brother Devore Fortney.
Marcel worked in the motorcycle industry for nearly 30 years and was known as an all around great guy, great rider and an enthusiast for all-types of motorcycle racing.
I first met, worked and became close friends with Marcel when he served as general manager for Yoshimura R&D of America under Fujio Yoshimura from 1978 when they werefirst located in North Hollywood, CA, then moved to their present location in Chino in the early 1980s. I was the marketing director and a suspension development enginer at Moto-X Fox at the time, and i wanted to get the motocross comapy involved in the streebike market. I began working with Marcel and the Yoshimura team with rider Wes Cooley to help them win the 1981 AMA Superbike Championship on a Suzuki 1000 Katana running our modified Fox Shox motocross shocks.
When Fujio Yoshimura returned to Japan to work with his father Pops in late 1984, as Japanese corporate structure is very tight. one of the Japanese team mechanics was pomoted over Marcel to company president. Marcel soon left and went to work at Cycle Guide magazine in Torrance, CA, which was edited by Paul Dean. Marcel served as the advertising manager at Cycle Guide for the next 4 years until the magazine closed, as did Cycle magazine about the same time.
From Cycle Guide, Marcel then was hired into my previous position as marketing director at Moto-X Fox, which meanwhile had dropped out of the streetbike market after I left in 1983. Fox reverted to just a motocross apparel company, with founder Jeff Fox passing over the reigns of the family business to his sons Greg and Pete. During Marcel's tenure at Moto-X Fox the company continue to grow into the biggest motocross apparel company in the world, continuing with sponsorship of top riders like Jeremy McGrath.
The difficulties of working for a family owned cmpany which caused me to leave Moto-X gox ealier, all caused Marcle to leave Moto-X around 1998 and he moved back to Southern Califonia to open his on industry marketing company.
He met his girlfriend Kristy around that time who was into horses with her daugther from her first marriage, and they moved to Ojai about an hour northwest of Los Angeles andthey bought a small horse farm so Kristy could presue compeing in hose shows. Marcel and girlfriend Krsity were married 3 years ago, and just this past year moved to a new horse ranch they purchased forther north in the farming community of Templeton.
Marcel's biggest thril was taking his adopted daughter Mack who became very skilled competing in shows with their horses and they were planning for Max to ride in the International Olympics.
Marcel was currently working as the North American Marketing Consultant for AGV Helmets of Italy, which are worn by World MotoGP Champion Valentino Rossi.
Marcel became good friends with avid motorsports collectors Guy Webster and Michael Taggart who also live in Ojai.. At times Marcel ran his office out of Taggart's own warehouse, and assisted Michael in buying and selling collector bikes and cars.
A Memorial service for Marcel is planned to take place at Guy Webster's house and bike museum in Ojai on Sunday January 28th beginning at 12:00 noon. All of Marcel's friends are welcome, and he had many.
A potluck meal will also take place for those who would like to participate. For further details about the memorial please call 760-436-9937.
The family requests that in lieu of flowers, donations be made in behalf of Marcel's daughter to: The Mackie Memorial Fund
c/o Mid State Bank
1207 Maricopa Hwy, Ojai, CA 93023. For information regarding the fund contact Patti Michaels at 805-646-0111.
God Speed, Marcel! - Jim Gianatsis
Ducai 1098 Rule change is close for World Superbike
Ducati President and CEO Federico Minoli has called again for an official move to allow the new bike – which is 99cc over the current class capacity limit – to compete in WSB. But he has said talks between Ducati and FG Sport which run the series were progressing. The boss of Ducati has revealed that a rule change to officially allow the bike to race in World Superbikes could be a step closer.
Meetings last year saw the subject addressed – but not formalised by a rule change.
The way it was left, organisers effectively gave it their approval on the basis that it would be reflecting changes in the roadbike market, but for a rule change to be made rival manufacturers and the FIM would have to approve.

Minoli said: "We have been in talks with the organisers of World Superbikes and are fairly confident that we will be able to race the 1098.
"The 1098 is clearly a road bike made by our factory. If the championship is going to be true to its name then we should be able to use them in the series."
To counterbalance a 10 per cent capacity increase, Ducati have said they should be held to the same restrictive tuning rules as the four-cylinder manufacturers are.
At present, Ducati are allowed to tune their 999 V-twins to a far higher level making them much more expensive to maintain. A Ducati Testastretta 999F engine is only good for about 400 track miles and a rebuild costs close to $50,000 per engine. An inline four cyclsinde engine is good for 4-6 race meetings while making more peak power.
The 1098 will be making its debut appearance in British and World Superstock this year. Any new rules to come now for World Superbike would begin in 2008.
Must Have New Books...

MotoGP 2006
Season Review
MotoGP Performance
Riding Techniques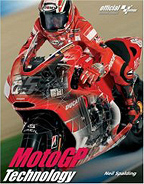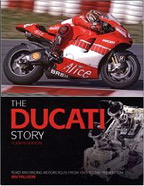 MotoGP 210mph Bikes!
Rany Mamola tests all the top 2006 MotoGP Bikes!

Click to take Kylie for a ride.
Kyle Minigue Gets Provacative
Join Pop Diva Kyle Minogue as she does a little wild bull riding with Agent Provocateur.
RealPlayer.com Video.
---
More 2007 Calendars!
In Our Calendar Store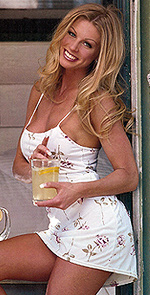 Robin's New Calendar
Our World Superbike Girl
Rockin' Robin Cunninham now has a hosting gig on XM radio and her own 2007 Calendar at
RockinRobinLynn.com
Team Suzuki Press Report on Kagayama and Biaggi at Phillip Island WSB Tests
Jan 15, 2007. - Team Alstare Suzuki Corona Extra riders Yukio Kagayama and Max Biaggi carried on the development programme of the new 2007 GSX-R1000K7 at Phillip Island and left the Australian circuit with a lot of positive data for the team to evaluate.
The team had two different engine specifications to try out and each had different characteristics so a lot of analytical work had to be carried out so that further progress can be made next time out.
Biaggi had a very low-speed tip-off at MG corner on day two, but apart from that, there were no other falls. At the end of the three-day test, according to the Pirelli time-keeping, Kagayama finished sixth quickest overall with Biaggi eighth.
Reigning World Superbike Champion Troy Bayliss (Ducati) surprised everybody by posting a lap of 1:30.67, smashing the lap record in the process on the new Pirelli development tyres.

Yukio Kagayama, 97 laps, best lap1'32''3: "In the three days here I didn't crash so I am very happy about that! This test has been a lot of hard work and we have had many things to try on the new 2007 bike. But we have done a lot of very useful work, even if the lap times were not as good as maybe we were expecting. I cannot stress how much work we have all done during these three days and we have gathered a lot of very useful information.
"We will analyse this back in the workshop and then work on the next stage at the next test. Phillip Island is always a good track for testing because of the variety and I hope the next test will move us forward some more and we can be ready for the first race in Qatar."

Max Biaggi, 108 laps, best lap 1'32''4: "Phillip Island has been very interesting and we have had to do a lot of work here to understand this new bike. We did a couple of long runs, but the results were not so good because the bike was vibrating a bit and that affected the overall times. Also the track was quite a bit hotter on the final day and when that happens normally we don't go so quick. I tried two different engine specifications and got on better with the Japanese spec one. For me it just felt more comfortable to ride and it was a good engine package. The team now has a lot of information and data to work with and the results of this we'll try at our next test. Hopefully, the good work we have done in Australia will pay dividends next time out.


Kate Gets Provocative
Delve into the interactive world of Miss X as supermodel Kate Moss stars in the third film in the thrilling series 'The four dreams of Miss X'.
This film sees Miss X turn Exhibitionist, gripped by an overwhelming impulse Miss X performs a slow and seductive striptease. See the full film exclusively at agentprovocateur.com.