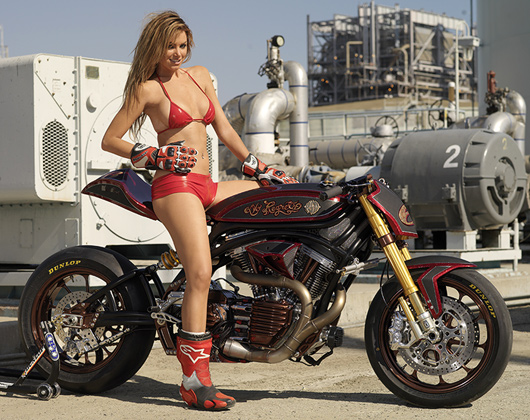 Calendar Kitten and Playboy Playmate Tamara Witmer is featured extensively in Members Corner and in the Iron & lace Garage with Roland Sand's "No Regrets" American V-twin sportbike and the Kenny Roberts' 5-cylinder MotoGP custom. Tamara will also be hosting this year's LA Calendar Motorcycle Show Weekend on July 14-15th where you can meet her in person signing the new FastDates.com Calendars.

FastDates.com Members Corner Updates
Much More New Content, New Lower $9.95 Monthly Price
If you've never joined our Members Corner before, or it's been a while since you have been a member, now's the time to join us. Along with a new low monthly membership rate, we've got a lot more content you don't want to miss! Included with your Membership is:
• Members Corner - Sexy and Reveal photos of the prettiest fastdates.com clendar Kittens incuding Playboy Playmates Tamara Witmer, Athena Lundburg, and the world's sexiest actresses and models Jamie Pressly, Joanna Krupa and LeeAnn Tweeden. Plus archives of all the Fast Dates, Iron & Lace, Garage Girls Calendars.
• Met-Art Affiliate Model Galleries - Normally $29.95 a month to join Met-Art alone!
• Paddock Garage - Sportbike and V-Twin Engine Tuning and Suspension Se tUp.
• Iron & Lace Garage - Feature custom bike pictorials inclusing our beautiful Calendar Kittens
• FastDates.com Calendar Screensavers - The hottest Bikes, Riders and Calendar Kittens
Don't get left out -Join Members Corner now!
---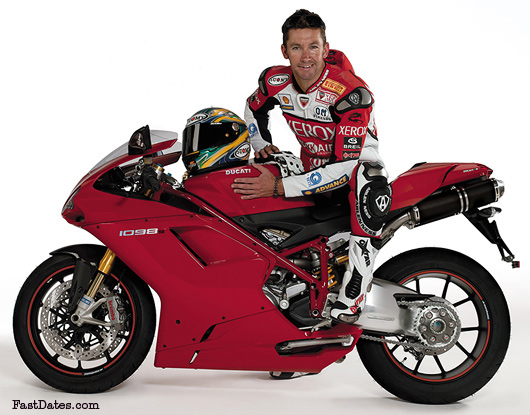 An Unfair Advantage? Troy Bayliss didn't need the new 1088 to break lap records in World Superbike testing last month at Phillip Island.

Ducat 1098 Superbike USA Dealer Premier Weekend Feb 9-10th
February 9-10, 2008 - This is probably the most anticipated, if not celebrated new Superbike model premier of the decade. Stop by your local Ducati dealer this weekend to help celebrate the arrival of the all new Ducati 1098 Superbike during the American 1098 Superbike Premiere Weekend February 9th and 10th. This eagerly awaited arrival of the 1098 signifies the beginning of this incredible bike's invasion of North American roads.
As the highest performance Ducati street bike ever made (with exception of course, to the upcong Desmosedici RR), the 1098 will dominate the road, if not the track, if it ever ever gets homologated with its race-derived innovations and benchmark performance. Affirming Ducati's spot at the forefront of motorcycling technology, the 1098 must be experienced to be believed. If you haven't had a chance to see the 1098, now is your chance.
We'd like to be able to give you a track riding review of the new 1088 Superbike, but our press contact at Ducati North America says the new bike is sold out so far in advance they don't want to set aside any press bikes, when they can currently sell every 1088 they can get. Gee wiz, and we hope they don't get stuck with too many left over 999s.
Contact your local participating dealer for further information. 1098 Superbike Premiere Weekend events and times may vary by dealer. Participating dealers are listed online at www.Ducati.com
---
SBK Corona Extra World Superbike Championship
Ducati ready for start of 2007 World Superbike Championship
in 2 weeks afer conclusion of Vallelugna Testing
Vallelunga (Italy), 12th February 2007: The Ducati Xerox Team has concluded its pre-season testing schedule with two days at the Vallelunga circuit on the outskirts of Rome, where the penultimate round of the World Superbike Championship will be held in September. For two-times world champion Bayliss, it was his first taste of the Vallelunga circuit, while Lorenzo Lanzi has already raced here in 2003, on the old track before recent modifications lengthened it to 4.11 km. Sunday's good weather was followed by wintry conditions today, but at the end of the two days both riders were pleased with the work done in view of the championship opener in Qatar in a couple of weeks time.
The quickest time of the test, 1m38.5s, was set on Sunday by Troy Bayliss, who also had positive things to say about the Rome track.
"I guess the most important thing for us was to actually come here because it's the only place on the calendar this year that I haven't seen" declared Troy. "We were limited with laps due to the weather but considering the time I had yesterday we did a pretty good job, setting 38.5 a few times when we only rode in the afternoon and today we made hardly any laps either. This afternoon I went out in the rain as well, which was confidence-inspiring because it's been a while since I've ridden in the rain. I like the circuit because it's got a bit of character about it, very up and down, and quite physical as well but I think it'll make for a good race here. The championship starts in ten days time and I'm born ready!"
Despite suffering from a nasty bronchitis, team-mate Lanzi also lapped quick on the opening day, the Italian setting a time of 1m38.6s, one-tenth of a second slower than the Australian.
"These have been a couple of strange days due to the conditions but in the end we managed to test a few things in the sixty or so laps we did yesterday" commented Lorenzo. "I have come back to Vallelunga for the first time in three years and I have to say I quite like the track now. We already have some good reference data for the race here in September. The championship gets underway shortly, we have done a lot of testing during the winter, setting excellent times, so I would say we are ready. I hope to shake off this bronchitis and get back to form in time for the opening round. I'm feeling confident about the season ahead and can't wait for it to start".
Troy Corser on the Yamaha R1

Yamaha and Suzuki comple their final pre season tests at Qatar
Losail, Doha, Feb 11-12th 2007 - The all-new YZF-R1 was put through its final pre-season testing paces on 11 and 12 February by Yamaha Motor Italia riders Troy Corser and Noriyuki Haga. The test at the Losail circuit in Qatar, venue of the first World Superbike race of the 2007 season on 24 February, was a useful exercise for both riders, as they worked through various machine set-up options and the latest suspension developments.
Corser was the fastest rider on show (1'59.1) in a test where the Yamaha Motor Italia team shared track time with the official Suzuki team. Haga fell on the first day of the tests, but recovered to go third fastest, with a 1'59.9 best lap. The Japanese star set a total of 61 laps, with Corser completing 49 laps.
With a limited tyre supply on hand, long runs to test tyre duration were not a priority at this test. Corser in particular worked through a list of optional settings and components to ensure ultimate competitiveness come race weekend.
Troy Corser - "We did enough laps to let us try everything we needed to try and we got all the parts we asked for after the last test. It was a definite improvement. We were not so concerned with doing long runs as the tyres Pirelli sent here are not the tyres we will use for the race anyway. So there was not a lot of point doing very long runs on tyres. I was more interested in getting a feel for what we have been changing on the bikes. We just tried different things and weren't worried about lap times. I'd say the bike feels even better than it did in our last test in Doha. The track surface can change here day to day but the track wasn't too bad; we just needed a few more bikes going round to put more rubber down."
Noriyuki Haga - "We have already found a lot of improvements here from the last test and the new suspension is working very well. It was difficult in some ways because the tyre possibilities were limited, so we need to wait for the tyres we will get for the race weekend. But so far, so good. We are pleased to have done this test."
Massimo Meregalli (Team Coordinator - Yamaha Motor Italia) - "We started this test with four completely new bikes and we had to spend some time to adjust everything on them. Noriyuki had a small crash yesterday morning so he lost a small amount of time. It went well from then on and today everything went pretty good. We didn't do so many long runs, but Noriyuki did 12 laps on one set of tyres at the end. All in all a good test."
Circuit: Losail, Doha, Circuit Length: 5.380km, Temp: 23ºC
Race Lap Record: 2'00.061 (Noriyuki Haga, 2006)
Fastest Lap Ever: 1' 58.1 (Troy Bayliss, 2006)
Unofficial lap times:
1. Corser Yamaha Motor Italia 1'59.1
2. Biaggi Suzuki Alstare 1'59.3
3. Haga Yamaha Motor Italia 1'59.9
4. Kagayama Suzuki Alstare 2'00.3
---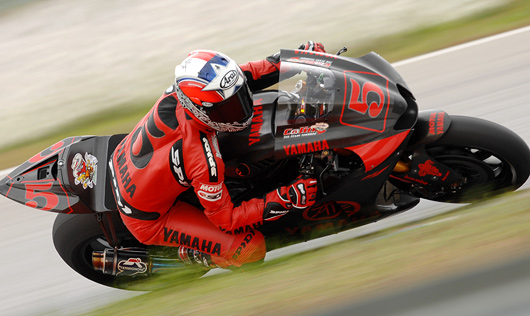 It shouldn't be too difficult telling teammates Edwards (above in red/black livery) apart from Rossi (below in yellow) on the new 800cc M1 Yamaha
MotoGP Testing Day - Sepang, Malaysia

Yamaha and Kawasaki MotoGP Teams
Conclude 3 Days of Record Busting Testing in Sepang
Wed Feb 7th - On the final day of the second Sepang Test of 2007, the teams present since Monday at the Malaysian circuit rounded off their week of fine tuning their new 800cc machines ahead of the season curtain-raiser next month. In a repeat of yesterday's results, Colin Edwards was once again the fastest rider at Sepang today, in blistering form on the Yamaha M1. The factory team rider clocked a lap of 2'00.248, a time under the 990cc pole position record, set on qualifying tyres. He cut over a second off his fastest lap from yesterday.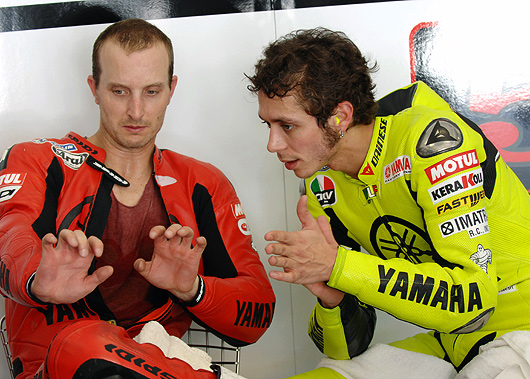 "Colin, I like the casual feel of your low maintaince Natural Clear nail enamel for testing, but Passion Red would look simply fabulous with your haute race ensemble on race day!"
Once again, Edwards was closely followed by team-mate and five-time MotoGP World Champion Valentino Rossi. The Italian joined the Texan Tornado as the only riders to go round in under 2'01, with both undertaking a race simulation on the 800cc Yamaha. Team Director Davide Brivio yesterday stated that today's extended run was intended to see if small changes made over the previous two sessions would be crucial to race performance, and perhaps the Italian now has his answer after a combined 89 laps from his riders.
Colin Edwards, Time: 2'00.248 - "We started off this morning by testing a couple more front tyres and a different bike setting, just generally playing around with a few things. At the end of the morning we tried another new rear tyre which was pretty good too, and then we had two qualifiers to try. I came in from the first one thinking that I'd probably done a low 2'01; I'd made a couple of small mistakes and thought I could have been faster, so I couldn't believe it when it was around the 2'00.6 mark. The next qualifier was pretty unbelievable and the bike just felt perfect, so I'm really pleased with that time. The long run was pretty interesting…I'd already done about 30 laps in the morning session and I was feeling pretty tired, I went off a bit too hard at the start and was giving it all I had, it was feeling great but then after about 14 laps I was seeing double! I slowed it down for a bit but there wasn't much point pushing it so I came in a bit early. Anyway things were still improved from the last time here so we were happy. Overall it's been a really great test; the bike is unbelievable, better than ever even with less power!"
Valentino Rossi, Time: 2'00.793- "It was another really positive day for us, and I am so happy because the bike is feeling great. During these three days we have worked a lot on the suspension set-up, in order to fix the problems we had in braking, and I think we've done a very good job on that. We've been pretty fast all week, quicker than during the January test, and the long run today was faster too which is important. I am also pleased that Colin is going so well, he made a fantastic time today, he's very fast! We also worked again today on the engine mapping, as I said yesterday; fuel consumption is going to be crucial for everyone this year and we can't afford to make mistakes! I am sure that we can still improve in every area and now we have the chance to carry on like this in Qatar next week, where we will also have the first race in one month. Next week will be a very important test!"
Davide Brivio - Team Director - "We leave Sepang in the certainty that we've made a very good test and we have improved the situation with both riders. Colin has made a great improvement since January's test and I think that no one has ever ridden so fast here in Sepang as he did today! This shows that the 800cc bikes are already faster than the 990s! We are working very well and the general development of the new bike is going very well. Now we go to Qatar for the next test and we know that will be a very important test for two reasons: first, we will be testing in a different circuit, so we will have the chance to confirm what we've learnt here at another track and second, we will meet all the other teams there and will be able to see our level alongside them."
Randy dePuniet was 3rd quickest on the new Kawaski ahead of teammate Oliver Jaques and the Yamaha Tech 3 team. This year's MotoGP grid should like like a roll of fruit Lifesavers.
Once again putting in a solid number of laps, Kawasaki's Randy de Puniet also managed to cut his times from the previous two days. The Frenchman showed no ill-effects from the minor crash he suffered yesterday, and also performed a race simulation as part of his 63 lap marathon on the Ninja ZX-RR800. Team-mate Olivier Jacque also made improvements as part of a positive three days for the Gallic duo.
The Yamaha Tech 3 team decided against an extended run, with both Makoto Tamada and Sylvain Guintoli putting in 35 laps apiece. They continue to work hard with their tyre development as the only team using Dunlop rubber this season.
The only Ilmor team rider at this week's test, Andrew Pitt rounded off what may be his last solo outing before the expected return of team-mate Jeremy McWilliams. The Australian established his task this week as finding a base for the bike, and today rode more laps than any other rider.
All four teams will join the remainder of the MotoGP grid next Tuesday for the first Official Test in Qatar, the scene of the opening round of the championship on March 10th.
MotoGP Test Sepang 3 Days: Unofficial Times
1. Colin Edwards- Yamaha Racing 2'00.248 - 46
2. Valentino Rossi-Yamaha Racing 2'00.793 – 43
3. Randy de Puniet-Kawasaki Racing 2'02.071 – 63
4. Olivier Jacque-Kawasaki Racing 2'02.607 – 55
5. Makoto Tamada-Yamaha Tech 3 2'03.380 – 35
6. Sylvain Guintoli - Yamaha Tech 3 2'04.636 – 35
7. Andrew Pitt - Ilmor GP 2'07.373 - 70
Sepang Lap Record (990cc)
Loris Capirossi (Ducati) 2006 - 2'02.127

Sepang Best Lap (990cc)
Valentino Rossi (Yamaha) 2006 - 2'00.605
---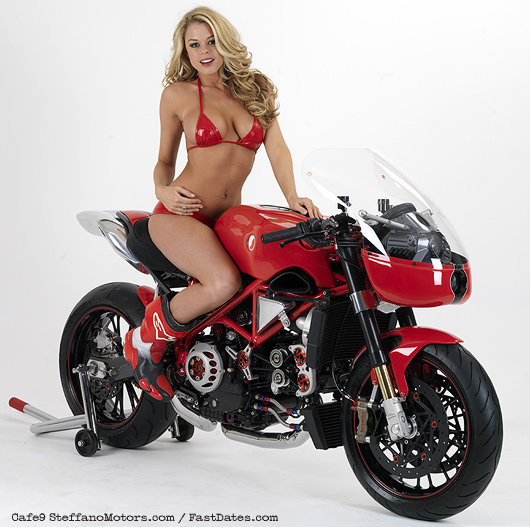 A.J. Almasi and the SteffanoMotors.com Cafe 9
While the rest of the country was buried in snow this January, things were heating up here in Los Angeles even more than usual as our newest FastDates.com Calendar Kitten A.J. Almasi hung out in the Gianatsis Design studios for the day to shot an advertising campaign for the new Cafe 9 limited edition sportbike built by Robert Steffano of SteffanoMotors.com. The bike is built on a donor Ducati 999 Superbike and features unique bodywork and many special components like the superbike forks and brakes, polished aluminum exhaust system, and the beautiful multi-spoke back anodized alloy wheels. For more details go to SteffanoMotors.com
You'll find a complete feature pictorial of Cafe 9 in the Iron & Lace Garage. While A.J. Almasi will be featured in the upcoming 2008 Garage Girls Calendar and will be appearing at our big LA Calendar Motorcycle Show on July 14-15th, as will the Cafe 9 and other exciting new custom sportbike projects from Robert Steffano.
---
There's more! Go to Pit Lane News NEXT PAGE

Hot Calendar Girl and Bike News! Go to: Fast Dates • Calendar Girls • Iron & Lace





BikerKiss.com - the largest biker personals site!

Must Have New Movies...

---
Pirelli's $10 Million Action Car Chase Web Film with Uma Thurman
What do you do when you are the world's largest tire company with Billion dollars to spend on advertising? Sponsor the SBK World Superbike Championship. Produce the world''s most expensive nude Pirelli PinUp Calendar featuring famous Hollywood starlets and then don't let anyone buy it. How about make an action bhort website movie for $10 million dollars staring Kill Bill actress Uma Thurmond?
www.pirellifilm.com
Lame Ducks
Reprinted Courtesy
RoadRacer X magazine

By Mark Gardiner
January 18, 2007 - Last week's World Superbike test at Phillip Island ended with a Ducati 999 Superbike (in the hands of Troy Bayliss) a full second faster than the best of the four-cylinder machines. All in all, the 999 flies pretty well, for a lame Duc. Still, that's what it is. The 999 is officially obsolete—replaced by the 1098.

Not that long ago, the World Superbike Championship was derided as a Ducati spec series; half the grid was 998s. This year, the permanent entry list counts only two factory 999s and three privateers. Next year, Ducati won't race or officially support the 999 at all. That means that unless the FIM and FGSport get together and allow twin-cylinder bikes larger than 1000ccs to compete, the 2008 World Superbike grid will not have any Ducatis. The series will, to say the least, be poorer for it.
Continued Here
Hayden Testing New 16-Inch front wheel/ tire combo from Michelin
If you didn't notice it already, almost all the MotoGP and World Superbike teams have been running 16.5 diameter front and rear wheels this last year, compared to the 17-inch wheels which have been commonplace on sportbikes the past 20 years.Now at the Last month's MotoGP testing in Sepang, Team Honda's World Champion Nicky Hayden has been testing a new 16-inch wheel and Michelin front tire. The reason being, to still design a tire profile with the same outside rolling diameter (or height) as a 17-inch tire which has been proven to handle the best, but now use smaller diameter wheels with a taller profile tire /aspect ratio so there is more rubber to contact the ground on the sides of the tire when the bike is layed over for cornering.The factory race teams are finding this a better solution in getting more rubber to the ground for cornering traction, than increasing the widths of tires and wheels which slows up handling.Production s Superbike tire widths have fairly much stabilized right now around 120/70 for the front and 190/50 for the rear. So the best way now to get more rubber to the ground is to widen the side profile to allow more side contact patch traction, throttle and speed when cornering. Race bikes really don't need much more of a tire contact patch in the center of the tire when the bike is straight up and down, particularly with traction control which limits spinning at the rear wheel. So now the goal is to improve cornering speed to improve times, which has the added advantage of getting the bike back out onto the straight at a higher speed, and making rear wheel spin even less of a problem.You old timers may remember that Honda introduced their first VFR750 Superbike back in 1983 with a 16-inch front wheel and tire, but in that case the tire's outer diameter was actually smaller, so there was no real traction advantage, and in fact, front end traction was less and crashing with that setup was pretty common. It will be interesting to see when this new racing trend 10 smaller diameter wheels with taller aspect tires will make their way onto production bikes. Their may be a little resistance to making the change quickly with DOT legal street tires as higher cornering speeds at extreme lean angles on the street may not seem like a good idea. But then, probably neither was the first changes from 2.25 wide tires and drum brakes. Kawasaki and Harald Eckl Reach Undisclosed Agreement Over Termination of Eckl MotoGP Team
AKASHI, February 2nd 2007: After several months of discussions about the sudden termination of their MotoGP cooperation in November last year, Japanese motorcycle giant Kawasaki and Harald Eckl have solved their dispute. Following apologies from the side of Eckl for the situation that resulted in the termination by Kawasaki, negotiations followed in Japan and Kawasaki and Eckl worked out a solution.They both declared that the negotiations had been "constructive" and they stated to be "happy that further legal escalation could be avoided". They agreed that further information about the deal would not be disclosed.Kawasaki in the meantime is preparing for the first MotoGP race in Qatar in March with a new - "in house" - factory team.Harald Eckl: "I'm really happy that after years of cooperation this could now finally be brought to a good end. I wish Kawasaki all the success for the future". As usual in such cases, no information was disclosed as to why the Eckle team was terminated from their MotoGP contract with the Kawasaki factory. Before entering MotoGP 3 years ago, Team Eckl formerly ran the official factory Kawasaki World Superbike team.
MotoGP Performance
Riding Techniques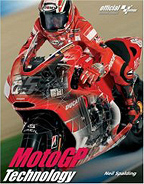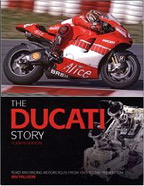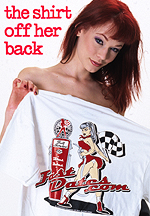 New 2007
Fast Dates Racebike,
Iron & Lace Custom
& Garage Girls Calendars
Click to Order Now!
Pegram Racing/Leo Vince Ducati Team to Offer MotoGP Weekend to a Lucky Fan
Team Announces the "Join the Team" program for Supportive Ducati Fans
Hebron, Ohio, February 3, 2007 – The Pegram Racing/Leo Vince Ducati Team announced a new program where fans can sponsor the team and automatically qualify to win prizes donated by the team's sponsors. First prize is a VIP weekend for two at the US MotoGP at Mazda Raceway/Laguna Seca. The package includes VIP passes to the races, hotel accommodations for three nights, access to Red Bull VIP hospitality, two bike passes to Ducati Island and lunch with Michael Lock - CEO of Ducati North America. Travel not included.Other prizes include Leo Vince full exhaust, Scorpion helmets, Fieldsheer leather jacket, Sidi boots, front and rear stands from Power Stands , Motul Oil, gift certificates for Triangle Cycles.com, and several others.Fans who sign up as individual team sponsors will automatically qualify to win the prizes. Pegram Racing Ducati fans can sign up at the team's new web site www.pegramracing.com SUCCESSFUL SECOND SEPANG TEST FOR KAWASAKI
Feb 7th - Randy de Puniet and Olivier Jacque confirmed during three more days of testing at the Sepang circuit this week that Kawasaki's new 800cc Ninja ZX-RR is on track for a competitive race debut at the Grand Prix of Qatar in just four weeks time.Both Kawasaki riders used three uninterrupted days of track time in Malaysia to focus on chassis and suspension set-up, as well as evaluating new tyres from Bridgestone that have been developed specifically for the new 800cc MotoGP racers.This intensive test schedule included a race simulation for both riders on each of the three days, during which they completing more than 400 laps of the 5.543 km Sepang circuit.Both riders reported a noticeable improvement as rear tyre grip deteriorated towards the end of their race simulations, with the performance drop off due to reduced rear traction seen during the last Sepang test being noticeably reduced.For Olivier Jacque, this second test provided another opportunity to prepare for his first full season in the MotoGP class since 2003. One of the most experienced riders on this year's MotoGP grid, the former World Champion has quickly settled in to the role of factory rider again, and has built up a good working relationship with his new crew, and his new crew chief, Fiorenzo Fanali.With a year of experience on the 990cc Ninja ZX-RR and Bridgestone tyres, Randy de Puniet was again the faster of the two Kawasaki riders during this second three-day test.The 24-year-old Frenchman completed a marathon 237 laps of the Sepang circuit over the course of the test, refining both the set-up of the bike and adapting his riding style to post consistent lap times throughout.The Kawasaki Racing Team will now move on to the Doha International Circuit in Qatar for their third pre-season test, which will run from 13-15 February.Randy de Puniet: 237 Laps - Best Lap 2'02.05
"We've had a good three days. The consistency of my lap times has improved with each race simulation, which I'm obviously happy about. This is basically down to small changes in the set-up of the bike, but I've also adapted slightly my riding style to get the best from the bike as well. Ideally I would have liked to set my fastest lap of the test on the final day, but it was at least 10 degrees hotter today than it was for the first two days, which meant it just wasn't possible. Now, after two successful tests at Sepang, I'm looking forward to riding the bike at Qatar and Jerez, where I'm confident that we will be able to confirm we have found a good base set-up on the new Ninja ZX-RR."Olivier Jacque: 193 Laps - Best Lap 2'02.58
"It's been a pretty exhausting test. We've run a few race simulations to check reliability, and that's always hard physically in the heat here in Malaysia. But, while it has been hard work, I'm very happy with what we've achieved over the three days. I understand better the set-up of the bike, and also the effect that changes to the set-up have on overall performance. This is important for the future. I felt better and better on the bike with each day, and that could be seen in the improvement of my lap times, but there is definitely still more to come. I'm not pushing so hard right now, as I'm still adapting to being a racer again after spending so long as a development rider, but I know what I am capable of and I know the speed will be there come the first race. So, overall, a very positive test for us."Naoya Kaneko: Technical Manager
"Our main focus has been on the performance of our bike over race distance. We have run several race simulations over the three days and we've seen significant improvements as a result of set-up changes and new tyres from Bridgestone. The fact that we had three uninterrupted days of testing, with the riders out on track from ten in the morning until six at night, means that we've also managed to collect plenty of data that we will now feed into our development process. Yes, we still have some work to do ahead of the first race, but this second successful test confirms that we are definitely moving in the right direction with the bike."