2-time World Superbike Champion Troy Corser returned this season to reclaim his crown with Yamaha. Troy carded the quickest time at the Qatar pre season rests on Feb 11-12th.
2007 SBK Corona Extra Superbike World Championship
PREVIEW: 2007 World Superbike Championship
Kicks Off 20th Anniversary Season Next Week in Qatar

Rome, Thursady 15th February 2007 - As World Superbike enters its 20th continuous year of competition this unique championship series has many reasons to celebrate its latest anniversary. Interest in the championship is at a modern-day zenith, demonstrated in the fact that there is an almost unprecedented strength-in-depth of officially-supported teams representing the big five racing manufacturers - Ducati, Honda, Kawasaki, Suzuki and Yamaha - plus a classic name from racing's past - MV Agusta! In terms of potential race winners, both current trends and historic evidence point to the possibility that the total of eight different race victors in 2006 may well be beaten, and this year each rider will have two more chances to take a victory, as the championship calendar now comprises 26 individual contests, two at each of the 13 meetings.
DUCATI BACK TO STAY ON TOP Despite the championship winning Ducati Xerox team retaining its 2006 line up of champion Troy Bayliss (Ducati Xerox) and Lorenzo Lanzi (Ducati Xerox) there are many changes in the line-up of the traditional powerhouses of World Superbike, and an injection of new machinery for two of the main manufacturers, Yamaha and Suzuki.
HONDA HORDES FEATURE BIG NAMES 2006 season runner-up James Toseland (Hannspree Ten Kate Honda) is joined in the Ten Kate squad this season by second-year SBK veteran, Roby Rolfo, while a further four supported Honda riders take to the tracks in 2007. Steve Martin and Michel Fabrizio ride for the DFX Corse Honda squad, while ambitious Australians Karl Muggeridge and Josh Brookes ride for the Alto Evolution team.
NEW YAMAHA RIDDEN BY PROVEN SBK POWERS Yamaha's official entry, the Yamaha Motor Italia team, has retained multi-race winner Noriyuki Haga and added an old SBK hand to help develop its all new R1 machine - Troy Corser - the champion in 2005 and 1996. 2006 season rookie Shinichi Nakatomi also returns to the SBK fray, in the renamed Yamaha YZF team.
ADDITION OF BIAGGI A GREAT BOOST TO SERIES Arguably of most media interest in the build-up to the 2007 season is the addition to the Alstare Suzuki Corona Extra team for 2007 of a certain Max Biaggi. A multiple MotoGP winner, Biaggi is offering himself up to the challenge of competing in a race series of such a high standard that 2006 champion Troy Bayliss could win the final MotoGP race of last season, at Valencia, even when riding as a one-off wild card. Biaggi is fully aware of the task in front of him, but has already set some good testing times, and few in World Superbike will need reminding of his competitive spirit before the first race of the season at Qatar on February 2007. Qatar has been a happy hunting ground for Alstare's other highly talented 2007 rider, long time Suzuki servant Yukio Kagayama.
TOP KAWASAKI TEAM COMES BACK LEANER AND FITTER Kawasaki's two man official team features returning riders Regis Laconi (PSG-1 Kawasaki Corse) and Fonsi Nieto (PSG-1 Kawasaki Corse), running on the latest development of the ZX-10R. Laconi is a proven winner of 11 previous SBK races, with Nieto hungry for his first race win this year. Having streamlined itself into a two-rider team, the PSG-1 effort hopes to make another upward step-change in expectation levels this year.
PRIVATEER ENTRY INCLUDES TALENT - AND ONE LEGENDARY NAME In the privateer ranks, Ruben Xaus is a standout figure, having won nine previous SBK races in his early career. Equipped with a 2006 factory spec 999 in his Sterilgarda team, he may stand a more than fair chance of trapping more SBK silverware. A grid of 22 regular riders will be bolstered at several events by wild card entries, and the rest of the private entry features some exciting talents, like ex-GP rider Jakub Smrz, Dean Ellison, Superstock champion Alessandro Polita, Max Neukirchner and Jiri Drazdak. There is even a classic name making a full time return to SBK racing for the first time - MV Agusta. Austrian rider Christian Zaiser from the LBR team will run what is very much a privateer spec four-cylinder Italian machine, but the appearance of a season-long MV Agusta nonetheless bolsters the total of competing manufacturers to six.
SUPERSPORT WORLD CHAMPIONSHIP The World Supersport championship proved to be a dramatic contest right until the end last year, and the main protagonists for the final podiums of the year are all back in place for 2007, two of them with all-new machines. Sebastien Charpentier (champion for the last two years) and Kenan Sofuoglu spearhead the Hannspree Ten Kate Honda squad's efforts on the new CBR600RR in 2007, while Yamaha R6 competitors Kevin Curtain and Broc Parkes now ride for the renamed Yamaha SSP Racing team. Kawasaki re-enters Supersport with an official effort this year, with former champion Fabien Foret and proven race winner Pere Riba running in the GIL Kawasaki squad, on the latest ZX-6RR. Ducati's effort is led by the combination of Gianluca Nannelli and a Team Caracchi Ducati 749R. Suzuki is once more represented by the Hoegee Suzuki team's GSX-Rs, with Barry Veneman now backed up by Vesa Kallio.
The 13-Round series starts at the Losail circuit in Qatar on Saturday 24 February, with round two coming just one weekend later, at Phillip Island, Australia, on Sunday 4 March.
---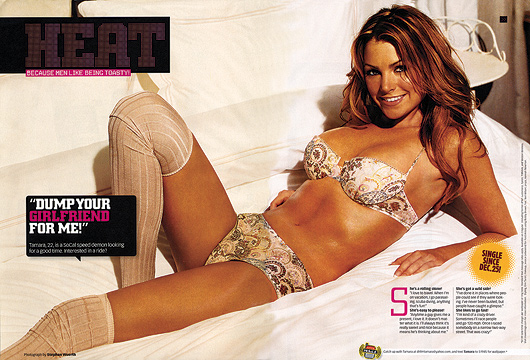 Calendar Kitten and Playboy Playmate Tamara Witmer Big Maxim Screensaver.
Calendar Kitten Tamara Featured in February Maxim
Get Tamara and Much More in Members Corner, New Lower $9.95 Monthly Price!

Feb 1st - Beautiful FastDates.com Calendar Kitten and Playboy Playmate Tamara Witmer is featured in this month's Maxim magazine with a 2-page spread worshiping her as the magazine's Hottest model, and that she's suddenly single and looking for a new guy to have fun with. She loves driving fast in her SL Mercedes, parasialing, SCUBA, and having sex in public places! Definetly our type of girl.
Calendar Kitten Tamara Witmer is featured extensively in our Members Corner and in the Iron & lace Garage with Roland Sand's "No Regrets" American V-twin sportbike and the Kenny Roberts' 5-cylinder MotoGP custom. Tamara will also be hosting this year's LA Calendar Motorcycle Show Weekend on July 14-15th where you can meet her in person signing her pictures in the new 2008 FastDates.com Calendars.


If you've never joined our Members Corner before, or it's been a while since you have been a member, now's the time to join us. Along with a new low monthly membership rate, we've got a lot more content you don't want to miss! Included with your Membership is:
• Members Corner - Sexy and Reveal photos of the prettiest fastdates.com clendar Kittens incuding Playboy Playmates Tamara Witmer, Athena Lundburg, and the world's sexiest actresses and models Jamie Pressly, Joanna Krupa and LeeAnn Tweeden. Plus archives of all the Fast Dates, Iron & Lace, Garage Girls Calendars.
• Met-Art Affiliate Model Galleries - Normally $29.95 a month to join Met-Art alone!
• Paddock Garage - Sportbike and V-Twin Engine Tuning and Suspension Se tUp.
• Iron & Lace Garage - Feature custom bike pictorials inclusing our beautiful Calendar Kittens
• FastDates.com Calendar Screensavers - The hottest Bikes, Riders and Calendar Kittens
Don't get left out -Join Members Corner now!

Dani "The Torpedo" Pedrosa.
Official MotoGP 3-day Test - Losail, Qatar

Hopkins and Hayden suffer hard crashess
Pedrosa Tops Official MotoGP Tests in Qatar
Losail International Circuit, Qatar, February 13-15th - The first Official Test of 2007 came to a close today in Qatar, with the MotoGP riders bringing their 'A-game" on the last of three sessions. Although rain did not directly affect the riders during their time on track, light rainfall overnight after day one left the track in difficult conditions, but still enabled them to put on qualifiers and push to leave the Losail International Circuit at the top of the timesheets.
The first day of testing saw Team Yamaha's Colin Edwards and Valentino Rossi topping the time charts, along with Ducati's new youngster Casey Stoner also turning some of the quickest times.
Spaniard Dani Pedrosa was the fastest Honda man on the track for Day 2, setting a lap time one second faster than his best time on Tuesday. Pedrosa remained quickest on Day 3 and continued to run at a consistently fast pace while putting in 87 laps mainly testing tyres for Michelin with chassis and suspension adjustments necessary to his Repsol Honda to get the best out of the variety of different tyres he tested.
After a late charge of hot laps, Dani Pedrosa was the fastest rider today, with a scorching time of 1'55.471 building on a promising morning run. The Spaniard was quicker than Casey Stoner's 990cc pole position from 2006, and put Honda on top for the first time after two days of Yamaha dominance.
"The Torpedo" Pedrosa gets torpedoed in the Repsol garage by the media.

Dani Pedrosa, Repsol Honda, 1m 55.471s: "On Day 2 we were able to improve things a little bit more and it was a positive day. Basically we've been testing tyres and settings for the chassis and everything went quite well. At noon it was very windy, but it didn't really interfere and we could test a lot of stuff and get through the programme we had in mind. The wind it was not too much of a problem, and anyway, it's also good because Qatar is normally very windy and we can easily have these conditions at the first race here".
"On the final day we didn't test too much on the bike," Dani continued. "We took the best settings from yesterday and the day before and put in a good number of laps to get a better feeling for how the tyres will behave during the race. I also did a race simulation and put on qualifying tyres at the end of the day. Definitely this was as a test for myself more than for the bike and that's good. It was really important to get a good feeling here because the first race of the season will be held here and now I hope that when we come back the conditions are similar and we can take advantage of this test. But it wasn't only us that had a good test: also Yamaha and Suzuki are fast, Ducati as well. We will continue to see how the tyres work and that's why we cannot relax. We wanted to see the performance of the bike at the end of the race and we've got some information about this which is important. Now we have to keep improving".
The second quickest at Qatar, today was nonetheless a bad day for Suzuki's John Hopkins. The first rider to go out on qualifiers, in three-lap bursts, the Anglo-American clocked a time just over three tenths of a second slower than that of Pedrosa. However, a nasty crash before the end of the morning left Hopkins out of the afternoon session and saw him taken to hospital for x-rays, probably set to miss next week's MotoGP Official Test in Jerez and with a possible fracture in his hand. Despite this setback, he is still fully expected to line up alongside the rest of the premier class grid for the first race of the season on March 10th.
Hopkins had – up until his accident - clocked the final day's fastest time of 1'55.825 testing new Bridgestone qualifying tyres. Following his crash, he was taken to the Doha hospital where his injuries have been assessed. He has suspected fractures in his right hand and foot. As soon as we have more information we will post it on www.rizla-suzuki-motogp.co.uk but the team are hopeful that he will be able to attend next week's test in Spain.
Hopkins had been smooth and consistent throughout the three day test and was looking extremely quick this morning. He conducted many geometry setting tests throughout the three days, as well as a full race distance run to assess the durability of the new generation Bridgestone race tyres designed especially for the demanding 5.3km Losail International Circuit. Hopkins' time today gave him second place overall on the timesheets behind Dani Pedrosa on his factory Honda.
John Hopkins: "I'm feeling pretty beat up at the moment – a 120mph high-side does that to you! I've got bruises on all four limbs and a couple of broken bones. I'm flying straight back to England to see a specialist first thing tomorrow, and then we'll know a bit more about the injuries. It was a sad way to end the test because we had made good progress here. I am quite happy with the way the three days went and we got through everything we needed to before the crash. I'm sure we'll be in a good position when we come back here in about three weeks and I'll certainly be at the first race – just try and stop me!"
Valentino Rossi, winner of last year's Qatar Grand Prix, was the only other rider to break the 1'56 barrier. It is the first time at this test that he has finished above team-mate Colin Edwards, with his fellow factory Yamaha man still a speedy fifth fastest as both undertook race simulations.
Valentino Rossi (3rd, 1'55.954, 62 Laps) - "It's been a good test overall, despite running into a few problems. Like I said yesterday, it's better to find the problems now so we have the chance to fix them! As I expected, the other riders have improved a lot over these three days and Colin and I weren't able to stay at the top today. Still, we're quite fast and our bike is quite good, so we're happy. The long run was okay, the situation with the rear tyre wasn't perfect but we knew it wasn't going to be and nothing happened that we didn't expect. Anyway, we're not worried about it and we know how to go from here. I was still able to do 1'56.5s okay, so I think if the race was tomorrow then we would be in a position to fight for the victory, as would Colin. We still have one more test in Jerez so we've got the chance to do some more good work and try to make our bike perfect for the first race. We're still working on the suspension and stability, we've talked a lot with our engineers and we've got some good ideas to try next week. We've been sharing a lot of information in our garage between Colin and I; he's tried my settings and I've tried his which has been very helpful. Now I'm looking forward to seeing how the bike will go in Jerez next week."
Separating the duo was Pramac d'Antin's Alex Hofmann. The German was the fastest of all the Ducati riders for the first time on an 800cc bike, which is an extremely positive step for the team coming after team-mate Alex Barros' impressive outing at Phillip Island.
Rounding off the top six was Kawasaki rider Randy de Puniet, rejoined today by colleague Olivier Jacque after the older of the two Frenchmen sat out yesterday's proceedings. A Ducati trio followed within two tenths of De Puniet, consisting of Loris Capirossi, Casey Stoner and Alex Barros.
After a somewhat discreet test, Marco Melandri picked up the pace on day three, continuing his adaptation to Bridgestone tyres and the 800cc RC212V as he completed the top ten.
World Champion Nicky Hayden was nearly two seconds off team-mate and fastest rider Pedrosa, still searching for pace after coming back from shoulder surgery. The 'Kentucky Kid' spent last week in California with doctors analysing his progression, and yesterday suffered two crashes onboard his 2007 bike. Following a strong showing on the opening day of the test World Champion Nicky Hayden experienced a frustrating second day at Losail. The American fell from his Repsol Honda RC212V twice today, escaping unscathed on both occasions.
Hayden's first crash happened in the morning and slowed the excellent progress made yesterday. Back on track Hayden later ran into an engine problem and his technicians were required to change front forks from one RCV to the other losing more time. To compound a miserable day for the World Champion he suffered his second crash of the day late in the afternoon. Despite his misfortune Hayden retained his ever-positive approach to testing and goes into the final day determined to end the test on a high note.
Nicky Hayden, Repsol Honda,."Well really it wasn't the best day to be honest. Day 1 went well, but Day 2 wasn't so smooth. In the morning session I had a small crash and I also had an engine problem which meant we had to take the forks I like from one bike and put them on the other bike. At the end of the day I tried to go out and finish off strongly and had another crash which is a little frustrating. We'll definitely try and sit down with the team tonight and go through all of the data to get things sorted for tomorrow - we'll be looking to finish off with a strong day."
The MotoGP teams head on to Jerez, in preparation for next week's second Official Test. It will be the final chance to fine-tune their 800cc prototypes before they return to the Losail International Circuit next month to kick off what is sure to be an exciting season.
MotoGP Official Test: Qatar Official Times
1. Dani Pedrosa, Repsol Honda - 1'55.471
2. John Hopkins, Rizla Suzuki - 1'55.825
3. Valentino Rossi, Yamaha Factory - 1'55.954
4. Alex Hofmann, Pramac d'Antin - 1'56.315
5. Colin Edwards, Yamaha Factory - 1'56.371
6. Randy de Puniet, Kawasaki Racing - 1'56.753
7. Loris Capirossi, Ducati Marlboro - 1'56.807
8. Casey Stoner, Ducati Marlboro - 1'56.834
9. Alex Barros, Pramac d'Antin - 1'56.950
10. Marco Melandri, Honda Gresini - 1'56.980
11. Shinya Nakano, Konica Minolta Honda - 1'56.980
12. Makoto Tamada, Dunlop Yamaha Tech3 - 1'57.232
13. Toni Elias, Honda Gresini - 1'57.246
14. Nicky Hayden, Repsol Honda - 1'57.269
15. Chris Vermeulen, Rizla Suzuki - 1'57.365
16. Kenny Roberts, Team Roberts - 1'57.408
17. Carlos Checa, Honda LCR - 1'57.497
18. Sylvain Guintoli, Dunlop Yamaha Tech3 - 1'58.379
19. Shinichi Ito, Ducati TTT - 1'58.974
20. Andrew Pitt, Ilmor GP - 2'00.455
21. Olivier Jacque, Kawasaki Racing - 2'02.081
22. Jeremy McWilliams, Ilmor GP - 2'02.612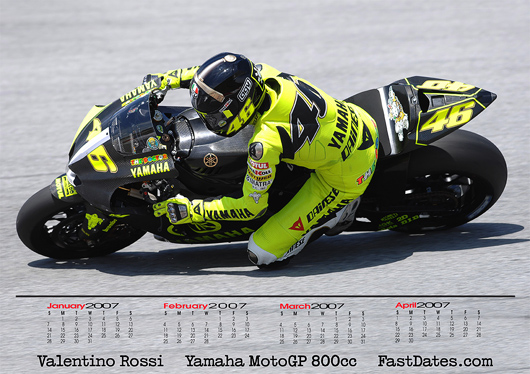 Click for a exclusive FastDates.com Calendar Screensaver of Rossi on the new M1 Yamaha
250cc Testing Concludes at MotoGP Official Test in Jerez
Jerez, Spain - Tuesday 20th Feb. - The first section of the MotoGP Official Test at Jerez drew to a close today, with the 250cc teams the first to take to the track this week. Yesterday's session was a far more productive affair than the second day of quarter-litre testing, as overnight and morning rain left the riders with little effective practice time. No rider improved on their previous day's lap time, and some teams even chose to bring their Jerez visit to an early close instead of riding in the wet.
Hector Barbera drew first blood on day one, topping the timesheets with a time of 1'43.451. On his final lap, the Spaniard was just under two tenths of a second off Jorge Lorenzo's pole position time for last year's race, with the World Champion himself finishing second fastest. Lorenzo was less than a tenth of a second slower than his former factory Aprilia team-mate, who now rides for Team Toth.
2006 World Championship runner-up Andrea Dovizioso was the third of three riders to go round in under 1'44 this week, in much better condition than that which he found himself in last time round at Valencia. Coming back from a bout of flu, the Humangest Honda rider was closely followed by Alex de Angelis as the two continued to shape up for a title challenge this season.
Of the talented riders moving up from 125cc in 2007, Thomas Luthi has been one of the big success stories during preseason. The Swiss rider was on form again at the MotoGP Official Test, under half a second off Barbera's hot lap.
For Julian Simon, the gods seem to be conspiring to prevent his appearance for Repsol Honda in a 250cc race. Having last year suffered an injury when pencilled in to replace the retiring Sebas Porto, now the Spaniard has experienced another setback as a result of a crash yesterday. Simon was trapped under his bike on turn four, suffering a dislocated shoulder which led to an afternoon spent in the Clinica Mobile. He flew to Barcelona this morning to see Dr. Xavier Mir at the Clinica Dexeus, who will further analyse his injury over the coming days. Prior to this, the Honda factory man had been looking good, completing the top six ahead of team-mate Shuhei Aoyama. The Japanese 2006 Rookie Of The Year also elected against riding today, although this was more due to personal choice than injury.
Alvaro Bautista, Marco Simoncelli and Hiroshi Aoyama rounded off the top ten on the combined timesheet, with the latter putting in the most laps of any rider and finishing as fastest on day two with a best of 1'45.250.
Anthony West finally had a chance to ride his new near-factory Aprilia over the past two days. The Australian had been scheduled to make his debut for Team Sicilia two weeks ago at Catalunya, but instead had to wait until this week to start the latest chapter in his intriguing career. Never one to let a bit of dampness halt his progress, wet weather specialist West showed that he is willing to put in the hard graft to adapt to his new prototype.
The 250cc teams have another Official Test next week in Qatar, although the action at Jerez is just getting started. Tomorrow sees the turn of the 125cc teams to undertake more testing, ahead of the arrival of the MotoGP class on Friday for three days of fine tuning, culminating in Sunday's 40-minute 'qualifying session' spectacular.
---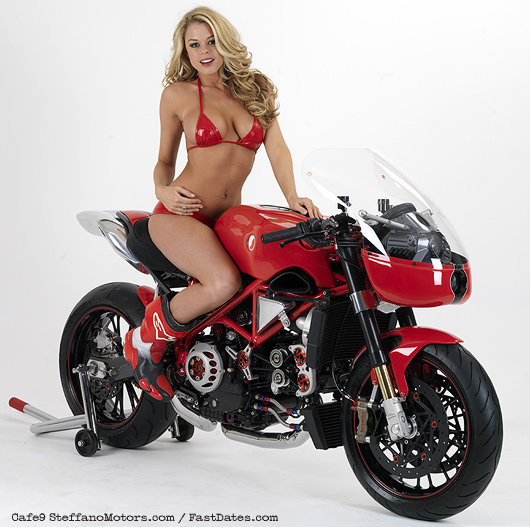 A.J. Almasi and the SteffanoMotors.com Cafe 9
While the rest of the country was buried in snow this January, things were heating up here in Los Angeles even more than usual as our newest FastDates.com Calendar Kitten A.J. Almasi hung out in the Gianatsis Design studios for the day to shot an advertising campaign for the new Cafe 9 limited edition sportbike built by Robert Steffano of SteffanoMotors.com. The bike is built on a donor Ducati 999 Superbike and features unique bodywork and many special components like the superbike forks and brakes, polished aluminum exhaust system, and the beautiful multi-spoke back anodized alloy wheels. For more details go to SteffanoMotors.com
You'll find a complete feature pictorial of Cafe 9 in the Iron & Lace Garage. While A.J. Almasi will be featured in the upcoming 2008 Garage Girls Calendar and will be appearing at our big LA Calendar Motorcycle Show on July 14-15th, as will the Cafe 9 and other exciting new custom sportbike projects from Robert Steffano.
---
There's more! Go to Pit Lane News NEXT PAGE

Hot Calendar Girl and Bike News! Go to: Fast Dates • Calendar Girls • Iron & Lace





BikerKiss.com - the largest biker personals site!
Must Have New Movies...


---
A NEW JOINT VENTURE FOR THE FGSPORT GROUP?
Rome, Wednesday 21st February 2007 - With reference to the articles published in the last few days in certain newspapers and websites referring to a possible auction process for the disposal of the SBK WORLD CHAMPIONSHIP by FGSPORT , we would like to note that the founders and shareholders of the Group, have been managing the SBK World Championship since 1989 and have done so, for certain periods of time, in partnership with other industrial and financial corporations, including, most recently, the IPG/Octagon Group that owned the majority of the business and sold back its shares to the founders in 2003.
FGSPORT does not exclude that it could be partnered again in the future with strong commercial, industrial or financial entities in order to further develop the SBK World Championship and the company's other projects.
As such, FGSPORT has been in constant dialogue with potential partners for the past few years, as part of its ordinary activities.
Merrill Lynch is advising FGSPORT in evaluating certain partnership proposals recently received by the Company.
Furthermore, the continuity of the commitment of Maurizio, Paolo Flammini and of the entire Organization towards the FGSPORT GROUP activities will support the further development of the SBK WORLD CHAMPIONSHIP, the SUPERSTARS SERIES and the other important projects that FGSPORT is managing or is going to launch in the near future. - FGSPORT GROUP Press Release
Pirelli's $10 Million Action Car Chase Web Film with Uma Thurman
What do you do when you are the world's largest tire company with Billion dollars to spend on advertising? Sponsor the SBK World Superbike Championship. Produce the world''s most expensive nude Pirelli PinUp Calendar featuring famous Hollywood starlets and then don't let anyone buy it. How about make an action bhort website movie for $10 million dollars staring Kill Bill actress Uma Thurmond?
www.pirellifilm.com
Lame Ducks
Reprinted Courtesy
RoadRacer X magazine

By Mark Gardiner
January 18, 2007 - Last week's World Superbike test at Phillip Island ended with a Ducati 999 Superbike (in the hands of Troy Bayliss) a full second faster than the best of the four-cylinder machines. All in all, the 999 flies pretty well, for a lame Duc. Still, that's what it is. The 999 is officially obsolete—replaced by the 1098.

Not that long ago, the World Superbike Championship was derided as a Ducati spec series; half the grid was 998s. This year, the permanent entry list counts only two factory 999s and three privateers. Next year, Ducati won't race or officially support the 999 at all. That means that unless the FIM and FGSport get together and allow twin-cylinder bikes larger than 1000ccs to compete, the 2008 World Superbike grid will not have any Ducatis. The series will, to say the least, be poorer for it.
Continued Here
Hayden Testing New 16-Inch front wheel/ tire combo from Michelin
If you didn't notice it already, almost all the MotoGP and World Superbike teams have been running 16.5 diameter front and rear wheels this last year, compared to the 17-inch wheels which have been commonplace on sportbikes the past 20 years.Now at the Last month's MotoGP testing in Sepang, Team Honda's World Champion Nicky Hayden has been testing a new 16-inch wheel and Michelin front tire. The reason being, to still design a tire profile with the same outside rolling diameter (or height) as a 17-inch tire which has been proven to handle the best, but now use smaller diameter wheels with a taller profile tire /aspect ratio so there is more rubber to contact the ground on the sides of the tire when the bike is layed over for cornering.The factory race teams are finding this a better solution in getting more rubber to the ground for cornering traction, than increasing the widths of tires and wheels which slows up handling.Production s Superbike tire widths have fairly much stabilized right now around 120/70 for the front and 190/50 for the rear. So the best way now to get more rubber to the ground is to widen the side profile to allow more side contact patch traction, throttle and speed when cornering. Race bikes really don't need much more of a tire contact patch in the center of the tire when the bike is straight up and down, particularly with traction control which limits spinning at the rear wheel. So now the goal is to improve cornering speed to improve times, which has the added advantage of getting the bike back out onto the straight at a higher speed, and making rear wheel spin even less of a problem.You old timers may remember that Honda introduced their first VFR750 Superbike back in 1983 with a 16-inch front wheel and tire, but in that case the tire's outer diameter was actually smaller, so there was no real traction advantage, and in fact, front end traction was less and crashing with that setup was pretty common. It will be interesting to see when this new racing trend 10 smaller diameter wheels with taller aspect tires will make their way onto production bikes. Their may be a little resistance to making the change quickly with DOT legal street tires as higher cornering speeds at extreme lean angles on the street may not seem like a good idea. But then, probably neither was the first changes from 2.25 wide tires and drum brakes.
MotoGP Technology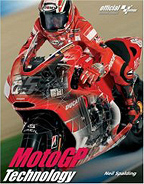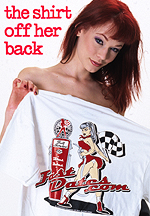 New 2007
Fast Dates Racebike,
Iron & Lace Custom
& Garage Girls Calendars
Click to Order Now!
Kawasaki on the Pace at Qatar with Randy de Puniet
The curtain finally came down on the first official test of the 2007 season after three non-stop days at the Losail International Circuit in Qatar, with Randy de Puniet closing out the test with the sixth fastest time of the day aboard his Ninja ZX-RR.
Once again the 26-year-old Frenchman was left to fly the flag alone for Kawasaki, as the after effects of his day one crash again forced Olivier Jacque to sit out most of his planned test session today.
The former World Champion completed 12 laps of the 5.380 km Losail circuit this morning, enough to convince him that he hadn't recovered sufficiently and that to continue testing would have only risked further injury for little return in terms of usable feedback.
With his teammate once again sidelined, de Puniet completed a marathon 96 laps today. The Kawasaki pilot worked his way through an accelerated tyre testing schedule in order to identify a suitable rear race tyre for when the Kawasaki Racing Team return to Qatar, for the opening event of the season in just four weeks time.
Although not completely satisfied with the race tyre options tested today, de Puniet still managed to post a lap time this morning on a qualifying tyre that was more than a second better than his best lap aboard the 990cc machine on a qualifier last year. But, after completing his flying lap, the Kawasaki pilot was convinced he could find even more speed when he returns here for the race.
The Kawasaki Racing Team now heads back home for a brief four-day rest before travelling again to Jerez, Spain, for the last test of the 2007 pre-season, starting on Friday 23rd February.
Randy de Puniet: 96 Laps - Best Lap 1'56.753
"It's been a long and exhausting day; I have done almost 100 laps! In the afternoon we did a complete race simulation first, followed by a half-race distance, and the lap times were not so bad. We still need to improve our performance from the middle of the race until the end. We found a very good rear tyre but it seems that the front choice was not the best one for a whole race, as it dropped after ten laps. I kept my rhythm steady but for sure without the movement I could have ridden three or four tenths faster. I was tired then but I wanted to try another qualifier. Unlike this morning, I couldn't get the most out of it though. Apart from that, it was good to see the potential of the bike over race distance. There is still some room for improvement in both tyres and bike performance, but we are heading in the right direction."
Olivier Jacque: 12 Laps - Best Lap 2'02.081
"This morning I thought that I was fit enough to ride, but when I got on the bike I realised that I was not. After a couple of laps I started to feel a little bit dizzy. My sight wasn't right and I couldn't ride the bike as always. It was too dangerous to continue and we decided to stop instead of doing a bad job and worsening the situation. I'm really disappointed because I really like this track. I did many tests here in the past and was expecting a lot from these three days. Anyway, now this is past and I only have Jerez in my mind. I will try and make up the time there."
Ichiro Yoda: Kawasaki Racing Director
"My assessment of this three-day test is positive. We found a good base set up but still we have to make some modifications, mainly in chassis balance, but we are happy with our performance. It is really important that we haven't suffered any relevant problems, either electronic or mechanical. Finding a good package was important too and Bridgestone has done a very good job providing different tyres, which allowed us to improve day by day. We have a clear idea about which is going to be our rear tyre choice for the race but still some doubts with the qualifying tyre. Our rider's lap time on a qualifying tyre today was below our expectations. Anyway, it is nothing to worry about because we still have more to try at Jerez. Unfortunately, Olivier could only test for one day. It has been a shame for him, because he needs to ride, and for us as well as he is a great testing rider and would have given us a lot of useful information. We hope he will be completely fit for Jerez."
Ducati Ends Positive Testing at Qatar with Race Simulations
The final day of testing in Qatar for the Ducati MotoGP Team concluded positively with both riders satisfied with their race simulation today. As in Sepang and Phillip Island, Loris Capirossi and Casey Stoner found a good compromise for the bike and tyre set-up in race configuration which enabled them to lap at an excellent pace. Despite today's progress, the team still has to find the best solution for the qualifying set-up.
Stoner is becoming more and more familiar with his Desmosedici GP7 machine even though today the Australian did not complete many laps because he first had a gearbox problem and then, like several other members of the team, felt sick and opted to wrap up testing early.
The team now returns to Italy and will almost immediately head off again next week for the official IRTA MotoGP tests at Jerez in Spain from 23-25 February. On the Sunday, as per tradition, the one-hour timed practice session will be broadcast live on television at 14.05 CET.
Loris Capirossi (62 laps, best time: 1m56.807s) - "I am quite pleased with the way things went today in race configuration. I did a complete 22-lap race simulation at a good pace. The tyres remained pretty constant throughout and we look to be in pretty good shape in comparison with the others: the bike has improved and so have the tyres. There's still a lot of work to do with qualifying tyres however. For the moment we are unable to get the best out of them. We have to work a lot with Bridgestone to avoid starting too far down the grid and risk jeopardizing the race. If we analyse everything today, we are quite happy with the situation. We still have to improve the set-up of the bike when there is not much grip, like yesterday, but we are OK if track conditions are good. We went well at Sepang, Phillip Island and here. Next week Jerez will be an important session to bring these winter tests to a conclusion"
Casey Stoner (36 laps, best time: 1m56.834s) - "It was another positive day. I was unable to finish the race simulation I was doing because they put the red flags out after 14 laps after someone crashed, but I was going well until then. We tried several different tyres which were satisfactory, so was happy with that. Today I didn't do many laps because I didn't feel well, like several other guys in the team, and I decided to call it a day before the end of the session and not test the qualifying tyres. In the last three days, and since the start of the 2007 tests in Sepang, we have gradually improved and the feeling with the Ducati is getting better all the time. It will be interesting to go back to Jerez next week. For the first time we will test at a circuit where we have already been and this will help to check on the progress we have made so far