Max Biaggi (3) and James Toseland (52) dueled in the desert for both races at Qatar.
2007 SBK Corona Extra Superbike World Championship
Qatar Kicks off the 20th Year of the World Superbike Championship
Bax Biaggi and James Tosleland Trade Wins at Losail
By Andy Rixon

Losail (Qatar), Saturday Feb 24th - The opening 2-race round of the 2008 SBK World Superbike Championship's 20th season took place in dramatic style at the seaside track of Losail, Qatar, whih former MotoGP star Max Biaggi (Alstare Corona Suzuki) holding off former World Superbike Champion James Toseland (Hannspree Ten Kate Honda CBR1000RR) to win Race One, and then in Race Two their 1-2 finishes were reversed. It was an exciting start to what is certainly to be to be one of the most competive World Superbike Championships ever with 6 major factories and 3 World Champions represented among more than 10 top riders who could win in any given race.
Toseland's start-to-finish domination of race two was an impressive sight and despite a strong push from Biaggi in the final laps, Toseland held out to win by a 0.7 seconds, and they leave Qatar with an equal share of the championship lead. Now on 45 points, Toseland and Biaggi are 20 points clear of the rest of the chasing pack, headed by Lanzi on 25 points.
2-wheeled Infadels in the Qatar sandbox. Is it all about petrol dollars or just getting sideways?

The Warm Up
Wednesday 21st February: The Losail International Circuit in Qatar is the venue for the opening round of the 2007 racing season this weekend as the World Superbike Championship moves into its 20th year. Three former champions, and half a gridful of potential race winners, will line up for first practice at Losail on Thursday 22 February, all hoping to make strong starts to the season.Very little has changed for last year's championship-winning Ducati Xerox Team, which goes into the new season with renewed hopes of success, judging by the pace set during winter testing by double world champion Troy Bayliss and his Italian team-mate Lorenzo Lanzi, who line up together again. On the technical front the successful Ducati 999 machine, which enters its final year of world championship racing, also remains the same, apart from an updated version of the idle control in the electronics package. With title sponsor Xerox also on board for a third successive year, the Ducati Xerox Team is gearing up for what promises to be another splendid year of World Superbike racing.
Troy Bayliss (Xerox Ducati) and Roberto Rolfo (Hannspree Ten Kate Honda) front the annual group picture at the Losail opening round. CLICK FOR BIG SCREENSAVER
And the opposition will not be lacking, coming once again from the four Japanese manufacturers, who will be present in 2007 with brand-new or updated machinery, but it is the rider front that gains the most with the arrival of four times 250cc world champion Max Biaggi in the Suzuki line-up, partnered by Yukio Kagayama. 2006 runner-up (and former world champion with Ducati) James Toseland is back on his Honda, this year partnered by Italian Roberto Rolfo. In the Yamaha Italia team, the ever-strong Noriyuki Haga is joined by double champion Troy Corser, while Kawasaki have Régis Laconi and Fonsi Nieto competing in a two-rider team. A strong outsider could also be Ruben Xaus in the Sterilgarda Ducati team, while two more Ducati 999s will be in the hands of Jakub Smrz (Caracchi) and Dean Ellison (Pedercini).
Bayliss has been setting the pace during the winter testing, the Australian resulting quickest in Qatar and smashing the unofficial lap record at his home circuit of Phillip Island, the venues for the opening two rounds.
Despite these exceptional performances the 37 year-old from Taree remains circumspect about this weekend's race.
"Honestly one of the hardest races of the year is going to be the first race in Qatar" declared Troy. "I'm not going to keep my hopes up too much because I know how difficult it's going to be for us. If we happen to win both races, we will certainly be in a great position because it's going to be nearly impossible to do that. Testing there in December looked great on paper but if I come onto the straight first and there's somebody within half-a-second, they're going to pass me. I have to make a break and that's very hard to do. You can try as hard as you can to get away, but you chew your tyres, it's going to be a difficult situation."
"We've basically got the same package as we had last year with a few minor changes but I would say that the team has worked really hard on the settings over the winter. We've had really good tests since we stopped at the end of last year and Pirelli have worked well and come up with some new tyres. Now we're just waiting for the first race but we're confident we can do a good job with what we've got."
Troy Bayliss (Ducati Xerox) may have swept to victory in his comeback year in 2006 but few observers feel that he will have as clear a path this season. With his team-mate Lorenzo Lanzi (Ducati Xerox) making serious strides in winter testing, and the riders of the latest generation of four-cylinder 1000cc powerhouses from Japan showing strongly over the winter months, Bayliss faces threats to his supremacy on many fronts. Ducati will field another proven SBK race winner in the shape of Ruben Xaus (Team Sterilgarda 999F06) plus the exciting new SBK talents of Jakub Smrz (Team Caracchi Ducati SC 999F05) and Dean Ellison (Team Pedercini 999RS). Ellison has competed in SBK races before, as a wildcard at previous British rounds, but this is his first full season.
Max Biaggi (Alstare Suzuki Corona Extra) will have his first ever SBK race, at Losail, on February 24th, with the four-times 250GP champion looking make as strong a start as possible in the tough SBK world. Sometimes fast in testing, Biaggi will be looking to Losail to get good early points on the board, before the championship moves onto another of his favourite circuits, Phillip Island in Australia, right after Qatar. His team-mate, Yukio Kagayama (Alstare Suzuki Corona Extra) cannot be thinking of anything less than a podium place for the Qatar meeting, as his past record at the track is one of tremendous achievement, interspersed with simple bad luck when in leading positions. Suzuki's participation in 2007 includes the limitlessly talented Max Neukirchner (Suzuki Germany) and the reigning Superstock 1000FIM Cup champion, Alessandro Polita (Celani Team Suzuki Italia).
The list of potential 2007 champions features all three previous SBK champions still active in the series, and as runner up on 2006, James Toseland (Hannspree Ten Kate Honda) is in with a real chance to repeat his championship win in 2004. Roby Rolfo (Hannspree Ten Kate Honda) will possibly be looking to the future rounds to try and take his first win in SBK, but his move from privateer Ducati to factory Honda machinery will have helped his cause no end. Honda are impressively armed with talent in 2007, with Steve Martin and Michel Fabrizio on DFX Corse Honda CBR1000RR machines, while a very welcome new name in SBK racing, Alto Evolution Honda, field 2004 World Supersport Champion Karl Muggeridge and former WSS race winner Josh Brookes to complete a powerful Honda line-up.
A total of four full-time Yamaha riders will be in attendance at the 13-rounds of World Superbike this year, with the Yamaha Motor Italia team featuring one old hand (Noriyuki Haga) and one two-time SBK champion (Troy Corser) on the all-new Yamaha R1s. Further Yamaha entries come from Shinichi Nakatomi (Yamaha YZF team) and Jiri Drazdak (Yamaha Junior Pro SBK team).
Regis Laconi (PSG-1 Kawasaki Corse) and Fonsi Nieto (PSG-1 Kawasaki Corse) return to their 2006 team and the latest version of the ZX-10R, each with high hopes of their best ever season on four-cylinder machinery. Laconi has the better long-term SBK formbook but the ever-improving Nieto is tipped by some to be not far away from race-winning pace this season, with increased support from Kawasaki as a manufacturer.
Austrian Christian Zaiser from the LBR team has the honour of becoming the first full-time MV Agusta entry to the SBK championship, although he will be running in a one-man privateer team.
SUPERSPORT WORLD CHAMPIONSHIP
Few seasons in the World Supersport Championship are ever set to be as closely contested as the forthcoming one, despite Sebastien Charpentier (Hannspree Ten Kate Honda) making history last year by becoming the only man ever to retain the title.
His own team-mate Kenan Sofuoglu is mounted on the same new CBR600RR as Charpentier in 2007, and is in superb form after testing, while Yamaha R6 competitors Kevin Curtain and Broc Parkes (Yamaha SSP Racing) are as formidable foes as any that could be imagined.
A whopping 36 riders will compete in this class this year, and adding to the strength in depth, the GIL Kawasaki team will field former champion Fabien Foret and Pere Riba, while the Lightspeed Kawasaki squad from Italy will run rookie Davide Giugliano. Gianluca Nannelli (Team Caracchi Ducati SC 749R) will no doubt ride the best-placed Ducati in the opening two rounds, while Suzuki can count on Barry Veneman and Vesa Kallio from the Hoegee Suzuki team.
The Yamaha team looked quick as Haga topped Thursday Practice.
THE CIRCUIT
Name: Losail International Circuit, Length: 5.380 km
Pole Position: right, Finish line length: 1068 metres
Race distance: 2 x 18 laps/96.840 km
STATISTICS: Best lap: Bayliss (Ducati), 1m59.696s (2006). Lap record: Haga (Yamaha), 2m00.061s (2006). Superpole: Bayliss (Ducati), 1m59.696s (2006).
2006 RESULTS: Race 1 - 1. Toseland (Honda); 2. Bayliss (Ducati); 3. Pitt (Yamaha). Race 2 - 1. Corser (Suzuki); 2. Bayliss; 3. Haga (Yamaha).
Thursday Practice: Haga Sets the Early Pace for Saturday's Race
Thursday Feb 22nd - Noriyuki Haga (Yamaha Motor Italia) proved to be the fastest rider in the first session of the weekend at Losail, after carving 0.6 seconds from the previous best SBK lap of the 5.4km circuit. A close session saw James Toseland (Hannspree Ten Kate Honda) ride to within 0.037 seconds of Haga, and edge out SBK 'rookie' Max Biaggi (Alstare Suzuki Corona Extra) to third. Biaggi was the early pacesetter, proving an instant hit when the first competitive laps were played out under the hot sun in the Qatari desert.
The overnight front row four was completed by 1996 and 2005 World Champion Troy Corser (Yamaha Motor Italia), in his first competitive SBK ride for his new employers.
Given his speed during testing, the biggest surprise of the day was reserved for the news that Troy Bayliss (Ducati Xerox) was not only not the fastest rider, but also that he was also outperformed on the day by his team-mate Lorenzo Lanzi. The top two Ducati riders were fifth and sixth respectively. Former Qatar race winner Yukio Kagayama (Alstare Suzuki Corona Extra) earned seventh fastest time, and the big seven were the only ones within a second of provisional pole. The second row was completed by multiple SBK race winner of years gone by, Ruben Xaus (Team Sterilgarda Ducati), a welcome sight in the top eight. British rider Dean Ellison (Team Pedercini 999RS) was 18th from 23 entrants.
Roby Rolfo (Hannspree Ten Kate Honda) is far enough along his Honda learning curve to be ninth fastest after the first day of qualifying, and also did well enough to ace the top Kawasaki rider on show, Fonsi Nieto (PSG-1 Kawasaki Corse) who was tenth. Regis Laconi (PSG-1 Kawasaki Corse) was only 13th but is almost sure to make improvements on day two. The private riders placed well behind the best of the officially supported machines, as Michel Fabrizio (DFX Corse Honda) and Max Neukirchner (Suzuki Germany) completed the overnight third row.
Alto Evolution Honda rider Josh Brookes scored 14th best time on his CBR1000RR, but a double bike failure for his fellow Aussie and Alto Evolution rider Karl Muggeridge prevented him from setting even a single qualifying lap. The last two riders into the top 16 today were lone Yamaha YZF Team rider Shinichi Nakatomi and DFX Corse Honda rider Steve Martin. New SBK inductee Jakub Smrz (Team Caracchi Ducati SC) was a battling 17th, one place up on Ellison.
Just a reminder to our Pit Lane race fans, because of religious considerations in Qatar the Feature Races will take place on Saturday, Feb 24th, with Final Practice and Superpole on Friday 23rd.
Thursday Practice: 1. Haga (Yamaha) 1m59.019s; 2. Toseland (Honda) 1m59.056s; 3. Biaggi (Suzuki) 1m59.369s; 4. Corser (Yamaha) 1m59.440s; 5. Lanzi (Ducati Xerox) 1m59.459s; 6. Bayliss (Ducati Xerox) 1m59.507s; 7. Kagayama (Suzuki) 1m59.805s; 8. Xaus (Ducati) 2m00.244s; 9. Rolfo (Honda) 2m00258s; 10. Nieto (Kawasaki) 2m00.309s; etc.
SuperPole winner Corser returns to the Yamaha pit garage

Troy Corser Ousts Biaggi to Score SuperPole Win #39 - Extending all-Time Recrd
Saturday Feb 24th - Troy Corser (Yamaha Motor Italia) overcame two practice crashes earlier in the weekend to score his 39th Superpole win at Losail, after qualifying second quickest in regulation practice. Corser's lap of 1'58.402 was the fastest of the weekend, and was set on race tyres, in his first ever meeting for his new Yamaha team.
A stunning lap by Max Biaggi (Alstare Suzuki Corona Extra) in his first ever Superpole contest was a remarkable feat for the new SBK force, and looked for some time like his 1'58.724 would be the Superpole winner. He was only 0.322 seconds from Corser in the final analysis, and ran qualifying tyres in his flying lap. Pre-Superpole fastest rider James Toseland (Hannspree Ten Kate Honda) was last rider away but he made a couple of small errors in his Superpole lap, losing the chance of the win. In scoring third place he nonetheless earned a coveted front row start. Noriyuki Haga (Yamaha Motor Italia) went fourth fastest on his new R1, and joins the cream of the Superpole crop on the front row for Saturday's two 18-lap races.
Troy Corser gets down to business to on the R1 to claim SuperPole for the season opener at Losail
Lorenzo Lanzi (Ducati Xerox) slipped and slid to fifth fastest time in Superpole, and was one place ahead of a strangely subdued Troy Bayliss (Ducati Xerox), who only went sixth. Yukio Kagayama (Alstare Suzuki Corona Extra) once more rounded out the top seven after a hot day of qualifying at the 5.380km Losail circuit. A quite brilliant second day for Max Neukirchner (Suzuki Germany) saw him take a 2006 specification GSX-R1000 to a second row start. in eighth place, impressing all who watched with his maturity in the pressurised scenario of Superpole.
Fonsi Nieto (PSG-1 Kawasaki Corse) only rated his fitness at 75% today but he punched hard in Superpole to take ninth best time out of 23 riders, despite his machine suffering from chatter and requiring a high degree of steering effort. Roby Rolfo (Hannspree Ten Kate Honda) set a workmanlike lap to earn second spot on row three at Losail - and the last place inside the psychologically important top ten. Ruben Xaus (Team Sterilgarda Ducati) went 11th, with the hard pushing style of Michel Fabrizio (DFX Corse Honda) taking him to a third row starting place.
The new generation of DIABLO SUPERBIKE tyres confirmed the results of the Pirelli tests at Losail in December. The best lap of last year was just destroyed by James Toseland in regulation qualifying, dropping the record on race tyres by 1.4" (after a 1'58.6 lap). Then In Superpole Troy Corser scored an even better time, also on race tyres. After the second SBK qualifying session, the free sessions were saved for 'long runs', which indicated that with Pirellis and the right setup it's possible to compete for the whole race at record pace. In Superpole, the riders earned first row starts using both qualifying rubber (Biaggi, Toseland) and race tyre solutions (Haga, Corser). If raceday temperatures will allow it, some riders could race with the same tyre choice as Superpole, confirming the incredible level of performance reached by Pirelli's race tyres, thanks to the development carried on during the off-season.
600cc World Supersport Qualifying
The top four Supersport riders put clear distance between themselves and their peers in the 600cc division, with Kevin Curtain (Yamaha World SSP Racing) taking only his third career pole, with an impressive new WSS best lap of 2'02.081. Close behind, only 0.102 adrift, was reigning double champion Sebastien Charpentier (Hannspree Ten Kate Honda) with first-day provisional pole man Katsuaki Fujiwara (Althea Honda) now third, even after improving on his Thursday time. Fourth, and last man on the front row of the grid, was Charpentier's team-mate, Kenan Sofuoglu (Hannspree Ten Kate Honda).
The second row of the grid will be led away by GIL Kawasaki pairing Fabien Foret and Pere Riba (GIL Kawasaki) in an outstanding showing for the all-new ZX-6R.
Broc Parkes (Yamaha World SSP Racing) and Gianluca Nannelli (Team Caracchi Ducati SC 749R) finished of the second row, with the fastest GSX-R rider on show being Barry Veneman (Hoegee Suzuki) 11th.
Every one of the 36 riders in the field qualified for Saturday's 18-lap race.
Max Biaggi, after a year in exile from MotoGP racing, wins his first ever World Superbike race.
Biaggi and Toseland Trade Opening Championship Round Wins

Superbike Race One: The Emperor Reigns in Qatar.
Max Biaggi, the Roman Emperor, took his maiden win in the World Superbike Championship in his first race in the series. Biaggi on the Alstare Suzuki rode a determined race and saw off a serious challenge from James Toseland on the Hannspree Ten Kate Honda. Toseland took the second position with Lorenzo Lanzi rounding off the final podium place. Reigning champion Troy Bayliss could only manage 5th place just behind Biaggi's team mate Yukio Kagayama.
Ex champion Troy Corser and his team-mate Nori Haga who were so dominate in practice and SuperPole were only able to finished 9th and 8th respectfully. They had looked powerful at the start, taking the first and second position through the first corner. Toseland was in the fray as well and Biaggi was in 4th after running wide at the first corner whilst in 1st place which caused him to drop back a bit.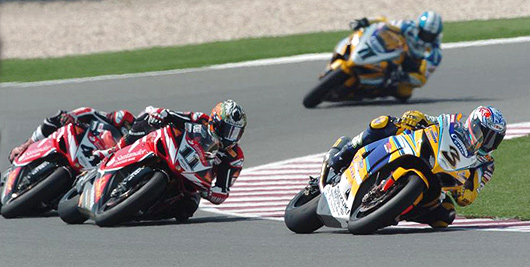 Biaggi (3) moves past Corser (11) and Haga (41) in Race One to reel-in on Toseland

Toseland powered his way through taking the lead on the 3rd lap. His Honda had impressive power leaving the two Honda riders looking up his tail pipes on consecutive laps. Biaggi was biding his time hanging onto the back of the front three. On the 5th lap Max moved up past Haga and then put a move on Corser. The Australian wasn't going to give up without a fight and came straight back at the ex MotoGP rider. It was a foregone conclusion though and Biaggi made the move stick for second place on the next lap.
The battle for second place that was being waged allowed Toseland to pull out a gap but any breathing space the Honda rider thought might be coming was soon over as once Biaggi cleared Corser he reeled in the Englishman and by the next lap he was all over him.
Biaggi and Toseland proceeded to beat each other up and swap places. Biaggi favoured a move on Toseland at the end of the main straight but three times he overcooked it into the corner allowing Toseland to slip past. Biaggi rides a very neat style indicative of his 250cc days where it's important to be neat and carry corner speed. This style allowed him to pull away a little from Toseland in the corners but the Honda would be straight back at him on the exit of the corner.
On the 13th lap Biaggi made a move on Toseland and managed to make it stick and despite a monumental effort Toseland wasn't able to do anything about it and the Italian eventually took the flag just under 1.5 seconds clear of Toseland.
The threat from Corser and Haga melted away as the two Yamaha riders found themselves swallowed back into the pack with what looked like tyre wear problems. Haga is notoriously hard on tyres but Corser can conserve them so it was unusual for them both to fade at the same time.
Their disappointment allowed Bayliss, Kagayama and Lanzi to fight for the final podium position. Bayliss had battled with Kagayama through much of the race with the current champion in the unusual position of battling for 5th place. Kagayama got the better of the Ducati rider and looked good for the final podium position however a late surge from Bayliss's team-mate Lorenzo Lanzi saw the Italian rider surge past both Bayliss and Kagayama to give Ducati something to cheer about.
"What a fantastic start to my new (Superbike) experience, exclaimed a jubliant Max Biaggi. "To begin with a win is wonderful and I dedicate it to our Team Boss, Francis Batta, who couldn't be here with us today. I'm sure he watched it on TV and it must have made him wish he was here. This championship is tough and for sure there are a lot of good riders, so I don't think it's always going to be like this. I want to thank my team for all their hard work and support over the past few months, which has made all this possible."

Special mention to Kawasaki riders Regis Laconi and Fonsi Nieto who managed to take each other out on the 13th lap and then proceeded to hug each other. I doubt that their team manager will be giving them such a warm welcome. He's probably kicking himself that he elected to get rid of Chris Walker who was his best rider last year.
And Christian Zaiser brought the MVAugusta F4 home in 16th place in their first race.

The Ducati's riders are going to find it tough this year as all the other teams are doing a huge amount of development on their bikes, including playing catch up with traction control software were Ducati had held an advantage up until now. Now Ducati is stuck running last year's 999F06 machine whilst they wait to see if the SBK regulations allow them to run the new generation 1088 bike next year.
SUPERBIKE Race 1: (Laps 18 = 96,840 Km)
Pos / Rider / Nat. / Team / Time / Gap
1 / M.BIAGGI / ITA / Alstare Suzuki Corona Extra / 36'10.115 /
2 / J. TOSELAND / GBR / Hannspree Ten Kate Honda / 36'11.598 / 1.483
3 / L. LANZI / ITA / Ducati Xerox Team / 36'24.021 / 13.906
4 / Y. KAGAYAMA / JPN / Alstare Suzuki Corona Extra / 36'24.934 / 14.819
5 / T. BAYLISS / AUS / Ducati Xerox Team / 36'27.420 / 17.305
6 / M.NEUKIRCHNER / GER / Suzuki Germany / 36'35.046 / 24.931
7 / R. ROLFO / ITA / Hannspree Ten Kate Honda / 36'35.280 / 25.165
8 / N.HAGA / JPN / Yamaha Motor Italia / 36'37.435 / 27.32
9 / T. CORSER / AUS / Yamaha Motor Italia / 36'41.352 / 31.237
10 / R. XAUS / ESP / Team Sterilgarda / 36'41.784 / 31.669
11 / S. MARTIN / AUS / D.F.X. Corse / 36'52.470 / 42.355
12 / S. NAKATOMI / JPN / Yamaha YZF / 36'56.960 / 46.845
13 / A. POLITA / ITA / Celani Team Suzuki Italia / 37'09.322 / 59.207
14 / J. SMRZ / CZE / Team Caracchi Ducati SC / 37'10.411 / 1'00.296
15 / D. ELLISON / GBR / Team Pedercini / 37'31.158 / 1'21.043
Fastest Lap 7° Max Biaggi 1'59.275 162,381 Km/h
Superbike Race Two: Toseland Triumphs in Race Two
James Toseland took the win in Race Two at Qatar after a determined ride and pressure from debutante Max Biaggi. Toseland had taken the lead on the first lap and then put his head down and tried to pull away from the chasing riders. Haga, Corser and Biaggi were again the riders at the front and this time the Yamaha's lasted a lot longer before suffering from the tyre wear that curtailed their threat in race one.
It was Biaggi that finally broke away after a charging Toseland. The Italian tried to close the gap to Toseland but it was looking unlikely as Toseland managed to maintain a gap of around 2 seconds. However with 3 laps to go
Biaggi started to cut into Toseland's lead and on the final lap was close enough to taste his exhaust fumes but it wasn't enough and Toseland took the flag 0.7 seconds ahead of Biaggi.
Corser and Haga had done everything they could to stay with Toseland and it looked as if they would be able to last the distance but again Haga's front tyre and Corser's rear tyre started to go off dropping them back. Haga was throwing his R1 into the corners showing an almost supernatural ability to keep the front end from tucking in which was stunning given his lack of front end grip in the first race. Despite his white knuckle antics he was
passed by his team-mate on lap 9 and was unable to stay with Corser. Troy managed to conserve his tyres better than his team-mate this time and the rear tyre problem from the first race didn't seem as bad and after Haga
dropped away he rode a lonely last third of the race to take a well earned third place.
Haga had dropped further behind and as the race came to the end he found himself under pressure from Fonsi Nieto on the Kawasaki. Keeping his head down Haga managed to fend off the charging Kawasaki and crossed line in fourth place just ahead of the Spaniard.
Biaggi's Team-mate, Yukio Kagayama, had a race long battle with Nieto and Lanzi. The Alstare Corona Suzuki rider had been pushing Troy Bayliss until Bayliss made a mistake and dropped back. On the 13th lap Kagayama passed Nieto and kept ahead of him for 3 laps but he couldn't maintain his position and Nieto passed him on the 16th lap. Kagayama pushed his squirming Suzuki but couldn't hold onto the back of Nieto and crossed the line 0.8 seconds behind the Kawasaki.

Troy Bayliss's day didn't get any better in race two. He dropped back to 12th place on lap 6 and then had to fight his way back to finally finish in 8th place. His Ducati team-mate Lorenzo Lanzi was unable to duplicate his podium finish from race one but will be happy in the knowledge that his 7th place in race two means he beat his team-mate and current world champion in both races.
Fonsi Nieto on the PSG-1 Kawasaki had a steady race starting in 5th position and finishing in 5th position after his battle with Kagayama. He could see Haga dropping back towards him in the closing stages of the race but despite his best efforts he was unable to catch the Yamaha that crossed the line just under 0.5 seconds ahead of him.
Steve Martin and Michel Fabrizio on the DFX Honda will have mixed emotions about today. Martin finished in 18th in race two and Fabrizio in 12th. Both riders have suffered from a lack of testing time and will only improve as the season progresses.
Toseland, the only rider to stay with Biaggi in Race One, was a popular Race Two winner. "I have had a great weekend," said a jubilant Toseland. "I was quickest on Friday morning and in the top three in all sessions. My lowest position was sixth and that was in the warm up this morning. I was quite disappointed with the first race, but in the second race we set the pace and got to the front. The last two laps were difficult but we made it and got first place. This is my seventh year in World Superbikes and I am fitter than ever. We deserve to be at the front after a winter of hard work and to get there in the first race weekend is brilliant."
And for Biaggi, "This racing is fun! I wished I had discovered this championship years ago. In the second race, I was catching James (Toseland) and I think I could've caught him if there had been three or four more laps. We made a small adjustment to the bike for the second race and maybe it wasn't the right thing, but we still nearly managed to win it! Now we are off to one of my favourite tracks, Phillip Island. I'm looking forward to it and having more fun."
There's no rest for the teams as next weekend sees the championship at Philip Island in Australia. Corser and Bayliss in particular will be keen to do well at their home round and it's also a circuit that Max Biaggi knows
well from his MotoGP days. Was Biaggi's performance a flash in the pan? Will Toseland continue to do
well? Will the Ducati's get back on the pace? Will the Kawasaki's take each other off again? All that and more will be answered right here at FastDates.com next week.
SUPERBIKE Race 2: (Laps 18 = 96,840 Km)
1 / J. TOSELAND / GBR / Hannspree Ten Kate Honda / 36'09.433 /
2 / M.BIAGGI / ITA / Alstare Suzuki Corona Extra / 36'10.171 / 0.738
3 / T. CORSER / AUS / Yamaha Motor Italia / 36'16.819 / 7.386
4 / N.HAGA / JPN / Yamaha Motor Italia / 36'24.417 / 14.984
5 / F. NIETO / ESP / Kawasaki PSG-1 Corse / 36'24.466 / 15.033
6 / Y. KAGAYAMA / JPN / Alstare Suzuki Corona Extra / 36'25.344 / 15.911
7 / L. LANZI / ITA / Ducati Xerox Team / 36'26.097 / 16.664
8 / T. BAYLISS / AUS / Ducati Xerox Team / 36'32.682 / 23.249
9 / R. XAUS / ESP / Team Sterilgarda / 36'33.715 / 24.282
10 / M.NEUKIRCHNER / GER / Suzuki Germany / 36'42.913 / 33.48
11 / R. LACONI / FRA / Kawasaki PSG-1 Corse / 36'43.437 / 34.004
12 / M.FABRIZIO / ITA / D.F.X. Corse / 36'46.730 / 37.297
13 / J. BROOKES / AUS / Alto Evolution Honda / 36'51.497 / 42.064
14 / K. MUGGERIDGE / AUS / Alto Evolution Honda / 36'51.792 / 42.359
15 / A. POLITA / ITA / Celani Team Suzuki Italia / 36'55.639 / 46.206
Fastest Lap 4° Max Biaggi 1'59.194 162,491 Km/h
Record Lap: 2007 Max Biaggi 1'59.275 162,380 Km/h
Best Lap: 2007 T.Corser 1'58.402 163,580
Superbike Riders Championship Standings:
1 TOSELAND 45, 2 BIAGGI 45, 3 LANZI 25, 4 CORSER 23, 5 KAGAYAMA 23, 6 HAGA 21,
7 BAYLISS 19, 8 NEUKIRCHNER 16, 9 XAUS 13, 10 NIETO 11, 11 ROLFO 9, 12 LACONI 5,
13 MARTIN 5, 14 FABRIZIO 4, 15 NAKATOMI 4.
Sofuoglu Wins 600cc Supersport First Time Out on new Honda CBR600RR
A crash while leading dropped 2005 and 2006 World Supersport Champion Sebastien Charpentier (Hannspree Ten Kate Honda) out of the points entirely, and allowed his closely following team-mate Kenan Sofuoglu (Hannspree Ten Kate Honda) to secure the first WSS race win of 2007. Riding a new Honda CBR600RR this season, Sofuoglu was some 3.4 seconds up on second place rider, and pole man, Kevin Curtain (Yamaha SSP Racing). The only consolation for Charpentier was a new lap record, 2m 02.949s, set on lap three.
A good start from the leading three riders meant that third place man Katsuaki Fujiwara (Althea Honda) was too far back to make any real impression on the podium, until Charpentier fell and pushed the Japanese up to third. It was nonetheless a good weekend in general for Fujiwara and his team. Fabien Foret and Pere Riba (both GIL Kawasaki) raced to the line to battle for fourth place, with the Frenchman, who had survived a brake induced crash in the morning warm-up largely unscathed, just beating Riba in a near photo finish.
The top Ducati was that of Gianluca Nannelli (Caracchi Ducati SC) in eighth place, with Barry Veneman (Hoegee Suzuki) the top 600 Suzuki rider in ninth place. Only 24 riders finished, from 36 starters.
"I knew I could be challenging for the podium," said Sofuoglu, who is no stranger to wins in WSS. "Kevin went away in front very fast but after only three or four laps I knew I could increase my speed and make an attack. I could ride at a high pace consistently, as could Sebastien, and for sure if he did not crash we would have fought for the win. I am really happy because last year Sebastian was better than me but I think this year we are more like the same."
SUPERSPORT: (Laps 18 = 96,840 Km
Pos /Rider /Nat. /Team / Time /Gap
1 / K. SOFUOGLU / TUR / Hannspree Ten Kate Honda / 37'22.452 /
2 / K. CURTAIN / AUS / Yamaha World SSP Racing / 37'25.865 / 3.413
3 / K. FUJIWARA / JPN / Althea Honda Team / 37'28.680 / 6.228
4 / F. FORET / FRA / Team Gil Motor Sport / 37'36.211 / 13.759
5 / P. RIBA / ESP / Team Gil Motor Sport / 37'36.309 / 13.857
6 / R.HARMS / DEN / Stiggy Motorsport Honda / 37'36.986 / 14.534
7 / M.ROCCOLI / ITA / Yamaha Team Italia / 37'41.102 / 18.65
8 / G.NANNELLI / ITA / Team Caracchi Ducati SC / 37'41.227 / 18.775
9 / B. VENEMAN / NED / Team Hoegee Suzuki / 37'41.743 / 19.291
10 / V. KALLIO / FIN / Team Hoegee Suzuki / 37'43.047 / 20.595
11 / J. FORES / ESP / HP Racing / 37'43.269 / 20.817
12 / C. JONES / GBR / Revè Ekerold Honda Racing / 37'44.850 / 22.398
13 / L. ALFONSI / ITA / Althea Honda Team / 37'49.355 / 26.903
14 / D. SALOM FUENTES / ESP / Yamaha Spain / 37'51.020 / 28.568
15 / G.VIZZIELLO / ITA / RG Team / 37'56.968 / 34.516
Fastest Lap 3° Sébastien Charpentier 2'02.949 157,529 Km/h
Lap record: 2006 S.Charpentier 2'03.921 156,290 Km/h
Best Lap: 2007 K.Curtain 2'02.081 158,650
Supersport Riders Championship Standings:
1 SOFUOGLU 25, 2 CURTAIN 20, 3 FUJIWARA 16, 4 FORET 13, 5 RIBA 11, 6 HARMS 10,
7 ROCCOLI 9, 8 NANNELLI 8, 9 VENEMAN 7, 10 KALLIO 6, 11 FORES 5, 12 JONES 4,
13 ALFONSI 3, 14 SALOM 2, 15 VIZZIELLO 1
SBK CIRCUS MAKES A BREATHLESS DASH TO OZ FOR ROUND TWO
A mere eight days after the first round of the World Superbike championship gets underway at Losail on 24th February the second round will take place on Sunday 4 March, at the spectacularly-appointed Phillip island circuit in Australia.
---
There's more! Go to Pit Lane News NEXT PAGE

Hot Calendar Girl and Bike News! Go to: Fast Dates • Calendar Girls • Iron & Lace





BikerKiss.com - the largest biker personals site!
Ducati North America Announces ExcitingE vents for 2007 Daytona Bike Week.
Feb 27th = This year Ducati is making the Daytona experience better than ever, with a four day celebration of the company's culture and roadracing heritage. From Wednesday, March 7 through Saturday, March 10, Ducati will transform the area located directly beneath Daytona International Speedway's Nextel Tower Grandstand into "Ducati Village" - featuring Desmo-only parking, hospitality, live TV feeds, the 2007 Ducati model range and a place to meet fellow Ducatisti.
On Friday, March 9, the Village will host non-stop entertainment as Ducati.net presents the annual DucatiDayDaytona party (DDD). DDD 2007 will feature favorites such as the Concorso DucatiDayDaytona; the longest running Ducati-only motorcycle concours in North America, a contest for the best sounding Ducati and two rounds of the exciting Fashion Show.
This year's event also marks the 30th Anniversary of Cook Neilson and Phil Schilling's historic 1977 Daytona Superbike win on a Ducati. To commemorate this occasion, Cook Neilson and Phil Schilling will once again return to the Speedway. On Friday they will attend DDD to meet fans and celebrate their legendary success at Daytona.
Another special guest of the festivities is Gianandrea Fabbro, the Senior Designer of the new 1098 Superbike. Gianandrea is making a special trip from Italy to attend DDD on Friday afternoon where fans can learn first hand about the development of the 1098 during a special presentation. Gianandrea will be available at the event for the duration of the day to answer questions, sign autographs and enjoy all that bike week has to offer.
Full details of the week's events, including a complete schedule, can be found at www.ducatidaydaytona.com and www.ducatiusa.com
World Supersport Preview
Charpenter and Sofuloglu
Hope to Maintain Honda's Dominace in 600 Supersport
With four officially supported riders being fielded on the new Honda CBR600RR in the coming season, the aim is a simple one; retain the World Supersport Championship for a sixth successive season. Honda has held the championship title since 2002, and the current world champion, Sebastien Charpentier (now riding for the renamed Hannspree Ten Kate Honda team) made history in 2006 by becoming the first rider ever to retain the Supersport title, which was first granted full FIM World Championship status in 1999.
Last year's epic battle for the riders' crown was punctuated by injury and slow recovery, grinding determination and final drama for the French rider, but however the championship plays out this season, it seems very possible that Charpentier's main rival will come from within his own Hannspree Ten Kate Honda Team. Kenan Sofuoglu (Hannspree Ten Kate Honda CBR600RR) won two races last year, and has been fast in testing all through the winter build up towards round one, to be held at the Losail circuit in Qatar on Saturday 24 February 2007. The Turkish rider has finished in the top three of each championship he has competed in the past few years, and despite some dips in his learning curve during his first full rookie season in 2006, he finished third overall in the series.
Once more Katsuaki Fujiwara (Althea Honda Team CBR600RR) returns to the Supersport fray for Honda, and he will be hoping to stay injury free in the early stages, to allow him to build a secure early points total and thus put him in with a chance of a high final classification. An important part of Honda's development programme, as well as a potential winner in his own right, Fujiwara has won six previous WSS races.
Lorenzo Alfonsi (Althea Honda Team CBR600RR) was the Superstock 1000 champion in the 2004 season, and joins a new team this year to ride the latest CBR600RR, after finishing third in the Italian Superbike Championship in 2006. He rode two WSS races last season, but is otherwise a rookie in this competitive racing class.
In the push for another historic title win, Charpentier knows he could not be better placed than he is now, in the same team which has won the championship for five years in a row - especially as the first race is at one of his 'best' circuits.
"Qatar is a good track for me, I won the first race of the series there last year and it just suits my style," said the 2005 and 2006 champion. "I think with the new bike there is a good possibility for me to finish on the podium. I am happy with our most recent test at Valencia and confident about the first race. I feel quite good and I can't wait to be back. I will understand my real physical condition only when I will make my first few laps on the track. I will only think about last year's victory, and I am convinced that this will give me the right motivation."
Sofuoglu, an intense rider who knows he must overcome a formidable group of riders to take his first major title win, has been happy with all aspects of his off-season.
"I am really looking forward to the start of the season," said the talented Turkish rider. "For me, it is better than last year because 2006 was my first year in Supersport and I had no idea what would happen. Now I know the class, I know the other riders, I know my team and I know what to expect. We have already tested with the new bike and it is a big improvement. The test times are much faster than last year. We did not have ideal track conditions for our last test at Valencia but I am feeling very happy and we were still setting better lap times than before. We have done some good testing and I feel more confident with the new bike."
Fujiwara's talents are a well-known quantity in Supersport, and this year he knows he may have to start with a high degree of realism to attain his ultimate objective.
"I will not be thinking about victory even before the first practice," said 'Kats'. "Last year I made a mistake when I started the race very fast, without the best machine set-up and I crashed when I pushed hard, breaking my scaphoid. This year I want to work step-by-step, with my target in Losail to take a good finishing position. There are many important riders in Supersport this season, but I believe I will have a good year."
Alfonsi is going for a top ten at Losail, and knows that this is a big ask for himself first time out in his new squad.
"I have a good feeling with the guys of the team," said the 26-year-old Italian. "They work very well, with a good experience in the Supersport class and I have confidence. I will start in Qatar with the target to finish inside the first ten positions. I know that this target will be hard, but I want to conquer it anyway, because a good start to the season will be important for me and the squad".
The second round of the Supersport championship takes place at Phillip Island, Australia, just one weekend after the first round in Losail.
---
Yamaha Factory MotoGP Team To Run In Special Blue Livery In Jerez
Yamaha's Factory MotoGP Team will take part in the Official MotoGP Test in Jerez this weekend sporting a special blue Yamaha livery.
The livery reflects the familiar blue colours used in other Yamaha racing disciplines and also makes a direct connection with the blue colours and the famous Yamaha speedblock stripe used on the high-performance Yamaha R1 and R6 machines throughout the world.
The one-off livery will be used by Valentino Rossi and Colin Edwards over the three days of the test, including during the traditional televised timed 'qualifying' session on Sunday.
Pirelli's $10 Million Action Car Chase Web Film with Uma Thurman
What do you do when you are the world's largest tire company with Billion dollars to spend on advertising? Sponsor the SBK World Superbike Championship. Produce the world''s most expensive nude Pirelli PinUp Calendar featuring famous Hollywood starlets and then don't let anyone buy it. How about make an action bhort website movie for $10 million dollars staring Kill Bill actress Uma Thurmond?
www.pirellifilm.com
Lame Ducks
Reprinted Courtesy
RoadRacer X magazine

By Mark Gardiner
January 18, 2007 - Last week's World Superbike test at Phillip Island ended with a Ducati 999 Superbike (in the hands of Troy Bayliss) a full second faster than the best of the four-cylinder machines. All in all, the 999 flies pretty well, for a lame Duc. Still, that's what it is. The 999 is officially obsolete—replaced by the 1098.

Not that long ago, the World Superbike Championship was derided as a Ducati spec series; half the grid was 998s. This year, the permanent entry list counts only two factory 999s and three privateers. Next year, Ducati won't race or officially support the 999 at all. That means that unless the FIM and FGSport get together and allow twin-cylinder bikes larger than 1000ccs to compete, the 2008 World Superbike grid will not have any Ducatis. The series will, to say the least, be poorer for it.
Continued Here
Secretary of Transportation Asks the Industry for Help
42% of Riders Don't Wear Helmets
February 20, 2007 Indiandapolis, IN, Secretary of Transportation Mary Peters asked a gathering of powersports industry leaders to help the government ease an alarming increase in the number of national motorcycle crashes and fatalities.
Speaking at the annual Motorcycle Industry Council meeting held before the opening of the Dealer Expo, Peters focused on two safety issues: training costs and availability and the use of helmets. Peters even suggested that manufacturers should fold the price of helmets into the final price of a new motorcycle, meaning consumers couldn't buy one without the other.
In discussions with the media after her speech, Peters said it was merely an idea and that she wasn't there to "tell (the industry) what to do."
"We could save, we know, more than 700 lives each year if everybody put a helmet on every time they got on a bike," Peters said. "But right now, unfortunately, only 58 percent of riders wear their helmets and that rate is 13 percent lower than it was just four years ago."
Editor: Certainly it's a good idea for everyone to wear a helmet on a bike, but the Secretary is making a stupid proposal that wouldn't solve the problem. As long as bikers can ride legally without helmets in many states, they will continue to do so, whether they are given a cheap $50 helmet when they buy a new bike or not. The real solution is a DOT Federally mandated law requiting helmet use. If the Feds can force states to require seatbelt useage in automobiles by withholding the state's highway funds, the Feds certainly can do the same for motorcycle helmet use.
Rossi wins BMW M Award shootout to Conclude 2007 MotoGP PreSesason Testing
Sunday 24th February - Jerez, Spain - MotoGP Official Test
Valentino Rossi will leave Jerez tonight with a brand new BMW M car and, more importantly, a crucial psychological advantage over his title rivals after winning the 40 minute 'qualifying session' at Jerez this afternoon. The five time MotoGP World Champion took the 2007 BMW M Award at the MotoGP Official Test with scorching 1'38.394 lap, clocked with just five minutes to go in the session. It is the second time that Rossi has won the award, and an excellent end to a preseason where the 800cc Yamaha M1 has shone brightly.
The Italian had to work for it though, and a vintage display was required to edge out early pacesetter Dani Pedrosa. Repsol Honda's Spanish star had laid down the gauntlet early on by breaking first the 1'40 then the 1'39 barrier as he pushed for the top spot. After seeing Rossi clock his eventual winning time Pedrosa completed a perfect lap at the death, beating his best times at all four timed sections of the circuit. His final fastest lap was 1'38.527, under two tenths of a second slower than his World Championship rival.
Last year's BMW M Award winner, Colin Edwards was unable to repeat his 2006 triumph but continued to show the potential of the factory Yamaha as he joined team-mate Rossi in the top three. The Texan Tornado continued his testing almost immediately after the presentation of the award, as always fully dedicated to the improvement of his bike.
World Champion Nicky Hayden was unable to push enough for the car, but did put in a series of fast laps whilst avoiding unnecessary risks. Retaining his hard-fought crown this year is the Kentucky Kid's number one priority, and he has been taking things steady this week at Jerez. Hayden rounded off an all-Michelin top four, encouraging news for the tyre manufacturer after Bridgestone's strong performances recently.
Randy de Puniet, Casey Stoner, Loris Capirossi and Chris Vermeulen made up a quartet of Bridgestone riders in the top ten, and further showing the even nature of the 800cc bikes as they added to the list of different manufacturers in the leading group.
The BMW Z4 M Coupé was presented to Rossi by Dorna CEO Carmelo Ezpeleta and Axel Zimmermann, Sponsoring General Manager of BMW.
Later on, most riders returned to the track to conclude their 2007 preseason. With most undertaking race simulations and final fine tuning, the Kawasaki duo of Randy de Puniet topped the timesheets to finish testing on a high note. They were closely followed by Toni Elias, Alex Hofmann, Pedrosa and Rossi.
MotoGP Official Test Jerez
Day 3 Overall Official Times
1. Valentino Rossi (Yamaha Factory Racing) - 1'38.394
2. Dani Pedrosa (Repsol Honda) - 1'38.527
3. Colin Edwards (Yamaha Factory Racing) - 1'39.300
4. Nicky Hayden (Repsol Honda) - 1'39.55
5. Randy de Puniet (Kawasaki Racing Team) - 1'39.832
6. Casey Stoner (Ducati Marlboro Team) - 1'39.873
7. Loris Capirossi (Ducati Marlboro Team) - 1'39.887
8. Chris Vermeulen (Rizla Suzuki MotoGP) - 1'40.043
9. Kenny Roberts Jr. (Team Roberts) - 1'40.083
10. Carlos Checa (Honda LCR) - 1'40.100
11. Toni Elias (Honda Gresini) - 1'40.202
12. Shinya Nakano (Konica Minolta Honda) - 1'40.242
13. Makoto Tamada (Dunlop Yamaha Tech 3) - 1'40.307
14. Marco Melandri (Honda Gresini) - 1'40.396
15. Olivier Jacque (Kawasaki Racing Team) - 1'40.551
16. Alex Hofmann (Pramac d'Antin) - 1'40.681
17. Alex Barros (Pramac d'Antin) - 1'41.038
18. Kousuke Akiyoshi (Rizla Suzuki MotoGP) - 1'41.805
19. Sylvain Guintoli (Dunlop Yamaha Tech 3) - 1'42.215
20. Vittoriano Guareschi (Ducati Marlboro Team - Test) - 1'43.008
21. Andrew Pitt (Ilmor GP) - 1'43.026
22. Shinichi Ito (Ducati Bridgestone Team - Test) - 1'43.073
23. Jeremy McWilliams (Ilmor GP) - 1'43.202
Rossi ready to race after masterful performance in Jerez
Valentino Rossi ended his pre-season preparations in fine style today after taking top honours in the traditional 40-minute 'Qualifying' Practice session at Jerez, smashing last year's pole time and becoming the fastest man ever round the Spanish circuit in the process. There was double satisfaction for Yamaha as Rossi's team-mate Colin Edwards, who took this same accolade in treacherously wet conditions at Catalunya last year, finished the session third.
After a one-two in this morning's free practice, Rossi and Edwards were feeling confident for this afternoon's timed shoot-out and with several qualifying tyres each to try during the session, had plenty of chances to see what their 800cc Yamahas could do under pressure. Loris Capirossi (Ducati) took an early lead before Dani Pedrosa (Honda) took control with just over half the session gone. Rossi soon joined him at the top and an exciting battle ensued between the Italian and the Spaniard as they swapped the lead several times over the last twenty minutes, with Edwards remaining in close contention throughout. In the closing stages of the session Rossi produced a perfect lap to set an outstanding time of 1'38.394, almost seven-tenths of a second faster than Capirossi's pole time from 2006. Pedrosa was unable to find an answer despite crossing the line seconds before the chequered flag and mounting a last-gasp effort to usurp Rossi from the top spot.
Today's result marks the end of a long but satisfying pre-season testing campaign for the Yamaha Factory Team, who leave Jerez in good shape and high spirits ahead of the first race of the season in Qatar on 10th March.
Valentino Rossi (1st, 1'38.394, 17 Laps) - "After this morning, when my Yamaha worked very well, I knew that I had a chance to try to win this competition. However I knew it was going to be a hard fight as well and I definitely expected Pedrosa to be as strong as he was. It was a fun battle with him, the first real one of the year! Anyway with every qualifying tyre I tried it felt better and better and I was able to go faster; in the end my time was fantastic and my Yamaha really flew! The most important thing about this is that it shows what great work we've done over the winter, everyone has tried so hard and this is a nice way to say thank you to them all. This new bike is working really well with the new tyres, both with race and qualifying tyres, so this is very important too and I would like to say thank you to Michelin. It was fun to see just how far I can push this new bike and it has answered me brilliantly, I felt very confident in my Yamaha today and I was able to ride it on the limit. Colin was also very fast so this once again shows how well our bike is working. Of course this isn't even the first race and now we have to wait until Qatar, but we're definitely in good shape and I am excited about the season ahead!"
Colin Edwards (3rd, 1'39.300, 16 Laps) - "That was good fun today! This morning everything really came together for both Valentino and I and we knew that we were going to be able to push hard this afternoon. The Michelin qualifiers worked great and, after some of the problems we had last year, that's a massive relief for us. I had a few more issues than Valentino in the timed session, nothing serious but our setting wasn't quite the same as his and I wasn't able to match his pace, but we know what we need to work on and anyway we were still in the top three and pretty fast. Honestly both Valentino and I are just so happy with everything, it all seems to work and it seems all the effort over the winter has paid off this time! It's good to have finally finished testing and to be leaving here on such a high note; it gives everyone that extra kick for the first race. I can't wait to finally get to Qatar now and start racing!"
Honda Reports from Jarez
Honda teams and riders completed the winter test programme with solid performances from all RC212V powered machines with Repsol Honda factory team rider Dani Pedrosa setting second fastest time of the day, just 0.133s behind Valentino Rossi. Pedrosa's team mate, MotoGP World Champion Nicky Hayden ended the test as fourth fastest man on the 20-rider grid.
Pedrosa and Hayden both spent the majority of the final day fine tuning their chassis and suspension settings before under going extensive tyre testing for Michelin. The two men running fast consistent race simulations prior to setting up their RCVs to run with qualifying tyres in the 40-minute televised shoot out.
Pedrosa came to Jerez determined to better his best lap time set at Jerez in November and did just that by an impressive 1.4s. The young Spaniard pushed his tyres to the limit and he leaves for Qatar in positive frame of mind.
Hayden, who missed the same test due to under going corrective surgery, had limited time on qualifying tyres this winter preferring to devote his time to working on race rubber and consequently had no marker to aim at ending the day one second off Pedrosa's best time.
Gresini Honda rider Marco Melandri had set fastest lap times on the opening two-days of the test but failed to make a big impression on qualifying tyres today. The Italian performed consistently well on race tyres all winter and ran a race simulation today with encouraging results but feels he needs to take a big step forward on qualifying rubber.
Nicky Hayden, Repsol Honda: 1m 39.556s – 101 laps. "It was definitely fun to get out there again with the boys with something on the line – the timed session gave it a bit of an edge today and was a little bit of a tease before the first race. The position is not too bad but my time is quite a long way from the front. I haven't spent much time on qualifying tyres at the winter tests so it was good to get that time here and put in a few quick laps. Some of the other riders really put in some hot laps today so credit to them. The conditions towards the end of the session were dodgy because there was a fine mist of rain falling which made it interesting – and riding on qualifiers is always exciting enough anyway. I feel like perhaps we're still missing a little something to get the speed I want but I'm excited to go racing – I'm really looking forward to it."
Dani Pedrosa, Repsol Honda: 1m 38.527s – 97 laps. "I'm very happy with the 40-minute timed session because I really didn't expect to be this fast. I improved the lap time on qualifying tyres by a lot from the last time I rode here. This was the goal for the session and I did it, so I'm happy. It's been a really good test for me because we will only have limited time in which to test tyres this season. It was a good competition with Valentino today but I was not focused on his times, I just wanted to put these tyres on the limit and concentrate on myself, which is what I did. It's been a valuable three days, we have made progress with the set-up of the bike for the race and also qualifying, so I'm hoping we're ready for the first round at Qatar."
Marco Melandri, Gresini Honda: 1m 40.396s - 88 laps "It was a difficult day but this 3 day testing session very important to collect data and understand many things about the bike. This afternoon I also made a race simulation and we improved the race rhythm. We need to make a step forward with the qualifying tyre but I'm confident that the Bridgestone technicians will do their best. I'm confident because I trust a lot my team and our partners".