Ruben Xaus on the private Stelegarda Ducati team was a jubliant winner on his home track at Valencia.
SBK World Superbike Championship, Valencia, Round 4 of 13
Spanish Thriller - Injured Bayliss Tops Superpole
Xaus and Toseland Take Popular Wins at Valencia
By Andy Rixon and Friends

Valencia (Spain), Saturday April 13-15th :After two very different 23-lap races at Valencia local rider Ruben Xaus (Sterilgarda Ducati) and championship leader James Toseland (Hannspree Ten Kate Honda) scored a win apiece, with Xaus running clear in race one but Toseland having to fight for every inch of track in race two. Both races were run in the dry, but the first race was a much trickier affair for all, as the many damp patches off line caught out a lot of riders. In the championship standings, Toseland now leads Max Biaggi (Alstare Suzuki Corona Extra) by 13 points.
Preview: All Attention on Champ Bayliss And His Injury at Valencia
Thursday April 12 -The World Superbike Championship resumes its championship trail in Valencia, two weeks after the Donington Park round that produced a major setback for the Ducati Xerox Team. Defending champion Troy Bayliss suffered a nasty crash at the British circuit in the first race and was left reeling from injuries to his right hand and his groin.
Following the immediate amputation of the top two joints of his little finger and an exploratory check in the groin area, Troy has now had ten days' rest to recover for the next round of the championship this weekend. The final medical check was scheduled to take place Thursday afternoon at the Valencia circuit for Troy to be given the all-clear by the Clinica Mobile medical staff to face up to this weekend's Spanish round, but at the time of writing the Australian was stuck in Paris with flight delays and was scheduled to arrive late in the afternoon.
Troy Bayliss, 6th in championship (64 points)
Troy has taken four victories in eight Superbike races at Valencia, both double wins in his 2001 and 2006 title years. Two second places and a third, together with sensational MotoGP win at the end of last year, make up an incredible record for the Australian around the Valencia track.
"I'm feeling OK but the situation is a bit unknown until I get on the bike" declared Troy. "I've got to be careful not to hit myself down below obviously but the hand feels good. It's certainly going to be different, after all I've only been racing with my little finger for the last twenty years! I've had many worse crashes over the years, this one was just unlucky as far as losing a finger goes. If you looked at me you wouldn't think I'd been in a motorbike accident, you'd think I hadn't paid some bill and the mafia had come and chopped one finger off with a pair of scissors and hit my nuts with a hammer because I haven't got another mark on my body!"
The second of five SBK rounds in relatively close succession is the fourth round of what has been an exciting championship season so far. With four different race winners in only six individual races, the tight and twisty 4.005km Circuito Ricardo Tormo will be good venue for another potential winner to present his credentials, as virtually every top rider has ridden at the Spanish circuit in the last few months, most at an official SBK test between 17 and 19 March.
Despite suffering the desperate bad luck that robbed him of a finish in race two at Donington, James Toseland (Hannspree Ten Kate Honda) still took his third win of the season at his home event, in race one, and thus holds onto his championship lead even now. His leading advantage was cut to five points, over Max Biaggi (Alstare Suzuki Corona Extra), with the Italian rider looking for SBK career win number two at Valencia, having taken the first race of the year at Qatar. Some 27 points behind Toseland, Noriyuki Haga (Yamaha Motor Italia) has also installed himself as a winner now, having taken race two at Donington. Only seven points behind Haga is his team-mate Troy Corser (Yamaha Motor Italia) winless so far in 2007. He has, however, won at Valencia on both twin-cylinder and four-cylinder machinery, and is looking to the Spanish venue to push himself and his points total ever upwards.
A somewhat lacklustre 2006 season for Lorenzo Lanzi (Ducati Xerox) was punctuated by Valencia's twin peaks - his only two podiums of the year. Having already scored third in Qatar race one, he is now looking for wins at a circuit he tested particularly well at recently. His team-mate and double SBK champion Troy Bayliss (Ducati Xerox) has recovered well from injuries to his little finger and groin at Donington, and he fully intends to race. He will thus be presenting himself for medical checks as soon as he gets to Valencia. Lanzi is currently fifth overall, after solid points scores in every race, with Bayliss overall sixth after a win and a second place in round two in Phillip Island, and a Donington raceday which was injurious both to his body and points score.
Max Neukirchner (Suzuki Germany) has been the most consistently fast privateer in race trim this year, despite riding a 2006 machine, and his six strong points scores place him at the head of a very close battle for the last few top ten places. Right behind him, by only a single point, is the top placed Spanish rider so far, Ruben Xaus (Sterilgarda Ducati) riding a 2006 factory spec machine. Another few points behind is Toseland's team-mate Roberto Rolfo (Hannspree Ten Kate Honda) now gaining confidence since his swap from a privateer big twin to a full-on four-cylinder.
The last place in the top ten thus far is held by Spanish superstar Fonsi Nieto (PSG-1 Kawasaki Corse) but after a great ride at Valencia last year he expects to be in the mix and up the order by close of play on Sunday night. Ironically, the nature of the Spanish circuit will not help his cause too much, as the big Kawasaki is not best suited to the tight Valencia circuit. Nonetheless, both he and his team-mate Regis Laconi (PSG-1 Kawasaki Corse, 11th overall), are expected to get the most out of their machines at a track they have tested at recently. The factory four of Yukio Kagayama (Alstare Suzuki Corona Extra) will be at Valencia, with the Japanese rider hoping to be fit once more after another big crash at Donington, following on from his misadventures at the Phillip Island meeting. Shinichi Nakatomi (Team YZF Yamaha) will be hoping to make better ground up than he did during recent Valencia tests, when he was unhappy with his general machine set-up.
Championship Points (after 3 of 13 rounds): Riders -
1. Toseland (Honda) 115; 2. Biaggi (Suzuki) 110; 3. Haga (Yamaha) 88; 4. Corser (Yamaha) 81; 5. Lanzi (Ducati Xerox) 66; 6. Bayliss (Ducati Xerox) 64; etc. Manufacturers - 1. Honda 124; 2. Suzuki 110; 3. Yamaha 98; 4. Ducati 94; 5. Kawasaki 40.

The Circuit: Circuit de la Comunitat Valenciana 'Ricardo Tormo'
Length: 4.005 km, Pole Position: right
Finish line length: 876 m, Corners left/right: 9 / 5, Race distance: 2 x 23 laps / 92.115 km
Statistics: Best lap: Hodgson (Ducati) 1m34.633s (2003). Lap record: Hodgson (Ducati) 1m35.007s (2003). Superpole: Bayliss (Ducati) 1m34.814s (2002).
2006 Results : Race 1 - 1. Bayliss (Ducati); 2. Corser (Suzuki); 3. Lanzi (Ducati). Race 2 - 1. Bayliss; 2. Corser; 3. Lanzi.
TV Coverage : Eurosport (Europe) : Sunday 15 April 1200 Race 1 (live), 2215 Race 2 (delayed). British Eurosport (UK) : Saturday 14 April 2100 (delayed), Sunday 15 April 1015 all races (live). Eurosport 2 (Europe) : Saturday 14 April 1615 Superpole (live), Sunday15 April, 1700 Race 2 (delayed). La7 (Italy) : Saturday 14 April 1600 Superpole (live), Sunday 15 April 1410 Race 1 (delayed), 1530 Race 2 (live). RaiDue (Italy) : Sunday 15 April 1730 all races (highlights).
Troy is in good spirits after the loss of a finger 2 weeks ago at Donnington. The radical weight loss is proving an advantage, mentally and technically, resulting in even quicker lap times for the popular World Superbike Champ.
Bayliss Shrugs off Injures to Claim Wet SuperPole at Valencia
Saturday April 14: Troy Bayliss (Ducati Xerox) shrugged off his recent spate of injuries to take his fifteenth career pole position and third of the year in four races. Despite a lengthy excursion into the gravel during Superpole, the Australian found the damp conditions to be to his advantage as he took the top slot from the early pace-setter Ruben Xaus (Ducati). The final two positions on the front row went to the surprise of the day, Josh Brookes (Honda) and Troy Corser (Yamaha), but few riders completed their full quota of laps, preferring not to risk everything on the wet Valencia track surface.
"I'm not going to dwell on my injuries because I've had enough time to get better" declared Troy. "I've come here feeling quite good and I was immediately quite happy with the way I felt on the bike considering my condition. The situation seems to be back to normal and the team and I are happy with the way things have gone. I think for anyone to ride around here in the rain it's pretty dangerous and when I saw Ruben's lap time I knew it was quite fast and that I would have to put my heart in my mouth to beat it. I came out of Superpole in one piece and hopefully we'll get a dry race tomorrow. I'm also really happy to see Ruben back up here with me as we were team-mates in the past. I know what he's capable of and I'm sure he's going to stick his head in there tomorrow"
With Superpole being declared wet the riders had 50 minutes in which to set a qualifying time, the only limitation they have is that they can only cross the pit lane exit a maximum of 12 times. If they exceed that they drop their
fastest lap. Ruben Xaus was the first out and set a time that put the pressure on the other riders from the very start. He gambled on the fact that it might rain again so go out early and set a time and see what happens. He knew that he'd set a good time so he retired to his garage after only 3 laps.
"I felt that I'd set a good time", said Xaus. "In these conditions it's very difficult, if not impossible to warm the sides of the tyres up, so you don't get much grip which makes it pretty dangerous at times. I'm happy with where
I am and I'm looking forward to the races tomorrow."
Troy Bayliss was the only rider that could set a better time than Xaus and he struggled in the conditions. Given that fact that only two weeks ago he lost part of his little finger in a crash at Donington Park and sustained a
nasty groin injury, it's quite amazing he's riding yet alone on pole. Even Ducati weren't sure and drafted in Neil Hodgson in case Troy failed a track medical on Thursday. "To be honest I feel ok", said Bayliss. "It's no big
deal! The fingers ok and as far as my groin goes I've not really tried that
out yet!"
"As far as the conditions go, most of us are hoping for a dry race tomorrow, I don't feel comfortable in the wet and I can't relax at all when I'm riding. I've got an OK setup for the wet but like I say I'd prefer a dry
race."
Josh Brookes took third place, continuing his good performance in the wet conditions. Apart from Friday's dry session, Brookes has been consistently the fastest rider. In this mornings second qualifying session he was nearly 0.8 seconds clear of the second placed rider. "The wet conditions definitely suit the bike," said Brookes. "In the dry we're a long way performance wise from where we'd like to be, but the wet conditions even things up. If it's dry tomorrow I'll be in the way of a lot of people!"

Troy Corser rounds off the front row in fourth position. Corser's Yamaha had been weaving about in the conditions and the Australian wasn't happy. "I really struggled today with the conditions changing all the time," said Corser. "I've got good acceleration but not a lot of grip which is a big problem. I reckon if it's wet tomorrow we're going to see lots of crashes during the race. I'm not very happy with the wet tyre that we've got, but I
guess everyone else is on the same tyre so it doesn't make much difference".


Josh Brooks, 3rd quickest in the wet.
The second row is made up of Toseland, Lanzi, Haga and Kagayama. The top 7 riders are separated by just under a second, which given the conditions is pretty good.
The problem the riders are finding is that the track conditions are not consistent so it becomes very difficult to get a good setup. It was raining during this morning's session but in the afternoon the track was wet but
drying out. The forecast for tomorrow is showers, much like today. A wet tyre is designed to operate in the wet (as its name suggests) but it has to be used in damp conditions too. The problem is that as the track dries then
the performance of the wet tyre drops off as it starts to break up. The gamble for the teams is at what point do you chose to use slicks rather than wets or vice versa? If you get it right you're a star, get it wrong and your
riders in the gravel!
If you look at Brookes time from the morning qualifying when it was very wet his time was 0.8 seconds quicker than his superpole time which was set is drying conditions.
The wet conditions make a complete lottery of any sort of prediction for tomorrow as it's so easy to crash out and as Troy Corser said we'll probably see a lot of crashes. Josh Brookes will be one of the few riders hoping for wet conditions and he's in with a good chance if it is. If it's dry then the safe money is on Bayliss but Ruben Xaus is looking very threatening on his Sterilgarda Ducati. Although Xaus does have a reputation
for crashing out. Considering he's in front of his home crowd he's looking remarkably relaxed, so tomorrow could be his day. Corser will be another in the hunt for a win if not a podium and not forgetting the current championship leader, James Toseland. Max Biaggi is starting from 12th place so will have to make sure he gets a good start otherwise he'll find himself way back down the field.
Starting-Grid: 1. Bayliss (Ducati Xerox) 1m51.982s; 2. Xaus (Ducati) 1m52.085s; 3. Brookes (Honda) 1m52.199s; 4. Corser (Yamaha) 1m52.733s; 5. Toseland (Honda) 1m52.801s; 6. Lanzi (Ducati Xerox) 1m52.942s; 7. Haga (Yamaha) 1m52.961s; 8. Kagayama (Suzuki) 1m53.634s; 9. Fabrizio (Honda) 1m53.750s; 10. Muggeridge (Honda) 1m54.108s; etc.
Xaus and Toseland Share Valencia Wins
Sunday 14th - After two very different 23-lap races at Valencia local rider Ruben Xaus (Sterilgarda Ducati) and championship leader James Toseland (Hannspree Ten Kate Honda) scored a win apiece, with Xaus running clear in race one but Toseland having to fight for every inch of track in race two. Both races were run in the dry, but the first race was a much trickier affair for all, as the many damp patches off line caught out a lot of riders. In the championship standings, Toseland now leads Max Biaggi (Alstare Suzuki Corona Extra) by 13 points.
RACE ONE: Xaus Fights off Haga, Corser and Bayliss in a Epic Battle on Home Turf
Eventual winner Xaus was involved in a four-way fight for the win at one stage, but after he broke the challenge of Noriyuki Haga (Yamaha Motor Italia) towards the end of a race held in drying conditions, he was a clear winner by almost two seconds. Behind Haga, Troy Bayliss (Ducati Xerox) was an impressive third, with early leader Troy Corser (Yamaha Motor Italia) fourth, and championship leader Toseland fifth, fighting vibrations from a rear tyre which had spun on the rim. Xaus's win was his tenth career SBK victory, and his first since Magny Cours race two, in the 2003 season.
Sterilgarda Ducati's Ruben Xaus thrilled his home fans with a determined ride that saw him lead for most of the race despite strong pressure from Yamaha's Nori Haga and Troy Bayliss.
It had been Bayliss that led going into the first corner but he was soon passed by Corser, who was charging on the Yamaha Motor Italia R1. James Toseland got away in third place and was followed by Haga and Xaus, who had gone back a few places. Both the Yamaha's were going well and Haga past Toseland for 3rd place on
the second lap. He was immediately followed by Xaus who was looking very strong. Xaus passed Haga on the fourth lap and on the next lap had past Bayliss, who was also passed by Haga on the same lap.
Keeping his momentum going Xaus caught and passed Corser on the next lap. Haga was determined not to let Xaus get away and cleared Bayliss on the next lap. Bayliss then had a moment when he hit a damp patch and ran wide allowing Corser to slip through to 3rd place.
Xaus and Haga started to pull away a little from the Corser/Bayliss battle and proceeded to beat each other up. Haga passed Xaus on the 9th lap, but the Spaniard kept the pressure on and two laps later retook the lead from
the Yamaha rider. The two then steadily pulled away from the others and maintained their positions to the line.
"I've never won here, so this is great", said Xaus. "The team have put a lot of faith in me and it's brought out the best in me, I'm really happy. I've got good pace and I'm sure I'll do well in the second race".
"At the beginning the conditions were very difficult", said Haga. "I couldn't tell the wet bit's from the dry ones. Ruben was pushing hard and I managed to stay with him but towards the end I had a problem with the bike that meant I couldn't push as hard as I wanted to. I'll be able to push harder in the second race."
Bayliss had got his Ducati past Corser on the 10th lap and managed to hold Corser off until the Yamaha rider dropped away and gradually lost a couple of seconds to the Ducati.
"Ruben did a great job and deserves the win", said Bayliss. "There's not much choice of tyres here, I reckon we're probably all on the same one. I'm not very happy with the way I rode; I made too many mistakes and had lots of moments that threw me off line to be honest. In the end I just settled back into my position and relaxed a bit. I'm going to give it a good go in the second race though".
Toseland had had a very lonely race, after losing out to Haga and Xaus in the opening couple of laps he found himself in fifth place a position he would hold for the remainder of the race. He crossed the line just under 10
seconds behind Corser and 7 seconds ahead of 6th placed rider, Lorenzo Lanzi.
James had a knock down, dragged out race with Haga and Biaggi.

RACE TWO: Toseland Fights off Biaggi and Xaus to Extend his Points Lead
James Toseland rode an amazing race, holding off determined charges from Haga and Biaggi in the closing stages of the race and despite contact with Haga. Toseland, on the Hannspree Ten Kate Honda, had initially got away in third place at the start, it was Haga that got the hole shot followed by Corser, but Toseland and Xaus both passed Corser on the first lap. Xaus took the lead on the fourth lap and Toseland passed Haga for second place on the same lap. This set up a race long struggle between the Honda and Yamaha pair. Haga regained second place two laps later and Toseland moved past Xaus into second place a lap later.
The pair then pushed as hard as they could, sliding their machines in spectacular style and keeping the crowd out of their seats with excitement. Toseland took the lead on the 16th lap and three laps later his nemesis, Haga, passed him again. On the penultimate lap Haga ran wide allowing Toseland past but responded immediately and retook the lead. In the meantime Max Biaggi had worked his way through the field from 12th place on the grid and found himself in third place with two laps to go, just behind the battle for first.
Haga entered the final lap in the lead, after Toseland ran wide, closely followed by Biaggi. Toseland took the lead halfway through the lap and before Haga knew what was happening Biaggi had thrown his Suzuki up the inside of him and mugged him for second place. A truly stunning final lap.
"I'm absolutely knackered", said Toseland. "I've never been close to winning here so this is great. I had a few problems in the first race so the team set the second bike up for me and that's what I used in this race. They've been great and I'm really enjoying riding for them. To come first today erases some of the negatives from the past here. I made contact with Nori at the hairpin and I've got to say sorry for that as it was a dangerous move but not deliberate. I thought there was more room there than there actually was. Mind you I'm not sure why I'm apologising as he'll get me back at Assen! (Haga was sitting next to Toseland when he said this and he smiled). We want close exciting racing but not dangerous stuff. If I can carry on like this in the championship then we'll see what happens at the end!
"I had a big fight with James for nearly all of the race", said Haga. "I didn't make too many changes for this race but for about the last five laps I just couldn't push anymore. I made a few mistakes on the last lap and then Max surprised me. I saw him go past me and thought that he didn't have any brakes as he was going so fast into the corner"! When asked if he was surprised there was no Ducati on the podium he replied: "Yes, a little, but happy, we're all happy"!
It was particularly difficult starting from the third row in this race as there was only one line going into the first corner, after an oil spill from one of the support races", said Biaggi. "I made sure that the leaders didn't get too far away and then little by little I closed the gap to them and by the end I was right there. To be honest I didn't think I could do it; it was only in the final few laps that I thought it was possible. I really enjoyed the race and I'm really happy racing here in world superbikes."
Ruben Xaus was unable to repeat his race winning performance from the first race. Despite taking the lead on the fourth lap and holding it for four laps he then found himself passed by first Haga and then Toseland and then on the 16th lap by Biaggi.
He battled on and came across the line in a very creditable fourth place, 1.5 seconds ahead of Lorenzo Lanzi.
Lanzi rode a steady race only losing out to his team mate and Max Biaggi. In the closing stages he wasn't able to do anything to close the gap to Xaus and he crossed the line in fifth place.
His Ducati team mate, Troy Bayliss, had a nightmare of a race. He was one of the front runners until, on lap 14, he ran out onto the gravel after what looked like contact with another rider. He rejoined but this had allowed Biaggi and Lanzi to get past him. He was catching his team mate but dropped a couple of seconds on the final two laps eventually crossing the line in sixth place.
Josh Brookes had another good race, on the Alto Evolution Honda, despite being at a disadvantage with the development of the bike. He found himself in10th place at the end of the first lap and then proceeded to gradually move through the pack. He passed Fabrizio, Laconi and a struggling Troy Corser, to finish in seventh place, a really good performance and hopefully a precursor to better things for the team. Unfortunately his team mate, Karl Muggeridge wasn't so lucky, he crashed out in both races. Another rider that suffered bad luck was Ruben Xaus's team mate, Dean Ellison; he was forced to retire in both races.
Ex Champion Troy Corser suffered in race two, he was up in fourth place at the start but a mistake on the fourth lap saw him drop back to seventh place. He then dropped back to eighth and finally ninth after being passed by Regis Laconi on the 17th lap.
Toseland's win puts him 13 points clear in the championship from second placed Max Biaggi. Bayliss is now 61 points behind Toseland.
The second race was a classic, with tight hard racing and breathtaking manoeuvres, it had everything. Toseland put his race one disappointment behind him and stormed to the win.
Bayliss has lost ground in the championship but still remains in touch and, as we've said before, it's a foolish person who writes Bayliss off! Xaus showed a good return to form and hopefully he'll continue that throughout the rest of the season. Corser suffered bike problems in the second race and he'll be looking to put that behind him and get back on the podium at the next round. His team mate Haga had a good couple of races and should be well pleased with his performance.
In two weeks time the championship move to Assen in the Netherlands.
Will Toseland win again? Will Xaus be on the podium again? Will Corser bounce back from disappointment? Will Haga do a double? All will be answered here at FastDates.com in two week time.
SUPERBIKE Race 1: (Laps 23 = 92,115 Km)
Pos / Rider / Nat. / Team / Time / Gap
1 / R. XAUS / ESP / Team Sterilgarda / 37'14.606 /
2 / N.HAGA / JPN / Yamaha Motor Italia / 37'16.603 / 1.997
3 / T. BAYLISS / AUS / Ducati Xerox Team / 37'20.936 / 6.33
4 / T. CORSER / AUS / Yamaha Motor Italia / 37'23.386 / 8.78
5 / J. TOSELAND / GBR / Hannspree Ten Kate Honda / 37'31.646 / 17.04
6 / L. LANZI / ITA / Ducati Xerox Team / 37'38.878 / 24.272
7 / M.FABRIZIO / ITA / D.F.X. Corse / 37'40.428 / 25.822
8 / M.BIAGGI / ITA / Alstare Suzuki Corona Extra / 37'40.693 / 26.087
9 / J. BROOKES / AUS / Alto Evolution Honda / 37'43.384 / 28.778
10 / R. ROLFO / ITA / Hannspree Ten Kate Honda / 37'47.360 / 32.754
11 / R. LACONI / FRA / Kawasaki PSG-1 Corse / 37'51.690 / 37.084
12 / M.NEUKIRCHNER / GER / Suzuki Germany / 37'51.747 / 37.141
13 / G.BUSSEI / ITA / Team Sterilgarda / 37'52.169 / 37.563
14 / J. SMRZ / CZE / Team Caracchi Ducati SC / 37'53.150 / 38.544
15 / Y. KAGAYAMA / JPN / Alstare Suzuki Corona Extra / 38'07.655 / 53.049
Fastest Lap 13° Troy Bayliss 1'36.092 150,044 Km/h
SUPERBIKE Race 2: (Laps 23 = 92,115 Km)
1 / J. TOSELAND / GBR / Hannspree Ten Kate Honda / 37'02.596 /
2 / M.BIAGGI / ITA / Alstare Suzuki Corona Extra / 37'02.883 / 0.287
3 / N.HAGA / JPN / Yamaha Motor Italia / 37'02.971 / 0.375
4 / R. XAUS / ESP / Team Sterilgarda / 37'09.233 / 6.637
5 / L. LANZI / ITA / Ducati Xerox Team / 37'10.587 / 7.991
6 / T. BAYLISS / AUS / Ducati Xerox Team / 37'12.806 / 10.21
7 / J. BROOKES / AUS / Alto Evolution Honda / 37'13.457 / 10.861
8 / R. LACONI / FRA / Kawasaki PSG-1 Corse / 37'16.962 / 14.366
9 / T. CORSER / AUS / Yamaha Motor Italia / 37'18.107 / 15.511
10 / M.NEUKIRCHNER / GER / Suzuki Germany / 37'22.312 / 19.716
11 / M.FABRIZIO / ITA / D.F.X. Corse / 37'27.883 / 25.287
12 / R. ROLFO / ITA / Hannspree Ten Kate Honda / 37'29.033 / 26.437
13 / Y. KAGAYAMA / JPN / Alstare Suzuki Corona Extra / 37'37.588 / 34.992
14 / C. MORALES / ESP / Team Laglisse / 37'42.583 / 39.987
15 / G.BUSSEI / ITA / Team Sterilgarda / 37'45.041 / 42.445
Fastest Lap 5° Noriyuki Haga 1'35.746 150,586 Km/h

Record Lap: 2003 N.Hodgson 1'35.007 151,760 Km/h
Best Lap: 2007 T.Bayliss 1'34.599 152,410 Km/h
Riders Championship Standings:
1 TOSELAND 151, 2 BIAGGI 138, 3 HAGA 124, 4 CORSER 101, 5 BAYLISS 90,
6 LANZI 87, 7 XAUS 83, 8 NEUKIRCHNER 56, 9 ROLFO 46, 10 LACONI 37,
11 FABRIZIO 32, 12 BROOKES 32, 13 NIETO 30, 14 KAGAYAMA 27, 15 SMRZ 25.
World Supersport - Sofuoglu Way Ahead In Points
Kenan Sofuoglu (Hannspree Ten Kate Honda) scored his third race win of the year after another crash-littered Supersport contest, taking a powerfully confident win from his own temporary team-mate, Andrew Pitt. In third place was the aggressive presence of slow starting Gianluca Nannelli (Caracchi Ducati) who rode most of the last lap with one boot hanging off. He hunted down Pitt in the later stages, but Pitt reasserted himself to keep his second place.. Fourth was a slow starting, but rapidly closing, Fabien Foret (Gil Kawasaki).
Three riders with a podium chance crashed out in the same incident, as Pere Riba (Gil Kawasaki) and Kevin Curtain (Yamaha World SSP Team) collided and took out Katsuaki Fujiwara (Althea Honda). Curtain sustained a long cut on his left thigh, in the groin area, and had to be taken to hospital for stitches to be inserted.
In the championship Sofuoglu is only five points from perfection with 95, while Foret's fourth place puts him into overall second again, on 51. Fujiwara, who limped home 18t,h, is now third in the series, on an unchanged 41 points.
SUPERSPORT: RACE: (Laps 23 = 92,115 Km)
Pos /Rider /Nat. /Team / Time /Gap
1 / K. SOFUOGLU / TUR / Hannspree Ten Kate Honda / 38'08.523 /
2 / A. PITT / AUS / Hannspree Ten Kate Honda / 38'13.434 / 4.911
3 / G.NANNELLI / ITA / Team Caracchi Ducati SC / 38'13.723 / 5.2
4 / F. FORET / FRA / Team Gil Motor Sport / 38'14.142 / 5.619
5 / B. PARKES / AUS / Yamaha World SSP Racing / 38'21.299 / 12.776
6 / D.SALOM / ESP / Yamaha Spain / 38'23.436 / 14.913
7 / M.ROCCOLI / ITA / Yamaha Lorenzini by Leoni / 38'23.701 / 15.178
8 / J. LASCORZ / ESP / Glaner Motocard.com / 38'33.879 / 25.356
9 / V. KALLIO / FIN / Pioneer Hoegee Suzuki Racing / 38'36.977 / 28.454
10 / C. JONES / GBR / Revè Ekerold Honda Racing / 38'38.408 / 29.885
11 / G.VIZZIELLO / ITA / RG Team / 38'38.945 / 30.422
12 / D. GIUGLIANO / ITA / Lightspeed Kawasaki Supp. / 38'39.333 / 30.81
13 / L. ALFONSI / ITA / Althea Honda Team / 38'39.727 / 31.204
14 / D. CHECA / ESP / Yamaha - GMT 94 / 38'43.796 / 35.273
15 / S. GIMBERT / FRA / Yamaha - GMT 94 / 38'46.133 / 37.61
Fastest Lap 6° Katsuaki Fujiwara 1'37.570 147,771 Km/h
Lap record: 2006 S.Charpentier 1'38.664 146,130 Km/h
Best Lap: 2006 S.Charpentier 1'36.913 148,770 Km/h
Riders Championship Standings:
1 SOFUOGLU 95, 2 FORET 51, 3 FUJIWARA 43, 4 HARMS 39, 5 NANNELLI 30,
6 PARKES 27, 7 ROCCOLI 26, 8 CURTAIN 25, 9 JONES 25, 10 RIBA 22,
11 PITT 20, 12 VENEMAN 17, 13 SALOM 16, 14 TIBERIO 15, 15 GIUGLIANO 14.
---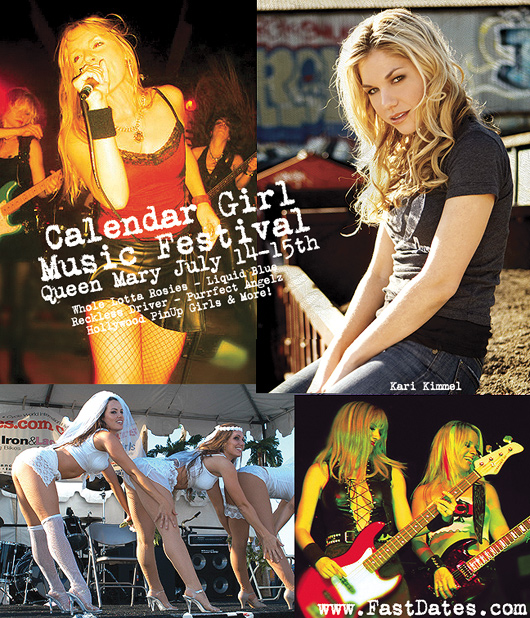 Non stop Girl-Girl Accoustical Action, and oh yes, the World's Hottest Bikes!

Do bikers know how to PAR-TAY or what?
2-Day Calendar Girl Music Festival
Rocks the LA Calendar Motorcycle Show Weekend July 14th-15th 2007
Just when you figured the annual LA Calendar Motorcycle Show Weekend, America's premier custom and performance streetbike event weekend couldn't get any hotter, producer Jim Gianatsis has turned up the burners one more notch. The exciting new 2-Day Calendar Girl Musical Festival, an incredible 2-day entertainment extravaganza of beautiful girls performing great music and sexy dances, has been added to the Motorcycle Show's weekend activities. A stand alone event for lovers of great music and beautiful girls, the Calendar Girl Music Festival will run non stop all weekend long and is included with general admission to the Calendar Motorcycle Show Weekend, plus the new Calendar Bike Show Bike Swap Meet and historic Queen Mary Ocean Liner. It all takes place each day in the beautiful Queen Mary Event Park in Long Beach, CA, the weekend of July 14th-15th, 2007.
Headlining the Calendar Girl Music Festival both days is beautiful new up and coming singer / songwriter Kari Kimmel, who with many current movie and TV song soundtracks to her credit, who will be performing from her newly released self titled album available at the Show and KariKimmel.com. Kari will be performing acoustically with keyboards and guitar on Saturday, then coming back to turn it up with a full band on Sunday. Also headling both days is the all-girl AC/DC tribute band Whole Lotta Rosies, guaranteed to blow fuses and rock your boxers off as 5 sexy jail bait schoolgirls take you to heaven the hard rock way.
Performance Machine presents the Los Angeles Calendar Motorcycle Show Weekend with Associate Sponsors Star Motorcycles, Iron Works magazine, S&S Cycle, ReCycler.com, Trader.com and Connection magazines, Speed TV's American Thunder, Mikuni Carburetors and the FastDates.com Calendars.

And you thought is was only the premier custom and high performance streetbike show in the world?
Join us for an incredible weekend of Bad Boys, Bad Bikes and non stop Girl-Girl Accoustical Action!
The 2007 LA Calendar Motorcycle Show & Calendar Girl Music Festival
Exhibitors & Venders: Registration Informationt: HERE
Kari Kimmel Music Video on YouTube.com
---
Jim Bro, Thanks for the support from FastDates.com! Check out Motorcycle Mania 4 on TLC April 19th. We built a bike for John Mellencamp at Daytona Bike Week. There's burn outs, tattoos (yes I tattoo someone), arrests, and a bunch of other shenanigans. Also check out all the new apparel on the site www.ExileCycles.com. Cheers mate! - Russell Mitchell, Exile Cycles
---
There's more! Go to Pit Lane News NEXT PAGE

Hot Calendar Girl and Bike News! Go to: Fast Dates • Calendar Girls • Iron & Lace





BikerKiss.com - the largest biker personals site!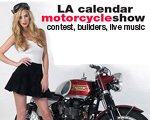 Yamaha Virtual SuperSport Bike Show & Tickets to Laguna Seca MotoGP 2007
Yamaha Press Release April 12th - Submit a photo of your personalized Yamaha Sportbike to enter the bike show and have it displayed on yamaha-motor.com.
Browse through the Yamaha Virtual SuperSport Bike Show to see how owners have personalized their Yamaha SuperSport Bikes.
From the bikes entered, 150 will be selected as winners.
Owners of the bikes chosen will receive full 3-day U.S. MotoGP Race Admission tickets for two along with an invitation for a special V.I.P. dinner on Friday evening during the MotoGP weekend.
Winners will also receive FREE motorcycle parking in a specially designated Yamaha location at the track.
U.S. MotoGP is in Monterey, California, July 20-22, 2007.
Yamaha Motor Show
Contest Details Here
MotoGP Class Sponsorship Workshop held in Spain
Friday 13th April - The first ever MotoGP Class Sponsorship Workshop took place yesterday in Barcelona, Spain, which represented a ground-breaking open forum for debate and discussion between all the major players in the world's premier motorcycling championship.
All teams and manufacturers involved in the elite class of the MotoGP World Championship were represented, and they were joined by representatives from the MSMA (Motorcycle Sport Manufacturers Association) and IRTA (International Racing Teams Association), with the meeting chaired by the championship's commercial rights-holders Dorna Sports, represented by their CEO Carmelo Ezpeleta and the management team.
The workshop was a first step in addressing the challenges facing the MotoGP series within the global sporting arena, regarding such varied topics as sponsorship, television and media coverage, and impact on the environment. Dorna's commercial and media departments presented their own ideas about the future opportunities for growth in the sport, and in a positive atmosphere all parties discussed and contributed numerous suggestions which will be analysed further prior to any implementation.
Follow-up meetings will be held at regular intervals offering a unique platform for those involved at the top level of MotoGP to openly examine and consider the up and coming opportunities for the sport as a whole.
Steve Martin Left Speechless by Spanish Sagas
The third round of the Superbike World Championship at Valencia in Spain proved another saga filled race meeting for Steve Martin, with the ongoing events of the weekend leaving him speechless.
The vastly experienced Aussie rider was initially left perplexed when he was approached by fellow countryman Andrew Pitt, informing him that the DFX team had contacted him about testing the Honda CBR1000 machine.
This news was then compounded when, due to a lack of mechanics, team-mate Michel Fabrizio's father was brought in as a substitute mechanic for Steve, having never worked in a Superbike paddock before.
Steve explained, "I'm pleased that Andrew came and spoke to me as at least we were able to have a good chat and establish how things stood. But needless to say it was a bit of a shocker and what with that and then finding out about my mechanic situation, I didn't know whether to laugh or cry!"
And with the bikes arriving at Valencia directly from the previous round at Donington, without any mechanical preparation or set up work, Steve's crew chief and chief mechanic had their work cut out from the start.
Steve spent much of the first free practice session setting up the new HRC electronic system on his number one bike, which proved a much welcomed benefit to his Honda's performance and helped Steve achieve 7th position in the morning timesheet.
A quick shifter problem and other niggling mechanical set-backs during the afternoon dry qualifying session caused Steve to switch to his number two bike, but, this didn't have the new electronic system set up and, coupled with only minutes remaining of the qualifying session meant that Steve was unable to improve his lap time and qualify anywhere near his capability.
With a downpour on Saturday morning meaning that no riders would be able to better their lap times and therefore improve their qualifying positions from the previous day, Steve used the second qualifying session to set up the electronic system on his second bike as the quick shifter issue with his first bike remained unresolved.
"Although that session was wet, we were able to achieve quite a lot with the set up and I ended that session in 10th position, which wasn't bad for an hour's work," Steve continued.
Still lapping on wet tyres for Saturday afternoon's second free practice session, Steve high sided coming out of turn one in the slippery conditions. Fortunately, he walked away with only minor bruising, but damage in the form of a hole was caused to the clutch cover, although this did not become apparent until race two when it provided the channel for an oil leak oil, on to Steve's boot and bike.
"For the morning warm up on Sunday I just rode round to shake down the bike ready for the race, as there was no point in pushing for a lap time and I also wanted to preserve the bike as it was the only one I had that was set up," Steve explained.
He continued, "Although the track was still damp, everyone started race one on slicks and up until lap nine, when my race was over, I had achieved the second fastest lap time of the race behind James Toseland. It was at this point, having managed to catch up with the group of riders who were dicing for the sixth position, that the throttle assembly just fell off my handle bar and almost caused me to crash!"
Race two proved another bitter disappointment, when an oil leak sprayed oil over Steve's boots causing the gritty rider to call it a day and be forced to retire into the pits on lap 14, concluding the weekend of woe.
Steve said, "It is obvious the team is not putting a great deal of effort or funds in to my side of the team, due to the underlying situation regarding my ride and team's lack of funds. We have had so many stupid, and potentially dangerous problems caused due to lack of experienced people. I have a fantastic crew chief and first mechanic but it's too much pressure on them and unfair to rely on two people to do the work of five when also, there's just not enough time even if it was possible. Therefore mistakes get made and it's as simple as that."
Steve stayed on at Valencia for a test the next day and, following a first lap out oil leak, was able to consistently improve on his lap time to finish the day over a second faster than his best race lap time from the day before, on the same tyres and with a hotter and more slippery track surface.
Steve commented, "That test was probably the best test I have had with the team. We finally got the chance to work with the suspension settings and new electronic system and now I'm pretty confident we are in the best position that we have been in all year!
"So I'm looking forward to Assen as the bike should be ready to go when we get there as we've already achieved improvements from the one day test, rather than being in the usual situation of having to test new things on the Friday of the race meeting.
"We've got a week at home now before heading to Assen for the next round and in that time I'll be keeping up my training and looking for a new ride, as I now know that Monza will definitely be my last race with the DFX team.
"I'm bitterly disappointed that the team hasn't delivered all that it promised at the start of the season but, at the same time, there is an element of relief over the situation as there is just no point continuing the season with just more of the same, as that no good for me or my bike crew.
"Now I'm just trying to look onwards and upwards, enjoy the next two races as much as possible and do my best to sort out a ride for the rest of the season."
Francis Batta Threatens to Pull Alstare Corona Suzuki and Biaggi out of World Superbike if Ducati Gets 1200cc
Alstare Corna Extra team owner Francis battawas quoted in an Italian newspaper that he would pull his team with rider max Biaggi out of World Superbike if the proposed 1200cc vee-twin engine limit is approved for 2008 and beyond. Known for his emotional outburts at times, and being a major team owner and having brought huge Corona beer sponsorship to the SBK World Championship, Batta is extreamely pissed he has not been consulted by SBK regarding the proposed technical rule changes for 2008 and beyond.
We know that all the teams were miffed 3 years ago when SBK announced it's Pirelli title sponsorship and spec tire rule which may have lost some teams their tire sponsorship deals, bet now with hindsight that has proven to be a good thing and possibly saved the Championship.
Batta is obviously distraught that the current Ducati Corse 999F07 Superbike is quicker than his 2005 Championship winning Suzuki GSXR1000s, but the proposed new Superbike technical rules would have the production based superbikes running near stock engines, with intake restrictors mandated to equalize the power between bikes even more. Still, it can never be a perfect world when you race different engine configurations together. Even if you match the upcoming new Ducati 1198R vee-twin to the Japanese1000cc four-cylinders with RPM limiters and intake restrictors to equalize peak horsepower, the vee-twins with the broader horsepower at low RPM will still accelerate better out of the corners.
SBK definely needs to be keeping Francis batta and the other superbike team owners in on the loop of what they plan to do, to get their input. But in the end it has to be the Flaminni brothers decesion of what is best for World Superbike. And without a new technical formula allowing in 1200cc wins, Ducati and other and any other vee-twin companys will pull out of superbike racing. And Ducati has a longer history of supporting World Superbike than Batta or Suzuki.
Troy Bayliss Returns home to Monaco After Operation,
Partial Finger Loss
Bologna (Italy), Tuesday 3 April 2007: Ducati Xerox Team rider Troy Bayliss has returned to his Monte Carlo home following an operation on his injured hand on Sunday afternoon in the UK.
The Australian had a weekend of ups and downs at Donnington Park. First on Friday he celebrated his 38th birthday, on Saturday he set pole position and then he high-sided out at Coppice on lap 6 of the first race on Sunday. He was taken to the Clinica Mobile in the circuit, but doctors decided to send him to the nearby Derbyshire Royal Infirmary for immediate surgery. The operation consisted of the removal of the top two bones (intermediate and distal phalanges) of the little finger of his right hand. During the crash Troy had also received a powerful blow in the groin region and due to concerns, specialists at the Derby hospital also carried out checks in that area before giving him the OK to leave.
Troy was discharged late on Monday afternoon and flew back to Monte Carlo.
Troy Bayliss is now resting at home and he will undergo a reassessment of his injuries on Friday. Race regulations require a further medical check on Thursday of next week before Troy can be declared fit to race, but all signs point to the Australian being able to return to the track for the next round of the World Superbike championship at Valencia on April 13-15.
"The crash happened so quickly that I don't remember my hand going under the handlebar or anything" declared Troy. "The only thing I remember when I stopped was pain in my groin, I didn't feel the hand at all. Basically I crashed through corner speed, trying to make a gap on James which I was doing and in this one corner the back came around on me and went into a slide/chatter. Normally I would save it but Coppice has a little rise and the bike came back as it crested the rise and that set it off in a different direction and I didn't have a chance at saving it. I'm confident I'm going to be fine for Valencia. It's hard to say after one day but I feel like things are coming along OK and I've still got plenty of days to recover. I feel like I can get on a motorbike now but I won't know that until I do. Hopefully in just a week and a half you'll see the usual Troy!".
David Mitchell, the newly-appointed head of brand and marketing communications of Xerox Europe who met Troy for the first time at the Donnington weekend, declared: "On behalf of Xerox, I would like to express our concern for Troy's wellbeing. Our thoughts are with him after Sunday's horrible accident and we wish him a speedy recovery. Along with the team and all his race fans, we are all looking forward to him getting back out on the track again as soon as possible.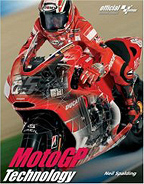 Click to Listen & Buy It Now
What's Hot!
Kari Kimmel
Incredible new singer/song writer
featured on top TV and Movie sound tracks will be performing music from her awesome new CD live at our upcoming LA Calendar Motorcycle Show both days on July 14-15th!
Kari Kimmel on You-Tube
Ducati 1198R
Production Superbike
Waiting in The Wings
A little birdy just told us that Ducati does have a full-on 1198cc World Superbike R production model being tested, and that they are now waiting for announcement from SBK World Superbike that
V-twins can move up to full 1200cc dispalcement in the Superbike class. If so, the homologation 1198R could go into production immediately after the announcement.
If you ask why does Ducati ned a bigger 1198cc Superbike while they are continuing to kicking ass with the old 999F model. As we reported earlier, Ducati also hopes that SBK will changes the current ruels which allow highly modified engines, and instead have the engines follow more Superstock rules. With Superstock engine rules the bigger V-twins will remain close in performance to the inlin-fours, and the Ducati will be more affordable and competive for private teams in World and National Championships. Stay tuned!
---

NEW! FastDates.com
Cell Phone Wallpapers!
Pirelli's $10 Million Action Car Chase Web Film with Uma Thurman
What do you do when you are the world's largest tire company with Billion dollars to spend on advertising? Sponsor the SBK World Superbike Championship. Produce the world''s most expensive nude Pirelli PinUp Calendar featuring famous Hollywood starlets and then don't let anyone buy it. How about make an action bhort website movie for $10 million dollars staring Kill Bill actress Uma Thurmond?
www.pirellifilm.com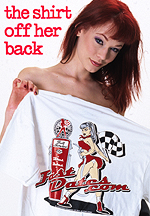 Ducati North American Holds Suprbike Concorso Competition
The Contest highlights Ducati Superbike history and performance; one Ducatisti will take home a 2007 1098 Superbike
Cupertino, California (March 30, 2007) – Ducati North America announces today the Ducati Superbike Concorso; a competition celebrating over 30 years of Ducati Superbikes.
From Cook Neilson's 1977 Daytona win to the recent introduction of the dramatic 1098, Ducati Superbikes have dominated racing circuits and become style icons worldwide. The Ducati Superbike Concorso highlights the history and spirit of these motorcycles and celebrates the passion of their owners.
The Concorso is open to all 1972-2007 Ducati Superbikes and will recognize performance and history as well as beauty and craftsmanship. The contest consists of four regional rounds, which will coincide with AMA Superbike Championship races. The fifth round will be featured online at www.ducatiusa.com. This will culminate in six finalists and four Ducati-selected wild-cards to be chosen to compete on Ducati Island during the final AMA Superbike Championship round at Laguna Seca in September, 2007.
The Grand Prize winner will take home a new Ducati 1098 Superbike. The top winners in "Modified/Performance Superbike" and "Original/Restored Superbike" categories will each win once-in-a-lifetime trips to Italy, where they will visit the Ducati factory and the Milan Motorcycle show as VIP guests.
"The Superbike Concorso is a celebration of motorcycles that have put Ducati on the map since the 1970's," said Michael Lock, CEO of Ducati North America. "Many Ducati enthusiasts don't realize just how many significant Superbikes we have built over the years, and how timeless and beautiful the designs are."
The Superbike Concorso begins at the Fontana, California round of the AMA Superbike Championship on April 27-29, 2007. The event will also make stops at Laguna Seca (July 20-22, 2007), Mid Ohio (August 3-5, 2007) and Road Atlanta (September 1-2, 2007).
Full contest details and further information can be found at www.ducatiusa.com.