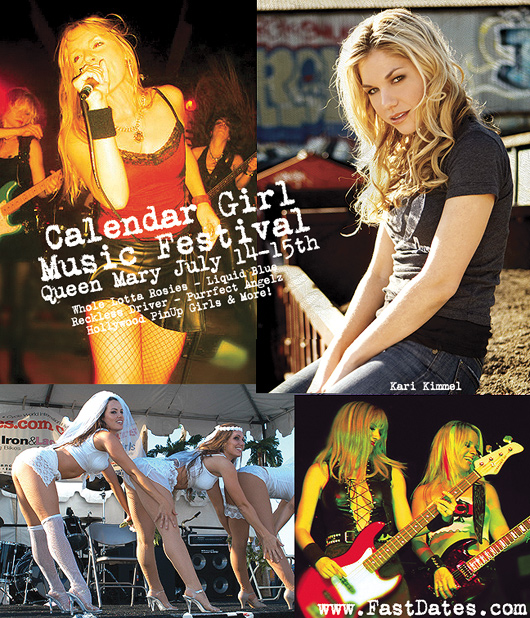 Non stop Girl-Girl Accoustical Action, and oh yes, the World's Hottest Bikes!

Do bikers know how to PAR-TAY or what?
2-Day Calendar Girl Music Festival
Rocks the LA Calendar Motorcycle Show Weekend July 14th-15th 2007
Just when you figured the annual LA Calendar Motorcycle Show Weekend, America's premier custom and performance streetbike event weekend couldn't get any hotter, producer Jim Gianatsis has turned up the burners one more notch. The exciting new 2-Day Calendar Girl Musical Festival, an incredible 2-day entertainment extravaganza of beautiful girls performing great music and sexy dances, has been added to the Motorcycle Show's weekend activities. A stand alone event for lovers of great music and beautiful girls, the Calendar Girl Music Festival will run non stop all weekend long and is included with general admission to the Calendar Motorcycle Show Weekend, plus the new Calendar Bike Show Bike Swap Meet and historic Queen Mary Ocean Liner. It all takes place each day in the beautiful Queen Mary Event Park in Long Beach, CA, the weekend of July 14th-15th, 2007.
Headlining the Calendar Girl Music Festival both days is beautiful new up and coming singer / songwriter Kari Kimmel, who with many current movie and TV song soundtracks to her credit, who will be performing from her newly released self titled album available at the Show and KariKimmel.com. Kari will be performing acoustically with keyboards and guitar on Saturday, then coming back to turn it up with a full band on Sunday. Also headling both days is the all-girl AC/DC tribute band Whole Lotta Rosies, guaranteed to blow fuses and rock your boxers off as 5 sexy jail bait schoolgirls take you to heaven the hard rock way.
Appearing just on Saturday is Liquid Blue, the incredible world renoun rock show band featuring lead singer Niki Nova. The group just performed for near sold out performances at the San Francisco and Pasadena Civic Centers for ticket prices in the tripple digits. They are stoping by the Calendar Show for their only open date between European and a Middle Eastern tours, including USO shows for our troups in places including Afganistan.
Also appearing live on stage are two of the sexiest burlesque and music shows ever. On Saturday the Purrfect Anglez, the famed musical dance troupe featured on the Country Music TV awards, entertained our troops in Iraq and are renown for their performances at biker events across America, make their return to the Calendar show with 4 separate performances throughout the day. Then on Sunday, The Hollywood PinUp Girls take to the stage with 2 very sexy hour long burlesque shows reminiscent of The Crazy Horse in Paris.
Stage activities all weekend are hosted by Playboy Playmate and FastDates.com Calendar Kitten Tamara Witmer, who is also featured in the new 2008 Fast Dates, Iron & Lace and Garage Girls Calendars which will make their world premier and set the sexy pinup theme for the Calendar Girl Music Festival and Motorcycle Show Weekend.
On Saturday night activities move from the Queen Mary Park which closes for the day at 8pm, to onboard the Queen Mary ocean liner. Starting at 9pm to 1am in the Queen Mary's Observation Bar is the Iron & Lace Calendar Builder's Party where enthusiasts can hang and party with Show's top custom bike builders and product manufacturers. Performing all evening at the Party is beautiful Mary Falls and the band Reckless Driver, back again this year, top and classic pop/rock/blues music.
Also taking place on the Queen Mary, but requiring separate admission, is "Tibbies Cabaret and Dinner Theatre" with a Top of the Charts live revue. And "Vamp: The Lounge" a new and innovative interpretation of Classic Burlesque. This show features six amazingly talented entertainers performing in dazzling costumes to the classic music of the 1930's as well as the cutting edge music of today.
The Los Angeles Calendar Motorcycle Show Weekend offers attractions for the entire family and receive complimentary admission aboard the historic Queen Mary ocean liner to make it an incredible experience you'll remember always. Show admission is just $25 1-day / $35 2-Days with children under 12 just $8. For complete details, the Show schedule and parking information visit: Bike Show
Performance Machine presents the Los Angeles Calendar Motorcycle Show Weekend with Associate Sponsors Star Motorcycles, Iron Works magazine, S&S Cycle, ReCycler.com, Trader.com and Connection magazines, Speed TV's American Thunder, Mikuni Carburetors and the FastDates.com Calendars.

And you thought is was only the premier custom and high performance streetbike show in the world?
Join us for an incredible weekend of Bad Boys, Bad Bikes and non stop Girl-Girl Accoustical Action!
The 2007 LA Calendar Motorcycle Show & Calendar Girl Music Festival
Exhibitors & Venders: Registration Informationt: HERE
Kari Kimmel Music Video on YouTub.com
---


FREE Film Screenings! At Cinespace in Hollywood, California on April 17th
THE DOCTOR, THE TORNADO AND THE KENTUCKY FRIED KID
If you're in the area, come and meet the DTK/FASTER team in Hollywood. DTK is showing on the big screen at 8pm on Tuesday April 17 at Cinespace, 6356 Hollywood Blvd (@Ivar). Doors open at 7pm and tickets are free, on a first-come, first-served basis. You can also reserve tickets by emailing rsvp@x-dance.com or calling 323-817-FILM.
"The superb follow-up to the brilliant FASTER." -- Two Wheels Only
Director Mark Neale and editor Rochelle Ford will be there for a Q&A. More planned more big-screen events - our next destinations are the AMA races at Barber and Fontana, where DTK will be shown on the track jumbotrons. We'll keep you posted on other screenings.
If you can't make it to Hollywood, remember that the double disc Collector's Edition of THE DOCTOR, THE TORNADO AND THE KENTUCKY KID is available by Clicking on the Banner Link Above.
---
Jim Bro, Thanks for the support from FastDates.com! Check out Motorcycle Mania 4 on TLC April 19th. We built a bike for John Mellencamp at Daytona Bike Week. There's burn outs, tattoos (yes I tattoo someone), arrests, and a bunch of other shenanigans. Also check out all the new apparel on the site www.ExileCycles.com. Cheers mate! - Russell Mitchell, Exile Cycles
---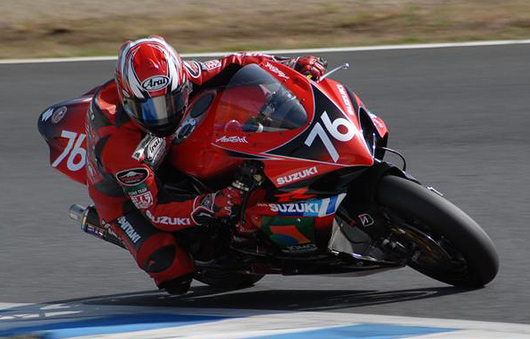 Yoshimura Suzuki's Watanabe Wins Japanese National Superbike Opener
Report and Photos: Hiro Nakamura.
Motegi, Japan, April 4, 2007 - Yoshimura Suzuki's Atsushi Watanabe raced the brand new GSX-R1000K7 to victory in the opening round of the Japanese Superbike Championship at Twinring-Motegi at the weekend after starting from sixth position on the grid.
Following a wet Saturday qualifying session, the Suzuki rider made his challenge at the half-way stage of the dry 20-lap race, catching up to leaders and taking to the front with five laps remaining after carving past the leading trio in as many laps.
Said Watanabe: "The all-new 2007 GSX-R1000 is awesome but the massive amount of power made it difficult to set up the chassis for the race on Saturday in the wet, so I asked my team staff to make it easier to ride. I think they pulled one or two spark plug wires off the engine! I didn't have a good start but I had a lot of confidence in the bike and my team and am very happy with the result for both Yoshimura Suzuki and Bridgestone."
Superbike Results:
1: Atsushi Watanabe (Yoshimura Suzuki)
2: Tatsuya Yamaguchi (Moriwaki Honda)
3: Shogo Moriwaki (Moriwaki Honda)
4: Akira Yanagawa (Team Green Kawasaki)
5: Norick Abe (Yamaha)
6: Katsuyuki Nakasuga (Yamaha)
7: Chojun Kameya (Sakurai Honda)
8: Kousuke Akiyoshi (WINs Suzuki)
9: Daisaku Saka (Yoshimura Suzuki)
10: Takashi Yasuda (Harc Honda)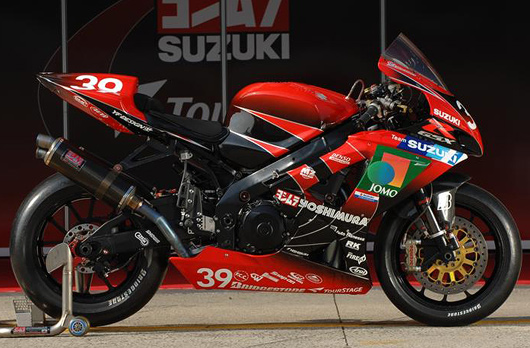 ---
Iron & Lace Calendar Builder Mercury Customs Designs Graphics for Roberts MotoGP Team with new sponsor
MGM Grand / Treasure Island Resorts Las Vegas

March 23, 2007 Irvine, CA - Mercury Customs extends its graphics influence in the motorcycle field by designing the black and red livery for MotoGP Team Roberts. Joe Takai, noted motorcycle designer and custom builder, has designed the new MGM Grand / Treasure island sponsorship graphics package - on track this weekend at the 2nd round of the MotoGP World Championship in Jerez, Spain.
The recent American influence and involvement in MotoGP inspired the ultimate counter-culture themed graphics. In stark contrast to the often polished, smooth, high gloss MotoGP look, this design says rebel, upstart, nonconformist, and maverick. Kenny Roberts Jr. and Team Roberts took the graphic treatment to a new level when he set the pace in the opening free practice in Jerez.
Mercury Customs delivers on its mission to provide cutting edge motorcycles, designs and products ranging from the v-twin market to sportbikes for design and advanced technologies.
Mercury Customs Motorcycles, Inc. is a leading motorcycle design, fabrication and innovation company featured in the 2008 Iron & Lace Calendar and magazines such as: Robb Report, Hot Bike, Stuff Magazine, Chopper Build, IronWorks. www.MercuryCustoms.com
Below: Your exclusive sexy hot preview of the Mercury Customs built "Ronin" bike featured in the upcoming 2008 Iron & Lace Calendar available here July 1st, and now in Members Corner!

---
Above: Race Two winner Haga (middle) looking simply fabulous, California transplant Biaggi (right) shows his LA cool, Monaco transpalnt Corser (right) is very debonaire.
Former Champ and Homeboy Toseland won Race One, DNF'ed Race Two , but still lead's the Championship.

2007 SBK World Superbike Championship, Donnington Round 3 of 13
The Championship is Thrown Wide open
Toseland and Haga Take Wins at Donnington WSB Reunion
Bayliss Crashes out and is Hospitalized with hand Injury
By Andy Rixon and Friends
Donington Park, GB, Subdat 31st March 2007 -James Toseland (Hannspree Ten Kate Honda) scored the first race win after race leader and Superpole winner Troy Bayliss (Ducati Xerox) crashed out at Coppice, injuring his right little finger badly enough to require immediate surgery. Bayliss still took a new lap record of 1'31.575, on lap four of Race One, and that lap record survived in Race Two. In the second race of an incident-strewn day, Noriyuki Haga (Yamaha Motor Italia) won a thrilling last corner battle with Max Biaggi (Alstare Suzuki Corona Extra) after early leader Toseland's machine stopped on lap four.
Toseland still leads this year's Championship, however, 115 points to Biaggi's 110, with Haga third on 88, while the quickest rider, reigning Champion Troy Bayliss is left looking at a hard fight comeback season.
More Donnington Race Coverage Here
---
One World, one Superbike for 2008 and beyond? Will Martin and Bobby be proud?
AMA Racing News Release
They Finally Get It Right!
AMA Announces New Reduced 3 Class Structure for 2008
March 21, 2007 - AMA Racing announced today that it will implement a new class structure for the AMA Superbike Championship beginning with the 2009 season. The new class structure will feature three championship classes with accommodations in place to run developmental/support classes as part of the overall series. The new championship classes are as follows:
• AMA Superbike (1000cc fours and 1200cc Twins?)
• AMA Supersport (600cc Stock)
• AMA Formula Xtreme (600cc Modified)
AMA Superbike will remain the series' leading class and continue to be based primarily on 1000cc equipment. In its new iteration, AMA Superbike pulls from existing Superbike and Superstock rules resulting in an all-new premier class. Supersport and Formula Xtreme will remain similar to their existing structure but will also be refined.
In making the announcement AMA President, Rob Dingman, acknowledged the dynamic nature of motorcycle development as well as the motorcycle marketplace. "We're seeing unprecedented gains in the levels of performance by modern motorcycles," said Dingman. "Also, as motorcycle sales have remained robust, the manufacturers have sought to accelerate their competitive advantages, not to mention market share, by improving key products even more."
Dingman added that AMA Racing's objective is to recognize and respond to these changes while considering such factors as rider safety, quality of competition, cost, and the overall health and growth of motorcycle road racing, among other criteria.
In developing its new class structure, AMA Racing officials looked outward. "We considered the class structure and rules packages of other leading sanctioning bodies worldwide as part of this process," said Dingman. "Ultimately, we need to do what is in the best interest of the riders, teams, manufacturers and sponsors competing in the United States but, at the same time, this cannot be done in a vacuum."
Dingman said World Superbike as well as leading national series like British Superbike, German Superbike and Australian Superbike were examined.
In 2006 AMA Racing adopted new procedures for rules development. In addition to a Racing Committee whose role is to determine and set strategic direction for all AMA Racing properties, separate rules committees were developed for each racing discipline. The new Superbike class structure was presented to the Road Race Rules Committee on March 21 at a meeting at AMA offices in California. Feedback provided by the committee will be used in determining final class structure details.
Specific equipment standards and technical rules remain under development and will be finalized in the near future. Additionally, AMA Racing is evaluating several options for developmental/support classes. A main objective for these classes is to create an improved process for the growth of younger riders and their ability to compete at the national level. As always, AMA Racing will continually monitor its class structure and rules packages and modify as necessary.
Dingman stated that strengthening the AMA Superbike Championship overall is at the core of these changes. "We see great opportunity for AMA Superbike to continue to expand," said Dingman. "Throughout 2006 and early 2007 we have made a number of changes to our organization and staff all in the name of improvement. We see this new class structure as part of that evolution. 2007 will be an important year as we prepare for our future."
We've been lobbying for a more simple 3 class rules structure in AMA raodracing for years now to get all the top teams and riders back into the Superbike Class , and to make the racing more exciting. We applaud AMA for finally making making this change. Now we have to wait and see if AMA will addopt the same 2008 Technical Rules which we are awaiting World Superbike to announce shortly, and to be adopted by British Superbike as well, so the same bikes can be raced in all Championships, and out top AMA riders can and compete in World Superbike when it does return to America in the near future - Editor
---
There's more! Go to Pit Lane News NEXT PAGE

Hot Calendar Girl and Bike News! Go to: Fast Dates • Calendar Girls • Iron & Lace





BikerKiss.com - the largest biker personals site!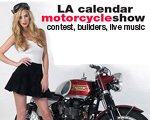 Francis Batta Threatens to Pull Alstare Corona Suzuki and Biaggi out of World Superbike if Ducati Gets 1200cc
Alstare Corna Extra team owner Francis battawas quoted in an Italian newspaper that he would pull his team with rider max Biaggi out of World Superbike if the proposed 1200cc vee-twin engine limit is approved for 2008 and beyond. Known for his emotional outburts at times, and being a major team owner and having brought huge Corona beer sponsorship to the SBK World Championship, Batta is extreamely pissed he has not been consulted by SBK regarding the proposed technical rule changes for 2008 and beyond.
We know that all the teams were miffed 3 years ago when SBK announced it's Pirelli title sponsorship and spec tire rule which may have lost some teams their tire sponsorship deals, bet now with hindsight that has proven to be a good thing and possibly saved the Championship.
Batta is obviously distraught that the current Ducati Corse 999F07 Superbike is quicker than his 2005 Championship winning Suzuki GSXR1000s, but the proposed new Superbike technical rules would have the production based superbikes running near stock engines, with intake restrictors mandated to equalize the power between bikes even more. Still, it can never be a perfect world when you race different engine configurations together. Even if you match the upcoming new Ducati 1198R vee-twin to the Japanese1000cc four-cylinders with RPM limiters and intake restrictors to equalize peak horsepower, the vee-twins with the broader horsepower at low RPM will still accelerate better out of the corners.
SBK definely needs to be keeping Francis batta and the other superbike team owners in on the loop of what they plan to do, to get their input. But in the end it has to be the Flaminni brothers decesion of what is best for World Superbike. And without a new technical formula allowing in 1200cc wins, Ducati and other and any other vee-twin companys will pull out of superbike racing. And Ducati has a longer history of supporting World Superbike than Batta or Suzuki.
Troy Bayliss Returns home to Monaco After Operation,
Partial Finger Loss
Bologna (Italy), Tuesday 3 April 2007: Ducati Xerox Team rider Troy Bayliss has returned to his Monte Carlo home following an operation on his injured hand on Sunday afternoon in the UK.
The Australian had a weekend of ups and downs at Donnington Park. First on Friday he celebrated his 38th birthday, on Saturday he set pole position and then he high-sided out at Coppice on lap 6 of the first race on Sunday. He was taken to the Clinica Mobile in the circuit, but doctors decided to send him to the nearby Derbyshire Royal Infirmary for immediate surgery. The operation consisted of the removal of the top two bones (intermediate and distal phalanges) of the little finger of his right hand. During the crash Troy had also received a powerful blow in the groin region and due to concerns, specialists at the Derby hospital also carried out checks in that area before giving him the OK to leave.
Troy was discharged late on Monday afternoon and flew back to Monte Carlo.
Troy Bayliss is now resting at home and he will undergo a reassessment of his injuries on Friday. Race regulations require a further medical check on Thursday of next week before Troy can be declared fit to race, but all signs point to the Australian being able to return to the track for the next round of the World Superbike championship at Valencia on April 13-15.
"The crash happened so quickly that I don't remember my hand going under the handlebar or anything" declared Troy. "The only thing I remember when I stopped was pain in my groin, I didn't feel the hand at all. Basically I crashed through corner speed, trying to make a gap on James which I was doing and in this one corner the back came around on me and went into a slide/chatter. Normally I would save it but Coppice has a little rise and the bike came back as it crested the rise and that set it off in a different direction and I didn't have a chance at saving it. I'm confident I'm going to be fine for Valencia. It's hard to say after one day but I feel like things are coming along OK and I've still got plenty of days to recover. I feel like I can get on a motorbike now but I won't know that until I do. Hopefully in just a week and a half you'll see the usual Troy!".
David Mitchell, the newly-appointed head of brand and marketing communications of Xerox Europe who met Troy for the first time at the Donnington weekend, declared: "On behalf of Xerox, I would like to express our concern for Troy's wellbeing. Our thoughts are with him after Sunday's horrible accident and we wish him a speedy recovery. Along with the team and all his race fans, we are all looking forward to him getting back out on the track again as soon as possible.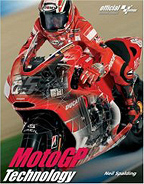 2008 MotoGP for Indianapolis
Still in Negotiations
Wed March 22nd - We had an opportunity this week to speak with Joie Chitwood, CEO and President of Indianapolis Motor Speedway. Joie told us that they have been in negotiations with DORNA for a number of months now in an attempt to confirm a 2008 MotoGP race at the super speedway within the 18-month lead time IMS needed to properly produce and promote the race. The stumbling block has the contract which Dorna sent them which wants Dorna to control everything at the speedway from signage and sponsors,right down to taking a percentage of the concession stand revenues.
All of these requirements in the contract cut into the ability for IMS to run a profitable race weekend.
"We are now about 2 months past that normal 18 month lead time we need to produce a new race, but we are still keeping the negotiations open, for now, to see if we can run the MotoGP here in 2008, " explained Chitwood. "But if nothing is worked resolved in the next month or so, it will have to be moved back a year to 2009 at the earliest."
When asked about the possibility of bring in World Superbike instead if negotiatins with Dorna broke down, Joie replied. "I like the fact the SBK can bring a full 34 bike field to Indy. But its kind of like comparing Formula1 to NASCAR. And the fact we are first trying to secure MotoGP for Indy may have offended SBK, and the current rumors are that SBK is currently in negotions with Barber Motorsports in Alabama to bring World Superbike there."
Mercury Customs creator Joe Takai will also be conducting free Calendar Bike Building Seminars at the 2007 LA Calendar Motorcycle Show this July.
Mercury Customs delivers a wide range of products spanning full custom motorcycles, motorcycle customization in the sportbike and v-twin marketplace, advanced lighting technologies, and is also the developer of ProWire; the first compact, customizable wiring module for motorcycles. For more informations visit MercuryCustoms.com

Click to Listen & Buy It Now
What's Hot!
Kari Kimmel
Incredible new singer/song writer
featured on top TV and Movie sound tracks will be performing music from her awesome new CD live at our upcoming LA Calendar Motorcycle Show both days on July 14-15th!
Kari Kimmel on You-Tube
Ducati 1198R
Production Superbike
Waiting in The Wings
A little birdy just told us that Ducati does have a full-on 1198cc World Superbike R production model being tested, and that they are now waiting for announcement from SBK World Superbike that
V-twins can move up to full 1200cc dispalcement in the Superbike class. If so, the homologation 1198R could go into production immediately after the announcement.
If you ask why does Ducati ned a bigger 1198cc Superbike while they are continuing to kicking ass with the old 999F model. As we reported earlier, Ducati also hopes that SBK will changes the current ruels which allow highly modified engines, and instead have the engines follow more Superstock rules. With Superstock engine rules the bigger V-twins will remain close in performance to the inlin-fours, and the Ducati will be more affordable and competive for private teams in World and National Championships. Stay tuned!
---

NEW! FastDates.com
Cell Phone Wallpapers!
Pirelli's $10 Million Action Car Chase Web Film with Uma Thurman
What do you do when you are the world's largest tire company with Billion dollars to spend on advertising? Sponsor the SBK World Superbike Championship. Produce the world''s most expensive nude Pirelli PinUp Calendar featuring famous Hollywood starlets and then don't let anyone buy it. How about make an action bhort website movie for $10 million dollars staring Kill Bill actress Uma Thurmond?
www.pirellifilm.com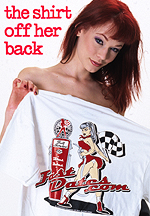 Ducati North American Holds Suprbike Concorso Competition
The Contest highlights Ducati Superbike history and performance; one Ducatisti will take home a 2007 1098 Superbike
Cupertino, California (March 30, 2007) – Ducati North America announces today the Ducati Superbike Concorso; a competition celebrating over 30 years of Ducati Superbikes.
From Cook Neilson's 1977 Daytona win to the recent introduction of the dramatic 1098, Ducati Superbikes have dominated racing circuits and become style icons worldwide. The Ducati Superbike Concorso highlights the history and spirit of these motorcycles and celebrates the passion of their owners.
The Concorso is open to all 1972-2007 Ducati Superbikes and will recognize performance and history as well as beauty and craftsmanship. The contest consists of four regional rounds, which will coincide with AMA Superbike Championship races. The fifth round will be featured online at www.ducatiusa.com. This will culminate in six finalists and four Ducati-selected wild-cards to be chosen to compete on Ducati Island during the final AMA Superbike Championship round at Laguna Seca in September, 2007.
The Grand Prize winner will take home a new Ducati 1098 Superbike. The top winners in "Modified/Performance Superbike" and "Original/Restored Superbike" categories will each win once-in-a-lifetime trips to Italy, where they will visit the Ducati factory and the Milan Motorcycle show as VIP guests.
"The Superbike Concorso is a celebration of motorcycles that have put Ducati on the map since the 1970's," said Michael Lock, CEO of Ducati North America. "Many Ducati enthusiasts don't realize just how many significant Superbikes we have built over the years, and how timeless and beautiful the designs are."
The Superbike Concorso begins at the Fontana, California round of the AMA Superbike Championship on April 27-29, 2007. The event will also make stops at Laguna Seca (July 20-22, 2007), Mid Ohio (August 3-5, 2007) and Road Atlanta (September 1-2, 2007).
Full contest details and further information can be found at www.ducatiusa.com.