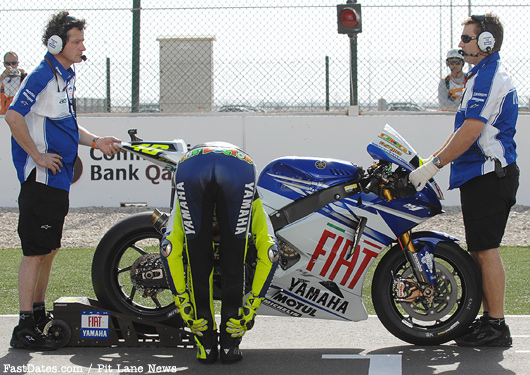 Valentino lets the rest of the field get acclimated before the start.

2007 MotoGP World Championship, Jerez Round 2 of 18
Pedrosa and Edwards share the rostrum
Valentino Rossi Reigns in Spain at Jerez
Jerez, Spain,Saturday March 24th - Valentino Rossi bowled over all challengers to take victory at the Gran Premio bwin.com de España in front of 130,000 fans and put himself at the head of the overall classification. The five-time MotoGP World Champion was never troubled after passing poleman Dani Pedrosa midway through the opening lap, and ended his five-race winless streak with a masterful display of how to lead a Grand Prix.
'The Doctor' has won at Jerez on four previous occasions, and marked victory number five with a special celebration alongside his fan club. Decked out in skittle costumes, the group fell at the Italian's feet as he gave them an underarm bowl on his parade lap. His triumph makes him the first rider to win races on 500cc, 990cc and 800cc machines at the highest level.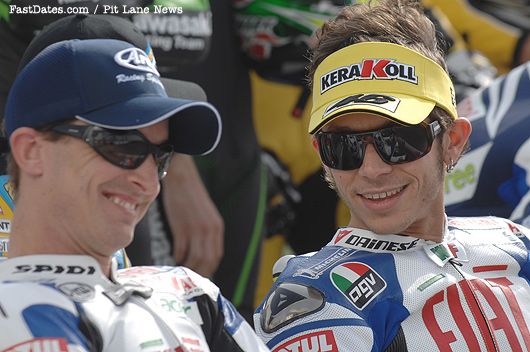 The Tornado and the Doctor.

Race Preview
Jerez, Spain, Mar 19th - After the season-opening race in Qatar just over a week ago, the MotoGP World Championship heads to Jerez this weekend for the first European round of the year, the Gran Premio bwin.com de España. 21 year old Casey Stoner currently leads the way in the MotoGP overall standings for the first time in his career, having taken his maiden victory in the class with a perfect ride at Losail. The Australian made his debut for the official Ducati team one to remember, and the sight of all four of the Italian factory's bikes at the head of the speed charts demonstrates that the Desmosedici GP7 is in tremendous shape for the 800cc era. Stoner's win also makes it the first time since the year 2000 that there have been six or more different winners in consecutive races.
Unable to do anything to catch Stoner on the straights, Valentino Rossi took second at the Qatari race. The five-time MotoGP World Champion is currently on a run of five races without a win, his worst drought since his debut victory at Donington in 2000, and will be eager to break the streak as he begins his revenge mission for the world title in earnest. The Italian has been in blistering qualifying form as of late, including a magnificent run at the Jerez Circuit during last month's MotoGP Official Test.
On the podium once more at Losail, Dani Pedrosa broke Rossi's record to become the youngest ever rider to take 50 Grand Prix podiums. He was also fast at his home track during testing, with an extremely impressive race simulation on the final day of the 2007 preseason, and will remember with fondness a thrilling debut MotoGP ride into second place in last year's event.
One rider with slightly less recent experience of the circuit is Suzuki's John Hopkins. The Anglo-American is still on the mend from a hand injury which forced him to miss his final chance to test the GSV-R800 at Jerez, and was in obvious pain after an impressive race in Qatar where he equalled his best ever result of fourth.
Marco Melandri put in some fast runs at Jerez during preseason and subsequently at the opening race of 2007, but will hope his calls for more power are answered in Spain. He is joined in the overall top eight by Colin Edwards, Chris Vermeulen and Nicky Hayden, with the latter having had a start to his title defence with a result far from that which he would have liked. The World Champion will need to pick up the pace early on this year if he is to keep up with the top riders who are out for his crown.
Although unable to make his return to race action in Qatar due to a crash during qualifying, Jeremy McWilliams is expected to finally make his Grand Prix comeback at Jerez. The Northern Irish rider suffered a haematoma in his still-tender leg which ruled him out of an historic MotoGP start, but should be fit enough to get onboard the Ilmor GP bike once more at the Spanish Circuit where he inflicted the original injury on himself.
Suzuki will be running a wildcard rider at the Gran Premio bwin.com de España, their regular tester Kousuke Akiyoshi. The Japanese rider stepped in for Hopkins to complete testing work last month, and has been rewarded with a race outing for Paul Denning's MotoGP outfit.
Circuit Information
Built in 1986 and hosting its first Grand Prix one year later, the Circuito de Jerez is now one of the most popular MotoGP venues and the focal point for a city fanatical about the sport. Set in a slight valley in the south of Spain, Jerez is blessed with consistently good weather and beautiful scenery, its numerous grandstands providing the perfect viewing facilities for up to 250,000 spectators throughout the weekend. With two alternative road circuits (4,423m and 4,428m), which were resurfaced during 2005, Jerez is a popular venue used by many race teams for testing throughout the year, whilst its recently updated corporate and media facilities have proven to be a popular addition to the complex.
Carlos Checa on the LCR Honda topped Friday practive over his countrymen Dani Pedrosa and Toni Elias.

Friday Practice - Home Trio Reign in Spain at Opening Jerez Sessions
Stoner and Roberts Close Behind
Friday 23rd March- The opening practice sessions for the Gran Premio bwin.com de España took place today, with temperatures pleasantly warm at the Circuito de Jerez in Andalusia. The riders were able to make the most of every moment on track, in contrast to some of the preseason tests in Spain which were hit by adverse conditions. On a day of surprise timesheet-toppers at Jerez, Carlos Checa took the early advantage at today's practice session to complete an all-Spanish fastest three. The LCR Honda rider clocked a time of 1'40.851, with little more than a tenth of a second separating him and countrymen Dani Pedrosa and Toni Elias.
After Valentino Rossi's triumph at the 'qualifying' session of last month's Official MotoGP Test, and the awesome top speeds reached by Ducati at the opening race in Qatar, Honda will be pleased to have their trio at the head of the timesheets today. Casey Stoner, who so impressed with his performance at Losail less than two weeks ago, was fourth fastest ahead of Kenny Roberts Jr., the morning's quickest rider.
Five-time MotoGP World Champion Valentino Rossi was the final rider in the top six, although by no means off the pace in a tightly packed hour long final session. John Hopkins, who missed the final preseason test at Jerez due to a hand injury, was still obviously suffering from the after-effects during the session, clearly in pain as he sat in his pit in the early stages of the session. He was ahead of team-mate Chris Vermeulen, Colin Edwards and Alex Barros, whilst World Champion Nicky Hayden once again couldn't quite find his rhythm at the Spanish circuit down in 13th. The American was a mere seven-tenths of a second off Checa's best time, but must use tomorrow's final day of practice to get into the groove before he kickstarts his title defence in earnest in Sunday's race.
Final qualifying Spanish GP
Pedrosa Takes a Grip on his Home Pole
Saturday March 24th - The MotoGP class served up a typically hard-fought hour of qualifying with Spanish sensation Dani Pedrosa (Repsol Honda RC212V) powering to pole here in Jerez. Valentino Rossi (Yamaha) qualified second fastest with another Spanish star Carlos Checa (LCR Honda RC212V) completing the front row.
With the 4.423km track notoriously sensitive to temperature changes, grip was not at the level provided during tests here earlier in the month when times were well up on last year's. Dani's pole time is 0.388 seconds slower than Loris Capirossi's 2006 pole mark of 1m 39.064 seconds. The track surface was at 24 degrees, ambient temperature at 40 degrees as the 800cc machines began the hour. Casey Stoner (Ducati) got things moving with a swift early lap of 1m 40.903 to head the timesheet until the halfway point. Rossi and yesterday's quick-man Checa lay second and third fastest.
Dani, who had been parked in 13th spot opened the real attempts at pole with a 1m 40.899s time to grab the number one slot with 26 minutes gone. Rossi then responded by firing his machine to the second fastest time before the Kawasaki team launched Randy de Puniet out of pit lane with a qualifying tyre on for the Frenchman to put in a 1m 40.523s lap to take pole from Dani.
His team-mate Olivier Jacque slotted into a provisional second place before the bulk of the field began to pit for qualifiers with 15 minutes of the hour remaining. With 12 minutes left Stoner sped to a 1m 39.940s lap – good enough for pole – but only for now. John Hopkins (Suzuki) snatched second spot with Nicky Hayden (Repsol Honda RC212V) now temporarily third fastest.
With ten minutes left on the clock things got serious with Marco Melandri (Gresini Honda RC212V) rocketing to second and then Rossi grabbing pole with a 1m 39.765s time. Then Colin Edwards (Yamaha) put in a 1m 39.765s lap to head the proceedings and it seemed many men had the speed to figure at the front of the rankings.
With five minutes left on the clock, the order was Edwards, Rossi, Melandri, Stoner, Pedrosa and Hayden. But Qatar winner Stoner had some more speed left to dial in a 1m 39.524s lap and go pole again. Then Rossi intervened with a 1m 39.453s time and as Hayden shot to fourth and Hopkins to third, Dani was on a hot lap…
The clock stopped at 1m 39.402 seconds and try as the rest of the grid might, no one had the legs on the homeboy. It's a significant pole for Dani – and with Rossi second fastest and Checa completing the front row – the race promises to be a firecracker of a contest. Just 1.003 seconds covers the first 16 riders! It is also the closest the top ten riders have been on a grid in the entire history of the premier class.
Dani said, "The race set-up we have for the bike is quite good and the tyre choice looks OK as well so we'll have to see how their performance continues over the race distance. The times are very close so a good start will be very important tomorrow. The crowd was amazing today. On the last lap coming into the pits I was more relaxed and I could actually notice how many people there were. It's great for the Spanish riders and the others to have so much support and I think the atmosphere tomorrow will be very special."
Valentino Rossi Position: 2nd Time: 1'39.453 Laps: 26 - "It's been an up and down weekend for us so it's good that we've achieved our number one goal of getting onto the front row. It's going to be very important for tomorrow's race I think. It was a good qualifying session and my lap was quite good, but we know it's possible to be a lot quicker because last month at the test I was more than one second faster! We knew it would be difficult to match the 1'38.394 I did then however, because then we had four qualifying tyres and with the new tyre restrictions now we only have two. With the race tyre we were struggling quite a bit yesterday and this morning it was even worse, so we were a bit worried, but we looked at the situation together with Michelin and found a good solution and this afternoon we were in much better shape. I think tyres are going to be the biggest issue tomorrow and the last ten laps especially are going to be very hard and difficult for everyone. I think it's going to be an exciting race for the fans!"
Checa said, "This front row is a very good feeling, especially for my home race. Predictions are difficult but if the weather and track are the same for the race as in practice, then we have a very good set-up, and a chance to fight for the podium. The LCR team has done a great job, especially to give me more confidence with the front-end. And until today I have struggled with a lot of chatter on the soft rear qualifying tyre but, with the support of Michelin, we have made a lot of progress in this area."
Qualifying / Pole
Pos., Rider, Manu., Nat., Total Time
1, Daniel Pedrosa, Honda, ESP, 1'39.402
2, Valentino Rossi, Yamaha, ITA, 1'39.453
3, Carlos Checa, Honda, ESP, 1'39.406
4, Colin Edwards, Yamaha, USA, 1'39.486
5, Casey Stoner, Ducati, AUS, 1'39.524
6, John Hopkins, Suzuki, USA, 1'39.625
7, Shinya Nakano, Honda, JPN, 1'39.632
8, Toni Elias, Honda, ESP, 1'39.660
9, Marco Melandri, Honda, ITA, 1'39.722
10, Kenny Roberts, KR212V, USA, 1'39.727
11, Nicky Hayden, Honda, USA, 1'39.834
12, Randy De Puniet, Kawasaki, FRA, 1'39.883
13, Alex Barros, Ducati, BRA, 1'40.196
14, Chris Vermeulen, Suzuki, AUS, 1'40.328
15, Loris Capirossi, Ducati, ITA, 1'40.391
16, Olivier Jacque, Kawasaki, FRA, 1'40.405
17, Makoto Tamada, Yamaha, JPN, 1'40.617
18, Alex Hofmann, Ducati, GER, 1'40.710
19, Kousuke Akiyoshi, Suzuki, JPN, 1'41.202
20, Sylvain Guintoli, Yamaha, FRA, 1'41.219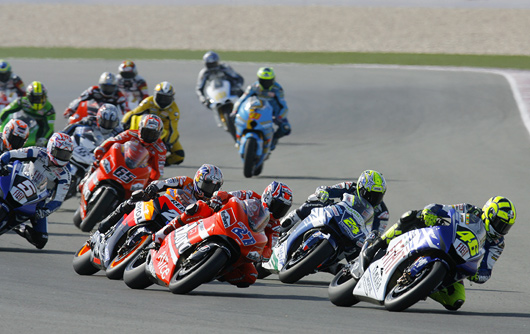 Valentino Rossi (46) jumps into the lead of the opening lap ahead of last week's winner Casey Stoner (27 and Nicky Hayden who dropped back to 7th at the finish.

Rossi's Glory as Team Yamaha Sandwiches Pedrosa
Jerez, Spain,Saturday March 24th - Valentino Rossi returned to the top step of the podium today after leading for all 27-laps of the Grand Prix of Spain, taking his first victory since Sepang last year and his 46th win of the four-stroke MotoGP era. Rossi's 26th win for Yamaha also makes him the most successful rider at Jerez in the premier class, with five wins at the Spanish track. He was joined for the podium celebrations by his team-mate Colin Edwards, who rode a strong race from fourth on the grid to stay in contention behind Dani Pedrosa, eventually finishing third and taking his seventh MotoGP podium in front of a record crowd of 138,000.
Both Yamahas got a good start off the line, Edwards riding around the outside of Carlos Checa to take third at turn two and Rossi passing pole-sitter Pedrosa to take the lead shortly after. By the fourth lap the leading trio had begun to pull away from Nicky Hayden and John Hopkins and Rossi had started to stretch his lead on Pedrosa, setting the fastest lap of the race on lap five. Despite a strong showing from the Spaniard in front of his home crowd, Rossi's lead never looked in jeopardy and he eventually crossed the line 1.246 seconds in front. Edwards meanwhile never stopped pushing in third place, spurred on by the looming Honda of Toni Elias in the latter stages. Tyre worries for the pair proved unfounded as their Michelins worked well to the flag and Rossi and Edwards now take first and fourth in the Championship after two rounds of the eighteen-race season.
The Doctor will see you now.

'The Doctor' has won at Jerez on four previous occasions, and marked victory number five with a special celebration alongside his fan club. Decked out in skittle costumes ( dressed up as human bowling pins), the group fell at the Italian's feet as he gave them an underarm bowl on his parade lap. His triumph makes him the first rider to win races on 500cc, 990cc and 800cc machines at the highest level.
Hyped up as a battle between Rossi and Pedrosa for dominance of the Spanish circuit, the race never really became a duel between the two riders. As the Fiat Yamaha rider continually upped his race pace, Pedrosa was left with little to do but follow his rival into second. Whilst clearly unable to keep up with Rossi, he was likewise unfazed by the presence of third placed Colin Edwards nearly three seconds behind him. For the 'Texan Tornado' the Gran Premio bwin.com de España marked a welcome return to the podium after an assured ride.
Aiming to give the Spanish fans another reason to be happy, Toni Elias was right up there with Rossi's fastest speeds although starting from further down the grid. The exciting rider finished in fourth after some excellent overtaking, just edging out Casey Stoner who couldn't repeat his dominance from two weeks ago. The Australian Ducati rider was once again mature in his overtaking choices, and was rewarded with some valuable points for the World Championship.
Carlos Checa, starting from the front row for the first time since 2005, rounded off the top six, ahead of reigning World Champion Nicky Hayden. 'The Kentucky Kid' made a fantastic start, but was unable to get near the leaders and dropped off towards the end of the race. Marco Melandri, Chris Vermeulen and Shinya Nakano completed the top ten.
John Hopins was turning the fastest laps of the race and closing on the leaders, had just passed Haydeon for 4th, then low sided his Sukuki in a corner.
John Hopkins suffered a crash on lap 16, having just overtaken Hayden for fourth, but picked the Suzuki GSV-R800 up to finish the race, albeit in 19th. The brave Anglo-American was once again racing despite pain in his right hand.
Valentino Rossi, 1st Time: 45'53.340: "After the situation at this race last year, this is much, much better! Our first priority today was to get points and I knew that to win I would have to ride at the maximum, but today my Yamaha really flew and I was able to do a great race. It feels like a long time since I last won and this is a great emotion and a very special victory for me, especially in Jerez in front of this great crowd. Qatar was good but to taste victory again is a wonderful feeling. We had some problems on Friday and again yesterday and then after this morning's warm-up we made some more small modifications; I have to thank my team, from Jeremy Burgess to all my mechanics and engineers. They did a fantastic job for me this weekend and they all deserve this win. My tyre worked very well today and Michelin have done a good job too in difficult conditions, so thank you to them. I got a great start, didn't make any mistakes and had a good battle with Pedrosa, who we knew would be the danger today. I'm really happy for Colin too and to have both Yamahas on the podium shows that we're in good shape for what's going to be a long season. Now we have two race tracks which might be difficult for us so it's very important to leave here leading the championship."
Dani Pedrosa, Repsol Honda: 2nd: "I am very happy to be on the podium for the second race in a row and we've had a good weekend here at Jerez since first practice on Friday. At the beginning of the race the pace became very fast and I was trying really hard not to lose too much ground to Valentino in the early laps. From the middle of the race to the end I was a little bit slower than him so I just tried to keep focussed and not make any mistakes. The bike felt good today and the Michelin tyres too, and I enjoyed the battle, even though I wasn't able to fight for the win. I feel a little bit sorry for the fans here because I really wanted to win for them because they are very passionate. I think they enjoyed the racing today and this crowd supports everybody, not just the Spanish riders. The result is very good for the team because they have been working hard for me, so a big thanks to them."
Colin Edwards, 3rd Time: "On Friday morning you wouldn't have thought we would end up on the podium, but here we are and it was a good race for me. I've got to say an enormous thank you to all my guys because they worked non-stop all weekend and came up with some pretty good solutions to the problems we had. Michelin also had something up their sleeve for us and seemed to know what would work and they were proved right - they've done a good job for us this weekend. I got a good start and my best move was getting past Checa so quickly; I knew I had to find some clear air and try to hang onto the back of Valentino and Pedrosa. I made a couple of small mistakes and they were able to pull away from me a bit which was a pity, but my bike was working well so I was able to keep a pretty good pace throughout. Towards the end I could see Elias had appeared behind me and I didn't like the idea of him getting spurred on by his home fans and trying to snatch a podium, so I really had to keep hammering away! The last few laps were a little hairy at times as I started to slide but anyway we managed to make it and it feels great to be up here on the podium again."
Nicky Hayden, Repsol Honda: 7th: "I got a good start and the first few laps were decent – I was pushing really hard, though I didn't really have the set-up to run at that pace. It felt good to be up front and see what those boys were doing but I was taking a few chances and I probably used up my tyres too much in the first few laps trying to work my way forward. It's a little frustrating because at the last race in Qatar we got faster as the race went on yet here it was the opposite. Hopefully we can get two good days of testing and really try to make a big step before the short break. The issue is still getting the front end to turn, especially when the front tyre gets a little worn. Thanks to my team and to Michelin because those guys have been working hard and did some stuff to help me – and even though the result isn't a lot better I do feel like we made some progress this weekend and we're going to keep fighting to get up front."
MotoGP Results: (27 laps = 119.421 km)
Pos/ Rider / Nat / Team / Motorcycle / Time/ KM/H / Gap
1 / Valentino ROSSI / ITA / Fiat Yamaha Team / YAMAHA / 45'53.340 / 156.143 /
2 / Dani PEDROSA / SPA / Repsol Honda Team / HONDA / 45'54.586 / 156.072 / 1.246
3 / Colin EDWARDS / USA / Fiat Yamaha Team / YAMAHA / 45'56.041 / 155.99 / 2.701
4 / Toni ELIAS / SPA / Honda Gresini / HONDA / 45'57.691 / 155.896 / 4.351
5 / Casey STONER / AUS / Ducati Marlboro Team / DUCATI / 45'58.333 / 155.86 / 4.993
6 / Carlos CHECA / SPA / Honda LCR / HONDA / 46'03.340 / 155.578 / 10
7 / Nicky HAYDEN / USA / Repsol Honda Team / HONDA / 46'07.486 / 155.345 / 14.146
8 / Marco MELANDRI / ITA / Honda Gresini / HONDA / 46'13.309 / 155.019 / 19.969
9 / Chris VERMEULEN / AUS / Rizla Suzuki MotoGP / SUZUKI / 46'18.126 / 154.75 / 24.786
10 / Shinya NAKANO / JPN / Konica Minolta Honda / HONDA / 46'18.295 / 154.74 / 24.955
11 / Alex BARROS / BRA / Pramac d'Antin / DUCATI / 46'18.348 / 154.737 / 25.008
12 / Loris CAPIROSSI / ITA / Ducati Marlboro Team / DUCATI / 46'19.192 / 154.69 / 25.852
13 / Randy DE PUNIET / FRA / Kawasaki Racing Team / KAWASAKI / 46'19.785 / 154.657 / 26.445
14 / Makoto TAMADA / JPN / Dunlop Yamaha Tech 3 / YAMAHA / 46'29.993 / 154.091 / 36.653
15 / Sylvain GUINTOLI / FRA / Dunlop Yamaha Tech 3 / YAMAHA / 46'30.084 / 154.086 / 36.744
Pole Position: Dani PEDROSA 1'39.402 160.185 Km/h
Fastest Lap: Valentino ROSSI 1'40.905 157.799 Km/h Lap 5
Circuit Record Lap: Valentino ROSSI 1'40.596 158.284 Km/h 2005
Circuit Best Lap: 2006 - Loris CAPIROSSI 1'39.064 160.732 Km/h
World Championship Positions:
1 ROSSI 45, 2 STONER 36, 3 PEDROSA 36, 4 EDWARDS 26, 5 MELANDRI 19, 6 HAYDEN 17,
7 VERMEULEN 16, 8 ELIAS 15, 9 HOPKINS 13, 10 BARROS 12, 11 NAKANO 12,
12 CHECA 10, 13 HOFMANN 5, 14 CAPIROSSI 4, 15 JACQUE 4.
250cc Race Results: (26 laps = 114.998 km)
Pos / Rider / Nat / Team / Motorcycle / Time / KM/H / Gap
1 / Jorge LORENZO / SPA / Fortuna Aprilia / APRILIA / 45'35.846 / 151.321 /
2 / Alvaro BAUTISTA / SPA / Master - MVA Aspar / APRILIA / 45'36.064 / 151.309 / 0.218
3 / Andrea DOVIZIOSO / ITA / Scot Racing Team / HONDA / 45'36.324 / 151.295 / 0.478
4 / Alex DE ANGELIS / RSM / Master - MVA Aspar / APRILIA / 45'44.002 / 150.871 / 8.156
5 / Alex DEBON / SPA / Aprilia Racing / APRILIA / 45'50.593 / 150.51 / 14.747
6 / Hiroshi AOYAMA / JPN / Red Bull KTM 250 / KTM / 45'50.891 / 150.494 / 15.045
7 / Shuhei AOYAMA / JPN / Repsol Honda 250cc / HONDA / 45'53.764 / 150.337 / 17.918
8 / Yuki TAKAHASHI / JPN / Scot Racing Team / HONDA / 46'04.284 / 149.764 / 28.438
9 / Anthony WEST / AUS / Team Sicilia / APRILIA / 46'15.281 / 149.171 / 39.435
10 / Dirk HEIDOLF / GER / Kiefer - Bos - Sotin Racing / APRILIA / 46'38.535 / 147.931 / 1'02.689
11 / Fabrizio LAI / ITA / Campetella Racing / APRILIA / 46'42.659 / 147.714 / 1'06.813
12 / Ratthapark WILAIROT / THA / Thai Honda PTT-SAG / HONDA / 46'43.012 / 147.695 / 1'07.166
13 / Alex BALDOLINI / ITA / Kiefer - Bos - Sotin Racing / APRILIA / 46'43.217 / 147.684 / 1'07.371
14 / Eugene LAVERTY / IRL / Honda LCR / HONDA / 46'47.639 / 147.452 / 1'11.793
15 / Karel ABRAHAM / CZE / Cardion AB Motoracing / APRILIA / 46'49.744 / 147.341 / 1'13.898
Pole Position: Jorge LORENZO 1'43.099 154.441 Km/h
Fastest Lap (New record): Alex DE ANGELIS 1'44.295 152.670 Km/h Lap 4
Circuit Record Lap: Daijiro KATO 1'44.444 152.452 Km/h 2001
Circuit Best Lap: 2005 - Dani PEDROSA 1'42.868 154.788 Km/h
---


Leticia Needs Your Help!
Normally we're not the ones to post sexy gratuitous photos of beautiful half naked girls on FastDates.com. Hell no! Those perverts at Cycle Snooze do that all the time and we have more pride than those geeks, plus a sense of what's really news worthy and what you, the concerned Pit Lane News readers really want to see. Still, we just just couldn't ignore a charitable request from sweetheart Leticia Cline, a hard working model who just also happens to be the girlfriend of AMA Superbike Champion and Daytona race winner Ben Spies.
"Hey guys, it's that time again for Maxim's Hometown Hotties and I need your help! I have entered this contest the last two years and really want to make it. Below is the link and all the info about the contest. I'm only up for one week so please get your votes in and vote everyday. You need to vote for 10 girls on MaximOnline.com and can only do it once daily. Tell your friends and thanks so much again for all of your help!" Help a starving model who can't afford clothes... Vote Here Now!!!!

xoxox, Leticia Cline
MySpace/LeticiaCline
---
the best damn thing
Its been a long 3 year wait, but sexy hot punk pop rock skater princess Avril Lavigne finally has a new CD album hitting the stores next month. Its called the best damn thing and we're sure it is, based on the early radio release first single called "Girlfriend" from the album.

For our special FastDates.com Fans you can order the best damn thing right now at a super special price of just $12.99 which is a $5.99 discount (32%) off the list price.

Just click on the CD cover at left and it will be the best damn thing you've done all day! Damn Straight.
---
There's more! Go to Pit Lane News NEXT PAGE

Hot Calendar Girl and Bike News! Go to: Fast Dates • Calendar Girls • Iron & Lace





BikerKiss.com - the largest biker personals site!
PREVIEW
World Superbike Returns to Donnington Park
FIRST BRITISH ROUND OF 2007 A REMINDER OF YEAR ONE - SBK RETURNS TO WHERE IT ALL STARTED
Donington Park, Tuesday 27th March 2007 - Round three of the 13-round World Superbike championship takes place at the birthplace of World Superbike racing itself - Donington Park in Great Britain. The 4km circuit, located in the heart of England, was the venue for the first ever World Superbike race weekend, in the corresponding month of April 1988. In what is now SBK's 20th year, it is only fitting that Donington returns to the World Superbike calendar per se, having been a much-missed venue since the last SBK meeting there in 2001. On that day two legendary SBK names, Pierfrancesco Chili and Neil Hodgson each won races, and way back in 1988, current Ducati Xerox team manager Davide Tardozzi and former GP champion Marco Lucchinelli won a leg each.
TOSELAND THE HOME FAVOURITE AND CHAMPIONSHIP LEADER
James Toseland (Hannspree Ten Kate Honda) returns to what will be the first of three home races this season in the position of championship leader, having scored two wins and two second places thus far. He and his team-mate Roberto Rolfo (Hannspree Ten Kate Honda) missed the recent official SBK tests but Toseland will still be going for front row qualifying slots to allow him to lead the pack on the early run down the awesome Craner Curves section of the Donington circuit. The only other riders to have won races thus far are even more experienced in terms of recent race outings at Donington, with Qatar race winner Max Biaggi (Alstare Suzuki Corona Extra) second in the rankings and 16 points down on Toseland, while Phillip Island race winner Troy Bayliss (Ducati Xerox) is overall third, some 26 points from the lead. Biaggi's team-mate Yukio Kagayama is an experienced rider at Donington, having been a BSB regular for two seasons, but for Bayliss' team-mate Lorenzo Lanzi this weekend is a new challenge on a World Superbike machine, although he has raced at Donington before in 2001, on a 250.
HAGA AND CORSER BOTH FORMER WINNERS AT DONINGTON
Noriyuki Haga (Yamaha Motor Italia) has not got off to the best start he could have imagined in 2007, but at Donington he has proved to be a winner in the past, and a double winner for Yamaha to boot, in 1998. His team-mate Troy Corser (Yamaha Motor Italia) has also scored a double win at Donington, in 1996, when he rode for Ducati. Haga is fourth so far, with Corser fifth. Other Yamaha riders to look out for at Donington include Donington rookie Shinichi Nakatomi (Team YZF Yamaha).
NIETO AND LACONI WELL VERSED IN DONINGTON'S INTRICACIES
The sinuous and flowing nature of Donington's layout is an eagerly anticipated venue for the top Kawasaki pairing, Fonsi Nieto (PSG-1 Kawasaki Corse) and Regis Laconi (PSG-1 Kawasaki Corse). Each rider has great experience of the Donington track and feel that it could be a good venue for their fast but sometimes fickle machines. Serial WSB race winner when a factory rider Ruben Xaus (Sterilgarda Ducati) is currently the top-placed privateer, even if he is on a year-old factory 999 F06 machine. He is closely followed in the current points standings by Max Neukirchner (Suzuki Germany). Like Xaus, the German rider has yet to finish outside the top ten thus far, and yet Neukirchner is 'only' equipped with a 2006-spec privateer GSX-R.
PRIVATEERS SET TO PUSH HARD
Despite being told his ride was lost due to sponsorship issues, Steve Martin will now line up beside his regular team-mate Michel Fabrizio (DFX Corse Honda CBR1000RR) until at least the Monza race. The DFX team's mixture of youth and experience will be a welcome pairing at Donington. The Alto Evolution Honda riders, Karl Muggeridge and Josh Brookes, could not have more different points of view of Donington going into this weekend. Former UK resident Muggeridge is going back to a venue he knows well from his British Supersport days, while Brookes will see the circuit for the first time shortly before he attacks the curves and heavy braking sections for real in first practice. Once more Giovanni Bussei will team-up with Xaus for this race weekend, on a second Sterilgarda Berik Ducati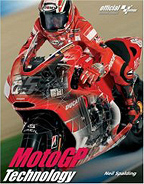 2008 MotoGP for Indianapolis
Still in Negotiations
Wed March 22nd - We had an opportunity this week to speak with Joie Chitwood, CEO and President of Indianapolis Motor Speedway. Joie told us that they have been in negotiations with DORNA for a number of months now in an attempt to confirm a 2008 MotoGP race at the super speedway within the 18-month lead time IMS needed to properly produce and promote the race. The stumbling block has the contract which Dorna sent them which wants Dorna to control everything at the speedway from signage and sponsors,right down to taking a percentage of the concession stand revenues.
All of these requirements in the contract cut into the ability for IMS to run a profitable race weekend.
"We are now about 2 months past that normal 18 month lead time we need to produce a new race, but we are still keeping the negotiations open, for now, to see if we can run the MotoGP here in 2008, " explained Chitwood. "But if nothing is worked resolved in the next month or so, it will have to be moved back a year to 2009 at the earliest."
When asked about the possibility of bring in World Superbike instead if negotiatins with Dorna broke down, Joie replied. "I like the fact the SBK can bring a full 34 bike field to Indy. But its kind of like comparing Formula1 to NASCAR. And the fact we are first trying to secure MotoGP for Indy may have offended SBK, and the current rumors are that SBK is currently in negotions with Barber Motorsports in Alabama to bring World Superbike there."
Iron & Lace Calendar Builder Mercury Customs Designs Graphics for Roberts MotoGP Team with new sponsor
MGM Grand / Treasure Island Resorts Las Vegas
March 23, 2007 Irvine, CA - Mercury Customs extends its graphics influence in the motorcycle field by designing the black and red livery for MotoGP Team Roberts. Joe Takai, noted motorcycle designer and custom builder, has designed the new MGM Grand / Treasure island sponsorship graphics package - on track this weekend at the 2nd round of the MotoGP World Championship in Jerez, Spain.
The recent American influence and involvement in MotoGP inspired the ultimate counter-culture themed graphics. In stark contrast to the often polished, smooth, high gloss MotoGP look, this design says rebel, upstart, nonconformist, and maverick. Kenny Roberts Jr. and Team Roberts took the graphic treatment to a new level when he set the pace in the opening free practice in Jerez.
Mercury Customs delivers on its mission to provide cutting edge motorcycles, designs and products ranging from the v-twin market to sportbikes for design and advanced technologies.
Mercury Customs Motorcycles, Inc. is a leading motorcycle design, fabrication and innovation company featured in the 2008 Iron & Lace Calendar and magazines such as: Robb Report, Hot Bike, Stuff Magazine, Chopper Build, IronWorks.
Mercury Customs creator Joe Takai will also be conducting free Calendar Bike Building Seminars at the 2007 LA Calendar Motorcycle Show this July.
Mercury Customs delivers a wide range of products spanning full custom motorcycles, motorcycle customization in the sportbike and v-twin marketplace, advanced lighting technologies, and is also the developer of ProWire; the first compact, customizable wiring module for motorcycles. For more informations visit MercuryCustoms.com

Click to Listen & Buy It Now
What's Hot!
Kari Kimmel
Incredible new singer/song writer
featured on top TV and Movie sound tracks will be performing music from her awesome new CD live at our upcoming LA Calendar Motorcycle Show both days on July 14-15th!
Ducati 1098 Superbikes
All Sold out for 2007
Hypermoto Struggling to Get into Production
American customers just started taking delivery of the all new Ducati 1098 Superbikes about 3 weeks ago. But if you didn't get your order in early with your local dealer at Ducati Dealer's big national open house back in February, the chances are you'll have to wait another year for the next 2008 production run.
Word is that both the 1098 and 1098S model in Decati Red with full Ohlins suspension are sold out. As is premier year only Tri Colour Special Edition in Italian Red/Green/White with its full race Termignoni and upgraded CPU.
However there may still be a few base model 1098's in the less popular color Yellow if that floats your boat.
According to the Ducati Performance parts catalog the full race Termignoni Exhaust System with CPU (that retails on its own for $2,6000 - down a whopping $1,000 compared to the full race systemfor the 999) provides an 8% power increase over the 1098's rated 160hp. So 160 plus 8% = 172.8hp which is pretty close to World Superbike race winning horsepowr about 6 years ago when Carl Fogart was World Champion. And this has to be ARB smogand street legal if it comes stock on the Tri Colour
Ducati North America is not even bothering to have a press launch of their new Superbike in Ameirca, only because "We can sell every one were getting." Its certainly nice to be so arrogant after sitting on unsold 999 Superbikes for so many years.
Meanwhile, Ducati's much anticipated Hypermoto with delivery origionally promised for February last month, has yet to make it onto the production line in Bologna. Ducati present Federico Minoli has been trying to keep keep customers who have ordered the bike, happy by posting pictures and videos on the Ducati.com Blog of the pre production Hypermotos being tested, with expected delivery now promised to begin in may May. Needless to say, if you haven't order a Hypermoto from your dealer last month, either, your chances of getting one are probably very slim.
The Italian manufacture who has struggled with slow sales the past few years, and was forced to lay off a number of production line employees last summer, now seems to be struggling to meet production now that they have some populr motorcycles again. Part of the problem too, is that the factory only has 2 producting lines, one set up to produce the touring bikes and monsers, and the other for superbikes, multistadas, and we suspect the new Hypermoto.
That's why we won't being seeing the Hypermoto until the production like has completed building the 1098 Superbike for this year.
And what of the long awaited Ducati Desmosedici that was first promised to be available for just $50,000 beginning at the postponed World Ducati Week of May 2006? Then when Ducati dealers finally started taking deposits on 'Sedici last August the price had gone up to $65,00o and delivery was moved back to May of 2007. Now the latest word is production on the 'Sedici should start this July, but with production expected to take place in the Ducati Cose Race Shops across town, they might only be turning out 1 bike per work day. So if you were lucky enough to get a depost accepted on the first 200 bike production run, some people might not see their MotoGP winner for another year. And with that bike also having been sold out worldwide, well in advance of production, Ducati is already taking of a 2nd production run after the 1st, with the price raised to $72,000 each.
And for those of you holding out for a Ducati 1098R model, remember, its engine specs can't be finalized yet until the FIM approves the 2008 World Superbike rules allowing Ducati to race with the biigger 1098 motor.
That won't happen until later this summer, so a prototype 1098R or FIM legal engine variation thereof, probably won't be seen unitl the Milan Motorcycle Show in November, meaning it will be another 6 months again before we see it arriving at dealers here in America.
We have a Desmosedici on order ourselves, and were holding out on getting a 1098 until the 1098R model became available next year.
But now with the 'Sedici possibly a year away as well, we ended going ajead and ordering one of the last Tri Colour 1098s which our dealer had allocated. So hopefuly will have that in about a model that one of our SBK Fast Dates Calendar Kittens can test for you.
---

NEW! FastDates.com
Cell Phone Wallpapers!
Pirelli's $10 Million Action Car Chase Web Film with Uma Thurman
What do you do when you are the world's largest tire company with Billion dollars to spend on advertising? Sponsor the SBK World Superbike Championship. Produce the world''s most expensive nude Pirelli PinUp Calendar featuring famous Hollywood starlets and then don't let anyone buy it. How about make an action bhort website movie for $10 million dollars staring Kill Bill actress Uma Thurmond?
www.pirellifilm.com