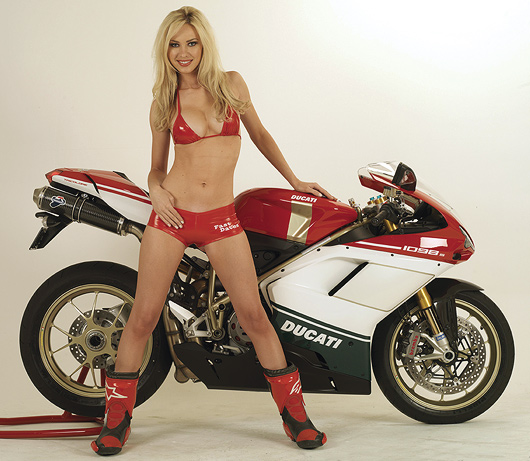 The Good, the Bad, and the Beautiful. Tiffany taking the new Ducati 1098S Tri Colore for a spin.... Click HERE
Ducati's new 1098 Superbike - It's Not a Perfect Beauty
Exclusive First & Last Test ! Ducati Limited Edition Tri 1098S Tri Color
"If you are waiting to get a 4th generation Ducati Superbike model,
wait a little longer until they get it right."
Current magazine tests (Motorcyclsit, Sportrider) are finding the new sexier, lighter, faster 1098S Ducati turns significantly slower track lap times and it is harder to ride than the latest Japanese Superbikes or the out going Ducati 999S in side-by-side comparisons. However, the magazines won't tell you why because they just don't know, or for fear of loosing Ducati advertising. We have nothing to fear and tell you why....HERE
---
Points leader and race winner Casey Stoner.
MotoGP World Championship, Catalunya, Round 7 of 18
Gran Premio d'Italia Alice
Stoner Returns Rossi the favor at Catalyuna Spain
Catalunya, Span, Saturday 9th June - Ducati Marlboro Team rider Casey Stoner won a breathtaking three-man battle for victory at Catalunya this afternoon to extend his points lead at the top of the MotoGP World Championship. Team-mate Loris Capirossi also rode a storming race, riding to sixth place from his sixth-row start, the legacy of a luckless qualifying session here.
Stoner had it all - stunning attack and superb defence - as he fought with Valentino Rossi and Dani Pedrosa throughout the 25 laps to keep 112,000 sun-soaked fans on their feet. The Australian enjoyed the lion's share of the lead, attacking immediately whenever passed. The trio crossed the line in that order, covered by seven tenths.
Valention was is in top form again this weekend as he sets out to reel in points leader Casey Stoner.
Rossi on Record Pole at Catalunya Spain
Saturday 9th June - Valentino Rossi put in the fastest ever lap of the Circuit de Catalunya in today's MotoGP qualifying session, putting him on pole for the fourth time at the Spanish track. The Italian rode round in a lap of 1'41.840 to give himself a clear path down the long straight to the first corner tomorrow. Rossi has an excellent record at Catalunya, but the MotoGP class is currently on a long spell without a winner from pole stretching back to the Japanese Grand Prix at Motegi last season. Can the five-time MotoGP World Champion end the drought and give Yamaha their 150th premier class victory at the Grand Premi Cinzano de Catalunya?
Rossi will line up alongside Randy de Puniet and Dani Pedrosa on the front row, with the fastest five in the hour long session all riding for different manufacturers. De Puniet was perhaps the outstanding rider of the day, suffering from a haematoma on his knee that meant he put in less laps than the majority of his rivals. In a planned move, the Frenchman went for his hot lap with 20 minutes remaining in the session, with the rest of the teams still in the process of changing to qualifying tyres. It was a gamble that paid off, as he was one of only two riders to break the 1'42 barrier.
Home rider Pedrosa improved considerably on his eleventh place start from 2006, relegating World Championship leader Casey Stoner to the second row alongside Suzuki's John Hopkins and Yamaha man Colin Edwards. The quartet all turned the timesheets around in the final minute of the session, setting their fastest laps one after the other.
World Champion Nicky Hayden was half a second off team-mate Pedrosa's time to put himself seventh on the grid, with an all-Honda third row completed by Toni Elias and Marco Melandri. Despite mechanical problems in the early stage of the session, a delighted Alex Hofmann had one of his best qualifying performances to date as he rounded off the top ten.
Olivier Jacque suffered a crash in the morning practice session, which sent him to hospital for routine tests on his neck. Although he was not present for the qualifying session, it remains to be seen if he will be permitted – or indeed be in condition- to race tomorrow.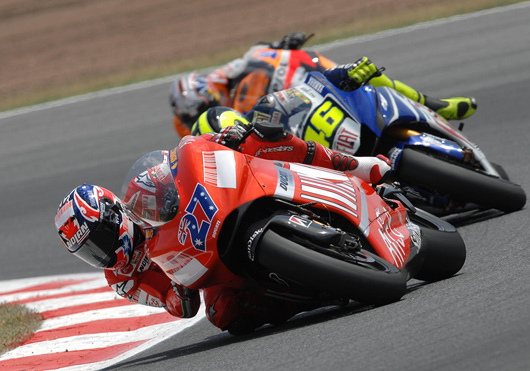 Stoner fights off his challengers Rossi and Pedrosa.
Casey Stoner Fights Off Rossi in an Epic MotoGP Confrontation
Sunday June 10th - Casey Stoner took his fourth World Championship victory of the season in an absolute thriller of a race at Catalunya. The Ducati factory rider rode an intense MotoGP race fought out over 25-laps of Montmelo Stoner holding off a fierce challenge from Valentino Rossi (Yamaha) who finished second with valiant local idol Dani Pedrosa (Repsol Honda RC212V) a close third.
A crowd of 112,000 race fans witnessed one of the best battles in recent premier class history as the three main contenders for World Championship honours pulled clear of the field to contest a three-way dice for what may prove to be one of the more significant races of what is already a tense season.
With the track at a heady 43 degrees and ambient temperature nudging 31 degrees, the lights went out and Dani made it to turn one at the head of the field. The first lap passed without any of the multiple crash drama that marred last year's race and it was Stoner who led across the line for lap two having edged past Dani.
The Aussie Ducati man held an advantage of just 0.2 seconds as Dani harried Stoner with Rossi in pursuit, the Yamaha rider in turn pursued by John Hopkins (Suzuki) and Toni Elias (Gresini Honda RC212V). Stoner and Pedrosa had pulled clear of Rossi by half a second as lap six began – and it was soon clear that these four were setting a pace no others could match.
Hopkins set the fastest lap of the race on lap eight at 1m 43.252s and by mid-race distance just 1.4 second covered the top four of Stoner, Rossi, who had found a way past Dani, and Hopkins, who would eventually find the going just too hot to handle in the closing laps.
Stoner absorbed every manoeuvre that Rossi threw at him in the pressure cooker atmosphere of the Circuit de Catalunya, never losing his cool despite being put on the back foot on more than one occasion. The Australian first took the lead on the second lap as he roared down the home straight, but had home rider Dani Pedrosa to contend with in the early going. When Rossi finally showed his cards on lap ten to move up and give the Spaniard a back seat view of an epic battle, the Doctor setting two way duel between the young championship leader and the experienced race veteran. Stalking Stoner at every turn, Rossi assessed his options in cerebral fashion; letting the 21 year old know that he was there as he slipped through on a number of corners, but they Stonnerquickly fought back each time to retake his lead.
It was an epic battle as Stoner's Ducati had the power to repass Rossi each time down the long front straight, but then Rossi was better on the brakes going into turn one, out diving Stoner to regain the lead. Whereas Stonner would repass in the switchback sections, or if Rossi overshot his braking marker diving down into Turn One from 200nph and ran out wide.
'The Doctor' finally made the lead stick on lap 21, resisting an attempt at a quick comeback on the home straight. But the young Aussie Stoner learnt his lesson, and pulled ahead on the next lap before predicting his Italian rival's line. He continued in the lead until the finish line, passing the flag just 0.069 ahead of Rossi.
Casey Stoner , winner, World Championship leader on 140 points: "Going into this weekend we weren't sure how things would go. At Mugello we had a few difficulties and we thought it might be the same here. On Friday we weren't exactly on the pace, we were losing a lot in a couple of areas. Fortunately, the team worked really hard, we came up with a solution on Saturday morning and since then we've kept the bike exactly the same. The whole team did a great job this weekend and proved wrong people who said we can't win on European tracks. There were some nice passing manoeuvres going on everywhere. All three of us had our strong points and our weak points around the circuit, I was just trying to minimise my weak points and cover my lines, and it worked out. It was such a close race, no one could go away, it was very, very enjoyable to be racing that close. It was really good because our bike was set up quite well for the braking points, so for Valentino to pass us he usually had to run wide and we were able to pass him back immediately a lot of times. The way the team has set up the bike for me is fantastic, and the Bridgestones worked great again, at a circuit where they've struggled in the past, so they've really changed things around. Today was another great race for us, I'm still not thinking about the championship, maybe later in the season we can really start aiming for that."
Valentino Rossi, Position: 2nd Time: +0.069: "What a race! Even if I'm disappointed not to win, it's a great emotion to be part of a race like that and fantastic fun. It really was an amazing battle to the end with many wonderful overtaking manoeuvres by both of us in all different parts of the track! Unfortunately I lost a bit of time at the start and then it was quite hard to pass Hopkins because he was fantastic on the brakes. Then with Stoner it was a great fight and honestly I couldn't have tried harder to win, but he was a very hard rival. There were some places were we could have been better today, not just on the straight but also in some corners, but anyway it was a great experience and it will help us to understand what we need to do to keep on improving. Yamaha and Michelin are working very hard and the fact that we could fight like this today to the very end showed this. Of course I'm sad because I've won a lot of times here in Montmelo and I wanted to win again, but like I said, I don't think I could have done anymore today! We know that we can beat Stoner but today he rode like a god and he's a fantastic rival, so congratulations to him."
After taking the holeshot, Pedrosa had been expected to push for the win on his Honda RC212V, but was only really able to make advances on the second placed rider after the midway point. Tucked in behind the leading duo, the Spaniard waited to capitalise on any possible mistake from either rider, making overtures towards overtaking moves when Rossi or Stoner strayed from their lines. In the end Pedrosa had to settle for third, meaning that his winless run extends to fifteen races; the last time that he stepped onto the top of the rostrum being at Donington Park where the riders return in two weeks time. A home victory in MotoGP still eludes the former 125cc and 250cc World Champion.
John Hopkins took a comfortable fourth place on the Suzuki GSV-R800, separated from the top three dragging each other further away from the Anglo-American as the race went on. Gutsy Frenchman Randy de Puniet took his best ever MotoGP result from second on the grid, gritting his teeth to take fifth despite a nasty haematoma in his leg restricting his movement onboard the Kawasaki ZX-RR.
Loris Capirossi took the second Ducati home in sixth from seventeenth on the grid, ahead of Chris Vermeulen, Alex Barros , Marco Melandri and Colin Edwards. Elias, who had been running in sixth place, dropped out of the race on lap 16 with a machine problem as Stoner headed Rossi by just by 0.2 seconds with Pedrosa shadowing their every move from third place. Hopkins was by now losing ground and this race would now rise to a frantic intensity as the three leading contenders in the World Championship fought it out around this challenging 4.727km track.
Results MotoGP Race Classification MotoGP : (25 laps = 118.175 km)
Pos/ Rider / Nat / Team / Motorcycle / Time/ KM/H / Gap
1 / Casey STONER / AUS / Ducati Marlboro Team / DUCATI / 43'16.907 / 163.821 /
2 / Valentino ROSSI / ITA / Fiat Yamaha Team / YAMAHA / 43'16.976 / 163.817 / 0.069
3 / Dani PEDROSA / SPA / Repsol Honda Team / HONDA / 43'17.297 / 163.797 / 0.39
4 / John HOPKINS / USA / Rizla Suzuki MotoGP / SUZUKI / 43'24.721 / 163.33 / 7.814
5 / Randy DE PUNIET / FRA / Kawasaki Racing Team / KAWASAKI / 43'34.760 / 162.703 / 17.853
6 / Loris CAPIROSSI / ITA / Ducati Marlboro Team / DUCATI / 43'36.316 / 162.606 / 19.409
7 / Chris VERMEULEN / AUS / Rizla Suzuki MotoGP / SUZUKI / 43'36.402 / 162.601 / 19.495
8 / Alex BARROS / BRA / Pramac d'Antin / DUCATI / 43'41.769 / 162.268 / 24.862
9 / Marco MELANDRI / ITA / Honda Gresini / HONDA / 43'41.870 / 162.262 / 24.963
10 / Colin EDWARDS / USA / Fiat Yamaha Team / YAMAHA / 43'52.255 / 161.621 / 35.348
11 / Nicky HAYDEN / USA / Repsol Honda Team / HONDA / 43'53.208 / 161.563 / 36.301
12 / Makoto TAMADA / JPN / Dunlop Yamaha Tech 3 / YAMAHA / 43'55.627 / 161.415 / 38.72
13 / Alex HOFMANN / GER / Pramac d'Antin / DUCATI / 43'57.841 / 161.279 / 40.934
14 / Sylvain GUINTOLI / FRA / Dunlop Yamaha Tech 3 / YAMAHA / 44'01.306 / 161.068 / 44.399
15 / Shinya NAKANO / JPN / Konica Minolta Honda / HONDA / 44'11.010 / 160.478 / 54.103
Pole Position: Valentino ROSSI 1'41.840 167.097 Km/h
Fastest Lap: John HOPKINS 1'43.252 164.812 Km/h Lap 8
Circuit Record Lap: Nicky HAYDEN 1'43.048 165.138 Km/h 2006
Circuit Best Lap: Valentino ROSSI 1'41.840 167.097 Km/h 2007
World Championship Positions:
1 STONER 140, 2 ROSSI 126, 3 PEDROSA 98, 4 MELANDRI 75, 5 VERMEULEN 72,
6 HOPKINS 72, 7 CAPIROSSI 57, 8 BARROS 51, 9 ELIAS 45, 10 EDWARDS 45,
11 HAYDEN 41, 12 HOFMANN 38, 13 DE PUNIET 30, 14 CHECA 20, 15 NAKANO 19.
Lorenzo Back on Top on GP 250
Jorge Lorenzo bounced back from his Mugello disappointment with a dominant victory at his home circuit, his first ever win at the Circuit de Catalunya. The reigning 250cc World Champion was in a class of his own after storming off the pole spot, and put on a masterclass for the 100,000 fans gathered at the Barcelona track.
The 20 year old's fifth win of the season continues the quarter litre class trend of victories from pole, something quite different to the current state of affairs in the MotoGP class. The Spain's No1 Aprilia rider celebrated his triumph with two lookalikes and a giant microphone, and certainly has something to sing about with a 36 point advantage in the general classification. Alex de Angelis took second in the race to close the gap between himself and Andrea Dovizioso to just two points, with the latter unable to repeat his 2006 victory in the face of such strong competition and having to settle for the final podium place. He was ten seconds behind De Angelis on crossing the line.
Thomas Luthi had another great ride that belied his relative inexperience in the 250cc category, taking fourth ahead of fellow rookies Alvaro Bautista and Mika Kallio. Hiroshi Aoyama, Hector Barbera, Marco Simoncelli and Julian Simon completed the top ten.
There was late disappointment for Aprilia wild card Alex Debon, who crashed whilst in fifth position with just six laps remaining. He remounted to complete the race in 16th.
250cc Race Classification 250cc: (23 laps = 108.721 km)
Pos / Rider / Nat / Team / Motorcycle / Time / KM/H / Gap
1 / Jorge LORENZO / SPA / Fortuna Aprilia / APRILIA / 40'51.620 / 159.647 /
2 / Alex DE ANGELIS / RSM / Master - Mapfre Aspar / APRILIA / 40'54.814 / 159.44 / 3.194
3 / Andrea DOVIZIOSO / ITA / Kopron Team Scot / HONDA / 41'02.216 / 158.96 / 10.596
4 / Thomas LUTHI / SWI / Emmi - Caffe Latte Aprilia / APRILIA / 41'08.720 / 158.541 / 17.1
5 / Alvaro BAUTISTA / SPA / Master - Mapfre Aspar / APRILIA / 41'11.918 / 158.336 / 20.298
6 / Mika KALLIO / FIN / Red Bull KTM 250 / KTM / 41'12.186 / 158.319 / 20.566
7 / Hiroshi AOYAMA / JPN / Red Bull KTM 250 / KTM / 41'12.235 / 158.316 / 20.615
8 / Hector BARBERA / SPA / Team Toth Aprilia / APRILIA / 41'15.204 / 158.126 / 23.584
9 / Marco SIMONCELLI / ITA / Metis Gilera / GILERA / 41'28.323 / 157.292 / 36.703
10 / Julian SIMON / SPA / Repsol Honda 250cc / HONDA / 41'28.387 / 157.288 / 36.767
11 / Shuhei AOYAMA / JPN / Repsol Honda 250cc / HONDA / 41'31.212 / 157.11 / 39.592
12 / Roberto LOCATELLI / ITA / Metis Gilera / GILERA / 41'39.648 / 156.58 / 48.028
13 / Jules CLUZEL / FRA / Angaia Racing / APRILIA / 41'58.705 / 155.395 / 1'07.085
14 / Karel ABRAHAM / CZE / Cardion AB Motoracing / APRILIA / 42'03.488 / 155.101 / 1'11.868
15 / Taro SEKIGUCHI / JPN / Campetella Racing / APRILIA / 42'09.007 / 154.762 / 1'17.387
Pole Position: Jorge LORENZO 1'45.098 161.917 Km/h
Fastest Lap: (New record) Alex DE ANGELIS 1'45.925 160.653 Km/h Lap 12
Circuit Record Lap: Dani PEDROSA 1'47.302 158.591 Km/h 2004
Circuit Best Lap: Jorge LORENZO 1'45.098 161.917 Km/h 2007
250cc World Championship Positions:
1 LORENZO 153, 2 DOVIZIOSO 117, 3 DE ANGELIS 115, 4 BAUTISTA 100, 5 BARBERA 71,
6 LUTHI 56, 7 SIMON 52, 8 KALLIO 40, 9 SIMONCELLI 38, 10 AOYAMA 37, 11 LAI 28,
12 AOYAMA 26, 13 WEST 25, 14 TAKAHASHI 22, 15 ESPARGARO 19.
---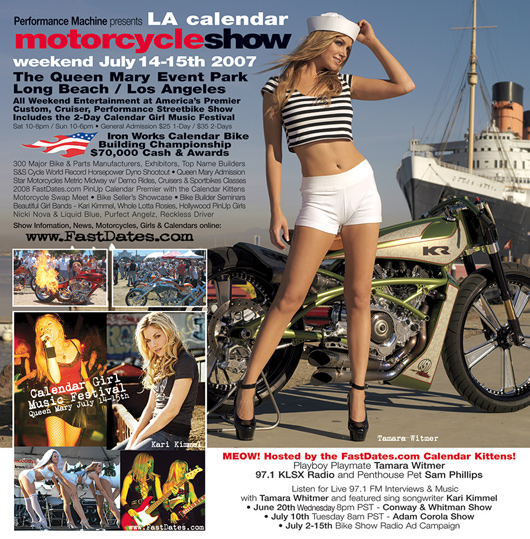 $70,000 in Cash and Awards at the
The Biggest & Best Custom & High Performance Street & Sportbike Event in America!
Performance Machine presents the
LA Calendar Motorcycle Show Weekend July 14-15th 2007

S&S Cycle World Record Horsepower Dyno Shootout
Calendar Bike Building Championship - Classes for all Street, Race & Classic Bikes!
Playboy Playmate and FastDates.com Calendar Kitten Tamara Witmer warms things up at our Bike Show's Queen Mary venue with the Roland Sands KR 5-Cylinder MotoGP Board Track Racer. Tamara will be hosting this year's Show andfeatured in all 3 of our Calendars premiering at the Show and available here online on July 1st! Meow! Complete Details HERE


2007 Calendar Show headliner Kari Kimmel wrote and sings in the title music video
"It's Not Just Make Believe" from the Disney movie The Princess Diaries - Click It!
Kari will be performing songs her new CD "A Life in the Day" both days at the Show
This exciting new custom sportbike built by Gregg Jardins of GreggsCustoms.com, Campbel, CA, features a Yamaha Road Star Warrior V-twin engine and typlifies the high qualtiy of leading edge customs that will be coming to the 2007 LA Calendar Motorcycle Show by top builders from around the world.
---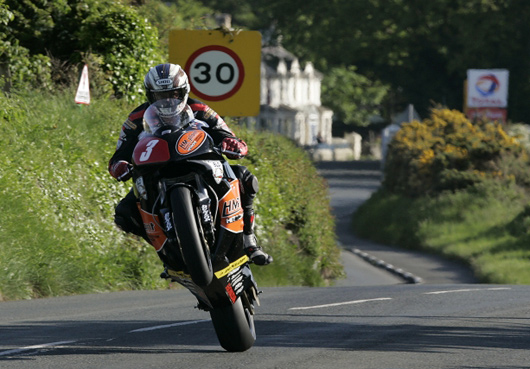 John McGuinness on the HM Plant Honda CBR1000RR.
Isle of Man Centenary Senior TT
The world's Deadliest Race - Only 3 People Killed This Year
John McGuinness and Honda Fireblade
complete magic double with Isle of Man Senior TT victory

Friday 8th June 2007, Isle of Man - John McGuinness provided a scorching climax to the Isle of Man Centenary TT Festival as he won the prestigious Senior race at record breaking pace for Honda as the Japanese marque repeated their 1-2-3 finish of the opening Superbike race. Riding the HM Plant liveried Honda Fireblade McGuinness was 30 plus seconds ahead of Hydrex Honda rider Guy Martin at the finish with Ian Hutchinson third for HM Plant Honda.
Lancastrian McGuinness had ridden brilliantly around the 37.73 mile Mountain Course, setting a furious pace from the off as he blasted his HM Plant Honda into the opening lap, increasing his own outright record in the process, although there was better to come from him with an astonishing second lap at an average speed of 130.354mph.
Making that all the more incredible was that McGuinness had to ease off somewhat, as he slowed down to pit, and take on fuel and have a rear wheel change. He was running rampant, rejoining the action and increasing his lead, mile by mile, as he shrugged aside the challenge of Guy Martin with Ian Hutchinson running a, by now, distant third.
McGuinness confirmed his mastery of the Mountain, opening up his advantage mile by mile on his high-speed dash around the Island, to take the victory by 32.73 seconds from Martin who had been slowed a little in the final third by the drive chain jumping on the sprocket.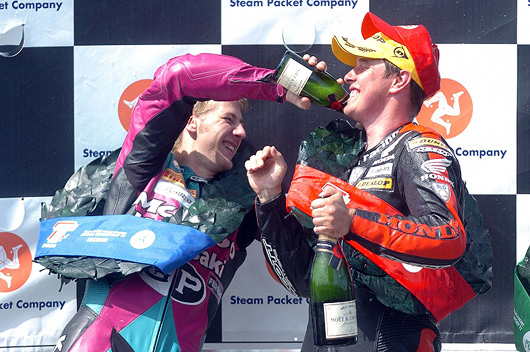 McGuinnes (right) on the podium celebrate having survived another year.
"Absolutely unbelievable. To beat the 130mph mark is just fantastic. It's just amazing. The bike was perfect throughout and I gave it everything all of the way. I was trying really hard, and I had a great team around me, and they delivered the goods with the pit-stops," enthused McGuinness who had won, and elevated the outright record a century from the pioneering first Senior race victory taken by Charlie Collier at a more leisurely 38.22mph.
"People say to me, you've got the best bike, but you have still got to ride it and get the best out of it. I really enjoyed the race and I am so proud to have won this special race. It's been great. The Superbike race win meant a lot, this one even more," add the race winner.
"When I was an apprentice bricklayer I never thought that I would be racing here, let alone being here to win 13 races. It is just an incredible feeling - the job's a good one."
McGuinness however is considering his future in the event. "I might just hang up my leathers - I've got the same feeling that I had last year after winning these two races. What else do I have to prove?
"I've been coming here eleven times but enjoy riding the course. We'll just have to see but I am thinking about not coming back - I've ridden my heart out all week, finishing in the top three in all races." He had capped a remarkable week, in which he had also taken second placings in both the Supersport and Superstock events.
Martin, a distant second, vowed for better things next year, as he finished well clear of Hutchinson, aboard the second HM Plant Honda and Stobart Honda rider Ian Lougher.
Martin said: "I learned a lot from the first race this week and I was able to hold my own. On the fourth lap the chain was jumping the sprocket a little and I thought it would be better when I changed wheels at the end of the lap. Unfortunately the chain had stretched too much. After that I concentrated on getting my braking points and gear changes correct. Anyway its been a good week and I have to thank my team for that. I'm probably not ready to win a TT yet. I have a great respect for John McGuinness and for my team."
Ian Hutchinson completed a successful TT with another fine podium place in the Senior race. He said: "I'm pleased to have finished on the podium in every race. I've struggled a bit with the Superbike I'd like to thank Honda and the team for giving me the opportunity to race some special bikes and it's great we achieved another Honda 1-2-3. I am very pleased to have been part of this Centenary TT festival."
Adrian Archibald finished fifth giving the Relentless Suzuki team some reward, as their other rider Bruce Anstey had pitted after the first lap complaining of handling problems. Local rider Conor Cummins, riding Yamaha, took sixth place, ahead of top newcomer Steve Plater. Michael Rutter, Ian Armstrong and James McBride completed the top ten.
The race was marred by an incident on the final lap at Joeys, on the Mountain section in which a rider and two other people received fatal injuries. The race organisers will not provide any other details until all next of kin have been informed.


Total No. of Completed Laps – 335 Total Mileage - 12639.55
Pos / Rider / Bike / Team / Time / Speed
1 / John McGuinness / 2007 Honda Fireblade 1000cc / H M Plant Honda Racing / 01 46 44.23 / 127.255
2 / Guy Martin / 2007 Honda 1000cc / Hydrex Honda / 01 47 16.96 / 126.608
3 / Ian Hutchinson / 2007 Honda CBR 1000cc / H M Plant Honda Racing / 01 48 04.60 / 125.677
4 / Ian Lougher / 2007 Honda CBR 1000cc / Stobart Motorsport / 01 49 08.12 / 124.458
5 / Adrian Archibald / 2007 Suzuki GSXR 1000cc / Relentless by TAS / 01 49 21.61 / 124.202
6 / Conor Cummins / 2007 Yamaha YZF R1 1000cc / Team Millsport / 01 49 47.86 / 123.708
7 / Steve Plater* / 2007 Yamaha R1 1000cc / AIM Racing / 01 50 21.67 / 123.076
8 / Michael Rutter / 2007 Kawasaki ZX10 R 1000cc / MSS Discovery / 01 50 42.22 / 122.695
9 / Ian Armstrong / 2004 Yamaha R1 1000cc / Canteen Smithy / 01 51 56.08 / 121.346
10 / James McBride / 2007 Yamaha R1 1000cc / 01 51 59.14 / 121.29
11 / Chris Palmer / 2005 Yamaha R1 1000cc / Solway Slate & Tile / 01 52 10.23 / 121.091
12 / Ian Pattinson / 2006 Suzuki GSXR 1000cc / Martin Bullock Racing / 01 52 34.07 / 120.663
13 / Gary Carswell / 2007 Kawasaki ZX10R 1000cc / Bolliger Kawas / 01 52 44.30 / 120.481
14 / Mark Buckley / Suzuki GSXR 1000cc / Crossan Motorcycles / 01 52 53.42 / 120.319
15 / Les Shand / 2006 Honda CBR 1000cc / Barron Transport / 01 53 35.52 / 119.575
Fastest Lap - 3 John McGuinness 17 mins 21.99 secs 130.354 mph
---
There's more! Go to Pit Lane News NEXT PAGE

Hot Calendar Girl and Bike News! Go to: Fast Dates • Calendar Girls • Iron & Lace

Calendar Kittens, The Paddock Garage, Screensavers, Iron & Lace Garage



Many of our Calendar Kittens can also be seen at Playboy's website...


BikerKiss.com - the largest biker personals site!