A very wet and cold, but happy Marco Melandri, Chris Vermeulin and casey Stoner atop the podium and LeMans.
MotoGP World Championship, LeMans, Round 5 of 18
His first MotoGP Victory and Suzuki's fist win in 7 years!
Vermeulen takes glory in France
Alice Grande Prix de France, LeMans, May 18-20th - Rain proved to be the great equalizer this weekend as Chris Vermeulen raced to his and Rizla Suzuki MotoGP's first Grand Prix win at a rain-soaked Le Mans today. Vermeulen rode an almost faultless race in the wet after heavy rain started to fall over the 4.180km French circuit. He entered pit-lane at the end of lap nine to change to his wet-weather prepared Suzuki GSV-R. Within two laps he hit the front and never looked under threat all the way to the chequered flag, the impressive Australian finishing the race over 12 seconds in front of the second-placed man Marco Melandri. World Championship leader Casey Stoner finished third to give Bridgestone tyres a clean sweep on the podium.
Vermeulen now moves up to fifth place in the MotoGP World Championship with Rizla Suzuki MotoGP going up to third in the team's championship.
John Hopkins looked like he was going to follow up his podium at China last time out with another one today. He produced a number of stunning laps – including the fastest lap of the race – to move into first place on lap nine. After he entered the pit-lane on the next lap to change to his wet bike, he was unable to sustain his momentum and also suffered with a few issues with the set-up of his GSV-R.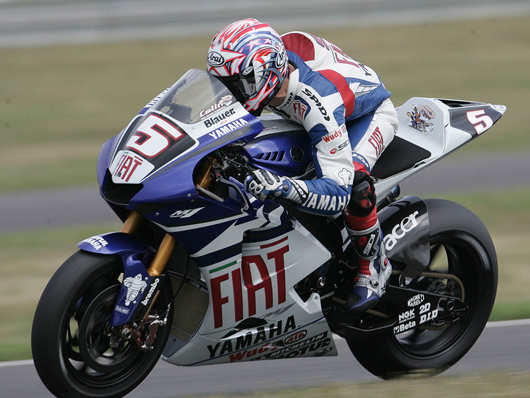 Colin Edwards took Pole, which would be all for naught on Sunday in the rain.

Edwards' All or Nothing Lap Takes His First MotoGP Pole
May 19th 2007, LeMans, France - Colin Edwards took his first ever MotoGP pole position as the fastest rider in history at Le Mans, something long overdue for the popular 'Texas Tornado'. Edwards' only previous experience of heading the World Championship field was when he won last year's Official Test BMW Award, but his final all-or-nothing lap at the French circuit in a 'proper' qualifying session comes with the bonus of giving him a great chance of his second podium of the year and first GP victory.



French MotoGP sponsor Alice is a very sexy French telacommunications carrier.

The Fiat Yamaha rider had experienced a crash at the end of the morning session, but he appeared unfazed by the high side as he smashed the circuit record at the last possible moment. Already assured of a place on the second row, Edwards had nothing to lose by going all-out for pole, a decision for which rewarded him with a time of 1'33.616.

Colin Edwards, Position: 1st Time: 1'33.616 Laps: 28: "This morning's off was a pretty big one and as I was flying through the air I was pretty sure it was going to hurt! Somehow though I landed, the bike sort of rolled over me, I stood up and realised I was ok! I honestly think that had a positive bearing on my performance this afternoon; my bike was working great but I screwed up the last section with my first qualifying tyre and so I knew it had to make or break the second time around. As I went into that final section I thought "here goes, it's pole or crash and after this morning I've realised the ground doesn't hurt so much after all!" I gave it everything I've got and it paid off. Yet again the Michelin qualifying tyres were brilliant and my bike worked really well with them. It's my first pole in MotoGP so it feels good. As for the race, this place is something of a turnaround for us because we've actually got two race tyres that are working well. I can do 35.0s with both so it's just a case of checking a few things tonight and making our final decision for the race. I've got to say a big thank you to my team because they worked flat out to rebuild my bike after this morning and that's the one I did my lap on. I'm really looking forward to tomorrow; hopefully this is the start of a great weekend."
The fastest lap of the day came somewhat out of the blue, as Casey Stoner had looked all but certain of his first pole of the season. The championship leader was less than a tenth of a second slower than Edwards, and has not been off the front two rows this season.
A rider who has more experience of the Le Mans circuit than most put his knowledge into practice in the afternoon outing, as Carlos Checa returned to the front row on the LCR Honda. He was joined by five time MotoGP World Champion Valentino Rossi as part of the four-rider group who went round in under 1'34.
John Hopkins and Toni Elias completed a top six split equally between Michelin and Bridgestone riders, ahead of reigning World Champion Nicky Hayden and home rider Randy de Puniet. The latter will be hoping for better luck than he had at his maiden MotoGP race in France, in which he was involved in a collision on the opening lap and forced to retire.
The 2006 racewinner and poleman rounded off the fastest ten riders of the day. Marco Melandri was unable to match his timesheet-topping achievement from yesterday and ended up ninth, whilst Dani Pedrosa never looked like troubling the frontrunners onboard the Honda RC212V in tenth.
Special mention must go to the second French rider competing at this week's Alice Grand Prix de France, Sylvain Guintoli. The Yamaha satellite rider had his best ever MotoGP qualifying session, and at one point was even the fastest rider of the day – much to the delight of the fans gathered at the historic Le Mans circuit. He will start from eleventh place tomorrow.
Combined Free Practice Times
1. Colin Edwards (USA) Fiat Yamaha Team 1'33.616
2. Casey Stoner (AUS) Ducati Marlboro Team 1'33.710
3. Carlos Checa (SPA) Honda LCR 1'33.859
4. Valentino Rossi (ITA) Fiat Yamaha Team 1'33.875
5. John Hopkins (USA) Rizla Suzuki MotoGP 1'34.102
6. Toni Elias (SPA) Honda Gresini 1'34.125
7. Nicky Hayden (USA) Repsol Honda Team 1'34.247
8. Randy de Puniet (FRA) Kawasaki Racing Team 1'34.318
9. Marco Melandri (ITA) Honda Gresini 1'34.360
10. Dani Pedrosa (SPA) Repsol Honda Team 1'34.412
11. Sylvain Guintoli (FRA) Dunlop Yamaha Tech 3 1'34.507
12. Chris Vermeulen (AUS) Rizla Suzuki MotoGP 1'34.574
13. Alex Barros (BRA) Pramac d'Antin 1'34.817
14. Shinya Nakano (JPN) Konica Minolta Honda 1'34.834
15. Loris Capirossi (ITA) Ducati Marlboro Team 1'34.903
16. Makoto Tamada (JPN) Dunlop Yamaha Tech 3 1'35.346
17. Alex Hofmann (GER) Pramac d'Antin 1'35.578
18. Kenny Roberts Jr (USA) Team Roberts 1'35.681
19. Fonsi Nieto (SPA) Kawasaki Racing Team 1'36.312

Le Mans: Lap Record: V. Rossi (Yamaha) 2006, 1'35.087
Le Mans: Best Lap: C. Edwards (Yamaha) 2007, 1'33.616

His first MotoGP Victory and Suzuki's fist win in 7 years!
Chris wheelies his Suzuki down the flooded track towards the finish line to the cheers of his team.

Vermeulen takes glory in France
Alice Grand Prix de France, May 20th - Chris Vermeulen was the winner of a breathtakingly unpredictable Alice Grand Prix de Prance at the historic Le Mans circuit, with the heavy rainfall ironically ending a six year drought for Suzuki in MotoGP. The Australian had previously benefited on home soil in the first ever flag-to-flag race, and did even better on the 800cc to take his maiden victory in the premier class. His triumph also means that five of the last six Grand Prix winners have hailed from the Antipodean island.
With rain threatening, the lights on the grid went out and a crowd of 74,000 watched with some trepidation as the field barreled into turn one with specks of moisture dotting the competitors' visors and screens. Stoner got the jump into the turn followed by American John Hopkins (Suzuki), but it took only four more corners before Valentino Rossi (Yamaha) took the lead.
This would be a difficult race over 28-laps of this 4.180km track in conditions that worsened as the laps clicked down. The first half of this race was frenzied affair with riders pitting to change machines (and with them tyres) and pole-man Colin Edwards (Yamaha) was the earliest visitor to pit lane on lap four.
As Rossi led the opening lap across the start/finish straight (a scant 450m of it) conditions were plainly difficult. And it was the riders with the least to lose and the most to gain who put the power down early and gambled their way to the front. Alex Barros (Ducati) lay third with Sylvain Guintoli (Yamaha) and Randy de Puniet (Kawasaki) both, as dutiful Frenchmen, giving it everything in the treacherous conditions.
The race was an incredible display of the competitive nature of MotoGP, and provided fans with the sight of a number of first time leaders as the riders negotiated the changeable weather conditions and bike change choices. The opening laps saw proud moments for Randy de Puniet and Sylvain Guintoli, who led their home race with amazing rides. The French duo showed no fear amongst former winners and World Champions, and the sight of Guintoli at the head of the field on his own merit was a memorable one for his countrymen and Yamaha satellite team. Unfortunately the two both crashed as their gamble on staying out ahead of the majority of the field just failed to pay off.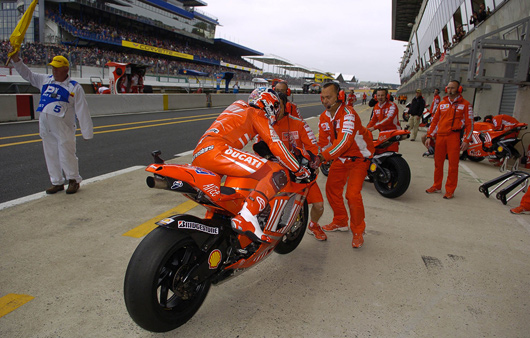 Championship leader Casey Stoner slams into the Ducati pits mid race to swap bikes from dry to wet weather tires as the rain started to come down harder. All the riders made pit stops to change bikes.
With Edwards swapping bikes Rossi held a 1.8 second advantage over Barros, who was giving it everything in second. The Brazilian was followed by Stoner, de Puniet and Guintoli. But the native riders were restless and by lap six Guintoli led from de Puniet with Rossi losing momentum and Dani Pedrosa (Repsol Honda RC212V) moving up the order to fifth.
On lap seven Carlos Checa (LCR Honda RC212V), who was holding seventh from a front row start, crashed and this unleashed a torrent of activity at the front with Guintoli going down on the next lap, Toni Elias (Gresini Honda RC212V) on the eighth, and de Puniet shortly after the Spaniard.
By this time the red and yellow striped flags were out to signal a significant deterioration in adhesion as John Hopkins led the pack. Those who had not pitted earlier now did so, including Hopkins and Pedrosa and this second tier of tyre swappers tended to do better (in the final analysis) than the first wave.
By lap 10 the track was completely wet, meaning that the riders were effectively obliged to change bikes in order to remain competitive. Carlos Checa and Toni Elias hit the deck before there was a chance for them to make the switch, and a chaotic pair of laps followed as the pack rearranged themselves. Some semblance of order was established when all the riders had moved to their wet bikes, with Vermeulen making the best of the situation to lead all the way to the end after a battle with previous flag-to-flag racewinner Marco Melandri.
By lap 12 it was Chris Vermeulen (Suzuki) who held second place before overhauling Hopkins for the lead. Melandri then blasted past the American to take second with Rossi now third. Guintoli had nursed his machine back to pitlane to exchange his battered bike for a straighter version and he rejoined the fray in 13th spot, while Vermeulen led Marco by 1.6 seconds.
Things were very wet now. Melandri was giving his all to reduce Vermeulen's advantage and by lap 14 he had shaved the Aussie's lead to 1.1 seconds. It was Vermeulen and the Italian first and second with Rossi and Stoner some ways behind in third and fourth, with Nicky Hayden (Repsol Honda RC212V) fifth, Alex Hofmann (Ducati) sixth and Dani seventh.
If the early laps were a maelstrom of activity, the second half of this contest was enlivened only by Melandri's enthusiasm to catch Vermeulen. By lap 18 the tenacious Italian had carved the gap down to 0.5 seconds. Stoner in third was a considerable 15 seconds adrift of the protagonists, having taken advantage of Rossi's difficulties in maintaining an economical line out of the turns in the deluge.
Shinya Nakano (Konica Minolta Honda RC212V) crashed and splashed down at the Flip-Flop on lap 21 as his predecessor in the Konica Minolta seat, Makoto Tamada, now riding for Yamaha, was lapped. There was standing water on track now and Hayden was a man who made the most of the slippery tarmac taking Rossi, who ran wide again, for fourth on lap 22.
Vermeulen though was clearly in charge. It took him a mere five laps to re-establish his authority on the event by giving Marco a 2.3 second hole to fill. Barring disasters he was going to take the flag. The disaster fell to Nicky. On lap 26 he crashed heavily while holding fourth.
The Aussie Suzuki man took his first MotoGP win in style, wheelying over the line with Marco having settled for second. Championship points leader Stoner rode to a neat third place here at Le Mans, only the fifth round of an eighteen race series. Dani (who many believe finds racing in the rain a bother) took an eager fourth. The all-Bridgestone podium all had comfortable gaps between each other, and also from fourth placed rider Dani Pedrosa. Although not a fan of wet weather racing, the Spaniard certainly had a good ride from low down on the grid to add more points to his championship tally.
Rossi (46) on Michelins, once again found himself at a disadvantage both on dry and later wet tires, to the Bridgestone riders like Vermeulen and Stoner (27) who gets by here on lap 5.

A clearly delighted Alex Hofmann took fifth at Le Mans, his best result in MotoGP. Overtaking five time MotoGP World Champion Valentino Rossi will have been a moment to savour for the German, who pumped his fist in the air upon crossing the finish line.
Rossi lost ground in the overall classification courtesy of a sixth place finish, having strayed wide in the difficult conditions on a pair of occasions. The Italian was passed by Pedrosa, Hofmann and Nicky Hayden as he struggled on the right hand corners of the Bugatti circuit, although the American's crash with two laps to go effectively bumped up his rival to a top six place.
Meanwhile, Hayden rode an impressive race after getting a bad start and finishing the first lap in 10th position. But the Kentucky native put his head down and worked his way through the pack to finish in seventh place. "I got a terrible start," he said after the race. "I'm not sure what was going on. I almost stalled it and that pushed me back a little bit. I felt like I was just working my way up in the pack for the whole race. That start really killed me. Hopefully, tomorrow we can make a few improvements and get a better start and finish up a little closer to the podium."
One of the early beneficiaries of the bike change, John Hopkins ran wide whilst battling with Melandri and could not get higher than seventh, ahead of Loris Capirossi on the second factory Ducati.Makoto Tamada took ninth in his best result for Dunlop Tech 3 Yamaha, ahead of his outstanding team-mate Guintoli who also achieved the same.
Results MotoGP: Race Classification MotoGP : (28 laps = 117.04 km)
Pos/ Rider / Nat / Team / Motorcycle / Time/ KM/H / Gap
1 / Chris VERMEULEN / AUS / Rizla Suzuki MotoGP / SUZUKI / 50'58.713 / 137.752 /
2 / Marco MELANDRI / ITA / Honda Gresini / HONDA / 51'11.312 / 137.186 / 12.599
3 / Casey STONER / AUS / Ducati Marlboro Team / DUCATI / 51'26.060 / 136.531 / 27.347
4 / Dani PEDROSA / SPA / Repsol Honda Team / HONDA / 51'36.041 / 136.091 / 37.328
5 / Alex HOFMANN / GER / Pramac d'Antin / DUCATI / 51'47.879 / 135.572 / 49.166
6 / Valentino ROSSI / ITA / Fiat Yamaha Team / YAMAHA / 51'52.276 / 135.381 / 53.563
7 / John HOPKINS / USA / Rizla Suzuki MotoGP / SUZUKI / 51'59.786 / 135.055 / 1'01.073
8 / Loris CAPIROSSI / ITA / Ducati Marlboro Team / DUCATI / 52'19.954 / 134.187 / 1'21.241
9 / Makoto TAMADA / JPN / Dunlop Yamaha Tech 3 / YAMAHA / 51'34.842 / 131.281 / 1 lap
10 / Sylvain GUINTOLI / FRA / Dunlop Yamaha Tech 3 / YAMAHA / 51'40.165 / 131.056 / 1 lap
11 / Fonsi NIETO / SPA / Kawasaki Racing Team / KAWASAKI / 51'50.572 / 130.617 / 1 lap
12 / Colin EDWARDS / USA / Fiat Yamaha Team / YAMAHA / 51'06.769 / 122.669 / 3 laps
Pole Position: Colin EDWARDS 1'33.616 160.741 Km/h
Fastest Lap: John HOPKINS 1'38.678 152.495 Km/h Lap 5
Circuit Record Lap: Valentino ROSSI 1'35.087 158.255 Km/h 2006
Circuit Best Lap: Colin EDWARDS 1'33.616 160.741 Km/h 2007
World Championship Positions:
1 STONER 102, 2 ROSSI 81, 3 PEDROSA 62, 4 MELANDRI 61, 5 VERMEULEN 55,
6 HOPKINS 48, 7 CAPIROSSI 38, 8 ELIAS 35, 9 EDWARDS 35, 10 HOFMANN 30,
11 HAYDEN 30, 12 BARROS 27, 13 CHECA 20, 14 DE PUNIET 19, 15 NAKANO 15.
Lorrenzo Increases 250cc GP Lead
Reigning 250cc World Champion Jorge Lorenzo made it four wins from five in his title defence with victory from pole at Le Mans, extending his lead in the standings to 32 points. He broke free from the pack early on, but was reined in by a number of his quarter litre rivals as they tried to have a pop at the Mallorcan.
On the opening laps he had to contend with 125cc World Champions Alvaro Bautista and Thomas Luthi, the latter having tasted victory in France in 2005 and 2006 when riding in the lower cylinder category. Neither were quite up to the task of following in the Spain's No1 Aprilia rider's footsteps, with both running off-track when challenging Lorenzo.
One man who has proven that he can hang with the champion is Andrea Dovizioso, the only other rider to have won a 250cc race this season. The Italian led the way during a tense battle that also involved Alex de Angelis, although eventually Lorenzo played his trump card on the fast first section to power away from the duo, who completed the podium spots.
Hector Barberá finished fourth after losing a few tenths due to tyre problems, ahead of countryman Julian Simon on the Repsol Honda. Marco Simoncelli, Mika Kallio and Alvaro Bautista completed the top eight, with the latter coming back from 19th after his off-track excursion to overtake Shuhei Aoyama and A
250cc Race: (26 laps = 108.68 km)
Pos / Rider / Nat / Team / Motorcycle / Time / KM/H / Gap
1 / Jorge LORENZO / SPA / Fortuna Aprilia / APRILIA / 43'12.237 / 150.93 /
2 / Andrea DOVIZIOSO / ITA / Kopron Team Scot / HONDA / 43'12.393 / 150.921 / 0.156
3 / Alex DE ANGELIS / RSM / Master - Mapfre Aspar / APRILIA / 43'14.970 / 150.771 / 2.733
4 / Hector BARBERA / SPA / Team Toth Aprilia / APRILIA / 43'18.208 / 150.583 / 5.971
5 / Julian SIMON / SPA / Repsol Honda 250cc / HONDA / 43'18.348 / 150.575 / 6.111
6 / Marco SIMONCELLI / ITA / Metis Gilera / GILERA / 43'34.990 / 149.617 / 22.753
7 / Mika KALLIO / FIN / Red Bull KTM 250 / KTM / 43'35.376 / 149.595 / 23.139
8 / Alvaro BAUTISTA / SPA / Master - Mapfre Aspar / APRILIA / 43'39.653 / 149.351 / 27.416
9 / Shuhei AOYAMA / JPN / Repsol Honda 250cc / HONDA / 43'41.152 / 149.265 / 28.915
10 / Anthony WEST / AUS / Team Sicilia / APRILIA / 43'46.187 / 148.979 / 33.95
11 / Ratthapark WILAIROT / THA / Thai Honda PTT-SAG / HONDA / 44'10.137 / 147.633 / 57.9
12 / Fabrizio LAI / ITA / Campetella Racing / APRILIA / 44'10.248 / 147.626 / 58.011
13 / Alex BALDOLINI / ITA / Kiefer - Bos - Sotin Racing / APRILIA / 44'18.488 / 147.169 / 1'06.251
14 / Taro SEKIGUCHI / JPN / Campetella Racing / APRILIA / 44'18.957 / 147.143 / 1'06.720
15 / Eugene LAVERTY / IRL / Honda LCR / HONDA / 44'19.886 / 147.092 / 1'07.649
Pole Position: Jorge LORENZO 1'37.934 153.654 Km/h
Fastest Lap: (New record) Andrea DOVIZIOSO 1'38.566 152.669 Km/h Lap 26
Circuit Record Lap: Hiroshi AOYAMA 1'39.964 150.534 Km/h 2006
Circuit Best Lap: Jorge LORENZO 1'37.934 153.654 Km/h 2007
World Championship Positions:
1 LORENZO 120, 2 DOVIZIOSO 88, 3 DE ANGELIS 75, 4 BAUTISTA 64, 5 BARBERA 47,
6 SIMON 37, 7 LUTHI 32, 8 KALLIO 30, 9 LAI 25, 10 SIMONCELLI 24, 11 AOYAMA 22,
12 WEST 19, 13 AOYAMA 17, 14 TAKAHASHI 17, 15 WILAIROT 16.
---
Playboy Playmate and FastDates.com Calendar Kitten Tamara Witmer warms things up at our Bike Show's Queen Mary venue with the Roland Sands KR 5-Cylinder MotoGP Board Track Racer. Tammar will be hosting this year's Show and will be featured in all 3 of our Calendars! Yeow!
$70,000 in Cash and Awards at the
The Biggest & Best Custom & High Performance Street & Sportbike Event in America!
Performance Machine presents the
LA Calendar Motorcycle Show Weekend July 14-15th 2007

the Queen Mary Event Park, Long Beach, CA
America's Premier Custom and Performance Streetbike Show
Long Beach, CA, May 1st, 2007 - Join 20,000 motorcycle and rock music enthusiasts for the world's most exciting 2-day motorcycle event weekend in the beautiful Queen Mary Event Park on the grass alongside the Pacific Ocean in Long Beach! This is the world's premier motorcycle show weekend featuring some 300 major motorcycle and parts manufacturers, selected product and apparel venders, now with a new All Brand Motorcycle Swap Meet venue add.
Former LA Calendar Motorcycle Best of Show winner Jesse Rooke shot with us again, just this month, for the next edition of the Iron & Lace Calendar with beautiful Calendar Kittens Tamara Witmer (left ), this year's Bike Show Master of Ceremonies, and Cora Skinner (right). Of course, Jesse will be on hand at this year's Show again with his latest bikes and holding free Calendar Bike Builder Seminars. Big 1080 Screensaver
Spectators can meet top celebrity custom bike builders including Russell Mitchell, Jesse Rooke, Roland Sands, Harold Pontarelli, Shinya KimuraAmerican Thunder, Build or Bust, and V-Twin TV. Watch the excitement of the S&S Cycle World Championship Horsepower Dyno Shoot Out. Attend free Calendar Bike Builder Seminars with with the top builders. See the world's top custom bikes in the Performance Machine Calendar Bike Building Championship and in the exciting Star Motorcycle Metric Midway featuring Japanese & European Cruisers and Sportbikes, and free Star Motorcycle demo rides along the beautiful Pacific Ocean.
and others featured on TV's
Also featured with admission both days is the exciting Calendar Girl Music Festival with beautiful girl bands headlined by singer/songwriter Kari Kimmel, with the naughty schoolgirl AC/DC tribute band Whole Lotta Rosies, world renoun show band Nicki Nova and Liquid Blue, Mary Falls and Reckless Driver, and the sexy Purrfect Angelz and Hollywood PinUp Girls high energy dance and musical burlesque shows. The weekend is hosted by Playboy Playmate Tamara Witmer and Miss Texas Rockin' Robin Cunningham, and other FastDates.com Calendar Kittens with the annual world premier of the new 2008 FastDates.com Motorcycle Pin Up Calendars.
Many of the world's top Pro and Amateur street bike builders will be in attendance to compete in the Performance Machine Calendar Show Bike Building Championship with a bulging purse of $70,000 in cash and awards. This year's Show Contest features 3 new classes including the Iron Works magazine Street Chopper, and Bar Hopper classes, and Yamaha's the new Star Motorcycles sponsored Metric Cruiser Class located in the exciting new Star Motorcyles Metric Midway featuring Japanese Cruisers, along with classes for European and Japanese Sportbikes. There are 10 Calendar Bike Building Championship Classes including the premier Radical Pro Builder Class sponsored by Iron Works magazine, with a $5,000 Performance Machine product award up for grabs, as well as the coveted Performance Machine Best of Show Trophy.
Newly added this year is the Calendar Motorcycle Show Swap Meet for all brands of mototcycles managed by Topping Events, which will take place in a separate location in the Queen Mary facility at the Seaside Village. Thie Swap Meet will give venders an affordable venue to showcase used motorcycles and parts for sale to the large Calendar Motorcycle spectator auduence.
You'll find special attractions for the entire family and receive complimentary admission aboard the historic Queen Mary ocean liner to make it an incredible experience you'll remember always. For additional details, the show schedule and parking information visit www.FastDates.com. Show information HERE.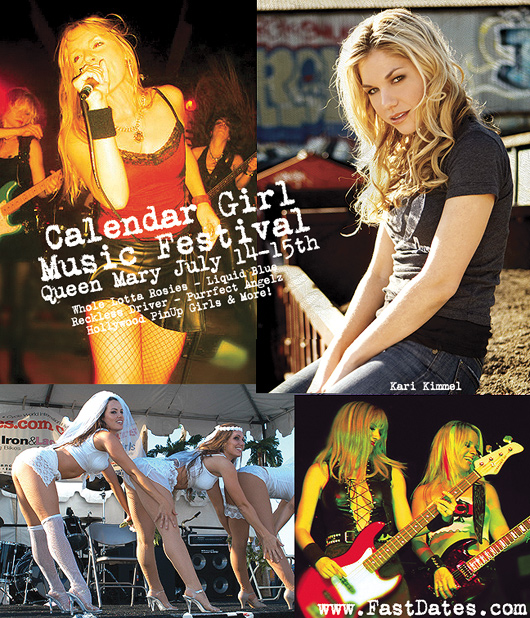 ---
Ah let's see.... Mladin, Spies, and somewhere behind them, DuHamel. I guess we can still keep running this same photo every AMA Superbike race weekend.
2007 AMA Superbike Championship. Round 4 of 11

Mladin Tops Spies at Infinion AMA Superbike
Sonoma, CA, M ay 20, 2007 - Yoshimura Suzuki's Mat Mladin picked up his 55th career AMA Superbike victory in the first race of the double-header AMA Superbike weekend at Infineon Raceway in Sonoma, California on Saturday afternoon with his team mates Ben Spies and Tommy Hayden second and seventh.
"It was a good race for us," said six-time AMA Superbike Champion Mladin. "I'd like to thank my Yoshimura Suzuki crew who've worked really hard in the off-season and in testing to try and get the number-one plate back."
The previous day, defending AMA Superbike Champion Spies picked up his 11th career pole position, posting a track record-breaking lap time of 1:34.991. This accomplishment also marks Spies' fourth consecutive pole position of the season. Spies actually crashed after turning his fastest lap and went out on his back-up bike in Saturday's qualifying session to focus on race set-up.
"The Yoshimura Suzuki GSX-R1000 is working really good," said Spies of qualifying first. "I'm really happy with it. Today, we went out on race tyres and ran the same pace as yesterday. It was good to get my confidence up and work on race set-up after the crash yesterday. I couldn't tell a difference between the two bikes."
Today's race winner Mladin was second-fastest in qualifying with a lap time of 1:35.128, while Jordan Suzuki's Aaron Yates qualified third with a 1:35.875 lap time. Hayden rounded out the second row of the grid with a 1:36.860 lap time. In the 28-lap Superbike race, Mladin got the holeshot and led from beginning to end. The result is that Mladin now trails Spies in the overall championship standings by only five points.
"It was a good race for us," reiterated Mladin. "We got a good start and we just put our head down and tried to go as quick as possible. I just tried to reel off some good laps and keep it as clean as possible… I lost a little bit of rhythm, but it seems like everybody else did too. It was a good day for us and hopefully we'll get another win tomorrow."
Spies tucked in right behind Mladin and pursued his team mate for all 28 laps. The young Texan rode as hard as possible and brought home an impressive second place, maintaining his championship lead. "I got my butt kicked," laughed Spies. "I guess I forgot how to ride a motorcycle. But I rode as hard as I could and Mat rode a great race. I did everything I could and even ran off the track on the second lap. I just tried to get as many points as I could today. It's a long season and this is just one race. Hopefully, we'll come back strong for tomorrow."
AMA Superbike Top 10 Finishers:
1 Mat Mladin (Yoshimura Suzuki)
2 Ben Spies (Yoshimura Suzuki)
3 Miguel Duhamel (Honda)
4 Jason Disalvo (Yamaha)
5 Jake Zemke (Honda)
6 Roger Lee Hayden (Kawasaki)
7 Tommy Hayden (Yoshimura Suzuki)
8 Jamie Hacking (Kawasaki)
9 James Ellison (Honda)
10 Matt Lynn (MV Agusta)
---
There's more! Go to Pit Lane News NEXT PAGE

Hot Calendar Girl and Bike News! Go to: Fast Dates • Calendar Girls • Iron & Lace





BikerKiss.com - the largest biker personals site!