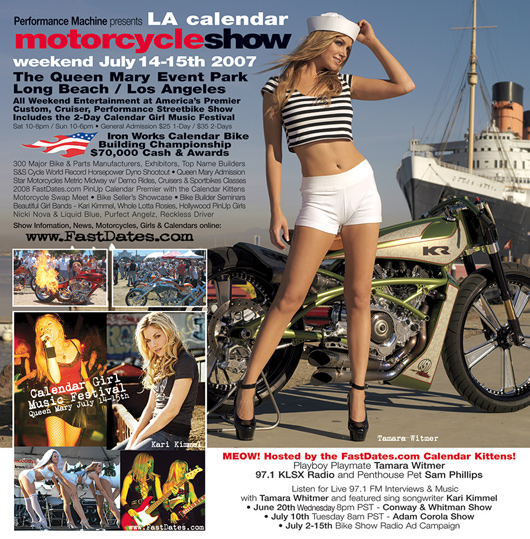 $70,000 in Cash and Awards at the
The Biggest & Best Custom & High Performance Street & Sportbike Event in America!
Performance Machine presents the
LA Calendar Motorcycle Show Weekend July 14-15th 2007

S&S Cycle World Record Horsepower Dyno Shootout
Calendar Bike Building Championship - Classes for all Street, Race & Classic Bikes!
Playboy Playmate and FastDates.com Calendar Kitten Tamara Witmer warms things up at our Bike Show's Queen Mary venue with the Roland Sands KR 5-Cylinder MotoGP Board Track Racer. Tamara will be hosting this year's Show andfeatured in all 3 of our Calendars premiering at the Show and available here online on July 1st! Meow! Complete Details HERE


2007 Calendar Show headliner Kari Kimmel wrote and sings in the title music video
"It's Not Just Make Believe" from the Disney movie The Princess Diaries - Click It!
Kari will be performing songs her new CD "A Life in the Day" both days at the Show
This exciting new custom sportbike built by Gregg Jardins of GreggsCustoms.com, Campbel, CA, features a Yamaha Road Star Warrior V-twin engine and typlifies the high qualtiy of leading edge customs that will be coming to the 2007 LA Calendar Motorcycle Show by top builders from around the world.
And just in case you get tired of seeing beautiful girls on bikes all day, we've also got beautiful girls in bikinis riding mechanical bulls all weekend long. Guys who think they can beat the girls can win a free Girls On Bulls DVD. AMA Superebike racing never looked this good....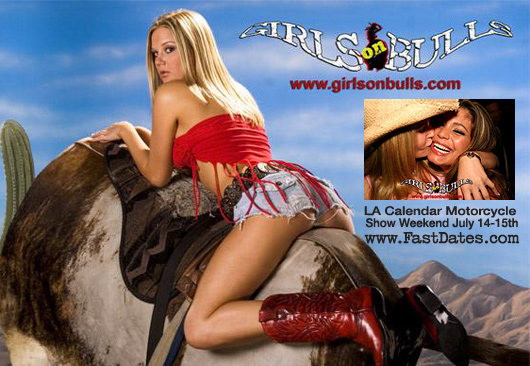 ---

The Good, the Bad, and the Beautiful. Tiffany takes the new Ducati 1098S Tri Colore for a spin.... Click HERE

And meet our newest Calendar Kitten Tiffany Toth in person
at the LA Calendar Motorcycle Show Weekend July 14-15th!
Ducati's new 1098 Superbike - It's Not a Perfect Beauty
Exclusive First & Last Test ! Ducati Limited Edition Tri 1098S Tri Color
"If you are waiting to get a 4th generation Ducati Superbike model,
wait a little longer until they get it right."
Current magazine tests (Motorcyclsit, Sportrider) are finding the new sexier, lighter, faster 1098S Ducati turns significantly slower track lap times and it is harder to ride than the latest Japanese Superbikes or the out going Ducati 999S in side-by-side comparisons. However, the magazines won't tell you why because they just don't know, or for fear of loosing Ducati advertising. We have nothing to fear and tell you why....HERE
---
Superbike World Championship
Changes to the Technical Rules for 2008 – Twin cylinders to 1200cc
Federation Internationale de Motocyclisme, Switzerland, June 15th - After consultation with all the parties involved and upon the proposal submitted by the Superbike Commission, the FIM has decided the following amendment and additions to the Superbike World Championship technical rules for 2008.
Engine Configurations / Displacement s Capacities
• 2 cylinders over 850cc up to 1200cc
• 3 cylinders over 750cc up to 1000cc
• 4 cylinders over 750cc up to 1000cc
Minimum Weights:
• 2 cylinders over 850cc up to 1200cc: 168kg
• 4 cylinders over 750cc up to 1000cc: 162kg
Minimum weight of 2 cylinders over 850cc up to 1200cc will be updated, if needed, during the Championship in steps of ±3kg to 171kg as a maximum and 162kg as a minimum.
Air-Restrictors:
Only 2 cylinders over 850cc up to 1200cc will be fitted with air-restrictors. Initial size will be equivalent to a Ø50mm circular area. Air-restrictors size will be updated, if needed, during the Championship in steps of ±2mm of diameter in a range from equivalent to a Ø46mm circular area to no air-restrictor at all.
Balance of Different Motorcycle Concepts:
Weight limit and then air-restrictors size of 2 cylinders over 850cc up to 1200cc machines will be updated, if needed, during the Championship, by a system analysing the race points obtained.
Tuning Level:
All machines will have the same level of tuning presently applied to 4 cylinders over 750cc up to 1000cc, with the exception of connecting rods that must be standard for 2 cylinders over 850cc up to 1200cc.
Homologation Numbers:
For 2008 and 2009 all manufacturers, irrespective of their total production numbers, will have to produce a minimum of 1000 bikes in order to get an homologation. For 2010 onwards the minimum production number will be increased to 3000 bikes. The complete set of the new 2008 Superbike technical rules will be issued by FIM during next week. Web: www.fim.ch
Editor's Note: It is expected the new Superbike engine rules will see the engines going to production Supertock based specs with modified exhaust systems and computers, while the chassis modifications will allow the same full race Superbike chassis modifications to suspension, brakes and bodywork.
We are not big fans of the fact the Ducati V-Twins will start the season off carrying 13.2 lbs more weight than the in-line 4s, if only because they are all running the same brakes and tires and the Ducati's will not be able to stop and corner as well as the 4-cyclinder bikes. Making the different Minimum Weight rule even more rediculous is the fact the individual rider's body and riding gear weight is still not not considered in the overall minimum weight, and there could easily be 40 pounds difference between riders on the same team bikes, as well as between different types of bikes.
As for the Air Restricutors, this seems pretty stupid as well, since restrictors will not affect the Twins' torque /acceleration advantage at low RPMs. But it will handicap the Twins severly against the 4-cylinder bikes at hight RPM/ top speed. If they do go to Superport engine specs the in-line 4s should hold a horsepower advantage onver the Ducati twins, so there should be no need for restrictors on the Twins. The smaller displacment in-lone 4s can and will turn more RPM's than the Ducati Twins and will make more peak poer form the start.
We'd expect all the bikes to be much more equal in cornering, braking and and speed/lap times with the same minimum weight and no restrictors. Look for Ducati to start the new technical year off in 2008 with a severe handicap.
---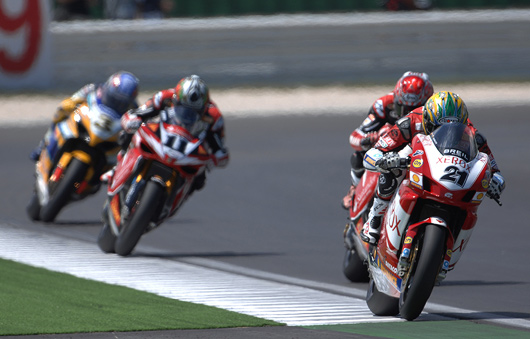 Bayliss (21) battles with Corser, Haga and Biaggi for the lead in Race One.
SBK World Superbike Championship Championship, Missano, Round 8 of 13
A Double Win As Biaggi and Haga Tangle, Toleland Struggles
Troy Bayliss Takes Ducati Back into Title Contention at Misano
Misano Adriatico (Italy), Sunday 17 June - Troy Bayliss (Ducati Xerox) bounced back into championship contention with a brilliant double win at a scorching hot Misano World Circuit in front of 68,000 spectators. Troy had a terrific battle in race 1 with Noriyuki Haga (Yamaha), Max Biaggi (Suzuki) and Troy Corser (Yamaha) to take the win, while in the second race of the day he led every lap from start to finish to hold off the challenge of Haga. With Toseland (Honda) only finishing fourth and sixth, Bayliss now moves into second place in the standings, 21 points behind the championship leader. Troy's 37th and 38th wins here today also haul Ducati back into the lead of the Manufacturers' standings.
"That's exactly what we needed and exactly what I wanted" declared Troy. "Misano is a very special place for me to come and win here for all the Italians. There's not much more to say, we changed one click for the second race just to make me a little bit more comfortable on the bike. I did some really fast laps and saw that Nori wasn't making any ground, I thought of letting him past to do some of the work but I've done that before and it didn't work so I really put my head down for a while and managed to get a little gap, then I could take it easy towards the end. I'm very happy for all our team, Xerox, Shell and all our sponsors, it's been a great journey back towards the front of the field and we leave here hopeful for the rest of the year. Unfortunately I got the Australian flag caught in the clutch on the cool-down lap and stalled the bike like an amateur! I was lucky to get a ride back, but all is well and I'm happy!"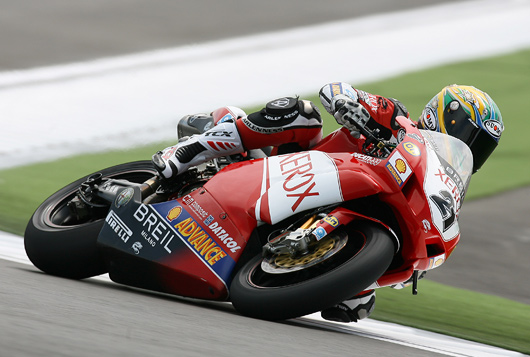 Bayliss Tops Friday Practice and Qualifying
Misano Adriatico (Italy), Friday 15 June - Troy Bayliss (Ducati Xerox) shrugged off sweltering temperatures at the Misano World Circuit to clinch provisional pole position in Friday qualifying. The 38 year-old Australian let all his rivals do all the work for much of the session before slipping in a quick time of 1m36.479s in the last few minutes to take the top slot.
"Sometimes I wonder why you go testing because you're a second and a half slower than what you were in the test. They've resurfaced the track and it's 20° hotter as well so you might as well just go to the beach!" joked Troy. "Apart from that it went OK. My best lap was still half a second slower than what I did on my last lap of the long-run when we came here so of course I'm not so happy about that. It can't be faster anyway when the conditions are like this. It's really hot out there, almost 50° on the track, but there's a lot of wind as well and there's no feeling at all down the fast right on the back straight but everyone's in the same boat and we just have to get on with it. I'm worn out because we're trying to get the bike setting better from the one in the tests which didn't work well".
"I expected a bit better because of the good results we did in the tests here a short time ago" declared Lorenzo. "It's a lot hotter here now and we struggled a bit with the bike setting because we had to change a lot of things. Then five minutes from the end I was sixth with a good time. The others put on softer new tyres and I didn't because I think that the track will be quicker tomorrow morning and I'm keeping an extra set of tyres to do a good time. It's going to be tough for the race because it's difficult to pass here, although the long fast right is really exciting in fifth gear and much better than before. I like this track but the important thing is to get things set up right tomorrow morning for the race."
Fridy Practice: 1. Bayliss (Ducati Xerox) 1m36.479s; 2. Corser (Yamaha) 1m36.524s; 3. Kagayama (Suzuki) 1m36.803s; 4. Xaus (Ducati) 1m36.879s; 5. Haga (Yamaha) 1m37.453s; 6. Nieto (Kawasaki) 1m37.512s; 7. Toseland (Honda) 1m37.522s; 8. Fabrizio (Honda) 1m37.594s; 9. Laconi (Kawasaki) 1m37.645s; 10. Lanzi (Ducati Xerox) 1m37.692s.
TV Coverage (UK): Eurosport 2 - Saturday 16 June, 1700 Superpole (delayed). Sunday 17 June, 1150 Race 1 (live), 1520 Race 2 (live). TV Coverage (Italy): La7 - Saturday 16 June, 1600 Superpole (live). Sunday 17 June, 1150 Race 1 (live), 1520 Race 2 (live). RaiDue, 1730 Races 1 & 2 (highlights).
Troy Corser is on Poll at the new backward Misano.
Mister SuperPole Troy Corser - 40th Time!
Saturday 16th June - Troy Corser (Aus-Yamaha Motor Italia) rode a blisteringly superb Superpole lap at Misano this afternoon and his time of 1:34.948 was more then enough to take Superpole. What made it more special was that it was 40th pole position and it was at a circuit that he has had many successes before.
Even though Misano is now a 'new' circuit because it runs clockwise instead of anticlockwise, Troy got on with right from the start - though the recent test helped as well. Second quickest today is Troy Bayliss (Ducati), with Troy's team mate Noriyuki Haga third and series leader James Toseland (Honda) fourth.

TROY - 1st, 1:34.948 - I've been stuck of 39 poles for a little while now, so it's great to finally hit the big forty! I've been close to getting it many weekends this year, but someone has always just pipped me at the last minute and I was beginning to wonder if was ever going to happen.
I'm really happy with the bike; we've got it working well and we've also found good race tyre for this track. Because of my concerns about tyre life, we did a long run in this morning's session to reassure myself and it all seems fine. Tomorrow is going to be two tough races for sure, because of the heat and because this track is very physical. I like the new direction of the track though. Technically it is more of a challenge, but that's good. Now I am looking forward to the races tomorrow and a co! uple of good results." - See ya! Troy
Final Qualifying / SuperPole
1 TROY CORSER (Aus-Yamaha Motor Italia) 1:34.948, 2 Bayliss (Aus-Ducati) 1:35.104, 3 Haga (J-Yamaha) 1:35.458, 4 Toseland (GB-Honda) 1:35.572, 5 Biaggi (I-Suzuki) 1:35.578, 6 Lanzi (I-Ducati) 1:36.072, 7 Xaus (E-Ducati) 1:36.131, 8 Kagayama (J-Suzuki ) 1:36.206, 9 Rolfo (I-Honda) 1:36.489, 10 Neukirchner (D-Suzuki) 1:36.548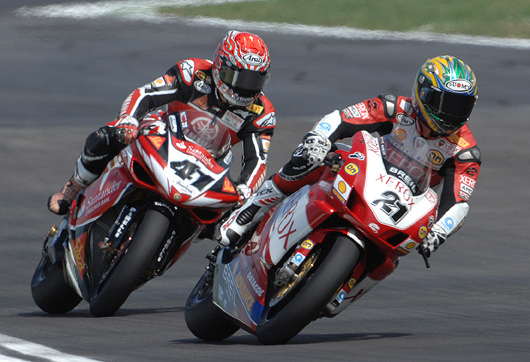 Noriyuki Haga (41) challenged Bayliss (21) for the lead both races.
Bayliss Does the Double on Ducati's Home Circuit
Sunday June 17th - It had become clear earlier in practice that teams Ten Kake Honda and Akstare Suzuki were struggling with their bike setup at the newly revised Misano Circuit since they hadn't had any private tests sesions here earlier, while both Ducat Corse and the factory backed Italian Yamaha squad had tested and had their bikes dialed-in before coming here. In particular=Championship points leader James Toseland, who came to Misano without testing here, was struggling all week withbike chatter problems that couldn't be resolved and found himself struggling on raceday to hold his 23 points lead coming into today's races over Haga, Biaggi and reigning Superbike Champ Bayliss fighing back from his crash injury and 2 race deficit at Mugelo.
Race One would prove was a cast iron thiller for the Championship points standings.
By the end of the first lap it became clear that was clear that the glory was to be shared between four riders, who were able to lap at an impossible pace for the others. Bayliss, Corser, Haga and Biaggi offered a really great show as the runaway led group, leaving behind behind Toseland and Kagayama to clash over 5th. Lap times were particularly good among the four front runners with the lead trading back and back and forth between Bayliss and Haga a number of time despite the really hot temperature on track the tyres offered impressive performance. After 21 laps Haga set the fastest lap of the race, providing a great show to the 68,000 enthusiasts at Misano while continuing to swap the lead position with Bayliss many times.
During the 22nd of the 24 scheduled laps Baylss was again back in the lrad in front of Haga. Biaggi who had been pacing the front runners, finally made his move on Corser for 3rd, then made a move to to pass Haga.
The Italian crowd favorite went inside of Haga as they dove into a corner, with Haga not realling seeing him and as the Japanese turned in to follow his line the two collided lightly and both went down. This allowed Bayliss to win with a comfortable 2.3 second advantage over Corser. Behind the two Australian riders came Kagayama, who had overhauled Toseland. In terms of the Championship points standings, Bayliss found himself jumping quickly from 4th to 2nd position with Biaggi having taken out Haga, and the gap to Toseland just got a little smaller.
SUPERBIKE Race 1: (Laps 24 = 100,320 Km)
Pos / Rider / Nat. / Team / Time / Gap
1 / T. BAYLISS / AUS / Ducati Xerox Team / 38'52.856 /
2 / T. CORSER / AUS / Yamaha Motor Italia / 38'55.230 / 2.374
3 / Y. KAGAYAMA / JPN / Alstare Suzuki Corona Extra / 39'01.821 / 8.965
4 / J. TOSELAND / GBR / Hannspree Ten Kate Honda / 39'03.966 / 11.11
5 / R. ROLFO / ITA / Hannspree Ten Kate Honda / 39'11.565 / 18.709
6 / L. LANZI / ITA / Ducati Xerox Team / 39'13.323 / 20.467
7 / R. LACONI / FRA / Kawasaki PSG-1 Corse / 39'14.928 / 22.072
8 / R. XAUS / ESP / Team Sterilgarda / 39'18.280 / 25.424
9 / M.NEUKIRCHNER / GER / Suzuki Germany / 39'23.747 / 30.891
10 / J. SMRZ / CZE / Team Caracchi Ducati SC / 39'30.580 / 37.724
11 / M.BORCIANI / ITA / Team Sterilgarda / 39'37.754 / 44.898
12 / M.SANCHINI / ITA / Kawasaki PSG-1 Corse / 39'54.394 / 1'01.538
13 / L. MORELLI / ITA / D.F.X. Corse / 40'30.637 / 1'37.781
14 / D. ELLISON / GBR / Team Pedercini / 39'25.479 / 1 Lap
15 / C. ZAISER / AUT / LBR Racing Team / 39'32.622 / 1 Lap
Fastest Lap 21° Noriyuki Haga 1'36.356 156,171 Km/h
Race Two provided an emotional show for the Italian spectators at the Santamonica Circuit. Like race one Bayliss was right with the two Yamaha Motor Italia riders and Biaggi soon made himself faster than anyone else. On the 11th lap Bayliss set the fastest lap, but it is very good for the Pirelli DIABLO SUPERBIKE tyres to see that the consistency of the tyres allowed the leaders to maintain almost this pace for the whole race distance.
Bayliss and Haga offered again a great spectacle, as well as Biaggi and Toseland, and together with them Corser and Kagayama were in the leading mix. Almost all the riders decided to race with a hard solution rear, due to the hot temperature of the tarmac - but also due to tyre wear, caused by the bumpy conditions on some parts of the circuit. Bayliss won and earned a great double, celebrating on the podium with Haga and Biaggi, while Toseland had to take an unhappy 6th place.
"Strangely enough," Corser continued, "I didn't feel so bad in the second race, but that was probably down to the fact that it was a bit cooler. The tyres weren't too bad in the first race and lasted twenty laps before there were any problems. The bike felt a bit flat between third and fourth gears, so I changed to my spare bike for race two. I had ridden it in the morning warm-up, so it was no big deal. I'm not sure what happened in race two, because the grip level wasn't the same even though we were on the same tyres and set-up. It's possible that a stone had hit the radiator and caused a bit of a water leak and then when the water went onto the tyre, it caused some problems. Either way, exiting the first turn, the bike suddenly went and I was thrown into the air. Really I should have crashed, but somehow I fell back down onto the bike and was able to carry on. After that I was a bit tentative for few laps and took extra caution, but at least I was able to ride to the finish. So, I guess I'm happy with my result in the first race, but not the second. Yesterday Superpole went very well and I believed that I could win a race or two. One podium is good, but two would've been better."
Yukio Kagayama- Race 1: 3rd, Race 2: 4th - "I am very happy to get back to podium ways today - even though I was a bit lucky because two riders in front of me crashed. But racing is like this sometimes and it's good to get some good luck at last. We have been working very hard on the rear settings recently and I feel we have made some big changes and also some good progress. I did not have many problems in the first race, except those caused by my starting position. The second row of the grid is not the best place to be when the first corner is not so far away. Also, this track does not have so many passing places, so by the time I got past Toseland it was too late to do anything about the leaders. Once I was ahead of him, I had a free track and I was able to run more consistently fast laps.
In the second race, I was happy in third position but then I began to have some problems with the rear tyre moving around. I really wanted another podium, but the shaking and movement was enough to slow me down, so I just tried to get the best result I could. Now that I have tasted a podium again, I want more."
Max Biaggi - Race 1: DNF, Race 2: 3rd - "This was a hard day, but it ended with a podium so I am happy to take something positive from it. I was challenging for a podium in the first race but then Nori and I hit each other and we both crashed. I am sorry for myself and I'm sorry for him. I tumbled over and over on the crash and hurt my right leg and left hand and that caused some problems in race two. Because of the pain, I found it difficult to concentrate in the early stages and lost some ground when I ran a bit wide. But gradually I started to get back into the race and began to catch the leaders. I managed to get past Toseland, Corser and Yukio and into third three or four laps from the end of the race, but Haga and Bayliss had too much of a lead and there was nothing I could do about that. I am disappointed by what happened in the first race, but pleased that I took a podium in the second."
Troy Corser - Race 1: 2nd, Race 2: 5th - "I am happy with my second in race one and it felt good to be on the podium again. Both races were tough today, because of the heat and also because this track is physically very demanding - twenty laps would've been enough for both rider and tyres!"
In the overall standing the gap from leader Toseland to Bayliss is now only 21 points, with Haga now 26 from the top. The next races will be really dramatic, especially for the top three or four contenders. Top teams will be testing at Brno, followed by official testing at Vallelunga in July 7-8th, preceding round nine of the WSS and SBK series, to be held at Brno in the Czech Republic, between 20 and 22 July.
Superbike Race 2: (Laps 24 = 100,320 Km)
1 / T. BAYLISS / AUS / Ducati Xerox Team / 38'43.506 /
2 / N.HAGA / JPN / Yamaha Motor Italia / 38'46.043 / 2.537
3 / M.BIAGGI / ITA / Alstare Suzuki Corona Extra / 38'49.892 / 6.386
4 / Y. KAGAYAMA / JPN / Alstare Suzuki Corona Extra / 38'52.411 / 8.905
5 / T. CORSER / AUS / Yamaha Motor Italia / 38'52.636 / 9.13
6 / J. TOSELAND / GBR / Hannspree Ten Kate Honda / 38'57.473 / 13.967
7 / R. XAUS / ESP / Team Sterilgarda / 39'00.214 / 16.708
8 / R. ROLFO / ITA / Hannspree Ten Kate Honda / 39'00.287 / 16.781
9 / L. LANZI / ITA / Ducati Xerox Team / 39'00.818 / 17.312
10 / M.NEUKIRCHNER / GER / Suzuki Germany / 39'16.571 / 33.065
11 / R. LACONI / FRA / Kawasaki PSG-1 Corse / 39'17.111 / 33.605
12 / F. NIETO / ESP / Kawasaki PSG-1 Corse / 39'24.757 / 41.251
13 / J. SMRZ / CZE / Team Caracchi Ducati SC / 39'26.229 / 42.723
14 / S. NAKATOMI / JPN / Yamaha YZF / 39'40.150 / 56.644
15 / M.SANCHINI / ITA / Kawasaki PSG-1 Corse / 39'44.245 / 1'00.739
Fastest Lap 11° Troy Bayliss 1'36.022 156,714 Km/h
Lap record: 2007 N.Haga 1'36.356 156,170 Km/h
Best Lap: 2007 T.Corser 1'34.948 158,490 Km/h
Riders Championship Standings:
1 TOSELAND 260, 2 BAYLISS 239, 3 HAGA 234, 4 BIAGGI 217, 5 CORSER 182,
6 LANZI 133, 7 XAUS 130, 8 ROLFO 109, 9 NEUKIRCHNER 100, 10 KAGAYAMA 89,
11 LACONI 76, 12 FABRIZIO 59, 13 SMRZ 53, 14 NIETO 50, 15 BROOKES 40.
Anthony Wesy Wins a 2-part Supersport Race
Anthony West has won the World Supersport race at Misano, with Broc Parkes taking second place on aggregate in the two part race by just over a tenth of a second ahead of Kenan Sofuoglu. West led both halves of the race from the start. Craig Jones had been running in second place until he clashed with Foret on lap 4. Foret crashed out and Jones pulled off the track on the next lap with oil leaking from his bike.
The race was red flagged because of a crash, and despite Sofuoglu's best efforts in the second half he couldn't pull far enough ahead of Parkes to take second place.
Supersport Race : (Laps 22 = 91,960 Km)
Pos /Rider /Nat. /Team / Time /Gap
1 / A. WEST / AUS / Yamaha World SSP Racing / 36'47.866 /
2 / B. PARKES / AUS / Yamaha World SSP Racing / 36'52.063 / 4.197
3 / K. SOFUOGLU / TUR / Hannspree Ten Kate Honda / 36'52.206 / 4.34
4 / M.ROCCOLI / ITA / Yamaha Lorenzini by Leoni / 37'02.989 / 15.123
5 / R.HARMS / DEN / Stiggy Motorsport Honda / 37'06.295 / 18.429
6 / S. SANNA / ITA / Racing Team Parkalgar / 37'06.607 / 18.741
7 / J. FORES / ESP / HP Racing / 37'06.781 / 18.915
8 / K. FUJIWARA / JPN / Althea Honda Team / 37'12.948 / 25.082
9 / G.VIZZIELLO / ITA / RG Team / 37'18.106 / 30.24
10 / S. CHARPENTIER / FRA / Hannspree Ten Kate Honda / 37'19.499 / 31.633
11 / Y. TIBERIO / FRA / Stiggy Motorsport Honda / 37'20.609 / 32.743
12 / M.LAGRIVE / FRA / Intermoto Czech / 37'20.959 / 33.093
13 / B. VENEMAN / NED / Pioneer Hoegee Suzuki Racing / 37'21.458 / 33.592
14 / S. GIMBERT / FRA / Yamaha - GMT 94 / 37'23.544 / 35.678
15 / G.BOCCOLINI / ITA / Team PMS Kawasaki Supported / 37'25.059 / 37.193
Fastest Lap 3° Anthony West 1'39.109 151,833 Km/h
Lap record: New Track
Best Lap: 2007 K.Sofuoglu 1'38.748 152,390
Riders Championship Standings:
1 SOFUOGLU 161, 2 FORET 100, 3 FUJIWARA 77, 4 HARMS 70, 5 WEST 66,
6 VENEMAN 50, 7 PARKES 47, 8 ROCCOLI 46, 9 NANNELLI 43, 10 PITT 40,
11 SALOM 34, 12 ALFONSI 34, 13 SANNA 30, 14 RIBA 30, 15 CHARPENTIER 29.
---
Pop Superstars Aly & AJ - Beautiful, Talented and Smart
But can they cook, or does it matter? Aly & AJ's hot new single "Potential BreakUp Song is out as a prelude to this new album "INSOMNIATIC" which releases on July 10th with their new national concert tour. Younger sis AJ (left) just granduated high school this month at age 18 at the top of her class, Magna Cum Laude, jut as older sis Aly (left) did last year. More HERE.
---
There's more! Go to Pit Lane News NEXT PAGE

Hot Calendar Girl and Bike News! Go to: Fast Dates • Calendar Girls • Iron & Lace

Calendar Kittens, The Paddock Garage, Screensavers, Iron & Lace Garage



Many of our Calendar Kittens can also be seen at Playboy's website...


BikerKiss.com - the largest biker personals site!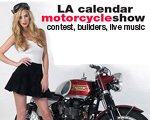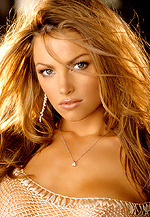 MEOW!
Kittens on the Prowl
2007 LA Calendar Motorcycle Show Weekend
Hosted by Calendar Kittens!
Playboy Playmate Tamara Witmer, and 97.1 KLSX Radio and Penthouse Pet
Sam Phillips.
Live 97.1 FM Interviews
& Music with Tamara Whitmer and Kari Kimmel
• June 20th Wed 8pm PST
Conway & Whitman Show
• July 10th Tuesday 8am PST
Adam Corrola Show
• July 1st-15th Radio Ad Campaign

Listen On Line:

Click to Listen & Buy It Now
What's Hot!
Kari Kimmel
LA Calendar Show
July 14-15th
Incredible new singer/song writer
featured on top TV and Movie sound tracks will be performing music from her awesome new CD live at our upcoming LA Calendar Motorcycle Show both days on July 14-15th!
Kari Kimmel on You-Tube.com
Kari's new CD "A Life in the Day" will be sold at the show, or go to www.karikimmel.com to get your own copy today!
Kari's songs now on itunes...
www.karikimmel.com
http://myspace.com/karikimmel

Buy Kari at Amazon.com
---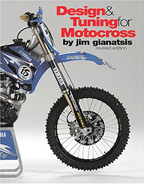 Design & Tuning
for Motocross
The ultimate book on motocross bike technology & performance
by Jim Gianatsis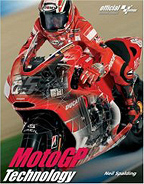 Neil Hodgson Tests for British Superbike
Factory Suzuki Team
Team Suzuki Press Office - June 18, 2007 - Former World and British Superbike Champion Neil Hodgson will test the Rizla Suzuki GSX-R1000 at Cadwell Park in Lincolnshire this Wednesday and Thursday in a bid to boost the team's performance during the second half of the 2007 BSB season.
Isle of Man resident Hodgson (34) has been drafted in for this test by Rizla Suzuki so he can apply his considerable depth of experience and talent to the GSX-R1000 and suggest fresh ideas that will assist the team to be as competitive as possible.
The 2000 British Superbike Champion and 2003 World Superbike Champion is no stranger to tight twisty tracks like the 2.173-mile long Cadwell Park after spending two years on the challenging circuits of the American Superbike Championship. Without a race seat in 2007, he has already been used by a leading MotoGP team as a test and development rider and will now use those skills for Rizla Suzuki.
"I am thrilled and excited to have the opportunity to test the Rizla Suzuki," said Hodgson. "My aim is to use my experience to give Rizla Suzuki another opinion or direction on the performance of its race bikes. I've been keeping in shape and I am sharp so I can't wait to get going."
Rizla Suzuki's regular riders will not be attending the test at Cadwell Park but will be keeping close tabs on progress through Team Manager Simon Buckmaster.
"I have always maintained that Rizla Suzuki will use every means at its disposal to be as competitive as possible and Neil testing our bike and giving us a fresh opinion is simply another approach to improving performance," explained Buckmaster. "We hope that we can come away from Cadwell Park with new direction and improved performance for us to take to Knockhill and the seventh round of the Championship in just over a week's time."
British Moto GP - Preview
June 24th Donnington
The MotoGP Circus moves from the Italian and Catalan GPs in southern Europe to the British GP and Dutch TT in northern Europe as the 2007 MotoGP World Championship nears half-distance.
Team Ducati's Bologna-based squad is still buzzing from Casey Stoner's genius victory at Catalunya on June 10, which increased the young Australian's points lead. So far this year Stoner has scored four victories plus a third, a fourth and a fifth, while team-mate Loris Capirossi has scored one podium. Thanks to their efforts, the Ducati Marlboro Team currently leads the teams' championship and Ducati heads the constructors' series.
Soon after his remarkable ride in Spain, Stoner had another reason to celebrate -he was presented with an ultra-trick Bianchi Scrambler XR, from the renowned bicycle manufacturer's Ducati Corse range, by Bianchi chief Davide Brambilla.

Donington Park is a landmark venue for both riders - Stoner contested his first roadrace at the track in 2000 and his first GP there the following July, while Capirossi won his first GP at Donington in 1990.
LIVIO SUPPO, Ducati MotoGP project director - "If you look at our last two visits to Donington it seems like it could be a difficult track for us, but then if you look at how we've performed so far this year, I think we can maybe be a bit more confident. Bridgestone has done an amazing job with its tyres so far this season, and the new tyre rule has really changed the situation. Anyway, we go there with our usual philosophy - to work hard and see what happens. The weather could be a factor, of course, but even if it rains, we know that this year's Bridgestone wets have performed very well."
CASEY STONER, World Championship leader on 140 points
"We are still learning and going forward, always gaining experience with the Ducati. After Barcelona we go to Donington with a positive attitude, it could be a tough track for us but we've already proved this year that the Ducati is good at a lot of circuits. I've never really cracked Donington but we'll see how we can piece it together this time. The flowing part is tough, down through Craner and into the Old Hairpin you're braking on the side of the tyres and the bike's moving around. I find the circuit a little dangerous in some points, if they improved that it'd probably be more enjoyable. Some of the other turns are a little bit funny, so it's really hard to try and compromise the set-up - whether you set it up for the tight and twisty bits, which are very important at the end of the race if you're in a battle, or if you set it up for the faster bits, where you make the time. I'm still not thinking about the championship, maybe later in the season we can start aiming for it, but the way we're going now is just perfect, so we're going to continue doing the same thing."

NEW! FastDates.com
Cell Phone Wallpapers!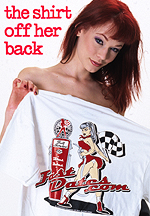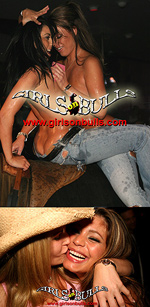 Girls on Bulls!
The LA Calendar Motorcycle Show Welcomes the Hottest, Sexiest Riding Show Ever!
Beautiful girls in scanti attire tackle a mechanical bull and everyone comes out a winner. Challenge the girls to ride the bull yourself and win an autographed DVD from Girls on Bulls. Or just play it safe an buy the DVD....
Girls On Bulls
Desert Heat
Featured live at our
LA Calendar Motorcycle Show! Sexy models riding mechanical bulls get naked on the DVD!

Click to take Kylie for a ride.
Kyle Minigue Gets Provacative
Join sexy Pop Diva
Kyle Minogue as she does a little wild bull riding herself with Agent Provocateur.
RealPlayer.com Video.
---
A DUCATI FOR WORLD CHAMPION SWIMMER FILIPPO MAGNINI
Filippo Magnini, Italy's two-times world 100 metre freestyle swimming champion received a special gift on Friday during the first day of World Superbike action at the Misano World Circuit. Thanks to his sponsor Arena, he picked up the keys of a brand-new red Ducati 1098, the latest Superbike to come out of the Borgo Panigale factory, from WSBK champion Troy Bayliss.
Toseland Sees His Points
Shrink at Misano
James Toseland (Hannspree Ten Kate Honda CBR1000RR) had to ride with all the guile and determination he could muster to score top six positions in each Misano race today. In doing so he left the eighth round of the championship with his championship lead intact. James now enjoys a gap to his nearest rival of 21 points, after finishing fourth and sixth in the 24-lap races, thanks in part to the first race collision between Haga and Biaggi who might have challenged Tosleand for the points lead this weekend if they hadn't taken earh other out.
After Misano, Toseland, who had started from a front row place after setting fourth best Superpole time, has a total of 260 points. Double Misano race winner Troy Bayliss is second on 239; Noriyuki Haga is third on 234 and Max Biaggi now fourth on 217. Biaggi and Haga collided in race one, aiding Toseland's battle in the championship.
Qualifying at the new-look 4.180km Misano circuit, now longer and run in a different direction from previous years, had been a tough prospect for all in the hot temperatures that prevailed throughout the entire race weekend. Roberto Rolfo (Hannspree Ten Kate Honda CBR1000RR) had been ninth after Superpole, Michel Fabrizio (DFX Corse Honda CBR1000RR) 12th, and relative newcomer Luca Morelli (DFX Corse Honda CBR1000RR) was 19th after regulation qualifying, missing out on Superpole qualifying by three places.
In the first race a potential three way fight for the lead was ended when Noriyuki Haga and Max Biaggi collided, and each fell from contention, leaving a top three of Bayliss, Corser and Kagayama. Toseland was a fighting fourth after losing pace to the early leading group. Rolfo was fifth after a strong ride from the third row, seven seconds down on Toseland, with Luca Morelli 13th. Morelli's team-mate Fabrizio retired on lap five, with a fault traced to the alternator.
Race two was a clearer cut version than the opener, with Bayliss running clear from Haga and Biaggi, with Toseland losing another early fourth place in the final analysis, experiencing reduced drive towards the end of the second race run with track temperatures almost hitting 50°c.
Rolfo ground his way to eighth after losing rear traction and then working the front too hard to compensate, with Morelli finishing 18th in a race with only three non-finishers, one of whom was his team-mate Fabrizio.
Toseland was not satisfied with the race day results but acknowledged that the main objective, maintaining a healthy championship lead at a track which is not a designated test venue for his team, was successfully achieved.
"I knew this round was going to be difficult because it wasn't one of our test tracks and it's a completely new layout," said Toseland ". I expected to be coming from behind. We got lucky in the first race when Biaggi took out Haga, but you can't rely on luck for the rest of the season. Needless to say I'm disappointed with the weekend, but I'm looking ahead to Brno and hopefully we can get back on track."
OFF PODIUM PLACES HARD WON AT A STEAMY MISANO
Behind the fight for top places a tough weekend for Toseland became rock hard on Sunday, with fourth and a sixth his scant rewards. Behind him in each race, the points were equally hard won. His own team-mate Roby Rolfo (Hannspree Ten Kate Honda) was fifth in race one but down in eighth in race two, ending his day eighth overall in the series. Corser's fifth place overall on 182 points leaves him clear of sixth and ninth place race finisher at Misano, Lorenzo Lanzi (Ducati Xerox), who now has a total of 133 points. He had a strenuous battle for the status of second fastest Ducati rider of the weekend with Ruben Xaus (Ducati Sterilgarda) who recorded an eighth place in race one and a seventh in race two, despite losing power in the Misano heat. Regis Laconi (PSG-1 Kawasaki Corse) beat Xaus in race one, and took a 11th in race two, now mimicking the latter position in the championship table. Kagayama's front group heroics placed him back into the overall top ten, on 89 points, one behind Max Neukirchner (Suzuki Germany) who earned himself a ninth and a tenth at Misano. Michel Fabrizio (DFX Corse Honda) failed to finish either race at Misano.
Strange Press Release from Alto Evolution World Superbike Team Saying Bikes Were Stolen, Then Revovered
June 11th - "The goal of this press release is to resolve every doubt related withrumours in Superbike''s ambient and specialised media. We have not retiredfrom world'' championship due to financial problems. Just now we can forward some informations because just now the judges have decided that we are no longer in on the secret."
On Monday the 28th of May 2007 the team truck of ALTO EVOLUTION HONDA, back
from Silverstone, containing race bikes, spares and so on, was hijacked by a gang when it stopped for refuelling near Calais. The driver was kidnapped for more than six hours and the truck diverted. The driver was able to escape in Bruxelles - Belgium, where he alerted the police and confirmed the names of the people of the gang which had kidnapped him and stolen the truck. Amongst the members of the gang have been recognised four people: one of them was Mr. Sergio Bertocchi.
Policemen from Belgium have immediately started investigations and, at the
same time, Carabinieri in Italy have been alerted. Investigations have gone on strenuously and with outmost secrecy. On the 6th a van of ours was sent to Trieste to recover other spare parts and accessories still in Trieste''s
warehouse.
On the way back, in the first rest/service area out of Trieste, the same criminals have stolen the van and its content. Unluckily for them, following a great effort of electronic interception and lots of their''s tailing, law-enforcement personnel has had the opportunity to see the criminals in action in first person.
Carabinieri have been on the van''s tail for a couple of hours and at las they have recovered the vehicle and its content and put them under sequestration.
Meanwhile the subject liable for theft have been blocked.
On Friday the 8th Carabinieri have given us communication that the truck has been found and is now in a safe place in Trieste, again judges have disposed sequestration of the goods.
This, and only this, is the reason for which wewill no tbe able to
partecipate to the race in Misano on the 17th of June. There are no reasons to retire from championship, nor any financial difficulties whatsoever.
Those who are responsible of the above mentioned facts have already been identified and will have to give reason in front of the judge for the many crimes.
As soon as the goods will be in ours full possession we will get ready for Brno''s race working with the same will and achieving the same professional
performance. We thank very much law-enforcement members, Carabinieri and judges who have
done their best at their best to give us the opportunity to race again and take part to the Suberbike''s Worl Championship 2007.