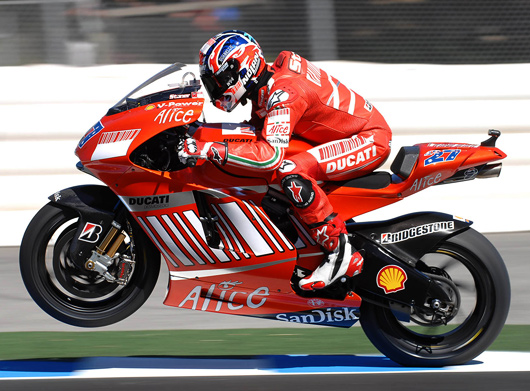 MotoGP World Championship, Red Bull U.S. Grand Prix at Laguna Seca , Round 11 of 18

by Jim Gianatsis
Casey Stoner Makes a Great Start to the Weekend, Shatters Lap Record
Friday Jul 20 2007, USA GP - Free Practice 1, Friday Morning : Ducati Team rider Casey Stoner got another great start to the weekend at Laguna Seca this morning, ending the first free practice session fastest. Team-mate Loris Capirossi, fresh from his brilliant podium result at last Sunday's German Grand Prix, was 12th quickest.
In warm Californian sunshine, World Championship leader Stoner was in masterful form around Laguna, a tortuous, undulating and bumpy racetrack that rewards riding finesse and commitment. Capirossi was also quick through the first two sections of the track but needs to refine his GP7's set-up to improve his pace through the crucial final split.
Although the new Laguna track surface is even bumpier than before, the track seems faster, with Stoner's best lap already less than one tenth of a second outside the existing lap record, established in last year's race.
| | |
| --- | --- |
| CASEY STONER, fastest, 1m 23.410s - "This morning we had a few difficulties getting used to the track. For sure, the conditions feel a lot worse than they did last year. The surface is maybe a little better but the bumps are worse, the track is really bumpy now. Anyway, about halfway through the session we found a little bit better setting and we just slowly improved from there, and we ended up quite happy with the set-up we've got. This afternoon we will do some more tyre testing in hotter conditions and we'll see where we are." | |
Free Practice 2, Friday Afternoon: World Championship leader Casey Stoner continued his impressive performance at sun-baked Laguna Seca this afternoon, upping the pace aboard his Ducati Desmosedici GP7 to lap three tenths inside the lap record and once again set the practice pace. Team-mate Loris Capirossi meanwhile continued working on the set-up of his GP7 and is confident of a good race pace on Sunday.
CASEY STONER, fastest, 1m 22.997s - "It's not too bad so far - we tried a different rear this afternoon and we've already done over race distance on the front. The new surface is better than last year out of the Corkscrew but it's worse everywhere else, but it's the same for everyone so we've just got to make the best of it."
Free Practice Session 3, Saturday Morning: Ducati Team rider Casey Stoner this morning continued his dominating performance at the ultra-challenging Laguna Seca MotoGP venue, topping the timesheets in the third practice session aboard his Desmosedici GP7, almost four tenths ahead of his nearest challenger. Team-mate Loris Capirossi was 14th quickest, continuing his session-by-session improvements towards tomorrow's race, round 11 of the 18-round 2007 MotoGP World Championship. World Championship leader Stoner has led each of the three sessions so far, his best Saturday morning lap time an impressive 0.968 seconds inside the existing Laguna lap record.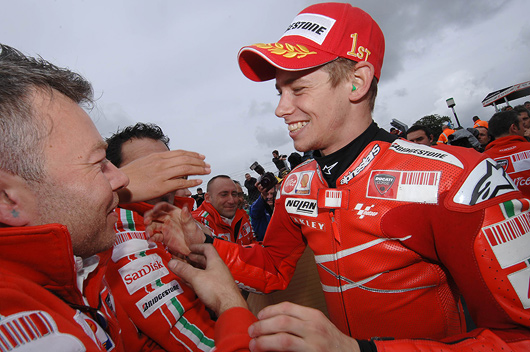 New Pole Record gives Stoner the advantage at Laguna Seca
Saturday 22nd July - Two monstrous consecutive laps in the closing stages of the qualifying session for the Red Bull U.S. Grand Prix gave Casey Stoner his third pole of the 2007 season. The Australian put in a new pole position record at the Mazda Raceway Laguna Seca with a 1'22.292 lap, smashing Nicky Hayden's 2005 watermark by over three tenths of a second on his final attempt.
Stoner has now been the fastest in every practice and qualifying session of the last two races, and his performances in the latter now allow him to leapfrog over Valentino Rossi in the BMW M Award for combined qualifying times. It was a particularly impressive performance from the stunningly quick Australian who ran off the track at turn six during his first run on qualifiers, but superbly maintained his composure to win pole position in the final moments of the session, then better his time once more on his final lap. This is Stoner's third pole of the year and his second in a row. Could the 21 year-old finally break the longest run without a win from pole in MotoGP history?

CASEY STONER, pole position, 1m 22.292s - "We basically did at least race distance this morning, then we were pretty much using all the old tyres we had to get a better set-up for the last part of the race. We were still doing high 1m 22s on tyres with 32 or 33 laps on them, which isn't too bad, so I'm feeling pretty confident for tomorrow. On my out lap with my first qualifier I held up Dani [Pedrosa], I looked behind me and there were a bunch of riders waiting to get a tow, I didn't know who was going fast or slow, so my apologies. Then I made a big mistake going into turn six, I went up too many gears and ran in there with a little bit too much pace, so that run didn't really go to plan. I came back out with a second qualifying tyre, I wasn't feeling too confident because I'd had a couple of front tucks on the run before, but we managed to pull it off. The qualifying tyre was pretty good for two laps. I'm really happy."
The top four riders would all have taken the top spot two years ago with their lap times today, with Dani Pedrosa the closest to Stoner's time at just over two tenths slower. Last year's poleman Chris Vermeulen completes the front row onboard the Suzuki GSV-R800, and has the opportunity to finally complete the job that was just a small step too far for him back in 2006.
Second fastest man Dani said: "Today we improved the set-up a lot, which was the most important target of the day. I'm also happy to be starting from the front row of the grid again because that's always an advantage and gives you a chance of getting in front in the first few laps. The race set-up we've found is not bad and we've got a good idea on the race tyres too so we'll just be making a few minor adjustments according to what we've learned today. My qualifying laps weren't bad, but I hit some traffic on the first one which cost me time – the second qualifying lap was a little better."
Chasing a hat-trick of victories at Laguna Seca, Nicky Hayden starts from the second row after a much-improved qualifying performance. 'The Kentucky Kid' will have a tough job if he is to complete an historic home hat-trick and maintain his 100% record. Nicky, heading row two, as fourth fastest qualifier, said: "In the morning we made quite a lot of progress and put in some decent lap times. Thanks to Pete and the boys because they did an awesome job to improve things this morning. When the conditions change in the afternoon it seems to go away from me though and I'm a little way off with the race set-up. I really wanted to get a little higher in qualifying today and I think we had the bike and the tyres to do it – I just didn't get the most out of the package. I'm a little worried about the race because I seem to be struggling in the afternoons."
Having taken a small tumble this morning, suffering contusions to his shoulder and removing the nail of his left little finger, Valentino Rossi dusted himself off to put himself on the second row, alongside former Laguna Seca 250cc winner Loris Capirossi.
Anglo-American John Hopkins was seventh quickest, having become embroiled in an on-track discussion with Carlos Checa when attempting to improve his times. Colin Edwards and Shinya Nakano will line up with the second Suzuki rider.
The top ten is completed by Marco Melandri, who suffered an early crash which postponed the session until 14.20 local time. The Italian had been expected to challenge for pole after some strong showings in qualifying, but experienced difficulty riding after landing hard on his leg in the incident.

Sunday Race Report Here
---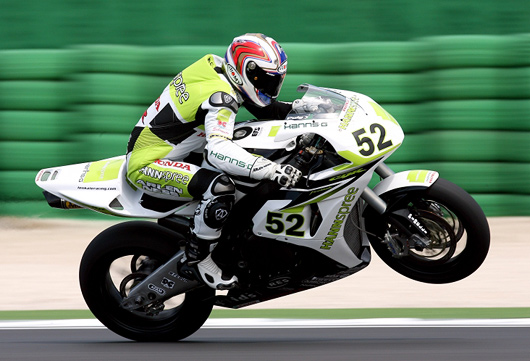 James Toseland now has a strong nearly 2-race points lead heading back home to Brands Hatch in 2 weeks.
SBK World Superbike Championship, Brun, Round 9 of 13
Toseland and Biaggi Share World Superbike Wins at Bruno
Bruno, Czech Republica , July 20-22nd - James Toseland (Hannspree Ten Kate Honda) and his new number one championship rival Max Biaggi (Alstare Suzuki Corona Extra) shared a win apiece at Brno, in two races with very different starts and finishes. The completely dry first race was followed by a rain-delayed start to race two, although by the time the action had commenced the track was largely dry, and soon dry enough for Troy Corser (Yamaha Motor Italia) to leave with a superb new lap record of 2'00.674, set on lap four.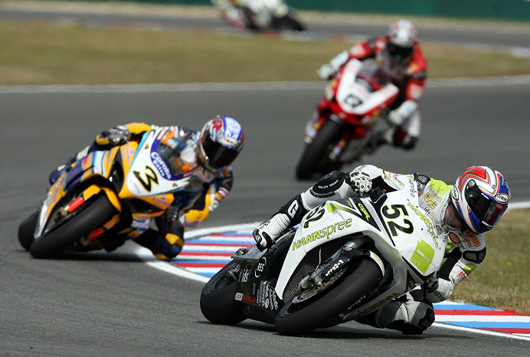 Race One - Toseland Fights of Biaggi
Race one saw Toseland make an early burst into the lead, then get reeled in by two of his main championship rivals, Noriyuki Haga and Max Biaggi, before breaking free once more as the laps wore on. Riding to defend while attacking each corner to the finish flag, Toseland beat Biaggi for the win by 0.237 seconds, with Yukio Kagayama third and Superpole winner Haga, fourth. Bayliss crashed out of the race while fighting for the minor top ten positions.
Toseland (at left) puts his Brno successes down to new technical advances in electronics on his machine and his determination to score well. "After Misano these two races were pretty big," said Toseland, happy with the win and relieved to have taken some pressure off after some bad luck in recent races. "We had fallen behind on electronics, but we knew what the problems were and we sat down and figured out what we needed to do. Since the tests things have just got better and better. I feel like we are back in the game again and it's nice to draw a line under it all."

The determined championship leader recorded his first win since race at Assen by holding off his eventual lone challenger, Max Biaggi. In third Yukio Kagayama (Alstare Suzuki Corona Extra) survived a couple of scary moments to earn a podium, just ahead of a fading charge from pole man Noriyuki Haga (Yamaha Motor Italia). It was another hard race in SBK, and one with a result few would have predicted, especially as Troy Bayliss (Ducati Xerox) crashed out after hitting the fallen machine of Karl Muggeridge (Alto Evolution Honda).
Reigning Champ Troy Baylis was taken out of a lowly tenth spot in the first race as Muggeridge's crashed Honda slid into him on lap 12, but apart from a bruise and a stiff ankle, the Ducati Xerox rider was OK. "I didn't see anything, I was going into the corner, heard a noise and that was it. The next thing I saw Karl on the ground, he had crashed into me, but wasn't even on his bike! I went over and thanked him because I wasn't enjoying that race anyway in tenth place!" joked Troy.
Race Two - Turn About is fair Play
The second race got underway with many strange names in the top positions to start but it soon settled into a chase of the rapid starting and highly aggressive Haga. He would finally drop back once more to record his second fourth place of the day, and allow Biaggi through to the lead he was never quite to surrender to the tenacious Toseland, who took a close second. Third place went to Michel Fabrizio (DFX Corse Honda) who overcame a slow start to charge through to third, passing Haga with five laps to go. It was his first podium finish of 2007, and a remarkable achievement for a rider who looked set to be happy with two top ten finishes in this particularly challenging year for privateers.
Max Biaxi - Race 1: 2nd, Race 2: 1st - "Brno loves me and I love Brno. It's incredible to think of how many good memories I have of this place and today continued that pattern. It's a fantastic track because there is such a good variety of turns - some fast, some not so fast. Tyres were always going to be a bit of a problem today, but the second race was better for them because it was a bit cooler. I didn't change anything to the bike from the first race to the second, except put fresh tyres in of course. I want to thank the whole Alstare Suzuki squad for these great results today. it's been a while since I won a race, but to win one today and finish second in the other makes me very happy."
For Troy Bayliss, a harder choice of front tyre brought an improvement in the second race but Troy was down in tenth at the end of lap 2 and could only claw his way back up to sixth at the flag. "It was exactly the same here as last year - a crash and a poor finish - but this time I'm happier with the result in race 2. We made a mistake in the first race putting the soft tyre on but for the second race we put in a harder front tyre and it made a huge difference. We started to get good confidence back because it's a tyre I normally like anyway. My start was good and I was in second place at the first corner but then I got beat up. Someone came at me on the inside, somebody hit me on the outside and I got knocked back down a long way. I came back pretty strong, but anyway the best thing I can do now is forget about this place and move on to Brands Hatch!"
TOSELAND NOW 43 POINTS AHEAD
Troy Bayliss (Ducati Xerox) finished race two down in sixth position and the Brno fortunes of the top five competitors have changed the shape of the world championship fight considerably. Toseland's win and second now puts him 43 points ahead of new second place rider, Max Biaggi, with Toseland on 305 points, Biaggi on 262 and Haga only two points further back, with 260. Bayliss is now fourth, on 249. Corser's seventh and technical DNF in race two puts him fifth, on 191.
Italian riders in top teams, Roby Rolfo (Hannspree Ten Kate Honda) and Lorenzo Lanzi (Ducati Xerox) had a few on track fights at Brno and in the championship table Rolfo's two fifth places today brought him closer to Lanzi in the overall standings, with Lanzi on 150 and Rolfo 131. Ruben Xaus (Sterilgarda Ducati) battled hard but had little joy today, finishing only 12th and tenth, and now has 140 points.
Max Neukirchner (Suzuki Germany) was one rider on really top form for periods today, but slides back in the latter stages after midfield battles saw him only ninth and 12th.
Fonsi Nieto (PSG-1 Kawasaki Corse) was forced out of the first race at Brno with a technical problem and after a few similar mishaps he almost pulled in again. He finished eighth in race two, despite being dead last into turn one as his clutch grabbed and held back his forward progress. Regis Laconi (PSG-1 Kawasaki Corse) was lucky not to fall in a collision that ended race one for Karl Muggeridge (Alto Evolution Honda), with each rider blaming the other, but it was this crash that claimed Bayliss in race one. Laconi sits 12th overall in the standings.
SUPERBIKE Race 1: (Laps 20 = 108,060 Km)
Pos / Rider / Nat. / Team / Time / Gap
1 / J. TOSELAND / GBR / Hannspree Ten Kate Honda / 41'02.730 /
2 / M.BIAGGI / ITA / Alstare Suzuki Corona Extra / 41'02.967 / 0.237
3 / Y. KAGAYAMA / JPN / Alstare Suzuki Corona Extra / 41'03.915 / 1.185
4 / N.HAGA / JPN / Yamaha Motor Italia / 41'05.133 / 2.403
5 / R. ROLFO / ITA / Hannspree Ten Kate Honda / 41'06.202 / 3.472
6 / M.FABRIZIO / ITA / D.F.X. Corse / 41'06.488 / 3.758
7 / T. CORSER / AUS / Yamaha Motor Italia / 41'20.965 / 18.235
8 / L. LANZI / ITA / Ducati Xerox Team / 41'22.383 / 19.653
9 / M.NEUKIRCHNER / GER / Suzuki Germany / 41'24.960 / 22.23
10 / S. NAKATOMI / JPN / Yamaha YZF / 41'34.392 / 31.662
11 / R. LACONI / FRA / Kawasaki PSG-1 Corse / 41'35.526 / 32.796
12 / R. XAUS / ESP / Team Sterilgarda / 41'50.090 / 47.36
13 / V. IANNUZZO / ITA / Kawasaki PSG-1 Corse / 42'04.713 / 1'01.983
14 / J. DRAZDAK / CZE / Yamaha Jr. Pro SBK Racing / 42'04.782 / 1'02.052
15 / S. CRUCIANI / ITA / Celani Team Suzuki Italia / 42'51.602 / 1'48.872
Fastest Lap 4° Noriyuki Haga 2'01.543 160,032 Km/h
SUPERBIKE Race 2: (Laps 19 = 102,657 Km)
1 / M.BIAGGI / ITA / Alstare Suzuki Corona Extra / 38'53.022 /
2 / J. TOSELAND / GBR / Hannspree Ten Kate Honda / 38'54.532 / 1.51
3 / M.FABRIZIO / ITA / D.F.X. Corse / 38'58.441 / 5.419
4 / N.HAGA / JPN / Yamaha Motor Italia / 38'59.787 / 6.765
5 / R. ROLFO / ITA / Hannspree Ten Kate Honda / 39'00.932 / 7.91
6 / T. BAYLISS / AUS / Ducati Xerox Team / 39'02.263 / 9.241
7 / L. LANZI / ITA / Ducati Xerox Team / 39'12.446 / 19.424
8 / F. NIETO / ESP / Kawasaki PSG-1 Corse / 39'17.213 / 24.191
9 / S. NAKATOMI / JPN / Yamaha YZF / 39'19.702 / 26.68
10 / R. XAUS / ESP / Team Sterilgarda / 39'21.117 / 28.095
11 / K. MUGGERIDGE / AUS / Alto Evolution Honda / 39'26.278 / 33.256
12 / M.NEUKIRCHNER / GER / Suzuki Germany / 39'26.374 / 33.352
13 / J. SMRZ / CZE / Team Caracchi Ducati SC / 39'26.517 / 33.495
14 / R. LACONI / FRA / Kawasaki PSG-1 Corse / 39'33.475 / 40.453
15 / V. IANNUZZO / ITA / Kawasaki PSG-1 Corse / 39'50.306 / 57.284
Fastest Lap 4° Troy Corser 2'00.674 161,185 Km/h
Lap record: 2007 N. Haga 2'01.543 160,030 Km/h
Best Lap: 2007 N. Haga 1'59.603 162,630 Km/h
Riders Championship Standings:
1 TOSELAND 305, 2 BIAGGI 262, 3 HAGA 260, 4 BAYLISS 249, 5 CORSER 191,
6 LANZI 150, 7 XAUS 140, 8 ROLFO 131, 9 NEUKIRCHNER 111, 10 KAGAYAMA 105,
11 FABRIZIO 85, 12 LACONI 83, 13 NIETO 58, 14 SMRZ 56, 15 BROOKES 40.
WORLD SUPERSPORT - SOFUOGLU AT HIS POLISHED BEST Kenan Sofuoglu (Hannspree Ten Kate Honda) added the race win to the pole he took on Saturday to put him in an almost unassailable championship position with only four races left to run. His win puts him 70 points ahead of second place rider in the title chase, Fabien Foret (Gil Kawasaki) who took a surprise third after qualifying on row three and having a bad start. He, and eventual second place rider Craig Jones (Reve Ekerold Honda), earned their podiums when Broc Parkes (Yamaha World Supersport Team) crashed into the rear of Robbin Harms (Stiggy Motorsports Honda), causing each rider to fall. Parkes recovered to finish thirteenth in the race, but dropped to eighth in the championship overall. Jones's podium was his first in WSS racing, and the first for his team, which is making its debut in WSS racing this year. Katsuaki Fujiwara stays third overall on his Althea Honda, after finishing sixth today, behind Massimo Roccoli (Yamaha Lorenzini by Leoni) and Joshua Brookes (Stiggy Motorsports Honda).
SUPERSPORT RACE: (Laps 18 = 97,254 Km)
Pos /Rider /Nat. /Team / Time /Gap
1 / K. SOFUOGLU / TUR / Hannspree Ten Kate Honda / 38'09.132 /
2 / C. JONES / GBR / Revè Ekerold Honda Racing / 38'20.445 / 11.313
3 / F. FORET / FRA / Team Gil Motor Sport / 38'26.659 / 17.527
4 / M.ROCCOLI / ITA / Yamaha Lorenzini by Leoni / 38'26.698 / 17.566
5 / J. BROOKES / AUS / Stiggy Motorsport Honda / 38'27.241 / 18.109
6 / K. FUJIWARA / JPN / Althea Honda Team / 38'29.295 / 20.163
7 / D. CHECA / ESP / Yamaha - GMT 94 / 38'29.673 / 20.541
8 / S. CHARPENTIER / FRA / Hannspree Ten Kate Honda / 38'32.580 / 23.448
9 / S. GIMBERT / FRA / Yamaha - GMT 94 / 38'32.987 / 23.855
10 / B. VENEMAN / NED / Pioneer Hoegee Suzuki Racing / 38'34.995 / 25.863
11 / V. KALLIO / FIN / Pioneer Hoegee Suzuki Racing / 38'35.093 / 25.961
12 / J. O'HALLORAN / AUS / Yamaha World SSP Racing / 38'41.455 / 32.323
13 / B. PARKES / AUS / Yamaha World SSP Racing / 38'42.846 / 33.714
14 / L. ALFONSI / ITA / Althea Honda Team / 38'43.594 / 34.462
15 / G.NANNELLI / ITA / Team Caracchi Ducati SC / 38'43.710 / 34.578
Fastest Lap 2° Kenan Sofuoglu 2'06.089 154,262 Km/h
Lap record: 2006 Y. Tiberio 2'06.604 153,630 Km/h
Best Lap: 2007 K. Sofuoglu 2'04.871 155,770 Km/h
Riders Championship Standings:
1 SOFUOGLU 186, 2 FORET 116, 3 FUJIWARA 87, 4 HARMS 70, 5 WEST 66,
6 ROCCOLI 59, 7 VENEMAN 56, 8 PARKES 50, 9 JONES 45, 10 NANNELLI 44,
11 PITT 40, 12 CHARPENTIER 37, 13 ALFONSI 36, 14 SALOM 34, 15 SANNA 30.
---
AMA Superbike Championship, Laguna Seca, Round 7 of 11
Spies Leads a Suzuki Podium at Laguna Seca AMA Superbike
July 23, 2007 - Yoshimura Suzuki's Ben Spies led all laps to take the victory in this weekend's AMA Superbike race at Mazda Raceway Laguna Seca on Sunday afternoon with team mate Mat Mladin second place and Michael Jordan Motorsports Suzuki's Aaron Yates third.
Spies and Mladin's Yoshimura Suzuki team mate Tommy Hayden recovered from an off-track excursion to bring home 13th place and pulled within one point of fourth-place overall in the championship standings. This weekend not only saw defending AMA Superbike Champion Spies pick up his sixth pole position of the season and his 13th career pole, but he also extended his lead in the AMA Superbike points chase.
The race result also marks Spies' sixth win of the season in the class as well as his 17th AMA Superbike career victory. Six-time AMA Superbike Champion Mladin, who started from second position beside Spies, carded his 10th podium spot of the season after riding his Yoshimura Suzuki GSX-R1000 to an impressive second place. Yates, meanwhile, gave the Jordan Suzuki team its first-ever AMA Superbike podium finish with his third-place result.
Yates fought race long over 3rd position with Honda's Miguel DuHamel and former World Superbike Champion Neil Hodgson in a trial ride on the American Honda suppported Team EBSCO Corona bike. The strong showing by Hodgsen who was in contention for 3rd throughout the race might hopefully see him landing a full ride with American Honda in AMA Superbike next year.
Ben Spies - "We threw down a pretty good time to get the pole position. We got it done but it was close. The Yoshimura Suzuki GSX-R1000 was working good right off the truck, though we made a few changes during the middle of the qualifying session that helped us find a little more time. In the race, we got off the line good and that's key now with Mat and I running the same pace. But Mat rode a great race today and I'm really happy for Aaron that he got on the podium for the Jordan team. Overall, it's just great to get all three Suzukis on the box."
Mat Mladin - "In qualifying, the Yoshimura Suzuki GSX-R1000 felt really, really good. At the end of the session we got a little messed up trying to go for a fast lap, but the bike felt good for the race. Unfortunately, we're having some issues with starts. I pushed hard for a while; we started to catch up to Ben and then got into some lappers and backed off again. But congratulations to Ben for a great race and I'm just looking forward to Mid-Ohio."
Aaron Yates - "In today's race I got off to a pretty good start on my Jordan Suzuki GSX-R1000 and I was pushing really hard. I made a couple of mistakes and it took me about half the race to settle down and work my way back up. It feels good to be on the podium because I really wanted to get up there for the Jordan Suzuki team. They're working hard and the bike is getting better every race weekend. I have a
good group of guys behind me and it really motivates me to get up on the podium for them."
AMA Superbike Top 10 Finishers:
1. Ben Spies (Yoshimura Suzuki)
2. Mat Mladin (Yoshimura Suzuki)
3. Aaron Yates (Jordan Suzuki)
4. Miguel Duhamel (Honda)
5. Neil Hodgson (Honda)
6. Jamie Hacking (Kawasaki)
7. Jason Disalvo (Yamaha)
8. Jake Holden (Jordan Suzuki)
9. Eric Bostrom (Yamaha)
10. James Ellison (Honda)
---

The Good, the Bad, and the Beautiful. Tiffany takes the new Ducati 1098S Tri Colore for a spin.... Click HERE

And meet our newest Calendar Kitten Tiffany Toth in person
at the LA Calendar Motorcycle Show Weekend July 14-15th!
Ducati's new 1098 Superbike - It's Not a Perfect Beauty
Exclusive First & Last Test ! Ducati Limited Edition Tri 1098S Tri Color
"If you are waiting to get a 4th generation Ducati Superbike model,
wait a little longer until they get it right."
Current magazine tests (Motorcyclist, Sportrider) are finding the new sexier, lighter, faster 1098S Ducati turns significantly slower track lap times and it is harder to ride than the latest Japanese Superbikes or the out going Ducati 999S in side-by-side comparisons. They also won't tell you they totaled their bikes during testing. However, the magazines won't tell you why because they just don't know, or for fear of loosing Ducati advertising. Here at FastDates.com we have nothing to fear and tell you why the new 1098 needs help....HERE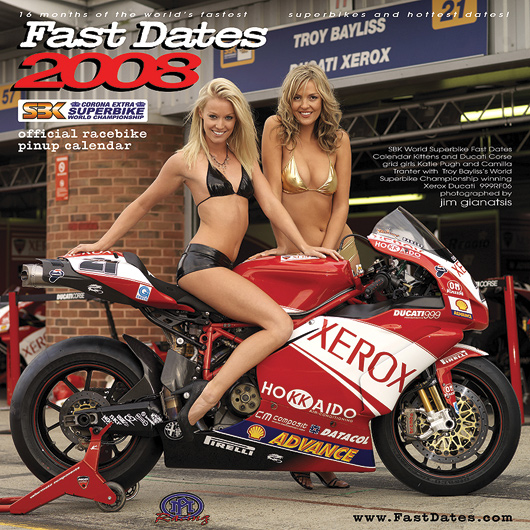 LA Calendar Bike Show Hostess and Playboy Playmate Tamara Witmer featured
The NEW 2008 Fast Dates Racebike Pinup Calendar!

World Premier July 1st 2007 - The SBK World Superbike endorsed 2008 Fast Dates Race Bike Swimsuit Pinup Calendar sponsored by Performance Machine and photographed by Jim Gianatsis features all the top factory race bikes of the SBK World and AMA National Superbike Championships together with the beautiful SBK Fast Dates World Superbike / Ducati Corse girls Katie Pugh and Camilla Tranter, along with Playboy Playmates Tamara Witmer and Athena Lundburg.
Featured are all the top factory Superbikes from Yamaha, Honda, Suzuki, Kawasaki, and Ducati including double World Champion Troy Bayliss' 2006 title winning Xerox Ducati 999F06 and Troy Corser's Suzuki GSXR1000, as well as Noriyuki Haga's Yamaha R1 and James Toseland's Ten Kate Honda CBR1000RR. You can read about all the drama and excitement that went into photographing this year's Calendar at Brands Hatch World Superbike in Fast Dates Calendar News July-August 2006.
Also featured are Biker Build Off TV Show challengers Roland Sands' "No Regrets" American V-twin powered sportbike, together with his contender on the show, 3-time LA Calendar Motorcycle Show winner Jesse Rooke's KTM V-twin retro board track racer. Plus, there's Roland Sand's incredible Kenny Roberts commissioned KR 990cc 5-cylinder 230hp MotoGP engine powered retro board track streetbike. Both bikes are feratured with FastDates.com Calendar Kitten and Playboy Playmate Tamara Witmer, currently featured on the MTV reality dating show Rock of Love.
This is a 16 month clanedar starting September 2007 so don't delay and order now. Last year's 2006 calendar sold out well before Christmas! ORDER HERE
Aly & AJ release 2nd Album "Insomniatic"
But can they cook, or does it matter? Aly & AJ's hot new single "Potential BreakUp Song is out as a prelude to this new album "INSOMNIATIC" which releases on July 10th with their new national concert tour. Younger sis AJ (left) just granduated high school this month at age 18 at the top of her class, Magna Cum Laude, jut as older sis Aly (left) did last year. More HERE

Click CD to order on Amazon.com
---
There's more! Go to Pit Lane News NEXT PAGE

Hot Calendar Girl and Bike News! Go to: Fast Dates • Calendar Girls • Iron & Lace

Calendar Kittens, The Paddock Garage, Screensavers, Iron & Lace Garage



Many of our Calendar Kittens can also be seen at Playboy's website...


BikerKiss.com - the largest biker personals site!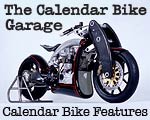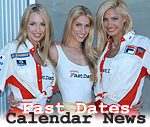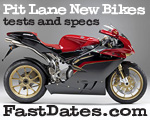 Ducati Announces its 2008-2009 MotoGP LineUp with Stoner & Melandri
Monday Jul 23 2007, Laguna Seca, USA - The Ducati Team announces that Casey Stoner and Marco Melandri will be its riders for the next two seasons of the MotoGP World Championship. World Championship leader Casey Stoner has renewed his agreement with the Borgo Panigale-based factory for the 2008 and 2009 seasons, with an option for the 2010 championship. 24-year old Italian Melandri will join the Australian with a two-year contract. With this announcement the small Italian manufacturer will have the strongest 2-rider team in current points against the major Japanese teams, going into next season.
Next week Loris Capirossi and his manager will meet with Ducati representatives to evaluate the possibility of preparing a third official Desmosedici MotoGP bike for the Italian rider to use in the 2008 World Championship.
BMW Motorad Buys Husqvarna Motorcycles
Munich, July 20th - BMW will acquire the renowned motorcycle company Husqvarna Motorcycles. Dr. Herbert Diess, General Director of BMW Motorrad, and the
Italian industrialist Claudio Castiglioni signed a contract on 19.07.2007 in Italy. The contractual agreement will come into full effect upon final approval of the EU cartel authorities. Both parties agreed that the purchase price was to remain confidential.
Chris Vermuelen Re Signs with Suzuki for 2008
Team Suzuki Press Office - July 23, 2007. Suzuki and Chris Vermeulen are pleased to announce that they have agreed terms to continue with their partnership into the 2008 MotoGP season and beyond.
Vermeulen joined Suzuki at the end of 2005 and has been heavily involved in the development of the Suzuki GSV-R during the past two seasons. The 25-year-old scored a podium for the team in his rookie season and has followed that up this year with Suzuki's first-ever four-stroke MotoGP victory.
The ever-improving Australian has decided that he wants to stay with Suzuki despite attempts from other manufactures to tempt him away. Team Manager Paul Denning has been in negotiations with Vermeulen for some time and the number 71 racer put pen to paper shortly after today's American Grand Prix, which saw Vermeulen take a stunning second position.
Chris Vermeulen: - "I am very excited to be staying with Suzuki. I really enjoy working with the whole team, especially my Chief Mechanic Tom O'Kane. The involvement of the Factory staff has also been a big factor in my decision, in particular Sahara-san and our Racing Group Leader Oonishi-san. The way the development has gone since I first rode the GSV-R in 2005 is incredible! I am sure if we can continue in that direction we will be pushing up to the front every weekend. That has got to be the goal; I want to be World Champion and if I can do it with Suzuki I will be so happy!"
With Chris' current team mate John Hopkins moving to Kawasaki for 2008, the second spot on the Suzuki MotoGP most likely will go to American Ben Spies, the Yoshimura Suzuki rider currently dominating the AMA Superbike Championship.
American John Hopkins to Ride for Kawasaki in 2008
The Kawasaki Racing Team can confirm that John Hopkins will be one of the riders who will spearhead Kawasaki's assault on the 2008 MotoGP world championship, after securing the Anglo-American's signature on a two-year contract ahead of this weekend's German Grand Prix at Sachsenring.
With his name at the top of most team managers' wish lists, Hopkins turned down a number of lucrative offers from other teams in order to sign with Kawasaki. Securing the 24-year-old Californian's services for the next two years was the culmination of weeks of negotiations between Hopkins' management company and Kawasaki's Competition Manager, Michael Bartholemy.
"We have had our eye on John for some time, so we didn't hesitate to open negotiations with him as soon as we heard he was considering his options for the next two years," explained Bartholemy.
"The discussions haven't been easy, as John is probably the most sought after rider in the paddock at the moment, but we are happy that, of all the options open to him for next year, he finally chose to join Kawasaki."
Hopkins, who hails from San Diego in California, made his Grand Prix debut in 2002 for the WCM Red Bull team, for whom he raced a 500cc two-stroke against the new breed of four-stroke MotoGP machines.
After impressing during his rookie year, for the following season Hopkins secured a seat alongside former 500cc world champion, Kenny Roberts, in the factory Suzuki MotoGP squad, for whom he is now in his fifth season.
While he's undoubtedly made progress during his time in the premier series, Bartholemy believes Hopkins will at last be able to fully realise his considerable talents aboard Kawasaki's rapidly evolving, and improving, ZX-RR. The American already has a head start, being familiar with Bridgestone tyres, which he currently runs, and on which the Ninjas have been making continuous steps forward this season.
"John has both the ability and the determination necessary to win races but, before this year, he maybe hasn't had the machinery necessary. I'm confident that the combination of John Hopkins and Kawasaki's Ninja ZX-RR will be a potent one next year, and we're looking forward to seeing John realise both his and Kawasaki's full potential," continued Bartholemy.
"For me, John's decision to join Kawasaki for the next two years is a clear indication of just how far we've come with the new team infrastructure and the 800cc Ninja ZX-RR. Just twelve months ago we wouldn't have been in a position to attract a rider of John's calibre, but the situation is very different now. We have proved that Kawasaki has a professional set-up and a competitive package in the Ninja ZX-RR, which is why we now have the option of also signing a proven MotoGP race winner to ride alongside John Hopkins next season.
"Signing two top riders to campaign our bike in 2008 was always one of Kawasaki's primary goals for this year and, thanks mainly to the trust shown in the team by our colleagues in Japan, we are close to achieving this target before the midseason break. Once we've finalised our rider line-up for next season we will then look closely at our current team set-up, to see if there is a way to improve even further the level of support we are able to offer to our two riders next year," concluded Kawasaki's Competition Manager.
The Kawasaki Racing Team expect to announce their full rider line-up for the 2008 season shortly after next weekend's U.S. Grand Prix at Laguna Seca, where Roger Lee Hayden will make his premier class debut as a wild card entry aboard Kawasaki's Ninja ZX-RR.
2nd United States MotoGP round for Indianapolis Announced for September 14th 2008!
Motorcycle racing will return to the Indianapolis Motor Speedway for the first time in nearly a century with the Red Bull Indianapolis GP on Sunday, Sept. 14, 2008 for MotoGP, the world's premier motorcycle road racing series.
Officials from IMS and Dorna Sports, the commercial rights holder for MotoGP, have reached a multi-year agreement to stage motorcycle racing at the Speedway for the first time since an event on the 2.5-mile oval on Aug. 14, 1909, the year the facility opened.
The Red Bull Indianapolis GP will take place on a new 16-turn, 2.601-mile (4.186 km) motorcycle road course at IMS that will feature the riders travelling counter-clockwise, the same direction as the facility's oval events.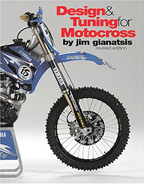 Design & Tuning
for Motocross
The ultimate book on motocross bike technology & performance
by Jim Gianatsis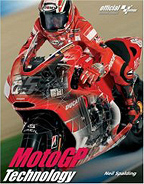 NEW! FastDates.com
Cell Phone Wallpapers!
---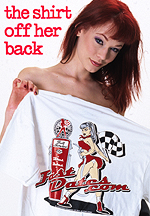 Click to take Kylie for a ride.
Kyle Minigue Gets Provacative
Join sexy Pop Diva
Kyle Minogue as she does a little wild bull riding herself with Agent Provocateur.
RealPlayer.com Video.
Yamaha Signs 250cc GP Champ Jorge Lorenzo to its 2008 MotoGP Team
Yamaha Motor Co., Ltd announces that it has concluded a two-year agreement with 250cc World Champion Jorge Lorenzo. The 20-year-old Spaniard will make his MotoGP debut in 2008 aboard a YZR-M1, with direct Factory support.
Lorenzo, who won the 250 title in 2006, is currently leading the championship, after winning six out of the first ten races this season.
"Yamaha has been watching Jorge's career with interest for some time and we are delighted that he will be joining our MotoGP line-up from next season" - commented Lin Jarvis, Managing Director of Yamaha Motor Racing. "We are sure that he will be a valuable asset for the future and we look forward to the commencement of his MotoGP career with Yamaha."
The exact structure of Yamaha's team and rider organization is still under consideration at the present time. Further details, including Lorenzo's team structure, will be announced in due course.
We know that Valentino Rossi is in the first year of his latest 2-year contact with Yamaha, so Lorenzo is likely to replace American Colin Edwards as Rossi's team mate on the main factory team.