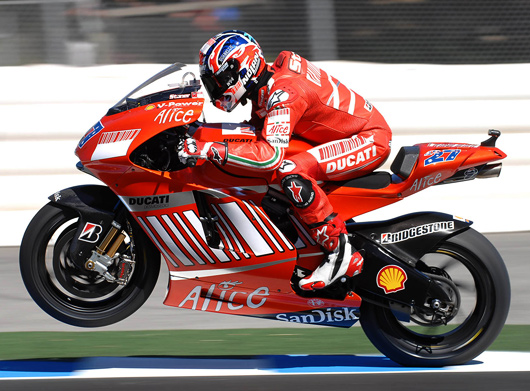 The invincible Casey Stoner and the Ducati Desmosedici.

MotoGP World ChampionshipChampionship, Bruno CZ, Round 12 of 18

A record 141,000 Spectators watch
Casey Stoner put his rivals on the ropes with his seventh victory
Cardion ab Grand Prix Ceske Republiky, August 17-19th - Ducati Marlboro Team rider Casey Stoner put in a faultless display in front of 141,000 fans at Brno today, winning the Czech Grand Prix to extend his World Championship advantage. A seventh victory of the 2007 season means that Casey Stoner leaves Brno with an advantage of over two races from his title rivals. Sixty points separate the Australian from second placed rider Valentino Rossi in the MotoGP World Championship after another runaway win from the Ducati young gun, with Dani Pedrosa a further 18 points behind.
Stoner led from start to finish in the Czech Republic, his second consecutive victory from pole position. Eventually winning the race by nearly eight seconds, Stoner still had to keep his wits about him in the early going as Suzuki's John Hopkins matched him for pace. The Anglo-American lost touch with the current series leader at the midway point, but still maintained his focus for a second place finish, his best ever in MotoGP and his second podium of the 2007 season.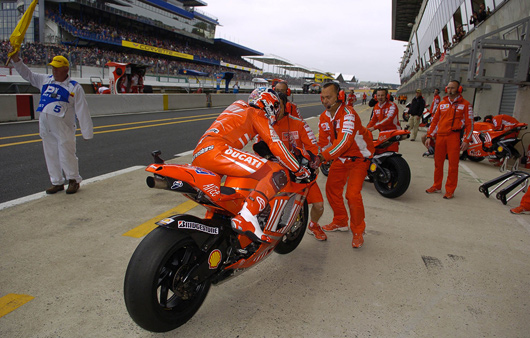 Stoner does a quick bike swap for fresh qualifying tires as Qualifying Practice nears its final minutes.
Casey Stoner UnStopable at Bruno with 3rd Consecutive Pole
Nicky Hayden next to the Aussie on Front Row
Saturday 18th August - His 12 session run of MotoGP practices at the top of the timesheets continued today as World Championship leader Casey Stoner showed that he had lost none of his golden touch. A 1'56.884 lap was the 21 year-old's contribution to the afternoon session at Brno, and was unmatched by any of his rivals in both the title hunt and the BMW M Award for combined qualifying times
The Australian looked to be in for a tough time when he experienced a problem on his out lap that kept him in the garage for an extended period. However when the metal door rolled up for a second time Stoner set about his business to take his fourth pole of the season and his third consecutive start from the head of the grid.The last rider to take three consecutive pole positions was Stoner's team-mate Loris Capirossi at the tail end of the 2005 season, with all signs boding well for Ducati tomorrow.
Making a great return to action after the summer break, Nicky Hayden will start from the front row for the first time this season after he made a late charge to try and match Stoner's time. The reigning MotoGP World Champion was unable to break the 1'57 barrier, but starts from second on the grid regardless as he is joined in the first three by Dani Pedrosa. The two Honda factory riders have tried a mixture of new parts in practice, and look to have made a stride forward in conjunction with tyre manufacturer Michelin.
John Hopkins suffered a late low side when trying to further improve on his fourth place, although he escaped uninjured but annoyed to lead off row two. He is accompanied by strong Kawasaki qualifier Randy de Puniet and five-time MotoGP World Champion Valentino Rossi, who had been languishing in eleventh place until the final minutes of the session.
The remainder of the top three rows consists of last year's race winner Loris Capirossi, Laguna Seca podium finisher Chris Vermeulen and factory Yamaha man Colin Edwards, whilst yesterday's fastest rider Sylvain Guintoli rounds off the top ten.
An exposed hernia between two discs in Marco Melandri's neck has ruled the Italian out of tomorrow's race. The Gresini Honda rider was unable to ride in all but half of yesterday's first free practice session, and elected to play things safe because of the obvious pain and lack of control that such an injury entails.
Qualifying Times
FRONT ROW
1. Casey Stoner (AUS) Ducati Marlboro Team 1'56.884
2. Nicky Hayden (USA) Repsol Honda Team 1'57.164
3. Dani Pedrosa (SPA) Repsol Honda Team 1'57.179
SECOND ROW
4. John Hopkins (USA) Rizla Suzuki MotoGP 1'57.567
5. Randy de Puniet (FRA) Kawasaki Racing Team 1'57.599
6. Valentino Rossi (ITA) Fiat Yamaha Team 1'57.640
THIRD ROW
7. Loris Capirossi (ITA) Ducati Marlboro Team 1'57.665
8. Chris Vermeulen (AUS) Rizla Suzuki MotoGP 1'57.699
9. Colin Edwards (USA) Fiat Yamaha Team 1'57.702
FOURTH ROW
10. Sylvain Guintoli (FRA) Dunlop Yamaha Tech 3 1'57.732
11. Shinya Nakano (JPN) Konica Minolta Honda 1'57.969
12. Carlos Checa (SPA) Honda LCR 1'58.143
FIFTH ROW
13. Alex Barros (BRA) Pramac d'Antin 1'58.204
14. Toni Elias (SPA) Honda Gresini 1'58.264
15. Makoto Tamada (JPN) Dunlop Yamaha Tech 3 1'58.399
SIXTH ROW
16. Anthony West (AUS) Kawasaki 1'59.386
17. Kurtis Roberts (USA) Team Roberts 1'59.446
18. Ivan Silva (SPA) Pramac D'Antin 1'59.721

250cc GP
Stoner's dominance is mirrored in 250cc by Jorge Lorenzo, the reigning World Champion and current leader in the standings. The Spaniard took his seventh pole position of the season this afternoon with a fastest time of 2'01.368, smashing his own pole record time set in 2005 by nearly a full second.
Fellow factory Aprilia rider and yesterday's provisional poleman, Alex Debon also had a great qualifying session that puts him in a good position on the grid for his wild card outing. The Spaniard was just under seven tenths slower than Lorenzo, but ahead of title challengers Andrea Dovizioso and Alex de Angelis in a front row jam-packed with quarter litre talent.
The second line is also comprised of riders in a position to challenge for podium spots, with former 250cc race winner Hector Barbera heading Yuki Takahashi, Julian Simon and Shuhei Aoyama for an important race for all four.
A seventh victory of the 2007 season means that Casey Stoner leaves Brno with an advantage of over two races from his title rivals. Sixty points separate the Australian from second placed rider Valentino Rossi in the MotoGP World Championship after another runaway win from the Ducati young gun, with Dani Pedrosa a further 18 points behind.
Loris (65) Capirossi fights with Rossi (46), DePuniet (14) and Chris Vermueulen (7) for 5th, with Vermeulen eventually passing them all to put both Rizla Suzuki bikes - with John Hopkins taking 2nd - in the top five. Quite a turn-a-round for the Suzuki team which has struggled the last 6 years. For 2008 John Hopkins moves to team Kawasaki and Capirossi will take his place at Suzuki after 4 years with the Ducati MotoGP team.
Race Day - Stoner puts rivals on the ropes with seventh victory
Casey Stoner led from start to finish in the Czech Republic, his second consecutive victory from pole position. Eventually winning the race by nearly eight seconds, Stoner still had to keep his wits about him in the early going as Suzuki's John Hopkins matched him for pace. The Anglo-American lost touch with the current series leader at the midway point, but still maintained his focus for a second place finish, his best ever in MotoGP and his second podium of the 2007 season.
It was another perfect weekend for the awesome Australian who dominated both days of practice, secured pole position and then led from start to finish, leaving his rivals floundering in his wake and stretching his lead in the second half of the 22 laps to beat runner-up John Hopkins by almost eight seconds. It was Stoner's seventh victory of the year and his second consecutive success following a similarly dominant performance at last month's US GP. Stoner's teammate Loris Capirossi spent much of the race battling back and forth with Chris Vermeulen and Valentino Rossi, eventually crossing line between the Australian and the Italian.
Both Hopkins and reigning World Champion Nicky Hayden were looking to make a comeback after disappointment at their home circuit at the previous round, and the stateside duo made amends with podium appearances. Hayden confirmed that he is back in business in the premier class after two previous podiums before his Laguna Seca misfortune, putting the Honda RC212V on the rostrum for a third time in his title defending year. 'The Kentucky Kid' had to pass his Honda factory team-mate Dani Pedrosa to earn his third spot, but pulled away to finish as the best classified rider from the Japanese factory.
Chris Vermeulen once again worked his way up from a less-than-ideal position on the grid for fifth place, having put in some aggressive overtaking manoeuvres on some of the more experienced MotoGP riders such as Loris Capirossi who was sixth.
Valentino Rossi's first Brno finish off the podium in MotoGP did little to help his title chances, and he now has to chase a gap even larger than that which he closed last year if he is to regain his crown. The Italian returned to the garage with his tyres ripped to shreds after giving his all on the Yamaha M1, but could do nothing to keep touch with the riders in front. Randy de Puniet, Alex Barros and Carlos Checa were the other three riders to finish in the top ten.
| | |
| --- | --- |
| | CASEY STONER, winner, World Championship leader on 246 points: "The whole weekend has gone pretty well for us, we struggled a little bit on Friday trying to get the set-up but by the time qualifying came around everything was working really well. The bike, the team and the tyres have been performing faultlessly at the past few races and it's just nice to top things up with another win. It was a great race, we completed race distance on the tyres this morning so we knew they'd last fine. We got an awesome start, I started off with six tenths on John, then the gap went up to a second, up to 1.2 seconds, then back down to one second, then up a little bit, down a little bit. I felt like I was close enough to the limit and he was still there and chasing me down, I was surprised and a little worried he could catch me but we just kept our pace until eight laps to go, then we started to pull a small advantage. I just had to keep up my concentration level to try and pull that advantage. I'm still going out there trying to win races, that's what we're here for, we're all out there fighting for every point. |
We knew we had a better package than everybody else today, so I just had to push through. That's the way I look at it - if you concentrate on it race by race it makes things a little easier. We've got a few things and a lot of tyres to test here tomorrow. I'm looking forward to the tests because although we've got a really good package it'll be great if we can improve it. Also these tests will help the machine for next year when hopefully we can come out a bit stronger."
The MotoGP World Championship continues in two weeks time at Misano.
MotoGP Results
1 / Casey STONER / AUS / Ducati Marlboro Team / DUCATI / 43'45.810 / 162.965 /
2 / John HOPKINS / USA / Rizla Suzuki MotoGP / SUZUKI / 43'53.713 / 162.476 / 7.903
3 / Nicky HAYDEN / USA / Repsol Honda Team / HONDA / 43'58.910 / 162.156 / 13.1
4 / Dani PEDROSA / SPA / Repsol Honda Team / HONDA / 44'01.610 / 161.991 / 15.8
5 / Chris VERMEULEN / AUS / Rizla Suzuki MotoGP / SUZUKI / 44'03.113 / 161.899 / 17.303
6 / Loris CAPIROSSI / ITA / Ducati Marlboro Team / DUCATI / 44'05.173 / 161.773 / 19.363
7 / Valentino ROSSI / ITA / Fiat Yamaha Team / YAMAHA / 44'08.295 / 161.582 / 22.485
8 / Randy DE PUNIET / FRA / Kawasaki Racing Team / KAWASAKI / 44'08.883 / 161.546 / 23.073
9 / Alex BARROS / BRA / Pramac d'Antin / DUCATI / 44'18.102 / 160.986 / 32.292
10 / Carlos CHECA / SPA / Honda LCR / HONDA / 44'20.963 / 160.813 / 35.153
11 / Toni ELIAS / SPA / Honda Gresini / HONDA / 44'23.558 / 160.656 / 37.748
12 / Anthony WEST / AUS / Kawasaki Racing Team / KAWASAKI / 44'24.060 / 160.626 / 38.25
13 / Sylvain GUINTOLI / FRA / Dunlop Yamaha Tech 3 / YAMAHA / 44'29.504 / 160.298 / 43.694
14 / Shinya NAKANO / JPN / Konica Minolta Honda / HONDA / 44'42.879 / 159.499 / 57.069
15 / Kurtis ROBERTS / USA / Team Roberts / KR212V / 44'55.413 / 158.757 / 1'09.603
Pole Position: Casey STONER 1'56.884 166.411 Km/h
Fastest Lap: Casey STONER 1'58.301 164.417 Km/h Lap 3
Circuit Record Lap: Loris CAPIROSSI 1'58.157 164.618 Km/h 2006
Circuit Best Lap: Valentino ROSSI 1'56.191 167.403 Km/h 2006
World Championship Positions:
1 STONER 246, 2 ROSSI 186, 3 PEDROSA 168, 4 VERMEULEN 124, 5 HOPKINS 124,
6 MELANDRI 113, 7 EDWARDS 93, 8 HAYDEN 89, 9 CAPIROSSI 87, 10 BARROS 83,
11 HOFMANN 60, 12 DE PUNIET 58, 13 ELIAS 54, 14 CHECA 35, 15 WEST 33.
250cc GP to Jorge Lorenzo
Showing why he has been snapped up by Yamaha to ride in MotoGP next season, reigning 250cc World Champion Jorge Lorenzo put on a riding masterclass to extend his lead in this year's series to 30 points.The Spaniard took victory at Brno from pole position and was rarely in any real danger as he pulled away from race and title rival Andrea Dovizioso. The Fortuna Aprilia rider –forsaking his normal golden helmet and gloves combo this afternoon- has been a winner seven times in 2007, always from pole position.
Dovizioso had tried to stick with his nemesis over the early stages, but a slight mistake when pushing too hard enabled Lorenzo to extend the gap to over 7.5 seconds and give the Italian a lonely but comfortable ride to the line. Mika Kallio followed up his Sachsenring podium with third place in the Czech Republic, coming off a flying start onboard the KTM. Hector Barbera, Alvaro Bautista and Hiroshi Aoyama all finished close together to round off the top six, with the latter only really catching up with those ahead of him with a pair of laps left in the race.
Thomas Luthi headed the battling Honda factory pairing of Julian Simon and Shuhei Aoyama, with Roberto Locatelli completing the top ten. Alex de Angelis failed to finish in the top four for the first time this season after colliding with Kallio on lap 17, but picked up his bike to run it home in eleventh. Now 40 points behind Lorenzo in the classification, the atmosphere is heating up yet further for De Angelis' home race in two week's time.
250cc rider Taro Sekiguchi is spending the night in hospital after a nasty crash in the quarter litre warm up session. Thrown high into the air when he made impact with Marco Simoncelli's prone bike, which he was unable to see due to the dust raised just moments before, the Japanese rider came down to earth with a huge impact that fractured his pelvis and two ribs but thankfully leaves him in a non-critical condition.

---
Our British lasses and official SBK Fast Dates Superbike Calendar Kittens at Brands Hatch, (left to right) Gemma and Rhian Sugden.We shot this photo in the Ducati Paddock on Friday afternoon when Ducati personel again reconfirmed to me that Gemma would be the official Team Ducati Corse Girl on Sunday.
126,000 Enthusiast British fans jam pack Brands Hatch
for our 2009 SBK Fast Dates World Superbike Calendar Shoot (and a race)!

2007 Brands Hatch World Superbike Race
Fast Dates Calendar Shoot with Gemma and Rhian
by Jim Gianatsis
Brands Hatch, Kent,United Kingdon August 3-5th, 2007 - With still no SBK World Superbike round taking place in America for 2007, I was still excited to return to the incredible Brands Hatch, British round of the Championship this year. If you remember from our last reports, the historical Brands Hatch Raceway set in the beautiful rolling green farmland in the county of Kent, just south of London, dates back to the 1920s and has host every form of major motorsports events from FIA Formula One and World Championship Sports car rounds, to the world's premier motorcycle races. It is amazing that historic racing venues in Europe, like this one at Brands hatch, just get better with age, while in America, race tracks won't comply to the latest race car and safety standards, and end up being run down club tracks.
The World Superbike starting grid on Sunday at Brands Hatch in front of 126,000 hard core sportbike fans. The track, the facility and British sportbike fans are awesome. This one race in a small country the size of California and with 20% of our national population count, pulls more spectators than the entire 11-round AMA National Roadracing Championship held across America. Next year America will possibly get 2 World Superbike rounds and a chance to redeem itself.

The world continues to change rapidly with the Internet, and this year I found our two newest British models for the Fast Dates calendar shoot , right on www.MySpace.com where you will find them in our MySpace.com FastDates.com Top 24 Friends listing. Rhian Sugden is a Page 3 Girl, own of the sexiest and most popular pinup models in Great Britain. She's the most sexy beautiful 5'7" blond with an incredible petite size 0 body struggling to hold up the most beautiful, natural double-DD breasts.

Rhian thinks we've been a very bad boy,
and we have to agree....

Rhian's playmate for our Fast Dates calendar shoot is Gemma, another professional model who just happens to also have a university degree in journalism. Gemma told us she can always get a real job when when gets does get tired of modeling. But with a rich investment banker boyfriend in London, who also has an apartment in Monte Carlo on the French Rivera, that isn't likely to happen real soon.

And yet, back at our hotel the Hilton Dartford on Saturday night, we ran into retired World Champion Carl Fogarty in the restaurant with his manager Neil Bramwell (Neil wrote the Carl Fogarty biography), and they invited us to join them for drinks in the hotel bar where we spent the rest of the evening with them. Carl told us they were down at Brands hatch for the weekend, sort of under the radar, to follow up on contacts and meet with potential sponsors for their planned returned to World Superbike next year with the official factory MV Agusta race team. Things were still yet confirmed for a team title sponsor and the $4 million dollar budget they needed to finalize the team and hire the riders. carl and brian mention they were looking for a press officer for the team, and when I mention that Gemma had a degree in Journalism and might be looking forward a part time job on the weekend, Gemma was pretty much hired for the job on the spot.
Particularly when they found out Gemma lived in Manchester, a major British city about 3 1/2 hours north of London, since both Carl and Neil being from Manchester as well. Gemma was planning to ride home by train to Manchester on Sunday night after the races, but now she was to be driven home in style by the World Champion Fogarty and his team manager Neil.
Fast Dates Calendar Kitten and Miss Manchester, Gemma (right) shares starting grid duties at Brands on Sunday for Alstare Corona European Superstock 1000 rider Xavier Simeon who placed 2nd that race, and is currently 2nd overall in the Championship behind Matteo Baiocco (Yamaha). The grid girl on the left is another well known Fast Dates Calendar Kitten and Miss Great Britain, Nicki Lane.
It also turned out that model Rhian was from Manchester too. But she and Gemma had never met until I brought them together at the hotel on Thursday night, before our big calendar shoot out at the track on Friday after final Superbike practice. They became good friends while working together, and plan to get back in touch back home. Both girls own their own cars in Manchester, but traffic is terrible on the highway down to London, and petrol is extremely expensive at close to $8 per gallon now. An advance booked round-trip train fare from Manchester to London and back - about 250 miles - cost around $220, but it was still quicker and cheaper than driving down by car. Gemma was able to get her boyfriend drive her to our hotel on Thursday night when we first met up and checked into the rooms I had booked before dinner.
But Rhian had to take a taxi the remaining 25 miles down from London to our hotel in Dartford near the track, and that cost her dearly as well. Since Rhian was only available to work for me on Friday, after the shoot that evening we drove her to the local village train station to catch a return train to London, then a train change back to Manchester. Her traveling expenses for the Calendar shoot nearly cancelled out what she made for the day. Here in America where gas is still fairly inexpensive at $3.50 gallon and everyone continues to drive by car, and public transportation is not practical in most major urban areas, we are in for a reality check very soon.
Gemma fluffs her hair as we get ready to shoot Max Biaggi's Alstare Corona Suzuki GSXR1000 World Superbike in front of the Pit Garages at Brands Hatch. Photo by Kel Edge.
As usual, the SBK Fast Dates Calendar shoot weekend wasn't normal without a few dramas to make it even more exciting. Before even flying over to England from Los Angeles, I had been having difficulties for months trying to get the organization staff at FGSport confirm the media credentials me and the models needed to get access to the bikes and work on the starting grid for the race. I finally gave up with just 2 days left, and with a direct E-mail to FGSport president and good friend Paolo Flammini, I got an Email back from his new right hand man and another friend, new FGSport Special Projects Manager Paolo Ciabatti, the former marketing Director at Ducati Corse. All the necessary full Media and Photo Credentials with grid passes, including VIP staff paddock parking would be waiting for us at Will Call.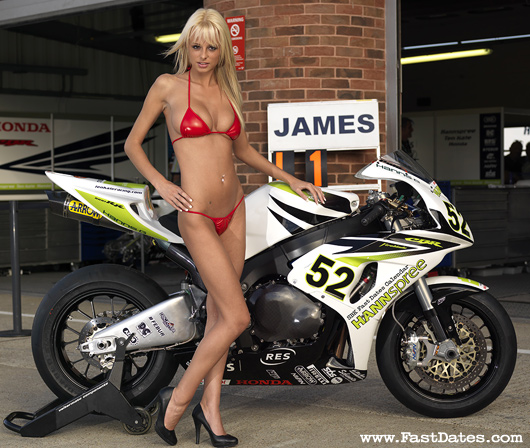 A winning combination at the Brands Hatch World Superbike weekend, Rhian with James Toselands double race winning Ten Kate SBK Fast Dates Calendar Hannspree Honda CBR1000RR! Click for a Screensaver.
Then on Friday evening after Practice on Pit Lane for our calendar shoot we had the usually deluge of team mechanics lining up their bikes in front of their pit garages for us to come over and shoot. Ducati Corse Press Manager Julian Thomas come over and told me that Troy Bayliss factory 999F07 would be ready to shoot in about 10 minutes. But with my concentration continually being diverted by shooting, directing the models and getting them to change swimsuits and come back to the bikes, other teams lining up and asking me to shoot heir bike next, I could do little more than look over to the ducati garage to see if Bayliss' bike had been pushed out of the garage for me to come over and shoot (as always), but it wasn't. About an hour goes buy and then a storming mad Ducati Press Manager comes stomping over to me an nearly takes my head off, shouting why i wasn't over to their garage an hour ago to get their bike. That I was "...keeping all (9) of the team's crew fromgoing to dinner!" waiting on me (As if all of couldn't have gone to dinner in the Paddock 200 yards away, with just one person lagged behind to help me with the bike and close up their garage when finished). So I went over to get Bayliss' bike next. The entire Ducati race team come out onto Pit Lane while I set it up to shoot, to seats behnd me on the Pit Wall to spectate as the girls did their thing, and begged me to take a team picture of all the Ducati mechanics with Troy's bike and the Calendar Kittens. Then finally, they could all go to dinner in the Ducati Hospitality Tent where the girls and I weren't invited!
Troy Bayliss' Team must not have beenlook too hungry to get to dinner, as they all waited to watch the Fast Dates Calendar shoot with Gemma and Rhian....

But the Ducati Drama didn't end there. As you may know I have been providing our Calendar Kittens to Ducati Corse for nearly 10 years, at no charge to serve as their official Ducati grid girls for Sunday's Race Day. The girls cost me about $1,000 each per day to have them there (including model fees, hotel food and lodging), but I do it because of the PR value, personal ego perhaps, and its nice to be able to base ourselves out of the Ducati Hospitality Tent for the weekend. back in May I had contact Julian Thomas again with my offer of my models for Ducati Grid girls, and Julian confirmed back by Email he would use Gemma for rider Lorenzo Lanzi. But reigning World Champion Troy Bayliss would only use his wife as his grid girl. OK, done, I booked Gemma though the Brands hatch weekend just to work for Ducati on Sunday. That's 2 days at $1,000 per day, $2,000 total for a model I didn't really need for any more calendar shoots. And, oh yes, we weren't allow to come into the Ducati Paddock Hospitality tent this year as it was "too full of sponsors". OK, I'm still glad to help Ducati, the only brand of bike I own.
So Friday morning when we first arrived at the track, I took Gemma by the Ducati Hospitality Area and media room to introduce her to Julian Thomas and Claudia, the woman who manages the Hospitality area and the grid girls to introduce her to them, and again confirm she was working the grid for them on Sunday. And they both confirmed it again.

Then Sunday morning we are out to the track paddock bright and early at 8am to hook up with Claudia and get the Ducati Grid Girl uniform for Gemma. And to our surprise there is Claudia with two of her own Ducati hired grid girls all dressed up and ready to go to work. All Claudia has to say to us is "We don't need her, we have our own girls." No explanation, no apology or thank you. Later that afternoon I walked up to Julian Thomas in the Ducati garage to ask what happen, and all he said was "We changed our mind. We can do what we want."
Knowing that Ducati hires their hospitality / grid girls weeks in advance, they could have told me on Friday morning they had changed their mind to save me the huge expense, but they didn't.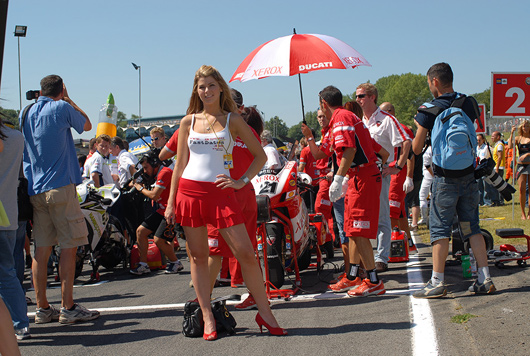 Gemma on the Brands Hatch starting line for the Superbike race without a bike of her own!

Obviously Julian's word didn't mean much. But the karma came back to bite them. Last year at Brands with our Calendar Kitten Katie Pugh by his side on the gird, Troy Bayliss carded 1st and 2nd places podium finishes in the two races on his way to clinching the World Superbike Championship. Unfortunately this year, Troy would crash out in Race One to loose any chance of reeling in on James Toseland and keep his Superbike crown for Ducati, and then returned for a disappointing 7th in Race Two. And team mate Lorenzo Lanzi with Ducati's 2 hired grid girls by his side, finished his usual mid pack in 9th and 12th behind all the the other factory riders.
On Sunday afternoon before the last race ended, I got Gemma Louise packed up in the car with Carl Fogarty and Neil Bramwell to head back home to Manchester. Then headed off myself back to the hotel before 126,000 sportbike fans clogged up the only 2 roads out of the track . The race would still be waiting for me to watch on TiVo back in Los Angels when i got home.
Why mingle with the tourists on foot in front of Buckingham Palace for the changing of the guards, when you are this close from the top of the London tour bus!

On Monday morning I left the hotel in my rental VW Golf diesel (great performance and fuel economy once you get past the stalling, starting out in 1st gear) and head up to London for my ritual 2 days of sight seeing before flying back home. Monday was spent at my favorite place, the theatre district around Leicester Square, where I visited the shops and pubs, and caught a movie and a Somerset Maughn stage play later that night.
Tuesday I really wanted to see all the famed landmark spots of london from the open top deck of a traditional London double decker tour bus.Our tour guide was really funny with the jokes, knowledgeable and very informative. I had a day-long Tour Pass which allowed me to get on and off the bus whenever I, so i jumped off at the huge London Eye ferris wheel on the edge Themes river across from Parliament. The used my pass to switch over to a riverboat tour ride up and down the Themes River past sight like London tower, Tower Bridge and the battle cruiser HMS Belfast.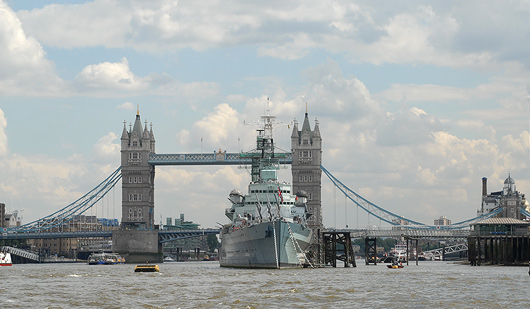 We took a tour boat ride down the Themes River through Tower Bridge and past the battle cruiser HMS Belfast.
---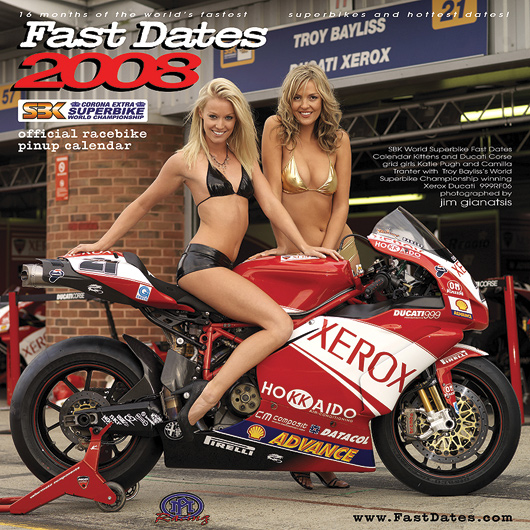 LA Calendar Bike Show Hostess and Playboy Playmate Tamara Witmer featured
The NEW 2008 Fast Dates Racebike Pinup Calendar!

World Premier July 1st 2007 - The SBK World Superbike endorsed 2008 Fast Dates Race Bike Swimsuit Pinup Calendar sponsored by Performance Machine and photographed by Jim Gianatsis features all the top factory race bikes of the SBK World and AMA National Superbike Championships together with the beautiful SBK Fast Dates World Superbike / Ducati Corse girls Katie Pugh and Camilla Tranter, along with Playboy Playmates Tamara Witmer and Athena Lundburg.
Featured are all the top factory Superbikes from Yamaha, Honda, Suzuki, Kawasaki, and Ducati including double World Champion Troy Bayliss' 2006 title winning Xerox Ducati 999F06 and Troy Corser's Suzuki GSXR1000, as well as Noriyuki Haga's Yamaha R1 and James Toseland's Ten Kate Honda CBR1000RR. You can read about all the drama and excitement that went into photographing this year's Calendar at Brands Hatch World Superbike in Fast Dates Calendar News July-August 2006.
Also featured are Biker Build Off TV Show challengers Roland Sands' "No Regrets" American V-twin powered sportbike, together with his contender on the show, 3-time LA Calendar Motorcycle Show winner Jesse Rooke's KTM V-twin retro board track racer. Plus, there's Roland Sand's incredible Kenny Roberts commissioned KR 990cc 5-cylinder 230hp MotoGP engine powered retro board track streetbike. Both bikes are feratured with FastDates.com Calendar Kitten and Playboy Playmate Tamara Witmer, currently featured on the MTV reality dating show Rock of Love.
This is a 16 month clanedar starting September 2007 so don't delay and order now. Last year's 2006 calendar sold out well before Christmas! ORDER HERE
---
AMA 2007 National Superbike Championship, Round 9 of 11

Maladin Again Tops Yoshimura Suzuki Team mate Spies at VIR
Alton, VA, August 19-20, 2007 - Yoshimura Suzuki's Mat Mladin celebrated a record 60th career AMA Superbike win after taking the victory in Saturday's AMA Superbike race at Virginia International Raceway in Alton, Virginia.Additionally, this is six-time AMA Superbike Champion Mladin's ninth win of the 2007 season and his sixth victory at the circuit.
Yoshimura Suzuki team mate and defending AMA Superbike Champion Ben Spies followed Mladin home in second place and this impressive result leaves him in command of the AMA Superbike championship points chase. Saturday's 28-lap race is the first of two AMA Superbike races in this weekend's double-header event.
Mat Mladin: "It was a good race for us today. We tried to put the pressure on right up front and then tried to eke out a tenth of a second per lap. There was definitely some slippery going out there today but the lap times weren't too bad… Hopefully we can come out and do it again tomorrow. It was only three years ago or so that I had about 30 wins and we've had a lot of wins in the last few years on the Yoshimura Suzuki GSX-R and boosted that number up. No way do I think that 60 is going to be my lat win. I'm certainly working as hard as I can to extend my career and continue to be a force in Superbike racing."
Ben Spies: "We did make a really big change to the bike before the race today. But even so, we were keeping Mat in sight; but then I made a mistake and ran off the track. At that point, I knew I was going for second so I just put my head down and tried to put in some good laps to get my guys some data that we can use for tomorrow. Hopefully we can come back strong, though when you're riding at the limit it's hard to find much more. Maybe we can make the bike better and the rider better, and improve for tomorrow."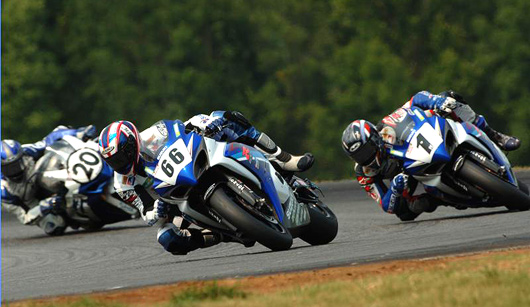 Mladin (66) out front again ahead of teammate Ben Spies (1) and Aaron Yates (20) on the team Jordan bike for a Suzuki Sweep on Sunday. Mladins double win this weekend leaves him just 6 points shy of catching Spies in the Championship with just two rounds, 3 races remaining.

Suzuki Sweeps the Top 3 on Sunday
Alton, VA, August 20, 2007 - Sunday afternoon's AMA Superbike race at Virginia International Raceway in Alton, Virginia was all about Suzuki as the manufacturer swept the podium with Yoshimura Suzuki's Mat Mladin and Ben Spies taking first and second place and Michael Jordan Motorsports Suzuki's Aaron Yates rounding out the podium in third place.
This marks the third podium sweep for Suzuki this year. Mladin's and Spies' Yoshimura Suzuki team mate Tommy Hayden carded a strong fifth-place finish.
For six-time AMA Superbike Champion Mladin, this is his 10th win of the year and his sixth-straight at Virginia. Overall, it's his 61st career AMA Superbike victory. Defending AMA Superbike Champion Spies remains in command of the championship points chase, but this victory puts Mladin just six points behind his team mate.
Mat Mladin: "The Yoshimura Suzuki GSX-R1000 - what can you say? All three spots on the podium and so many wins in a row, it's unheard of in AMA Superbike racing. I'd like to thank my guys for working hard this weekend and giving me a good motorbike to race… I'm enjoying this season more than any I've had so far, because it's such a good challenge for the race and to get the measure of Ben and, to be honest, I hope we can win the next couple in Atlanta because I really want to be able to go to Laguna Seca and winner take all, because that would just be the ultimate. Laguna's never been one of my strongest tracks, but to me it's a challenge that I'd really enjoy -- to be able to have to go there and put it on the line at Laguna Seca and win one."
Ben Spies: "I didn't get a great start and I definitely didn't get it done today, though the start didn't help matters. Obviously, second place isn't getting it done. I'm not upset because I rode 100 per cent; I rode as hard as I could. At the start, I ended up having to work my way up from sixth or seventh place and when I got into second, I tried to be as consistent as possible. But I had a few tire problems and just tried to bring home second."
Aaron Yates: "The Jordan Suzuki did a hell of a job out there today. We made some changes to the bike last night that helped the GSX-R1000 get through the turns a little easier and flick a little better. It felt good to keep Ben in sight for the whole race -- that was the first time this year I've been able to do that. It just shows you how
the Jordan Suzuki is coming along. And it's great to have Suzuki on the podium one-two-three."
American Honda's Jake Zemke kept his hold on third place in the AMA Superbike Championship despite a difficult race weekend in the broiling heat of Virginia International Raceway in Alton, Va. The track features predominantly right-hand corners, which proved abusive to even the latest Dunlop evolution tires the teams were using. Many riders suffered, including Zemke, who was slowed by a deteriorating rear tire in Saturday's 28-lap Superbike race. He finished eighth.
The American Honda team worked overnight to solve the tire grip issues and approached Sunday with renewed enthusiasm. They also switched motorcycles in an effort to lighten the strain on the rear tire. But early on it was clear the day wouldn't be without problems. An engine misfire cropped up almost immediately and Zemke had to deal with that, while in the middle of a battle with Tommy and Roger Lee Hayden, the brothers of Repsol Honda's Nicky Hayden.
As the race wore on attrition took its toll and Zemke's persistence was rewarded with a sixth place finish. It kept him third in the point standings with three races remaining.
Zemke was on his own this weekend in the absence of teammate Miguel Duhamel. Duhamel suffered serious injuries, including a lacerated liver, punctured lung, collapsed lung, and broken right ankle, in a testing accident at Road Atlanta more than a week ago. He was ruled out of this weekend's race and will almost certainly miss the penultimate round at Road Atlanta on Sept. 2.
Saturday Superbike:


1. Mat Mladin (Yoshimura Suzuki)
2. Ben Spies (Yoshimura Suzuki)
3. Jamie Hacking (Kawasaki)
4. Aaron Yates (Jordan Suzuki)
5. Roger Lee Hayden (Kawasaki)
6. Eric Bostrom (Yamaha)
7. Jason Disalvo (Yamaha)
8. Jake Zemke (Honda)
9. Tommy Hayden (Yoshimura Suzuki)
10. James Ellison (Honda)

Sunday Superbike:


1. Mat Mladin (Yoshimura Suzuki)
2. Ben Spies (Yoshimura Suzuki)
3. Aaron Yates (Jordan Suzuki)
4. Jamie Hacking (Kawasaki)
5. Tommy Hayden (Yosh Suzuki)
6. Jake Zemke (Honda)
7. Luca Scassa (MV Agusta)
8. Matt Lynn (MV Agusta)
9. Jake Holden (Jordan Suzuki)
10. Roger Lee Hayden (Kawasaki)

Championship Standings:


1. Ben Spies (Suzuki) 550
2. Mat Mladin (Suzuki) 544
3. Jake Zemke (Honda) 390
4. Tommy Hayden (Suzuki) 384
5. Aaron Yates (Suzuki) 382
6. Miguel Duhamel (Honda) 360
7. Jamie Hacking (Kawasaki) 345
8. Jason DiSalvo (Yamaha) 324
9. Eric Bostrom (Yamaha) 315
10. Roger Lee Hayden (Kaw) 293
---
Taylor Swift Goes Platinum with 1,000,000 Albums Sold!
REACHES #1 ON COUNTRY CHART, #6 ON BILLBOARD
Nashville, TN, Aug 1st, 2007 – We've been telling you about Taylor Swift here on FastDates.com for a number of months as the hottest, most beautiful new singing star in the world, and now Taylor's got the stats to prove it!
Taylor Swift's self-titled debut CD reached the #1 position atop Billboard's Country Albums chart this week, outpacing such superstars as Carrie Underwood, Toby Keith, Tim McGraw and Rascal Flatts. And has shot up from #15 last week to #6 on the BillBoard Popular Music Chart

Click to Listen & Buy It Now

With more than 34,000 CDs sold this week, Taylor is outdistancing the current releases by such mainstream acts as Avril Lavigne, Gwen Stefani, Maroon 5, Rihanna, Velvet Revolver, Daughtry, and R. Kelly. Taylor is the only country artist currently ranked in the Top 15 on Billboard's all-genre Top 200 Chart.

Taylor's continual sales escalation is extraordinary, given that her CD was released 39 weeks ago. This week Taylor Swift sold 34,586 copies, while the current CDs from Daughtry (released 35 weeks ago) and Gwen Stefani (out for 33 weeks) sold 25,029 and 14,407 units this week, respectively.
Taylor has surpassed the 20 million mark for music streams on MySpace, where she is currently ranked at #15 for the most MySpace visits for all genres of music. MySpace's current top-ranking Country artist, and the first bona-fide country star of the MySpace generation, seventeen year-old Taylor is country music's 3rd best-selling artist this year, behind only Carrie Underwood and Tim McGraw.
Taylor Swift debuted on the Billboard sales chart at #3 in October of last year, and has been one of Country's Top 10 sellers for 30 weeks. The CD was RIAA certified Gold in just 13 weeks, and is now Platinum (sales of over 1,000,000 units).
Just last month Taylor secured her place in country music history as the only female solo artist in Country music history to write or co-write every song on a Platinum selling debut.
In May she was awarded the fan-voted CMT: Country Music Television "CMT Music Award" for Breakthrough Video, and was nominated for Best New Female Vocalist by the Academy of Country Music. Taylor was named one of AOL's Best New Artists of the Year, was chosen by the Los Angeles Times as "One to Watch in 2007," and was honored as a breakthrough artist by Music Row magazine with their prestigious Critic's Pick award.
Last week Taylor wrapped a series of dates as a featured guest on Tim McGraw and Faith Hill's Soul2Soul 2007 tour, and she is currently on tour with Brad Paisley. She has also shared the stage with Rascal Flatts, George Strait and Kenny Chesney. And on July 31st we got to see her in an incredible show with leeann Rimes at the Pacific Amphitheatre.
For more information and photos of beautiful Taylor Swift check out her feature profile in our FastDates.com Chicks that Kick Ass!
---
There's more! Go to Pit Lane News NEXT PAGE

Hot Calendar Girl and Bike News! Go to: Fast Dates • Calendar Girls • Iron & Lace

Calendar Kittens, The Paddock Garage, Screensavers, Iron & Lace Garage



Many of our Calendar Kittens can also be seen at Playboy's website...


BikerKiss.com - the largest biker personals site!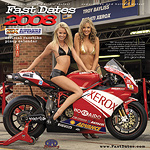 Now Available!
2008 Fast Dates Calendar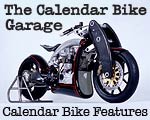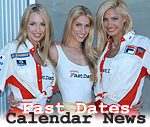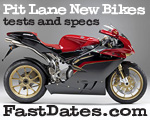 Miguel DuHamel Injured at
Road Atalnta Tire Test
Possibly Out for Remainder of 2007 AMA Superbike Season
August 8th - Miguel Duhamel American Honda's top rider was injured fairly severly after crashing at speed in the most dangerous corner on the AMA Superbike Championship calendar.
Duhamel crashed in Road Atlanta's turn 12, a daunting, downhill right-hander leading onto the front straight that has always had insufficient run-off, on the second day of a two-day test with the factory Superbike teams.
Miguel Duhamel is the all-time winningest rider in AMA road racing history He was one of many riders taking part in the two-day (August 7-8), multi-team test at the newly-repaved, 2.5-mile, 12-turn road course at Road Atlanta, in Braselton, Georgia. For most riders it was their first time seeing the new racing surface, which resulted in lap times at the test being as much as two seconds faster than during the 2006 AMA Superbike races.
On Wednesday afternoon, Duhamel was evaluating new Dunlop tires on his American Honda CBR1000RR Superbike as he approached Turn 12 (the most dangerous turn in AMA road racing – if not the world – in the opinion of some racers) at 120-130 mph. Duhamel encountered a problem early in the corner that resulted in the rear end of his motorcycle coming around and throwing the French-Canadian off.
"You ever play with those lawn darts when you were a kid? You throw them underhand real fast about three feet off the ground. That's what it looked like," said Al Ludington, Duhamel's long-time Crew Chief, who witnessed the accident. "He drilled straight in. He didn't hit the ground before he went in."
Ludington said that Duhamel's CBR led him into the miniscule run-off area and hit and displaced the Airfence, resulting in Duhamel heavily impacting hay bales and a tire wall.
"He had just bent it in," continued Ludington, "just went to the throttle and it came unglued at the back. It went right off the racetrack without bouncing. It was pretty horrific to watch."
One of the first at the scene, Ludington said Duhamel never lost consciousness and was aware of what happened and what was going on. After reporting that he could feel all of his fingers and toes, Duhamel said he was having trouble breathing and his neck hurt. He was transported by ambulance to North Georgia Medical Center, in Gainesville, Georgia, where he immediately underwent X-rays and CT scans.
"I came back to the track," said Ludington, who followed the ambulance to the hospital. "They called when they got the CT scans back. He broke a couple of ribs on the back side, which collapsed a lung. The other lung is bruised. He's got a 5 cm laceration in his liver. He's got a really badly sprained ankle, which is badly swollen. And he is sore all over, which is about what you would expect for going straight into the Turn 12 wall.
"He'll be there for a few days. They said two to three days for observation. I just had a niece that went through a lacerated liver. She was in the hospital for four or five days, and then they said no exerting yourself for three to four months. So I would be really surprised if we see Miguel back on a bike this season, but that's just me guessing."
Road Atlanta has stated it has an ambitious plan to upgrade safety, with some of the improvements done in time for this year's race and more planned for the future.
But like most roadracing tracks in America, very few are up to FIM minimum safety standards. Currently only Laguna Seca and Indianapolis Motor Speedway can comply, with Miller Motorsports Park and Barber Raceway now completing upgrades to hold World Superbike rounds in 2008.
---
Highlights from 2007
Brands Hatch World Superbike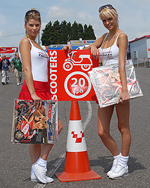 Gemma and Rhian in the paddock on Friday as we head out to the pits give the new 2008 Fast dates calednars to all the race teams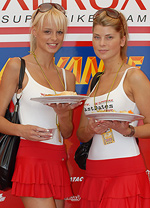 Rhian (above left) and Gemma (right) enjoy lunch and photo opportunities at the Ducati Paddock Hospitality Tent on Friday when We were still confirm to provide the Ducati grid girls to the team for Sunday's races.


Jim shoots Gemma with Max Biaggi's Alstare Corona Suzuki GSXR1000.
Last, but not least, Troy Bayliss' 8-man and 1-girl team finally get to shoot with Rhian & Gemma. Somehow they don't looked to starved. The girl crew member helps with the bike's complex computer system control and diagnostics systems. She stays plugged into the bike with a laptop computer right on the starting line before the 2-minute start warning.
Front row of the European Superstock 1000 race with Yahama's Championship points leader Matteo Baiocco on Pole next to the Alfa Row Girl. At Brands Hatch Pole Postion is on the outside going into the blind highspeed downhill Turn One.
Fast Dates Calendar Kitten Gemma (right) shares starting grid duties at Brands on Sunday for Alstare Corona European Superstock 1000 rider Xavier Simeon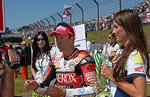 Superbike Pole Sitter at brands, Troy Bayliss hams it up for European TV which gets a one-hout prerace show before the race.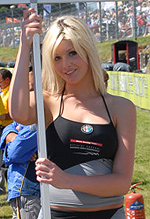 One of the beautiful Alfa Romeo Starting Row Girls.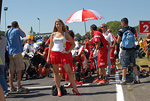 Gemma did get to stand on the starting line as a free agent SBK Fast Dates Calendar Grid Girl for the Superbike Races.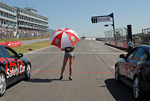 One of the beautiful long-legged Alfa Romeo Starting Row Umbrella Girls faces down the starting straight between the two Alfa 259 SBK Pace Cars.
Gemma with Nori Haga's yamaha R1 Superbike
Our own FastDates.com Pit Lane News photographer and correspondent Kel Edge, interviews race winner a Championship points leader James Toseland in the Paddock Show interview after his race win.That's Kel's mic hand you see and voice you hear in the WSB post race interviews in the edited down Speed TV race coverage seen in America.


Miss England Georgia Horsley looked royal.
Georgina gets interviewed by British Superbike racer James hayden for the 1-hour SBK prerace show not broadcast by SpeedTV in America.
Oh My God!
The 2 hottest of the Alfa Romeo Starting Line Row Umbrella girls.
Oh My God!
Just to be the mayonase in this Miss Great Britai sandwich with the two hot Alfa girls....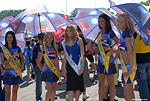 Georgina shares another photo with the the Bennetts' Grid Girls.
Bennetts is a motorcycle insurance company in Britain that has just joined World Superbike as a sponsor/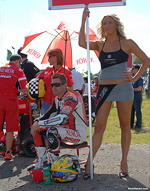 Troy Bayliss waits for the start.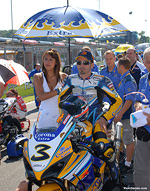 Max Biaggi.
The World Superbike starting grid on Sunday at brands hatch lines on on the front straight in front of 126,000 hard core sportbike fans. The track, the facility and British fans are awesome.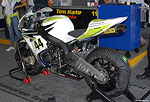 James Toselands very trick Ten Kate Honda CBR1000RR. The bike's swimgarm is made by KR Racing, the suspension is all White Power.
Toseland Signs with Yamaha in MotoGP for 2008
The most shocking news at Brands Hatch this weekend was the informal announcement by James Toseland that he will leave World Superbike next year to ride a full factory Yamaha MotoGP bike for the privateer Tech 3 Yamaha Team. In past seasons the Tech 3 team has not been a full factory effort, but it is expected that James would not have made the move to MotoGP for 2008 without full factory equipment, support and a salary comparable to what Rossi and Edwards on getting with the factory squad. And with Toseland and being relegated to a separate team, then obviously Colin Edwards will be keeping his ride at Yamaha for next year despite less than spectactular results in MotoGP this year.
Toseland's announced move to MotoGP was a shock to the Ten Kate Honda Team who certainly hoped that James would stay with them in World Superbike for another year to capitalize on their all but confirmed 2007 World Superbike title.
And the loss of Toseland to Yamaha is nothing less than another major blunder by Honda of Japan, among many since they lost Valentino Rossi 2 years ago. Honda really needs Toseland to replacestruggling American Nicky Hayden on the factory Repsol squad, but they would not offer a GP ride to the Brit because they wanted him to stay in World Superbike with Honda to promote his 2007 World Superbike title. But for James Toseland, at 28 years old with a pending 2nd World Superbike title in his pocket, it was critical to made the move to MotoGP while he still has time to adopt to the change successfully.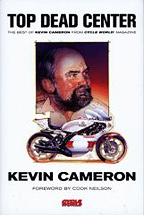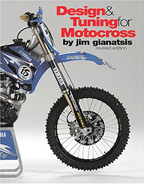 Design & Tuning
for Motocross
The ultimate book on motocross bike technology & performance
by Jim Gianatsis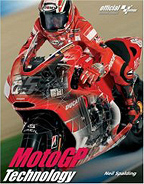 NEW! FastDates.com
Cell Phone Wallpapers!
---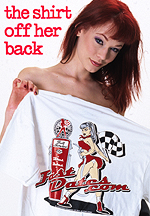 Hayden Returns to the Podium at Bruno
August 19th - This was not a classic MotoGP race by any stretch, but a crowd of 141,000 watched Casey Stoner (Ducati) record his seventh win from 12 races as John Hopkins (Suzuki) finished a distant second and Nicky Hayden (Repsol Honda RC212V) managed a fighting third place here at Brno.
With a 26-degree ambient temperature and a track at a moderate 35-degrees, the lights went out to signal the start of this 22-lap race. Stoner, from pole, immediately set about his task, cleanly leading the field into turn one.
By the end of lap one it was apparent that Stoner was unlikely to be troubled. Hopkins similarly, was edging out a gap over third-placed Hayden and by the end of lap two the leaders were turning in lap times in the low to mid 1m 58 second bracket – times the others found hard to match.
On lap five Stoner enjoyed a 1.1 second lead over Hopkins who in turn held Hayden and fourth-placed Dani Pedrosa (Repsol Honda RC212V) at bay quite comfortably. The action was all downfield as a fight for fifth place erupted between Loris Capirossi (Ducati), Valentino Rossi (Yamaha), Chris Vermeulen (Suzuki) and Randy de Puniet (Kawasaki).
On lap nine Rossi edged past Capirossi for fifth, but the former World Champion would shortly have to surrender that place to Vermeulen who had got into a rapid rhythm, carving his way past Capirossi on lap 12 and then taking Rossi on lap 14. On lap 16 Capirossi would retake Rossi for sixth.
Even de Puniet was in on the action and although he tried all he knew to get on terms with Rossi, he would remain just over half a second behind at the flag. By lap 18 the leaders were spread out along the 5.403km of Brno by these margins: Stoner by 4.7 seconds from Hopkins, who had 6.8 seconds over Hayden, who in turn bettered Dani in fourth by 2.3 seconds. It was not quite a procession – but nor was it a riveting race.
Perhaps the most significant feature of this weekend in the Czech Republic is the state of the World Championship points table with six rounds left to run. Stoner now has a 60 point lead over Rossi with 246 points to Rossi's 186. Dani Pedrosa sits third with 168, while Suzuki riders Chris Vermeulen and John Hopkins have 124 points apiece.
Nicky Hayden said: "Well I'm pretty happy with the podium and I feel like we've done a decent job this weekend. Yesterday afternoon we made quite a big change on the front forks and I liked it a lot. When I got into third position on lap two I was thinking 'now you've got to get on his back wheel' and for about three corners it was looking pretty. But then I got onto the straight, looked up and realised that really I was just dreaming. So I just kept my rhythm and I really feel like I got the best out of the bike, myself and the tyres today – I don't feel like I left much on the table. So thanks to my team because those guys did a good job."
Fourth-placed Dani Pedrosa said: "Fourth position is the maximum we could get today and at least I've closed the gap a little to second in the Championship. Still, I'm frustrated after the race today because I didn't feel like we could use all the potential of our package. For the first few laps I couldn't get enough heat into the rear tyre. This meant I wasn't able to maintain my position. Then after four or five laps I could feel more heat in the tyre, but by this time the leaders had gone, and Nicky too. We have to try to keep the third place in the championship and at the same time try to go forward to get second.
---
Factory Teams Complete 2 days of Testing at Bruno after MotoGP Winner
Stoner inside lap Record, hald scond quicker than everyne else

Aug 20-21st - On the final day of post-race testing at Brno, Ducati Marlboro Team Casey Stoner and Loris Capirossi worked on machine set-up and tested some new Bridgestone race tyres.
Tuesday morning the track was damp after yesterday's downpour but it improved during the day, allowing both riders to successfully complete the work planned for the tests.
Stoner lapped consistently at a very good pace, then bettered his own fastest race lap and broke the lap record which had been unbeaten on Sunday. Capirossi, among other things, tested two new Bridgestone 16-inch rears that he found promising but in need of further development.
Casey Stoner, 27 laps, fastest lap: 1m 57.924s (race tyres)
"I'm pretty happy. Today we made a further step forward on bike set-up, similar to what we did in the post-race tests at Catalunya. I'm also happy with the new fairing because conditions were a bit windy this afternoon but I could still lap fast at a very good rhythm. I think these two days have been really positive for us".
Valentino Rossi and Colin Edwards rounded off two days of intensive work at Brno today, following Sunday's Czech Grand Prix. After heavy rain yesterday evening the track was still damp this morning, which delayed the start of action, but conditions improved throughout the day and both Rossi and Edwards managed to complete their planned testing programmes.
Once again both riders concentrated mainly on tyre testing, trying a variety of new material with Michelin. Rossi also put in laps with the new-specification engine, which he tried for the first time yesterday. The team now have a week's break before they head to Misano for the San Marino Grand Prix.
Rizla Suzuki MotoGP has concluded its two-day test at Brno in the Czech Republic with promising results, following on from the team's excellent GP performance. John Hopkins and Chris Vermeulen were both eager to get back on track after their impressive displays in last Sunday's race, which saw them finish second and fifth respectively, and the pair got down to a lot of hard work to improve their machines in readiness for the rest of the season.
Hopkins and Vermeulen were joined at the test by Team Test Rider Nobuatsu Aoki, as the three of them put the 800cc Suzuki GSV-R through numerous tests and evaluations of engine specifications, suspension settings and a thorough and comprehensive Bridgestone tyre test in preparation for improving performances at specific circuits later on in the season.
The team were very pleased with the test in general and has acquired valuable data that will be evaluated in Japan before the next race at Misano in Italy on Sunday 2nd September.
DEVELOPMENT CONTINUES FOR KAWASAKI AT BRNO
The Kawasaki Racing Team today concluded a successful two-day test at the Brno circuit, with Randy de Puniet and Anthony West both completing an extensive assessment programme despite rain bringing a premature end to testing yesterday.
The focus of the two-day test was on evaluating the latest evolution of the Ninja ZX-RR engine, designed to improve the top speed of Kawasaki's ever more competitive MotoGP machine without losing any of the driveability that is so important to fast lap times in the new 800cc era.
The feedback from the two riders was that Kawasaki's engineers in Japan had achieved their aim, and both de Puniet and West have opted to run the latest specification motor in the next race at Misano.
The two Kawasaki pilots also evaluated a number or chassis component combinations on their Ninja ZX-RR machines, as they worked to improve the overall balance of the bike. The data collected during the two-day test will be utilised by the race department in Japan, where the next generation chassis is already in development.
Bridgestone will also benefit from the test at Brno, with the Japanese tyre manufacturer securing important development data from an extensive tyre testing programme completed by de Puniet and West over the course of the two days.
The Kawasaki Racing Team will return to action in just 10 days time at the revised Misano circuit in San Marino, which is a new track for all the MotoGP teams.

DePuniet Best Time - 1'58.5 (123 Laps) "It's been hard work both days, because we've had a lot of different things to test, but it's been worthwhile. The latest engine specification is definitely an improvement, as is the revised clutch that we also tested. From the tyre test we managed to find a combination of front and rear race tyres that allowed me to improve upon my best race lap time from Sunday, so that is also a positive point. Some of the improvements we've made today won't give us such a big advantage for the next race, because Misano is quite a tight track from what I've seen of it, but I think we'll definitely see an improvement in performance when we get to the fast circuits like Motegi and Sepang. So, overall it's been a positive two days."
Test Times
1. Casey Stoner (AUS) Ducati Marlboro Team
1'57.92
2. John Hopkins (USA) Rizla Suzuki MotoGP
1'58.40
3. Randy de Puniet (FRA) Kawasaki Racing Team
1'58.49
4. Nicky Hayden (USA) Repsol Honda Team
1'58.70
5. Chris Vermeulen (AUS) Rizla Suzuki MotoGP
1'58.74
6. Alex Barros (BRA) Pramac d'Antin
1'58.84
7. Colin Edwards (USA) Fiat Yamaha Team
1'58.86
8. Carlos Checa (SPA) Honda LCR
1'59.13
9. Dani Pedrosa (SPA) Repsol Honda Team
1'59.23
10. Anthony West (AUS) Kawasaki
1'59.28
11. Valentino Rossi (ITA) Fiat Yamaha Team
1'59.35
12. Loris Capirossi (ITA) Ducati Marlboro Team
1'59.62
13. Sylvain Guintoli (FRA) Dunlop Yamaha Tech 3
2'0.80
14. Makoto Tamada (JPN) Dunlop Yamaha Tech 3
2'1.92

Brno: Lap Record
L. Capirossi (Ducati) 2006, 1'58.157
Brno: Best Lap
V. Rossi (Yamaha) 2006, 1'56.191