James Toseland celebrates his double win at his home track at Brands Hatch by waving the British flag high.

SBK World Superbike Championship, Brands Hatch UK, Round 10 of 13

Toseland Kicks Out His World Superbike Championship Lead
with an historic Hrands Hatch Double Win
Brands Hatch, England, July 3-5, 2007 -James Toseland (Hannspree Ten Kate Honda CBR1000RR) increased his championship lead to 66 points after scoring his first ever double win in World Superbike, giving himself a more than useful cushion over his main rivals as the SBK season enters its traditional summer break.
Toseland lead for the majority of each 25-lap race, and scored his wins over Troy Corser in race one, and Noriyuki Haga in race two. With his rivals all finding at least one sticky patch at Brands, Toseland now has 355 points, Haga 289, Max Biaggi 286 and Troy Bayliss 258.
Brands Hatch reported 126,000 spectators for Sunday's race and we believe them! The Brands Hatch track is located about 25 miles south of London and dates back to the 1920's with a glowing history of bike and car racing. It is one of the most beautiful tracks in the world running up and down hills through a forest and farms. Attending a world cahmpionship race at a major european track is a must do in your lifetime for any American race fan, and Brands should be at the top of your list. CLICK for a bigger picture.

Bayliss Fends off Home Attack by Toseland to take Brands Superpole
Saturday Superpole: Troy Bayliss (Ducati Xerox) just managed to edge out James Toseland (Honda) from the top slot to take the seventeenth Superpole of his career in the World Superbike Championship round at Brands Hatch. The gap between local hero Toseland and the Australian was a whisker, just 0.026 seconds, but it was enough to put Bayliss on Superpole for the fifth time this year. Team-mate Lorenzo Lanzi, a positive fifth in both the weekend's qualifying sessions, made a mistake in Superpole and will start tomorrow's two races from eighth on the grid.
"I had to work hard on my Superpole lap but it all went well" declared Troy. "I thought I could beat James's time because I'd done a 26.2 on the same tyre at the end of the Superpole warm-up, but I was surprised that I wasn't as fast as last year, a couple of tenths off. Tomorrow's going to see some great racing, and I'm confident for a couple of good races because I've been up front all weekend and the bike's going well around here. But there are a lot of guys going fast and James is in a great position in his home round, but we'll give it a nudge and see how it goes".
James Toseland fought off Yamaha's Haga (41) and Corser (11) in both races for the win and a secrure grasp of the Championship. Troy Bayliss (21) saw his title hopes dashed with a crash out in Race One, and a disappointing 7th in Race Two.
RACE ONE
An aggressive Toseland pushed hard on early race one leader and pole position winner Troy Bayliss, passing him on lap three and running from then on to his first ever Brands Hatch win, and he was never really threatened by second place man Troy Corser. Toseland led from lap three onwards, as the pole man and early race leader Troy Bayliss (Ducati Xerox) found disaster awaiting on lap five when he fell at Druids, after being passed by Toseland and Noriyuki Haga (Yamaha Motor Italia). The reigning champ just washed out his front end under braking into the highspeed downhill corner, and with the spill went any chsnce of retaining his title afor 2007.
The Japanese was to run on himself at Surtees and finish seventh, not his expected second or first, leaving the consistently fast Troy Corser (Yamaha Motor Italia) 1.5 seconds down on Toseland at the flag, with astonishingly effective Brands debutant Max Biaggi (Alstare Suzuki Corona Extra) third. Max's team-mate Yukio Kagayama, who was also on for a podium at one stage, fell at high speed at Clearways, and was lucky to escape serious injury.
SUPERBIKE Race 1: (Laps 25 = 92,550 Km)
Pos / Rider / Nat. / Team / Time / Gap
1 / J. TOSELAND / GBR / Hannspree Ten Kate Honda / 36'35.120 /
2 / T. CORSER / AUS / Yamaha Motor Italia / 36'36.674 / 1.554
3 / M.BIAGGI / ITA / Alstare Suzuki Corona Extra / 36'38.037 / 2.917
4 / R. XAUS / ESP / Team Sterilgarda / 36'45.322 / 10.202
5 / M.FABRIZIO / ITA / D.F.X. Corse / 36'49.253 / 14.133
6 / R. ROLFO / ITA / Hannspree Ten Kate Honda / 36'49.443 / 14.323
7 / N.HAGA / JPN / Yamaha Motor Italia / 36'54.500 / 19.38
8 / R. LACONI / FRA / Kawasaki PSG-1 Corse / 36'57.796 / 22.676
9 / L. LANZI / ITA / Ducati Xerox Team / 36'59.379 / 24.259
10 / M.NEUKIRCHNER / GER / Suzuki Germany / 36'59.543 / 24.423
11 / S. MARTIN / AUS / Yamaha YZF / 37'08.485 / 33.365
12 / F. NIETO / ESP / Kawasaki PSG-1 Corse / 37'08.493 / 33.373
13 / S. NAKATOMI / JPN / Yamaha YZF / 37'08.668 / 33.548
14 / J. SMRZ / CZE / Team Caracchi Ducati SC / 37'23.403 / 48.283
15 / M.NUTT / GBR / Nuttravel.com / 37'39.775 / 1'04.655
Fastest Lap 3° Noriyuki Haga 1'26.590 153,912 Km/h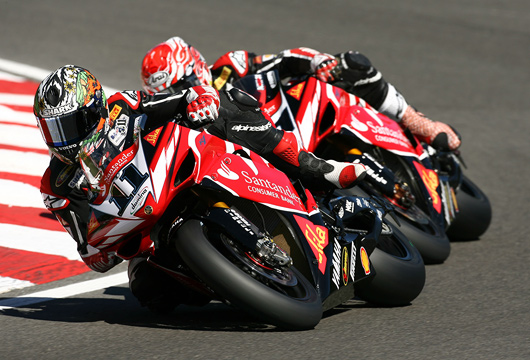 Both races were a dog fight for sencond place between the Italian Yamaha teammates Corser (11) and Haga (41). For Corser it was his best race weekend of the year with two podium finishes.
RACE TWO
Toseland had to wait for more time to get to the front in race two, pursued by Haga and Corser, but when he did get into clear air he made the best of it and took a triumphant win, by 1.6 seconds. Haga scored second for his only podium of the day, Corser secured his second Brands podium after finishing a close third. In fourth place, eight seconds down on Toseland, Michel Fabrizio (DFX Corse Honda) was impressive again, holding off Kagayama. Biaggi made a jump start and was penalised with a ride-through penalty which saw him restart well down but recover to take eighth in race two.
Ruben Xaus (Sterilgarda Ducati) was the top scoring twin-cylinder rider in each race at Brands, running out fourth and sixth, while the highest place for Ducati's Bayliss was a disappointing seventh in race two. Lorenzo Lanzi (Ducati Xerox) was only 9th and 12th. For Roby Rolfo (Hannspree Ten Kate Honda) a sixth an 11th place were poor rewards for a strong push, with Max Neukirchner (Suzuki Germany) tenth on two occasions.
Michel Fabrizio Michel Fabrizio (DFX Corse Honda CBR1000RR) was the next best Honda rider on show with a fifth and then an even more impressive fourth, pushing his points total to 109 and placing 11th overall. He had the better of Roberto Rolfo (Hannspree Ten Kate Honda CBR1000RR) on the very last lap of race one to score fifth. Rolfo found problems in race two, and finished only 11th. He is now eighth overall, on 146 points.
Regis Laconi (PSG-1 Kawasaki Corse) and Fonsi Nieto (PSG-1 Kawasaki Corse) each scored points at Brands, with Laconi the more effective, with an eighth and ninth place finish. Nieto, who had to recover from a crash in qualifying, was only 12th and 13th, at a circuit he is not particularly keen on.
For the majority of the pure private riders, Brands held few rewards, but notable rides came from Steve Martin (Yamaha YZF) in race one, as he scored 11th in his comeback event, but he used a different spec machine in race two and took a 16th place. Karl Muggeridge (Alto Evolution Honda) ran out of fuel in race one and struggled with a poor front tyre option in race two, finishing 14th. Jakub Smrz (Ducati Caracchi) was 14th in race one, as wild card Brit Marty Nutt (Nuttravel.com) took a point for 15th in race one.
Karl Muggeridge (Alto Evolution Honda CBR1000RR) could not shake off his recent misfortunes by posting a DNF when his machine ran out of fuel and then recording a lowly 14th in race two, experiencing front tyre issues and handing problems over the bumps. He is now 17th overall, with 35 points. Luca Morelli (DFX Corse Honda CBR1000RR) was 17th and 18th, and out of the points at Brands, which he has never raced at before.
Toseland had started the day by singing and playing the British National anthem to the crowd on the piano, and gave the substantial home attendance much to cheer about after his assured first win. He doubled the dose a few hours later, after winning a personal duel with Haga, with his best ever weekend of SBK work behind him. Honda now enjoys a 26-point advantage in the Manufacturers' Championship, with three rounds remaining.
James was understandably ecstatic at his best ever raceday in SBK, especially as it had taken him so long to score two wins in the same day, and he had come so close to making it a perfect weekend, only missing out on a Superpole win on Saturday by 0.028 seconds. He now has eight 2007 SBK season race wins and 16 in total.
"I've waited a long time for this moment and I can't quite believe I have finally done it," said Toseland. "It's taken me seven years, but to get the Superbike double win at Brands Hatch was well worth the wait. The crowd here today have been absolutely amazing and I can't thank them enough for their support. On top of that, I dedicate the wins to my team, my family and my friends."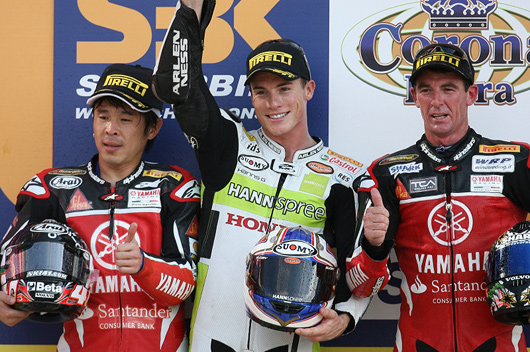 SUPERBIKE Race 2: (Laps 25 = 92,550 Km)
1 / J. TOSELAND / GBR / Hannspree Ten Kate Honda / 36'34.177 /
2 / N.HAGA / JPN / Yamaha Motor Italia / 36'35.863 / 1.686
3 / T. CORSER / AUS / Yamaha Motor Italia / 36'35.937 / 1.76
4 / M.FABRIZIO / ITA / D.F.X. Corse / 36'42.633 / 8.456
5 / Y. KAGAYAMA / JPN / Alstare Suzuki Corona Extra / 36'43.165 / 8.988
6 / R. XAUS / ESP / Team Sterilgarda / 36'43.647 / 9.47
7 / T. BAYLISS / AUS / Ducati Xerox Team / 36'52.490 / 18.313
8 / M.BIAGGI / ITA / Alstare Suzuki Corona Extra / 36'53.293 / 19.116
9 / R. LACONI / FRA / Kawasaki PSG-1 Corse / 36'54.678 / 20.501
10 / M.NEUKIRCHNER / GER / Suzuki Germany / 36'54.763 / 20.586
11 / R. ROLFO / ITA / Hannspree Ten Kate Honda / 36'55.985 / 21.808
12 / L. LANZI / ITA / Ducati Xerox Team / 36'59.060 / 24.883
13 / F. NIETO / ESP / Kawasaki PSG-1 Corse / 37'06.165 / 31.988
14 / K. MUGGERIDGE / AUS / Alto Evolution Honda / 37'07.430 / 33.253
15 / S. NAKATOMI / JPN / Yamaha YZF / 37'11.045 / 36.868
Fastest Lap 2° James Toseland 1'26.689 153,736 Km/h
Lap record: 2006 J. Toseland 1'26.351 154,340 Km/h
Best Lap: 2006 T. Bayliss 1'25.449 155,970 Km/h
Riders Championship Standings:
1 TOSELAND 355, 2 BIAGGI 289, 3 HAGA 286, 4 BAYLISS 258, 5 CORSER 227,
6 XAUS 163,7 LANZI 161, 8 ROLFO 146, 9 NEUKIRCHNER 123, 10 KAGAYAMA 116, 11 FABRIZIO 109, 12 LACONI 98, 13 NIETO 65, 14 SMRZ 58, 15 NAKATOMI 41.
Kenan Sofuoglu Clinches 600cc Supersport
Championship for Ten Kate Honda with 3 races to Spare!
Kenan Sofuoglu (Hannspree Ten Kate Honda CBR600RR) finished second in the Brands Hatch Supersport race and in doing so he scored his first and Honda's sixth Riders' Championship. All six have come from the Ten Kate Honda team, the first with Fabien Foret in 2002, then Chris Vermeulen (2003), Karl Muggeridge (2004) and Sebastien Charpentier (2005 and 2006). The Prime Minister of Turkey called Sofuoglu to congratulate him personally at his success, shortly after the culmination of the race.
Second in qualifying, Sofuoglu chose to leave eventual winner Broc Parkes to finally capitalize on his lead after the messy early laps were completed, and concentrate his own efforts on scoring enough points to take him unassailably clear of Fabien Foret in the championship fight.

Sofuoglu now has an advantage of 80 points, with only a maximum of 75 left to be gained by any single rider. He is on a total of 206, with Foret on 126. In the Manufacturers' Championship Honda leads by 56 points with races still to be completed at Eurospeedway Lausitz, Vallelunga and Magny-Cours.

Despite having to start at the every back of the grid after a late machine change, Sebastien Charpentier (Hannspree Ten Kate Honda CBR600RR) worked his way back to 15th, but was excluded for not entering Parc Ferme on his return to pitlane at the end of the 23 lap race. Charpentier had scored his 21st pole position success in qualifying, and was originally set to start from the first place on the grid. He is now 13th overall, with 37 points.
Katsuaki Fujiwara (Althea Honda Team CBR600RR) was third in qualifying and was looking for a podium in a warring four-rider group until his machine stopped on lap 17. He is, however, still third overall in the championship standings, with a total of 87 points. Lorenzo Alfonsi (Althea Honda Team CBR600RR) came good in a race for which he qualified inside the top ten, and he made the most of his top ten finish by securing his season high of seventh place, moving to tenth position overall, on 45 points.
Sofuoglu was overcome with the magnitude of the day he sealed the title, especially as his ambition was achieved so early in his amazing championship year. "I cannot explain what I am feeling," said the Turkish rider. "To win the championship in August is such an amazing feeling and I don't think anyone has ever done this before. I have to thank the team because without them this would not have been possible. The race was actually pretty difficult, particularly in the last laps."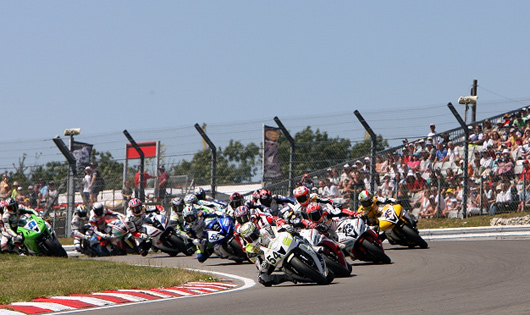 SUPERSPORT RACE: (Laps 23 = 85,146 Km)
Pos /Rider /Nat. /Team / Time /Gap
1 / B. PARKES / AUS / Yamaha World SSP Racing / 34'34.688 /
2 / K. SOFUOGLU / TUR / Hannspree Ten Kate Honda / 34'38.346 / 3.658
3 / M.ROCCOLI / ITA / Yamaha Lorenzini by Leoni / 34'40.244 / 5.556
4 / R.HARMS / DEN / Stiggy Motorsport Honda / 34'40.261 / 5.573
5 / T. HILL / GBR / Yamaha World SSP Racing / 34'41.194 / 6.506
6 / F. FORET / FRA / Team Gil Motor Sport / 34'44.801 / 10.113
7 / L. ALFONSI / ITA / Althea Honda Team / 34'45.102 / 10.414
8 / B. VENEMAN / NED / Pioneer Hoegee Suzuki Racing / 34'48.924 / 14.236
9 / P. RIBA / ESP / Team Gil Motor Sport / 34'50.666 / 15.978
10 / M.LAGRIVE / FRA / Intermoto Czech / 34'53.112 / 18.424
11 / G.VIZZIELLO / ITA / RG Team / 34'59.771 / 25.083
12 / J. LASCORZ / ESP / Glaner Motocard.com / 34'59.842 / 25.154
13 / S. GIMBERT / FRA / Yamaha - GMT 94 / 35'00.130 / 25.442
14 / G.LEBLANC / FRA / Vazy Racing Team / 35'03.645 / 28.957
15 / M.SANCHINI / ITA / Intermoto Czech / 35'11.245 / 36.557
Fastest Lap 4° Broc Parkes 1'29.021 149,708 Km/h
Lap record: 2006 K. Curtain 1'29.074 149,620 Km/h
Best Lap: 2005 S. Charpentier 1'28.376 150,800 Km/h
Riders Championship Standings:
1 SOFUOGLU 206, 2 FORET 126, 3 FUJIWARA 87, 4 HARMS 83, 5 PARKES 75,
6 ROCCOLI 75, 7 WEST 66, 8 VENEMAN 64, 9 JONES 45, 10 ALFONSI 45,
11 NANNELLI 44, 12 PITT 40, 13 CHARPENTIER 37, 14 RIBA 37, 15 SALOM 34.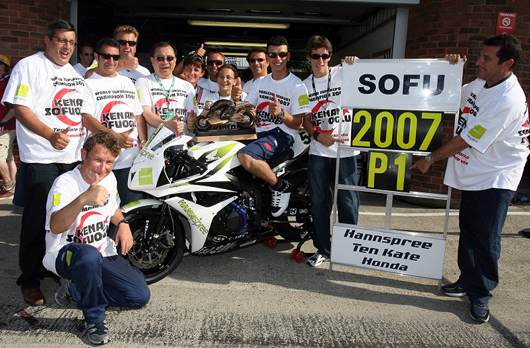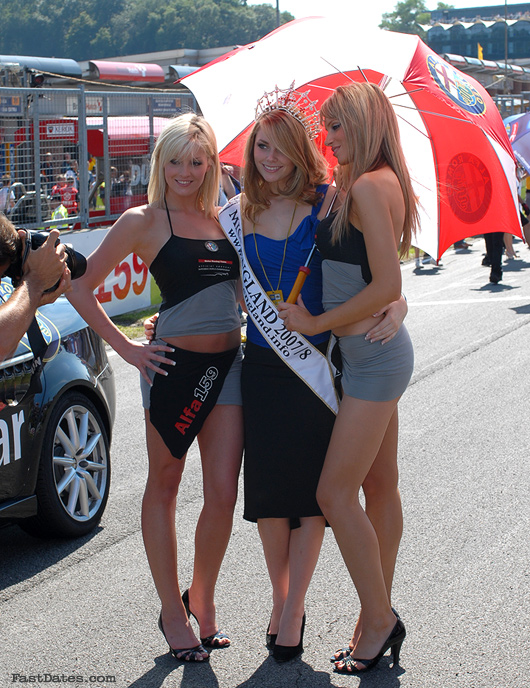 Oh to spread the mayonase in this delightful sandwich... Ah yes! Where else but in the fellowship of motorsports can former deadly adversaries in World War II, Italy and England, now unite in friendship! The new Miss England Gerogina Horsley was crusing the pits and starting grid for every photo op she could find. Here she cuddles up with just two of the six beautiful grid girls provided by Alfa Romeo along with the track pace cars. Might Alfa might step in as one of the Championship' s new title sponsors beginning in 2008?
---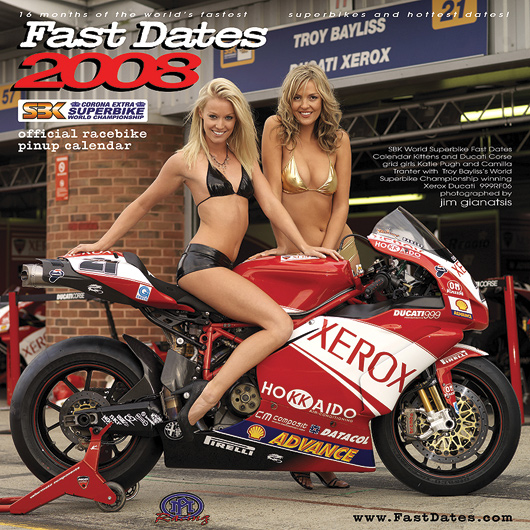 LA Calendar Bike Show Hostess and Playboy Playmate Tamara Witmer featured
The NEW 2008 Fast Dates Racebike Pinup Calendar!

World Premier July 1st 2007 - The SBK World Superbike endorsed 2008 Fast Dates Race Bike Swimsuit Pinup Calendar sponsored by Performance Machine and photographed by Jim Gianatsis features all the top factory race bikes of the SBK World and AMA National Superbike Championships together with the beautiful SBK Fast Dates World Superbike / Ducati Corse girls Katie Pugh and Camilla Tranter, along with Playboy Playmates Tamara Witmer and Athena Lundburg.
Featured are all the top factory Superbikes from Yamaha, Honda, Suzuki, Kawasaki, and Ducati including double World Champion Troy Bayliss' 2006 title winning Xerox Ducati 999F06 and Troy Corser's Suzuki GSXR1000, as well as Noriyuki Haga's Yamaha R1 and James Toseland's Ten Kate Honda CBR1000RR. You can read about all the drama and excitement that went into photographing this year's Calendar at Brands Hatch World Superbike in Fast Dates Calendar News July-August 2006.
Also featured are Biker Build Off TV Show challengers Roland Sands' "No Regrets" American V-twin powered sportbike, together with his contender on the show, 3-time LA Calendar Motorcycle Show winner Jesse Rooke's KTM V-twin retro board track racer. Plus, there's Roland Sand's incredible Kenny Roberts commissioned KR 990cc 5-cylinder 230hp MotoGP engine powered retro board track streetbike. Both bikes are feratured with FastDates.com Calendar Kitten and Playboy Playmate Tamara Witmer, currently featured on the MTV reality dating show Rock of Love.
This is a 16 month clanedar starting September 2007 so don't delay and order now. Last year's 2006 calendar sold out well before Christmas! ORDER HERE
---
AMA 2007 National Superbike Championship, Round 8 of 11

Maladin Tops Yoshimura Suzuki Team mate Spies Both rounds at Mid-Ohio
Lexington, OH, August 6, 2007 - Yoshimura Suzuki's Mat Mladin overcame inclement weather and an all-day rain delay to win Sunday's AMA Superbike race and therefore sweep both AMA Superbike races of the weekend at Mid-Ohio Sports Car Course in Lexington, Ohio.
This is the second Mid-Ohio win for six-time AMA Superbike Champion Mladin and it's his eighth win at the Lexington circuit. Additionally, this win is Mladin's eighth of the 2007 season and his 59th career AMA Superbike victory.
Team mate and defending AMA Superbike Champion Ben Spies followed Mladin home in second place in both Saturday's and Sunday's races. This result means that Spies retains command of the AMA Superbike points chase. Yoshimura Suzuki team mate Tommy Hayden rounded out the weekend with two strong top-10 finishes by coming in ninth in both events.
American Honda's Miguel Duhamel scored his sixth podium of the season in Saturday's red flag-interrupted AMA Superbike race at the Mid-Ohio Sports Car Course. Duhamel followed it up with a sixth in Sunday's rain-delayed race, one spot behind teammate Jake Zemke. Zemke ran third in the early going on Sunday and battled to the end, but was slowed by clutch problems. On Saturday, Zemke fought front-end chatter to an eighth place finish.
Duhamel was in fourth place when Saturday's race was red-flagged on the 14th of 28 laps. Scoring reverted to the end of the 12th lap, the last one the entire field completed, and the race was shortened by two laps, as per new rules instituted at this race.
Duhamel was quickly in the mix, soon fronting a thrilling battle for third among five riders, which included Aaron Yates, the Suzuki rider who narrowly denied Duhamel a podium at the previous race in Laguna Seca. Yates repeatedly probed Duhamel in turn one, but Duhamel wasn't to be denied. And on a track where he's won numerous Superbike, Supersport, and Formula Xtreme races, he added to his rostrum count with a fighting third.
A spring change by his team in the interval between the two legs made the difference. "We made progress. We went faster," Duhamel said. "Obviously, we need to go quite a bit faster tomorrow to at least be a little bit closer, and hopefully try to win one of these things, because that's really what we'd like to do."
The gap to Yates was .027 seconds, with third through seventh covered by less than a second.Just behind that pack was American Honda's Jake Zemke. Zemke had front chatter problems in both legs, though the front end was slightly better in the second leg. The team was able to alleviate some of the front-end chatter on Sunday, only to run into clutch issues.
Sunday's race was delayed until about a 7:15 p.m. start while the track was dried from morning and afternoon showers. Mid-Ohio is one of several tracks where wet racing is prohibited for safety reasons.
Mat Mladin: "It was a good race even though the track was a little sketchy after the rain. If I had to retire tomorrow, then I'd be a happy person by being able to win races and do what I've done. So I'm out there enjoying myself and racing a kid who's got a bright future ahead of him. To be able to do that, that's pretty good."
Ben Spies: "I gave it my all today but we just didn't have what it took. After Mat got past me, we tried to rebound and be there but we just didn't have it. It's going to be tough to get it turned around but we had pretty good speed today. We made a mistake that was my fault, but the bottom line is that we're not getting it done right now. But VIR is coming up and I've had some good speed there in the past. We've still got the points lead, though it's not as big as we'd like it to be. If we're going to win the title we have to win a couple races."
Miguel Duhamel, 3rd, 6th "We just try to do the best that we can out there. Aaron (Yates) showed me a wheel. I thought maybe it was Eric (Bostrom), but coming out of (turn) one, Aaron showed me a wheel a little bit. Then I thought, "Okay, it's Aaron." So I just rode as hard as I could. I had a good pace. I did some low 25's; for us, it's okay. I was able to hold him off. At the end of the last lap, I just made sure that I covered all my X's and my O's and brought the bike home. We had a great race at Laguna Seca. For sure I was thinking a little bit about that, going, "Well, this would be a fair trade." I'm happy I was able to bring it home. The guys did a lot of work. I tipped it over twice in the Keyhole. No big damage to the bike. A little bit too me, but not too bad. They did a lot of work, so my point is I'm happy I brought it on podium for them for this weekend."
"It was almost a comedy of errors for me (on Sunday) and I take full blame for our poor result today. The bike was good, the CBR1000RR was awesome. I just got a little bit spun out when I went out on the warm-up up lap. I felt a vibration in the brakes and forgot we had new brakes. When we have hot brake pads and discs that are cold and it vibrated a bit and it threw me off – to the point where I forgot to turn the traction control off for the start and that's why my start was very average. I had to get that out of my head with the brakes and after that it was just a comedy of errors, braking too hard, getting off the track. Then the lapped riders totally went against me."
Saturday Superbike:


1. Mat Mladin (Suzuki)
2. Ben Spies (Suzuki)
3. Miguel Duhamel (Honda)
4. Aaron Yates (Suzuki)
5. Roger Lee Hayden (Kawasaki)
6. Eric Bostrom (Yamaha)
7. Jason DiSalvo (Yamaha)
8. Jake Zemke (Honda)
9. Tommy Hayden (Suzuki)
10. James Ellison (Honda)

Sunday Superbike:


1. Mat Mladin (Suzuki)
2. Ben Spies (Suzuki)
3. Jamie Hacking (Kawasaki)
4. Aaron Yates (Suzuki)
5. Jake Zemke (Honda)
6. Miguel Duhamel (Honda)
7. Eric Bostrom (Yamaha)
8. Roger Lee Hayden (Kawasaki)
9. Tommy Hayden (Suzuki)
10. Matt Lynn (MV Agusta)

Championship Standings:


1. Ben Spies (Suzuki) 486
2. Mat Mladin (Suzuki) 459
3. Miguel Duhamel (Honda) 360
4. Jake Zemke (Honda) 342
5. Tommy Hayden (Suzuki) 336
6. Aaron Yates (Suzuki) 326
7. Jason DiSalvo (Yamaha) 300
8. Jamie Hacking (Kawasaki) 289
9. Eric Bostrom (Yamaha) 274
10. James Ellison (Honda) 256
---
Taylor Swift Goes Platinum with 1,000,000 Albums Sold!
REACHES #1 ON COUNTRY CHART, #6 ON BILLBOARD

Nashville, TN, Aug 1st, 2007 – We've been telling you about Taylor Swift here on FastDates.com for a number of months as the hottest, most beautiful new singing star in the world, and now Taylor's got the stats to prove it!
Taylor Swift's self-titled debut CD reached the #1 position atop Billboard's Country Albums chart this week, outpacing such superstars as Carrie Underwood, Toby Keith, Tim McGraw and Rascal Flatts. And has shot up from #15 last week to #6 on the BillBoard Popular Music Chart

Click to Listen & Buy It Now

With more than 34,000 CDs sold this week, Taylor is outdistancing the current releases by such mainstream acts as Avril Lavigne, Gwen Stefani, Maroon 5, Rihanna, Velvet Revolver, Daughtry, and R. Kelly. Taylor is the only country artist currently ranked in the Top 15 on Billboard's all-genre Top 200 Chart.

Taylor's continual sales escalation is extraordinary, given that her CD was released 39 weeks ago. This week Taylor Swift sold 34,586 copies, while the current CDs from Daughtry (released 35 weeks ago) and Gwen Stefani (out for 33 weeks) sold 25,029 and 14,407 units this week, respectively.
Taylor has surpassed the 20 million mark for music streams on MySpace, where she is currently ranked at #15 for the most MySpace visits for all genres of music. MySpace's current top-ranking Country artist, and the first bona-fide country star of the MySpace generation, seventeen year-old Taylor is country music's 3rd best-selling artist this year, behind only Carrie Underwood and Tim McGraw.
Taylor Swift debuted on the Billboard sales chart at #3 in October of last year, and has been one of Country's Top 10 sellers for 30 weeks. The CD was RIAA certified Gold in just 13 weeks, and is now Platinum (sales of over 1,000,000 units).
Just last month Taylor secured her place in country music history as the only female solo artist in Country music history to write or co-write every song on a Platinum selling debut.
In May she was awarded the fan-voted CMT: Country Music Television "CMT Music Award" for Breakthrough Video, and was nominated for Best New Female Vocalist by the Academy of Country Music. Taylor was named one of AOL's Best New Artists of the Year, was chosen by the Los Angeles Times as "One to Watch in 2007," and was honored as a breakthrough artist by Music Row magazine with their prestigious Critic's Pick award.
Last week Taylor wrapped a series of dates as a featured guest on Tim McGraw and Faith Hill's Soul2Soul 2007 tour, and she is currently on tour with Brad Paisley. She has also shared the stage with Rascal Flatts, George Strait and Kenny Chesney. And on July 31st we got to see her in an incredible show with leeann Rimes at the Pacific Amphitheatre.
For more information and photos of beautiful Taylor Swift check out her feature profile in our FastDates.com Chicks that Kick Ass!
---
There's more! Go to Pit Lane News NEXT PAGE

Hot Calendar Girl and Bike News! Go to: Fast Dates • Calendar Girls • Iron & Lace

Calendar Kittens, The Paddock Garage, Screensavers, Iron & Lace Garage



Many of our Calendar Kittens can also be seen at Playboy's website...


BikerKiss.com - the largest biker personals site!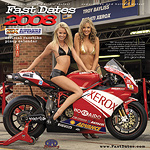 Now Available!
2008 Fast Dates Calendar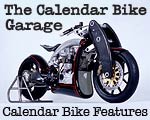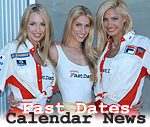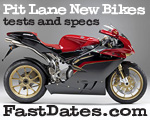 Toseland Signs with Yamaha in MotoGP for 2008
The most shocking news at Brands Hatch this weekend was the informal announcement by James Toseland that he will leave World Superbike next year to ride a full factory Yamaha MotoGP bike for the privateer Tech 3 Yamaha Team. In past seasons the Tech 3 team has not been a full factory effort, but it is expected that James would not have made the move to MotoGP for 2008 without full factory equipment, support and a salary comparable to what Rossi and Edwards on getting with the factory squad. And with Toseland and being relegated to a separate team, then obviously Colin Edwards will be keeping his ride at Yamaha for next year despite less than spectactular results in MotoGP this year.
Toseland's announced move to MotoGP was a shock to the Ten Kate Honda Team who certainly hoped that James would stay with them in World Superbike for another year to capitalize on their all but confirmed 2007 World Superbike title.
And the loss of Toseland to Yamaha is nothing less than another major blunder by Honda of Japan, among many since they lost Valentino Rossi 2 years ago. Honda really needs Toseland to replacestruggling American Nicky Hayden on the factory Repsol squad, but they would not offer a GP ride to the Brit because they wanted him to stay in World Superbike with Honda to promote his 2007 World Superbike title. But for James Toseland, at 28 years old with a pending 2nd World Superbike title in his pocket, it was critical to made the move to MotoGP while he still has time to adopt to the change successfully.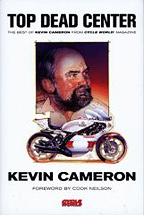 "95% Confirmed"
Two SBK World Superbike Rounds at Miller and Barber for America in 2008
On our annual trek to Brands Hatch World Superbike this month to photograph the next edition of the SBK World Superbike Fast Dates Calendar, who had our first chance to say hello to Paolo Ciabatti, former marketing director for Ducati Corse Superbike, and now the Project leader for FGSport, the organizers of SBK World Superbike.
Paolo told us there was a 95% chance that we will see 2 SBK World Superbike rounds here in America for 2008, one at Miller Motorsports Park in Utah, and the other at Barber Motorsports Park outside Montgomery Alabama. Of the two tracks, Miller had the best facility as far as the track layout and trackside buildings to accomodate a World Superbike round. Whereas at Barber, the track was a little too short for Superbike standards, and the pit garages and facilites are not as developed as SBK might like. Both tracks are now in the final stages of safety preparations to meet the FIM minimum requirements for a World Superbike round next year and the final confirmations for each should be announced in the next few months with the 2008 SBK Race Schedule.
Both SBK and American superbike fans are anxious to see World Superbike return to America, the largest motorcycle market in the world, since the loss of the Laguna Seca round 3 years ago. So SBK is anxious to go anywhere in America where the promoter can afford to put on the race, whether it is financially profitable for the promoter or not.

Miller Motorsports Park is located in Toole, UT, a desolate wasteland some 40 miles west of Salt Lake City, hardly the hot bed of motorcycling and much too far to ride or drive. or a direct airplane flight from any major population area. We doubt if the current AMA National races held there pull more than 1,000 spectators, and adding a World Superbike round to the weekend might raise the attendance to around 4,000. We'd guess you'ld need 20,000 spectators for a world Superbike weekend to turn a profit.
Barber Motorsports Park, on the otherhand, is located in the beautiful green southern countryside just outside Montgomery, AL, not too far from Atlanta, and is already pulling a fair crowd of around 5,000 fans for their AMA National. Adding a World Superbike round to the mix might see them pulling 10 - 15,000 fans for the weekend. Still not big numbers when you look at European rounds which regularly pull 40-80,000 spectators. The only negatives preventing Barber from growing much bigger is that it is also not too easilly accessable by national travel systems, and it is not a great entertainment destination like Daytona or Monterey.
We know that FGSport, earlier this year, was also in preliminary discussions with Indianapolis Motor Speedway to hold a WSB round there. The ultimate roadracing facility in America, the only hesitation in going to IMS was the fact how 20,000 superbike fans sitting in grandstands designed for 500,000 spectators might look - really empty just as Daytona Speedway looks now for an AMA National week. However, put 10,000 fans along the fences at an outdoor roadcourse and you can easily inflate the attendance figures to 50,000 for the media and sponsors who won't know the difference.

Still, we wish both tracks the best of success in helping SBK World Superbike make its rightful return back to America in 2008!
Corona Extra says Good Bye to Motorcycle Racing
No official announcement has yet been made by Corona Beer, but word is that motorsports biggest alcoholic beverage sponsor, Corona, will withdraw from all worldwide motorsports sponsorship beginning next year, 2008, after an extensive 10 year marketing program.This was a decision made by Corona's new parent comapny, and may be part of a joint decission made with other major alcoholic beverages manufacturers.
In motorcycle racing, the Corona sponsorship was most significant in the SBK World Superbike Championship with both title sponsorship of the Championship itself, and the Alstare Suzuki race team. Their involvement was greatly appreciated and their support will be missed.
Team Alstare and Corona Extra end an era of success
Team Alstare and Corona Extra end an era of successAfter ten years of outstanding collaboration benefiting all parties involved, Grupo Modelo and Corona Extra have decided to withdraw from the motorsport world for commercial reasons.
As a result, the contracts between Corona Extra and the World Superbike Championship and Team Alstare Suzuki will not be renewed for 2008.
Team Alstare Suzuki and their partners would like to thank Grupo Modelo and Corona Extra for their support, which helped Team Alstare to win many victories in the World Superbike, Supersport and European Championships. They are also grateful for their assistance in promoting the development of the World Superbike Championship and increasing its popularity. - Francis Batta, Alstare Group President.
2007 SBK CORONA EXTRA SUPERBIKE WORLD CHAMPIONSHIP®
Announce End of Partnership
Brands Hatch, Saturday 4th August 2007 - FGSport would like to thank the Group Modelo, owner of the Corona Extra Beer brand, for its long-term involvement in the Superbike World Championship and in particular for the last three years as the Title Sponsor of the Series.
The Corona Extra brand has certainly been one of the protagonists of the new era of the Superbike World Championship and a great booster for the exciting growth that our series is experiencing.
The exit of Corona Extra from the Championship has already generated a massive interest from several companies aiming to acquire the Superbike title sponsorship package for the 2008 and future seasons and therefore to become involved at a top level in the further growth and success of the forthcoming World Superbike Championship.
FGSport will announce the new Superbike World Championship title sponsor by the end of the current season.
Editor's Note: One of the potentional new sponsors rumored for the World Superbike Championship is the Tiwanese video screen manufacturer Hanespree, current sponsor of the Ten Kate Honda team, who is happy with the teams race results and recognition thsi season.
Bennetts becomes an official Sponsor of the SBK World Superbike Championship
Rome, Friday 22nd June 2007 - Bennetts, the UK's leading motorcycle insurance provider, announced yesterday that they have signed an agreement with FGS Organization to become an Official Sponsor of the SBK Superbike World Championship®.
The Bennetts logo will be present at all the World Superbike race tracks, starting with the Brands Hatch round at the historic English circuit on August 3/4/5 2007. Bennetts sponsorship of the SBK Superbike World Championship® will be extended to the whole race season in 2008.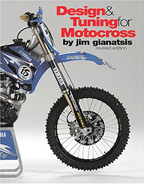 Design & Tuning
for Motocross
The ultimate book on motocross bike technology & performance
by Jim Gianatsis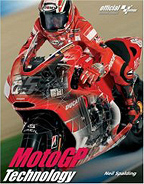 NEW! FastDates.com
Cell Phone Wallpapers!
---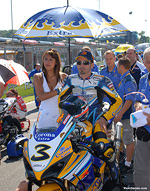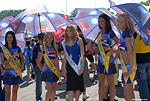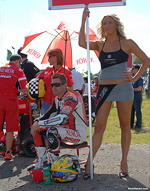 BAYLISS'S CHAMPIONSHIP HOPES ALL BUT ENDED WITH BRANDS HATCH RESULTS
Brands Hatch (UK), Sunday 5 August: Troy Bayliss's hopes of taking a second successive World Superbike title for the Ducati Xerox Team all but vanished today as he came away from Brands Hatch with disappointing results in the two races. The 2006 champion started from pole position but crashed out on lap 5 of race 1. Troy then struggled with tyre problems in race 2 and could only finish seventh as James Toseland (Honda) took a double win in front of a massive 126,000 crowd. Lorenzo Lanzi also had a disappointing day, the Italian only managing a ninth and a twelfth in the two races.
"I'm a bit upset with myself actually" declared Troy after race 1. "I thought I'd jumped the start and every lap I was looking for the board to come out with the stop-and-go so I was a bit distracted for the first three laps. Then Nori bumped me, but I managed to get past Corser and was pushing hard at Druids when the bike came around. I didn't hurt myself but after that I reckon the championship's over".
Troy struggled for grip in race 2 to finish seventh. "I don't understand how it can happen with such a difference in track temperature. We did low 26s this morning in the warm-up and it turned into this, just like Brno. It's not the fault of anyone but our bike just doesn't seem to like high temperatures, except at Misano where the grip is great. I honestly thought I could do a good job here but after one lap I realised it wasn't happening, and then it was just a matter of bringing the bike home".
"Unfortunately I haven't really got any explanations to give" declared Lorenzo. "I used the same tyres as this morning, when we did 16 laps at a good pace in the warm-up and had no problems. Unfortunately the track temperature in race 1 changed completely and after five laps I couldn't make any progress. The same thing happened in race 2, the bike was almost impossible to ride. My times were a second a lap slower and I had no grip either in the front or in the rear. This weekend I went worse than last year and I am pretty disappointed because things were looking quite promising after the first couple of days".
PREVIEW
Bruno MotoGP Aug 19th
The MotoGP Teams travel to Bruno in the Czech Republic this week to commence the second part of the 2007 MotoGP World Championship with Casey Stoner leading the riders' World Championship, Ducati ahead in the constructors' series and the team itself heading the teams' championship.
Following the sport's traditional three-week summer break, Stoner brings an impressive 44-point lead to the Czech Republic but the Australian is determined to keep pushing to add to his tally of six race victories as he pursues motorcycling's greatest prize. Team-mate Capirossi is also looking forward to returning to action at Brno, where he won last year's Czech GP in superb style.
LIVIO SUPPO, Ducati MotoGP project director - "It's good to be starting the second part of the season with Casey leading the riders' championship and with us leading the teams' and constructors' championships. But we must keep our heads down and work to give Casey and Loris the best we can at every race. Over the past couple of years the second part of the season has traditionally been the best for our package. But this year the new tyre rule changes everything. So sometimes we might arrive at a track where we expect to be competitive and we have a tough weekend, and sometimes the opposite, like Laguna Seca, where we had a great weekend despite having struggled there in the past. So we will take each race as it comes, just like we did during the first part of this season."
CASEY STONER, World Championship leader on 221 points - "It's good to be going racing again after getting back to Australia for a bit during the summer break. I want to keep pushing and win more races, that's my plan. I've always had very good results at Brno, I like the circuit a lot. It's another of those fast, flowing circuits, a little bit like Mugello and Phillip Island, so it's always been one of my favourites. But we'll have to see how we go when we get there. I'm not saying I'm going be any faster there than anywhere else, but I do really enjoy the circuit. Looking at the Ducati and Bridgestone package, Loris did really well at Brno last year, but saying that he also did really well at Jerez last year and we kind of struggled a bit at Jerez at the start of this season, so we just have to wait and see how it'll be. Anyway, I'm pretty sure we'll be able to find out all the bugs and we hope to be strong again on race day."
THE TRACK
Brno is a masterpiece of a motorcycle racing circuit. Constructed in the mid-1980s it eschews the modern fashion of tight turns and hairpins for a mighty mix of fast sweepers and undulating corners that test rider talent and machine performance to the limit. Most riders love the place because it's challenging and also because it's pretty fast.
But Brno's most significant characteristic is its constant changes of elevation - the circuit weaves its way across forested hillsides outside the Czech Republic's second city - which means that many of the turns are steeply cambered. Dealing with negative-camber corners requires a perfectly set-up machine, deft riding skills and especially crucial input from tyre engineers. Horsepower is also a major consideration at Brno because this is one racetrack where MotoGP bikes, usually caged in by slower venues, really get moving.
BRNO DATA
Lap record: Loris Capirossi (Ducati Marlboro Team Desmosedici), 1m 58.157s, 164.618km/h-102.289mph (2006)
Pole position 2006: Valentino Rossi (Yamaha), 1m 56.191s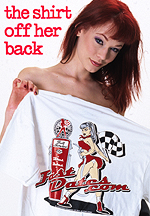 Hanging with Carl Fogarty
at Brands Hatch and his
MV Agust Superbike Team Update
When I go to Brands Hatch World Superbike I always stay with our Calendar Kittens at the Hilton Hotel in the nearby Town of Dartford.
At dinner in the hotel restauarant on Saturday night I found we were sitting at the table next to former World Superbike Champion Carl Fogary and his manager Neil Bramwell. After dinner they invited me and my model Gemma Louise to join them in the hotel bar for drinks and it gave us a chance to catch up and talk of old times. I first shot one of Carl's factory Ducati's for the Fast Dates calednar at laguna seca way back in 1995!
It had been announced earlier this year that Carl Fogarty would be running the offical MV Agusta team in World Superbike beginning in 2008. Carl told us this evening that he and Brian were down at Brands Hatch low profile "under the rader" to talk with SBK and potential sponsors. He has yet to confirm a title sponsor for the team, and unitl he had done this and financing was in place, there was no point in signing any riders as a top rider for the team would require a sizeable salary.

Carl and Neil told us the minimum sponsor budget they need to contest the World Superbike Championship was at least $4 million dollars per year in addition to the bikes and technical support provided by MV Agusta. The factory does not have the budget to fully field the team itself. - Jim Gianatsis