Greg Westbury's "Lucky" Best of Show winning bike
at the 2007 LA Calendar Motorcycle Show
to be featured in the 2009 FastDates.com Calendars
by Jim Gianatsis • model Carrie Ann Stroup
Each year, the new winner of the Performance Machine Best of Show Trophy at the LA Calendar Motorcycle Show has seen a complete turnaround from what won in years before. There's just no way to second guess what style bikes the Show judges will like. From the candy colored chopper of Harold Pontarelli, the unique originality of Jesse Rook's first ever custom - a mono fork single sided custom, the junk dog custom from Shinya Kimura, to the one-piece solid billet chassis of Dreamcraft's Rapture, to the hand tooled leather and engraved alloy western themed custom "Art Attack" from Russ Hess - the only thing any of these winning bikes had in common were two wheels hung together my a highly talented, creative and original builder. Copy Cats need not apply.
Our 2007 Best of Show winner Greg Westbury of Westbury Hand Crafte Motorcycles, Concord, CA, (westburyhotrods.com) offered up a beautifully simple alternative to the plethora of raked forks, gaudy paint jobs, too much chrome and polish, and senseless theme bikes that often proliferate any show, and our Show is no exception. Greg's unique Bobber named "Lucky" proved to be just that as it won him his 2nd Best of Show award at Long Beach. We didn't learn until after the awards ceremony that that Greg's same bike had won Best of Show at Artistry in Iron at the Las Vegas Bike Fest some 9 months earlier. Two premier Shows think alike when it comes to choosing one great bike.
"Lucky" is bare bones as any Bobber / Bar Hopper should be, but it goes further that most as a total design package, with fit and finish which is far beyond what's been seen anywhere else. The stunning flow of the very unique creame white rigid frame with matching contour fuel tank with a ergot Pan Head style engine that blends in perfectly. The pivoting girder brushed stainless steel front fork, working with a variable linkage coil/over mountain bike shock mounted at the steering head. To the adjustable chain tensioner on the rear frame rail feeding the drive chain to a Westbury logo engraved alloy sprocket turning beautiful wood grain painted alloy wheels. Craftsmanship and detail is every where to the extreme, it's almost excessive, but it all flows together beautifully without being outlandish. The LA Calendar Motorcycle Show is America's Autorama for future bikes, and Greg Westbury's "Lucky" could be that exotic prototype that everyone wishes would go into production at an affordable price. See more photos of Lucky and model Carrie in the Iron & Lace Garage
---
Nori Haga had the right setup at Lausitzring to beat Bayliss in Race One

2007 SBK World Superbike Championship, Lausitz DM, Round 11 of 13
TOSELAND'S CHAMPIONSHIP LEAD CUT AFTER HARD GERMAN WEEEKEND
Haga and Bayliss trade wins at Lausitz World Superbike
Eurospeedway Lausitz, Germany, Sept 7-9th 2007 - Noriyuki Haga (Yamaha Motor Italia) and Troy Bayliss (Ducati Xerox) took turns to score full points in the 24-lap Lausitz races, with Haga overhauling Bayliss in race one, then a man-to-man duel in race two was taken by Bayliss, as his best pace returned in the latter stages. With Max Biaggi (Alstare Suzuki Corona Extra) scoring second and third in the Lausitz races, in his first competitive visit to the track, world championship leader James Toseland (Hannspree Ten Kate Honda) left Germany with a much reduced championship lead of 41, 25 points less than he arrived with.
Bayliss Heads Timesheets in Friday Practice
Friday 7 Sept. - Troy Bayliss topped the qualifying timesheets for the Ducati Xerox Team at the end of the first session at the Eurospeedway Lausitz in Germany. The Australian, who set a time of 1m38.569s, was a couple of tenths quicker than his fellow Australian, Troy Corser (Yamaha) and four-tenths ahead of the Japanese duo of Yukio Kagayama (Suzuki) and Noriyuki Haga (Yamaha). Bayliss's team-mate Lorenzo Lanzi was in tenth position but just one second away from the provisional pole mark.
"It's a pretty good start to the weekend" said Troy. "I'm feeling quite comfortable on the bike and basically we've just been putting some laps on the tyres to see how it looks. We've more or less done race distance at the moment and everything's looking fine. I was quite consistent but we want to try and improve a little bit tomorrow and see how it goes and we're hoping for some good weather of course. Compared to last year I think the track is a bit bumpier and it's actually slightly slower because at the first corner the guys here have stuck down 'witches hats' with tar so you don't cut the corner like we used to. This morning we used the same front and rear for the whole session and this afternoon we did exactly the same right until the end when we just put another fresh race tyre in to set the quickest time".
Saturday Practice and Superpole at Lausitzring was dominated by rain which made it difficult for riders to set up their bikes and make tire selections. Here Troy Corser splashes his way around the track which is built on a hard packed land fill and doesn't abosrb water well.

Nieto Takes Unexpected Superpole Win for Kawasaki on a Brief Dry Track
Saturday Sept 8th - Fonsi Nieto (PSG-1 Kawasaki Corse Ninja ZX-10R) chose a successful Superpole strategy to secure his first ever SBK pole position, and in a great day for the Kawasaki riders Regis Laconi (PSG-1 Kawasaki Corse Ninja ZX-10R) took second best time. Reigning World Champion Troy Bayliss grabbed third place on the grid for tomorrow's German Round of the World Superbike Championship in an exciting Superpole session held in poor weather conditions at the EuroSpeedway. Troy will start the two races from the front row behind surprise poleman Fonsi Nieto and Regis Laconi. Team-mate Lorenzo Lanzi lines up on the third row of the grid in eleventh place.
Everyone went out on slicks in the first four dry minutes of the session, but the only riders to complete a full lap before the rain fell were the Kawasaki duo. Bayliss stalled his 999 at the end of the pit-lane before setting off on his dry lap, which as a result he was unable to complete, but he then made up for it by being the quickest rider on rain tyres.
With the 'wet' Superpole rules in place, due to wet weather marring most of the second day of qualifying, the 50-minute session started out with a largely dry track surface and most riders running slicks. Nieto could sense the rains coming and decided to make a quick exit from pitlane, getting out fastest and first, and he managed to get his ZX-10R across the line just before the rains came back with real vengeance. Hence his best time was almost four seconds faster than his team-mate Laconi, who made the best job possible after half the track suddenly became drenched in rain water.
The rains came and went throughout the session, but the notoriously slick Lausitz track surface remained wet throughout, and many of the top 16 riders fell trying to improve their times. Kawasaki's perfect 1-2 performance was an assured display of using the conditions to best advantage, and with unsettled weather predicted for raceday, with a real chance of additional rain, more intelligent thinking may have to be done before racing starts for real.
Fonsi Nieto, 1st: "I knew it was going to rain and there are times when you have to make up for in your head that you do not have in the set-up of the bike. I had the bike in gear and ready to go and as soon as I saw the lights start to change I made almost a full racing start just to get clear of everyone else. Three quarters of the way through the my first flying lap it started to rain but when I completed the lap I knew I would be on pole, because all the riders behind would have had to ride on more wet tarmac than me."
Regis Laconi, 2nd : "I am quite satisfied with that result and I also used a slick tyre, like Fonsi. The plan was to get a quick start and try to beat the rain but halfway around my lap I felt spots of rain on my visor. I pushed as hard as I could on the first part of the flying lap but them I had a slide from the rear so I had to slow down a bit. I hope it will be dry for tomorrow as we have a good set-up for that, so we will have to wait and see."
Troy Bayliss, 3rd: "It was pretty hairy out there but the whole day's been a little bit like that to tell the truth" declared Troy. "This afternoon in that session, with 50 minutes and 12 laps to do, for sure I would have been with Fonsi and Regis. I was ready to go right away but I forgot my earplugs and stalled right at the start so I missed that first opportunity to get out there. I honestly thought when it started raining that everyone had put a good lap in except for me and I was just waiting for Tardozzi to have a go at me when I came in! But only a couple of guys had set a good time and I was so lucky. Anyway I didn't do that bad in the rain, it was dodgy for everybody. You had to stick your chin out to put a good lap in and then towards the end of the session it got even worse. Hopefully it'll be a bit nicer tomorrow but I'm feeling comfortable with the rain and in the dry so we're looking forward to having a good day tomorrow".
Troy Corser - 4th, 1:55.360: Conditions out there were very difficult this afternoon because the grip is so variable. In some corners, the grip is not so bad and in other corners it's very, very slippery. Maybe it is because of rubber put down by cars, but it's so easy to crash at almost every turn. I'm pretty happy with both my dry set-up and my wet set-up but, like most people, I'd prefer a dry race for sure. If it's wet there are a couple of places where a crashed bike can slide back onto the track and if that happens it could cause a big accident. It's not a good situation, but I'm not sure in anything can be done about it at this stage. Let's hope the weather improves tomorrow and we can have some good races.
Final qualifying
1 Nieto (E-Kawasaski) 1:50.681, 2 Laconi (F-Kawasaki) 1:54.559, 3 Bayliss (Aus-Ducati) 1:55.196, 4 TROY CORSER (Aus-Yamaha Motor Italia) 1:55.360, 5 Biaggi (I-Suzuki) 1:56.746, 6 Xaus (E-Ducati) 1:57.271, 7 Toseland (GB-Honda) 1:57.384, 8 Haga (J-Yamaha) 1:57.782, 9 Neukirchner (D-Suzuki) 1:578.528, 10 Rolfo (I-Honda) 1:589.127
Suzuki's Max Biaggi closed on race winner Haga in the final laps of Race One , but ran out of time and had to settle for 3nd.
Race One
Lausitz (Germany), Sunday 9 September - Despite a massive surge to a 3 second lead in the first few laps of Race one, it was clear at half race distance that Troy Bayliss would not win the first race of the day, and in the final analysis Noriyuki Haga secured a massive 11-second margin of victory over Max Biaggi and Troy Corser (Yamaha Motor Italia). Bayliss was a slowing fourth, having used up his tire grip in the early laps with the wrong tire selection, but of most importance to the championship was James Toseland who also had rear traction problems which held him down in ninth place, despite starting the first lap on the tail of the leading bunch.
Race one started well for Haga as he went from eighth to second in the first few laps. Undeterred by the gap that Bayliss had created between first and second, Haga just put his head down and reduced the margin lap by lap until the two riders were tyre to tyre on lap 14. Haga made his move on the next lap with a traditional Haga-style close pass and then just kept going. He finished the race a clear 11 seconds ahead of the rest of the field; his fourth win of the season.
Corser got off to a poor start in race one, almost high-siding in the second corner, and he slid back to ninth before turning the power back on and making way up through the field again. By lap eight he had made his way to fourth position and was hunting down Biaggi 6.2 seconds ahead in third. By lap 18 the gap had reduced to nothing and Corser tried valiantly to pass Biaggi In the end he had to settle for third as his tyres wore off.
Superbike Race One: (Laps 24 = 102,360 Km)
Pos / Rider / Nat. / Team / Time / Gap
1 / N.HAGA / JPN / Yamaha Motor Italia / 40'02.923 /
2 / M.BIAGGI / ITA / Alstare Suzuki Corona Extra / 40'13.930 / 11.007
3 / T. CORSER / AUS / Yamaha Motor Italia / 40'14.551 / 11.628
4 / T. BAYLISS / AUS / Ducati Xerox Team / 40'25.079 / 22.156
5 / R. ROLFO / ITA / Hannspree Ten Kate Honda / 40'29.005 / 26.082
6 / R. LACONI / FRA / Kawasaki PSG-1 Corse / 40'29.304 / 26.381
7 / F. NIETO / ESP / Kawasaki PSG-1 Corse / 40'39.793 / 36.87
8 / L. LANZI / ITA / Ducati Xerox Team / 40'46.388 / 43.465
9 / J. TOSELAND / GBR / Hannspree Ten Kate Honda / 40'47.181 / 44.258
10 / K. MUGGERIDGE / AUS / Alto Evolution Honda / 40'48.156 / 45.233
11 / S. NAKATOMI / JPN / Yamaha YZF / 40'55.476 / 52.553
12 / R. XAUS / ESP / Team Sterilgarda / 41'04.882 / 1'01.959
13 / J. SMRZ / CZE / Team Caracchi Ducati SC / 41'20.912 / 1'17.989
14 / S. MARTIN / AUS / Celani Team Suzuki Italia / 41'22.147 / 1'19.224
15 / Y. TIBERIO / FRA / Alto Evolution Honda / 41'39.550 / 1'36.627
Fastest Lap 9° Noriyuki Haga 1'39.033 155,039 Km/h


RACE TWO
Troy Bayliss (Ducati Xerox) bounced back from his Race One defeat to take a thrilling victory from Yamaha's Noriyuki Haga in the German Round of the World Superbike Championship at the EuroSpeedway.
In the second 24-lap contest, Bayliss was once more a convincing early leader, until Haga caught and passed him with ease. The second race was showing a similar pattern to the first as Haga again passed Troy on lap 14 seemingly with ease to take the lead, but this time the team had fitted a harder front tyre to his 999, which certainly contributed to the result, and Troy was then able to re-pass his Japanese rival on lap 20 to stretch out a lead of 1.353 seconds at the end take the chequered flag for his fortieth Superbike win.
Biaggi had a largely lonely race to third, while Toseland regained rear push and control on his spare bike to secure fourth place, and only lose a handful of points in race two. Corser was fifth, unable to keep up his forward push once he got on the tail of a defensive Toseland.
Troy Bayliss, 1st and 4th - "These wins are hard to get but when you do take one they are very enjoyable, so I'm very happy with that second race today" declared Troy. "I've been racing against Nori since year 2000 and we've had some great battles over the past, they've all been very memorable. Sometimes he takes the win or I do but I love having a dice with Nori. Honestly there wasn't much difference between the bikes in the two races, sometimes you have a problem and it goes like that. We weren't happy with the first race and you could tell the difference in the second race because the bike was better to ride. It did look like the same was going to happen as I opened out a lead of 2 and a half seconds, and I did wonder that but it didn't and I could push the whole race. I did make one mistake and that allowed Nori to come past. I was on the limit trying to gap Nori and it wasn't easy. It was nice to have my electronics engineer Alessandra on the podium with me, she does all the stuff with the computer and she did a great job as always!".
Noriyuki Haga,1st and 2nd, Yamaha Motor Italia WSB Team - "I feel happy with my result in both races today. The first race was the perfect result; even though my tyre started to wear off I was able to take the win. I made a minor suspension change for race two but then didn't get as good a start as I wanted because of a small mistake. This meant I had to use more rear tyre during the race to chase and challenge Bayliss. Towards the end the tyre started sliding and I just couldn't keep up the pace with Troy. Today has reduced the margin on my championship challenge; it has given me more potential to win and I'm now feeling more focused than ever and I'm going to push right to the end for the title. I'd like to thank the team and Öhlins for all their efforts in getting the bike working right this weekend."
Troy Corser, 3rd and 5th,Yamaha Motor Italia WSB Team - "The first race was pretty good, although I didn't get off the line very well and had to then work hard to get back up the front. The bike was handling very well but I just couldn't get past Max for second place. We made quite a few changes to the bike for the second race and made some handling alterations. It made an improvement and I was all over Toseland in the corners. Overall I'm a bit disappointed with my results because I was expecting better. The chassis was really well this weekend and I'm confident for the next race at Vallelunga."
Ruben Xaus (Sterilgarda Ducati) fell and remounted in Race One, to finish 12th. In race two he scored sixth while Roby Rolfo (Hannspree Ten Kate Honda) took fifth and seventh place finishes, after finding his race one set-up better than race two. Lorenzo Lanzi (Ducati Xerox) had an unhappy day in race trim, scoring eighth and then a 12th, as he chases Xaus in the championship table.
Pole position sitter Fonsi Nieto (PSG-1 Kawasaki Corse) had to give best to his team-mate Regis Laconi in race one, with the Frenchman sixth and Spaniard seventh, but in race two each rider had to settle for less, as Nieto went eighth and Laconi 11th. Yukio Kagayama (Alstare Suzuki Corona Extra) could not race due to suffering a broken left hand in a practice crash. Michel Fabrizio (DFX Corse Honda) had a two disappointing races, crashing in race one and being unable to restart, then finishing only 13th in race two. Shinichi Nakatomi (Yamaha Team YZF) scored 11th in race one, while Steve Martin (Celani Suzuki) went was 14th
Superbike Race 2: (Laps 24 = 102,360 Km)
1 / T. BAYLISS / AUS / Ducati Xerox Team / 39'49.291 /
2 / N.HAGA / JPN / Yamaha Motor Italia / 39'50.644 / 1.353
3 / M.BIAGGI / ITA / Alstare Suzuki Corona Extra / 40'02.292 / 13.001
4 / J. TOSELAND / GBR / Hannspree Ten Kate Honda / 40'03.932 / 14.641
5 / T. CORSER / AUS / Yamaha Motor Italia / 40'04.501 / 15.21
6 / R. XAUS / ESP / Team Sterilgarda / 40'15.121 / 25.83
7 / R. ROLFO / ITA / Hannspree Ten Kate Honda / 40'19.043 / 29.752
8 / F. NIETO / ESP / Kawasaki PSG-1 Corse / 40'19.238 / 29.947
9 / M.NEUKIRCHNER / GER / Suzuki Germany / 40'19.843 / 30.552
10 / K. MUGGERIDGE / AUS / Alto Evolution Honda / 40'23.106 / 33.815
11 / R. LACONI / FRA / Kawasaki PSG-1 Corse / 40'28.614 / 39.323
12 / L. LANZI / ITA / Ducati Xerox Team / 40'31.883 / 42.592
13 / M.FABRIZIO / ITA / D.F.X. Corse / 40'40.046 / 50.755
14 / S. MARTIN / AUS / Celani Team Suzuki Italia / 40'42.889 / 53.598
15 / S. NAKATOMI / JPN / Yamaha YZF / 40'45.575 / 56.284
Fastest Lap 7° Noriyuki Haga 1'38.622 155,685 Km/h
Lap record: 2006 T.Bayliss 1'38.635 155,660 Km/h
Best Lap: 2006 T.Bayliss 1'37.623 157,280 Km/h
Riders Championship Standings:
1 TOSELAND 362, 2 HAGA 314, 3 BIAGGI 306, 4 BAYLISS 271, 5 CORSER 243, 6 LANZI 169,
7 XAUS 167, 8 ROLFO 157, 9 NEUKIRCHNER 123, 10 KAGAYAMA 116, 11 FABRIZIO 109,
12 LACONI 108, 13 NIETO 74, 14 SMRZ 61, 15 NAKATOMI 46.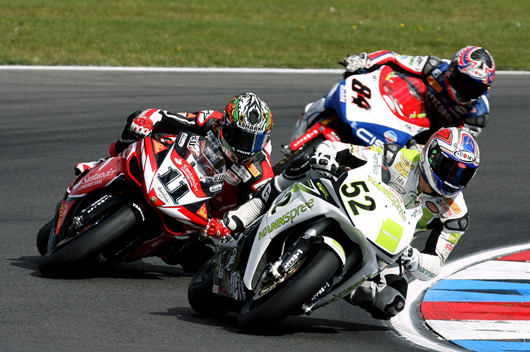 Toseland holds off Corser for 4th place in Race Two.

WORLD SUPERSPORT - PARKES WINS AGAIN Broc Parkes (Yamaha World Supersport Team) scored his second win of the 2007 season, after a race-long fight with World Champion Kenan Sofuoglu (Hannspree Ten Kate Honda). The win puts Parkes third in the championship fight, now within striking distance of second, held by Lausitz race retiree, Fabien Foret (GIL Kawasaki). The final podium place at Lausitz went to Matthieu Lagrive (Intermoto Czech Honda CBR600RR). British riders Craig Jones (Reve Ekerold Honda) and Tommy Hill (Yamaha World SSP Racing) were fourth and fifth respectively.
600cc Supersport Results: (Laps 23 = 98,095 Km)
Pos /Rider /Nat. /Team / Time /Gap
1 / B. PARKES / AUS / Yamaha World SSP Racing / 39'25.235 /
2 / K. SOFUOGLU / TUR / Hannspree Ten Kate Honda / 39'27.222 / 1.987
3 / M.LAGRIVE / FRA / Intermoto Czech / 39'48.670 / 23.435
4 / C. JONES / GBR / Revè Ekerold Honda Racing / 39'53.147 / 27.912
5 / T. HILL / GBR / Yamaha World SSP Racing / 39'54.325 / 29.09
6 / D. CHECA / ESP / Yamaha - GMT 94 / 39'54.521 / 29.286
7 / M.ROCCOLI / ITA / Yamaha Lorenzini by Leoni / 39'54.534 / 29.299
8 / J. LASCORZ / ESP / Glaner Motocard.com / 39'57.349 / 32.114
9 / S. CHARPENTIER / FRA / Hannspree Ten Kate Honda / 40'04.445 / 39.21
10 / B. VENEMAN / NED / Pioneer Hoegee Suzuki Racing / 40'06.461 / 41.226
11 / G.NANNELLI / ITA / Team Caracchi Ducati SC / 40'06.755 / 41.52
12 / S. GIMBERT / FRA / Yamaha - GMT 94 / 40'07.474 / 42.239
13 / G.VIZZIELLO / ITA / RG Team / 40'09.036 / 43.801
14 / S. SANNA / ITA / Racing Team Parkalgar / 40'18.284 / 53.049
15 / S. NEBEL / GER / Lightspeed Kawasaki Supp. / 40'22.142 / 56.907
Fastest Lap 6° Kenan Sofuoglu 1'41.946 150,609 Km/h
Lap record: 2006 K.Sofuoglu 1'42.090 150,400 Km/h
Best Lap: 2006 K.Curtain 1'41.006 152,010 Km/h
Riders Championship Standings:
1 SOFUOGLU 226, 2 FORET 126, 3 PARKES 100, 4 FUJIWARA 87, 5 ROCCOLI 84,
6 HARMS 83, 7 VENEMAN 70, 8 WEST 66, 9 JONES 58, 10 NANNELLI 49, 11 ALFONSI 45,
12 CHARPENTIER 44, 13 PITT 40, 14 CHECA 39, 15 RIBA 37.

SUPERSTOCK 1000 FIM CUP - VAN KEYMEULEN WINS
Didier Vankeymeulen (TTSL-MGM Racing Yamaha) fought off challenges from first Claudio Corti (Yamaha Team Italia) and then eventual second place rider Niccolo Canepa (Ducati Xerox Junior Team) to win the 14-lap Lausitz race. Corti was third, with Aussie Mark Aitchison (Celani Suzuki) having to come from a long way back to take a close fourth. Xavier Simeon (Alstare Suzuki Corona Extra) was just off the leading group, in fourth.Championship leader Matteo Baiocco (Umbria Bike Yamaha) was only 8th in Lausitz, and thus sees his lead cut. He is on a total of 136 points, with Simeon second on 127, Canepa 125 and Aitchison 121.
---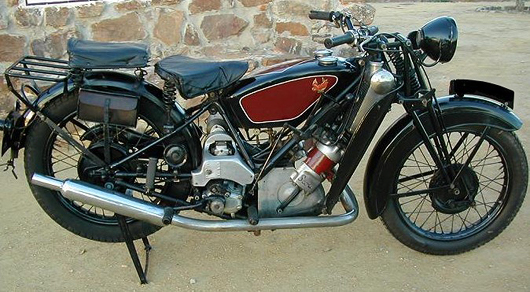 Click for a bigger Squirrel.

An Early Superbike - The Scott Flying Squirrel
Alfred A. Scott found his motorcycle company in Britain in 1909 and was one of the pioneers of 2-stroke motorcycles and watercooling. Scott had a flair for trying the unorunorthodox and he was the first to invent or utilize a 180-degree parallel twin engine, rotary valves, and utilizing the engine as a stressed member in the frame along with triangulated frame tubes to reduce weight and increase rigidity (now a Ducati trademark). His other inovations included removeable countershaft gears and all-chain drive. Scotts' bikes competed in and won many major TT roadraces during the 1920s and '30s.
The Scott Flying Squirel shown here was origionally designed and first built in the mid-1930s and featured a watercooled 598cc parallel twin 2-stroke cylinder engine producing 30hp @ 5,000rpm. Production was stopped during World War II, then started up again in 1946 with the girder front forks shown here, replace by modern telescopic forks. The company went bankrupt in the early 1950s. when newer, bigger displacment British 4-stroke twins offer more power and simplicity for the same money.
Note the 4-stroke style exhaust system used during the time. 2-stroke performance expansion chamber exhaust systems would not be invented until the early 1960s and could have given the Scott the additional power it needed to remain competive with the 650cc 4-stroke twins. The expansion chamber which utilizes tapered cones and sonic waves to increase gas flow through the engine, would allow modern, lighter 2-strokes to out perform 4-stokes in both motocross and roadracing. From the origional production of the Scott Flying Squirel in the mid 1930's it would take the Japanese bike manufacturers another 35 years to apply the same principals of 2-stroke design and watercooling to their street sportbikes and Grand Prix bikes during the late 1960s-'80s.

Our British lasses and official SBK Fast Dates Superbike Calendar Kittens at Brands Hatch, (left to right) and Rhian Sugden and Gemma with a mock-up new 2008 Ducati 1098R Superbike. SCREENSAVER
and a new Superbike... Fast Dates Calendar Shoot at SBK Brands Hatch with a preview of the next Ducati 1098R/F
by Jim Gianatsis
Brands Hatch, Kent,United Kingdon August 3-5th, 2007 - FastDates.com was excited to return to the incredible Brands Hatch, British round of the Championship this year. We shot the above photo in the Ducati Paddock on Friday afternoon where we found a new 1098 Superbike painted up in the current team Ducati Corse Xerox livery to give us an idea of what the new factory Ducati Superbikes will look like next season when they change from the old 999 model to the new 1098 generation bikes.
For complete coverage of our Calendar shoot at Brands Hatch go to FAST DATES NEWS
---
There's more! Go to Pit Lane News NEXT PAGE

Hot Calendar Girl and Bike News! Go to: Fast Dates • Calendar Girls • Iron & Lace

Calendar Kittens, The Paddock Garage, Screensavers, Iron & Lace Garage



Many of our Calendar Kittens can also be seen at Playboy's website...


BikerKiss.com - the largest biker personals site!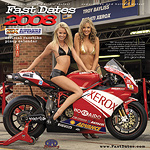 Now Available!
16-month Calendar starts Sept
2008 Fast Dates Calendar
---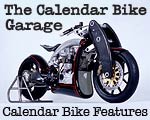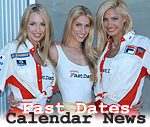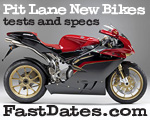 ---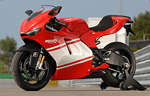 First Look!
Inside the new Ducati Desmosedici RR
Ging into production next month for a lucky few!
FIM ANNOUNCES 2008 PROVISIONAL MotoGP CALENDAR
Sept 2nd - The FIM today announced amendments to the provisional calendar for the 2008 MotoGP World Championship. The events in Portugal and Valencia will be held a week earlier than originally scheduled, whilst Japan and Australia exchange their dates:
Date Grand Prix Circuit
March 9th Qatar Losail
March 30th Spain Jerez de la Frontera
April 13th Portugal Estoril
May 4th China Shanghai
May 18th France Le Mans
June 1st Italy Mugello
June 8th Catalunya Catalunya
June 22nd Great Britain Donington Park
June 28th Netherlands Assen
July 13th Germany Sachsenring
July 20th United States* Laguna Seca
August 17th Czech Republic Brno
August 31st San Marino & Riviera di Rimini Misano
September 14th Indianapolis Indianapolis
September 28th Japan Motegi
October 5th Australia Phillip Island
October 19th Malaysia Sepang
October 26th Valencia Ricardo Tormo - Valencia
* Only MotoGP class
** Saturday race
Neil Hodgson signs with American Honda in the AMA Superbike Championship.
Sept 6th - The news was first reported in England's Motorcycle News, who said Neil Hodgson had a two-year contract to race in AMA Superbike.
American Honda's Jake Zemke said last weekend that he didn't have an offer from American Honda and hadn't been invited to the Honda dealer show on Sept 5th. dealer show. Miguel Duhamel, who wasn't at Road Atlanta, was invited to the dealer show and expects to be on a Honda in 2008.
American Honda's lead superbike rider Miguel Duhamel said, "Odds are in favor of me in being on Honda bike in '08. For sure I'd rather stay on Honda."
Erion Honda's Josh Hayes was also invited to the dealer show, but that could be because he recently won his second consecutive Formula Xtreme championship. Asked about his future at Road Atlanta, Hayes said, "You know, I still don't know the answer to that question," he said. "Nobody's really talking, I promise I'll tell you guys as soon as I hear something. But nobody's even mentioned anything to me about riding next year. So I'm just waiting for somebody to say, hey, you want to ride this bike. And right now I'll take just about anything. I want to race."
Hodgson will be making a return to AMA racing after a year's hiatus. When Ducati Corse pulled the plug on the Parts Unlimited Ducati team, at the end of the 2006 season, Hodgson was left without a ride. This year most of his seat time has been spent testing tires for Bridgestone on both the Ducati 999 F07 Superbike and Desmosedici GP7. His lone road race came at Mazda Raceway Laguna Seca during the Red Bull U.S. Grand Prix weekend. Hodgson rode a Corona Honda CBR1000RR developed by the R&D team at American Honda to fifth place, one spot behind Duhamel.
Neil is known as an excellent development rider and those skills will certainly be called on with the arrival of Honda's new 1000. The bike will be shown in tightly controlled conditions at the dealer show, according to someone who was invited. And with the machine not expected to be ready for a fall test at Daytona, the team will have a limited amount of time for development. The easiest way to upgrade the machine would be by purchasing parts from Honda Racing Corporation (HRC). But, with motorcycle sales sliding, the race team budget is expected to be severely slashed.
If you remember, the team moved from the hyperexpensive HRC race bikes and kit parts to doing their own development on the current CBR1000RR several years ago and it never proved to be fully successful. While in World Superbike the private Ten Kate Honda team was able to make the bike a winner right out of the box.
The target is the dominant Yoshimura Suzukis, which won every race this year and all but one of last year's races. Anyone who expects to take them on is going to have to bring their 'A' game, and that doesn't come cheap
DUCATI CORSE SIGNS MICHEL FABRIZIO FOR 2008 WORLD SUPERBIKE SEASON
Bologna (Italy), Monday 10 September 2007 : Ducati Corse wishes to announce that it has signed the young Italian rider, Michel Fabrizio, to compete in the 2008 World Superbike Championship season in the factory Ducati Xerox Team alongside Australian Troy Bayliss.
Rome-born Michel Fabrizio, who turns 23 next week on September 17th, has joined the team on a one-year contract and his first race for Ducati Xerox will be the opening round of the 2008 championship.
"I am really happy!" declared Michel. "I hope I will give a good impression of myself within the team and I also hope I can enter the hearts of all the Ducatisti throughout the world. The decision came about while I was on holiday in August. I received a telephone call from Davide Tardozzi, who said there was a possibility of racing for Ducati, and that was a great satisfaction for me. It's a big commitment, we will have the new bike and I'm going to have to work really hard. I know we have 12 days of testing available and I've got to make the most of them, because I immediately have to get to know the new bike and start to gel with my new team. My first appearance will for sure be after October 30th, when my contract with Honda comes to an end, so that means in the scheduled tests in November. My team-mate Troy Bayliss is the only thing that I'm not worried about because Troy is a great person and a great rider, so I think I can learn a lot from him. I can't wait to start this new adventure!".
Michel began racing in 1999 at the age of 15 in the Honda Trophy events and was already on the podium after two races. The next couple of years saw Michel emerge with a series of wins and titles in the Coppa Italia (2000) and Challenge Aprilia, Supercampione and Sport Production (2001). In 2002 he arrived on the world scene when he was given a ride on a Gilera in 125 GP but results were disappointing. Alstare Racing then offered Fabrizio the chance to race in the European Superstock category and the Roman repaid the faith in him by winning the title in 2003 at the age of 19. In 2004 Michel was again back in the World Road-Racing Championships, but this time on the WCM machine in MotoGP. The next year Fabrizio scored a few good results in World Supersport with a Team Megabike Honda and this was followed in 2006 by a move up to World Superbike with a Honda for the DFX Corse team, where he is currently competing. Michel's best results in World Superbike have been a second and a third at Brno in 2006, a third at Assen and another third place at Brno this year.
Ducati Corse Superbike Project Leader, Davide Tardozzi, added: "We'd like to give a warm welcome to Michel who is a talented young rider and who in our opinion has not yet expressed all of his considerable potential. 2008 will surely be an important season for him, seeing as for the first time he is part of a factory team. All of us here in Ducati Corse would like to thank Lorenzo Lanzi for the commitment he has demonstrated in these years, and for the popularity he has been able to create with all the many Ducati tifosi".
Toseland Looses Ground
at Lausitzring
With 2 Rounds Remaining
James Toseland (Hannspree Ten Kate Honda CBR1000RR) battled as hard at Eurospeedway Lausitz as he ever has to win races in the 2007 series, but was rewarded with only a ninth and fourth place finish, and a reduced championship lead to boot. Despite losing ground to both his main championship rivals, he still leaves Germany with a healthy 41-point championship lead. Noriyuki Haga won the first race and Troy Bayliss the second.
In the championship Toseland now has 375 points, Haga 334, Max Biaggi 322 and Bayliss 296. In the Manufacturers' Championship, Honda has a five-point advantage, with four races and two rounds still to go.
25 points are awarded for a race win, with 4 races remaining in the 2 final rounds.
In the first race, second row qualifier Toseland was in trouble from the start, with a mystery lack of rear traction throughout, leading to a reduction of forward push that caused him to drop from the leading bunch to ninth. He was passed on the very last lap by Lorenzo Lanzi; finding himself unable to do anything about it.
Top Honda finisher in race one was thus Roberto Rolfo (Hannspree Ten Kate Honda CBR1000RR) in fifth, with next best rider being Karl Muggeridge (Alto Evolution Honda CBR1000RR) who took tenth place. Rookie rider in his first SBK race, Yoann Tiberio (Alto Evolution Honda CBR1000RR) scored one point for finishing 15th.
Michel Fabrizio (DFX Corse Honda CBR1000RR) crashed and had to pull out of race one while in a top position, while his teammate Luca Morelli (DFX Corse Honda CBR1000RR) also failed to finish.
In race two, Toseland was in the leading group at the start once more but although not able to compete for the podium places, he fended off the close attentions of Troy Corser to secure fourth place, and more valuable points to take into the final rounds.
Rolfo was seventh in race two, Muggeridge again tenth, with a tiring Fabrizio 13th, and Tiberio 18th. A second technical issue, on lap eight of the second race, forced Morelli out.
For Toseland the story of his day was clear - sheer bad luck. The fact that he had to swap to his second bike to eradicate the mere possibility there was a problem with his first machine was not an ideal way to finish a race weekend as important as this one.
James Toseland - "A tough day at the office today," said the championship leader. "I have worked so hard to get the advantage I took away from Brands Hatch that to be riding round in ninth in race one does not do me or this team justice. The second race was just normal by comparison, but because things were so bad with traction in the first race we had to swap to my spare bike because we didn't know what was happening with the lack of grip in race one. We set the second bike the same as the first one was in race two - and it was two or more seconds a lap quicker. But the bikes were the same, so it was nothing mechanical in race one. If I had a third and a fourth today, which was more than possible, then I would have left here without too much of an indentation in my championship lead. It could have been worse, but after a double win at Brands Hatch I shouldn't have been worrying about my lead being cut here."

NEW! FastDates.com
Cell Phone Wallpapers!
Estoril MotoGP Preview
Fiat Yamaha MotoGP Team Ready to Put Up a Western Front
The Fiat Yamaha Team make the Mediterranean road trip from the east coast of Italy to the west coast of Portugal this week aiming to put their biggest disappointment of the season behind them after a home Grand Prix to forget at Misano. Valentino Rossi's retirement from that race was his fourth non-podium finish in as many races - his worst run since 2000 - whilst tyre problems returned to haunt Colin Edwards in a race that saw Casey Stoner take his eighth victory of the season.
With 85 points now separating Stoner from Rossi at the top of the championship and just five races remaining it appears that the 2007 is almost out of reach, but until the mathematics confirm it the Fiat Yamaha Team will refuse to wave the white flag - especially with a circuit like Estoril on the horizon. Its location on the western tip of Europe, just seven kilometres from the Atlantic coast, makes it vulnerable to dramatic changes in weather and high gusts of wind, meaning the riders can take nothing for granted.
Even the layout of Autodromo Fernanda Pires de Silva circuit is one of extreme contrasts. It features one of the longest main straights in MotoGP and a tight chicane, which is one of the slowest corners on the calendar. Several other twisty sections contribute to the lowest average speed in the championship and the throttle is seldom overworked on the tortuous infield sections, which are riddled by a host of second and third gear bends. However, the 200km/h kink at turn five and the final Parabolica corner are two of the toughest tests of any rider and machine's cornering prowess and make for exciting viewing.
As well as having a score to settle after his disappointment at Misano, Valentino Rossi has extra reason to look forward to Estoril thanks to his fantastic record at the Portuguese circuit in the premier class. The Italian has finished on the podium on each of his seven visits, including a sequence of four successive victories from 2001 to 2004, and narrowly missed out on adding to that win tally last season when he was beaten to the line by Toni Elias by just 0.002 seconds.
Valentiono Rossi "Misano was a great, great disappointment," said Rossi. "To not have the chance to fight and to finish after just a few laps was a terrible thing, but now we just have to put it behind us. We got back to work straight away on Monday for the test and we did some really good work with Michelin - it seems that they found some good new tyres and overall it was quite an encouraging test, much more than the last one. Hopefully we will be ready in Estoril with a package with which we can fight.
"To be honest the championship is almost out of reach for us, especially when Stoner is so strong, so we will put all our energies into holding onto our second place and winning as many races as possible, as well as thinking about continuing the development of our package for next year. Now the aim is to have a good end to the season - we have five races left and we will be trying to win all five, even if the championship is out of our reach. I've had some good races at Estoril in the past although last year I missed out on the win by a tiny amount!"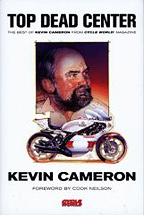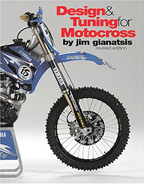 Design & Tuning
for Motocross
The ultimate book on motocross bike technology & performance
by Jim Gianatsis
MotoGP video content available on YouTube
Sept 1st - MotoGP commercial rights holders Dorna Sports S.L. today announced that they are making World Championship motorcycle racing content available on YouTube by launching a branded Channel on the popular video-sharing site. (www.youtube.com/motogp)
The dedicated MotoGP Channel features video highlights, action clips and feature programs such as the ever-popular 'After the Flag'. The Channel also gives YouTube users worldwide the ability to not only view MotoGP clips but also to rate them, recommend them to friends and post their own video responses to communicate with other MotoGP fans.
The new branded Channel will also include links to the official MotoGP website (http://www.motogp.com)
YouTube is the world's most popular online video community to discover, watch and share originally created content.
MotoGP already has a huge presence on the world wide web, courtesy of official website motogp.com. The agreement with YouTube means that more video content can be found at www.youtube.com/motogp