Our British lasses and official SBK Fast Dates Superbike Calendar Kittens at Brands Hatch, (left to right) and Rhian Sugden and Gemma with a mock-up new 2008 Ducati 1098R Superbike. SCREENSAVER
Fast Dates Calendar Shoot at SBK Brands Hatch
with a preview of the next Ducati 1098R/F Superbike
by Jim Gianatsis
Brands Hatch, Kent,United Kingdon August 3-5th, 2007 - FastDates.com was excited to return to the incredible Brands Hatch, British round of the Championship this year. We shot the above photo in the Ducati Paddock on Friday afternoon where we found a new 1098 Superbike painted up in the current team Ducati Corse Xerox livery to give us an idea of what the new factory Ducati Superbikes will look like next season when they change from the old 999 model to the new 1098 genertion bikes.
We won't know until the annual Milan International Motorcycel Show in November where Ducati release its new bikes, to find out if the new 2008 production R-moodel and factory Corse F-model Superbikes will be based on the current 1098 Testastretta engine, or will it make an immediate jump to a bigger1198cc engine as allowed by the new 1200cc displacment limit for Twins in World Superbike starting next year. For new FIM homologation purposes the new R and F-model Superbike will get the same engine size with much closer specifications to production tuning and components then in the past, to keep them equal to the higher tuned 1000cc in-line Fours.
For complete coverage of our Calendar shoot at Brands Hatch go to FAST DATES NEWS
---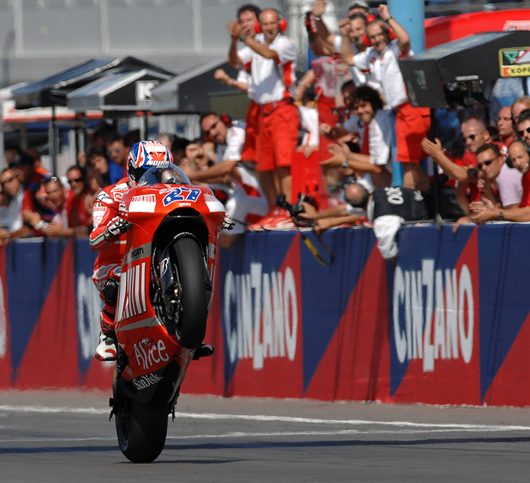 Misano is the home track for the Ducati factory with their race winner Championship points leader Casey Stoner (27) and for local hero Valentino Rossi (46) who is second in points. Rossi was running in 4th when he was forced to retire mid race when his Yamaha's new pnuematic valve system failed.

2007 MotoGP World Championship, Misano Italy Round 13 of 17
Casey Stoner Scores Marlboro Ducati's
First Ever Home MotoGP Win at Misano
GP Cinzano di San Marino e della Riviera di Rimini , Italy, Sept 1-2nd - Ducati Marlboro Team rider Casey Stoner continued his relentlessly magnificent form at Misano today, taking the factory's first-ever MotoGP victory on home tarmac. Loris Capirossi also rode a strong race, fighting through to fifth place from 13th on the grid.
Stoner's eighth success of the year was also his second consecutive start-to-finish victory and completes a hat-trick of wins, as well as extending his World Championship lead to 85 points and increasing Ducati's advantage in the constructors' championship and stretching the Ducati Marlboro Team's lead in the teams' championship. The Australian got the holeshot from pole position and after resisting early pressure from runner-up Chris Vermeulen and John Hopkins he extended his advantage to 1.8 seconds at half-distance, after setting a new lap record, and to 4.8 seconds at the chequered flag. Capirossi got a brilliant start from the fifth row to complete the first lap in fifth spot, spending most of the 28 laps battling with Marco Melandri.
CASEY STONER, winner, World Championship leader on 271 points - "I'm still taking the championship race by race. It was unfortunate what happened to Valentino [Rossi, DNF] and to Dani [Pedrosa, DNF] today, but I was out in front doing my own thing, I had enough pressure myself. It took a lot of concentration to not make any mistakes because it was really hot and hard work today. This was very nice win for me. Yesterday I wasn't so confident, but when we arrived on the grid today we were quite confident with the setting and everything worked well, we got a good start and we were able to get a good advantage. If there was a group up front my plan was to separate the group so there were less riders to battle with, I expected it to be a very difficult race. The team did a great job all weekend, they really pulled through for me. And after a race like this I'd really like to thank my trainer Anthony who I work with every time I have a bit of time off. The second part of the season is when I usually get stronger, so I hope we can be stronger at the next races but we'll see what happens. The more I ride My Ducati the more comfortable I become and the faster I become."
Team Rizla Suzuki's Vermeulin and Hopkins were jubliant with their excellent 2nd-3rd place finish.
Race Preview: MotoGP set for return to San Marino
GP Cinzano di San Marino e della Riviera di Rimini , Italy, Monday 27th August - The MotoGP World Championship returns to Misano on September 2nd following a 14 year absence, as the circuit plays host to the GP Cinzano di San Marino e della Riviera di Rimini.
The MotoGP World Championship leader heading to the San Marino encounter is Australian Casey Stoner, who currently has a cushion of a massive 60 points over nearest rival Valentino Rossi. The Ducati factory rider has won seven races thus far in 2007, including the last two at Laguna Seca and Brno from pole position.
A dominant figure in the premier class over the entire season, Stoner has established an advantage that will be difficult to overturn. One of the only riders with previous experience of recovering such a deficit is precisely the man behind him in the classification, Yamaha's five-time MotoGP World Champion Valentino Rossi. He came back from 51 points behind current title holder Nicky Hayden last season to lead the standings at the final race, but can he or anyone else do the same to Stoner?
Rossi has won just three of the last sixteen races, something well below his usual haul. The Italian will have plenty of support at the next date on the calendar, with Misano sure to play host to thousands of fans committed to the Rossi cause and create scenes akin to those at Mugello earlier this year.
Dani Pedrosa has an even harder task ahead of him as the only other rider with a realistic chance of catching his former 250cc rival, 78 points behind Stoner in the championship. Whilst a maiden title seems a tall order for the Spaniard, he has Rossi in his sights for second place in his sophomore season.
The Suzuki duo of Chris Vermeulen and John Hopkins are both experiencing their most successful season in MotoGP, with the former having taken his first victory at Le Mans and Hopkins the most recent Suzuki podium finisher with a career best second place in the Czech Republic. The pair are dead level on points after 12 races, and will soon be incorporating a new engine specification on the GSV-R800.
A doubt for Misano, Marco Melandri rounds off the top six in the classification. The Gresini Honda rider missed the race at Brno with a neck injury, and has been undergoing further tests to see if he will be fit to compete after two weeks of rehabilitation. The race is an important one for his team, as their headquarters are located close to the Misano circuit. Team-mate Toni Elias is also on the recovery trail after making his return to action at 60% fitness in the Czech Republic. Both riders used the track to complete a late fitness test this month on streetbikes.
Experienced faces Colin Edwards, Nicky Hayden, Loris Capirossi and Alex Barros complete the MotoGP top ten, all looking to gain points and places in the remaining races of the 2007 season.
Of the MotoGP field, only the aforementioned Gresini Honda riders, Safety Commission members Rossi and Capirossi and one other rider have ridden at Misano. The only additional competitor with experience at the circuit is ironically MotoGP newcomer Anthony West, who took victory on a 600cc bike earlier in the year.
The GP Cinzano di San Marino e della Riviera di Rimini takes place on Sunday September 2nd, with practice beginning on the preceding Friday.The schedule for Friday will change to allow riders extra time to get to grips with the circuit. An extra hour has been set aside for 800cc practice from 4.15pm local time, with an additional two rear tyres and one front permitted accordingly to tyre companies subject to new this year's regulations (Michelin and Bridgestone).
Circuit Information
The Misano circuit is a new challenge for the large majority of the MotoGP riders. Close to the city of Rimini, the circuit was constructed in 1972 and has since undergone an array of modifications. A regular scene for Italian Grands Prix throughout the 80s and early 90s, Misano returns to the MotoGP calendar in 2007.
With updated facilities, track and grandstands, Misano Adriatico will hold a maximum capacity of 60,000 spectators. In accordance with MotoGP safety regulations, the 4,200m track will run clockwise for the World Championship races.
Friday Practice A Wash
Friday August 31st - Due to the extreme weather conditions at the Misano circuit, where torrential downpours took place at around 12pm local time, all of this afternoon's practice and qualifying sessions for the GP Cinzano de San Marino e della Riviera di Rimini have been cancelled.
The large quantity of rain that fell in a two hour burst provoked a large amount of flooding on the track, with the run-off areas and garages also affected. Race Direction confirmed the cancellation of the day's activities after inspecting the track. An additional practice sessions would be added on Saturday to allow for the inexperience of the riders with the Misano circuit.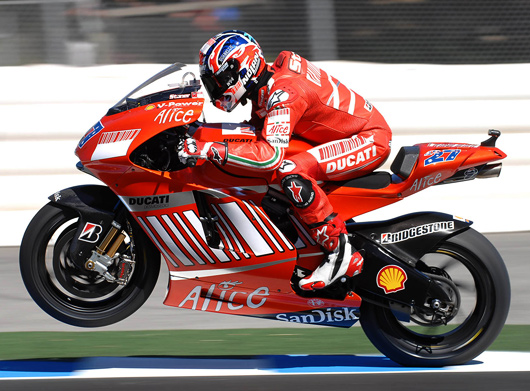 Casey Stoner's 4th Consecutive Pole
Saturday Sept 1st - As he has done on so many occasions this season, Casey Stoner played the spoiler in today's qualifying session for the Cinzano GP San Marino e della Riviera di Rimini, snatching what seemed to be surefire pole for local favourite Valentino Rossi. With Rossi having left it late to clock his fastest lap of the Misano circuit, something special was required of the 21 year-old Australian if he was to start his fourth consecutive race from pole. The Ducati rider duly obliged by putting down his 1'33.918 lap to become the only man to go round the new track in under 1'34.
Few would have believed that even Stoner could knock Rossi off the top of the tree, and the Italian seemed to be one of the most convinced that he would be starting tomorrow's race from the head of the grid. The Yamaha factory rider pumped his fist in elation as he completed his hot lap, saluting the thousands of supporters to his cause in attendance today, Rossi then completed his in lap at a leisurely pace, watching his rival on the circuit's big screen in disbelief as Stoner subsequently answered his challenge.
The current series leader and the former five-time MotoGP World Champion will be joined on tomorrow's front row by the reigning title holder, as Nicky Hayden put himself on the front row for the second consecutive race. The American gave a late surge onboard his Honda RC212V to establish a prime spot amongst the frontrunners at a tight circuit.
With a lack of practice time due to the cancellation of yesterday's sessions, qualifying tyres were only really used in the final 15 minutes of the afternoon. The rest of the hour was dedicated to race settings, during which Randy de Puniet led the way for a large portion of the proceedings. The Frenchman was also one of the first to put on qualifying rubber, and eventually finished just six hundredths of a second away from a front row start.
John Hopkins and Dani Pedrosa completed a top six made up of five different factories and evenly split between Bridgestone and Michelin. Spanish veteran Carlos Checa, Chris Vermeulen and Colin Edwards will start from the third line of attack, in what is sure to be an exciting return to Misano in front of an expectant crowd.
A huge highside in the early stages of the marathon second MotoGP free practice session left Marco Melandri once again taking a trip to the Clinica Mobile, although the Italian returned to the track later on in the outing.Melandri had a hard collision with the tarmac as he was thrown into the air by his Honda RC212V, which itself would have finished its trajectory in the crowd had it not been for some well placed barriers. After examination in the on-site facitlities, the Gresini Honda rider returned to the track and qualified 12th in the afternoon session.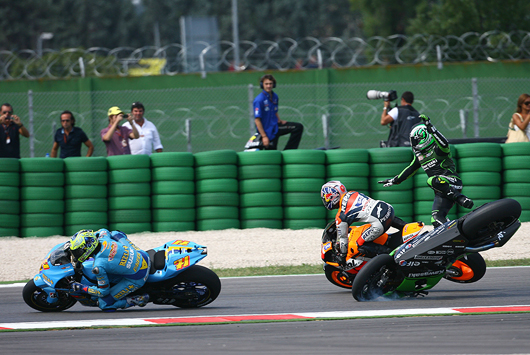 Nicky Hayden was once again left disappointed by a first lap incident that had little to do with his own actions. Chris Vermeulin (710 gets away cleanly as Kawasaki's Randy de Puniet (airborne) takes out an unlucky Dani Pedrosa in turn two. American Nicky hayden is just behnd them and was forced off the track in avoiding them, leaving Nicky a quarter lap down in last place when he rejoined the race. BIG PICTURE
Suzuki's Vermeulin and Hopkins chase Casey Stoner
all the way home at Ducati's Home Track
Race Day, Sunday Sept 2nd - Casey Stoner leaves Misano with an 85 point lead in the overall classification and one hand on a maiden MotoGP World Championship, courtesy of his eighth victory of the 2008 season and Ducati's first on Italian soil in the GP Cinzano di San Marino e della Riviera di Rimini.
Another superb runaway victory from the Australian, combined with Valentino Rossi's retirement from the race with a mechanical problem, mean that Stoner could mathematically seal the World Championship at Estoril in two weeks time, but the 21 year-old could never be accused of being a winner by default as he stormed away from pole for the fourth consecutive race. The Ducati factory rider now joins Rossi as the only two riders to have won three consecutive races on a four-stroke machine.
Rizla Suzuki experienced their best ever MotoGP result when they finally got Chris Vermeulen and John Hopkins together on the podium. Vermeulen had a fantastic start from the third row, and for the third race in succession the GSV-R was set loose on catching Stoner. Whilst the World Championship leader's place was once again just a little too quick despite numerous fastest laps from his main pursuer, Suzuki have now taken second place at the last three races, also their best run of form since the introduction of the four stroke machines.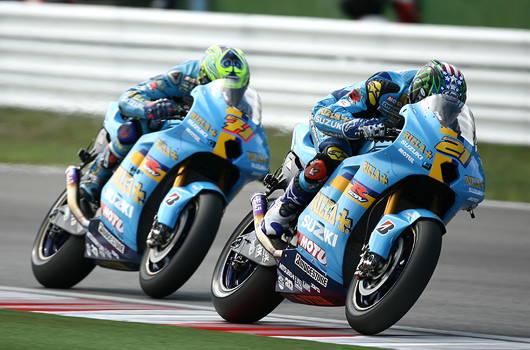 Chris Vermeulin (71) moves up to pass Suzuki team mate John Hopkins (21) for 2nd place.

Hopkins rounded off the rostrum, which for the second race in a row featured no Italian riders, and the Suzuki duo have worked their way ever-closer to Dani Pedrosa's points tally in second position in the standings.
Whilst it was good news for the top trio in well-deserved results, Rossi was dealt a devastating blow to his title aspirations after just four laps of the Misano circuit. Trying out a new pneumatic engine for the first time, the five-time MotoGP World Champion was forced to pull over to the side of the track after experiencing difficulties, and was forced to give something of a low-speed parade lap for the legions of disappointed fans in the grandstands as he inched back into pit lane.
Marco Melandri has a tendency to almost thrive on injury, and completed an excellent race despite making his comeback from neck an ankle injuries and paying a trip to the Clinica Mobile yesterday morning. The Gresini Honda rider put in a superhuman performance to take fourth place, displaying an almost scary amount of guts and riding ability at a track that he had barely a couple of hours to learn.
Loris Capirossi completed the first five past the chequered flag, all shod on Bridgestone tyres. Carlos Checa was the highest finishing Michelin rider, ahead of countryman and still-injured Gresini Honda man Toni Elias. Anthony West returned to form after a disappointing race at Brno, with Colin Edwards and Shinya Nakano rounding off the top ten.
Reigning World Champion Nicky Hayden was once again left disappointed by a first lap incident that had little to do with his own actions, caught up in Randy de Puniet's collision with Dani Pedrosa. The American had to manoeuvre his way round the fallen pair and, as at his home race at Laguna Seca, rejoined the race from the back of the field and without the chance of a podium finish.
Casey Stoner receives congradulations from his team.
MotoGP Results
Race Classification MotoGP : (28 laps = 117.04 km)
Pos/ Rider / Nat / Team / Motorcycle / Time/ KM/H / Gap
1 / Casey STONER / AUS / Ducati Marlboro Team / DUCATI / 44'34.720 / 157.528 /
2 / Chris VERMEULEN / AUS / Rizla Suzuki MotoGP / SUZUKI / 44'39.571 / 157.243 / 4.851
3 / John HOPKINS / USA / Rizla Suzuki MotoGP / SUZUKI / 44'50.722 / 156.591 / 16.002
4 / Marco MELANDRI / ITA / Honda Gresini / HONDA / 44'57.457 / 156.2 / 22.737
5 / Loris CAPIROSSI / ITA / Ducati Marlboro Team / DUCATI / 44'59.507 / 156.081 / 24.787
6 / Carlos CHECA / SPA / Honda LCR / HONDA / 45'09.706 / 155.494 / 34.986
7 / Toni ELIAS / SPA / Honda Gresini / HONDA / 45'15.616 / 155.155 / 40.896
8 / Anthony WEST / AUS / Kawasaki Racing Team / KAWASAKI / 45'16.494 / 155.105 / 41.774
9 / Colin EDWARDS / USA / Fiat Yamaha Team / YAMAHA / 45'21.866 / 154.799 / 47.146
10 / Shinya NAKANO / JPN / Konica Minolta Honda / HONDA / 45'23.528 / 154.705 / 48.808
11 / Alex HOFMANN / GER / Pramac d'Antin / DUCATI / 45'24.019 / 154.677 / 49.299
12 / Sylvain GUINTOLI / FRA / Dunlop Yamaha Tech 3 / YAMAHA / 45'43.896 / 153.556 / 1'09.176
13 / Nicky HAYDEN / USA / Repsol Honda Team / HONDA / 45'55.144 / 152.929 / 1'20.424
14 / Makoto TAMADA / JPN / Dunlop Yamaha Tech 3 / YAMAHA / 46'08.943 / 152.167 / 1'34.223
15 / Kurtis ROBERTS / USA / Team Roberts / KR212V / 45'14.795 / 149.659 / 1 lap
Pole Position: Casey STONER 1'33.918 160.224 Km/h
Fastest Lap (New record): Casey STONER 1'34.649 158.987 Km/h Lap 12
Circuit Record Lap: New Circuit
Circuit Best Lap: Casey STONER 1'33.918 160.224 Km/h 2007
World Championship Positions:
1 STONER 271, 2 ROSSI 186, 3 PEDROSA 168, 4 VERMEULEN 144, 5 HOPKINS 140,
6 MELANDRI 126, 7 EDWARDS 100, 8 CAPIROSSI 98, 9 HAYDEN 92, 10 BARROS 83,
11 HOFMANN 65, 12 ELIAS 63, 13 DE PUNIET 58, 14 CHECA 45, 15 WEST 41.
250cc GP to Lorenzo
An eighth win of the season for Jorge Lorenzo from as many pole positions put the 250cc World Champion in the record books this afternoon, as he became the Spanish rider with the most victories in the quarter-litre class. The latest triumph, combined with title rival Andrea Dovizioso's enforced retirement from the race, give Lorenzo a 54 point advantage in his quest to retain the crown.
The Fortuna Aprilia man was on the back foot for the first half of the race, with Dovizioso leading the race for the majority of the first 16 laps. Lorenzo went diligently about closing the gap, and the two were soon head to head for another epic battle. The Italian fans were robbed of a further spectacle just two laps later in an unfortunate turn of events, as Dovizioso pulled up with a mechanical problem and saw the championship slip ever further out of his grasp.
Hiroshi Aoyama would perhaps have been grateful for an extra few laps, as he racked up consistently fast times en route to second place. The KTM man had duked it out with his team-mate Mika Kallio until the final stages of the race, when the Finn took a massive highside which left him without the chance of a podium finish. Hector Barbera completed the rostrum places in an improved showing for the Team Toth Aprilia rider.
Thomas Luthi, home rider Alex de Angelis and Shuhei Aoyama completed the top six, just ahead of highest finishing Italian Roberto Locatelli in his best race since his return from a horror crash at Jerez earlier this year.
250cc Results
Race Classification 250cc: (26 laps = 108.68 km)
Pos / Rider / Nat / Team / Motorcycle / Time / KM/H / Gap
1 / Jorge LORENZO / SPA / Fortuna Aprilia / APRILIA / 42'54.427 / 151.974 /
2 / Hiroshi AOYAMA / JPN / Red Bull KTM 250 / KTM / 42'58.005 / 151.763 / 3.578
3 / Hector BARBERA / SPA / Team Toth Aprilia / APRILIA / 43'01.468 / 151.56 / 7.041
4 / Thomas LUTHI / SWI / Emmi - Caffe Latte Aprilia / APRILIA / 43'01.640 / 151.55 / 7.213
5 / Alex DE ANGELIS / RSM / Master - Mapfre Aspar / APRILIA / 43'02.091 / 151.523 / 7.664
6 / Shuhei AOYAMA / JPN / Repsol Honda 250cc / HONDA / 43'30.661 / 149.865 / 36.234
7 / Roberto LOCATELLI / ITA / Metis Gilera / GILERA / 43'31.345 / 149.826 / 36.918
8 / Alvaro BAUTISTA / SPA / Master - Mapfre Aspar / APRILIA / 43'31.363 / 149.825 / 36.936
9 / Yuki TAKAHASHI / JPN / Kopron Team Scot / HONDA / 43'31.569 / 149.813 / 37.142
10 / Julian SIMON / SPA / Repsol Honda 250cc / HONDA / 43'34.720 / 149.632 / 40.293
11 / Jules CLUZEL / FRA / Angaia Racing / APRILIA / 43'46.147 / 148.981 / 51.72
12 / Aleix ESPARGARO / SPA / Blusens Aprilia Germany / APRILIA / 43'51.047 / 148.704 / 56.62
13 / Ratthapark WILAIROT / THA / Thai Honda PTT-SAG / HONDA / 43'54.487 / 148.51 / 1'00.060
14 / Karel ABRAHAM / CZE / Cardion AB Motoracing / APRILIA / 43'55.927 / 148.428 / 1'01.500
15 / Eugene LAVERTY / IRL / Honda LCR / HONDA / 44'04.377 / 147.954 / 1'09.950
Pole Position: Jorge LORENZO 1'38.395 152.934 Km/h
Fastest Lap (New record): Hiroshi AOYAMA 1'38.074 153.435 Km/h Lap 18
Circuit Record Lap: New Circuit
Circuit Best Lap: Hiroshi AOYAMA 1'38.074 153.435 Km/h 2007
World Championship Positions:
1 LORENZO 241, 2 DE ANGELIS 187, 3 DOVIZIOSO 186, 4 BAUTISTA 135,
5 BARBERA 119, 6 AOYAMA 108, 7 KALLIO 94, 8 LUTHI 85, 9 SIMON 75, 10 AOYAMA 72,
11 SIMONCELLI 57, 12 TAKAHASHI 56, 13 LOCATELLI 42, 14 LAI 42, 15 ESPARGARO 31.
---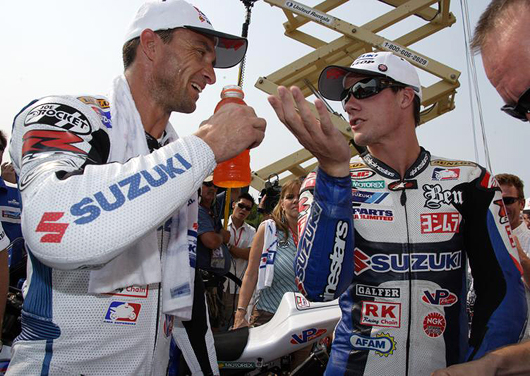 Matt Mladin (left0 again beat Yoshimura Suzuki team mate Ben Spies both days at Road Atalanta to take a 3-point lead in the 2007 AMA Superbike Championship going into the final round at Laguna Seca in 2 weeks.

2007 AMA Superbike Championship, Round 10 of 11
Mladin Reels in on Spies for the 2007 Championship
Braselton, GA, September 1-2nd, 2007 - Yoshimura Suzuki's Mat Mladin won his 11th AMA Superbike race of the season at Road Atlanta in Braselton, Georgia on Saturday in the first round of the 2 race weekend, tying his own record for most AMA Superbike race wins in a single season and recording his 62nd career AMA Superbike win.
Team mate and defending champion Ben Spies finished in second place after a crash and a red flag which resulted in Spies re-starting from the back of the grid. In spite of this, he worked his way through the field to finish on the podium behind Mladin.
Tommy Hayden was running in an impressive fourth position when another rider made contact with him and he went down: He re-entered the race and charged hard to make it up to the top 10 before the race's end.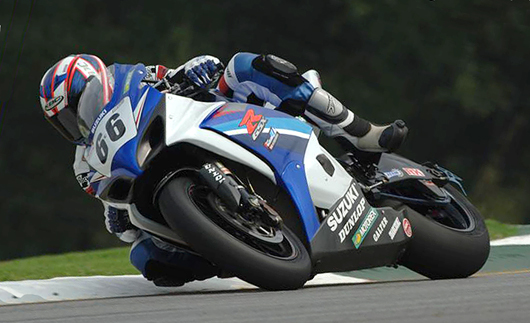 Race 2 Sunday Sept 2nd - Yoshimura Suzuki's Mat Mladin broke his own record for the most AMA Superbike wins in a single season by picking up his 12th victory at Road Atlanta in Braselton, Georgia on Sunday. It was Mladin's sixth AMA Superbike race win in a row as well as his 63rd career victory in the class which gave the six-time AMA Superbike Champion command of the AMA Superbike points chase going into the series' final round at Laguna Seca later this month.
Sunday's 20-lap race was the second of two AMA Superbike races in this weekend's double-header event. . Team mate and defending AMA Superbike Champion Ben Spies followed again Mladin home in second place while Kawasaki's Jamie hacking again claimed a distant 3rd place both days
Mat Mladin, Saturday: "It was a good race for us today and it was good to get the win. To have 11 wins for the year, well, it's been a pretty good season so far. We're definitely looking at trying to win another race tomorrow. Before the red flag today we had a good pace on the Yoshimura Suzuki GSX-R1000. There were places where Ben was very strong but I knew that we were strong also in a few spots. We were doing our best to just try and eke it out and try to put as much pressure on Ben as possible. He knows that he wants to win the championship a lot more than I do and he knows that you've got to win races if you're going to win the championship so he's got to get going. That's made for good racing out there and we're looking forward to tomorrow. Hopefully, we can put on a good show."
Mat Mladin, Sunday: "Our goal this year was to try and win as many races on the Yoshimura Suzuki GSX-R1000 as possible. With some bad starts and a couple of crashes we've given away a few. But we're in a good position and it's nice to win and it's nice to get the Suzuki working so well that we can pull away a little bit when we need to. Laguna Seca is going to be a good race and we're looking forward to it."
Ben Spies, Saturday : "We had pretty good speed on the Yoshimura Suzuki GSX-R1000 before the re-start. That was just a little mistake; the way I threw the bike in there or something. After I got back to the pits I saw the bike wasn't torn up too bad. I looked at the lap times and told the guys that we could at least go out and get second place today. I set a couple decent laps in the beginning and tried to be as patient as possible. All together, coming in second isn't too bad after crashing and coming back from last place. Tomorrow we've got to find a little speed. We're close but we need to find something for a little edge."
Ben Spies, Sunday: "We had a pretty good race; I rode as hard as I could the whole time. We ran into a few tyre problems and I figured that I would just ride as hard as I could and, with the pace Mat was going, maybe he'd run into a problem. I couldn't see him going that fast and not having a problem, but he didn't. We didn't make any big mistakes - we just didn't have the speed today - but I rode as hard as I could and that's all I could do. The Suzuki worked pretty good and we're just going to go to Laguna now and go for the win. Laguna's been a good track to us in the past so hopefully we'll get it done there. It should be a good last race."
Saturday AMA Superbike
1. Mat Mladin (Yoshimura Suzuki)
2. Ben Spies (Yoshimura Suzuki)
3. Jamie Hacking (Kawasaki)
4. Aaron Yates (Jordan Suzuki)
5. Jake Zemke (Honda)
6. Roger Hayden (Kawasaki)
7. Matt Lynn (MV Agusta)
8. Luca Scassa (MV Agusta)
9. Jake Holden (Jordan Suzuki)
10. Tommy Hayden (Yoshimura Suzuki)

Sunday AMA Superbike
1. Mat Mladin (Yoshimura Suzuki)
2. Ben Spies (Yoshimura Suzuki)
3. Jamie Hacking (Kawasaki)
4. Aaron Yates (Jordan Suzuki)
5. Roger Hayden (Kawasaki)
6. Jake Zemke (Honda)
7. Tommy Hayden (Yoshimura Suzuki)
8. James Ellison (Honda)
9. Jake Holden (Jordan Suzuki)
10. Eric Bostrom (Yamaha)
AMA Superbike Points Standings: 1. Mladin 618, 2. Spies 615, 3. Zemke 441, 4. Yates 436, 5. Hayden 429, 6. Hacking 403, 7. Duhamel 360, 8. R. Hayden, 344, 9. Bostrom 336, 10. Disalvo 335.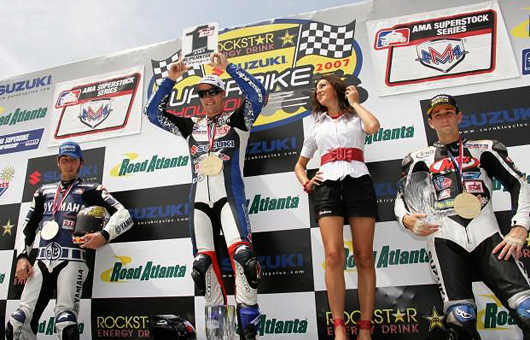 Above: Ben S[pies did wrap up the AMA 1000cc Superstock Championship at Road Atlanta with his win over Ben Bostrom (left) and Geof May (right).
---
There's more! Go to Pit Lane News NEXT PAGE

Hot Calendar Girl and Bike News! Go to: Fast Dates • Calendar Girls • Iron & Lace

Calendar Kittens, The Paddock Garage, Screensavers, Iron & Lace Garage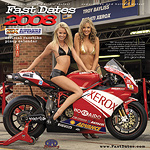 Now Available!
16-month Calendar starts Sept
2008 Fast Dates Calendar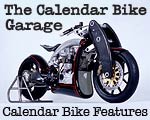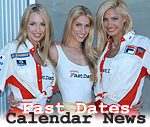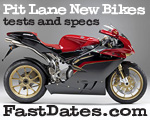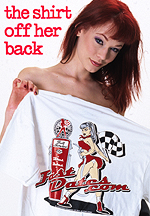 ---
Qatar to hold first ever night time MotoGP
to start the 2008 Season
Aug 31st - In a press conference held today at the Misano circuit, it was announced that the forthcoming 2008 Commercialbank Grand Prix of Qatar on March 9th will be held at night in an unprecedented addition to the MotoGP World Championship. The operation is believed to be the biggest lighting project in the world for any sporting event, guaranteeing complete visibility in the race which will move to a Sunday evening slot.
Dorna CEO Carmelo Ezpeleta, Musco Lighting's President Joe Crookham and Vice-President Jeff Rogers were joined by Nasser Bin Khalifa Al-Attiyah from the QMMF (Qatar Motor and Motorcycle Federation) and FIM President Vito Ippolito to make the news official in a short press conference, during which the reasons for the move were explained.
Making the announcement, Mr. Ezpeleta remarked, "Changing the Qatar race to a night time schedule allows for a better synchronisation with European television schedules, where the race can be made available in the primetime Sunday slot. This is obviously a big boost for the broadcasters, and a landmark moment for MotoGP."
On behalf of the QMMF, Mr. Al-Attiyah commented, "This is obviously a major project for Qatar and we are proud to be able to say we will hold the first Grand Prix event under lights. Whilst this is great for the country's image as a whole, it also means our track can be used in the hot summer months and we hope this opens up more opportunities for other motorsports events in the future."
Experts in providing lighting services for racetracks and all kinds of sporting venues, Musco President Mr. Crookham described the complex system as, "The biggest lighting project in the world for any sporting event." He added, "The system will incorporate over 3700 separate light sources across every section of the circuit, which will eliminate shadowing on the track and in the run-off areas. The quality of the light is the same as any premium lighting system at any other major sporting venue. Based on our experience in other motorsports events, the riders will be able to see as well as during daytime and may even come to prefer it."
Meanwhile, FIM President Mr. Ippolito was proud to be able to announce the first night Grand Prix. "I would like to express my thanks to the QMMF and Dorna for the hard work which has seen this project move forward. Before it was just something to talk about, but now it is very real and it is great to see MotoGP changing for the better. It is positive news for motorcycling as a whole."
A night race at the Losail International Circuit was first investigated at last year's Grand Prix, when MotoGP Safety Commission members Valentino Rossi, Loris Capirossi and Kenny Roberts Jr. rode the track on street bikes.
The Commercialbank Grand Prix of Qatar will open the 2008 MotoGP World Championship on March 9th.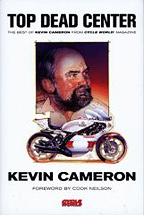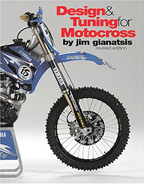 Design & Tuning
for Motocross
The ultimate book on motocross bike technology & performance
by Jim Gianatsis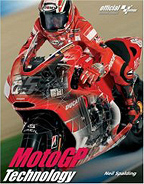 NEW! FastDates.com
Cell Phone Wallpapers!
Stunning double podium for Rizla Suzuki MotoGP
Misano 9/02 - Chris Vermeulen and John Hopkins raced their Rizla Suzuki GSV-R's to second and third places respectively, to give Suzuki its first double podium in the MotoGP era, at Misano in Italy today.
Starting from the middle of the third row Vermeulen got a great start and was in fourth place by the first corner. He made up a further place during the first lap as he passed seven-time World Champion Valentino Rossi, and then set about chasing team-mate Hopkins.
Hopkins had had an equally good start and was straight into second place, close behind eventual winner Casey Stoner. Hopkins and Vermeulen traded fastest laps over the first six laps of the race before Vermeulen caught and overtook his team-mate on lap six. Rizla Suzuki's Australian star closed the gap on his fellow countryman Stoner, but was eventually unable to reel in the runaway championship leader.
A crowd of just over 57,000 bathed in glorious sunshine as they witnessed Suzuki's first double podium since 2001. The Team has now moved up into third position in the Team's Championship and is only two points away from second place. Vermeulen and Hopkins both consolidated their fourth and fifth places in the rider's classification and moved even closer to Dani Pedrosa in third after he failed to finish today, having crashed on the first lap.
Rizla Suzuki MotoGP will now stay in Misano for a full day of testing tomorrow before heading off to the next round of the MotoGP World Championship, to be held at Estoril in Portugal on Sunday 16th September.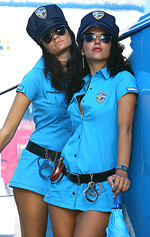 Team Rizla Suzuki's Pit Security
Chris Vermeulen: "I am very happy to be on the podium. I said earlier this year that there would be two Rizla Suzukis on there before the end of the year, and I am very pleased to have been proved right. Obviously I'm happy to be in front of John, but congratulations to him and the whole team on this great result. We had no data on the bikes before we came here and Suzuki and Bridgestone have both done a great job to give us such a fantastic package for a new circuit. I got a good start from the third row, which was nice because I was dreading starting back there as it is so difficult to pass around here. I got up to fourth early on, but I still had to pass John and Valentino – two of the hardest guys in the paddock to get around. After I got through them I tried to catch Casey and thought I was doing so, but I think I used up a bit too much of my rear tyre trying to catch him and at the end he pulled away a bit. Once again I would like to pass on my thanks to Tom and all my crew, plus all the guys at Bridgestone for this weekend."
John Hopkins: "What can I say, two Rizla Suzukis on the podium so that isn't too bad a day! I got a great start which was crucial and I was lucky to avoid the accident at turn one. I wanted to hang on to Casey early on for as long as I could, the Bridgestone tyres worked really well right from the start and the bike also felt good. I had an incident when I pushed a bit too hard coming in to a fast right and had a big front-end slide. That cost me some time as it spooked me up a bit and because of that my lap-times dropped off. I could hear Chris behind me, he came up the inside and passed me - I knew he had a strong pace and I tried to hang on to him. I hung on for as long as possible until I had a problem with a knee-slider that came loose and I had to take it off and put it back on! That is neither here nor there though, Chris and Casey rode at a hell of a pace and I didn't really have anything for them. I'm happy to get this position for the Team and for Suzuki. It's a great performance today and now we'll be pushing tomorrow to try and make more improvements. Then it's on to Estoril where I have very high hopes!"
Paul Denning – Team Manager: "Today represents another landmark in Suzuki's return to competitiveness in MotoGP. It's the first time since 2001 that two Suzukis have been on the podium and the first time ever since the introduction of the four-stroke regulations. It's a reflection on the hard work put in by Suzuki, the crew, the riders, Bridgestone and all our technical partners. Rizla Suzuki MotoGP is now only two points behind Fiat Yamaha in the Team Championship, and with the performances shown recently by both of the riders we could possibly take second place over the coming races. It also gives us great confidence as we look to build on these results into 2008.I want to say well done to everybody involved, great job guys.
"Rizla Suzuki would also like to congratulate Casey Stoner on another unbelievable performance today. There has been a lot of nonsense spoken in MotoGP this year regarding tyre regulations, engine performance, etc. etc. I believe that the difference at the moment is Casey and we're focusing our best efforts to improve our own performance to beat him and that's what everybody should be doing at this time!"
Rossi Retires and Edwards in 9th as bad luck strikes Yamaha at Misano
Valentino Rossi's hopes of a glorious homecoming to Misano ended after just five laps today, when an engine problem forced the Fiat Yamaha Team rider to retire when running strongly in fourth position. Rossi's team-mate Colin Edwards meanwhile struggled with rear grip in the later stages and was only able to bring his YZR-M1 home in his starting position of ninth.
With thousands of passionate Italian fans looking on, Rossi started the San Marino Grand Prix from second on the grid with high hopes of an exciting podium battle with chief rival and pole-sitter Casey Stoner. He dropped one place at the start and another a few turns later as first John Hopkins and then Chris Vermeulen came through, but never got the chance to fight back as he lost power in his engine on lap five of 28 and was forced to coast home to the pits. Edwards got a good start and rose to sixth at one point, but a lack of grip on the left side of his rear tyre meant he was unable to make any further headway through the field, eventually slipping to ninth behind Anthony West.
With Stoner the eventual winner, today's result sees Rossi's dream of a late-season championship revival slip further away as he now sits 85 points adrift in second, with a possible 125 points left available from five races. Edwards remains seventh with 100 points. The Fiat Yamaha Team will have a one-day test here tomorrow, before heading to Portugal in ten days time for round fourteen.
Rossi: "At the start I felt I was lacking some temperature in my tyres and so I slipped back a little from my starting position. However apart from this I felt quite good, stable, with a good rhythm and confident that things would continue to improve as the temperature in my tyres increased. However on lap five, when I was braking hard, I suddenly felt something go and that was the end of my race. The engine was the same one that I used at the Brno test and also here in practice and it felt quite good; we don't yet know what the problem was today so we will have to wait until our engineers have had time to examine the situation.
"It would have been great, and very useful, to have a good result here in Misano today. I like the track a lot and I really wanted to do well in front of all the fans; it was a great emotion for me to see so many people in yellow. Unfortunately this wasn't the case today and now we know that the championship will be very, very difficult. Breaking down after just a few laps is frustrating and unlucky, especially because today we had good expectations and we had been fast during practice. But when bad things like this happen you have only two choices; give up or come straight back and start working again even harder than before. This is what we will do at Yamaha; me, my team, the engineers - everyone involved. We still have five races left and we will keep trying to get the result we deserve. Once again Stoner deserved to win today, so well done to him. We have a lot of work to do before Estoril."
Ducati Sport Classic Demo Week Sept 1-8th
Ducati North America is proud to announce the SportClassic Demo Week.
The SportClassic Demo Week will be held Saturday, September 1st through Saturday, September 8th at participating Ducati dealers throughout North America. The event will be the perfect opportunity for motorcyclists to experience the exclusive family of motorcycles first hand.
The SportClassic line of Ducati Motorcycles includes three motorcycles that capture the essential beauty, timeless style and emotions of the original 1970's Ducati Sport Bikes. The entire family utilizes the proven 92 horsepower Ducati 1000cc dual spark engine as well as traditional Ducati styling and performance.
In addition to the demo opportunity, participating dealers are offering a special retail incentive: Any new SportClassic purchased during the month of September from a participating SportClassic Demo Week Dealer will receive $500 worth of free Ducati apparel or accessories.
"The SportClassic Demo Week represents a perfect opportunity for all licensed motorcyclists to experience the thrill of our products," said Nicholas McCabe, Business Development Manager of Ducati North America. "Demonstrator rides are uncommon in many motorcycle dealerships, but we are actively giving our customers the proper tools to make an informed buying decision."
SportClassic models will be available to demo throughout the entire week. Ducati North America recommends bringing proper safety gear and scheduling an appointment with a participating Dealer in order to ensure a demo bike is available when you arrive.
Full details along with the list of participating dealers can be found at www.ducatiusa.com.
Ben Spies Clinches AMA 1000cc Superstock Title One Round Early
Sept 2nd - Yoshimura Suzuki's Ben Spies clinched the 2007 AMA Superstock Championship after winning the penultimate race of the season at Road Atlanta in Braselton, Georgia on Sunday.
With one round of AMA Superstock remaining, Spies and his Yoshimura Suzuki GSX-R1000 went for the win even though he only had to finish in sixth place or better to take the title. With this win, Spies lays claim to seven of eight races so far this year. Additionally, defending AMA Superbike Champion Spies won pole position for this race, his sixth of the season.
Team M4 EMGO Suzuki's Geoff May finished in an impressive third place in the 15-lap AMA Superstock race. This is May's fourth podium of the season in AMA Superstock.
Ben Spies: "It was a good race for us today. I wanted to win the championship but I wanted to win the race pretty bad too. So I just tried to put in consistent lap times on the Yoshimura Suzuki GSX-R1000. It's great to win the Superstock championship for Suzuki. The Yoshimura Suzuki GSX-R1000 is an amazing bike and has worked great at every track we've raced at this year. I want to thank Suzuki and my crew for working so hard for me all season long."
Geoff May: "The whole M4 EMGO Suzuki crew was great this weekend. They gave me a good bike to race in the Suzuki GSX-R1000 and the Pirelli tires held up great in the heat. We had a good, solid race but the guys in front were a little quicker than we were. Then Aaron Yates had some trouble with some lappers and gave me the podium spot. I'd rather not have gotten it that way, but we'll take it and hopefully end the season strong at Laguna Seca."
AMA Superstock Results:
1. Ben Spies (Yoshimura Suzuki)
2. Ben Bostrom (Yamaha)
3. Geoff May (M4 EMGO Suzuki)
4. Jake Holden (Jordan Suzuki)
5. Jamie Stauffer (Yamaha)
6. Blake Young (MPT Suzuki)
7. Gary Mason (Roadracingworld.com Suzuki)
8. Scott Jensen (HALOF Racing Suzuki)
9. David Weber (Suzuki)
10. Chris Ulrich (Roadracingworld.com Suzuki)