Casey Stoner got to proudly wear the Number 1 for the first time at his home track.
MotoGP 3-Day Team Tests, Phillip Island, Australia
Stoner and Ducati Shatter Phillip Island Lap Record
Injured Champ an Incredible 1-Second Quicker than his Closest Rivals
Feb. 1 2008 - Casey Stoner lapped faster than any other rider in history at Phillip Island today, his stunning lap of 1'28.777 coming on the last of three days of tests at his home circuit. The reigning World Champion used a qualifying tyre on his 25th of 51 laps, although his pace during a race simulation was equally impressive. Only his flying lap registered outside the 1'30 mark as Stoner racked up 23 consecutive fast laps with relentless precision. Only the heat of the track in the scorching afternoon sun interrupted the local hero's progress, three laps short of the intended total, but his satisfaction was still complete.
The team's stunning performance this week was doubly impressive in that Stoner was coming off a serious shoulder injury from a hard crash in team testing at Jerez this past November 28th. While for Ducati, the engineers were testing the new Desmosedici GP08 machine which boasted a smoother, less explosive powerband, with more torque lower down to make the formerly challenging GP07 winner easier to ride.
It seems to have worked, and with the Japanese bike teams finding themselves nearly a full second behind the reigning World Champions, it is already looking like the surprise 2007 Champs will be the odds-on favorite to dominate again in 2008. The second quickest bike and rider combo at the test, America's Nicky Hayden on the all-new Honda RC211V was still struggling to develop their new pneumatic valve engine which is heavier and doesn't perform as well as the old steel valve spring engine which they keep going back to. The new chassis designed for the pneumatic valve engine, also doesn't seem to be much better than last year's bike.
Stoner's new team mate on the Ducati team, Marco Melandri was also quite satisfied after spending another day working intensely on finding a good feeling with his new bike in race trim as opposed to trying for a fast time on a qualifying tyre. Today he completed a marathon 108 laps, including a race simulation.
Casey Stoner (Ducati Marlboro Team), best time: 1:28.777 (51 laps) - "We did the race simulation with one of Bridgestone's new tyres and it went really well, even though we had to come in three laps early. The track temperature today was actually higher than it was for the race here and you could tell. Even so we managed to lap consistently in low 1.30 and that shows how well they're working in Japan. I'm also really happy with the qualifying tyre, which is the same as last year. It is a good thing that bike is not completely different to 2007 because it has allowed is to find an excellent base to start the season from already. The new version of the engine has a better delivery, especially at the bottom end, and that has allowed me to set fast times more consistently, as well as increasing tyre life. It has been a good test session but now I'm happy to have a couple of weeks to rest and train in the gym. The shoulder feels okay, it is just a little bit weak and sore because I haven't been able to work on it as much as I would have wanted but now we can do that."
The MotoGP teams now have two weeks to make it to their next important meeting at the Jerez circuit in Spain, where the MotoGP Official Test takes place from 16th to 18th February.
Phillip Island Information
Circuit Record: Marco Melandri (Honda - 2005) 1'30.332
Best pole: Nicky Hayden (Honda - 2006) 1'29.020
Fastest lap GP 2007: Valentino Rossi (Yamaha) 1'30.801
Pole 2007: Dani Pedrosa (Honda) 1'29.201
Testing Unofficial lap times 01/02/2008
1. Casey STONER (Ducati) 1:28.777 (51 giri)
2. Nicky HAYDEN (Honda) 1:29.734 (102)
3. James TOSELAND (Yamaha) 1:29.754 (89)
4. Andrea DOVIZIOSO (Honda) 1:29.780 (90)
5. Colin EDWARDS (Yamaha) 1:29.795 (56)
6. Chris VERMEULEN (Suzuki) 1:30.216 (73)
7. Alex DE ANGELIS (Honda) 1:30.438 (91)
8. Shinya NAKANO (Honda) 1:30.728 (89)
9. Toni ELIAS (Ducati) 1:30.966 (97)
10. Randy DE PUNIET (Honda) 1:30.978 (115)
11. Sylvain GUINTOLI (Ducati) 1:30.983 (58)
12. Marco MELANDRI (Ducati) 1:31.377 (108)
13. Loris CAPIROSSI (Suzuki) 1:31.508 (75)
14. Anthony WEST (Kawasaki) 1:31.957 (90)
---
World Press Test Launch of the Ducati 1098R
Feb 1st - FastDates.com may not have been invited to Ducati's world press introduction of the 1098R 08 Superbike this week at the Jerez grand prix track in Spain because Ducati's new bike introductions are reserved for print media only for some stupid reason (FastDates.com has more sportbike readers than America's Cycle News and Roadracing World newspapers combined). But we are privy to getting Ducati's Press Kits the same time as everyone else (unlike the Japanese manufacturers who ignore the internet media altogether), so sit back and read the official press launch of the new 1098R 08 - the most significant race bike from Ducati since the 998R - before you'll get to read it in those print magazines weeks from now!
With the tighter production rules for World Superbike starting this year, 2008, this limited production 1098R which actually displaces 1198cc, produces as much horsepower and more torque than Troy Corser's factory 999F07 racebike from last season. Pull off the lighting equipment and add racing slicks, and for US $39,995 you've got a bike that's capable of winning in AMA National Superbike. For a privateer that sounds like a lot of money, but for a team like American Honda faced with having to develop an all new race CBR1000 from scratch again (and based on their loosing track record the last 3 years with the outgoing CBR) were sure Neil and Miguel would give anything to be able to slip Honda bodywork over this 1098R.
Ducati development test rider Vittoriano Guareschi puts the 1098R through its paces.
Here's what Ducati has to tell us:
The 1098 R is the ultimate Superbike. The most advanced, most powerful twin-cylinder motorcycle ever built, with the highest torque-to-weight ratio in the sport bike category. It is the product of a team of designers and engineers focused on one objective only- to win. The lightest, most powerful twin-cylinder bike ever and true competition-level traction control system supplied as standard for maximum track performance.
The "R"is a race bike, pure and simple. Its competition specification and superior components together with advanced electronics and race-proven chassis technology deliver a level of performance that empowers you with confidence and capability.
World Superbike rule changes mean that the road-going "R" version is closer than ever to the factory race bike. The 1098 R is not a replica - it's the real deal. An incredible 180 hp L-Twin Testastretta Evoluzione engine in a race-winning Trellis chassis set-up tips the scales at an unbelievably lightweight 165 kg (364 lbs) and comes with a race kit that introduces Ducati Corse's world championship winning traction control system.
Once again, Ducati raises the bar and sets the world standard for sport bikes while turning the heads and racing the hearts of enthusiasts throughout the world.
1098 Technology: Trademark Ducati features like the high tail section, compact front end, twin under-seat silencers and single-sided swing arm are just some of the features that turned the 1098 models into an instant award-winning success. When launched in November 2006, the 1098 and 1098 S introduced a number of firsts for Ducati and production sport bike design. It was the first production motorcycle to have the amazing stopping power of Brembo Monobloc brakes, the first to have a data acquisition system integrated as standard equipment and the first to use an ingenious construction method for its weight-saving single-sided swingarm. More firsts for a road-going Ducati included the direct application of MotoGP technology, like the power producing GP6-derived elliptical throttle bodies and the use of the information-rich instrumentation originally developed for the World Championship-winning Desmosedici GP7.
The "R" version of the 1098 is not only the flagship of the Superbike family, but also the platform on which the very latest Ducati Corse technologies are expressed in street bike form. The 1098 R takes all the original 1098 features, reduces weight even further and adds an extra 20 horsepower, traction control, sand-cast crankcases, titanium valves and con-rods, TTXR rear suspension and much more to produce the most awesome performance ever seen in this category.
The 1098 R comes with a race kit, which is intended for track use only, boosting power output from 180 to approximately 186 hp. The kit consists of a 102dB carbon fibre slip-on muffler kit by Termignoni and a dedicated ECU. The ECU not only has reconfigured mapping to suit the racing mufflers, but also initiates the system dialogue that controls the DTC (Ducati Traction Control) system. The 1098 R is the first ever production bike to be fitted with a true competition-level traction control.
MCN rides the 1098R at the Ducati Jerez Press Intro
Our buddies at Motor Cycle News in England share with us the first riding impression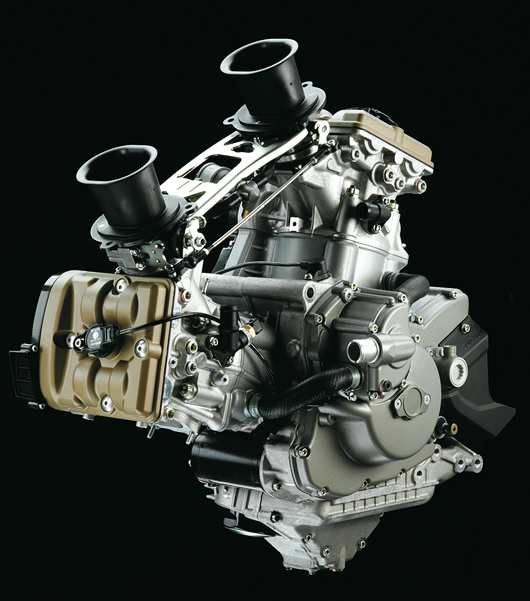 This ain' t your father's 1098! Sand cast engine cases with larger cylinder bores that displace 1198cc
1098 R Testastretta Evoluzione Power
The 1098 R engine represents the finest twin-cylinder technology in the world. It produces 180 hp (132.4 kW) @ 9,750 rpm and 99.1 lb-ft (13.7 kgm) of brute torque @ 7,750 rpm in standard mode and an astonishing 186 hp when using the supplied race kit, which is intended for track use only.
The specification of this engine underlines its no-compromise race technology. To help contain the massive Keri power output, the crankcases and cylinder heads have been sand-cast produced, a process that improves the molecular quality of the casting, increasing strength while ensuring that intricate shapes are achieved with absolute accuracy. Confirming the 1098 Rios race specification by minimizing weight and increasing performance, the crankshaft connecting rods are made in titanium saving 130 g over the stock 1098 rods while reducing their reciprocating forces and improving crankshaft acceleration. Cam belt covers molded in carbon fibre and cam covers cast in magnesium alloy complete the lightweight package. The result is a weight saving of 5.6 kg (12.34 lbs) over the 999 R engine and 2.2 kg (4.8 lbs) less than the 1098.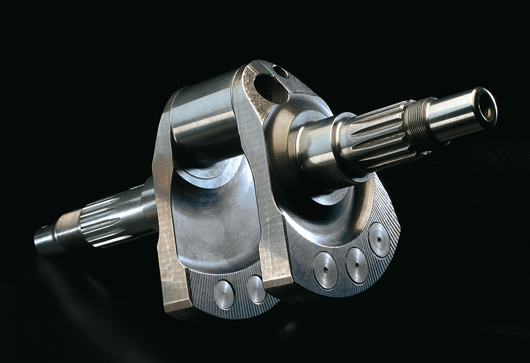 One throw on the crank is shared by the two rods set into 2 cylinders positioned 90-degrees apart.
The increased capacity of 1198.4 cc is the product of a larger bore and stroke of 106 x 67.9 mm and is fed through four titanium valves per cylinder and compressed to a ratio of 12.8:1. The valves, which are chrome nitride (CrN) coated, have been increased in diameter by approximately 5% to 44.3 mm for the inlet and 36.2 mm for the exhaust. They are actuated by rocker arms that are super-finished for reduced friction and fatigue, and double overhead camshafts with radical profiles that achieve approximately 16% more lift than the standard 1098.
These incredible valve performances are only possible because of Ducati unique Desmodromic system, where valve closure is activated mechanically. At high rpm it would be almost impossible for the valve to follow the steep closure profile of the cam lobe if it were relying upon a normal valve spring, but with the Desmo system the valve is mechanically closed with the same accuracy as it is opened, enabling steep cam profiles and radical cam timings. This system is used on every single Ducati motorcycle including the world-beating Desmosedici MotoGP bike.
The 1098R's piston are identical in design to the pistons in the D16 MotoGP bikes with no side skirts below the rings, whatsoever. We also know the GP bike run aluminum piston pins to reduce weight even further to achieve higher RPM. There's no word if the production 1098R gets aluminum pins, but we'd guess its a trick part that will definitely find its way into the team's 1098F08 World Superbikes.

The pistons utilize the same design developed for the Desmosedici in the Ducati MotoGP program by using a distinctive double-ribbed under crown to achieve high strength with minimal piston wall surface area and, therefore, less friction. In this way, the 106 mm RR58 alloy components are able to operate reliably at high rpm while delivering incredible performance.
The 1098 R elliptical throttle bodies have been increased 6.5% in size compared to the 1098, a diameter now equal to 63.9 mm. For the first time on a road-going Ducati, twin injectors are used on each cylinder. The first centrally mounted injector feeds through a 4-hole nozzle while the second offset injector feeds through a 12-hole nozzle ensuring progressive and fluid power delivery throughout the rev-range. With this configuration the system has the capacity to provide much heavier fueling when used in competition.
The gearbox shares the same ratios as the 1098 and 1098 S, except for 3rd, 4th and 6th gear, which has a higher ratio so as to be able fully exploit the speed gained from the supplied race kit or additional performance modifications. Also with performance in mind and because of its high resistance to fatigue, the gears are machined from the same high-strength steel used in Ducati Corse race applications with 3rd, 4th, 5th and 6th gears being subjected to a shot-peening treatment that further ensures their strength and reduced fatigue. The dry, multi plate slipper clutch reduces the destabilizing effect of aggressive downshifting and helps provide the fine control required when used under extreme track conditions.
The 2-1-2 exhaust system, which complies with Euro 3 emission standards, is formed in 52 mm-57 mm diameter tubing with a wall thickness of 0.8 mm (.030 in) and terminates with Ducati trademark twin under-seat mufflers beautifully formed in super lightweight titanium and stainless steel.
Chassis
The 1098 R chassis and suspension components are the results of detailed study and a performance first priority approach to development. The goal was to achieve even more weight saving while building in strength and rigidity to manage the incredible power of the new 180 hp engine. The result is an impressive 16 kg (35 lbs) overall vehicle weight reduction compared to the 999 R and an impressive 6 kg (13 lbs) over the already lightweight 1098 S.
Developed in cooperation with Ducati Corse, the 1098 R Trellis frame features main section tubes in ALS 450 with a diameter of 34 mm and 1.5 mm thickness to achieve a total weight of just 9 kg (19.8 lbs) and an extremely high strength-to-weight ratio. Race-proven with hundreds of victories, the Trellis design remains the chosen engineering solution by Ducati Corse and a feature of every Ducati motorcycle.
Front subframe: As with all the models in the Superbike family, the front subframe is produced in magnesium alloy to reduce the weight to just 0.61kg (1.3 lbs). While its construction ensures secure, rigid support for the headlamp, instruments and fairing, the weight-saving around this high, forward position contributes considerably to overall "feel" and control of the machine.
Rear subframe: Underlining its competition intention, the 1098 R is designed as a true "monoposto" with no provisions to carry a passenger. By producing the rear subframe in aluminum alloy it has enabled a 50% weight reduction (compared to biposto models) to 1.3 kg (2.8 lbs).
Single-sided swingarm: The 1098ís unique single-sided swingarm is made up of main operational components in aluminum castings so as to ensure strength around the pivot points, wheel hub and suspension links, with fabricated aluminum sections used to fuse the construction into a single, beautifully engineered component. For the "R" model, the swingarm is finished in black to denote its racing status as well as to contrast sharply against the racing gold wheels.
Rear Suspension: Working together with the single-sided swingarm and an efficient linkage is a fully adjustable ÷Ohlins TTXR single shock. Used for the first time on a Ducati production bike, this exclusive shock gives top performance while enabling considerable weight-saving over similar components produced with traditional technology.
The TTXR uses twin tube technology and offers totally separate damping adjustment in compression and rebound. It uses experience gained in MotoGP to minimize friction and reduce the risk of cavitation under extreme conditions. A vitally important feature of the rear suspension system is the ability to adjust rear ride height independent of spring pre-load and other suspension settings, critical when seeking the perfect set-up for personal riding style or track conditions.
Front Suspension: The front the of new 1098 R boasts fully adjustable 43 mm ÷Ohlins with low friction Titanium Nitride sliders feature radial Monobloc caliper mountings. The unique look of these mountings further endorses the no-compromise racing specification of the 1098 R. The ÷ohlins set-up offers superior road holding, delivers precise feedback, and enables every rider to be more confident and in control. The ÷ohlins package is completed with a control-enhancing, fully adjustable steering damper.
Brembo Monobloc calipers: The 1098 R is also equipped with Brembo's Monobloc caliper racing technology. The M4 calipers use four 34 mm pistons and two large surface pads for maximum stopping power. The calipers are machined from a single piece of alloy compared to the bolt-together construction of conventional ones. The Monobloc design has much higher rigidity and resistance to distortion during extreme braking and gives a much more precise feel at the brake lever. The massive 330 mm discs and Monobloc caliper technology combined with the legendary stability of Ducati Trellis frame and the 1098 Rios lightweight 165 kg (364 lbs) now makes world championship level brake performance available for the road.
Super lightweight wheels: One of the most effective ways to improve the handling and performance of a motorcycle is to reduce its unsprung weight by using superior lightweight wheels. The 1098 R uses lightweight Marchesini Y-shaped spoke wheels created from forged then machined alloy and finished in "racing gold". Both front and rear wheels achieve a lower moment of inertia and unsprung weight to enhance the 1098 R's change of direction and braking performance.
Fairing and Finish: Wind-tunnel development has enabled excellent aerodynamic penetration, allowing the rider to take a perfect racing stance, effortlessly. Great care has been taken in the design of the air supply ducts so to ensure efficient air-flow through radiator and oil coolers as well as provide ample air delivery to the airbox feeding the powerful Testastretta Evoluzione engine. The fairing belly-pan, tank lower side panels, seat assembly and front fender in carbon fibre are contributing factors to the overall performance of the machine.
In true "R" style, the red bodywork sports white background number plates on the tail section and nose fairing. The front and rear Marchesini wheels are finished in "racing gold", exactly the same as the F08 official factory race bikes and the fairing belly-pan, front fender and side panels are left in a contrasting natural carbon fibre finish.
Finally, the small red, white and green tricolore graphic, neatly shaped between the twin headlamps in the nose fairing, proudly underlines the Italian design, style and precision race engineering of this motorcycle.
| | |
| --- | --- |
| | DUCATI SUPERBIKE 1098 R TESTASTRETTA EVOLUZIONE |
| | |
| Engine | |
| Type | L-Twin cylinder, 4 valve per cylinder Desmodromic, liquid cooled |
| Displacement | 1198.4 cc |
| Bore x Stroke | 106x67.9 mm |
| Compression Ratio | 12.8:1 |
| Power | 180 hp - 132.4 kw @ 9750 rpm |
| Torque | 99.1 lb-ft 134 Nm @ 7750 rpm |
| Fuel injection | Marelli electronic fuel injection, elliptical throttle bodies |
| Exhaust | Lightweight 2-1-2 system with catalytic converter and 2 lambda probes. Twin stainless steel and titanium mufflers |
| Emissions | Euro 3 |
| Transmission | |
| Gearbox | 6 speed |
| Ratio | 1st 37/15, 2nd 30/17, 3rd 27/20, 4th 24/22, 5th 24/23, 6th 22/25 |
| Primary drive | Straight cut gears, Ratio 1.84:1 |
| Final drive | Chain; Front sprocket 15; Rear sprocket 38 |
| Clutch | Dry multiplate with hydraulic control slipper clutch |
| Chassis | |
| Frame | Tubular steel Trellis frame in ALS 450 |
| Wheelbase | 1430 mm / 56.3 in |
| Rake | 24°30' / 24,5° |
| Steering angle | 28°30' / 28,5° |
| Front suspension | Öhlins 43 mm fully adjustable upside-down fork with TiN |
| Front wheel travel | 120 mm / 4.7 in |
| Front wheel | 5-spoke in forged light alloy 3.50 x 17 |
| Front tyre | 120/70 ZR17 |
| Rear suspension | Progressive linkage with fully adjustable Öhlins TTXR monoshock with top-out spring. Aluminum single-sided swingarm |
| Rear wheel travel | 127mm / 5in |
| Rear wheel | 5-spoke forged light alloy 6.00 x 17 |
| Rear tyre | 190/55 ZR17 |
| Front brake | 2 x 330 mm semi-floating discs, radially mounted Brembo Monobloc calipers 4-piston, 2-pad. |
| Rear brake | 245 mm disc, 2-piston caliper |
| Fuel tank capacity | 15.5 L (of which 4 L reserve) / 4.1 US gal (of which 1 US gal reserve) |
| Dry weight | 165 kg / 364 lbs |
| Seat height | 820 mm / 32.2 in |
| Max height | 1100 mm / 43.3 in |
| Max length | 2100 mm / 82.6 in |
| Instruments | Digital MotoGP derived unit displaying: Speedometer, rev counter, clock, scheduled maintenance warning, warning light for low oil pressure, fuel level, oil temperature, fuel reserve, trip fuel, neutral, turn signals, average speed, average fuel consumption, remaining fuel metre, immobilizer, options and management for DTC (Ducati Traction Control accessible only with race ECU fitted). DDA system enabled. |
| ** Warranty | 2 years unlimited mileage |
| Versions | Single seat only. Retail: $39,995 USA with Race Kit Silencers & ECU |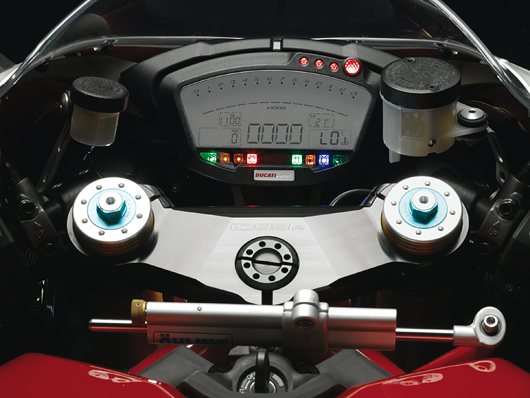 Electronics
Instrumentation: Desmosedici-style digital instrumentation is taken from Ducati MotoGP World Championship winning GP7 project. This pure racing, minimalist solution has no switches or buttons to compromise its clean lines. Instead, information additional to the default read-out is managed by handlebar-mounted switch gear, allowing the rider to scroll through and select from various menus. The default read-out presents rpm and speed, with the former displayed across the screen in a progressive bar graph. Optionally, the rpm and speed can be displayed in numeric values. The instrument display also doubles as a control panel for the activation of the data acquisition system as well as listing lap times recorded by using the high-beam flash button as a stopwatch. For the 1098 R, fitting of the race kit initiates dialogue between the race kit ECU and the display to activate the DTC (Ducati Traction Control).
Traction control: For the first time ever on a production motorcycle, a true competition-level traction control system comes integrated into the 1098 R electronics as standard equipment. Activated by fitting the race kit ECU, which is designed to be used with the race mufflers and so intended for track use only, the Ducati Traction Control (DTC) system is accessible via the digital instrument display and offers eight levels of control.
The DTC is the same system developed and used by Ducati Corse for their world championship winning MotoGP and World Superbike projects and offers a choice of eight profiles developed by professional racers. Each profile has been programmed with a wheel-spin tolerance matched to progressive riding levels of skill and confidence from one to eight. Underlining the fact that this is a professional system intended strictly for track use only by competent riders, profile eight has been developed by the official Ducati MotoGP test rider, Vittoriano Guareschi.
Choose the profile that best suits the track conditions and riding style and, upon activation, front and rear wheel sensors compare speed differential to sense when rear traction is being broken (wheel-spin). Using exactly the same software logic developed and used by Ducati Corse, instant electronic adjustment to the ignition advance or a pattern of ëspark cutsí initiates immediate control over power output so as to restore traction at the rear wheel before re-establishing normal power delivery. In this way, DTC provides an incredible advantage during mid-corner acceleration.
Once again Ducati raises the bar for the sport bike category by transferring its MotoGP race technology into production.
Data acquisition: Supplied with the 1098 R, the Ducati Data Analyser (DDA), which includes PC software, a USB-ready data retrieval card and instructions, enables owners to review and analyse the performance of the bike and its rider, and make comparisons between various channels of information.
Normally used on race bikes only, the system records numerous channels of data including throttle opening, vehicle speed, engine rpm, engine temperature, distance travelled, laps and lap times. The system also automatically calculates engine rpm and vehicle speed data so as to also display gear selection as an additional channel of information. At the end of a ride or track session, up to 2 mb (approximately 3.5 hours) of data can be downloaded to a PC ready to compare, analyse and get an inside view of the performance of both the rider and the 1098 R.
Data can be analysed in graphic form with options to zoom into detail of specific sections. Dragging a trace along a timeline to reveal individual values of the above listed channels enables the user to analyse performance in the same way that data technicians are able in factory teams.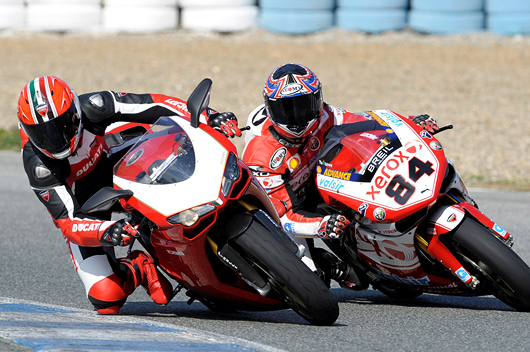 ---
Above, our newest Calendar Kitten, Payboy model Tiffany Toth is featured in our 2008 Bike Show ad campaign, and in all 3 of the new 2009 FastDates.com Calendars which will make their world premier at this year's Show.

Make Plans Now to Join Us!
Performance Machine presents America's Premier Custom & Performance Motorcycle Show
17th Annual 2008 LA Calendar Motorcycle Show Weekend
and 2-Day Calendar Girl Music Festival
July 12-13th 2008, Queen Mary Event Park, Long Beach
The 17th annual Los Angeles Calendar Motorcycle Show Weekend presented by Performance Machine, America's premier custom, cruiser, performance and sportbike weekend returns to the Queen Mary Event Park in Long Beach on July 12-13th, 2008.
Join 20,000 streetbike motorcycle and music enthusiasts for the world's most exciting 2-day motorcycle event weekend in the beautiful Queen Mary Event Park on the grass alongside the Pacific Ocean in Long Beach! This is the world's premier motorcycle show weekend featuring over 250 major motorcycle and parts manufacturers, selected product and apparel venders.
The weekend features many of the world's top Pro and Amateur street bike builders will be in attendance to compete in the Performance Machine Calendar Show Bike Building Championship with a bulging purse of $86,000 in cash and awards including $4,000 cash for the coveted Performance Machine Best of Show Trophy, and a $5,000 Performance Machine product award also up for grabs,. There are 11 Calendar Bike Building Championship Classes including the premier Radical Pro Builder Class sponsored by Iron Works magazine as well as 10 other classes for American V-Twin Custom and Street Bikes, Vintage Bikes, as well as Metric Sportbikes and Cruisers
Spectators can meet top celebrity custom bike builders including last year's best of Show winner Greg Westbury, along with Roland Sands, Russell Mitchell, Shinya Kimura, Joe Takai, Ron Simms, Paul Yaffe, Todd Silicato and dozens more. And attend free Calendar Bike Builder Seminars with the top Calendar builders to learn what it really takes to build some of the world's most inovative and beautiful custom bikes as featured in the Iron & Lace and Fast Dates Calendars.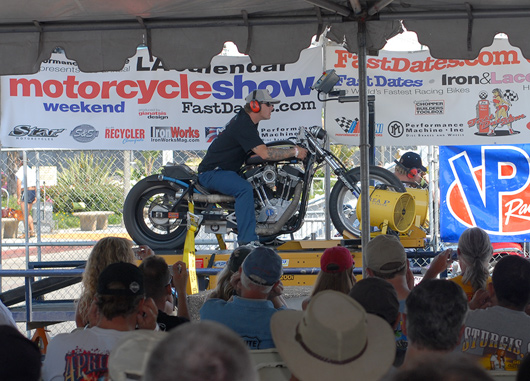 Join in the excitement of the Calendar Show's exclusive S&S Cycle World Championship Horsepower Dyno Shoot Out hosted by Kerry Bryant of Area P Exhaust Systems. World Record runs are open up to anyone, including the change to see just how strong your streetbike really is. Classes & Awards for all stock and modified American V-Twin and Metric Sportbikes.
Both Days 2008! Headlining International Recording Stars Lillix
Sisters Lacey-Lee and Tasha-Ray from Canada - their Music Video "Tomorrow"
Included with admission both days is the exciting 2-Day Calendar Girl Music Festival with beautiful national recording star girl bands and singers including Lillix, Taxi Doll, Kari Kimmel and AC/DC Tribute rock band Whole Lotta Rozies, Lead Zeplin tribute band Moby Chick plus the sexy Purrfect Angelz dance shows all weekend long.
The weekend is hosted by Playboy model Tiffany Toth and other FastDates.com Calendar Kittens with the annual world premier of the new 2009 FastDates.com Motorcycle Pin Up Calendars.

Spectators also get complimentary weekend admission aboard the historic Queen Mary Ghost Ship, and entry to the Saturday Night Iron & Lace Calendar Builders Party with a live band in the ship's Observation Bar

Also available is the Calendar Motorcycle Show Swap Meet for Used Bikes and Parts which will take place in a separate location adjacent to the Bike Show Enclosure. And on Saturday only is the Bike Seller's Showcase to display your high-end custom or sportbike inside the Show for sale or promotion. You'll find special attractions for the entire family to make it an incredible experience you'll remember always.
Title and Associate Sponsorship support for the premier streetbike event weekend in America is provided by Performance Machine, Thunder Press, ReCycler.com, Iron Works magazine, S&S Cycle, NOs Energy Drink, CycleTrader.com, Connection magazine, Speed TV's American Thunder, Mikuni Carburetors, Meguiar's Car Care Products, and the FastDates.com Calendars.
For additional LA Calendar Motorcycle Show & Calendar Girl Music Festival Weekend details including the show schedules, hotels and parking information visit www.FastDates.com/BIKESHOW.HTM
---
Rizla Suzuki MotoGP's Australian star Chris Vermeulen will start the 2008 season by running the number 7 on the front his Suzuki GSV-R, the same number used by his mentor and fellow Aussie now deceased, World Champion Barry Sheen
2008 Roadracing Rider and Team Line Ups, Race Schedules
Here's a look at the rider seat changes and confirmed lineup of teams and riders in World SBK and AMA Superbike and MotoGP for 2008. We will be add more teams and riders weekly as they confirm.
In the left sidebar are all the 2008 season MotoGP, SBK, BSB and AMA race dates and venues.
2007 Roadracing Teams
2007 World Superbike
Ducati Corse: Troy Bayliss, Lorenzo Lanzi
Ducati Sterilgarda: Ruben Xaus


Honda Ten Kate: James Toseland, Roberto Rolfo
Honda D.F.X. Corse: Luca Morelli, Michel Fabrizio



Yamaha Italy: Noriyuki Haga, Troy Corser
Suzuki Alstare: Yukio Kagayama, Bax Biaggi
Kawasaki PSG-1: Regis Laconi, Fonsi Nieto
Suzuki Germany: Max Neukirchner






2007 World MotoGP
Ducati Corse: Loris Capirossi, Casey Stoner
Ducati d'Antin: Alex Barros, Aex Hoffman
Yamaha Japan: Valentino Rossi, Colin Edwards
Yamaha Tech 3: Sylvain Guintoli
Suzuki Japan: Chris Vermeulen, John Hopkins

Kawasaki Japan: Randy de Puniet, Anthony West
Honda Japan: Nicky Hayden, Dani Padrosa
Honda Minolta: Shinya Nakano
Honda Gresini: Tony Elias
Honda LCR: Carlos Checa
Honda Roberts: Kurtis Roberts

2007 AMA Superbike
Suzuki Yoshimura: Matt Mladin, Ben Spies
Suzuki Jordan: Aaron Yates, Jake Holden
Honda American: Miguel DuHammel, Jake Zemke
Yamaha USA: Eric Bostrom, Jason DiSalvo
Kawasaki USA: Roger Lee Hayden, Jamie Hacking
MV Agusta Ferracci: Matt Lynn, Lucca

2007 BSB British Superbike
Honda HM Plant: Ryuichi Kiyonari - reigning champ



2008 Roadracing Teams
2008 World Superbike
Ducati Corse: Troy Bayliss, Michel Fabrizio
Ducati Sterilgarda: Ruben Xaus, Max Biaggi
Ducati Guandalini: Jakub Smrz
Ducati RG: Lorenzo Lanzi
Honda Ten Kate: Kent Sofulguo, Carlos Checa, Ryuichi Kiyonari - reigning 2-time BSB Champion
Honda D.F.X. Corse: Karl Muggeridge, Russell Holland
Honda Paul Bird: Gregorio Lavilla - BSB Champion
Honda Hannspree Althea: Roberto Rolfo
Yamaha Italy: Noriyuki Haga, Troy Corser
Yamaha GMT94 Europe: David Checa, Sebastian Gimbert
Yamaha Grillni: Loic Napoleone
Suzuki Alstare: Fonsi Nieto, Yukio Kagayama,
Max Neukirchner
Kawasaki PSG-1: Regis Laconi, Makoto Tamada
Kawasaki Pedercini: Vittorio Ianuzzo, Ayrton Badovini
Suzuki Germany: Andreas Meklau

2008 World MotoGP
Ducati Corse: Casey Stoner, Marco Melandri
Ducati d'Antin: Tony Elias, Sylvain Guintoli
Ducati other : Guareschi, Canepa, Itoh
Yamaha Japan: Valentino Rossi, Jorge Lorenzo
Yamaha Tech 3: James Toseland, Colin Edwards
Suzuki Japan: Chris Vermeulen, Loris Capirossi,
and non'conflicting AMA races with Ben Spies
Kawasaki Japan: John Hopkins, Anthony West
Honda Japan: Nicky Hayden, Dani Padrosa
Honda Gresini: Shinya Nakano, Alex de Angelis
Honda LCR: Randy de Puniet
JiR Scot Honda: Andrea Dovizioso

2008 AMA Superbike
Suzuki Yoshimura: Matt Mladin, Ben Spies
Suzuki Jordan: Aaron Yates, Geof May
Suzuki EBSCO Corona: Matt Lynn
Honda American: Miguel DuHammel, Neil Hodgson
Yamaha USA: Eric Bostrom, Jason DiSalvo
Kawasaki USA: Roger Lee Hayden, Jamie Hacking

2008 BSB British Superbike
Honda HM Plant: Leon Haslam, Cal Crutchlow
Suzuki Rizla: Tom Sykes, Atsushi Watanabe - reigning Japanese Superbike Champion
Ducati Airwaves: Shane 'Shakey' Byrne, Leon Camier
Yamaha GB : Rob McElnea
Yamaha AIM: Steve Plater
Kawasaki MMS :
---
There's more! Go to Pit Lane News NEXT PAGE
Hot Calendar Girl and Bike News! Go to: Fast Dates • Calendar Girls • Iron & Lace
Calendar Kittens, The Paddock Garage, Screensavers, Iron & Lace Garage



Many of our Calendar Kittens can also be seen at Playboy's website...


BikerKiss.com - the largest biker personals site!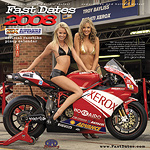 Now Available!
16-month Calendar starts Sept
2008 Fast Dates &
Garage Girls Calendars

More 2008 Calendars in the Calendar Store

Click to Vist our Calendar Store
Calendar Kitten Joanna Krupa has her own 2008 Calendar
Hayden and Repsol Honda end Phillip Island MotoGP test second fastest on final day
The final day of the three-day MotoGP test was held in near perfect conditions with bright sunshine and track ambient temperatures of 22 degrees and track temperature at 35. The Honda RC212V riders ended the final day with much to be pleased with, not only with good lap times the teams have learned a lot about the machinery they will campaign in the fast approaching season that opens at Qatar on March 9.
American Nicky Hayden ended the final day with second fastest time overall today on his Repsol Honda factory team RCV. But the former MotoGP World Champion knows there is still a lot of work to do before the first GP. Hayden spent the final day fine tuning the chassis of the RCV and testing a range of race tyres for Michelin feeding the French manufacturer with vital data for the three remaining test before the season begins in earnest.
Dani Pedrosa, Repsol Honda: Dani missed the Phillip Island test due to an injured right hand. No date has yet been fixed for his return to the track.
Andrea Dovizioso continued his impressive pre-season testing with the JiR Scot Honda and ended the test in very positive mood. The team focused their attention on tyre testing for Michelin and put in several short and long runs testing various tyre combinations in order for Dovizioso to understand how the RCV responds and behaves on different types of tyres and varying degrees of wear. The team leave for home in high spirits eager to get to their next planned test at Jerez later this month.
The Gresini Racing duo of Alex De Angelis and Shinya Nakano now head for Sepang, Malaysia where the aim to build on the successful test here in Australia. Both men have worked very hard with their technicians and have good base settings to work from as their consistently fast lap times indicate.
The two men dedicated the entire day to testing tyres for Bridgestone. De Angelis put in 91 laps of testing, the longest and hardest day of testing he has ever experienced but he goes on to Sepang in confident mood feeling much more at home aboard the big 800cc four-stroke after a career spent on lightweight two-stroke machines.
Team mate Nakano ran race simulation tyre tests for Bridgestone today and found time to test new qualifying rubber brought to the test by the Japanese manufacturer.
LCR Honda rider Randy De Puniet and his technicians had a frustrating final day. The team worked on the electronic management system of the RCV and then moved on to suspension and tyre testing chasing traction. De Puniet was impressed with the improvement feeling more at home on the machine and faster but the improved feeling was not reflected in lap times De Puniet shaving just two-tenths of a second off his previous best lap time.
Nicky Hayden, Repsol Honda: 1m 29.734s – 102 laps. "We ended up not too bad but it'd be nicer to be faster on race tyres. To be honest, it's been a frustrating couple of days here. We got into the 31s about the fourth exit from the pits on the first day and really we haven't been able to go any faster since then, except with the qualifiers, which were good. We've chased our tail a bit and I haven't really found a batch of race tyres I like. I struggled a lot when I was here for last year's race, but I did find something I liked. I didn't have that option this week, so I can't say I'm completely happy with the combination of bike, rider and tyres. We tried the pneumatic-valve engine and the conventional spec engine in the new chassis at this test. We did a lot of tyre testing with Michelin using the conventional engine. The chassis did some good stuff but not enough through this fast stuff here. We left Sepang last week in a positive way and it's still early days, there's a lot of work still to be done. Now we go back to Sepang for two days, we've got a few days off and then keep trying to chip away at it.
Andrea Dovizioso, JiR Scot Honda: 1m 29.780s – 90 laps. "This day has been very useful to give proper evaluation of all the materials we have for our technical package. Today we did a lot of work with Michelin, testing many, many different tyre and compound options. I'm very satisfied with my relationship with them. They have reacted so fast to my feedback, so I feel our relationship will grow together. With racing tyres my pace is pretty good, but in qualifying set-up with the softer tyres I'm still suffering a little vibration, which occurs when entering a corner under engine braking. This is complicating my efforts to get a fast time on qualifying tyres. In general the feeling with the bike is fantastic, but at the next test at Jerez we will work a lot to reduce the rear-wheel hop we are getting under braking. This will be our main target. Overall, we want to be more competitive as the level of competition is very high and I want to be out front with the leaders."
New DVD!

New Play Station!

World Superbike 2008 PSP
James Toseland third as Tech 3 Yamaha finish on high note
MotoGP Tests Phillip Island, Feb 1st - James Toseland produced arguably the most outstanding performance on the final day of testing in Phillip Island today as the Tech 3 Yamaha team successfully concluded the long haul phase of its pre-season testing campaign.
Making only his fourth appearance for the Tech 3 Yamaha team, Toseland took full advantage of his vast Phillip Island track knowledge to finish with the third fastest time of 1.29.754. His best was set on a Michelin qualifying tyre, with only world champions Casey Stoner and Nicky Hayden lapping faster on the final afternoon.
Toseland was one of only five riders to break the 1.30 barrier over the three days. Toseland also gained more crucial experience by completing his first full race simulation on board the 2008 Yamaha YZR-M1. He lapped consistently in the 1.31 bracket during his 27-lap run, as he assessed new front and rear suspension settings and a revised electronics set-up in full race conditions. His best lap on race tyres today was a 1.31.012.
American Edwards was fifth quickest today, also using a Michelin qualifying tyre to set his best time of 1.29.795 in sunny but windy conditions at the 4.445km circuit. Experimenting with chassis set-up to try and improve rear grip, Edwards was satisfied enough with progress to stop just before 2pm having completed a distance run of 20 laps.
Just five days of testing remain for Toseland and Edwards in Jerez and Qatar, before the new season's spectacular start under floodlights in Doha on March 9.
James Toseland 3rd 1.29.754 – 89 laps - "I'm really happy. I was always looking forward to coming here with my track knowledge and its nice to see the difference where I stand in the order with that experience. To be at the sharp end of the times and see my name up there has put a bigger smile on my face. Knowing the track I can be on the same line each lap and that's helped me relay my feedback on the bike a lot more precisely to my team. On other tracks I've been finding my way round as well as trying to make a lap time. I was happy with my pace in the race simulation but those extra five or six laps over what I've been used to in superbike were a bit strange. My body just isn't used to that distance but I felt good and wasn't too tired at the end. It is all good experience and its all coming together nicely. I will sleep well tonight on the plane after this performance. Even one of my mechanics said that it is so good to see an English rider at that end of the timesheets rather than at the other end. And the best thing is I can only get faster and stronger. I'm still waiting for some new parts from Yamaha, so there is still plenty of room for improvement, also from Michelin. Everybody is working hard and I'm riding on a wave at the moment."
Colin Edwards 5th 1.29.795 – 56 laps "I did a long run to give Michelin some information to see what the tyres could handle. The 20 laps I did I was 20 seconds faster than in the race last year which is positive. This track is a little bit strange because you spend so much time on the side of the tyre trying to build up speed. And that's where Michelin needs to concentrate their efforts so we can generate a little bit of speed. But I'm more motivated than ever because I can see my team and Yamaha working, but to see Michelin put in the same effort and work just as hard adds a lot of motivation. Everybody is working equally hard with me and for me. These guys are putting in the hard days at the moment and I'm really happy with my team. After these six days of testing in Sepang and Phillip Island I'm excited and I'm really looking forward to the first race in Qatar."
Tough test for Rizla Suzuki MotoGP produces clear direction for improvement
01/02/084 - Rizla Suzuki MotoGP has completed the second 2008 pre-season test on a positive note at one of its toughest tracks on the MotoGP calendar.
Phillip Island in Australia has recently proved a difficult circuit for Suzuki to conquer, but Chris Vermeulen and Loris Capirossi both made significant improvements during this three-day test that will help their performances not just at the 4.4km Australian circuits but also at other tracks around the world.
Vermeulen tested a range of Bridgestone qualifying tyres today and clocked the sixth fastest time with a lap of 1'30.216, over a second-and-a-half quicker than his qualifying time at last year's Australian Grand Prix. He also improved on the race-tyre lap-times that he recorded at November's behind-closed-doors test at Phillip Island.
Capirossi undertook a race length simulation today, but the full evaluation was cut just short due to another rider crashing and the session being halted by a red flag.
Rizla Suzuki MotoGP now returns to Europe for its next test at Jerez in Spain, which will also include a televised hour-long session on Sunday 17th February. This test will also see the first time that the Rizla Suzuki GSV-R has appeared in its 2008 livery.
Chris Vermeulen: "We have found some promising things with the bike today, but we still have some issues to sort out at Phillip Island – it certainly seems to be our bogey track! We tested so many options over the three days and tried different things from almost every angle - we've definitely found some direction to help us. Our lap-times were quicker than when we came here in November so that certainly means we're moving forward. Everything that Suzuki is doing is definitely helping so that is also a very positive step. We tried some qualifiers and that went quite well, which for me personally is a very encouraging thing as that is certainly an area I need to improve in. We now head to Spain for the next test with the season getting closer, we are still scratching our heads on a few things, but I am sure will make further steps in the next few tests in time for the start of the season. It was tough here at Phillip Island but the improvements we have made here will help us at the tracks we are already strong at."
Loris Capirossi: "I had a tough day today and did struggle a bit. I nearly completed a long run but unfortunately that was red flagged and I didn't quite finish what I wanted to do. We still have quite a bit of work to do at Phillip Island and I would have liked to have been further up the time sheets as I don't think it is a good reflection of all the hard work the team did this week. We tested many new parts from Japan and some worked, but also some were not quite as good. We now go to Europe and I am sure we will be very competitive after what we have learned here in Australia."
Hot New Books!

---
DUCATI SUPERBIKE CONCORSO RETURNS FOR 2008
The Ducati Superbike Concorso enters a second year of competition
Cupertino, CA (February 1, 2008) - Ducati North America is pleased announce the return of the Superbike Concorso; a competition celebrating over 30 years of the Bologna manufacturer's Superbikes.
The Superbike Concorso is a Ducatisti driven competition showcasing exceptional Superbikes. Competing bikes span from the era of the original 1970's Supersports to the modern age of Desmodromic domination; including Casey Stoner's World Championship victory on the Desmosedici Grand Prix machine.
This year's Concorso is open to all privately owned 1972-2008 Ducati Superbikes, including the revolutionary Desmosedici RR and the new Ducati 848 Superbike. The Concorso recognizes performance, history, beauty, and craftsmanship; all carefully judged by a panel of esteemed motorcycle authorities.
The 2008 Superbike Concorso is a five round competition; four rounds of which will coincide with major American motorcycle races. The fifth round will be a virtual showdown held at DucatiSuperbikeConcorso.com.
A Grand Prize will be awarded to the "Overall Best Superbike" at each of the five rounds; with the winners receiving an once-in-a-lifetime trip to Ducati's Bologna factory. Winners in other categories will receive $500 Ducati Performance gift certificates redeemable at over 160 authorized Ducati Dealerships.
The Superbike Concorso kicks off March 5th – 8th at Daytona Bike Week and will continue through the inaugural Indianapolis Grand Prix in September. Get more details and sign up now at DucatiSuperbikeConcorso.com.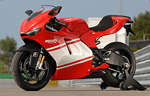 Ducati Desmosedici RRFor compete details and photos of the new bike go to our
New Sportbike Index
Ducati Desmosedici RR
---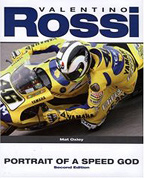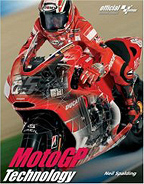 ---
New Pirelli Russo Tire
and Sexy Video
Milan, 8 Nov. - During the EICMA show Pirelli presented the brand new Pirelli DIABLO ROSSO.
This tyre sets the point representing a new tyre generation, thanks to the new approach Pirelli adopted to design this new product for the SUPERSPORT segment and thanks to the new EPT (Enhanced Patch Technology) Pirelli patent.
Diablo Rosso finds its full description in a new section of Pirelli tyre website thanks to a video which represents its world and 'personality' together with a page with the product features.
Soon each country will have its own DIABLO ROSSO area in its proper language, now you can see the preview in the corporate website with a very SEXY VIDEO.
Please check it out by CLICKING HERE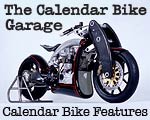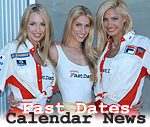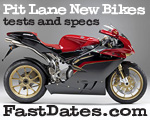 ---


NEW! FastDates.com
Cell Phone Wallpapers!
---
Sands vs. Rooke
Calendar Bike Build Off
See the world's two hottest custom sportbikes featured in the 2008 Fast Dates and Iron & Lace Calendars being built and raced by Roland Sands and Jesse Rooke for Discovery Channel's Biker Build Off
Roland Sands builds the
KR Tracker Calendar Show Bike
New Blood DVD
features Roland Sands building and riding the extraordinary Roland Sands Design / Kenny Roberts KR 990cc 5-cylinder MotoGP powered Retro Board Track Racer. The bike is also featured in the 2008 Fast Dates race bike and Iron & Lace custom bike Calendars with beautiful Playboy Playmate and Calendar Kitten Tamara Witmer in one of our best calendar shots ever and ,featured in the LA Calendar Motorcycle Show advertsing campaigns
and T-Shirt.
2008 California Superbike School Schedule
Keith Code's California Superbike School did there first track school at Riverside Raceway in 1980. Now, twenty-eight years, over 10 million track miles and 150,000 students later the school has operated in twelve countries and on five continents with well over 100 school days per year. The USA calendar will be run at 11 tracks this year (see schedule). The Superbike School's step by step,high performance rider training program was the first of its kind in the world. The school guarantees improvement and has been the starting point for scores of local, regional, national and international championship winning riders. Learn the skills and discover the art of cornering
2008 California Superbike School Schedule
February 2/3 Las Vegas Motor Speedway, NV 2-Day Camp
March 20/21 Las Vegas Motor Speedway, NV 2-Day Camp
March 27/28 Streets of Willow Springs, CA 2-Day Camp
March 29 Streets of Willow Springs, CA All Levels
March 30 Streets of Willow Springs, CA All Levels
March 31/April 1 Streets of Willow Springs, CA RACE Program
April 17/18 Las Vegas Motor Speedway, NV 2-Day Camp
April 24/25 Streets of Willow Springs, CA 2-Day Camp
April 26 Streets of Willow Springs, CA All Levels
April 27 Streets of Willow Springs, CA All Levels
April 29 Laguna Seca, CA All Levels
April 30 Laguna Seca, CA All Levels
May 12 Pocono Raceway,PA All Levels
May 13 Pocono Raceway, PA All Levels
May 14/15 Pocono Raceway, PA 2-Day Camp
May 16 Pocono Raceway, PA All Levels
May 19 Virginia Int'l Raceway, VA All Levels
May 20 Virginia Int'l Raceway, VA All Levels
May 21/22 Virginia Int'l Raceway, VA 2-Day Camp
May 29/30 Barber Motorsports Park, AL 2-Day Camp
May 31 Barber Motorsports Park, AL All Levels
June 1 Barber Motorsports Park, AL All Levels
June 5/6 Streets of Willow Springs, CA 2-Day Camp
June 7 Streets of Willow Springs, CA All Levels
June 8 Streets of Willow Springs, CA All Levels
July 1/2 Miller Motorsports Park, UT 2-Day Camp
July 28 Loudon (NHIS), NH All Levels
July 29/30 Loudon (NHIS), NH 2-Day Camp
August 4 Mid Ohio, OH All Levels
August 5 Mid Ohio, OH All Levels
August 6/7 Mid Ohio, OH 2-Day Camp
August 11 Thunderbolt Raceway, NJ All Levels
August 12 Thunderbolt Raceway, NJ All Levels
August 13/14 Thunderbolt Raceway, NJ 2-Day Camp
August 23 Barber Motorsports Park, AL All Levels
August 24 Barber Motorsports Park, AL All Levels
August 25/26 Barber Motorsports Park, AL 2-Day Camp
September 1 Virginia Int'l Raceway, VA All Levels
September 2 Virginia Int'l Raceway, VA All Levels
September 3/4 Virginia Int'l Raceway, VA 2-Day Camp
September 20 Streets of Willow Springs, CA All Levels
September 21 Streets of Willow Springs, CA All Levels
September 22/23 Streets of Willow Springs, CA 2-Day Camp
October 11 Streets of Willow Springs, CA All Levels
October 12 Streets of Willow Springs, CA All Levels
October 20 Sears Point (Infineon), CA All Levels
October 25 Streets of Willow Springs, CA All Levels
October 26 Streets of Willow Springs, CA All Levels
October 27/28 Streets of Willow Springs, CA RACE Program
November 2/3 Las Vegas Motor Speedway, NV 2-Day Camp
November 11 Sears Point (Infineon), CA All Levels
November 22/23 Las Vegas Motor Speedway, NV 2-Day Camp December 1&2 Sears Point (Infineon), CA 2-Day Camp
Fall – TBA Laguna Seca, CA All Levels
More info at www.superbikeschool.com
or call toll free: 800-530-3350