Casey and his wife Adriana with the newest addition to their family at home in Australia earlier this year.
MotoGP World Championship, Winter Testing
Factory Honda Riders are Quickest at Jerez MotoGP Testing
Moto GP World Champion Casey Stoner Injured in Crash
EARLY END TO TEST FOR STONER WHO FLIES BACK TO AUSTRALIA
Jerez, Spain , Friday Nov 29th - Newly crownd 2007 MotoGP World Champion Casey Stoner did not take part in the final day of 3-day testing at Jerez as a result of the crash yesterday afternoon in which he injured the ligaments in his left shoulder. The pain intensified during the night and Stoner, in agreement with the team, decided to return immediately to Australia for further medical checks and to begin treatment.
The early return home means that Casey will not be able to attend the celebrations for Ducati's World MotoGP title victory this weekend in Bologna, which however will go ahead as planned.
"It's never much fun when you get injured" said Stoner, "but I'd rather it happened when you've got a couple of months ahead of you to recover. I'm sorry to disappoint all the Ducati fans who have given me their support during the season and who had hoped to see me in Bologna on Sunday, but I am sure they would prefer to see me in perfect form again for the first tests on the Desmosedici next season. I'm sure it'll be a great event for everyone at Ducati, they deserve it. We achieved our aim together and I am so sorry that we can't celebrate it together. Unfortunately things are much worse than I thought yesterday after the crash, and this morning we decided that the best thing to do was to go back to Australia as soon as possible for further checks with the doctor who operated my right shoulder a couple of years ago. I'm sure he'll get me back in shape again this time".
Ducati Marlboro Team riders Casey Stoner and Marco Melandri continued testing at Jerez today but the team's day was marred by a crash involving Stoner. The World Champion fell heavily at turn three, sustaining suspected ligament damage to his left shoulder. He was treated by Clinica Mobile staff who put his left arm in a sling, he then returned to his hotel to rest.
DAY 2, Wed 28th - Repsol Honda's Dani Pedrosa clocked the fastest time in testing today as the majority of the MotoGP field returned to bright sunny Jerez circuit for a second day of testing. The Spaniard's quick lap came on qualifying tyres at the end of a day on which he also set the pace on race rubber. His single flying lap of 1m 39.993s was only half a second off his own pole position time from the Spanish Grand Prix in March.
Valentino Rossi on the Fiat Yamaha, the only Yamaha rider now running Bridgestone tires, set 2nd quickest time behing Pedrosa.
It was a good day for the Honda Gresini Team whose riders Shinya Nakano and Alex de Angelis finished in third and fourth places on their 2007-spec RC212Vs after late laps on qualifying tyres. Having also tested set-up changes and race tyres today, Nakano will aim to further improve his pace on race rubber tomorrow. His rookie team-mate continued his rapid MotoGP familiarisation by working on machine and electronic settings before the run on qualifiers. The Italian also escaped unhurt from a fall today.
Casey Stoner, 1m 40.833s (32 laps) - "Everything was going very well today. We were focusing on tyre testing, as we had planned, when I crashed at turn three. I hit the ground pretty heavily with my left shoulder. Straight away the injury was really painful, so I went to the Clinica Mobile where they fitted me with a sling and strapped the shoulder. We will wait and see how I feel tomorrow but I think it's going to be difficult to continue this test."

Marco Melandri worked hard all day on his ducati's chassis and suspension set-up, using only race tyres. By the end of the day he was happy with the set-up his crew had dialled into his Desmosedici. Tomorrow the Italian will focus on tyre testing.
Marco Melandri, 1m 41.424s (77 laps) - "Today has been a long and tiring day but we got through a lot of work. This morning we continued working on chassis geometry, changing the weight distribution until we found a set-up I liked. Then we started on the suspension and we did a good job with that too. At that point the track temperature dropped, so we decided to postpone tyre testing until tomorrow. I'm happy with what we've done so far because my target is to understand the bike as well as possible, and if several riders hadn't used use qualifying tyres today the lap times would be closer."
Day 2 Today's Lap Times:
1.Pedrosa (Honda) 1.39.993
2. Rossi (Yamaha) 1.40.134
3. Nakano (Honda) 1.40.251
4. De Angelis (Honda) 1.40.332
5. Dovizioso (Honda) 1.40.650
6. Hayden (Honda) 1.40.692
7. De Puniet (Honda) 1.40.820
8. Stoner (Ducati Marlboro Team) 1.40.883
9. Edwards (Yamaha) 1.40.833
10. Lorenzo (Yamaha) 1.40.883
11. Hopkins (Kawasaki) 1.40.393
12. Toseland (Yamaha) 1.41.278
13. Melandri (Ducati Marlboro team) 1.41.424
14. West (Kawasaki)1.41.729
15. Canepa (Ducati) 1.42.188
16. Okada (Honda) 1.43.143
17. Guareschi(Ducati) 1.43.399
18. Itoh (Ducati) 1.43 869
Dani Pedrosa set quickest time at the tests shown on the 2007 season bike used for comparison.

Repsol Honda's Pedrosa and Hayden top Final Day
Day Three, Nov 29th - The long arduous 2007 MotoGP season finally came to an end as the teams and riders completed the three-day test at the 4.428 km Jerez circuit in Southern Spain. Repsol Honda riders Dani Pedrosa and Nicky Hayden were the only two men to break into the 1m 38s bracket during the test with Pedrosa posting a fastest lap at 1m 38.562s with Hayden less than three-tenths of a second adrift. Pedrosa time almost a full second faster than his pole position lap for the GP at Jerez in March.
Both riders rode the 2008 prototype RC212V 800cc four-stroke V-4 working to establish base line settings for engine electronics, chassis and suspension settings for characteristics of the new machine they will race in the 18-round 2008 MotoGP world championship. The initial impression gained by Hayden and Pedrosa about machine development has been positive with steady progress achieved with engine and chassis over the three days at Jerez. But as they head home for the winter break in buoyant mood both men know there is much hard work ahead before they are ready to race.
Nicki Hayden on the all-new 2008 RC212V. Compared to the 2007 bike (above with Pedrosa) you can note the all-new fairing, underside braced swingarm and exhaust pipes exiting under the seat, necesitating an all-new rear suspension and chassis as well.
JiR Scot Honda rider Andrea Dovizioso set fourth fastest time on his 2007 RC212V on what the young Italian MotoGP debutant described as. "A perfect day." Dovizioso has improved every time he has taken the RCV out on track. His step by step analytical approach to testing has delivered a rich font of knowledge in a very short time.
Randy De Puniet is another Honda man to impress in close season testing but he ended the Jerez test on a low note crashing the LCR Honda twice while struggling with traction problems. The team tried a range of tyre – suspension combinations but was not comfortable with the results.
Gresini Honda riders Shinya Nakano and Alex De Angelis have joined the team for the 2008 season and have both benefited from the three-day test. Nakano set fifth fastest time today as he completed his test program, he is regaining confidence and his feeling for the Bridgestone tyres he will use next season.
De Angelis is another 2008 MotoGP debutant who has found the move from the 250cc class to MotoGP not as daunting as first feared. Working with the experienced Gresini technicians Italian De Angelis has quickly adapted to the awesome power of the big four-stroke steadily improving his lap times as he learned more about RCV.
| | |
| --- | --- |
| Dani Pedrosa, Repsol Honda: (1st Quickest) 1m 39.562s – 72 laps."Today we focused on tyre testing for Michelin and after three days I think we've learned some useful lessons for the winter. The HRC engineers have a lot of data to work with and can now prepare the machine for the next test sessions at the end of January. I think that we have quite a lot more work to do because we're still some way from where we'd like to be, but the signs are quite encouraging. We have some time before the beginning of the 2008 season and there is plenty of scope for more improvements, so I hope we will use the time well. I have asked HRC for some similar things that I asked for in Valencia - plus many of the things from Valencia have been improved for this test. Now that there is some time we must focus on the areas that have not yet been improved. Today we only worked on tyre testing with the 2007 machine because we have the most reference data for this. We've got through a lot of work and this has been a profitable final test of the year." | |
Nicky Hayden, Repsol Honda: (2st Quickest) 1m 38.848s – 82 laps "Again it's been positive today. We spent a big part of the day on the new RC212V and tried the machine with qualifying tyres for the first time. The lap time I did was pretty good and I really didn't expect to go that much faster than race tyres, so I'm pretty happy. I also did a long run and, although that wasn't on my favourite tyre, Michelin got some useful information from the run. We also found some good tyres over the three days of the test so it was positive on that front. The one slightly frustrating thing was that I rode the new machine for entire test except for the last hour today and I immediately went faster by about four tenths faster on race tyres which means we've got a bit of talking to do. There are still a few issues to iron out with the new engine but Honda knows how to make engines so I'm confident about it. Plus the chassis on this new machine is really good and a big improvement. I guess you could say it's been a bad year, but it's certainly not a bad life and so we'll come back give it everything next season. A big thanks to all the team, sponsors and everyone who's given me support this year. I'm really excited about coming back in good shape for when things fire up again in Qatar for the night race."
Jorge Lorenzo Posts 3rd Quickest for Yamaha,
Rossi now on Bridgestone, Slowed by Hand Injury
2008 Yamaha rider Jorge Lorenzo signed off for 2007 in impressive style in Jerez today, finishing third overall and recording a best time of 1'39.464 on qualifying tyres, just 0.062 seconds off the 2007 race pole position. Lorenzo completed 90 laps on the final day of testing in Spain, including a long run in which the MotoGP rookie recorded more impressive times. After eight days of testing since the end of the season, Lorenzo is looking increasingly comfortable on his new bike and he was also able to complete some tyre testing today with Michelin, finding some good rear-tyre rubber.
Jorge Lorenzo (3rd Quickest)1'39.464, 90 laps - "Today I felt even better than yesterday and I did a very good test session. Yesterday I had some pain because of the number of laps I had done the day before, but today I was fully recovered and everything went well. I felt very comfortable with the M1 and during the race simulation I had very positive impressions. The lap times are becoming faster and faster, and this means that we are working in the right direction. The traction on the rear is improving, thanks also to the new material from Michelin, so I am satisfied. Actually I didn't expect to be so fast in the race simulation; I went beyond my expectations. At the end of the third day we can say that this has been a very good test session and my overall feeling is, of course, better than after the Sepang test. We still have a lot of work to do, but the atmosphere insi de the garage is concentrated, relaxed and very professional, so I am sure we will achieve our goals before the season starts. I am looking forward to being in Sepang, in January, to test new engine specifications and to try to be even faster."
Daniele Romagnoli , Lorenzo Team Manager - "Today was a positive day. We continued to improve the set-up of Jorge's bike and we found a good basis to work from. We also tested new tyres from Michelin and we found some good material, above all for the rear, that accepted the torque of the engine well and had good grip. Jorge keeps on improving his feeling with the bike and now we can say that he finally feels comfortable with it. Today we completed a long run that was definitely positive, especially since it's the first one for Jorge riding the M1. He was very fast, even faster than the 2007 race pace. Finally he tested two qualifying tyres that enabled him to lower his best time by one second, and we consider this to be a very good result. I would like to thank the rider, who rode a huge amount of laps, and the team, who performed a great job throughout the entire test session. Now let's take some well-deserved rest and then we will meet again in Sepang in January, to start the new challenge."
Valentino Rossi rounded off his testing activity a little early in Jerez today after he began to feel an increased level of pain in his recovering right hand, which he broke at the final race of the season. Nonetheless the Italian managed to complete almost his entire schedule of testing activity and his first test on Bridgestone tyres was deemed to be a positive one by Yamaha and Bridgestone engineers alike.
Rossi had planned to complete a long run today but decided to stop early rather than put more stress on his hand, and he also decided not to test any more qualifying tyres following his work on soft rubber yesterday. With most of the rest of the riders choosing to test qualifiers however, Rossi's best lap on race tyres, a time of 1'41.538, put him 11th in the final standings, with the time sheets topped by Dani Pedrosa after a lap of 1'38.562.
Valentino Rossi (11th, 1'41.538, 32 laps) - "Today I tried to do my best but I wasn't able to ride fast due to my hand; it started hurting a lot today and I had no power to ride with it in such conditions. The fracture is still hurting and furthermore I have not ridden or trained for almost one month, so it is to be expected that today my hand would be tired. I knew I was not in perfect shape, and I also expected to have some problems at this first test back. Anyway, we were able to finish our programme and despite today I think it's been a positive first test with Bridgestone. Of course we still have work to do on the bike in general and with regards to adapting it to the new tyres but I can reconfirm my first feeling of two days ago, which was positive. Now we have a better idea where we need to work hard in order to improve further. I would like to take this chance to say a big thank you to all my team, my mechanics and to all the Yamaha staff for their great effort throughout the season. I know that I will find them again at the beginning of 2008 with the same motivation, if not even more than ever. Thanks to everyone!"
Davide Brivio, Rossi Team Manager - "Today we decided to finish early because Valentino was not able to ride at 100% due to pain in his hand. Anyway, it is quite normal, since he had a bad crash in Valencia and he has not ridden since. It is not a big problem for us because we were able to finish our working schedule and test program, so we preferred to stop the test early in order not to put unnecessary stress on his hand. It's been a very interesting test session here in Jerez; we had the chance to meet all the Bridgestone engineers and technicians who will work with us next season and we got very interesting information from them and from the new tyres. In return we were also able to give them important information to work on, and now we need to analyze all the data and work hard on it during the winter in order to be as ready as possible in January. Now Valentino and the team have some holiday time, which they deserve because they have worked hard all year, then we will be back at Sepang in January for the final
Kawasaki Happy with 3-Day Test
On-track MotoGP activity ended for 2007 today after the final test of the year drew to a close at Jerez. The Kawasaki Racing Team have been using the time at the Spanish track to test new parts and a variety of Bridgestone tyres whilst working to improve the overall package of the 800cc Ninja ZX-RR.
Newcomer to the team, John Hopkins, has been giving plenty of feedback to his engineers and is making steady progress at perfecting the bike for his requirements. A new frame, clutch parts and engine components are amongst numerous changes which have assisted the 24-year-old in his task and he's already feeling at home.
Anthony West, similarly, has been using his first ever winter test season to really get to grips with the bike he first rode, mid season, earlier this year. Like Hopkins, he has been involved in an effort to improve corner stability in addition to trying out numerous settings and parts on his machine.
Lap times have not been a concern for either rider as the objective at present is to ensure both bikes are working at the highest possible level and in such a way so that both Hopkins and West can take full advantage of them.
Overall, the team are feeling hugely positive after their time at Jerez, and Valencia and Phillip Island before that, and are more than satisfied they are moving in the right direction. Enormous amounts of data have been collected and, along with the responses of riders and engineers, the feedback will head to Kawasaki in Japan for analysis and action during December's test ban period.
As the team depart Spain for the winter break, Hopkins is looking forward to his imminent marriage to his fiancee, Ashleigh, whilst West has a punishing fitness schedule lined up. They will be back in action at Sepang in late January 2008, ready to continue their preparations for next season.
The MotoGP teams will now enjoy a well-earned winter break, reconvening at Sepang in Malaysia for the first test of 2008 on 22nd, 23rd and 24th January 2008.
Day 3 Top Times
1. Dani Pedrosa (Honda) 1'38.562
2. Nicky Hayden (Honda) 1'38.848
3. Jorge Lorenzo (Yamaha) 1'39.464
4. Andrea Dovizioso (Honda) 1.39.747
5. Shinya Nakano (Honda) 1'40.121
6. Colin Edwards (Yamaha) 1'40.184
7. Alex de Angelis (Honda) 1'40.185
8. James Toseland (Yamaha) 1'40.213
9. Randy de Puniet (Honda) 1'40.398
10. John Hopkins (Kawasaki) 1'40.984
11. Valentino Rossi (Yamaha) 1'41.538
12. Marco Melandri (Ducati) 1'41.619
13. Tadayuki Okada (Honda) 1'41.715
14. Nicolo Canepa (Ducati) 1'41.793
15. Anthony West (Kawasaki) 1'42.343
16. Vittoriano Guareschi (Ducati) 1.42.850
17. Shinichi Ito (Bridgestone) 1'43.001
---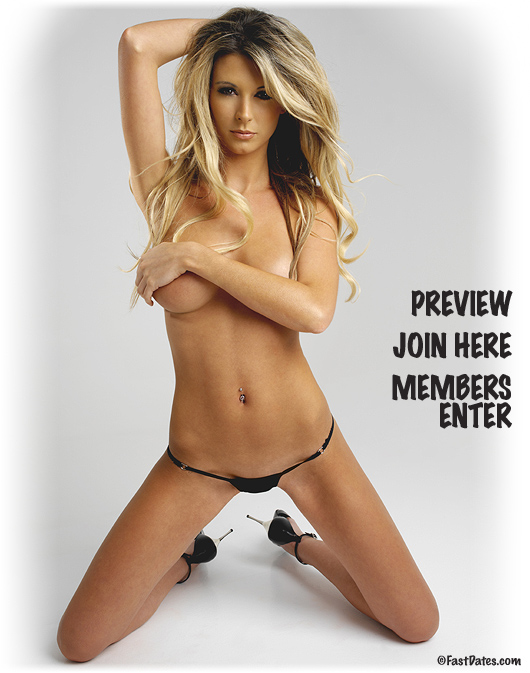 Leaves World Champion James Toseland Begging' for more...
Heart Breaker Gemma Gleeson
5 Sexy New Pictorials Added in Members Corner!
She was the hottest thing to ever hit the starting grid 2 years ago at Brands Hatch World Superbike. Fast Dates Calendar Kitten Gemma Gleeson was your typical long-legged beautiful 19-year old runway supermodel from County Cork, Ireland and we brought her to Brands with 2 other models to shoot the 2007 Fast Dates Calendar.
It proved difficult to get any work done that weekend as we (actually Gemma and the other 2 models) were constantly mobbed by the race teams, media, TV and fans for pictures and to be chatted-up. European TY fans got to see a lot of Gemma on screen that weekend, much of it in the SBK's 1-hour Saturday Practice and Sunday's Pre Race Show coverage which we don't get here in America on SpeedTV, and with all the grid girls being edited out of the 1-hour race coverage we are shown. See more here: Brands Hatch 2005.
Below: Monica and Gemma on the Brands Hatch starting grid posing for SBK TV.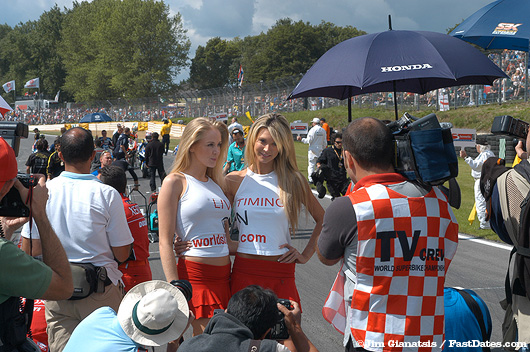 After the Brands Hatch World Superbike race on Sunday, that night we hit the exciting Paddock Party where World Superbike Champion James Toseland and his band were playing. The girls got very drunk, very wild and crazy with all the guys. Toseland couldn't help but notice our Gemma and followed her out to the parking lot like a love sick puppy to chat her up and get her phone number. We later heard that actually did go out on a couple of dates, but with James' busy race schedule flying around the world, and Gemma being busy as well with her modeling, school, other boyfriends, just not interested or whatever, James Toseland was dumped by our Calendar Kitten. Toseland's manager Roger Burnett actually contact us a couple of times trying to set up Gemma with James again, but it wasn't to be.
However, we've been able to get together with Gemma again to shoot some incredible photos of our Irish goddess for FastDates.com which you'll find in Members Corner. Now you can get an exclusive look at one of our most beautiful Calendar Kittens ever in 5 very sexy and revealing new pictorials! Members Corner.
---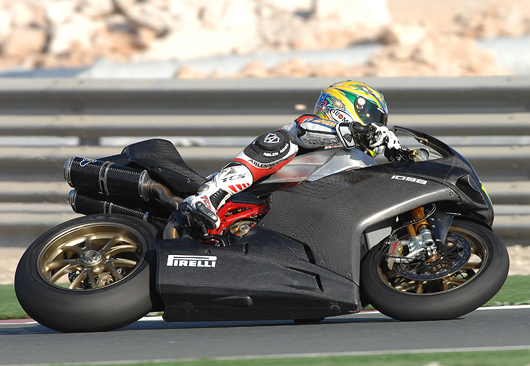 Troy Bayliss turned quickest time the last day of testing on the new Ducati 1098F08 (actually 1198cc as allowed by the new FIM rules for 2-cylinder bikes in 2008) which has been in development since last spring. And hough this new bike is supposed to be close by FIM rules to the stock 1098R it still gets the factory bike "F" designation, meaning it still has a lot of trick parts you can't buy.
SBK World Superbike Championship, Winter Testing Bayliss 1098F08 Screensaver
World Superbike Winter Tests at Losail
Troy Bayliss Powers the New Ducati 1098F08 to quickest time on Day Three
Losail (Qatar),November 28-30, 2007 - Troy Bayliss (Ducati Xerox) made all the difference as he powered the new Ducati 1098 F08 to the fastest time on the final day of the Qatar winter test session. The Australian, lying third behind the two factory Italian Yamahas of Troy Corser and Noriyuki Haga on Wednesday and Thursday, upped the pace on the final day and slipped in one quick lap of 1m58.1s on race tyres to end the test in fine style. Bayliss' new Ducati team-mate Michel Fabrizio was exactly a second behind in an encouraging fifth place on his first outing with the factory team.
Suzuki Confirms Nieto, Kagayama, Neukirchner to factory Alstare team
Day One, Nov 28th - Although conditions were far from ideal this morning - when strong winds gusted across the track bringing sand and dirt from the nearby construction sites - the afternoon was better as some of the top factory Superbike teams began 3 days of testing at the Losial circuit which is currently under construction for a night time MotoGP round in March of 2008. No transponders were fitted to the bikes so all results are based on the individual teams' timings.
Team Alstare Suzuki riders Fonsi Nieto and Yukio Kagayama were back in action today testing their GSX-R1000s at Qatar - just seven weeks after the World Superbike season finished. Both riders began to try some new material towards the end of the opening day day. Third team rider Max Neukirchner was absent from the test as a "gentleman's agreement" between the top teams means that only two riders per team are allowed to take part.
The Fonz is part of Alstare Suzuki's new larger 3-man team for 2008. We are curious why the Corona livery remains on the bikes, as the beer brand was supposedly withdrawing totally from racing for 2008.

Fonsi Nieto - 4th, 2:01.0: "I'm pretty happy with how today went and I spent the time learning about my bike and also getting to know my team properly. They are a great bunch and I'm really looking forward to working with them. We started the day with everything as the bike finished the 2007 season and we made good progress throughout the morning. In the afternoon we made some changes (exhaust and chassis) and I didn't get on with the bike as well. So we will look at the data this evening and decided where to start tomorrow. One thing that did excite me today is that I was able to pass Haga on the straight! It's probably the first time in three years that I've been able to do such a thing and it made me very happy. It was very windy and dusty today so I hope tomorrow will be a bit better and we can carry on the good work."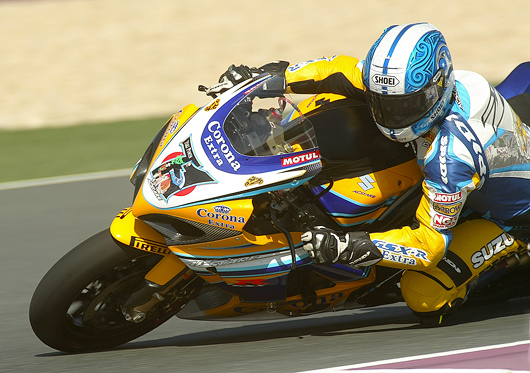 Yukio gets down.

Yukio Kagayama - 6th, 2:01.9: "Today I am happy because it was as much a test of my body as the bike! And I'm happy to say that my body feels ok after 55 laps and I didn't have any pain. It was very windy and that is a good test for the handling of the bike. It was also very dusty and dirty so I took it steadily - I did not want to crash! When we tried a new exhaust this afternoon, the feeling of the bike changed and we will need to make some more adjustments to get the bike working the way we want. We also tested quite a few tyres today - some that we did not have time to try or use during the season - and some were good and some not so good. Tomorrow we will carry on our work and see what we can do."
Wednesday Results: 1 Corser (Aus-Yamaha ) 1'59.6, 2 Haga (J-Yamaha ) 2'00, 3 Bayliss (Aus-Ducati ) 2'00.6, 4 Fonsi Nieto (E- Alstare Suzuki) 2'01.0, 5 Fabrizio (I-Ducati) 2'01.6, 6 Yukio Kagayama (J-Alstare Suzuki) 2'01.9, 7 Sofuoglu (TUR- Honda) 2'02.2.
Team Yamaha Still Quickest, Bayliss and Fabrizio Improve on new Ducati 1098F08.
Day Two, Thursday 29th - Both Ducati Xerox Team riders made substantial progress on the second day of testing at the Losail circuit in Qatar as they notched up more mileage on their new Ducati 1098 F08 machines. Bayliss remained third quickest in the standings behind the two Yamahas, but he was flanked by new arrival Carlos Checa (Honda), who joined the test today. Troy's new team-mate Michel Fabrizio also improved, the young Italian knocking one-and-a-half seconds off yesterday's time to end up sixth quickest.
Troy Bayliss, 1m59.5s (65 laps) - "We tested a few tyres today, some front and some back, but spent most of the day playing with the settings on the bike and working to get more feeling at the back" declared Troy. "It's still not feeling right and we're missing a little bit of corner speed, but everything is going OK and we've got some good ideas for tomorrow. With the 1098 it still feels like I'm riding a Ducati and I feel at home with the motor, but it certainly works differently and doesn't rev as much as the 999. It's early stages yet and we can't expect to be on top of everything immediately."
Michel Fabrizio, 2m00.1s (60 laps) - "Today went better than yesterday and I am pleased to have improved my time, because what I wanted was to find the right direction in the set-up" said Michel. "I knocked a second and a half off yesterday's time, but more importantly I was a second quicker than my best time set this year on the Honda. I began to lap on race tyres forty minutes from the end of the session, going out for a few laps at a time, but tomorrow I'll test the tyres better and hopefully I can drop my time by a few tenths more. The thing that has impressed me the most about these tests with the 1098 ....is the Ducati Xerox Team. These guys really know how to work well and they give you everything!"
FONSI LEARNING, YUKI TESTING.
It was another day of hard graft for Team Alstare Suzuki riders Fonsi Nieto and Yukio Kagayama in Qatar today. Conditions at the Losail circuit were better today because the wind was not as strong and there wasn't so much dust and sand drifting across the track. Fonsi started the day with his set up from yesterday morning and then continued to work all day understanding the bike and any changes made to it. Yukio spent the entire day testing and developing new systems on the bike and worked hard with his crew to identify which ideas worked and which did not. Because of this he, like Fonsi, didn't bother to chase lap times, preferring instead to work on developing the bike for next season.
Fonsi - 1:59.60 - I am very happy today because I improved my lap time by one and a half seconds, even though I was really using today to continue my learning process of the bike. For me there is a lot to learn about the this bike and I really want to get comfortable on it and get a good feeling for it before pushing hard. Lap times are not important to me at this stage because it's more important that the bike and I get on well. All the team are helping me in this matter and they're all doing a great job helping me to progress as quickly as I am. I'm still at the stage of adapting the bike to my riding style, but each time I get on the bike I learn a bit more, so it's all progress. So far, we haven't had any chance to test any tyres, but tomorrow we'll do that and, if the weather is good, I'm sure I'll go even quicker.
Yukio - 2:00.9 - It is just as well that I'm not looking for a lap time, otherwise I'd be a bit disappointed. Today my job was to work hard and try many different things and give the team as much feedback and information as possible. We did a lot of work on the engine, electronics and suspension and some of the ideas gave us possibilities for the future and some did not. My team threw many different things and ideas at me today and I had to let them know what worked and what should be forgotten. This is part of my job and I have to do it well so we can make progress. Of course, sometimes working in this manner can be a bit frustrating, but I have to look at the bigger picture and just get on with it. My experience of this bike is much more than Fonsi (or Max Neukirchner), and at this stage it is up to me to do it - and do it well!
DAY 2 TIMES (provided by Pirelli): 1. Corser (Yamaha) 1m58.6s; 2. Haga (Yamaha) 1m59.2s; 3. Bayliss (Ducati Xerox) & Checa (Honda) 1m59.5s; 5. Nieto (Suzuki) 1m59.6s; 6. Fabrizio (Ducati Xerox) 2m00.1s; 7. Sofuoglu (Honda) 2m00.3s; 8. Kagayama (Suzuki) 2m00.9s.
Bayliss Powers new Ducati 1098F08 to Quickest Time, Then Crashes with Tire Change
Day Three, Friday 30th Troy Bayliss (Ducati Xerox) made all the difference as he powered the new Ducati 1098 F08 to the fastest time on the final day of the Qatar winter test session. The Australian, lying third behind the two Yamahas on Wednesday and Thursday, upped the pace on the final day and slipped in one quick lap of 1m58.1s on race tyres to end the test in fine style. New team-mate Michel Fabrizio was exactly a second behind in an encouraging fifth place on his first outing with the factory team.
Troy Bayliss, 1m58.1s (66 laps) - "We're making good progress, the last couple of days we've been trying so many different things and seeing where we can go with this bike. Sometimes it's frustrating because I want to go fast, like everyone else, but when the other guys were going fast we were still on old tyres and working on the settings. After lunch today we found a bit of a way and were happy, so we decided to throw a few tyres at it and the times were coming good. That's the fastest I've ever been round here by about half-a-tenth and I did that time on a 999 with a qualifying tyre. I did about ten laps on the same tyre, mostly in the mid-58s, but I had to ride really hard to get those lap times and I'm still not so confident with the back of the bike. But now I can relax knowing we're going in the right direction and enjoy my Christmas until our next test at Phillip Island at the start of January."
Troy's dreams of posting a 1:57 lap on the final day at Qatar vanished when he crashed in the morning session. He had posted a 1:58.5 without any difficulty, but then tested a new front tyre - the hardest Pirelli available - and that was the cause of his downfall. On the first left-hander of the lap, Troy lost the front and crashed, sliding into the gravel trap in the process. If the gravel had been like other racetracks, Troy would've probably got away unscathed, but the Losail gravel traps are filled with stones and when Troy hit these, he was given a severe battering. Fortunately no bones were broken, but he suffered massive bruising to his backside, lower back and also the same hand he hurt yesterday.

Troy wanted to go out in the final session this afternoon but was unable to get his gloves on, so he and the team decided to call it a day. "That was a shame, because I really felt a 1:57 was possible. Things were going well this morning until I went out to test the hardest tyre Pirelli brought here. I guess I got got out, but you have to push in order to find out the limits. I lost the front at the first left-hander and once you do that here there is no grip off-line and you crash. Normally, I'd be able to pick it up on my knee, but because of the lack of grip I couldn't do that. I thought I'd finish on the tarmac, but my corner speed was enough to carry me into the gravel and that's what caused the battering. I feel like I've been run over by a! truck - twice! I would've got away with that kind of crash at any other track, but here it's not so much gravel as rocks! I've got a nice pair of bruises on my backside, not that anybody but the doctor was interested! I was sore this morning after yesterday's crash, but now I'm more sore! But the good news is that I'm content with what we've done and achieved during this test. I reckon we've pretty much gone through everything we had to. I would've liked to have done some more work on the same things in some areas, but we've covered all the basics. I now feel that the bike is working better with me now and I'm looking forward to the next test and the season ahead - after I've sorted out my bruises of course!"
Michel Fabrizio, 1m59.1s (53 laps) - "This test was my first time with the factory team and I have to say I'm really happy with the guys and the way they work. As for the test, I would say it went well. Today I did a 59.1s lap and I was looking to go better with the best development tyre left for the end, but we had a small problem and I was disappointed I couldn't improve my time. I'll leave it to the others to judge my performance but I personally wanted to do more! The 1098 is a fantastic bike, but we've got a long way to go and I still have to get to know it better".
Davide Tardozzi, Ducati Corse Superbike Project Leader - "Over the past three days the new 1098 has had its first real outing on the track against the others and we're still trying to familiarize with it. The bike is competitive, but it's not as if we went that much quicker than the others. We're still in the early stages and I think that today it was Troy who made all the difference, as so often happens".


Top Times:
TIMES (provided by Pirelli): 1. Bayliss (Ducati Xerox) 1m58.1s; 2. Haga (Yamaha) 1m58.4s; 3. Corser (Yamaha) 1m58.6s; 4. Checa (Honda) 1m59.0s; 5. Nieto (Suzuki) & Fabrizio (Ducati Xerox) 1m59.1s; 7. Sofuoglu (Honda) 2m00.3s; 8. Kagayama (Suzuki) 2m00.9s; 9. Kiyonari (Honda) 2m01.8s.
---
Taylor Swift to Announce Grammy Nominees
Taylor Swift will be traveling to Hollywood on December 6 to help read the nominations for the 50th Annual Grammy Awards. Taylor will join R&B singer/songwriter Akon, 27-time Grammy winner and 50th Celebration Ambassador Quincy Jones and two-time Grammy-winning group Linkin Park in announcing the nominations. More presenters will be announced soon. Grammy season officially kicks off with the nominations announcement. The 50th Annual Grammy Awards will take center stage at the Staples Center in Los Angeles on February 10, 2008, on CBS.
Make it a Taylor Swift Christmas!
Beautiful 17-year old country pop music sensation Taylor Swift is one of our favorite
Chicks That Kick Ass! And now you can make it a Taylor Swift Christmas with these two great music packages just released this month. Just click on the album covers to find out more and to order.
Taylor Swift - Special Edition CD and DVD
This is a must have new 2-disc set, featuring on the music CD the original 11 songs from Taylor's initial album release, plus 3 all-new songs - I'm Only Me When I'm With You, Invisible, and A Perfectly Good Heart. The song Invisible, which we heard Taylor perform at her live concerts this past summer, is sure to reach the Top Ten Singles Charts if and when it is released on its own. Also included here is a separate DVD with all 3 of Taylor's hit music videos, the behind the scenes making of the videos, home movie taken and edited by Taylor, and a excellent GAC TV 22-min documentary made in 2006 on Taylor's self driven rise from an 11-year old schoolgirl to the hottest new singer songwriter in music today

Taylor Swift - Sounds of the Season CD


Every top music star releases a Christmas album at some point in their career, but for Taylor to release hers as still a 17-year old in just the second year of her career along with writing, producing and performing her other music CDs, music videos, still finishing high school, traveling on a 9-month weekly concert tour across America, and appearing on TV awards pogroms as often as possible is pretty amazing. This 6-song CD includes 2 new original Taylor Swift Christmas songs, George Michael's Last Christmas, Taylor's totally revised, nearly unrecognizable and excellent version of Silent Night, and the classic sexy Santa Baby in a perky schoolgirl style.
2008 Roadracing Rider and Team Line Ups
Here's a look at the rider seat changes and confirmed lineup of teams and riders in World SBK and AMA Superbike and MotoGP for 2008. We will be add more teams and riders weekly as they confirm:
2007 Roadracing Teams
2007 World Superbike
Ducati Corse: Troy Bayliss, Lorenzo Lanzi
Ducati Sterilgarda: Ruben Xaus


Honda Ten Kate: James Toseland, Roberto Rolfo
Honda D.F.X. Corse: Luca Morelli, Michel Fabrizio

Yamaha Italy: Noriyuki Haga, Troy Corser
Suzuki Alstare: Yukio Kagayama, Bax Biaggi
Kawasaki PSG-1: Regis Laconi, Fonsi Nieto
Suzuki Germany: Max Neukirchner


2007 World MotoGP
Ducati Corse: Loris Capirossi, Casey Stoner
Ducati d'Antin: Alex Barros, Aex Hoffman
Yamaha Japan: Valentino Rossi, Colin Edwards
Yamaha Tech 3: Sylvain Guintoli
Suzuki Japan: Chris Vermeulen, John Hopkins

Kawasaki Japan: Randy de Puniet, Anthony West
Honda Japan: Nicky Hayden, Dani Padrosa
Honda Minolta: Shinya Nakano
Honda Gresini: Tony Elias
Honda LCR: Carlos Checa
Honda Roberts: Kurtis Roberts

2007 AMA Superbike
Suzuki Yoshimura: Matt Mladin, Ben Spies
Suzuki Jordan: Aaron Yates, Jake Holden
Honda American: Miguel DuHammel, Jake Zemke
Yamaha USA: Eric Bostrom, Jason DiSalvo
Kawasaki USA: Roger Lee Hayden, Jamie Hacking
MV Agusta Ferracci: Matt Lynn, Lucca

2007 BSB British Superbike
Honda HM Plant: Ryuichi Kiyonari - reigning champ



2008 Roadracing Teams
2008 World Superbike
Ducati Corse: Troy Bayliss, Michel Fabrizio
Ducati Sterilgarda: Ruben Xaus, Max Biaggi
Ducati Guandalini: Jakub Smrz
Ducati RG: Lorenzo Lanzi
Honda Ten Kate: Kent Sofulguo, Carlos Checa, Ryuichi Kiyonari - reigning 2-time BSB Champion
Honda Paul Bird: Gregorio Lavilla - BSB Champion
Yamaha Italy: Noriyuki Haga, Troy Corser
Suzuki Alstare: Fonsi Nieto, Yukio Kagayama,
Max Neukircher
Kawasaki PSG-1: Regis Laconi, Makoto Tamada
Suzuki Germany: ?

2008 World MotoGP
Ducati Corse: Casey Stoner, Marco Melandri
Ducati d'Antin: Tony Elias, Sylvain Guintoli
Ducati other : Guareschi, Canepa, Itoh
Yamaha Japan: Valentino Rossi, Jorge Lorenzo
Yamaha Tech 3: James Toseland, Colin Edwards
Suzuki Japan: Chris Vermeulen, Loris Capirossi,
and non'conflicting AMA races with Ben Spies
Kawasaki Japan: John Hopkins, Anthony West
Honda Japan: Nicky Hayden, Dani Padrosa
Honda Minolta:
Honda Gresini: Shinya Nakano, Alex de Angelis
Honda LCR: Randy de Puniet
JiR Scot Honda: Andrea Dovizioso

2008 AMA Superbike
Suzuki Yoshimura: Matt Mladin, Ben Spies
Suzuki Jordan: Aaron Yates, Geof May
Honda American: Miguel DuHammel, Neil Hodgson
Yamaha USA: Eric Bostrom, Jason DiSalvo
Kawasaki USA: Roger Lee Hayden, Jamie Hacking
MV Agusta Ferracci:

2008 BSB British Superbike
Honda HM Plant: Leon Haslam, Cal Crutchlow
Suzuki Rizla: Tom Sykes, Atsushi Watanabe - reigning Japanese Superbike Champion
Ducati Airwaves: Shane 'Shakey' Byrne, Leon Camier
Yamaha: Rob McElnea
Kawasaki MMS :
---
There's more! Go to Pit Lane News NEXT PAGE
Hot Calendar Girl and Bike News! Go to: Fast Dates • Calendar Girls • Iron & Lace
Calendar Kittens, The Paddock Garage, Screensavers, Iron & Lace Garage



Many of our Calendar Kittens can also be seen at Playboy's website...


BikerKiss.com - the largest biker personals site!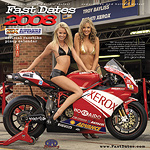 Now Available!
16-month Calendar starts Sept
2008 Fast Dates &
Garage Girls Calendars

Sands vs. Rooke
Calendar Bike Build Off
See the world's two hottest custom sportbikes featured in the 2008 Fast Dates and Iron & Lace Calendars being built and raced by Roland Sands and Jesse Rooke for Discovery Channel's Biker Build Off
Roland Sands builds the
KR Tracker Calendar Show Bike
New Blood DVD
features Roland Sands building and riding the extraordinary Roland Sands Design / Kenny Roberts KR 990cc 5-cylinder MotoGP powered Retro Board Track Racer. The bike is also featured in the 2008 Fast Dates race bike and Iron & Lace custom bike Calendars with beautiful Playboy Playmate and Calendar Kitten Tamara Witmer in one of our best calendar shots ever and ,featured in the LA Calendar Motorcycle Show advertsing campaigns
and T-Shirt.
More New DVD!

Hot New Books!

Gregorio Lavilla Confirmed At Paul Bird Motorsport for World Superbike
Dec 6th - Following on from their announcement last month regarding the team contesting the 2008 World Superbike Championship, Paul Bird Motorsport have confirmed that they will field a single ride on board factory-supported Honda machinery in the fifteen round series.
2005 British Superbike Champion, Gregorio Lavilla is the rider who has been entrusted to ride for the Cumbrian businessman and the Spaniard will return to the World Championship full time after a four year break.
Bird has secured the necessary backing from his sponsors, although it has yet to be decided as to what branding Lavilla's bikes will run when the opening round gets underway in Qatar on February 23rd and an announcement will follow in due course.
Paul Bird: "It's back to our tried and tested formula of a one rider team and that's where we've had most of our successes in the past. The team will be geared around Greg and he'll get everything he needs to make sure we have the best chance possible. It's a new venture for us but it's one that the whole team is very excited about and we aim to start testing very soon in readiness for the opening round in Qatar."
Gregorio Lavilla: "It has always been my aim to get back into the World Superbike Championship on a competitive bike and I'm very grateful to Paul Bird and his team for this opportunity. I have enjoyed my time in BSB very much and I'm sad to be leaving as I have made many good friends and it has been a good time for my career. I'd like to say thank you to my fans and not only do I have a home race in Spain next season, but I have two more 'home' races in England and I'm very much looking forward to it."
---
More 2008 Calendars in the Calendar Store

Click to Vist our Calendar Store
Calendar Kitten Joanna Krupa has her own 2008 Calendar


Taylor Swift
for Christmas!
New CD & Video DVD
and Christmas Music from
America's New Sweetheart
Makoto Tamada to ride for Kawasaki in 2008 Superbike Championship
Dec 1st 2007 - Kawasaki is delighted to announce that SBK and MotoGP race winner Makoto Tamada is to join Regis Laconi in a strong two-man PSG-1 Kawasaki Corse team for the 2008 World Superbike Championship.
Negotiations between Kawasaki and Tamada reached a successful conclusion on 30 November, and now Tamada returns to the championship in which he first came to international notice, thanks to three victories as a wild card entrant on home ground at Sugo.
He further underlined his quality when he moved to the MotoGP class shortly afterwards, winning two races in 2004, one at home in Motegi and the other at Rio.
Tamada has been a target for Kawasaki for some time and his signing consolidates the PSG-1 team and Kawasaki's mutual commitment to gain success in the forthcoming season.
Tom Sykes joins Japanese Champion Alsushi Watanbe at Rizla Sukuki for 2008 Bristish Superbke Championship
Nov - Top British Superbike rookie Tom Sykes has joined the ranks of the Rizla Suzuki Superbike team along side his new team-mate, two-time Japanese Champion Atsushi Watanabe.
The 22-year-old from Huddersfield had an impressive rookie season in the Bennetts British Superbike Championship, riding to sixth place overall. He was runner up in 2006 in the British Supersport Championship and graduated to the Superbike class with a calm and calculated approach which saw him make steady progress through the season. In his first year in the premier class, Sykes claimed six front row starts, one pole position and five podium finishes.
"I am very much looking forward to riding for the factory Suzuki team," smiled Sykes. "The team has a full season of development behind it and the GSX-R 1000 has big potential. I'm hoping for a good season and we should hit the ground running at the first round at Brands Hatch. The winter testing schedule will prepare us nicely for the challenge ahead."
Having competed on a Suzuki back in his Supersport days, Sykes is thrilled to be returning to the fold. He said: "It is great to come back to Suzuki, they are a great manufacturer and will be putting more input into racing which is good news for the championship and for myself."
Looking ahead Sykes has his own personal goal. "My aim is simple - through the 2007 season I was consistent with picking up podium finishes and I want to carry that on," he explained. "I need to win races and finish consistently on the podium."
Team Manager Jack Valentine echoed Sykes sentiments as he welcomed him to the team. "Tom had a fantastic season and I'm very pleased with how it went for him and how he adapted to the Superbike," said Valentine. "He didn't rush into it, he just chipped away at his results and towards the end of the season he was consistently on the podium. He is a thinking rider and has a big future ahead of him with Rizla Suzuki."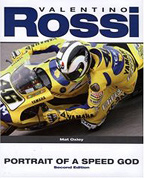 ---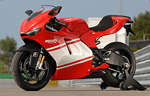 First Look!
Inside the new Ducati Desmosedici RR
Going into production next month for a lucky few!
Click the Photo for More
For compete details and photos of the new bike go to our
New Sportbike Index
Ducati Desmosedici RR
Desmosedici Delivery Delayed, Again
Dec 1st - The last we heard from Ducati back in mid September on the delivery of the new Desmosedici RR was that production was to begin at the factory mid-October 2007.
Bikes would be built at a rate of around 2 per day. From there the finished bikes would be placed in outgoing shipping containers with other model Ducati bikes to assure the quickest possible delivery to different countries. In a personal letter sent to American Desmosedici reservation holders from Michael Locke, President at Ducati North America, including to yours truly (FastDates.com editor Jim Gianatsis is one of the inital 200 buyers who qualified for the now low $65,000 price by also being a 999R owner), Locke expected the initial 200 buyers to get their Desmos by or around this Christmas Dec 25th - Jan 1st.
Now normally, Ducai Bologna like to post photos and videos on their website of new bike production and testing - as they did last spring with the Hypermotard, but we've not seen any production photos of the Desmosedici over the past 6 weeks. So last week we put in an inquirey to both Ducati SpA and Ducati USA to ask what the status of Desmosedi RR production and delivery was.
What they wrote us back was one short statement; "No bikes (Desmosedici RR) have left the factory yet."
So at this point we really don't know if the bikes are actally in production, or if they are being delayed by parts supply or manufacturing probllems. If you know of anyone who has taken the Ducati factory tour in the past month, and can shed some light on if ther Desmosedici is really in production or not, we's appreciate hearing from them.
Contact@FastDates.com
Dec 6th - We did hear from a reader who visited the Ducati factory on October 25th and he did see the V-4 engines being built and bikes moving down the assembly line, with 4 completed Sedici RRs waiting at the end of the produxtion line. So by this date there's probably over 100 bikes waiting to leave the factory. They just are not being released for some undisclosed reason.
Desmosedici Pricing
As you may be aware the initial 200 or more buyers who reconfirmed their o rigional orders back in 2006 were given a confirmed price of $65,000 - up from the origional $50,000 price announced at World Ducati Week 2004.
Then early this year 2007, the price was increased for current buyers to $75,000. Then back in September when Ducati announced production of the Desmosedici RR would be fixed at 1,500 bikes, of which 1,200 had already been pre-sold, we are now hearing the price has increased again to $82,500 on the remaining bikes.
This price increase in the Americas is understandable in light of the U.S. Dollar's huge fall against the Euro - some 25 cents $1.24 to $1.48 in just the past 12 months alone. The Dollar was even with the Euro back in 2004.
But remeber, production was first promised for June 2006, then spring 2007, then July, and now, who knows? The longer production is delayed the more the Dollar declines and the more the bike is costing Americans.
So with the increased production and delivery delays of the Desmosedici RR, Ducati will be loosing a lot of money on the earleir confirmed prices.
If the US Dollar has dropped 30 cents when the $65,000 bike orders were taken, then Ducatii will now only getting $53,000 Euros for the bike, effectively their profit margin.If will be interesting to see if Ducati NA honors the $65,000 price quote to intial buyers as production continues to be delayed and the dollar continues to fall.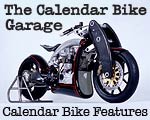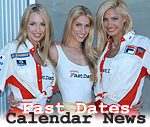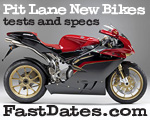 ---


NEW! FastDates.com
Cell Phone Wallpapers!
---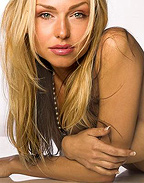 Leticia Cline at Long Beach Show Dec 8-10th
The hardest working model on the planet, AMA Superbike champ Ben Spie's former squeeze Latecia Cline will be at the Cycle World International Motorcycle Show this Dec 8-10th weekend in Lob Beach at the Convention Center signing posters in a booth for a personal injury attorney specializing in motorcycloe accidents.
Just this month Leticia is featured on the cover and inside Playboy's Newstand Special - Girls Next Door, she scored a full page in this month's Maxium as the #5 Hometown Hottie in America, and on Nov 28th appeared live on the Howard Stern XM radio show.
As a pinup calendar website and publisher in the American motorcycle market which is overly obsessed with not being associated with pin up content and pretty girls, we have to give a lot of credit to Laticia Cline for being who she is and trying to open the doors on over censorship here in America, and particularly in the American motorcycle market.
A market which is so up tight that teams like American Honda and American Suzuki haven't allowed their race bikes to be photographed with models since 2000. Who won't hire or use professional umbrella girls at the races, or spokesmodels at motorcycle show. While in Japan and Europe a motorcycle manufacturer wouldn't consider doing a bike show or starting grid without scanitly clad, beautiful spokesmodels.
It's all because of the overly zealous Sexual Harassment environment we have in America with countless lawsuits and legal standards now on the books. To hang a pin up calendar or swimsuit poster on a wall in an office, garage or public place is now considered sexual harassment and illegal. Anything that a man might look at as sensual is now taboo. Major chain stores like Barnes & Noble and Borders Books will no longer sell swimsuit pinup calendars because one parent, somewhwere, might have complained. But you can put the same swimsuit model on the cover of Shape or Vogue magazine at the supermarket check-out counter and it's OK.
Did you notice that men's magazines like FHM and Gear are now out of business because they could no loger get advertising from major corborations like car and motorcycoe companies? You just can't target a women's pictures to men in America
What is normally and purfecty acceptable in Europe and Japan, is sexually perverse now, here in America. It doesn';t matter if just as many women want to be sexy for men and pose in such magazines and calendars, as men buy.
So we salute models like Laticia Cline, and all you readers who support the FastDates.com Website and Calednars. Thanks - Jim Gianatsis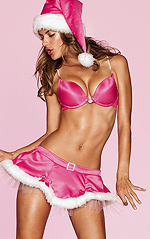 Click here for a Video Preview
on "Fashion Show" banner

Victoria's Secret Christmas Fashion Show Tuesday Dec 4th
10/9C CBS
The sexiest television show on prime time network TV is the annual Victoria's Secret Fashion Show which you can't miss. Because it is program about fashion for women, that just as many women do watch as men, we thankfully do get one program on television worth watching this holiday season besides the Superbowl!
Geoff May Joins Michael Jordaon Motorsports Suzuki for 2008
Dec 1st - Michael Jordan Motorsports Suzuki is pleased to announce that Geoff May, a former AMA Superbike Rookie of the Year, has signed a contract to race in the AMA Superbike Championship series for the team during the 2008 season.
May, who finished fourth in overall points in the 2007 AMA Superstock series, earned six top-five finishes, including four podium finishes in nine race starts. He joins Aaron Yates, who returns to the Jordan Suzuki team for a second season. Last season, Yates also had six top-five finishes in the Superstock class, including four podium finishes and a race win. While both riders will race Suzuki GSX-R1000's, May will concentrate on the Superstock Championship, while Yates will compete in both the AMA Superstock and Superbike classes.
"The Jordan Suzuki team is thrilled to welcome Geoff May," said team general manager Ken Abbott. "We hope to continue our progression in both the Superbike and Superstock classes after last season's two class wins and 15 podium finishes. While we look forward to our guys making it to the Superstock podium with regularity, we've also invested in some strategies we hope will keep Jordan Suzuki in the hunt for more podiums in Superbike as well."
May, 27, earned championships in WERA, CCS and Formula USA racing before turning pro in 2000. He is a native of Georgia and lives with his wife in Gainesville.