Alstare Suzuki Parts Company with Max Biaggi
Alstare Press Release Oct 18th - "With reference to the current situation Team Alstare is facing regarding sponsorship, it is with regret and sadness that the team announces that it will not renewing its contract with Max Biaggi for 2008.

Suzuki and Team Alstare would like to thank Max Biaggi for his great performances and results achieved during the 2007 season, and also for his technical contribution.

Suzuki and Team Alstare would like to wish Max Biaggi all the best for the future."

Editor's note: Max finished the 2007 SBK Superbike Championship in 3rd place just behind Toleland and Haga.

The word is that Max wanted a salary increase to about $1.5 million to stay with Francis Batta at Alstare, the team owner who went out of his way to drop Troy Corser from the factory Suzuki World Superbike team last year in order to make room for Max. With the team's previous Corona beer sponsorship they could afford Max salary this year at around $1 milliony, but not for 2008 without the Corona sponsorship, and certainly not with Max's demanded salary increase.

With all the teams in at he top levels of motorcycle roadracing struggling to find sponsorship, and most of the 2008 World Superbike team slots already filled, Max Biaggi may have priced himself out of World Superbike, and hence World Championship motorcycle roadracing altogether. The only other top teams looking to replace one of their riders are Ten Kate Honda to replace James Toseland who is moving to MotoGP, but not at the money that Biaggi wants. Max is also talking to some satellite teams to return to MotoGP. So stay tuned....

2008 Rider and Team Line Ups
Here's a look at the rider seat changes and confirmed lineup of teams and riders in World SBK and AMA Superbike and MotoGP for 2008. We will add more teams and riders as they confirm:
2007 World Superbike
Ducati Corse: Troy Bayliss, Lorenzo Lanzi
Honda Ten Kate: James Toseland, Roberto Rolfo
Yamaha Italy: Noriyuki Haga, Troy Corser
Suzuki Alstare: Yukio Kagayama, Bax Biaggi
Kawasaki PSG-1: Regis Laconi,
Suzuki Germany: Max Neukirchner

2007 MotoGP
Ducati Corse: Loris Capirossi, Casey Stoner
Yamaha Japan: Valentino Rossi, Colin Edwards
Yamaha Tech 3: Sylvain Guintoli
Suzuki Japan: Chris Vermuelen, John Hopkins

Kawasaki Japan: Randy de Puniet, Anthony West
Honda Japan: Nicky Hayden, Dani Padrosa

2007 AMA Superbike
Suzuki Yoshimura: Matt Mladin, Ben Spies
Honda American: Miguel DuHammel, Jake Zemke



2008 World Superbike
Ducati Corse: Troy Bayliss, Michel Fabrizio
Ten Kate Honda: Kent Sofulguo, ?
Yamaha Italy: Noriyuki Haga, Troy Corser
Suzuki Alstare: ?,?
Kawasaki PSG-1: ?
Suzuki Germany: ?

2008 MotoGP
Ducati Corse: Casey Stoner. Marco Melandri
Yamaha Japan: Valentino Rossi, Jorge Lorenzo
Yamaha Tech 3: James Toseland
Suzuki Japan: Chris Vermuelen, Loris Capirossi,
and non'conflicting AMA races with Ben Spies
Kawasaki Japan: Randy de Puniet, John Hopkins Honda Japan: Nicky Hayden (?), Dani Padrosa

2008 AMA Superbike
Suzuki Yoshimura: Matt Mladin, Ben Spies
Honda American: Miguel DuHammel, Neil Hodgson

Stoner is not looking back after having clinched the 2007 MotoGP World Championship two weeks ago as he continues to dominate on the Ducati Desmsedici.

MotoGP World Cjampionship, Maylasia, Round 17 of 18

European Manufacturers Continue to Steamroller the Might Japanaes in MotoGP and 250 GP
Casey Stoner's Perfect Ducati 10 of the Season at Sepang
Lorenzo Clinches the 250cc GP Championship on Aprilia

Malaysian Grand Prix at Sepang , October19-21st - Ducati Marlboro Team rider Casey Stoner scorched to his tenth victory of the year in faultless style at Sepang today, leading every one of the 21 laps and setting the new record on lap 15. His team-mate Loris Capirossi came home in 11th place.
Stoner got the holeshot from the front row of the grid and masterfully controlled the entire race, holding a slender lead over his pursuers Marco Melandri and Dani Pedrosa until he upped the pace and stretched his advantage. At one point he led by two seconds, finally crossing the line 1.7 seconds ahead. It was another remarkable performance from the World Champion who showed his mettle in sweltering hot and humid conditions.

Stoner's tenth success aboard his Desmosedici GP7 came one week after his home win in Australia which added the constructors' and teams' titles to the riders' title he secured in Japan last month. The Australian is also the only man to have scored in all 17 races so far.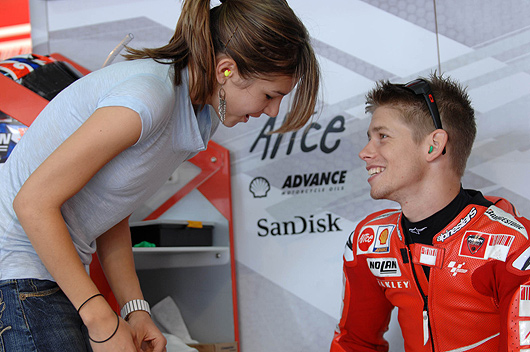 Is this a cute couple or what? Newlyweds Andrea and Casey Stoner.
Complete Coverage Sepang Malaysian MotoGP
---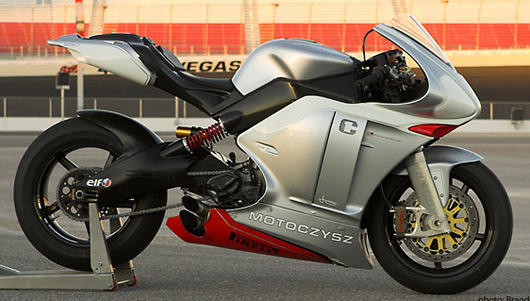 Motoczysz on the Skids?
We haven't heard much for a while from Michael Czysz and his great American MotoGP bike project the C1 which utalizes all sorts of exciting new sportbike concepts from a counter rotating 990cc 4-cylinder engine, to unique front and rear suspension designs. Back in 2005 with initial investment funding Michael had hired an entire staff of motorcycle industry experts to help redesign the bike for production with an intial advertised production run of 100 bikes to sell for $100,000 each. But hiring lots of people and geting an all new motorcycle from the ground up, chassis and engine into production is hugely expensive. One of the biggest motorcycle companies in the world, Harley-Davidson, won't even do it for their sportbike line Buell, instead outsourcing it's latest sportbike engine from Rotax in Austria.
The last news release we saw from Motoczysz was back in June 2007 when the new pre-production prototype was tested at Miller Motorsports Park by Michael and MotoGP racer and development rider Jeremy McWilliams. The public press release quoted McWilliams as saying the bike "handled great". But industry insiders were also told the engine, which is now based on a 2-generation old 2004 Yamaha R1 (estimated power 160hp) was significantly down on competitive power from a real 990cc MotoGP bike which produces closer to 240hp. And with the MotoGP rules changing to 800cc displacement this year, the Motoczyz could no longer be raced or sold as a MotoGP bike as Michael origionally proposed.
Meanwhile, Ducati has proven if you have a racing winning MotoGP bike with competitive horsepower, and put street lights on it, more than 1,200 people are willing to spend $72,000 to buy it. Anyone who might have been interested, or actually did get on the waiting list for a Motoczysz with a deposit, has probably now jumped ship for the Ducati Desmosedici RR which is now in production with deliveries beginning next month. The Ducati also comes with a 3-year full service warranty and dealers around the world who can work on it.
The chance of Michael ever find the sponsorship backing to take the bike racing is next to impossible. And is finding the money to redesign it as an 800cc MotoGP bike. Just ask Kenny Roberts. But that's no big deal, since Czysz is much better off now to marketit as a Superbike, but with a $100,000 price tag and it probably not capable of beating a stock $12,000 Suzuki GSXR, it is questionable how many bikes might be sold if it ever does reach production.
The inside word now is that the Motoczysz project has run out of money and many of the employees are leaving the company. It's defietly a shame that such a beautiful, inovative bike might never see production, but the odds have been against it front the start. Rather than not comprise and have nothing, we suggest Michael Czysz might be better to license his different concepts to other sportbike manufactuers, or sell just a chassiss kit, or the suspension componets to fit other sportbikes. And he could offer a complete bike with a proven, out sourced motor like Bimota does in the motorcycle market, or as Lotus does in sports cars.
This is the latest street pre-production version C1 with lights.
---
The Ultimate Naked Riding Experience
Ducati Hypermotard R We build the sport's most fun bike

No other motorcycle (other than argueably the Ducati Desmosedici RR MotoGP street bike) has been waited on for so long, with so much anticipation, than the newly released 2008 model Ducati 1080 Hypermotard. Ducati has a way of teasing us years in advance by giving us a preview of their latest prototype concept at bike shows and in the media, and then making us wait 3 years as they guage opinion, decide, design and tool up for production.

The Complete Story with sexy Tiffany Toth Screensavers in New Bikes HERE.
---

HP2 Sport is the latest edition to the HP2 range of high performance motorbikes from BMW. Their future Superbike may look similar to this, but will still need an all-new watercooled engine to make the maximum power need to be competitive in WSB. Cornering clearance could be a major issue for the Boxer, so we would expect thier future Superbike to be based on their in-line four MotoGP project bike.
BMW to race WSBKs from '09, targets sportsbike sales
BMW unveiled the latest addition to its HP2 line-up of high-performance models at the Mondial du Deux Roues, Paris. The BMW HP2 Sport, based on the company's R1200 S, is the third bike in the HP2 range, and is claimed to be the most powerful and lightest 'Boxer' series on the road yet.
Alongside the launch of the new model, BMW further strengthened its commitment to move into sportsbike sales with the announcement of plans to enter the 2009 World Superbike Championship. Peter Müller, Vice President Development and Model Lines BMW Motorrad, said: "In 2007 BMW returned to road racing after a gap of more than 50 years with the sports Boxer. In 2008 we will continue our activities in the Endurance categorys at the same time though we will be preparing our entry into the Superbike World Championship in 2009."
BMW's sporting intentions can clearly be seen in the specification of the HP2 Sport, which includes carbon fibre bodywork, a MotoGP style dash, Öhlins suspension and radial mount Brembo brake calipers.
The most striking difference on the BMW HP2 Sport is the new cylinder heads. Each of the double overhead camshafts (DOHC) uses a drag lever to actuate the valves that are larger than in the BMW R1200 S. Further modifications such as the flow-optimised intake and outlet, new forged pistons and adapted connecting rod help the engine to achieve the necessary higher output compared to the basic engine.
The new stainless steel exhaust system is placed below the engine for the first time. This keeps the construction of the lower area of the motorcycle extremely slim, enabling great freedom of movement for the familiar 'hanging off' riding.
Complete Report: BMW HP2 Sport
---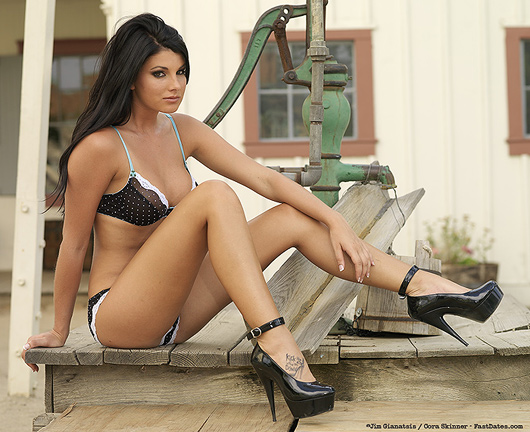 Too Sexy for Her Shoes?
Calendar Kitten Cora Skinner

Cora, who is featured in the 2007 and 2008 editions of the Iron & Lace and Garage Girls Calendars, is a 5'9' raven haired stunner with probably the most perfect body in the world - except for that damn tattoo. We're talking about that one on her right foot (click for a closeup) which reads, "Kick Him When He's Down." Talk about a ball breaker!

You can find out more about Cora in her Meet the Models profile, and see more of this and her other photo shoots in Members Corner.
---
2008 Honda CBR1000RR Fireblade at Paris Motorcycle Show
One of the best consumer motorcycle shows in the world takes place in Paris every September, with exciting exhibits, beautiful spokesmodels, and premiers on many new bikes, many of which we never even see in America. It is a tripany hard core bike enthusiast needs to take. We had the opportunity to visit Paris and the Motorcycle Show a few years earlier HERE
2008 Suzuki GSXR 750R at Paris Motorcycle Show
2008 Kawasaki ZX10R w/Traction Control at Paris Motorcycle Show
---
There's more! Go to Pit Lane News NEXT PAGE

Hot Calendar Girl and Bike News! Go to: Fast Dates • Calendar Girls • Iron & Lace

Calendar Kittens, The Paddock Garage, Screensavers, Iron & Lace Garage



Many of our Calendar Kittens can also be seen at Playboy's website...


BikerKiss.com - the largest biker personals site!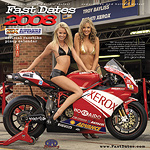 Now Available!
16-month Calendar starts Sept
2008 Fast Dates &
Garage Girls Calendars

MotoGP Tire Controversey
Rossi's Demand he gets Bridgestones for 2008
or He Will Quit Racing
is agreed to by Yamaha
MotoGP Shelves One Brand Proposal
Oct 28th - If you remember earlier this year it was principally Valention Rossi's loud complaints about the uncompetitiveness of the Michelin tires used by Yamaha (and Honda), compared to the Bridgestones used by Ducati, that prompted MotoGP to propose changing to a one tire brand spec class beginng in 2008. The change to a one tire brand in World Superbike 3 years ago has proven to be hugely successful and any bike and rider can win on any race day. But not so currently in MotoGP where the tire brand is ofte n the deciding factor.
An announcement was susposed to have been made by Dorna about changing to a one spec tire brand this past weekend at the Sepang MotoGP, but it was postponed until this week as the major players in the tire controversey made their moves. That major player being Valentino Rossi.
The biggest hurdle to enact a 1-tire brans rule in MotoGP is that neither tire supplier, Bridgestone or Michelin, were wanting to, or capable of supplying tires to the entire grid.
What seems to have transpired is that MotoGP's star rider Valentino Rossi was able to negotiate his own separate deal to swith to Bridgestone tires for 2008, and he gave Yamaha the ultimatium that if the team did not allow him to run Bridgestones, he would quit racing. Yamaha of Japan did agree to his demand, so for 2008 Rossi will be the only rider on the Yamaha factory and support teams who will be using Bridgestones.
And this week with MotoGP's numer one rider happy again, producer Dorna no longer has to eliminate one of the Championships more important suppliers and sponsors. This was the press rlease which Dorna issued today:
"The Grand Prix Commission, composed of Messrs. Carmelo Ezpeleta (Dorna, Chairman), Claude Danis (FIM), Hervé Poncharal (IRTA) and Takanao Tsubouchi (MSMA), with the presence of Mr Paul Butler (Secretary of the meeting), took note from Mr Ezpeleta of the withdrawal of Dorna's proposal to introduce a single tyre manufacturer rule for 2008.
Changes to the current MotoGP tyre regulations (number and use of tyres) will be discussed at an extraordinary meeting of the Grand Prix Commission to be held in Valencia on November 3."

Click for Classic MX photos

"One Chance to Win"
Motocross Movie
Scripted by
by Jim Gianatsis
World Premier of
"One Chance To WIn"
Saturday November 3rd
at 6:00pm
the California Theatre
562 W. 4th Steet
San Bernardino, CA 92401

It took 30 years to get it released, but a feature length movie which I wrote over 30 years ago is finally being released and shown, and will soon be available on DVD.
"One Chance to Win" covers the final round of the 1975 AMA 500cc outdoor National Championship at New Orleans on the levee river banks of the Mississippi River with a 6-way points battle tie right down to the final round for the Championship between Jimmy Weinert, Steve Stackable, Pierre Karsmakers, Billy Grossi, Kent Howerton and Brad Lackey. The film will premier at a beautiful historic theatre in San Bernandino on the weekend of the Legends of Motocross Race Weekend at Glen Helen Raceway, all the old motocross stars are expected to attend including Tony D and Bob Hannah. I hope you will join me and all the old motocross greats.
Premier of "One Chance To WIn" on November 3rd at 6:00pm at the California Theatre in San Bernardino. The doors will open at 6:00pm and the program begins at 7:00. We will show the original 77 minute film and then the 47 minute "Behind The Battle-The Making of One Chance To WIn". Many of the riders and mechanics who raced at that famous "Battle of New Orleans" in 1975 will be in attendance that night. The movie will also be relesed on DVD starting November 5th. More details and buy tickets at the theatre or online at:
OneChanceToWin.com

Motocourse 2008 Deluxe Wall Calendar

Sports Illustrated Swimsuit 2008 Deluxe Wall Calendar

Sports Illustrated Swimsuit 2008 Wall Calendar
---
Tech 3 Yamaha MotoGP Team Signs James Toseland and possibly Colin Edwards
Oct 1st - Tech 3 Yamaha would like to announce that it has secured the services of James Toseland for the 2008 season. The British rider will begin his MotoGP career with the Yamaha factory supported organisation next year.
Toseland – who is currently leading the Superbike World Championship by 43 points – has already proved his racing credentials. He was the youngest ever World Superbike Champion in 2004 and is aiming to secure the title once again this season.
"I am delighted to have secured a rider of James' calibre and am looking forward to working with him," says Team Principal Herve Poncharal. "Procuring James is a major coup for Tech 3 Yamaha and for the MotoGP championship in extending our reach into Northern Europe. It is an exciting time for us all and I am certain that he will be an integral part of the team's future."
Further details, including James' team structure will be announced in due course. It is expected that Colin Edwards will be leaving the factory Fiat Yamaha team and will join Toseland at Tech 3. The official announcement can't be made until the end of the race season.
Loris Capirossi
Moves to Suzuki with Chris Vermeulen,
Marco Melandri to Ducati MotoGP team in 2008
Loris Capirossi's late season MotoGP comeback on the factory Ducati with his most recent Phillip Island runner-up spot behing team mate Casey Stoner was just a few races too late. Ducati would have liked to have kept their favorite Italian rider who has been with their GP team since the beginning, but Loris' lack luster performances in mid-pack earlier this season while Casey Stoner was scoring week after week wins, caused Ducati to start looking elsewhere during the summer for a fresh young rider like Stoner to replace the veteran Capirossi who's contrast is expiring the end of this season.
So during the Augut break Ducati signed another Italian, younger Marco Melandri fromthe Gresini Honda team. We know that Capirossi would have prefered to stay at Ducati, but he had no choice but to take the open seat at Team Suzuki for 2008 that had been vacated by John Hopkins. But the past two MotoGP race weekends at Motegi and Phillip Island with Capirossi scoring podium wins, and Melandi finishind down in 10th spot this weekend, you know that Ducati might be regretting their decision.
Yamaha MotoGP Team signs Jorge Lorenzo
Yamaha Motor Co., Ltd announces that it has concluded a two-year agreement with 250cc World Champion Jorge Lorenzo. The 20-year-old Spaniard will make his MotoGP debut in 2008 aboard a YZR-M1, with direct Factory support.
Lorenzo, who won the 250 title in 2006, is currently leading the championship, after winning six out of the first ten races this season.
"Yamaha has been watching Jorge's career with interest for some time and we are delighted that he will be joining our MotoGP line-up from next season" - commented Lin Jarvis, Managing Director of Yamaha Motor Racing. "We are sure that he will be a valuable asset for the future and we look forward to the commencement of his MotoGP career with Yamaha."
The exact structure of Yamaha's team and rider organization is still under consideration at the present time. Further details, including Lorenzo's team structure, will be announced in due course.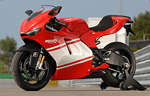 First Look!
Inside the new Ducati Desmosedici RR
Going into production next month for a lucky few!
Click the Photo for More
For compete details and photos of the new bike go to our
New Sportbike Index
Ducati Desmosedici RR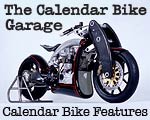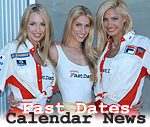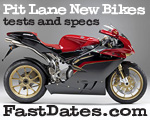 ---


NEW! FastDates.com
Cell Phone Wallpapers!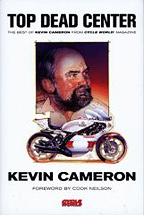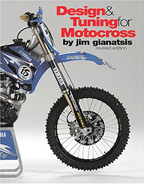 Design & Tuning
for Motocross
The ultimate book on motocross bike technology & performance
by Jim Gianatsis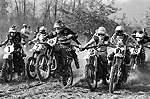 Click for Classic MX photos
JORGE LORENZO 250cc WORLD CHAMPION
23/10/2007 - This season Aprilia also conquered the 125 and 250 Constructors' World Title
Speed World titles now adding to 30
Another World title for Aprilia this week end: with the 3rd position in the Australian GP, Jorge Lorenzo won the World Championship in the 250 class, repeating his success of 2006. This fantastic title represents the third world title for Aprilia this year, after the Constructors's victory in both the 125cc and 250 cc class already conquered during this extraordinary season.
In Valencia on 4th November Aprilia will win the fourth world title: in the 125 cc class – indeed – the battle for the victory is between Gabor Talmacsi and Hector Faubel, both riding an Aprilia.
By confirming his title as 250 World Champion, Jorge Lorenzo reaches a legendary success, accomplishing what only Max Biaggi and Dani Pedrosa could do recently.
Lorenzo's victories have always been ensured on Gruppo Piaggio' bikes. His debut was at the Spanish GP in 2002, with the Derbi team. On this occasion Jorge set a record as the youngest rider of all times to participate in a Motorcycling championship, as he had turned 15 (minimum age) the previous Saturday. On his Derbi 125 he conquered his first world title at the Brasilian GP in 2003. In the 2005 season he races in the 250 cc class. And it is at the Jerez circuit, at the beginning of the 2006 season, that he wins his first GP riding his Aprilia RSW. This success has then been followed by seven victories during the season, right until the conquest of the 2006 World Title. Now he confirms his title, despite the great value of his rival Andrea Dovizioso.
Aprilia's World Speed titles now add to 30(14 Constructors and 16 Riders) in the occasion of the twentieth anniversary of Aprilia first victory, conquered by Loris Reggiani at the San Marino GP in 1987.
The three World titles won in 2007 consolidate Aprilia´s leadership as the brand conquering more titles among the Motorcycling constructors. Such success also shows that Aprilia dominates the "two stroke" classes that in 2006 obtained the Riders´ and the Constructors´ titles both in the 125cc and in the 250cc.