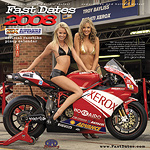 Now Available!
16-month Calendar starts Sept
2008 Fast Dates &
Garage Girls Calendars
Sands vs. Rooke
Calendar Bike Build Off
See the world's two hottest custom sportbikes featured in the 2008 Fast Dates and Iron & Lace Calendars being built and raced by Roland Sands and Jesse Rooke for Discovery Channel's Biker Build Off

---
More 2008 Calendars in the Calendar Store

Click to Vist our Calendar Store
Calendar Kitten Joanna Krupa has her own 2008 Calendar
MotoGP Teams
Test at Sepang
17/11/07 - Some of the factory MotoGP Teams returned to Sepang in Malaysia this month to begin early testing for next year. It was a good base line for new team riders like Loris Capirosi at Suzuki to test the current 2007 season bikes, and then have a base line to compare to when they begin the development and setup testing of the 2007 bikes.
World Championship winners Team Ducati where not at the Sepang tests as they did stay on to test at Valencia after the final 2007 season race, where casy Stoner again set a new lap record. Yamaha's Valentino Rossi was also noteably absent, in part as as he would be switching to Bridgrstone tires for 2008.
The final MotoGP test of the year will take place at the Jerez circuit, in southern Spain on November 27 – 29.
Sepang Test Overall
Unofficial Lap Times:
1. Nicky Hayden (Honda) 2'00.592
2. Colin Edwards (Yamaha) 2'01.811
3. John Hopkins (Kawasaki) 2'02.047
4. Andrea Dovizioso (Honda) 2'02.128
5. Chris Vermeulen (Suzuki) 2'02.447
6. Loris Capirossi (Suzuki) 2'02.587
7. Jorge Lorenzo (Yamaha) 2'02.643
8. Anthony West (Kawasaki) 2'02.659
9. Randy de Puniet (Honda) 2'02.700
10. Yamaha Test Team 2'03.269
11. James Toseland (Yamaha) 2'03.550
12. Yamaha Test Team 2'05.755
13. Yamaha Test Team 2'05.879

Honda RC212V riders complete successful three-day MotoGP test at Sepang
The three Honda RC212V riders present at the Sepang, Malaysia MotoGP test ended a gruelling but positive three-day test satisfied with the progress they have made as they begin the arduous task of preparing their equipment for the 18 round MotoGP World Championship series in 2008.
In dry conditions with lower ambient temperatures than on the previous two-days it was Repsol Honda factory team rider Nicky Hayden who set the pace. Hayden, 26 from Owensboro, Kentucky took to the track on his 2007 machine for the final time running 22 laps before later testing with the 2008 prototype RC212V.
The 2006 MotoGP world champion fitted qualifying tyres to his '07 RCV and scorched round the 5.542km track in a time of 2m 00.592s. His lap time was a massive 1.3s under the pole potion time set by his team-mate Dani Pedrosa for the Malaysian GP last month.
Hayden then turned his attention to development work on the RC212V Honda he will campaign in the 2008 MotoGP World Championship. The team worked on the engine mapping and electronics on the '08 machine and working with tyre supplier Michelin testing a range of new race tyres.
LCR Honda rider Randy De Puniet has been in stunning form on his Honda debut but the Frenchman crashed his RC212V today badly bruising his thumb. The crash came at T 7 a double right hand corner at the back of the circuit when De Puniet lost the front end. The data recorder showed De Puniet was carrying the same speed as the previous lap. The team technicians initial feeling was that the crash was due to a combination of a well used front tyre and a new grippy rear that placed too much stress on the front of the bike.
De Puniet returned to the track after treatment and continued working with his Ohlins suspension and tyre testing for Michelin but he failed to better his best lap time of the test he set yesterday.
Italian Andrea Dovizioso (JiR Scot Honda RC212V) continued his impressive form in his MotoGP debut testing sessions again bettering his best lap time for the second successive day. Base set up work and further experiments with the engine braking system of the RCV and tyre testing occupied Dovizioso's time on the final day of testing. He has developed an excellent understanding with the Michelin engineers as confirmed by his consistently improving lap times this week. The MotoGP newcomer cut four-tenths of a second off his previous best lap time at the test.
Nicky Hayden, Repsol Honda: 2m 00.592s - 85 laps. "Overall we've had a good final day and it was nice to set the fastest time. We wanted to check a couple of details with the 2007 machine just before we said goodbye to it. The bike really worked well with the Michelin rear qualifying tyre, plus the track has definitely been cleaner at this test than at the race in October and the temperature for that fast lap this morning was a lot better than on the Saturday of the Grand Prix when we qualified – which was about the hottest day of the year here. Today we also worked through a lot of stuff on the new 2008 machine, mainly engine mapping, electronics and tyres before we get to work on the chassis proper in the up-coming tests. We always knew there was hard work ahead starting out with a completely new machine and I'm pleased we've been able to get on with it in the last few days. I improved constantly, which I'm pleased about, and we know what we have to do now. The weather was kind to us today and I had a snake-free day which was a bonus! It's time to go home now and I'm definitely looking forward to the break. I've only been at home for four days in the past six weeks and I've got my brother Tommy's wedding coming up, along with Thanksgiving, so it will be nice to get back."
Andrea Dovizioso, JiR Scot Honda: 2m 02.128s - 54 laps. "Today I rode for many laps and I must say I'm more tired on a MotoGP machine than on a 250! Anyway in such hot and humid weather conditions it's good training and I must get used to this! I'm having more and more fun and this is good as it means that my confidence with the motorbike is increasing day by day. We still have so much work to do in order to understand more how to exploit our Honda to the fullest. I still have to get used to the engine braking as well, but I'm satisfied with these tests and I go back home knowing that the team and I have done well."
Randy De Puniet, LCR Honda: 2m 02.700s - 60 laps. "This has been a very positive test and today I continued with the Ohlins suspension, working to find the optimum set-up, especially at the rear where still I lack some connection and good feeling when I open the throttle. I have also done a lot of tyre evaluation with Michelin, with good step forward on the rear yesterday, and today tried some different compound front tyres. The crash was strange, I had the same braking and speed as the lap before, when I lost the front-end. I rode again in the afternoon but did not use a qualifier, just the latest Michelin race tyres. After just five days with Honda LCR and Michelin I'm happy with move to the LCR team and know we can be faster when we get the 2008 model Honda RC212V."
John Hopkins 3rd Quicket on New Kawakai Ride
The Kawasaki Racing Team head back to Europe today, after concluding three successful days of development testing at the Sepang circuit in Malaysia.
John Hopkins, riding the Ninja ZX-RR for only the second time at this test, was pleased to finish the final day an impressive third fastest overall, after quickly getting to grips with both the circuit and the characteristics of Kawasaki's MotoGP racer.
Hopkins identified a number of areas where the Ninja ZX-RR could be better matched to his distinctive riding style during his inaugural test aboard the bike immediately after the season ending Valencia Grand Prix. With less than a week between the Valencia and Sepang tests, the Anglo-American was impressed to discover that Kawasaki's engineers in Japan had already made improvements to the bike based on his initial feedback.
Modified clutch, engine and chassis components all but eliminated the chatter Hopkins experienced in Valencia, giving the #21 more confidence in the front end of the bike and allowing him to put in the fastest lap ever recorded aboard the Ninja ZX-RR on race tyres around the 5.548km Sepang circuit.
Hopkins was pleased with the positive progress made over the three day test, and happy with the working relationship developing between him and his new crew. The new Kawasaki pilot heads now for Southern Spain, and the final three-day test of the year, determined to use the technical and demanding Jerez circuit to perfect the set-up of his Ninja ZX-RR ahead of the winter break.
Anthony West also declared himself happy overall with the Sepang test, although the 26-year-old Australian was a little disappointed not to have finished closer to his new team mate on the time sheet.
As well as evaluating new engine components, West used the three-day test to focus on finding a good base set-up on his Ninja ZX-RR; a process he was unable to accomplish this year after being thrown in at the deep end with the Kawasaki Racing Team mid-season.
Despite concentrating on set-up rather than looking for a fast lap, West ended the final day of testing eighth fastest overall, and just over half-a-second behind fellow Kawasaki pilot, Hopkins.
Like his team mate, West is also looking to end the year on a high-note, and he heads for his MotoGP debut at the Jerez circuit determined to move further up the timesheet during the final three days of testing before the winter test ban comes into force.
Lorenzo rounds off Malaysia test with promising final day for
Fiat Yamaha
Future Yamaha rider Jorge Lorenzo rounded off his second test with the factory with more steady improvement in Malaysia today, bettering his lap time from yesterday by almost a second. After intermittent rain for the last two days, the MotoGP teams were rewarded with a completely dry day today and Lorenzo made the most of the time available, completing 83 laps of the 5,548m circuit.
Lorenzo's best time of 2'02.643, which put him seventh, was set on qualifying tyres near the end of the day. However he set his fastest lap on race tyres in the early afternoon, his time of 2.03.044 showing his improvement over the course of the test. The quickest lap of the day was set by Nicky Hayden, also on qualifying tyres, in a time of 2.00.592
The Fiat Yamaha Team will now pack up and return to Europe for a week's rest before the final test of the year at Jerez de la Frontera in Spain on 27th, 28th and 29th November.
Jorge Lorenzo - 7th, 2'02.643, 83 Laps - "Overall I'm happy with these three days of testing. It's been hard work but I have improved each day and especially today, when I have gone nearly one second faster with race tyres than I was yesterday. I've been concentrating on changing my riding style; braking later and accelerating sooner and we can see from the data that I have improved quite a lot, although we still have more to do. I am okay on the longer, faster corners but on the slower ones I have more problems. We haven't done so much work on the tyres, just trying one different tyre, the same as we tried in Valencia, and with this tyre we improved half a second. I didn't ride the new bike today but it was good to get the chance to try it briefly yesterday. We won't start working on it properly until January; for now the important thing is for me to learn as much as possible about ridin g a MotoGP bike. I've had fun these three days and I'm quite happy with my progress, and now we will look forward to Jerez."
Daniele Romagnoli – Team Manager "The main use of this test has been to collect information regarding the needs of Jorge as we try to make him as comfortable as possible on our bike. We have tried to move his position on the bike slightly further back and we have made some changes here, but we are now waiting for some new parts for the future which we think will improve his position further. Overall we've improved his braking points and his feeling going into the corners; this is an ongoing process and we will continue to work on it over the next tests. Thanks to Jorge and to the team for their hard work and for so many laps; everything we've done here will help us for the future."
Successful Sepang test for Rizla Suzuki MotoGP
Rizla Suzuki MotoGP has completed its second 2008 pre-season test at Sepang in Malaysia today with satisfying results that Suzuki and the team believes it can build upon in the coming months.
Chris Vermeulen was able to give the 2008 prototype Suzuki GSV-R a comprehensive test at the 5.5km Malaysian circuit to assess what improvements and developments are needed in readiness for an assault on next year's championship. He was regularly amongst the fastest riders on race tyres throughout the test and even a small crash at the end of the third day did not dampen his enthusiasm for the new bike. Vermeulen carried out in-depth evaluations of the 2008 machine and conducted a long distance run on the final afternoon in the searing Sepang heat, as track temperatures reached 55°C.
New Suzuki rider Loris Capirossi, in only his second outing for the Japanese factory, was able to get onboard the 2008 bike for the first time at Sepang this week. He began the three-day test with a thorough appraisal of the 2007 machine to enable him to totally understand the workings of the GSV-R, before changing to next year's model on day two. Although almost a third of the test was lost to bad weather, Capirossi soon got to grips with the new bike and was consistently lapping faster than he had done on this year's machine.
Rizla Suzuki MotoGP will now assess all the data obtained from this test back at the factory, before it moves on to Australia, back to Malaysia, Australia again ,Spain and finally Qatar for more pre-season tests in preparation for the 2008 MotoGP World Championship that gets underway at Doha in Qatar next March.
Chris Vermeulen: "It's been a great three-day test here in Sepang. We started out with the 2007 bike with the same settings that I had for the race and then we transferred them to the new prototype '08 bike. It was definitely a step forward, and speaking with Loris he had similar comments – so that was great. We tested a lot of things here including engine maps, traction control, chassis set-up, new Ohlins suspension and of course lots of tyre testing for Bridgestone. It has been a very busy few days but I am extremely happy with the progress that we have made. Today we concentrated on a longer run and I did the furthest distance at about two o'clock in the afternoon when the track was at its hottest – like it would be on race day – and the bike performed really well and we were quicker than we were in the race. So all-in-all it's been a very good test for us!"
Loris Capirossi: "I am quite happy after this test. We did a lot of laps and my feeling for the bike is getting better every time I ride it. We tested a lot of different things so I can get an understanding of the bike and the team will be able to know what I want to make sure I can go quicker. Every time we went out we tried something different with the settings, and the mapping of the bike and at the end of the last day we found something that was a really good improvement, but we didn't have enough time to work on it. The whole test has been very positive and I am impressed with how everything is going. We will keep working hard through the winter and I am looking forward to the next tests and making more steps forward – I am enjoying my work, it's fun!"
Paul Denning – Team Manager: "It has been a good three days for both guys. We got through an enormous amount of work and have certainly made significant advances with the 2008 prototype GSV-R.
"Chris was quick and consistent on race tyres throughout the test and he did a long run today, in very high heat and humidity, that was well inside his race-lap times here so that shows the new bike is going in the right direction.
"It was good to see Loris on the '08 machine and his feedback and comments were almost identical to Chris's, so the guys back at Suzuki will now have an indication on where we need to improve things.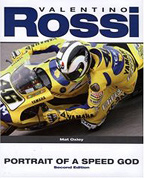 ---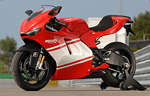 First Look!
Inside the new Ducati Desmosedici RR
Going into production next month for a lucky few!
Click the Photo for More
For compete details and photos of the new bike go to our
New Sportbike Index
Ducati Desmosedici RR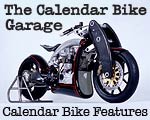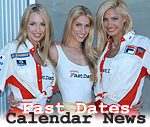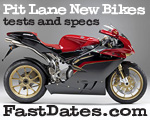 ---


NEW! FastDates.com
Cell Phone Wallpapers!