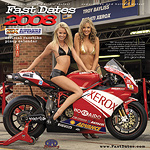 Now Available!
16-month Calendar starts Sept
2008 Fast Dates &
Garage Girls Calendars
Sands vs. Rooke
Calendar Bike Build Off
See the world's two hottest custom sportbikes featured in the 2008 Fast Dates and Iron & Lace Calendars being built and raced by Roland Sands and Jesse Rooke for Discovery Channel's Biker Build Off

---
More 2008 Calendars in the Calendar Store

Click to Vist our Calendar Store
Calendar Kitten Joanna Krupa has her own 2008 Calendar
EICMA Attendance Sets New Record - 500,00!
Nov 16, 2007- EICMA officials announced the annual motorcycle show held in Milan, Italy, drew more than 500,000 visitors in 2007, which according to officials is a new record.
Interest in the show was so great, in fact, that Milan's police force had to shut down access roads to the show because of excessive traffic congestion.
For the first two days of the show, which weren't open to the public, EICMA drew 45,000 trade visitors, including more than 2,000 journalists from across the globe.
Dates for next year's show are set for Nov. 4-9, and the velodrome track racing also will be held during those same dates.
MotoGP Season Ending Test at Valencia
STONER FASTER THAN EVER, MELANDRI FEELING AT HOME
Wednesday Nov 7 - The top MotoGP Teams concluded a two-day test at Valencia after the fianl Season race with Ducati's World Champion Casey Stoner continuing to dominate with his impressive pace and new team-mate Marco Melandri getting to grips with his Desmosedici V4.
Casey Stoner, best lap 1m 32.095s (55 laps) - "We found something extra during these tests. Straight away yesterday, second lap out, we went a lot quicker than we did in the race on Sunday and we just kept going from there. Today we kept getting faster and faster. We weren't really trying to do that, we had a lot of tyres and things to test, so we weren't out there trying to do lap times, but everything just seemed to come to us quite easily. It's been a fantastic season for us and it's really good to end this test with some positives and some more information which the Ducati technicians can take back to Bologna, knowing that we've got something more to work with and knowing the right direction in which to head."
Marco Melandri, best lap 1m 33.835s (87 laps) - "Today we worked a lot on the engine and electronics, to understand how the bike reacts to every kind of change. It's been demanding because the throttle feeling is very different to what I'm used to. This afternoon we started working on the chassis, making some important, if not radical, changes. During the last half hour of the day I could feel we were improving and that we were starting to go in the right direction for my riding style. It was maybe too late to better my lap time but the sensation was really encouraging. Generally I'm very happy because I'm beginning to understand this bike's huge potential. All I've got to do is work hard to get it set up for my style."
Stoner 1'32.095 (55 giri)
Hayden 1'32.434 (92)
De Puniet 1'32.625 (83)
Pedrosa 1'32.718 (88)
Vermeulen 1'32.979 (88)
Hopkins 1'33.058 (59)
Capirossi 1'33.163 (64)
Elias 1'33.294 (74)
Nakano 1'33.465 (92)
Guintoli 1'33. 571 (80)
Lorenzo 1'33.588 (69)
West 1'33.695 (99)
Melandri 1'33.835 (87)
Dovizioso 1'33.991 (82)
De Angelis 1'34.060 (84)
Aoki 1'35.043 (61)
Guareschi 1'35.840 (59
New Pirelli Russo Tire
and Sexy Video
Milan, 8 Nov. - During the EICMA show Pirelli presented the brand new Pirelli DIABLO ROSSO.
This tyre sets the point representing a new tyre generation, thanks to the new approach Pirelli adopted to design this new product for the SUPERSPORT segment and thanks to the new EPT (Enhanced Patch Technology) Pirelli patent.
Diablo Rosso finds its full description in a new section of Pirelli tyre website thanks to a video which represents its world and 'personality' together with a page with the product features.
Soon each country will have its own DIABLO ROSSO area in its proper language, now you can see the preview in the corporate website with a very SEXY VIDEO.
Please check it out by CLICKING HERE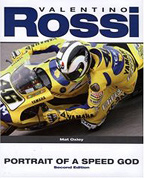 ---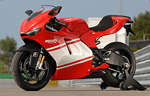 First Look!
Inside the new Ducati Desmosedici RR
Going into production next month for a lucky few!
Click the Photo for More
For compete details and photos of the new bike go to our
New Sportbike Index
Ducati Desmosedici RR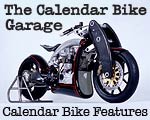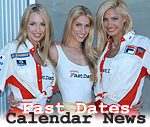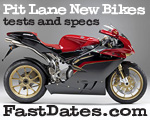 ---


NEW! FastDates.com
Cell Phone Wallpapers!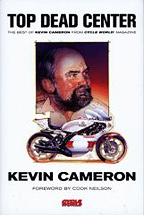 Alstare Suzuki Tests with
Nieto and Neukirchner
for 2008 World Superbike
Valencia, Italy, Nov 9th - Spaniard Fonsi Nieto and German rider Max Neukirchner have tested the 2007 Alstare Suzukis at the Ricardo Tormo circuit for the first time. Both riders made many changes to the positions of the bars, footpegs and levers so that they could start to get comfortable with the bike, before beginning to push hard. The weather for the tests was generally good and Fonsi, Max and the team were able to to do a lot of good groundwork and gather useful information. Both riders put in a considerable number of laps (over 70 for Neukirchner and over 80 for Nieto) and managed to go under the lap record - on regular race rubber. Nieto posted a best time of 1:35.5 and Neukirchner a time of 1:35.00. Neukirchner's quick lap is faster than Biaggi's best race lap earlier this season.
This was a test, aka rider tryout, for both the riders and the Alstare team to get to know each other better. It obvioulsy came out well, and we expect they are in 2008 contract negotiations at this time with a possible official announcement sometime soon.
Fonsi Nieto -
"This test was all about me getting comfortable with the bike, so we did a lot of work with the handlebars, levers, footpegs etc. My initial feeling is that the bike is very good and I have a lot to learn. I started with the Biaggi settings, but I didn't get on with them, so we've changed them quite a lot - more in the Kagayama direction I guess. The Alstare Suzuki feels more of a racebike than my bike of last year and it has a lot of potential. I am not thinking about lap times at this test, because I want to learn this bike first. The Alstare team are great to work with and everybody is very friendly. I am getting to know them all very quickly and already we have a very good relationship. The World Superbike Championship is not an easy race series by any means, but I am really looking forward to this new challenge."
Max Neukirchner -
"I know I've ridden the Alstare Suzuki before, but this is a different situation for me here. We spent most of the time getting the bike right for me. That meant changes to the riding position, bars, levers , footpegs etc. I enjoyed riding the bike in the last race of the year, but now it's time to get the bike dialled in for me properly. There is a lot to do, but we are all working well and making good progress, so we are all pretty happy at this stage. I know most the Alstare guys from before, but I am working with some different mechanics this time, so I have to get used to them and they have to get used to me. I'm already enjoying myself with the team and I think we will leave Valencia in a positive frame of mind."
Paul Bird Takes British Team To World Superbike on Honda
Nov 8th - Following on from discussions with his team?s current sponsors this week, double BSB winning team owner Paul Bird will make an audacious bid to land the World Superbike Championship next season.
Paul Bird has lost both his 2007 riders, Shane Byrne and Tom Sykes to Airwaves Ducati and Rizla Suzuki this week which prompted tough action for the future.
Paul Bird said: "I've always said that at some point in time, I'd like to do the World Championship and in the situation we have found ourselves in, now is the ideal opportunity.
"I have a duty to my team to provide them with the very best riders to work with and it is just what we need. We have all felt like a pair of discarded Y Fronts over the past few days but it just goes to prove that a team like mine can bounce back and we are all very excited by the prospect.
The double British Superbike winning team owner will remain with his current backers for the next season with help from the HRC factory.
Paul Bird added: "I'm sad to be leaving BSB as we've had some great times there and I wish Tom and Shakey all the best on their season with their respective teams in the UK."
Paul Bird will officially announce his rider line-up for 2008 soon with the rumour mill suggesting the out of ride Gregorio Lavilla as a likely candidate to join the team in World Superbikes.
World Champions Colin Edwards and James Toseland join forces with Yamaha Tech 3 Team
Nov 12th - It is with great pleasure that the Yamaha Tech 3 team wishes to announce the signing of two world champions to contest the 2008 MotoGP World Championship.
American rider Colin Edwards, will be joined by Brit, James Toseland with both riders bringing a wealth of riding experience to the Yamaha Tech 3 Team.
Texan Edwards, after four years in the elite class and winning two World Superbike Championships in 2000 and 2002, possesses an invaluable amount of development knowledge while Toseland is the recently crowned 2007 world superbike champion after first claiming his first world title in 2004.
In another exciting development for the vastly experienced French team both riders will compete on Michelin tyres as well as commencing the season on the latest version of the Yamaha M1.
The entire Tech 3 team is very happy to welcome these two great riders with their first outing at the next winter test this week at the Sepang circuit in Malaysia (15-16-17th November). The team will then head to Jerez in Spain from the 27th to 29th of November for the next stop of the hectic winter schedule before the December test ban comes into effect.
Colin Edwards quotes:
"I'm honestly really excited about coming to Tech 3. I think the overall package that Yamaha has put together for next year – four good bikes and four World Champions and four different crews giving Yamaha a whole lot of information means we will be on the pace from the start and it's pretty exciting. I've known Herve well and I know that Tech 3 is a very good outfit and I'm also really looking forward to sharing a garage with James. I'm positive that it's going to be a great team."
James Toseland quotes:
"I am over the moon about coming to MotoGP. It seems to have been a long time coming to get this opportunity but it has come at the right time and is the opportunity of a lifetime. It is a massive transition in my life to make and I am really looking forward to it. I don't know who was happier as my mum was in tears when we got the news! I am really thankful to Yamaha and I appreciate the chance they have given me and I want to thank everyone for the opportunity they have given me. I have met Herve on a couple of occasions and he is a genuine nice guy and I truly feel the Tech 3 Team will be a good place to start my MotoGP career so it's nice to be welcomed into the team. It will also be good to be working with Colin again as we have had a 10 year separation. He has said some really nice things in the press as to how he will help me. We get on really well together so I think we should make a good team. I've been employed to do a serious job so I am not coming in with the mental attitude that there won't be any pressure on me; there will be and I want to do the best job possible and be near the front."
Edelweiss Introduces Lower Cost Ride-4-Fun European Bike Tours
You know how much we love and recommend the Edelweiss bike tours. For some people, especially with the declinging value of the American dollar , thee tpours might be a little too expensive. But now Edelweiss is lowering their cost with their new, more affordable Rid-4-Fun Tours, Check it out on their website.
When riding on a motorcycle tour away from home, it's always fun and excitement of riding in beautiful Europe on incredible roads that we're after. This is the focus of Edelweiss' new Ride4Fun: Tours that show you exciting scenery, that are fun to ride, and that acquaint you with the way people think and live in the places we are touring.
Our hotels do have local flavour and are not over the top in price and amenities. You ride in a group, with one tour guide on the moto in front. Or you ride in your own little group finding your own secret path; it's up to you! Breakfast and some dinners are part of the package, but we go to different places for lunch and most dinners. You can decide what you eat and drink - budget or high end.
Important to you and to us is s your choice of the best moto for the trip. There is a nice selection of BMWs, Hondas, Suzukis, Ducs and others waiting for you. You must feel good on your steed!
It's a younger group of motorcyclists that joins ride4fun tours. There is a lot to see during the riding day, but the evening is there to be enjoyed as well - local flavour in people, food and more. ride4fun groups are international, so you learn more about motorcycling in other parts as you mingle and make new friends overseas!
During some riding days or after we arrive at our destination, we do other fun things such as rafting, climbing, hiking, roller coasting and many more. It's up to you whether you join, it's all provided as part of the package!
Your one week supply of shirts, socks and tooth brush goes on your moto, it's easy with the luggage cases that are provide. It's a real motorcycle tour!
So how can you be sure ride4fun has that extra kick and is reliable in what will be provided? Here is why: ride4fun tours are a division of Edelweiss Bike Travel, the leading company for guided motorcycle tours world wide. Edelweiss has started operation in 1980, with more than 27000 motorcyclist taking tours on all five continents on over 1200 separate tours. ride4fun draws from that experience and benefits from the recourses Edelweiss provides on all five continents. So all you have to do is make your selection of which tour to join and reserve your place right here on the Web!
Your ride4fun tour guides are ready to ride and have fun together with you!
alps4fun
Austrian Alps and Bavaria! Riding the Alps in 5 days and having nothing but fun along the way, that's what this motorcycle adventure is all about. Starting and ending in Munich, Germany, guarantees that you have a lot of fun before and after if you decide to fly in a day or two early or stay on afterwards.
alps2lakes
Italian Alps and Lake Garda! Dolomites and Lago di Garda are two of the most popular touring regions in Europe. The Dolomites are the most dramatic rock formations in the Eastern Alps and offer hundreds of miles of winding roads.
tuscany4fun
Italy pure! No motorcyclist should miss this tour in the heart of Italy. It will be a tour for the senses, euphoria spiked with cultural, riding and culinary highlights.
sardinia4fun
Twisties, Beach and Cappuccino! Sun, white beaches, crystal clear water, that's what Sardinia is known for. This Mediterranean island has much more to offer than the glossy tourist brochures can portray. Beautiful small villages settled in an amazing countryside with rolling hills and mountains. Nearly no traffic, small roads, sweepers combined with this beautiful Caribbean like coastline - what else do you need to fell in heaven?
corsica4fun
The island of 100.000 curves! Corsica is known as an island of beauty and is a true motorcyclist's paradise. Mountains reminding of the Alps, scenic coastlines and huge forests are only a few of Corsica's treasures. Seldom does a touring region offer such riding fun and countless curves on small roads with nearly no traffic.
More information to these tours is to be found on our web page. Make your choice and ride the world with ride4fun!
www.ride4fun.com