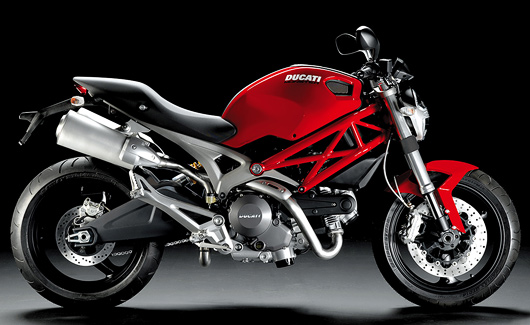 The new generation Monster is all new, starting with a 696cc engine and a big tube lightweight birdcage chassis with a cantilever rear monnoshock. However, we know Ducati fans will mourn the loss of the single sided swingarm.
Click to go BIG.

65th International Motorcycle Exhibition, Milan
A New Generation Gets Naked
Ducati Introduces an All New Generation Monster, new 848cc Superbike
and the World Superbike Homoligation Model 1198R
with 186hp and Traction Control!
Milan, Italy Nov. 6-11th 2007 - The entire world of motorcycling is in attendance at the 65th edition of the EICMA International Motorcycle Exhibition in Milan from November 6th ñ 11th. New bikes, new accessories and a new line of apparel all form part of the innovative 2008 line-up for the Bologna manufacturer, which is also celebrating its recent world title victory in MotoGP.
In a press conference held before the exhibition officially opened, Gabriele Del Torchio, Ducati Motor CEO, met representatives from international media to illustrate the Bologna-based companyís fantastic results on a sporting and commercial level - a confirmation of its recent unprecedented success.
ìThe continuous growth that Ducati is experiencing is confirmed by positive economic and financial results for the third successive quarter, which we have presented to our investorsî, declared Del Torchio at the press conference. ìThe new products that we have brought to EICMA represent the result of the research and the technological development that Ducati is offering with this new range. They also confirm that Ducati is a company which is based on product and will make up our sales target for the next few years. Our future plans are clear and precise: Ducati will continue to be the leader in the premium bike sector, confirming the passion, the Italian style, the unrivalled design and the superior track-honed performance that make up our DNAî.
New Generation Monster 696
The undisputed star of the Milan Show is the new Ducati Monster 696. Refined style and design are the clear motivations behind the new Monster and the continued perfection of the Desmo engine ensures that its ësaint and sinnerí image will impress any rider. A comfortable and confidence-inspiring chassis combine with the famously smooth and powerful Ducati L-Twin engine to provide the most enjoyable riding experience. The balance of new technologies expressed in stylishly finished materials is shaped around the original cool Monster heritage.
Maintaining its traditional Monster silhouette, the 696 now looks more muscular than ever. Its wide tank tapers to the thin waistline of a comfortable narrow seat ensuring sure-footed confidence when at the traffic lights. The large diameter Hybrid Trellis frame blends stylishly into an aluminium sub-frame and swingarm while minimalist instrumentation and simple controls at the front of the Monster contrast with twin, bold, Ducati-style mufflers at the rear to enhance its urban-ready image.
The chassis of the new Monster is made up of a new Hybrid Trellis frame with larger diameter tubes directly inspired by the 2007 World MotoGP title-winning Desmosedici GP7 machine. Attached to this is a rear aluminium sub-frame. The front brake system is the envy of its class and becomes the new benchmark for the category with two 320 mm discs and four-piston radial calipers.
At the rear, the dual-sided aluminium swingarm draws inspiration from Ducati Corseís finest racing products in this area. The dash instrumentation is now totally digital and continues the tradition of all Ducatiís latest-generation sport models, guaranteeing lightness, ease of use and a wealth of information. The new exhaust system stands out with its re-routed downpipes that now give the underside of the Monster a cleaner appearance and terminate with twin, bold Ducati-style mufflers. The headlamp unit is characterized by a new triple arc main beam, while the rear light uses modern LED technology.
The engine of the new 696 is an evolution of the previous 695 version. Measuring 696 cc, it boasts a series of updates and refinements. Power output gets a 9% boost to 80 hp (59 kW) and an 11% increase in torque to 50.6 lb-ft. This new engine continues to have the best horsepower per litre ratio of all Ducatiís air-cooled units, and it ensures a smooth and powerful delivery for a relaxed but thrilling ride in all conditions.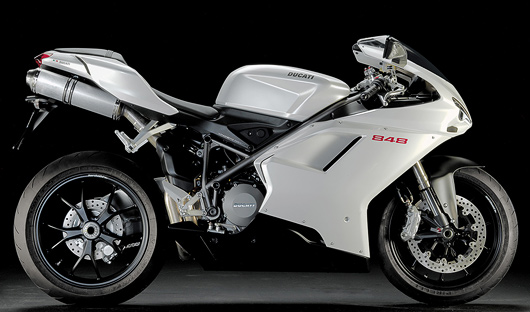 Click to go BIG.

For 2008, the Superbike family features two important additions: the introduction of a mid-engine size version, the light and nimble 848, and an extreme ëracingí version for all those who demand the maximum performance, the 1098 R, which will take part in the 2008 World Superbike Championship.
Superbike 848
Aimed at the 600 Supersport Class, The new Ducati 848 Superbike enjoys all the performance advancements of the entire Superbike family, while adding its own innovations to redefine the middleweight sport bike class. The words ëagileí and ërefinedí aptly describe the 848. At 168 kg (369 lbs), the 848 is an amazing 20 kg (44 lbs) lighter than its predecessor, and a significant 5 kg (11 lbs) lighter than its larger capacity brother, the 1098.
The highly advanced 848 engine uses an improved method of engine case production in which cases are vacuum die-cast formed. While providing significant weight savings of more than 3 kg (6.5 lbs), this method also ensures consistent wall thickness and increased strength. Further refinements include a sophisticated wet clutch that offers 1 kg (2.2 lbs) less weight, a much longer service interval, improved clutch feel and quiet operation. With the first twist of the wrist, the powerful rush of the Testastretta Evoluzione engine confirms that the rules have changed. The 848ís 134 hp is not only 30% more powerful than its predecessor, but it provides a power-to-weight ratio even better than the potent 999.
Note the electronic wheel speed sensor pickup at the front Brembo brake for the Computer Traction Control. Click to go BIG.
Superbike 1098R (1198cc)
The new Superbike 1098R has a street legal power output of 180hp (132.4 kW) at 9750 rpm and a torque value of 13.7 kgm (134Nm) at 7750 rpm to place the 1098 R at the very top of its category. It is the most powerful twin-cylinder production engine in history and fitting reward to the continued ingenuity of Borgo Panigale engineers. Created after close collaboration between engineers from Ducati's production and racing departments, this new engine is fitted with the same components powering the 1098 F08 that will take on the Japanese opposition in the 2008 World Superbike Championship.
The R version of the 1098 has been boosted to an engine displacement of 1198cc. A bore increase from 104mm to 106mm and a stroke value of 67.9mm, producing a remarkable 1.56 ratio, complete the 'over-square' layout of the engine. Special components include extra strong sand cast engine cases, titanium rods and valves, and a dry Slipper Clutch.
The new 1098 R is the most powerful and lightest twin-cylinder bike ever produced by the Borgo Panigale factory, with the highest torque/weight ratio of any sport bike available. A total of 180 hp is on tap for this new Superbike, together with an amazing torque value of 13.7 kgm. The weight figure also confirms the racing origins of the 1098 R: 165 kg / 363 lbs. puts the bike at the forefront of this category.
Click to go BIG.

The 1098 R is supplied with a racing kit for track use. This is made up of a pair of 102dB carbon mufflers and dedicated ECU, which boost the already exceptional performance of this new twin-cylinder Ducati from 180hp to 186hp. With this kit the rider can also activate dialog between the ECU and the DTC (Ducati Traction Control) system, which is fitted to a production bike for the first time ever.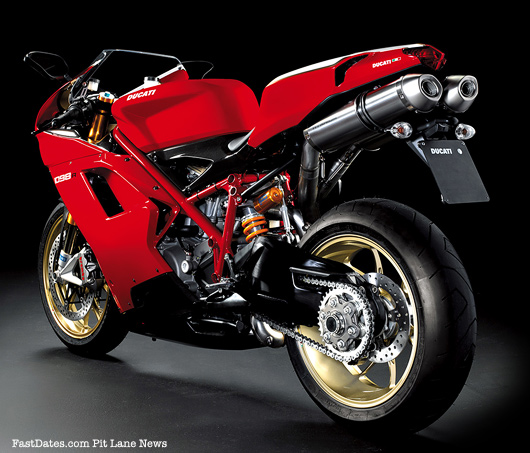 A massive new 200x17 Pirelli rear tire helps get the full 186hp to the pavement. Click to go BIG.
The initial presses release on the 1098 (actually 1198cc) R does not mention if the new 1098R has carbon fibre bodywork like previous Superbike R models.
Or if the he 1098R returns with an adjustable steering head (left off as a cost cuter and a major flaw on the base 1098 1098S models). While a Ducati corse press photo of the test mule 1098F 08 superbike a few months ago shows the bike with an adjustable steering head. Does the R model get the very necessary adjustable steering head or not????? With the 1098R priced at $39,000 - that's $22,000 more that the 1098S, we hope we get more than slip-on carbon fibre mufflers ($1,200) and a slipper clutch ($900) with the 1198's bigger bore and stroke.
We put a call into Ducati Press manager John Canton, who did confirme to us that the R model does have full carbon fibre bodywork to bring the dry weight down to a 363 lbs. The bike will return to the adjustable 23.5 / 24.5 degree steering head. The Ohlins street suspension shown on the prototype press bike pictured here IS NOT the suspension customers will get on the actual R model, but rather the bike will come with full MotoGP spec Ohlins Ttx also being being used as on the Desmosedici RR.
And the Street Exhaust system shown here is just that - a street pipe. The 1098/1198R will also come with the full Titanium Ducati Corse 70mm Termigoni Exhaust System the factory team is currently running on their works bikes.
At $39,000 the Ducati 1098R is not cheap, but under the new 1200cc homologation rules for V-Twins in World Superbike which require the bikes to be much closer to stock, Ducati is giving us the closest thing to a full factory works bike than ever before.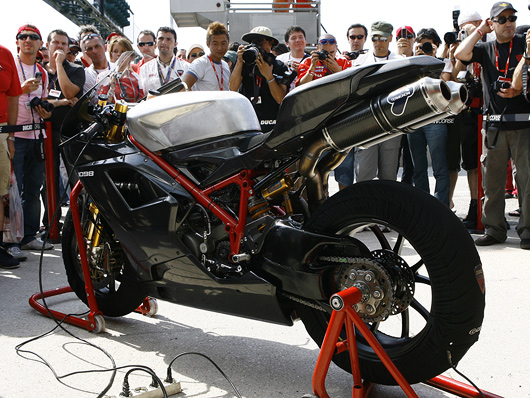 The production 1098R is suposed to get this massive 70mm Termignoni Ti Exhaust and the Ohlins MotoGP suspension and Slipper Clutch as shown on this factory Corse SBK test mule.
The massive influx of motorbike fans and Ducati ìtifosiî expected at EICMA will also get a chance to see the definitive version of the Desmosedici RR, derived from the MotoGP bike, of which 1500 will be produced and the special Tricolore version of the Monster S4R S, which features a front fairing, seat cover and fuel tank in the red, white and green colours of the Italian flag together with gold frame and wheel rims.
The new 2008 range is completed by the black version of the Hypermotard 1100 S and the new two-colour grey-liveried version of the GT 1000, as well as numerous new accessories, special components and a new collection of Ducati clothing. An area of the stand is also dedicated to Ducati Corse to celebrate Casey Stonerís victory in the MotoGP World Championship, but also the titles won by NicolÚ Canepa in the FIM Superstock 1000 Cup on the 1098 and by the Womenís Team in the European 1000 Superstock and Italian 600 Superstock championships.
The International Motorcycle Exhibition will be open to the general public until Sunday, November 11th. Ducati is present in Pavilion 18 ñ Stand D65.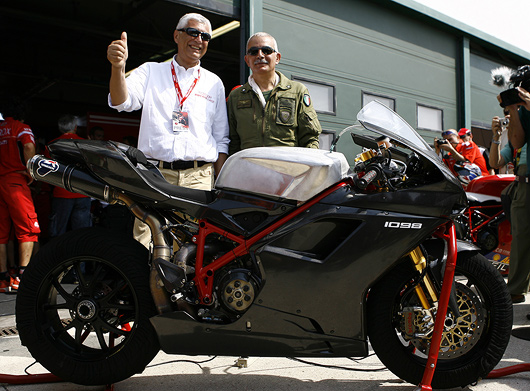 ---
Aprilia SMV 750 Dorsoduro
The Maxi Supermoto Wars are on and we're loving it! Aprilia's counter attack to Ducati's low-tech 2-valve air cooled 1080cc V-twin Hypermotard is this hot new high tech 4-valve DOHC watercooled 750cc V-twin installed in a lightweight, agile frame. Add a streamlined design, wide handlebars and prestige components. This is the explosive cocktail just created by Aprilia's R&D department and unveiled this week at IECMA.
Once again Aprilia has amazed the motorcycling world with another highly innovative design, destined to dominate the maxi motard segment. The Aprilia SMV 750 DORSODURO is not just another twin cylinder motard, but a motorcycle that embodies all of Aprilia's vast experience in competitive supermotard racing, a speciality in which Aprilia has so often dominated the competition. The Aprilia SMV 750 DORSODURO is the ultimate mix of incredible agility, sports performance, essential styling and quality build, and combines features taken from the worlds of supersport and supermotard motorcycles (including top competition machines).
A riding position carefully calculated to deliver total control, a mighty 95 horsepower engine and an amazingly agile chassis are the distinctive features of the Aprilia SMV 750 DORSODURO.
No bland machine for the masses, but a true thoroughbred that only expert riders can really appreciate, the SMV 750 DORSODURO carries you into a world of high performance and even higher emotions that very few other motorcycles can enter. Graced with the agile handling of all motards, the SMV 750 DORSODURO adds a level of power normally only found on road-going supersports.
An advanced engine and an exceptional chassis (typical of all Aprilia motorcycles) are the trump cards of the SMV 750 DORSODURO, which also boasts sporting looks and a level of agility never before experienced on a twin.
Lightweight, agile, and powerful, the SMV 750 DORSODURO benefits from a new generation of engine and some of the most advanced technical solutions found on any motard. Thanks to advanced electronics, its compact 90° V twin engine delivers power that rivals or exceeds that of many larger twins. And as Aprilia traditions demand, the chassis is simply unrivalled. Developed to deadly effect on the super-specialist SXV, this mixed steel trellis and aluminium frame has become the hallmark of Aprilia motards. With technical specifications far in advance of the competition, this frame sets new standards for rigidity and agility.
But 'essential' certainly does not mean 'basic' on the Aprilia SMV 750 DORSODURO. Components and performance are prestigious and the level of finish is worthy of a true flagship model. Radial calipers, hydraulic clutch, ride-by-wire engine control, wave discs, and matrix instrumentation with on board computer all combine to make the SMV 750 DORSODURO unique.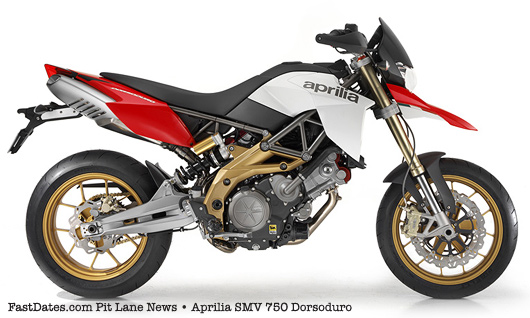 With a power to weight ratio of a pure sports bike, the Aprilia SMV 750 DORSODURO can thrill even the most performance-hungry rider. Let's look at the features of the Aprilia SMV 750 DORSODURO in greater detail:
* 90° V twin engine with four-valve heads, double overhead cam and liquid cooling
* Ride-by-wire controls
* Electronic fuel injection with the latest generation of injectors
* Mixed gear and chain timing drive
* Three way catalytic converter with Lambda probe
* Compound steel trellis and aluminium alloy frame for extremely light weight and high torsional rigidity
* Aluminium alloy swingarm with offset monoshock
* Fully adjustable 43 mm upside down fork
* Racing brakes with radial front calipers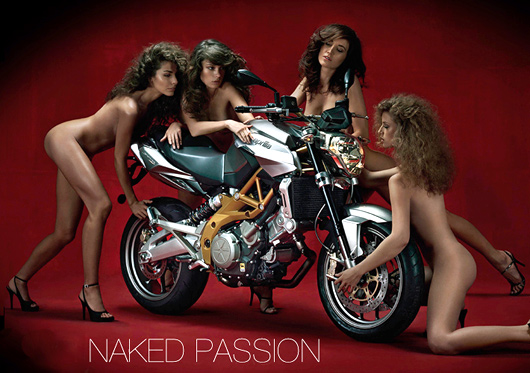 This, above, is the Aprilia Shiver 750cc introduced a few months earlier at the Paris International Motorcycle Show, a more street oriented naked bike version of the hard core Dorsoduro above. We think Aprilia has the right idea when it comes to launching their "Naked Passion" ad campaign.
---
Team Sterilgarda Go Eleven and Max Biaggi Reach Agreement

Nov 1st - Team Sterilgarda Go Eleven reached agreement yesterday, 30th October, with Max Biaggi for the 2008 World Superbike Championship season. The Roman rider will pilot the new Ducati 1200 twin, riding alongside the now confirmed Ruben Xaus to form a team able to run at the highest level.

The first test in Sterilgarda Go Eleven colours for Biaggi will probably be in December on a track yet to be announced. With the signing of Biaggi - four times 250 World Champion and third in the 2007 World Superbike Championship – Sterilgarda Go Eleven are making a real step up in the technical and image stakes, taking a front running role in next season's races.
2008 Roadracing Rider and Team Line Ups
Here's a look at the rider seat changes and confirmed lineup of teams and riders in World SBK and AMA Superbike and MotoGP for 2008. We will add more teams and riders as they confirm:
Guandalini enter SBK with Jakub Smrz and Ducati 1200
Team Guandalini will enter the World Superbike Championship next season, with Czech rider Jaku Smrz and the new Ducati 1200 twin. The Bologna team is also looking into entering the FIM Superstock World Cup and will continue to participate in the Italian CIV series with Norino Brignola.
2007 World Superbike
Ducati Corse: Troy Bayliss, Lorenzo Lanzi
Ducati Sterilgarda: Ruben Xaus


Honda Ten Kate: James Toseland, Roberto Rolfo
Honda D.F.X. Corse: Luca Morelli, Michel Fabrizio

Yamaha Italy: Noriyuki Haga, Troy Corser
Suzuki Alstare: Yukio Kagayama, Bax Biaggi
Kawasaki PSG-1: Regis Laconi, Fonsi Nieto
Suzuki Germany: Max Neukirchner

2007 MotoGP
Ducati Corse: Loris Capirossi, Casey Stoner
Ducati d'Antin: Alex Barros, Aex Hoffman
Yamaha Japan: Valentino Rossi, Colin Edwards
Yamaha Tech 3: Sylvain Guintoli
Suzuki Japan: Chris Vermeulen, John Hopkins

Kawasaki Japan: Randy de Puniet, Anthony West
Honda Japan: Nicky Hayden, Dani Padrosa
Honda Minolta: Shinya Nakano
Honda Gresini: Tony Elias

2007 AMA Superbike
Suzuki Yoshimura: Matt Mladin, Ben Spies
Honda American: Miguel DuHammel, Jake Zemke
Yamaha USA: Eric Bostrom, Jason DiSalvo
Kawasaki USA:
MV Agusta Ferracci:



2008 World Superbike
Ducati Corse: Troy Bayliss, Michel Fabrizio
Ducati Sterilgarda: Ruben Xaus, Max Biaggi
Ducati Guandalini: Jakub Smrz
Ducati RG: Lorenzo Lanzi
Honda Ten Kate: Kent Sofulguo, Carlos Checa, Ryuichi Kiyonari
Honda Paul Bird:
Yamaha Italy: Noriyuki Haga, Troy Corser
Suzuki Alstare: Fonsi Nieto (?), Max Neukircher (?)
Kawasaki PSG-1: Regis Laconi, Ayrton Badovini
Suzuki Germany: ?

2008 MotoGP
Ducati Corse: Casey Stoner, Marco Melandri
Ducati d'Antin: Tony Elias, Sylvain Guintoli
Yamaha Japan: Valentino Rossi, Jorge Lorenzo
Yamaha Tech 3: James Toseland, Colin Edwards
Suzuki Japan: Chris Vermeulen, Loris Capirossi,
and non'conflicting AMA races with Ben Spies
Kawasaki Japan: Randy de Puniet, John Hopkins Honda Japan: Nicky Hayden (?), Dani Padrosa
Honda Minolta:
Honda Gresini: Shinya Nakano, Alex de Angelis

2008 AMA Superbike
Suzuki Yoshimura: Matt Mladin, Ben Spies
Honda American: Miguel DuHammel, Neil Hodgson
Yamaha USA: Eric Bostrom, Jason DiSalvo
Kawasaki USA:
MV Agusta Ferracci: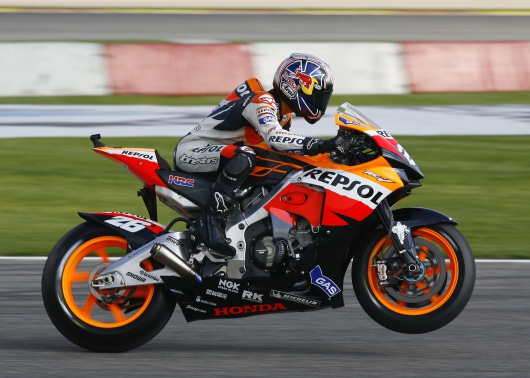 Pedrosa on top at the season finale.

MotoGP World Cjampionship, Valencia, Round 18 of 18

Valentino Rossi Injured in Qualifying Crash
Pedrosa Clains 2nd in the Championship with Valencia Win
Gran Premio bwin.com de la Comunitat Valenciana - Race Preview: Nov. 2-4th - A home victory for Dani Pedrosa, combined with a DNF for Valentino Rossi, gave the Spaniard second place in the 2007 MotoGP World Championship at the Gran Premio bwin.com de la Comunitat Valenciana.
Starting from pole for the fourth consecutive race, Pedrosa was desperate not to let World Champion Casey Stoner get away from him in front of his local crowd. The difference in top speed between the Honda RC212V and the Ducati Desmosedici GP7 was nowhere near as apparent as it was at the season-opening race at Qatar in March, as evidenced when the Spaniard drafted past Stoner on lap six. The gap between the two remained comfortable for Pedrosa, who crossed the line with a 5.4 second advantage for his first home MotoGP victory.
John Hopkins ended his long-standing association with Rizla Suzuki by taking fourth place in the World Championship. The Anglo-American needed to finish ahead of Marco Melandri, Loris Capirossi and team-mate Chris Vermeulen to confirm the position in the standings, and that he did with the trio finishing just behind Hopkins' GSV-R800. Melandri and Capirossi were also riding their final races for Gresini Honda and Ducati respectively, whilst Vermeulen will look to progress yet further with Suzuki next season.
Making his 276th and final Grand Prix appearance, Brazilian veteran Alex Barros bowed out of the MotoGP World Championship with seventh place at Valencia, ahead of 2006 World Champion Nicky Hayden on the American's last outing with the number one plate. Hayden had battled valiantly in the early going, but dropped down the running in the latter stages of the race.Randy de Puniet and Toni Elias completed the top ten, also riding for the last time before switching teams for another year in the premier class.
Complete Valencia MotoGP Race Coverge Next Page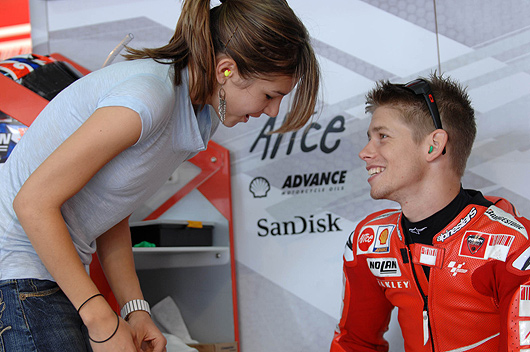 Is this a cute couple or what? Newlyweds Andrea and Casey Stoner.
Final 800cc MotoGP World Championship Positions:
1 STONER 367, 2 PEDROSA 242, 3 ROSSI 241, 4 HOPKINS 189, 5 MELANDRI 187,
6 VERMEULEN 179, 7 CAPIROSSI 166, 8 HAYDEN 127, 9 EDWARDS 124,
10 BARROS 115, 11 DE PUNIET 108, 12 ELIAS 104, 13 HOFMANN 65, 14 CHECA 65,
15 WEST 59.
Final Constructors standings
1 DUCATI 394, 2 HONDA 313, 3 YAMAHA 283, 4 SUZUKI 241, 5 KAWASAKI 144,
6 KR212V 14.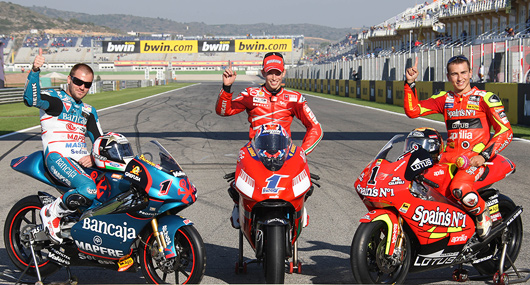 The 2007 MotoGP World Champiosn, fron left: 125cc Gabor Talmacsi / Aprilia, 800cc Casey Stoner / Ducati, 250cc Jorge Lorenzo / Aprilia. Click for BIGGER.
Final 250cc MotoGP World Championship Positions:
1 LORENZO 312, 2 DOVIZIOSO 260, 3 DE ANGELIS 235, 4 BAUTISTA 181,
5 BARBERA 177, 6 AOYAMA 160, 7 KALLIO 157, 8 LUTHI 133, 9 SIMON 123,
10 SIMONCELLI 97, 11 TAKAHASHI 90, 12 AOYAMA 90, 13 LOCATELLI 59,
14 LAI 49, 15 ESPARGARO 47.
Final Constructors standings
1 APRILIA 387, 2 HONDA 275, 3 KTM 226, 4 GILERA 116, 5 YAMAHA 4.
Final 125cc MotoGPWorld Championship Positions:
1 TALMACSI 282, 2 FAUBEL 277, 3 KOYAMA 193, 4 PESEK 182, 5 PASINI 174,
6 CORSI 168, 7 GADEA 160, 8 OLIVE 131, 9 ESPARGARO 110, 10 SMITH 101,
11 RABAT 74, 12 RANSEDER 73, 13 KRUMMENACHER 69, 14 CORTESE 66,
15 NIETO 57
Final Constructors standings
1 APRILIA 410, 2 DERBI 199, 3 KTM 196, 4 HONDA 146.
---
The Ultimate Naked Riding Experience
Ducati Hypermotard R We build the sport's most fun bike

No other motorcycle (other than argueably the Ducati Desmosedici RR MotoGP street bike) has been waited on for so long, with so much anticipation, than the newly released 2008 model Ducati 1080 Hypermotard. Ducati has a way of teasing us years in advance by giving us a preview of their latest prototype concept at bike shows and in the media, and then making us wait 3 years as they guage opinion, decide, design and tool up for production.

The Complete Story with sexy Tiffany Toth Screensavers in New Bikes HERE.
---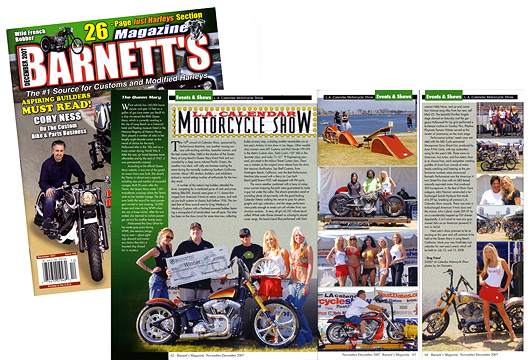 Barnett's Magazine digs our LA Calendar Motorcycle Show Weekend!
Click the magazine above to go Big. Click HERE to read and see even more.
---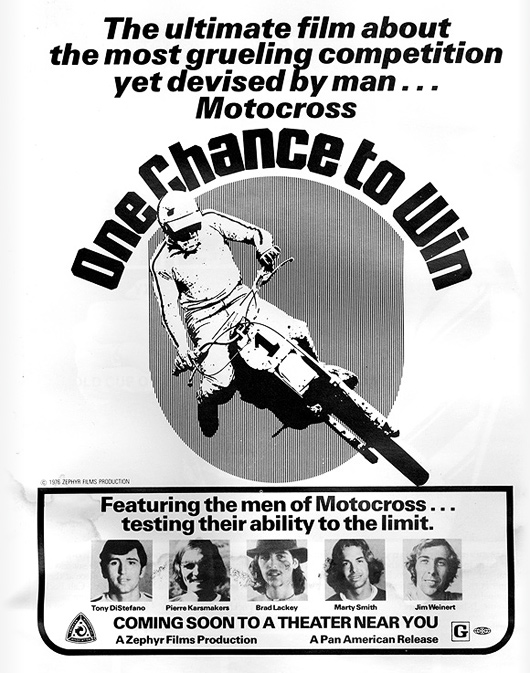 World Premier and DVD Release of "One Chance To WIn"
Motocross Movie Scripted by Jim Gianatsis

It took 30 years to get it released, but a feature length movie which I wrote over 30 years ago is finally being released and shown, and will be available on DVD.
"One Chance to Win" covers the final round of the 1975 AMA 500cc outdoor National Championship at New Orleans on the levee river banks of the Mississippi River with a 6-way points battle tie right down to the final round for the Championship between Jimmy Weinert, Steve Stackable, Pierre Karsmakers, Billy Grossi, Kent Howerton and Brad Lackey. The film will premier at a beautiful historic theatre in San Bernandino on the weekend of the Legends of Motocross Race Weekend at Glen Helen Raceway, all the old motocross stars are expected to attend including Tony D and Bob Hannah. I hope you will join me and all the old motocross greats.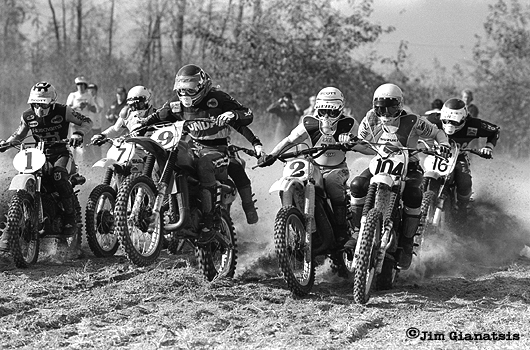 This was when motocross was the most extreme motocycle racing in the world with two 45-minute motos in grueling 110-degree heat and choking dust, and the riders collapsed in sweat in the dirt next to their vans between motos without any shade. Their were no factory big rigs, privateers slept in their pickup trucks, spectators were free to roam the pits and meet their heroes, and a comradare was shared between the teams and riders with minibike and rental car races on the tracks and parties in the pits at night. It was the Golden Age of Motocross, and motorcycle racing.
The movie will also be released on DVD starting November 5th on the OneChanceto Win Website and soon here on FastDates.com.

November 3rd, 2007 - The legends of American Motocross gathered together 32 years later hosted by Todd Huffman of "The Motocross Files" for the premier of "One Chance to Win" Among the hundreds of motocross legends, celebrities and fans in attendance were the movie's principals including - Back row, left to right: racers Marty "Typhoon" Tripes, movie producer Charles Bush, Billy "Sugar Bear" Grossi, "Jammin'" Jimmy Weinert, Bob "Hurricane" Hannah, Steve "Short Stack" Stackable, Brad "Sideways" Lackey, movie cinephotographer Steve Howard; Front row: movie writer Jim "The Greek" Gianatsis, Roy "Thumbs" Turner mechanic, Tony "The D" Distefano, Bevo Forte and Steve Stafeski mechanics. Photo by Lee Chapin.

---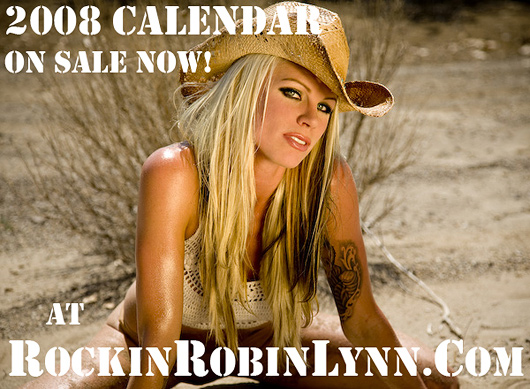 There's more! Go to Pit Lane News NEXT PAGE

Hot Calendar Girl and Bike News! Go to: Fast Dates • Calendar Girls • Iron & Lace

Calendar Kittens, The Paddock Garage, Screensavers, Iron & Lace Garage




Many of our Calendar Kittens can also be seen at Playboy's website...


BikerKiss.com - the largest biker personals site!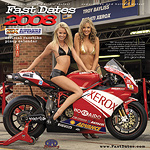 Now Available!
16-month Calendar starts Sept
2008 Fast Dates &
Garage Girls Calendars
Sands vs. Rooke
Calendar Bike Build Off
See the world's two hottest custom sportbikes featured in the 2008 Fast Dates and Iron & Lace Calendars being built and raced by Roland Sands and Jesse Rooke for Discovery Channel's Biker Build Off

---
More 2008 Calendars in the Calendar Store

Click to Vist our Calendar Store
Calendar Kitten Joanna Krupa has her own 2008 Calendar

MotoGP Season Ending Test at Valencia
STONER FASTER THAN EVER, MELANDRI FEELING AT HOME
Wednesday Nov 7 - The top MotoGP Teams concluded a two-day test at Valencia after the fianl Season race with Ducati's World Champion Casey Stoner continuing to dominate with his impressive pace and new team-mate Marco Melandri getting to grips with his Desmosedici V4.
Casey Stoner, best lap 1m 32.095s (55 laps) - "We found something extra during these tests. Straight away yesterday, second lap out, we went a lot quicker than we did in the race on Sunday and we just kept going from there. Today we kept getting faster and faster. We weren't really trying to do that, we had a lot of tyres and things to test, so we weren't out there trying to do lap times, but everything just seemed to come to us quite easily. It's been a fantastic season for us and it's really good to end this test with some positives and some more information which the Ducati technicians can take back to Bologna, knowing that we've got something more to work with and knowing the right direction in which to head."
Marco Melandri, best lap 1m 33.835s (87 laps) - "Today we worked a lot on the engine and electronics, to understand how the bike reacts to every kind of change. It's been demanding because the throttle feeling is very different to what I'm used to. This afternoon we started working on the chassis, making some important, if not radical, changes. During the last half hour of the day I could feel we were improving and that we were starting to go in the right direction for my riding style. It was maybe too late to better my lap time but the sensation was really encouraging. Generally I'm very happy because I'm beginning to understand this bike's huge potential. All I've got to do is work hard to get it set up for my style."
Stoner 1'32.095 (55 giri)
Hayden 1'32.434 (92)
De Puniet 1'32.625 (83)
Pedrosa 1'32.718 (88)
Vermeulen 1'32.979 (88)
Hopkins 1'33.058 (59)
Capirossi 1'33.163 (64)
Elias 1'33.294 (74)
Nakano 1'33.465 (92)
Guintoli 1'33. 571 (80)
Lorenzo 1'33.588 (69)
West 1'33.695 (99)
Melandri 1'33.835 (87)
Dovizioso 1'33.991 (82)
De Angelis 1'34.060 (84)
Aoki 1'35.043 (61)
Guareschi 1'35.840 (59
New Pirelli Russo Tire
and Sexy Video
Milan, 8 Nov. - During the EICMA show Pirelli presented the brand new Pirelli DIABLO ROSSO.
This tyre sets the point representing a new tyre generation, thanks to the new approach Pirelli adopted to design this new product for the SUPERSPORT segment and thanks to the new EPT (Enhanced Patch Technology) Pirelli patent.
Diablo Rosso finds its full description in a new section of Pirelli tyre website thanks to a video which represents its world and 'personality' together with a page with the product features.
Soon each country will have its own DIABLO ROSSO area in its proper language, now you can see the preview in the corporate website with a very SEXY VIDEO.
Please check it out by CLICKING HERE
MotoGP Tire Controversey
With Rossi's Demand he gets Bridgestones for 2008
or He Will Quit Racing
agreed to by Yamaha...

MotoGP Shelves One Tire Brand Proposal
Oct 28th - If you remember earlier this year it was principally Valention Rossi's loud complaints about the uncompetitiveness of the Michelin tires used by Yamaha (and Honda), compared to the Bridgestones used by Ducati, that prompted MotoGP to propose changing to a one tire brand spec class beginng in 2008. The change to a one tire brand in SBK World Superbike 3 years ago has proven to be hugely successful and any bike and rider can win on any race day. But not so currently in MotoGP where the tire brand is ofte n the deciding factor.
An announcement was susposed to have been made by Dorna about changing to a one spec tire brand this past weekend at the Sepang MotoGP, but it was postponed until this week as the major players in the tire controversey made their moves. That major player being Valentino Rossi.
The biggest hurdle to enact a 1-tire brans rule in MotoGP is that neither tire supplier, Bridgestone or Michelin, were wanting to, or capable of supplying tires to the entire grid.
What seems to have transpired is that MotoGP's star rider Valentino Rossi was able to negotiate his own separate deal to swith to Bridgestone tires for 2008, and he gave Yamaha the ultimatium that if the team did not allow him to run Bridgestones, he would quit racing. Yamaha of Japan did agree to his demand, so for 2008 Rossi will be the only rider on the Yamaha factory and support teams who will be using Bridgestones.
And this week with MotoGP's numer one rider happy again, producer Dorna no longer has to eliminate one of the Championships more important suppliers and sponsors. This was the press rlease which Dorna issued today:
"The Grand Prix Commission, composed of Messrs. Carmelo Ezpeleta (Dorna, Chairman), Claude Danis (FIM), Hervé Poncharal (IRTA) and Takanao Tsubouchi (MSMA), with the presence of Mr Paul Butler (Secretary of the meeting), took note from Mr Ezpeleta of the withdrawal of Dorna's proposal to introduce a single tyre manufacturer rule for 2008.
Changes to the current MotoGP tyre regulations (number and use of tyres) will be discussed at an extraordinary meeting of the Grand Prix Commission to be held in Valencia on Nov 3."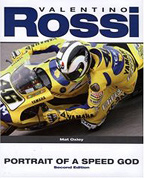 ---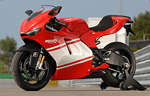 First Look!
Inside the new Ducati Desmosedici RR
Going into production next month for a lucky few!
Click the Photo for More
For compete details and photos of the new bike go to our
New Sportbike Index
Ducati Desmosedici RR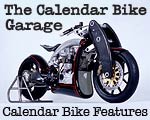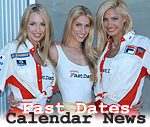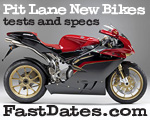 ---


NEW! FastDates.com
Cell Phone Wallpapers!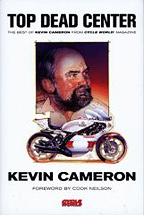 Alstare Suzuki Tests with
Nieto and Neukirchner
for 2008 World Superbike
Valencia, Italy, Nov 9th - Spaniard Fonsi Nieto and German rider Max Neukirchner have tested the 2007 Alstare Suzukis at the Ricardo Tormo circuit for the first time. Both riders made many changes to the positions of the bars, footpegs and levers so that they could start to get comfortable with the bike, before beginning to push hard. The weather for the tests was generally good and Fonsi, Max and the team were able to to do a lot of good groundwork and gather useful information. Both riders put in a considerable number of laps (over 70 for Neukirchner and over 80 for Nieto) and managed to go under the lap record - on regular race rubber. Nieto posted a best time of 1:35.5 and Neukirchner a time of 1:35.00. Neukirchner's quick lap is faster than Biaggi's best race lap earlier this season.
This was a test, aka rider tryout, for both the riders and the Alstare team to get to know each other better. It obvioulsy came out well, and we expect they are in 2008 contract negotiations at this time with a possible official announcement sometime soon.
Fonsi Nieto -
"This test was all about me getting comfortable with the bike, so we did a lot of work with the handlebars, levers, footpegs etc. My initial feeling is that the bike is very good and I have a lot to learn. I started with the Biaggi settings, but I didn't get on with them, so we've changed them quite a lot - more in the Kagayama direction I guess. The Alstare Suzuki feels more of a racebike than my bike of last year and it has a lot of potential. I am not thinking about lap times at this test, because I want to learn this bike first. The Alstare team are great to work with and everybody is very friendly. I am getting to know them all very quickly and already we have a very good relationship. The World Superbike Championship is not an easy race series by any means, but I am really looking forward to this new challenge."
Max Neukirchner -
"I know I've ridden the Alstare Suzuki before, but this is a different situation for me here. We spent most of the time getting the bike right for me. That meant changes to the riding position, bars, levers , footpegs etc. I enjoyed riding the bike in the last race of the year, but now it's time to get the bike dialled in for me properly. There is a lot to do, but we are all working well and making good progress, so we are all pretty happy at this stage. I know most the Alstare guys from before, but I am working with some different mechanics this time, so I have to get used to them and they have to get used to me. I'm already enjoying myself with the team and I think we will leave Valencia in a positive frame of mind."
Paul Bird Takes British Team To World Superbike on Honda
Nov 8th - Following on from discussions with his team?s current sponsors this week, double BSB winning team owner Paul Bird will make an audacious bid to land the World Superbike Championship next season.
Paul Bird has lost both his 2007 riders, Shane Byrne and Tom Sykes to Airwaves Ducati and Rizla Suzuki this week which prompted tough action for the future.
Paul Bird said: "I've always said that at some point in time, I'd like to do the World Championship and in the situation we have found ourselves in, now is the ideal opportunity.
"I have a duty to my team to provide them with the very best riders to work with and it is just what we need. We have all felt like a pair of discarded Y Fronts over the past few days but it just goes to prove that a team like mine can bounce back and we are all very excited by the prospect.
The double British Superbike winning team owner will remain with his current backers for the next season with help from the HRC factory.
Paul Bird added: "I'm sad to be leaving BSB as we've had some great times there and I wish Tom and Shakey all the best on their season with their respective teams in the UK."
Paul Bird will officially announce his rider line-up for 2008 soon with the rumour mill suggesting the out of ride Gregorio Lavilla as a likely candidate to join the team in World Superbikes.
World Champions Colin Edwards and James Toseland join forces with Yamaha Tech 3 Team
Nov 12th - It is with great pleasure that the Yamaha Tech 3 team wishes to announce the signing of two world champions to contest the 2008 MotoGP World Championship.
American rider Colin Edwards, will be joined by Brit, James Toseland with both riders bringing a wealth of riding experience to the Yamaha Tech 3 Team.
Texan Edwards, after four years in the elite class and winning two World Superbike Championships in 2000 and 2002, possesses an invaluable amount of development knowledge while Toseland is the recently crowned 2007 world superbike champion after first claiming his first world title in 2004.
In another exciting development for the vastly experienced French team both riders will compete on Michelin tyres as well as commencing the season on the latest version of the Yamaha M1.
The entire Tech 3 team is very happy to welcome these two great riders with their first outing at the next winter test this week at the Sepang circuit in Malaysia (15-16-17th November). The team will then head to Jerez in Spain from the 27th to 29th of November for the next stop of the hectic winter schedule before the December test ban comes into effect.
Colin Edwards quotes:
"I'm honestly really excited about coming to Tech 3. I think the overall package that Yamaha has put together for next year – four good bikes and four World Champions and four different crews giving Yamaha a whole lot of information means we will be on the pace from the start and it's pretty exciting. I've known Herve well and I know that Tech 3 is a very good outfit and I'm also really looking forward to sharing a garage with James. I'm positive that it's going to be a great team."
James Toseland quotes:
"I am over the moon about coming to MotoGP. It seems to have been a long time coming to get this opportunity but it has come at the right time and is the opportunity of a lifetime. It is a massive transition in my life to make and I am really looking forward to it. I don't know who was happier as my mum was in tears when we got the news! I am really thankful to Yamaha and I appreciate the chance they have given me and I want to thank everyone for the opportunity they have given me. I have met Herve on a couple of occasions and he is a genuine nice guy and I truly feel the Tech 3 Team will be a good place to start my MotoGP career so it's nice to be welcomed into the team. It will also be good to be working with Colin again as we have had a 10 year separation. He has said some really nice things in the press as to how he will help me. We get on really well together so I think we should make a good team. I've been employed to do a serious job so I am not coming in with the mental attitude that there won't be any pressure on me; there will be and I want to do the best job possible and be near the front."
JORGE LORENZO 250cc WORLD CHAMPION
23/10/2007 - This season Aprilia also conquered the 125 and 250 Constructors' World Title
Speed World titles now adding to 30
Another World title for Aprilia this week end: with the 3rd position in the Australian GP, Jorge Lorenzo won the World Championship in the 250 class, repeating his success of 2006. This fantastic title represents the third world title for Aprilia this year, after the Constructors's victory in both the 125cc and 250 cc class already conquered during this extraordinary season.
In Valencia on 4th November Aprilia will win the fourth world title: in the 125 cc class – indeed – the battle for the victory is between Gabor Talmacsi and Hector Faubel, both riding an Aprilia.
By confirming his title as 250 World Champion, Jorge Lorenzo reaches a legendary success, accomplishing what only Max Biaggi and Dani Pedrosa could do recently.
Lorenzo's victories have always been ensured on Gruppo Piaggio' bikes. His debut was at the Spanish GP in 2002, with the Derbi team. On this occasion Jorge set a record as the youngest rider of all times to participate in a Motorcycling championship, as he had turned 15 (minimum age) the previous Saturday. On his Derbi 125 he conquered his first world title at the Brasilian GP in 2003. In the 2005 season he races in the 250 cc class. And it is at the Jerez circuit, at the beginning of the 2006 season, that he wins his first GP riding his Aprilia RSW. This success has then been followed by seven victories during the season, right until the conquest of the 2006 World Title. Now he confirms his title, despite the great value of his rival Andrea Dovizioso.
Aprilia's World Speed titles now add to 30(14 Constructors and 16 Riders) in the occasion of the twentieth anniversary of Aprilia first victory, conquered by Loris Reggiani at the San Marino GP in 1987.
The three World titles won in 2007 consolidate Aprilia´s leadership as the brand conquering more titles among the Motorcycling constructors. Such success also shows that Aprilia dominates the "two stroke" classes that in 2006 obtained the Riders´ and the Constructors´ titles both in the 125cc and in the 250cc.
Japan's top rider Atsushi Watanabe moves to BSB with Suzuki
Nov 1st - Reigning Japanese Superbike Champion Atsushi Watanabe will race in the British Superbike Championship in 2008 aboard a Suzuki GSX-R1000 prepared by Crescent.
The 31-year-old from Hamamatsu won the 2007 Japanese Superbike Championship riding a Yoshimura Suzuki, adding to the title he won in 2002. He is acknowledged as one of the best riders in Japan and will be placed in BSB by Suzuki with a clear aim of winning the Championship.
Atsushi understands virtually no English but is learning fast. He said: "I know BSB is ultra competitive Championship that requires high potential for riders and I have been keen on challenging there for long time to improve my riding skill.
"I am also exciting to ride in UK circuit of which course lay-out should be completely different from those in Japan circuits. I believe this should be a great honour for my racing career. Those have motivated me much to do so."
Black-eyed sushi fan Watanabe is already setting his sights high. "Of course, if you were a rider, just one goal is to be a champion in BSB," he said. "For future, I hope to have a chance to ride at World Superbike or MotoGP."
Atsushi has been speaking to former Suzuki BSB racer and fans favourite WSB star Yukio Kagayama who has been enthusing him with what to expect – including the unique circuits and in specific Cadwell Park. Excited at the prospect, Atsushi claims Britain holds a special place in his heart: "I am so happy to get a chance to ride in UK where Barry Sheene, the legend and my hero, were from."
Rizla Suzuki Team Manager Jack Valentine said: "Atsushi Watanabe is one of the best kept secrets in Japan. Since 2002 he has won two and finished runner up twice in the Japanese Superbike Championship, marking him as one of the best.
"He is also a real-life Suzuki Factory rider, with all the benefits in communication with the Japanese racing arm that will bring. The placement of Atsushi in BSB shows just how important the Championship is to Suzuki and its intentions that it wants to reclaim the title it won in 2004.
"Already Atsushi is developing his character and I think the British public will take to him very easily. He is very respectful, honourable and professional…but at the same time he can't wait to sample the English way of life and start to enjoy himself here, Yuki has told him a lot of good things about our way of life. It's going to be fun helping him to learn the language and I am sure he will teach us some choice phrases in Japanese as well."
Atsushi is keen to meet the British race fans and will be attending the International Motorcycle Show at the NEC when it starts on 22nd November, before returning to Japan on 26th November. He will be testing the current Rizla Suzuki GSX-R1000 in November – full details will be reported on www.rizla-suzuki.co.uk.