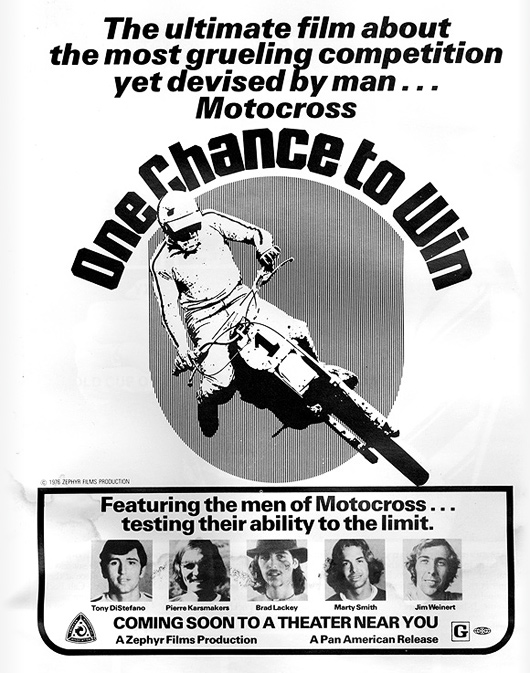 World Premier and DVD Release of "One Chance To WIn"

Motocross Movie Scripted by Jim Gianatsis

Saturday November 3rd at 6:00pm
the California Theatre, 562 W. 4th Steet San Bernardino, CA 92401
It took 30 years to get it released, but a feature length movie which I wrote over 30 years ago is finally being released and shown, and will be available on DVD.
"One Chance to Win" covers the final round of the 1975 AMA 500cc outdoor National Championship at New Orleans on the levee river banks of the Mississippi River with a 6-way points battle tie right down to the final round for the Championship between Jimmy Weinert, Steve Stackable, Pierre Karsmakers, Billy Grossi, Kent Howerton and Brad Lackey. The film will premier at a beautiful historic theatre in San Bernandino on the weekend of the Legends of Motocross Race Weekend at Glen Helen Raceway, all the old motocross stars are expected to attend including Tony D and Bob Hannah. I hope you will join me and all the old motocross greats.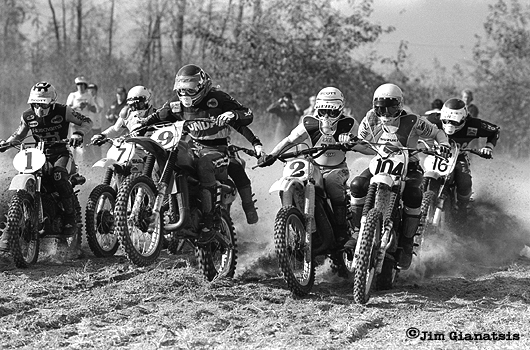 This was when motocross was the most extreme motocycle racing in the world with two 45-minute motos in grueling 110-degree heat and choking dust, and the riders collapsed in sweat in the dirt next to their vans between motos without any shade. Their were no factory big rigs, privateers slept in their pickup trucks, spectators were free to roam the pits and meet their heroes, and a comradare was shared between the teams and riders with minibike and rental car races on the tracks and parties in the pirs at night. It was the Golden Age of Motocross, and motorcycle racing.
Premier of "One Chance To WIn" on November 3rd at 6:00pm at the California Theatre in San Bernardino. The doors will open at 6:00pm and the program begins at 7:00. We will show the original 77 minute film and then the 47 minute "Behind The Battle-The Making of One Chance To WIn". Many of the riders and mechanics who raced at that famous "Battle of New Orleans" in 1975 will be in attendance that night. The movie will also be released on DVD starting November 5th on the OneChanceto Win Website and soon here on FastDates.com.

More details and buy tickets at the theatre or online at: OneChanceToWin.com
November 3rd, 2007 - The legends of American Motocross gathered together 32 years later hosted by Todd Huffman of "The Motocross Files" for the premier of "One Chance to Win" Among the hundreds of motocross legends, celebrities and fans in attendance were the movie's principals including - Back row, left to right: racers Marty "Typhoon" Tripes, movie producer Charles Bush, Billy "Sugar Bear" Grossi, "Jammin'" Jimmy Weinert, Bob "Hurricane" Hannah, Steve "Short Stack" Stackable, Brad "Sideways" Lackey, movie cinephotographer Steve Howard; Front row: movie writer Jim "The Greek" Gianatsis, Roy "Thumbs" Turner mechanic, Tony "The D" Distefano, Bevo Forte and Steve Stafeski mechanics. Photo by Lee Chapin.

---
2008 Roadracing Rider and Team Line Ups
Here's a look at the rider seat changes and confirmed lineup of teams and riders in World SBK and AMA Superbike and MotoGP for 2008. We will add more teams and riders as they confirm:
2007 World Superbike
Ducati Corse: Troy Bayliss, Lorenzo Lanzi
Ducati Sterilgarda: Ruben Xaus
Honda Ten Kate: James Toseland, Roberto Rolfo

Yamaha Italy: Noriyuki Haga, Troy Corser
Suzuki Alstare: Yukio Kagayama, Bax Biaggi
Kawasaki PSG-1: Regis Laconi,
Suzuki Germany: Max Neukirchner

2007 MotoGP
Ducati Corse: Loris Capirossi, Casey Stoner
Ducati d'Antin: Alex Barros, Aex Hoffman
Yamaha Japan: Valentino Rossi, Colin Edwards
Yamaha Tech 3: Sylvain Guintoli
Suzuki Japan: Chris Vermeulen, John Hopkins

Kawasaki Japan: Randy de Puniet, Anthony West
Honda Japan: Nicky Hayden, Dani Padrosa
Honda Minolta: Shinya Nakano
Honda Gresini: Tony Elias

2007 AMA Superbike
Suzuki Yoshimura: Matt Mladin, Ben Spies
Honda American: Miguel DuHammel, Jake Zemke
Yamaha USA: Eric Bostrom, Jason DiSalvo
Kawasaki USA:
MV Agusta Ferracci:



2008 World Superbike
Ducati Corse: Troy Bayliss, Michel Fabrizio
Ducati Sterilgarda: Ruben Xaus, Max Biaggi
Honda Ten Kate: Kent Sofulguo, Carlos Checa, Ryuichi Kiyonari
Yamaha Italy: Noriyuki Haga, Troy Corser
Suzuki Alstare: ?,?
Kawasaki PSG-1: ?
Suzuki Germany: ?

2008 MotoGP
Ducati Corse: Casey Stoner, Marco Melandri
Ducati d'Antin: Tony Elias, Sylvain Guintoli
Yamaha Japan: Valentino Rossi, Jorge Lorenzo
Yamaha Tech 3: James Toseland, Colin Edwards
Suzuki Japan: Chris Vermeulen, Loris Capirossi,
and non'conflicting AMA races with Ben Spies
Kawasaki Japan: Randy de Puniet, John Hopkins Honda Japan: Nicky Hayden (?), Dani Padrosa
Honda Minolta:
Honda Gresini: Shinya Nakano, Alex de Angelis

2008 AMA Superbike
Suzuki Yoshimura: Matt Mladin, Ben Spies
Honda American: Miguel DuHammel, Neil Hodgson
Yamaha USA: Eric Bostrom, Jason DiSalvo
Kawasaki USA:
MV Agusta Ferracci:

Dani Pedrosa's win on Sunday and Rossi's crash on Saturday, moved Pedrosa int 2md place in the 2007 Championship behind Casey Stoner.

MotoGP World Cjampionship, Valencia, Round 18 of 18

Valentino Rossi Injured in Qualifying Crash
Pedrosa Clains 2nd in the Championship with Valencia Win
Gran Premio bwin.com de la Comunitat Valenciana - Race Preview: Nov. 2-4th - A home victory for Dani Pedrosa, combined with a DNF for Valentino Rossi, gave the Spaniard second place in the 2007 MotoGP World Championship at the Gran Premio bwin.com de la Comunitat Valenciana.
Starting from pole for the fourth consecutive race, Pedrosa was desperate not to let World Champion Casey Stoner get away from him in front of his local crowd. The difference in top speed between the Honda RC212V and the Ducati Desmosedici GP7 was nowhere near as apparent as it was at the season-opening race at Qatar in March, as evidenced when the Spaniard drafted past Stoner on lap six. The gap between the two remained comfortable for Pedrosa, who crossed the line with a 5.4 second advantage for his first home MotoGP victory.
John Hopkins ended his long-standing association with Rizla Suzuki by taking fourth place in the World Championship. The Anglo-American needed to finish ahead of Marco Melandri, Loris Capirossi and team-mate Chris Vermeulen to confirm the position in the standings, and that he did with the trio finishing just behind Hopkins' GSV-R800. Melandri and Capirossi were also riding their final races for Gresini Honda and Ducati respectively, whilst Vermeulen will look to progress yet further with Suzuki next season.
Making his 276th and final Grand Prix appearance, Brazilian veteran Alex Barros bowed out of the MotoGP World Championship with seventh place at Valencia, ahead of 2006 World Champion Nicky Hayden on the American's last outing with the number one plate. Hayden had battled valiantly in the early going, but dropped down the running in the latter stages of the race.
Randy de Puniet and Toni Elias completed the top ten, also riding for the last time before switching teams for another year in the premier class.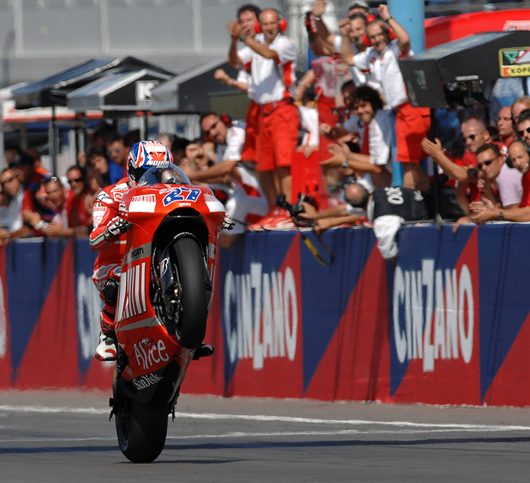 Stoner is not looking back after having clinched the 2007 MotoGP World Championship four weeks ago as he continues to dominate on the Ducati Desmsedici.
Valencia Preview
The Ricardo Tormo circuit in Cheste, on the outskirts of Valencia in Spain, plays host to a transitional moment in MotoGP over the course of the weekend of Sunday November 4th. It is there that the MotoGP teams will do battle in the final round of the 2007 season, the Gran Premio bwin.com de la Comunitat Valenciana, before shifting their focus to 2008 the following day.
The culmination of a long season will see the final classification confirmed in all three categories; MotoGP, 250cc and 125cc, whilst in the latter the title itself will be decided in what is sure to be an epic battle between team-mates.
In MotoGP there is no doubt who will be lifting the new World Championship trophy designed for the introduction of the 800cc era. Casey Stoner has already been confirmed as this year's winner, and has won every race since sealing the title on September 23rd in Japan. The Australian opened his win account in the premier class with victory at Losail in the first race of 2007, and book-ending the season with win number eleven would be the perfect conclusion to his breakthrough year. World Champion Casey Stoner has already won ten races and a total of 14 podiums so far this year whilehis team mate Loris Capirossi has scored a victory and three further podiums, their efforts aboard their remarkable Desmosedici GP7 machines securing the triple crown of riders', constructors' and teams' World Championships for the Borgo-Panigale -based factory and team.
CASEY STONER, World Champion, on 347 points - "Valencia will be a special weekend, the last race of a season that has been a dream come true. The championship may already be done but I don't need any more motivation than each race weekend. Every race is just as important as the others to me, so we go out there every time to try and win. The only difference now is that I'm a bit more relaxed, a bit more confident in my own abilities and what I can do with a bike. Valencia looks very slow and tight but it's surprisingly flowing, I've always really enjoyed it. I had my first GP win there [the 2003 125 GP], so I've had some really good results there, also some bad ones. I tested the Ducati for the first time at Valencia last November and we were pretty much quickest, so I think with the experience we've gained we can do a good job. There are a lot of second and third gear corners, like most tracks, but because most of the corners are right angles and banked so you can flow in there and use a lot of corner speed. That really helps with the gearbox because you only really use two gears, other than on the straights, so it's quite easy to get set up. It's just a matter of getting your braking and entry points right and getting on the gas at the right moment."
The 22 year-old's Ducati team completed a memorable one-two at last year's visit to Valencia, an Australian victory setting the scene for things to come. Stepping in for the injured Sete Gibernau in a one-off final appearance in MotoGP, Troy Bayliss took victory from second on the grid, ahead of Loris Capirossi. Stoner retired from the race on lap seven, but has previously been on the top step of the podium in the World Championship with a 125cc win in Valencia back in 2003.
LORIS CAPIROSSI, 7th overall on 155 points - "Valencia will be a very big weekend for me and for everyone else involved in this project. It is my last race for this team after five incredible years. Last year we had a great weekend there - I finished second and Troy [Bayliss] won the race for the team - so I hope we can do something like that again. It will be quite an emotional weekend for me because we already have many great memories from the last five seasons, there have been some tough times, of course, but it is the good times that I want to remember: scoring Ducati's first MotoGP podium in our first race together at Suzuka in April 2003 and then Ducati's first win at Catalunya in June 2003, also my hat-trick of victories at Motegi over the past three years. Incredible memories! So now my job is to try and finish my time with Ducati in the best way. Valencia is quite a tough track on a MotoGP bike - slow and tight - so it's very hard work. We will work on the engine and chassis to get the best performance and aim to repeat my recent form at Motegi and Phillip Island."
Second and third place are all-but-decided, with Valentino Rossi 24 points ahead of Dani Pedrosa in the overall standings. The Italian returns to the scene of a nightmare race last year, where he conceded the MotoGP World Championship to Nicky Hayden after an early crash, and will be keen to avoid what would be his worst placing in a premier class season. The odds are in his favour, with Pedrosa needing to win his home race –something that he has never done in five attempts in the premier class- and hope that Rossi finishes outside the points.
A quartet of riders are in with a mathematical chance of the fourth spot in the overall classification; Marco Melandri, Chris Vermeulen, John Hopkins and Loris Capirossi. Whilst Capirossi will have to depend on the fortunes of others if he is to overcome a 19 point deficit on current fourth placed rider Melandri, the Gresini Honda man and the Rizla Suzuki duo are separated by just five points heading into the final round of the season. Melandri has previously stepped up to the plate at Valencia, taking second place overall in the final race of 2005 courtesy of a win at the Spanish track. Hopkins will be riding his final race for Suzuki, as will Capirossi for Ducati before beginning testing with the Japanese team.
Colin Edwards, Nicky Hayden and Alex Barros complete the current top ten in MotoGP, with Hayden returning to the scene of his crowning moment in MotoGP after a difficult season. Few would begrudge 'The Kentucky Kid' a race victory to end his title defence on a high note, with the American having been one of the most diligent testers and held his head up high over the course of 2007.
The BMW M Award for combined times in qualifying and the Official Test in Jerez will be decided on the Saturday of the race. Casey Stoner currently leads the way over Rossi by half a second, with a BMW M3 Coupe up for grabs in the annual competition.
250cc Grand Prix
The final round of the season is also 250cc World Champion Jorge Lorenzo's final appearance in the quarter litre class, having retained his title with a third place in Sepang at the penultimate round. Lorenzo makes the move up to MotoGP next season with Yamaha, but will no doubt not settle for anything less than a win to leave the category that he has dominated over the last two years in style. There is sure to be a huge reception for the Aprilia man at his home race, the first since his winning the title.
The two other riders in the top three are also assured of their places, again ahead of their move up to MotoGP. Andrea Dovizioso has one final attempt to usurp Lorenzo in 250cc before switching to the premier class, whilst Alex de Angelis races at Valencia for the first time since his only 250cc victory to date at last year's event. The San Marino rider has been confirmed as a new addition to the Gresini Honda team for 2008.
Fifteen points separate Alvaro Bautista and Hector Barbera in the fight for fourth place; two riders providing some local interest in the quarter litre race. Barbera is finishing the season strongly, whilst Bautista has had a phenomenal rookie year since leaving 125cc as World Champion.
Race winner in Sepang Hiroshi Aoyama completes the top six, having taken his second win of the season in the Malaysian round of the championship.

125cc Grand Prix
The only category to still have a World Champion to be confirmed, the 125cc class finale could not have been scripted better. Team-mates Hungarian Gabor Talmacsi and Hector Faubel, who hails from Valencia itself, are separated by just ten points in the battle for the title, which will be decided at their Aspar outfit's home track on November 4th. Faubel won the race last year, and will need to be at his best if he is to take victory number five of the year and edge out Talmacsi, whose win at Sepang extended the title gap.
Third place is still up for grabs, with Tomoyoshi Koyama holding a fifteen point advantage over Lukas Pesek. The latter recently announced his move up to 250cc with the Emmi Caffe Latte team, where he will join Thomas Luthi next year.
Simone Corsi and Mattia Pasini round off the top six, with Pasini also set for a switch in cylinder class next year. The Italian will continue with Polaris World, but will start 2008 onboard a factory 250cc Aprilia.
Following the race, a number of teams will stay on for testing with their 2008 bikes and lineups, with preparation for next season already beginning in earnest. The Gran Premio bwin.com de la Comunitat Valenciana takes place on Sunday November 4th, with practice beginning this Friday.
Pedrosa takes His 4th Pole of the Season, Rossi Injured in Crash
Saturday Nov 3rd - No one could match Dani Pedrosa (Repsol Honda RC212V) here today at Valencia as the Spanish superstar put in a 1m 31.517s lap to put his prowess around this tight 4.005km circuit beyond doubt. Casey Stoner (Ducati) was second fastest and Nicky Hayden (Repsol Honda RC212V) completes the front row.
In temperate conditions with the track surface at 26 degrees and with riders enjoying an ambient temperature of 21 degrees under sunny skies it was Stoner who topped the early order here in Valencia. But his early marker of 1m 33.378s was soon bettered by John Hopkins the Suzuki rider.
With 51 minutes of the hour-long session remaining former World Champion Valentino Rossi (Yamaha) crashed heavily coming out of turn one. He broke bones in his right hand and jarred his back in the crash and will make a decision on whether or not to ride tomorrow.
This could have a significant bearing on the destination of runner-up spot in the World Championship. If Rossi does not ride and Dani wins the race, then he would overhaul Rossi for second overall in the points standings. But these are all 'ifs' at this stage.
Dani ran off track and then pitted just after Rossi's big crash and the order at the front of the grid at that stage was Hopkins, Stoner and Marco Melandri (Gresini Honda RC212V). As race distance work occupied most riders it was left to Kawasaki man Randy de Puniet to go for an early qualifying tyre and shoot for a pole time.
He managed a 1m 32.968s time with 38 minutes of the session left to run, but was shortly outdone by another maverick qualifier in the form of Yamaha rider Sylvain Guintoli who turned a 1m 32.821s lap to temporarily deprive his fellow Frenchman of provisional pole.
De Puniet responded with a 1m 32.497s lap and then Guintoli raised the stakes again with 17 minutes to go, upping the ante to 1m 32.444s. Melandri was still holding third until Shinya Nakano (Konica Minolta Honda RC212V) ousted the Italian man.
Dani said: "Well, I'm very happy to be on pole position again – especially here in front of my home fans. We must try to improve our machine settings further and find that little bit extra for the race because the lap times are still very close and we cannot relax at all. This afternoon was positive and I was able to go fast on race tyres as well. The Michelin qualifiers also worked very well again and I was able to improve on my second lap by quite a lot – which was just enough for pole position. The weekend has gone well so far and I hope I can make a good start and challenge for the win tomorrow."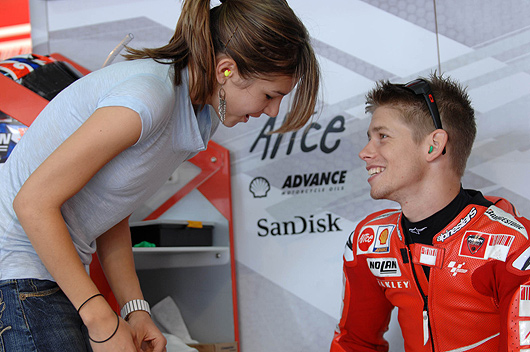 Is this a cute couple or what? Newlyweds Andrea and Casey Stoner.
Stoner Stays On Song, Quickest by 1-Sec On Opening Day
Friday Practice, Nov 2nd - Chasing a record points total for a single season this weekend, 2007 World Champion Casey Stoner was the fastest rider in the combined practice standings for the Gran Premio bwin.com de la Comunitat Valenciana on day one in Spain. The Australian was the only rider to go round in under 1'32, clocking his best time of 1'32.968 in the afternoon session. Said time was just over a second ahead of closest rival Sylvain Guintoli, who was using a Dunlop qualifying tyre for his Yamaha M1 in the second outing of the day. Stoner ran off track late on, shortly followed by current runner-up spot occupant Valentino Rossi.
Home rider Dani Pedrosa was the third fastest, ahead of Marco Melandri, Chris Vermeulen and Randy de Puniet in a top six consisting of as many different teams, five different bikes and three different tyre manufacturers.
Riding what is likely to be his last MotoGP race this weekend, Alex Barros was seventh and just over half a second slower than Stoner's marker. The Brazilian headed the two riders who commanded all the attention last year at Valencia as the title went down to the wire; Rossi and 2006 MotoGP World Champion Nicky Hayden. The latter has adorned his leathers with the words 'Last Call' for his final race using the number one plate.
John Hopkins completed the top ten as he prepares for his last race for Suzuki, whilst Briton Chaz Davies failed to appear for the afternoon session after injuring himself in a morning crash.
At the scene of the final race of the 2007 season, four important figures from the MotoGP paddock unveiled the trophy for which the riders will be competing in 2008. Attending the public unveiling of the silver trophy were FIM President Vito Ippolito and Dorna CEO Carmelo Ezpeleta, alongside former premier class World Champions Kevin Schwantz and Alex Criville. Both of the ex-riders have their own spot on the trophy with their names engraved, as do the other 57 winners of the top prize in motorcycle competition. Speaking to the gathered media and photographers, Mr. Ezpeleta explained the motive behind the change in form for the MotoGP trophy, designed by Barcelona's Marc Garcia.
"With the introduction of the MotoGP class in 2002, we decided to hand out a special trophy in addition to that provided by the FIM. We have now done the same for the change to the 800cc class, which came into effect this year," stated Mr. Ezpeleta.
"We consider the new design important, reflecting the important history of the championship alongside the exciting new era. It was important for us that we have a 'living part' of the trophy, that riders can add to and change every year."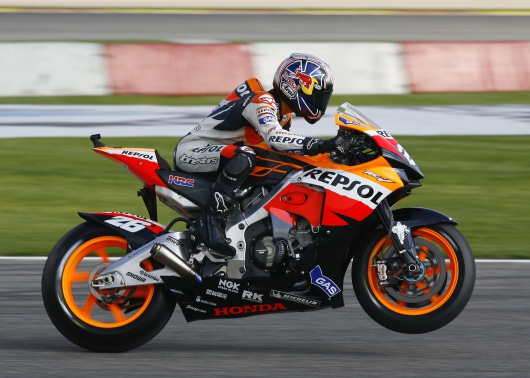 Pedrosa on top at the season finale.

Pedrosa beats Stoner to Move in 2nd in Final Standings Over Rossi
This was the MotoGP race that Dani Pedrosa (Repsol Honda RC212V) wanted to win to sign off his season in style – and take the coveted runner-up spot in the World Championship. He was a cut above the rest today with Casey Stoner (Ducati) was second and John Hopkins (Suzuki) third. Stoner rocketed into the lead form the lights and had established a three-quarter second lead by the end of the first tour of this 4.005km circuit. The Aussie obliterated the lap record on lap two and it looked as if the new World Champion might run away with this race. But Dani knew otherwise.
On lap three Pedrosa was holding Stoner in check and this lead pair had a 2.3 second advantage over first Nicky Hayden (Repsol Honda RC212V) and then Hopkins when he stole past the former World Champion on lap four. Conditons were perfect for racing under sunny skies with a temperature of 19 degrees and the track at 25.
Marco Melandri (Gresini Honda RC212V) began attacking Hayden for fourth place and the Honda duo swapped places twice on lap four, the lap when Dani decided to run the race at his own increasingly rapid pace. Pedrosa set a fastest lap of 1m 32.748s as he closed on Stoner.
Dani took him on lap six and two laps later the 21-year-old Spanish star had a 0.6 second advantage, another two laps later it was 1.1 seconds and Stoner had no reply. Nor did the rest of the field. And Dani's rival for second overall in the World Championship, Valentino Rossi (Yamaha), was struggling at the back of the field nursing a hand injury sustained in qualifying yesterday.
Dani, starting from his fourth consecutive pole of the season finally put his late season dominance to full effect and rode lap after lap at blistering pace – annihilating the opposition. He wanted second overall, but perhaps more than that, Dani wanted a Grand Prix win again.
Rossi slowed on lap 18 with machine trouble and then pitted a lap later, his race run. Dani was now riding for both the win and the runner-up slot and he was never going to be stopped. His margin at the finish was a massive 5.5 seconds over Stoner.
Behind them Hopkins had consolidated third while Hayden was slipping down the order having lost fourth place to Melandri on lap 19, fifth spot to Loris Capirossi (Ducati) on lap 26 and then succumbing to Chris Vermeulen (Suzuki) who took sixth from him on the penultimate lap.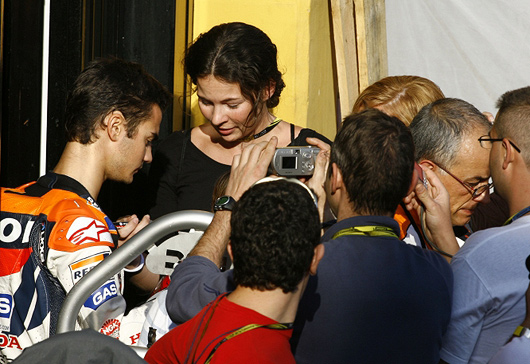 Pedrosa signs an autograph for an adoreable adoring fan.

Dani, who is now the only rider ever to have won here in all three classes from pole while setting fastest race laps too, said: "I'm very happy with this result. I really wanted to win this race very much and so actually achieving it feels fantastic. In the early laps I was struggling a little with grip from the front tyre but then in the second half of the race it was very good. The pace today was really fast and Casey was chasing hard so there was no moment to relax or back off. Towards the end of the race I was sliding in some of the left-handers but I was still able to push hard. Thanks to the team because they worked very hard for me this weekend and all year – and the bike was perfect today."
Casey Stoner, 2nd place, World Champion on 367 points - "I expected the pace to be low 33s, but I didn't expect it to be so fast for so long. Everything seemed good, then Dani came past and pulled a bit of an advantage straight away and I wasn't able to claw it back. I could pretty much hold it, then he'd eke out a tenth or two, then I'd get some of it back, then he'd take out a little more. He rode a faultless race, so he deserved the win. I'm happy for him because I now know what it's like to win your home GP - it's a very good feeling, especially in this class. We were pushing hard and I had a couple of front-end slides but the bike was feeling good. Then with five laps to go I lost some grip, so I eased off a bit because we were quite a distance in front of the rest. I'm happy with the way I rode, I got the best out of the bike, so I'm reasonably happy. It's been a fantastic year, we can't say anything bad about it, my worst result was the race where we won the championship so the title made up for that! I think next year everyone will come out a little tougher, a little stronger, so I'm going to make sure I do everything I can to come out on top again."
John Hopkins, 3rd place -"I have just got to thank everyone at Suzuki - that is my first and foremost task. To every member at Suzuki I want to pass on my ultimate thanks to them, Suzuki has given me my life in MotoGP and established my career and I just cannot show enough gratitude to them.
"Today the tyres and the bike worked awesome and I just went for it from the beginning! I got a good start and then got around Nicky Hayden, but from there it was a pretty lonely race. I just had to push myself against the clock and make sure I pulled away from the riders behind me. I succeeded in that but it was very emotional on the last few laps with that comfort and I had to concentrate real hard to keep focused! It's a great result because my Mum, sister, fiancée and her family are all here today so it was an unbelievable feeling when I crossed the line – it was a great way to end the year. I would have liked to have put the bike on the top step for Rizla Suzuki and especially all my crew, but that's for Dani and the home fans today!
"I just want to say thanks once again, it's been a fantastic five years and I've had a top time, now I just want to take it all in tonight and have a good time with the boys!"
Melandri was fourth. He said: "I knew that it a would be a tough race, but today was much harder than in practice. I made a good start to gain five places but I lacked feeling in the front-end and the bike was moving around a lot. I fought with Hayden for fourth and was looking for Hopkins, but it wasn't possible on this occasion. It's disappointing because I wanted a podium and I've missed out on fourth place in the World Championship by two points to John. I wanted a better result, but thanks to Fausto and the team for all their hard work."
Hayden, eighth at the flag, after Alex Barros (Ducati) took seventh off him on the last lap, said: "Well, we knew all weekend that we were on the back foot and the race proved it. We made a lot of changes for warm-up this morning and the package felt a bit better, but still we didn't have the pace we needed for the race. I got a pretty good start but there were a few places on the lap where I was too weak and this made it quite a difficult race for me. It's been a tough year so now we'll go back to work. Thanks to the team for all their hard work this year. We're going to keep working hard so we can do a lot better next year."
Toni Elias (Gresini Honda RC212V wheelies at left) finished tenth and said: "I made a good start, but I struggled a lot in the first ten laps with a full tank, and was not getting enough grip. Once my pace improved I went after Vermeulen, de Puniet and Capirossi but couldn't catch them. It's a shame because I wanted to end the season with a better result. I want to thank the team and Fausto for the two last years. They have been like a family to me and they helped me get my first MotoGP win."

Carlos Checa (LCR Honda RC212V), 12th in his final MotoGP race, despite riding with a severe stomach complaint said: "I'm a little emotional because I still have a great feeling for this fantastic sport. My aim was just to finish the race as way of saying goodbye to my fans and friends and seven laps from the finish I started to have a lot pain in my stomach. Grand Prix racing has been a great part of my life but now I start a new adventure in Superbikes."
Carlos rides for Ten Kate Honda in World Superbike next year.
Shinya Nakano (Konica Minolta Honda RC212V) was 14th and said: "Another very difficult race and one which has basically summed up the whole season. My start was so-so, but I found that I could overtake some riders going into turn two. At the beginning my pace wasn't so bad, but from the middle of the race I found that I couldn't improve my lap times. I've crashed a few times this season because of this, but I'm pleased to be ending the year without any injuries. This is an excellent team but unfortunately the results haven't been there for us this year."
Kurtis Roberts (Roberts KR212V) retired on ten. He said: "The thing just never worked right. We did 1m 34s lap times pretty easily in practice, and a 1m 33s lap to qualify. I was riding just the same in the race and we couldn't even see 1m 34s. My last lap was a 1m 36s. The engine started missing really bad off the bottom, and got progressively worse from the first lap on. I couldn't do anything to keep up with them. It got slower and slower."
Race MotoGP: (30 laps = 120.15 km)
Pos/ Rider / Nat / Team / Motorcycle / Time/ KM/H / Gap
1 / Dani PEDROSA / SPA / Repsol Honda Team / HONDA / 46'43.533 / 154.283 /
2 / Casey STONER / AUS / Ducati Marlboro Team / DUCATI / 46'48.980 / 153.984 / 5.447
3 / John HOPKINS / USA / Rizla Suzuki MotoGP / SUZUKI / 47'03.937 / 153.169 / 20.404
4 / Marco MELANDRI / ITA / Honda Gresini / HONDA / 47'08.360 / 152.929 / 24.827
5 / Loris CAPIROSSI / ITA / Ducati Marlboro Team / DUCATI / 47'09.337 / 152.876 / 25.804
6 / Chris VERMEULEN / AUS / Rizla Suzuki MotoGP / SUZUKI / 47'09.395 / 152.873 / 25.862
7 / Alex BARROS / BRA / Pramac d'Antin / DUCATI / 47'13.003 / 152.678 / 29.470
8 / Nicky HAYDEN / USA / Repsol Honda Team / HONDA / 47'13.866 / 152.632 / 30.333
9 / Randy DE PUNIET / FRA / Kawasaki Racing Team / KAWASAKI / 47'14.428 / 152.602 / 30.895
10 / Toni ELIAS / SPA / Honda Gresini / HONDA / 47'14.563 / 152.594 / 31.030
11 / Sylvain GUINTOLI / FRA / Dunlop Yamaha Tech 3 / YAMAHA / 47'22.296 / 152.179 / 38.763
12 / Carlos CHECA / SPA / Honda LCR / HONDA / 47'26.039 / 151.979 / 42.506
13 / Colin EDWARDS / USA / Fiat Yamaha Team / YAMAHA / 47'30.105 / 151.762 / 46.572
14 / Shinya NAKANO / JPN / Konica Minolta Honda / HONDA / 47'33.753 / 151.568 / 50.220
15 / Makoto TAMADA / JPN / Dunlop Yamaha Tech 3 / YAMAHA / 47'40.412 / 151.215 / 56.879
Pole Position: Dani PEDROSA 1'31.517 157.544 Km/h
Fastest Lap (New record): Dani PEDROSA 1'32.748 155.453 Km/h Lap 5
Circuit Record Lap: Loris CAPIROSSI 1'32.924 155.159 Km/h 2006
Circuit Best Lap: Valentino ROSSI 1'31.002 158.436 Km/h 2006
Final World Championship Positions:
1 STONER 367, 2 PEDROSA 242, 3 ROSSI 241, 4 HOPKINS 189, 5 MELANDRI 187,
6 VERMEULEN 179, 7 CAPIROSSI 166, 8 HAYDEN 127, 9 EDWARDS 124,
10 BARROS 115, 11 DE PUNIET 108, 12 ELIAS 104, 13 HOFMANN 65, 14 CHECA 65,
15 WEST 59.
Final Constructors standings
1 DUCATI 394, 2 HONDA 313, 3 YAMAHA 283, 4 SUZUKI 241, 5 KAWASAKI 144,
6 KR212V 14.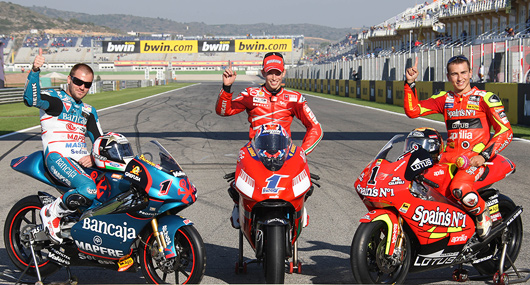 The 2007 MotoGP World Champiosn, fron left: 125cc Gabor Talmacsi / Aprilia, 800cc Casey Stoner / Ducati, 250cc Jorge Lorenzo / Aprilia. Click for BIGGER.
Kallio Wins 250cc GP Class on KTM
Mika Kallio (KTM) won the 250cc race from Alex de Angelis with Alex Debon third (both Aprilia). With Jorge Lorenzo (Aprilia) already crowned World Champion, this was perhaps a race where Kallio established himself as one of the new front men in the class.
Lorenzo got the holeshot and as the order settled down he was followed by Andrea Dovizioso (Scot Honda RS250RW) and Alex de Angelis (Aprilia). But is was soon de Angelis who then made the running by mid-race distance of this 27-lapper with Alvaro Bautista (Aprilia) hounding him.
When Bautista crashed out on lap 20, Kallio had entered the fray and he timed his charge to the front to perfection taking the lead on the penultimate lap and holding it resolutely until the flag from de Angelis. And Alex Debon (Aprilia) denied Dovizioso as the pair fought to the finish for third.
Gramd Prix 250cc: (27 laps = 108.135 km)
Pos / Rider / Nat / Team / Motorcycle / Time / KM/H / Gap
1 / Mika KALLIO / FIN / Red Bull KTM 250 / KTM / 43'28.349 / 149.246 /
2 / Alex DE ANGELIS / RSM / Master - Mapfre Aspar / APRILIA / 43'28.720 / 149.224 / 0.371
3 / Alex DEBON / SPA / Aprilia Racing / APRILIA / 43'35.146 / 148.858 / 6.797
4 / Andrea DOVIZIOSO / ITA / Kopron Team Scot / HONDA / 43'35.229 / 148.853 / 6.880
5 / Hector BARBERA / SPA / Team Toth Aprilia / APRILIA / 43'41.116 / 148.519 / 12.767
6 / Julian SIMON / SPA / Repsol Honda 250cc / HONDA / 43'41.379 / 148.504 / 13.030
7 / Jorge LORENZO / SPA / Fortuna Aprilia / APRILIA / 43'43.100 / 148.406 / 14.751
8 / Yuki TAKAHASHI / JPN / Kopron Team Scot / HONDA / 43'44.786 / 148.311 / 16.437
9 / Thomas LUTHI / SWI / Emmi - Caffe Latte Aprilia / APRILIA / 43'44.900 / 148.305 / 16.551
10 / Hiroshi AOYAMA / JPN / Red Bull KTM 250 / KTM / 43'48.572 / 148.097 / 20.223
11 / Marco SIMONCELLI / ITA / Metis Gilera / GILERA / 43'51.975 / 147.906 / 23.626
12 / Aleix ESPARGARO / SPA / Blusens Aprilia Germany / APRILIA / 44'00.154 / 147.448 / 31.805
13 / Roberto LOCATELLI / ITA / Metis Gilera / GILERA / 44'02.659 / 147.308 / 34.310
14 / Alex BALDOLINI / ITA / Kiefer - Bos - Sotin Racing / APRILIA / 44'27.174 / 145.954 / 58.825
15 / Ratthapark WILAIROT / THA / Thai Honda PTT-SAG / HONDA / 44'27.194 / 145.953 / 58.845
Pole Position: Mika KALLIO 1'35.166 151.503 Km/h
Fastest Lap (New record): Mika KALLIO 1'35.659 150.722 Km/h Lap 20
Circuit Record Lap: Dani PEDROSA 1'35.792 150.513 Km/h 2005
Circuit Best Lap: Hiroshi AOYAMA 1'35.109 151.594 Km/h 2006
Final World Championship Positions:
1 LORENZO 312, 2 DOVIZIOSO 260, 3 DE ANGELIS 235, 4 BAUTISTA 181,
5 BARBERA 177, 6 AOYAMA 160, 7 KALLIO 157, 8 LUTHI 133, 9 SIMON 123,
10 SIMONCELLI 97, 11 TAKAHASHI 90, 12 AOYAMA 90, 13 LOCATELLI 59,
14 LAI 49, 15 ESPARGARO 47.
Final Constructors standings
1 APRILIA 387, 2 HONDA 275, 3 KTM 226, 4 GILERA 116, 5 YAMAHA 4.
KTM Dominates in 125cc Grand Prix with Faubel and Talmacsi
Hector Faubel won the 125cc race from his team-mate Gabor Talmacsi with the third member of this three-rider Aprilia team, Sergio Gadea, in third. But it was the Hungarian Talmacsi who secured the World title here today.
Talmacsi started from pole but it took him until the second lap to gain control of this race from the front of the field. Faubel, who had to win here with Talmacsi finishing fourth or lower, for the Spaniard to take the title, took a while to get on terms with Talmacsi. But on lap nine of this 24-lap contest, he was ahead of his rival.
But Faubel ran wide at turn one several laps later and lost touch with Talmacsi until the closing laps when the duo swapped places with mesmerizing frequency and then were joined by a three-rider group headed by Gadea in the final two laps.
But Gadea was never going to interfere in the intense fight between Talmacsi and Faubel and although Faubel took the win Talmacsi knew he had done enough to become the first ever Hungarian to win a World Championship in any motorsport discipline.
125cc:
Race Classification 125cc (24 laps = 96.12 km)
Pos / Rider / Nat / Team / Motorcycle / Time / KM/H / Gap
1 / Hector FAUBEL / SPA / Bancaja Aspar / APRILIA / 40'14.228 / 143.330 /
2 / Gabor TALMACSI / HUN / Bancaja Aspar / APRILIA / 40'14.413 / 143.319 / 0.185
3 / Sergio GADEA / SPA / Bancaja Aspar / APRILIA / 40'14.514 / 143.313 / 0.286
4 / Mattia PASINI / ITA / Polaris World / APRILIA / 40'15.054 / 143.281 / 0.826
5 / Lukas PESEK / CZE / Valsir Seedorf Derbi / DERBI / 40'15.106 / 143.278 / 0.878
6 / Esteve RABAT / SPA / Repsol Honda 125cc / HONDA / 40'20.078 / 142.983 / 5.850
7 / Pablo NIETO / SPA / Blusens Aprilia / APRILIA / 40'23.266 / 142.795 / 9.038
8 / Bradley SMITH / GBR / Repsol Honda 125cc / HONDA / 40'27.262 / 142.560 / 13.034
9 / Tomoyoshi KOYAMA / JPN / Red Bull KTM 125 / KTM / 40'34.962 / 142.109 / 20.734
10 / Pol ESPARGARO / SPA / Belson Campetella Aprilia / APRILIA / 40'35.230 / 142.094 / 21.002
11 / Nicolas TEROL / SPA / Valsir Seedorf Derbi / DERBI / 40'35.574 / 142.074 / 21.346
12 / Simone CORSI / ITA / Skilled Racing Team / APRILIA / 40'46.306 / 141.450 / 32.078
13 / Michael RANSEDER / AUT / Ajo Motorsport / DERBI / 40'53.770 / 141.020 / 39.542
14 / Alexis MASBOU / FRA / FFM Honda GP 125 / HONDA / 40'53.776 / 141.020 / 39.548
15 / Randy KRUMMENACHE / SWI / Red Bull KTM 125 / KTM / 40'53.934 / 141.011 / 39.706
Pole Position: Gabor TALMACSI 1'39.029 145.593 Km/h
Fastest Lap (New record): Hector FAUBEL 1'39.380 145.079 Km/h Lap 7
Circuit Record Lap: Hector FAUBEL 1'39.574 144.796 Km/h 2006
Circuit Best Lap: Gabor TALMACSI 1'39.029 145.593 Km/h 2007
Final World Championship Positions:
1 TALMACSI 282, 2 FAUBEL 277, 3 KOYAMA 193, 4 PESEK 182, 5 PASINI 174,
6 CORSI 168, 7 GADEA 160, 8 OLIVE 131, 9 ESPARGARO 110, 10 SMITH 101,
11 RABAT 74, 12 RANSEDER 73, 13 KRUMMENACHER 69, 14 CORTESE 66,
15 NIETO 57
Final Constructors standings
1 APRILIA 410, 2 DERBI 199, 3 KTM 196, 4 HONDA 146.
---
The Ultimate Naked Riding Experience
Ducati Hypermotard R We build the sport's most fun bike

No other motorcycle (other than argueably the Ducati Desmosedici RR MotoGP street bike) has been waited on for so long, with so much anticipation, than the newly released 2008 model Ducati 1080 Hypermotard. Ducati has a way of teasing us years in advance by giving us a preview of their latest prototype concept at bike shows and in the media, and then making us wait 3 years as they guage opinion, decide, design and tool up for production.

The Complete Story with sexy Tiffany Toth Screensavers in New Bikes HERE.
---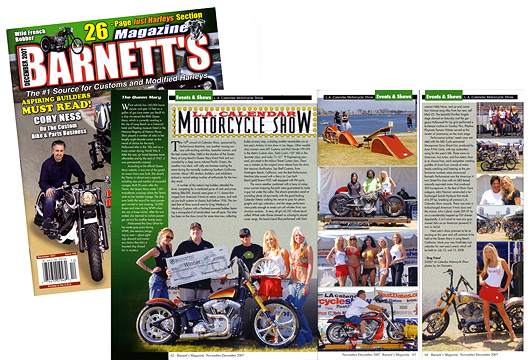 Barnett's Magazne digs our LA Calendar Motorcycle Show Weekend!
Click the magazine above to go Big. Click HERE to read and see even more.
---
There's more! Go to Pit Lane News NEXT PAGE

Hot Calendar Girl and Bike News! Go to: Fast Dates • Calendar Girls • Iron & Lace

Calendar Kittens, The Paddock Garage, Screensavers, Iron & Lace Garage



Many of our Calendar Kittens can also be seen at Playboy's website...


BikerKiss.com - the largest biker personals site!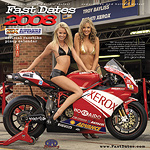 Now Available!
16-month Calendar starts Sept
2008 Fast Dates &
Garage Girls Calendars
Sands vs. Rooke
Calendar Bike Build Off
See the world's two hottest custom sportbikes featured in the 2008 Fast Dates and Iron & Lace Calendars being built and raced by Roland Sands and Jesse Rooke for Discovery Channel's Biker Build Off

---
More 2008 Calendars in the Calendar Store

Click to Vist our Calendar Store
Calendar Kitten Joanna Krupa has her own 2008 Calendar

MotoGP Tire Controversey
With Rossi's Demand he gets Bridgestones for 2008
or He Will Quit Racing
agreed to by Yamaha...

MotoGP Shelves One Tire Brand Proposal
Oct 28th - If you remember earlier this year it was principally Valention Rossi's loud complaints about the uncompetitiveness of the Michelin tires used by Yamaha (and Honda), compared to the Bridgestones used by Ducati, that prompted MotoGP to propose changing to a one tire brand spec class beginng in 2008. The change to a one tire brand in SBK World Superbike 3 years ago has proven to be hugely successful and any bike and rider can win on any race day. But not so currently in MotoGP where the tire brand is ofte n the deciding factor.
An announcement was susposed to have been made by Dorna about changing to a one spec tire brand this past weekend at the Sepang MotoGP, but it was postponed until this week as the major players in the tire controversey made their moves. That major player being Valentino Rossi.
The biggest hurdle to enact a 1-tire brans rule in MotoGP is that neither tire supplier, Bridgestone or Michelin, were wanting to, or capable of supplying tires to the entire grid.
What seems to have transpired is that MotoGP's star rider Valentino Rossi was able to negotiate his own separate deal to swith to Bridgestone tires for 2008, and he gave Yamaha the ultimatium that if the team did not allow him to run Bridgestones, he would quit racing. Yamaha of Japan did agree to his demand, so for 2008 Rossi will be the only rider on the Yamaha factory and support teams who will be using Bridgestones.
And this week with MotoGP's numer one rider happy again, producer Dorna no longer has to eliminate one of the Championships more important suppliers and sponsors. This was the press rlease which Dorna issued today:
"The Grand Prix Commission, composed of Messrs. Carmelo Ezpeleta (Dorna, Chairman), Claude Danis (FIM), Hervé Poncharal (IRTA) and Takanao Tsubouchi (MSMA), with the presence of Mr Paul Butler (Secretary of the meeting), took note from Mr Ezpeleta of the withdrawal of Dorna's proposal to introduce a single tyre manufacturer rule for 2008.
Changes to the current MotoGP tyre regulations (number and use of tyres) will be discussed at an extraordinary meeting of the Grand Prix Commission to be held in Valencia on Nov 3."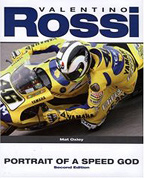 ---
The Top Fuel Dragster -
and you thought MotoGP bikes were really fast?
One top fuel dragster with its 500 cubic inch V-8 Hemi engine makes more horsepower
than the first 4 rows of stock cars at the Daytona 500, or the entire starting grid of a 20-bike MotoGP or 30-bike World Superbike race.
Under full throttle, a dragster engine consumes 1-1/2 gallons of nitro methane per second; a fully loaded 747 consumes jet fuel at the same rate with 25% less energy being produced.
A stock Dodge Hemi V8 engine with 450hp cannot produce enough power to drive the dragster's supercharger under compression.
With 3,000 CFM of air being rammed in by the supercharger on overdrive, the fuel mixture is compressed into a near-solid form before ignition.
Cylinders run on the verge of hydraulic lock at full throttle.
At the stoichiometric (stoichiometry: methodology and technology by which quantities of reactants and products in chemical reactions are
determined) 1.7:1 air/fuel mixture of nitro methane, the flame front
temperature measures 7,050 deg F.
Nitro methane burns yellow. The spectacular white flame seen above the stacks at night is raw burning hydrogen, dissociated from atmospheric water vapor by the searing exhaust gases.
Dual magnetos supply 44 amps to each spark plug. This is essentially the output of an arc welder in each cylinder.
Spark plug electrodes are totally consumed during a pass. After halfway, the engine is dieseling from compression, plus the glow of exhaust valves at 1,400 deg F. The engine can only be shut down by cutting the fuel flow.
If spark momentarily fails early in the run, unburned nitro builds up in the affected cylinders and then explodes with sufficient force to blow cylinder heads off the block in pieces or split the block in half.
In order to exceed 300 mph in 4.5 seconds, dragsters must accelerate an average of over 4G's. In order to reach 200 mph (well before half-track), the launch acceleration approaches 8G's.
Dragsters reach over 300 miles per hour before you have completed reading this sentence.
Top fuel engines turn approximately 540 revolutions from start light to finish light!
Including the burnout, the engine must only survive 900 revolutions under load.
The redline is actually quite high at 9,500 rpm.
Assuming all the equipment is paid off, the crew worked for free, and for once NOTHING BLOWS UP, each run costs an estimate $1,000.00 per second.
The (NOT) current top fuel dragster elapsed time record is 4.441 seconds
for the quarter mile (10/05/03, Tony Schumacher). The top speed record is 333.00 mph (533 km/h) as measured over the last 66' of the run (09/28/03 Doug Kalitta).
You are driving the average $140,000 Lingenfelter "twin-turbo" 900hp powered Corvette Z06 or a 240hp MotoGP bike.... Over a mile up the road, a top fuel dragster is staged and
ready to launch down a quarter mile strip as you pass. You have the advantage of a flying start. You run the 'Vette or MotoGP bike hard up through the gears and blast across the starting line and pass the dragster at an honest 200 mph. The "tree" goes green for both of you at that moment. The dragster launches and starts after you.

You keep your foot down hard, but you hear an incredibly brutal whine that sears your eardrums and within 3 seconds, the dragster catches and
passes you. He beats you to the finish line, a quarter mile away from where you just passed him. Think about it; from a standing start, the dragster had spotted you 200 mph and not only caught you, but nearly blasted you off the road when he passed you within a mere 1,320 foot long race course.
That folks, is acceleration and top speed...
And you thought your superbike was fast. Next time we might have to compare a MotoGP bike to a Formular One car. They don't go much faster on top speed due to aerodynamic drag, but they'ld lap a MotoGP bike once every 3 laps on a road course pulling up to 6 G's in cornering and braking compared to the bike's 1.5 G's.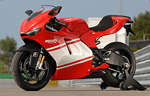 First Look!
Inside the new Ducati Desmosedici RR
Going into production next month for a lucky few!
Click the Photo for More
For compete details and photos of the new bike go to our
New Sportbike Index
Ducati Desmosedici RR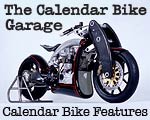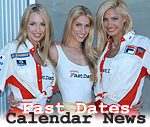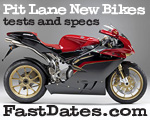 ---


NEW! FastDates.com
Cell Phone Wallpapers!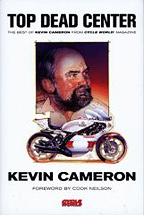 JORGE LORENZO 250cc WORLD CHAMPION
23/10/2007 - This season Aprilia also conquered the 125 and 250 Constructors' World Title
Speed World titles now adding to 30
Another World title for Aprilia this week end: with the 3rd position in the Australian GP, Jorge Lorenzo won the World Championship in the 250 class, repeating his success of 2006. This fantastic title represents the third world title for Aprilia this year, after the Constructors's victory in both the 125cc and 250 cc class already conquered during this extraordinary season.
In Valencia on 4th November Aprilia will win the fourth world title: in the 125 cc class – indeed – the battle for the victory is between Gabor Talmacsi and Hector Faubel, both riding an Aprilia.
By confirming his title as 250 World Champion, Jorge Lorenzo reaches a legendary success, accomplishing what only Max Biaggi and Dani Pedrosa could do recently.
Lorenzo's victories have always been ensured on Gruppo Piaggio' bikes. His debut was at the Spanish GP in 2002, with the Derbi team. On this occasion Jorge set a record as the youngest rider of all times to participate in a Motorcycling championship, as he had turned 15 (minimum age) the previous Saturday. On his Derbi 125 he conquered his first world title at the Brasilian GP in 2003. In the 2005 season he races in the 250 cc class. And it is at the Jerez circuit, at the beginning of the 2006 season, that he wins his first GP riding his Aprilia RSW. This success has then been followed by seven victories during the season, right until the conquest of the 2006 World Title. Now he confirms his title, despite the great value of his rival Andrea Dovizioso.
Aprilia's World Speed titles now add to 30(14 Constructors and 16 Riders) in the occasion of the twentieth anniversary of Aprilia first victory, conquered by Loris Reggiani at the San Marino GP in 1987.
The three World titles won in 2007 consolidate Aprilia´s leadership as the brand conquering more titles among the Motorcycling constructors. Such success also shows that Aprilia dominates the "two stroke" classes that in 2006 obtained the Riders´ and the Constructors´ titles both in the 125cc and in the 250cc.
Japan's top rider Atsushi Watanabe moves to BSB with Suzuki
Nov 1st - Reigning Japanese Superbike Champion Atsushi Watanabe will race in the British Superbike Championship in 2008 aboard a Suzuki GSX-R1000 prepared by Crescent.
The 31-year-old from Hamamatsu won the 2007 Japanese Superbike Championship riding a Yoshimura Suzuki, adding to the title he won in 2002. He is acknowledged as one of the best riders in Japan and will be placed in BSB by Suzuki with a clear aim of winning the Championship.
Atsushi understands virtually no English but is learning fast. He said: "I know BSB is ultra competitive Championship that requires high potential for riders and I have been keen on challenging there for long time to improve my riding skill.
"I am also exciting to ride in UK circuit of which course lay-out should be completely different from those in Japan circuits. I believe this should be a great honour for my racing career. Those have motivated me much to do so."
Black-eyed sushi fan Watanabe is already setting his sights high. "Of course, if you were a rider, just one goal is to be a champion in BSB," he said. "For future, I hope to have a chance to ride at World Superbike or MotoGP."
Atsushi has been speaking to former Suzuki BSB racer and fans favourite WSB star Yukio Kagayama who has been enthusing him with what to expect – including the unique circuits and in specific Cadwell Park. Excited at the prospect, Atsushi claims Britain holds a special place in his heart: "I am so happy to get a chance to ride in UK where Barry Sheene, the legend and my hero, were from."
Rizla Suzuki Team Manager Jack Valentine said: "Atsushi Watanabe is one of the best kept secrets in Japan. Since 2002 he has won two and finished runner up twice in the Japanese Superbike Championship, marking him as one of the best.
"He is also a real-life Suzuki Factory rider, with all the benefits in communication with the Japanese racing arm that will bring. The placement of Atsushi in BSB shows just how important the Championship is to Suzuki and its intentions that it wants to reclaim the title it won in 2004.
"Already Atsushi is developing his character and I think the British public will take to him very easily. He is very respectful, honourable and professional…but at the same time he can't wait to sample the English way of life and start to enjoy himself here, Yuki has told him a lot of good things about our way of life. It's going to be fun helping him to learn the language and I am sure he will teach us some choice phrases in Japanese as well."
Atsushi is keen to meet the British race fans and will be attending the International Motorcycle Show at the NEC when it starts on 22nd November, before returning to Japan on 26th November. He will be testing the current Rizla Suzuki GSX-R1000 in November – full details will be reported on www.rizla-suzuki.co.uk.