Above, our newest Calendar Kitten, Payboy model Tiffany Toth is featured in our 2008 Bike Show ad campaign, and in all 3 of the new 2009 FastDates.com Calendars which will make their world premier at this year's Show.

Make Plans Now to Join Us!
Performance Machine presents America's Premier Custom & Performance Motorcycle Show
17th Annual 2008 LA Calendar Motorcycle Show Weekend
and 2-Day Calendar Girl Music Festival
July 12-13th 2008, Queen Mary Event Park, Long Beach
The 17th annual Los Angeles Calendar Motorcycle Show Weekend presented by Performance Machine, America's premier custom, cruiser, performance and sportbike weekend returns to the Queen Mary Event Park in Long Beach on July 12-13th, 2008.
Join 20,000 streetbike motorcycle and music enthusiasts for the world's most exciting 2-day motorcycle event weekend in the beautiful Queen Mary Event Park on the grass alongside the Pacific Ocean in Long Beach! This is the world's premier motorcycle show weekend featuring over 250 major motorcycle and parts manufacturers, selected product and apparel venders.
The weekend features many of the world's top Pro and Amateur street bike builders will be in attendance to compete in the Performance Machine Calendar Show Bike Building Championship with a bulging purse of $86,000 in cash and awards including $4,000 cash for the coveted Performance Machine Best of Show Trophy, and a $5,000 Performance Machine product award also up for grabs,. There are 11 Calendar Bike Building Championship Classes including the premier Radical Pro Builder Class sponsored by Iron Works magazine as well as 10 other classes for American V-Twin Custom and Street Bikes, Vintage Bikes, as well as Metric Sportbikes and Cruisers
Spectators can meet top celebrity custom bike builders including last year's best of Show winner Greg Westbury, along with Roland Sands, Russell Mitchell, Shinya Kimura, Joe Takai, Ron Simms, Paul Yaffe, Todd Silicato and dozens more. And attend free Calendar Bike Builder Seminars with the top Calendar builders to learn what it really takes to build some of the world's most inovative and beautiful custom bikes as featured in the Iron & Lace and Fast Dates Calendars.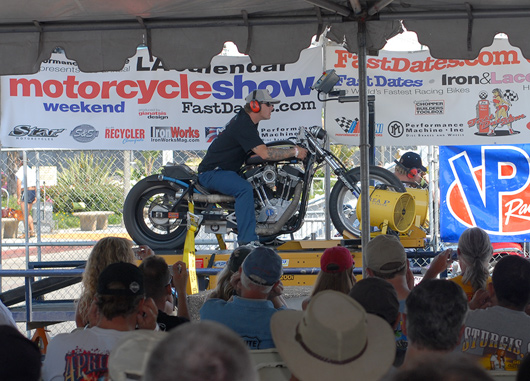 Join in the excitement of the Calendar Show's exclusive S&S Cycle World Championship Horsepower Dyno Shoot Out hosted by Kerry Bryant of Area P Exhaust Systems. World Record runs are open up to anyone, including the change to see just how strong your streetbike really is. Classes & Awards for all stock and modified American V-Twin and Metric Sportbikes.
Included with admission both days is the exciting 2-Day Calendar Girl Music Festival with beautiful national recording star girl bands and singers including Lillix, Marion Raven, Taxi Doll, Kari Kimmel and AC/DC Tribute rock band Whole Lotta Rozies, plus the sexy Purrfect Angelz dance shows. The weekend is hosted by Playboy model Tiffany Toth and other FastDates.com Calendar Kittens with the annual world premier of the new 2009 FastDates.com Motorcycle Pin Up Calendars.

Spectators also get complimentary weekend admission aboard the historic Queen Mary Ghost Ship, and entry to the Saturday Night Iron & Lace Calendar Builders party with a live band in the ship's Observation Bar

Also available is the Calendar Motorcycle Show Swap Meet for Used Bikes and Parts which will take place in a separate location adjacent to the Bike Show Enclosure. And on Saturday only is the Bike Seller's Showcase to display your high-end custom or sportbike inside the Show for sale or promotion. You'll find special attractions for the entire family to make it an incredible experience you'll remember always.
Title and Associate Sponsorship support for the premier streetbike event weekend in America is provided by Performance Machine, Thunder Press, ReCycler.com, Iron Works magazine, S&S Cycle, NOs Energy Drink, CycleTrader.com, Connection magazine, Speed TV's American Thunder, Mikuni Carburetors, Meguiar's Car Care Products, and the FastDates.com Calendars.
For additional LA Calendar Motorcycle Show & Calendar Girl Music Festival Weekend details including the show schedules, hotels and parking information visit www.FastDates.com/BIKESHOW.HTM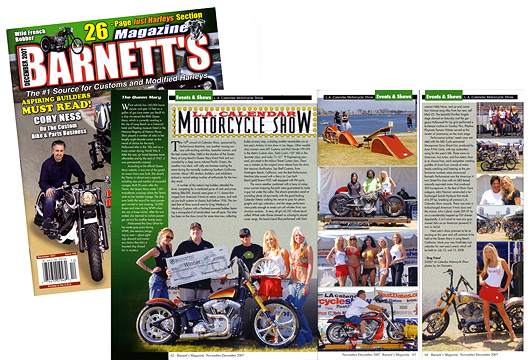 ---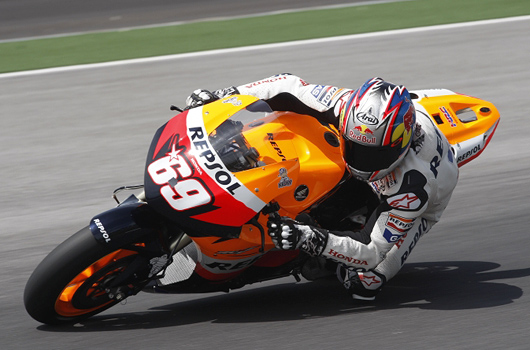 Nicky Hayden proved quickest on the new Honda RC212V-08

Season Opening MotoGP Tests at Sepang Finish with Hayden On Top
Sepang, Malaysia, Thursday January 24th - Three days of testing at the Malaysian circuit of Sepang, the opening test of 2008, concluded today with Nicky Hayden experiencing a positive finish to his riding return. The 2006 MotoGP World Champion clocked the fastest time of the week, a 2'00.326 lap over three tenths of a second quicker than any other rider, to lower his previous best by nearly two seconds. As is customary for the final day of testing, the American undertook both a race simulation and small run-outs on Michelin qualifiers, putting a fearsome 77 laps on the board.
Hayden's successor as MotoGP World Champion, Casey Stoner also showed some speedy form onboard the Desmosedici GP8. The Australian was already packed and ready to leave as the riders took a break for lunch, having established a matutinal working schedule that included just 27 laps (the fewest of any rider). Stoner's comparative lack of track time on day three means that he is still to perform a race simulation in 2008, owing to a combination of minor technical issues with his new bike and his not being at peak fitness after a winter break spent recovering from a shoulder injury.
Jorge Lorenzo was once again impressive in Malaysia, a track at which he won his second 250cc World Championship last season. The 20 year-old yesterday had the opportunity to try the Fiat Yamaha team's new pneumatic valve engine, and today had both his longest run at Sepang in addition to breaching the 2'01 barrier for the first time. He also had the honour of being the highest placing rider for the Japanese factory, with Tech 3 satellite team member Colin Edwards fourth fastest. Lorenzo suffered a crash during his race simulation, to put a dampener on an otherwise perfect day for the Spaniard.
Kawasaki's John Hopkins cut nearly a second off his previous best with the ZX-RR, at what has been a progressive test for 'Team Green'. The Anglo-American and team-mate Anthony West, who suffered a minor crash early on in the day, have been joined by test riders Olivier Jacque and Tamaki Serizawa in south east Asia as Kawasaki look to develop a series of upgrades to what will not be a completely new 2008 bike.
Serizawa played the principal role in the biggest swerve of the year so far, with a high-pitched engine noise on his opening laps revealing that Kawasaki have been secretly developing a 'screamer' motor with an even firing order. There are no immediate plans to pass said engine on to the full-time riders.
Valentino Rossi was sixth fastest behind Hopkins, undertaking more work with Bridgestone following his switch to the tyre manufacturer at the end of last season, whilst MotoGP rookies Andrea Dovizioso and James Toseland both showed steady progression in the their adaptation to 800cc riding.
Suzuki lined up both Nobuatsu Aoki and Kousuke Akiyoshi in their first testing appearance of 2008, working at times with the GSV-R machines of regular riders Chris Vermeulen and Loris Capirossi. The fastest rider of the opening two days, Randy de Puniet, finished just outside the top ten on the timesheets and experienced another small crash before the final day in Sepang drew to a close.
Whilst his Repsol Honda team-mate Hayden could be happy with the conclusion of the test, 2007 World Championship runner-up Dani Pedrosa has experienced a less positive turn in fortunes. The Spaniard crashed in the final hour of the first day of 2008 testing, and was immediately flown to Barcelona for assessment and operation on a fractured second metacarpal in his right hand. The procedure was deemed a success but, as he explained in a hastily-assembled press conference today, Pedrosa will be playing a waiting game to see if he can return to testing before the start of the season.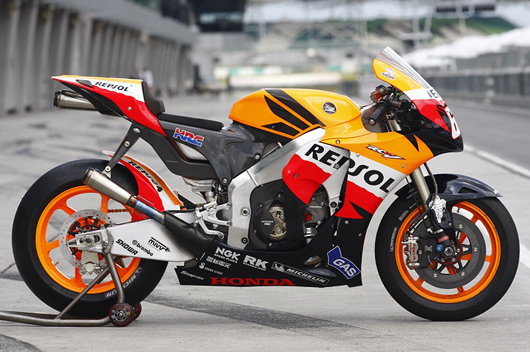 Hayden's new retro Honda RC212V-08: note the return of the classic Honda logo badge from the 1960s on the gas tank.

Nicky Hayden - "The long run was decent, probably the best thing I've done all week. I was using the old engine with the new chassis. I did the best lap I've ever done round here on race tyres on lap 18. At the end of three long days that wasn't too bad. I used a 16.5 on that run but I've also been trying some 16 rears here. The first time I tried the 16 last year I liked it. I'm the one who really pushed Michelin to keep going and stay with it and I'm pretty happy they did. Now we go to Phillip Island which is quite a different track with some long corners, some high-speed stuff and a lot of changes of direction. The big thing there is tyres so it'll be really important to do some more work with Michelin there."
Casey Stoner - "We couldn't have started the year better! My shoulder feels better every day and now I know I can get back to full training. This morning we tried some qualifying tyres on only our second run out. We set a good lap time although I think if we'd have tried them a little later, when the track was warmer, we could have broken the two-minute mark. In fact, at the end of the morning we set a 2'00.964 on race tyres, which is over a second inside the lap record we set in September. It shows that we are working well and that both the bike and tyres are improving. I'm leaving Sepang feeling really happy - partly because my shoulder hasn't given me too many problems and partly because I feel even more competitive than last season. Now we have to focus on this season and on getting the best possible start, so I can't wait to continue testing at Phillip Island.
Dani Pedrosa - "I am very eager to recover and I have the hope of being physically fit very soon. The state of the injury will decide when I return to riding, and we will assess from day to day whether I will be able to take part in any tests. Compared with my previous ankle injuries, this is not so serious, although in that instance I had more time to recover."
MotoGP Sepang Test Times Day Three



1. HAYDEN, REPSOL HRC - 02'00.326 / 77 laps
2. STONER, DUCATI MARLBORO - 02'00.660 / 27
3. LORENZO, FIAT YAMAHA - 02'00.766 / 63
4. EDWARDS, YAMAHA TECH3 - 02'01.179 / 34
5. HOPKINS, KAWASAKI RACING - 02'01.198 / 42
6. ROSSI, FIAT YAMAHA - 02'01.425 / 48
7. DOVIZIOSO, JiR TEAM SCOT - 02'01.447 / 51
8. TOSELAND, YAMAHA TECH3 - 02'01.745 / 45
9. VERMEULEN, RIZLA SUZUKI* - 02'01.748 / 70
10. CAPIROSSI, RIZLA SUZUKI* - 02'01.778 / 62
11. DE PUNIET, LCR HONDA - 02'01.873 / 56

12. NAKANO, HONDA GRESINI - 02'02.032 / 38
13. DE ANGELIS, HONDA GRESINI - 02'02.198 / 37
14. MELANDRI, DUCATI MARLBORO - 02'02.725 / 58
15. WEST, KAWASAKI RACING - 02'02.978 / 39
16. ELIAS, ALICE TEAM - 02'02.995 / 67
17. JACQUE, KAWASAKI RACING - 02'03.030 / 40
18. GUINTOLI, ALICE TEAM - 02'03.628 / 39
19. CANEPA, DUCATI TEST - 02'03.703 / 49
20. SERIZAWA, KAWASAKI RACING - 02'04.354 / 27
21. AOKI, RIZLA SUZUKI*
22. AKIYOSHI, RIZLA SUZUKI*
*Aoki and Akiyoshi's times recorded using bikes pertaining to Chris Vermeulen and Loris Capirossi.
---
Click for - Ducati Desmosedici GP08 Screensaver
DUCATI DESMOSEDICI GP8
TECHNICAL SPECIFICATIONS

Engine: liquid-cooled, 90 degree V4 four-stroke, desmodromic DOHC, four valves per cylinder.
Capacity: 799cc
Maximum Power: more than 200hp
Maximum speed: in excess of 310 kph/192 mph
Transmission: Six-speed cassette-type gearbox, with alternative gear ratios available. Dry multiplate slipper clutch. Chain final drive.
Fuel Management: Indirect Magneti Marelli electronic injection, four throttle bodies with injectors above butterfly valves.
Throttles operated by EVO TCF (Throttle Control & Feedback) system.




Fuel: Shell Racing V-Power
Lubricant: Shell Advance Ultra 4
Ignition: Magneti Marelli
Exhaust: Termignoni
Frame: Tubular steel trellis-style chassis, pressed aluminium swing-arm.
Suspension: Ohlins upside-down 42mm front forks and Ohlins rear shock absorber, adjustable for preload, compression and rebound damping.
Tyres: Bridgestone 16.5" front and rear
Brakes: Brembo, two 320mm carbon front discs with four-piston callipers. Single stainless steel rear disc with two-piston callipers.
Dry weight: 148kg / 326lbs
Claudio Domenicali Reveals the Desmosedici GP8
January 2008 - Casey Stoner and Marco Melandri unveiled the Desmosedici GP8 in its new livery and Claudio Domenicali, Ducati Corse CEO and Ducati Motor Holding Product Director, revealed the technical details of the new bike. In addition to explaining the 2008 technical innovations, Domenicali also briefly analysed the 2007 Ducati championship and commented on the most interesting aspects of the new championship.
"It is very exciting to be here," began Domenicali. "This event has become traditional over the years, but I must say that it feels different this year. The very special feeling created in 2007 between our rider and our bike and tyres resulted in a fantastic season for all of us. I could sum it up by saying that Casey was able to perfectly interpret our GP7, which had been impeccably built and maintained high levels of competitiveness and excellent reliability throughout the season. The Bridgestone tyres also took a step forwards in terms of performance consistency, thanks to our successful joint efforts which had begun in 2005 and allowed us to basically close the gap with Michelin."
"Our 2008 bike is an evolution of the 2007 model, how could we have done otherwise? There was so very little wrong with that bike," continued Domenicali before analysing the new bike's technical characteristics. "We worked on all areas. In terms of chassis set-up, the new frame is lighter with optimised torsional and flexural rigidity to solve the rather minimal "chattering" that we experienced on a few occasions last year. The rear suspension geometry is also different to reduce the 'pumping' effect observed in certain tracks and in special conditions. As for the engine, we worked on two areas. First of all, performance. We introduced a number of modifications to minimise friction and obtain a small power increase without affecting fuel consumption. Secondly, we worked on rideability, in other words, engine response proportional to the rider's torque requirements. We tackled this aspect to obtain a 'fuller' engine response especially mid-range and maintain peak power for longer.
Finally, with regards to electronics, we modified a few sensors and actuator details to increase reliability and consequently, safety. One of the main reasons of our presence in racing is to develop technology to be transferred to production bikes, improving safety and making them even more fun to ride. Electronics play an important role in all this. An example of this is our new 1098 R, which is equipped with exactly the same traction control system used in Ducati racing bikes, making it the first bike in the world to feature a system able to combine safety with high performance."
Fast Dates Calendar Kitten Carrie Ann helped get the new Desmosedici GP08 cleaned up for its media presentation and cover shoot for the 2009 Fast Dates Calendar available in July.

Domenicali concluded his presentation by talking about the essentially important support granted by Ducati sponsors in a highly competitive and challenging environment like MotoGP. "We would like to thank Phillip Morris who made it possible to reach these goals. Without them, all this would have been very hard to achieve. Our contract with them runs until 2011 which gives us the peace of mind needed to continue our work," said Domenicali. "Just today, we've renewed our contract with Shell, a technological partner extremely important to us, given the decisive role played by fuel consumption in our championship regulations."
Domenicali also thanked other Ducati partners, among whom Alice, a long-standing sponsor, San Disk, the contract with whom has been renewed until 2009, and Riello UPS. Finally, he mentioned the newly acquired, important partner Enel, now in a two-year agreement with Ducati.
---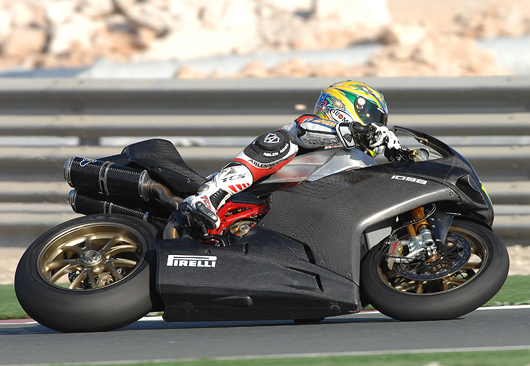 Troy Bayliss turned quickest time the last day in World Superbike testing at Losail in November, and now again in January at Phillip Island on the new Ducati 1098F08.
PIRELLI SBK WORLD SUPERBIKE DEVELOPMENT WINTER TESTS
Bayliss Quickest at Phillip Island Testing on new 1098F08
until Crash on Day 3 Breaks His Colarbone
Phillip Island (Australia), Thursday 10th January: Troy Bayliss (Ducati Xerox) fractured his collarbone this afternoon after high-siding while attempting to pass French rider Regis Laconi. Bayliss was taken to hospital in Melbourne for further assessment. New signing Michel Fabrizio continued to show great progress, concluding the final session with the third fastest time of 1m32.3s, just one tenth off the pace of his team-mate.

Troy Bayliss 1m32.2s - "Basically I went to pass Regis Laconi around Lukey Heights but when I realised I couldn't make it, I had to brake hard and high-sided coming in to the MG hairpin. I have fractured the collarbone close to the sternum and have also chipped the end of the sternum. I am not in too much pain and for now it doesn't seem as bad as the last break I had to my collarbone. I plan to come straight back to Italy to get further tests and the treatment that I need in order to be back on the bike as soon as possible. Up until my fall we were making great progress, testing a lot of tyres with Pirelli. We made a long-run and I was feeling good about how everything was going. This isn't an ideal outcome of course but I'm happy with the progress we made this week and now just have to concentrate on getting better as quickly as possible."
2008 Roadracing Rider and Team Line Ups, Race Schedules
Here's a look at the rider seat changes and confirmed lineup of teams and riders in World SBK and AMA Superbike and MotoGP for 2008. We will be add more teams and riders weekly as they confirm.
In the left sidebar are all the 2008 season MotoGP, SBK, BSB and AMA race dates and venues.
2007 Roadracing Teams
2007 World Superbike
Ducati Corse: Troy Bayliss, Lorenzo Lanzi
Ducati Sterilgarda: Ruben Xaus


Honda Ten Kate: James Toseland, Roberto Rolfo
Honda D.F.X. Corse: Luca Morelli, Michel Fabrizio



Yamaha Italy: Noriyuki Haga, Troy Corser
Suzuki Alstare: Yukio Kagayama, Bax Biaggi
Kawasaki PSG-1: Regis Laconi, Fonsi Nieto
Suzuki Germany: Max Neukirchner






2007 World MotoGP
Ducati Corse: Loris Capirossi, Casey Stoner
Ducati d'Antin: Alex Barros, Aex Hoffman
Yamaha Japan: Valentino Rossi, Colin Edwards
Yamaha Tech 3: Sylvain Guintoli
Suzuki Japan: Chris Vermeulen, John Hopkins

Kawasaki Japan: Randy de Puniet, Anthony West
Honda Japan: Nicky Hayden, Dani Padrosa
Honda Minolta: Shinya Nakano
Honda Gresini: Tony Elias
Honda LCR: Carlos Checa
Honda Roberts: Kurtis Roberts

2007 AMA Superbike
Suzuki Yoshimura: Matt Mladin, Ben Spies
Suzuki Jordan: Aaron Yates, Jake Holden
Honda American: Miguel DuHammel, Jake Zemke
Yamaha USA: Eric Bostrom, Jason DiSalvo
Kawasaki USA: Roger Lee Hayden, Jamie Hacking
MV Agusta Ferracci: Matt Lynn, Lucca

2007 BSB British Superbike
Honda HM Plant: Ryuichi Kiyonari - reigning champ



2008 Roadracing Teams
2008 World Superbike
Ducati Corse: Troy Bayliss, Michel Fabrizio
Ducati Sterilgarda: Ruben Xaus, Max Biaggi
Ducati Guandalini: Jakub Smrz
Ducati RG: Lorenzo Lanzi
Honda Ten Kate: Kent Sofulguo, Carlos Checa, Ryuichi Kiyonari - reigning 2-time BSB Champion
Honda D.F.X. Corse: Karl Muggeridge, Russell Holland
Honda Paul Bird: Gregorio Lavilla - BSB Champion
Honda Hannspree Althea: Roberto Rolfo
Yamaha Italy: Noriyuki Haga, Troy Corser
Yamaha GMT94 Europe: David Checa, Sebastian Gimbert
Yamaha Grillni: Loic Napoleone
Suzuki Alstare: Fonsi Nieto, Yukio Kagayama,
Max Neukirchner
Kawasaki PSG-1: Regis Laconi, Makoto Tamada
Kawasaki Pedercini: Vittorio Ianuzzo, Ayrton Badovini
Suzuki Germany: Andreas Meklau

2008 World MotoGP
Ducati Corse: Casey Stoner, Marco Melandri
Ducati d'Antin: Tony Elias, Sylvain Guintoli
Ducati other : Guareschi, Canepa, Itoh
Yamaha Japan: Valentino Rossi, Jorge Lorenzo
Yamaha Tech 3: James Toseland, Colin Edwards
Suzuki Japan: Chris Vermeulen, Loris Capirossi,
and non'conflicting AMA races with Ben Spies
Kawasaki Japan: John Hopkins, Anthony West
Honda Japan: Nicky Hayden, Dani Padrosa
Honda Minolta:
Honda Gresini: Shinya Nakano, Alex de Angelis
Honda LCR: Randy de Puniet
JiR Scot Honda: Andrea Dovizioso

2008 AMA Superbike
Suzuki Yoshimura: Matt Mladin, Ben Spies
Suzuki Jordan: Aaron Yates, Geof May
Honda American: Miguel DuHammel, Neil Hodgson
Yamaha USA: Eric Bostrom, Jason DiSalvo
Kawasaki USA: Roger Lee Hayden, Jamie Hacking

2008 BSB British Superbike
Honda HM Plant: Leon Haslam, Cal Crutchlow
Suzuki Rizla: Tom Sykes, Atsushi Watanabe - reigning Japanese Superbike Champion
Ducati Airwaves: Shane 'Shakey' Byrne, Leon Camier
Yamaha GB : Rob McElnea
Yamaha AIM: Steve Plater
Kawasaki MMS :
Rizla Suzuki MotoGP's Australian star Chris Vermeulen will start the 2008 season by running the number 7 on the front his Suzuki GSV-R, the same number used by his mentor and fellow Aussie noe deceased, World Champion Barry Sheen
Alan Cathcart Rides the Rizla Suzuki GSV-R MotoGP Bike
Rizla Suzuki MotoGP invited a select band of respected journalists to ride its GSV-R800 straight after the last race of the 2007 season at Valencia in Spain. Alan Cathcart was one of those lucky enough to get the chance to ride one of both Vermeulen's and Hopkins's bikes around the 4.005km Spanish circuit. Cathcart is one of the most experienced and esteemed worldwide journalist and his views and reports on all types of motorcycles can be read in over 25 publications around the globe. Here is Alan's report on the Rizla Suzuki GSV-R:
Suzuki had its most successful MotoGP season yet in 2007, when the new XRG-0 variant of its pneumatic-valve 75-degree V4-engined GSV-R became an established front-runner in the 800cc formula's debut year, by combining performance with reliability in making Suzuki the only manufacturer not to suffer a single mechanical breakdown in a race all season. At Le Mans in May, Chris Vermeulen scored the Japanese marque's first victory in six years of four-stroke Grand Prix racing, and like teammate John Hopkins became a four-time visitor to the MotoGP rostrum in 2007, when the Suzuki duo wound up sixth and fourth respectively in the final points table, and the Rizla Suzuki GP squad failed by just one point to tie with HRC-backed factory Repsol Honda as runners-up in the Teams championship. This was the year that Suzuki finally became contenders for victory once again in GP racing's top category, for the first time since Kenny Roberts Jnr. won the 500GP title for them back in 2000.
The chance to ride both riders' Bridgestone-shod Suzukis at Valencia the day after the final GP of the season, underlined the big step forward that Suzuki had taken with the new GSV-R800 - a bike that was competitive straight out of the box, first in winter testing and then when Hopkins finished fourth in the first-ever 800cc MotoGP race at Qatar in March. Climbing aboard the Suzuki later the same day after riding both its Honda and Kawasaki rivals immediately revealed the big difference in architecture between the three bikes, with the cramped, minuscule, nervous-seeming Honda contrasting with the wider, bulkier but lower Kawasaki and the taller, more upright but actually more normal-seeming bright blue V4 Suzuki, which by sport-bike standards didn't feel so very different to sit on from Max Biaggi's factory GSX-R1000 Superbike I'd been riding three months earlier.
That was especially the case with Chris Vermeulen's GSV-R800, because his and Max's bikes share another thing in common, and that's a street-pattern gear-change to contend with that's pretty idiosyncratic by racing standards. This is a feature that I normally don't care for on anything equipped with slick tyres - especially one as grippy as the front Bridgestone, which soon encourages you to max out turn speed and thus lean angle on a bike as stable handling, easy steering and downright confidence inspiring as the GSV-R800. I thought this one-down layout would be a hindrance on something this fast and powerful, because I'd have trouble getting my left toe under the lever while cranked hard over to the left in order to shift up - either that, or short-shift while still relatively upright, and lose valuable drive and momentum out of a turn.
But Chris also doesn't use the clutch at all, ever, after punching the launch control button on the Suzuki's left handlebar to blast off the line at the start of a race - so you must learn to just clamp your hand to that left clip-on, and hold on tight till journey's end. But once again the Suzuki's gear-change was the best of any of the five bikes I rode at Valencia, so light and easy-shifting, but also totally positive in the way that it worked faultlessly shifting in either direction without using the clutch, with no jerks or hiccups as on other bikes in previous years where I've been told to forget about working that left-hand lever once on the move. Even braking hard and shifting back three gears in swift succession for Valencia's third-gear Turn One by stamping downwards on the lever didn't faze the system, the Mitsubishi electronics ensuring the ratios went in smoothly and cleanly, while the Suzuki stayed stable and planted under reverse torque load, without snaking around on the overrun thanks to the control delivered by the Mitsubishi ECU's ICS variable idle speed system. And in the one place where the street pattern gearshift might have been a big problem, when you're cranked over to the left for a long time accelerating up and over the hill leading down to the last turn, I found the new 800cc Suzuki engine still hadn't sacrificed any of the GSV-R's traditional muscular midrange, so I could short-shift from second to fourth very quickly without losing any momentum or drive. I'm a believer.
So, at the first chicane in the Valencia infield, I just grasped the left handlebar firmly in my hand without worrying about having to loosen my grip a little to work the clutch as I back-shifted for the turn, which meant I could use maximum leverage to lift the Suzuki up and over from one side to another, while squeezing the brake lever hard on the exit to knock off speed for the right-hand hairpin immediately after. From being originally conceived to help two-stroke disbelievers come to terms with that strange four-stroke phenomenon called engine braking, thanks to enhanced electronics this has now become a completely liberating function which allows you just to focus on being in the right gear at the right time, and to choose an optimum line while trail-braking into the turn - with none of the distractions of having to work the clutch lever and synchronise shifting, all at the same time. Look, I was a sceptic, too, until I tried this amenity in the refined form it's now delivered, and while I can understand those like John Hopkins who'd still rather work the clutch lever to shift down, count me a convert. It makes riding such a torquey, responsive, rorty-sounding bike like the GSV-R800 that much easier - and while I can't pretend this is the only reason I went six seconds faster on the Vermeulen Suzuki at Valencia than I did on the Stoner Ducati which amassed exactly twice as many points as it did in the final championship table this season, it sure was a factor. OK - along with the fact I got 2½ times more laps on the Suzy, so got better dialled in to it, and in the middle of the day, too, not first thing in the morning on a cold, slippery track. But, still, my ten laps taught me that the Suzuki is a very fine motorcycle - with or without the no-clutch option.
That's because riding the GSV-R800 revealed a bike that feels incredibly similar to its 990cc predecessor that I rode at Valencia a year ago, both in chassis architecture by the way it appears to be the same physical size and, most surprisingly, in terms of engine performance, too. There's the same ultra-linear power delivery with a muscular pull from as low as 8000 rpm out of the slow first gear Turn 2, with the engine picking up revs very fast through to the moment the bright orange shifter lights on the 2D dash start flashing brightly at 16,800 rpm in the gears, albeit with quite a way to go till the rev-limiter cuts in at 18,000 rpm - slightly lower than I'd expected, with the 75-degree V4 engine's pneumatic valve operation. But that's because while spinning up so quickly the Suzuki has a strong yet fluid power delivery, as smooth as an electric motor but more linear in 800cc form than any of its rivals, even the Ducati which has a more layered just even stronger delivery of more power than anything else. The pickup of the ride-by-wire throttle was pretty fierce on Vermeulen's bike, so you must make sure you lift it up a little to get it on to the fat part of the tyre if you don't want to set the traction control system too stiff an exam, but the Hopkins bike felt more controlled in its throttle response, though just as muscular under acceleration from anywhere above 10,000 rpm upwards. Really, you can feel how Suzuki's engineering team have focused on the way that the power is delivered rather than outright numbers - even if the 'over 220 bhp at 17,500 rpm' they claim for the bike is actually the most of any of the five factories do for their 800GP contenders! Anyway, it's all relative - peak power is only really important in delivering top speed - the rest of the time what really matters is torque and delivery, and here the Suzuki excels, even though it was the slowest of the five factory bikes down the longest front straight of the season in the fourth race at Shanghai. Here, Hopkins was level-pegging with Rossi's Yamaha on 325 kph, 7 kph and 6 kph respectively behind Pedrosa's Honda and de Puniet's Kawasaki, and a massive 12 kph down on the flying Stoner's Ducati. Yet look at the end-of-season points table, and it's easy to see what really matters most….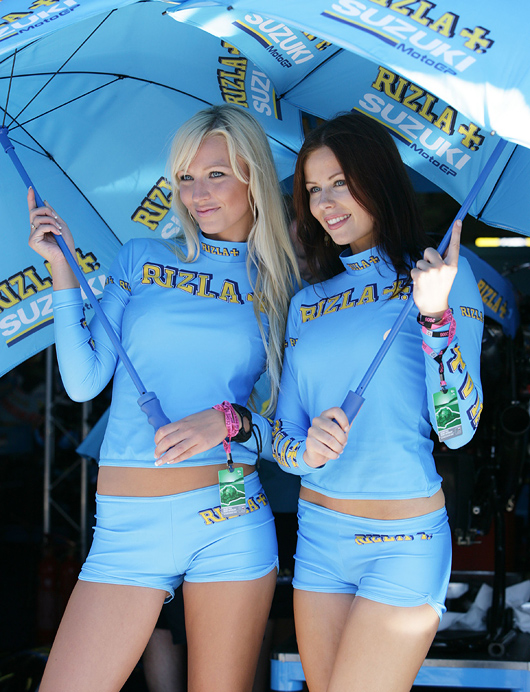 The Rizla Suzuki pit crew made sure Alan had everything he needed dor the test.

Both bikes still liked to wheelie quite a lot, but not as much as the old 990 did - you soon realise neither Suzuki has the /anti-wheelie control on the Mitsubishi ECU switched on. Still, on the Hopkins bike you can use his more spacious riding position to move your body back and forth in the seat to help counter this - Vermeulen's is a more close coupled stance, though nothing like as cramped as the frankly flawed Honda's. Both Suzukis felt stable and secure on the brakes, though, while acceptably planted in turns in the same way their 990 predecessor had been. Really, it's uncanny how similar the two bikes are to one another, and I can't help feeling that Suzuki treated the final season of 990cc MotoGP racing a year ago as a development exercise, even perhaps so far as to run their 800cc bike in the 990cc category, perhaps with the engine stroked a little to add a few extra cubes and maybe round it up to 890cc or 920cc or so. Remember how fast the GSV-R800 was immediately straight out of the box when it started testing at Valencia a year ago? I reckon that could well be what they did, and the way the Suzuki proved competitive from the very start was the payoff. Loris Capirossi looks likely to enjoy his 2008 season after all after his parting from Ducati, on a bike that assuredly has lots of potential - especially when they take full advantage of those pneumatic valves and start revving it even harder in pursuit of more power to go with the rideability that's self-evidently driven Suzuki's development of the new bike thus far.
For where the Suzuki once again scores as it did a year ago in 990cc guise is in turn speed, where a combination of the weight transfer delivered under braking by a bike that's quite a bit taller than the Ducati, but not as stilt-like as the Rossi Yamaha, plus Bridgestone's great front tyre, and the GSV-R's sweet-steering chassis package, all together encourage you to brake later and keep up momentum in Valencia's more sweeping turns. But just as a year ago on the 990, the black Brembo radial brakes on the GSV-R800 once again felt a little soft compared to the other two bikes I'd been riding that day fitted with the exact same hardware. "It's just the same as last year - we both have the brakes set up like that deliberately," confirmed Chris Vermeulen. "My style is to do a lot of trail braking into turns, and I don't like the brakes to be too fierce, because I like to brake while I'm already leaned over in turns quite a bit. If it's too snappy, then it's too easy to lose the front - so that's why I have it not so fierce." And in Hopkins's case, as a reformed Formula Extreme Megabike star, he likes to use more engine braking than other riders, so also doesn't need such all-action brakes in keeping the bike balanced in turns.
Balance. That's the keynote word for the GSV-R800 Suzuki - it's a balanced package which feels completely predictable in the way it responds to rider input, both in terms of handling and engine performance. OK, it's not the fastest bike out there in a straight line, but it's certainly one of the most manageable and effective, without the sense of excessive use of electronics - as well as, for me, the most enjoyable to ride, without at the same time being too lacking in performance. It's just that final nth% the bike needs to become a regular contender for top honours - and Rizla Suzuki team manager Paul Denning believes Suzuki's engineers are quite capable of bridging that final gap. "As the smallest of the major race departments, Suzuki needs to build momentum to compete with Honda and Yamaha, and beat them," he says. "Because of their resources, it tends to go in cycles, and Suzuki is very much on the upswing right now. The engineers have come up with a significant new technical ingredient for 2008 which they believe will make the difference between fourth place and first, in both races and championship - Nobby (Aoki) rode next year's bike at Sepang, and lapped faster on it than our two regular riders on the current machine, so it seems to be a definite step forward. We're very excited about what's coming next, and we believe this year's bike provides an exceptional basis to move forward from."
Based on my ten laps of Valencia on the team's two 2007 bikes, I'd have to agree with that. - Alan Carthcart
---
There's more! Go to Pit Lane News NEXT PAGE
Hot Calendar Girl and Bike News! Go to: Fast Dates • Calendar Girls • Iron & Lace
Calendar Kittens, The Paddock Garage, Screensavers, Iron & Lace Garage



Many of our Calendar Kittens can also be seen at Playboy's website...


BikerKiss.com - the largest biker personals site!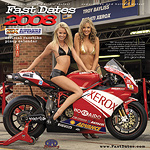 Now Available!
16-month Calendar starts Sept
2008 Fast Dates &
Garage Girls Calendars

More 2008 Calendars in the Calendar Store

Click to Vist our Calendar Store
Calendar Kitten Joanna Krupa has her own 2008 Calendar
Kawasaki Announces a Monster 2-year MotoGP Partnership
The Kawasaki Racing Team is excited to announce that it will be joining forces with the meanest energy drink on the planet, Monster Energy, for its assault on the 2008 and 2009 MotoGP World Championships.
One of the two leading energy drink brands in the United States, Monster Energy has an undoubted passion for racing, with involvement in many motorsport activities worldwide. The partnership with Kawasaki in MotoGP, the pinnacle of two-wheeled motorsport, is a natural progression for Monster Energy, as they look to expand into the European market following their successful collaboration with Kawasaki's factory road racing and motocross teams in America.
It's an exciting start to a new era for the Kawasaki Racing Team. The two-year partnership with Monster Energy marks the first time that a major consumer brand has appeared on the side of Kawasaki's Ninja ZX-RR MotoGP machines since the Japanese engineering powerhouse returned to the premier class six years ago, after an absence of more than two decades.
The Kawasaki Racing Team's new livery, complete with Monster Energy branding, will be unveiled for the first time during pre-season testing in Phillip Island, Australia on 29 January, when riders, John Hopkins and Anthony West, continue their build up to the 2008 MotoGP season.
Vermeulen in 7th Heaven
Beginning in 2008
1/05/08 -Rizla Suzuki MotoGP's Australian star Chris Vermeulen will run a new racing number on the front of his machine in 2008, using the number seven made famous by Suzuki's double World Champion Barry Sheene.
Vermeulen will have the iconic crossed seven on his Rizla Suzuki GSV-R from the start of the forthcoming season and will be hoping that the new number will spur him on to similar success as that enjoyed by his hero and mentor Sheene.
The 25-year-old Queenslander came to Europe to race in 2000, following the advice of Sheene, and he has always had an ambition to run the number seven on a Suzuki as a tribute to the 1976 and 1977 500cc World Champion, who lost his life to cancer in 2003. He has used 71 on his race machines in his first two seasons of MotoGP racing with Suzuki and when the chance came to change to seven – following Carlos Checa's departure from the Championship – Vermeulen jumped at the opportunity.
Vermeulen will race with his new number for the first time at Losail in Qatar on Sunday 9th March in the opening round of the 2008 MotoGP World Championship, when he will be joined by new team-mate Loris Capirossi who will still be using his familiar number 65 when he makes his debut onboard the Rizla Suzuki GSV-R.
Chris Vermeulen: "I am really pleased to have secured the number seven on my bike for 2008. Barry was a huge influence on my career and I always had it in my mind to one day race a Suzuki with the number that he made famous on it – I just hope that I now have the same success that he enjoyed!
"It was an honour for me to ride his bike at a demonstration event in England a couple of years ago and then to have the retro livery on my bike at Phillip Island last year that was also inspired by one of Sheene's bikes was just awesome, so for me to now compete with the number seven is like the icing on the cake!
"It has been over 30 years since Barry won his second world title and I will be doing all I can to make sure that I follow in his footsteps and make it my lucky number seven as well!"
New DVD!

New Play Station!

World Superbike 2008 PSP
DUCATI NORTH AMERICA ANNOUNCES 2008 RACING CONTINGENCY PROGRAM
Cupertino, CA (January 17th, 2008) - Hot on the heels of a remarkable season in which Casey Stoner earned the coveted MotoGP title, Ducati North America is pleased to announce the 2008 Racing Contingency Program.
The Racing Contingency program is focused on regional club racing series and is based around our most performance-oriented models: the revolutionary Superbike family, agile SportClassics, versatile Hypermotard and the all new Monster 696.
The race-proven 1098 Superbike and highly anticipated 848 Middleweight are the cornerstones of the 2008 program, with the 848 receiving additional support in select middleweight classes.
Following strong success in the 2007 season, the SportClassic family continues to establish itself as a competent and accessible alternative for regional racers. Built around similar L-Twin power plants, the Hypermotard and Monster 696 are also now eligible for 2008.
"Ducati sells motorcycles so that we can go racing. This spirit is embedded in everything we do, and we are excited to offer support for all the regional racers around the country who are competing week in and week out," said Alex Dunstan, Promotions Manager for Ducati North America. "With a record number of club racers competing nationwide, our program is designed to help off-set the costs of competition. It is our way of saying thank you to all who put in the effort."
All claim forms and relevant program information (including schedules and payouts) can be viewed and submitted online through Ducati North America's new contingency website, located at:
racingcontingency.ducatiusa.com
DUCATI NORTH AMERICA AND PEGRAM RACING ANNOUNCE 2008 RACING PLANS
Cupertino, CA (January 16th, 2008) - Ducati North America is proud to announce today that Pegram Racing will serve as the official Ducati supported racing team in the 2008 AMA Roadracing Championship. The team will campaign the new 848 Superbike in the Formula Xtreme Class, and will be led by veteran racer Larry Pegram.
The 2008 racing season will mark the second year of this relationship, and will see the team gain stronger support from Ducati North America. The initial season yielded successful results, and the team was able to finish a credible 4th place in the championship on the Ducati 749 R race bike.
"I am pleased that we were able to continue our program with Pegram Racing for 2008. Larry had a strong season last year, and was able to secure several podium finishes while making the absolute most of tight resources," said Nick McCabe, Business Development Manager for Ducati North America. "The 848 is a huge step forward in performance, weight and handling, and is already showing great potential in our early season testing and development."
Larry's 848 race bikes began life as showroom-stock motorcycles, delivered through Larry's local dealer in Columbus and will be built entirely at the team's race shop in Ohio. The Pegram Racing crew will be receiving intellectual support from Ducati Corse in Italy, and have hired engineer Alessandro LaBarba from Moto GP to join Dave Weaver, Perry Melnciuc and Jim Pegram.
The 2008 season will kick-off Saturday, March 8, 2008 with the 67th running of the Daytona 200.
For more information on Ducati and Pegram Racing, please visit www.ducatiusa.com, or www.pegramracing.com.
PATIENCE IS A VIRTUE FOR MOTORCYCLISTS AWAITING ARRIVAL OF BMW's F 800 GS
Woodcliff Lake, NJ - January 24, 2008... Motorcycle enthusiasts eagerly awaiting the arrival of BMW's new F 800 GS will need to be a bit more patient, as production of the middleweight dual-purpose enduro will be delayed due to worldwide demand for the popular F 650 GS. The F 800 GS is expected to be available at US BMW Motorrad retailers in Fall 2008, making it a 2009 model.
Hot New Books!

---
British Superbike Championship Signs
3-Year Control Tire Deal with Pirelli
Jan 2nd - Following the issue of an Invitation to Tender for the rights to exclusively supply the tyres to teams competing in the 2008, 2009 and 2010 MCRCB British Superbike and Supersport Championships, the Motorcycle Circuit Racing Control Board have carefully considered the bids received.
After deliberation the MCRCB have selected, subject to contract PIRELLI UK Tyres Limited.
Commenting on the announcement; Stuart Higgs, BSB Series Director said "This is a landmark moment for the British Championships. For the selected bidder it represents a great opportunity and responsibility, which I am confident that Pirelli can fulfil. This will be a great leveller for the championships and I relish the start of the on-track competition. In making the announcement of the selected bidder, I also acknowledge the obvious disappointment, the long standing contribution and the professionalism during this process of Dunlop, however the decision was confined strictly to determining the fulfilment of the requirements of the tender and the MCRCB's sporting objectives.".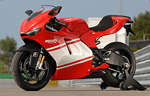 Ducati Desmosedici RRFor compete details and photos of the new bike go to our
New Sportbike Index
Ducati Desmosedici RR
---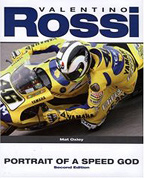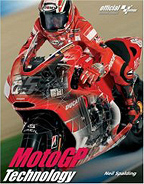 ---
New Pirelli Russo Tire
and Sexy Video
Milan, 8 Nov. - During the EICMA show Pirelli presented the brand new Pirelli DIABLO ROSSO.
This tyre sets the point representing a new tyre generation, thanks to the new approach Pirelli adopted to design this new product for the SUPERSPORT segment and thanks to the new EPT (Enhanced Patch Technology) Pirelli patent.
Diablo Rosso finds its full description in a new section of Pirelli tyre website thanks to a video which represents its world and 'personality' together with a page with the product features.
Soon each country will have its own DIABLO ROSSO area in its proper language, now you can see the preview in the corporate website with a very SEXY VIDEO.
Please check it out by CLICKING HERE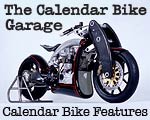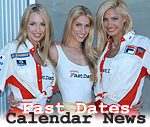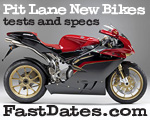 ---


NEW! FastDates.com
Cell Phone Wallpapers!
---
Sands vs. Rooke
Calendar Bike Build Off
See the world's two hottest custom sportbikes featured in the 2008 Fast Dates and Iron & Lace Calendars being built and raced by Roland Sands and Jesse Rooke for Discovery Channel's Biker Build Off
Roland Sands builds the
KR Tracker Calendar Show Bike
New Blood DVD
features Roland Sands building and riding the extraordinary Roland Sands Design / Kenny Roberts KR 990cc 5-cylinder MotoGP powered Retro Board Track Racer. The bike is also featured in the 2008 Fast Dates race bike and Iron & Lace custom bike Calendars with beautiful Playboy Playmate and Calendar Kitten Tamara Witmer in one of our best calendar shots ever and ,featured in the LA Calendar Motorcycle Show advertsing campaigns
and T-Shirt.
2008 California Superbike School Schedule
Keith Code's California Superbike School did there first track school at Riverside Raceway in 1980. Now, twenty-eight years, over 10 million track miles and 150,000 students later the school has operated in twelve countries and on five continents with well over 100 school days per year. The USA calendar will be run at 11 tracks this year (see schedule). The Superbike School's step by step,high performance rider training program was the first of its kind in the world. The school guarantees improvement and has been the starting point for scores of local, regional, national and international championship winning riders. Learn the skills and discover the art of cornering
2008 California Superbike School Schedule
February 2/3 Las Vegas Motor Speedway, NV 2-Day Camp
March 20/21 Las Vegas Motor Speedway, NV 2-Day Camp
March 27/28 Streets of Willow Springs, CA 2-Day Camp
March 29 Streets of Willow Springs, CA All Levels
March 30 Streets of Willow Springs, CA All Levels
March 31/April 1 Streets of Willow Springs, CA RACE Program
April 17/18 Las Vegas Motor Speedway, NV 2-Day Camp
April 24/25 Streets of Willow Springs, CA 2-Day Camp
April 26 Streets of Willow Springs, CA All Levels
April 27 Streets of Willow Springs, CA All Levels
April 29 Laguna Seca, CA All Levels
April 30 Laguna Seca, CA All Levels
May 12 Pocono Raceway,PA All Levels
May 13 Pocono Raceway, PA All Levels
May 14/15 Pocono Raceway, PA 2-Day Camp
May 16 Pocono Raceway, PA All Levels
May 19 Virginia Int'l Raceway, VA All Levels
May 20 Virginia Int'l Raceway, VA All Levels
May 21/22 Virginia Int'l Raceway, VA 2-Day Camp
May 29/30 Barber Motorsports Park, AL 2-Day Camp
May 31 Barber Motorsports Park, AL All Levels
June 1 Barber Motorsports Park, AL All Levels
June 5/6 Streets of Willow Springs, CA 2-Day Camp
June 7 Streets of Willow Springs, CA All Levels
June 8 Streets of Willow Springs, CA All Levels
July 1/2 Miller Motorsports Park, UT 2-Day Camp
July 28 Loudon (NHIS), NH All Levels
July 29/30 Loudon (NHIS), NH 2-Day Camp
August 4 Mid Ohio, OH All Levels
August 5 Mid Ohio, OH All Levels
August 6/7 Mid Ohio, OH 2-Day Camp
August 11 Thunderbolt Raceway, NJ All Levels
August 12 Thunderbolt Raceway, NJ All Levels
August 13/14 Thunderbolt Raceway, NJ 2-Day Camp
August 23 Barber Motorsports Park, AL All Levels
August 24 Barber Motorsports Park, AL All Levels
August 25/26 Barber Motorsports Park, AL 2-Day Camp
September 1 Virginia Int'l Raceway, VA All Levels
September 2 Virginia Int'l Raceway, VA All Levels
September 3/4 Virginia Int'l Raceway, VA 2-Day Camp
September 20 Streets of Willow Springs, CA All Levels
September 21 Streets of Willow Springs, CA All Levels
September 22/23 Streets of Willow Springs, CA 2-Day Camp
October 11 Streets of Willow Springs, CA All Levels
October 12 Streets of Willow Springs, CA All Levels
October 20 Sears Point (Infineon), CA All Levels
October 25 Streets of Willow Springs, CA All Levels
October 26 Streets of Willow Springs, CA All Levels
October 27/28 Streets of Willow Springs, CA RACE Program
November 2/3 Las Vegas Motor Speedway, NV 2-Day Camp
November 11 Sears Point (Infineon), CA All Levels
November 22/23 Las Vegas Motor Speedway, NV 2-Day Camp December 1&2 Sears Point (Infineon), CA 2-Day Camp
Fall – TBA Laguna Seca, CA All Levels
More info at www.superbikeschool.com
or call toll free: 800-530-3350