Leaves World Champion James Toseland Begging' for more...
Heart Breaker Gemma Gleeson
5 Sexy New Pictorials Added in Members Corner!
She was the hottest thing to ever hit the starting grid 2 years ago at Brands Hatch World Superbike. Fast Dates Calendar Kitten Gemma Gleeson was your typical long-legged beautiful 19-year old runway supermodel from County Cork, Ireland and we brought her to Brands with 2 other models to shoot the 2007 Fast Dates Calendar.
It proved difficult to get any work done that weekend as we (actually Gemma and the other 2 models) were constantly mobbed by the race teams, media, TV and fans for pictures and to be chatted-up. European TY fans got to see a lot of Gemma on screen that weekend, much of it in the SBK's 1-hour Saturday Practice and Sunday's Pre Race Show coverage which we don't get here in America on SpeedTV, and with all the grid girls being edited out of the 1-hour race coverage we are shown. See more here: Brands Hatch 2005.
Below: Monica and Gemma on the Brands Hatch starting grid posing for SBK TV.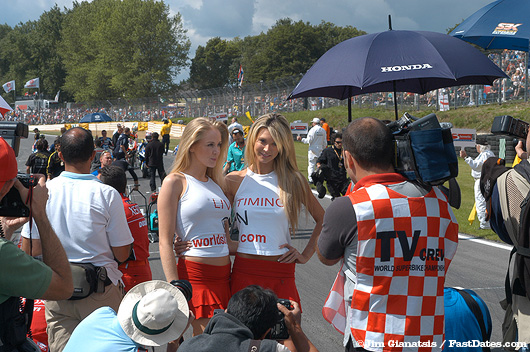 After the Brands Hatch World Superbike race on Sunday, that night we hit the exciting Paddock Party where World Superbike Champion James Toseland and his band were playing. The girls got very drunk, very wild and crazy with all the guys. Toseland couldn't help but notice our Gemma and followed her out to the parking lot like a love sick puppy to chat her up and get her phone number. We later heard that actually did go out on a couple of dates, but with James' busy race schedule flying around the world, and Gemma being busy as well with her modeling, school, other boyfriends, just not interested or whatever, James Toseland was dumped by our Calendar Kitten. Toseland's manager Roger Burnett actually contact us a couple of times trying to set up Gemma with James again, but it wasn't to be.
However, we've been able to get together with Gemma again to shoot some incredible photos of our Irish goddess for FastDates.com which you'll find in Members Corner. Now you can get an exclusive look at one of our most beautiful Calendar Kittens ever in 5 very sexy and revealing new pictorials! Members Corner.
---
Superbike & Supersport World Championships,Superstock 1000cc FIM Cup
2008 SBK Provisional Calendar
Dec 18th 2007 - The 2008 provisional calendar of the Superbike & Supersport World Championships and Superstock FIM Cup will have rounds at the Nürburgring (Germany) on June 15, and in Sentul (Indonesia) on October 12. Moreover, the event in Vallelunga will be held on September 21 (instead of 28), and the last round, scheduled in Portimão (Portugal) on November 2 (instead of October 26). The calendar is the following:
Dates Country/pays Circuit SBK SSP SST
February 23 QatarDoha Losail X X
March 2 Australia/Australie Phillip Island X X
April 6 Spain/Espagne Valencia X X X
April 27 Netherlands Assen X X X
May 11 Italy/Italie Monza * X X X
June 1 United States Salt Lake City X
June 15 Germany Nürburgring X X X
June 29 San Marino Misano X X X
July 20 Czech Rep Brno X X X
August 3 Great Britain Brands Hatch X X X
September 7 Europe GB Donington Park X X X
September 21 Italy/Italie Vallelunga X X
October 5 France Magny-Cours X X X
October 12 Indonesia Sentul * X X
November 2 Portugal Portimão X X X
* : subject to contract/sous réserve de contrat
---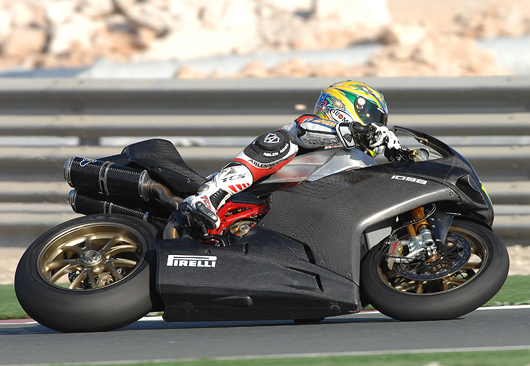 Troy Bayliss turned quickest time the last day in World zSuperbike testing at Losail this month on the new Ducati 1098F08.
2008 Roadracing Rider and Team Line Up, Max Biaggi on Ducati
Here's a look at the rider seat changes and confirmed lineup of teams and riders in World SBK and AMA Superbike and MotoGP for 2008. We will be add more teams and riders weekly as they confirm:
2007 Roadracing Teams
2007 World Superbike
Ducati Corse: Troy Bayliss, Lorenzo Lanzi
Ducati Sterilgarda: Ruben Xaus


Honda Ten Kate: James Toseland, Roberto Rolfo
Honda D.F.X. Corse: Luca Morelli, Michel Fabrizio

Yamaha Italy: Noriyuki Haga, Troy Corser
Suzuki Alstare: Yukio Kagayama, Bax Biaggi
Kawasaki PSG-1: Regis Laconi, Fonsi Nieto
Suzuki Germany: Max Neukirchner






2007 World MotoGP
Ducati Corse: Loris Capirossi, Casey Stoner
Ducati d'Antin: Alex Barros, Aex Hoffman
Yamaha Japan: Valentino Rossi, Colin Edwards
Yamaha Tech 3: Sylvain Guintoli
Suzuki Japan: Chris Vermeulen, John Hopkins

Kawasaki Japan: Randy de Puniet, Anthony West
Honda Japan: Nicky Hayden, Dani Padrosa
Honda Minolta: Shinya Nakano
Honda Gresini: Tony Elias
Honda LCR: Carlos Checa
Honda Roberts: Kurtis Roberts

2007 AMA Superbike
Suzuki Yoshimura: Matt Mladin, Ben Spies
Suzuki Jordan: Aaron Yates, Jake Holden
Honda American: Miguel DuHammel, Jake Zemke
Yamaha USA: Eric Bostrom, Jason DiSalvo
Kawasaki USA: Roger Lee Hayden, Jamie Hacking
MV Agusta Ferracci: Matt Lynn, Lucca

2007 BSB British Superbike
Honda HM Plant: Ryuichi Kiyonari - reigning champ



2008 Roadracing Teams
2008 World Superbike
Ducati Corse: Troy Bayliss, Michel Fabrizio
Ducati Sterilgarda: Ruben Xaus, Max Biaggi
Ducati Guandalini: Jakub Smrz
Ducati RG: Lorenzo Lanzi
Honda Ten Kate: Kent Sofulguo, Carlos Checa, Ryuichi Kiyonari - reigning 2-time BSB Champion
Honda D.F.X. Corse: Karl Muggeridge, Russell Holland
Honda Paul Bird: Gregorio Lavilla - BSB Champion
Honda Hannspree Althea: Roberto Rolfo
Yamaha Italy: Noriyuki Haga, Troy Corser
Yamaha Grillni: Loic Napoleone
Suzuki Alstare: Fonsi Nieto, Yukio Kagayama,
Max Neukircher
Kawasaki PSG-1: Regis Laconi, Makoto Tamada
Kawasaki Pedercini: Vittorio Ianuzzo, Ayrton Badovini
Suzuki Germany: Andreas Meklau

2008 World MotoGP
Ducati Corse: Casey Stoner, Marco Melandri
Ducati d'Antin: Tony Elias, Sylvain Guintoli
Ducati other : Guareschi, Canepa, Itoh
Yamaha Japan: Valentino Rossi, Jorge Lorenzo
Yamaha Tech 3: James Toseland, Colin Edwards
Suzuki Japan: Chris Vermeulen, Loris Capirossi,
and non'conflicting AMA races with Ben Spies
Kawasaki Japan: John Hopkins, Anthony West
Honda Japan: Nicky Hayden, Dani Padrosa
Honda Minolta:
Honda Gresini: Shinya Nakano, Alex de Angelis
Honda LCR: Randy de Puniet
JiR Scot Honda: Andrea Dovizioso

2008 AMA Superbike
Suzuki Yoshimura: Matt Mladin, Ben Spies
Suzuki Jordan: Aaron Yates, Geof May
Honda American: Miguel DuHammel, Neil Hodgson
Yamaha USA: Eric Bostrom, Jason DiSalvo
Kawasaki USA: Roger Lee Hayden, Jamie Hacking
MV Agusta Ferracci:

2008 BSB British Superbike
Honda HM Plant: Leon Haslam, Cal Crutchlow
Suzuki Rizla: Tom Sykes, Atsushi Watanabe - reigning Japanese Superbike Champion
Ducati Airwaves: Shane 'Shakey' Byrne, Leon Camier
Yamaha: Rob McElnea
Kawasaki MMS :
The Fonz is part of Alstare Suzuki's new larger 3-man team for 2008.
---
Taylor Swift to Announce Grammy Nominees
Taylor Swift will be traveling to Hollywood on December 6 to help read the nominations for the 50th Annual Grammy Awards. Taylor will join R&B singer/songwriter Akon, 27-time Grammy winner and 50th Celebration Ambassador Quincy Jones and two-time Grammy-winning group Linkin Park in announcing the nominations. More presenters will be announced soon. Grammy season officially kicks off with the nominations announcement. The 50th Annual Grammy Awards will take center stage at the Staples Center in Los Angeles on February 10, 2008, on CBS.
Make it a Taylor Swift Christmas!
Beautiful 17-year old country pop music sensation Taylor Swift is one of our favorite
Chicks That Kick Ass! And now you can make it a Taylor Swift Christmas with these two great music packages just released this month. Just click on the album covers to find out more and to order.
Taylor Swift - Special Edition CD and DVD
This is a must have new 2-disc set, featuring on the music CD the original 11 songs from Taylor's initial album release, plus 3 all-new songs - I'm Only Me When I'm With You, Invisible, and A Perfectly Good Heart. The song Invisible, which we heard Taylor perform at her live concerts this past summer, is sure to reach the Top Ten Singles Charts if and when it is released on its own. Also included here is a separate DVD with all 3 of Taylor's hit music videos, the behind the scenes making of the videos, home movie taken and edited by Taylor, and a excellent GAC TV 22-min documentary made in 2006 on Taylor's self driven rise from an 11-year old schoolgirl to the hottest new singer songwriter in music today

Taylor Swift - Sounds of the Season CD


Every top music star releases a Christmas album at some point in their career, but for Taylor to release hers as still a 17-year old in just the second year of her career along with writing, producing and performing her other music CDs, music videos, still finishing high school, traveling on a 9-month weekly concert tour across America, and appearing on TV awards pogroms as often as possible is pretty amazing. This 6-song CD includes 2 new original Taylor Swift Christmas songs, George Michael's Last Christmas, Taylor's totally revised, nearly unrecognizable and excellent version of Silent Night, and the classic sexy Santa Baby in a perky schoolgirl style.
Click on any Image to go bigger
Aprilia's Funny Ad Campaign
In America, the moral minority and sexual harassment laws have vitrually eliminated freedom of expression in public. But not so in Euroupe, particularly in Italy where Aprilia Motorcycles regularly runs amusing and eye catching ads like these.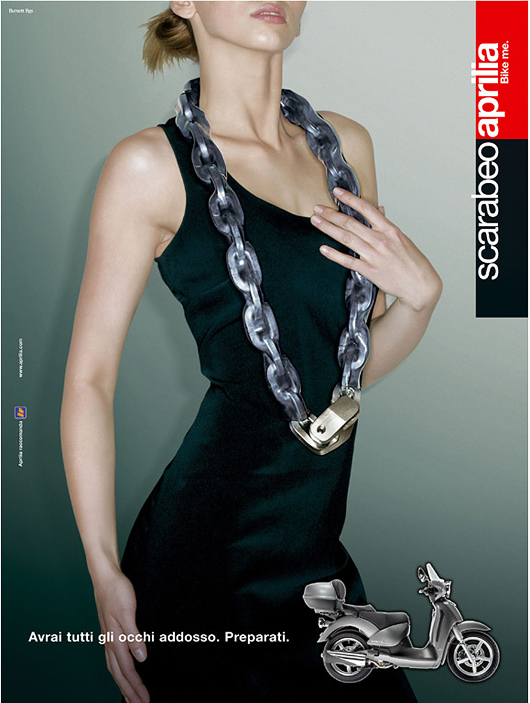 ---
There's more! Go to Pit Lane News NEXT PAGE
Hot Calendar Girl and Bike News! Go to: Fast Dates • Calendar Girls • Iron & Lace
Calendar Kittens, The Paddock Garage, Screensavers, Iron & Lace Garage



Many of our Calendar Kittens can also be seen at Playboy's website...


BikerKiss.com - the largest biker personals site!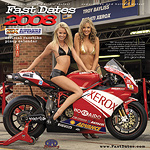 Now Available!
16-month Calendar starts Sept
2008 Fast Dates &
Garage Girls Calendars

Sands vs. Rooke
Calendar Bike Build Off
See the world's two hottest custom sportbikes featured in the 2008 Fast Dates and Iron & Lace Calendars being built and raced by Roland Sands and Jesse Rooke for Discovery Channel's Biker Build Off
Roland Sands builds the
KR Tracker Calendar Show Bike
New Blood DVD
features Roland Sands building and riding the extraordinary Roland Sands Design / Kenny Roberts KR 990cc 5-cylinder MotoGP powered Retro Board Track Racer. The bike is also featured in the 2008 Fast Dates race bike and Iron & Lace custom bike Calendars with beautiful Playboy Playmate and Calendar Kitten Tamara Witmer in one of our best calendar shots ever and ,featured in the LA Calendar Motorcycle Show advertsing campaigns
and T-Shirt.
More New DVD!

Hot New Books!

Gregorio Lavilla Confirmed At Paul Bird Motorsport for World Superbike
Dec 6th - Following on from their announcement last month regarding the team contesting the 2008 World Superbike Championship, Paul Bird Motorsport have confirmed that they will field a single ride on board factory-supported Honda machinery in the fifteen round series.
2005 British Superbike Champion, Gregorio Lavilla is the rider who has been entrusted to ride for the Cumbrian businessman and the Spaniard will return to the World Championship full time after a four year break.
Bird has secured the necessary backing from his sponsors, although it has yet to be decided as to what branding Lavilla's bikes will run when the opening round gets underway in Qatar on February 23rd and an announcement will follow in due course.
Paul Bird: "It's back to our tried and tested formula of a one rider team and that's where we've had most of our successes in the past. The team will be geared around Greg and he'll get everything he needs to make sure we have the best chance possible. It's a new venture for us but it's one that the whole team is very excited about and we aim to start testing very soon in readiness for the opening round in Qatar."
Gregorio Lavilla: "It has always been my aim to get back into the World Superbike Championship on a competitive bike and I'm very grateful to Paul Bird and his team for this opportunity. I have enjoyed my time in BSB very much and I'm sad to be leaving as I have made many good friends and it has been a good time for my career. I'd like to say thank you to my fans and not only do I have a home race in Spain next season, but I have two more 'home' races in England and I'm very much looking forward to it."
---
More 2008 Calendars in the Calendar Store

Click to Vist our Calendar Store
Calendar Kitten Joanna Krupa has her own 2008 Calendar


Taylor Swift
for Christmas!
New CD & Video DVD
and Christmas Music from
America's New Sweetheart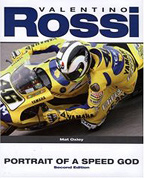 ---
New Pirelli Russo Tire
and Sexy Video
Milan, 8 Nov. - During the EICMA show Pirelli presented the brand new Pirelli DIABLO ROSSO.
This tyre sets the point representing a new tyre generation, thanks to the new approach Pirelli adopted to design this new product for the SUPERSPORT segment and thanks to the new EPT (Enhanced Patch Technology) Pirelli patent.
Diablo Rosso finds its full description in a new section of Pirelli tyre website thanks to a video which represents its world and 'personality' together with a page with the product features.
Soon each country will have its own DIABLO ROSSO area in its proper language, now you can see the preview in the corporate website with a very SEXY VIDEO.
Please check it out by CLICKING HERE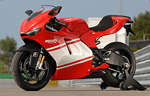 First Look!
Inside the new Ducati Desmosedici RR
Going into production next month for a lucky few!
Click the Photo for More
For compete details and photos of the new bike go to our
New Sportbike Index
Ducati Desmosedici RR
Desmosedici Delivery Delayed, Again
Dec 1st - The last we heard from Ducati back in mid September on the delivery of the new Desmosedici RR was that production was to begin at the factory mid-October 2007.
Bikes would be built at a rate of around 2 per day. From there the finished bikes would be placed in outgoing shipping containers with other model Ducati bikes to assure the quickest possible delivery to different countries. In a personal letter sent to American Desmosedici reservation holders from Michael Locke, President at Ducati North America, including to yours truly (FastDates.com editor Jim Gianatsis is one of the inital 200 buyers who qualified for the now low $65,000 price by also being a 999R owner), Locke expected the initial 200 buyers to get their Desmos by or around this Christmas Dec 25th - Jan 1st.
Now normally, Ducai Bologna like to post photos and videos on their website of new bike production and testing - as they did last spring with the Hypermotard, but we've not seen any production photos of the Desmosedici over the past 6 weeks. So last week we put in an inquirey to both Ducati SpA and Ducati USA to ask what the status of Desmosedi RR production and delivery was.
What they wrote us back was one short statement; "No bikes (Desmosedici RR) have left the factory yet."
So at this point we really don't know if the bikes are actally in production, or if they are being delayed by parts supply or manufacturing probllems. If you know of anyone who has taken the Ducati factory tour in the past month, and can shed some light on if ther Desmosedici is really in production or not, we's appreciate hearing from them.
Contact@FastDates.com
Dec 6th - We did hear from a reader who visited the Ducati factory on October 25th and he did see the V-4 engines being built and bikes moving down the assembly line, with 4 completed Sedici RRs waiting at the end of the produxtion line. So by this date there's probably over 100 bikes waiting to leave the factory. They just are not being released for some undisclosed reason.
Desmosedici Pricing
As you may be aware the initial 200 or more buyers who reconfirmed their o rigional orders back in 2006 were given a confirmed price of $65,000 - up from the origional $50,000 price announced at World Ducati Week 2004.
Then early this year 2007, the price was increased for current buyers to $75,000. Then back in September when Ducati announced production of the Desmosedici RR would be fixed at 1,500 bikes, of which 1,200 had already been pre-sold, we are now hearing the price has increased again to $82,500 on the remaining bikes.
This price increase in the Americas is understandable in light of the U.S. Dollar's huge fall against the Euro - some 25 cents $1.24 to $1.48 in just the past 12 months alone. The Dollar was even with the Euro back in 2004.
But remeber, production was first promised for June 2006, then spring 2007, then July, and now, who knows? The longer production is delayed the more the Dollar declines and the more the bike is costing Americans.
So with the increased production and delivery delays of the Desmosedici RR, Ducati will be loosing a lot of money on the earleir confirmed prices.
If the US Dollar has dropped 30 cents when the $65,000 bike orders were taken, then Ducatii will now only getting $53,000 Euros for the bike, effectively their profit margin.If will be interesting to see if Ducati NA honors the $65,000 price quote to intial buyers as production continues to be delayed and the dollar continues to fall.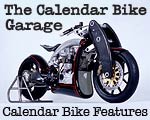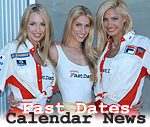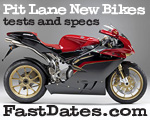 ---


NEW! FastDates.com
Cell Phone Wallpapers!
---