Fresh faces on the SBK Podium at Qatar in Race Two - Alstare Suzuki's Fonsi Nieto is sandwiched by the Sterligarda Ducati team of Ruben Xaus (left0 and max Biaggi (right0.
2009 HANNspree SBK World Superbike Championship, Round 1 of 15 Qatar
World Superbike Kicks Off 21st Season with Qatar Opener
Losail (Qatar), Saturday 23rd February - Troy Bayliss (Ducati Xerox) and Fonsi Nieto (Alstare Suzuki) shared the wins in two exciting races in the opening round of the HANNspree Superbike World Championship in Qatar. Australia's double WSBK champion Bayliss had the honour of scoring the Ducati 1098's maiden victory in the first encounter, while Spaniard Nieto picked up his first race win since 2003 on the Suzuki GSX-R1000.
February 21-24, 2008, Losail, Qatar - The 2008 HANNspree Superbike World Championship gets underway this weekend with the opening round in Qatar, the first in a scheduled 14-race calendar. The 2008 season will be the twenty-first of the championship, which began back at Donington, UK in 1988.
All the leading challengers in last year's thrilling championship – Noriyuki Haga, Max Biaggi, Troy Bayliss, Troy Corser, Ruben Xaus – are back again this year and they will be joined by a healthy influx of competitive riders from other series to make up an impressive grid of 28 permanent riders.
After the final days of unofficial pre-season testing for some of the top teams in World Superbike, the stopwatches demonstrated that a few well-known names in World Superbike will be the toughest to beat when the season starts. Not all riders were on track on all the Qatar test days last week however, and some of the other teams in the series had chosen to stay in Europe for their final tests.
Troy Bayliss and the new, less highly tuned and closer to production spec Ducati 1098RF with its bigger 1198cc
V-twin engine has been quick out of the box.

Pre-Season Testing - The 2 Troys on Top, Ducati's New 1098 is Impressive
Despite a broken collarbone, sustained in a Phillip Island test crash last month, 2001 and 2006 champion Troy Bayliss took his all-new factory Ducati Xerox 1098 F08 to the fastest lap of last week's Losail tests, a 1'58.8, set on the final day. "I'm pretty happy with how things have gone" declared Troy. "We had a brand new bike and it always takes a bit of time to run in so we hope that we have solved those problems before next week's race. I'm also pretty positive about my condition and I think I can say I'm pretty much back to normal".
Hot on his heels was fellow Aussie Troy Corser (Yamaha Motor Italia), the 1996 and 2005 World Champion, who set a 1'59.0. "It was mostly a shakedown test, with a bit of back-to-back comparison of the different bikes and I feel really confident with our starting package for this coming season. With what we found here today, I would be happy to go and start the championship tomorrow", declared Corser.
His time was matched by Italian Lorenzo Lanzi (RG Ducati) on his privateer machine, while Noriyuki Haga (Yamaha Motor Italia) notched up a 1'59.3. "It has been good to test so close to the start of the season and things went well with the bike. We only really had one type of tyre to test but I think when we get the real race tyres, we will be ready to go", said Haga.
Ruben Xaus (Ducati Sterilgarda Go Eleven) was on good form, and was joined on 1'59.5 by Gregorio Lavilla (Paul Bird Racing Honda), who returns to World Superbike for the first time in four years. Bayliss' team-mate Michel Fabrizio recorded a 1'59.6, ahead of Max Biaggi (Ducati Sterilgarda Go Eleven) who could not quite get below the 2'00 mark.
"I'm not completely satisfied by the results of this test and I haven't reached a good feeling with the motorbike yet" said Biaggi. "After the good testing in Australia I expected to find less problems here, but we learnt a lot, and now we know the work we have to do in Qatar, at the season first round". Despite this, multi-MotoGP and SBK race winner Biaggi is fully expected to be a threat in 2008, having finished third in his rookie season in 2007.
Makoto Tamada and Regis Laconi (PSG-1 Kawasaki Corse) had some bad luck when they arrived for the tests to find that most of their full spec engines had been damaged in transit and are thus behind in their preparation schedule.
The championship-winning HANNspree Honda Ten Kate team have only been able to put in only three days of testing at Almeria with their new Honda CBR1000 machine, allowing their three riders Carlos Checa, Ryuichi Kiyonari and Kenan Sofuoglu little preparation time for the new season.
The Alstare Suzuki squad from Belgium have also followed the Dutch team's example by adding a third rider to their line-up and Fonsi Nieto, Max Neukirchner and Yukio Kagayama were able to do all their preparatory work for the new season at Phillip Island.
World Supersport
With '07 champion Kenan Sofuoglu moving to Superbike, the race is wide open for his successor to the Supersport throne. A full grid of 36 riders includes 19 Hondas, 5 Yamahas, 4 Kawasakis, 4 Suzukis and 4 Triumphs. The names include two former Supersport World Champions (Andrew Pitt and Fabien Foret), three Superbike race winners (Chris Walker, Garry McCoy and Pitt), two Superstock champions (Didier Van Keymeulen and Lorenzo Alfonsi), a 125 Grand Prix World Champion (Arnaud Vincent) and a strong British contingent (Jonathan Rea, Tommy Hill, Craig Jones and Walker). New to the series in 2008 after a gap of a couple of years is British manufacturer Triumph, with Garry McCoy lining up on the 675cc triple.
About the Losail International Circuit
Losail International Circuit in the only circuit in the region with both FIA and FIM homologation licenses for car and bike racing. The state-of-the-art circuit, which was inaugurated on October 2004, is fully equipped with the latest facilities and services. 1000 workers took just under one year to build it at a total cost of $USD58million. The circuit is 30 Kilometers from Doha International Airport. It measures 5.380 km, including a main straight of 1068 m, and has a total of 16 turns, 10 right and 6 left. The track is surrounded by artificial grass to prevent sand from blowing onto the tarmac. In 2007 permanent lighting was installed at the circuit for outdoor races.
Lap records: Race – Max Biaggi (Suzuki) 1m59.194s (2007); Superpole – Troy Corser (Yamaha) 1m58.402s; Best lap – Troy Corser (Yamaha) 1m58.402s (2007)
The Qatar Round of the HANNspree Superbike World Championship takes place from 21-23 February, Thursday through Saturday. The action starts on Thursday and Friday with World Supersport and World Superbike free practice and qualifying both days, followed by WSBK Superpole on Friday at 16.00. The two 18-lap Superbike races are scheduled to run on Saturday at 12.00 and 15.30, with the 18-lap Superbike race in between at 13.20 local time.
Troys Make Early Headway in Blustery Qatar Opening Session
February 21st - Two Australian double world champions were the first to make their mark on the first day of World Superbike action at the Losail International Circuit in Qatar as Troy Corser (Yamaha Motor Italia WSB) and Troy Bayliss (Ducati Xerox) took the top two positions in the opening qualifying session. With violent gusts of wind making track conditions extremely difficult, the two Troys were the only riders to dip under the 2 minute mark, posting times of 1m59.627s and 1m59.853s respectively.
Troy Corser said: "The last tests we did here and at Phillip Island were useful for sure and I've got a great feeling with the bike, so it's a good start to the season for us. Last year I lacked that bit of confidence with the team and the bike at the beginning of the season but now I've got that and I'm feeling good".
"It's early days at the moment but we're feeling reasonably comfortable on the bike" declared Bayliss. "I think we have back now what we missed before, acceleration, but through the speed traps we showed that the bike is not a missile like everyone thought. We hope to continue this weekend and get a good setting but it was very difficult today because of the wind. My collarbone is healing quite well, I'm not such a young guy anymore, but I'm pretty confident on the bike with it".
Spain's Fonsi Nieto was next up for Suzuki Alstare, taking his GSX-R1000 to third place on his debut for the Belgian squad. Noriyuki Haga (Yamaha Motor Italia WSB) was on the pace of his team-mate for much of the session, the Japanese rider eventually finishing fourth ahead of Yukio Kagayama on a second Alstare Suzuki GSX-R1000.
Ruben Xaus (Sterilgarda Go Eleven) headed three more Ducati 1098 machines in sixth place, a fraction ahead of Italian Lorenzo Lanzi (RG), who had missed the opening free practice session in the morning, and last year's race 1 winner Max Biaggi on the Sterilgarda Go Eleven bike in eighth.
"It's quite new for us, a new team, a new bike, new people" commented Max. "We don't have such great experience but I've got a guy from Ducati with me and I think we are going fine. But for the moment we are trying to know each other and what the problems with the bike on the track are. So far from the morning to the afternoon we improved a little, for tomorrow we really hope to improve and move further up".
Frenchman Sebastien Gimbert (Yamaha France Ipone GMT 94) and Germany's Max Neukirchner (Alstare Suzuki) rounded off the top 10. The three riders of the championship-winning HANNspree Ten Kate team, Carlos Checa, Ryuichi Kyonari and Kenan Sofuoglu, continued to get to grips with their new Honda CBR1000RR machines during the session, but all three finished outside the top 10, while Kawasaki PSG-1 Corse contenders Regis Laconi and Makoto Tamada were down on the pace with their new ZX-10Rs.
Troy Corser on the factory Yamaha is on the Pole for both Races on Saturday
Corser on Yamaha Tops Practice and Super Pole
Private Ducati Sterilgarda Team of Xaus and Biaggi Join the front Row
Friday 22nd Practice & Super Pole - Troy Corser (Yamaha Motor Italia) powered to the 41st pole position of his career in the opening round of the 2008 HANNspree Superbike World Championship at the Losail International Circuit in Qatar but he had to work hard to hold off the challenge of Ruben Xaus and Max Biaggi, second and third respectively. Corser's time of 1'58.053 was four-tenths of a second quicker than the circuit's best lap, which the 36-year-old Australian set for Yamaha last year. Xaus and Biaggi, both on Ducati 1098 RS08 machines from the private Sterilgarda Go Eleven squad, were heading for a sensational 1-2 before Corser put in his quick lap. Alongside them on the grid for the two races tomorrow will be Alstare Suzuki's young German rider Max Neukirchner.
"I really like this track and the Yamaha seems to work well round here" declared Corser."Last year was a good result but now I feel more relaxed and at ease with the team. I've got to thank all the guys, they worked really hard in the tests which helped us a lot but now I've got to keep my head down and be consistent. We actually struggled a bit in the last free practice after making a few small changes but we went back to we know what works well and hopefully now we can go for the win tomorrow".
"The team is working very well, I was here testing and was really focused on this race" said Xaus. "The bike worked perfect, the team is incredible, Max Biaggi next to me has given me really more motivation and also more focus so what can I say? Second and third and front row for the team is fantastic!"
"I don't know if the factory is happy or not but we made an amazing job to be second and third" said Biaggi. "We have a kind of OK set-up for tomorrow, it all depends on the conditions. I more or less made an endurance run for the tyre and I know what it is doing. We will see tomorrow but it looks like it's going to be tough here as always".
"Today was not so bad for us, I was not testing here unlike my team-mates and I think we have now a good set-up" said Neukirchner. "For one lap we are really fast but I think we must try and do a good race to score some points tomorrow".
Lorenzo Lanzi (RG Team) will line up on the outside of the second row in fifth place on another Ducati 1098 customer machine, a fraction ahead of Noriyuki Haga (Yamaha Motor Italia WSB). Troy Bayliss could only manage seventh on the factory Ducati Xerox 1098, ahead of Yukio Kagayama (Alstare Suzuki) and Carlos Checa (HANNspree Ten Kate Honda), taking part in his first-ever Superpole, while Michel Fabrizio (Ducati Xerox) rounded out the top 10.
1. Troy Corser (Yamaha) 1'58.053
2. Ruben Xaus (Ducati) 1'58.689
3. Max Biaggi (Ducati) 1'58.767
4. Max Neukirchner (Suzuki) 1'58.964
5. Lorenzo Lanzi (Ducati) 1'58.975
6. Noriyuki Haga (Yamaha) 1'59.017
7. Troy Bayliss (Ducati) 1'59.224
8. Yukio Kagayama (Suzuki) 1'59.285
9. Carlos Checa (Honda) 1'59.417
10. Michel Fabrizio (Ducati) 1'59.450
11. Fonsi Nieto (Suzuki) 1'59.921
12. Jakub Smrz (Ducati) 1'59.984
13. Gregorio Lavilla (Honda) 2'00.095
14. Kenan Sofuoglu (Honda) 2'00.313
15. Roberto Rolfo (Honda) 2'01.208
16. Ayrton Badovini (Kawasaki) 2'01.238
Alfa Romeo Superpole Award
Troy Corser (Yamaha Motor Italia WSB) is the first winner in the ALFA 159 SUPERPOLE AWARD contest, which has been launched at this weekend's opening round in Qatar. The prize, an Alfa Romeo 159 3.2 Sportwagon Ti, will be awarded at the end of the season to the rider in the Superbike World Championship who has totaled the highest number of Superpoles.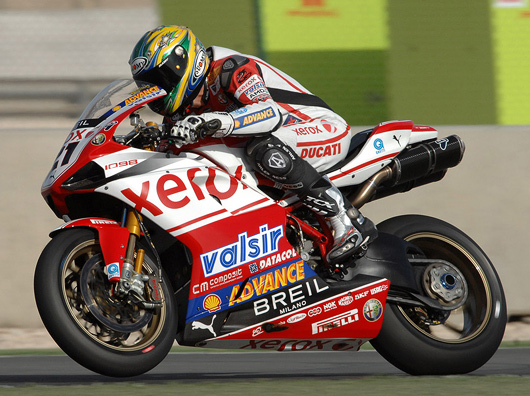 Bayliss gave the new Ducati 1098 generation Superbike its first win at its first race. Click for a Big Screensaver

Troy Bayliss Powers to Victory In Race One to lead the World Championship
Nieto Takes Race two Ahead of Xaus and Biaggi
Losail (Qatar), Saturday 23rd February - Troy Bayliss (Ducati Xerox) and Fonsi Nieto (Alstare Suzuki) shared the wins in two exciting races in the opening round of the HANNspree Superbike World Championship in Qatar. Australia's double WSBK champion Bayliss had the honour of scoring the Ducati 1098's maiden victory in the first encounter, while Spaniard Nieto picked up his first race win since 2003 on the Suzuki GSX-R1000.
Troy Bayliss (Ducati Xerox) stormed to victory on board the Ducati 1098 F08 in the opening race of the 2008 World Superbike Championship today, a spectacular result for the team and a significant maiden win for the new F08 machine. Bayliss then narrowly missed out on a podium place in race 2, finishing fourth just ahead of team-mate Fabrizio. Young Michel Fabrizio made a determined start to his year and leaves Qatar with 18 championship points, accumulated from his tenth (race 1) and fifth (race 2) place finishes. Bayliss, with 38 points, leads the World Superbike championship after round 1 here in Qatar.
Race One - Bayliss Gives the Ducati 1098 Victory in its Maiden Outing
Bayliss had to work hard for the win from eighth place on the opening lap. He put his wheels on the edge a few times as he made his way to the front and then had a terrific duel with Max Biaggi (Sterilgarda Go Eleven Ducati) on the final lap to seal victory. The Italian, in front from lap 12 to 17, went slightly wide and had to settle for second. Third went to poleman Troy Corser (Yamaha Motor Italia), who ran in the top 3 throughout, while Ruben Xaus (Sterilgarda Go Eleven) made it three 1098s in the top 4. Max Neukirchner looked impressive on the Alstare Suzuki, leading for most of the first half of the race, eventually finishing fifth ahead of Carlos Checa (HANNspree Ten Kate Honda), while Noriyuki Haga (Yamaha Motor Italia) had a nasty high-side on lap 7.
"I guess it was special to take the 1098 to its first win and it's the first time I've had a win here at Losail" declared Bayliss. "I thought it was going to be between me, Troy and Nori, but Neukirchner surprised me and Max did a good job as well. It was a hard race, I got a terrible start and had to really ride hard to get to the front. I made a couple of mistakes, eventually when I reached Max I was on the limit. Then it was a matter of playing our cards, he went a bit wide and that gave me the advantage to come home to the finish line".
Race 2 - Fonsi Nieto Takes a Win for Alstare Suzuki
The second race win saw a battle up front between Corser, who led for nine laps before fading, Biaggi, Xaus and Nieto, with Bayliss not far behind. Max and Ruben both had spells in the lead but neither were able to shake off Nieto, who took over at the front with three laps to go. The Spaniard went on to take his first-ever WSBK win, ahead of his compatriot Xaus and Biaggi. The two factory Ducati riders Bayliss and Fabrizio were fourth and fifth, with Corser finishing sixth.
"It's nice for me, I haven't won for four years and I'm really happy" said Nieto. "When I arrived in World Superbike it was really difficult for me. I worked really hard for four seasons and this is a dream come true. We are not yet 100% with the frame of the bike but the engine is the best now, today I won because I had a really good engine. I rode with my mind and never gave up".
Nieto heads Ruben Xaus, Bayliss and Fabrizio. Two private team 1098 Ducatis beat the factory team in Race Two.
The new, bigger Ducati probably fits the tall and lanky Xaus much better than the old 999 bike.

Troy Bayliss - "It's a very good start to the season for the team, exactly what we needed! Overall I'm very happy with the results. In race 1 I didn't make the greatest start and so it took me a while to make it to the front of the pack. The last eight laps were a bit of a battle against Max but I was finally able to get past him and, although I made a couple of small mistakes, I was pretty comfortable and took the win. I would have loved to take another podium in race 2 but it wasn't to be and I come away from this round leading the championship by 2 points so I can't exactly complain. Now I'm ready to move on to Phillip Island where I hope to have another great weekend."
Michel Fabrizio - "I wasn't happy with race 1 as although I didn't have any problems with the bike I wasn't totally comfortable with my leather suit. I think I could have gone better if it hadn't been for that issue. Race 2 went much better and although I got a bad start I was able to move up through the field from ninth to fifth place. Anyway, we've made a good start and I am seventh in the championship after the first round so that's a positive start for me and the team I would say."
Previous Lap records: Race – Max Biaggi (Suzuki) 1m59.194s (2007); Superpole – Troy Corser (Yamaha) 1m58.402s; Best lap – Troy Corser (Yamaha) 1m58.402s (2007)
Superbike Race 1 Results
1. Troy Bayliss (Ducati Xerox) 36'11.468
2. Max Biaggi (Ducati Sterilgada Go Eleven) +0.396
3. Troy Corser (Yamaha Motor Italia) +1.878
4. Ruben Xaus (Ducati Sterilgada Go Eleven) +4.487
5. Max Neukirchner (Alstare Suzuki ) +7.505
6. Carlos Checa (HANNspree Ten Kate Honda) +9.639
7. Fonsi Nieto (Alstare Suzuki) +9.725
8. Yukio Kagayama (Alstare Suzuki) +19.537
9. Michel Fabrizio (Ducati Xerox) +23.156
10. Jakub Smrz (Guandalini Racing Ducati) +24.429
11. Roberto Rolfo (HANNspree Honda Althea) +27.595
12. Kenan Sofuoglu (Hannspree Ten Kate Honda ) +27.979
13. Gregorio Lavilla (Honda) +28.237
14. Noriyuki Haga (Hannspree Ten Kate Honda ) +30.205
15. Regis Laconi (Kawasaki) +31.882

Superbike Race 2 results
1. Fonsi Nieto (Alstare Suzuki) 36'12.963
2. Ruben Xaus (Ducati) +0.301
3. Max Biaggi (Ducati) +1.321
4. Troy Bayliss (Ducati) +6.452
5. Michel Fabrizio (Ducati) +7.627
6. Lorenzo Lanzi (Ducati) +9.117
7. Troy Corser (Yamaha) +10.806
8. Max Neukirchner (Suzuki) +11.661
9. Jakub Smrz (Ducati) +13.269
10. Kenan Sofuoglu (Honda) +14.563
11. Carlos Checa (Honda) +15.953
12. Makoto Tamada (Kawasaki) +16.748
13. Noriyuki Haga (Yamaha) +18.356
14. Gregorio Lavilla (Honda) +26.311
15. Roberto Rolfo (Honda) +26.560
POINTS (after 1 of 15 rounds):
Riders: 1. Bayliss (Ducati Xerox) 38; 2. Biaggi (Ducati) 36; 3. Nieto (Suzuki) 34; 4. Xaus (Ducati) 33; 5. Corser (Yamaha) 25; 6. Neukirchner (Suzuki) 19; 7. Fabrizio (Ducati Xerox) 18.
Manufacturers: 1. Ducati 45; 2. Suzuki 36; 3. Yamaha 25; 4. Honda 16; 5. Kawasaki 5
Broc Parkes Tops World Supersport for Yamaha
Broc Parkes scored a fortuitous win for the Yamaha World Supersport team in the opening round of the championship at Losail as his team-mate Fabien Foret, race leader since the early stages, ran out of fuel on the final lap. The Australian still had to fight for the win however against Spain's Joan Lascorz who was ahead with a couple of corners remaining. Parkalgar Honda's Craig Jones was also in contention right until the very end and the British rider took the final podium slot. The entire HANNspree Ten Kate team was eliminated on the second lap as Jonathan Rea crashed in front of Andrew Pitt, causing his team-mate to go down in the process. Both riders suffered a series of nasty cuts and abrasions.
---
With the current Aprilia RSV1000 2-cylinder bke now left behind by the new World Superbike rules allowing 1200ccc twin cylinder bikes, Aprilia has chosen instead of increasing displacement to produce an all new 1000cc V-4 engined bike to sell and contest World Superbike in 2009. BMW is also expected to introduce a 4-cylinder superbike to enter World Superbike in 2009.

New Aprilia RSV 4 "Race Machine " Is Revealved for World Superbike
Feb 22nd - The Aprilia Superbike, the bike which from 2009 will bring the Noale based company back to four-stroke racing, has been unveiled for the first time during the Piaggio Group Convention in Milan. After the success in the 2007 World Championships with Aprilia riders and bikes dominating the 125 and 250 classes (winning all four titles, a repeat of the 2006 performance), the Veneto company gave a preview of the eagerly awaited RSV 4 "Race Machine". An extraordinary preview to a privileged audience of more than 1,200 dealers attending the International Piaggio Group Convention.
Four cylinders, 1000 cc, power of well over 200 HP in the race version, the new bike due to make its road debut by the end of 2008 will mark Aprilia's return to the World Superbike Championship in the 2009 season.
The Aprilia RSV 4 is driven by the most revolutionary and powerful engine ever built by Aprilia. A four-cylinder one litre 65° V engine - a layout making it unique among all the world's production engines - in which the most sophisticated engine engineering is combined with top quality materials and the most advanced electronic control technology.
The Aprilia engine in fact uses integral ride-by-wire technology, opening up new frontiers in managing such a powerful engine, with almost infinite possibilities for controlling power output and traction.
---
Night Moves: Casey gets the Ducati GP08 airborne at Losail under the night time lights in a record breaking run. This is one of the few times we'll ever see the team bikes in full Marlboro logo livery due to the strict anti-tobacco laws in Europe and the USA,

MotoGP Official Test 2008 - Losail circuit, Qatar

Casey Stoner Dominates First Ever
MotoGP Night Test at Qatar with New Lap Record!
Feb 28, Losail Circuit, Qatar - Ducati Marlboro's World Champion Casey Stoner was the fastest rider in MotoGP's inaugural floodlit test at Losail International circuit on Thursday evening, lapping 0.689s ahead of his nearest rival in a groundbreaking session which concluded without problems.
Stoner needed just 45 minutes to find his bearings around the floodlit circuit of Losail in Qatar, with almost five and a half million watts lighting up the first official test session at 1800h local time, following a spectacular opening ceremony. Within an hour Stoner had clocked a stunning lap of 1'55.368, inside the current lap record and almost three seconds clear of his nearest rival. The test didn't finish until 0100h in the morning but both Ducati Marlboro Team riders were in positive mood. Track temperatures at 2000h were around 18°C.

CASEY STONER, Ducati Marlboro Team - "The first impression is like playing on the videogame "Need for Speed"! It's definitely a lot different to what we're used to. It's not better or worse, just different. The most interesting thing is that with lower visibility, at least with regard to the imperfections on the track, you have to have more confidence than your instinct tells you to have. It's not a bad start though."
Also in the top five were Fiat Yamaha's Jorge Lorenzo, LCR Honda's Randy de Puniet, JiR Team Scot's Andrea Dovizioso and Tech3 Yamaha's James Toseland – a quartet of Michelin riders who all lapped within a second of Stoner's hot lap.
Under the state-of-the-art lighting system at the desert circuit, Alex de Angelis from the San Carlo Honda Gresini squad made it a good night all round for the 2008 MotoGP rookies as he lapped sixth quickest.
Behind the San Marino rider came Kawasaki's John Hopkins, who lapped 71 times despite still being on the comeback trail after his groin injury. Meanwhile Repsol Honda's own comeback kid Dani Pedrosa, who rides with an injured hand still, used a softer tyre at the end of the session to cut his lap time, with experienced Yamaha pair Valentino Rossi and Colin Edwards rounding off the top ten.
The entire 2008 MotoGP field was in attendance, gaining a crucial first taste of what to expect at the season opening Commercialbank Grand Prix of Qatar on 9th March and focusing mainly on race tyre tests for the majority of the seven hour session with temperatures a cooler than expected average of 16ºC.
In the last hour of the practice Lorenzo improved his own time to move up into second on the timesheet. The 250cc World Champion was still more than half a second behind Stoner though, the premier class title holder having set the pace right from the start with a time of 1'55.368 in the first hour of the outing, a time which he later reduced by a further 0.038s midway through the evening.
Anthony West was the session's only crasher, an accident early on which did not result in any significant injury for the Australian Kawasaki rider, whilst the majority of the feedback from the teams and their MotoGP charges with regard to visibility and riding conditions was highly positive.
The test visit continues on Friday with a second and final 2008 MotoGP preseason test under the Losail floodlights, followed by three days (1st-3rd March) of testing for the smaller classes as of Saturday – just days before the start of the World Championship at the same venue.
Qatar Official MotoGP test – Day One– official lap times:
1. C. Stoner, DUCATI MARLBORO - 1'55.330 / 61 laps
2. J. Lorenzo, FIAT YAMAHA - 1'56.019 / 77
3. R. De Puniet, LCR HONDA MotoGP - 1'56.062 / 88
4. A. Dovizioso, JiR TEAM SCOT - 1'56.121 / 81
5. J. Toseland, TECH3 YAMAHA - 1'56.251 / 90
6. A. De Angelis, SAN CARLO HONDA GRESINI - 1'56.571 / 69
7. J. Hopkins, KAWASAKI RACING - 1'56.614 / 71
8. D. Pedrosa, REPSOL HONDA TEAM - 1'56.621 / 72
9. V. Rossi, FIAT YAMAHA - 1'56.749 / 82
10. C. Edwards, TECH3 YAMAHA - 1'56.762 / 86
11. T. Elias, ALICE TEAM - 1'57.007 / 85
12. N. Hayden, REPSOL HONDA TEAM - 1'57.010 / 91
13. S. Nakano, SAN CARLO HONDA GRESINI - 1'57.223 / 79
14. C. Vermeulen, RIZLA SUZUKI - 1'57.522 / 80
15. L. Capirossi, RIZLA SUZUKI - 1'57.551 / 66
16. M. Melandri, DUCATI MARLBORO - 1'57.593 / 70
17. S. Guintoli, ALICE TEAM - 1'57.644 / 66
18. A. West, KAWASAKI RACING - 1'57.787 / 51
Race lap record: 2007, Casey Stoner - 1'56.528
Qualifying record: 2007, Valentino Rossi - 1'55.002
---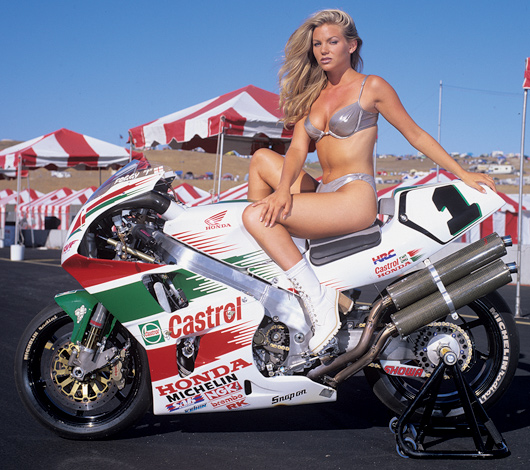 When was the last time you saw a Honda RC45 Superbike or remember that Carl Fogarty took the number "1" plate he won with a Ducati in 1996 and went to Honda in 1977 where the money was greener. The next year Carl was back on Ducati because he missed winning races. Model Gabriel Tuite was a big LA Lakers Basketball fan back then and today continues today on TV as an alternating Barker Beauty onThe Price is Right.
10 Year Anniversary - FastDates.com Releases the DVD!
The Making of the Fast Dates World Superbike Calendar - Movie

As the Fast Dates Racebike Calendar closes within 2 years of its 20th anniversary as the world's premier sportbike pinup calendar, this year also marks the 10th anniversary since the release of of our movie
The Making of the Fast Dates Calendar, which chronicled our shooting of the 1998 Fast Dates Calendar during the 1997 race season at the Laguna Seca World & AMA National Superbike, and the Las Vegas AMA National rounds.
Until now The Making of Fast Dates video has only been available as a VHS tape - now about as popular as 8-Tracks and Compact Cassettes. To commerate its 10th Anniversary we've stepped up to the 21st century and have re released it on DVD from the original high quality Beta Master.



< Click Left to order

The Making of Fast Dates

now on DVD!


Featuring the Superbikes of John Kocinski and Neil Hodgson (Ducati Corse 966F97), Troy Corser (Power Horse Ducati 966F97 which hit 200mph at Daytona), Erion Honda CBR900RR SuperTeam Champion, EBSCO Suzuki GSXR1142 SuperTeam Endruance Champion, Tom Kipp (Yamaha YZR750), Anthony Gober (Muzzy Kawasaki ZX7R), Roland Sand's (Performance machine Yamaha TZ250), Colin Edwards (Yamaha YZF750R), Carl Fogarty (Honda RC45), Larry Pegram (Ferracci Ducati 955), Pascal Picotte (Yoshimura Suzuki GSXR750.
---
There's more! Go to Pit Lane News NEXT PAGE
Hot Calendar Girl and Bike News! Go to: Fast Dates • Calendar Girls • Iron & Lace
Calendar Kittens, The Paddock Garage, Screensavers, Iron & Lace Garage



Many of our Calendar Kittens can also be seen at Playboy's website...


BikerKiss.com - the largest biker personals site!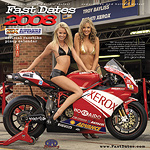 Now Available!
16-month Calendar starts Sept
2008 Fast Dates &
Garage Girls Calendars

More 2008 Calendars in the Calendar Store
Daytona Bike Week 2008 International Speedway Here are the Activities located at the Speedway in addition to thrilling motorcycle racing during upcoming Daytona 200 Week By Honda Feb. 29 - March 8th

Daytona International Speedway will once again host Kickstand City. In addition to offering a wide-variety of overnight parking packages and the exciting on-track racing, Daytona International Speedway will offer a plethora of must-see activities for any motorcycle enthusiast.
1- Free demo rides: motorcycle enthusiasts can test-ride the latest factory motorcycles with free manufacturer demo rides from Honda, Yamaha, Kawasaki, Suzuki, Harley-Davidson, Buell, Victory, Triumph, Boss Hoss and, BMW.

2- Custom builders: they will be located in the area outside of Turn 4. They include Covington, Bourget, Redneck, Ridley, Big Dog Motorcycles, S&S Cycles, Swift and many more.

3- The metric display: will be located in Lot 1.

4- Daytona Motorcycle Marketplace: Bikers can find some of the nation's top aftermarket parts, accessories and apparel companies in the parking lot of The Daytona 500 Experience.

5- Spring Dash Around Daytona: On Wednesday, March 5, bikers will get the chance of a lifetime to ride Daytona International Speedway in the Spring Dash Around Daytona. The parade lap will begin at 7 p.m. followed by the After Party until 9 p.m. Price is $40 per participant and includes an "I Rode Daytona" T-shirt, two parade, two beverage tickets and entertainment at the After Party in the Sprint FANZONE.

Tickets are available in the Budweiser Cool Your Pipes Zone outside of Turn 4 on March 1, 2 and 4, 11 a.m. to 5 p.m. and on Wednesday, March 5 from 11 a.m. - 6 p.m. A portion of the proceeds will be donated to the Volusia/Flagler County Coalition for the Homeless Inc.
Troy Bayliss Announces Retirement End of 2008
The 2-time World Superbike Champion has announced that 2008 will be his final season in motorcycle racing.
"I've no regrets, said troy, "I'ver had an amazing ride over the past 10 years, but now its time to come home. Kim (his wife) and I have been away from Australia for 10 years now, and the time is right to come home.
Bayliss has ben living in Monaco with his wife and three children: Mitchell 13, Abby 11, and Ollie age 4.
Bayliss has enjoyed hos career for the most part which includes two World Superbike Championships (2001 and 2006), the British Superbike Championship (1999) and the season ending 2006 Valencia MotoGP race that ended the 990cc formula.
"That's my most memorable race, and it was at the end of my most memorable season (his 2006 Superbike title)," recalls Troy. "Winning the World Superbike title again after two disapointing years in 2004 and 2005 in MotoGP sent a message that i still had it, and winning the final MotoGP race (substituing for an injured dete Giberneau)was just the most amazing feeling."
Currently Troy is still recovering from a broken collarbone he recived while testing at Phillip Island in January. While last year he suffered a serious groin injury at Donnington Park, also losing the tip of his little finger when his hand got caught under his sliding bike. But amazingly he returned for the next week's race. So 3 serious injuries inthe curse of just 8 months are certaibly going to make an old family man think twice about the future!
Troy and Kim would like to settle somewhere on the Gold Coast of Australia when he does hang up his leathers. And he'd like to have a chance to try Australian Supercar racing.
New DVD!

Hot New Book!
---
Dramatic season opener for HANNspree Superbike World Championship
Qatar Feb 23rd - Troy Bayliss has taken the early lead in the title chase for the 2008 HANNspree Superbike World Championship at the Losail circuit in Qatar today.
The Australian secured victory in race one after a brave overtaking manoeuvre on Max Biaggi just ahead of the chequered flag. However, despite a strong effort, Bayliss missed out on a podium finish in race two. Fourth place was enough to secure him the series lead ahead of Biaggi and Fonsi Nieto respectively.
Within the HANNspree-supported teams, HANNspree Ten Kate Honda enjoyed a successful start to the season with two of its riders. Newcomer Carlos Checa proved himself as the best series rookie in race one after finishing in sixth position. The Spaniard passed the chequered flag in 11th place in the day's second 18-lap race to secure eighth overall.
Reigning World Supersport Champion Kenan Sofuoglu also enjoyed a strong start aboard the new HANNspree Ten Kate Honda CBR1000RR with 12th and 10th place finishes respectively. The Turkish rider is now in 11th position overall with ten points. However, after difficult practice and qualifying sessions, Ryuichi Kiyonari continued to struggle to get to grips with the new bike and tyres.
HANNspree Honda Althea's Roberto Rolfo built on the experience he gained in his debut season with HANNspree Ten Kate Honda in 2007. The Italian finished 11th and 15th to claim 11th place overall.
DUCATI SUPERBIKE CONCORSO RETURNS FOR 2008
The Ducati Superbike Concorso enters a second year of competition
Cupertino, CA (February 1, 2008) - Ducati North America is pleased announce the return of the Superbike Concorso; a competition celebrating over 30 years of the Bologna manufacturer's Superbikes.
The Superbike Concorso is a Ducatisti driven competition showcasing exceptional Superbikes. Competing bikes span from the era of the original 1970's Supersports to the modern age of Desmodromic domination; including Casey Stoner's World Championship victory on the Desmosedici Grand Prix machine.
This year's Concorso is open to all privately owned 1972-2008 Ducati Superbikes, including the revolutionary Desmosedici RR and the new Ducati 848 Superbike. The Concorso recognizes performance, history, beauty, and craftsmanship; all carefully judged by a panel of esteemed motorcycle authorities.
The 2008 Superbike Concorso is a five round competition; four rounds of which will coincide with major American motorcycle races. The fifth round will be a virtual showdown held at DucatiSuperbikeConcorso.com.
A Grand Prize will be awarded to the "Overall Best Superbike" at each of the five rounds; with the winners receiving an once-in-a-lifetime trip to Ducati's Bologna factory. Winners in other categories will receive $500 Ducati Performance gift certificates redeemable at over 160 authorized Ducati Dealerships.
The Superbike Concorso kicks off March 5th – 8th at Daytona Bike Week and will continue through the inaugural Indianapolis Grand Prix in September. Get more details and sign up now at DucatiSuperbikeConcorso.com.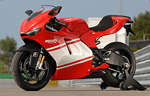 Ducati Desmosedici RRFor compete details and photos of the new bike go to our
New Sportbike Index
Ducati Desmosedici RR
Are You Tom Cruise?
Desmosedici Delivery Begins
Feb. 2008 - The long anticipated delivery of the Ducati Desmosedici RR MotoGP street bike began this month in America, some 18 months late after the initial planned delivery date of 2 years announced at World Ducati Week 2004.
The first 200 bikes were suposedly allocated to current Ducati 999R Superbike owners in order of the date they placed their deposit at their dealers.
Production has since been expanded to 1500 bikes. with all 1500 bikes to be built this year by Christmas 2008.
Reportedly some 60 Desmosedici's were delivered to Ducati dealers in America the first of this month, with reportedly just one bike per dealer, irrespective of when they were ordered. Some 15 of those bikes went to West Coast dealers, but in some case it was who you were and who you knew that got you the frist bikes.
The first Desmosedici that arrived at Beverly Hills Ducati, CA, we heard went straight to actor Tom Cruise, who we have never seen photographed on a sportbike or seen riding a Ducati here around his home in in Southern California. Suprisingly, no one at Beverly Hills Ducati or Ducati NA capitalized on any publicity value with pictures or a press release of delivering their first bike to Tom Cruise. It was essentially kept hush, hush.
The first Desmosedici delived to Mission Motorsports in San Diego, was actually earmarked for Los Angles resident and Ducati enthusiast Kami Coe who had tried to run an under financed and ill fated AMA Superbike team with Larry Pegram back in 2003 by purchasing a pair of ex works Ducati 988F race bikes. Kami had never purchased a new 999R, nor had he placed an early deposit with any dealer.
That said, we do see 2 other Desmosedici RRs being delivered to 999R owners. One gentleman owns a chain of upscale restaurants and received his first of 3 Desmosedici he had ordered. The other t2 bikes of which he plans to customize and modify. His riding is limited to riding one of his expensive collection of bikes and cars some 8 miles in a straight line on the highway, to the local Sunday morning bike hangout and back.
The other guy only rides his Ducati's on the race track, and his Desmosedici will be stripped of its lighting equipment and muffler, shod with racing slicks and have a hard life as a track bike. For all of them and their 'Sedici, it is the life in the hands of wealthy entuusiasts for which the limited production bike was intended.
---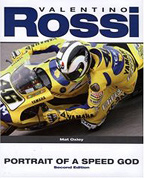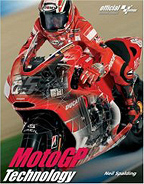 ---
New Pirelli Russo Tire
and Sexy Video
Milan, 8 Nov. - During the EICMA show Pirelli presented the brand new Pirelli DIABLO ROSSO.
This tyre sets the point representing a new tyre generation, thanks to the new approach Pirelli adopted to design this new product for the SUPERSPORT segment and thanks to the new EPT (Enhanced Patch Technology) Pirelli patent.
Diablo Rosso finds its full description in a new section of Pirelli tyre website thanks to a video which represents its world and 'personality' together with a page with the product features.
Soon each country will have its own DIABLO ROSSO area in its proper language, now you can see the preview in the corporate website with a very SEXY VIDEO.
Please check it out by CLICKING HERE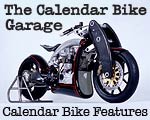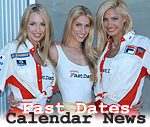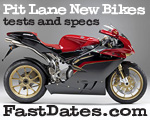 ---


NEW! FastDates.com
Cell Phone Wallpapers!
---
Sands vs. Rooke
Calendar Bike Build Off
See the world's two hottest custom sportbikes featured in the 2008 Fast Dates and Iron & Lace Calendars being built and raced by Roland Sands and Jesse Rooke for Discovery Channel's Biker Build Off
Roland Sands builds the
KR Tracker Calendar Show Bike
New Blood DVD
features Roland Sands building and riding the extraordinary Roland Sands Design / Kenny Roberts KR 990cc 5-cylinder MotoGP powered Retro Board Track Racer. The bike is also featured in the 2008 Fast Dates race bike and Iron & Lace custom bike Calendars with beautiful Playboy Playmate and Calendar Kitten Tamara Witmer in one of our best calendar shots ever and ,featured in the LA Calendar Motorcycle Show advertsing campaigns
and T-Shirt.
AMA continues search
for "Promotional Racing Partners"
Feb 26th - The American Motorcyclist Association released an update in finding promotional partners for its professional racing series after its board meeting at the Dealer Expo, according to a press release.
American Motorcyclist Association CEO Rob Dingman said the organization has, "received a number of proposals in response to our call for bids. We are following a defined protocol with our governing board to thoroughly review each bid. At this point, no decisions have been made but the process is moving forward as planned."
Dingman went on to emphasize the importance of confidentiality during this process.
"Its very competitive, and we must ensure the sanctity of the review process," he noted. "As we consider our options, our first priority must be the health and well-being of the AMA and its 290,000 members."
What all this means, no one knows. Lat fall Dingman announced they wanted to get out of the racing business.
Which effectively they are, as they do not promote any races themselves. Yet Digman and the AMA still want to retain sanctioning and rules control over all types of motorcycle racing, particularly the AMA Roadracing Nationals.
As long as the AMA controls the rules through its board members and employees the sport will go no where.