10 Year Anniversary - FastDates.com Releases the DVD!
The Making of the Fast Dates World Superbike Calendar - Movie

As the Fast Dates Racebike Calendar closes within 2 years of its 20th anniversary as the world's premier sportbike pinup calendar, this year also marks the 10th anniversary since the release of of our movie
The Making of the Fast Dates Calendar, which chronicled our shooting of the 1998 Fast Dates Calendar during the 1997 race season at the Laguna Seca World & AMA National Superbike, and the Las Vegas AMA National rounds.
Until now The Making of Fast Dates video has only been available as a VHS tape - now about as popular as 8-Tracks and Compact Cassettes. To commerate its 10th Anniversary we've stepped up to the 21st century and have re released it on DVD from the original high quality Beta Master.



< Click Left to order

The Making of Fast Dates

now on DVD!


Featuring the Superbikes of John Kocinski and Neil Hodgson (Ducati Corse 966F97), Troy Corser (Power Horse Ducati 966F97 which hit 200mph at Daytona), Erion Honda CBR900RR SuperTeam Champion, EBSCO Suzuki GSXR1142 SuperTeam Endruance Champion, Tom Kipp (Yamaha YZR750), Anthony Gober (Muzzy Kawasaki ZX7R), Roland Sand's (Performance machine Yamaha TZ250), Colin Edwards (Yamaha YZF750R), Carl Fogarty (Honda RC45), Larry Pegram (Ferracci Ducati 955), Pascal Picotte (Yoshimura Suzuki GSXR750.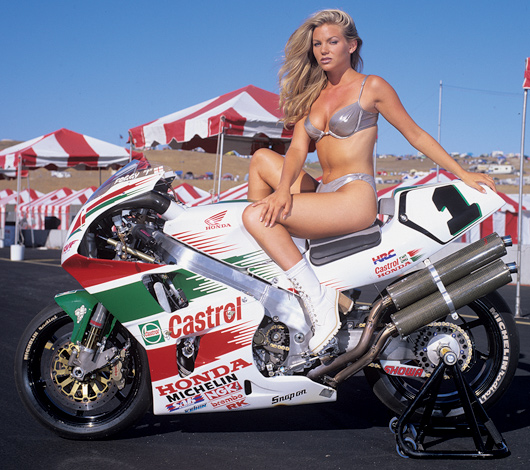 When was the last time you saw a Honda RC45 Superbike or remember that Carl Fogarty took the number "1" plate he won with a Ducati in 1996 and went to Honda in 1977 where the money was greener. The next year Carl was back on Ducati because he missed winning races. Model Gabriel Tuite was a big LA Lakers Basketball fan back then and today continues today on TV as an alternating Barker Beauty onThe Price is Right.
---
SBK World Superbike Final Pre Season Testing, Qatar
1-Week to 2008 World Superbike Kick Off!
Aussies Bayliss and Corser Quickest at Final Pre Season Tests
Losail (Qatar), Wednesday 13th February - Bayliss and Fabrizio (Ducati Xerox) took to the track this week in Qatar, taking part in the final test sessions before the Superbike championship begins on 23rd February. Faced with blistering track temperatures, Bayliss got back to business after an enforced rest period due to a broken collarbone, and clocked up a total of 55 laps on Wednesday with a fastest lap time of 1m58.8s. Team-mate Fabrizio registered a fastest lap time of 1m59.6s, completing a total of 71 laps on this, the second and last day of testing for the Ducati Xerox Team.
Troy Bayliss 1m58.8s - "I'm pretty happy with how things have gone here. On Tuesday we sorted out a few "gremlins" so to speak. We had a brand new bike here and it always takes a bit of time to run in so we hope that we have solved those problems before next week's race. We've tried different things today with regard to set-up and I managed to complete 55 laps. Lap times were good and we were able to do a long-run after lunch too which went well. I'm also pretty positive about my condition, as although yesterday I wasn't feeling so comfortable with the bikes settings, I felt much better today after we changed a few things and I think I can say I'm pretty much back to normal. I'm happy I still have another week to get even fitter before next week."
Michel Fabrizio 1m59.6s - "It went well here this week. Yesterday we had a few technical problems but today it all went much better and I'm happy with the progress we made. Today I managed to do 10 laps, each in under 2 minutes, and a total of 71 laps. I'd say that we're ready for the race next week and I can't wait for the championship to begin!"
Noriyuki Haga and Troy Corser (both Yamaha Motor Italia WSB Team) also made their final pre-race preparations for the 2008 World Superbike season at the Losail International Circuit today; the same venue that serves as the championship kick off on Saturday 23 February.
The Losail track surface was not in as good condition as it was for the team's previous winter test around the 5.380km circuit in Qatar, but the main objective of this showing was to ensure that all the latest equipment would be in prime condition when points become available for real next week.
The team brought four all-new machines and all of the latest specification, but as this was not an official test the riders had to use a more limited stock of tyres than usual. Corser was second fastest rider of all on the final day, posting a 1'59.0, with Haga only marginally behind with a time of 1'59.3.
Shinichi Nakatomi (Team YZF Yamaha) was also out testing in preparation for the start of the year, running his latest spec of Yamaha YZF-R1 machine in his one-man team. He set a best of 2'00.7, on off-the-shelf Pirelli control tyres. Yamaha's second French WSB team GMT94 did not attend this last pre-season test.
Troy Corser (2nd - 1'59.0 - Yamaha Motor Italia WSB Team) - "We tried a few new things with the variable intake settings for example, but only a little bit at this test. That said, we still found a lot of positive stuff over the past two days. It was mostly a shakedown test, with a bit of back-to-back comparison of the different bikes and I feel really confident with our starting package for this coming season. The only downside was that I felt a bit feverish this afternoon, aching a bit, like am catching the 'flu, so it wasn't that much fun on the bike sometimes. The results were still good, so I'm confident in the bike and team. With what we found today, I would be happy to go and start the championship tomorrow."
Noriyuki Haga (3rd - 1'59.3 - Yamaha Motor Italia WSB Team) - "It has been good to test so close to the start of the season and things went well with the bike. We only really had one type of tyre to test so we had to make changes in our suspension settings to be able to work with them. We found a setting that worked, which shows that we know how to adjust the bike in a good way. We will see how we get on during the race weekends but my long run this morning went well. I think when we get the real race tyres, we will be ready to go."
TIMES (Wednesday): Bayliss (Ducati Xerox) 1m58.8s; Corser (Yamaha) 1m59.0s; Haga (Yamaha) 1m59.6s; Fabrizio (Ducati Xerox) 1m59.6s
---
Grand Prix Zero Showdown This Weekend in Spain
MotoGP World Champions Casey Stoner & Valentino Rossi
Madrid, Spain, Feb 16-18th - The Grand Prix Zero takes place this Sunday the 17th at Jerez de la Frontera in Spain with the winner of the 40-minute shootout will take home a new BMW Z4 M Roadster and short-term bragging rights. But don't be fooled by fireworks with qualifying tires. The meaningful comparison will be taken from race pace on race tires over three days of testing (February 16, 17, and 18) at Jerez, and, unless something major has changed between the recent Malaysian and Australian tests, we will be seeing the first straight-up Stoner-Rossi duel of what promises to be a Stoner-Rossi season.
Its a pretty small club in MotoGP, with all 18 riders expected to make the show, including convalescents Dani Pedrosa, who broke a finger on first day of the first Malaysian tests, and Kawasaki's John Hopkins, who suffered a torn adductor muscle in his groin on day one of the second Sepang tests. By the time the 40-minute session begins on Sunday, televised live on Spain's TVE and carried by many other European companies, we will already know who is fastest on race tires and who can hold race pace consistently.
At the season opening tests in mid January at the end of the obligatory winter break seemed very promising for both Michelin and Honda. Pedrosa was very quick from the beginning but was injured early on day one. Nicky Hayden set the quickest time on qualifying tires and Michelin riders took four of the top five times—but it may have been a false dawn for both Honda and Michelin. In spite of the naïve headlines dedicated to the rider with the fastest lap on a sticky 'Q' tires on a given day, the reality is that, as the circus comes to Spain ,it is two other riders have stood head and shoulders above the rest on race tires.
Stoner and Rossi on Devastating Pace at Recent Tests
Casey Stoner was so fast in Phillip Island on the Desmosedici that the second fastest man on race tires, rookie Andrea Dovizioso (Honda-Michelin), actually only managed to set the 21st fastest lap. The fastest lap on race tires by Stoner was 1'30.019 and he recorded 19 other laps faster than the 1'30.452 that placed Dovizioso second among riders.
Stoner, who was also fastest on qualifying tires, made a long run on race tires that, after factoring in a theoretical standing first lap, would have given him a corrected race time almost 23 seconds faster than his runaway win last season when he beat his teammate Loris Capirossi by 6.763 seconds and Valentino Rossi by 10.038 seconds.
But, Rossi was absent at Sepang when Stoner showed the awesome potential of the current 2008 Ducati-Bridgestone package at Phillip Island. Then it was Rossi's turn to strut Yamaha's stuff at Sepang II a week later. This time Stoner and the factory Ducati team sat out the tests leaving Rossi and Yamaha to wonder if what they did was good enough.
On a track where Rossi was beaten back to fifth last year in a race won by Stoner, Rossi ran a race simulation that, when adjusted to include a standing start, beat his own race time by a whopping 22.7 seconds and, more importantly, was 17.6 seconds quicker that Stoner's winning time.
Rossi was easily the fastest on qualifying tires, but more importantly, the average lap time of his best five laps on race tires was almost a second faster than the pace of the second fastest man in Malaysia, Hayden on his Michelin-shod Repsol Honda.
OK, so how did they know to paint the BMW in RED? It matches the RED Alfa he got last November for winning the 2007 MotoGP Championship.

1.317 Seconds Faster than Second Quickest Rossi!
Stoner's Devistating Practice Pace for Jerez Season Opener in 2 Weeks
Jerez, February 17th - Reigning MotoGP World Champion Casey Stoner opened the first competitive activity of 2008 with a comprehensive victory in the BMW M Award qualifying shootout, which took place just after 2pm at an uncharacteristically wet Circuito de Jerez.
Stoner needed just five laps onboard his Ducati Desmosedici GP8 to ensure that the BMW Z4 M Roadster would be heading to Australia, clocking an early lap of 1'49.263 that was unrivalled by any of his fellow MotoGP riders. Whilst the winner of the 40-minute timed session is rarely the man lifting the World Championship trophy at the end of the season, the early dominance was a clear stamp of authority by the 22 year-old and will cause his rivals a few sleepless nights ahead of the first race in Qatar on March 9th.
The current title holder's performance put to bed any doubts as to whether either himself or tyre manufacturers Bridgestone would be competitive at the Spanish circuit after an slower day for both parties yesterday. In a mixture of qualifying and race tyres on the opening day of the MotoGP Official Test, Michelin had occupied every place in the top five, and Stoner was comparatively off the pace. His scorching lap today also renders questions as to his ability at Jerez – where he injured his shoulder in the final test of 2007 - all but obsolete.
The session began with Stoner undertaking the first five of his total of nine laps, and his opening outing already put him at the head of the standings. It also saw a first head-to-head battle with Valentino Rossi, with some 'mind games' taking place on track just five minutes into the session. After setting down his marker, Stoner then returned to the pits and watched the action unfold for over a quarter of an hour, eventually re-emerging for a further four laps worthy of the BMW prize.
In contrast to the 2007 edition of the event, there was to be no late drama in Jerez from Valentino Rossi. Whilst the Italian put himself up into second place with only time for one lap remaining, a final push never materialised on the still unfamiliar Bridgestone qualifying tyres for the five-time MotoGP World Champion. Twice a winner of the preseason prize, Rossi had to settle for the unrewarded runner-up spot with a time over a second slower than that of his Australian rival.
2006 MotoGP World Champion Nicky Hayden also had a late but unfruitful attempt at a Stoner-challenging lap, finishing third fastest after topping the timesheets yesterday. The 'Kentucky Kid' was the leading Michelin rider in the 40 minute session.
A wet weather specialist, Anthony West fancied his chances of a competitive time, although the drying-out track didn't give him enough of an advantage to really challenge his countryman Stoner. The Kawasaki rider set his quickest time at the midway point in the session, but still held off the likes of Andrea Dovizioso and Shinya Nakano in the top six.
West's team-mate John Hopkins elected against an appearance in the session owing to his ongoing groin injury pain, as fellow member of the injured contingent Repsol Honda's Dani Pedrosa. As per a change in format for the season-long version of the BMW M Award, both remain eligible for the qualifying total prize.
There were run-offs for Alex De Angelis, James Toseland and Loris Capirossi, whilst the remainder of the top ten consisted of the Italian veteran, LCR Honda's Randy de Puniet, Alice Team newcomer Sylvain Guintoli on the second fastest Ducati machine, and factory rider Marco Melandri.
Following the session there was very little activity before race direction called an early halt to proceedings due to high winds at the southern Spanish circuit. Tomorrow will see a final day of MotoGP practice at the Jerez track.
1 1 Casey STONER AUS Ducati Marlboro Team DUCATI 1'39.263
2 46 Valentino ROSSI ITA Fiat Yamaha Team YAMAHA 1'40.580
3 69 Nicky HAYDEN USA Repsol Honda Team HONDA 1'40.785
4 13 Anthony WEST AUS Kawasaki Racing Team KAWASAKI 1'40.799
5 4 Andrea DOVIZIOSO ITA JiR Team Scot MotoGP HONDA 1'41.312
6 56 Shinya NAKANO JPN San Carlo Honda Gresini HONDA 1'41.594
7 65 Loris CAPIROSSI ITA Rizla Suzuki MotoGP SUZUKI 1'41.894
8 14 Randy DE PUNIET FRA LCR Honda MotoGP HONDA 1'41.979
9 50 Sylvain GUINTOLI FRA Alice Team DUCATI 1'42.058
10 33 Marco MELANDRI ITA Ducati Marlboro Team DUCATI 1'42.238
11 15 Alex DE ANGELIS RSM San Carlo Honda Gresini HONDA 1'42.463
12 52 James TOSELAND GBR Tech 3 Yamaha YAMAHA 1'42.755
13 7 Chris VERMEULEN AUS Rizla Suzuki MotoGP SUZUKI 1'42.779
14 5 Colin EDWARDS USA Tech 3 Yamaha YAMAHA 1'42.826
15 19 Olivier JACQUE FRA Kawasaki Racing Team KAWASAKI 1'43.283
16 48 Jorge LORENZO SPA Fiat Yamaha Team YAMAHA 1'43.292
17 22 Vittoriano GUARESCHI ITA Ducati Marlboro Team DUCATI 1'44.694
18 59 Niccolo CANEPA ITA Ducati Marlboro Team DUCATI 1'47.453
19 24 Toni ELIAS SPA Alice Team DUCATI 1'47.698
The 2008 MotoGP Contenders. Click for the BIG PICTURE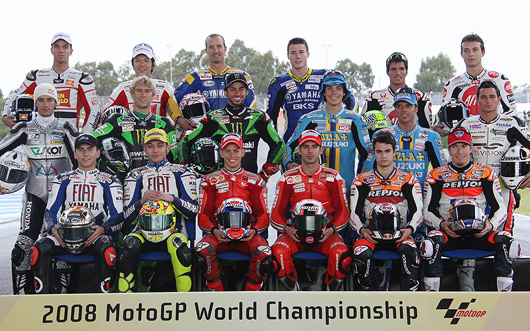 Hayden and Honda Top MotoGP Times on Day 3
MotoGP Official Test Day 3, Feb 18th - Repsol Honda's Nicky Hayden was the fastest man of the final day at the MotoGP Official Test, laying down the quickest lap of the week in the final hour of action in Jerez. The American was, as on the opening day in southern Spain, both the man at the head of the timesheets and the rider with the most laps to his name, his fastest of which being a 1'38.848 lap over half a second under team-mate Dani Pedrosa's pole lap from 2007 and exactly the same as his time from last November's test.
The 2006 MotoGP World Champion was the only rider to break the 1'39 barrier on the final day in mixed weather conditions for the 800cc competitors. The asphalt having dried late on in the afternoon after some uncharacteristic downpours, a selection of riders chose to conclude their three day excursion with a qualifying tyre run. As on day one, Hayden headed a timesheet that suggests that Michelin are still very much the qualifying tyre pacesetters at the scene of the first European MotoGP visit.
Making amends for an uncomfortable ride in yesterday's BMW M Award, Jorge Lorenzo was back amongst the frontrunners onboard the Fiat Yamaha M1. The Spaniard was four tenths of a second slower than Hayden in a tightly-packed top six.
Fellow MotoGP rookie and long time rival Andrea Dovizioso was also turning heads with the latest episode of a productive adaptation to the premier class, putting in the third fastest lap of the day shortly after 5.15pm local time. The JiR Team Scot rider was almost inseparable from another satellite rider, LCR Honda's Randy de Puniet, who undertook his hot lap at almost exactly the same time.
Bridgestone newcomer Valentino Rossi was the highest placing rider on Japanese rubber in fifth, rivalling Hayden for industriousness at the scene of his 2007 victory. He chose against running a race simulation to round off his test, choosing instead to focus on corner entry troubles after some early problems in Spain with his factory machine.
Sixth placed James Toseland once again impressed with the satellite version of the Yamaha M1, confirming his 1'39.678 lap from day one was far from beginners luck by recording a time less than a tenth of a second outside said marker. It wasn't all good news for the Briton, however, as he suffered a crash on his second lap of the day that caused him to miss two hours of the session undergoing x-rays on a damaged ankle, returning on crutches with damaged right ankle ligaments before taking to the track once more.
The star of the BMW M Award session yesterday, reigning World Champion Casey Stoner refused to be drawn into any late battle to top the timesheets. The Ducati Marlboro rider's fastest lap came midway through his total of 57, and he was already packed up by the time the majority of the top ten were kitting out their bikes with qualifying tyres for a final surge. He suffered a small slide out in a repeat of last year's final day, but without causing any injury.
Stoner picked up where he'd left off on the first day of the test by working on his dry setting and the World Champion ended the day reflecting positively on the outcome with both race and qualifying tyres, even though his fastest lap was set when conditions weren't at their optimum. A small crash midway through the afternoon did nothing to dent the Australian's satisfaction at a job well done over the three days.
Casey Stoner (Ducati Marlboro Team), best time: 1.39.845 (57 laps) - "The conditions haven't been perfect here this weekend but this afternoon the sun came back out and we were finally able to get some good laps in and work on finding some more grip on the rear. We had another chassis setting prepared on my second bike but the crash meant that we weren't able to switch the tyres over and make a direct comparison so that was a shame. The wind was making it quite difficult in some corners and it didn't help with the crash but it was just a small front end slide and I was fine. We were able to continue the test and I tried out a completely new qualifying tyre. We actually tried it at the wrong time of the day because the wind was up and I could have gone much faster a little later on but the point of the test wasn't to set the fastest time but to see if the new qualifier was better than the previous one, which it was so that was positive. Generally speaking it has been a very positive test although we have been careful not to make the setting too specific to this circuit because it is very unique and you often find that the same setting doesn't work as well anywhere else. Now I'm really looking forward to going to Qatar, seeing how the bike goes there and making the final preparations for the start of the season."
Stoner was the final rider to come within a second of Hayden's time, with Alex de Angelis, Shinya Nakano and Loris Capirossi completing the top ten.
Kawasaki's injured representative John Hopkins rode just 18 laps of the track, limiting his work to the bare essentials. Another absentee from yesterday's 40 minute qualifying session, Dani Pedrosa also took things easy at his home circuit.
Of the regular MotoGP field, only Tech 3 Yamaha's Colin Edwards elected against testing on day three after having completed his schedule yesterday. The Official Test now over for the premier class riders, the 125cc and 250cc competitors now take to the stage for a triumvirate of development sessions from Tuesday February 19th.
Jerez Circuit info
Circuit Record: Valentino Rossi (Yamaha - 2005) 1'40.596
Best pole: Loris Capirossi (Ducati - 2006) 1'39.064
Lap times Monday 18th February
1. Hayden (Honda) 1.38.848 al 81° (82)
2. Lorenzo (Yamaha) 1.39.252 al 60° (60)
3. Dovizioso (Honda) 1.39.313 al 56° (62)
4. De Puniet (Honda) 1.39.351 al 68° (68)
5. Rossi (Yamaha) 1.39.568 all'79° (79)
6. Toseland (Yamaha) 1.39.727 al 36° (36)
7. Stoner (Ducati) 1.39.845 al 28° (57)
8. De Angelis (Honda) 1.39.932 al 54° (56)
9. Nakano (Honda) 1.40.333 al 66° (66)
10. Capirossi (Suzuki) 1.40.442 al 35° (50)
11. Vermeulen (Suzuki) 1.40.576 al 42° (62)
12. West (Kawasaki) 1.41.026 al 39° (65)
13. Guintoli (Ducati) 1.41.615 al 34° (46)
14. Melandri (Ducati) 1.41.292 al 69° (72)
15. Elias (Ducati) 1.41.311 al 71° (71)
16. Pedrosa (Honda) 1.41.699 al 33° (35)
17. Canepa (Ducati) 1.42.160 al 72° (74)
18. Hopkins (Kawasaki) 1.42.970 al 17° (20)
19. Jacque (KawasakI) 1.43.496 al 17° (18)
20. Guareschi (Ducati) 1.45.597 al 28° (66)
---

Rosssi turned his quickest times on Day 2 at Sepang, then used the final day for Race Simulation tests.
MotoGP Testing, Sepang, Malaysia
Rossi Up to Speed in Sepang
Feb. 5-7th, 2008 - Last week the majority of MotoGP teams tested in Phillip Island, Australia, with Casey Stoner easily dominating with the quickest times on the Ducati GP08. Absent from the Phillip Island testing was the official factory Fiat Yamaha team with Valentino Rossi and Jorge Lorenzo. Also joining the Yamaha team at Sepang for back-to-back development testing were the factory Honda and Kawasaki teams who were still chasing numerous problems in engine and chassis development.
Rossi Completes Malaysian Test with Impressive Race Simulation
Valentino Rossi rounded off a successful three days in Malaysia with another impressive day's testing at the Sepang International Circuit today. The high point of the Italian's day was his race simulation, when he lapped consistently under lap record pace and improved on his time from the January test, as well as on last year's race time.
Rossi was pleased both with the performance of his 2008-spec M1 and with his Bridgestone tyres, today's results indicating that he and his team are on target with their pre-season development.
Valentino Rossi - Position: Fastest Time: 2'00.472 Day 2 - "Today was another very good day and I had a good pace and rhythm all day. We tested some different Bridgestone tyres before again trying the one I prefer, which confirmed that this is the best one for us and so we will use it for the long run tomorrow. We worked a little bit on the suspension and also on the electronic mapping and we also tried a lot of practice starts, maybe as many as ten, and we need to improve a bit in this area. I also tried a new cowling which is aimed at improving the cooling system and this had a good result. Finally I tried a qualifying tyre again and, although I made a small mistake on my lap because I was quite tired by then, it was again very positive."
Day 3 - "I'm really happy about today's race simulation and about the overall balance of this test. Everything has gone well and the race-simulation was an improvement on the one from last time; this is the real test of where we are. We've worked on various different items in many different areas but we've had positive feedback throughout. It's given me the chance to better understand the tyres and today's simulation has given me even more information about how they behave. We've worked more at this test on the set-up of the bike to enable it to work as well as possible with the new tyres and we've also continued to work on the new engine, which will be the standard one for this season, and on the electronics. We've still got a lot to do but so far everything is progressing well. Now we're looking forward to Jerez and seeing where we are at a new track alongside all of our competitors."
Davide Brivio - Team Manager: "This test has been very positive; all the hard work that the Yamaha engineers have put in over the winter is now showing in our good results so I would like to say a big thank you to all of them. We've seen improvement in all the different areas in which we've worked in this week and so we hope that these results will help us to create a competitive package. The final day's race simulation was good and an improvement on January, plus the individual lap times within it were fast and consistent. This is a very important indication of our level. We've only done 50% of our pre-season testing, we have two more to go before the first race but we hope to continue improving like this and arrive at the first race in good shape and ready to commence our challenge."
Jorge Lorenzo finished his second test of the year in positive fashion today with an impressive lap on qualifying tyres. The young Fiat Yamaha Team rider had a somewhat difficult test overall and was unhappy not to improve in the way he had expected to, but his performance on Michelin qualifying rubber at the end of the day gave him some cause for cheer.
Like his team-mate Valentino Rossi, Lorenzo had planned to complete a race simulation today but he abandoned it after a few laps when he found he was lacking pace, deciding instead to spend the remainder of the day working on set-up and tyre testing with Michelin. His time of 2'00.705, set on the 72nd of 73 laps, was an improvement on his best qualifying time from the January test and good enough to leave him at the top of the day's time sheets, with Rossi in second after a best lap of 2'01.190.
Jorge Lorenzo - Position: 3nd Time: 2'00.705 Laps: 73 - "This has been a difficult test for us but not completely negative. The major problem is still the front end going into the corners; the bike is not stable and we also have a bit of vibration. We've tried many different settings but we haven't been able to improve as much as we expected, so this means that I still need to adapt my riding style in some areas. Today I started to do a race simulation but I came in again because my pace was not good enough. At the end of the day we tried some qualifying tyres and I was able to improve on my time from the last test, so that's positive. I'm not worried about what's happened here; I've had bad days before and I have confidence that we will find the right way forward. I am looking forward to going to a different track now and seeing what happens
Hayden gets RC212V chassis dialed in at hot and humid Sepang
The second day of MotoGP testing at Sepang was run in extremely high temperatures and high humidity the thermometer registering mid 30 degrees with a track temperature rising from an early 46 to peak at an incredible 60 degrees at one point.
Despite the sweltering conditions Nicky Hayden was an early starter managing to get in 90 laps at Sepang today completing the chassis comparison test the HRC engineers had planned for this test. The Repsol Honda team technicians managed to improve the chassis specification of the factory RC212V and find suitable Michelin rubber to suit the set up in the extreme conditions. Hayden ended the day in positive mood and with nothing more to learn he heads for home in the US for a break but eager to get to the next test at Jerez, Sothern Spain in nine days time.
Nicky Hayden, Repsol Honda: 2m 00.900s – 90 laps. "Not too bad all in all a positive two-days testing. The team have worked extremely hard for me from day one of testing this year, the HRC engineers and the mechanics . Today we didn't focus on just one thing but worked on chassis comparison tests and working on tyres with Michelin. The track surface temperature was as high as it's ever been here and we got some positive feedback on tyres in the conditions. We found a good rear that gives good grip on the edge of the tyre. The front we tried was OK but we went back to the front tyre we had used at the last test. The chassis is now OK and we will have the new engine ready for the next test. It's been a pretty busy time and we go at it again in Jerez before the big show opens."
The Gresini Honda all new rider line-up of Shinya Nakano and Alex De Angelis for the 2008 season have gelled with the team technicians quickly establishing a good working relationship with the squad and have made impressive progress during winter testing.
De Angelis makes no secret of the fact that the Sepang circuit is not one of his favourite's but despite that the MotoGP debutante has knuckled down working hard refining chassis settings to try and cure a persistent niggling front end chattering problem around the 5.548 km track. De Angelis put in 57 laps today and managed to better his best lap time of yesterday. The Sanmarinese also tested qualifier tyres for Bridgestone but could not get the best from the sticky rubber with the set up he used in the high temperatures.
Nakano worked on suspension set-up mainly and now finds the machine more comfortable to ride. The Japanese star then moved on to do some tyre tests for Bridgestone. But at the end of 59 laps he could not find better tyre performance than during yesterdays test - either with race rubber or qualifying tyres.
The Repsol Honda team left Sepang after the 2nd day to returnto the team's headquarters in japan to work on the bikes. Gresini Racing remained at the track to complete the three-day test.
All the MotoGP Teams will meet at Jerez in Spain on Saturday, 16th February for the three-day Official MotoGP Test, the penultimate test before the season kicks off in March.
Sepang Testing Unofficial lap times
1. Valentino Rossi - Fiat Yamaha Team 2:00.472
2. Jorge Lorenzo (SPA) Fiat Yamaha Team 2'00.705
3. Nicky Hayden - Repsol HRC 2:00.900
4. Shinya Nakano - Honda Gresini 2:02.049
5. Alex De Angelis - Honda Gresini 2:02.646
6. Olivier Jacque - Kawasaki Racing 2:03.513
7. Tamaki Serizawa (JPN) Kawasaki Racing 2'03.623
---
World Press Test Launch of the Ducati 1098R
Feb 1st - FastDates.com may not have been invited to Ducati's world press introduction of the 1098R 08 Superbike this week at the Jerez grand prix track in Spain because Ducati's new bike introductions are reserved for print media only for some stupid reason (FastDates.com has more sportbike readers than America's Cycle News and Roadracing World newspapers combined). But we are privy to getting Ducati's Press Kits the same time as everyone else (unlike the Japanese manufacturers who ignore the internet media altogether), so sit back and read the official press launch of the new 1098R 08 - the most significant race bike from Ducati since the 998R - before you'll get to read it in those print magazines weeks from now!
With the tighter production rules for World Superbike starting this year, 2008, this limited production 1098R which actually displaces 1198cc, produces as much horsepower and more torque than Troy Corser's factory 999F07 racebike from last season. Pull off the lighting equipment and add racing slicks, and for US $39,995 you've got a bike that's capable of winning in AMA National Superbike. For a privateer that sounds like a lot of money, but for a team like American Honda faced with having to develop an all new race CBR1000 from scratch again (and based on their loosing track record the last 3 years with the outgoing CBR) were sure Neil and Miguel would give anything to be able to slip Honda bodywork over this 1098R.
Ducati development test rider Vittoriano Guareschi puts the 1098R through its paces.
MCN rides the 1098R at the Ducati Jerez Press Intro
Our buddies at Motor Cycle News in England share with us the first riding impression
---
Above, our newest Calendar Kitten, Payboy model Tiffany Toth is featured in our 2008 Bike Show ad campaign, and in all 3 of the new 2009 FastDates.com Calendars which will make their world premier at this year's Show.

Make Plans Now to Join Us!
Performance Machine presents America's Premier Custom & Performance Motorcycle Show
17th Annual 2008 LA Calendar Motorcycle Show Weekend
and 2-Day Calendar Girl Music Festival
July 12-13th 2008, Queen Mary Event Park, Long Beach
The 17th annual Los Angeles Calendar Motorcycle Show Weekend presented by Performance Machine, America's premier custom, cruiser, performance and sportbike weekend returns to the Queen Mary Event Park in Long Beach on July 12-13th, 2008.
Join 20,000 streetbike motorcycle and music enthusiasts for the world's most exciting 2-day motorcycle event weekend in the beautiful Queen Mary Event Park on the grass alongside the Pacific Ocean in Long Beach! This is the world's premier motorcycle show weekend featuring over 250 major motorcycle and parts manufacturers, selected product and apparel venders.
The weekend features many of the world's top Pro and Amateur street bike builders will be in attendance to compete in the Performance Machine Calendar Show Bike Building Championship with a bulging purse of $86,000 in cash and awards including $4,000 cash for the coveted Performance Machine Best of Show Trophy, and a $5,000 Performance Machine product award also up for grabs,. There are 11 Calendar Bike Building Championship Classes including the premier Radical Pro Builder Class sponsored by Iron Works magazine as well as 10 other classes for American V-Twin Custom and Street Bikes, Vintage Bikes, as well as Metric Sportbikes and Cruisers
Spectators can meet top celebrity custom bike builders including last year's best of Show winner Greg Westbury, along with Roland Sands, Russell Mitchell, Shinya Kimura, Joe Takai, Ron Simms, Paul Yaffe, Todd Silicato and dozens more. And attend free Calendar Bike Builder Seminars with the top Calendar builders to learn what it really takes to build some of the world's most inovative and beautiful custom bikes as featured in the Iron & Lace and Fast Dates Calendars.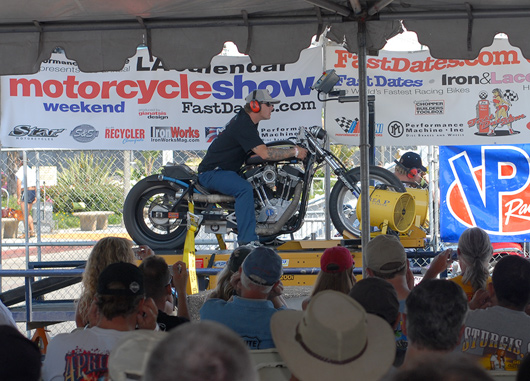 Join in the excitement of the Calendar Show's exclusive S&S Cycle World Championship Horsepower Dyno Shoot Out hosted by Kerry Bryant of Area P Exhaust Systems. World Record runs are open up to anyone, including the change to see just how strong your streetbike really is. Classes & Awards for all stock and modified American V-Twin and Metric Sportbikes.
Included with admission both days is the exciting 2-Day Calendar Girl Music Festival with beautiful national recording star girl bands and singers including Kari Kimmel and AC/DC Tribute rock band Whole Lotta Rozies, Lead Zeplin tribute band Moby Chick plus the sexy Purrfect Angelz dance shows all weekend long.
The weekend is hosted by Playboy model Tiffany Toth and other FastDates.com Calendar Kittens with the annual world premier of the new 2009 FastDates.com Motorcycle Pin Up Calendars.

Spectators also get complimentary weekend admission aboard the historic Queen Mary Ghost Ship, and entry to the Saturday Night Iron & Lace Calendar Builders Party with a live band in the ship's Observation Bar

Also available is the Calendar Motorcycle Show Swap Meet for Used Bikes and Parts which will take place in a separate location adjacent to the Bike Show Enclosure. And on Saturday only is the Bike Seller's Showcase to display your high-end custom or sportbike inside the Show for sale or promotion. You'll find special attractions for the entire family to make it an incredible experience you'll remember always.
Title and Associate Sponsorship support for the premier streetbike event weekend in America is provided by Performance Machine, Thunder Press, ReCycler.com, Iron Works magazine, S&S Cycle, NOs Energy Drink, CycleTrader.com, Connection magazine, Speed TV's American Thunder, Mikuni Carburetors, Meguiar's Car Care Products, and the FastDates.com Calendars.
For additional LA Calendar Motorcycle Show & Calendar Girl Music Festival Weekend details including the show schedules, hotels and parking information visit www.FastDates.com/BIKESHOW.HTM
---
Rizla Suzuki MotoGP's Australian star Chris Vermeulen will start the 2008 season by running the number 7 on the front his Suzuki GSV-R, the same number used by his mentor and fellow Aussie now deceased, World Champion Barry Sheen
2008 Roadracing Rider and Team Line Ups, Race Schedules
Here's a look at the rider seat changes and confirmed lineup of teams and riders in World SBK and AMA Superbike and MotoGP for 2008. We will be add more teams and riders weekly as they confirm.
In the left sidebar are all the 2008 season MotoGP, SBK, BSB and AMA race dates and venues.
2007 Roadracing Teams
2007 World Superbike
Ducati Corse: Troy Bayliss, Lorenzo Lanzi
Ducati Sterilgarda: Ruben Xaus


Honda Ten Kate: James Toseland, Roberto Rolfo
Honda D.F.X. Corse: Luca Morelli, Michel Fabrizio



Yamaha Italy: Noriyuki Haga, Troy Corser
Suzuki Alstare: Yukio Kagayama, Bax Biaggi
Kawasaki PSG-1: Regis Laconi, Fonsi Nieto
Suzuki Germany: Max Neukirchner






2007 World MotoGP
Ducati Corse: Loris Capirossi, Casey Stoner
Ducati d'Antin: Alex Barros, Aex Hoffman
Yamaha Japan: Valentino Rossi, Colin Edwards
Yamaha Tech 3: Sylvain Guintoli
Suzuki Japan: Chris Vermeulen, John Hopkins

Kawasaki Japan: Randy de Puniet, Anthony West
Honda Japan: Nicky Hayden, Dani Padrosa
Honda Minolta: Shinya Nakano
Honda Gresini: Tony Elias
Honda LCR: Carlos Checa
Honda Roberts: Kurtis Roberts

2007 AMA Superbike
Suzuki Yoshimura: Matt Mladin, Ben Spies
Suzuki Jordan: Aaron Yates, Jake Holden
Honda American: Miguel DuHammel, Jake Zemke
Yamaha USA: Eric Bostrom, Jason DiSalvo
Kawasaki USA: Roger Lee Hayden, Jamie Hacking
MV Agusta Ferracci: Matt Lynn, Lucca

2007 BSB British Superbike
Honda HM Plant: Ryuichi Kiyonari - reigning champ



2008 Roadracing Teams
2008 World Superbike
Ducati Corse: Troy Bayliss, Michel Fabrizio
Ducati Sterilgarda: Ruben Xaus, Max Biaggi
Ducati Guandalini: Jakub Smrz
Ducati RG: Lorenzo Lanzi
Honda Ten Kate: Kent Sofulguo, Carlos Checa, Ryuichi Kiyonari - reigning 2-time BSB Champion
Honda D.F.X. Corse: Karl Muggeridge, Russell Holland
Honda Paul Bird: Gregorio Lavilla - BSB Champion
Honda Hannspree Althea: Roberto Rolfo
Yamaha Italy: Noriyuki Haga, Troy Corser
Yamaha GMT94 Europe: David Checa, Sebastian Gimbert
Yamaha Grillni: Loic Napoleone
Suzuki Alstare: Fonsi Nieto, Yukio Kagayama,
Max Neukirchner
Kawasaki PSG-1: Regis Laconi, Makoto Tamada
Kawasaki Pedercini: Vittorio Ianuzzo, Ayrton Badovini
Suzuki Germany: Andreas Meklau

2008 World MotoGP
Ducati Corse: Casey Stoner, Marco Melandri
Ducati d'Antin: Tony Elias, Sylvain Guintoli
Ducati other : Guareschi, Canepa, Itoh
Yamaha Japan: Valentino Rossi, Jorge Lorenzo
Yamaha Tech 3: James Toseland, Colin Edwards
Suzuki Japan: Chris Vermeulen, Loris Capirossi,
and non'conflicting AMA races with Ben Spies
Kawasaki Japan: John Hopkins, Anthony West
Honda Japan: Nicky Hayden, Dani Padrosa
Honda Gresini: Shinya Nakano, Alex de Angelis
Honda LCR: Randy de Puniet
JiR Scot Honda: Andrea Dovizioso

2008 AMA Superbike
Suzuki Yoshimura: Matt Mladin, Ben Spies
Suzuki Jordan: Aaron Yates, Geof May
Suzuki EBSCO Corona: Matt Lynn
Honda American: Miguel DuHammel, Neil Hodgson
Yamaha USA: Eric Bostrom, Jason DiSalvo
Kawasaki USA: Roger Lee Hayden, Jamie Hacking

2008 BSB British Superbike
Honda HM Plant: Leon Haslam, Cal Crutchlow
Suzuki Rizla: Tom Sykes, Atsushi Watanabe - reigning Japanese Superbike Champion
Ducati Airwaves: Shane 'Shakey' Byrne, Leon Camier
Yamaha GB : Rob McElnea
Yamaha AIM: Steve Plater
Kawasaki MMS :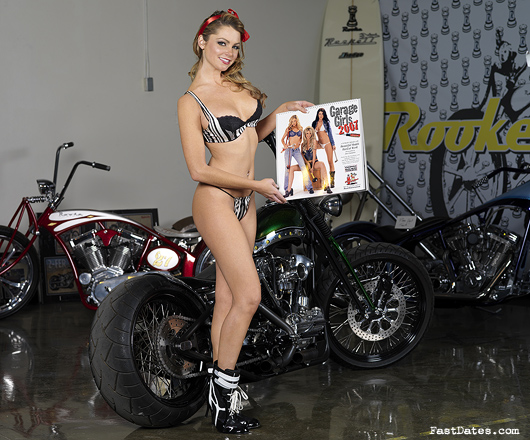 Calendar Kitten & Playboy Playmate Tamara Witmer pauses during a 2009 FastDates.com Calendar and Speed TV shoot at Jesse Rooke Customs to show off her photos in the 2007 Garage Girls Calendar.
---
There's more! Go to Pit Lane News NEXT PAGE
Hot Calendar Girl and Bike News! Go to: Fast Dates • Calendar Girls • Iron & Lace
Calendar Kittens, The Paddock Garage, Screensavers, Iron & Lace Garage



Many of our Calendar Kittens can also be seen at Playboy's website...


BikerKiss.com - the largest biker personals site!