Click to go BIG. Night Moves: Casey gets the Ducati GP08 airborne at Losail under the night time lights in a record breaking run. This is one of the few times we'll ever see the team bikes in full Marlboro logo livery due to the strict anti-tobacco laws in Europe and the USA.
2008 MotoGP World Championship / Commercialbank Grand Prix of Qatar
Casey Stoner Shines in the Dark at Qatar MotoGP Season Opener
Losail International Raceway, Qatar, Sunday Mar 9th - Casey Stoner savoured the Australian national anthem with his eyes firmly closed under the bright lights of Qatar after taking victory in the first night race in the history of the sport. The MotoGP World Champion started the defence of his title from fourth on the grid and had dropped to fifth by the end of the first lap, before charging through to set up a stirring battle with Valentino Rossi and Jorge Lorenzo.
The Spanish rookie who started from Pole in his first ever MotoGP race proved to be the most difficult obstacle between Stoner and his eleventh career MotoGP win as Lorenzo lead the opening laps with Dani Pedrosa and Valentino Rossi, but by the eighth lap Stoner was in control and little by little he opened an insurmountable gap.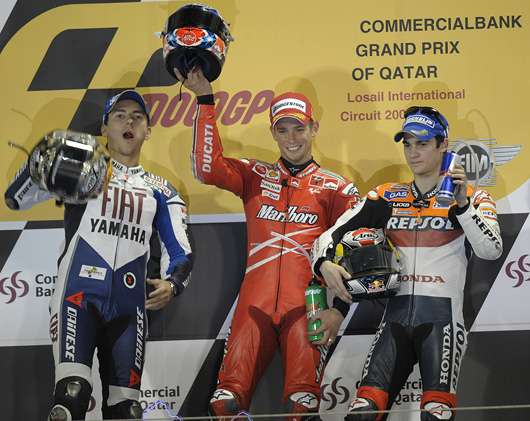 Stoner on top with Lorenzo (left) amd Pedrosa (right).
CASEY STONER - 1st (Ducati Marlboro Team) - "That was a fantastic race and I really enjoyed it - it was like being back in 125s! The first few laps were really hectic, there were guys bashing fairings and I just tried to stay out of the way. When I got my chance to get through I took it and from there I just focused on setting my pace. Jorge rode brilliantly - it wasn't an easy race by any means, especially at the start. Over the first few laps I was struggling a bit for grip but then the tyres got up to temperature and improved. We knew we had a pretty good package for the race but obviously we couldn't be sure that things would go as well as that. I want to say thanks to everybody at Ducati for a great job, my team, the guys at Bridgestone... Thanks everybody."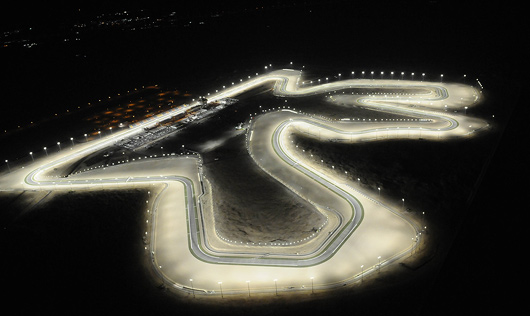 Click to go BIG
Preview: Lights go ON for opening 2008 MotoGP round in Qatar
Losail International Raceway, Qatar, March 3rd - It's the MotoGP World Championship's opening race of the season for the second consecutive year, and in 2008 the Commercialbank Grand Prix of Qatar will be another first for the series, as the Losail International Circuit plays host to the series' first ever night race.
One of the most ambitious lighting projects in history, the task of providing a shadow-free and safe environment for the momentous race has been months in the making. The possibility of riding in the evening at Qatar had been pondered as long as two years ago, but was only confirmed last September in an official announcement in Misano. The opening event of its kind at Losail came just last week, with the arrival of all three classes for an Official Test after the lights were formally switched on.
Whilst the track itself, and its million dollar lighting system designed by experts Musco, will be the undeniable initial focus of public attention in the build-up to the race, there is no small amount of interest in the state of affairs on track in the MotoGP and lower cylinder categories.
Ducati Marlboro's Casey Stoner will be competing in his first race with the number one plate, opening the defence of his 2007 MotoGP World Championship crown. The Australian began 2008 with a typically dominant display at the Official Test in Jerez in February, taking the BMW M Award prize in the 40-minute shootout that marked the first competitive action of the year. He was also the early pace-setter in the first night test, laying down the fastest time of the opening night.
Unfortunately for Stoner's rivals, the 22 year-old has also been highly successful at both his previous race visits to Qatar. Bedraggled by flu and arriving late for the 2006 practice sessions, the then-rookie took pole position for what was only his second MotoGP race. On the day of the Grand Prix he battled with future title rival Valentino Rossi, before eventually missing out on the podium spots. In 2007 he confirmed the potential shown the previous year, and once again duked it out with the Italian. The power of the Desmosedici and the cool head of the future World Champion saw him hold off the former champ, en route to his first MotoGP victory.
Rossi is expected to be challenging Stoner once again this year, and will be competing in his first race with Bridgestone tyres on his Fiat Yamaha M1. The five-time World Champion was the winner of the 2006 race in Losail, and one of the riders to participate in the Safety Commission's initial analysis of the night race possibility ahead of that event.
The Repsol Honda duo of Dani Pedrosa and Nicky Hayden will be attempting to establish their title credentials early on at Qatar, racing against time to complete development of the RC212V. Pedrosa saw his preseason hit hard by a testing crash in Sepang, and has been absent for the majority of practice opportunities to recover from a broken hand. 2006 World Champion Hayden has been putting the latest evolution of the machine through its paces in some marathon testing sessions, and has it all to prove in 2008.
The most movement after the final race of last year has come with the changing of garages, with just six of the eighteen-rider strong MotoGP grid staying with the same team for 2008. Big moves have come from the likes of John Hopkins, who switches to Kawasaki after a long association with Suzuki, Loris Capirossi who occupies the space left vacant by the Anglo-American, and Marco Melandri who in turn takes the veteran's place in the Ducati Marlboro team.
Aside from the existing MotoGP competitors carrying on in the premier class with different teams (Randy de Puniet, Colin Edwards, Toni Elias, Sylvain Guintoli and Shinya Nakano) and those remaining with their 2007 teams (Stoner, Rossi, Chris Vermeulen and Anthony West) there is also an influx of new blood in the 800cc class. Heading up the interest is reigning 250cc World Champion Jorge Lorenzo, who has taken to the new cylinder class like a duck to water in preseason. The Spaniard rides for Fiat Yamaha as the only rookie factory rider, in a garage partitioned due to his running different tyres to team-mate Rossi. Lorenzo has quite the pedigree in Qatar, holding three wins at the Losail International Circuit from his time in 125cc and 250cc and the fastest night lap recorded so far at the track in last week's Official Test.
Lorenzo's former 250cc rivals Andrea Dovizioso and Alex de Angelis also move up to the premier class this year, riding satellite Honda machines for the JiR Team Scot and San Carlo Honda Gresini outfits respectively.
Another championship-winning rookie comes in the form of Tech 3 Yamaha's James Toseland, a two time world champion in superbike racing. The Briton knows the circuit well on a four-stroke, was one of the first riders to try out the floodlights at the end of last year and took a highly positive second place in the standings at the Official Test, meaning he will not get a better chance to make an early mark on the MotoGP series.
The Commercialbank Grand Prix of Qatar takes place on Sunday 9th March, at 11pm local time. The 125cc and 250cc races precede the MotoGP class, at 8pm and 9.15pm respectively. Practice sessions begin on the evening of Friday 7th March.
250cc GP Class Preview
With the departure of last year's top three in the 250cc class, the quarter litre category title race has been blasted wide open in 2008. The form riders in preseason testing have come from the KTM camp, with Mika Kallio clocking fast times at a number of visits to Jerez and Valencia. The Finn was the winner of the final round of 2007, and his maiden appearance in 250cc at Qatar last year could have seen him on the rostrum were it not for some untimely mechanical problems.
Kallio's team-mate Hiroshi Aoyama has also had his fair share of misfortune in Qatar. The Japanese rider had been expected to star at the race last year after recording KTM's then-best ever dry result of fifth in 2006, but crashed out on lap two and suffered a nasty finger injury. He will be one of the expected title contenders this year as the Austrian factory's machines look stronger than ever.
Heading the Aprilia charge is Mapfre Aspar rider Alvaro Bautista, already a proven race-winner in the 250cc class. The Spaniard is joined in the garage this year by countryman Hector Faubel, one of a cluster of debutants that also includes 125cc success stories Lukas Pesek and Mattia Pasini.
Also on top of the range Aprilia machinery in 2008 are Emmi Caffe Latte's Thomas Luthi, who came so close to a podium finish in his maiden 250cc race at Losail last year, Lotus Aprilia's returning Alex Debon, and Hector Barbera, with all three expected to push for success in Qatar.
Casey had sparks flying like a meteorite as he topped the practice time sheet.
Stoner Sparks Up Practice
Friday March 7th - The 2008 MotoGP World Championship season burst into life this evening at the Losail International Circuit, with the first practice sessions for the Commercialbank Grand Prix of Qatar opening proceedings for the first ever night-time GP weekend. Under the desert circuit's impressive Musco lighting system World Champion Casey Stoner was the man leading the way, setting the fastest time of the early evening, which he then followed up by doing the same in the second free practice session. The Ducati Marlboro rider's time of 1'55.442 in second Free Practice cut nearly half a second off his pace setting lap from the first session as ground temperatures dropped by 10°C during the course of the evening's proceedings.
Meanwhile MotoGP rookie Jorge Lorenzo confirmed that his performance as the quickest rider in last week's test visit to Losail was more than beginner's luck, with a series of hot laps - of which the fastest was just 0.011 slower than Stoner's time.
Another debutant in the premier class, Tech3 Yamaha's James Toseland also built upon an impressive testing performance, as he was the third classified rider after the first two sessions, despite an early crash from which he emerged unscathed.
Fellow Yamaha satellite rider and MotoGP veteran Colin Edwards was fourth fastest, while JiR Team Scot's Andrea Dovizioso and San Carlo Honda Gresini's Alex de Angelis made sure all four 2008 MotoGP rookies' names appeared in the top six.
Randy de Puniet, Valentino Rossi, Chris Vermeulen and Dani Pedrosa completed the top ten, with Rossi and Pedrosa creating one of the talking points of the evening. The Spaniard hit the back of the five-time MotoGP World Champion's M1 when the Italian had eased off the throttle 40 minutes into the late session, but both riders were uninjured in the incident, with Rossi able to continue his lap unaffected by the impact. Pedrosa meanwhile ended up tumbling into the gravel.
Practice Times:
1. Casey Stoner (Ducati) 1'55.442: Jorge Lorenzo (Yamaha) +0.011: 3. James Toseland (Yamaha) +0.370: 4. Colin Edwards (Yamaha) +0.500: 5. Andrea Dovizioso (Honda) +0.521: 9. CHRIS VERMEULEN (RIZLA SUZUKI MOTOGP) +0.837: 11. LORIS CAPIROSSI (RIZLA SUZUKI MOTOGP) +1.480: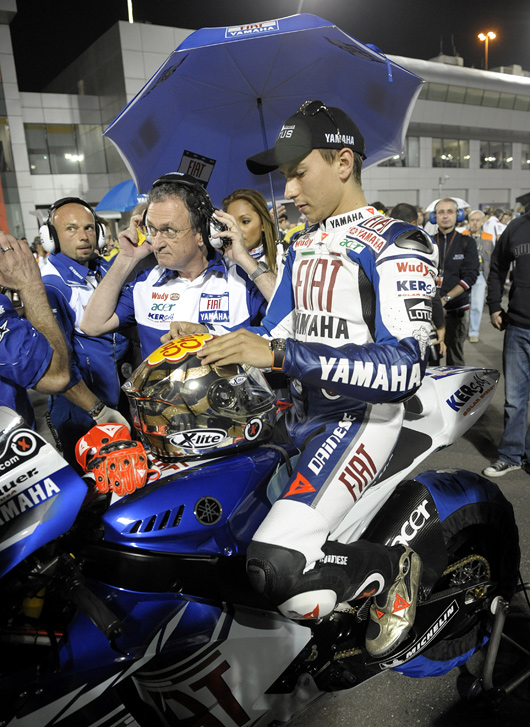 Jorge Lorenzo Grabs Pole for Yamaha at His MotoGP Debut
World Superbike Champ James Toseland Takes 2nd Spot
Saturay Mar 8th - Fiat Yamaha's Jorge Lorenzo will make his MotoGP debut from pole position at the Commercialbank Grand Prix of Qatar on Sunday, after clocking the fastest time ever at the Losail International Circuit in Saturday evening's premier class qualifying session. The double 250cc World Champion took the top spot in the final moments of the historic maiden night-time qualifying session with a scorching 1'53.927 lap, becoming the first rider in history to break the Losail 1'54 barrier in the process. He also echoed one of his idols, as he became the first rider to take pole position on debut in the class since Max Biaggi moved up as 250 champ in 1998; the Italian going on to win the race at Suzuka.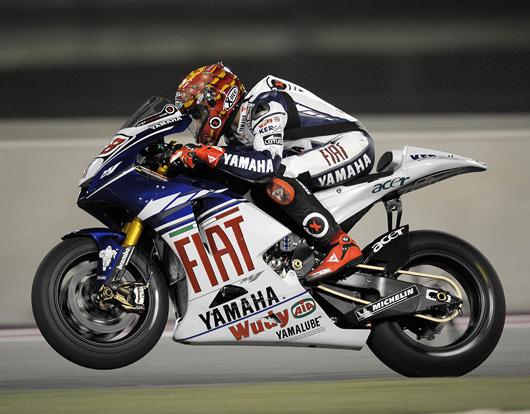 Jorge Lorenzo, his first time out on an 800cc MotoGP Bike, and shod with Michelin tires, dusted Yamaha team mate Valentino Rossi on running Bridgestones.

Lorenzo's late time only just overshadowed another 2008 premier class rookie, Tech3 Yamaha rider James Toseland, as the Briton confirmed his superb pace in testing and practice by securing second on the grid for his own MotoGP debut. Toseland made a statement of intent 20 minutes into the qualifying practice by breaking Valentino Rossi's pole record from 2007 and did battle for top spot with Lorenzo throughout the session, only to be outdone by the young Spaniard at the death by just 0.255.
Colin Edwards completed an all-Yamaha front row, continuing his renaissance as Toseland's team-mate in the Tech 3 Yamaha outfit. His appearance in the top three also makes it a Michelin clean sweep on an excellent day for the French tyre manufacturer, with all seven of their riders in the top ten.
The fastest of the Bridgestone brigade was 2007 MotoGP World Champion Casey Stoner, the quickest rider in every practice session prior to the evening shootout taking fourth place.
Randy de Puniet was the fastest Honda rider of the day, just ahead of factory rider Nicky Hayden as the final two participants to go round in under 1'55. Fiat Yamaha's Valentino Rossi was, in a rare occurrence for the five-time MotoGP World Champion, the lowest placing Yamaha rider, ahead of Repsol Honda's 2007 World Championship runner-up Dani Pedrosa, 800cc newcomer Andrea Dovizioso of JiR Team Scot and Kawasaki's John Hopkins.
Commercialbank Grand Prix of Qatar Qualifying Practice Pole Classification:
1. Jorge Lorenzo (Yamaha) 1'53.927: 2. James Toseland (Yamaha) +0.255: 3. Colin Edwards +0.572: 4. Casey Stoner (Ducati) +0.806: 5. Randy de Puniet (Honda) 0.891: 11. CHRIS VERMEULEN (RIZLA SUZUKI MOTOGP) +1.613: 13. LORIS CAPIROSSI (RIZLA SUZUKI MOTOGP) +2.143:
Opening Lap Battle! A 6-way fairing bashing battle for the lead took place in the opening laps between Pedrosa (new ego bosting Number #2 to denote his 2nd in the championship last year ahead of the other Japanese team riders), Toseland (52) Edwards (5), Lorenzo (48), then Stoner, then Nicky Hayden who would quickly drop back to 10th, and Rossi just out of the picture. Click to go BIG!
Stoner Waits, Then Pounces to win the Season Opener
Race Night, Sunday 9th - 2007 MotoGP World Champion Casey Stoner (Marlboro Ducati) began his title defence in style with victory in the Commercialbank Grand Prix of Qatar –the first ever MotoGP night race- ahead of Spaniards, rookie poleman Jorge Lorenzo (Yamaha) was second and the injured Dani Pedrosa (Repsol Honda RC212V) a gritty third. The Ducati Marlboro rider started the race from 4th on the grid, off the front row for the first time in his MotoGP career, chasing a repeat of his debut premier class victory from last year.
Dani got the holeshot from row three making a fantastic getaway from eighth on the grid. He simply steamed past Stoner who looked most likely to enter turn one heading the pack. Yamaha men James Toseland and Colin Edwards were the other fast men off the grid.
Rookie Lorenzo wasted no time in catching up with the leaders and by lap three Rossi too had got on terms, passing Lorenzo to take third place as Toseland and Edwards fell off the pace slightly. Dani was flying, setting a fastest lap of 1m 56.270s as he carved out a 1.4 second lead over his rivals. But it didn't last.
Stoner then began to close in ominously as Rossi stole the lead from Dani and Lorenzo then passed his sworn Spanish rival for second. Stoner held fourth on lap six with Dovi moving rapidly up the field too to fifth.
At the midway point a seven rider group held sway at the sharp end, this still included Toseland and Edwards with a six second gap back to Loris Capirossi (Suzuki) in eighth, with Hopkins and then Nicky Hayden (Repsol Honda RC212V) who was never really on the pace here tonight.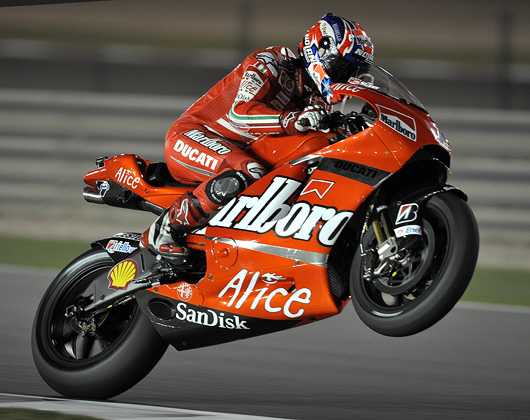 Casey with a little too much Traction Control!
Stoner didn't have things all his way in the early going as he watched from back in 5th place an exciting fairing bashing batte for the lead between pole sitter Lorenzo (Fiat Yamaha), Dani Pedrosa (Repsol Honda), Valentino Rossi (Fiat Yamaha) and Colin Edwards (Tech 3 Yamaha). Once the ruckus for the lead settled down aound lap 8 and there was a little room to pass on the tight Losail Circuit, Stoner dialed up his pace about .25 sec a lap quicker than the front runners and began picking them off, one by one, a lap at a time.
Once out front in the lead and clear of the challenges from some of the favourites for the 2008 crown, Stoner picked up us pace even more by nearly .5 seconds a lap to to win by over five seconds from Lorenzo. Stoner stretched his advantage over Lorenzo to 5.3 seconds at the flag with Dani a similar distance behind his 'fellow' Spaniard Lorenzo. If the podium places were settled before the last lap, the action for fourth was anything but relaxed. Dovi was working on Rossi on the penultimate lap, sizing up the multiple Champion before making his pass, only to have fourth snatched away from him again as the old master slapped the impudent student down.
But Dovi was in no mood to pay too much respect to his elders and on the last lap he tried the same pass, Rossi responded again but ran wide into the next turn and the rookie seized his opportunity like the racer he is and slipped inside to hold the lead to the flag by just seven thousandths of a second as they tried to out-drag each other on the straight.
The night-time race was a success itself, but equally encouraging has been the strong showing from the class rookies. The World Championship order is as per race order after only one race.
Behind the Australian, Fiat Yamaha rider and reigning 250cc World Champion Lorenzo followed up on his spectacular Saturday pole with a jaw-dropping debut MotoGP race. The Spaniard showed no fear in the face of a field packed with race-winners, joining Stoner in breaking away from the pack to take a maiden podium at his very first attempt.
Another rider to step onto the rostrum in his first MotoGP race was Repsol Honda rider Pedrosa, who for the third consecutive year finished in the top three at the opening race of the year. The 2007 World Championship runner-up had to work for his reward, however, taking the holeshot from the third row of the grid and getting some rough treatment by the frontrunners in their attempts to break away.
Rossi (46) on the factory Fiat Yamaha had to fight off reigning World Superbike Champion James Toseland (52) all race long on the previous generation, less powerful Yech 3 Yamaha.
JiR Team Scot rider Andrea Dovizioso joined eternal adversary Lorenzo in making a fantastic 800cc debut, taking fourth place from five-time MotoGP World Champion Valentino Rossi on the final lap of the race. The former 250cc star picked off his fellow Italian after Rossi had dropped out of the running for third, both finishing just ahead of Tech 3 Yamaha's front row duo of James Toseland and Colin Edwards in the former's first Grand Prix.
Suzuki's Loris Capirossi, LCR Honda's Randy de Puniet and 2006 World Champion Nicky Hayden completed the top ten, with De Puniet finishing a MotoGP race in Qatar for the first time. Chris Vermeulen was forced to return to the pits for a tyre change counting him out of the running for points, whilst the final debutant in the class Alex de Angelis, crashed out with five laps remaining.
Casey Stoner 1st: "That was a fantastic race and I really enjoyed it - it was like being back in 125s! The first few laps were really hectic, there were guys bashing fairings and I just tried to stay out of the way. When I got my chance to get through I took it and from there I just focused on setting my pace. Jorge rode brilliantly - it wasn't an easy race by any means, especially at the start. Over the first few laps I was struggling a bit for grip but then the tyres got up to temperature and improved. We knew we had a pretty good package for the race but obviously we couldn't be sure that things would go as well as that. I want to say thanks to everybody at Ducati for a great job, my team, the guys at Bridgestone... Thanks everybody."
Jorge Lorenzo 2nd: "For sure I couldn't have expected a better debut than this and I am very, very excited to be on the podium. Second place is an amazing result for me and I had great fun. The start and first few laps were a bit crazy and really a bit of a scary time for me, but anyway I managed to make it through and get past some riders to get to second. I started to go with Stoner but after a while I became very tired and I started to have a lot of pressure and pain in my arms, so I really couldn't push any more! Anyway he was faster than us and I want to say congratulations to him because he deserved to win tonight. I think if I could have got a better start, maybe I wouldn't have got so tired later on and I would have been able to keep a better rhythm, but anyway I don't think I can ask for more than this tonight. I want to thank Yamaha and Michelin for all the hard work they have put in over the winter to get me to this point, and of course my team for all of their work. I don't want to start talking about the championship yet because this is only my first race, and now we will go to Jerez and do our very best again there and see what happens!"
Danny Pedrosa 3rd:"Tonight's result is unbelievable, we didn't expect this, so I'm very happy. Seven days ago I was almost last in the tests here but my team have worked really hard, bringing both 2007 and 2008 bikes here and making many changes – they've been fantastic. For the first time I understand the meaning and the legend of HRC and I'm so proud to be part of this. They gave me a competitive bike and the Michelin tyres worked really well and I did my best on track but without them I couldn't have been able to make it. I couldn't stay with Lorenzo and Stoner, so we still have to improve but since last week's tests we've made an incredible step forward. Now we have a few weeks to recover full strength in the hand before Jerez."
Results MotoGP
Race Classification MotoGP : (22 laps = 118.36 km)
Pos/ Rider / Nat / Team / Motorcycle / Time/ KM/H / Gap
1 / Casey STONER / AUS / Ducati Marlboro Team / DUCATI / 42'36.587 / 166.665 /
2 / Jorge LORENZO / SPA / Fiat Yamaha Team / YAMAHA / 42'41.910 / 166.319 / 5.323
3 / Dani PEDROSA / SPA / Repsol Honda Team / HONDA / 42'47.187 / 165.977 / 10.600
4 / Andrea DOVIZIOSO / ITA / JiR Team Scot MotoGP / HONDA / 42'49.875 / 165.804 / 13.288
5 / Valentino ROSSI / ITA / Fiat Yamaha Team / YAMAHA / 42'49.892 / 165.803 / 13.305
6 / James TOSELAND / GBR / Tech 3 Yamaha / YAMAHA / 42'50.627 / 165.755 / 14.040
7 / Colin EDWARDS / USA / Tech 3 Yamaha / YAMAHA / 42'51.737 / 165.684 / 15.150
8 / Loris CAPIROSSI / ITA / Rizla Suzuki MotoGP / SUZUKI / 43'09.092 / 164.573 / 32.505
9 / Randy DE PUNIET / FRA / LCR Honda MotoGP / HONDA / 43'09.590 / 164.541 / 33.003
10 / Nicky HAYDEN / USA / Repsol Honda Team / HONDA / 43'14.941 / 164.202 / 38.354
11 / Marco MELANDRI / ITA / Ducati Marlboro Team / DUCATI / 43'20.871 / 163.828 / 44.284
12 / John HOPKINS / USA / Kawasaki Racing Team / KAWASAKI / 43'26.444 / 163.477 / 49.857
13 / Shinya NAKANO / JPN / San Carlo Honda Gresini / HONDA / 43'26.458 / 163.477 / 49.871
14 / Toni ELIAS / SPA / Alice Team / DUCATI / 43'35.119 / 162.935 / 58.532
15 / Sylvain GUINTOLI / FRA / Alice Team / DUCATI / 43'35.517 / 162.910 / 58.930
Pole Position: Jorge LORENZO 1'53.927 170.003 Km/h
Fastest Lap (New record): Casey STONER 1'55.153 168.193 Km/h Lap 14
Circuit Record Lap: Casey STONER 1'56.528 166.208 Km/h 2007
Circuit Best Lap: Jorge LORENZO 1'53.927 170.003 Km/h 2008
World Championship Positions:
1 STONER 25, 2 LORENZO 20, 3 PEDROSA 16, 4 DOVIZIOSO 13, 5 ROSSI 11,
6 TOSELAND 10, 7 EDWARDS 9, 8 CAPIROSSI 8, 9 DE PUNIET 7, 10 HAYDEN 6,
11 MELANDRI 5, 12 HOPKINS 4, 13 NAKANO 3, 14 ELIAS 2, 15 GUINTOLI 1.
250cc GP to Mattia Pasini
Mattia Pasini took a rookie victory in the 250cc showdown in Qatar, with a triumph well deserved after his tribulations in last year's 125cc race. The Polaris World Aprilia rider emerged from a second row start and involvement in a four-way battle to determine the podium spots to snatch the lead in the quarter litre category race with two laps remaining.
Pasini overtook eventual second place finisher Hector Barbera when the Pepe Team Toth rider was otherwise occupied with poleman Alex Debon, sneaking through on the inside. From there he pulled away to win the race by over half a second, with Red Bull KTM's Mika Kallio rounding off the rostrum. Lotus Aprilia's returning veteran Debon had to settle for fourth, agonisingly close to repeating his first career podium from the final race of last year.
Just dropping out of the duel having given the frontrunners some problems in the early going, JiR Team Scot's Yuki Takahashi came home in fifth, ahead of Aspar rider Alvaro Bautista who suffered a mechanical problem towards the end of the race that withdrew him from the fight for victory.
Race Classification 250cc: (20 laps = 107.6 km)
Pos / Rider / Nat / Team / Motorcycle / Time / KM/H / Gap
1 / Mattia PASINI / ITA / Polaris World / APRILIA / 40'16.202 / 160.317 /
2 / Hector BARBERA / SPA / Team Toth Aprilia / APRILIA / 40'16.759 / 160.280 / 0.557
3 / Mika KALLIO / FIN / Red Bull KTM 250 / KTM / 40'17.231 / 160.249 / 1.029
4 / Alex DEBON / SPA / Lotus Aprilia / APRILIA / 40'17.620 / 160.223 / 1.418
5 / Yuki TAKAHASHI / JPN / JiR Team Scot 250 / HONDA / 40'29.146 / 159.463 / 12.944
6 / Alvaro BAUTISTA / SPA / Mapfre Aspar Team / APRILIA / 40'30.682 / 159.362 / 14.480
7 / Karel ABRAHAM / CZE / Cardion AB Motoracing / APRILIA / 40'32.923 / 159.215 / 16.721
8 / Roberto LOCATELLI / ITA / Metis Gilera / GILERA / 40'35.189 / 159.067 / 18.987
9 / Aleix ESPARGARO / SPA / Lotus Aprilia / APRILIA / 40'48.434 / 158.207 / 32.232
10 / Hector FAUBEL / SPA / Mapfre Aspar Team / APRILIA / 40'57.304 / 157.636 / 41.102
11 / Julian SIMON / SPA / Repsol KTM 250cc / KTM / 40'57.659 / 157.613 / 41.457
12 / Fabrizio LAI / ITA / Campetella Racing / GILERA / 40'57.896 / 157.598 / 41.694
13 / Ratthapark WILAIROT / THA / Thai Honda PTT SAG / HONDA / 40'59.394 / 157.502 / 43.192
14 / Manuel POGGIALI / RSM / Campetella Racing / GILERA / 41'00.430 / 157.435 / 44.228
15 / Thomas LUTHI / SWI / Emmi - Caffe Latte / APRILIA / 41'04.962 / 157.146 / 48.760
Pole Position: Alex DEBON 1'59.470 162.116 Km/h
Fastest Lap (New record): Alex DEBON 1'59.379 162.239 Km/h Lap 20
Circuit Record Lap: Alex DE ANGELIS 2'00.121 161.237 Km/h 2007
Circuit Best Lap: Alex DEBON 1'59.379 162.239 Km/h 2008
World Championship Positions:
1 PASINI 25, 2 BARBERA 20, 3 KALLIO 16, 4 DEBON 13, 5 TAKAHASHI 11, 6 BAUTISTA 10,
7 ABRAHAM 9, 8 LOCATELLI 8, 9 ESPARGARO 7, 10 FAUBEL 6, 11 SIMON 5, 12 LAI 4,
13 WILAIROT 3, 14 POGGIALI 2, 15 LUTHI 1.
---

Matt Mladin wins the 15 Lap Daytona Side Show Superbike race.

Mladin and Spies Dominate Daytona Superbike
Daytona International Speedway, FL, Saturday March 8th: The season kick-off to the 2008 AMA Superbike Championship, the now anti-exciting Daytona Superbike 15 Lapper, went down as expected with team Yoshimua Suzuki's riders Matt Mladin and reigning Superbike Champion Ben Spies, taking their 1-2 wins as expected. Not expected was Mladin having to take the lead from new team mate Tommy Hayden who had qualified 3rd on the potent Yoshimura GSXR1000s,but once Mladin passed him, Matt was never contested.
The victory was a record-extending 64th of Mladin's illustrious AMA Superbike career.

Matt Mladin leads the opening Superbike lap ahead of Jason Disalvo (49), Hacking,Spies (1) and Maladin (20).
Defending series and race champion Ben Spies dropped a couple positions off the line, and while he fought to quickly work his way up to the runner-up position, his Rockstar Makita Yoshimura Suzuki teammate opened an early two-second advantage by the second lap.
Spies used the first few laps to work up from a slower start, passing Kawasaki's Jamie Hacking and Yamaha's Jason Disalvo, then Hayden to hook up on 2nd position right behind Mladin as they left the rest of the field behind. With less experience on the Suzuki, Hayden, was passed by DiSalvo who put the strong running Yamaha R1, using parts and setup supplied form the Otalian Yamaha WSB team into 3rd place.
Third works Suzuki entry Tommy Hayden escaped from a four-way tilt for sixth, which included his brother Roger Hayden on the Monster Energy Kawasaki ZX-10R and the American Honda duo of Neil Hodgson and Miguel DuHamel, to track down Jordan Suzuki's Aaron Yates and Monster Energy Kawasaki's Jamie Hacking.
Hayden overtook the English-born Kawasaki ace on the final lap to steal away fourth with Hacking holding on for fifth and Yates claiming sixth.
Jason stayed in the top three throughout the 15-lap race--a testament to DiSalvo's racing abilities and the consistent performance of the 2008 R1. In the winner's circle, Jason said, "I'm really fortunate Yamaha gave me this opportunity to ride the bike. The Yamaha R1 was rippin' out there today...this bike is so fun to ride." Meanwhile, teammate Eric Bostrom, on the other hand, had an off day and had to retire from the race on lap 10. Credited with 25th position on the day,
Meanwhile the American Honda team of Miguel Duhamel and Neil Hoidgson struggled with their new generation CBR1000 which is way under developped. Unlike the Ten Kate Honda team in World Superbike which has the skill to develop and win on the production bikes almsot immediately, Ameican Honda shown with the outgoing generation CBR1000, they could not develop a winner. In the last 3 years they were unable to win one race, while Tem Kate cliched the 2007 Word Superbike Championship last year James Toseland on the same model bike without Japanese factory help. And unfortunately for American Honda, they have a very poor working relatonship with Honda HRC Racing in Japan when it comes to sharing racing technology. And American Honda is unwilling to puirchase the expensive HRC built Superbikes that are avaialble if they wanted to buy them. But somehow it still makes sense for American Honda to spend millions of dollars to field an AMA Superbike team that doesn't have the competitevly prepared bikes it needs to win.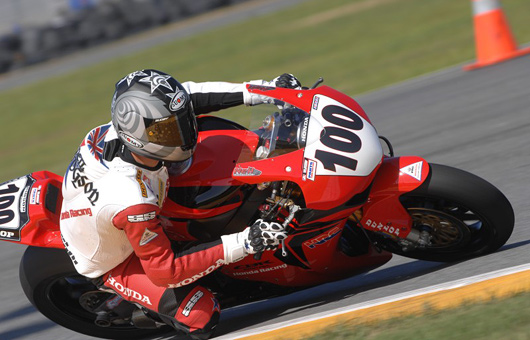 American Honda will again be playing "Also Ran" in AMA Superbike this year with the new generation productin CBR1000RR as they lack the support of HRC Japan, and don't have the people and funds to develop the bike themselves like Ten Kate does in Word Superbike. Here, former World Superbike Champion Neil Hodgson strugges to finish 7th in his first AMA race for the Honda team

Despite running wide in the infield Hodgson took seventh, followed by the younger Hayden. DuHamel finished off an already frustrating day by crashing his all-new CBR1000RR, while DiSalvo's teammate, Eric Bostrom, was forced to retire with a mechanical issue.Team M4 EMGO Suzuki's Blake Young followed up his Superstock runner-up finish with a ninth-place ride in the premier class opener, edging Jordan Suzuki's Geoff May and former World Superbike star Akira Yanagawa.
Superbike Qualifying
Thursday 6th - Yamaha Factory riders Jason DiSalvo and Eric Bostrom qualified in the top-five for Saturday's 15-lap Superbike Race at Daytona. With Jason starting on the front row in fourth and Eric in fifth right behind the polesitter, the striking pair of 2008 YZF-R1 Superbikes are well-positioned on the starting grid for the race slated to go green this Saturday morning at 11:15 Eastern. Both riders are poised to get the holeshot at the start, so don't be surprised to see either of the two determined men out front and leading the race at the end of lap one.
Mladin on top in Superbike, with team mate Spies and chimp boy Jason DeSalvo.
Superbike Qualifying
1 Mat Mladin 1:35.759
2 Ben Spies 1:35.967
3 Tommy Hayden 1:36.061
4 Jason DiSalvo - YAM 1:36.340
5 Eric Bostrom - YAM 1:36.611
6 Jamie Hacking 1:36.785
7 Roger Lee Hayden 1:36.886
8 Aaron Yates 1:37.553
9 Miguel Duhamel 1:37.682
10 Neil Hodgson 1:38.424
Superbike Results
1. Mat Mladin (Suzuki)
2. Ben Spies (Suzuki)
3. Jason DiSalvo (Yamaha)
4. Tommy Hayden (Suzuki)
5. Jamie Hacking (Kawasaki)
6. Aaron Yates (Suzuki)
7. Neil Hodgson (Honda)
8. Roger Lee Hayden (Kawasaki)
9. Blake Young (Suzuki)
10. Geoff May (Suzuki)
Chaz Davies and Kawasaki were award the Daytona 600cc Xtreame Win when all the susposedly invincible and legal Hondas broke and were disqualified.

Honda Almost Wins Daytona 200 Formula Xtreame As Usual
Josh Hayes takes the Win and then is Disqualified
as Duhamel is Black Flagged, Hodgson Suffers Problems

Daytona International Speedway, FL, Saturday March 8th - Erion Honda's Josh Hayes began the season in spectacular fashion, becoming the 12th Honda rider to win the prestigious Daytona 200, his first Daytona win coming on a cold, windy, and sunny afternoon at Daytona International Speedway.
The reigning Formula Xtreme champion, his teammate Jake Zemke, and American Honda's Neil Hodgson led all but one of the 69 laps of the 2.9-mile road course. But it was Hayes who carried most of the load.
From their second row starting positions, Hayes and Zemke quickly set the pace, distancing themselves from the rest of the 67-rider field. The lead went back and forth through the 24th lap, when the first round of pit stops began. Hayes' stop went flawlessly and he was back in the lead on lap 28, and led every lap but one to the checkered flag.
Said Hayes, "This is huge. This is a great way to start the season. Unfortunately, I kind of wish Neil (Hodgson) had gotten another Honda between me and these guys to give me a little room going into the next round. But I'm starting off better than I did last year, and I was able to win the championship."
Zemke had an unfortunate problem with his rear sprocket, and lost valuable time in the pits. He finished 13th.In his first ever race on a 600, Hodgson was running in a strong second place. But late in the race gremlins struck. First, he ran off the track in the chicane, but recovered without losing his second position. Then he had a mechanical problem that knocked him out of second place on the 64th of 69 laps.
Teammate Miguel Duhamel burnt his clutch at the start of the race, then pitted at the end of the opening lap to swap to his spare Honda CBR600RR, after being given the OK by race officials. The officials were mistaken-the rules don't allow a change of machinery without a red flag-but Duhamel rejoined the race in last place and made up over 60 positions before he was black flagged less than 12 laps from the end.
Hodgson finished seventh in his Superbike debut, after an eventful race of his own. Hodgson ran off the track at one point, but recovered and took his final position on the last of 15 laps.
Josh Hayes on the Team Erion factory American Honda 600 was disqualified in post race inspection with an illegally modified crank. Most of the AMA factory teams have always cheated historically, as when Yoshimura ran traction control on their Superbike 2 years ago before it was legal, but the trick is not to get caught.

Daytona 200 winner Josh Hayes disqualified by AMA officials
HONDA RACING INFORMATION - Josh Hayes was disqualified as the winner of the Daytona 200 by AMA officials after they found his race-winning machine to be in violation of the AMA Road Race rulebook.
"We've appealed their decision and basically that's our side of it," Rick Hobbs, Hayes' crew chief said. "We've appealed the technical inspection and also the penalty, disqualification." He added, "At this point we're not going to make any statement on what our version is until we file the appropriate paperwork with them."
The crankshaft on the race-winning Honda was found to be "polished, surface treated and metal was removed from it," AMA Pro Racing said in a press release announcing the infraction. "This is in violation of the 2008 AMA rulebook section 5.4."
The release cites a section of the rulebook which states that for multi-cylinder liquid-cooled machines, homologated crankshaft "may not be altered from the originally homologated model except that the "Bearing surfaces may be polished or surface treated."
The press release was issued late Saturday night, well after team owner Kevin Erion had left Daytona International Speedway. He was told by a team member of the infraction just before returning to his home in California.
The appeal process begins with the filing, which "must be received at AMA Racing headquarters by 5:00 p.m. on the third business day after notification to the participant via fax, telephone, or mail of the ruling or incident in question," according to the AMA Road Race rulebook. The appeal board, which is chosen by the Senior Director of Racing, consists of three people "with no material interest in the matter at hand," the rulebook states. The appeal must take place within 45 days of the incident.
Formula Xtreme 200 Miler:


1. Josh Hayes (Honda)
2. Chaz Davies (Kawasaki)
3. Steve Rapp (Kawasaki)
4. Larry Pegram (Ducati)
5. Martin Cardenas (Suzuki)
6. Richard Cooper (BMW)
7. Brian Parriott (BMW)
8. Bobby Fong (Suzuki)
9. Bostjan Skubic (Yamaha)
10. Steve Atlas (Honda)

Superbike 15 laps:


1. Mat Mladin (Suzuki)
2. Ben Spies (Suzuki)
3. Jason DiSalvo (Yamaha)
4. Tommy Hayden (Suzuki)
5. Jamie Hacking (Kawasaki)
6. Aaron Yates (Suzuki)
7. Neil Hodgson (Honda)
8. Roger Lee Hayden (Kawasaki)
9. Blake Young (Suzuki)
10. Geoff May (Suzuki)
---
There's more! Go to Pit Lane News NEXT PAGE
Hot Calendar Girl and Bike News! Go to: Fast Dates • Calendar Girls • Iron & Lace
Calendar Kittens, The Paddock Garage, Screensavers, Iron & Lace Garage



Many of our Calendar Kittens can also be seen at Playboy's website...


BikerKiss.com - the largest biker personals site!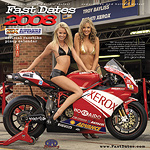 Almost Sold Out!
16-month Calendar starts Sept
2008 Fast Dates &
Garage Girls Calendars

---
Members Only Preview
2009 Fast Dates Calendar
Join our Members Corner today at get an exclusive look at the upcoming 2008 Fast Dates calendar now, before its public release at our big LA Calendar Motorcycle Show July 12-13th!
Featured are full-size 15 inch calendar screensaver pages for your monitor with the top bikes of the 2007 SBK World Superbike and MotoGP World Championship with our beautiful Calendar Kittens. Also includes all our current 2008 and past years Calendars !
---
AMA selects Daytona Motorsports Group to sell and manage professional motorcycle racing series
The AMA announced today that the Association has entered into an agreement in principle to sell the sanctioning, promotional and management rights for its AMA Pro Racing properties to the Daytona Motorsports Group (DMG), based in Daytona Beach, Florida.
Led by Roger Edmondson, the founder of the CCS motorcycle racing series and currently the President of the Grand American Road Race Series LLC, and Jim France, Vice Chairman/Executive Vice President of NASCAR, DMG will assume responsibility for the AMA Superbike Series, the AMA Motocross Series, the AMA Flat Track Series, the AMA Supermoto Series, the AMA Hillclimb Series and ATV Pro Racing. The agreement in principle does not include the AMA Supercross and AMA Arenacross Series, the rights to which are held by Live Nation. Daytona Motorsports Group will license the use of the AMA name and trademarks to promote their motorcycle racing activities.
"For as long as I can remember, the AMA name has been synonymous with professional motorcycle racing in America," said France. Added Edmondson, "Our goal is to guide the sport into the mainstream of American culture and showcase the extraordinary abilities of the competitors and their teams."
"We are honored to be working with the Daytona Motorsports Group," said AMA President and CEO Rob Dingman. "This group of individuals have supported the AMA and motorcycle racing for decades. There isn't a better-resourced or more qualified entity in which to entrust the future of AMA Pro Racing."
The agreement between the AMA and DMG came as a result of an RFP (request for proposal) process undertaken by the AMA in September, 2007 to seek promotional partners for its professional racing series. The AMA will continue sanctioning amateur motorcycle racing and club activities.
"Today is a great day for professional motorcycle racing and for the AMA," Dingman said. "By placing AMA Pro Racing in the hands of people with a proven record of excellence in motor sports organization and promotion in a fashion similar to our successful partnership with Live Nation, the AMA will be able to focus its resources on its core mission to be a member advocacy organization."
Editors Note: The good and bad news in all of this is the fact that Bill France has made NASCAR the most successful motorsports series in America using fully regulated spec cars and controling the outcome of races with rules restrictions and yellow caution flags to intentionally bunch up the field. Its not about racing, its about the "Show".
. The bad news is the France Family owns major stockcar facilites like Daytona International Speedway that are not safe, not inducicive, and not homologated to race FIM approved World Championship races at. The big question is, will France continue to bastardize roadracing like he has at Dayrona with the now 600cc Formula Xtreame 200 Miler feature race, or will he spend millions to redesign his tracks to meet FIM standars and allow the running of FIM World Superbike and MotoGP bikes?
And as far as Motocross, Supermoto, et all, neither France or partner Roger Edmonston have any experience or interest in these motorcycle racing deciplines, at all. It definelty will be interesting to see what happens to professional motorcycle racing in America in the coming years. - Jim G.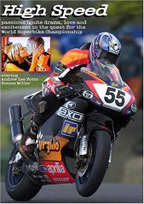 Just Released!
High Speed - the Movie
The best motorcyce racing movie ever made! Filmed on location at World Superbike, this an exciting romantic drama staring beautiful actress Sienna Miller.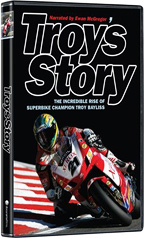 Troy's Story
The story of 2-Time World Superbike Champion Troy Bayliss narrated by Ewan McGreggor
Hot New Book!
---
Qatar to host MotoGP
until 2016
March 7th - In a busy press conference on the opening day of the new MotoGP season Dorna CEO Mr Carmelo Ezpeleta and QMMF President Nasser bin Khalifa Al-Attiyah jointly announced the extension of the contract between the two parties which will see Grand Prix racing at Losail International circuit until at least 2016.
As history was made with the Commercialbank Grand Prix of Qatar commencing under the desert circuit's newly installed floodlight system on Friday evening, it was a suitable occasion for the MotoGP rights holders and the Qatari federation to cement their relationship with their continued agreement – which saw the first GP in Qatar in 2004.
A delighted Mr. Al-Attiyah commented, "We are very proud to announce this deal and we look forward to welcoming MotoGP to Qatar in the years to come. This is an important day for Qatar, for our federation and for the development of motorsport in our region. I want to thank Mr Ezpeleta for the confidence that Dorna have shown in us in extending our contract and allowing us to host the first ever night-time Grand Prix."
---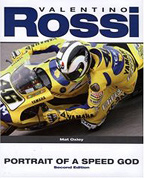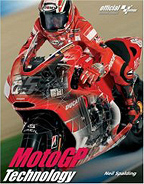 ---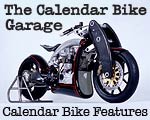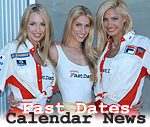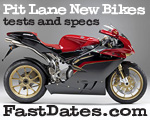 ---
Rider Quotes from Qatar

Andrea Dovi 4th said: "I'm very emotional for this first race. I never thought I would be so quick to finish so near the front and also become the first Italian rider home, which is great! I never really thought of the podium, as I seemed to start off not so good on the grid. Immediately after the start I pushed hard and tried to concentrate on the job in front, I was aiming at the train of riders just in front of me. We struggled a little in qualifying, but came out in a very good way when it was time for the race. We have shown that we are ready to do well in MotoGP with Honda and I look forward to the next race."
Valentino Rossi - Position: 5th
"We expected a difficult race here, but actually not as difficult as this! We haven't been fast here in Qatar since last week's night test but, despite this, I thought we might be able to fight for the podium. Tonight however it was really difficult and now we have to understand the reason for this result. After five or six laps I started doing 56.4 and 56.5 and from then on I couldn't improve on that pace until the end. I was very fast in braking, but not so fast in the corners.
We know that we can make our Bridgestone tyres work better than this, because they are winning tyres and tonight they showed it once again. Throughout the winter, at all tracks, we were very fast and this is the only one where we were not. Now our task is to understand why this happened. We had a couple of ideas to try but in the end we decided to stick to what we know because we need some more time to understand how to improve and how to be faster.
We know we can do better than this and so we just need to gather all the information and use it in the best way for the next race. Finally I want to say congratulations to Lorenzo for a great debut tonight; honestly I'm not surprised because I knew he was fast and talented, but he did very well tonight in a hard race so well done to him."
Nicky Hayden finished tenth and said: "It wasn't pretty for sure. We wanted more than just top ten but we struggled here from the time we rolled out at the tests. We haven't really made much progress and it hasn't been for a lack of effort, these guys have worked really hard. We got beat bad today so we've obviously got a lot of work to do. I got a decent start but I couldn't push the way I wanted to, couldn't be aggressive and couldn't make anything happen, so I kinda went backwards then I went forward again. I was spinning a lot, which definitely didn't do the rear tyre any favours, I really think we just missed the set-up and worked the tyre way too hard so I was spinning way too much."


NEW! FastDates.com
Cell Phone Wallpapers!
---
Sands vs. Rooke
Calendar Bike Build Off
See the world's two hottest custom sportbikes featured in the 2008 Fast Dates and Iron & Lace Calendars being built and raced by Roland Sands and Jesse Rooke for Discovery Channel's Biker Build Off
Roland Sands builds the
KR Tracker Calendar Show Bike
New Blood DVD
features Roland Sands building and riding the extraordinary Roland Sands Design / Kenny Roberts KR 990cc 5-cylinder MotoGP powered Retro Board Track Racer. The bike is also featured in the 2008 Fast Dates race bike and Iron & Lace custom bike Calendars with beautiful Playboy Playmate and Calendar Kitten Tamara Witmer in one of our best calendar shots ever and ,featured in the LA Calendar Motorcycle Show advertsing campaigns
and T-Shirt.

Capirossi Gives Suzuki
an 8th in Qatar
Loris Capirossi marked his debut with the Rizla Suzuki MotoGP team by claiming a hard-earned eighth position at the first race of the season in Qatar.
Starting from 13th on the grid, Capirossi fought his way through the field to eighth on lap five, maintaining that position for the rest of the 22-lap race. Capirossi came under heavy pressure in the final laps from Randy de Puniet, but the 34-year-old Italian used all his experience to fight off the challenge and preserve his place.
Chris Vermeulen made a good start to the first-ever night race and improved on his grid position early on, but a suspected fault with his front tyre caused the Australian to pit. After rejoining the race with a new front tyre fitted, he tried to make up places to score valuable championship points, but finished the race just outside the scoring positions in 17th place.
Today's race was the first held under floodlights and the honour of being the first rider to win a Grand Prix on asphalt at night went to reigning World Champion Casey Stoner on his factory Ducati.
Rizla Suzuki MotoGP now moves back to Europe for the second round of the season on Sunday 30th March, to be held at Jerez in Spain.
Loris Capirossi: "For sure I am not happy because our target is to fight for the podium or victories, and at the moment we are a bit off that. We tried to do our best in the race and compared to the test and the practices here this week we certainly went a little bit better in the race. We still have to continue to improve our entire package so we can be running at the front. I really want to thank my team because they gave me a good opportunity to try my best this weekend with the bike they prepared for me. We now have another 17 races left and we can certainly improve a lot in them!"
Chris Vermeulen: "Not a great start to the season! I made a good start and got off the line well. I was in a good position, but I had an issue with the front tyre right from the first lap. It just didn't work and after five laps it was completely destroyed, so I had to come in and get a new one fitted. We will have to look at it with Bridgestone and find out why it happened. After we replaced the tyre – with the same spec one – I went back out and just tried to stay out of everyone's way. I ended up following Loris in his battle with de Puniet and I was comfortable doing those lap-times at the end when I had a decent front tyre in. It's a shame really, and although I don't think we had the pace to run with the front group I felt like I could have scored a lot more points than we have now."
HARD NIGHT FOR KAWASAKI IN QATAR
The 2008 MotoGP World Championship got off to a nail-biting start today at the Losail International Circuit in Qatar. The first race of the year saw new faces and old hands battling it out for podium places, providing some of the most gripping premier class racing for some time.
Kawasaki's John Hopkins started the night on great form, finishing fourth overall in the early-evening warm up, and things were looking positive as the #21 rider got a solid start when the race began at 23:00 hours, local time. He made it up to ninth position in the first few laps but, as the race continued under the extensive floodlights of the 5.38km circuit, he began having problems with front-end grip. Having to fight the bike and hold it up on his leg, the pain of his injured abductor muscle took its toll and he started losing time. Hopper eventually finished the race in 12th place, picking up four championship points.
It was a heroic effort by the 24-year-old Anglo-American, riding at considerably less than peak fitness and, although frustrated not to have finished further up the field, his performance gives an indication of what he will be capable of when he returns to full health and track conditions improve in warmer climes.
Meanwhile, Hopkins's team mate, Anthony West, also had a hard race, starting from the back of the grid after a difficult weekend in which he struggled to find his form on the Ninja ZX-RR. Having crashed during the weekend's earlier practice sessions, his confidence had dropped and he, like his team mate, struggled with the tricky conditions on the track, caused by low night time temperatures in the Qatari desert. The 27-year-old Australian crossed the line in 16th position at this, the start of his first full season in MotoGP.
Whilst it wasn't the night that Kawasaki was hoping for, lessons have been learned and injuries will hopefully soon be fully healed, enabling the squad to be on top form at the next round at Jerez, Spain, on 30th March.
John Hopkins 12th: "The first half of the race felt good, and I was pretty comfortable running inside the top ten. But then, at about half race distance, the performance of the front tyre went off, and it started sliding in the turns. I had no option but to hold the bike up on my knee, but that put a lot of pressure on my injury. The pain built up very quickly, and by two-thirds distance it was excruciating. If it had just been pain then I could have ridden through it, but in the end I simply ran out of strength in the injured muscle, and I just couldn't maintain my lap times. It was hard to make it all the way to the end of the race, but although I'm disappointed not to have finished higher, at least I know that the injury wouldn't have been a limiting factor if it hadn't been for the tyre problem. This gives me some confidence going into the next race at Jerez."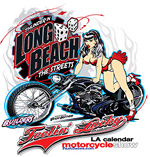 Order the Official
LA Calendar Bike Show
T-Shirts!


Honda Screwed Over
by AMA Officials
Honda Racing's Miguel Duhamel black-flagged during Daytona 2008

AMA Racing News, March 08, 2008 - Honda Racing's Miguel Duhamel was black-flagged during the running of the Daytona 200 for entering the pits at the completion of the first lap and changing to his back up motorcycle in violation of AMA rules.
The rule states that, in a red flag condition, a rider who was present at the starting grid but was unable to start or dropped out after the start, is permitted to restart on a back-up motorcycle until three laps have been officially completed (leader has crossed the finish line to begin the third lap), and when the rider has obtained permission from the Chief Steward or Race Manager.
At the time that Duhamel changed motorcycles, an AMA race official, who is not the AMA Chief Steward or the Race Manager, was asked by the Honda team if there was time for the bike swap and the race official incorrectly indicated that there was time. Riders and crew chiefs acknowledge that they have read and understand the rules as a condition of AMA competition.
"After an exhaustive review, it became clear that the conditions stated in the rules that permit a bike change were not present," said Keith Kizer, the AMA's senior director of racing. "We apologize to Duhamel and the Honda Racing team for allowing him to continue racing but we wanted to provide Duhamel any benefit of the doubt before issuing the black flag."
The AMA rules that apply in this situation are copied below:
7.8 Motorcycle Usage
Riders must start and complete any race on the same motorcycle (same main frame) except where a back-up motorcycle may be used under certain red flag conditions. See Procedures for Red Flag Stops and Restarts.
7.22 Back-up Motorcycles

a. Back-up motorcycles are permitted in all classes.

b. If more than one motorcycle is to be presented for initial tech inspection they will be numbered, on the triple clamp and easily visible, with a "1" or "2" to identify each motorcycle.

c. When a race is restarted following a red flag, a rider who was present at the starting grid, but was unable to start or dropped out after the start, is permitted to restart on a back-up motorcycle until two laps have been officially completed (leader has crossed the finish line to begin the third lap), using the following procedure:
1. Rider must obtain permission from the Chief Steward or Race Manager.
2. All back-up motorcycles must be staged on pit lane or in a designated area and identified to grid officials.
3. Rider will be grid on the last row of the restart grid in a position determined by scoring.
4. Riders who are present at the grid but are unable to start may join the race from the pit road/grid until the time the race leader completes the first lap.
d. Tire warmers are permitted on backup bikes provided they are unplugged from the start of the sighting lap to the start of the race.
Editors note: The AMA screws up again. With AMA Pro Racing possibly changing different track workers and officials , race to race, it is impossible for a race team maganer and their mechanics to know who specifically on Pit Lane is the Chief Steward or Race Manager. If someone on Pit Lane dressed in an AMA official uniform gives instructions to a race team on what they can or can do, you must assume they have the authority to do so and you take their word as law.

For the AMA not to stand behind their own officials rulling, be it in slight error, is audacious. Particularly since changing bikes in the first 3 laps was allowed under the rules. All the AMA had to say was the Official who gave the approval, was a Designated Agent of the Chief Steward, which of course he was if he was there on Pit ane to enforce the rules.
And yet, if DuHammel came back and win the race, certainly all the other riders n the race would have protested.
Team Suzuki Alstare news
Valencia WSB tests, March 13/14, 2008
Circuit: 4.005 kms Conditions: dry, mostly sunny
ALL POSITIVE FOR FONSI, MAX AND YUKIO.
Team Suzuki Alstare riders Fonsi Nieto and Yukio Kagayama and Team Alstare Suzuki rider Max Neukirchner left the Ricardo Tormo circuit in Valencia in positive frames of mind after two days of intensive testing. Tests in Valencia have not always taken place in good conditions, but the weather here over the two days has been more or less perfect.
Neither Fonsi, Max nor Yukio used qualifying tyres to set their best lap times, preferring instead on finding good bike set-ups in advance of the race here in just twenty days time. Aussie Karl Muggeridge (Honda) used a qualifying tyre to set the fastest lap of the two days. His time of 1:34.252 is well under the official Superbike lap record of 1:35.007 set by Neil Hodgson in 2003. Second quickest is Ruben Xaus (Ducati), with Lorenzo Lanzi (Ducati) third and Carlos Checa (Honda) fourth.
Fonsi - 6th, 1:34.911 -It's been a lot of hard work for all of us because we know that this has always been a difficult track for Suzuki. Over these two days, we have tried many different things and worked on many different directions, but I am happy because we have found a good bike set-up for the race in early April. Our main job here was to get the bike ready for the race, so I didn't push hard at all. I know we could've gone faster for sure, but our goal was to do as much work as possible, get a lot of information and that's what we did, so I'm happy.
Max - 7th, 1:34.984- I think we've done a lot of good work over the two days and we're in good shape for the start of practice here in a few weeks. We had some small problems in the beginning, but had much less problems at the end, so we know we made progress. The only time I put a qualifying tyre on the bike, I crashed! It happened on the first right-hander, so probably that side of the tyre wasn't up to temperature. But, if nothing else it has taught me something about what to expect when I do my Superpole lap! The crash took place at the end of the day and there wasn't enough time to put on another qualifier and go for a quick lap. I did a long run today and I was very happy about that because I started with a 1:35.6 and was doing flat 1:36s at the end.
Yukio - 8th, 1:35.017 -The tests have gone well and I'm happy. I'm happy because we worked hard and we finished with positive results and a good set-up for when we come back for the race. My long run went very well (mid 1:35s) and I didn't feel any real pain from my left collarbone. The only time I noticed it was when I was wearing my new set of leathers and they put a lot of pressure on it. But I am a racer and my job is to be here and test, not sit at home. I changed to an older set of leathers for the run and that was much better. I did not use any qualifying tyres, but concentrated on getting a good set-up for the race and also finding good grip from the rear. We also did a lot of work with the electronics and engine braking and these are the kind of things that you must test away from a race weekend because you never have enough time during practice and qualifying.

Results (two days)
1 Muggeridge (Aus-Honda) 1:34.252,
2 Xaus (E-Ducati) 1:34.265, 3. Lanzi (I-Ducati) 1:34.388,
4 Checa (E-Honda) 1:34.493,
5 Kiyonari (J-Honda) 1:34.828,
6 Fonsi Nieto (E-Suzuki Alstare) 1:34.911,
7 Max Neukirchner (D-Alstare Suzuki) 1:34.984,
8 Yukio Kagayama (J-Suzuki Alstare) 1:35.017,