This Month in the Fast Dates Calendar....
Playboy Playmate and FastDates.com Calednar Kitten Tamara Witmer gets up close and personal with Roland Sands' American V-Twin powered sportbike "No Regrets" in the 2008 Fast Dates Calendar this month. You'll find large size screensavers of all our Calendar pages and lots of very revealing pictures of Tamara in Members Corner. And you can order the Calendar here: 2008 Fast Dates Calendar
---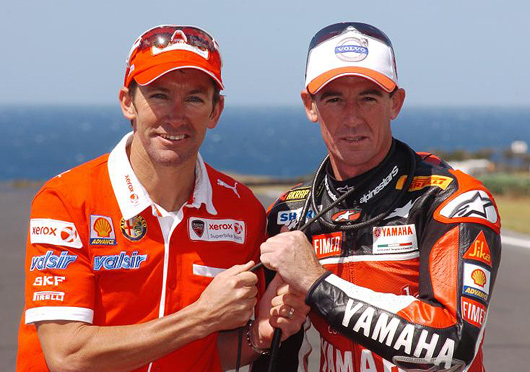 The two friendly Aussie rivalshad their obligitory "Battle of Troy" pictures taken early in the week for the showdown at thir home track with Bayliss (left) throwing an aligator whip around Corser(right). Ironically they have both make their homes with in Monaco since they began competing in the World Championships, as the base for traveling is more centralized
2009 HANNspree SBK World Superbike Championship, Round 2 of 15 Phillip Island
Troy Baylis Doubles in his Final Home Race at Phillip Island
2nd ROUND – Phillip Island, Australia- Feb 29th, March 1-2nd - Race Day at Phillip Island proved an an incredible day for the Ducati Xerox Team with both Bayliss and Fabrizio performing impeccably. Twice world-champion Troy Bayliss took the double win in front of his home crowd, in what is to be his last ever Superbike race day at Phillip Island. Despite the elbow injury he sustained in a high-side yesterday morning, Bayliss rode the two races perfectly, leading the field from the start in Race 1 (restart) and leading for most of Race One after his friendly Aussie rival Troy Corser, who finished 2nd behind him in Race One, crashed out in the early stages.
Fabrizio had a much more difficult start to Race 1 after stalling the start line and being hit from behind. The resulting red flag half way around the track resultinged in the entire 3-rider Ten kate Honda team coliding with each other and taking out the entire team, but they all were able to make it back to the pits to pick up their spare bikes for the restart. Fabrizio sustained muscular contusions to his right calf and although in pain, he returned to the grid for the race 1 restart. After a less than perfect start, Fabrizio soon moved up from eighth place to fourth and, after a battle with Corser and Xaus, was able to take an impressive third place and his first podium with the Ducati Xerox Team. Unfortunately in Race 2 a jumped start for Fabrizio meant a drive through penalty, leaving him unable to catch up and with an eventual nineteenth place finish.
Troy Bayliss closed out his last race ever for fans at his Phillip Island home track with both race wins and a Wheelie Big Show! The new 1098F and 10989RS Ducati bikes proved impressive as well despite having less peak hosepower than the inline 4-cylinder bikes and having to run 12 pounds more weight.
Bayliss now leads the championship with 88 points, 27 points ahead from Nieto (Suzuki) while Fabrizio is in eighth place overall. Ducati leads the manufacturers championship with 95 points and a 32 point advantage over Suzuki.
Troy Bayliss (winner - Race 1 and Race 2) - "It's something you dream of, to have a double win and I knew this year it would be difficult to achieve but I have a great team behind me who all worked really hard. overnight They had to build a new bike for me from scratch after my crash yesterday. I had a few ups and downs this weekend. After Race 1 I was struggling with the last 6 laps but in the end I managed to take the win. In the second race the tyres were a little slower but I felt better on the bike which was more consistent and a pleasure to ride. After race 1 I was so tired but after the second one I felt great. I had to concentrate hard today as in the second race, even though I was ahead I was aware I had to keep it together and put in some consistently good laps. It's been incredible, great weather and some good racing. I know there will be fighting to come later this season so two wins like that was just fantastic."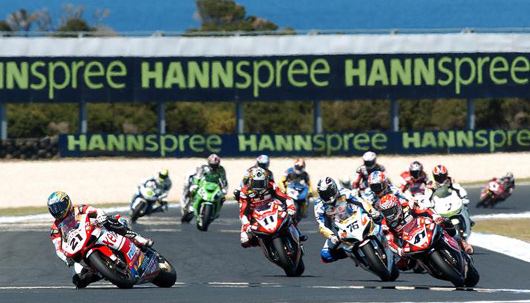 Bayliss (21) leads the race 1 Start over Haga (41), Nieto (76) and Corser (11).
Bayliss Injured in Practice Crash, Sets New Rrack Record, and Secures Superpole
Phillip Island, Sat Mar 1st - Troy Bayliss grabbed his first Superpole of the year at the end of an eventful day for the 38-year-old Australian at Phillip Island. The Ducati Xerox rider crashed three minutes before the end of the morning Q2 session after setting the quickest time, earning himself eight stitches in his left elbow in the process, then he smashed the circuit record at the end of second free practice. Finally in Superpole he shaved a further three-tenths off that time to take the pole away from his fellow Aussie Troy Corser (Yamaha Motor Italia WSB), leaving the mark at 1 minute 31.493 seconds. Young Italian Michel Fabrizio was next up for the Ducati Xerox Team, edging out Carlos Checa (HANNspree Ten Kate Honda) for the final front row slot.
"It has been a bit eventful but I'm sitting here on pole and that makes me feel good about tomorrow's race" declared Bayliss. "Deep down I knew Troy was the man who I was going to have to beat. We always end up fast here and it was pretty close and I'm sure it's going to be a good race tomorrow. I did a long-run yesterday and planned to do another one today but the crash put paid to that. I did quite a few laps and I'm reasonably happy with the tyres and I feel sure the first few laps will be decisive up to about lap 8 and then it's definitely going to get slower and a lot harder for the rest of the race."
Corser said: "It's always great to race here at Phillip Island and see all the friends and family. Today the bike was working well, but we had a few problems in that last free practice trying to get the bike balanced. Unfortunately we were unable to use the qualifying tyre before Superpole so basically I was doing it for the first time on the qualifying tyre. We can't complain too much however and well done to Troy."
Fabrizio commented: "It's been a great weekend so far and hopefully I can continue. Let's see if I can stay with these two 'old' guys tomorrow! It's going to be a really tough race, I feel sure and for me to finish behind them will be a great satisfaction."
Carlos Checa declared: "I wasn't sure with the qualifying tyre, which I've only used a couple of times but all the team pushed me to use them whereas I wanted to use the race tyre. We are trying to understand better the bike, which is still young, but the feeling for the tyres is already good. This combination is working much better now and we are at a good level quickly."
Qatar winner Fonsi Nieto was fifth for Alstare Suzuki, followed by the rapidly improving Jakub Smrz (Guandalini Ducati), Noriyuki Haga (Yamaha WSB) and Max Neukirchner (Alstare Suzuki). Max Biaggi (Sterilgarda Go Eleven Ducati) had to abandon his Superpole run before entering the shoot-out lap after his gear lever snapped and the Italian will start from row 4 of the grid.
TIMES: World Superbike Superpole
1. Bayliss (Ducati) 1'31.493
2. Corser (Yamaha) 1'32.011
3. Fabrizio (Ducati) 1'32.164
4. Checa (Honda) 1'32.373
5. Nieto (Suzuki) 1'32.711
6. Smrz (Ducati) 1'32"714
7. Haga (Yamaha) 1'32.728
8. Neukirchner (Suzuki) 1'32.767
9. Holland (Honda) 1'32.903
10. Laconi (Kawasaki) 1'32"962
11. Xaus (Ducati) 1'32.983
12. Muggeridge (Honda) 1'33.028
13. Rolfo (Honda) 1'33.104
14. Lavilla (Honda) 1'34.060
15. Checa D. (Yamaha) 1'34.166
16. Biaggi (Ducati) 1'32.565
Bayliss takes center on the Race One podium between Corser and new team mate Michel Fabrizio.

Double Race Win Glory for Bayliss and Ducati
Phillip Isand, Australia, Race day March 2nd - Phillip Island (Australia): Australian riders took the honours in the second round of the HANNspree Superbike World Championship at Phillip Island in front of a 65,400 crowd. Troy Bayliss (Ducati Xerox) dominated both Superbike races, while Andrew Pitt clinched the Supersport win. Troy Corser (Yamaha Motor Italia) and Michel Fabrizio (Ducati Xerox) took the other two podium positions in the first Superbike encounter, while Spaniards Carlos Checa (HANNspree Ten Kate Honda) and Fonsi Nieto (Alstare Suzuki) were second and third in race 2. It was a disastrous weekend for Max Biaggi (Sterilgarda Ducati), who started from 16th on the grid and then had two crashes in two races, the second of which left him nursing a broken wrist.
Race One Runaway for Bayliss, With Corser 2nd
- Bayliss led from start to finish to dominate from Corser and Fabrizio. Ruben Xaus (Sterilgarda Ducati) took fourth from Nieto in fifth, Checa and Neukirchner (Alstare Suzuki), while Noriyuki Haga (Yamaha Motor Italia) had tyre problems and could only finish eighth. Biaggi was catching leader Bayliss but the Italian crashed out from second place on lap 16 at the slow right-hander. The race had two starts after Fabrizio stalled on the grid and was hit by Iannuzzo (Pedercini Kawasaki). The factory Ducati rider managed to finish third with muscular contusions to his right leg, while Iannuzzo was taken to hospital with a wrist fracture.
Carlos Checa took 2nd in Race Two on the yet to be developed new Ten Kate 2008 Honda CBR1000RR

Race Two Corer and Biaggi Crash Out to Leave Bayliss Uncontested Again
Fellow Aussie Corser led the first four laps of the second race before crashing out, leaving Bayliss with a commanding lead. Behind the leader an all-Spanish battle raged between Nieto, Xaus and Checa for second, and the runner-up slot eventually went to the Honda rider, who is making his WSBK debut this year. Nieto took the final podium place, ahead of Xaus, Neukirchner and Kiyonari, another WSBK rookie. Biaggi had a nasty high-speed crash at Turn 1 on lap 7 while battling for second, suffering a broken wrist in the process, but he should be back for the next round at Valencia in one month's time.
"It's something you dream of, to have a double win on your last time here" declared Bayliss. "I knew this weekend was going to be very difficult, everybody's riding well and there's a lot of good bikes out there. I have a great team behind me and I'm happy with the result. After the first race I was struggling the last few laps and was worried it was going to be a duel with Max, but he managed to crash and then he did so again in the second race. The times were a little bit slower in race 2 but I felt better on the bike, it was more consistent throughout and a pleasure to ride".
SUPERBIKE Race 1: (Laps 22 = 97,790 Km)
Pos / Rider / Nat. / Team / Gap
1 / T. BAYLISS / AUS / Ducati Xerox Team / 34'22.933
2 / T. CORSER / AUS / Yamaha Italia WSB / 4.221
3 / M.FABRIZIO / ITA / Ducati Xerox Team / 4.738
4 / R. XAUS / ESP / Sterilgarda Go Eleven / 5.171
5 / F. NIETO / ESP / Team Suzuki Alstare / 5.543
6 / C. CHECA / ESP / Hannspree Kate Honda / 5.895
7 / M.NEUKIRCHNER / GER / Alstare Suzuki / 5.964
8 / N.HAGA / JPN / Yamaha Motor Italia WSB / 14.826
9 / R. KIYONARI / JPN / Hannspree Kate Honda / 18.899
10 / R. ROLFO / ITA / Hannspree Honda Althea / 20.633
11 / G.LAVILLA / ESP / Ventaxia VK Honda / 21.601
12 / K. MUGGERIDGE / AUS / D.F. Racing / 29.281
13 / L. LANZI / ITA / R.G. Team / 29.500
14 / K. SOFUOGLU / TUR / Hannspree Honda / 30.030
15 / S. NAKATOMI / JPN / YZF Yamaha / 30.223
Fastest Lap 4° Troy Bayliss 1'32.516 172,965 Km/h

SUPERBIKE Race 2: (Laps 22 = 97,790 Km)
Pos / Rider / Nat. / Team / Gap
1 / T. BAYLISS / AUS / Ducati Xerox Team / 34'35.284
2 / C. CHECA / ESP / Hannspree Kate Honda / 1.127
3 / F. NIETO / ESP / Team Suzuki Alstare / 4.395
4 / R. XAUS / ESP / Sterilgarda Go Eleven / 6.621
5 / M.NEUKIRCHNER / GER / Alstare Suzuki / 11.550
6 / R. KIYONARI / JPN / Hannspree Honda / 11.620
7 / N.HAGA / JPN / Yamaha Motor Italia WSB / 12.049
8 / G.LAVILLA / ESP / Ventaxia VK Honda / 12.134
9 / R. HOLLAND / AUS / D.F. Racing / 13.462
10 / K. MUGGERIDGE / AUS / D.F. Racing / 15.519
11 / K. SOFUOGLU / TUR / Hannspree Honda / 16.225
12 / D. CHECA / ESP / Yamaha France Ipone GMT / 21.959
13 / S. GIMBERT / FRA / Yamaha France Ipone GMT / 21.989
14 / M.TAMADA / JPN / Kaw PSG-1 Corse / 29.106
15 / S. NAKATOMI / JPN / YZF Yamaha / 29.219
Fastest Race Lap 6° Max Biaggi 1'33.477 171,186 Km/h
Race Lap record: 2007 Troy Corser 1'31.826 174,260 Km/h
Best Lap: 2008 Troy Bayliss 1'31.493 174,900 Km/h
Riders Championship Standings:
1 BAYLISS 88, 2 NIETO 61, 3 XAUS 59, 4 CORSER 45, 5 CHECA 45, 6 NEUKIRCHNER 39, 7 BIAGGI 36, 8 FABRIZIO 34, 9 HAGA 22, 10 LAVILLA 18, 11 KIYONARI 17, 12 SOFUOGLU 17, 13 LANZI 13, 14 SMRZ 13, 15 ROLFO 12.
Andrew Pitt Leads Ten Kate Honda to a Triple in 600cc World Supersport
Andrew Pitt (Hannspree Ten Kate Honda CBR600RR) followed up his fastest ever qualifying lap of Phillip Island with a battling race win in Sunday's 21-lap Supersport race. He leaves his home track with the new WSS track best of 1'34.592, set in qualifying.
A three rider Honda civil war at the beginning of the race became a six rider fight at one stage, but the trio of Pitt, second place qualifier Josh Brookes (Hannspree Stiggy Motorsports Honda CBR600RR) and Robbin Harms (Hannspree Stiggy Motorsports Honda CBR600RR) were the top-finishing trio after an all-time classic Supersport race. They swapped the leading positions time after time, with Pitt attempting to slow the pace to conserve his tyres, allowing other riders to join the fray until the very last lap, when the top three moved ahead again.
They had been joined by first Fabien Foret, then Garry McCoy on the three-cylinder Triumph and Jonathan Rea (Hannspree Ten Kate Honda CBR600RR) who could not start as fast as his main rivals. He ended up fifth, equalling his qualifying performance after looking like he could take a podium at one stage. Gianluca Nannelli (Hannspree Althea Honda CBR600RR) made it seven Honda riders in the top ten places, with privateer riders Joan Lascorz and Gianluca Vizziello taking seventh and eighth places respectively on their Honda CBR600RRs.
Qatar podium finisher Craig Jones (Parkalgar Honda CBR600RR) struggled in Australia, qualifying 12th and dropping to 16th in the race itself, struggling for traction. Andrea Antonelli (Hannspree Althea Honda CBR600RR) qualified 19th and suffered a DNF.
In the championship itself, Brookes leads with 33 points, Lascorz is second on 29, with Pitt third, thanks to his 25 Phillip Island points. Harms also has 25 points, and is credited with fifth after a three way tie in the championship table. Jones is sixth, on 16.
Pitt said: "The guys in the team have worked very hard to make it all work this weekend. We came here very determined after the first race in Qatar. We had to bounce back and we've done so in the best possible way. It was a tough race, with a big group of guys battling at the front, but I was confident I could work it out in the last laps. I did, and I'm very happy with the result."
Brookes said: "It wasn't as good as 2004, when I won, but it was a fantastic and very close race. I would like to thank the team for believing in me and for doing a great job this weekend. It was a very tough, hard race but great fun at the same time. I'm sure all my friends, family and fans really enjoyed the race and they must have been biting their nails at the end. Pitt and I put our heads down and charged for the line, but in the end he got it - by just sixty-two hundredths of a second!"
Harms said: "I am very, very happy because it's been tough recently, what with my injuries. I felt very strong in the race and although it must have seemed a crazy race, I felt totally in control. I was actually a bit frustrated with Pitt sometimes because in some places he was holding me up. I'd like to say thank you to the team for doing a great job and hope we can carry on this way."
SUPERSPORT 600cc: RACE : (Laps 21 = 93,345 Km)
Pos / Rider /Nat. / Team / Gap
1 / A. PITT / AUS / Hannspree Ten Kate Honda / 33'51.257
2 / J. BROOKES / AUS / Hannspree Stiggy Motors. / 0.062
3 / R.HARMS / DEN / Hannspree Stiggy Motors. / 0.597
4 / F. FORET / FRA / Yamaha World Supersport / 0.780
5 / J. REA / GBR / Hannspree Ten Kate Honda / 0.976
6 / G.MCCOY / AUS / Triumph - SC / 1.228
7 / J. LASCORZ / ESP / Glaner Motocard.com / 6.590
8 / G.VIZZIELLO / ITA / Berry Racing / 10.266
9 / M.ROCCOLI / ITA / Yamaha Lorenzini by Leoni / 10.594
10 / G.NANNELLI / ITA / Hannspree Honda Althea / 10.991
11 / I. CLEMENTI / ITA / Triumph Italia BE1 Racing / 16.068
12 / M.AITCHISON / AUS / Triumph Italia BE1 Racing / 16.245
13 / G.GOWLAND / GBR / Benjan Racing Team / 16.355
14 / C.WALKER / GBR / Kawasaki Gil Motor Sport / 16.526
15 / V. KALLIO / FIN / Benjan Racing Team / 17.270
Fastest Lap 2° Robbin Harms 1'35.429 167,685 Km/h
Lap record: 2007 S. Charpentier 1'34.976 168,480 Km/h
Best Lap: 2008 A. Pitt 1'34.592 169,170 Km/h
Riders Championship Standings:
1 BROOKES 33, 2 LASCORZ 29, 3 PITT 25, 4 PARKES 25, 5 HARMS 25, 6 JONES 16,
7 VIZZIELLO 14, 8 FORET 13, 9 REA 11, 10 LAGRIVE 11, 11 MCCOY 10, 12 VENEMAN 10,
13 WALKER 9, 14 CLEMENTI 9, 15 SALOM 8.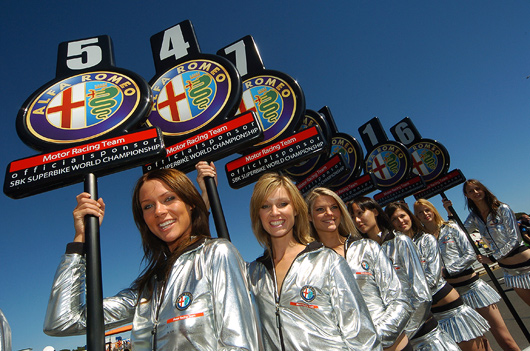 ---
With the current Aprilia RSV1000 2-cylinder bke now left behind by the new World Superbike rules allowing 1200ccc twin cylinder bikes, Aprilia has chosen instead of increasing displacement to produce an all new 1000cc V-4 engined bike to sell and contest World Superbike in 2009. BMW is also expected to introduce a 4-cylinder superbike to enter World Superbike in 2009.

New Aprilia RSV 4 "Race Machine " Is Revealved for World Superbike
Feb 22nd - The Aprilia Superbike, the bike which from 2009 will bring the Noale based company back to four-stroke racing, has been unveiled for the first time during the Piaggio Group Convention in Milan. After the success in the 2007 World Championships with Aprilia riders and bikes dominating the 125 and 250 classes (winning all four titles, a repeat of the 2006 performance), the Veneto company gave a preview of the eagerly awaited RSV 4 "Race Machine". An extraordinary preview to a privileged audience of more than 1,200 dealers attending the International Piaggio Group Convention.
Four cylinders, 1000 cc, power of well over 200 HP in the race version, the new bike due to make its road debut by the end of 2008 will mark Aprilia's return to the World Superbike Championship in the 2009 season.
The Aprilia RSV 4 is driven by the most revolutionary and powerful engine ever built by Aprilia. A four-cylinder one litre 65° V engine - a layout making it unique among all the world's production engines - in which the most sophisticated engine engineering is combined with top quality materials and the most advanced electronic control technology.
The Aprilia engine in fact uses integral ride-by-wire technology, opening up new frontiers in managing such a powerful engine, with almost infinite possibilities for controlling power output and traction.
---
Night Moves: Casey gets the Ducati GP08 airborne at Losail under the night time lights in a record breaking run. This is one of the few times we'll ever see the team bikes in full Marlboro logo livery due to the strict anti-tobacco laws in Europe and the USA,

MotoGP Official Test and Preview 2008 - Losail Circuit, Qatar
Preview: The First Night Race in MotoGP History
Opens the 2008 Season in Qatar
Monday Mar 3 2008 Round 1 - Qatar GP -Just a few days after completing their preseason testing schedule in Qatar, the MotoGP Teams return to the Losail International Circuit this weekend, including the Ducati Marlboro Team to begin their defence of the MotoGP World Championship. Sunday 9th March 2008 will go down in history as the date that a Grand Prix took place at night for the first time ever.
The riders have already had the opportunity to get accustomed to the peculiar conditions that will greet them at the circuit thanks to two days of tests at the end of February, when they rode their MotoGP machines under artificial lighting for the first time. Casey Stoner adapted quickly to the unusual surroundings whilst Marco Melandri made small but constant steps to improve his feeling with the bike and circuit.
The same could be said for the entire winter testing programme for the Ducati Marlboro Team, with the defending World Champion on top form and satisfied with the job done on the GP8 and with the Bridgestone tyres in all conditions at all of the circuits in Malaysia, Australia, Spain and Qatar. Melandri, meanwhile, has been focused on finding his own way forward, concentrating on setting a consistent pace on race tyres as opposed to worrying about a hot lap on soft rubber. He now feels confident that he is ready for the start of the season.
Last year in Qatar Stoner made a stunning debut with Ducati, taking an incredible maiden victory in MotoGP to become the youngest Australian rider ever to do so and the first to register wins in all three Grand Prix classes. Melandri battled from tenth on the grid to take an impressive fifth place finish.
LIVIO SUPPO, MotoGP Project Director
"It has been a challenging winter but one that has been full of satisfaction. Casey has proved himself to be the man to beat and the level of confidence he has with the bike and tyres is fantastic. Compared to this time last year he has improved even more and it's a great pleasure to see that his World Championship success has not taken anything away from his desire to win.
I want to say a big 'thank you' to everybody at Ducati Corse: the development work has been wonderful once again and Casey is very satisfied with the evolution of the GP8 - Filippo's 'small step' theory is being rewarded. I also want to thank our partners, who are supporting us in this new challenge. Bridgestone have worked hard to maintain their competitiveness and all of our technical partners, especially Shell, have always known how to respond positively to our requests. It is going to be really exciting to start the season under the floodlights of Losail and to be amongst the first to contest a World Championship race at night!"
CASEY STONER, Ducati Marlboro Team - "I'm happy that the races are starting up again and I'm satisfied with the job myself and the team have been able to do in the preseason tests. The Ducati engineers have made a few small changes to the bike over the winter that have produced a notable general improvement. The GP8 has better acceleration in low revs and the set-up changes we made at Phillip Island have improved its performance on the exit of corners. The Bridgestone tyres have worked well at all of the tracks we've tested at, including the night test in Qatar, so from that perspective I'm also really happy. It is going to be fun to race at night but for me it won't be a completely new experience because I already did a couple of speedway and dirt-track races at night when I was a junior back in Australia. It will be different but I don't think it changes the job for the rider, especially because we've already had two days of tests last week to get used to the track conditions and the lights. Temperature will be an important factor, though, especially as far as the tyres are concerned because at 11 o'clock when we start qualifying and the race it is really cold. We'll have to wait and see if the conditions are the same as they were for the test."

THE TRACK
Losail is the first Middle Eastern venue to have featured on the MotoGP World Championship calendar, having hosted the first Grand Prix of Qatar back in 2004. The circuit, located in the desert outskirts of the capital city of Doha, features a long straight measuring over one kilometre and a series of flowing corners with frequent changes in direction. Obviously this year the most important, and most spectacular, difference is that the race will be taking place at night. The riders only recently completed a two-day test, which not only gave them the opportunity to finalise their bike set-up for the circuit but also provided a taste of the conditions that are likely to await them once the race gets underway.
Circuit Record: Casey Stoner (Ducati - 2007), 1'56.528, 166.208 km/h
Best Pole: Valentino Rossi (Yamaha - 2007 ), 1'55.002
Circuit Length: 5,380 km
MotoGP Race 2008: 22 laps (118,360 km)
MotoGP Schedule 2008: 23:00 Local Time - 21:00 CET

Casey Stoner Dominates First Ever
MotoGP Night Test at Qatar with New Lap Record!
Feb 28, Losail Circuit, Qatar - Ducati Marlboro's World Champion Casey Stoner was the fastest rider in MotoGP's inaugural floodlit test at Losail International circuit on Thursday evening, lapping 0.689s ahead of his nearest rival in a groundbreaking session which concluded without problems.
Stoner needed just 45 minutes to find his bearings around the floodlit circuit of Losail in Qatar, with almost five and a half million watts lighting up the first official test session at 1800h local time, following a spectacular opening ceremony. Within an hour Stoner had clocked a stunning lap of 1'55.368, inside the current lap record and almost three seconds clear of his nearest rival. The test didn't finish until 0100h in the morning but both Ducati Marlboro Team riders were in positive mood. Track temperatures at 2000h were around 18°C.

CASEY STONER, Ducati Marlboro Team - "The first impression is like playing on the videogame "Need for Speed"! It's definitely a lot different to what we're used to. It's not better or worse, just different. The most interesting thing is that with lower visibility, at least with regard to the imperfections on the track, you have to have more confidence than your instinct tells you to have. It's not a bad start though."
Also in the top five were Fiat Yamaha's Jorge Lorenzo, LCR Honda's Randy de Puniet, JiR Team Scot's Andrea Dovizioso and Tech3 Yamaha's James Toseland – a quartet of Michelin riders who all lapped within a second of Stoner's hot lap.
Under the state-of-the-art lighting system at the desert circuit, Alex de Angelis from the San Carlo Honda Gresini squad made it a good night all round for the 2008 MotoGP rookies as he lapped sixth quickest.
Behind the San Marino rider came Kawasaki's John Hopkins, who lapped 71 times despite still being on the comeback trail after his groin injury. Meanwhile Repsol Honda's own comeback kid Dani Pedrosa, who rides with an injured hand still, used a softer tyre at the end of the session to cut his lap time, with experienced Yamaha pair Valentino Rossi and Colin Edwards rounding off the top ten.
The entire 2008 MotoGP field was in attendance, gaining a crucial first taste of what to expect at the season opening Commercialbank Grand Prix of Qatar on 9th March and focusing mainly on race tyre tests for the majority of the seven hour session with temperatures a cooler than expected average of 16ºC.
In the last hour of the practice Lorenzo improved his own time to move up into second on the timesheet. The 250cc World Champion was still more than half a second behind Stoner though, the premier class title holder having set the pace right from the start with a time of 1'55.368 in the first hour of the outing, a time which he later reduced by a further 0.038s midway through the evening.
Anthony West was the session's only crasher, an accident early on which did not result in any significant injury for the Australian Kawasaki rider, whilst the majority of the feedback from the teams and their MotoGP charges with regard to visibility and riding conditions was highly positive.
The test visit continues on Friday with a second and final 2008 MotoGP preseason test under the Losail floodlights, followed by three days (1st-3rd March) of testing for the smaller classes as of Saturday – just days before the start of the World Championship at the same venue.
Qatar Official MotoGP test – Day One– official lap times:
1. C. Stoner, DUCATI MARLBORO - 1'55.330 / 61 laps
2. J. Lorenzo, FIAT YAMAHA - 1'56.019 / 77
3. R. De Puniet, LCR HONDA MotoGP - 1'56.062 / 88
4. A. Dovizioso, JiR TEAM SCOT - 1'56.121 / 81
5. J. Toseland, TECH3 YAMAHA - 1'56.251 / 90
6. A. De Angelis, SAN CARLO HONDA GRESINI - 1'56.571 / 69
7. J. Hopkins, KAWASAKI RACING - 1'56.614 / 71
8. D. Pedrosa, REPSOL HONDA TEAM - 1'56.621 / 72
9. V. Rossi, FIAT YAMAHA - 1'56.749 / 82
10. C. Edwards, TECH3 YAMAHA - 1'56.762 / 86
11. T. Elias, ALICE TEAM - 1'57.007 / 85
12. N. Hayden, REPSOL HONDA TEAM - 1'57.010 / 91
13. S. Nakano, SAN CARLO HONDA GRESINI - 1'57.223 / 79
14. C. Vermeulen, RIZLA SUZUKI - 1'57.522 / 80
15. L. Capirossi, RIZLA SUZUKI - 1'57.551 / 66
16. M. Melandri, DUCATI MARLBORO - 1'57.593 / 70
17. S. Guintoli, ALICE TEAM - 1'57.644 / 66
18. A. West, KAWASAKI RACING - 1'57.787 / 51
Race lap record: 2007, Casey Stoner - 1'56.528
Qualifying record: 2007, Valentino Rossi - 1'55.002
Jorge Lorenzo Tops Day 2
Losail, March 1st - The second and final evening of MotoGP's first ever night test at Losail International circuit ended with Fiat Yamaha's Jorge Lorenzo at the head of the timesheet, courtesy of a time of 1'54.552 on the last of his 73 laps in the seven hour session. Earlier, Tech3 Yamaha's James Toseland, the reigning 2007 World Superbike Champion, had been the fastest rider for a sustained period, but reigning 250cc World Champion Lorenzo shaved 0.040s off the Englishman's best effort with minutes remaining in the floodlit practice, to gain a confidence boosting advantage over his rivals - barely a week before the season commences at the same venue.
Having been second fastest on Thursday on race tyres at the desert circuit Lorenzo continued his good work with his late hot lap, nearly half a second faster than the Losail pole position record, having already completed an excellent race simulation with a series of laps in the 1'56 margin – almost matching Casey Stoner's 2007 race winning pace.
Although Lorenzo insists his debut MotoGP season is essentially a learning exercise, his performance in the last test session of the winter means he will go into the season opening Commercialbank Grand Prix of Qatar next weekend confident of a strong result in his first ever premier class race.
Likewise Briton Toseland has made good progress during his preparations for his long awaited MotoGP bow. Having successfully tested suspension parts, worked with various tyres and of course having adapted to night-time riding in the groundbreaking Losail test, he too should be bursting with anticipation ahead of round one, after missing out on Friday night's top spot by less than a tenth of a second.
Also on the pace in third position - and just 0.381s behind Lorenzo - was Frenchman Randy de Puniet, who has been a strong performer over the winter testing period and appears to be enjoying the Honda-Michelin package at his disposal with his new team Honda LCR.
Toseland's Texan team-mate Colin Edwards was fourth quickest, while Ducati Marlboro's World Champion Casey Stoner completed the top five - the Australian 22 year-old escaping unhurt after an accident on turn two at around 10.30pm local time. After an impressive pre-season the reigning champ is undoubtedly the title favourite and completed just 31 laps before declaring his work was done and being ready and raring to race.
Also featuring in the top ten were Andrea Dovizioso (JiR Team Scot), Nicky Hayden (Repsol Honda), Chris Vermeulen (Rizla Suzuki), Alex de Angelis (San Carlo Honda Gresini) and five-time MotoGP World Champion Valentino Rossi – who ended the test 1.7s slower than his Fiat Yamaha colleague Lorenzo.
The session was briefly red-flagged at around 9.30pm local time due to debris on track following a crash by Rizla Suzuki's Loris Capirossi at turn seven, but the veteran Italian was unhurt and once the action resumed he was soon back out riding again – eventually lapping eleventh fastest.
In addition to those tumbles by former team-mates Stoner and Capirossi, there were crashes late in the session for the MotoGP title holder's new Ducati colleague Marco Melandri, San Carlo Honda Gresini's Shinya Nakano and Alice Team's Sylvain Guintoli as track temperature dropped to a chilly 13°C. Guintoli's bike was badly damaged and his right arm appeared to be injured, but he was soon given the all clear by doctors onsite.
Indeed, it was that late temperature drop rather than any lack of visibility apparently causing those accidents, so the teams and tyre suppliers Bridgestone and Michelin will aim to ensure they account for similar circumstances in next week's Grand Prix return to Qatar which of course marks the start of the 2008 MotoGP World Championship.
Qatar MotoGP Official Test – Day Two – best times:
1. J. LORENZO, FIAT YAMAHA - 1'54.552 / 73
2. J. TOSELAND, TECH3 YAMAHA - 1'54.592 / 52
3. R. DE PUNIET, LCR HONDA MotoGP - 1'54.973 / 91
4. C. EDWARDS, TECH3 YAMAHA - 1'55.464 / 50
5. C. STONER, DUCATI MARLBORO - 1'55.485 / 31
6. A. DOVIZIOSO, JiR TEAM SCOT - 1'55.550 / 68
7. N. HAYDEN, REPSOL HONDA TEAM - 1'55.674 / 94
8. C. VERMEULEN, RIZLA SUZUKI - 1'56.119 / 73
9. A. DE ANGELIS, SAN CARLO HONDA GRESINI - 1'56.249 / 60
10. V. ROSSI, FIAT YAMAHA - 1'56.256 / 83
11. L. CAPIROSSI, RIZLA SUZUKI - 1'56.450 / 64
12. J. HOPKINS, KAWASAKI RACING - 1'56.612 / 55
13. D. PEDROSA, REPSOL HONDA TEAM - 1'56.704 / 75
14. S. NAKANO, SAN CARLO HONDA GRESINI - 1'56.792 / 71
15. M. MELANDRI, DUCATI MARLBORO - 1'56.902 / 63
16. T. ELIAS, ALICE TEAM - 1'56.986 / 69
17. S. GUINTOLI, ALICE TEAM - 1'57.055 / 55
18. A. WEST, KAWASAKI RACING - 1'57.459 / 67
Race Record: C. STONER - 1.56.528 (2007)
Qualifying Record: V. ROSSI - 1.55.002 (2007)
MotoGP Official Test Day 1: C. STONER - 1.55.330
2008 MotoGP World Championship / Commercialbank Grand Prix of Qatar
Preview: Lights go ON for opening 2008 MotoGP round in Qatar
March 3rd - It's the MotoGP World Championship's opening race of the season for the second consecutive year, and in 2008 the Commercialbank Grand Prix of Qatar will be another first for the series, as the Losail International Circuit plays host to the series' first ever night race.
One of the most ambitious lighting projects in history, the task of providing a shadow-free and safe environment for the momentous race has been months in the making. The possibility of riding in the evening at Qatar had been pondered as long as two years ago, but was only confirmed last September in an official announcement in Misano. The opening event of its kind at Losail came just last week, with the arrival of all three classes for an Official Test after the lights were formally switched on.
Whilst the track itself, and its million dollar lighting system designed by experts Musco, will be the undeniable initial focus of public attention in the build-up to the race, there is no small amount of interest in the state of affairs on track in the MotoGP and lower cylinder categories.
Ducati Marlboro's Casey Stoner will be competing in his first race with the number one plate, opening the defence of his 2007 MotoGP World Championship crown. The Australian began 2008 with a typically dominant display at the Official Test in Jerez in February, taking the BMW M Award prize in the 40-minute shootout that marked the first competitive action of the year. He was also the early pace-setter in the first night test, laying down the fastest time of the opening night.
Unfortunately for Stoner's rivals, the 22 year-old has also been highly successful at both his previous race visits to Qatar. Bedraggled by flu and arriving late for the 2006 practice sessions, the then-rookie took pole position for what was only his second MotoGP race. On the day of the Grand Prix he battled with future title rival Valentino Rossi, before eventually missing out on the podium spots. In 2007 he confirmed the potential shown the previous year, and once again duked it out with the Italian. The power of the Desmosedici and the cool head of the future World Champion saw him hold off the former champ, en route to his first MotoGP victory.
Rossi is expected to be challenging Stoner once again this year, and will be competing in his first race with Bridgestone tyres on his Fiat Yamaha M1. The five-time World Champion was the winner of the 2006 race in Losail, and one of the riders to participate in the Safety Commission's initial analysis of the night race possibility ahead of that event.
The Repsol Honda duo of Dani Pedrosa and Nicky Hayden will be attempting to establish their title credentials early on at Qatar, racing against time to complete development of the RC212V. Pedrosa saw his preseason hit hard by a testing crash in Sepang, and has been absent for the majority of practice opportunities to recover from a broken hand. 2006 World Champion Hayden has been putting the latest evolution of the machine through its paces in some marathon testing sessions, and has it all to prove in 2008.
The most movement after the final race of last year has come with the changing of garages, with just six of the eighteen-rider strong MotoGP grid staying with the same team for 2008. Big moves have come from the likes of John Hopkins, who switches to Kawasaki after a long association with Suzuki, Loris Capirossi who occupies the space left vacant by the Anglo-American, and Marco Melandri who in turn takes the veteran's place in the Ducati Marlboro team.
Aside from the existing MotoGP competitors carrying on in the premier class with different teams (Randy de Puniet, Colin Edwards, Toni Elias, Sylvain Guintoli and Shinya Nakano) and those remaining with their 2007 teams (Stoner, Rossi, Chris Vermeulen and Anthony West) there is also an influx of new blood in the 800cc class. Heading up the interest is reigning 250cc World Champion Jorge Lorenzo, who has taken to the new cylinder class like a duck to water in preseason. The Spaniard rides for Fiat Yamaha as the only rookie factory rider, in a garage partitioned due to his running different tyres to team-mate Rossi. Lorenzo has quite the pedigree in Qatar, holding three wins at the Losail International Circuit from his time in 125cc and 250cc and the fastest night lap recorded so far at the track in last week's Official Test.
Lorenzo's former 250cc rivals Andrea Dovizioso and Alex de Angelis also move up to the premier class this year, riding satellite Honda machines for the JiR Team Scot and San Carlo Honda Gresini outfits respectively.
Another championship-winning rookie comes in the form of Tech 3 Yamaha's James Toseland, a two time world champion in superbike racing. The Briton knows the circuit well on a four-stroke, was one of the first riders to try out the floodlights at the end of last year and took a highly positive second place in the standings at the Official Test, meaning he will not get a better chance to make an early mark on the MotoGP series.
The Commercialbank Grand Prix of Qatar takes place on Sunday 9th March, at 11pm local time. The 125cc and 250cc races precede the MotoGP class, at 8pm and 9.15pm respectively. Practice sessions begin on the evening of Friday 7th March.
250cc GP Class Preview
With the departure of last year's top three in the 250cc class, the quarter litre category title race has been blasted wide open in 2008. The form riders in preseason testing have come from the KTM camp, with Mika Kallio clocking fast times at a number of visits to Jerez and Valencia. The Finn was the winner of the final round of 2007, and his maiden appearance in 250cc at Qatar last year could have seen him on the rostrum were it not for some untimely mechanical problems.
Kallio's team-mate Hiroshi Aoyama has also had his fair share of misfortune in Qatar. The Japanese rider had been expected to star at the race last year after recording KTM's then-best ever dry result of fifth in 2006, but crashed out on lap two and suffered a nasty finger injury. He will be one of the expected title contenders this year as the Austrian factory's machines look stronger than ever.
Heading the Aprilia charge is Mapfre Aspar rider Alvaro Bautista, already a proven race-winner in the 250cc class. The Spaniard is joined in the garage this year by countryman Hector Faubel, one of a cluster of debutants that also includes 125cc success stories Lukas Pesek and Mattia Pasini.
Also on top of the range Aprilia machinery in 2008 are Emmi Caffe Latte's Thomas Luthi, who came so close to a podium finish in his maiden 250cc race at Losail last year, Lotus Aprilia's returning Alex Debon, and Hector Barbera, with all three expected to push for success in Qatar.
---
There's more! Go to Pit Lane News NEXT PAGE
Hot Calendar Girl and Bike News! Go to: Fast Dates • Calendar Girls • Iron & Lace
Calendar Kittens, The Paddock Garage, Screensavers, Iron & Lace Garage



Many of our Calendar Kittens can also be seen at Playboy's website...


BikerKiss.com - the largest biker personals site!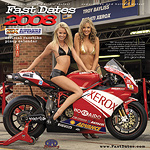 Now Available!
16-month Calendar starts Sept
2008 Fast Dates &
Garage Girls Calendars

More 2008 Calendars in the Calendar Store
Ducati Receives Buyout Offer
March 4, 2008 - Ducati's board is considering a proposed buyout offer from the company's main shareholders, Reuters reported Feb. 22.
Shareholders Investindustrial, BS Investimenti and Canadian pension fund Hospitals of Ontario plan to launch a 390.8 million euro ($579 million) offer for the 70 percent of the company they do not own, the news service reported.
The board met on Friday to consider the offer. "The forecast offer by the key shareholders was evaluated positively in terms of price, which seems reasonable, as well as for conditions," Ducati said in a statement, according to Reuters.
The Bologna, Italy-based company needs to examine a formal proposal and valuations given by advisers. Ducati has hired Mediobanca as its financial adviser.
Private equity firm Investindustrial owns 15.6 percent of Ducati. Hospitals of Ontario Pension Plan has a 7.4 percent stake and BS Investimenti holds around 7 percent of the company.
Daytona Bike Week 2008 International Speedway Here are the Activities located at the Speedway in addition to thrilling motorcycle racing during upcoming Daytona 200 Week By Honda Feb. 29 - March 8th

Daytona International Speedway will once again host Kickstand City. In addition to offering a wide-variety of overnight parking packages and the exciting on-track racing, Daytona International Speedway will offer a plethora of must-see activities for any motorcycle enthusiast.
1- Free demo rides: motorcycle enthusiasts can test-ride the latest factory motorcycles with free manufacturer demo rides from Honda, Yamaha, Kawasaki, Suzuki, Harley-Davidson, Buell, Victory, Triumph, Boss Hoss and, BMW.

2- Custom builders: they will be located in the area outside of Turn 4. They include Covington, Bourget, Redneck, Ridley, Big Dog Motorcycles, S&S Cycles, Swift and many more.

3- The metric display: will be located in Lot 1.

4- Daytona Motorcycle Marketplace: Bikers can find some of the nation's top aftermarket parts, accessories and apparel companies in the parking lot of The Daytona 500 Experience.

5- Spring Dash Around Daytona: On Wednesday, March 5, bikers will get the chance of a lifetime to ride Daytona International Speedway in the Spring Dash Around Daytona. The parade lap will begin at 7 p.m. followed by the After Party until 9 p.m. Price is $40 per participant and includes an "I Rode Daytona" T-shirt, two parade, two beverage tickets and entertainment at the After Party in the Sprint FANZONE.

Tickets are available in the Budweiser Cool Your Pipes Zone outside of Turn 4 on March 1, 2 and 4, 11 a.m. to 5 p.m. and on Wednesday, March 5 from 11 a.m. - 6 p.m. A portion of the proceeds will be donated to the Volusia/Flagler County Coalition for the Homeless Inc.
New DVD!

Hot New Book!
---
Carlos Checka Scores First Podium for New Honda CBR1000RR with Race Kit
Phillip Island, Mar 2nd - Carlos Checa (Hannspree Ten Kate Honda CBR1000RR) took only four races of his World Superbike racing career to secure a podium finish, missing out on a win in the second 22-lap race at Phillip Island by only 1.127 seconds. It was his and his 2008 specification Honda CBR1000RR's first visit to the podium, and came after he had qualified on the front row in Superpole on Saturday, with the fourth best qualifying time.
Checa had been knocked off his number one machine on the first lap of the first race, although the race was restarted from the beginning in any case, because of a dramatic crash on the starting grid. Despite suffering from a sore ankle, foot and leg, Checa used his spare machine for the restarted race and battled hard to secured a sixth place finish, and then go on to take the best Honda finish of the 2008 season so far in the second outing.
With the Honda riders on either new machines with little development time behind them or on 2007 machines, there were still some strong performances from most CBR1000RR competitors in Australia.
Ryuichi Kiyonari (Hannspree Ten Kate Honda CBR1000RR) only qualified 19th, and out of Superpole, but recovered in race one to take ninth, then went on to charge through almost the entire 25-rider field to secure a career best sixth in race two.
Kenan Sofuoglu (Hannspree Ten Kate Honda Jr CBR1000RR) also missed Superpole, only going 21s in qualifying, and in race one he was struggling to get into the top positions, going 14th. In race two he was more effective in his early laps, and took 11th place.
Race one was delayed for some time, causing disruption of the following Supersport race as well, after a crash between Michel Fabrizio (who had stalled his machine on the startline) and two following riders. One hit him a glancing blow, the other a more severe one, and with stricken rider Vittorio Iannuzzo lying trackside, the race was red-flagged. Iannuzzo broke his left hand, but is otherwise only battered and bruised.
Before the remaining riders had made it back to the pits for the restart, Checa and fellow Honda rider Russell Holland (DFX Corse Honda CBR1000RR) had collided at the entrance to Lukey heights. Both riders made the restart, Holland on his spare bike, a 2007 model machine. Holland had qualified for his home race 9th, and repeated that result in race two; like Checa, it was his fourth ever SBK race.
In race two a long delay in the start lights caused five riders to suffer a jump-start penalty, one of them being 13th place qualifier Roberto Rolfo (Hannspree Althea Honda CBR1000RR). He had been tenth in race one, but was without a point in race two, in 16th place.
Gregorio Lavilla (Vent Axia VK Honda CBR1000RR) made a breakthrough on a 2007 bike in Australia, qualifying 14th but improving in each race, with 11th in race one and a truly battling eighth in race two, only 12 seconds from the winner.
Karl Muggeridge (DFX Corse Honda CBR1000RR) enjoyed his home races for periods in each contest, and finished 12th and tenth, using his 2008 machine.
Shuhei Aoyama (Alto Evolution Honda CBR1000RR) qualified 24th and was 18th in race one, a non-finisher when he entered the pits in race two. His team-mate Luca Morelli (Alto Evolution Honda CBR1000RR) did not finish either race, after being hit by another rider in the first lap of first contest, and suffering a muscle injury to his leg.
Checa now sits fifth and top Honda rider in the points, with 45, while Lavilla is just in the top ten, on 18. Kiyonari's turnaround puts him 11th equal on points with his team-mate Sofuoglu. Rolfo and Muggeridge have double digit points scores, 12 and ten respectively.
Checa said: "We are still new to this, a new rider on a new bike but at one stage of race two I thought I could win. Then I realised that Bayliss, like in race one, had a bit in reserve. Second is a good result for this stage of the season. My pace was enough to pull away from Xaus and Nieto, but there are still areas of the bike to improve. I didn't have a lot of time to get back from the medical centre after the crash in race one, but we just made it for the restart. I didn't feel ready to race right then and considering this we did OK in sixth."
DUCATI SUPERBIKE CONCORSO RETURNS FOR 2008
The Ducati Superbike Concorso enters a second year of competition
Cupertino, CA (February 1, 2008) - Ducati North America is pleased announce the return of the Superbike Concorso; a competition celebrating over 30 years of the Bologna manufacturer's Superbikes.
The Superbike Concorso is a Ducatisti driven competition showcasing exceptional Superbikes. Competing bikes span from the era of the original 1970's Supersports to the modern age of Desmodromic domination; including Casey Stoner's World Championship victory on the Desmosedici Grand Prix machine.
This year's Concorso is open to all privately owned 1972-2008 Ducati Superbikes, including the revolutionary Desmosedici RR and the new Ducati 848 Superbike. The Concorso recognizes performance, history, beauty, and craftsmanship; all carefully judged by a panel of esteemed motorcycle authorities.
The 2008 Superbike Concorso is a five round competition; four rounds of which will coincide with major American motorcycle races. The fifth round will be a virtual showdown held at DucatiSuperbikeConcorso.com.
A Grand Prize will be awarded to the "Overall Best Superbike" at each of the five rounds; with the winners receiving an once-in-a-lifetime trip to Ducati's Bologna factory. Winners in other categories will receive $500 Ducati Performance gift certificates redeemable at over 160 authorized Ducati Dealerships.
The Superbike Concorso kicks off March 5th – 8th at Daytona Bike Week and will continue through the inaugural Indianapolis Grand Prix in September. Get more details and sign up now at DucatiSuperbikeConcorso.com.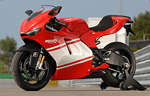 Ducati Desmosedici RRFor compete details and photos of the new bike go to our
New Sportbike Index
Ducati Desmosedici RR
Are You Tom Cruise?
Desmosedici Delivery Begins
Feb. 2008 - The long anticipated delivery of the Ducati Desmosedici RR MotoGP street bike began this month in America, some 18 months late after the initial planned delivery date of 2 years announced at World Ducati Week 2004.
The first 200 bikes were suposedly allocated to current Ducati 999R Superbike owners in order of the date they placed their deposit at their dealers.
Production has since been expanded to 1500 bikes. with all 1500 bikes to be built this year by Christmas 2008.
Reportedly some 60 Desmosedici's were delivered to Ducati dealers in America the first of this month, with reportedly just one bike per dealer, irrespective of when they were ordered. Some 15 of those bikes went to West Coast dealers, but in some case it was who you were and who you knew that got you the frist bikes.
The first Desmosedici that arrived at Beverly Hills Ducati, CA, we heard went straight to actor Tom Cruise, who we have never seen photographed on a sportbike or seen riding a Ducati here around his home in in Southern California. Suprisingly, no one at Beverly Hills Ducati or Ducati NA capitalized on any publicity value with pictures or a press release of delivering their first bike to Tom Cruise. It was essentially kept hush, hush.
The first Desmosedici delived to Mission Motorsports in San Diego, was actually earmarked for Los Angles resident and Ducati enthusiast Kami Coe who had tried to run an under financed and ill fated AMA Superbike team with Larry Pegram back in 2003 by purchasing a pair of ex works Ducati 988F race bikes. Kami had never purchased a new 999R, nor had he placed an early deposit with any dealer.
That said, we do see 2 other Desmosedici RRs being delivered to 999R owners. One gentleman owns a chain of upscale restaurants and received his first of 3 Desmosedici he had ordered. The other t2 bikes of which he plans to customize and modify. His riding is limited to riding one of his expensive collection of bikes and cars some 8 miles in a straight line on the highway, to the local Sunday morning bike hangout and back.
The other guy only rides his Ducati's on the race track, and his Desmosedici will be stripped of its lighting equipment and muffler, shod with racing slicks and have a hard life as a track bike. For all of them and their 'Sedici, it is the life in the hands of wealthy entuusiasts for which the limited production bike was intended.
---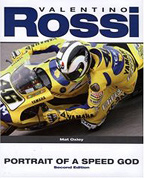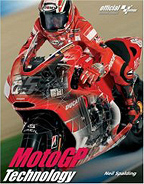 ---
New Pirelli Russo Tire
and Sexy Video
Milan, 8 Nov. - During the EICMA show Pirelli presented the brand new Pirelli DIABLO ROSSO.
This tyre sets the point representing a new tyre generation, thanks to the new approach Pirelli adopted to design this new product for the SUPERSPORT segment and thanks to the new EPT (Enhanced Patch Technology) Pirelli patent.
Diablo Rosso finds its full description in a new section of Pirelli tyre website thanks to a video which represents its world and 'personality' together with a page with the product features.
Soon each country will have its own DIABLO ROSSO area in its proper language, now you can see the preview in the corporate website with a very SEXY VIDEO.
Please check it out by CLICKING HERE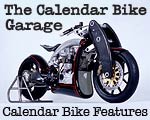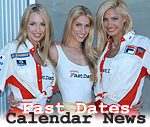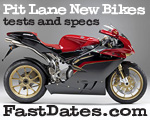 ---


NEW! FastDates.com
Cell Phone Wallpapers!
---
Sands vs. Rooke
Calendar Bike Build Off
See the world's two hottest custom sportbikes featured in the 2008 Fast Dates and Iron & Lace Calendars being built and raced by Roland Sands and Jesse Rooke for Discovery Channel's Biker Build Off
Roland Sands builds the
KR Tracker Calendar Show Bike
New Blood DVD
features Roland Sands building and riding the extraordinary Roland Sands Design / Kenny Roberts KR 990cc 5-cylinder MotoGP powered Retro Board Track Racer. The bike is also featured in the 2008 Fast Dates race bike and Iron & Lace custom bike Calendars with beautiful Playboy Playmate and Calendar Kitten Tamara Witmer in one of our best calendar shots ever and ,featured in the LA Calendar Motorcycle Show advertsing campaigns
and T-Shirt.
AMA continues search
for "Promotional Racing Partners"
Feb 26th - The American Motorcyclist Association released an update in finding promotional partners for its professional racing series after its board meeting at the Dealer Expo, according to a press release.
American Motorcyclist Association CEO Rob Dingman said the organization has, "received a number of proposals in response to our call for bids. We are following a defined protocol with our governing board to thoroughly review each bid. At this point, no decisions have been made but the process is moving forward as planned."
Dingman went on to emphasize the importance of confidentiality during this process.
"Its very competitive, and we must ensure the sanctity of the review process," he noted. "As we consider our options, our first priority must be the health and well-being of the AMA and its 290,000 members."
What all this means, no one knows. Lat fall Dingman announced they wanted to get out of the racing business.
Which effectively they are, as they do not promote any races themselves. Yet Digman and the AMA still want to retain sanctioning and rules control over all types of motorcycle racing, particularly the AMA Roadracing Nationals.
As long as the AMA controls the rules through its board members and employees the sport will go no where.
FIAT Yamaha Pair Plan Impressive Opening Night in Qatar
Losail International Circuit , Mach 3rd Preview - The all-new Fiat Yamaha pairing of Valentino Rossi and Jorge Lorenzo begin their assault on the 2008 MotoGP World Championship firmly in the spotlight this weekend as the new season gets underway beneath the floodlights of the Losail International Circuit in Doha, Qatar. The 60th season of the world's oldest motorsport series kicks off with an historic night race, the first in Grand Prix history, and Rossi and Lorenzo will be amongst no fewer than eleven past and present FIM World Champions looking to claim motorcycling's biggest prize.
For Rossi the new campaign represents a second opportunity to reclaim the crown he held for five consecutive seasons until 2006, with the Italian having undergone an intense winter programme of physical training and MotoGP testing. As well as working on improvements with the engine of his Yamaha YZR-M1, Rossi has also been adapting to a change of tyre manufacturer and he is hoping to reap the fruit of his hard work in the dark desert landscape of Doha, where he has already celebrated victory on two previous occasions. A repeat on Sunday night would be a good omen for the 29-year-old, who has won the opening race on each of the five occasions he has won the title. A top three finish would make him the first rider ever to reach 100 premier-class podiums.
At just 20 years of age Lorenzo will be the youngest rider on the grid in Qatar, although he is unlikely to be fazed. The 250cc World Champion has been on pole position for the quarter-litre race there for the past three years and has taken victory for the last two - a clean sweep he had already managed as a precocious teenager in the 125cc class in 2004. The Mallorcan will also be buoyed by some impressive winter form on his new 800cc Yamaha, culminating with the fastest overall lap time at the final preseason test at Losail just a few days ago.
That crucial two-night session also provided the circuit organizers with the opportunity to try out their incredible lighting system with the full complement of MotoGP riders on track. With 3,600 light fixtures using 250, 1500 and 2500-watt bulbs, the system needs 13 megawatt generators to produce the required 5.4 million watts of power - creating enough light to cover an area equivalent to 70 football pitches. The bulbs are fixed on 1000 poles with mounting heights from 3-36 metres, all linked together by almost 500 kilometres of wire and supported by 300,000 kilos of concrete.
Valentino Rossi - "Relaxed and Ready"
"Firstly speaking about the night race, after the last test I am quite relaxed about this. I think they have done an excellent job with the lights and it's really true that you can ride just the same as you can by day. The biggest problem is of course the temperature, because it's very cold by night and this makes our work, especially with the tyres, much harder. Generally I'm very happy and excited that we have finally reached the first race. It's been a long time since Valencia and I am definitely ready to start a new challenge. Yamaha have worked very hard over the winter and our new bike is very good; of course there are some things still to work on and we did have some issues to contend with at the last test, but I am confident that we are in good shape overall. I am very happy with my tyres as well and now I just want to get started. We have a big task ahead of us but I know that my team and everyone at Yamaha are up to the job."
Jorge Lorenzo - "A New Challenge"
"I was very excited before the last test to see what it was like racing at night, and to start with it was quite strange, as I expected! After a short time however I was used to it and really there is hardly any difference from the day. I did find that riding at night makes you feel strangely 'alone' with your bike and therefore you have to be extra alert and concentrated. I think the one thing that might be difficult in the race is the shadows, and not becoming confused by other riders' ones, but I think it's going to be fun. In Qatar I was very happy with the work we did and this was the perfect way to end a long winter of testing. Compared to how I was when I first rode the M1 in Valencia, I think I have really improved a lot. It's been hard work and of course I still have a lot to learn, but I think we're starting the season in as good a shape as I hoped. I am new to this and I don't know what to expect from the first race, but I just hope to do my best and then I will be happy."
Davide Brivio - "Let's Get Started!"
"As far as the light is concerned, after one hour testing things seemed to be normal. We got used to the new conditions very quickly and everything worked well so we are not expecting problems for the race. As Valentino said, the biggest problem for us is the temperature but this is the same for everyone so we just have to do our best in the circumstances. Our pre-season in general has gone very well; Valentino was very fast in Sepang and Jerez and he has improved as expected each test as we become more used to working with the tyres and as we have improved the settings for the new bike. We had some unexpected problems in Qatar and therefore we will have to make the most of the four hours of practice to fix those, but we have some ideas and I am confident we will be ready. The practice is finally over and everyone is looking forward now to getting started."
Order the New
LA Calendar Bike Show
T-Shirts!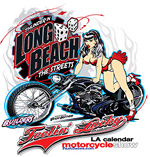 Official Bike Show T-Shirts!