September - October 2008
Beautiful Tamara Wasson on location at the classic Texaco service station in Hollywood, California, with Kevin Schwantz's 1994 GP World Championship Suzuki RG500 in the photo featured on the cover of the 1996 Fast Dates Calendar.
First Time Ever! FastDates.com Calendar Images Available for Sale!
Photo Prints, Posters, Canvas Wall Murals
Now, for the first time you can have my favorite, most memorable FastDates.com Calendar photos reproduced to museum qualty standards for your home, garage, office or store, thanks to our new partnership with one of America's premier online photo labs. Choose from photo prints on quality photo paper, to huge poster and mural size Giclee' photo prints on archival rag paper or canvas mounted to wooden frames or display boxes.
Now you can enjoy my best photos of the the world's finest motorcycles with beautiful models! - Jim Gianatsis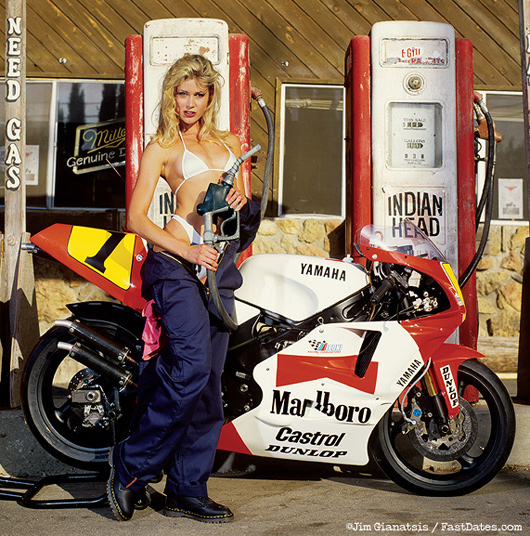 Ginger Schweizer gasses up Wayne Rainey's 1993 GP World Championship winning
Yamaha YZR500 at the Rock Store, the photo featured on the cover of the 1994 Fast Dates Calendar.
---

Carrie with Casey Stoner's 2007 MotoGP World Championship winning Ducati GP07.

World Premier! 2009 Fast Dates Racebike Pinup Calendar
July 1st 2008 - The SBK World Superbike endorsed 2009 Fast Dates Race Bike Swimsuit Pinup Calendar sponsored by Performance Machine and photographed by Jim Gianatsis offers a special treat this year with the cover bike being Casey Stoner's 2007 MotoGP World Championship winning Ducati GP07 bike photographed with sexy swimsuit and Calenar vover model Carrie Ann Stroup. We've got Carrie washing down the world's winningest MotoGP bike in a secret back alley location that's guaranteed to steam up any sportbike fan!
Of course, there's all all the top factory race bikes of the SBK World Superbike Championship photographed on location last year at Brands Hatch World Superbike in Great Britain with beautiful SBK Fast Dates World Superbike girls Rhian Sugden and Gemma Louise Henry. Featured are all the top factory Superbikes from Yamaha, Honda, Suzuki, Kawasaki, and Ducati including double World Champs James Toseland's Ten Kate Hannespre Honda CBR1000, Troy Bayliss' Xerox Ducati 999F07, Max Biaggi's Suzuki GSXR1000, and Regis Laconi's Kawasaki ZX10.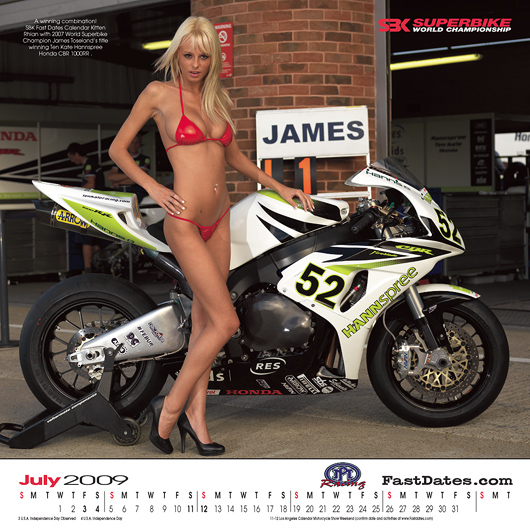 Rhian with James Toseland's 2007 World Superbike Championship winning Ten Kate Honda CBR1000RR

We also did some smokin' hot sportbike studio shots back in Los Angeles with Playboy model and Calendar Kitten Tiffany Toth with our own limited edition Fast Dates project bikes, a Ducati 1098S Tri Colore and Hypermoto R, plus a wild Shinya Kimura retro V-Twin sport custom that was just selected to appear in Legend of the Motorcycle at the President Clinton Library in Atkansas this fall! These ARE the world's top racing bikes in MotoGP and World Superbike, together with beautiful swimsuit models, that are that are guaranteed to have you bouncin' off the rev limiter and blowin' a head gasket.
Buy the 2009 Fast Dates Calendar • Download Big Screensaver Photos in Members Corner
---
Our 2010 Fast Dates Calendar Kittens were, from left to right, Pirelli girls Lauren Brooke and Jamie Jungers, Hannspree girls Shona Kay and Kami Wilson, here with World Champion Troy Bayliss's Ducati 1098F08 Superbike.
CLICK to GO BIG
2010 Fast Dates Calendar Shoot at America's
SBK World Superbike Round at Miller Motorsports, Utah
and in the Gianatsis Design Studios
May 30-June 1st 2008, Toole, Utah, USA - The return of World Superbike Championship to America at Miller Motorsports Raceway in Utah, after a 3 year absence stateside, gave us an exciting new venue to shoot the next edition of the SBK World Superbike endorsed Fast Dates Calendar. Once again calendar photographer and producer Jim Gianatsis was able to photograph all the top factory World Superbike on pit lane with some very beautiful Calendar Kittens for the world's premier sportbike calendar, now celebrating it's 18 year! Continued HERE
Sept 1st , 2008 - After shooting the principal photography for the 2010 Fast Dates Calendar with all the World Superbike team bikes at Miller Motorsports SBK back in May/June, I decided to return to my studio this past August to shoot a sexy 2-girl cover shot that would blow the socks of anything we had ever done before. And if one Calendar Kitten is hot, why not burn up the cover with two girls! Meet beautiful brunette Sabella Shake and blond Paris Hilton look-a-like Rachel Bernstein. The bike is my awesome new Ducati 1098R which is the best Ducati superbike yet, the homologation base for Troy Bayliss' and Ducati's 2008 World Superbike Championship Rider's & Manufacturer's Titles. It just doesn't get any better than this! Enjoy this preview glimpse of the 2010 Fast Dates Calendar cover. - Jim Gianatsis
Above, Our newest Calendar Kitten Rachel Bernstein hooks up with her look-a-like, Paris Hilton at the Playboy Mansion's Mid-Summer Nights Fanatasies Party. Rachel goes eco-friendly, while check out Paris' serious bling!
---
FastDates.com Calendar publisher Jim Gianatsis at the Leather Meets Lace Party at the Playboy Mansion. All five girls on the right are fully nude with just body paint.

FastDates.com does the Motorcycle Charity Association's annual
Hollywood Charity Ride & Leather Meets Playboy Mansion Lace Party
By Jim Gianatsis
Saturday October 4th - FastDates.com is a sponsor of the Motorcycle Charity Association, providing the organization adverting exposure on the FastDates.com Calendar Website and exhibitor and sponsor presence at the LA Calendar Motorcycle Show Weekend. The organization's premier annual event is the Leather Meets Lace Charity Event, held this year on Saturday October 4th. Calendar photographer and publisher Jim Gianatsis was joined for the day by Calendar sponsor Mikuni American's Lee Chapin, V.P. of Carburetor Sales.
The day kicked off with the 2nd annual Hollywood Charity Ride starting at the Kodak Theatre next to famed Grumman's Chinese Theatre on the Hollywood Walk of Fame in Hollywood, California. Motorcycle enthusiasts from around the world and celebrities came together for a ride down Hollywood Boulevard and through Beverly Hills, to the Pacific Ocean and up to Malibu for Lunch.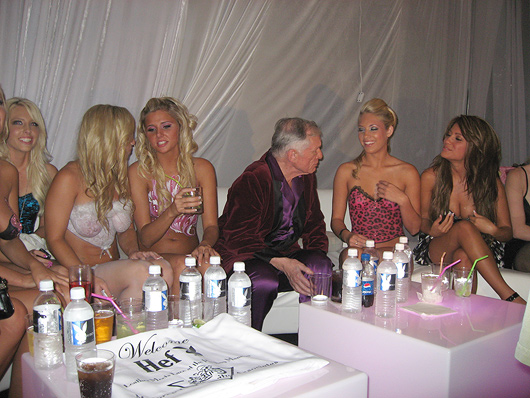 Later that evening we arrived at the Playboy Mansion for a night of partying at Leather Meets Lace with 5-star dining and an open bar on the Mansion's expansive back yard next to the famed Playboy Swimming Pool and Grotto. Charity Tickets for the night ranged in price from $1,000 for General Admission, to $5,000 for your own private table staffed with Playmates. Holding court at the party of course, was Playboy founder and house resident Hugh Heffner with his live-in "The Girls Next Door". also joining us were assorted Playboy Playmates and Bunnies, about a dozen nude body painted girls, the Perfect Angeles from our LA Calendar Motorcycle Show performing their sexy dance show, and celebrities including Carmen Electra, Jean Simmons, and top custom bike builders.
The most amazing thing of the night were the nude body painted girls who actually look, from a distance, like they were clothed in swimsuits and lingerie. It was until you got right next to them and saw their private areas up close, that you realized they were fully naked with just glued on ribbons and fur to add a 3-D effect to the painted-on clothes. It was amazing they could walk around all night among hundreds of people, feeling perfectly comfortable being naked.
All in all, it was an incredible once-in-a-lifetime experience to party at the Playboy Mansion, hang with Hef, get drunk with lots of beautiful naked girls, Playmates, and your motorcycle buddies. I think we'll have to look at doing a FastDates.com Calendar Charity event real soon.

---
FastDates.com Calendars Co-Star with acress Gabrielle Anwar
on TV Show "Burn Notice"

Sept 1st 2008 - Here's the update on the TV show "Burn Notice" using our calendars:

HI Jim, Yes, I ordered the calendars from your site and received them on Friday. The episode is titled "Hot Spot" and will air in either January or February 2009. "Burn Notice" is on the USA Network and airs Thursday nights at 10pm. Our website is www.usanetwork/series/burnnotice

I gave the calendars to the director, along with some others. The will either be used as a "prop" in which Gabrielle Anwar's character, who poses as a publisher from a calendar company, shows them to a potential client. OR they will be displayed on the walls of a billiards club or a cigar bar. It is up to the director. I wish you all the luck and everyone loves the calendars!

Best Wishes, Sarah Ananties
Production Assistant, Burn Notice
---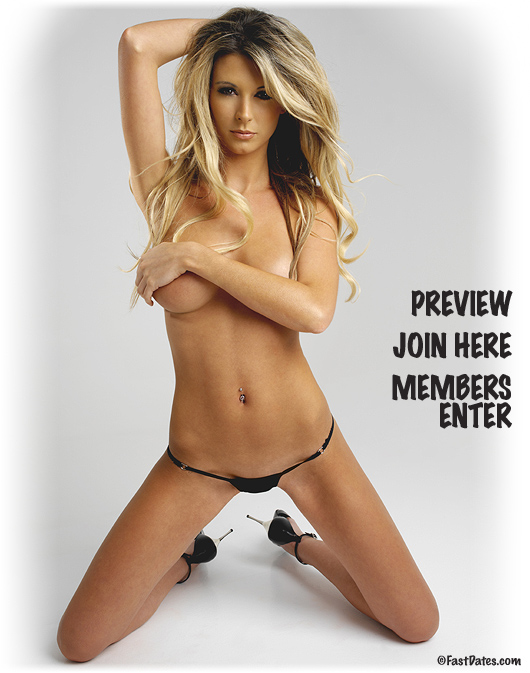 5 Sexy New Pictorial galleriess Added in Members Corner!
Fast Dates World Superbike Calendar Kitten Gemma Gleeson
She was the hottest thing to ever hit the starting grid 2 years ago at Brands Hatch World Superbike. Fast Dates Calendar Kitten Gemma Gleeson was your typical long-legged beautiful 19-year old runway supermodel from County Cork, Ireland and we brought her to Brands with 2 other models to shoot the 2007 Fast Dates Calendar.
It proved difficult to get any work done that weekend as we (actually Gemma and the other 2 models) were constantly mobbed by the race teams, media, TV and fans for pictures and to be chatted-up. European TV fans got to see a lot of Gemma on screen that weekend, much of it in the SBK's 1-hour Saturday Practice and Sunday's Pre Race Show coverage which we don't get here in America on SpeedTV, and with all the grid girls being edited out of the 1-hour race coverage we are shown. See more here: Brands Hatch 2005.
However, we've been able to get together with Gemma again to shoot some incredible photos of our Irish goddess for FastDates.com which you'll find in Members Corner. Now you can get an exclusive look at one of our most beautiful Calendar Kittens ever in 5 very sexy and revealing new pictorials! Members Corner.
FastDates.com Members Corner Updates
Much More New Content, New Lower $9.95 Monthly Price
If you've never joined our Members Corner before, or it's been a while since you have been a member, now's the time to join us. Along with a new low monthly membership rate, we've got a lot more content you don't want to miss! Included with your Membership is:
• Members Corner - Sexy and Reveal photos of the prettiest fastdates.com calendar Kittens including Playboy Playmates Tamara Witmer, Athena Lundburg, and the world's sexiest actresses and models Jamie Pressly, Joanna Krupa and LeeAnn Tweeden. Plus archives of all the Fast Dates, Iron & Lace, Garage Girls Calendars.
• Met-Art Affiliate Model Galleries - Normally $29.95 a month to join Met-Art alone!
• Paddock Garage - Sportbike and V-Twin Engine Tuning and Suspension Se Up.
• Iron & Lace Garage - Feature custom bike pictorials including our beautiful Calendar Kittens
• FastDates.com Calendar Screen Savers - The hottest Bikes, Riders and Calendar Kittens
Cora says "Don't let me have to kick your butt, - join me in Members Corner now!"
---
There's more! Go to Fast Dates Calendar News NEXT PAGE

Hot Calendar Girl and Bike News! Go to: Fast Dates • Garage Girls • Iron & Lace

click here to see even more of our sexy Fast Dates Calendar Kittens...





Some of our Calendar Girls can also be seen at Playboy's website...