Custom Bike Pinup Calendar News July - August 2007
Tamara Witmer is featured on the cover and inside the 2008 Iron & Lace calendar with Jesse Rooke's extraordinary KTM V-Twin power retro boad track racer.

LA Calendar Bike Show Hostess and Playboy Playmate Tamara Witmer featured
Introducing the New 2008 Iron & Lace Calendar!

World Premier July 1st 2007 - The new 2008 Iron & Lace Custom Bike and Centerfold Model Calendar sponsored by Mikuni Carburetors and Performance Machine features the world's top custom bikes together with sexy centerfold models. Photographed by Jim Gianatsis, Iron & Lace offers a month by month look at the top winning bikes from the 2006 LA Calendar Motorcycle Show including Best of Show winner "Art Attack" from Russ Hess of Cowboy Customs in Texas, and Pro Builder Class winner Mark Daley of Thunderstruck Customs in Medford, Oregon.
Also featured are Biker Build Off TV show challengers Roland Sands' "No Regrets" American V-twin powered sportbike, together with his contender, 3-time LA Calendar Motorcycle Show winner Jesse Rooke's KTM V-twin retro board track racer. Plus there's Sand's incredible Kenny Roberts commissioned KR 990cc 5-cylinder 230hp MotoGP engined retro board tracker, along with other incredible bikes from top name builders Russell Mitchell, Shinya Kimoura, Joe Takai, Yasuyoshi Chikawaza and Randy Hocker.
This year's Iron & Lace models are even more beautiful than the bikes with Playboy Playmates Tamara Witmer and Athena Lundburg, Miss Hooters National Swimsuit Pageant finalist Cora Skinner, Russian hottie Masha Lund and Big Daddy's TV show star Natalie Green. ORDER HERE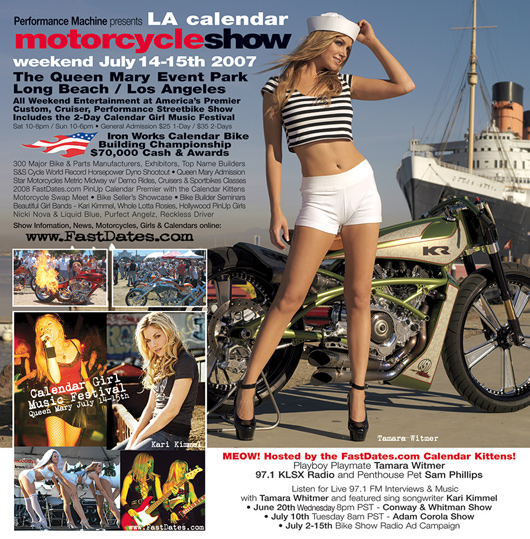 Non stop Girl-Girl Accoustical Action, and oh yes, the World's Hottest Bikes and Builders!
$70,000 in Cash and Awards at the
The Biggest & Best Custom & High Performance Street & Sportbike Event in America!
Performance Machine presents the
LA Calendar Motorcycle Show Weekend and
2-Day Calendar Girl Music Festival July 14-15th 2007

the Queen Mary Event Park, Long Beach, CA
America's Premier Custom and Performance Streetbike Show
Long Beach, CA, July 1st, 2007 - Join 20,000 motorcycle and rock music enthusiasts for the world's most exciting 2-day motorcycle event weekend in the beautiful Queen Mary Event Park on the grass alongside the Pacific Ocean in Long Beach! This is the world's premier motorcycle show weekend featuring some 300 major motorcycle and parts manufacturers, selected product and apparel venders, now with a new All Brand Motorcycle Swap Meet venue add.
Spectators can meet top celebrity custom bike builders including Russell Mitchell, Jesse Rooke, Roland Sands, Harold Pontarelli, Shinya KimuraAmerican Thunder, Build or Bust, and V-Twin TV. Watch the excitement of the S&S Cycle World Championship Horsepower Dyno Shoot Out. Attend free Calendar Bike Builder Seminars with with the top builders. See the world's top custom bikes in the Performance Machine Calendar Bike Building Championship and in the exciting Star Motorcycle Metric Midway featuring Japanese & European Cruisers and Sportbikes, and free Star Motorcycle demo rides along the beautiful Pacific Ocean.
and others featured on TV's
Also featured with admission both days is the exciting Calendar Girl Music Festival with beautiful girl bands headlined by singer/songwriter Kari Kimmel, with the naughty schoolgirl AC/DC tribute band Whole Lotta Rosies, world renoun show band Nicki Nova and Liquid Blue, Mary Falls and Reckless Driver, and the sexy Purrfect Angelz and Hollywood PinUp Girls high energy dance and musical burlesque shows. The weekend is hosted by Playboy Playmate Tamara Witmer and Miss Texas Rockin' Robin Cunningham, and other FastDates.com Calendar Kittens with the annual world premier of the new 2008 FastDates.com Motorcycle Pin Up Calendars.
Many of the world's top Pro and Amateur street bike builders will be in attendance to compete in the Performance Machine Calendar Show Bike Building Championship with a bulging purse of $70,000 in cash and awards. This year's Show Contest features 3 new classes including the Iron Works magazine Street Chopper, and Bar Hopper classes, and Yamaha's the new Star Motorcycles sponsored Metric Cruiser Class located in the exciting new Star Motorcyles Metric Midway featuring Japanese Cruisers, along with classes for European and Japanese Sportbikes. There are 10 Calendar Bike Building Championship Classes including the premier Radical Pro Builder Class sponsored by Iron Works magazine, with a $5,000 Performance Machine product award up for grabs, as well as the coveted Performance Machine Best of Show Trophy.
Newly added this year is the Calendar Motorcycle Show Swap Meet for all brands of mototcycles managed by Topping Events, which will take place in a separate location in the Queen Mary facility at the Seaside Village. Thie Swap Meet will give venders an affordable venue to showcase used motorcycles and parts for sale to the large Calendar Motorcycle spectator auduence.
You'll find special attractions for the entire family and receive complimentary admission aboard the historic Queen Mary ocean liner to make it an incredible experience you'll remember always. For additional details, the show schedule and parking information visit www.FastDates.com. Show information HERE.
Bike Show Informationt: HERE

Calendar Kitten and Bike Show MC Tamara Witmer live with Kari Kimmel on the 97.1 FM microphones.

Tamara and Kari Go On Air with Conway and Whitman 97.1 FREE FM
Los Angeles' Number One Nightime Talk Show to promote the Calendar Motorcycle Show
June 20th, Los Angeles, CA - Beautiful Playboy Playmate and FastDates.com Calendar Kitten Tamara Witmer was joined by the incredibly talented singer songwriter Kari Kimmel at the CBS Radio Studios in Los Angeles on Wednesday June 20th at 8:30pm for a live on-air interview with the Conway and Whitman Show on KLSX 97.1 FREE FM. The evening talk radio show is hosted by Tim Conway, Jr, son of famed comedian Tim Conway, together with partner Brian Whitman. The radio show is the number one evening talk show in the Los Angles market. Our girls where there in a full 15 minute live segment with Conway and Whitman to promote the upcoming LA Calendar Motorcycle Show Weekend July 14-15th 2007 at the Queen Mary Event Park in Long Beach, CA.
Tamara Witmer, Playboy Playmate August 2005, is the featured Calendar Kitten in all 3 editions of the new 2008 FastDates.com Motorcycle Pinup Calendars (Fast Dates, Garage Girls, Iron & Lace) which make their world premier at the Calendar Motorcycle Show where Tamara is serving as the on-stage Master of Ceremonies throughout the weekend.
Kari Kimmel is one of the hottest new musical talents in America, with the very attractive young singer songwriter having her songs featured in many popular Hollywood movies and TV shows. Kari will be performing music from her newly released CD "a life in the day" both days at the Calendar Show as she headlines the 2-Day Calendar Girl Music Festival featuring all girl bands and dance shows which is included with the Bike Show admission.
Both Tamara and Kari did an incredible job in fielding all the quips and jabs thrown at them by the talk show jokesters, while informing listeners about the upcoming Calendar Motorcycle Show Weekend. Married talk jock Tim Conway tried his best to get the inside scoop from Tamara about the Playboy Mansion parties and to set up Brian Witmer on a date with Tamara. Then Kari blew the windows out of the studio sound booth as she sang an incredible acoustic guitar retention of her hit song "To Make You Smile" that had the talk jocks praising her with countless accolades.
Earlier in the day Tamara and Kari were at the station with FastDates.com producer Jim Gianatsis to record 30 and 60-second radio ad spots for the Calendar Motorcycle Show Weekend which will begin airing on 97.1 FM starting on July 1st up through the July 14-15th Show weekend. And the girls will return again to the 97.1 FM studios where they will appear live again, this time on Tuesday July 10th on the Adam Corola and Danny Bonaduce Morning Show starting at 8am. If you are not in the 97.1 FREE FM listening area you can still listen to the show online on the station's website at http://www.971freefm.com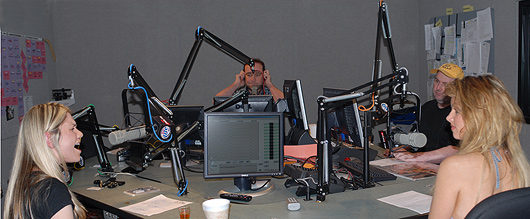 Kari Kimmel (left) sings live on air with Conway and Witman, and Tamara.

Kari Kimmel News!
- June 2007 - ASCAP's Playback magazine, Kari's album "a life in the day" is featured in the June issue!
- June 25th Tuesday, Lifetime Channel movie Girl Positive featuring Kari's song "Fly"

- July 10th, Tuesday, 8am Adam Corola and Danny Bonaduce Show on KLSX Radio 97.1 FREE FM:
just a few days before the Big Calendar Show weekend , Kari will be on air performing live and to
promote the upcong LA Calendar Motorcycle Show with Playboy Playamte Tamara Witmer

- July 16th, 8-9pm ET, NBC's reality show "Victora Beckham: Coming to America" with
Kari's song "Taking A Ride" will be featured in the program
Kari Kimmel 2007 UpComing Live Concerts
- July 4th Celebration - Central Winds Park in Winter Springs, FL (also performing is Little Texas)
1000 E. SR 434 Winter Springs, FL 32708
- July 14 & 15th - LA Calendar Motorcycle Show at the Queen Mary Event park, Long Beach.

Kari's new CD "A Life in the Day" is available at www.karikimmel.com --get your own copy today!
Kari's songs are also on ITUNES!!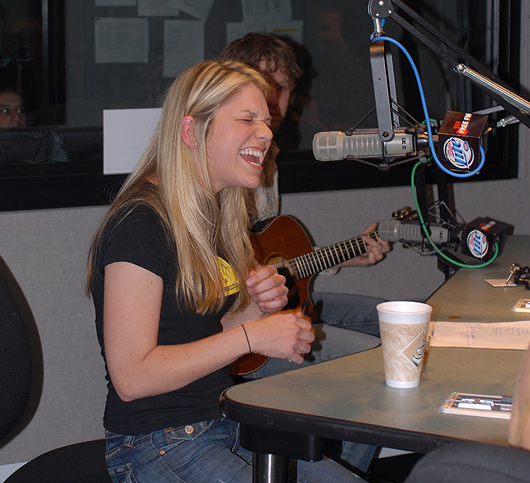 Kari Kimmel blew the famed Talk Jocks away with her accoustical version of her hit song 'To Make You Smile".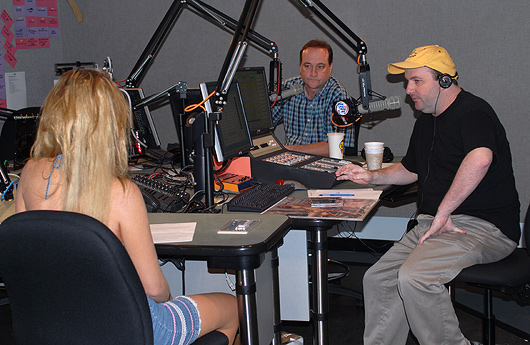 Tamara tells 97.1 listeners about the Calendar Motorcycle Show Weekend as Conway (left) and Whitman (right) enjoy their exclusive viewing benefits inside the radio booth of Tamara's very low cut dress.
---
More Iron & Lace News HERE • Return to Iron & Lace Calendar News Front Page

See much more of our all our beautiful calendar girls
in their sexy pictorials in FastDates.com Members Corner...


Some of our Calendar Girls can also be seen at Playboy's website...



BikerKiss.com - the largest biker personals site!