Custom Bike Pinup Calendar News May - June 2008

This Month in the Fast Dates and Iron & Lace Calendars....
Playboy Playmate and FastDates.com Calendar Kitten Athena Lundburg gets frisky with an art deco Triumph 650 powered boardtrack racer built by Shinya Kimura, formerly of Zero Engineering in Japan, and now ChabbottEngineering.com near Los Angees. Shinya was our Best of Show winner at the 2004 LA Calendar Motorcycle Show, with the next edition of the Calendar Bike Show coming up this July 12-13th. . You'll find large size screensavers of all our Calendar pages and lots of very revealing pictures of Athena in Members Corner. And you can order the FastDates.com Calendar HERE.
---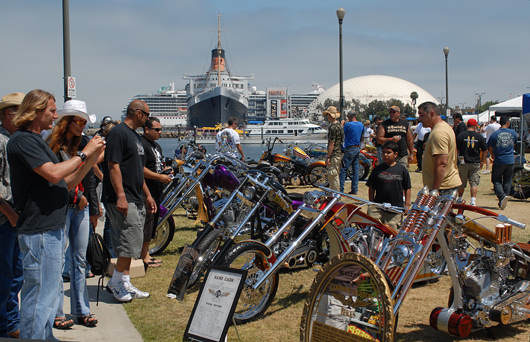 Performance Machine presents the
$86,000 Calendar Bike Building Championship at the
17th Annual 2008 LA Calendar Motorcycle Show Weekend
& 2-Day Calendar Girl Music Festival
July 12-13th 2008, Queen Mary Event Park, Long Beach
at America's Premier Custom & Performance Motorcycle Show Weekend
The 17th annual Los Angeles Calendar Motorcycle Show Weekend presented by Performance Machine, America's premier custom, cruiser, performance and sportbike weekend returns to the Queen Mary Event Park in Long Beach on July 12-13th, 2008. Join 20,000 streetbike motorcycle and music enthusiasts for the world's most exciting 2-day motorcycle event weekend in the beautiful Queen Mary Event Park on the grass alongside the Pacific Ocean! This is the world's premier motorcycle show weekend featuring 200 major motorcycle and parts manufacturers, selected product and apparel venders.
The weekend features many of the world's top Pro and Amateur street bike builders in attendance to compete in the Performance Machine Calendar Show Bike Building Championship with a bulging purse of $86,000 in cash and awards*. There are 10 individual classes for American V-Twin and Metric Street Custom, Performance, Classic, Bobber, Chopper and Sportbike motorcycles.
2007 LA Calendar Motorcycle Show's Calendar Bike Building Championship Best of Show Winner Greg Westbury of Westbury Hardcore, took home $4,000 cash, the coveted Performance Machine trophy and some $3,000 in awards from the Calendar Kittens:KLSX radio host and Penthouse Pet Sam Phillips, Playboy model Tiffany Toth, and Miss Texas Rockin' Robin Cunningham.
The coveted Performance Machine Best of Show Trophy is awarded for the top overall bike at the Show and includes a $3,000 cash prize, an additional $7,000 in product awards bringing the total awards to $10,000 overall, plus the winning bike and builder receives an editorial bike feature in Iron Works magazine and the Iron & Lace Calendar photographed by Show producer Jim Gianatsis.
Performance Machine also offers is own trophy for the Best Performance Machine Equipped Bike with a $5,000 product award from Performance Machine products, Other favorite classes include the Iron Works magazine sponsored Radical Pro Builder, the Mikuni American HR Carburetor sponsored American V-Twin Performance, and the Fast Dates Calendar sponsored Sportbike Class.
Spectators can meet top celebrity custom bike builders including last year's Best of Show winner Greg Westbury, along with Roland Sands, Russell Mitchell, Shinya Kimura, Joe Takai, Ron Simms, Paul Yaffe, Todd Silicato and dozens more. And attend free Calendar Bike Builder Seminars with the top Calendar builders to learn what it really takes to build some of the world's most innovative and beautiful custom bikes as featured in the Iron & Lace and Fast Dates Calendars.
Included with admission both days is the 2-Day Calendar Girl Music Festival with beautiful girl bands and singers including singer songwriters Kari Kimmel and actress Elizabeth Nicole, Taxi Doll, AC/DC Tribute rock band Whole Lotta Rosies, Lead Zeppelin tribute band Moby Chick, Reckless Driver, plus the sexy Purrfect Angelz dance shows.
The weekend is hosted by Playboy model Tiffany Toth and singer Kari Kimmel, with other FastDates.com Calendar Kittens including Carrie Ann Stroup for the annual world premier of the new 2009 FastDates.com Motorcycle Pin Up Calendars. Carrie will be in the Mikuni display throughout the weekend to offer her free Mikuni HSR Carburetor "Fantasies" Poster.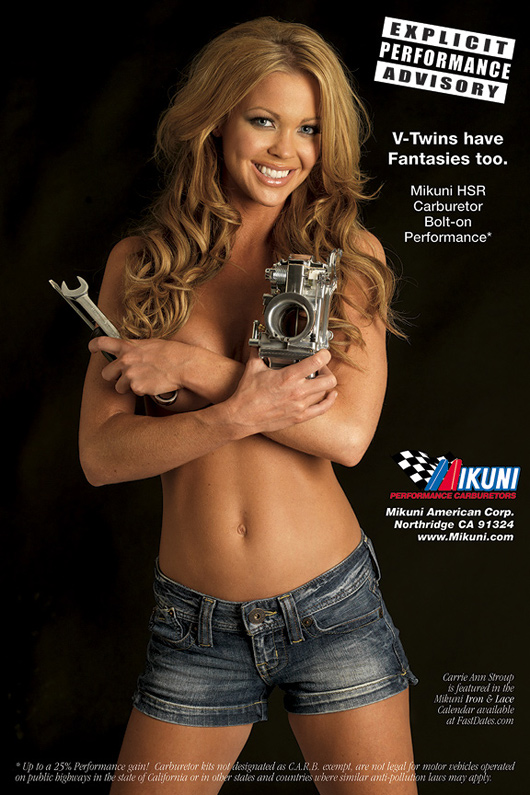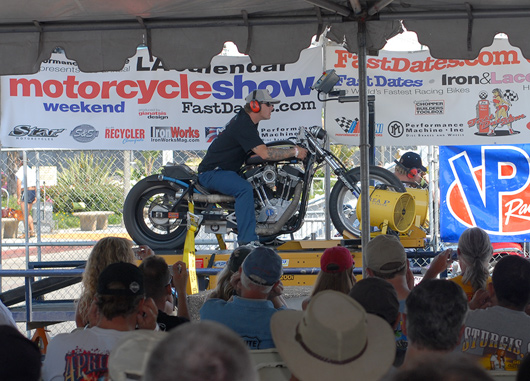 All Weekend Excitement at America's Premier
Custom, Cruiser and Performance Street / Sportbike Show
S&S Cycle sponsored World Record Horsepower Dyno Shoot Out
Returns to the 2008 LA Calendar Motorcycle Show Weekend July 12-13th
S&S Cycle of Viola, Wisconsin, is the world's leading manufacturer of high performance American V-Twin engines and performance parts including CARB certified engines as used by many of the top custom bike manufacturers and builders in attendance every year at the annual Performance Machine sponsored Los Angles Calendar Motorcycle Show Weekend. The Calendar Motorcycle Show is America's premier custom, cruiser and high performance street motorcycle event, taking place this year on July 12-13th 2008 at the Queen Mary Event Park in Long Beach, CA.
S&S Cycle returns again this year as Calendar Motorcycle Show's exclusive sponsor of the S&S Cycle World Championship Horsepower Dyno Shoot Out in a perfect partnership to showcase the S&S Cycle product line's proven performance image. Along with sponsoring the S&S Cycle World Championship Horsepower Dyno Shoot Out, S&S Cycle will be in attendance with a company product display and their knowledgeable staff of technicians and sales personnel to help with any V-Twin engine building or performance questions.
Actual operation of the S&S Cycle World Championship Horsepower Dyno Shoot Out throughout the weekend will be handled by veteran exhaust system designer Kerry Bryant and his staff from Area P / No Limits. It is Kerry who has actually produced the World Record Dyno Shoot Outs at the Calendar Show the last 9 years, so the accuracy and continuity of established classes and records will continue unchanged. And as always there will be a full range of 10 Record Classes for both American V-Twin and Metric Sportbikes in both the Stock and Modified Streetbike and Racebike categories, with engraved S&S Cycle World Record trophies awarded to the winners.
Title and Associate Sponsorship support for the premier streetbike event weekend in America is provided by Performance Machine, Thunder Press, ReCycler.com, Iron Works magazine, S&S Cycle, NOs Energy Drink, CycleTrader.com, Thunder Press, Speed TV's American Thunder, Mikuni Carburetors, Meguiar's Car Care Products, and the FastDates.com Calendars.
For complete details on the S&S Cycle sponsored World Record Dyno Horsepower Shoot Out at the annual Los Angles Calendar Motorcycle Show Weekend on July 12-13th 2008 go to FastDates.com http://www.FastDates.com/BIKESHOW.HTM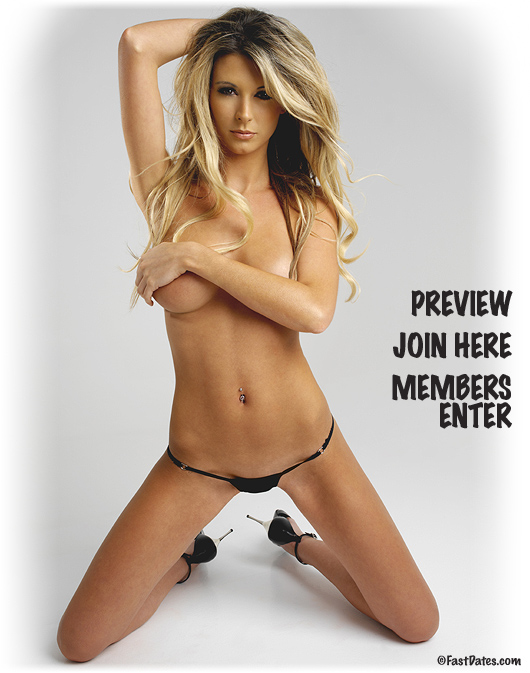 Calendar Kitten Gemma Gleeson
Five Sexy New Pictorials Added in Members Corner!
FastDates.com Calendar Kitten Gemma Gleeson was your typical long-legged beautiful 19-year old runway supermodel from County Cork, Ireland and we brought her to you in our 2007 and 2008 Calendars.
Well, we've just gotten together with Gemma again to shoot some incredible photos of our Irish goddess for FastDates.com which you'll find in Members Corner. Now you can get an exclusive look at one of our most beautiful Calendar Kittens ever in 5 very sexy and revealing new pictorials! Members Corner.
FastDates.com Members Corner Updates
Much More New Content, New Lower $9.95 Monthly Price
If you've never joined our Members Corner before, or it's been a while since you have been a member, now's the time to join us. Along with a new low monthly membership rate, we've got a lot more content you don't want to miss! Included with your Membership is:
---
More Iron & Lace News HERE • Return to Iron & Lace Calendar News Front Page

See much more of our all our beautiful calendar girls
in their sexy pictorials in FastDates.com Members Corner...


Some of our Calendar Girls can also be seen at Playboy's website...



BikerKiss.com - the largest biker personals site!