Winner Dani Pedrosa
2008 MotoGP World Championship / Gran Premio bwin.com de España
Dani Pedrosa Devistates His Rivals at Hone in Jerez
Jerez,Spain, Sunday Mar 30th -At a home track, under royal gaze in the form of King Juan Carlos of Spain, Dani Pedrosa (Repsol Honda RC212V) rode a regal race to record his first win of the 2008 season. He beat Valentino Rossi and Jorge Lorenzo (both Yamaha) into second and third places.
Equally encouraging was the showing from Nicky Hayden (Repsol Honda RC212V) who finished fourth. But for a massive front-end slide when he was all over Lorenzo for third, the former World Champion might well have made it two Repsol Hondas on the rostrum.
Dani led into turn one from the lights and romped off into the distance after shaking off the early attentions of Lorenzo and Pedrosa's Repsol team-mate Hayden. He set a fastest lap of the race on lap two, a race record lap on lap three of 1m 40.116s, and it was abundantly clear from that early on he was the dominant force.
Much is made of the 4.423km of Jerez as the first real barometer of the prevailing powers in MotoGP and so Dani's destruction of a tough field here will suggest that with more to come from Honda's 2008 RC212V Pedrosa and Hayden will be ready to work on getting even more from the bike in Estoril in two weeks time.
Reigning World Champion Casey Stoner (Ducati) had a day to forget. The Aussie ran off track twice (in the same place) and finished an eventual 11th to salvage something from what proved a very troublesome weekend.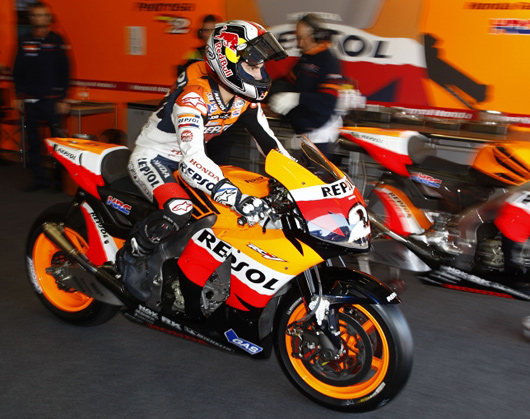 Pedrosa exiting the pit garage.
Lorenzo Heads Free Practice at Jerez
Friday March 28th- He may have traded in his gold boots, helmet and gloves for a more restrained red attire, but Fiat Yamaha´s Jorge Lorenzo is showing no signs of settling for anything less than the best in his rookie MotoGP season. The Spaniard cut a second off his morning time to head the timesheets at his home track in the afternoon session, clocking a 1´40.321 lap of the circuit at which he has won the last two 250cc Grands Prix.
Lorenzo is on a roll after his pole position and second place at the opening race of the season in Qatar, flying high with his Michelin-shod Yamaha M1. Bringing the self-titled `Lorenshow´ to European soil for the first time this weekend since his move up to the premier class, the 20 year-old has an extremely healthy following already filling up the grandstands at the Circuito de Jerez.
Also mirroring the Qatar visit, the top three was an all-Yamaha affair, with Lorenzo's team-mate and five-time World Champion Valentino Rossi trailing his youthful factory team counterpart by just four hundredths of a second. Rossi has a proven pedigree at Jerez, including victory in last year's race, and has started well in his quest to catch up with series leader and current title-holder Casey Stoner.
Colin Edwards completes the Yamaha triumvirate onboard the Tech 3 satellite version of the M1, down on power but high on enthusiasm in Jerez. Behind him, countryman and former World Champion Nicky Hayden and Dani Pedrosa lead the Honda charge on their factory machinery. Hayden is using the same chassis run by Pedrosa at Losail, with some modifications to suit his riding style, after an unsuccessful experiment with the 2007 HRC212V in Qatar.
Jerez is not one of the tracks favoured by Ducati Marlboro's reigning MotoGP World Champion Stoner, who suffered a lowside crash at turn seven. Luckily for the Australian he escaped uninjured in the incident, although he was unable to improve upon his morning time and rounded off the top six.
Behind Stoner, two of the impressive MotoGP rookies took further strides onboard their respective satellite machinery. JiR Team Scot's Andrea Dovizioso and Tech 3 Yamaha star James Toseland were seventh and eighth in the standings, although the latter took a hit in the first MotoGP crash of the day on turn three. Unlike at the Official Test in February, at which the Briton picked up an ankle injury, Toseland escaped unscathed and was back in the saddle a few minutes later.
Rizla Suzuki's Loris Capirossi and San Carlo Honda Gresini rookie Alex de Angelis propped up the top ten, whilst there were additional crashes for Alice Team rider Sylvain Guintoli, De Angelis´ team-mate Shinya Nakano and Kawasaki's John Hopkins.
Lorenzo (48) celebrates his Top practice and winning Pole time ahead of team mate Rossi (46)
Lorenzo's Dream Debut Season Continues with Jerez Pole
Saturday 29th March - Jorge Lorenzo´s dream start to his MotoGP career continued in qualifying for the Gran Premio bwin.com de España, with the Spaniard taking pole position for his home race courtesy of an amazing series of laps. In doing so, the Fiat Yamaha rider made it two pole positions in as many races in the premier class, an impressive 100% record that proves the 20 year-old is very much the real deal on an 800cc machine.
The 1´38.189 lap that places Lorenzo at the head of Sunday´s grid smashed the previous pole position record -set by Loris Capirossi in 2006- by over eight tenths of a second, and was the last of three blistering hot laps from the reigning 250cc World Champion. After improving his time on the second occasion, Lorenzo pulled a huge wheelie, to the delight of the ecstatic Circuito de Jerez crowd rooting for their hero at this weekend´s race.
Spanish fans will have divided loyalties when the lights go out tomorrow afternoon, with Repsol Honda´s Dani Pedrosa also fighting his way to the front row. On any other day his time would have seen a second pole position at Jerez in as many years for the factory rider but, as it was, not even the 2007 World Championship runner up could get anywhere near Lorenzo´s marker. Pedrosa´s fastest lap was dead-on six tenths slower than his long-time rival.
For the second race in succession, Colin Edwards bolstered the Yamaha representation on the front row. The `Texas Tornado´ was the final rider to breach the 1´39 mark, riding with the older version of the M1 used by the Tech 3 satellite outfit. The man from the lone star state also provided ample entertainment for those in the grandstands, putting in an early contender for save of the season when his elbow and knee were both scraping the asphalt and following that up with a wave to the crowd.
Row two is an equally star-studded affair, with 2006 MotoGP World Champion Nicky Hayden lining up alongside five-time titlist and frequent Jerez victor Valentino Rossi. The latter -onboard the second Fiat Yamaha M1- was the highest placing Bridgestone rider of the session. The former champions will be joined by LCR Honda´s Randy de Puniet, who suffered a late crash to put a dampener on his afternoon.
In his lowest qualifying finish since Motegi 2007, current World Champion and series leader Casey Stoner had a frustrating time of things and could only manage seventh place on the grid despite using a wealth of qualifying tyres. The Ducati Marlboro star showed rare signs of stress during the session, culminating in a kick aimed at former team-mate Capirossi on his final lap.
Battling bronchitis, Tech 3 Yamaha´s James Toseland will be side-by-side with Stoner on row three, joined by John Hopkins from Kawasaki Racing.
Further crashes came from San Carlo Gresini Honda´s Alex de Angelis and Ducati Marlboro newcomer Marco Melandri, with the Italian factory having a difficult day all round in Jerez.
Team mates Pedrosa (2) and Hayden (69 lead the pack though Tutn One ahead of Rossi (46).

Pedrosa Takes A Runaway Home Win
Dani Pedrosa sent Spanish fans home on a high at the Gran Premio bwin.com de España, taking a runaway home victory and, as a consequence, the leadership of the MotoGP World Championship.
The Repsol Honda rider was starting from second on the grid, and after snatching the holeshot from poleman Jorge Lorenzo he never looked back. Fast laps from the off confirmed Pedrosa´s intentions of breaking away, and he built upon his lead to win by nearly three seconds. The win was the 22 year-old´s second victory on home soil, after last year´s race at Valencia, and makes him the first local race-winner in Jerez since Sete Gibernau in 2004. It also echoes the only blue riband category win of his mentor, Alberto Puig.
Fiat Yamaha team mates Rossi (46) and Lorenzo (48) diced race long over 2nd place.
Achieving his first podium of the season, Fiat Yamaha´s Valentino Rossi reached the milestone of 100 rostrum finishes with second place behind Pedrosa. The Italian had a late mix-up at the start of the final lap, when he thought that the race was over on the home straight. Slowing down and gesticulating to his pit crew, Rossi then realised that he still had one more lap remaining, although luckily for the five-time MotoGP World Champion he did not lose positions as a result of his error.
Team-mate Lorenzo was unable to benefit from Rossi´s mistake, but had a creditable battle for second place with the Italian. Lorenzo now has two podiums in as many races in his rookie season, and lies in second place in the overall standings.
On the way up to the podium, King Juan Carlos I attempted to end the frisson between Lorenzo and Pedrosa, the two rivals for the affections of the Spanish fans, by making them shake hands. However it is clear after today's result that there are sure to be plenty more battles between the two this season.
Hayden rode a strong, consistant 4th just behind Rossi and Lorenzo all race.

2006 MotoGP World Champion Nicky Hayden impressively finished fourth onboard his Repsol Honda RC212V after a miraculous save in turn one, whilst Loris Capirossi emerged from the battle between himself, Tech 3 Yamaha rider James Toseland and JiR Team Scot´s Andrea Dovizioso to take fifth.
The top ten was completed by San Carlo Gresini Honda´s Shinya Nakano, Rizla Suzuki star Chris Vermeulen and Kawasaki's John Hopkins with reigning World Champion Casey Stoner outside the top ten for the first time in over a season. The Australian twice ran off track during the race, on the second and twenty-second laps, and now drops down to fourth in the classification.
Reigning World Champion Casey Stoner (Ducati) had a day to forget. The Aussie ran off track twice (in the same place) and finished an eventual 11th to salvage something from what proved a very troublesome weekend.
CASEY STONER (Ducati Marlboro Team) 11th - "Today wasn't my day - I suppose it wasn't my weekend! We never found the set-up here that would let us make the most of our potential. Normally braking is one of the strong points of our bike but here I just didn't have the feeling with the front. I wasn't quite on the limit when I ran off track the first time but I couldn't get the bike stopped so it took me by surprise because we weren't doing anything differently. After that I had to really push to get back into the race and I was pretty happy once I caught the group. Just when I was passing Nakano he let go of the brakes and touched my wheel, so I had nowhere to go but the gravel. I think I could have finished fifth, which I would have been happy with, but instead it was a bit of a disaster. The tyres weren't perfect but they weren't bad either so I can't blame it on that. I'm not happy but it's not the end of the world - there are plenty of other tracks and other races, starting with Portugal, where we went well last year and finished on the podium, even if we had some little problems, and where this year we will try to fight for victory."
Andrea Dovizioso (JiR Scot Honda RC212V) was unlucky to lose out on fifth place in a four-bike fight across the line out of that tricky final left-hand hairpin here. Loris Capirossi (Suzuki) got the verdict for fifth, with James Toseland (Yamaha) sixth, John Hopkins (Suzuki) seventh and Dovi eighth.
But Andrea's ride over 27 punishing laps was both measured and mature. He mixed it with more experienced riders throughout. Of the new crop of rookies to the class, both Dovi and Lorenzo have proved there will be upsets to come as they rapidly get to grips with racing at the very highest level.
While Dovi's eighth-place emphasized his burgeoning talent in the premier class, an old-stager in the form of Shinya Nakano (San Carlo Honda Gresini RC212V) showed with a ninth-place finish that his new lease of life with Gresini might well yield the sort of results he has long craved – if he can go forward from here. Retirements came from Colin Edwards and Randy de Puniet, the former starting from the front row of the grid for the second consecutive race.
Dani now heads the points standings with 41 from Lorenzo on 36, Rossi on 31 and Stoner still in the early reckoning with 30. Dovi lies fifth with 31 points.
Winner Dani said: "This is my first MotoGP win at Jerez and I'm very happy about today's performance because it comes after a difficult winter during which we couldn't test so much after I crashed and broke my right hand in January. To score good results in two complicated races and lead the Championship is very important. I got a good start, not spectacular like in Qatar, but effective, so I was able to take the lead. I did my best, I focused on not making mistakes and I was able to manage the race all the way to the finish and get a win in front of the Spanish fans."
MotoGP Results
Race Classification MotoGP : (27 laps = 119.421 km)
Pos/ Rider / Nat / Team / Motorcycle / Time/ KM/H / Gap
1 / Dani PEDROSA / SPA / Repsol Honda Team / HONDA / 45'35.121 / 157.183 /
2 / Valentino ROSSI / ITA / Fiat Yamaha Team / YAMAHA / 45'38.004 / 157.017 / 2.883
3 / Jorge LORENZO / SPA / Fiat Yamaha Team / YAMAHA / 45'39.460 / 156.934 / 4.339
4 / Nicky HAYDEN / USA / Repsol Honda Team / HONDA / 45'45.263 / 156.602 / 10.142
5 / Loris CAPIROSSI / ITA / Rizla Suzuki MotoGP / SUZUKI / 46'02.645 / 155.617 / 27.524
6 / James TOSELAND / GBR / Tech 3 Yamaha / YAMAHA / 46'02.929 / 155.601 / 27.808
7 / John HOPKINS / USA / Kawasaki Racing Team / KAWASAKI / 46'03.417 / 155.573 / 28.296
8 / Andrea DOVIZIOSO / ITA / JiR Team Scot MotoGP / HONDA / 46'03.570 / 155.565 / 28.449
9 / Shinya NAKANO / JPN / San Carlo Honda Gresini / HONDA / 46'07.690 / 155.333 / 32.569
10 / Chris VERMEULEN / AUS / Rizla Suzuki MotoGP / SUZUKI / 46'10.212 / 155.192 / 35.091
11 / Casey STONER / AUS / Ducati Marlboro Team / DUCATI / 46'17.344 / 154.793 / 42.223
12 / Marco MELANDRI / ITA / Ducati Marlboro Team / DUCATI / 46'19.619 / 154.667 / 44.498
13 / Anthony WEST / AUS / Kawasaki Racing Team / KAWASAKI / 46'20.928 / 154.594 / 45.807
14 / Alex DE ANGELIS / RSM / San Carlo Honda Gresini / HONDA / 46'20.992 / 154.590 / 45.871
15 / Toni ELIAS / SPA / Alice Team / DUCATI / 46'44.679 / 153.285 / 1'09.558
Pole Position: Jorge LORENZO 1'38.189 162.164 Km/h
Fastest Lap (New record): Dani PEDROSA 1'40.116 159.043 Km/h Lap 3
Circuit Record Lap: Valentino ROSSI 1'40.596 158.284 Km/h 2005
Circuit Best Lap: Jorge LORENZO 1'38.189 162.164 Km/h 2008
World Championship Positions:
1 PEDROSA 41, 2 LORENZO 36, 3 ROSSI 31, 4 STONER 30, 5 DOVIZIOSO 21,
6 TOSELAND 20, 7 HAYDEN 19, 8 CAPIROSSI 19, 9 HOPKINS 13, 10 NAKANO 10,
11 EDWARDS 9, 12 MELANDRI 9, 13 DE PUNIET 7, 14 VERMEULEN 6, 15 WEST 3.
250cc GP to KTM's Mika Kailo
Mika Kallio was the winner of a spectacular 250cc race in Jerez, taking perhaps the most unexpected victory he is ever likely to achieve. The Red Bull KTM rider looked to be on course for a third consecutive podium, behind Alvaro Bautista and Marco Simoncelli, until a final lap crash between the duo gifted the Finn a memorable triumph.
The battle of the race was precisely between the Spaniard and the Italian, as Mapfre Aspar rider and quarter litre poleman Bautista went wheel to wheel with his unpredictable Metis Gilera rival. Simoncelli was glued to the rear wheel of the home rider´s Aprilia RSA, taking the lead for only the briefest of moments. Realising that a final push was necessary, the winner of the 2004 and 2005 125cc race in Jerez tried to sneak up the inside of Bautista, with the two colliding as the latter´s engine gave out.
Kallio´s win was his third in the category, and puts him second in the World Championship. The new leader also came from an unlikely source, as Qatar racewinner Mattia Pasini moved up from tenth on the grid for second place. After his 125cc disaster last year, few could begrudge Pasini´s Spanish newfound fortune, which was augmented as he passed JiR Team Scot rider Yuki Takahashi on the home straight.
Hiroshi Aoyama completed a great day for Red Bull KTM with fourth place, ahead of Pepe Team Toth´s Hector Barbera and Lotus Aprilia front row man Alex Debon. Both paid the price for bad starts, and Debon´s day could have worsened if he hadn´t have made the most of his elbow when he looked to be crashing out.
Julian Simon, who nearly collided with Simoncelli early in the race, finished seventh, ahead of Metis Gilera´s Roberto Locatelli in a well ridden return to racing in Jerez for the latter. Aleix Espargaro and Lukas Pesek completed the top ten.
Swiss rider Thomas Luthi added to the potential podium crash count, highsiding his Emmi-Caffe Latte Aprilia when chasing Kallio with just four laps to go.
250cc Race Classification: (26 laps = 114.998 km)
Pos / Rider / Nat / Team / Motorcycle / Time / KM/H / Gap
1 / Mika KALLIO / FIN / Red Bull KTM 250 / KTM / 45'27.908 / 151.762 /
2 / Mattia PASINI / ITA / Polaris World / APRILIA / 45'32.185 / 151.524 / 4.277
3 / Yuki TAKAHASHI / JPN / JiR Team Scot 250 / HONDA / 45'32.195 / 151.523 / 4.287
4 / Hiroshi AOYAMA / JPN / Red Bull KTM 250 / KTM / 45'32.784 / 151.491 / 4.876
5 / Hector BARBERA / SPA / Team Toth Aprilia / APRILIA / 45'33.876 / 151.430 / 5.968
6 / Alex DEBON / SPA / Lotus Aprilia / APRILIA / 45'41.541 / 151.007 / 13.633
7 / Julian SIMON / SPA / Repsol KTM 250cc / KTM / 45'44.280 / 150.856 / 16.372
8 / Roberto LOCATELLI / ITA / Metis Gilera / GILERA / 45'50.479 / 150.516 / 22.571
9 / Aleix ESPARGARO / SPA / Lotus Aprilia / APRILIA / 45'56.514 / 150.187 / 28.606
10 / Lukas PESEK / CZE / Auto Kelly - CP / APRILIA / 46'00.634 / 149.962 / 32.726
11 / Alex BALDOLINI / ITA / Matteoni Racing / APRILIA / 46'06.510 / 149.644 / 38.602
12 / Ratthapark WILAIROT / THA / Thai Honda PTT SAG / HONDA / 46'11.279 / 149.386 / 43.371
13 / Karel ABRAHAM / CZE / Cardion AB Motoracing / APRILIA / 46'22.067 / 148.807 / 54.159
14 / Manuel HERNANDEZ / SPA / Blusens Aprilia / APRILIA / 46'49.846 / 147.336 / 1'21.938
15 / Imre TOTH / HUN / Team Toth Aprilia / APRILIA / 45'38.968 / 145.335 / 1 lap

Pole Position: Alvaro BAUTISTA 1'43.071 154.483 Km/h
Fastest Lap (New record): Marco SIMONCELLI 1'43.546 153.775 Km/h Lap 9
Circuit Record Lap: Alex DE ANGELIS 1'44.295 152.670 Km/h 2007
Circuit Best Lap: Dani PEDROSA 1'42.868 154.788 Km/h 2005
World Championship Positions:
1 PASINI 45, 2 KALLIO 41, 3 BARBERA 31, 4 TAKAHASHI 27, 5 DEBON 23, 6 LOCATELLI 16,
7 SIMON 14, 8 ESPARGARO 14, 9 AOYAMA 13, 10 ABRAHAM 12, 11 BAUTISTA 10,
12 WILAIROT 7, 13 PESEK 6, 14 FAUBEL 6, 15 BALDOLINI 5.
---
Click for a Bigger Picture / Screensaver

New KTM RC8 1190 World Superbike Finally Released!
Some 5 years since the introduction of the radical looking KTM RC8 concept bike at the Milan International Motorcycle Show to much acclaim, KTM has finally gone intoproduction with the bike. Displacement on the V-Twin was gone up from the origional 950cc engine to an actual 1148cc (1190cc in Race bore displacement?) to take advantage of the current World Superbike dispalcement rules of 1200cc for V-twins, and plans are for KTM (along with BMW and Aprilia - both with new 4 cyclinder bikes) to join the SBK World Superbike Championship in 2009 with full factory teams.
The final production version of the RC8 is not as clean and light looking as the origional prototype which didn't have the rear fender with tailight, passenger pegs and other ancillaries, but it is still fairly clean and modern looking. We don't even mind the under engine exhaust system with muffler that fits to the bike so cleanly, but for race and performance upgrades we're sure to see conventional race systems hanging off the rear.
Advertised weight of the RC8 is 413.8 lbs, wet, without fuel which is fairly close to the other class leading superbikes. Power is advertised at 152.49 hp at 10,000 rpm, down just slightly from Ducati's impressive new 1098 Superbike with 160hp @ 9750 rpm. The KTM should be priced less than the base Ducati 1098 when it s finally in USA dealers this fall (depending on the rising exchange rate, of course). Initial reports from the European magazine press launch for the RC8 is that it handles great, but it is a little rough in vibration and fuel injection mapping, and lacks the refinement of other bikes in the class.
Model KTM RC8 £10,695 (List price in UK, not relevant to USA)
Engine 1,148cc 2-cylinder, 4 stroke, V 75-degree
Power 152.49 hp @ 10,000 rpm
Torque 88.56 lb.ft @ 8,000 rpm
Transmission Six speed
Ready to Race Weight 188kg (414.5 lbs without fuel)
Seat Height 805-825mm 8 Fuel capacity 16.5 liters
---
HIGH SPEED
staring beautiful actress Sienna Miller
Just Released -The Most Exciting Motorcycle Roadracing Movie Ever Made!
Available Exclusively Now on DVD from FastDates.com through Amazon.com
"High Speed" directed by Jeff Jensen, the best major motoion picture drama about motorcycle roadracing ever made, is now available for the first time on DVD from FastDates.com through Amazon.com. It's a realistic Hollywood style romance drama set within the battle for the SBK World Superbike Championship which realisticaly portrays the riders, their girlfriends, the teams and families involved and the racing.
Originally filmed in 2002 at rounds of the SBK World Superbike Championship, High Speed was never released in theatres or on DVD because of legal and distribution issues. Staring in this romantic drama which centers on two best friends racing together in the Aprilia factory superbike team, was a then unknown beautiful young British actress named Sienna Miller who has since become a Hollywood superstar ("Layer Cake" "Factory Girl" "Casanova").
Here's your exclusive pit pass to go behind the scenes into the exciting sport of SBK World Superbike racing. Meet the riders, their girl friend sand the teams in a world where you're only as good as your next race win. See how their passions ignite drama on and off the track, how it can lead to love, and join them in their quest to win the prestigious SBK World Superbike Championship.

Filmed on location during actual World Superbike races in Italy, Spain, Luxembourg and Great Britain. High Speed definitely needs to be in any motorcycle racing enthusiast's home movie library.

Click on the DVD Cover at Left to Order Now!
The movie High Speed was left sitting on the shelf and remained undiscovered until now when FastDates.com Editor Jim Gianatsis got to talking with one of his Sunday morning ride buddies, who just happened to be noted Hollywood stuntman Jeff Jensen, a hardcore motorcycle enthusiast who wrote, directed and produced High Speed with the support of Paolo Flammni at SBK World Superbike. Jim got a screener copy of High Speed from Jeff and was so impressed after seeing it as being one of the best motorsports and, in particular motorcycle themed movies drams ever made. Jim offered, and was accepted by Jeff to handle the world wide distribution of he DVD. High Speed is now available on Amazon.com direct, and through Affiliate websites including FastDates.com. High Speed will also be available through Duke Video for store sales, and will soon be released through Blockbuster and Netflix.
On a side note, Jeff just recently filmed a MotoGP based feature movie in partnership Dorna during the 2006 race season. But the movie was never edited and completed because Dorna did not have the movie rights to use the factory MotoGP teams with their sponsors' logos in a commercial movie, nor would some of the the teams grant them permission. Unlike racing organizations like NASCAR which obviously has full usage rights from their racing teams, and hence a Hollywood movie seems to be made around NASCAR every month, Dorna has no such requirement in its team participant contracts.


High Speed does a great job of intermixing incredibly well filmed staged racing with live race action to make you feel like you're really on track with the riders. Movie director and producer Jeff Jensen is a professional rider himself, Stunt Man and Stunt Director, having worked on dozens of major action films including Harley-Davidson & The Marlboro Man, Speed, Total Recall, Robo Cop and recently 16 Blocks staring Bruce Willis..
Filmed on location at the tracks and races of the SBK World Superbike Championship, High Speed stars beautiful British actress Sienna Miller in an action packed, thrilling romance drama love triangle where her two boy friends are on the same factory team fighting for the SBK World Superbike Championship. As a sportbike enthusiast and Hollywood stunt director himself, Jensen delivers some of the most exciting on bike camera race action and crash scenes that have ever been created. Critics call High Speed one of the best motorsports movie dramas ever, comparable to the classics: "Grand Prix" staring James Garner, and "Le Mans" with Steve McQueen.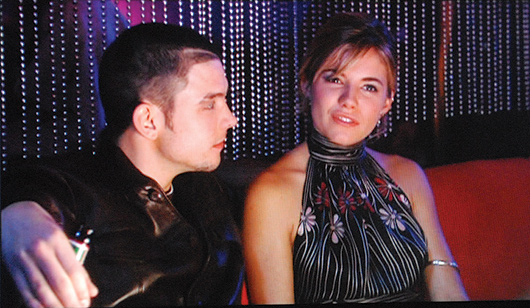 Andrew chats up his secret love Sienna Miller at a club, but Sienna loves his best friend and team mate Paul Nichols.

The story is about Raphael (Andrew Lee Potts) and Ruben (Paul Nichols) who are life long friends and team mates in the fast paced arena of World Superbike Racing. During a Championship race, Ruben crashes directly in front of Raphael who runs over his friend, paralyzing him for life. Could Raphel have avoided his best friend or was winning the most important thing? Raphael is suspended from racing by the FIM pending an investigation.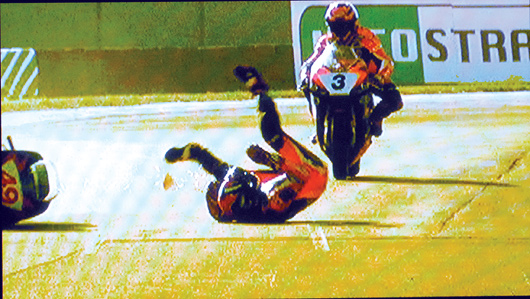 Above: Paul Nichols, in a hard fought race, crashes just in front of his best friend and team mate Andrew Lee Potts who can't avoid hitting him, or could he? Below: Sienna Miller comforts Paul in the hospital, who is now paralyzed.
During this time he has to come to grips with his actions, his secret love for Ruben's beautiful girlfriend (Sienna Miller - "Layer Cake" "Factory Girl" "Casanova") and whether he will ever return to racing. Having a fling with the team's sexy PR manager (Claudia Pandolfi), saving his father from illegally gambling on his racing and from thug debt collectors doesn't't make Raphael's life and decisions any easier.
The Pirelli Calendars
Complete Works 1964-2007

Sienna Miller in the Pirelli Calendar 2003!
Just in case you missed it, our beautiful actress Sienna Miller featured in the movie High Speed, also appeared topless in the famed Pirelli Tire Calendar, both photographed around the same time in 2002. The sexy Pirelli Calendar was photographed on the French Rivera, and features Sienna getting wild, drunk and naked, dancing on table tops and getting in on a little girl/girl action with the other supermodels models in the Calendar.

If you knew someone at Pirelli, you might have gotton a copy of their very expensively produced calendar. You can, however, buy the new Pirelli Calendars book containing all the photos from this and all the other Calendars.
Click on the Book Cover at Left to Order Now!
---

Click to Order

Attend the On Any Sunday movie
Celebrity Reunion Wednesday May 21st
Newport Beach, CA- Things are falling into place for the 2008 On Any Sunday Reunion celebrating Bruce Brown's classic 1971 movie. It's been called the greatest motorcycle movie of all time. The Date is Wednesday, May 21st 2008 so you can be at the Regal Big Six Theater at Fashion Island in Newport Beach, California. Activities start at 4:00 pm with the movie showing at 8pm.

Meet f rom the movie, Bruce Brown, Malcolm Smith (of course), Mert Lawwill, Dave Aldana, Jim Rice, Jim Odom, Gene Romero, Don Emde, Sonny Burres, Don Castro, Walt Fulton, John Hately, Keith Mashburn, Eddie Mulder, Jody Nicholas, Chuck Palmgren, Alan Seymour (producer), Don Shoemaker (cameraman/film editor), John McGowen (dog on tank).
Some well know motorcycle people will also be coming including National motocross champions Bob Hannah, Broc Glover, Jeff Ward, stunt woman Debbie Evans, Debbie's husband trials rider Lane Leavitt, desert racers A.C. Bakken and Mitch Mayes, speedway great Eddie Castro, J.T. Racings John and Rita Gregory, Todd Huffman from the Motocross Files, famous painter and super-motard guy Troy Lee, former 250MX champ Gunner Lindstrom, Honda Racing Bruce Ogilvie (many time winner Baja 500/1000), multi-talented Larry Roeseler, Tom Webb (editor Dirt Bike Mag), Jody Weisel (Editor MX Action) and many, many, more.

There will be a great Moto-Expo with some very unique bikes on hand including some of the actual race bikes from the movie and two very interesting speedway bikes (Maely). And a autograph session for everyone to get their hero's signature on a special On Any Sunday Reunion T-shirt or poster.

Then at 7:15, we move inside the larges theater in the West, the Big 6 theater with it's huge 75' screen. Pre-movie stuff including final auction bids on some very collectible items including a painting (giclee) of Steve McQueen by Troy Lee, some autographed prints from famous motorcycle artist Harry Miller, Some original OAS B&W prints from Don Emde and ????? Then the movie in all it's glory at 8:00 pm. Afterward we'll introduce the stars and the people from the movie and you'll get a chance to ask questions and take pictures of the entire gang!

We hope you can join us for what will probably be the LAST OAS reunion. And it's for a cause that's very special to the Orange County Dualies Motorcycle Club for the past 15 years, the Pediatric Brain Tumor
Foundation. The PBTF has grown to be the largest distributor of research funds in the world in the fight to find a cure for cancerous brain tumors in children. And it's totally supported by the most wonderful people in
the world: Motorcyclists. All profits go to the Pediatric Brain Tumor Foundation and the Dualie members donate their time and expenses so we can raise as much money as possible.

Log on to OnAnySundayReunion.com and get your reunion tickets
---
Taylor Swift's New Video - Picture to Burn • More Tayor in Chicks That Kick Ass!
Taylor Swift - Special Edition CD and DVD
This is a must have new 2-disc set, featuring on the music CD the origional 11 songs from Taylor's initial albulm release, plus 3 all-new songs - I'm Only Me When I'm With You, Invisible, and A Perfectly Good Heart. The song Invisible, which we heard Taylor perform at her live concerts this past summer, is sure to reach the Top Ten Singles Charts if and when it is released on its own. Also included here is a separate DVD with all 3 of Taylor's hit music videos, the behind the scences making of the videos, home movie taken and edited by Taylor, and a excellent GAC TV 22-min documentary made in 2006 on Taylor's self driven rise from an 11-year old schoolgirl to the hottest new singer songwriter in music today
---
There's more! Go to Pit Lane News NEXT PAGE

Hot Calendar Girl and Bike News! Go to: Fast Dates • Calendar Girls • Iron & Lace

Calendar Kittens, The Paddock Garage, Screensavers, Iron & Lace Garage




Many of our Calendar Kittens can also be seen at Playboy's website...


BikerKiss.com - the largest biker personals site!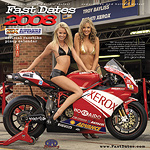 Almost Sold Out!
16-month Calendar starts Sept
2008 Fast Dates &
Garage Girls Calendars

---
Members Only Preview!
2009 Fast Dates Calendar
Join our Members Corner today at get an exclusive look at the upcoming 2008 Fast Dates calendar now, before its public release at our big LA Calendar Motorcycle Show July 12-13th!
Featured are full-size 15 inch calendar screensaver pages for your monitor with the top bikes of the 2007 SBK World Superbike and MotoGP World Championship with our beautiful Calendar Kittens. Also includes all our current 2008 and past years Calendars !
---
Suspension Seminars
& Track Days
June 9th Elkhart Lake
July 28th Mid-Ohio
The Sportbike Company and Ohlins Suspension will host two suspension seminars at tracks in North America. The first seminar is for any brand sport motorcycles on June 9 at the America Raceway in Elkhart Lake, Wis., and the second is an Ducati exclusive on July 28 at Mid-Ohio Sportscar Course in Lexington, Ohio, according to an Ohlins press release.
Ohlins suspension technicians from the AMA Superbike series will assist participants through seminars and discussions. Due to the advanced level of discussion, only intermediate and advanced class riders can register. However, there will be suspensions basic set-up seminars for novice participants.
To register, visit www.sportbiketracktime.com. Cost for the event is $200 above the cost of the track day. That includes dinner for one on the evening before the event, lunch on the day of the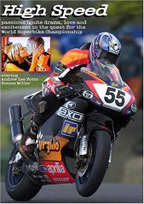 Just Released!
High Speed - the Movie
The best motorcyce racing movie ever made! Filmed on location at World Superbike, this an exciting romantic drama staring beautiful actress Sienna Miller.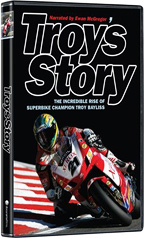 Troy's Story
The story of 2-Time World Superbike Champion Troy Bayliss narrated by Ewan McGreggor
Hot New Book!
---
Qatar to host MotoGP
until 2016
March 7th - In a busy press conference on the opening day of the new MotoGP season Dorna CEO Mr Carmelo Ezpeleta and QMMF President Nasser bin Khalifa Al-Attiyah jointly announced the extension of the contract between the two parties which will see Grand Prix racing at Losail International circuit until at least 2016.
As history was made with the Commercialbank Grand Prix of Qatar commencing under the desert circuit's newly installed floodlight system on Friday evening, it was a suitable occasion for the MotoGP rights holders and the Qatari federation to cement their relationship with their continued agreement – which saw the first GP in Qatar in 2004.
A delighted Mr. Al-Attiyah commented, "We are very proud to announce this deal and we look forward to welcoming MotoGP to Qatar in the years to come. This is an important day for Qatar, for our federation and for the development of motorsport in our region. I want to thank Mr Ezpeleta for the confidence that Dorna have shown in us in extending our contract and allowing us to host the first ever night-time Grand Prix."
---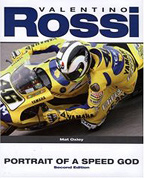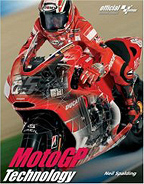 ---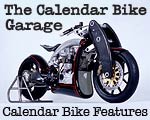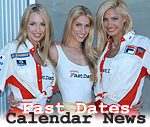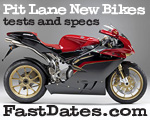 ---


NEW! FastDates.com
Cell Phone Wallpapers!
---
Sands vs. Rooke
Calendar Bike Build Off
See the world's two hottest custom sportbikes featured in the 2008 Fast Dates and Iron & Lace Calendars being built and raced by Roland Sands and Jesse Rooke for Discovery Channel's Biker Build Off
Roland Sands builds the
KR Tracker Calendar Show Bike
New Blood DVD
features Roland Sands building and riding the extraordinary Roland Sands Design / Kenny Roberts KR 990cc 5-cylinder MotoGP powered Retro Board Track Racer. The bike is also featured in the 2008 Fast Dates race bike and Iron & Lace custom bike Calendars with beautiful Playboy Playmate and Calendar Kitten Tamara Witmer in one of our best calendar shots ever and ,featured in the LA Calendar Motorcycle Show advertsing campaigns
and T-Shirt.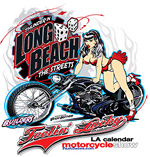 Order the Official
LA Calendar Bike Show
T-Shirts!


MotoGP 2-Day Test
Jerez April 1, 2008.
Fiat Yamaha Team riders fastest at Jerez test
Lorenzo and Rossi
The Fiat Yamaha Team's young Spanish rookie Jorge Lorenzo, who boasts an outstanding record of two pole positions and two podiums from his two MotoGP starts, put in more impressive work today during a one-day test in Jerez. After joining his team-mate Valentino Rossi as part of a Fiat Yamaha double podium yesterday, he posted the fastest time of the day and completed a total of 94 laps.
Another day of Andalucian sunshine today provided Lorenzo and his crew with the chance to work on general setting and their all-important tyre testing programme with Michelin amid slightly more relaxed surroundings. The Mallorcan continued to show his ability and fast rate of progress, not only topping the time sheets on a qualifying tyre but lapping consistenly fast on race tyres. His best time on a race tyre was 1'39.59, over half a second faster than the fastest lap record recorded in yesterday's race and he was the only rider to dip under the 1'38 mark on a qualifying tyre.
Danielle Romagnoli - Team Manager of Jorge Lorenzo
"It was a another really good day today; Jorge's progress is almost unbelievable for us to watch and every day is enjoyable. The most impressive thing today is that we were able to improve on Jorge's race pace from Saturday, which was the best pace of the whole weekend. We continued to work on set-up and improved the front feeling with the help of a new fork setting, and with race tyres today he was very consistent and very fast. We also refined some engine mapping and through this it seems that we've been able to obtain improvement with tyre wear. Michelin had planned a very interesting tyre test for us today with Estoril in mind and we found some good things, especially concerning the rear tyre. Jorge has done a great job at just his second race and today's test gave us a chance to check out some important things that will help us at the next race in Estoril. We're already looking forward to the next challenge but for now I want to thank all the team and Yamaha for their hard work; they deserve a good rest before Portugal!"
After claiming his 100th premier-class podium with a strong second place in the Spanish Grand Prix yesterday, it was straight back to work for Valentino Rossi and the Fiat Yamaha Team as they undertook a full day's testing at Jerez today.
With just two races under their belts since joing forces with Bridgestone, the primary focus of Rossi's crew still remains developing the union between the 2008 Yamaha M1 and the Bridgestone rubber. Yesterday's podium proves they are on the right track but today offered a chance to spend some uninterrupted hours concentrating on just this, with satisfying results all round. Setting was improved in general and Rossi was pleased with some of the new compound tyres he tried, both front and rear and including qualifying tyres. He completed 85 laps in total and his best lap, set with a qualifying tyre, put him second in a time of 1'39.117. His team-mate Jorge Lorenzo also had a good day after his third place yesterday, topping the time sheets with a best lap of 1'38.679.
The team will now have a short break before heading to Estoril in Portugal in ten days time, confident that they are in good shape at this early stage of the season.
Davide Brivio - Team Manager of Valentino Rossi
"Today gave us the chance to spend a whole day working closely with our engineers and Bridgestone on tyres and general bike setting. It's still early days in the Bridgestone-Yamaha relationship so we are still focusing on adapting these two elements in order to create the best package. We got some good feedback today and it seems we improved the feeling in both areas. It's been very important to stay this extra day because the first two races have been quite intense for everyone, so it's good to have time to test in relaxed surroundings without the pressure that comes during a race weekend. We were able to go through things step by step, analyse the details and take on board some information which we hope will be useful in Estoril and beyond. We worked with different front and rear compounds today, and we also tested some qualifying tyres. Of course we're always looking to improve the setting and today we were also abe to improve the stability of the bike in the fast corners. Valentino is happy with the days work and now he and all of the team will have some well deserved rest before the next race."
The Ducati Marlboro Team concluded their visit to Jerez de la Frontera on Monday with a day of tests that both Casey Stoner and Marco Melandri rated as highly positive, despite the Italian having ended the session early due to a crash.
Melandri was not seriously injured in the crash, escaping with damage to a nail on his left hand, and was just disappointed that he didn't get to complete an otherwise satisfactory day of set-up work that had only just begun to bear fruit.
Casey Stoner was much happier, however, having improved his feeling with the front and giving himself extra confidence for the next round of the season, the Grand Prix of Portugal on April 13th.
Casey Stoner (Ducati Marlboro Team), fastest lap on race tyres - 1'40.588; with qualifying tyres - 1'39.218 (59 laps) - "We've done a few different tests on the setting and with the tyres and I'm pretty happy with how it's gone. We tried some different front tyres that gave me a better feeling than I had in the race yesterday, especially under braking, so I can say it was a really positive test. It's a bit of a shame because with just a few small changes to the set-up we had yesterday the situation has improved a lot and we could have had a much better race if we'd gone with this in the first place. The test on qualifying tyres didn't go quite as well because on the best one I ran wide in one corner and without that I would have knocked a few tenths off my best time. It has been the best day we've had at Jerez and it's left me with a good feeling going to Estoril!".
Marco Melandri (Ducati Marlboro Team), fastest lap on race tyres - 1'41.396 (32 laps) - "The day started well and we were working with some success on finding more rear grip when I lost the front and crashed on the way into the final bend. It happened suddenly and my hand got trapped underneath the handlebar. I was lucky not to break any bones in my fingers but it's still really painful because the nail on my middle finger has ripped in half. I don't think it will be a problem for Estoril though. Unfortunately we had to call time on a day that was proving to be important and positive. We had a few things still to try, including the tyre that Casey liked. The changes we've had chance to test have been good and I'm sure we're on the right track to improve my feeling with the Desmosedici
1. Jorge Lorenzo (SPA) Fiat Yamaha Team 1'38.679
2. Valentino Rossi (ITA) Fiat Yamaha Team 1'39.117
3. Casey Stoner (AUS) Ducati Marlboro 1'39.218
4. Randy De Puniet (FRA) LCR Honda MotoGP 1'39.484
5. John Hopkins (USA) Kawasaki Racing 1'39.569
6. Loris Capirossi (ITA) Rizla Suzuki MotoGP 1'39.747
7. Shinya Nakano (JPN) San Carlo Honda Gresini 1'40.034
8. Dani Pedrosa (SPA) Repsol Honda 1'40.116
9. Nicky Hayden (USA) Repsol Honda 1'40.389
10. Andrea Dovizioso (ITA) JiR Team Scot MotoGP 1'40.394
11. Chris Vermeulen (AUS) Rizla Suzuki 1'40.534
12. Alex De Angelis (RSM) San Carlo Honda Gresini 1'41.308
13. Marco Melandri (ITA) Ducati Marlboro 1'41.396
14. Anthony West (AUS) Kawasaki Racing 1'42.132
15. Toni Elias (SPA) Alice Team 1'42.240
16. Olivier Jacque (FRA) Kawasaki Racing 1'42.562
17. Sylvain Guintoli (FRA) Alice Team 1'42.624
Jerez Lap Record - D. Pedrosa (Honda) 2008, 1'40.116
Jerez Best Lap - J. Lorenzo (Yamaha) 2008, 1'38.189

Repsol Honda Team complete successful two-day MotoGP test at Jerez, Spain
The Repsol Honda team leave Jerez satisfied with the results of the two-day post GP test held at the 4.423km Andalusian circuit, venue of the Spanish GP held at the circuit last weekend.
On the opening day of the test Repsol Honda team riders Dani Pedrosa and Nicky Hayden had worked on testing basic machine set up options for the RC212V employing data gathered over two days of grand prix practice and the 27 lap (119.421km) race.
The final day was dedicated almost exclusively to tyre testing with Michelin. Despite sunny weather track conditions were not ideal due to a strong wind that drove sand and debris onto the track top. Both riders tested new 16.5 rear tyres brought to the test by Michelin with encouraging results.
Pedrosa, MotoGP race winner at Jerez on Sunday, has been racing with a standard profile Michelin front tyre so far this season but today he dedicated time evaluating the performance of several different front tyres he had been unable to test during the winter due to injuries sustained in January.
The young Spaniard found was pleased with the results but called a halt to his test programme at 15.00. due to the increasing amount of sand blown onto the circuit.
Team-mate Hayden completed a full day of testing putting in a total of 86 laps setting fastest lap of the day on the last lap of 86 using qualifying tyres.
The Honda supported MotoGP teams racing with RC212V machinery elected to sit out the final day of the test.
Honda rider quotes and lap times.
Nicky Hayden, Repsol Honda: 1m 38.940s on lap 86 of 86.
"Everything went real smooth. We did a lot a work with Michelin, tried to check a few tyres' durability, and I was able to string together a few high 39s on race tyres, which we were pretty happy with. We also tuned the bike a little bit, tuned the rider too, worked on a few things, and overall it's been a real positive day. We've got the chassis working good, now we need to work on the engine because we're coming up to some tracks with big long straightaways."
Dani Pedrosa, Repsol Honda: 1m 40.099s on lap 16 of 41
"Today we worked on tyres with our Michelin technicians and it was a very useful day. We focused mainly on the front tyre, testing different fronts because so far I've only used Michelin's standard profile. We found some interesting solutions. We also tested some rears that Michelin brought here for testing. I didn't use qualifying tyres. These two days have been very important in getting us more familiar with the bike and helping us work some more on setup. I stopped early this afternoon because track conditions weren't so good, the wind was blowing a lot of dust and dirt onto the track."