2013 FIM MotoGP World Motorcycle Championship, Austin Texas Round 2 of 18
Marquez storms to his first MotoGP Victory at maiden Texas USA round
Circuit of the Americas. Austin TX, April 19-21st, 2012 - Repsol Honda's Marc Marquez became the youngest ever race winner in MotoGP™, triumphing in Sunday's inaugural Red Bull Grand Prix of the Americas from teammate Dani Pedrosa, with reigning World Champion Jorge Lorenzo completing the podium. On Saturday, 20-year-old Marquez took over from former double title winner Freddie Spencer as the youngest ever pole-sitter in the premier class. He now becomes the youngest race winner, having seen off a challenge from Pedrosa on the other Repsol Honda Team machine.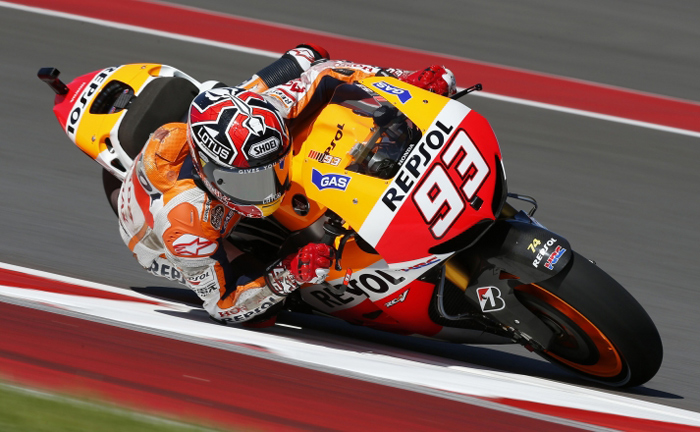 Preview: The MotoGP Circus prepares for the Inaugual Ciruit of the Americass Red Bull Grand Prix
Austin, Texas, USA, April 15th - Following a grand opening spectacle in Qatar, the MotoGP™ grid descends for the first ever time on the recently build Circuit of the Americas for the Red Bull Grand Prix of the Americas to contest the second round of the 2013 campaign. The season opener has created much buzz and anticipation ahead of the new race on the calendar, with Yamaha Factory Racing's Jorge Lorenzo no doubt one of the favourites after his dominant display in in race one. He will however face a stiff challenge from teammate Valentino Rossi, who looked close to his old self as he carved his way through the field in Qatar, as well as Repsol Honda Team rookie Marc Márquez, whose terrific performance led to a podium in his first ever MotoGP™ race. His teammate Dani Pedrosa, who struggled with rear grip issues last time out, will nonetheless remain one of the biggest threats at the new circuit.

Both Factory Yamaha and Repsol Honda riders, as well as LCR Honda MotoGP's Stefan Bradl, will line-up for the first practice on Friday with a slight advantage, as the five riders have completed a three-day private test at the track, which is the fourth circuit in the USA to ever host motorcycle Grand Prix racing. Bradl in particular will hope to benefit from this experience, as he looks to bounce back from a crash in the opening round. His satellite Honda counterpart, GO&FUN Honda Gresini's Álvaro Bautista, will have fully recovered from his niggling finger injury, and will no doubt be looking to mix it up at the sharp end. All will face stiff competition from Monster Yamaha Tech 3's Cal Crutchlow, who was very impressive in qualifying last time out, yet couldn't quite match the performance in the race. His rookie teammate on the other hand, Bradley Smith, will aim to finish his first ever MotoGP race, following a crash in round one.

The Ducati Team showed promising signs in the first race, especially with Andrea Dovizioso's qualifying performance, and will hope to build on that at the new track. Teammate Nicky Hayden will receive a boost from his home crowd, as will his Ignite Pramac Racing counterpart Ben Spies, who himself hails from Texas. Still struggling from a shoulder injury, Spies will be hoping to suffer less pain as he looks to put on a show for his fans, alongside rookie teammate Andrea Iannone on the Energy T.I. Pramac machine.

Also soaking up the local atmosphere will be NGM Mobile Forward Racing's Colin Edwards, the Texas Tornado, as he looks to squeeze the most out of his new FTR-Kawasaki package with teammate Claudio Corti. Yet the CRT favourite will once again be Power Electronics Aspar's Aleix Espargaró, who was on tremendous form in Qatar as he stormed into Q2 and ended as top CRT. His teammate Randy de Puniet will be hoping to challenge for that honour at the new circuit, whilst the other CRTs vying for a place in Texas' Parc Fermé will be Cardion AB Motoracing's Karel Abraham, PBM's Yonny Hernandez and Michael Laverty, Came IodaRacing Project's Danilo Petrucci and Lukas Pesek, GO&FUN Honda Gresini's Bryan Staring, as well as Avintia Blusens' Héctor Barberá and Hiroshi Aoyama.

The race will also see the inclusion of two wildcards in the form of Attack Performance Racing's Blake Young, on the Kawasaki-powered in-house APR chassis, and GPTech's Mike Barnes on a Suzuki-powered BCL chassis.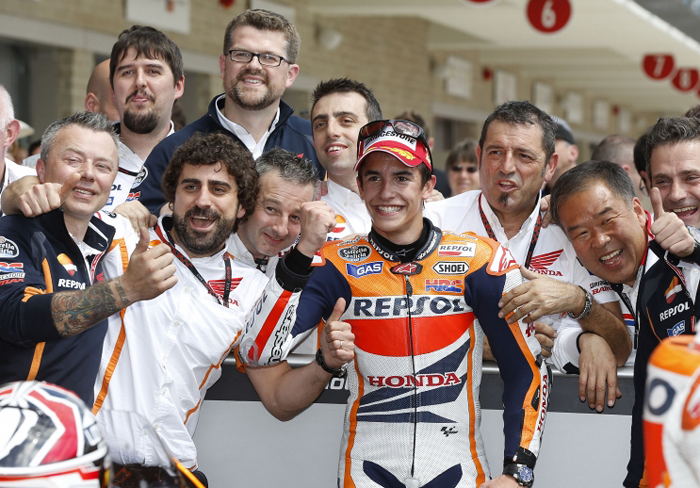 Saturday Qualifying: Marquz takes his first ever MotoGP Pole
Saturday April 20th - In only his second MotoGP™ race weekend, Repsol Honda Team's 20-year-old Marc Marquez achieved his first premier-class pole position for the Red Bull Grand Prix of the Americas ahead of teammate Dani Pedrosa, as championship leader Jorge Lorenzo appeared to miscalculate his final run en route to third place.
During Q2 it was Marquez who posted the quickest ever MotoGP lap time at the Texan venue, delivering a 2'03.021 and thus undercutting 1983 and 1985 World Champion Freddie Spencer to become the youngest ever pole-sitter in the top class of the sport.

Pedrosa lowered his personal best on the final run but missed out on pole by two and a half tenths, whereas Lorenzo tried to avoid following traffic by touring through the pit lane - only to re-join the track too late to post a last-gasp challenge. Monster Yamaha Tech 3's Cal Crutchlow, who had not attended the test last month, heads up Row 2 from LCR Honda MotoGP's Stefan Bradl and Ducati Team's Andrea Dovizioso. The top eight is completed by GO&FUN Honda Gresini's Alvaro Bautista and Yamaha Factory Racing's Valentino Rossi.

Ninth on the grid will be leading CRT rider Aleix Espargaro, as the Power Electronics Aspar rider not only jumped up from Q1, but proceeded to out-qualify both Ducati Team's Nicky Hayden in 10th, and Ignite Pramac Racing's Ben Spies in 12th. Sandwiched Between the two Americans is Tech 3 newcomer Bradley Smith, starting 11th in Round 2.

The fifth row will be headed up by Energy T.I. Pramac Racing's Andrea Iannone, who, like 14th-placed Randy de Puniet on his Aspar ART, had challenged, but failed to earn a spot in Q2. In 15th position, Hector Barbera will be the leading Avintia Blusens rider, starting the race in front of PBM duo Yonny Hernandez and Michael Laverty, NGM Mobile Forward Racing pairing Colin Edwards and Claudio Corti, Came IodaRacing Project's Danilo Petrucci and Blusens' Hiroshi Aoyama. The back row will consist of Gresini's Bryan Staring, Ioda's Lukas Pesek and Attack Performance Racing's wildcard rider Blake Young.

Despite 26 riders on the initial entry list, unfortunately only 24 riders will start Sunday's race. Wildcard Michael Barnes on his GPTech bike failed to make the 107% threshold, whereas Cardion AB Motoracing's Karel Abraham sustained a fracture to his right collarbone following a collision with Staring in Q1. He was taken to Brackenridge University Hospital in Austin to undergo surgery.

Pedrosa took the start and the early race lead - here completing Lap One, with Marquez hot on his rear tire. Note the sold out front grandstand, making the new Austin MotoGP the most successful American road race in years. American fans have been waiting for a premier quality race track near an exciting tourist destination like Austin.

Sunday Race Day
Sunday April 21st - As the red lights went out at the new Circuit of the Americas it was Pedrosa who seized the lead, while Lorenzo headed backwards courtesy of a poor getaway. A lightning start for LCR Honda MotoGP's Stefan Bradl allowed the German to go second, but he was soon overhauled by Marquez, Lorenzo and Monster Yamaha Tech 3's Cal Crutchlow.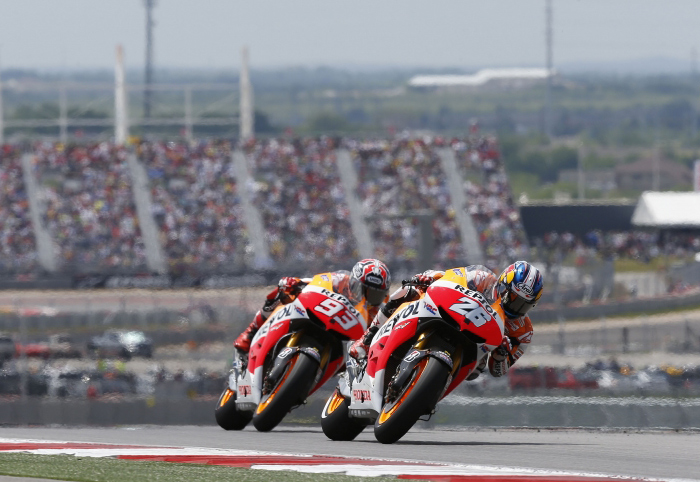 Marquez (93) easily paced Pedrosa (26) for the first half of hte race.

Following Pedrosa and waiting patiently for his moment, Marquez dived up the inside of Turn 7 on the 13th of the 21 laps. Pedrosa would hang onto the back of his teammate, but lost ground courtesy of a small error six laps later. Marquez took the chequered flag by one and a half seconds, with Lorenzo just over the same margin behind Pedrosa.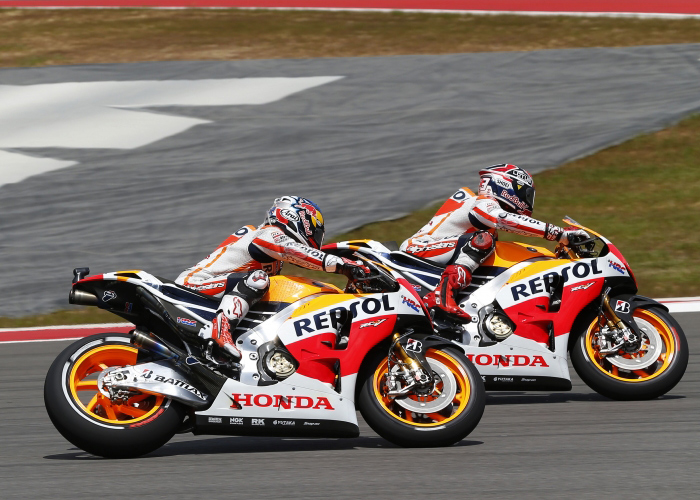 Marquez easily slips inside Pedrosa too take over the race lead from his senior teammate on Lap 13.

Having not tested at the venue a month ago, Crutchlow was more than pleased with fourth, as Bradl and Rossi completed that particular group, with the multiple title winner having overhauled GO&FUN Honda Gresini's Alvaro Bautista. The latter also fell behind Ducati Team's Andrea Dovizioso, who progressed to seventh on the final lap and then avoided a last-corner lunge from his rival. Leading American rider Nicky Hayden and Energy T.I. Pramac Racing's Andrea Iannone rounded out the top ten.

Rossi (46) Yamaha, kept the race fans entertained in a race long battle over 5th place with Stefan Bradl (19) Honda, and Andrea Dovizioso (04) on the highest finsihing Ducati. American Nicy Hayden continued to turn in lackluster finishes with his factory Ducati, finsihing last factory bike in 9th place.

Extending his lead in the CRT ranks, Power Electronics Aspar's Aleix Espargaro enjoyed a strong ride to 11th place ahead of two prototype riders; English Tech 3 rookie Bradley Smith and Ignite Pramac Racing's American Ben Spies, as well as French teammate Randy de Puniet. PBM enjoyed its strongest weekend to date, with Yonny Hernandez sealing the final point for 15th position while Michael Laverty recorded 16th with the team's own-built bike. Avintia Blusens maintained the symmetry in 17th and 18th, with Hiroshi Aoyama having overtaken Hector Barbera, while NGM Mobile Forward Racing's Claudio Corti, Gresini CRT rider Bryan Staring and Attack Performance Racing's Blake Young, the single wildcard rider in the race, completed the field.

Lorenzo ran a close 3rd place position the entire race, fisning just 2 seconds behinf Pedrosa at the finsih, but he never got close enought to be in contention for the race win with the two Honda riders.
It was a hugely disappointing afternoon for Came IodaRacing Project. Danilo Petrucci was fortunate to stay upright when teammate Lucas Pesek crashed out of the race directly behind him, only to retire in the pits with mechanical problems only minutes later. Colin Edwards was also on the sidelines, as the local Texan hero racked up the unenviable fact of becoming the race's first of three retirements with mechanical issues.
Marc Marquez, Repsol Honda: race winner - "After taking my first podium in Qatar I was very happy, but I am even more so today after my first win! It went better than I expected and I am very grateful to the team for their efforts over the preseason. We have worked very hard and, without this, the victory would not have been possible. The race was very intense and physical, as I followed Dani for many laps and then decided to launch an attack and try to open a gap with ten laps to go. I could not pull the gap I wanted as some problems with the front emerged that we'd experienced throughout the weekend. Despite all this, we were able to take the victory. The 25 points are important, but what is more important is to have achieved a win in my second race in MotoGP. We realise that more difficult circuits lie ahead for us, but we will try to give 100% at all of them. Our battle is not the one for the championship, but rather taking it race-by-race and enjoying every moment."
Dani Pedrosa, Repsol Honda: 2nd - "Today's race was good and I'm happy with this second place. We had great pace, even though we knew that Marc was very strong. I tried to ride my own race and in the end I was losing a lot of time in the chicanes. I was tiring physically and I could not handle the bike well – especially in the first part of the circuit. In the second section of the track I was recovering quite a lot of time, but it was not enough. Furthermore, in one of the three laps before the end I made a mistake, lost around 1.5 seconds and Marc was able to get away. That was the point at which the race was lost for me. Still, I'm happy, my riding was pretty good today and I have improved compared with Qatar. I have to congratulate Marc as well, because he did a great job! Now we need to focus on Jerez – a circuit I like a lot."
Jorge Lorenzo, Yamaha, 3rd - "Yesterday we were so far from Marc and Dani but this morning in the warm up we found something. The hairpin corners we normally take in first gear we made in second so it improved a lot the feeling and the acceleration, but it was not enough. Just a little bit more, maybe two tenths quicker and I could have fought with Dani and Marc. Today third position was the best we could do. I want to congratulate Cal who didn't give up until the end and also Marc, he's the youngest rider in history to win a Grand Prix; he is a phenomenon. It's an important day for me; I never thought to get this unbelievable number of podiums so today is a magic day. Time flies very quickly, it seems like it was just yesterday that I got my first victory, which was my first podium in Brazil in 2003 ten years ago and now today my 100th."
Marqez leads Pedrosa up the front straightway on Lap 13 after taking the lead.
MOTOGP RACE: (21 laps = 115.773 Km)
POS / RIDER / NAT. / TEAM / MOTORCYCLE / TIME / KM/H / GAP
1 / Marc MARQUEZ / SPA / Repsol Honda Team / HONDA / 43'42.123 / 158.9 /
2 / Dani PEDROSA / SPA / Repsol Honda Team / HONDA / 43'43.657 / 158.8 / 1.534
3 / Jorge LORENZO / SPA / Yamaha Factory Racing / YAMAHA / 43'45.504 / 158.7 / 3.381
4 / Cal CRUTCHLOW / GBR / Monster Yamaha Tech 3 / YAMAHA / 43'48.739 / 158.5 / 6.616
5 / Stefan BRADL / GER / LCR Honda MotoGP / HONDA / 43'54.797 / 158.1 / 12.674
6 / Valentino ROSSI / ITA / Yamaha Factory Racing / YAMAHA / 43'58.738 / 157.9 / 16.615
7 / Andrea DOVIZIOSO / ITA / Ducati Team / DUCATI / 44'04.497 / 157.6 / 22.374
8 / Alvaro BAUTISTA / SPA / GO&FUN Honda Gresini / HONDA / 44'04.977 / 157.5 / 22.854
9 / Nicky HAYDEN / USA / Ducati Team / DUCATI / 44'15.896 / 156.9 / 33.773
10 / Andrea IANNONE / ITA / Energy T.I. Pramac Racing / DUCATI / 44'24.235 / 156.4 / 42.112
11 / Aleix ESPARGARO / SPA / Power Electronics Aspar / ART / 44'30.960 / 156 / 48.837
12 / Bradley SMITH / GBR / Monster Yamaha Tech 3 / YAMAHA / 44'32.828 / 155.9 / 50.705
13 / Ben SPIES / USA / Ignite Pramac Racing / DUCATI / 44'56.255 / 154.5 / 1'14.132
14 / Randy DE PUNIET / FRA / Power Electronics Aspar / ART / 44'57.774 / 154.4 / 1'15.651
15 / Yonny HERNANDEZ / COL / Paul Bird Motorsport / ART / 45'01.714 / 154.2 / 1'19.591
Pole Position: Marc MARQUEZ 2'03.021 161.3 Km/h
Fastest Lap (New record): Marc MARQUEZ 2'04.242 159.7 Km/h Lap 3
Circuit Record Lap: New circuit
Circuit Best Lap: Marc MARQUEZ 2'03.021 161.3 Km/h 2013
CHAMPIONSHIP POSITION TILL DATE:
1 MARQUEZ 41, 2 LORENZO 41, 3 PEDROSA 33, 4 ROSSI 30, 5 CRUTCHLOW 24,
6 BAUTISTA 18, 7 DOVIZIOSO 18, 8 HAYDEN 15, 9 IANNONE 13, 10 BRADL 11,
11 ESPARGARO 10, 12 SPIES 9, 13 DE PUNIET 6, 14 SMITH 4, 15 BARBERA 3.
Moto2 to Nicholas Terol
Nicolas Terol (Mapfre Aspar Team Moto2 Suter) scored a runaway maiden Moto2 victory today, the former 125 World Champion taking the lead in the early stages and never relinquishing it. Some way behind him a thrilling three-way contest developed for second place. Esteve Rabat (Tuenti HP 40 Pons Kalex) won the battle, coming from ninth on the first lap to grab the runner-up spot at the final corner where Mika Kallio (Marc VDS Racing Team Kalex) made a mistake. Dominique Aegerter (Technomag carXpert Suter) crossed the line just behind Kallio after making contact with the Finn a few corners from the finish and almost falling.
Scott Redding (Marc VDS Racing Team Kalex) started from pole for the first time in his career and led the race until Terol assumed control. The lanky Briton lacked top speed against his rivals and lost several positions on COTA's back straight, the longest in MotoGP. He eventually crossed the line all alone in fifth position. The result, following his second-place finish in Qatar, puts him in the World Championship lead for the first time.
Johann Zarco (Came Ioda Racing Project Suter) came through strongly to finish sixth, beating Anthony West (QMMF Racing Team Speed Up) on the final lap. Mattia Pasini (NGM Mobile Racing Speed Up), Alex De Angelis ((NGM Mobile Forward Racing Speed Up) and Toni Elias (Blusens Avintia Kalex) completed the top ten.Qatar winner Pol Espargaro (Tuenti HP40 Pons Kalex) crashed out as he charged through the pack after starting from the third row.
MOTO2 RACE: (19 laps = 104.747 Km)
POS / RIDER / NAT. / TEAM / MOTORCYCLE / TIME / KM/H / GAP
1 / Nicolas TEROL / SPA / Mapfre Aspar Team Moto2 / SUTER / 42'02.689 / 149.4 /
2 / Esteve RABAT / SPA / Tuenti HP 40 / KALEX / 42'05.814 / 149.2 / 3.125
3 / Mika KALLIO / FIN / Marc VDS Racing Team / KALEX / 42'05.864 / 149.2 / 3.175
4 / Dominique AEGERTER / SWI / Technomag carXpert / SUTER / 42'07.562 / 149.1 / 4.873
5 / Scott REDDING / GBR / Marc VDS Racing Team / KALEX / 42'08.286 / 149.1 / 5.597
6 / Johann ZARCO / FRA / Came Iodaracing Project / SUTER / 42'11.984 / 148.9 / 9.295
7 / Anthony WEST / AUS / QMMF Racing Team / SPEED UP / 42'12.129 / 148.9 / 9.44
8 / Mattia PASINI / ITA / NGM Mobile Racing / SPEED UP / 42'17.161 / 148.6 / 14.472
9 / Alex DE ANGELIS / RSM / NGM Mobile Forward Racing / SPEED UP / 42'18.740 / 148.5 / 16.051
10 / Toni ELIAS / SPA / Blusens Avintia / KALEX / 42'22.385 / 148.3 / 19.696
11 / Mike DI MEGLIO / FRA / JiR Moto2 / MOTOBI / 42'22.796 / 148.2 / 20.107
12 / Marcel SCHROTTER / GER / Desguaces La Torre SAG / KALEX / 42'25.976 / 148.1 / 23.287
13 / Xavier SIMEON / BEL / Desguaces La Torre Maptaq / KALEX / 42'26.236 / 148 / 23.547
14 / Jordi TORRES / SPA / Mapfre Aspar Team Moto2 / SUTER / 42'26.504 / 148 / 23.815
15 / Ricard CARDUS / SPA / NGM Mobile Forward Racing / SPEED UP / 42'36.177 / 147.5 / 33.488
Pole Position: Scott REDDING 2'10.577 151.9 Km/h
Fastest Lap(New record): Nicolas TEROL 2'11.742 150.6 Km/h Lap 6
Circuit Record Lap: New circuit
Circuit Best Lap: Scott REDDING 2'10.577 151.9 Km/h 2013
CHAMPIONSHIP POSITIONS TILL DATE:
1 REDDING 31, 2 TEROL 27, 3 RABAT 27, 4 KALLIO 27, 5 AEGERTER 26, 6 ESPARGARO 25,
7 NAKAGAMI 16, 8 DE ANGELIS 15, 9 ZARCO 14, 10 SIMON 10, 11 WEST 9, 12 CORSI 9,
13 SIMEON 9, 14 PASINI 8, 15 ELIAS 7.
---
Ducati's Panigale presentation at the 2011 Milan EICMA bike show with outgoing Ducati CEO Gabriele Del Torchio to the left of the girl host, and newly appointed Ducati CEO Claudio Domenicali to the right.
Claudio Domenicali becomes successor to Gabriele Del Torchio as Ducati CEO
BOLOGNA/INGOLSTADT – April 18, 2013 – (Motor Sports Newswire) - Claudio Domenicali, currently General Manager and Member of the Board of Directors at Ducati Motor Holding, has been named as the successor to CEO Gabriele Del Torchio, who will leave the company to take up new professional challenges.
Rupert Stadler, Chairman of the Board of Management of AUDI AG and Chairman of the Board of Directors of Ducati Motor Holding, praised the successful work of Gabriele Del Torchio, who has spent six years at the top of the premium brand: "Del Torchio guided Ducati out of an economically difficult phase, back to a successful growth path and to the top of the worldwide segment of premium performance motorcycles. For that achievement, we express our gratitude on behalf of all Audi and Ducati employees and wish him all the best in his future tasks."

"I look back on six intensive, exciting and successful years," commented Gabriele Del Torchio in response to Rupert Stadler's best wishes in his farewell speech to the company. "It was an intense experience which will remain an unforgettable memory. I leave Ducati in the knowledge that I have helped to place the company on a path of growth and strength."

The new Ducati CEO, Claudio Domenicali, joined Ducati as a project leader in 1991. He had previously studied mechanical engineering at Università degli Studi di Bologna. After passing through various management positions, he was promoted to Managing Director of Ducati Corse in 1999. In 2005, he took over as R&D Director and in 2009 was appointed General Manager Operations and Product Development. In 2012, he was confirmed as a member of the newly formed Board of Directors after the sale of Ducati Motor Holding to AUDI AG.

"Domenicali knows Ducati and the motorcycle business more than anyone. He embodies continuity and Ducati's values in an exceptional manner," stated Audi CEO Stadler.
Editor's Note: Outgoing Ducati CEO Gabriele Del Torchio leaves Ducati as currently, the most successful motorcycle company in the world, experiencing record growth the last 4 years despite the world economic downturn which has devastated the Japanese motorcycle manufacturers in particular, and the economy of Ducati's own home country, Italy. Ducati did this my continuing to invest in new motorcycle designs and introductions while the Japanese manufactures put development investment on hold. Claudio Domenicali, who took over as R&D Director and in 2009 was soon appointed General Manager Operations and Product Development, is the person really responsible for Ducati's current worldwide growth and success.
Gabriele Del Torchio, on the other hand, despite the companies overall sales success, had some very big failures in his column. The biggest being the elimination of the factory Ducati Corse Superbike team, the success of which had helped bolster and support Ducati new bikes sales the last 25 years. Instead, Del Torchio put all of Ducati's racing effort and marketing budget into MotoGP, which he personally adores, with the MotoGP team's failure to win since looking Casey Stoner 3 years ago, is pretty much a failure. Compounding that failure was to bring in Valentino Rossi at a huge financial cost, to try and save Ducati's MotoGP effort, which it didn't, only causing further embarrassment with the world's most popular racer. Then to retain Nicky Hayden, who wasn't winning races, for a 5th straight year in 2013 was plain stupid. Ducati should have brought in a young up-and-coming star to partner with Andrea Dovizioso, just as Honda brought in Marc Marquez to partner with veteran Dani Pedrosa.
Another failure was a "partnership" trade between Ducati and German prestige auto manufacturer Mercedes. It saw each other's bikes and cars appearing together at various shows and events, and Ducati building a special edition Mercedes AMG Diavel, which made no sense as Ducati should struck a marketing relationship with a more relevant Italian car company like Alfa Romero. But a visit to the Ducati factory to see Del Torchio's obviously free big bright Ducati Red Mercedes E Class super sedan in the employee parking lot , you understand the purpose of the 'partnership" But with Audi, Mercedes biggest competitor, buying out Ducati this time last year, any association at Ducati to rival Mercedes, was going to be a death wish.
With Claudio Domenicali now the new CEO at Ducati, we'd expect the Ducati MotogP effort to downsized next year, Nicky hayden kicked to the curb for his continued lack of race results and development skills, and hopefully the return to a full in-house Ducati Corse World Superbike team in 2014 with some serious new riding talent to support a retiring carlos Checa. - Jim Gianatsis
---

Chaz Davies stood atop the podium again in Race Two, here with Sylvain Guintoli who takes over the Championship points lead, and a happy Tom Sykes after his bike quit running in Race One.
2012 FIM Eni World Superbike Championship, Qatar Round 1 of 14
Chaz Davies Dominates with a Doubles at Aragon World Superbike Round
Alcaniz (Spain), Sunday 14 April 2013 – Eni FIM Superbike World Championship says goodbye to 2013 Round 2 at MotorLand Aragon after a thrilling and exciting race day. Chaz Davies (BMW Motorrad GoldBet SBK Team) has proven testing to be done in the right direction by scoring his maiden double win in the series (the second one for BMW). Davies lies now 2nd in the standings behind Sylvain Guintoli (Aprilia Racing Team), 2nd in both races, and ahead of the other factory Aprilia rider Eugene Laverty. The unlucky Irish rider never made it to the chequered flag today, first due a technical problem in race 1 and then because of a crash on the opening lap of race 2.
A 3rd place each for Marco Melandri (BMW Motorrad GoldBet) and pole-sitter Tom Sykes (Kawasaki Racing Team) did not fully satisfy the two 2012 title contenders. A technical issue on his ZX-10R put an early end to the Brit's tough battle at the front, but in race 2 Sykes was able to keep a competitive Davide Giugliano (Althea Racing Aprilia) behind for the final place on the rostrum.
Leon Camier (FIXI Crescent Suzuki) decided to pay a visit to his WSBK peers and to sign autographs during the pit-walk, after the successful left knee operation he underwent Friday night: a nice surprise for the fans who attended the round – who reached a total of 26,910 over the three days.
Complete Arazon World Superbike Race Coverage

Chaze Davies
---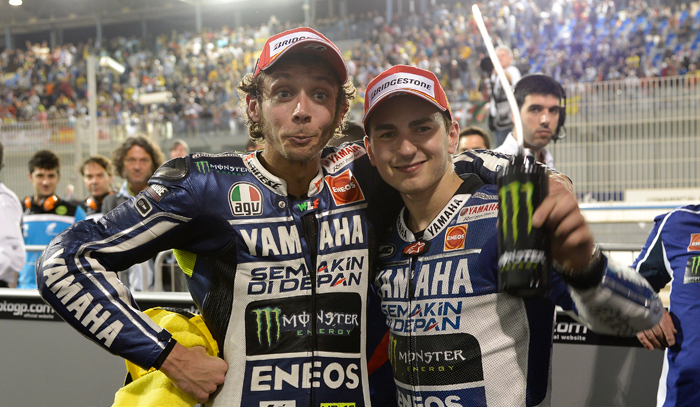 Monster Yamaha's Valentino Rossi and Jorge Lorenzo.
2013 FIM MotoGP World Motorcycle Championship, Qatar Round 1 of 18
A Double Delight for Yamaha's Lorenzo and Rossi at Qatar MotoGP Season Opener
Losail International Circuit, Dohar, Qatar, April 3rd-8th 2013- Reigning MotoGP World Champion Jorge Lorenzo kicked off the defence of his title tonight in the best possible way, delivering a flawless ride under the floodlights of the Losail International Circuit to take a perfect victory in the Grand Prix of Qatar. Lorenzo put the hammer down from pole position, taking the hole-shot into turn one and never looking back. He remained untouchable throughout, dispatching the 22 laps in isolation with trademark efficiency to claim his first victory of the season and add 25 Championship points to his 2013 title bid. COMPLETE RACE COVERAGE
---
Paolo on the left, and brother Marurizo Flamini. Photo curtesy Fabrizio Porrozzi / Giorgio Nada Editore
World Superbike -The First 25 Years
with a Tribute to its Producers Maurizio and Paolo Flammini

and how new management DORNA unceremoniously kicked the Flammini Brothers out the Back Door
of the best motorcycle roadracing championship ever
We all received the shocking Press Release back on September 2nd 2012 stating that the private equity firm of Bridgepoint, who already owned the MotoGP World Championship under DORNA, had just purchased the sports marketing firm InFront Sports & Media AG, who had themselves become the owners of the World Superbike Championship a few years earlier. The WSBK was then celebrating its 25th year of under the direction of brothers Maurizio and Paolo Flammini, who stepped in to save the fledgling production bike Championship started by ex-racer American Steve McLaughlin in 1987.

In 1990 Maurizio came in in to take over full control of World Superbike from McLaughlin's partners and struggling owners, the FG Group, and steered it forward towards world success. Brother Paolo came aboard as the Sales Manager of the Group in 1994, and then in 1999 became President of World Superbike as brother Maurizio stepped back to pursue other business ventures in sports marketing. Under their control the SBK World Championship in the next 20 years would become the most exciting motorcycle roadracing series in the world with the closest racing, most factory and private team involvement. At many European tracks it even rivaled and exceeded the attendance of the more well established FIM prototype roadracing series, MotoGP. - Read the Full Story Here
---
Los Angeles Calendar Motorcycle Show Concours d' Elegance
Returns to the Queen Mary, Long Beach, CA on Sunday July 14th 2013
The 2013 LA Calendar Motorcycle Show continues its now 22-year tradition as the premier outdoor streetbike event in America
with top Celebrity Builders, the Calendar Bike Building Championship & Concours d' Elegance, selected Vendors and Exhibitors, the Calendar Girl Music Show and a return to the exciting Queen Mary venue in Long Beach, CA. The Show marks the world premier of next year's new 2014 FastDates.com Motorcycle PinUp Calendars featuring the world's top roadrace and custom motorcycles with the beautiful Calendar Kittens featured in the Calendars in attendance at the Show. Purchase Advance Tickets, Vendor and Bike Contest Registration online at: www.FastDates.com/BIKESHOW.HTM.


Lily Elise and Sara Horvath - Performing at the 2013 LA Calendar Motorcycle Show July 14th!
Lily Elise - Singer / Songwriter, NBC TV's The Voice - Finalist, Team Christina Season - Tickets Here
Sara Horvath Shoots with FastDates.com Calendars at the Garage Company
Los Angeles, CA, April 1, 2013 - Meet beautiful new FastDates Calendar Kitten Sara Horvath from Wunder Model Magagement in Los Angeles, who shot with Jim Gianatais this past week at the Garage Company, just of the I-405 near LAX Airport Inglewood, CA for the next Caleendars. Sara was great to work with, and we had the chance to shoot her with some incredible old classic British bikes, including the (above) '60's Triumph Bonneville, and (below) the newly built retro Triumph Dirt Tracker built by legenday West Coast dirt track racer Sonny Nutter. That's Sonny with Sara in his work shop at Garage Company where he helps service and repair all the classic British Bikes that come into Garage Company.

Thanks to store owner Yoshi Kosaka, Sonny and the rest of the Garage Company crew for letting us hang out and shoot some of their beautiful bikes that are available for sale. www.GarageCompany.com

Model Sara is also an accomplished singer singwriter who will be joining us at this year's LA Calendar Motorcycle Show to assist with hosting and perhaps singing a few of her own songs, as well.
---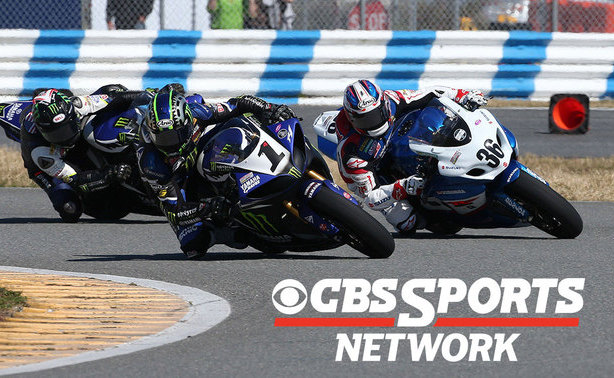 AMA Pro Racing and CBS Sports Network
Announce Television Agreement to Showcase GEICO Motorcycle AMA Pro Road Racing
DAYTONA BEACH, FL April 23, 2013 - CBS Sports Network and AMA Pro Racing, in conjunction with Chet Burks Productions, announced today a television agreement to showcase GEICO Motorcycle AMA Pro Road Racing as part of the Network's CBS Sports Spectacular series. CBS Sports Network will air flag-to-flag race coverage of the premier National Guard SuperBike and GoPro Daytona SportBike classes through the 2014 season. Programming begins Saturday, June 1 (2:30 p.m. ET) with a 30-minute preview show before live coverage of the Subway SuperBike Doubleheader at Road America in Elkhart Lake, Wis. (3:00 p.m. ET).

GEICO Motorcycle AMA Pro Road Racing telecasts are produced by Chet Burks Productions, long-time partner of AMA Pro Racing programs. The initial telecasts will be presented in afternoon weekend time slots, with several events airing live. In addition, encore broadcasts and an all-new 30-minute weekend preview show will air on CBS Sports Network.

Leading up to race weekends, the 30-minute preview shows will get fans up to speed with on-site coverage of qualifying sessions, highlights from previous rounds, as well as vignettes on the history of the sport and the technical aspects of motorcycle road racing. Hosted by a panel of industry experts, the show will provide insider insight on the latest paddock news, as well as interviews with riders and celebrity guests.

"We're excited to add AMA Pro to our CBS Sports Spectacular lineup," said Dan Weinberg, Senior Vice President, Programming, CBS Sports Network. "GEICO Motorcycle AMA Pro Road Racing is a high octane, action-packed sport featuring some of the world's best motorcycle racers and is a great addition to our live programming this summer."

"We are incredibly proud of this television package and excited to begin our new relationship with CBS Sports Network," said David Atlas, Managing Board Member of AMA Pro Racing. "Through the live action and in-depth features, we will present fans with the most intense immersion into our unique and exciting racing that the sport has ever seen."

"This agreement is the result of a tremendous amount of time and commitment from AMA Pro and is a significant step for motorcycle racing in America," said Chet Burks, President of Chet Burks Productions. "We look forward to producing an exciting television experience for CBS Sports Network viewers."

CBS Sports Network is available across the country through local cable, video and telco providers and via satellite on DirecTV Channel 613 and Dish Network Channel 158. For more information, and to access the CBS Sports Network channel finder, go to www.cbssportsnetwork.com.

About GEICO Motorcycle AMA Pro Road Racing:
GEICO Motorcycle AMA Pro Road Racing is the premier motorcycle road racing series in North America. Sanctioned by AMA Pro Racing, the Series is universally regarded as one of the most competitive road racing organizations in the world. The 2013 schedule includes rounds on many of the country's finest road courses. For more information on GEICO Motorcycle AMA Pro Road Racing, please visit http://www.amaproracing.com/rr/.

About Chet Burks Productions:
Chet Burks Productions is a full service television production company with over 25 years of professional experience. Our wide ranging expertise includes producing live sporting events, on-site remote productions, magazine shows, and in-house studio television productions. Whether it's producing and directing championship motorcycle and car racing events or developing full scale commercials for a variety of industries, Chet Burks Productions skillfully manages all aspects of our clients' needs. For more information on Chet Burks Productions, please visit http://www.cbptv.com.

AMA Pro Racing is the premier professional motorcycle racing organization in North America, operating a full schedule of events and championships for a variety of motorcycle disciplines. Learn more about AMA Pro Racing at www.amaproracing.com.
---
There's more! Go to Pit Lane News Previous Week

Also Visit: Fast Dates Calendar News • Iron & Lace Calendar News
Calendar Girl News • Meet the Models • Paddock Garage
Get FastDates.com T-Shirts, Mugs & Photographs from Our Store

MEMBERS CORNER! Calendar Kittens, Paddock Garage, Iron & Lace Garage


Amazon.com Motorcycle Products & Apparel Store



MotorcycleSuperstore.com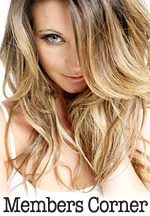 Hot Bikes, Sexy Kittens
Your Exclusive Grid Pass
also includes....
---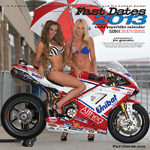 Order the New
2013 Calendars!
with FastDates.com Calendar Kitten, Ducati Corse Grid Girl
and Playboy Playmate
Heather Rae Young!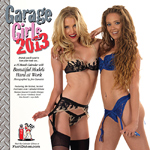 Click for even more Calendars!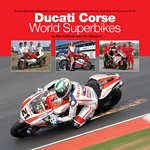 Retail $69.95 ea.
Click to Order from Amazon.com

Ducati Corse
World Superbikes
by Alan Cathcart
& Jim Gianatsis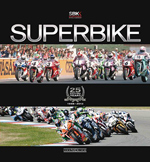 The Official SBK
World Superbikes
1987-2012
25 Year History Book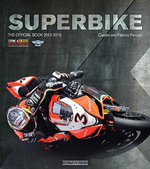 The Official SBK
2012-2013 Yearbook
These SBK Yearbooks are the Best Books Ever about World Superbike. They feature awesome color photography of the riders, bike and racing action. The feature a detailed revue of the past season in pictures and statistics, with a detailed look at the bikes and riders.

Plus a technical look data all the bikes, a preview of the upcoming season's Championship!
We buy this every year ourselves and highly recommend it!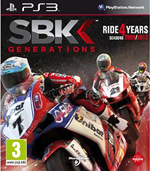 SBK World Superbike Video Game
---
Report:
State of the Motorcycle Market in America
April 2013: Since the hey-day of 2006-2007, the industry has lost 5,000 dealers and retailers, vehicle sales have been slashed in half, and about 20,000 people have left the industry to find employment elsewhere.
2007 was the industry's last up year. Sales of motorcycles, ATVs and scooters reached about 1.5 million units. And according to MIC ststics there were in 2008, 13,300 retail outlets in the US split between authorized new vehicle dealers, and independent service and accessory outlet.
According to the most recent MIC static, 2012 retail sales of motorcycles, ATVs and scooter were at 677,630 - a drop of about 54% from peak. At the same time the US dealer base dropped from an increased of 14,127 dealers in 2008 (still riding the crest of the wave) to 8,985 in 2012 - a decrease of 36% percent.
The Medin Age of a new motorcycle buyers in America is now around 52 years old, and continues to grow about 1 year older per year, signifying no new riders are coming into the sport and the Amerian motorcycle market will end as the Baby Boomers die out.
From where it is today, the sport of motorcycling in America will continue to decline about 3-4% per year to the poin the sport will be gone in 20 years.
And unlike Europe and Asia where mototcycling is surviving and growing because of traditionally high fuel prices and crowded cities, in America we have become to attahed to our automobiles, so much so that motorcyles will never become a replacement for them. You'll always be able to buy and run and insure a cheap used car at a price lower than a nice used motorcycle.
This is not to say Motorccyle Racing will not continue as a spectator sport, as evidenced by the popularity of Supercross at sold-out stadium events across America. But how many people actually buy and ride/race dirt/mx bikes any more? This middle class sport is disappearing with the American middle class as fewer people can afford a truck to haul their expensive dirt bike to a riding area or track, or own a house with a garage to store and work on them. To a lessor extent, the streetbike market is affected similarly. These days kids in high school have little interestor the money in own or drive a cool car, let alone a street bike. - Editor
Lorenzo takes 100th MotoGP Podium in Texas
Yamaha Factory Racing rider Jorge Lorenzo took third position on the podium today in the Grand Prix of The Americas, his 100th career podium finish. A less than perfect start from third on the front row saw the current World Champion lose position approaching turn one but he was quick to come back as the race settled in. Lorenzo was able to maintain third position to the finish line, holding distance to fellow Yamaha Cal Crutchlow behind in fourth and close down the gap to the front to just over three seconds at the flag. The result delivers an incredible 100th podium finish for the four-time World Champion ten years after he scored his first with victory in Brazil in 2003. The sixteen points brings his 2013 season total to 41 after two races, joint with Championship leader Marc Marquez and places him in second in the standings.
Having started form eighth on the grid, Valentino Rossi got involved in an early fight with the mid pack, including riders Crutchlow and Stefan Bradl, eventually bettering the German rider to move up and hold on to sixth place to the finish line. Rossi had to contend with a vibration from his front brakes during the race and had battled all weekend to find the best setup for the demanding circuit. The result places him in fourth place in the overall standings with 30 points, 3 behind Dani Pedrosa in third.
Valentino Rossi, 6th- "This is a difficult track for us. We expected to do better, but I had a lot of problems in the race because I had a problem with the brakes. I had a vibration in braking because I lost one part of a disc so this didn't help. We knew that we had to defend here; we know that when we cannot attack we need to try and arrive in the top five but today it was sixth. The balance of the first two races is positive and we arrive in Jerez optimistic for the next few races as the tracks are better for us."
Wilco Zeelenberg, Team Manager - "This was our target, to be on the podium. To be honest to be just three seconds behind the lead is very nice. When you are ten seconds behind and you finish third you are quite happy but if it's just three seconds you think you might have been able to get a bit more. Apart from that we must be very pleased with the result, to be on the podium was our target and that will continue to be our target for the next couple of races. We struggled a lot here and everyone could see our competitors were strong; we had it the other way round in Qatar. Let's hope at the end of the season that the balance is in our favour."
Excellent 4th for Crutchlow in Texas
Monster Yamaha Tech 3 Team rider Cal Crutchlow rode to a fantastic fourth place finish in today's inaugural Grand Prix of the Americas in Texas to consolidate his place in the top five in the World Championship standings after two races. For the second race in succession, the British rider comfortably finished as leading non-factory rider after he superbly recovered from an early off-track excursion to claim his best finish of the 2013 campaign. Crutchlow was locked in an early fight with Stefan Bradl when he ran off track on lap four, which dropped him back to sixth as Alvaro Bautista swept through. The 27-year-old wasted no time in getting back up to his fast pace and he brilliantly recovered the lost places with two expertly executed overtaking moves on Bautista on lap five and then on Bradl on lap nine. Crutchlow maintained his fast pace and was easily able to streak away from Bradl and Bautista to finish behind factory trio Marc Marquez, Dani Pedrosa and Jorge Lorenzo, which was a fantastic achievement considering they had all tested at COTA last month.
It was mission accomplished for Bradley Smith in the 21-lap race as he gained priceless experience by guiding his YZR-M1 machine home to his first point scoring finish in his rookie campaign. Opting to run Bridgestone's hard compound front tyre for the first time all weekend, Smith gradually built up his confidence and an impressive charge in the second half of the race saw him set a personal best lap of 2.06.415 on the penultimate lap to finish in 12th position. That was 0.3s faster than his best qualifying lap and the confidence and experience gained this weekend means Smith heads to Jerez next month optimistic that he can battle for a maiden top 10 finish.
Cal Crutchlow, 4th - I'm very pleased and we did a better job than any of us expected before we arrived in Texas. With no testing here I was worried that it would be more of a struggle and the fire in the garage on Wednesday meant we couldn't do any of our normal preparation work. So to finish fourth and be behind Marquez, Pedrosa and Lorenzo is a great achievement for all of us and I want to say a massive thanks to my crew. We qualified well and I rode very well in the race and the most pleasing aspect was my consistency. Unfortunately I ran wide while trying to pass Bradl but I managed to fight my way back through and I was running the same speed as Lorenzo for a long time and that gives me a lot of confidence to take into the next few races. I'm giving it my all and I'll never give up and I think this weekend again we showed how competitive the Monster Yamaha Tech 3 package is. Now we go to Jerez and I was quickest at the winter test a few weeks ago, so it is going to be another big battle that I'm excited about."
Seventh and ninth for Ducati Team in Texas
Weather conditions were perfect for the debut MotoGP race at Austin, Texas's Circuit of the Americas, where Ducati Team riders Andrea Dovizioso and Nicky Hayden crossed the finish line in seventh and ninth places, respectively.

The Italian suffered a bad launch off the start before settling into a long battle with Alvaro Bautista. The two traded positions on a couple of occasions, but Dovizioso ultimately made a last-lap, last-corner pass to take seventh place. Hayden meanwhile, after starting from the tenth spot on the grid, made an early pass on Andrea Iannone but never found the proper feeling to advance further aboard his Desmosedici GP13.

Andrea Dovizioso - Ducati Team, 7th
"Obviously, we're not satisfied with seventh place, but the race time wasn't bad. I was able to keep a good pace below 2:06, so I'm pleased with my aggression and effort. I managed to be pretty consistent up until the final five or six laps. The last three laps with Bautista were fun—a nice battle! We know we have to work hard, because this is our limit at the moment, but we're really motivated to improve."

Nicky Hayden - Ducati Team, 9th
"It was a tough weekend. The track was great, but I lost some time in the beginning and was struggling with change of direction. I was okay on much of the track, but I never found the confidence in the front end to flick the bike into the corners, which hurt me in the esses. The guys did a good job getting me a better bike for the race, and I don't really have any excuses. Ninth place isn't what we wanted here today, so I certainly hope we can sort a few things out and start putting up a better fight than we have in these first two races."

Bernhard Gobmeier – Ducati Corse General Manager
"We certainly had a slight disadvantage, not testing here in March against the other teams, and we realize that against the other factory bikes we can't keep up over race distance. We made some improvements to several aspects of the bike, but a major issue remains; we can't hold a line, so we run wide in the corners. That prevents better lap times and adds up at the end, especially on this track, which has a lot of sequential corners. We look forward to Jerez. In the last test there, we saw some potential for improvement, and in addition, we'll have the support of our test rider, Michele Pirro, who is doing his first wildcard race for us there."
Meet 2013 Calendar Kitten
Shannon Baucom

MV Agusta M4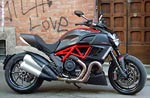 The Devil Made Us Do It!
Testing the Ducati Diavel in Italy
Sudco High Performance & OEM Replacement Parts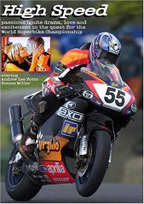 High Speed - the Movie
The best motorcycle racing movie ever made! Filmed on location at the World Superbike races , this an exciting romantic drama staring beautiful British actress Sienna Miller.
---
EDELWEISS OFFERS NEW and AFFORDABLE MOTORCYCLE TOUR ALONG THE DOLOMITES WITH CHALLENGING ROADS, OVERWHELMING MOUNTAIN SCENERY AND ITALIAN CUISINE AT ITS FINEST.
The Dolomites are a must for a passionate biker – come with us on an unforgettable motorcycle tour. The countryside is dominated by mountains, rivers, and gorge-like valleys, which have just space enough for a road and railroad tracks; but there are also bigger towns like Bolzano, where our base hotel is located.

Thinking about Italian culture you will notice quite a big difference from what you may expect; building style, cultures, languages, bilingual road signs and special foods show that varied peoples and ideas peacefully co-exist here. The Sella Ronda is a very good warm-up for the following days and our rides to Penserjoch, Jaufenpass and Timmelsjoch.

Eight more passes are on our schedule for the next day and we will have the opportunity to stop in the nice little town of Cortina d'Ampezzo, well known from the Olympics in 1956. Now it's time to make a decision: go to Venice for sightseeing or collect 10 more passes? Tough call! The last riding day leads us south to the wonderful Lake Garda, with swimming and riding at its best.
Find Out More
THROUGH THE ALPINE WONDERLAND OF AUSTRIA AND SOUTHERN GERMANY – THE ALPS AND LAKES MOTORCYCLE TOUR!
The Alps and Lakes motorcycle tour takes you through a beautiful part of European motorcycle paradise; the Alps. The contrast between the beautiful lakes in southern Germany and Austria and the towering mountains that reach up to more than 10,000 ft is nothing less than breathtaking.
This area is the famous background for the movie "Sound of Music". This vacation offers a little bit of everything: beautiful and relaxing rides through the valleys; some mountain roads and passes; and great vistas and sights, including King Ludwig's castle, Herrenchiemsee, and the historic city of Salzburg. The tour consists of five riding days, one of them is a rest day – which means that you stay two nights at the same hotel.

This is a great opportunity to explore a little bit more, ride around the countryside, walk through town, meet the locals and sample some of the local food. The tour will take you through Germany and Austria, and on the rest day you can even add Italy to your list if you are so inclined.
Find Out More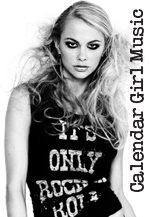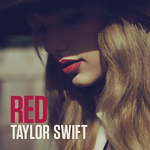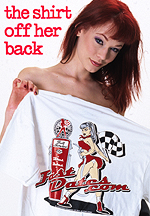 Order the Official
FastDates.com &
LA Calendar Bike Show
T-Shirts!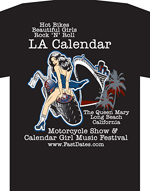 ---
Google Ad