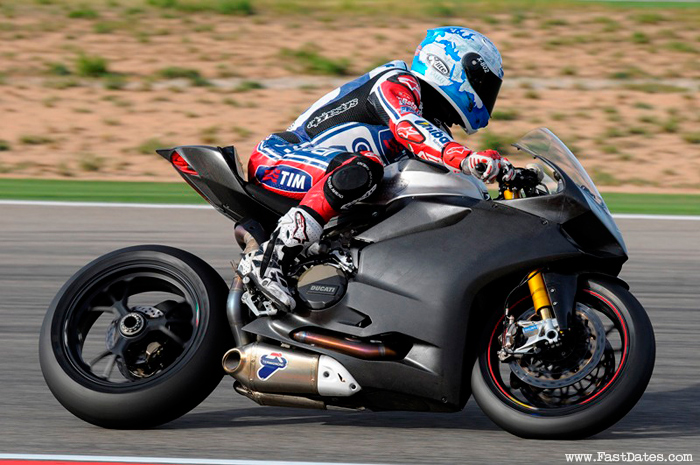 Carlos aboard the new 1199RS Superbike which will spearhead Ducati's 2013 World Superbike foray.

Althea's Checa and Giugliano Complete 3-day Test Session
with Ducati 1199RS Superbike at Motorland Aragon, as Carlos Celebrates his 40th Birthday!
Aragon (Spain), Wednesday 17th October 2012: the Althea Racing team and Ducati are pleased with the progress that riders Carlos Checa and Davide Giugliano have made on board the new 1199 Panigale Superbike during a three-day test session at Motorland Aragon. Checa and Giugliano took to the track on Monday where in cool and very windy conditions, totally the opposite of the extreme heat experienced during the July race, they continued with the work that they had begun a couple of weeks ago during testing at Misano. Carlos, whose 40th birthday coincided with Monday's test, recorded some interesting lap times while Davide spent time testing a new fork.

On the second and third track days (in more settled and dry conditions) the Althea men continued to work with their technicians and Ducati development personnel, gaining confidence with each exit. Davide suffered a small crash on Tuesday but was fortunately unhurt and able to return to the track almost immediately. As well as the new tyres, the team spent time testing various new components relating to suspension, setting and forks. By making a series of changes throughout the three days the team was able to better understand how the bike reacts and identify the best direction to take as a result. At this point of development it is essential that the riders begin to understand the bike and that the bike is adapted to the needs and style of each rider.

On track along with several other SBK teams, Ducati's technicians were able to compare the 1199 Panigale's performance to that of its rivals for the first time and have declared themselves satisfied with the work completed thus far, although there is still a lot to do over coming months. The winter testing programme will continue next month in Jerez, Spain.

Carlos Checa: "My impression is positive. We're still a little way off in terms of times but we are here to work on the bike and try things out to better understand what is missing and what we need to go faster. This is all a normal part of development work. The 1199 Panigale is an extreme bike and the riding style needed is different too. We are at the start of the journey; we're still in the first phase and still have a lot of work ahead of us. The 17" tyres are working well once the track is up to temperature and conditions have allowed us to get a lot of laps in during yesterday and today – the data collected will be useful as we move forward."

Davide Giugliano: "We have tried many things over these last days and I am working hard to find my way with the new bike. The Aragon track is very different to Misano where we carried out the last tests and I've had a bit of trouble going from one to the other because of those differences. I would say that we can be satisfied with what we've got done here and we have a good base from which to progress."
Editor's Note: The fact that Checa continues to test the new 1199RS indicates he will probably remain with the Althea Ducati team for 2013, although no official announcement has yet been made. The 1199RS is actually a well developed bike having been tested by Troy Bayliss and other Ducati test riders for over a year. It has actually been raced in the British Superbike Championship this 2012 season with mixed results, based on the riders and reliability issues with the engine which is basically stock 1199. As a new bike to the WSBK Championship the 1199RS will enter the 2013 SBK championship without the weight restrictions imposed on the outgoing 1198RS, but continuing with intake restrictors limiting it to 195hp, as the old bike was deemed too fast with its race cams and higher compression pistons. A stock engined 1199RS with the Termigoni Race Exhaust produces close to 220hp to keep it closer to the 1000cc fours which produce around 230-240hp, but the Ducati still enjoys the broader powerband offered by the bigger 1200cc 2-cylinder Superquadro engine.
Marinelli reveals more 2013-spec Panigale SBK details, but the Bike may not be competive...
as SBK requires Ducati to continue with Intake Restrictors in 2013
October 23rd, 2012 - Ernesto Marinelli, the director of Ducati Corse's operations in SBK, was at the recent Motorland Aragon test to oversee the first group outing of the Panigale 1199 racebike against its main opposition. After much development work and preparation the machine we saw at the test was already in full SBK spec, although development inside the Althea Racing team and at Ducati's HQ will clearly continue apace.
"We will still try to improve but at the moment this is the configuration that we will see in Australia for round one," said Marinelli at Aragon. In what was only Checa's third ride on an SBK spec Panigale, Marinelli also stated that there is still a lot of work to be done to match it up to long-time 1098R used by rider Checa, who has build up a great relationship with this previous Ducati racebike.
"This is a new marriage, so the rider has to understand the bike and the bike has to be changed to suit the rider," said Marinelli. "We are on this pace at the moment and this is our first time of course on this racetrack. So we have to test some things that we already tested at Misano and Mugello to make sure that the direction is correct."
Of the general nature of the bike's engine character there has been a lot of work put in recently to take the more aggressive aspects of the big-bore twin's engine away, while trying to keep a strong top end. "The bike is a bit more aligned and a bit more powerful," confirmed Marinelli, before saying, "but the air restrictor is still annoying. We have some more revs and more power than before. I do not want to say how much, but a bit more. But it is not going to bridge the gap that we had this year, which was very big because of the air restrictor. But we will reduce it a little bit. Our strength has to come from other areas."
Marinelli believes one of those areas will be under braking, already a good aspect of the previous 1098R machine. "We have improved the braking a bit more. And the handling, but right now we have kept the fork that Carlos likes, but the more modern forks are in the programme of testing."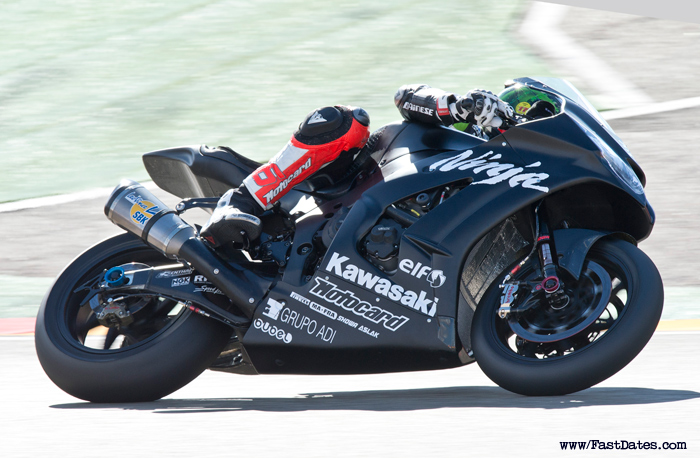 Sykes and His Ninja ZX-10R Lead Aragon Test Times
17 October 2012 - KRT Superbike World Championship riders Tom Sykes and Loris Baz got their 2013 testing plans underway early with a three day session at the Motorland Aragon circuit in sunny but often windy conditions The primary reasons for the test, held between 15 and 17 October, was to try out the 17-inch aluminium wheels and new Pirelli control tyres that will be the regulations sizes for the 2013 season, which gets underway in Australia at the end of February next. The new season effectively began during this Aragon test, however, with the team running special winter test logos and all-black bodywork.
Sykes was quickest of all the riders on show, with Max Biaggi 0.2 seconds behind. Were it not for high winds down the main straight on the final day, Sykes would probably have improved on his best time of the test, a 1'57.6. For Baz, Aragon has never ranked as one of his favourite circuits, but this time around he unlocked a few secrets about how to set a strong lap around the undulating circuit, build to on grand scale. Loris set a best lap time of 1'58.5 despite having suffered a heavy crash at the final round of the 2012 championship, on October 7. The next test for the team is once more in Spain, in Valencia, at the end of October.
Tom Sykes: "Fastest again and that is all well and good but that is not the aim at the moment. Our aim is to improve on what we have done with the bike this year, and we have done that here, so overall I am happy. The 17 inch tyres seem to work well for me and the Ninja ZX-10R, so that is positive. We have a lot of information and we have more tests planned, to we will keep working in a good direction. We used race tyres to set our fastest times and we tried both the SC1 and SC2 compounds, on the front and the rear. The track was a bit greasy this afternoon but we were still able to do nice lap times with the softer tyres. It looks like Pirelli have done a good job with the 17-inch tyres so we are definitely at a good starting point."
Loris Baz: "In the end it was a good test and I set a 1'58.5 lap. I could not improve on that because this afternoon the track was slower, and the winds had picked up, and I was also very tired. When I came here I was still not 100% after my big crash at Magny-Cours, but I was OK. We did a lot of laps, something like 60 on the first day, 70 on the second day and 70 today. We tried a lot of things and I really like the 17-inch tyres, which is the most important thing we tried out for our preparation for next year. I am really happy after this test."
Guim Roda, Team Manager, Kawasaki Racing Team: "Thanks again for a big effort from the team and from everybody involved. To start working towards 2013 just one week or so after the end of the previous season shows the commitment of everyone. We received some new parts from Japan for this test so they are working hard there too. The important idea that we are trying to explain to everyone is that we have finished with the 2012 season already and we have created a new livery on the bike to show that we are now working for 2013. So for us 2013 has already started. We are 100% focused on the new year of racing. As well as this, I would like to say thanks for a good job from the riders, Tom and Loris, who have been testing parts and developing their bikes with their crew chiefs Marcel and Pere. We will be out to improve the bikes again at the next tests in Valencia, at the end of October."
Leon Camier (2) shows new boy Josh Waters (21) the way around Aragon.

Productive Aragon Test for Fixi Suzuki's Camier and new rider Josh Waters
October 18th - FIXI Crescent Suzuki completed a three-day test at the Aragon Circuit in Spain on a very positive note as the final track action of the year now leaves the team with lots of data to assess in the workshop over the winter. Leon Camier led the team well by recording the fastest time on day one and finished the test in third overall. He completed over 160-laps of the 5,344m Spanish circuit as he worked thorough a huge test programme with his crew to gain valuable information in readiness for next season.
The team continued to find improvements in the FIXI Crescent Suzuki and were able to get excellent feedback regarding the 17 inch wheels that everybody will be using next year. Despite strong winds that sometimes made the conditions difficult during the three days, the Yoshimura-powered GSX-R1000 showed a big improvement on the team's previous visit to Aragon earlier in the year and leaves the whole crew in positive spirits as it plans ahead to its second season in the Superbike World Championship.
Camier was ably supported at the test by Suzuki's Australian Superbike Champion Josh Waters. The 25-year-old has previous WSBK experience with the Yoshimura Suzuki Racing Team in 2011 and was drafted in at short notice to help the FIXI Crescent Suzuki team with its plans for next season. Waters spent time learning the Aragon circuit on his first visit there - as well as acclimatising himself with the WSBK machine - before putting in many consistent laps that will supply the team with important data for the 2013 season. Waters completed over 150 circulations of the circuit and recorded the ninth quickest time of the test.
FIXI Crescent Suzuki will assess its rider options over the next few days, as it looks to secure a team-mate for Camier - who pledged his future to the team earlier this month. The provisional date for the first round of 2013 is Sunday 24th February, at the Phillip Island Circuit in Australia.
Leon Camier: "Overall, I think these tests have been very productive and we've been consistently fast throughout. I'm a little frustrated that the winds came up this afternoon, because otherwise I'm sure I would've gone quite a bit quicker. The FIXI Crescent Suzuki has come on so much since when we were here in June and as long as we can keep on improving, I'm sure we can be competitive. At the moment, I feel that there's more work to be done on the 17 inch wheels, but the good news is that we're not that far off. We only had some standard 17 inchers here, so I'm sure that the next set will be much better."
Josh Waters: "I only got the call to come here last Friday night and it was a bit of a surprise, but a really good one. I've never been to this track before, so I began learning which way round it went. At the same time I worked on understanding the FIXI Crescent Suzuki, which is so different to the Suzuki I race in Australia. Riding this bike makes my Aussie Suzuki feel like a street-bike! I'm very grateful for this opportunity and would like to thank the team for all their hard work and support over the three days. Like all racers, I would've liked to have gone faster, but conditions this afternoon didn't allow that. Nevertheless, I've really enjoyed myself and the experience I've gained with these guys is invaluable."
Jack Valentine - Team Manager: - "The aim of these tests was mainly to try the 17 inch wheels we'll all be using next year. We tried them briefly here in Aragon earlier this year, but over the three days this week we were able to do a lot more work with them. Also, we wanted to compare our new found performance with what we had when we raced here in June. Aragon is a demanding track and good acceleration and power are important and we found our performance gain has increased enormously and that has made all of us at FIXI Crescent Suzuki pretty happy.
"Over the three days we've done a lot of work on the electronics -because of the difference in the wheel size - and have also been able to test a couple of Yoshimura engines and get some really good feedback. The team has tried some different chassis combinations - once again to do with the 17 inch wheels - so that we can get the very best out of the bike. We started the test on 16.5 inch wheels and the bike as it finished the season and Leon managed to break the lap record on day one. The acceleration and top speed have been improved and once again it shows how far we've come since the eighth round. Leon's great lap times on the 17 inch wheels are a bonus and his performance here bodes well for the future.
"This was Josh's first time at the track, so he spent the first day learning it and, to make his life easier, we started him off on 16.5 inch wheels. The FIXI Crescent Suzuki is completely different to his championship winning bike in Australia and so he's had that to learn that as well. He's put in a lot of work during these tests and, all things considered, I think he's done a terrific job, despite the technical problems which held up his progress today. Overall, I'm really, really pleased with these tests. According to the Pirelli technician, if we'd been racing, we would've been challenging for the podium and that's a great feeling with which to end the season."
Aragon Test Overall Times: 1. Tom Sykes (Kawasaki) 1'57.6: 2. Max Biaggi (Aprilia) 1'57.8: 3. Leon Camier (FIXI Crescent Suzuki) 1'58.1: 4. Eugene Laverty (Aprilia) 1'58.1: 5. Michel Fabrizio (Aprilia) 1'58.4. 9. Josh Waters (FIXI Crescent Suzuki) 2'00.2.
---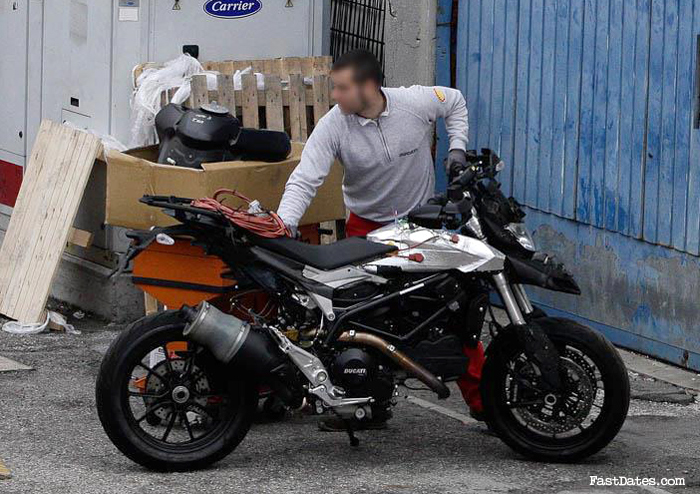 Ducati Spy Shots!
Pictured above in a side alley at Ducati is this prototype Desmodue powered bike which is probably the next generation Hypermoto as indicated by its high handlebars with lever guards and folding mirrors, although it could just as easily be a new generation Monster. Obvious is a new lightweight trellis tube frame and styling cues from the new Multistradas including the big high mounted front fender, sharper styled bodywork and the optional rear luggage rack. Not obvious in this photo is the engine which looks to be a new shallow sump 4-valve watercooled powerplant. We think a new generation Monster / Streetfighter could really benefit from a more comfortable and practical redesign like this.
Pictured below is another picture we found floating around the internet which could be anything. The bike is obviously the current new 1199S Panigale Superbike with the full race Termignoni Exhaust System and the bodywork decorated in Team Althea Ducati World Superbike livery. It could be a new Special Edition model as is typical with Ducati and might be introduced at EICMA as a 2013 model. However the bike does not have any street lighting equipment, mirrors, and is using race bodywork, but it can't be a race bike if it has the OEM electronic suspension and other stock equipment, and doesn't have number plates. So stayed tuned....


---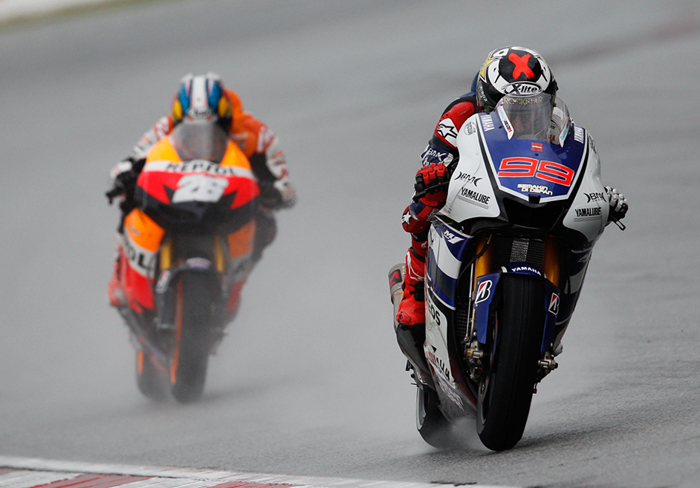 Again this week Lorenzo (99) took the lead off the start, soon to be reeled in by Pedrosa (26). Lorenzo only needs to finish in the top 10 at the remaining 2 rounds to clinch the Championhip, even if Pedrosa wins both races.


2012 MotoGP World Championship, Round 16 of 18, Sepang, Malaysia
Pedrosa Increases His Title Chances at Rain Shortened Malaysia Race
Sepang, Malaysia, Sunday, 21 October 2012 - In a dramatic race hit by torrential rain and a raft of crashes at the Malaysian Motorcycle Grand Prix in Sepang it was Repsol Honda Team's Dani Pedrosa who put in a wet-weather master class to take the win ahead of Jorge Lorenzo and Casey Stoner.
In a race that was declared wet from the start, it was Yamaha Factory Racing's Lorenzo who got the holeshot ahead of Pedrosa. Ducati Team's Valentino Rossi got a good start from 11th to move into fourth within the first lap. Monster Yamaha Tech 3's Andrea Dovizioso, who had a bad start, was carving his way through the pack and soon got past Rossi into fourth to chase down Repsol Honda's Casey Stoner in third.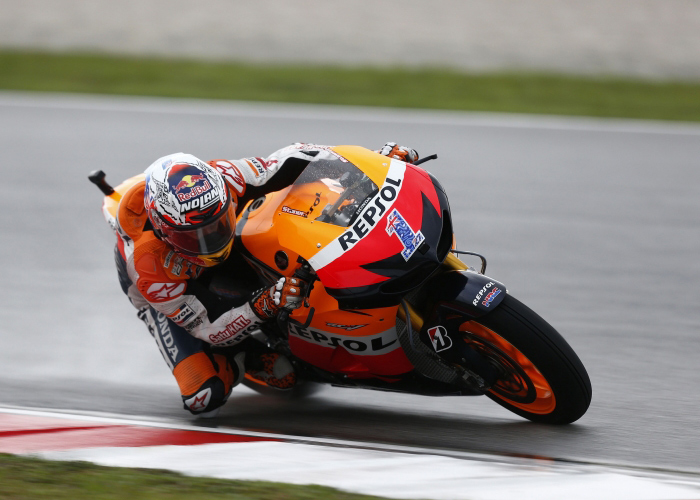 Casey Stoner was closing on the two race leaders when the race was stopped.

Lorenzo, having opted for the softer option wet rear tyre, had a small margin over Pedrosa with 18 laps to go, who had the harder rear tyre. All Yamahas on the grid as well as Cardion AB Racing's Karel Abraham had opted for the soft-rear, hard-front combination, with all others running with hards front and rear. A lap later however and Pedrosa was breathing down Lorenzo's neck having closed the gap to a fraction of a second.
Further afield Stoner was leading a group, about five seconds off the leading duo, with Dovizioso, Rossi, LCR Honda MotoGP's Stefan Bradl, Ducati Team's Nicky Hayden, San Carlo Honda Gresini's Álvaro Bautista and Tech 3's Cal Crutchlow. With 12 laps remaining, Pedrosa was continuing to stick to Lorenzo's rear wheel as the pair looked locked in a stalemate out on track. Further back on the same lap, Yamaha's Bes Spies suffered a heavy crash out of tenth place, putting a premature end to his race. He was taken to the medical centre to check on a shoulder injury.

Rossi also dropped from behind Dovizioso back into ninth, as his teammate Hayden fought his way up to fifth. A lap further on and it was drama for Dovizioso as he also slid out of the race, which continued to be pummelled with rain. It was in the final turn of this lap that Pedrosa made a move stick on Lorenzo to take the lead just over the halfway point and the Repsol rider instantly looked more comfortable in front pulling a small gap. In the meantime, NGM Mobile Forward Racing's Colin Edwards retired with a mechanical option.

As the grid headed into lap nine there were further crashes in the final turn as Crutchlow slid off, followed almost instantly in the same place by Power Electronics Aspar's Randy de Puniet. It was a crash strewn lap, with Bradl also losing the front of his satellite Honda, and Avintia Blusens' Iván Silva also crashing out. Back on track Rossi looked in his element as he squeezed past Bautista into fifth. Things were also getting interesting at the front as Lorenzo was being not only dropped off by Pedrosa, but also being closed down by Stoner at a very quick rate.

The rain was coming down heavily with 15 laps left, and Lorenzo suffered a very scary moment, where he saved a near crash just seconds before the Red Flag was shown due to safety concerns. After much deliberating as to whether a re-start would be possible, conditions deteriorated, and the win was awarded to Pedrosa, with Lorenzo and Stoner completing the rostrum. This now puts Pedrosa within 23-points, less than one race-win, of title rival Lorenzo, with 50-points still up for grabs in the final two races. Hayden recorded a fantastic fourth, ahead of Rossi, Bautista, Barberá, De Puniet's teammate Espargaró, Paul Bird Motorsport's James Ellison and Abraham.
Dani Pedrosa, Repsol Honda: race winner : "This victory is really amazing for me. It's the first time I've won in the wet in my life and I'm really, really happy. I want to thank my team and the people who helped me to get here because when I started racing in these conditions I was weak and they know how difficult it's been during all this time! Jorge set a really high pace at the beginning of the race and I remained calm to stay with him. I knew he was on a soft rear tyre and he could pull out some good laps at the start. Lap by lap I got a little more confident and I could still push and at half way in the race I overtook him and built a good gap. Some laps later the rain came down heavy and it was hard to stay on the bike. I was lucky to be able to win this race, and also Jorge to finish second because he was almost on the ground. So, I'm happy for the victory, but especially happy to be able to dedicate it to Ginés [Guirado], a good friend and member of the Repsol Honda Team that sadly passed away yesterday. This one is for you!"
Jorge Lorenzo, Position 2nd - Time: +3.774: "If we were riding at 20km per hour it is easy to stay on the bike but it is very difficult to find the limit in these conditions. They made the right decision to stop the race, for us it was great because we might otherwise have finished on the ground and crashed. We used the soft rear where Dani and Casey used the harder one. When the conditions were ok they used less of the centre of the tyre so when the conditions became worse they had more to play with."
Casey Stoner, Repsol Honda: 3rd : "At the start of the race, I would have been very happy for a podium. I was considering not taking part in the rain at all as the risks were very high – if I had come off the bike again and hit my ankle, it would have been game over for the rest of the season. As the race progressed I slowly got my confidence back and I was working on different things as I hadn't ridden in the wet in quite some time. I slowly began to catch the front two, but unfortunately ran out of time as the red flagged the race. In a lot of ways I'm disappointed, but I'm happy with the points haul we took today and another podium."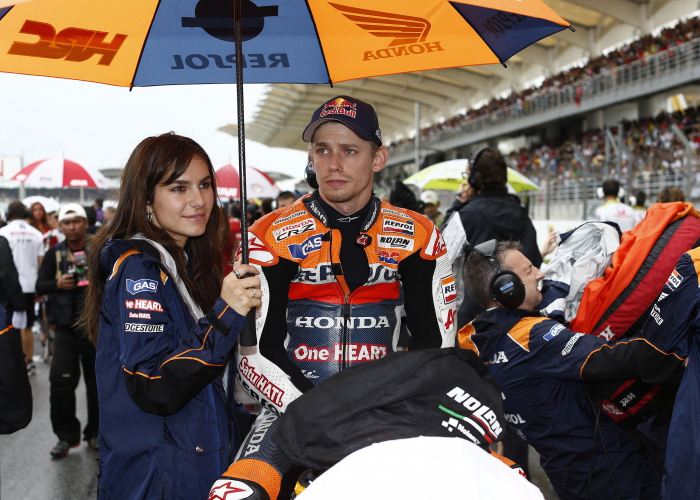 Casey on the grid with wife Andrea, not looking too happy about racing in the rain, though he would prove to be the quickest.
RESULTS SEPANG MOTOGP RACE: (13 laps = 72.124 Km)
POS / RIDER / NAT. / TEAM / MOTORCYCLE / TIME / KM/H / GAP
1 / Dani PEDROSA / SPA / Repsol Honda Team / HONDA / 29'29.049 / 146.771 /
2 / Jorge LORENZO / SPA / Yamaha Factory Racing / YAMAHA / 29'32.823 / 146.459 / 3.774
3 / Casey STONER / AUS / Repsol Honda Team / HONDA / 29'36.193 / 146.181 / 7.144
4 / Nicky HAYDEN / USA / Ducati Team / DUCATI / 29'39.567 / 145.904 / 10.518
5 / Valentino ROSSI / ITA / Ducati Team / DUCATI / 29'45.808 / 145.394 / 16.759
6 / Alvaro BAUTISTA / SPA / San Carlo Honda Gresini / HONDA / 29'46.325 / 145.352 / 17.276
7 / Hector BARBERA / SPA / Pramac Racing Team / DUCATI / 30'19.331 / 142.715 / 50.282
8 / Aleix ESPARGARO / SPA / Power Electronics Aspar / ART / 30'20.634 / 142.613 / 51.585
9 / James ELLISON / GBR / Paul Bird Motorsport / ART / 30'25.725 / 142.215 / 56.676
10 / Karel ABRAHAM / CZE / Cardion AB Motoracing / DUCATI / 30'26.671 / 142.141 / 57.622
11 / Danilo PETRUCCI / ITA / Came IodaRacing Project / IODA-SUTER / 30'31.854 / 141.739 / 1'02.805
12 / Michele PIRRO / ITA / San Carlo Honda Gresini / FTR / 30'31.940 / 141.733 / 1'02.891
13 / Andrea DOVIZIOSO / ITA / Monster Yamaha Tech 3 / YAMAHA / 30'58.038 / 139.742 / 1'28.989
Pole Position: Jorge LORENZO 2'00.334 165.978 Km/h
Fastest Lap: Dani PEDROSA 2'14.670 148.309 Km/h Lap 7
Circuit Record Lap: Casey STONER 2'02.108 163.566 Km/h 2007
Circuit Best Lap: Jorge LORENZO 2'00.334 165.978 Km/h 2012
CHAMPIONSHIP POSITIONS TO DATE:
1 LORENZO 330, 2 PEDROSA 307, 3 STONER 213, 4 DOVIZIOSO 195, 5 BAUTISTA 154,
6 ROSSI 148, 7 CRUTCHLOW 135, 8 BRADL 125, 9 HAYDEN 114, 10 SPIES 88,
11 BARBERA 79, 12 ESPARGARO 63, 13 DE PUNIET 53, 14 ABRAHAM 43, 15 PIRRO 30.
---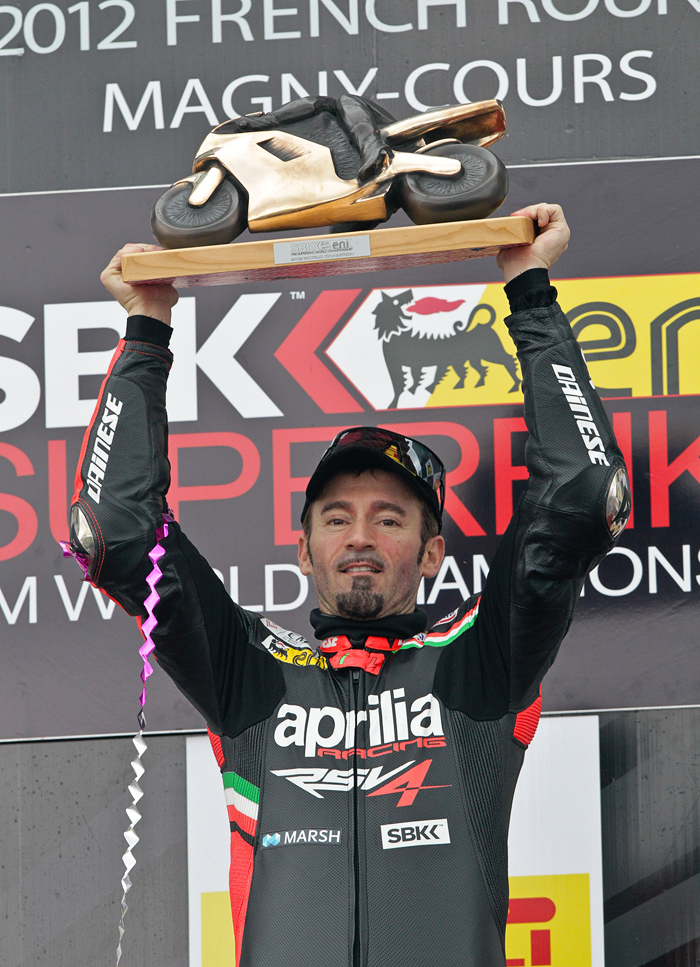 Max Biaggi celebrates his 2012 World Superbike title on the podium with his new Suomy replica helmet.
2012 FIM Eni World Superbike Championship, Round 14 of 14, Magny-Cours, France
Biaggi, Melandri and Sykes take it down to the wire
2012 Superbike Season Finale Showndown at Magny-Cours

Magny-Cours, France, October 8-10th 2012 - The 2012 Eni SBK World Superbike Championship went down to the Final Lap, of the Final Race of the Final Round in the most exciting and dramatic way possible for the history books and fans of the world's premier production bike based roadracing series. Going into the Final Round, Aprilia's Max Biaggi had a seemingly insurmountable 33-points lead to garner his 2nd world title for the Italian marquee, and only had to finish in the top 10 of both races where 25 points were up for grabs in each of the two Races. While his two remaining challengers, Tom Sykes on the factory Kawasaki and Marco Melandi on the factory BMW would pretty much have to finish on the podium of both races while their challengers did poorly. At the end of the day Max Biaggi would win his 2nd World Title for Aprilia with a 1.5 point margin at the finish. The Italians, Japanese and British were ecstatic with the 2012 SBK season results, while back in Munich another World War had begun with encouraging victories, but ended in humiliating defeat. COMPLETE RACE COVERAGE
Above" The 3 new World Champions in Supersport, Superbke and Superstock. Click to go BIG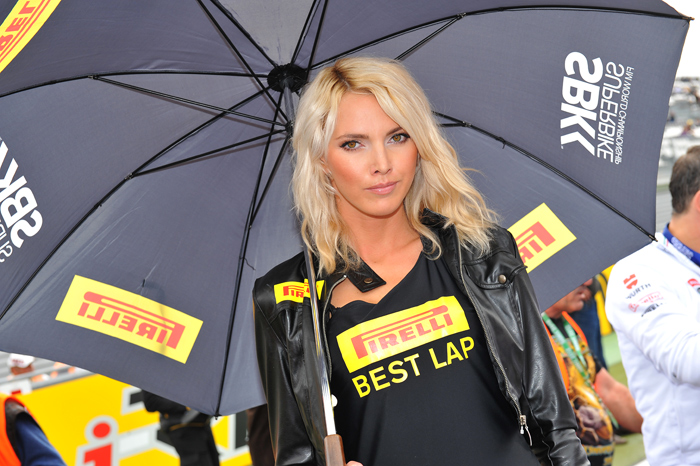 FastDates.com Calendar Kitten and SBK Grid Girl Petra strut the grid for Pirelli at Magny-Cours. Look for her in the next 2014 FastDates.com Calendars. Photo by Max Olina. Complete Magny-Cours Race Covergae HERE
---
2012 British Superbike Championship, Round 13 of 13, Brands Hatch, GB
Tripple Wins secure Shane "Shakey" Byrne his 3rd British Superbike Championship
Brands Hatch, Sunday 14th October 2012 - Shane 'Shakey' Byrne sealed his third British Superbike Championship in emphatic style with a superb triple victory at the final round at Brands Hatch in Kent this weekend. Aboard the Rapid Solicitors Racing Team Kawasaki, the Isle of Sheppey rider was in imperious form around his local track as he looked to defend a nine point lead coming into the final round.

Saturday's Race One of Three saw Byrne lead from the start and was still in front when the red flags came out to stop the race following a brief rain shower meaning he took maximum points to take into today's final two races. Holding an 18 point advantage going into the penultimate race, Byrne was soon in command knowing a victory would seal his third title if main rival Josh Brookes finished lower than second. Byrne crossed the line first with Brookes in second meaning the title decider for the 2012 MCE Insurance British Superbike Championship would go to the final race.

In front of another massive Brands Hatch crowd, Bryne shadowed race leader Brookes in the knowledge that a lowly 14th place finish would give him the crown to add to his 2003 and 2008 titles but he wasn't going to settle for second and took the lead with a couple of laps to go.
To the roars of his local fans, Shakey took the victory and with it the title to make him unbeaten around the Brands Hatch GP track in seven races. It also meant he took his tally to 41 BSB victories to move to within two wins of record holder Ryuichi Kiyonari.

To add to a memorable day for the Penrith-based PBM team, newly crowned Metzeler Superstock 1000 Champion Keith Farmer also took victory to add to the celebrations whereas Stuart Easton impressed over the weekend to claim a best result of fifth in Saturday's BSB race.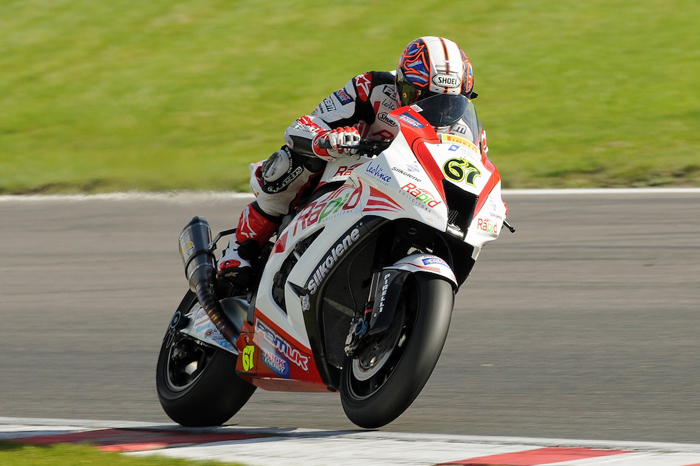 Shane Byrne: "That's not bad for a weekend's work and whereas the previous two British titles I've won have been wrapped up well in advance this one went right down to the final race so it's probably the hardest. I'd like to pay tribute to the team for giving me the tools to do the business this season and it's great to work with Paul Bird once again. What it now means is I have to think about coming back here next year to defend the title as I'd like to beat the record of three championship victories achieved by Niall Mackenzie and Ryuichi Kiyonari!"

Paul Bird, Team Owner: "This is our best championship win to date and to win both the British Superbike Championship and the Superstock 1000 Championship, we have also won most races which is testament to the team who have done a brilliant job. It's also good to secure Kawasaki's first BSB title for 20 years. Considering the pressure Shakey was under he rode exceptionally well and to go out and win the final race when he didn't need to was simply amazing. These are exciting times for the team and we would love to retain Shakey's services next year, whether it be in MotoGP or BSB as we will be contesting both championships again. We said we were only coming back to win the title and that's what we have done and I'd like to pay tribute to our sponsors, especially Rapid Solicitors and everyone else who has made this possible, you all know who you are. Well done to Keith who has done an awesome job for us this year and also to Stuart who has had a very testing year on the back of his injuries, I need to sit down with both riders and discuss the future with them."
MCE British Superbike Championship Race One 15 laps


1 Shane Byrne (Rapid Solicitors Kawasaki)
2 Tommy Hill (Yamaha)
3 Josh Brookes (Suzuki)
4 James Westmoreland (Honda)
5 Stuart Easton (Rapid Solicitors Kawasaki)
6 Barry Burrell (BMW)

MCE British Superbike Championship Race Two 23 laps


1 Shane Byrne (Rapid Solicitors Kawasaki)
2 Josh Brookes (Suzuki)
3 Michael Laverty (Honda)
4 Barry Burrell (BMW)
5 Tommy Bridewell (BMW)
6 Tommy Hill (Yamaha)
7 Stuart Easton (Rapid Solicitors Kawasaki)

MCE British Superbike Championship Race Three 20 laps


1 Shane Byrne (Rapid Solicitors Kawasaki)
2 Josh Brookes (Suzuki)
3 Tommy Hill (Yamaha)
4 Tommy Bridewell (BMW)
5 Barry Burrell (BMW)
6 James Westmoreland (Honda)
12 Stuart Easton (Rapid Solicitors Kawasaki)

Final Championship Standings (after 12 rounds)


1 Byrne (Rapid Solicitors Kawasaki) 683pts
2 Brookes 655
3 Hill 612
4 Lowes 584
5 Laverty 581
6 Bridewell 577
10 Easton (Rapid Solicitors Kawasaki) 135

Metzeler National Superstock 1000cc Championship 16 laps
1 Keith Farmer (Rapid Solicitors Kawasaki)
2 PJ Jacobsen (Suzuki)
3 Howie Mainwaring (BMW)
4 Hudson Kennaugh (Kawasaki)
5 Victor Cox (Kawasaki)
6 Daniel Johnson (Kawasaki)

Final Superstock Championship standings


1 Farmer (Rapid Solicitors Kawasaki) 207 pts
2 O'Halloran (Honda) 157
3 Cox 142
4 Storrar (BMW) 142
5 Costello (Kawasaki) 114
6 Mainwaring 105
---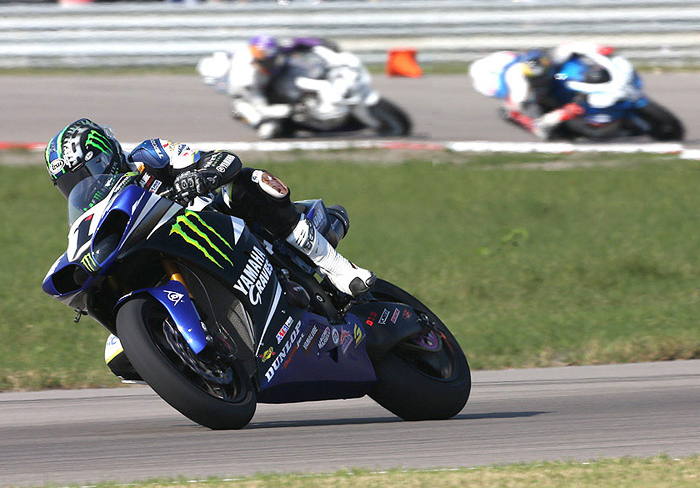 Josh Hayes dominated the 2012 AMA Superbike Championship with 16 race victories in a championship with just Graves Yamaha and Yoshimura Suzuki factory team involvement.

2012 AMA Pro Roadracing Championship, Round 11 of 11, New Orleans, LA
Josh Hayes Completes AMA Superbike Sweep at New Orleans Finale
NEW ORLEANS, LA, October 6-7th , 2012 - Three-time AMA Pro National Guard SuperBike king Josh Hayes closed out his epic 2012 campaign in fitting style. The Monster Energy Graves Yamaha superstar notched up two more blowout victories in Saturday and Sunday's two race double headers to put the finishing touches on the season in front of his home crowd. Hayes tore off from pole in both races and blitzed to his 15th and 16th wins of the season, far and away the most attained in a single-season in the 30-plus year history of the championship. The Mississippian worked his advantage into double digits before easing to the last checkered flag of 2012 with a 9.194-second margin of victory in Sundays last race.

Along with posting the record for most wins in a season, Hayes also established the new mark for most consecutive wins (ten), tied the record for most consecutive poles (eleven) and most poles in a season (ten). He also moved into a tie for second with most SuperBike titles (three), and surpassed Miguel DuHamel to grab sole possession of second-place on the all-time SuperBike wins list (33).

Hayes said of his historic season, "It was the perfect way to end an incredible year. A lot of fans and friends came out and I'm glad I was able to do a good job in front of them. I think we are showoffs and we tend to do some of our best work when people are around. It was just an awesome weekend -- I had a lot of fun." Continued Next Page HERE
---
AFT Sentoh CB750 Iron & Lace Calendar Cover Bike for Sale on Ebay
Oct 20th - AFT Custom's 2012 LA Calendar Motorcycle Best of Show winning bike Sentoh based on a classic Honda CB750, and featured on the cover of the new 2013 FastDates.com Iron & Lace Custom PinUp Calendar, has justed been posted for sale on Ebay by builder and owner Jim Guiffra. Check it out, and if you're interested the "Buy It Now" pice is just $20,000. The bidding closes on Monday October 29th!

http://cgi.ebay.com/ebaymotors/AMD-World-Champion-Cafe-Racer-/300799102876?forcev4exp=true
---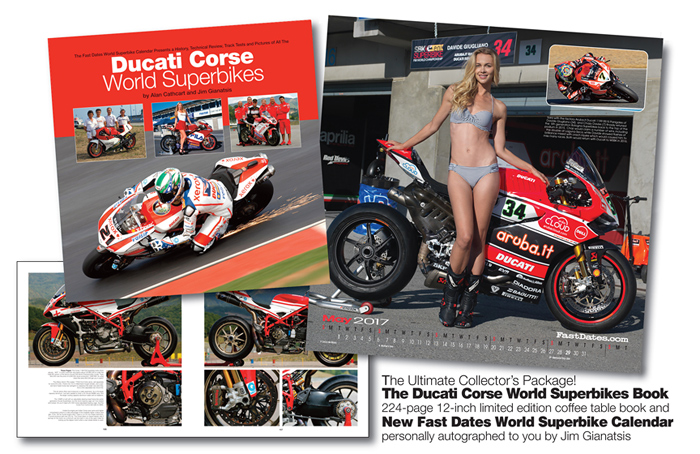 Order Now from Amazon.com USA: USD $69.95 • Amazon.com UK/Europe: UK £55.00 / EUR $55
Exclusive Autographed Collector's Package!
The all new Ducati Corse World Superbikes 224-pg book and the 2013 Fast Date World Superbike Calendar - World Release July 1st 2012
Personally autographed to you (or the name you request on the PayPal.com Order Form) by Jim Gianatsis and shipped direct to you.
For more information or to order the Book or the Calendar individually, unsigned, go to the Sportbike Books and Fast Dates Calendar order pages. $100 Collector's Package, plus $20 USPS Priority Mail Shipping & Handing in the USA.
Ducati Corse World Superbike Book Signings in Los Angeles!
Jim Gianatsis will be doing a signing of his new Ducati Corse World Superbikes Book and 2013 Fast Dates Calendar
in the LA area at these upcoming Ducati Dealer Open Houses:

• Nov 17th, 2012 - SoCal Motorcycles Open House, Brea, CA
Stop by, say hello, and get a personally autographed copy of the new book!
---
Edelweiss adds an exciting new Motorcycle Trip!
2-Weeks ADVENTURE COSTA RICA & NICARAGUA
Enjoy fascinating wildlife, exotic landscape and wonderful routes on this motorcycle tour in Costa Rica and Nicaragua! Travelling to Costa Rica and Nicaragua on a is a one of a kind experience. Active volcanoes, deep rainforests, unknown vegetation and much more are the main highlights of this tour as well as the most stunning beaches! At the very beginning of our tour we ride up to the volcano Irazu and on to Turrialba.

You better sleep well this night, because on the next day's ride you will have to master the highest mountain pass of the Panamericana Highway called Cerro de la Muerte, at an altitude of 10,000 ft. Then we continue to the volcano Poas and La Fortuna where we will enjoy the convenience of a rest day, to take a swim in the hot springs, see the waterfalls or to do some horseback riding.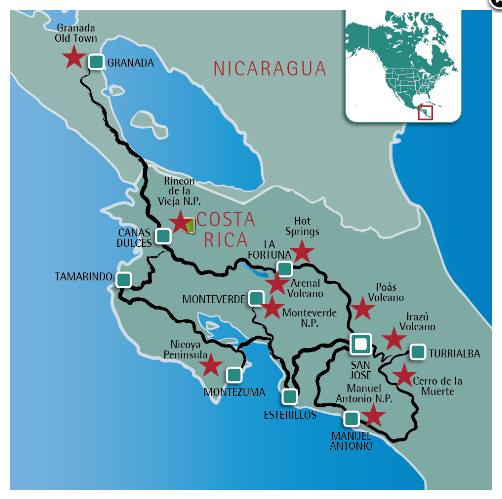 Another overnight in Canas Dulces and we finally cross over into Nicaragua where we first follow the shoreline of its lake before reaching the colonial town of Granada, where we soak in all the sights this wonderful town has to offer! After having had two overnights in this buzzling city we cross the border back to Costa Rica and spend some time along and at the coast. A visit of Monteverde cloud forest is a must, before we get to one of the most splendid beaches of Costa Rica – Esterillos. Here we will spend our last night to enjoy the local life before returning to San Jose.
The Costa Rica /Nicaragua Tours are schedued to take place in February/March of 2013 and 2104.
For more information about this and the other incredible Edelweiss Motorcycle Tours click here:
---
There's more! Go to Pit Lane News Previous Week

Also Visit: Fast Dates Calendar News • Iron & Lace Calendar News
Calendar Girl News • Meet the Models • Paddock Garage

MEMBERS CORNER! Calendar Kittens, Paddock Garage, Iron & Lace Garage


Amazon.com Motorcycle Products & Apparel Store



MotorcycleSuperstore.com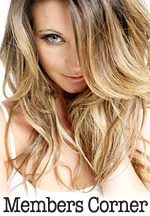 Hot Bikes, Sexy Kittens
Your Exclusive Grid Pass
also includes....
---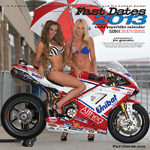 Order the New
2013 Calendars!
with FastDates.com Calendar Kitten, Ducati Corse Grid Girl
and Playboy Playmate
Heather Rae Young!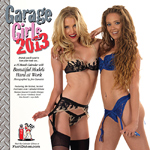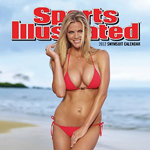 Click for even more Calendars!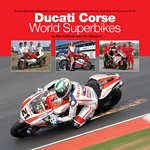 Retail $69.95 ea.
Click to Order from Amazon.com

Ducati Corse
World Superbikes
by Alan Cathcart
& Jim Gianatsis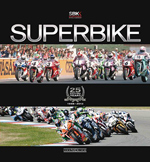 The Official SBK
World Superbikes
1987-2012
25 Year History Book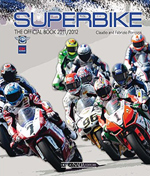 The Official SBK
25th Anniversary
2011-2012 Yearbook
These SBK Yearbooks are the Best Books Ever about World Superbike
They feature awesome color photography of the riders, bike and racing action. The feature a detailed revue of the past season in pictures and statistics, with a detailed look at the bikes and riders.
Plus a technical look data all the bikes, a preview of the upcoming season's Championship!
We buy this every year ourselves and highly recommend it!
SBK World Superbike Video Game
---
FIM introduces World Supebike regulation changes for 2013
Thursday, 18 October 2012 - A swathe of new regulations have been brought in by the FIM and the Superbike Commission to the Superbike and Supersport World Championships and the Supersport 1000 Cup in view of the 2013 season.
One of the main changes in the SBK class is the possibility for riders to enter the pits during the race to change tyres and make any adjustments should climatic conditions alter to make this advisable. As a result races will now no longer be interrupted and will run flag-to-flag. Refueling is strictly prohibited and three mechanics (plus the rider if he wishes to do so) will be allowed to work on the bike, which must remain in the pit lane.
A second important change is that from now on riders on the starting-grid will line up in 3-3-3-3 echelon configuration.
There will also be an across-the-board minimum weight of 165 kg / 363 lbs., a measure that brings 2-cylinder machines down to the same level as 3 and 4 cylinder bikes, as well as mandatory 17 inch aluminum wheels.
In order to further make Superbikes closer in appearance to the road-going machines they are based on, all motorcycles must now have a functioning red safety light mounted at the rear. In addition the exact appearance, shape, size and location of the front headlights of the homologated motorcycle must be respected by means of the application of a plastic or metallic film on the front of the bike. Kawasaki were the first to introduce this aesthetic measure this year, swiftly followed by Honda at the final round.
The same measures regarding rear safety lights have also been introduced into the Supersport and Superstock categories.
2013 FIM Superbike, Supersport World Championships & FIM Superstock 1000cc Cup
Provisional Calendar, Released October 6th, 2012

DATE COUNTRY CIRCUIT
X= WSBK / WSS / STK
24 February Australia Phillip Island X X
10 Mar India Buddh Circuit X X
7 April Spain Aragon X X X
28 April Netherland Assen X X X
12 May Italy Monza X X X
26 May UK Donington X X
9 June Portugal Portimao (STC) X X X
23 June Tba Tba* X X X
30June Italy Imola X X X
21 July Russia Moscow Raceway X X
4 August UK Silverstone X X X
1 September Germany Nurburgring X X X
29 September USA Laguna Seca X
6 October France Magny Cours X X X
20 October Spain Jerez X X X
* Tba

The 2013 World Superbike Calendar looks to grow with one more race meeting next year at the new Buddh track in India. For the USA round Miller Motorsports Park no longer appears on the Calendar in May, with a new American round returning to Laguna Seca aftyer an 8 year absence there, in September. A yet to be confirmed race date venue is held on the Calendar for June 23rd, normally the weekend for Brno Czech Republic
Laguna Seca returns to the World Superbike calendar beginning in 2013
Rome (Italy), Friday 21 September 2012 – Following a three-year agreement between Infront Motor Sports and Mazda Raceway Laguna Seca, the United States Round of the eni FIM Superbike World Championship will take place at the Californian circuit next season and in 2014 and 2015.

The confirmed date for the 2013 event will be 27-29 September, and it marks the return of the championship to the spectacular Monterey circuit for the first time after an eight-year absence. The last World Superbike round was held at Laguna Seca in 2004.

Paolo Flammini, CEO of Infront Motor Sports, declared: "We are absolutely delighted to be returning to Laguna Seca for the US Round for the first time since 2004. Over the ten-year period in which we were last there, we witnessed an extraordinary growth in interest and in overall attendance and we are sure that this event will once again become one of the most prestigious on the calendar. The return of Laguna Seca to the Superbike World Championship, with its six competing manufacturers, will definitely be a boost to the championship's growth in the US market as California has a special tradition and offers significant opportunities for the motorcycle industry, sponsors and media."

"We have a strong history with World Superbike and are thrilled to have them commit to a three-year race schedule," says Gill Campbell, Mazda Raceway Laguna Seca CEO/general manager. "Their return to Mazda Raceway Laguna Seca solidifies our position as THE premier circuit in the U.S. for motorcycle racing."
Meet 2013 Calendar Kitten
Shannon Baucom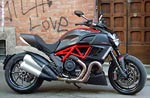 The Devil Made Us Do It!
Testing the Ducati Diavel in Italy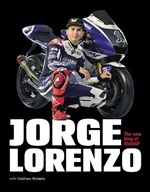 Sudco High Performance & OEM Replacement Parts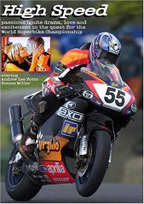 High Speed - the Movie
The best motorcycle racing movie ever made! Filmed on location at the World Superbike races , this an exciting romantic drama staring beautiful British actress Sienna Miller.
---
Ben Spies Injured at Sepang, he will miss
Phillip Island MotoGP
Kuala Lumpur (Malaysia), 22nd October 2012 - Yamaha Factory Racing rider Ben Spies will not attend the Grand Prix of Australia at the Phillip Island circuit this weekend following injuries sustained during the Grand Prix of Malaysia on Sunday 21st October.
Spies fell whilst riding in extremely challenging wet conditions at the Sepang International Circuit. An initial check by the trackside medical centre found no serious injuries however further tests conducted today in Kuala Lumpur have revealed injuries requiring surgery.
The Texan will return to the USA tomorrow, Tuesday 23rd October, to receive treatment for an AC shoulder separation, a cracked rib in the upper chest area and bruising to the lung.
Yamaha Factory Racing will not field a replacement rider at Phillip Island due to time constraints.
Ben Spies - "I'm lost for words. We've had such a tough season with an unbelievable amount of bad luck. We have always gone out there to give it 100% and it was the intention of both myself and my team to continue to do so at Phillip Island.
I took a really hard knock on Sunday and it's now clear from today's tests that I have some injuries that require immediate attention.
It's disappointing to be heading back to the USA now instead of to Phillip Island but it's obviously important to get the right treatment as soon as possible.
I'm sorry for my team and thankful for all the hard work they and Yamaha have put in so far; our current situation is not where we should be".
Ben Spies Undergoes Successful Surgery
in the USA
25/12/2012 - Yamaha Factory Racing rider Ben Spies has successfully completed surgery in the USA on October 23rd to repair torn ligament damage to his right shoulder following a crash in the Grand Prix of Malaysia on the 20th October.

The procedure consisted of the reconstruction of the Coracoclavicular Ligaments torn in the crash and a reduction of a separated Acrimioclavicular joint, aided by a Twin Tightrope device, which is a suture based system. Cadavar tissue was placed to replace and reinforce the Coracoclavicular Ligaments that were torn.

The surgery was successful, Spies will make a full recovery although he will need to remain in a sling for up to 10-12 weeks.
The decision on a replacement rider for the final round of the Championship at Valencia will be clarified by Yamaha Factory Racing following the Phillip Island weekend.
Championship Season at MSD R-N Kawasaki Racing Team India
19 October 2012 - 2012 WSS Champion Kenan Sofuoglu and fourth placed rider Fabien Foret will continue to ride for Kawasaki in 2013, with each joining the expanding MSD R-N Kawasaki Racing Team India set-up.
Already the champion in Supersport in 2007 and 2010, Sofuoglu also won the title in this his first year as a Kawasaki rider, proving the potency of his Ninja ZX-6R while competing as part of the Kawasaki Lorenzini team.
Along the way Kenan won four races in 2012, made 11 starts from the front row and took nine podiums in total. He grasped hold of the championship trophy one round early, at Portimao, despite suffering from a significant early season knee injury and the loss of points after the intervention of race direction at key points along the way.
Foret won two races for his Kawasaki Intermoto Step team in 2012, proving once more that the 2002 World Champion is still a true force at the sharp end of competition in the 600cc division. Fabien has scored 15 WSS race wins in his long career, which has seen him make 140 starts in this class.
The winter testing schedule for Kenan and Fabien, and details and the final shape and size of the overall Kawasaki presence in the 2013 Supersport World Championship, are still under discussion but further details will be released via www.kawasaki-racingteam.eu when they are finalised.
Kenan Sofuoglu: "I will stay with Kawasaki and we will have a good future together hopefully. It is good to be part of the whole Kawasaki project now and my new riding partner is Fabien Foret. I am happy to have him as my team-mate and we should make a strong team together. We will do something new for 2013, in the new team, and they have already been on the podium in 2012, at the last race. I think all together we will make a strong team."
Fabien Foret: "I am very happy to sign with a new team, especially as they were already involved in the championship in 2012. It still feels like a new and exciting project and I will try to bring the best results I can, but I also bring my racing experience. I have a good relationship with the people in the team already. It is great to be on such a strong bike again, as the Kawasaki was the best bike this year. For next year I think I have the best position because although I am in a new team, I am staying on the same bike and I will have the same crew chief as this year. So we will be starting 2013 with the data from 2012 and one year of experience on the Ninja ZX-6R, which is an ideal situation."
Amit Sandill, Director/Team Principal MSD R-N Racing Team India N-Motorsport Limited (UK): "We at MSD R-N, soon to be MAHI Racing Team India would like to welcome Kenan and Fabien to our team. Taking motorcycle racing, at a professional level, into India is going to be very exciting as both of our riders will be involved in race schools here and we hope they will inspire our countrymen to join in this great sport. We are immensely positive and welcome both these fantastic champions on board. This will be a really beneficial move for the sport in India as well as the brand involved. This sport has a great mass appeal to the youth of India and we intend to involve them as much as possible in the growth of the sport in the country.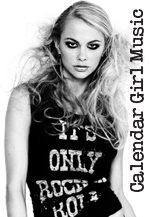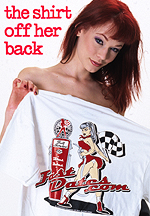 Order the Official
FastDates.com &
LA Calendar Bike Show
T-Shirts!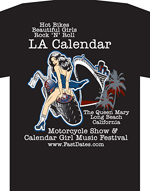 ---
Pirelli Official Tyre Supplier of
SBK World Superbike Season Finale Statement
"With the Magny-Cours round Pirelli closes out an important season, the ninth in a row as sole supplier of all the World Superbike Championship classes. But today was above all a day for the participants to celebrate, that is, the riders and the teams. Pirelli congratulates first and foremost Max Biaggi and the Aprilia Racing team who have achieved a splendid double win in a 3 year period in confirmation of the excellent work done by the entire team in the Championship these past few years. It would be impossible, however, not to mention Biaggi's two fiercest rivals, Tom Sykes on his Kawasaki and Marco Melandri on his BMW, who contributed to making this year an exciting championship down to the last race. This was a Superbike Championship which was marked by an extremely battle between riders from various teams throughout the season. In fact, riders from five different motorcycle manufacturers placed in the top five, demonstrating the excellent work Pirelli has done in developing solutions which work well on different brand bikes.

Our compliments also go once again to Kenan Sofuoglu and the Kawasaki Lorenzini team for their win in World Supersport, as well as to Sylvain Barrier and Michael VD Mark for their respective victories in Superstock1000 FIM Cup and Superstock600 UEM European Championship.

Also, this year (as in 2011), Pirelli decided to provide incentive for our rising stars in European motorcycling who participate in the national Superstock 600 championships: this is why the Pirelli Superstock 600 Series was established last year, a Pirelli initiative which once again provided the most talented riders from the various European STK600 Championships with the opportunity to take part as wild cards in the last European Superstock 600 Championship race held here in France. The 3 riders who placed the highest in the race standings were Italian Franco Morbidelli who races in CIV, Brit Lee Jackson who races in British Superbike and Austrian Marco Nekvasil from IDM. These riders were awarded a memorial tag and also received a monetary price as an incentive for their growth and careers.

In closing, we are very satisfied with the work done this year in the factory derivative Championship and we are ready to take on the next season where we will be faced with a new challenge: the new 17 inch tyres which will replace the 16.5" format which have been used until now in the World Superbike Championship." - Giorgio Barbier, Racing Director Pirelli Moto