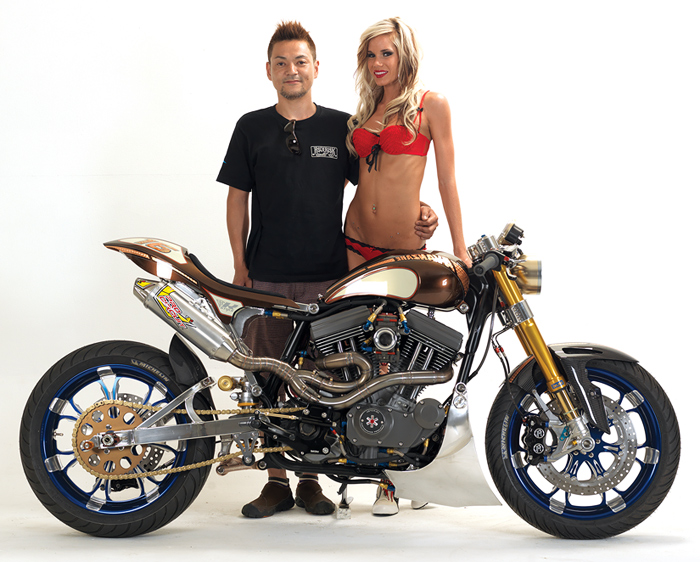 Ladies and Gentlemen, presenting 2012 LA Calendar Best of Show winner Hoshikawa Hideki and his bike 'Asterisk'
together with World Superbike Calendar Kitten Kinsey Ray.
Japanese Builder Hoshikawa Hideki flys in to take Best of Show
2012 LA Calendar Motorcycle Show
Calabasas, California, USA, Sunday July 22nd, 2012 - The 21st edition of the LA Calendar Motorcycle Show sponsored by Russ Brown Motorcycle Attorneys moved into its third decade as the premier outdoor streetbike event in America featuring its top Celebrity Builders, the Calendar Bike Building Championship & Concours d' Elegance, selected Vendors and Exhibitors, Calendar Girl Music live performances, now taking place at a beautiful new new location on the lawn and under the shade trees of the Calabasas Inn, in the upscale Los Angeles suburb of Calabasas, California. The first decade of the Calendar Motorcycle Show took place at the exciting Museum of Flying at the Santa Moncia Airport, then expanded in 1991 to two days the larger Queen Mary event facility in Long Beach venue alongside the Pacific Ocean.
For the fourth time in eight years, a top Japanese builder used the LA Calendar Show to mark his entrance onto the world stage, following in the foot steps of former Best of Show and Class winners Shinya Kimura / Chabott Engineering, Kenji Nagai / Ken's Factory and Hiroyouki Hirata of BB Custom Factory who all flew in with their bikes from Japan to compete at the Calendar Show.
Garnering Best of Show in this year's 2012 Calendar Bike Building Championship was Hoshikawa Hideki / Asteris9.com from Miyagi, Japan who flew in to Los Angeles for just 3 days with his latest custom bike build to compete and take top honors, then fly back home to Japan. Celebrity judges Jim Gianatsis, Jim Giuffra, Chris Redpath and Michael Schacht choose Hideki's 883cc Sportster based naked custom sportbike as the most exciting, original and well constructed custom at the Show. Hideki said he built it for a customer who gave him a blank check and no instructions whatsoever, other then to ask him to build the best bike he could build. Hideki is not necessarily a sportbike enthusiast, he builds all kinds of Harley based customs, but this time he said, he wanted to concentrate on the quality of the design and build, utilizing real sportbike feel and performance for the now highly modified 1200cc Sportster engine.
Complete 2012 LA Calendar Motorccyle Show Coverage Here
---
The Fast Dates World Superbike Calendar Presents a History, Track Tests,
Team Rider and Designer Interviews, and Pictures of All the
Ducati Corse World Superbikes
by Alan Cathcart and Jim Gianatsis
The year 2011 marked the 25th anniversary of the creation of the first, of a now legendary line of Ducati Superbikes with their trademark Desmoquattro 4-valve V-twin motors hung below a lightweight trellis tube frame, race bikes that went on to dominate the then new World Superbike Championship for next quarter of a century. Arguably the most significant motorcycle engine design of any kind since the CB750 Honda, and surely the most remarkable and successful volume production engine format ever used in world competition by any single manufacturer, the venerable Ducati 4-valve desmodromic engine recorded to this date 14 World Superbike Championship titles in the 24 year history of the world's premier production bike based world roadracing series.
This book chronicles the development and history all five Ducati Corse World Superbike generations from the first Desmoquatro 750cc prototype to the revolutionary new 1199 Panigale Superquadro together with interviews with the Ducati designers, team racers and managers. This unique insight is provided by renown motorcycle racer and journalist Alan Cathcart who has had the envious and often exclusive opportunity to test ride every one of the factory Corse race bikes over the last 25 years, those tests of which are featured here. Photography of the Corse factory bikes and riders is proved by the world's most renown motorcycle roadracing photographers.
Adding icing to the cake, and to warrant this big collectors edition book, included are the incredible high definition photographs of the bikes taken by former racer, motojournalist and photographer Jim Gianatsis as featured in the Fast Dates World Superbike Calendars from those years with the beautiful Fast Dates Calendar Kittens who served as the official SBK and Team Ducati Corse grid girls at the race where the bikes were photographed.
This 224 page large format collectors edition book begins with a Forward by Massimo Bordi, legendary designer of the Desmoquattro back in 1974. Then it dives into the technical details, revealing photography and Cathcart's exclusive tests of every one of the factory Ducati Corse Superbikes from the First Generation 851cc Daytona raced prototype, to Doug Polen's Fast by Ferracci 888/926 World Championship winner. Followed by the Second Generation 916/955 machines, the Third Generation 999, the Fourth Generation 1098/1198, to the all-new Fifth Generation 1199 Panigale. Included along the way are interviews with all the factory riders and World Championship winners from Doug Polen, Carl Fogarty and Troy Corser, to Neil Hodgson, James Toseland, Troy Bayliss, Nori Haga and Carlos Checa. While the tradition continues with a detailed look at the new 1199 Panigale and a interview with the designers who created it, and an exclusive track test of the newest Generation 1199 bike by Cathcart and 3-time World Superbike Champion Troy Bayliss.
This is a must have book for every Ducati and motorcycle roadracing enthusiast. Gianatsis Design has produced and published the book in a beautiful large format 12x12-inch hard cover design coffee table style Collectors Edition Book featuring 224 pages in full color printed on 100# dull coat art paper for the best possible reproduction and presentation. Books are individually shrink wrapped and have a printed cover wrapper.
Suggested Retail: USD $69.95 • UK £55.00 • EUR $55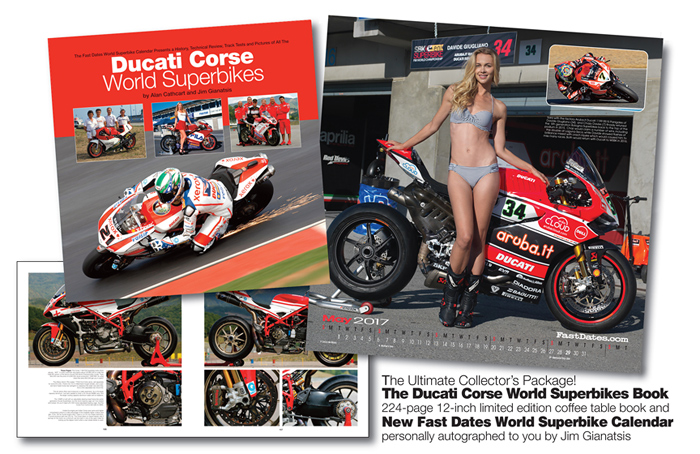 Exclusive Autographed Collector's Package!
The all new Ducati Corse World Superbikes 224-pg book and the 2013 Fast Date World Superbike Calendar - World Release July 1st 2012
Personally autographed to you (or the name you request on the PayPal.com Order Form) by Jim Gianatsis and shipped direct to you.
For more information or to order the Book or the Calendar individually, unsigned, go to the Sportbike Books and Fast Dates Calendar order pages.
---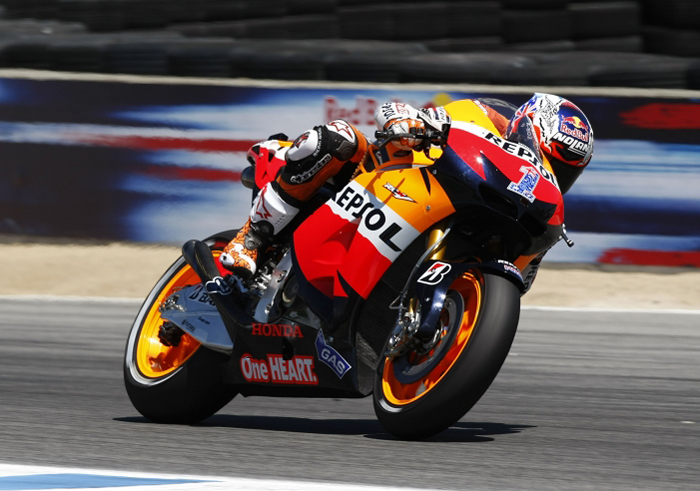 FIM MotoGP World Championship, Round 10 of 18, Laguna Seca, USA

Casey Stoner calls the Corkscrw home with a 3rd Laguna Seca victory
Laguna Seca, CA, USA, July 30th 2012 - Repsol Honda rider Casey Stoner heads into the summer break on a high after winning his fourth race of the year by making a wise tyre choice on a sunny day at the U.S. Grand Prix at Mazda Raceway Laguna Seca. Jorge Lorenzo (Yamaha) was second and Dani Pedrosa (Repsol Honda RC213V) third and on the podium for the sixth race in a row, equalling his longest sequence of successive podiums in MotoGP. The win was Stoner's second in a row and third overall at the tortuous circuit within sight of the Pacific Ocean east of Monterey, California, making him the winningest rider at the track.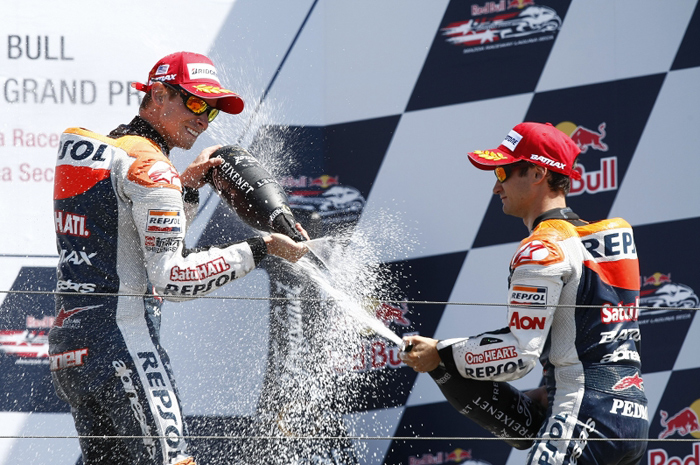 And it also allowed Stoner to take five points out of the championship lead of Lorenzo. Stoner, who will spend his summer break traveling around the U.S. with his family, now has 173 points to 182 for Pedrosa and 205 for Lorenzo.
Yamaha Factory Racing rider Jorge Lorenzo put in an impressive performance today at Laguna Seca to take second in the Grand Prix of USA. Having started from pole, Lorenzo took the hole shot closely followed by rival Dani Pedrosa into turn one. He held the lead until a small incident in the corkscrew allowed Casey Stoner to close the already small gap, the Australian then passing him on the main straight on lap 21. Lorenzo tucked in behind in second, crossing the line just 3.429 seconds later.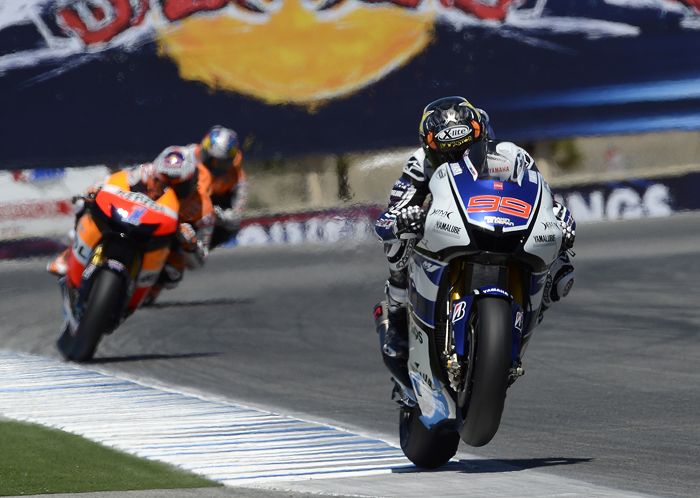 Race leader Lorenzo (99) gets chased down by the Repsol Hondas of Casey Stoner (1) and Dani Pedrosa (26).
The grand prix played out in a fashion very similar to last year's race. Lorenzo got out to an early lead in front of Pedrosa, with Stoner taking second from his team-mate on the third of 32 laps of the 3.61Km, 11-turn circuit. Stoner was one of the few prototype riders to use the soft, rather than the medium rear tyre, and that would prove the key to victory.
Stoner stalked Lorenzo for more than half the race before setting up his pass. As he had done last year, he made pass in turn 1, more of a kink than a turn, a left taken in sixth gear leaned over. The difference was that this year he went up the inside, last year it was the outside and five laps sooner, on lap 22 rather than lap 27. Lorenzo tried to stay with Stoner, and did for a number of laps, but in the later stages Stoner pulled away to a definitive victory. The margin of victory was 3.429s.
Ben Spies (11) was holding down 4th place as top American, ahead of Monster Yamaha Tech 3 riders Dovizioso (4) and Crutchlow (35), until he crashed out at the bottom of the Corkscrew reportedly because of swingarm failure. Ben had shocked the Yamaha team 2 days earlier by announcing he had no interest in renewing his contract with Yamaha for 2013, and that he was considering other offers from teams in MotoGP and World Superbike.
Fellow Yamaha Factory rider Ben Spies continued to experience his run of bad luck for his home race. Spies made a strong start from the grid, slotting in behind Casey Stoner in fourth through the first turn. Although unable to stay with the front pack the Texan was looking comfortable holding fourth ahead of Andrea Dovizioso until a dramatic crash in the corkscrew on the 22nd lap caused by a technical failure with his swingarm.
The Monster Yamaha Tech 3 Team finished in high spirits after Andrea Dovizioso and Cal Crutchlow rode to a fantastic double top five finish in this afternoon's US Grand Prix at Laguna Seca. Dovizioso made one of his trademark blistering launches off the start line to quickly seize fifth place from Crutchlow on the run to the tight first corner.
The Italian then quickly found a fast and consistent rhythm in front of a sun-drenched Californian crowd of 52,677 fans to mount a charge towards Factory Yamaha rider Ben Spies. Spies needed to call on all his vast home track knowledge to keep Dovizioso at bay. But a crash for the American exiting the spectacular Corkscrew section on lap 22 when his swingarm broke put Dovizioso into fourth position.
Dovizioso though never had the opportunity to relax, as a determined Crutchlow had remained glued to the back of his YZR-M1 machine right from the first lap. In what has now become a familiar sight in the 2012 MotoGP World Championship, the two Monster Yamaha Tech 3 machines were locked in an exciting battle together right until the chequered flag. British rider Crutchlow couldn't have put in a bigger effort to try and take fourth, but Dovizioso was once again brilliantly calm and collected under pressure. Dovizioso secured his eighth top five finish of the season by just 0.177s and he strengthened his grip on fourth in the overall World Championship standings having moved to 121-points.
Coming into the Laguna Seca race weekend Nicky Hayden (69) got the good news that Ducati would keep him for another year on their MotoGP team despite four years of lacluster resuts and no wins. The reason? Fustrated Teammate Valention Rossi (46) might be returing to Yamaha for 2013.
Nicky Hayden took sixth place at the United States Grand Prix after putting in a determined and calculated performance, and despite being slowed a bit by an early encounter with Bautista. Just off the start, the American and Spaniard touched lightly, causing Hayden to lose some ground, and despite riding at a pace similar to that of the group that was fighting over fourth place, he was only able to catch Bradl.

Nicky Hayden (Ducati Team) 6th - "The day got off to a rough start, as I crashed in the warm-up session when I didn't have enough heat in the brakes. For the race, my bike was the best it's been this weekend, and I got a good start, but then Bautista and I touched. I thought maybe I knocked my brake lever, so I was too careful in turns one and two. Then I got held up behind Bautista and lost a gap to that second group, which I spent most of the race trying to bridge. I got to Bradl, but the other guys were already gone, although I didn't have the pace to run with them anyway. I was fighting the bike and running wide in the turns, but I pushed until the end. It's frustrating to struggle so much all weekend at Laguna, and it's not the way I wanted to go into the two-week break, but I think we can put up a better fight at Indy."
Valentino Rossi had a more difficult race, struggling with a setup with which he wasn't able to ride quickly enough all weekend. Two laps from the end, a fall when braking for the Corkscrew prevented him from earning eighth-place points.

Valentino Rossi (Ducati Team) DNF - "I wasn't fighting for the podium, but a crash like that at the end of the race is still disappointing because I had done the whole race like the first lap and my rhythm wasn't fast at that moment. Still, I lost the front when I was approaching the Corkscrew, when the bike was vertical, right when I touched the brake, a bit like happened at Silverstone. We have a real problem: again today, we had a hard time getting the front tyre to work, and it was like new after thirty laps. Fortunately I'm fine, although it was a pretty hard crash. It wasn't a great weekend. Now we have a short break, two important weeks, and then we'll see how it goes at Indy."
Stefan Bradl (LCR Honda MotoGP RC213V) finished seventh in his first race at the circuit that allows no rest. Bradl lost the battle for sixth to Nicky Hayden, the American Ducati rider who has more experience at the track than any other rider. That Bradl was able to be competitive in his first race was impressive. His confidence was stronger early in the race with a full fuel load. Later, when the level went down and the weight came off the front, he developed a front end chatter that caused him to slow. Bradl heads into the summer break with a gaping lead over Michele Pirro, the San Carlo Honda Gresini rider whose day was less successful.
Alvaro Bautista (San Carlo Honda Gresini RC213V) had a lonely ride to ninth. Bautista had crashed in the morning, and he had crashed earlier in the weekend. On his previous two visits to the track, on a different brand, he had crashed in the race. It was important for him to finish and go into the summer break with some confidence.
Team-mate Pirro (San Carlo Honda Gresini FTR Honda) did not make it past the second corner in his first visit to Laguna Seca. The Italian MotoGP rookie was run off the track by another rider in the Andretti Hairpin left turn and crashed. It was his third DNF in a row, none through his own fault.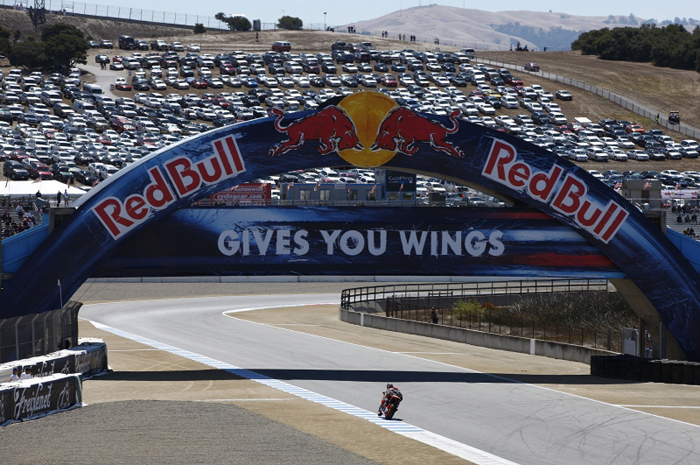 Lorenzo leaves Laguna having increased his Championship lead to 23 over Pedrosa, Spies remains in 10th with 66 points. The summer break arrives with Honda tied for the Constructor's Championship lead, and Repsol Honda holding an 84 point lead in the Team's Championship. The series now goes into the summer break, a gap of two weekends before the 11th round of the MotoGP World Championship on August 17-19.
Casey Stoner, Repsol Honda: Race winner - "It's been a difficult weekend for us in general, especially trying to make the hard tyre work. So for the race I decided to go with the soft option and be a little more careful with the tyre, keep a little more traction and not spin so much. At the beginning of the race I tried to move to the front, but Dani and Jorge were riding very good lines and it was impossible to get past. I decided to slow the lap times a little and try to save the tyres until the end and then we could start to come back. I was confident for the entire race that I had enough pace for the win, we just needed to make sure the tyre would last until the end. When we got to the front we put in some good laps and pulled some small advantage and just continued from there. I'm very, very happy and a big thanks to all the team."
Jorge Lorenzo, 2nd, 3.429 - "I tried my best the beginning to open a gap and I managed it but then in the corkscrew I almost crashed. For Casey maybe that was a motivation and he caught me in one lap. After that I couldn't keep the pace I had in the beginning, maybe the soft tyre was the best option for this race. Without a doubt Casey was riding in an excellent form today and it wasn't possible to beat him."
Dani Pedrosa, Repsol Honda: 3rd - "I tried my best in this race and third place was the maximum I could get this time. At the beginning, I was quite confident and calm when Casey passed me, because I knew he was on the soft rear tyre and this was the most risky choice for the race, but finally it worked out perfectly for him. I knew I also had a good pace, but when I caught Casey again and was ready to overtake him I was on the throttle too fast and I had too much momentum there, I almost found myself on the floor. I lost ground with the leaders, but when I started braking harder trying to close the gap again I lost the front many times and I was so close to not finish this race. Anyway, I'm satisfied because I kept pushing until the end, giving one hundred percent, although today it wasn't enough. A small mistake it's just enough to not finish in front. Anyway, we were riding the new bike for the first time here and we took another podium. We know what we can improve to come back stronger in Indianapolis."
MOTOGP RACE: (32 laps = 115.52 Km)
POS / RIDER / NAT. / TEAM / MOTORCYCLE / TIME / KM/H / GAP
1 / Casey STONER / AUS / Repsol Honda Team / HONDA / 43'45.961 / 158.369 /
2 / Jorge LORENZO / SPA / Yamaha Factory Racing / YAMAHA / 43'49.390 / 158.162 / 3.429
3 / Dani PEDROSA / SPA / Repsol Honda Team / HONDA / 43'53.594 / 157.91 / 7.633
4 / Andrea DOVIZIOSO / ITA / Monster Yamaha Tech 3 / YAMAHA / 44'04.563 / 157.255 / 18.602
5 / Cal CRUTCHLOW / GBR / Monster Yamaha Tech 3 / YAMAHA / 44'04.740 / 157.244 / 18.779
6 / Nicky HAYDEN / USA / Ducati Team / DUCATI / 44'12.863 / 156.763 / 26.902
7 / Stefan BRADL / GER / LCR Honda MotoGP / HONDA / 44'14.354 / 156.675 / 28.393
8 / Alvaro BAUTISTA / SPA / San Carlo Honda Gresini / HONDA / 44'36.207 / 155.396 / 50.246
9 / Aleix ESPARGARO / SPA / Power Electronics Aspar / ART / 45'04.954 / 153.744 / 1'18.993
10 / Karel ABRAHAM / CZE / Cardion AB Motoracing / DUCATI / 45'08.037 / 153.569 / 1'22.076
11 / Randy DE PUNIET / FRA / Power Electronics Aspar / ART / 43'47.392 / 153.336 / 1 lap
12 / Yonny HERNANDEZ / COL / Avintia Blusens / BQR / 43'55.108 / 152.887 / 1 lap
13 / Colin EDWARDS / USA / NGM Mobile Forward Racing / SUTER / 44'17.426 / 151.603 / 1 lap
14 / Ivan SILVA / SPA / Avintia Blusens / BQR / 44'20.627 / 151.421 / 1 lap
Pole Position: Jorge LORENZO 1'20.554 161.332 Km/h
Fastest Lap (New record): Dani PEDROSA 1'21.229 159.992 Km/h Lap 5
Old Circuit Record Lap: Casey STONER 1'21.376 159.703 Km/h 2010
Circuit Best Lap: Jorge LORENZO 1'20.554 161.332 Km/h 2012
CHAMPIONSHIP POSITIONS TO DATE:
1 LORENZO 205, 2 PEDROSA 182, 3 STONER 173, 4 DOVIZIOSO 121,
5 CRUTCHLOW 106, 6 BRADL 84, 7 HAYDEN 84, 8 ROSSI 82, 9 BAUTISTA 81,
10 SPIES 66, 11 BARBERA 60, 12 DE PUNIET 33, 13 ESPARGARO 33,
14 PIRRO 16, 15 PASINI 13.
NEXT EVENT: ROUND11 AUGUST 19 INDIANAPOLIS, USA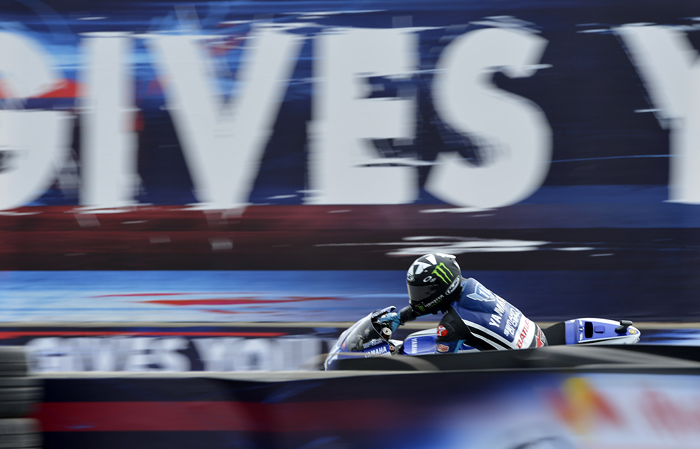 ---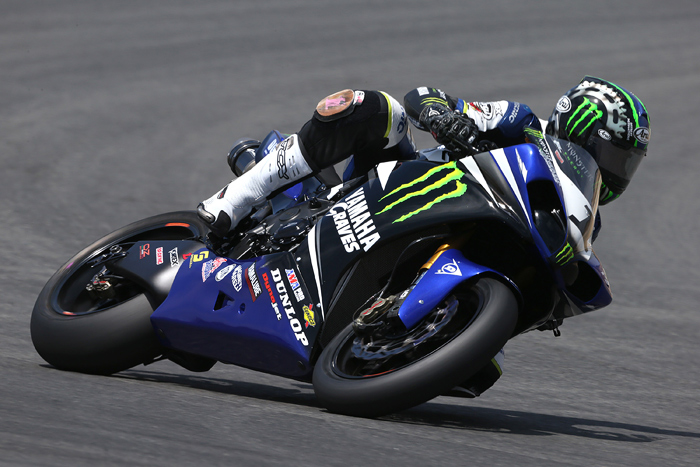 AMA Pro Roadracing Championship, Round Three, Laguna Seca

Eight in a Row for Josh Hayes at Laguna Seca
Monterey, Calif., July 29, 2012 - Josh Hayes established a new single-season record for consecutive AMA Pro National Guard SuperBike victories with a crushing performance to secure his eighth in a row on Sunday at Mazda Raceway Laguna Seca. The defending two-time champion was once again in a class of his own as he notched up yet another dominant victory. The Monster Energy Graves Yamaha superstar pulled his rookie teammate, Josh Herrin, clear of the chasing pack in the race's early stages before breaking Herrin's pursuit as well by lap 5 of the 23-lap affair.
Once free Hayes put it in cruise control early and still managed to take the checkered flag with a 9.084-second margin of victory.

The Mississippian continues to stake his claim in the GEICO Motorcycle AMA Pro Road Racing record books. In addition to the historic win streak, Hayes has now notched up 11 victories this season, just one shy of Mat Mladin's all-time record with six races still remaining on the '12 slate. Sunday's victory also sees Hayes move into a tie for third place on the all-time SuperBike wins list at 28, tying three-time champion Ben Spies, who was in attendance to watch Hayes' conquering ride following the day's MotoGP World Championship race.

"Good things are happening right now," Hayes said. "I'll ride the train as long as I can. If I get into a battle in a hard race, you're going to see me fighting for it for that individual race; it has nothing to do with streaks or race wins or anything like that. It's for that race win. I'm in a position where I can try for every single one of them. I don't have anything to worry about. I've got a points situation that I don't even think about at this point in the season. I'm just focused on winning every race that I can. If I toss one down the road -- or two down the road -- then I'll reevaluate how I'm going to approach it. But, right now, I just want to win everything.

"I'm still riding like I have a little bit of a chip on my shoulder. I still remember last year very clearly. I remember if more clearly than I remember winning eight races in a row. It seems like things have happened pretty quickly and it doesn't feel like that to me. I'll just keep focusing, and trying hard, and pushing myself."

While Hayes was out of reach, the battle for second still proved to be a thrilling affair. Herrin's early tow saw him race out to an immediate three-second advantage over a heated scrap for third, which involved National Guard Jordan Suzuki's Roger Hayden, Yoshimura Suzuki's Blake Young, Jordan Suzuki's Ben Bostrom, Team Amsoil/EBR's Geoff May and Team Hero EBR's Danny Eslick.

As Hayden went backwards and fell from the fight, Herrin faded as well and fell into the clutches of Young and company.
The race's final lap saw Young and Herrin trade second position multiple times with hard and tight passes. The nod ultimately went to Suzuki ace Young by a scant 0.023 seconds, thanks to a superior drive out of the final corner in the sprint to the flag.

Young said, "It was a pretty good race for us today. I was making it harder on ourselves by not having great qualifying. It seems like we've let it slip a little bit this year, and I'm just finding myself getting it together at the beginning of the weekend, but I guess the good thing is, we definitely get it together by the end of the weekend in time for the race. I'm obviously happy with second, but I want to get back up to the front and get racing with Josh where I feel we belong.

Herrin said of his late duel with Young, "It was a great last lap -- it was fun. I wish I could have held him off but I just couldn't. He kind of outsmarted me there a little bit. We'll be back at the next race to try to beat him next time."

Eslick and Bostrom finished just fractions of a second behind in fourth and fifth, respectively. After running as high as third, May dropped to a lonely sixth at the flag, while Riders Discount Vesrah Suzuki's Taylor Knapp also managed to work past the struggling Hayden, who ultimately finished a disappointing eighth on the heels of his Mid-Ohio breakthrough and subsequent strong weekend form here at Laguna Seca. KTM/HMC Racing's Stefen Nebel won out in a fight for ninth with Foremost Insurance Pegram Racing's Larry Pegram, who completed the race's top ten.

Hayes continues his march to a third AMA Pro National Guard SuperBike title as he'll head to New Jersey Motorsports Park on September 7-9 boasting an imposing 74-point advantage.

Beaubier Takes AMA Pro GoPro Daytona SportBike Victory at Mazda Raceway Laguna Seca
Cameron Beaubier won a fantastic three-way fight for another GEICO Motorcycle AMA Pro Road Racing victory at Mazda Raceway Laguna Seca, taking his fourth victory in the past five races in the AMA Pro GoPro Daytona SportBike class with a bold last-lap move over series points leader Martin Cardenas. The Y.E.S./Graves/Yamaha pilot battled for 20 laps with his teammate Tommy Hayden as well as Cardenas in a real thriller.

Beaubier showed Cardenas a wheel on several occasions, but the Colombian did not give the young challenger any opportunity to pass heading into the final lap. The young standout made a move to the outside of turn one, an unlikely passing area, then surprised Cardenas on the inside of turn two and made the move stick. Cardenas was able to hold off the charging Hayden but couldn't counter Beaubier in the final turn or the run to the line.

Beaubier's margin of victory was 0.092 over Cardenas and 0.425 over Hayden.
"Martin made a little mistake coming out of the last corner and I was able to pass him into two," said Beaubier. "I was riding a little impatient in the middle of the race, trying to get around Tommy and showing Martin a wheel here and there. I felt like I could get in there pretty good but to tell the truth I did not plan that move. I saw the opportunity."

Jake Zemke took fourth place, just 2.555 seconds back as the Ducshop Ducati rider once again ran a strong race.

Jake Gagne of Roadrace Factory/Red Bull earned fifth. The young rider has recovered from arm pump surgery and had a trying race but was able to finish even after a collision with second place points man Dane Westby, who had highsided just in front of him.

Cardenas now leads Westby by 64 points in the GoPro Daytona SportBike point standings, 314-250, with Beaubier and Hayden tied for third 16 points back at 234 a piece.
---
Shayne Byrne

MCE INSURANCE BRITISH SUPERBIKE CHAMPIONSHIP ROUND 07 BRANDS HATCH
Shayne Byrne Doubles for Kawasaki at Brands Hatch British Superbike
Brands Hatch, England, Sunday July 22nd 2012 - Shane 'Shakey' Byrne claimed his first double win of the MCE Insurance British Superbike Championship season to a rapturous home crowd at Brands Hatch as the Rapid Solicitors Kawasaki rider held off a hard-charging Josh Brookes.
Michael Laverty again had a characteristic flying start to the race onboard the Samsung Honda to lead on the opening lap from Byrne and Brookes, but race one winner 'Shakey' wasn't settling for second and he took the lead at Hawthorns on the opening lap. Laverty made an attacking move back at Stirlings but Byrne got the drive back into the arena to have the lead into Clearways.
Tommy Hill was running fifth on the opening lap from his second row start and he made a move on Stuart Easton at Surtees to move fourth on the Swan Yamaha, but the Rapid Solicitors Kawasaki rider then crashed out at Sheene Curve. Two laps later and Hill was up to third with a move on the inside into Paddock Hill Bend on Laverty as he then closed in on Byrne and Brookes.
Byrne and Brookes were locking horns for the lead and the Australian had a good drive to Druids on the eleventh lap as he aimed to mug the Rapid Solicitors Kawasaki rider for the lead, but the double champion defended hard to hold the position. Two laps later and Byrne ran wide on the exit of Paddock Hill Bend and Brookes looked set to hit the front of the field as he tried a move around the outside and the pair were side-by-side on the run to Druids but again Byrne held onto the lead. Byrne crossed the line to claim the double from Brookes to a huge reception from the Brands Hatch crowd.
Byrne said: "There are a few of us who were really fast today but I got a decent start with a win in the first race even though Josh kept me honest. The second one was more difficult and I didn't make a break but I tried to be as precise as possible and then I saw Josh alongside me down the straight finish line and I thought 'oh no'. He then tried to pass around the outside at Paddock and I wanted to let off a little to not let him passed but I didn't want to run wide and ruin the drive up to Druids, but fortunately we held on and rode hard for the last three laps. I then missed a gear between Westfield and Sheene Curve and I thought 'that's it they are going to do me' as I had seen plus zero on my pit board but fortunately I was on for a double so massive thanks to Rapid Solicitors Kawasaki for giving me such a strong bike."
Hill claimed a double third position whilst Laverty held on to fourth position on Samsung Honda with Noriyuki Haga claiming fifth to maintain his position inside the top six in the standings as Alex Lowes ended sixth. The battle for seventh was a repeat performance of the fight for the title last season as Tommy Bridewell crossed the line onboard the Supersonic BMW just 0.001 seconds ahead of Ian Lowry on the Padgett's Honda. WFR Honda's Graeme Gowland and James Westmoreland completed the top ten.
RESULTS BRITISH SUPERBIKE RACE1:
POS / RIDER / NAT / MOTORCYCLE / TIME / GAP
1 / SHANE BYRNE / GBR / KAWASAKI - RAPID SOLICITORS KAWASAKI / 26:13.972 /
2 / JOSH BROOKES / AUS / SUZUKI - TYCO SUZUKI / 26:14.441 / 0.469
3 / TOMMY HILL / GBR / YAMAHA - SWAN YAMAHA / 26:20.406 / 6.434
4 / MICHAEL LAVERTY / GBR / HONDA - SAMSUNG HONDA / 26:21.169 / 7.197
5 / TOMMY BRIDEWELL / GBR / BMW - SUPERSONIC RACING TEAM / 26:23.144 / 9.172
6 / CHRIS WALKER / GBR / KAWASAKI - PR1MO BOURNEMOUTH KAWASAKI RACING / 26:23.710 / 9.738
7 / ALEX LOWES / GBR / HONDA - TEAM WFR / 26:24.996 / 11.024
8 / STUART EASTON / GBR / KAWASAKI - RAPID SOLICITORS KAWASAKI / 26:26.029 / 12.057
9 / ALASTAIR SEELEY / GBR / SUZUKI - TYCO SUZUKI / 26:28.307 / 14.335
10 / MICHAEL RUTTER / GBR / KAWASAKI - MSS BATHAMS KAWASAKI / 26:34.154 / 20.182
11 / BARRY BURRELL / GBR / BMW - BUILDBASE BMW MOTORRAD / 26:34.284 / 20.312
12 / JON KIRKHAM / GBR / HONDA - SAMSUNG HONDA / 26:34.593 / 20.621
13 / KARL HARRIS / GBR / KAWASAKI - QUATTRO PLANT KAWASAKI SUPERBIKE TEAM / 26:38.810 / 24.838
14 / LUCA SCASSA / ITA / HONDA - PADGETTS HONDA / 26:39.695 / 25.723
15 / PATRIC MUFF / SUI / BMW - SUPERSONIC RACING TEAM / 26:46.277 / 32.305
Fastest lap: Josh BROOKES AUS Suzuki - Tyco Suzuki lap 11 1:26.795 162.42 Km/h
RESULTS BRITISH SUPERBIKE RACE 2:
POS / RIDER / NAT / MOTORCYCLE / TIME / GAP
1 / SHANE BYRNE / GBR / KAWASAKI - RAPID SOLICITORS KAWASAKI / 26:10.330 /
2 / JOSH BROOKES / AUS / SUZUKI - TYCO SUZUKI / 26:11.913 / 1.583
3 / TOMMY HILL / GBR / YAMAHA - SWAN YAMAHA / 26:12.595 / 2.265
4 / MICHAEL LAVERTY / GBR / HONDA - SAMSUNG HONDA / 26:13.434 / 3.104
5 / NORIYUKI HAGA / JPN / YAMAHA - SWAN YAMAHA / 26:19.591 / 9.261
6 / ALEX LOWES / GBR / HONDA - TEAM WFR / 26:24.974 / 14.644
7 / TOMMY BRIDEWELL / GBR / BMW - SUPERSONIC RACING TEAM / 26:26.013 / 15.683
8 / IAN LOWRY / GBR / HONDA - PADGETTS HONDA / 26:26.014 / 15.684
9 / GRAEME GOWLAND / GBR / HONDA - TEAM WFR / 26:27.477 / 17.147
10 / JAMES WESTMORELAND / GBR / HONDA - TEAM WFR / 26:34.025 / 23.695
11 / ALASTAIR SEELEY / GBR / SUZUKI - TYCO SUZUKI / 26:34.062 / 23.732
12 / KARL HARRIS / GBR / KAWASAKI - QUATTRO PLANT KAWASAKI SUPERBIKE TEAM / 26:34.492 / 24.162
13 / BARRY BURRELL / GBR / BMW - BUILDBASE BMW MOTORRAD / 26:34.781 / 24.451
14 / JON KIRKHAM / GBR / HONDA - SAMSUNG HONDA / 26:35.252 / 24.922
15 / PATRIC MUFF / SUI / BMW - SUPERSONIC RACING TEAM / 26:35.875 / 25.545
Fastest lap: Shane BYRNE GBR Kawasaki - Rapid Solicitors Kawasaki lap 2 1:26.454 163.06 Km/h
CHAMPIONSHIP POSITIONS TO DATE:
1 HILL 266, 2 BYRNE 255, 3 BROOKES 246, 4 LAVERTY 172, 5 BRIDEWELL 124,
6 HAGA 113, 7 LOWRY 106, 8 WALKER 92, 9 LOWES 92,
10 SEELEY 90, 11 WESTMORELAND 86, 12 EASTON 74, 13 GOWLAND 69,
14 KIRKHAM 59, 15 RUTTER 44.
---
There's more! Go to Pit Lane News Previous Week

Also Visit: Fast Dates Calendar News • Iron & Lace Calendar News
Calendar Girl News • Meet the Models • Paddock Garage

MEMBERS CORNER! Calendar Kittens, Paddock Garage, Iron & Lace Garage





MotorcycleSuperstore.com
Some of our Calendar Kittens can also at Playboy's website...



FREE! New Met-Art Model Galley Updated Daily - Stop Back Each Day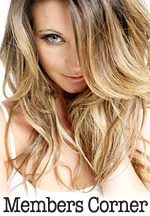 Hot Bikes, Sexy Kittens
Your Exclusive Grid Pass
also includes....
---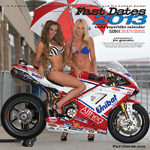 Order the New
2013 Calendars!
with FastDates.com Calendar Kitten, Ducati Corse Grid Girl
and Playboy Playmate
Heather Rae Young!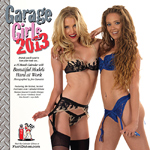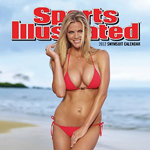 Click for even more Calendars!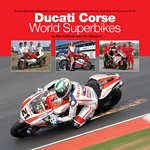 Retail $69.95 ea.
Click to Order

Ducati Corse
World Superbikes
by Alan Cathcart
& Jim Gianatsis
The most extensive book ever on the history of the winningest bikes in SBK World Superbike. Covers all 5 Generations of the Desmoquatro factory Ducati Corse World Superbikes from the first 750/851 prototypes to the new 5th generation 1199 Panigale with technical details and photos, interviews with all the engineers and factory riders, track tests of every bike, and full page photos of the bikes from all the Fast Date Calendars with the official Ducati Corse and SBK Calendar Kittens.
Photography by the world's top roadracing photographers including Gold & Goose, Kel Edge, Fabrizio Porrozzi, Max Olina.
This is a high quality Collectors Edition hard cover coffee table book, 224-pages in large 12x12-inch format printed on 100# dull coat art paper.

Click on the cover above to order individual copies from Amazon.com. Retail $69.95 ea.
Also at Amazon.com.uk
---
Erik Buell Racing gets $20 million boost in investment funding
EAST TROY, Wis, July 20th - Erik Buell Racing has received $20 million in foreign investments, reports BizTimes Milwaukee. The funding will allow the upstart OEM to expand its motorcycle production and create about 200 jobs.
The $20 million in EB-5 investment funding comes from investment fund manager FirstPathway Partners LLC, the site reports. With the influx of funding, EBR will be able to design and produce additional models of sportbikes and expand its international exports.
"EBR motorcycles are made in America and in great demand worldwide," said Bob Kraft, chairman, CEO and founding partner of FirstPathway Partners. "This investment will create good manufacturing and engineering jobs in Wisconsin for skilled American workers and greatly strengthen a local company's position in the global marketplace."
Rossi to leave Ducsti for Yamaha or Retire?
Ducati announces renewal of Nicky Hayden's contract
Monterey, CA, USA
27 July 2012 - On the occasion of the United States Grand Prix, the home race for two-time LagunaSeca MotoGP winner Nicky Hayden, Ducati announces a contract extension with the American that will see him continuing to race for the Ducati Team next year.

With Ducati already having signed Cal Crutchlow earlier this month to their MotoGP team for 2013, this could mean that Valendation Rossi may be moving to a seat at Yamaha - the only top team left that might take him. Unless, of course. Ducati's new owners step up with some big money to keep Valentino at Ducati in a 3- rider squad. But if neither the Yamaha or Ducati rider materializes for Vali, then he could be facing retirement with no other top tier GP bike teams left for him to move to.

Nicky Hayden, who turns 31 on Monday, is currently in his tenth season in the MotoGP series and his fourth with the Ducati Team. During that time, he has become extremely popular with fans and Ducatisti all over the world, thanks to his reliably positive outlook, his passion, and his determination. He currently sits eighth in the championship points standings and is working hard on the development of the Desmosedici GP12, employing his typical effort and enthusiasm.

The United States hosts no fewer than 45 DOCs (Ducati Owners Clubs) and tomorrow thousands of fans will have the opportunity to meet Nicky at Ducati Island, an area at Laguna Seca where Ducatisti gather to follow the race and experience the "red passion." Following the afternoon qualifying session, Nicky himself will visit the Island's stage, where many spectators and fans will no doubt be excited to join him in celebrating the news of his renewal with the Ducati Team.

Nicky Hayden, Ducati Team
"I'm very happy that I'll be back with Ducati and back in MotoGP, racing at the highest level for a very important team. I love the guys I work with, I love the Ducati fans, and I love the brand. This is an important time for Ducati in a number of ways, and I'm excited that I'll continue to be a part of it. I feel like I've got some unfinished business here, and hopefully we can get all the pieces into place and reap the rewards of the hard work we've put in the last couple of years. It's nice to be able to make this announcement at Laguna and to share the moment with my fans, friends and family. If I can do a good result on Sunday, it could make for a pretty special birthday weekend.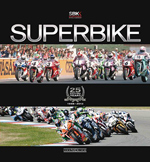 The Official SBK
World Superbikes
1987-2012
25 Year History Book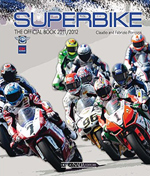 The Official SBK
2011-2012 Yearbook
These SBK Yearbooks are the Best Books Ever about World Superbike
They feature awesome color photography of the riders, bike and racing action. The feature a detailed revue of the past season in pictures and statistics, with a detailed look at the bikes and riders.
Plus a technical look data all the bikes, a preview of the upcoming season's Championship!
We buy this every year ourselves and highly recommend it!
SBK World Superbike Video Game
---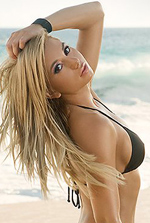 Meet 2012 Calendar Kitten
Sara Balint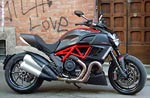 The Devil Made Us Do It!
Testing the Ducati Diavel in Italy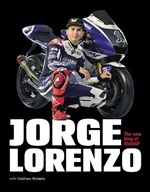 Sudco High Performance & OEM Replacement Parts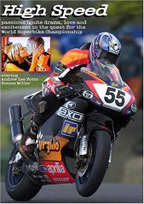 High Speed - the Movie
The best motorcycle racing movie ever made! Filmed on location at the World Superbike races , this an exciting romantic drama staring beautiful British actress Sienna Miller.
---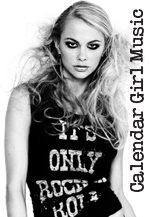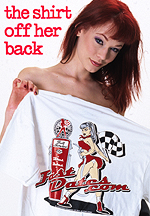 Order the Official
FastDates.com &
LA Calendar Bike Show
T-Shirts!
---
The Gecko Inks 3-Year Deal to Sponsor AMA Pro Roadracing Championship
DAYTONA BEACH, Fla. (July 27, 2012) - Officials from AMA Pro Racing and GEICO announced today a multi-year partnership, which names GEICO Motorcycle as the Official Motorcycle Insurance and Title Sponsor of America's premier motorcycle road racing championship, GEICO Motorcycle AMA Pro Road Racing. As part of the agreement, AMA Pro Racing will name a year-end points fund after GEICO for the premier AMA Pro National Guard SuperBike division. For the 2012 season, the GEICO Year-End Points Fund will pay out an additional $25,000 to the top three riders in the final point standings, which will rise to $50,000 and be paid out to the top five riders in the final point standings for the 2013 and 2014 seasons.