Order Advance Calendar Bike Show Tickets Now!
Carlos Checa had Turn #8 at Aragon Motorland renamed 'Carlos Checa Corner' and marked with a stature of the Spanish Bull's Number Seven logo.
eni SBK World Superbike Championship, Round 7 of 14, Aragon, Spain
Biaggi and Melandri share the wins again at MotorLand
MotorLand Aragon (Spain), July 1st 2012 – Like last year Max Biaggi (Aprilia Racing Team) and Marco Melandri (BMW Motorrad Motorsport) scored a win apiece in the eni FIM Superbike World Championship round today, after two classic races unfolded during each 20-lap contest. Biaggi now has 20 career wins to his credit, Melandri seven.
Melandri the top man on the opening day
Practice, Friday June 29th - Marco Melandri (BMW Motorrad Motorsport) took the fastest time in the first qualifying session of the eni FIM Superbike World Championship weekend at MotorLand Aragon in Spain. He overtook this morning's free practice fastest man Max Biaggi (Aprilia Racing Team) who finished up second, with Tom Sykes (Kawasaki Racing Team) third. Eugene Laverty, Biaggi's team-mate, was fourth quickest with an improving Leon Haslam (BMW Motorrad Motorsport) fifth.

A good day for the German manufacturer saw BMW Motorrad Italia GoldBet riders Ayrton Badovini and Michel Fabrizio go sixth and seventh respectively. Chaz Davies (ParkinGO MTC Racing Aprilia) completed the provisional second row in eighth.

Leon Camier (FIXI Crescent Suzuki) rode his way to ninth in a hot qualifying session, with Carlos Checa (Althea Racing Ducati) the first Ducati rider home on day one, tenth. Checa's team-mate Davide Giugliano secured 11th place, with Camier's team-mate John Hopkins 12th. Jonathan Rea (Honda World Superbike Team) was 14th in his first visit to the MotorLand Aragon racetrack for a race weekend.

One more qualifying session and then Tissot-Superpole will take place tomorrow to determine the final grid places for Sunday's races.

Times: 1. Melandri (BMW) 1'58.608 average 162.202 kph; 2. Biaggi (Aprilia) 1'58.973; 3. Sykes (Kawasaki) 1'59.123; 4. Laverty (Aprilia) 1'59.263; 5. Haslam (BMW) 1'59.396; 6. Badovini (BMW) 1'59.751; 7. Fabrizio (BMW) 1'59.770; 8. Davies (Aprilia) 2'00.146; 9. Camier (Suzuki) 2'00.147; 10. Checa (Ducati) 2'00.401; 11. Giugliano (Ducati) 2'00.514; 12. Hopkins (Suzuki) 2'00.570; 13. Canepa (Ducati) 2'00.615; 14. Rea (Honda) 2'00.617; 15. Guintoli (Ducati) 2'00.640; 16. Baz (Kawasaki) 2'00.690; etc.
Super six Tissot-Superpole wins for record breaker Sykes
MotorLand Aragon (Spain), June 30, 2012 – Tom Sykes (Kawasaki Racing Team) blasted the previous track best at MotorLand Aragon to record a time of 1 minute 56.552 seconds in Tissot-Superpole, earning his sixth pole position of the season. His new best time was over a second better than the best lap from 2011, a huge margin even at a relatively long circuit like MotorLand Aragon. It was all the more remarkable as his top speed was ten km/h less than the best of his rivals, and he made a mistake in one section of the circuit during his fastest lap.

Aprilia Racing Team riders Max Biaggi and Eugene Laverty were second and third respectively and the front row for Sunday's two 20-lap races was completed by Leon Haslam (BMW Motorrad Motorsport). Haslam's team-mate Marco Melandri was fifth in Tissot-Superpole, with Jonathan Rea (Honda World Superbike Team) in sixth place.

Tom Sykes: "I took a bit of warming up to be honest. In the first two Superpole sessions I thought I was trying hard but obviously not hard enough. Then in SP3 I put a bit extra on the line and fortunately it paid off. I made a mistake in the last sector so to cross the line with that lap time I'm more than happy. We also had a good test here last week and I think we've closed the gap to the front guys on a hot and greasy track, which has been a big issue."

Superpole Times: 1. Sykes (Kawasaki) 1'56.552 average 165.063 kph; 2. Biaggi (Aprilia) 1'57.260; 3. Laverty (Aprilia) 1'57.592; 4. Haslam (BMW) 1'57.710; 5. Melandri (BMW) 1'57.784; 6. Rea (Honda) 1'58.033; 7. Checa (Ducati) 1'58.243; 8. Davies (Aprilia) 1'58.485; 9. Guintoli (Ducati) 1'58.073; 10. Badovini (BMW) 1'58.249; 11. Giugliano (Ducati) 1'58.264; 12. Smrz (Ducati) 1'59.160; 13. Fabrizio (BMW) 1'58.534; 14. Camier (Suzuki) 1'58.660; 15. Baz (Kawasaki) 1'59.302; 16. Zanetti (Ducati) 1'59.549; etc.
Masteful Max came out on top in Race One.
Exciting racing on Sunday with Max and Melandri trading Race Wins
There was drama aplenty in warm conditions, but raceday temperatures had cooled from the fiery intensity of the first two days, a factor that played a part for some riders in their final fortunes. Strong winds also affected the riders today, but the abiding memory of all will be a superb second race in which Melandri held off the attentions of not only Biaggi, but also two other Aprilia riders, Eugene Laverty (Aprilia Racing Team) and Chaz Davies (ParkinGO MTC Racing Aprilia). Davies had to catch up the leading trio in a forceful run to the front and was rewarded with his first career podium to add to his fourth place from race one.

Leon Haslam and Davide Giuglianoinvolved in a heated battle for 7th place.
Race One : Biaggi fights off Melandri
Biaggi secured a tight win by only 0.278 seconds from his great rival Melandri. This was Biaggi's fourth win of 2012, and his third in a row. The top two were well clear of the battle for third, which eventually went to Carlos Checa (Althea Racing Ducati) from Davies, even though he took it in bizarre circumstances after Tom Sykes (Kawasaki Racing Team) was deprived of what looked like a sure podium place when Ayrton Badovini (BMW Motorrad Italia GoldBet) lost the front and his machine, which then hit Sykes' rear wheel, and both riders fell.
In the early stages of race one, Marco caught up with the leaders after starting fifth. On lap four, he had improved to second place, one and a half second behind race leader Max Biaggi (ITA). Marco gradually closed the gap, setting the fastest race time on lap six. Less than halfway through the race he was already directly behind Biaggi and the two of them started a nail-biting battle for victory, breaking away from the rest of the field. Marco took the lead on lap 12, but was passed by Biaggi again one lap later. On lap 15 Marco again got to the front, but on the penultimate lap Biaggi was able to bounce back. He crossed the finish line as winner, 0.278 seconds ahead of Marco. Leon, who started fourth, slipped back to eighth through the first corners and as he was struggling with grip he could not catch up again and crossed the line in seventh.

Max Biaggi: "It was a nice race. I saw I could stay in the lead. The tyres are always a problem here and it's very difficult to keep the pace, but we were working good all weekend to be comfortable with the tyres moving around. There were only two riders in front, we tried to overtake each other and understand where and what was possible to do at the end. The result could have been the other way around but this time I did it so I'm happy."

Marco Melandri: "I was struggling to pass Laverty and Sykes and then I had to push a lot to catch Max who was leading. When I was there I tried to take him but it was not easy. In the end he passed me quite easy because he was faster than me, but it was a good result anyway. BMW and the team have been working very well and we will try and win race 2."

Carlos Checa: "We always fight until the end, you never know! Today for sure we were lucky because we were not in the best position so to be here was quite a surprise. Hopefully Badovini and Sykes are OK after their crash, but I'm quite satisfied for the final result. It's my home race and it was difficult to be in front fighting for the win today."

Race One Results: 1. Biaggi (Aprilia) 20 Laps/106.880 km in 39'51.188 average 160.911 kph; 2. Melandri (BMW) 0.278; 3. Checa (Ducati) 9.462; 4. Davies (Aprilia) 10.827; 5. Laverty (Aprilia) 15.708; 6. Fabrizio (BMW) 27.597; 7. Haslam (BMW) 29.032; 8. Giugliano (Ducati) 39.374; 9. Camier (Suzuki) 40.887; 10. Berger (Ducati) 41.440; 11. Canepa (Ducati) 42.056; 12. Guintoli (Ducati) 42.369; 13. Zanetti (Ducati) 42.669; 14. Aoyama (Honda) 48.010; 15. Hopkins (Suzuki) 49.752; 16. Rea (Honda) 54.590; etc.

The battle for the lead continued hot and heavy again in Race Two with the Aprilias of Biaggi (3), Davies (19) and Leverty (58), fighting with Marco Melandri (33 who was in the lead when it mattered most.
Race Two: Melandri fights off a Swarm of Aprilas!
Melandri secured his third win of the season after a spectacularly tight fight against three other riders. Second was Eugene Laverty (Aprilia Racing) who lost out by only 0.042 seconds. Immediately behind, Davies held off the attention of Biaggi to take his first ever podium in the championship, as the top four were only 0.484 seconds apart after 20 laps. Behind the leading quartet Jonathan Rea (Honda World Superbike Team) went fifth after recovering from another bad start, with Leon Haslam (BMW Motorrad Motorsport), Checa and Sykes in basically the same group for most of the race.
The second race was even more exciting. From start to finish, three or four riders were fighting at the very top, Marco being one of them. The lead changed between Biaggi, his team-mate Eugene Laverty (GBR) and Marco. For the closing stages of the race, Chaz Davies (GBR) joined the trio in the fight for the win. In the 16th of 20 laps, Marco slipped back from P1 to third, but during the intense battle he worked his way back and took the lead again in the final lap, defended attacks from Laverty and Davies and crossed the finish line scoring his third victory of the season. Leon had a good start and was fighting at the front at the beginning, being third after the first lap but he then ran off the circuit briefly and fell back to fourth. From then on he was involved in a strong battle with Jonathan Rea, Tom Sykes (both GBR) and Carlos Checa (ESP), finishing the race in sixth.

Marco Melandri: "I have no words actually! After race 1 I was a little disappointed so I tried to get a win in race 2, it was not easy because the wind was very strong. Eugene started to lead the race and was very fast, suddenly with three laps to go Max passed me and when I passed him back I went wide then Chaz passed me. We were running so wide and so fast and I had no plan for the last lap! To win here has been beautiful."

Eugene Laverty: "It was close with Marco on the last lap, he got the better of me. Still it's nice to be back on the podium after Assen and Monza where we were top 3, and where I think we have belonged in the last three rounds but where we had small electronic problems that held us back. But we're back where we belong, which is fighting for race wins. The second race was a really good battle, we made some changes and I was much happier."

Chaz Davies: "What a race! I didn't get off to the greatest start and the first couple of laps weren't good either but I put my head down and got to fourth. I tried to keep chipping away and eventually caught the top 3. I had a great race, enjoyed every moment of it. I was really surprised to be on the podium but I knew we had the pace."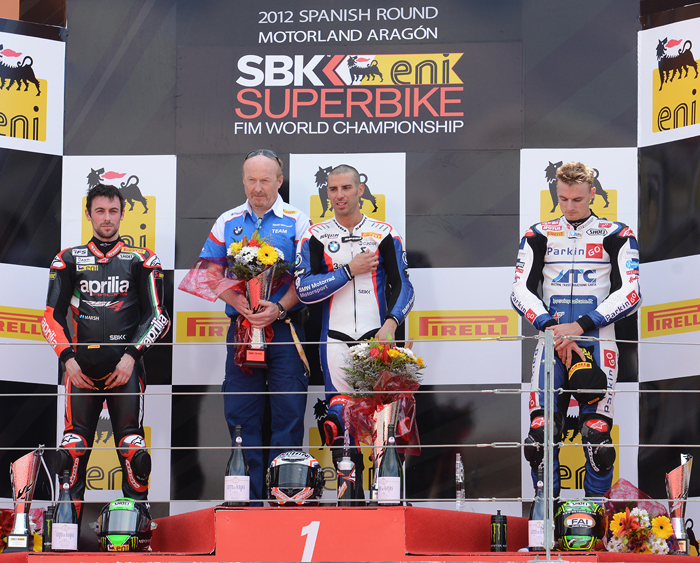 Race Two Results: 1. Melandri (BMW) 20 Laps/106.880 km in 39'59.200 average 160.373 kph; 2. Laverty (Aprilia) 0.042; 3. Davies (Aprilia) 0.446; 4. Biaggi (Aprilia) 0.484; 5. Rea (Honda) 6.611; 6. Haslam (BMW) 7.491; 7. Checa (Ducati) 9.325; 8. Sykes (Kawasaki) 10.444; 9. Badovini (BMW) 10.828; 10. Giugliano (Ducati) 10.925; 11. Fabrizio (BMW) 21.955; 12. Berger (Ducati) 22.046; 13. Guintoli (Ducati) 22.486; 14. Zanetti (Ducati) 42.801; 15. Aoyama (Honda) 49.144; 16. Salom (Kawasaki) 50.961; etc.

Points (after 8 of 14 rounds): 1. Biaggi 248.5; 2. Melandri 200.5; 3. Rea 183; 4. Checa 175.5; 5. Sykes 172.5; 6. Haslam 142; 7. Laverty 126; 8. Guintoli 110; 9. Giugliano 94; 10. Davies 78; etc. Manufacturers: 1. Aprilia 266; 2. Ducati 247.5; 3. BMW 242; 4. Honda 189; 5. Kawasaki 178.5; 6. Suzuki 63.5.

Sam Lowes was the default race winner after Sofuoglu was demoted to 4th.
World Supersport 600cc
After an accident delayed the eventual running of the full 18-lap Supersport race, Kenan Sofuoglu (Kawasaki Lorenzini) crossed the line first but was demoted four places in the final results because of a coming together between him and eventual second place rider Fabien Foret (Kawasaki Intermoto Step). The final race winner was Sam Lowes (Bogdanka PTR Honda) after Sofuoglu was penalised for not dropping the regulation three places during the race. It was Lowes' second win of the year and it puts him second overall in the championship, after PTR Honda rider and pole man Jules Cluzel had crashed out early on.

Sheridan Morais (Kawasaki Lorenzini) scored his first podium in this class in third, with Broc Parkes (Ten Kate Racing Products) fourth and Sofuoglu fifth. Another South African Ronan Quarmby (PTR Honda) was sixth.

Results: 1. Lowes (Honda) 18 Laps/96.192 km in 37'14.284 average 154.990 kph; 2. Foret (Kawasaki) 1.446; 3. Morais (Kawasaki) 4.322; 4. Parkes (Honda) 5.924; 5. Sofuoglu (Kawasaki) 6.377; 6. Quarmby (Honda) 16.333; 7. Iannuzzo (Triumph) 19.948; 8. Metcher (Yamaha) 22.663; etc.

Points (after 7 of 13 rounds): 1. Sofuoglu 117; 2. Lowes 101; 3. Cluzel 84; 4. Foret 83; 5. Parkes 66; 6. Baldolini 54; 7. Morais 53; 8. Quarmby 44; etc. Manufacturers: 1. Honda 156; 2. Kawasaki 151; 3. Triumph 76; 4. Yamaha 60; 5. Suzuki 6.

Superstock 1000cc
Bryan Staring (Team Pedercini Kawasaki) took his first win in the Superstock 1000 FIM Cup class today, front-running to take a final advantage of eight seconds and setting a new lap record of 2 minutes 01.446 seconds along the way. Runner-up was MRS Kawasaki rider Jeremy Guarnoni, who passed long-time second-placed man Lorenzo Baroni (BMW Motorrad Italia GoldBet) in the closing stages. Fourth was Barni Racing Team Ducati Panigale rider Eddi La Marra. Championship leader Sylvain Barrier is now only a single point ahead of La Marra after he and Luca Savadori collided early in the race and Barrier eventually retired.

Results: 1. Staring (Kawasaki) 12 Laps/64.128 km in 24'28.928 average 157.163 kph; 2. Guarnoni (Kawasaki) 8.073; 3. Baroni (BMW) 11.320; 4. La Marra (Ducati) 14.630; 5. Reiterberger (BMW) 15.911; 6. Coghlan (Ducati) 24.471; 7. Bussolotti (Ducati) 28.367; 8. McFadden (Kawasaki) 28.914; etc.

Points (after 5 of 10 rounds): 1. Barrier 75; 2. La Marra 74; 3. Savadori 67; 4. Baroni 56; 5. Reiterberger 52; 6. Guarnoni 46; 7. Staring 45; 8. Bergman 40; etc. Manufacturers: 1. BMW 100; 2. Ducati 87; 3. Kawasaki 85; 4. Honda 36; 5. Aprilia 15.
The End? Niccola' Canepa / Red Devil Ducati 1198RS gets a little behind on the Starting Grid at Aragon. Thanks Max! - Click for Screensaver
---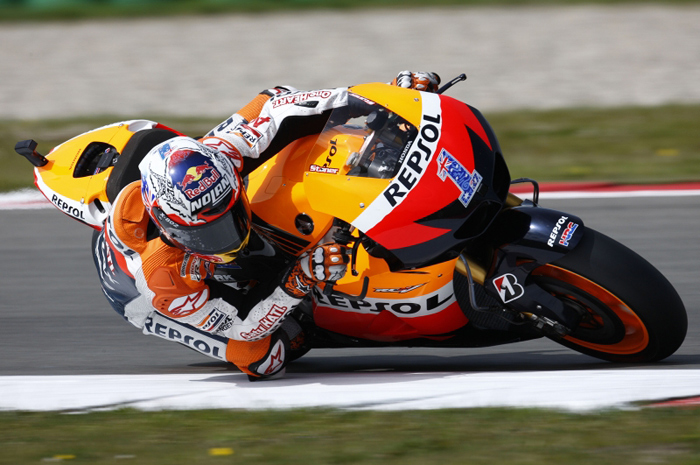 MotoGP World Championship, Round 7 of 14, Assen, Netherlands

Stoner victorious at incident-packed Iveco TT Assen
IVECO TT Assen, Holland, Saturday, 30 June 2012 - The Iveco TT Assen provided three exciting races this Saturday, as Repsol Honda Team's Casey Stoner took victory in an incident-packed premier-class race, holding off the challenge from teammate Dani Pedrosa and Andrea Dovizioso.
The race started with high drama as San Carlo Honda Gresini's Álvaro Bautista took out Yamaha Factory Racing's Jorge Lorenzo in the first corner, putting an end to both their challenges. Bautista was subsequently penalized for riding in an irresponsible manner, causing danger to Lorenzo, with Race Direction ruling that the San Carlo rider will start from last spot on the grid at the Sachsenring. An appeal was lodged by his team, but the FIM Stewards confirmed the decision of Race Direction, thus making it final. This is the second year in a row that Lorenzo has been taken out by another rider at the Dutch circuit.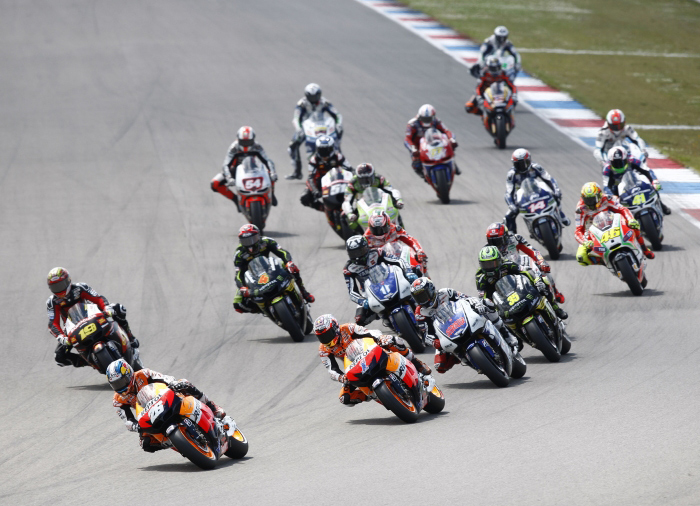 Dani Pedrosa(26) leads the charge into Turn One off the start ahead of Stoner (1) and Lorenzo (99). Bautista (19) on the inside is arriving too hot and will collide into the side of Lorenzo, taking them both out.
Following the incident, the Repsol Honda Team pair of Pedrosa and Stoner were left to lead the race at the start, with Lorenzo's teammate Ben Spies in pursuit. Two laps in it was heartbreak as well for LCR Honda MotoGP's Stefan Bradl as he crashed out of fourth, making this the first race he has not finished in his rookie season.

As the Hondas started to pull out a small margin, the crashes continued at the back as Avintia Blusens' Yonny Hernandez ended his race in the gravel. With 19 laps to go Monster Yamaha Tech 3's Andrea Dovizioso went past Spies into third as the pair diced for the final podium position. Dovizioso's teammate Cal Crutchlow, who was ninth after taking avoiding action at the start, was having a tricky time trying to pass the Ducatis of Hayden, Valentino Rossi and Pramac Racing Team's Héctor Barberá, but eventually fought his way past.

NGM Mobile Forward Racing's Colin Edwards retired with mechanical issues, putting an end to a difficult weekend, while Power Electronics Aspar's Aleix Espargaró retired from the race with 11 laps remaining, putting a dent in his top CRT hopes. This was followed up a lap later with Rossi entering the pits with a chunk missing from his rear tyre, which was changed before he re-entered the race. Meanwhile at the front, Stoner made his move on Pedrosa as the Spaniard looked to be struggling. Three laps before the end Dovizioso had caught up to Spies once more as the pair was involved in yet another tussle for the final podium spot. The Italian made his move going into turn 1 on the final lap, and held on until the line.

In the end it was Stoner who took the chequered flag to go equal on points at the top of the championship with Lorenzo, as Pedrosa finished second and Dovizioso took yet another podium this year. They were followed by Spies, Crutchlow, Hayden, and Barberá, whilst the CRT contingent benefited from the numerous crashes, with Espargaró's teammate De Puniet taking eighth, in front of San Carlo Honda Gresini's Michele Pirro and Speed Master's Mattia Pasini. Rossi finished in 13th, 0.002 seconds ahead of Paul Bird Motorsport's James Ellison. Cardion AB Racing's Karel Abraham did not start the race, as his hand injury proved too severe to race.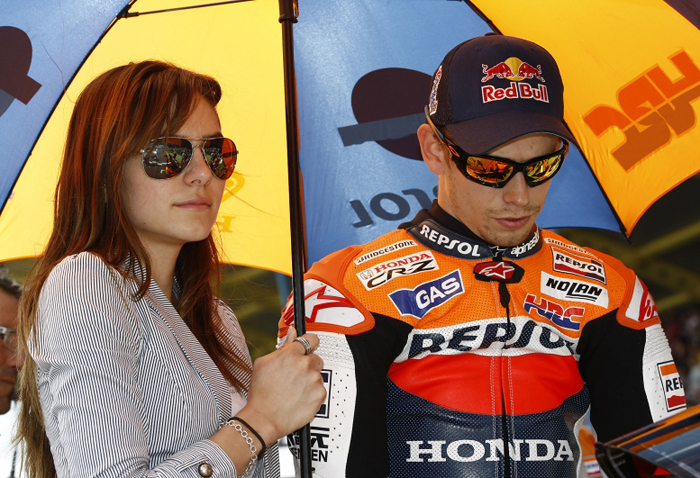 Casey Stoner, Repsol Honda: Race winner - "To take pole position and now the win is really incredible. A big thanks to my whole team who never gave up. My plan was to get a better start than I actually did, take some advantage and use the energy I had to try and make a gap and try to hold on to the end. We also knew that whichever position we were in, we had to preserve the rear tyre. Choosing the softer tyre, there was a big chance that we would destroy it and have nothing left for the end of the race. When I saw Dani (Pedrosa) was running at a reasonable pace and we were pulling away from the others, I decided to stay there and watch him to save the tyres and my energy as much as I could. With nine, ten laps remaining, I knew we wouldn't suffer a big drop in tyre performance, I still felt good, so I decided to pass him and see if I could pull a gap. It was a tough race, I had a lot of arm pump as I had to compensate for my injuries from the crash yesterday, but my fitness was good and the bike was working well in general. I'm sorry for Jorge (Lorenzo). Nobody wants to take points over a competitor in this manner, but as we can see, one race can change everything."
Dani Pedrosa, Repsol Honda: 2nd - "Looking at the lap times we did during the weekend, I knew I had better rhythm than Casey (Stoner), so I made a good start and tried to pull away from the first laps. Casey stayed behind me all the time and by the second half of the race I believe he took profit of extra energy he saved during the first part of the race to overtake me. Our pace was very good in the race, the bike worked very well but maybe I just chose the wrong strategy this time. At the end of the race, the bike felt heavy with change of direction due to tiredness and it was enough to slow me down from 1'35 to 1'36 for just two laps, and I lost ground, but this is racing. I hope to do a better strategy next week in Germany."
Jorge Lorenzo, Team Yamaha, DNF - "Well, today was a complete disaster, Alvaro's move was crazy. I met him after the incident, he apologised and we shook hands but in my opinion this is not enough to justify the accident. When I made a mistake in Japan in 2005 I was penalized with a race. Race Direction told me that he will start from last position on the grid in Sachsenring but this is nothing. We hope that we will be lucky in the future that nothing will happen but if the riders are not penalized properly then they will continue to do crazy things like today. My leg is a big bruise, a big impact but nothing serious happened. Luckily for us we had a 25 point advantage or we would now be far behind. Now we are at zero with Casey so we begin again, the Championship is long so let's see what happens."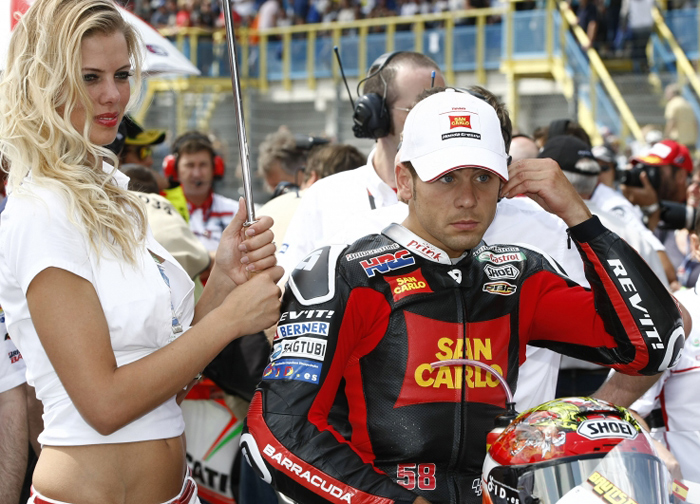 We think we can understand why Alvaro Bautista couldn't focus at the start, but who can blame him? His taking out Lorenzo for the race may have dire consequences for the reigning Champion at the end of the year.
RESULTS MOTOGP RACE: (26 laps = 118.092 Km)
POS / RIDER / NAT. / TEAM / MOTORCYCLE / TIME / KM/H / GAP
1 / Casey STONER / AUS / Repsol Honda Team / HONDA / 41'19.855 / 171.433 /
2 / Dani PEDROSA / SPA / Repsol Honda Team / HONDA / 41'24.820 / 171.091 / 4.965
3 / Andrea DOVIZIOSO / ITA / Monster Yamaha Tech 3 / YAMAHA / 41'31.849 / 170.608 / 11.994
4 / Ben SPIES / USA / Yamaha Factory Racing / YAMAHA / 41'34.630 / 170.418 / 14.775
5 / Cal CRUTCHLOW / GBR / Monster Yamaha Tech 3 / YAMAHA / 41'41.929 / 169.921 / 22.074
6 / Nicky HAYDEN / USA / Ducati Team / DUCATI / 41'51.515 / 169.272 / 31.66
7 / Hector BARBERA / SPA / Pramac Racing Team / DUCATI / 42'18.962 / 167.442 / 59.107
8 / Randy DE PUNIET / FRA / Power Electronics Aspar / ART / 42'24.296 / 167.091 / 1'04.441
9 / Michele PIRRO / ITA / San Carlo Honda Gresini / FTR / 42'26.835 / 166.925 / 1'06.980
10 / Mattia PASINI / ITA / Speed Master / ART / 42'44.942 / 165.746 / 1'25.087
11 / Danilo PETRUCCI / ITA / Came IodaRacing Project / IODA / 42'51.958 / 165.294 / 1'32.103
12 / Ivan SILVA / SPA / Avintia Blusens / BQR / 42'53.652 / 165.185 / 1'33.797
13 / Valentino ROSSI / ITA / Ducati Team / DUCATI / 41'38.492 / 163.61 / 1 lap
14 / James ELLISON / GBR / Paul Bird Motorsport / ART / 41'38.494 / 163.61 / 1 lap
Pole Position: Casey STONER 1'33.713 174.481 Km/h
Fastest Lap (New record): Dani PEDROSA 1'34.548 172.940 Km/h Lap 15
Old Circuit Record Lap: New circuit
Circuit Best Lap: Casey STONER 1'33.713 174.481 Km/h 2012
CHAMPIONSHIP POSITIONS TO DATE:
1 LORENZO 140, 2 STONER 140, 3 PEDROSA 121, 4 CRUTCHLOW 77, 5 DOVIZIOSO 76,
6 ROSSI 61, 7 HAYDEN 59, 8 BAUTISTA 58, 9 BRADL 51, 10 SPIES 48, 11 BARBERA 46,
12 ESPARGARO 20, 13 DE PUNIET 19, 14 PIRRO 16, 15 PASINI 12.
---
A record-breaking 65,000 enthusiastic visitors
Celebrating World Ducati Week 2012 photos by Max Olina / FastDates.com - Click to Enlarge

June 21-24th 2012 , Misano Race Circuit Adriatico, Italy - As the seventh edition of World Ducati Week comes to a close, the famous Italian motorcycle manufacturer prepares to return to its Bologna base having enjoyed an incredibly successful event which broke all previous WDW records. Held at the World Misano Circuit in Italy, the massive WDW2012 gathering, entitled The Planet of the Champions, ran from Thursday to Sunday, 21-24 June and attracted thousands of passionate Ducati owners from all over the world. With an incredible 65,000 visitors over four days, WDW2012 has been the biggest ever. CONTINUED
---
Yes Virginia, there is a Panigale World Superbike...
Revealing the 2013 Ducati 1199 RS World Superbike - Part 2
We just got finished showing you photos last week of the new Ducati 1199RS Panigale Superbike being raced in this year's British Superbike Championship, now our ace photographer Max Olina has sent us these pictures of the 1199RS Superbikes which both reigning World Superbike Champion Carlos Checa and retired 3-time World Champ Troy Bayliss were riding on the Misano track at World Ducati Week 2012. More Here
---


Postcards from Misano World Superbike by Max Olina
We're guessing Tissot grid girl Monika knows exactly what time its is.....

---
2013 Fast Dates Calendar cover Kitten Camilla Chiniquy on the grid at Miller World Superbike with Althea Ducati's Davide Giugliano.

Eni World Superbike Championship, Round 6 of 14, Miller USA

Miller USA World Superbike - Calendar Kittens gone Wild!
Checa Up and Down with a Win, handing Melandri another
Salt Lake City, Utah, USA, May 26-28th 2012– On a sunny race day at Miller Motorsports Park the sixth round of the eni FIM Superbike World Championship delivered some great action and two different race winners to the 49,000 strong weekend crowd. In a landmark day for the series, race one saw World Superbike reach its 600th individual race mark. Complete Coverage Here
---
Troy Corser on a legendary BMW at Goodwood.
The BMW Motorrad brand ambassador raced the 1976 BMW R 90 S at the "Goodwood Festival of Speed"

Munich/Chichester, England, July 1st 2012 - Today's stars and heroes from the past, historic and modern race vehicles: Last weekend, the "Goodwood Festival of Speed" again lured over 100.000 fans to Goodwood House near Chichester (GBR). The colours of BMW Motorrad were this time represented by brand ambassador Troy Corser (AUS). The two-time Superbike World Champion was taking the legendary 1976 BMW R 90 S on track at the famous motorsports event.

Troy was riding a motorcycle that made history: this BMW R 90 S took American Steve McLaughlin to victory in the first ever AMA Superbike race back in 1976 at Daytona (USA). Back then, McLaughlin won a tight photo-finish against his BMW team mate Reg Pridmore (USA) who later that season celebrated the historic first ever AMA Superbike title. Plans for a Superbike World Championship only took shape some years later. Now, BMW Motorrad Motorsport is contesting the series, that debuted in 1988, with factory riders Marco Melandri (ITA) and Leon Haslam (GBR). McLaughlin's victorious BMW R 90 S has found a new home at the BMW Museum at Munich (GER). At the "Goodwood Festival of Speed" it returned to the race track – ridden by the two-time world champion.

"It was a fantastic event; there were many, many people", Troy enthuses. "The atmosphere was really nice, the weather was good, it was not too hot and the BMW R 90 S is a great bike to ride. I thought it would be a lot heavier but is actually pretty light and has quite a lot of torque. It is fun to ride and I even did some wheelies with it. Overall it was a great weekend. I also met some of the 'older guys', like John Surtees and Wayne Gardner who I have not seen for a while so it was good fun."

Since 1993, the "Festival of Speed" has been held every year on the estate of motorsport enthusiast Lord March in the British county of West Sussex. It is here, where current stars and historic legends from automobile and motorcycle racing meet. Highlights are always the hillclimb runs, during which the riders and drivers race up the world-famous 1.16-mile road through the Goodwood House estate in and on modern and historic race vehicles.
---
There's more! Go to Pit Lane News Previous Week

Also Visit: Fast Dates Calendar News • Iron & Lace Calendar News
Calendar Girl News • Meet the Models • Paddock Garage

MEMBERS CORNER! Calendar Kittens, Paddock Garage, Iron & Lace Garage





MotorcycleSuperstore.com
Some of our Calendar Kittens can also at Playboy's website...



FREE! New Met-Art Model Galley Updated Daily - Stop Back Each Day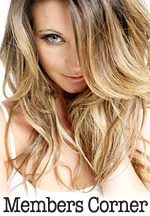 Hot Bikes, Sexy Kittens
Your Exclusive Grid Pass
also includes....
---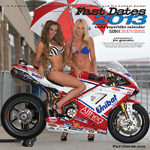 Order the New
2013 Calendars!
with FastDates.com Calendar Kitten, Ducati Corse Grid Girl
and Playboy Playmate
Heather Rae Young!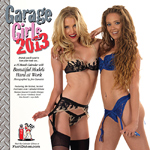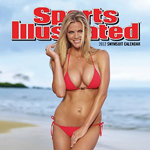 Click for even more Calendars!
---
Cal Crutchlow to Ducati MotoGP Team in 2013!
To replace Rossi or Hayden?
Assen , July 1st - July 1st is the unofficial deadline for the factory race teams to start making commitments to unsigned riders for the next season. The unofficial word at Assen this past weekend was that Yamaha Tech 3 rider Cal Crutchlow had been offered and accepted a factory rider with Ducati for the 2013 season.
The reasons for Crutchlow's move is very logical. As a current Yamaha support team rider, there's no chance that Cal will move up to replace Lorenzo and Spies on the factory squad, so he has to look elsewhere for a factory ride.
Meanwhile Ducati needs to divest itself of Valentino Rossi and / or Nicky Hayden who just are not delivering, even after a complete redesign of the Ducati GP12 bike to give it the flexi frame like the other factory bikes. Hayden has had 3 years on the factory Ducati and hasn't delivered a win - making his value as an American rider to appease Ducati's biggest sales market now a liability, not an asset. And with Rossi, there's a chance he might jump ship next season to returnto Honda to fill Casey Stoner's vacant seat. While Forbes magazine just revealed last month that Rossi is one of the Top Ten highest paid athletes in the world with a base salary from Ducati at $30 Million per year.
Ducati can't sell and build enough motorcycles to justify Ross's salary and thats one of the reason why they were $120 Million in debt when purchased by Audi a few months ago.
However, if Audi doesn't mind bleeding money there could be a 3-rider MotoGP team at Ducati next year, but based on current results they're better off restarting fresh with Crutchlow and some new young rider.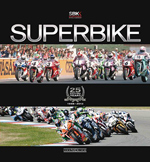 The Official SBK
World Superbikes
1987-2012
25 Year History Book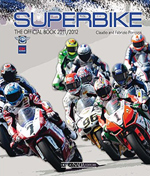 The Official SBK
2011-2012 Yearbook
These SBK Yearbooks are the Best Books Ever about World Superbike
They feature awesome color photography of the riders, bike and racing action. The feature a detailed revue of the past season in pictures and statistics, with a detailed look at the bikes and riders.
Plus a technical look data all the bikes, a preview of the upcoming season's Championship!
We buy this every year ourselves and highly recommend it!
SBK World Superbike Video Game
---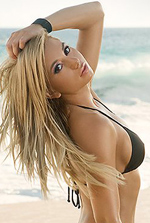 Meet 2012 Calendar Kitten
Sara Balint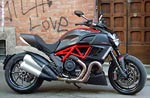 The Devil Made Us Do It!
Testing the Ducati Diavel in Italy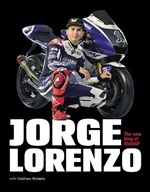 Sudco High Performance & OEM Replacement Parts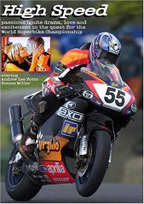 High Speed - the Movie
The best motorcycle racing movie ever made! Filmed on location at the World Superbike races , this an exciting romantic drama staring beautiful British actress Sienna Miller.
---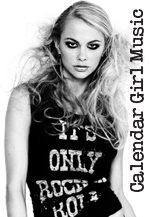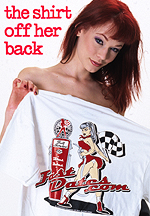 Order the Official
FastDates.com &
LA Calendar Bike Show
T-Shirts!
---
Motorcyclist Magazine 100th Anniversary Party & Awards with
Editor "Cat Man" Catterson announcing
he is Steping Away
El Segundo, CA, June 28th - Last night we had the privilege to attend a really significant event in the American motorcycle industry, the 100th Anniversary Celebration of Motorcyclist Magazine. The event took place at the magazine's new location in Torrance, CA, just south of LAX airport, where the former Peterson Automotive (Hot Rod, Street Rod, etc) and the Street Motorcycle Groups (Motorcyclist, Sport Rider, Super Street Bike, Dirt Rider) moved to, when they were purchased by the Source Publishing Group 2 years ago. In a world where the market and economy is changing so quickly, the fact that Motorcyclist magazine has survived, endured and continued so successfuly under many different Owners and Editors for 100 years is pretty incredible. Congratulations!
The magazine's latest home in an industrial/office complex is pretty incredible as it houses a huge air conditioned luxury automotive and motorcycle garage on one side of the building, complete with kitchen facilities and a lounge, and lifts. Then the huge photo studio facilities on the other side with the editorial and adverting offices in between.

The photo studio section is a photographer's dream with 3 separate shoot areas with 4 wall white seamless coves in every corner and overhead softlight boxes, designed especially for shooting motorcycles in the smaller, to big trucks and SUVs it the largest which probably measures 60 x 100 feet.
The evenings activities were hosted my Motorcyclist editor Brain "Cat Man" Catterson who took over the reigns of the magazine about 8 years ago after moving over form Cycle World.
In attendance were current and past staffers, industry stalwarts and legends form Malcolm Smith, Kevin Schwantz and Dan Gurney. And some pretty incredible motorcycles were parked around the facility, from Ben Spies Yamaha Moto GP bike from last season, to a classic Henderson Board Racers and Husqvarna V-twin road bike from the 1920s.
The event was highlighted by Catterson awarding Motorcyclist's Bike of the Year - the new Ducati Panigale 1199, and the Bike of the Century - the Honda CB750 as the most significant motorcycle ever made in the magazine's 100 year history. The final award of the evening went to whom Motorcyclist's survey and industry insiders most credited to be the most significant person in the history of the sport. The award was given to Malcolm Smith, who's portrayal in Bruce Brown's legendary movie 'On Any Sunday' and Malcolm's support of the industry and love of sport throughout his lifetime has provided such a positive influence to the growth and image of the sport of motorcycling in America.
The awards presentation end on stage with Catterson announcing that his was stepping down as editor and employee at the magazine. He said, "I'd like to spend a little time to go riding." After 25 years as a full time editor with hectic schedules and monthly deadlines he felt it was time to take a break, look around, and see what else life might have to offer him in the future. Knowing Brain, he won't be taking too long of a break, especially now that he will have to buy his own motorcycles!
Brian, thanks for the ride!
World Superbike Championship Expands to India in 2013
June 20th 2012 - India Lands World Superbike Championship sport bike race. The world's second-largest motorcycle market- India will host the World Superbike Championship, with India's Jaypee Sports International signing a four-year agreement with series organizers Infront Motorsports.

India's first World Superbike round will take place March 9-10, 2013 at the Buddh International Circuit in Greater Noida, near New Delhi. The rest of the 2013 WSBK calendar is yet to be announced, but the Buddh round will likely be second on the schedule behind Australia's Phillip Island round. The four-year deal will see Buddh host WSBK from 2013 to 2016.

The announcement comes months after Infront signed a five-year agreement to see WSBK race at Indonesia's Sentul International Circuit. This year will also see the first WSBK round in Russia, with Moscow Raceway hosting the series Aug. 25-26.

"The inclusion of the Indian round in the 2013 FIM Superbike World Championship calendar represents a great achievement for our series and reflects our continuous target to further extend its international presence," says Paolo Flammini, chief executive officer of Infront Motorsports. "India today is one of the most important motorcycle markets in the world, not only in terms of existing bike sales numbers but also growth and the upgrading of the range offered to the consumer. Undoubtedly the inclusion of this event will greatly benefit all the protagonists of our series and will create significant added value for the motorcycle manufacturers."

The 3.2-mile Buddh circuit was designed by German engineer Hermann Tilke who also designed Mayasia's Sepang International Circuit, the Yas Marina Circuit in the United Arab Emirates and Circuit of the Americas in Austin, Texas. Buddh, which hosted its first Formula 1 race in 2011, features a couple of long straights and 16 corners including a multi-apex sequence through turns 10-12 designed to be a popular overtaking zone.

The new Buddh WSBK round represents the current shift in the motorcycle industry in India. For years, India's motorcycle market had been dominated by small-displacement utilitarian models. In recent years however, the market has been maturing with major international manufacturers introducing high-end models including 1000cc sportbikes such as those used in WSBK.
"There are many in India who are passionate about bikes," says Sameer Gaur, CEO of Jaypee Sports International. "I am sure they would love to watch famed motorcycle drivers compete against each other here at their own world class racing circuit."