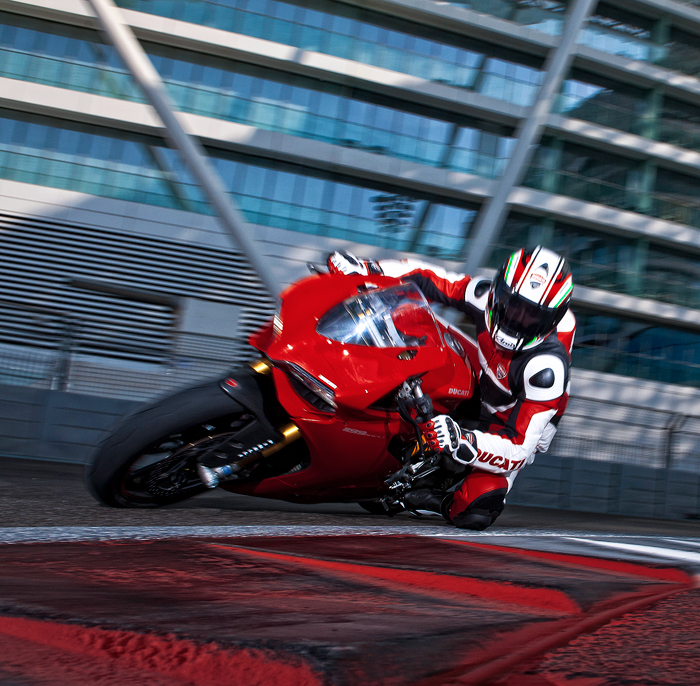 On track action with the new 1199S at the Yas Marina Circuit is like a virtual reality gamer experience.
World Press Launch Track Ride
Ducati 1199S Panigale Superbike
Excerpted from the upcoming new book The Ducati Corse World Superbikes by Alan Cathcart and Jim Gianatsis
Bottom line first. After spending a complete day riding Ducati's radical new 1199 Panigale around the sun-drenched 5.50km Yas Marina Formula 1 circuit in Abu Dhabi – the venue for the world press launch, and a sort of modern Arabian version of the Monaco GP track, lined by six-star hotels and glitzy high-rises, as well as guard rails and concrete walls protected for us by airfence – it's hard not to conclude the Italian manufacturer hasn't only reinvented the twin-cylinder motorcycle by endowing it with technology worthy of a MotoGP bike, it's also gone and shot everything else in the sportbike marketplace clean out of the water. This is the new benchmark for the Superbike category. Forza Italia!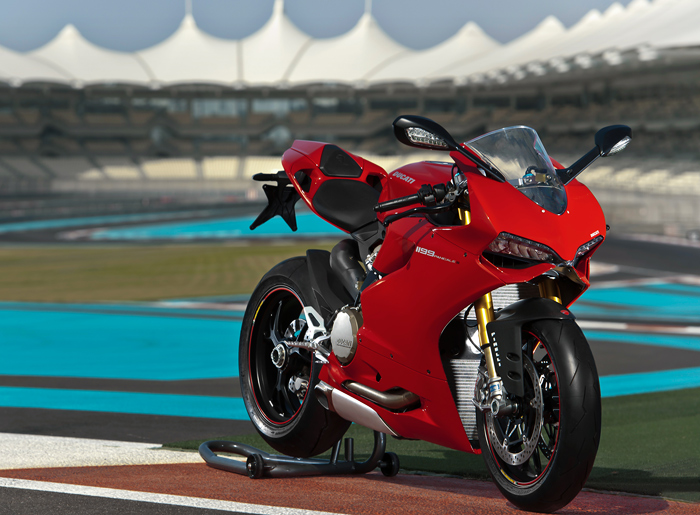 As soon as you throw a leg over the Panigale, you realize how different it is from all Ducati V-twin Superbikes built over the past 25 years, since the first 851 desmoquattro was concocted back in 1977. It's small, but spacious – a contradiction in terms whose less stretched-out, more snug riding position has you sitting 30mm further forward than before, albeit with a 5mm taller height for a seat whose being narrower at the front makes it accessible for shorter riders, but with 10mm higher and 16mm wider handlebars, and well-placed footrests which aren't too high or set too far back, yet deliver all the ground clearance you can use. The result of all this is that the new Ducati feels lower and more compact, even comfortable, with less weight on your arms and shoulders which makes it less tiring to ride hard – though the tiny screen isn't very aerodynamic, and you must be prepared for your head and shoulders to be buffeted around at the very high speeds this bright red rocketship is capable of. But a key element in that user-friendliness is the single greatest handling advantage of the new bike, the fact that it's a massive 10kg lighter than its old-style 1198 predecessor, according to Ducati, with the centre of gravity lower down, too. This means it's much less physical to change direction with than the old one, so attacking Yas Marina's succession of chicanes and twisting turns was a lot easier, aided by the extremely precise steering – get the electronics dialled in right, of which more later, and it's pinpoint accurate even at high speeds. Yet it steers so sweetly in spite of the fat 200/55-17 Pirelli Diablo Supercorsa SP rear tyre, which gives a welcome larger contact patch to lay the 25bhp extra horsepower which Ducati says the Panigale produces compared to last year's bike – and I believe them – to the ground. On other bikes I've ridden with this big a rear tyre fitted, it heavies up the steering quite noticeably, but not on the Panigale.
You can keep up turn speed better not just because the front Pirelli seems glued to the tarmac, giving a great sense of confidence, but also because you can just flick the new Ducati weighing an impressive 164kg dry from side to side, rather than having to heave it around like you did before. And no – doing so didn't betray any of the vague front end feeling or wheel chatter that Ducati's MotoGP star, a certain Rossi V., complained about last season with his Desmosedici 800 equipped with the same monocoque chassis as the company's new Superbike. But that was probably because of the hyper-stiff Bridgestone MotoGP control tyres Rossi has to run, whereas on the Panigale there's good feedback from the front World Superbike-developed Pirelli, especially if you trailbrake into a turn. Finish your braking early so there's less weight transfer onto the tyre, and you don't get quite the same sense of communication you had on the old bike – so brake later, harder, deeper, and you'll get the feeling you're looking for, as well as noticing how well the Panigale holds a tight line in turns. The default suspension settings Ducati had dialed in for the Yas Marina track were a little on the stiff side for such a smooth F1-friendly surface – the bike will respond well to customers having the patience to find a softer, slightly more compliant setting for the electronically-adjusted damping on the Öhlins suspension fitted to the 1199S test bikes we were riding, which were also fitted with ABS, and the ultra lightweight Marchesini forged aluminium wheels that also played a part in lightening the handling from side to side.
That lighter weight is a crucial factor in endowing the Panigale with truly eye-popping acceleration for any bike, not by just twin-cylinder standards, thanks to the deeply impressive performance of the radically engineered ultra short-stroke Superquadro engine, as well as the huge range of World Superbike and MotoGP-developed electronic rider aids included as standard on the bike. However, these need to be carefully tailored to suit each person's riding tastes and experience – so, for example, the EBC/Engine Brake Control programme on its default Level 3 setting initially had me, and the relatively few other journalists at the launch used to riding big twins hard, missing the entry apexes of turns as the engine pushed you on past them, thanks to engine braking being reduced. Switching it to the minimum Level 1 fixed that – but also meant there was still no risk of chattering the rear wheel on the overrun, especially with help from the effective Ducati slipper clutch. That's just one example, but there are lots more in a high-tech piece of hardware that's just bristling with mechanical innovation, and leading edge software technology which you do however need to take time to tailor to your own needs. "We deliberately set the EBC default setting quite high, because we want to attract conquest customers for the Panigale coming from a four-cylinder bike, who might feel daunted about switching to a twin," revealed Ducati's Direttore Generale, Claudio Domenicali, speaking frankly. "They need to be reassured a desmo V-twin isn't so hard to get used to, and anyone who's already a ducatista simply has to reduce the setting, or switch it off altogether!"
But it's that amazing engine that's the undoubted star of the show. Thumb the starter button and be prepared to listen to a New World Symphony of desmodromic music, higher-pitched and less gruff than before, thanks to its 112 x 60.8 mm engine dimensions, compared to the outgoing 170bhp 1198's 106 x 67.9 mm format. This produces an appetite for revs that's frankly addictive, as well as an impressive 195 bhp at 10,750 rpm - delivered complete with an air filter and twin-catalyst exhaust, that's just 4bhp less than Carlos Checa's 2011 World Superbike title-winning 1198! I was let loose on that World champion motorcycle for 15 laps of Misano last summer, and with hand on heart the Panigale 1199S I was allowed fifteen minutes of desmo delight riding at Yas Marina, fitted with the Ducati Performance trackday Termignoni exhaust and Pirelli Supercorsa SC2 race tyres, was literally indistinguishable in performance from Carlos's chariot. A true racer with lights, then, with the same perfectly mapped RBW system, giving comparably crisp but controllable pickup from a closed throttle, as the reigning World Superbike champion, and the same deeply impressive top speed.
But although the Panigale's torque peak is the same 132Nm as the older long-stroke model, delivered 1,000 revs higher at nine grand, there's no disguising that there isn't the same big hit of muscular grunt at low to medium revs like before – no hyper-aggressive waves of torque which'll have the front wheel pawing the air, like on the 1198SP, the ultimate expression of Ducati's desmoquattro title-winning twin-cylinder technology with belt-driven dohc. Instead, getting the best from the Panigale requires a more precise riding style than with any other Ducati Superbike built so far, which until now was basically happy to work with any gear you chose to throw at it, within reason. The new bike has adequate rather than forceful acceleration from low down, then from 5,000rpm upwards it starts to take off, and above 7,500rpm performance is deeply impressive by any standards, not 'just' those of a twin – it's not explosive, but it is irresistible. Previously, riding a Ducati in something approaching anger meant you had to force yourself to use a gear higher than you might otherwise have done, simply to ride the torque curve which was the V-twin desmo's key asset, often shifting to a higher gear when the engine seemed to tell you it wanted to, rather than when the shifter lights did. Here, the Superquadro motor asks you to rev it right out in the gears via the sweet-action powershifter fitted as standard, to the point where the bright red surround to the infinitely more legible dash than the previous hard-to-read Digitek item starts flashing at 10,500rpm, staying fully lit from 11,000 revs to warn you of the arrival of the soft-action limiter at 11,500rpm. And you also have the option with the extra spread of revs to hold a gear and flirt with the limiter between two bends, simply to save a pair of gearshifts.
There's no undue vibration at any revs, even without a balance shaft which the 90º V-twin engine format renders surplus to requirements, just that great angry-sounding roar from the intake ducts and the exhaust exiting low down in front of the rear tyre. You will get the front wheel lightening under hard acceleration, enough to cause the 'bars to start shaking gently in your hands for a few fractions of a second in second, third and fourth gears heading flat-out down the 1.2km-long main straight, but it never gets out of control, thanks to the Öhlins adjustable steering damper included as stock on the 1199S we were riding. But you're soon glad Ducati dialed in the traction control so ideally, with the yellow light flashing on the dash to show it's kicking in as you gas the Panigale up hard exiting any of the Yas Marina track's several slow turns. Level 5 where they started us off definitely had a detrimental influence on acceleration, but dropping it down to Level 4 and finally Level 3 countered that, while only failing to cutting in hard when I used maximum drive out of the chicane at the end of the main straight, and again soon after just as I'd hit third and fourth gears leaned over round the fast gentle left curve that came next. The TC would catch the rear wheel as it stepped out almost every lap there, and return to normal service. Just like a racer, indeed....
Still, this is the first volume production Ducati model with a full ride by wire throttle, even if the factory Superbikes have had it for the past three years, as a useful testbed for dialing it in right on the Panigale, and the three different riding modes, Race, Sport and Rain are each configured to incorporate pre-programmed (but adjustable) settings for the several other electronic rider aids interacting with each other. Mapping this motorcycle's many such programmes was not the work of an instant, and Panigale punters will need lots of time and plenty of experimentation to shake up the right cocktail of electronic settings to help them to get the most out of the bike's potential, which is truly enormous.
But the consequence of such digital and mechanical sophistication, worthy of a twin-cylinder MotoGP bike but available from your friendly local Ducati dealer, is literally awe-inspiring performance which is nevertheless accessible, and largely intuitive. Again, it's addictive how fast the bike is, albeit delivered with such a sense of control – you're in charge, ultimately, not any or all of the multiple ECUs on the bike (Ducati boss Claudio Domenicali, the man who deserves credit for conceiving and directing the creation of this new page in the Ducati Superbike history book, counted to six in all!) And it's really, really fast – I saw 283kph down the long Yas Marina main straight, before chickening out at the 200-metre mark to brake for the second-gear chicane at the end – and the lighter weight and peerless Brembo radial brake package means the Panigale stops HARD, without any hint of sitting up and understeering when you lean on the brakes, instead allowing you to trail-brake into the apex of a turn while revelling in the extra feedback from the front tyre which that weight transfer is giving you. The slipper clutch means you can just click down through the gears to where you want to be under heavy braking, but the exhaust note sound so good it's hard to avoid just blipping the throttle as you do so every now and then!
But while raving about this street version of the Superbike he's helping develop for the 2013 season, triple World Superbike champion Troy Bayliss doesn't reckon the new dash is up to much. "You get to 300kph, and it stops registering!" he complained. Paying Panigale punters will relish taking up the Bayliss challenge, to experience the same 'problem' – but once you learn to trust the ABS, you will find yourself braking harder and later – and from a higher top speed! - than you ever thought possible on a volume production streetbike, yet with a sense of empowerment verging on the other-worldly. Trusting the Panigale to let you do things that you'd normally only dream of doing on a factory Superbike racer is a mark of just how high Ducati has set the bar with this motorcycle. It's not just Extreme in so much of its technology, but also in the level it'll allow you to progress to, in terms of your own skill levels as a rider.
Indeed, in the high stakes game of chess which nine different manufacturers are currently playing, to outmatch each other in producing the fastest, the sexiest looking and simply the best high performance motorcycle money can buy, Ducati has produced a game-changer in the Panigale, by taking sportbike technology and performance to a new level of sophistication, irrespective of the number of cylinders. Checkmate?!
Go to: Ducati 1199 Panigale Introduction & Specifications
---
It's good to be King..... Max left the Phillip Island World Superbike season opener with 1-2 race finishes.

InFront FIM World Superbike Championship, Roud 1 of 14 Phillip Island
Biaggi and Checa share wins as opening day provides thrills aplenty
Reversal of Fortunes at Phillip Island 2012 World Superbike Season Opener

Phillip Island ,Australia, Sunday 26 February 2012 – A truly remarkable day of racing at the opening round of the FIM Superbike World Championship season saw two former World Champions win races, four manufacturers propel their machines onto the podium and the 4.445km Australian circuit provide some classic moments for the 64,500 strong weekend crowd as the championship begins its 25th Anniversary celebrations in earnest.

2010 champion Max Biaggi Max Biaggi (Aprilia Racing) and 2011 title winner Carlos Checa (Althea Racing Ducati) were the two dominant figures in each 22-lap race, but each had dramatic moments in the other races, one more costly than the other. Biaggi leaves as the points leader after fighting back from last in race two to second place, finding himself five points shy of perfection on the opening weekend.

Despite some troubled times in recent testing Marco Melandri (BMW Motorrad Motorsport) punched above his pre-race weight to jump onto the podium in race one, while pole winner Tom Sykes carried on his strong testing and qualifying form with a podium place in race two. Sylvain Guintoli (Team Effenbert Liberty Racing) put his 2011 Phillip Island nightmare raceday behind him with a particularly sweet third in the opener, finishing right on Melandri's tail.

In the championship standings, Melandri is 15 points behind Biaggi's total of 45, and one point ahead of Sykes, who has 29 points. Checa is fourth with 25 points. COMPLETE RACE COVERAGE HERE
---
Fast Dates World Superbike Calendar Kitten Rhian Sugden gets Ballsy!
Were glad to see our sexy British FastDates.com Calendar Kitten is really looking out for us guys. Rhian was our featured Calendar Kitten at the 2007 Brands Hatch World Superbike round whaere we photographed the 2009 Fast Dates Calendar. For more pictures of Rhina visit Meet the Models and visit her nude photo galley in Members Corner.
---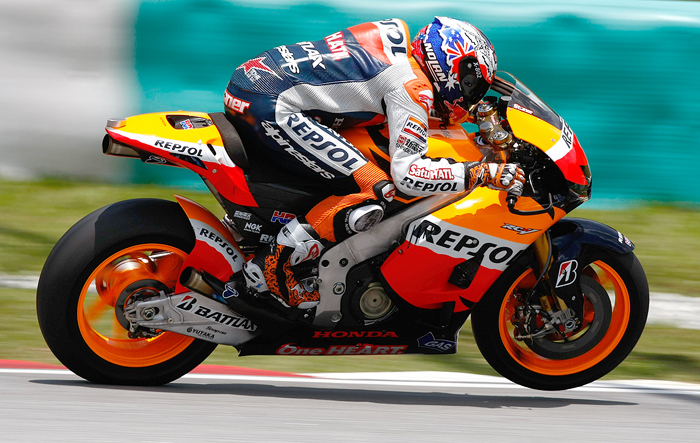 Stoner sets the mark at Sepang MotoGP Tests
Sepang, Malaysia, March 1st 2012 - The second Official MotoGP™ Test of 2012 held in Malaysia over 3 days, with the opening days hampered by rain, came to a close with the reigning World Champion again top of the timesheets, closely followed by team-mate Dani Pedrosa and Monster Yamaha Tech 3 rider Andrea Dovizioso.

The third and final day of testing at Sepang was held in hot and dry conditions, with teams setting out early to make up for time lost yesterday due to rain. All riders were out on track upon opening, including all four Hondas, and under ideal 40 degree track temperatures Casey Stoner (Repsol Honda) posted a 2'00.473 in the morning. That time remained as the best of the three days as the World Champion focused his efforts in the afternoon on efficient fuel consumption.

Dani Pedrosa pursued his team-mate by 0.175s as the Spanish rider focused his efforts on chassis modifications to improve stability under braking and reduce front end chatter. Andrea Dovizioso was three tenths from Stoner with a time of 2'00.802 on his Tech 3 machine after the Italian found a more efficient and comfortable riding position yesterday.


Yamaha Factory Racing's Jorge Lorenzo was fourth quickest and ended his day with a race simulation that revealed the more powerful 1000cc bikes will require careful tyre management. The 2010 World Champion reported that the new soft Bridgestones lost their grip early in the simulation, making braking more difficult due to sliding. The Spaniard also reported that the electronics improvements made during this test made corner entry easier and smoothed out the YZR-M1 overall.

Yamaha team-mate Ben Spies ended his day early, completing 28 laps with a best time of 2'01.432 set before a crash in the early afternoon. The American walked away from the fall unhurt though did not re-enter the track in the afternoon and his time from the morning placed him eighth in the line-up. Spies commented that he was happy with the electronic improvements though he and his team "haven't pushed the bike to its limit yet".
Cal Crutchlow (Monster Yamaha Tech 3) climbed to fifth position by the end of the day with a best lap 2'00.986, half a second off the leading time of Stoner and 0.245s ahead of the quickest Ducati in the field, the Pramac Racing GP12 of Héctor Barberá.

Álvaro Bautista (San Carlo Honda Gresini ) recovered from a crash in the morning to post a time of 2'01.275, over a second quicker than his time set on Tuesday, placing him seventh. The Spaniard declared at the end of the day: "This morning I had a hard time riding, it's clear that I have a lack kilometers on the bike and yesterday we didn't ride, plus I had a silly fall today but then picked up speed and reached a good pace."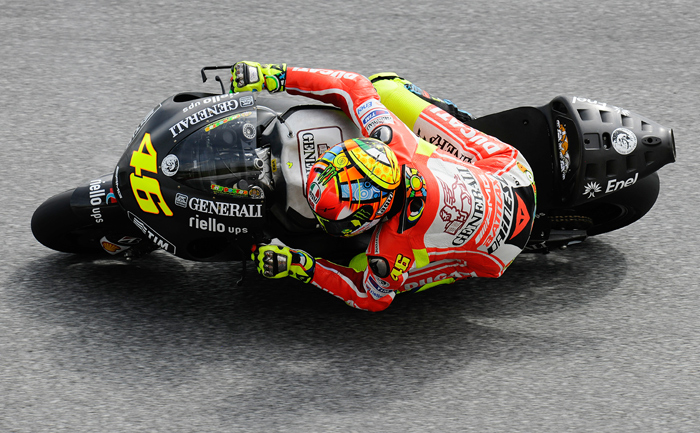 Newcomer Stefan Bradl finished the day in ninth and 1.019 off the top time set by Stoner, with Valentino Rossi and Nicky Hayden following in 10th and 11th respectively. The Ducati Team pair have work to do, with Rossi reporting that the outstanding issue remains riding position and that the set up for it was better at the first Sepang Test. Developments made with the traction control, however, has been reportedly been good.

Colin Edwards (NGM Mobile Forward Racing ) wrapped up the second Malaysian Test in 13th position with a best time of 2'03.681, a one second improvement from his last visit to the circuit, while Avintia Racing riders Yonny Hernández and Iván Silva also improved the team's performance with a best lap that was 1.6 seconds faster than at the first Sepang test.
---
21th Anniversary Celebration! Sunday July 22nd 2012
Los Angeles Calendar Motorcycle Show Concours d' Elegance
Calabasas Country Club, Calabasas, California
Los Angeles, Feb 10th, 2012 - The 2012 Calendar Bike Show continues its now 21-year tradition as the premier outdoor streetbike event in America with top Celebrity Builders, the upscale Calendar Bike Building Championship & Concours d' Elegance, selected Vendors and Exhibitors, Calendar Girl Music live performances. As always the Show marks the world premier of next year's new 2013 FastDates.com Motorcycle PinUp Calendars featuring the world's top roadrace and custom motorcycles with the beautiful Calendar Kittens also featured at the Show.
Order Advance Calendar Bike Show Tickets Now!
---
There's more! Go to Pit Lane News Previous Week

Also Visit: Fast Dates Calendar News • Iron & Lace Calendar News
Calendar Girl News • Meet the Models • Paddock Garage

MEMBERS CORNER! Calendar Kittens, Paddock Garage, Iron & Lace Garage





MotorcycleSuperstore.com
Some of our Calendar Kittens can also at Playboy's website...



FREE! New Met-Art Model Galley Updated Daily - Stop Back Each Day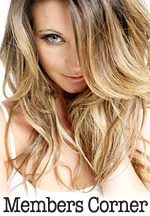 Hot Bikes, Sexy Kittens
Your Exclusive Grid Pass
also includes....
---
Order the New
2012 Calendars!
with FastDates.com Calendar Kitten, Ducati Corse Grid Girl
and Playboy Playmate
Heather Rae Young!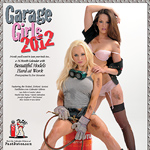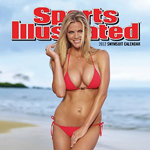 Click for even more Calendars!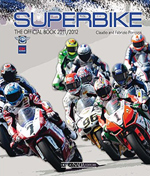 The Official SBK
2011-2012 Yearbook
These SBK Yearbooks are the Best Books Ever about World Superbike
They feature wesome color photography of the riders, bike and racing action. The feature a deailed revue of the past season in pictures and stactics, awith a detailed look at the bikes and riders.
Plus a technical look data all the bikes, a preview of the upcoming season's Championship!
We buy this every year ourselves and highly recommend it!
SBK 2011 Video Game
---
Indonesia's Sentul Circuit joins FIM Superbike World Championship in 2013
Phillip Island (Australia), Tuesday 21 February 2012: Maurizio Flammini, President of Infront Motor Sports, signed a contract on February 15 to bring back the FIM Superbike World Championship to Indonesia, after a gap of 15 years, for five years starting in 2013. The contract was signed in the presence of Minister Dr. H.R. Agung Laksono (photo), who coordinates the work of five different ministries that include the Ministry of Sport, as well as numerous leading figures from the worlds of politics, sport and business.

The Indonesian Government will furthermore start up the promotion of the event by means of the creation of a government task force that will sustain the economic, logistical, promotion and administrative requirements of the organiser.

Maurizio Flammini declared: "We are proud of the growth of the Superbike calendar, which thanks to the inclusion of the latest rounds is obtaining a presence in countries of major importance for the development of our championship on a sporting and commercial level. After Russia, where Superbike has now arrived before any other world motorsport championship, thanks to more than two years of intense work in the Asian area, we have now been able to insert Indonesia, which has in the past already played host to a race of considerable success and appeal, in the calendar.

Indonesia today is a country with the largest growth factors: GDP is more than one trillion dollars, with a 2011 growth of more than 6%, and the sale of bikes widely exceeds 7 million units per year. The Superbike race will therefore be a great opportunity for the motorcycle manufacturers present in our championship.
We are also negotiating with the Buddh International Circuit in India, where the Formula 1 race was recently held, in order to complete a presence in Asia that in this case will be absolutely extraordinary".

It should also be added that Superbike, together with its sponsors, teams and entrepreneurs, will be able to benefit from the agreements that Maurizio Flammini, as President of FEDERLAZIO and PMItalia, organisations that represent more than 30,000 Italian firms, has started with the Indonesian Government to set up close collaboration between the companies of the two continents and the creation of B2B opportunities.

The Sentul Circuit has its own particular fascination, both due to its natural environment in the middle of a tropical forest, and due to its technical and design features.

Indonesia also makes up an extraordinary market for bikes, with a total of 7,400,000 units sold in 2010 and an estimated 10% increase for 2011, a figure that will shortly be available. In addition the Government also provides subsidies for fuel used for circulation on two wheels.

The date for the Superbike round will be decided shortly. The two possibilities being considered are at the start of the championship together with Australia, or the final round of the season.

Paolo Flammini, CEO of Infront Motor Sports, declared: "The arrival of the Indonesian round in the Superbike World Championship calendar confirms the growing interest in our series and undoubtedly helps to complete a championship that touches all the world's motorcycle markets and which continues to offer increasingly significant opportunities for the motorcycle industry, sponsors and media".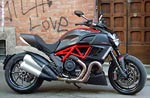 The Devil Made Us Do It!
Testing the Ducati Diavel in Italy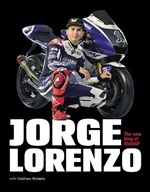 Hero MotoCorp Ltd., a motorcycle OEM based in India, announced this week that it has formed a strategic partnership with Erik Buell Racing.
Also to sponsors Burll AMA Superbike team
The goal of the partnership is for Hero to get technology and design input from EBR, bring next-generation high-end motorcycles to India and augment the company's R&D capabilities. Hero and East Troy, Wis.-based EBR will also be developing the Leap, a concept hybrid scooter that Hero showcased at the India Auto Expo. Pawan Munjal, director and CEO of Hero, said his R&D team and EBR have already begun working together and have made "definitive progress."

"It gives me immense pleasure to welcome Erik Buell to the exciting world of Hero MotoCorp. This is in keeping with my objective of quickly scaling up our own in-house R&D capabilities to a global two-wheeler technology powerhouse by leveraging a network of strategic international alliances," he said. "Erik and his team have been working closely with our engineers and designers to develop our next-generation range of products with cutting-edge technology and first-of-its-kind features."

Erik Buell, chairman and CTO of EBR added, "EBR is delighted to partner with a company as iconic as Hero MotoCorp. Both HMCL and EBR share the common commitment to manufacturing world-class two-wheelers with technology of the future. I have personally been deeply impressed with and inspired by Pawan's vision. He has given us a challenging brief, and our highly motivated team is working towards giving shape to that dream. We look forward to designing technology solutions which are in line with contemporary global standards and also futuristic in their appeal and utility."

The agreement is also resulting in Hero's first foray into racing, as the company will sponsor both Team Hero and team AMSOIL Hero in the AMA Pro Racing Superbike Championships this year. Danny Eslick will ride for Team Hero, while Geoff May will represent team AMSOIL Hero, both on EBR 1190RS bikes. This announcement marks the first time an Indian motorcycle OEM has sponsored an AMA Superbike team.

Buell launched EBR about two years ago, after Harley-Davidson ceased production of Buell Motorcycles.
Sudco High Performance & OEM Replacement Parts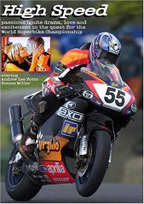 High Speed - the Movie
The best motorcycle racing movie ever made! Filmed on location at the World Superbike races , this an exciting romantic drama staring beautiful British actress Sienna Miller.
---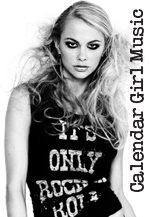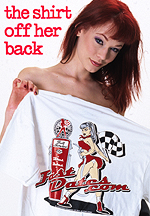 Order the Official
FastDates.com &
LA Calendar Bike Show
T-Shirts!
---