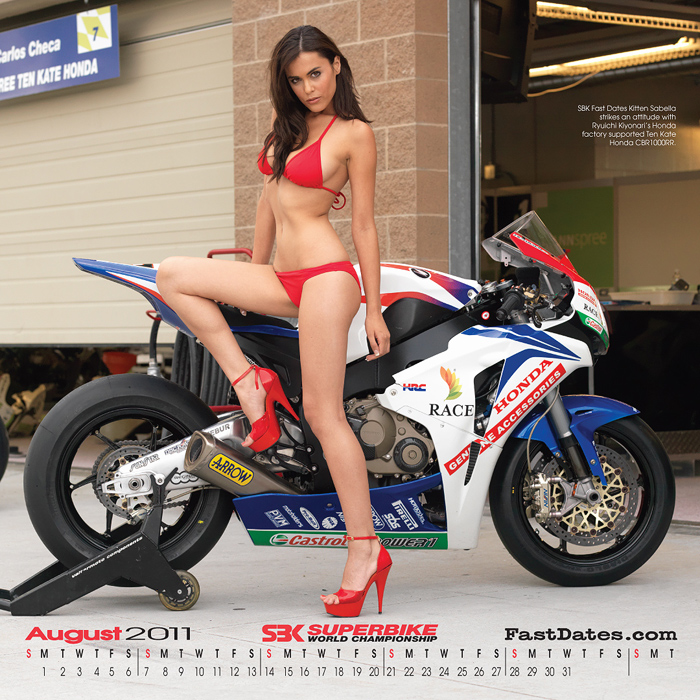 This Month in the Fast Dates World Superbike Calendar ...
World Superbike Calendar Kitten Sabella Shake steps out
with Ryuichi Kiyonari's 2009 Honda factory supported Ten Kate CBR1000RR.
Order the Fast Dates Calendar • Screensavers in Members Corner
Carlos Checa and the privater Althea Ducati team carded their 10th victory this season.
SBK World Superbike Championship, Round 9 of 13 Silverstone
Carlos Checa sets multiple records at Silverstone with Double World Superbike Wins
Silverstone, Unitd Kingdom, July 29-31st 2011 – World Championship leader Carlos Checa (Althea Racing Ducati) had a remarkable weekend in front of 64,000 fans at Silverstone, despite not expecting to be in full contention before arriving in the UK. In winning the first race Checa became the rider who gave Ducati 300 race wins in the WSB championship since itsbeginning, and added one to the total when he took his second win in a few hours. His race two victory was Carlos' tenth of the season. And Checa is something of a century man, as he notched up 100 WSBK races in the second encounter and he was also the rider to give Honda its 100th win in WSBK, at Miller Motorsports Park in 2008. Continued Here
---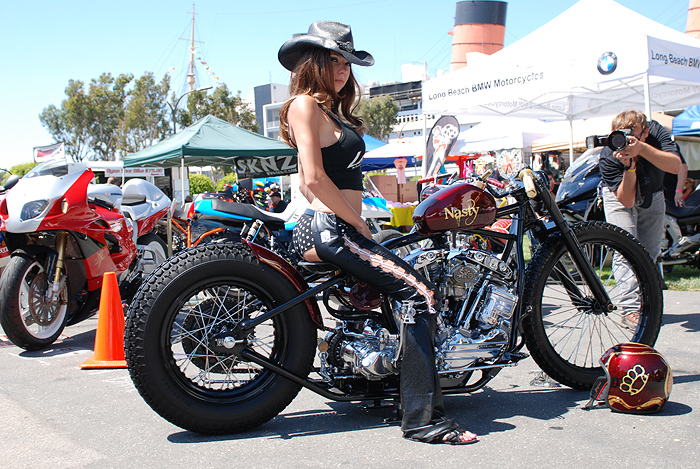 The 2011 LA Calendar Motorcycle Blows the Lid off Again!
The Queen Mary, Long Beach , CA, July 16th, 2011 - Thanks to everyone who came to our 20th annual LA Calendar Show on Saturday the 16th - we had some really incredible people, music and custom bikes and a great day. Congratulations to Jim Giuffra at AFT Customs for now taking wins 5 years in a row and taking Best of Show with classic a 1970s classic Honda CB 750 named Sentoh! The Complete Story w/ Photos HERE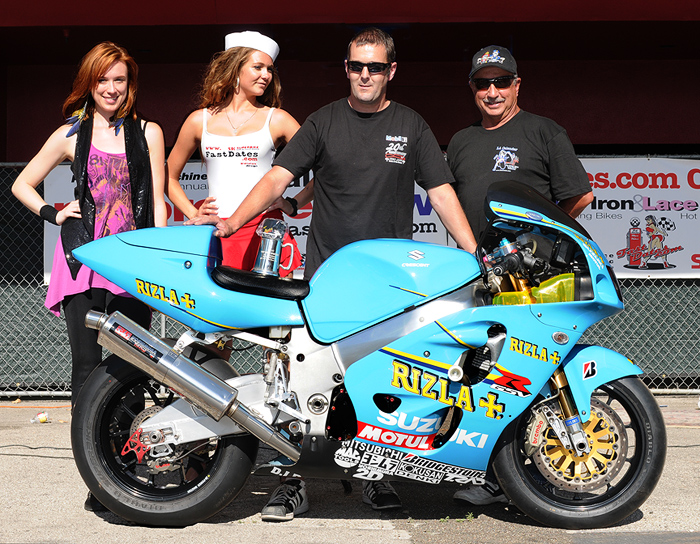 Above: Former Superbike and MotoGP mechanic Chris Redpath, owner of the sportbike performance shop MotoGPwerks.com in Los Angeles, former Sportbike Class winner, returned to the Show this year with a whole slew of custom and race prepared sportbikes bikes to place 1st, 2nd and 3rd in the Sportbike Class. His winning machine was this GSXR1000 replica of a Rizla Suzuki MotoGP bike. Calendar Kitten Camilla shot with the bike in our studios the next day for the next Fast Dates Calendar. Along side them are show host Emily Jaye from our headline band Frentik, and industry friend and Show Assistant Lee Chapin.
Above from left : Sons of Anarchy actor Emilio Rivera enjoys a picnic lunch made for us TV's Food Network which was there to film an episode of "Extra Virgin" a half hour Italian cooking show with actress Debi Mazar and her Italian husband Gabriele Corcos, both of whom are hard-core motorcycle enthusiasts. Gabriele actually road to the Show in full roadracing leathers aboard his own Ducati Hypermoto. Next to Debi is singer songwriter Natalie Gelman who also performed at the Show.
Our newest FastDates.com Calendar Kitten Camilla Hahn Chinquiy from Miller USA World Superbike, Utah, flew done to help us premier the new 2012 FastDates.com Calendars and do more photo shoots with the winning Calendar Show Bikes for the next 2013 Calendars. Above, Camilla joins photographer and producer Jim Gianatsis for the picnic lunch prepared by "Extra Virgin TV's Debi Mazar and her Italian husband Gabriele Corcos. Below, Camilla rocks out on the Show's Main Stage with Isis Queen of the band Barb Wire Dolls.
Miller World Superbike Calendar Shoot! Two months earlier Camilla and Jim were shooting with all the top factory race bikes in the rain and snowon Friday evening for the 2013 Fast Dates World Superbike Calendar. The Complete Story HERE
Our Newest Kittens on the Prowl!
On Sunday, the day after this year's 20th anniversary LA Calendar Motorcycle Show, rather than taking the day off to recover, we were back in the photo studio and hard at work to shoot the top winning bikes at this year's Show for the next FastDates.com Calendars. My Kittens for the shoot were included Fast Dates Calendar World Superbike girl at the Miller USA round in May, Camilla Chiniquy (the brunette at left) who flew down from Salt Lake City, Utah, shoot and hang and work the Calendar Show for 2 weeks this past month. And joining us was a brand new Kitten, supermodel Shannon Baucom (blond at right), who took the train up to Los Angeles from her home in San Diego. Shannon had just return from 3-months of modeling assignments in Istanbul, Turkey, and Milan, Italy. You can get a preview of their 2013 Calendar Shoot with our Best of Show winning bike from AFT Customs in the Calendar Bike Garage. - Jim Gianatsis
---
"Shakey" Byrne.
MCE INSURANCE BRITISH SUPERBIKE CHAMPIONSHIP, Round 8
Brookes, Byrne and Hill Score Wins at Brands Hatch British Superbike
August 6-7th, Brands Hatch GP Circuit, Great Britain - Shane Byrne provided the cheer as he consolidated his lead in the MCE Insurance British Superbike title chase amid what was a bitter-sweet weekend for his HM Plant Honda team who saw their reigning three times champion Ryuichi Kiyonari struggling across this crucial triple race eighth round at the Brands Hatch Grand Prix circuit.
Byrne with a victory in the first of Sunday's two races and then a hard earned third ensured his qualification as one of the six title fighters in the Showdown finale sequence to decide the outcome of the crown, but Kiyonari whose best result, sixth, came in the third race, needs high scores next time out at Cadwell Park to stay on track to retain the silverware.
Kiyonari, returning fresh from his fourth victory in the Suzuka Eight Hours race, was on the back foot after qualifying for the opening Saturday afternoon race left him languishing on the fifth row of the grid after changes had been made and new settings that were tried did not work.
Byrne had also experienced problems, changing engines between the two earlier free practice sessions, but then riding hard to secure fifth fastest time and a second row start for a race that was blighted by light rain falling minutes before the start.
That prompted a brief wet practice session, which few riders took part in, together with gambles on tyre choice. Both Byrne and Kiyonari went the wrong way, opting for wets, and both pitted during the race to change tyres, returning to the now virtually dry track to put in the fast laps that decided the starting positions for the first of the two Sunday races.
Neither rider scored points in the Saturday race, but their lap times secured front row starts, Byrne in the third slot with Kiyonari alongside for the second race of the weekend in which title contender Tommy Hill made the early running on his Yamaha. Byrne was fourth on the opening lap, but was soon making headway to be second on the fourth lap.
Then at Surtees on the sixth lap, Byrne made his move, taking the lead and then holding off the fierce challenges from Hill as they slugged it out, for much of the race never more than a third of a second apart, before Byrne ended a six race run without a win by taking his fourth victory of the campaign. Kiyonari in contrast was never in the hunt, slipping back down the pack, running tenth on the opening lap and finishing a distant twelfth and making his position worse, his lap times were such that he had a fourth row start for the final race of the weekend while Byrne was again on the front row.
Byrne made a good start, but had to be content running third behind the eventual race winner Hill and Hopkins with the Honda rider later explaining that he had concerns about a vibration from his rear wheel when he tried to push on. Kiyonari ended a lack lustre weekend on a relatively high note as he came in sixth.
Graeme Gowland excelled aboard the WFR Honda finishing the opening race in seventh place overall as he won the BSB-EVO class and he was again well on the pace next time out, eleventh overall and winner of the class. And he completed the hat-trick of victories, again eleventh overall in the third race, but his team-mate Glen Richards leads the title stakes.
Shane Byrne (HM Plant Honda): "We had a second row start for the first race which wasn't the end of the world, but in the race we made the wrong choice on tyres and that meant we were always going to struggle. We came back in and threw some slicks in so we could get a decent position on the grid for the second race. I was really chuffed to win that one. If you only knew how difficult the weekend has been. It has been drama after drama. We only put in about 10 flying laps before the grid decider. One of the mechanics got a scolded hand as an engine overheated, but the guys turned the bike around for me and it was pretty spot on. I was on the edge in the closing stages, but winning is good. In the third race I rode as hard as I could but had a vibration from the rear tyre and I decided that first and third on the day was better that a first and a dnf."

RESULTS BRITISH SUPERBIKE
RACE 1:
POS / RIDER / NAT / MOTORCYCLE / TIME / GAP
1 / Josh BROOKES / Suzuki - Relentless Suzuki by TAS / 22:53.718 /
2 / Michael RUTTER / Ducati - Rapid Solicitors Bathams Ducati / 22:55.790 / 2.072
3 / Gary MASON / Kawasaki - MSS Colchester Kawasaki / 22:56.040 / 2.322
4 / John HOPKINS / Suzuki - Samsung Crescent Racing / 22:59.740 / 6.022
5 / Chris WALKER / Kawasaki - Pr1mo Racing / 23:01.829 / 8.111
6 / James WESTMORELAND / Yamaha - Motorpoint Yamaha / 23:04.501 / 10.783
7 / Graeme GOWLAND / Honda - Team WFR / 23:05.344 / 11.626
8 / Michael LAVERTY / Yamaha - Swan Yamaha / 23:12.567 / 18.849
9 / Jon KIRKHAM / Suzuki - Samsung Crescent Racing / 23:16.447 / 22.729
10 / Glen RICHARDS / Honda - Team WFR / 23:19.945 / 26.227
11 / Ian LOWRY / BMW - Buildbase BMW Motorrad / 23:44.366 / 50.648
12 / Patric MUFF / Honda - Tyco Honda / 23:44.590 / 50.872
13 / Dan KNEEN / Kawasaki - Marks Bloom Racing / 23:44.832 / 51.114
14 / Jake ZEMKE / Honda - Team WFR / 23:46.732 / 53.014
15 / Barry BURRELL / BMW - Buildbase BMW Motorrad / 23:51.894 / 58.176
Fastest lap: Tommy HILL Yamaha - Swan Yamaha Lap 14 1:26.459 163.05 Km/h

RACE2:
POS / RIDER / NAT / MOTORCYCLE / TIME / GAP
1 / Shane BYRNE / Honda - HM Plant Honda / 29:01.030 /
2 / Tommy HILL / Yamaha - Swan Yamaha / 29:01.610 / 0.580
3 / John HOPKINS / Suzuki - Samsung Crescent Racing / 29:02.883 / 1.853
4 / Michael LAVERTY / Yamaha - Swan Yamaha / 29:05.046 / 4.016
5 / Michael RUTTER / Ducati - Rapid Solicitors Bathams Ducati / 29:07.921 / 6.891
6 / Josh BROOKES / Suzuki - Relentless Suzuki by TAS / 29:15.066 / 14.036
7 / Joan LASCORZ / Kawasaki - Kawasaki WSB Team / 29:18.036 / 17.006
8 / Jon KIRKHAM / Suzuki - Samsung Crescent Racing / 29:18.205 / 17.175
9 / Martin JESSOPP / Ducati - Rapid Solicitors Bathams Ducati / 29:18.210 / 17.180
10 / Peter HICKMAN / Honda - Tyco Honda / 29:18.405 / 17.375
11 / Graeme GOWLAND / Honda - Team WFR / 29:20.203 / 19.173
12 / Ryuichi KIYONARI / Honda - HM Plant Honda / 29:24.527 / 23.497
13 / Broc PARKES / Kawasaki - Kawasaki WSB Team / 29:24.572 / 23.542
14 / Glen RICHARDS / Honda - Team WFR / 29:26.770 / 25.740
15 / Chris WALKER / Kawasaki - Pr1mo Racing / 29:26.822 / 25.792
Fastest lap: Tommy HILL Yamaha - Swan Yamaha Lap 17 1:26.460 163.05 Km/h

RACE3:
POS / RIDER / NAT / MOTORCYCLE / TIME / GAP
1 / Tommy HILL / Yamaha - Swan Yamaha / 28:55.830 /
2 / John HOPKINS / Suzuki - Samsung Crescent Racing / 28:59.943 / 4.113
3 / Shane BYRNE / Honda - HM Plant Honda / 29:01.066 / 5.236
4 / Michael LAVERTY / Yamaha - Swan Yamaha / 29:01.239 / 5.409
5 / Michael RUTTER / Ducati - Rapid Solicitors Bathams Ducati / 29:06.535 / 10.705
6 / Ryuichi KIYONARI / Honda - HM Plant Honda / 29:06.879 / 11.049
7 / Gary MASON / Kawasaki - MSS Colchester Kawasaki / 29:09.519 / 13.689
8 / Joan LASCORZ / Kawasaki - Kawasaki WSB Team / 29:09.780 / 13.950
9 / Peter HICKMAN / Honda - Tyco Honda / 29:15.212 / 19.382
10 / Jon KIRKHAM / Suzuki - Samsung Crescent Racing / 29:15.600 / 19.770
11 / Graeme GOWLAND / Honda - Team WFR / 29:16.389 / 20.559
12 / Broc PARKES / Kawasaki - Kawasaki WSB Team / 29:18.329 / 22.499
13 / James ELLISON / Honda - Team SorryMate.com / 29:21.327 / 25.497
14 / James WESTMORELAND / Yamaha - Motorpoint Yamaha / 29:21.395 / 25.565
15 / Chris WALKER / Kawasaki - Pr1mo Racing / 29:24.568 / 28.738
Fastest lap: John HOPKINS Suzuki - Samsung Crescent Racing Lap 7 1:26.163 163.61 Km/h

CHAMPIONSHIP POSITIONS TO DATE:
1 BYRNE 255, 2 HOPKINS 231, 3 HILL 210, 4 LAVERTY 163, 5 BROOKES 146,
6 KIYONARI 135, 7 RUTTER 130, 8 MASON 115, 9 KIRKHAM 112, 10 HICKMAN 98,
11 EASTON 89, 12 BAZ 88, 13 WALKER 77, 14 WESTMORELAND 59, 15 LINFOOT 49.
NEXT EVENT: ROUND 09 SUNDAY AUGUST 21, CADWELL PARK
---
Cafe Racer Season 2 to air on Velocity TV starting August 3rd 9-10PM EST
July 2011 - One of the best streetbike programs on television, Café Racer returtns Wednesay August 3rd on the new Velocity network, formally known as Discovery HD Theater. Hosted by Cafe Racer magazine editor and coordinating producer Mike Seate, the world of low bars and high-performance has continued to grow recently, particulaly as the economic climate has reduce expensive new bike sales median age of bike riders gets older. Now its really cool to build the custom sportbike of your dreams using oldand affordable junkyard dogs from the 1970s. This second season of Café Racer will bring us up to date with where the International café racer scene is going. The crew travels to faraway Italy, Wales, England and all across the United States where they unearthed some extraordinary custom motorcycle builders.
The builders and their unique rides are still our main focus, bringing in some new blood to the cafe racer cult such as hot rod builder Bryan Fuller, Reverend Jim of Florida's Church of the Apehangers, custom sportbike king Nick Anglada and Matt Rambow of Colorado Norton Works to name just a few. Some of your favorite builders from last season have clued us in on their latest ground-up builds, including Greg Hageman, Florida's Dime City Cycles and Santiago Choppers' Alan Bernard who, for a second time, created a mind-blowing custom bike that he donated to the Curing Kid's Cancer charity. Alan's Harley-powered Norton brought in some serious money to help children's cancer research, and our cameras were there to catch the occasion.

Celebrities Billy Joel, Last Comic Standing Alonzo Bodden and award winning singer/producer Butch Walker bring their passion for café racers to the show as well and the 2008 World Champion Phillies get a chance to wiegh in on one of our latest creations. You'll find Cafe Racer show schedule and times here: www.caferacertv.com
New 5th Generation Ducati Superbike Revealed
July 10th - The Italian motorcycle magazine Motocilismo was given some sneak preview photos by the Ducati factory of the all-new 5th Generation Ducati 1198 Superbike which they have released in their July 2011 issue. And above, the art studio Bar Design has rendered up a look at the complete bike. Exact specifications and more complete pictures of the new 5th Generation Bologna Bullet will have to wait for the bike's premier at the EICMA Show in November, with production set to start right after for dealer deliveries starting in February 2012. MORE
New Ducati 1199 stuns Bayliss in testing at Mugello
Reprinted courtesy Motorcycle News, August 1st,2011 - Ducati's rivals are reeling after retired Ducati legend Troy Bayliss matched his fastest ever Superbike time around Mugello, in a sensational three-day test in June of the new 1199. The 52-time WSB race winner left the track stunned by the pace of the machine at such an early stage: "All I can say is the bike is a beast and she is on the money."
Troy told FastDates.com in May that he only expected to be testing the Corse race version of the 1199 which the privateer Ducati teams including Carlos Checa / Althea Ducati would be racing next year. The bike he is pictured testing here in June looks to be a mash of production and race parts with production parts Ohlins forks and Brembo brakes. While this bike is obviously not using any lighting equipment and has a massive hand built Termignoni Racing Exhaust System with the rear cylinder's huge pipe exiting under the seat and then turning down to the under engine dual silencers. We don't know the exact displacement of the all-new gear drive Desmo engine yet, but as is usually Ducati policy, this new 5th generation Superbike is being designated as the 1199 to differentiate it from the current 1198 model.
Given a combination of an all-new engine, radically different chassis design, self-confessed 'rusty' rider and little development so far, the times Bayliss set are a staggering achievement, hinting at the huge potential of the mould-breaking new superbike.
August 1st - Above is the latest spy shot of an 1199S model with Ohlins forks, being tested around the factory in Bologna. With the test rider in Ducati riding gear and the bike now in Ducati Red colors, the factory isn't too worried about "spilling the beans" anymore while riding it in public.
The bike will be ready to go into production after its premier at the EICMA Show in November, with deliveries world-wide sometime in February 2012. Expect the 1199R model to be available a year later.
---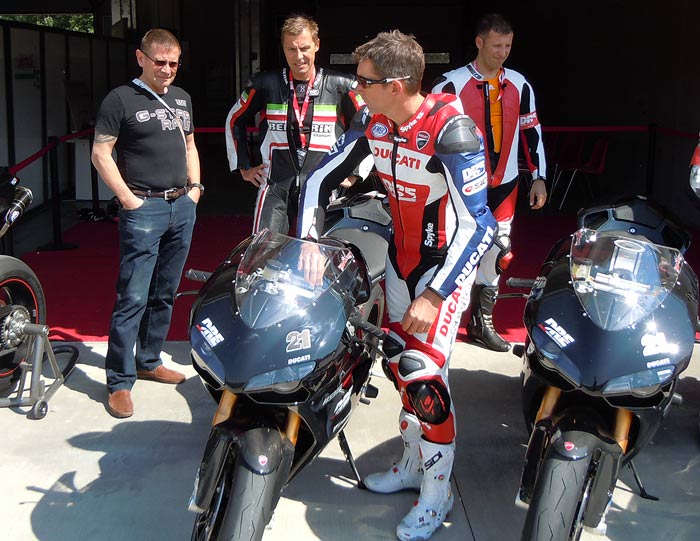 Superbikes at Monza, Imola, Bologna & Miller...
We go racing with 3-time World Champ Troy Bayliss!
Troy Bayliss Racing Academy at Imola • World Superbike Race at Imola

Fast Dates Calendar Shoot at Miller WSBK • Testing the Ducati Diavel in Italy!
---
There's more! Go to Pit Lane News Next Page

Also Visit: Fast Dates Calendar News • Iron & Lace Calendar News
Calendar Girl News • Meet the Models • Paddock Garage

Calendar Kittens, Paddock Garage, Screensavers, Iron & Lace Garage





MotorcycleSuperstore.com
Some of our Calendar Kittens can also at Playboy's website...



FREE! New Met-Art Model Galley Updated Daily - Stop Back Each Day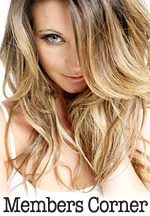 Hot Bikes, Sexy Kittens
Your Exclusive Grid Pass
also includes....
---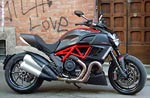 The Devil Made Us Do It!
Testing the Ducati Diavel in Italy
2011 Calendars!
with FastDates.com Calendar Kitten, Ducati Corse Grid Girl
and Playboy Playmate
Heather Rae Young!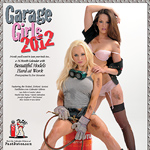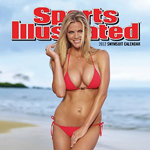 Click for even more Calendars!
---
Economic Reality - Yamaha and Alstare Suzuki to withdraw from World Superbike in 2012
Yamaha Official World Superbike Team withdraws at the end of 2011 season from World Championship
Aug 1st 2011- Yamaha Motor Europe N.V. (YME) has decided to withdraw their official Yamaha World Superbike Team at the end of the current season from the FIM Superbike World Championship.
This announcement follows a full strategic review of the Marketing Operations within Europe including all Motorsport activities and takes into account the continuing severe and rapidly changing Powered Two Wheeler market conditions throughout the region.
Due to this decision more resource and focus will now be used for direct "Customer" activities to ultimately add more value to Yamaha ownership and increased Customer Satisfaction.
YME would like to express their sincere thanks and appreciation for the total commitment, support, and passion shown by the extremely professional and dedicated riders and team members both past and present throughout the many years of participation in the FIM Superbike World Championship. YME would also like to thank all the highly valued business partners and suppliers who have in-turn supported the team and in addition would like to thank Infront Motorsports, the FIM Superbike World Championship promoters. YME has chosen this timing of announcement to ensure that all existing obligations are correctly met, and to not limit any opportunities or future planning for all personnel involved.
Riders Marco Melandri and Eugene Laverty are currently respectively 3rd and 4th in the overall 2011 FIM Superbike World Championship standings for riders with 4 rounds to go. YME and the team will continue to give its maximum efforts until the end of the existing season to try and regain the World Superbike title which Yamaha also won in 2009.
Yamaha will continue the availability of road racing kit parts, known as YEC Racing kit parts, for its R1 and R6 production models for private teams entering at all racing levels.
Alstare Suzuki Team Owner Frances Batta States his teams' positiion for 2012 World Superbike
31st July 2011- Alstare team manager Francis Batta would like to clarify his position regarding current speculation about 2012. Francis Batta and Alstare have been involved with Suzuki for the best part of thirteen years and this tremendous relationship has given the everybody an immense amount of satisfaction. The strong relationship was forged right from the very beginning and has grown throughout the years and is one that Francis values very highly. Francis has been a loyal supporter of Suzuki and it is for this reason that he would like to continue with them alone in the future. If Suzuki decide not to take part in the World Superbike Championship next year, Francis will also stop rather than continue with another manufacturer.
SBK Superbike moves to 1-Bike Rule, BSB Goes Production Bikes in 2012
In a effort to keep World Superbike racing affordable and its grids full in the current down turned world economy, SBK World Superbike will be restricting its premier World Superbike class teams to just one Race Bike per rider beginning in 2012. Currently all the factory teams, as well as many of the top privateer teams, have 2 bikes in their race garages for each of their riders.
One of the bikes serves as a back-up should the rider's primary #1 bike be crashed during the race weekend.
With a factory race bike valued anywhere between $100,000 to $200,000 each, a 2-rider team team might be able to reduce its costs in equipment, additional team personnel and transportation by about $500,000 per race season.
And what if a rider destroys his one bike at a race meeting during Practice or the 1st Race, how can he finish up the race weekend? Each team will be allowed to bring (1) spare rolling chassis with them, plus the usual compliment of spare engines.
So if one of the team riders destroys his Primary #1 Bike in Practice, Superpole or Race One, the team will have enough time between Races to install an engine in the team's spare rolling chassis.
Meanwhile in the British Superbike Championship, the 1000cc Superbike class bikes will be much closer to Production Superstock Rules, currently called the EVO Class in Britain.
Similar to current the Superstock spec bikes raced in AMA Superbike.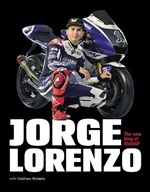 Carlos Checa Increases his Championship lead at Silverstone with 3 Rounds Remaining
Silverstone (UK), Sunday 31st July 2011: the Althea Racing team and rider Carlos Checa had several reasons to celebrate today at the Silverstone circuit; the team has achieved the 300th Superbike race win for Ducati, followed by the 301st in race 2! The second race also gave the Spanish rider another reason to smile as it was his 100th Superbike start.

Checa made a strong start to race one and was fourth at the end of lap one. He fought with Haga for third position through the first laps and passed both him and Hopkins on the third. Giving chase to Laverty, he got past him on lap six to take the lead. By mid-race he had built up a two second lead over the Yamaha rider but did not slow his pace for anyone, continuing to put in some extremely fast lap times all the way to the line, to win with a 3.3 second advantage. Carlos also made the fastest lap of the race, obtaining his sixth Pirelli prize of the season.

The second race was also significant for the fact that is was championship leader Checa's 100th race in World Superbike. The Althea Racing rider was fifth at the first corner but up to second by the end of the first lap. In the initial stages he battled hard to reach leader Laverty and was able to get by him on lap six, just as he had done in race one. From that point on, he worked hard to slowly increase his advantage and he defended his position perfectly. He crossed the line 2.2 seconds ahead of Laverty, to take another 25 points for the championship.

Thanks to today's fantastic double win, Checa has extended his championship advantage to 62 points. He holds a total of 343 points to second-place Biaggi's 281. Ducati continues to lead the manufacturer's championship with 355 points to 320 of Yamaha and Aprilia.

Carlos Checa: "It was a wonderful day. I didn't believe that it would be possible to win here, but we managed to do it twice over! To achieve the 300th win for Ducati is an important result and we are all very happy to have been able to repeat this in race two. I thank everyone involved, my team, Ducati and all the sponsors. I also heard that I have now completed 100 SBK races. I didn't know this but the important thing is that I still feel young and am not yet 100 years old!
We have a good advantage for now but as we all know, it is hard to build up points and easy to lose them. We now head to tracks where I have had some good results in the past but we are taking it one step at a time; nothing is a given. It's been a fantastic weekend that I will remember forever. Now the team can go on holiday in a more relaxed state of mind."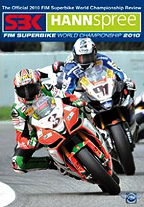 World Superbike Review
Click to find DVD Coverage of Every Year!
MotoGP Review
Click to find DVD Coverage of Every Year!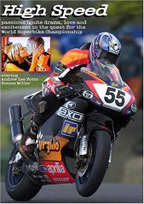 High Speed - the Movie
The best motorcycle racing movie ever made! Filmed on location at the World Superbike races , this an exciting romantic drama staring beautiful British actress Sienna Miller.
---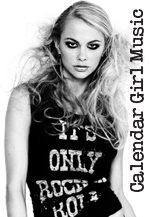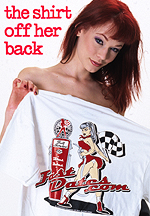 Order the Official
FastDates.com &
LA Calendar Bike Show
T-Shirts!
---