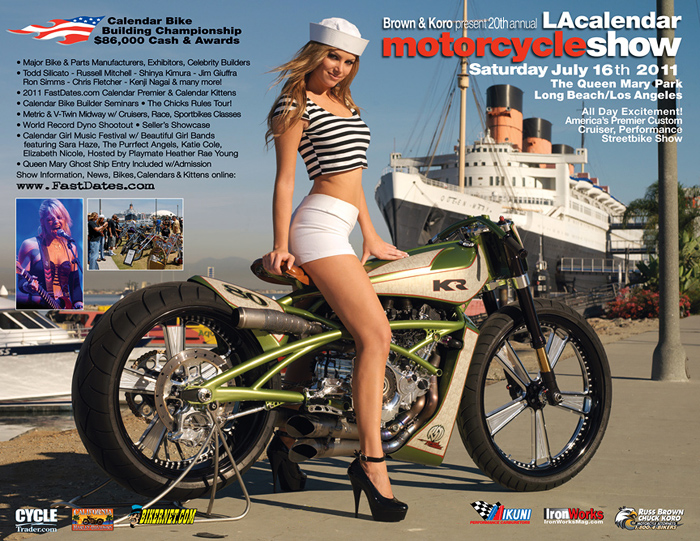 LA Calendar Motorcycle Show July 16th West Coast Premier
new American made Motus MK V-4 Naked Sport and Touring Bikes!
Los Angeles, CA, June 8th, 2011 - Motus Motorcycles will use the LA Calendar Motorcycle Show for the West Coast premier of their new MST series high performance KM V-4 1650cc Touring and R Model naked sportbikes. The Motus MST series of comfortable American sportbikes have been engineered from the ground up for performance, comfort, and range. The MST concept is a fresh take on what an American motorcycle can be, with optimum rider and passenger comfort for extended, spirited journeys, and quality components for responsive handling.
Motus Motorcyles are the brain child of Lee Conn, designed and built by well known race car engineers Pratt & Miller, fabricators of the 24-Hour of LeMans winning factory Corvettes. The lightweight aluminum V-4 pushrod fuel injected engine is based on the iconic Corvette V-8 small block motor which in normally aspirated race form can pump out up to 800 horsepower. So half an engine could easily be tuned for reliability in the 200-300hp range. Kiss your Yamaha V-Max good-bye!

This will be your first chance to see, touch and order one. MotusMotorcycles.com • LA Calendar Motorcycle Show
Hot New Indian Casino Bike Premier from Jim Guiffra and AFT Custom Models!
The Los Angeles Calendar Motorcycle Show features many of the world's top Pro and Amateur custom street bike builders in attendance with their newest 2-wheeled creations of rolling art to compete in the Calendar Show Bike Building Championship for cash and awards including the coveted Best of Show Trophy.
Four-time Calendar Bike Building Championship winner Jim Giuffra and the AFT Customs Motorsports Models return to this year's Calendar Show on a 4-year winning streak which has already seen them take home a Best of Show and three 1st Place Metric Custom titles. All of the custom bikes emerging from AFT Customs shop in Jackson, CA, are the creation of shop owner Jim Guiffra, but are hand craft from the ground-up by the beautiful motorsports savvy trade show models represented by the AFT Modeling Agency. In fact two of the girls, Cyndi and Kristen, recently returned from Miller Electric Welding's corporate headquarters in Wisconsin where they received their TIG Welding Certifications. All of the Agency's girls are fully versed in motorcycle tuning, repair,and custom bike fabrication, making them the perfect spokes models for motorsports manufacturers at trade shows and consumer events.
One custom to premier is named 'Azumati' - its a VT750 Bobber/Street tracker being built on commission for the Jackson Rancheria Indian Casino. Asumati is a Miwuk Indian word meaning grizzly bear, the monarch of the forest. In Miwuk stories the bear is a symbol of great strength and courage. This bike will be just as fierce with a Yamaha R1 front end, Race Tech Piggyback Rear Shocks, a hidden radiator, CR450 front hub and brake." http://www.AFTcustoms.com
Sexy Calendar Girl Music Festival with the Barb Wire Dolls!
Joining the Show's Calendar Girl Music Festival, which is included with Queen Mary Ghost Ship and Bike Show admission for just $20 is returning headlining band Frenetic with leader singer and Master of Ceremonies Emily Jaye, is the new band Barb Wire Dolls, the girl-fronted "Street-Rock" band from Greece who just moved to Los Angeles. Currently taking on the famed Sunset Strip in Hollywood, this band is breaking audiences out of zombiehood with electrifying live shows and a killer 6 song EP "Punk The Fussies!"

Barb Wire Dolls have been getting non-stop radio airplay on the World Famous KROQ of Los Angeles. Rodney Bingenheimer, the legendary DJ credited for first playing and breaking The Sex Pistols, The Ramones, The Clash, Blondie, X, Nirvana, The Offspring, Oasis, No Doubt, and Coldplay, was the first to play their demo and thinks their song "California" is a certifies hit. Queen Isis, the young sex goddess and singer of Barb Wire Dolls, with Tas (guitar), Gabriel (bass), and Greg (drums) have the right kind of energy and talent to bring back raw rock power. The band will be performing 2 sets on Saturday which can be described as nothing less than raw, wild, loud and very R-rated sexy.

Facebook.com/BarbWireDolls

Also Introducing from New York
Natalie Gelman
on Stage from
11:30 - 12:30 Saturday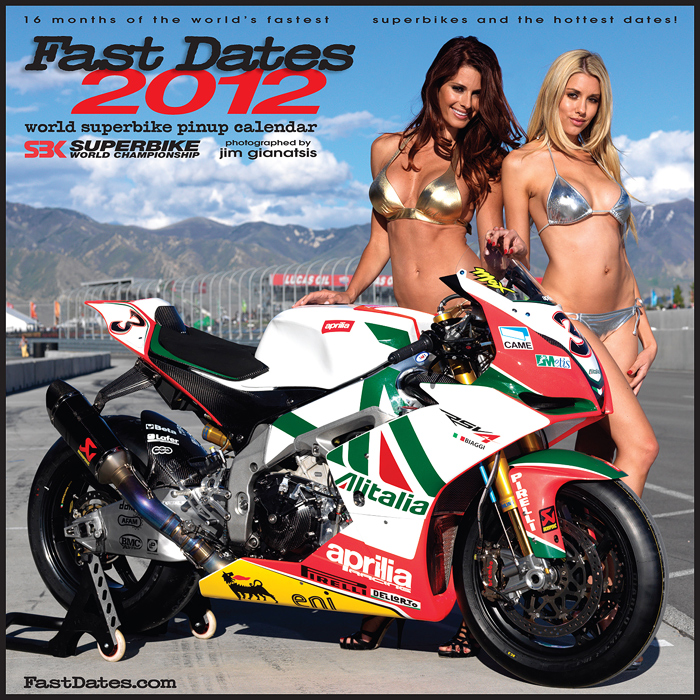 World Premier of the new 2012 SBK Fast Dates World Superbike Calendar
World Superbike Calendar Kittens and Playboy Playmates Jamie Edmonson and Heather Rae Young rock our world
with Max Biaggi's 2010 World Superbike Championship Aprilia RSV4 on the cover
We are excited to present to you the new 2012 Fast Dates Calendar, the official calendar of the SBK World Superbike Championship photographed on location at the Miller USA World Superbike race by Jim Gianatsis. Featured on the cover and inside is Max Biaggi's 2010 World Superbike Championship winning Aprilia RSV4. Inside you'll also find Nori Haga's Ducati 1198RS, Carlos Checa's Althera Ducati 1198RS, Leon Haslam's Alstare Suzuki GSXR1000, Jonthan Rea's Ten Kate Honda CBR1000RR, Chris Vermeulen's Kawasaki ZX-10, and Troy Corser's BMW S1000RR. There's also the top MotoGP bikes with 2010 World Champion Jorge Lorenzo's Yamaha M1, and Valentino Rossi's radical frameless Ducati GP11 bike. An added bonus is Chris Redpath's 1st Place Sportbike Class winner "Katana Wes Cooley" at the 2010 LA Calendar Motorcycle Show and a rare 1993 Ducati 888 SPO.
The the beautiful SBK Fast Dates Calendar Kittens photographed at Miller USA World Superbike in sexy swimwear and serving as the official Ducati Corse grid girls fro Nori Haga and Michel Fabrizio are Playboy Playmates Heather Rae Young and Jaime Edmonson. Also included in the Calendar are sexy Kittens Jennifer Englund and Sara Balint, MotoGP grid girl Brit Shelstad and Hustler centerfold and Girls Gone Wild's Sexiest Girl In America Bree Daniels. This is your exclusive 16-month pit pass beginning with September 2011, to the world's fast roadracing motorcycles and beautiful grid girls in sexy swimwear!
Order the 2012 Fast Dates Calendar • Screensavers in Members Corner
---
Jorge (1) swoops by Stoner in the closing laps at Mugello.
SBK World World Championship Championship, Round 8 of 13, Bruno
Melandri and Biaggi swap wins again at Bruno
and Close the Points Lead on Carlos Checa
Brno (Czech Republic), Sunday 10 July 2011 – Just like the previous round at Motorland Aragon, Marco Melandri (Yamaha World Superbike Team) and Max Biaggi (Aprilia Alitalia Racing Team) swapped wins and second places at another hot race circuit, as Marco won race one and Max won race two. In taking a hard fought victory, Max continued his amazing relationship with Brno, posting his 11th career win in world championship events at this 5.403km long venue. Points leader Carlos Checa (Althea Racing) battled to two gritty third place finishes at Brno today, minimizing the damage to his championship lead despite being outgunned by the riders closest to him in the points tally.

Max Biaggi: "It's been very tough all weekend, Carlos and Marco were very fast, but here we are again with the top 3 on the podium. In this way we're having ups and downs, winning one race and second in the other. In race 1 I wasn't really happy, I knew I could do it, but I didn't have the moment and Marco went on to win. This time I could reply and do my pace. We made a few changes between the races but not very much, you can always learn from the details, we made the right adjustments but here it's very difficult for tyre wear and temperature."

Marco Melandri: "I didn't give up but it was too difficult like in Aragon. I tried to do my best but Max was faster. Anyway it's been a good day, we still have to do a bit more to get the double, but I'm happy. Max and I have had some nice battles in the last two rounds, very fair and clean so that's good. It was fun for us and hopefully fun for the people watching the race in the circuit and on TV!"

Carlos Checa: "You always think that you can do better so you always attack to improve the result, but today considering the conditions, the rivals, the track and the speed we are quite satisfied. We worked well to find the right set-up, chose the right tyres, we didn't make any mistake. Max and Marco were strong around here and they deserved the win. Most important, we are competitive and fast and still leading the championship, it's not easy but we are confident we can get the better of them at some circuits."

Michel Fabrizio (Suzuki Alstare) is another who loves Brno and he showed it today, by taking two top four rides, with Eugene Laverty (Yamaha World Superbike) fifth on two occasions. The win tallies for the year now read Checa with eight, Melandri three, Biaggi and Laverty two each and the still injured Jonathan Rea (Castrol Honda) one. Ayrton Badovini (BMW Motorrad Italia SBK Team) once again played the fastest game for BMW, sixth in each race. Joan Lascorz (Kawasaki Racing Team) had two superb fight backs from a starting position of 19th, going ninth in race one and eighth in race two, making him the top Kawasaki finisher. Leon Haslam (BMW Motorrad Motorsport) flew solo for the official team this weekend and toughed it out, taking home points for eighth and seventh. Home rider Jakub Smrz (Effenbert - Liberty Racing Ducati) who was 11th in race one, fell in race two.

Race 1
Melandri took his third win of the year to lead his championship rivals Biaggi and Checa across the line in race one. The top three were covered by only 0.436 seconds after 20 hot laps, with track temperatures reaching 44°C, and which only got hotter in race two. At one stage Fabrizio looked capable of catching the leading trio, but he slowed to take a safe and yet still impressive fourth. Laverty went from the front row to fifth. The man most on the move in the race was Badovini as he passed several riders to get up to sixth. Biaggi's team-mate Camier took seventh, with Haslam eighth.
Race 1 Results: 1. Melandri M. (ITA) Yamaha YZF R1 40'23.699 (160,505 kph); 2. Biaggi M. (ITA) Aprilia RSV4 Factory 0.241; 3. Checa C. (ESP) Ducati 1098R 0.436; 4. Fabrizio M. (ITA) Suzuki GSX-R1000 8.448; 5. Laverty E. (IRL) Yamaha YZF R1 11.863; 6. Badovini A. (ITA) BMW S1000 RR 16.374; 7. Camier L. (GBR) Aprilia RSV4 Factory 20.075; 8. Haslam L. (GBR) BMW S1000 RR 21.399; 9. Lascorz J. (ESP) Kawasaki ZX-10R 21.555; 10. Sykes T. (GBR) Kawasaki ZX-10R 22.33; 11. Smrz J. (CZE) Ducati 1098R 22.494; 12. Haga N. (JPN) Aprilia RSV4 Factory 24.710; 13. Berger M. (FRA) Ducati 1098R 27.958; 14. Rolfo R. (ITA) Kawasaki ZX-10R 31.724; 15. Lowes A. (GBR) Honda CBR1000RR 31.998; 16. Aitchison M. (AUS) Kawasaki ZX-10R 34.771; ecc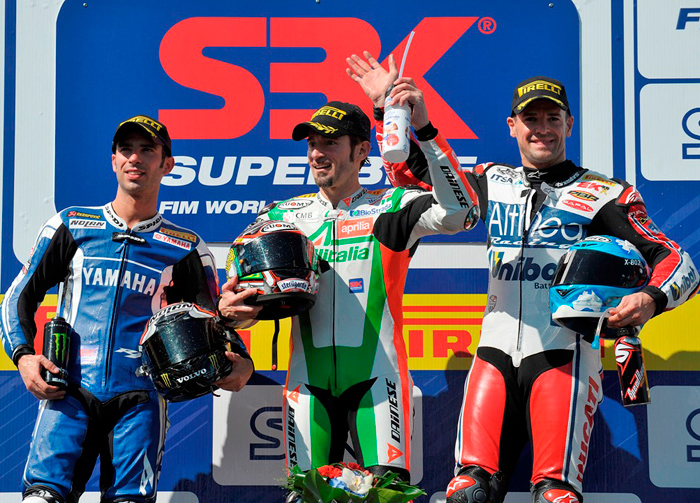 Race 2
Biaggi and Melandri ended up deciding the race two result in a man-to-man duel, which went the way of the 2010 world champion. The margin of victory was only 0.222 seconds, with Melandri right behind his countryman but unable to pass Biaggi on the final few corners. Carlos Checa was in a clear third place, with Michel Fabrizio having a good race again and finishing fourth. Laverty could not catch the top quartet, but was safe in a lonely fifth. Once again Badovini impressed the paddock with his prowess and he took sixth place, one ahead of official rider Haslam. Track temperatures in race two hit a massive 54°C.
Race 2 Results: 1. Biaggi M. (ITA) Aprilia RSV4 Factory 40'21.646 (160,641 kph); 2. Melandri M. (ITA) Yamaha YZF R1 0.222; 3. Checa C. (ESP).Ducati 1098R 3.558; 4. Fabrizio M. (ITA) Suzuki GSX-R1000 7.863; 5. Laverty E. (IRL) Yamaha YZF R1 8.534; 6. Badovini A. (ITA) BMW S1000 RR 18.085; 7. Haslam L. (GBR) BMW S1000 RR 21.650; 8. Lascorz J. (ESP) Kawasaki ZX-10R 21.862; 9. Guintoli S. (FRA) Ducati 1098R 25.306; 10. Haga N. (JPN) Aprilia RSV4 Factory 27.366; 11. Rolfo R. (ITA) Kawasaki ZX-10R 33.716; 12. Aitchison M. (AUS) Kawasaki ZX-10R 36.549; 13. Lanzi L. (ITA) BMW S1000 RR 37.468; 14. Sykes T. (GBR) Kawasaki ZX-10R; 46.878; 15. Kispataki V. (HUN) Honda CBR1000RR 1'38.074; RET Berger M. (FRA) Ducati 1098R; etc.

Points (after 8 of 13 rounds): 1. Checa 293; 2. Biaggi 263; 3. Melandri 240; 4. Laverty 168; 5. Haslam 137; 6. Camier 134; 7. Fabrizio 134; 8. Badovini 106; 9. Haga 99; 10. Rea 94; 11. Guintoli 89; 12. Smrz 88; 13. Lascorz 88; 14. Sykes 84; 15. Corser 55; 16. Xaus 44; etc. Manufacturers: 1. Ducati 305; 2. Aprilia 302; 3. Yamaha 280; 4. BMW 173; 5. Suzuki 138; 6. Kawasaki 126; 7. Honda 113.

World Supersport 600cc
Gino Rea (Step Racing Team) won his first ever race in this category after the red flag was shown on lap 16 with Gino in a lead that he had held for some time. Fabien Foret (Hannspree Ten Kate Honda) was a close second, with championship leader Chaz Davies (Yamaha ParkinGO) third. David Salom (Kawasaki Motocard.com) collected fourth place ahead of Roberto Tamburini (Bike Service R.T. Yamaha). Sam Lowes (Parkalgar Honda) slowed after a good start and finished sixth, one place up on Luca Scassa (Yamaha ParkinGO). Broc Parkes (Kawasaki Motocard.com) crashed out while in the leading group, leaving the championship points Davies on 121, Parkes on 85, Foret on 85, Salom on 84 and Scassa on 79.

Results: 1. Rea G. (GBR) Honda CBR600RR 31'21.642 (155,057 kph); 2. Foret F. (FRA) Honda CBR600RR 0.448; 3. Davies C. (GBR) Yamaha YZF R6 0.857; 4. Salom D. (ESP) Kawasaki ZX-6R 2.375; 5. Tamburini R. (ITA) Yamaha YZF R6 5.505; 6. Lowes S. (GBR) Honda CBR600RR 6.890; 7. Scassa L. (ITA) Yamaha YZF R6 7.721; 8. Ellison J. (GBR) Honda CBR600RR 15.495; etc.

Points (after 7 of 12 rounds): 1. Davies 121; 2. Parkes, 3. Foret 85; 4. Salom 84; 5. Scassa 79; 6. Lowes 73; 7. Harms 59; 8. Rea 57; etc. Manufacturers: 1. Yamaha 151; 2. Honda 133; 3. Kawasaki 114; 4. Triumph 21.

European Superstock 1000
Frenchman Sylvain Barrier (BMW Motorrad Italia Superstock) won a closely contested 12-lap race at Brno as he fought off the race long challenge of championship leader Davide Giugliano (Althea Racing Ducati). The margin of victory was 0.070 seconds and the battle for third was almost as close, with Lorenzo Zanetti (BMW Motorrad Italia Superstock) just 0.7 behind Barrier, but with Markus Reiterberger (Garnier Alpha Racing Team) right in his own wheel tracks. In the championship itself, Giugliano now has 115 points, Zanetti 84, and Danilo Petrucci (who fell from his Barni Racing Ducati while leading) has 69. Barrier, who won his first race of the year today, is fourth, with 65 points.

Results: 1. Barrier S. (FRA) BMW S1000 RR 24'54.052 (156,226 kph); 2. Giugliano D. (ITA) Ducati 1098R 0.070; 3. Zanetti L. (ITA) BMW S1000 RR 0.722; 4. Reiterberger M. (GER) BMW S1000 RR 1.257; 5. Canepa N. (ITA) Ducati 1098R 13.181; 6. Massei F. (ITA) BMW S1000 RR 13.413; 7. Baroni L. (ITA) Ducati 1098R 17.913; 8. Morais S. (RSA) Kawasaki ZX-10R 19.058; etc.

Points (after 5 of 10 rounds): 1. Giugliano 115; 2. Zanetti 84; 3. Petrucci 69; 4. Barrier 65; 5. Canepa 48; 6. Massei 36; 7. Antonelli 35; 8. Baroni 33; etc. Manufacturers: 1. Ducati 115; 2. BMW 102; 3. Kawasaki 47; 4. Honda 43; 5. Yamaha 9.
---
New 5th Generation Ducati Superbike Revealed
July 10th - The Italian motorcycle magazine Motocilismo was given some sneak preview photos by the Ducati factory of the all-new 5th Generation Ducati 1198 Superbike which they have released in their July 2011 issued pictured below. And above, the art studio Bar Design has rendered up a look at the complete bike. Exact specifications and more complete pictures of the new 5th Generation Bologna Bullet will have to wait for the bike's premier at the EICMA Show in November, with production set to start right after for dealer deliveries starting in February 2012.
When we talked with Ducati 3-time World Superbike Champion Troy Bayliss during our track day with him at Imola, Italy, back in May, he was just starting to test the Corse race version of the new bike which Carlos Checa on the Althea Race Team and other privateer teams will have available to them for next year. In Troy's words the new Superbike makes all the previous generation World Championship winning bikes "feel like a dinosaur". That says a lot since the current 4th Generation 1198 model, now in its 4th production year, is again leading the 2011 World Superbike Championship.
What we can tell you about the new 5rth generation Superbike is that it does away with the traditional Ducati trellis frame and uses an aluminum air box structure bolted atop the engine (like the current Ducati MotoGP bikes) to mount the front fork assembly too. The Standard and S models will gave that box made of aluminum and designed to flex slightly for better handling. They wanted to use carbon fibre for the chassis air box structure, like on the MotoGP bike, but Troy found it made the bike too stiff. They still have time to develop a new carbon fibre section for the R homologation model that has more flex and will be more forgiving in the bike's handling, since the R model traditionally is traditionally released for production 12 months later in November 2012, but still just in time to qualify the Corse RS version for racing in 2012.
One key component you notice with the new bike is the rear shock assembly is located outside the bike for quick and easy replacement for valving and spring changes. This is critical on a race bike when you need to make suspension changes all the time, especially on a short race weekend. You'll also notice the traditional Ducati trademark under the seat twin exhaust/silencers are gone, replaced by a lighter and more compact system under the engine.
With these significant chassis charges the new 5th Generation Superbike is some 25 pounds lighter than the current 4th Generation bike, which is already the lightest bike in the Open Superbike class. My personal 4th Generation R model weighs in at a street legal 401 lbs wet with 2 gallons of gas, so this new 5th Generation bike will be down around 376 pounds in street trim. A gutted Corse race bike will need 10-20 pounds of ballast to meet the FIM weight minimum of 165 kilos / 363.8 pounds.
---


Fast Dates does Superbikes in Italy!

The Devil Made Us Do It! Testing the Ducati Diavel at its home in Bologna
Is it love? We stopped at this graffiti adorned house on a side street in Bologna. For riding comfort, handing and performance all in one package the Ducati Diavel has no equal. Check out our Complete FastDates.com Ducati Diavel Test HERE
A Visit to NCR / Poggipolini in Bologna
The world's trickest Ducati Bikes and Parts HERE
Racing World Superbikes at Monza & Imola with a 3-time World Champion!
Troy Bayliss Racing Academy at Imola • World Superbike Race at Imola • Fast Dates Calendar Shoot at Miller WSBK
---

Our newest Calendar Kittens, college co-eds Camilla Hahn Chiniquy (brunette) and Taylor Gunnin (blond) standing in the pouring rain, help warm up Carlos Checa's Althea Ducati for Monday's Memorial Day World Superbike race. It must have helped as Carlos would go on to post double race win on this bike.
SBK World Superbike Championship, Round 5 of 10, Miller USA - Continued
Postcards from Miller USA World Superbike by Jim Gianatsis
Miller Motorsports Park, Tooele, Utah, USA), Memorial Day Weekend May 28-30th 2011 – FastDates.com was again excited to attend the Miller Motorsports Park USA round of the World Superbike Championship this year to cover the exciting race weekend and photograph the next edition of the official SBK Fast Dates World Superbike Calendar. I had just found Taylor a few months earlier through one of my favorite local model agencies, Brand Model and Talent, and booked her then to be sure I'd have her confirmed for the trip to Salt Lake City, Utah, and the Miller WSBK race weekend. The Complete Fast Dates Calendar Shoot STORY HERE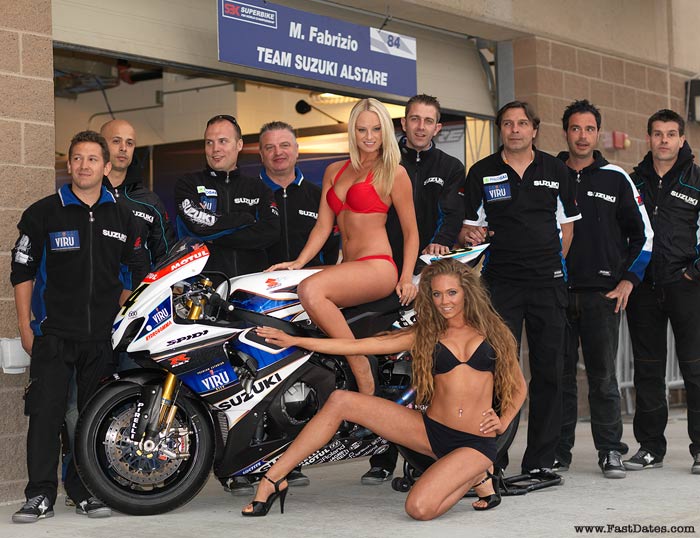 Famed World Superbike photojournalist Kel Edge helped with our shoot and keeping the Calendar Kittens dry.
| | | | |
| --- | --- | --- | --- |
| | | | |
| | | | |
| | | | |
| | | | |
| | | | |

World Superbike Championship points leader Carlos Checa has dominated at Miller in previous years, and just as we predicted did so again this year on the privateer Althea Racing Ducati 1198RS.
On the American Memorial Day holiday enthusiastic Superbike fans fans were treated to a double win from a rider who was robbed of a double last year by simple bad luck, Carlos Checa (Althea Racing Ducati). The Spaniard, who entered this event as championship leader, had a dose of good luck this time as his two main rivals had difficult race day experiences. Marco Melandri (Yamaha World Superbike) was tenth and then sixth, while Max Biaggi (Aprilia Alitalia) crashed out of race one after colliding with Jonathan Rea (Castrol Honda). Reigning champion Biaggi recovered good ground in race two, taking third place.
COMPLETE MILLER WSBK and AMA RACE COVERAGE HERE.
---
There's more! Go to Pit Lane News Next Page

Also Visit: Fast Dates Calendar News • Iron & Lace Calendar News
Calendar Girl News • Meet the Models • Paddock Garage

Calendar Kittens, Paddock Garage, Screensavers, Iron & Lace Garage





MotorcycleSuperstore.com
Some of our Calendar Kittens can also at Playboy's website...



FREE! New Met-Art Model Galley Updated Daily - Stop Back Each Day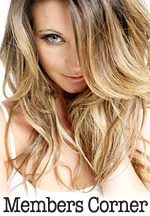 Hot Bikes, Sexy Kittens
Your Exclusive Grid Pass
also includes....
---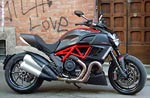 The Devil Made Us Do It!
Testing the Ducati Diavel in Italy
2011 Calendars!
with FastDates.com Calendar Kitten, Ducati Corse Grid Girl
and Playboy Playmate
Heather Rae Young!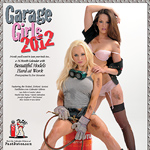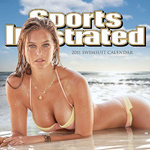 Click for even more Calendars!
---
VIR Cancels AMA Suzuki White Lightening Nationals,
AMA Pro Road Racing Round 8
DAYTONA BEACH, FL (July 11, 2011) - It is with deep regret that AMA Pro Racing is forced to announce VIR's cancellation of the Suzuki White Lightening Nationals, Round 8 on the AMA Pro Road Racing season calendar. Despite AMA Pro Racing's efforts to preserve the originally scheduled August 12-14 event, VIR staff notified AMA Pro Racing late Monday, July 11, of its final decision not to host or promote the race weekend.

"AMA Pro Racing has made VIR a part of its season calendar for the past decade," said AMA Pro Racing COO and Managing Member David Atlas, "and I am gravely disappointed by the impact this will have on our paddock, fans, and other series participants. I assure all of those involved parties that a significant effort was made to negotiate an arrangement that would have preserved the event."

AMA Pro Racing will refund all event-specific fees paid to AMA Pro Racing by series participants.

The AMA Pro Road Racing Championship was in action this past weekend at Mid-Ohio Sports Car Course -- its 29th appearance at the historic Ohio facility -- where track officials welcomed a banner crowd that witnessed fiercely competitive action in all four classes. AMA Pro Racing looks forward to bringing its talent-packed paddock to fans at upcoming 2011 events, the schedule for which can be viewed at amaproracing.com.

The AMA Pro Road Racing series next heads to Monterey, California's Mazda Raceway Laguna Seca for Round 7 on the calendar. The July 22-24 event will run as part of the Red Bull U.S. Grand Prix MotoGP World Championship weekend.
Yamaha and GE Capital bring Lorenzo, Spies, EDWARDS, Lawson, Rainey, Roberts & Music to the Stage at
RED BULL U.S. GRAND PRIX
Mazda Laguna Seca Raceway
Cypress, California June 28, 2011 – Yamaha and GE Capital are proud to announce the return of one of the most entertaining activities of the Red Bull U.S. Grand Prix weekend as Yamaha MotoGP Riders Jorge Lorenzo, Ben Spies, Colin Edwards and Cal Crutchlow plus Yamaha legends Eddie Lawson, Wayne Rainey and Kenny Roberts will meet their fans for an up close question and answer session prior to the live music set on stage Saturday July 23 from 6:00 to 7:00 PM.
Official MotoGP commentators Nick Harris and Gavin Emmet will again join the riders for the question and answer session that was a major hit last year and fans will be encouraged to join in the fun with questions of their own.
"We are very excited about this year's entertainment and again proud to be part of it," said Paul Puma, Executive V.P. for GE Capital. "The fact that Yamaha riders will be up close and in person on the GE Financial Stage will make it an event not to be missed!"
Saturday night features a live performance by The Dirty Heads, who Rolling Stone named as one of the Top Bands of 2010, following the rider interviews at 7:00 PM.
"This event will be another way for us to celebrate the 50th Anniversary of World Grand Prix Racing for Yamaha" said Bob Starr, Communications Manager of Yamaha Motorsports Group. "Thanks to our partners at GE Capital, this interview session and concert will surely add to an exciting weekend of racing and entertainment for the fans and one never knows who'll be the most entertaining!"
For tickets and more information please visit: MazdaRaceway.com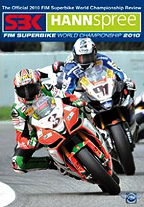 World Superbike Review
Click to find DVD Coverage of Every Year!
MotoGP Review
Click to find DVD Coverage of Every Year!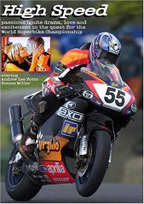 High Speed - the Movie
The best motorcycle racing movie ever made! Filmed on location at the World Superbike races , this an exciting romantic drama staring beautiful British actress Sienna Miller.
---
Elena Myers Scores Woman's First Ever
AMA Pro Roadracing Podium at Barber
BIRMINGHAM, AL (June 19, 2011) –Team SuzukiScoopFans rider Elena Myers is truly coming into her own. The 17-year-old Californian rode a flawlessly determined AMA Pro SuperSport race on Saturday to capture her first podium of the 2011 season at Barber Motorsports Park in Birmingham, AL.
In Saturday's 17-lap race, Myers got a great start on her SuzukiScoopFans Suzuki GSX-R600 and charged into the lead after just a few laps. She went on to lead the pack for several laps before settling into third position. Even so, while battling for her podium spot, Myers posted the fastest lap of the race. She and the other front-runners went on to gap the field and Myers was on the box for the first time this season.

"I got a good start on my SuzukiScoopFans Suzuki GSX-R600 in Saturday's race," said Myers. "I was starting on the second row from the fifth spot – that's my best qualifying this year – and I felt pretty good about that. I was second off the line, then we had a red flag. In the restart, I had another good start and was trying to put my head down and I led for a few laps, and even went back and forth with the lead guys, but they ended up pulling a gap. I made my way home in third place and I'm really excited about that. It's my first podium of the year and this was my first podium since my win last year. It's definitely a big confidence-booster for me."

Sunday's race again saw Myers get up front fairly quickly and she was running in third for several laps before bringing home a solid fifth-place finish. Although Myers is contesting all the 2011 AMA SuperSport rounds, officially she is only competing in the West Coast Championship. This weekend's races at Barber were East Coast rounds and did not affect Myers' overall championship points standings. She remains in fifth place in the West Division.
"Today went pretty well," she said. "I finished in fifth place. I didn't get such a great start but I was battling with the top guys again. I think overall it was a good weekend – a third and a fifth, you can't be too upset about that. My leathers are clean, I'm clean and my Suzuki looks good. A big thanks to everybody at Suzuki and my crew and everybody who really made this weekend a good one for me. Thanks to all the fans for coming out, and now I can't wait for Mid-Ohio."

The 2011 SuzukiScoopFans team's next event of the 2011 AMA Pro SuperSport season will be at the Mid-Ohio Sports Car Course in Lexington, OH, on July 8-10, 2011.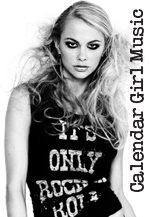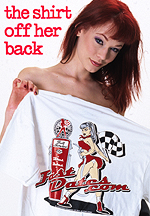 Order the Official
FastDates.com &
LA Calendar Bike Show
T-Shirts!
---