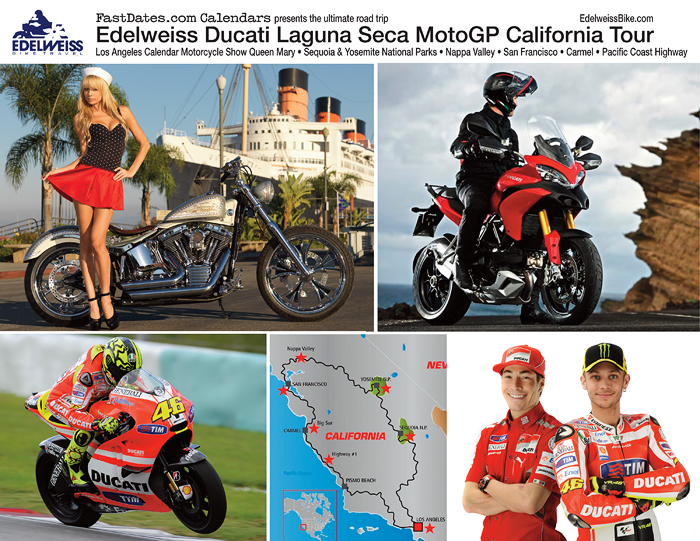 FastDates.com presents the ultimate road trip through the Golden State July 16th - 27th 2011
Edelweiss Ducati Laguna Seca MotoGP California Tour

"A motorcycle is the only way to see America." Those are Peter Fonda's words and he should know. The FastDates.com Calendars present the ultimate Edeweiss Ducati tour which will lead you through what is possibly the most beautiful state in America, California, to the ultimate motorcycle race, the U.S. MotoGP at Laguna Seca. There you'll hang with Ducati fans in the Ducati Midway and Grandstand, possibly meet World Champions Valentino Rossi and Nicky Hayden, and watch breathtaking race action in the "Corkscrew". You can choose to party with thousands of race fans on Monterey's Cannery Row on Saturday night, and unwind in Clint Eastwood's beautiful, quiet little town of Carmel on Sunday evening. The next morning we'll head south on the Pacific Coast Highway One, a twisty ribbon of asphalt between the mountains and the ocean on what is called the most beautiful, thrilling road in the world!

The Tour will start and finish in Los Angeles at the legendary Queen Mary ghost ship in the Port of Long Beach. We'll meet up on Saturday during the 20th anniversary celebration of the LA Calendar Motorcycle Show featuring the incredible custom bikes and beautiful models featured in the FastDates.com Motorcycle PinUp Calendars, including the official Ducati Corse Fast Dates World Superbike Calendar Kittens. You'll meet some of America's top custom bike builders featured in the Iron & Lace Calendar, check out the World Record Dyno Shootout, enjoy the Calendar Girl Music Festival, and the Calendar Bike Builder's party in the Ship's art deco Observation bar that night.

California has just about everything, and we will see most of it: mountains, desert, the Pacific Coast Highway, spectacular National Parks, beautiful cities like San Francisco and smaller towns like Carmel. California is a perfect country for riding the beautiful red bikes from Bologna. You'll be able to choose between the legendary Ducati Monster or the critically acclaimed Multistrada -the world's best sport touring bike, to take you through breathtaking landscapes including twisty mountain passes, spectacular ocean roads and fertile valleys. The lightweight bikes will easily bring you to all the Californian landmarks: Golden Gate Bridge, Sequoia and Yosemite National Park, Hearst Castle, Hollywood and the Queen Mary.

Los Angeles, San Francisco, Carmel and Santa Barbara have plenty of sightseeing and shopping opportunities. Sequoia and Yosemite National Park offer breathtaking scenery, waterfalls and giant trees, while the Sierra Nevada and the Pacific coastal mountains provide some of the best motorcycle roads in northern America. Just add the power, sound and feel of a Ducati motorcycles, meet beautiful California girls and World Champion racer boys – and here is your perfect vacation! Join FastDates.com and Edelweiss for a once-in-a-lifetime vacation and explore the Golden State, attend the LA Calendar Motorcycle Show and MotoGP race weekend.

Additional information: http://www.edelweissbike.com
---
SBK World Superbike Championship, Phillip Island Round 1 of 13
2011 FIM Superbike World Championship under way this weekend
Phillip Island (Australia), Thursday 24 February 2011 - The 24th edition of the FIM Superbike World Championship is set to get under way this weekend with the opening round held at Phillip Island (Australia). The spectacular sea backdrop venue located 150 kms south of Melbourne in the State of Victoria was the scene for two days of official tests earlier this week, and the times recorded clearly gave some indication of how the 23 riders present will go this weekend.

Following the tests, most of the Superbike and Supersport riders were able to relax for a couple of days but on the day before action gets underway, they lined up for the championship's official photo shoot on Gardner Straight. All eyes will be on the track tomorrow however when the action gets serious. Unlike the tests, which were held in variable weather conditions, the weekend forecast is for good weather, an important element in tyre choice.

Carlos Checa (Ducati Althea Racing) dominated the tests, confirming the competitiveness of the Italian bikes even though they are run by private teams. The top four positions included three Ducati 1098R machines, with Sylvain Guintoli and Jakub Smrz in third and fourth on the Effenbert - Liberty Racing versions.

Carlos Checa: "Testing was very positive, we had a good lap time but what is more important is after Sunday. So far we focus on the work to get the right feeling with the bike because we didn't do so much testing this winter. Finally you arrive at a certain point where the bike is OK, the feelings, the reference and you put the right tyre in and do the lap time. My feeling is that this is one of the best tracks for Ducati. Now we start with a different bike and I think we have a better package than last year."

A crash in the final stages of testing will almost certainly not prevent Jonathan Rea from taking part in the opening round of the season. The man from Northern Ireland will take to the track tomorrow in first practice despite a swollen left wrist.

Jonathan Rea: "I've spent the last two days in hospital, which really frustrated me. I have a bit of swelling in my left hand, but hopefully we can get it down. Movement is perfect and my strength also. I'm looking forward to riding here, my bike's working well. Last year it wasn't perfect but the set-up over a race distance was good and I'm looking forward to banging bars and try and start the season off better than last year."
The man they all have to beat is 2010 World Champion Max Biaggi, who thanks to a prior test session at Phillip Island in December, took to the track this week only when the weather conditions improved. The Aprilia Alitalia rider should have a better pace than the sixth quickest time her set at the start of the week.

Max Biaggi: "I feel very good of course to start in the best way possible. I feel good with the bike and the team, we have all the same equipment and the bike gets a little better, but there's going to be a big question-mark for this weekend. I'll try to be there. This track looks like it doesn't suit the Aprilia like the other tracks but we will try to get a good result and the best points possible. Testing was OK and I'm quite optimistic to get a good result on Sunday."

Another Italian, Marco Melandri (Yamaha World Superbike Team) is rapidly recovering from the recent operation on his shoulder, as could be seen in his eighth place on day 2 of the tests, just behind a confident Michel Fabrizio on the Suzuki Alstare machine.

Marco Melandri: "I'm pretty happy to be here, everything looks very new and very difficult. It's going to be very tough for me because of my shoulder, that has taken two months to recover. Testing on Monday and Tuesday was good, so much better than at Portimao but still not 100%. I just want to try and do my best, my Yamaha is working very good and I'm very confident. My physical condition is not perfect right now, so two times 22 laps is not going to be easy!"

On the Kawasaki front, Chris Vermeulen confirmed that he will not be taking part in this weekend's round, but the team will be well-represented by Joan Lascorz and Tom Sykes. The BMWs have not yet reached their full potential after notching up the miles in winter testing, with Leon Haslam leading the group.

World Supersport
Honda's traditional supremacy in World Supersport – eight titles in the last nine years – could come under threat this time around. Following the testing results, the Kawasaki ZX-6R machines of the Motocard.com team, in the hands of Broc Parkes and David Salom, look to have all the right cards to be able to challenge Fabien Foret (Hannspree Ten Kate Honda), top man by just 14 thousandths of a second. The Yamahas might also get in amongst the front-running action thanks to the presence of the Bike Service and ParkinGO teams: Roberto Tamburini and Luca Scassa were respectively sixth and seventh in testing. The panorama of manufacturers on the grid is completed by Triumph and Danilo Dall'Omo, who also ran well in the tests.

Privateer Riders on Ducati bikes lead by Carlos Checa / Althea Racing dominated the opening day of testing at Phillip Island

2011 World Superbike and Supersport get final pre-season shakedown at Phillip Island
Phillip Island (Australia), Sunday Feb 20th 2011 -The Phillip Island circuit south of Melbourne, Australia will be the scene on Monday and Tuesday for the final session of pre-season testing in view of the opening round of the FIM Superbike and Supersport World Championships, taking place here next weekend. World Superbike has been coming to the Victoria State circuit every year bar one since 1990, making it the longest-running event in the calendar at a single circuit. In addition to being the venue for the Infront Motor Sports collective test session, Phillip Island has also been used for testing over the winter by several of the championship's top teams: Aprilia Alitalia and Yamaha at the start of December, and most recently BMW Motorrad and Castrol Honda last week.

Following his 2010 title victory, all eyes will clearly be on the world champion Max Biaggi (Aprilia Alitalia), who went some way towards resolving the problems that his RSV4 Factory had encountered during last year's opening round, where the Italian could only finish fifth and eighth. Following December testing Biaggi should now be quick straight out of the box. Britain's Leon Camier lines up for his second full year with the team and will be looking to produce the results.

Leon Haslam, Biaggi's main rival last year, has now changed team and manufacturer and during the recent tests he was able to put his new BMW S 1000RR through its paces. The German team has been busy throughout the winter and next week it will be possible to gauge exactly how competitive the bike has become. Last year Haslam won one of the Australian races and with his team-mate, seven-times Phillip Island winner Troy Corser, alongside him, the German team will be looking to bring home the results in their third season of WSBK.

The other 2010 race was won by Carlos Checa (Ducati Althea Racing), who now spearheads Ducati's attack in a championship where it is no longer officially present. But the Spaniard will enjoy all the technical and engineering support possible from Borgo Panigale. Checa was right on the pace in Portimao and AragonTesting, while Jakub Smrz on the factory-assisted Effenbert-Liberty Racing Ducati was quickest in Portugal. The Czech Republic rider will be flanked by Frenchman Sylvain Guintoli.

The Big 4 Japanese manufacturers will again be at the forefront, with their various levels of factory involvement. At the moment the leading candidate is Jonathan Rea, who together with Ruben Xaus, brings the legendary Castrol Honda red, white and green colours back to life on the Ten Kate-run CBR 1000RR. All change this year for Yamaha, who after a world title for Ben Spies in 2009 and a transitional year in 2010, line up for the new season with Marco Melandri and Eugene Laverty. The Italian is anxious to return to the victory podium in a totally new category for him, while his Irish team-mate has already shown he is one of the best young stars in the category.

A real surprise could come from Kawasaki, another manufacturer to have been very active over the winter, during which it carried out a series of tests on several different circuits. Tom Sykes, Joan Lascorz and Chris Vermeulen (still recovering from last year's injuries) have all looked convincing and the team has carried out a lot of development work on the new ZX-10R, turning it into a competitive machine.

For its part Suzuki Alstare are campaigning with only one GSX-R1000 machine for one rider, Michel Fabrizio who this year has switched from the factory Ducati squad to Francis Batta's Belgian outfit. The Italian has trained hard over the winter and is pushing the undoubtedly competitive Japanese four-cylinder machine to its limits.

A further boost for BMW's hopes for glory could come from the satellite BMW Motorrad Italia SBK Team which, after winning the Superstock 1000 FIM Cup with Badovini, will line up on the grid for its Superbike debut with the Italian and the two-times world champion James Toseland.

Mark Aitchison also makes his debut in the category with the Kawasaki Pedercini Team, while the grid at Phillip Island will be filled out by wild-cards, both Australians and both domestic champions, Bryan Staring (Kawasaki Pedercini) and Joshua Waters (Suzuki Yoshimura).

World Supersport 600cc
Phillip Island testing will also see the appearance by the Supersport contenders, whose only overseas round this year is in Australia. Judging by the results of winter testing, they are on course to offer one of the most interesting and competitive championships in recent years. The main focus of interest in the category for 600 cc Supersport machines comes with the return of Yamaha, following an agreement between the European wing of the company and the ParkinGO team to race the 2009 title-winning R6 machines, suitably updated.

In the hands of Luca Scassa and Chaz Davies, the Yamahas will have some tough competition from a plethora of Honda CBR600RRs, which have won the lion's share of the titles over the years. Men to watch on the Hondas will include the Hannspree Ten Kate entrants, former champion Fabien Foret and youngster Florian Marino, both from France, as well as Sam Lowes (Parkalgar), Gino Rea (Step Racing) and James Ellison (Bogdanka PTR).

Kawasaki also have their sights on victory through the Provec Motocard.com team, which will enter Aussie Broc Parkes and young Spaniard David Salom. In winter testing the ZX-6R were right on the pace of the frontrunners. Last in the list of manufacturers present in Supersport is Triumph with its Daytona 675, two examples of which will be raced by South African Ronan Quarmby and Italian Danilo Dell'Omo of the Suriano Racing Team from Italy.
Checa and Privater Ducatis Tops the Field on Day 1 of Testing
Phillip Island, Australia, Monday 21st - Indicated as one of the favourites at Phillip Island from the start, Carlos Checa (Ducati Althea Racing) got down to business in the afternoon, setting the quickest time in the second session of WSBK testing. The Spaniard held the top slot for most of the two-hour 20 minute run, and his time of 1 minute 31.383s was enough to put him almost one second ahead of second-placed man Sylvain Guintoli (Effenbert – Liberty Racing Ducati). Checa's class leading lap time was only just short of the existing track best, with one full day of testing still to go.

Carlos Checa: "We know the Ducati works well here and this track I really like. We never tested with this bike here in the winter but from the beginning I felt comfortable. We started with the settings of last year's race and that was quite good. We changed some small things and understood some direction to take with set-up. Then it was just working with the tyres and I used three different ones. Now we need to check which one will be the best for the races. So we will try a long run tomorrow. But no matter the tyres we could do good lap times."

Third quickest today was Guintoli's team-mate in the Czech Republic-based team, Jakub Smrz, while another early front-runner Jonathan Rea (Castrol Honda) ran second for a while before dropping down to eighth.

After missing the first session, Max Biaggi (Aprilia Alitalia) finally got down to work, the reigning world champion wasting no time in setting the fourth quickest mark, albeit one second away from Checa. Biaggi was one of several riders who had already tested at Phillip Island in the winter and found his bike as potent as it had been two months ago, despite the often windy weather conditions today.

The Italian was a fraction ahead of his fellow countryman Michel Fabrizio (Suzuki Alstare), while Tom Sykes (Kawasaki Racing Team Superbike) and Marco Melandri (Yamaha World Superbike team) were not far behind in sixth and seventh.

Jonathan Rea (Castrol Honda) was the top CBR rider on show today, ahead of Leon Haslam (BMW Motorrad Motorsport) in ninth and Eugene Laverty (Yamaha World Superbike Team) tenth. Behind Checa, the next nine riders were crammed into a gap of less than 0.3 seconds, showing just how competitive the 2011 season is shaping up to be.

The local wildcard riders enjoyed day one of testing at their home circuit, with Josh Waters taking his Yoshimura Suzuki to a top 12 ranking, only 1.7 seconds from Checa, while Bryan Staring (Pedercini Kawasaki) was 19th of the 23 riders, 2.6 seconds from Checa.

In the final stages of the second session, several wild geese unexpectedly settled close to the track, causing the Race Direction to bring out the red flags three times, out of fears they would be a danger to the riders.

Times: 1. Checa C. (ESP) Ducati 1098R 1'31.383; 2. Guintoli S. (FRA) Ducati 1098R 1'32.303; 3. Smrz J. (CZE) Ducati 1098R 1'32.316; 4. Biaggi M. (ITA) Aprilia RSV4 Factory 1'32.383; 5. Fabrizio M. (ITA) Suzuki GSX-R1000 1'32.453; 6. Sykes T. (GBR) Kawasaki ZX-10R 1'32.466; 7. Melandri M. (ITA) Yamaha YZF R1 1'32.474; 8. Rea J. (GBR) Honda CBR1000RR 1'32.532; 9. Haslam L. (GBR) BMW S1000 RR 1'32.578; 10. Laverty E. (IRL) Yamaha YZF R1 1'32.600; 11. Lascorz J. (ESP) Kawasaki ZX-10R 1'32.940; 12. Waters J. (AUS) Suzuki GSX-R1000 1'33.140; 13. Xaus R. (ESP) Honda CBR1000RR 1'33.165; 14. Corser T. (AUS) BMW S1000 RR 1'33.255; 15. Camier L. (GBR) Aprilia RSV4 Factory 1'33.560; 16. Haga N. (JPN) Aprilia RSV4 Factory 1'33.786; etc.

World Supersport
On a totally dry track the lap times came tumbling in the second session and after 90 minutes of testing, the quickest time had been set by Fabien Foret, the Frenchman getting back to the top end of the results sheets on his new Hannspree Ten Kate Honda machine. Foret was almost one full second clear of the two Kawasaki Motocard.com riders David Salom and Broc Parkes.

Sam Lowes (Parkalgar Honda) looked particularly competitive, the Brit ending up fourth quickest, despite a fall late in the second session. New WSS talent Luca Scassa (Yamaha ParkinGO) was fifth ahead of Danilo Dell'Omo (Suriano Racing) riding the leading Triumph on his first appearance aboard the British three-cylinder machine. Pawel Szopek continued his encouraging run with seventh for Bogdanka PTR, ahead of Roberto Tamburini (Yamaha Bike Service). Foret's team-mate Florian Marini (Hannpsree Ten Kate Honda) was ninth quickest, Kawasaki Lorenzini by Leoni rider Massimo Roccoli tenth.

James Ellison (Bogdanka PTR) had a big crash and injured his knee in the morning session, and elected to sit out the afternoon tests. He hopes to return to the action tomorrow, on the final day of the tests.

Times: 1. Foret F. (FRA) Honda CBR600RR 1'34.117; 2. Salom D. (ESP) Kawasaki ZX-6R 1'35.042; 3. Parkes B. (AUS) Kawasaki ZX-6R 1'35.195; 4. Lowes S. (GBR) Honda CBR600RR 1'36.110; 5. Scassa L. (ITA) Yamaha YZF R6 1'36.358; 6. Dell'Omo D. (ITA) Triumph Daytona 675 1'36.497; 7. Szkopek P. (POL) Honda CBR600RR 1'36.624; 8. Tamburini R. (ITA) Yamaha YZF R6 1'36.705; etc.
Sylvain Guintoli, Ducati Effenbert - Liberty Racing, was next fastest both days behind Checa.
King Carlos continues to reign on Day Two
Phillip Island, Tuesday 22nd - Carlos Checa (Ducati Althea Racing) was quickest overall at the end of the four SBK official test sessions held at the Phillip Island circuit, after an assured performance from rider and team on the eve of the first round of the 2011 championship. On his Ducati 1098R the Spaniard, who won one of the races here in Australia last year, put a gap of over half-a-second between himself and second-placed man Sylvain Guintoli (Ducati Effenbert - Liberty Racing). Checa was under the previous track best in the third session of the two days, posting a new record of 1 minute 30.578s.

Carlos Checa: "It was a very positive test and a fantastic lap time. I was a bit worried before because I had not done so much testing and I arrived here and was not sure if we had enough time on the bike. During the winter I did a race, then I went to the desert, then some motocross, and it was all a bit confusing. Portugal testing was not so positive because of the weather, so I arrived here without the required full confidence. But we've been able to grow up very quick from the first day, the pace of the bike at this track is good, I feel very close with the team and that's why I'm in this position."

Jonathan Rea (Castrol Honda), who crashed in the early stages of the last session, finished the tests third fastest but he was taken by helicopter to hospital for an X-ray on his left wrist and the ring finger of his left hand. His crash left a residue of cement dust on the racing line and this contributed to the fact that only few riders were able to improve their best times in the final session, though most tried hard to do so.

Fourth quickest overall was Jakub Smrz (Ducati Effenbert - Liberty Racing), followed by WSB rookie Joan Lascorz (Kawasaki) who made an impressive debut on a Superbike machine in Australia.

Reigning champion Max Biaggi (Aprilia Alitalia) was one of the few whose best time of the two days came in the final session, placing him sixth quickest overall. Michel Fabrizio (Suzuki Alstare) was seventh best in the rankings, Marco Melandri (Yamaha World Superbike Team) eighth and his team-mate Eugene Laverty ninth. Laverty completed a whopping 142 laps of the 4.445km circuit over these two days.

A strong showing for the new Kawasaki Superbike machine saw Tom Sykes join his fellow KRT rider Lascorz in the top ten. Top S1000RR rider in testing was Leon Haslam, in 14th place on his official BMW Motorrad Motorsport bike. Wildcard rider Joshua Waters, a recent Aussie Superbike champion, finished an impressive 12th on his Yoshimura Suzuki machine.

Several crashes marked the final stages of the two-and-a-half hour session. Fabrizio, Melandri, Sykes and Lascorz all went down as they attempted to get final information, or improve their lap times, before the end of this busy two-day test session. The riders now have two days off before track action begins again in qualifying, on Friday 25 February.

Superbike Combined Best Times: 1. Checa C. (ESP) Ducati 1098R 1'30.578; 2. Guintoli S. (FRA) Ducati 1098R 1'31.196; 3. Rea J. (GBR) Honda CBR1000RR 1'31.206; 4. Smrz J. (CZE) Ducati 1098R 1'31.654; 5. Lascorz J. (ESP) Kawasaki ZX-10R 1'31.866; 6. Biaggi M. (ITA)Aprilia RSV4 Factory 1'31.870; 7. Fabrizio M. (ITA) Suzuki GSX-R1000 1'32.113; 8. Melandri M. (ITA) Yamaha YZF R1 1'32.122; 9. Laverty E. (IRL) Yamaha YZF R1 1'32.137; 10. Sykes T. (GBR) Kawasaki ZX-10R 1'32.272; 11. Haga N. (JPN) Aprilia RSV4 Factory 1'32.299; 12. Waters J. (AUS) Suzuki GSX-R1000 1'32.394; 13. Xaus R. (ESP) Honda CBR1000RR 1'32.405; 14. Haslam L. (GBR) BMW S1000 RR 1'32.413; 15. Toseland J. (GBR) BMW S1000 RR 1'32.880; 16. Corser T. (AUS) BMW S1000 RR 1'32.994; etc.

World Supersport
Fabien Foret (Hannspree Ten Kate Honda) stayed on the top slot by just a fraction as the World Supersport runners completed their four testing sessions at Phillip Island. The Frenchman was put under pressure throughout by an impressive Broc Parkes on the Kawasaki Motocard.com machine. David Salom on the second Kawasaki was a further two-tenths behind but held on to the place from youngster Florian Marino (Hannspree Ten Kate Honda), who set one really quick lap but continues to look for repeatable race pace in his rookie season.

Britain's Sam Lowes (Parkalgar Honda) was next up, recovering pace and confidence after a big crash on day one, followed by Roberto Tamburini (Yamaha Bike Service) in sixth. Luca Scassa was the first Yamaha ParkinGO man in the timesheets, in seventh with Chaz Davies a further five places down. Gino Rea (Step Racing Honda) was eighth, while Danilo Dell'Omo was the first Triumph in the timesheets in tenth, putting all four competing manufacturers inside the top ten.

James Ellison rode again today despite his high-speed fall on day one and the Englishman will go in for an operation on his left knee tomorrow, to allow him to race on Sunday. Aussie rider Mitchell Pirotta (Kuja Honda) scored a 23rd best time for his home race.

Supersport Combined Best Times: 1. Foret F. (FRA) Honda CBR600RR 1'33.904; 2.Parkes B. (AUS) Kawasaki ZX-6R 1'33.918; 3. Salom D. (ESP) Kawasaki ZX-6R 1'34.183; 4. Marino F. (FRA) Honda CBR600RR 1'34.726; 5. Lowes S. (GBR) Honda CBR600RR 1'35.019; 6 Tamburini R. (ITA) Yamaha YZF R6 1'35.249; 7. Scassa L. (ITA) Yamaha YZF R6 1'35.272; 8. Rea G. (GBR) Honda CBR600RR 1'35.381; etc.
Chris Vermeulen To Miss Opening SBK Home Round, Akira Yanagawa to fill in
Feb 21st - Kawasaki Racing Team rider Chris Vermeulen has been withdrawn from the first round of the World Superbike Championship this coming weekend at Phillip Island in Australia. Following an operation to rebuild his knee last July Chris has made excellent progress and is now in the final phase of rehabilitation after such complex surgery. His doctors are very pleased with the progress that has made to date but an evaluation prior to the current official IMS test sessions at Phillip Island has confirmed that Chris still has to achieve the final few degrees of bend in his knee joint to regain 100% of his race fitness.
Riding his Kawasaki Ninja ZX-10R at race pace now would aggravate the knee and almost certainly delay his full recovery. Chris and the team have agreed that his long term recovery is the most important thing for all concerned, meaning that Chris will miss both the official IMS Phillip Island tests, which are underway in Australia right now, and the first round of the championship on Sunday 27th. Vermeulen will concentrate on increasing the intensity of his training over the next few weeks, with the target of returning to action at the re-introduced Donington Park round at the end of March.
Chris Vermeulen: "We decided as a team that the best thing was not race or test here at Phillip Island. It is unfortunate because it is my home round and I have gone through such a long recovery already. It would have been nice to start off the season fit and strong but we did not want to risk any further damage to my knee. Just as importantly, I am not fit enough to compete at the top level yet so it is better to not ride at the moment. My knee is improving and the recovery is going to plan, so hopefully by Donington I will be ready to race again. I have nearly five weeks from now to get ready for that round. "
Akira Yanagawa will replace Vermeulen for the Phillip Island tests and the team will concentrate their full efforts for race weekend on Chris's fellow regular KRT riders, Tom Sykes and Joan Lascorz.
---
MotoGP Ass Kicker? We challenge you to find a stock unmodified production part on Melandri's factory Yamaha R1 Superbike (hint: the engine cases) CLICK TO GO BIG

Yamaha World Superbike Team unveil 2011 livery - with no sponsors
February 15th - The 2011 Yamaha World Superbike Team has unveiled the livery they will run for the upcoming World Superbike season. The new design features a Yamaha blue corporate racing colour scheme. The livery takes its inspiration from both the famous Yamaha speed block design and also one of the colours of the current production model YZF-R1, giving the bike a modern sleek appearance whilst emphasizing Yamaha's racing image. Noticable by its absence on the bikes is no outside sponsorship for the factory team, with the loss of support from the Italian dairy company Sterligarda which was with the Yamaha team the last 2 years.
The team features an all new rider line up for the 2011 championship with 28yr old Italian rider Marco Melandri, a previous 250cc World Champion, stepping across from MotoGP to partner 24yr old rider Eugene Laverty from Northern Ireland who steps up from the World Supersport Championship. The new livery will feature prominently on the leathers of both riders.
The team continues its winter testing schedule on the 21st and 22nd February at the Phillip Island circuit in advance of the opening round of the championship in Australia on 27th February.
---
Above: Wayne Rainey's 1992 World Championship winning Yamaha YZR500 featured in the 1994 Fast Dates Calendar
Yamaha Enters 50th year of Road Racing World Championship Grand Prix
Launches New Website Commerating all the Factory Racing Bikes and Riders

2011 witnesses a landmark of World Championship Grand Prix racing for Yamaha, having successfully competed at the highest level for 50 years. From the very first Grand Prix entry in the French GP of 1961 to today, Yamaha has been an icon at the forefront of Grand Prix racing with countless victories delivered the world over to the delight of the many loyal and dedicated fans. Yamaha will commemorate this incredible achievement over the course of this year with a number of actions.
A special 50th Anniversary logo has been created using Yamaha's corporate colours and will be used during the season. The logo will be proudly displayed on the 2011 YZR-M1 fuel tank, on all Yamaha Factory Racing Team uniforms, within the pit garage of riders Jorge Lorenzo and Ben Spies and also on the Yamaha Factory Racing trucks.
The World GP 50th Anniversary is also being celebrated online with a special dedicated website - 50TH YEAR OF ROAD RACING WORLD CHAMPIONSHIP GRAND PRIX - live from 1st February 2011. The website features an impressive archive tracking the history of Yamaha's involvement with racing along with detailed historical information. Throughout the season the site will be regularly updated with columns and videos along with exclusive messages and interviews of key people involved in the Yamaha story. CONTINUED
---
Ducati Diavel First Riding Impression Complete 2011 Diavel Feature & Specifications Here
---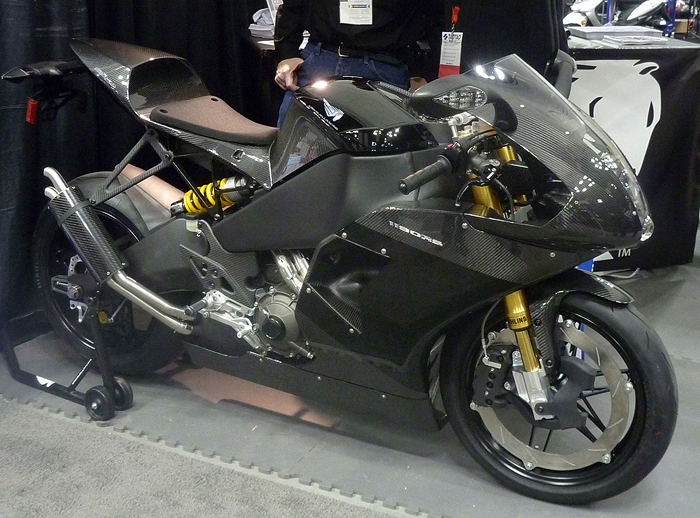 New Eric Buell racing 1190RS Superbike premiers at Indy
Indianapolis, IN, Feb 17th - The anticipated 2011 Erik Buell Racing 1190RS Superbike was finally out in the open at this week's Indianapolis Motorcycle Dealer Show. Called the Erik Buell Racing 1190RS Carbon Edition, the name implies what material the bike mostly consists of, as this is supposed to be the premium model that will be sold in limited quantities to help get the 1190RS homologated for racing duty. Only 100 or so models are needed for such a purpose, meaning this will be limited-run, and one expensive endevour for the intrepid few (Buell isn't quoting prices just yet, but Ducati 1198R prices in the mid $30s range are being banded about). This high-cost limited edition model will keep many Buell fans left out in the cold for th moment, with a lower cost, more production-ready 1190RS expected down the line. It seems Erik Buell Racing wants the 1190RS Carbon Edition to be its halo bike, as the company looks to recreate a dealer network, woo investors, and begin racing on a more even playing field with in the Superbike class.
The 1190RS is very loosely based on the never-released Buell Barracuda B2, or more specifically, the superbike homologation special that was in the process of being derived from the B2 when Buell was closed. The 1190RS uses a new frame made by the same Illinois company that built the 1125R frame and was to build the B2 frame. The new frame, made with castings newly tooled by EBR, has indentations in the side beams to allow room for clipons, and opens up behind the steering head to allow a three-times-larger ram-air snorkel to directly reach the all-new airbox. The frame, in Buell tradition, holds just a little less than five gallons of gasoline.
The powerplant is essentially a bored-out version of the 1125R powerplant, now displacing 1190cc. Perhaps more importantly, every one of its reciprocating components has either been replaced with a part from the Buell Superbike program, or a part closely related to such a part. Valves are titanium, the camshafts are straight from the 1125RR Superbike, the connecting rods are machined from forged steel blanks by an American company (rather than the F1-like titanium parts of the 1098R), and the three-ring, 106mm pistons manage to be lighter and stronger than the 103mm forged pistons of the 1125R. A thicker-than-1125R base gasket is used to reduce compression to something suitable for pump gasoline, while its removal allows a very rapid path to full-Superbike tune. The new airbox—autoclave-molded from pre-preg material—is an integral part of the power package, its floor dipping down between the frame rails and encompassing the throttle bodies rather than starting above them. It roughly doubles airbox volume from the 1125R, and allows the bigger engine to develop is full top-end power. In street tune, complying with EPA emission and noise requirements, rear-wheel power will be in the same range as a Ducati 1198. The simple addition of a race pipe and ECU boosts output substantially higher, to something close to that of the 1125RR which Geoff May rode in 2010 AMA Superbike races. That's not too surprising as the internal parts are so similar; the amazing thing is that EBR was able to get this engine, in this tune, through noise and emission tests. Credit that in part to a very refined fuel map, and two very expensive catalysts in the big main muffler.
Engine radiators and oil-cooler are no wider than the frame rails and, like the bodywork, were based on the final studies of racing parts executed at Buell Motorcycles. Half a foot narrower than the pods of an 1125R, and inches narrower than the B2 lower body, the new fairing is a very substantial aerodynamic improvement over any other configuration that ever graced an 1125—not to mention the fact that it looks good. The wide 1125R/B2 headlight has been tossed, replaced by two little projector beam headlights stacked vertically. The upper one is covered by a projection of the windscreen, which comes with a hard-coating that'll keep it sufficiently scratch-resistant for this usage. The version of the 1190RS shown in these pictures is the "Carbon Edition," where essentially every piece of bodywork and every bracket other than the main frame and swingarm are made from carbon fiber. Because some of these parts are banned from the AMA Pro-Racing Superbike class in carbon, there will also be a "standard" version using parts pulled from the same molds in less exotic glass-based pre-pregs.
Very few 1125R or B2 parts remain on this machine. The dash is an AiM Sports MXL Pista, a high-end design with data-logging function typically reserved for racebikes. The fairing/headlight bracket is a pre-preg carbon or glass piece, depending on model. The footpeg carriers and triple-clamps are new CNC billet parts. The suspension is now Öhlins rather than Showa, very similar in specification to what Geoff May raced last season. The chain is a skinny 520 DID, the same one used by the race team. The wheels are refinements of designs begun in Buell's race department, parts that were structurally optimized via computer analysis down to the last gram. But rather than the aluminum versions from a Chinese supplier that were meant for the B2, these are from an Ohio-based casting house and done in magnesium, using an exotic, American-patented casting process that produces parts that rival wrought parts in strength. The front wheel weighs less than 7 pounds, the rear less than 10. Both the narrow chain and the light rear wheel are made possible by a torque compensator built into the engine outlet sprocket, similar to the one used on the belt-drive sprocket of the 1125R. Just for reference, typical rear-wheel compensation (cush-drive) systems frequently add 3 pounds to the rear wheel of a streetbike, and a 15-pound rear wheel on an open-class sportbike isn't unusual. The carbon edition of the 1190RS will scale well under 400 pounds wet (minus fuel), making it perhaps the lightest open-class race replica. One accessory will be a 20-pound piece of ballast to bring the bike up to superbike weight in AMA trim!
Racing is very much in this machine's future. EBR just announced a three-year sponsorship agreement with Amsoil that will see Geoff May back on the 1125RR at Daytona, and on the 1190RS in time for the Infineon round in Sonoma, May 13-15. EBR has scheduled a production run of 100 1190RSs, with exact pricing to be determined shortly. Be assured that the standard 1190RS won't be any less expensive than was a Ducati 1098R, and the Carbon Edition will be more expensive yet. And also be assured that Erik Buell doesn't plan on being in just the boutiquesport bike business; he intends to follow these first $40,000-plus machines with slightly more affordable versions. But as the first products of EBR, it shows what Mr. Buell can do unencumbered by Harley bureaucracy and product planning.
Styling will be subjective, but it will difficult to see whether the EBR 1190RS can sell itself on its merits as Erik Buell originally intended, or is it back to appealing to people's sentiments to move models out of the dealer doorway. While the technical specifications are presumably present this time around, we suspect the price tag will be a deal-breaker for everyone but the most loyal of Buell fans (that could very well be the intention though). Compare the EBR 1190RS Carbon Edition's expected price of nearly $40,000 to the track proven offerings from BMW, Ducati, and Aprilia where you can purchase World Superbike and Work Superstock contenders for $15,000 - $25,000 with the latest traction controls, engine electronics, and see where customers make their purchasing decision.
---
The Pretty Reckless "Light My Fire" Record Release Tour photography by Jim Gianatsis
Los Angeles, CA, February 11th -We've been telling you for about a year now about one of the most exciting and talented girl fronted rock bands to come on the music scene in decades, Taylor Momsen in The Pretty Reckless, who we've featured in our Chicks That Kick Ass section. This under age goody-goody Gossip Girl TV show actress, now gone bad girl has one of the most beautiful sexy and energy charged voices ever heard, back by an incredible band with some very edgy and and well written songs that are guaranteed to be top hits in the coming months if they can get past the radio station sensors. It's hard to describe Taylor's singing style because there's never been anyone like her, but imagine an Avril LaVigne pop rock princess with vocals like Ann Wilson of Heart. The Pretty Reckless band has been together for just a little over a year now when Taylor first turned 16 years old. She's now 17 and will turn 18 in July. We first saw them on the Van's Warped Tour last summer and picked up their great 4-song EP 'The Pretty Reckless". This past fall their first full-length album "Light My Fire" was released in Europe where it quickly topped the charts.
The Pretty Reckless EP
click to order

We're guessing the delay by Interscope Records to release "Light My Fire" in America was due to a number of factors including the explicit lyrics and adult content of songs on the album like "Going Down" and "My Medicine" which promote sex and addiction, and are definitely very hot topics for an under legal age 17 year old girl to be promoting in the conservative religious right America these days when the charts are topped by Taylor Sift and Justin Beiber singing about puppy dog high school crushes. Taylor was also busy under contract shootingthe Gossip Girl TV series which made it difficult to send her out in America on a record release tour to promote the sales of a new album.
And now she's just 5 months away from becoming an adult.

Light Me Up CD


click to order
A few months ago Taylor was put on "Hiatus" by the TV show producers for her "difficult attitude" on set. Perhaps a ploy? Which quickly allowed Interscope to put a national tour together for "Light My Fire" which was released this week in America as The Pretty Reckless kicked off a 24 -stop tour across America in just 8 weeks. Their record rlease tour kicked off to a sold out audience of teengage Gossip Girl fans and middle ageed Joan Jet era gothic rock music fans at the beautiful old art deco El Ray Theatre in Los Angeles on February 11th. We were there to take it all in as huge Pretty Reckless fans, where we were treated to one of the best rock and roll shows ever headlines by Taylor's amazing vocals and stunning good looks with thestill underage teen star on stage in revealing scant lingerie her trademark, and performing all the incredible songs on their new album To find out more about Taylor and The Pretty Reckless check out their Girls That Kick Ass! page here, check out their Music Videos here and on YouTube.com, and definitely buy "Light My Fire". We guarantee you will be blown away. Tour dates at www.The PrettyReckless.com.
---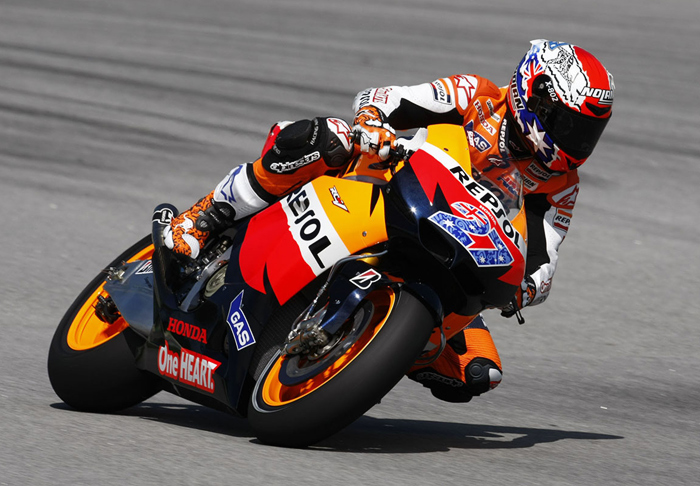 MotoGPWorld Championship Official Test at Sepang
Casey Stoner leads MotoGP e pre-season testing at Sepang
Sepang, Malaysia, Tuesday Feb 22nd Day 1 - The second official 2011 pre-season MotoGP Test rounded off its opening day at Sepang with Casey Stoner top of the timesheet, as the Australian set the only lap under 2'01" on Tuesday. With an effort of 2'00.987 inside the final hour, Stoner was followed by team-mate Dani Pedrosa (+0.373s) for a Repsol Honda one-two at the top.
In typically sweltering conditions and with a general lack of grip being reported by the riders the duo of RC212Vs were followed on the timesheet by a brace of Yamaha M1s. First up was the factory machine of World Champion Jorge Lorenzo, who at 0.481s off Stoner had spent the day trying a modified chassis in a bid to deal with a chatter problem encountered last time out at this track. Monster Yamaha Tech 3 rider Colin Edwards was just over two-tenths further back in fourth.
Third Repsol Honda rider Andrea Dovizioso rounded out the day fifth fastest with a time of 2'01.747, with Yamaha Factory Racing's Ben Spies close behind (+0.061s on the Italian) as the American concentrated on his M1 setting. Two more RC212Vs made it five inside the top eight as San Carlo Honda Gresini pair Hiroshi Aoyama and Marco Simoncelli finished within six-hundredths of one another. The Japanese rider was looking to define his suspension and rear grip and was the final rider within a second of Stoner, whilst Simoncelli worked towards better grip and braking performance having set the best time at the previous Test.
The highest placing Ducati on day one was the factory GP11 of Valentino Rossi, notably without the 'wings' that had featured on the fairing of the Desmosedici at its official presentation in January. Appearing to enjoy an improved comfort in his shoulder in comparison to three weeks ago the Italian worked on his set-up and on fixing his anti-wheelie setting, posting a best lap of 2'01.999 which was 1.012s off Stoner.
Álvaro Bautista, the Rizla Suzuki rider, completed the top ten (+1.237s on Stoner) as he set about adjusting the electronics on his GSV-R (he was accompanied on track by Suzuki Test rider Nobu Aoki). Mapfre Aspar rider Héctor Barberá and Ducati Team's Nicky Hayden both experienced crashes during the earlier half of the day and escaped uninjured, finally placing their respective Desmosedicis 11th and 12th, whilst Toni Elías enjoyed a step forward with his LCR Honda in 13th. Randy de Puniet avoided injury when he crashed, whilst British rookie Cal Crutchlow also fell at the end of the day. The Monster Yamaha Tech 3 rider was still suffering from the lingering effects of a bout of food poisoning he picked up en route to Malaysia. The Ducatis of Loris Capirossi (Pramac Racing) and Karel Abraham (Cardion AB Motoracing) completed the timesheet, the rookie experiencing a non-consequential fall around midday.
MotoGP Official Test Report Day 2
Wed Feb 23rd - Day two at the official MotoGP Test at Sepang ended with the RC212V having once more displayed its pre-season strength, as Repsol Honda trio Casey Stoner, Dani Pedrosa and Andrea Dovizioso took the three top positions on the timesheet. With the heat having intensified and the track temperature reaching over 60ºC at one stage, the riders and teams worked hard to make the most of the second of the three days. After Pedrosa had already bettered Valentino Rossi's 2009 Sepang circuit best lap by almost three-tenths with a 2'00.229 in the morning, Stoner stole the best time with his 42nd and final lap of the day, registering a 2'00.171 and heightening expectations that the 2'00" barrier could well be broken tomorrow (Thursday) if conditions permit.
With Stoner and Pedrosa having taken the top two spots Dovizioso slotted into third with an effort of 2'00.531, whilst Yamaha Factory Racing pair Ben Spies (2'00.824) and World Champion Jorge Lorenzo (2'00.931) were the final two under 2'01" for the day as they placed their M1 machines inside the top five. Spies' day ended with a non-consequential crash at Turn 7.
A notable absence on day two was Rossi, who was eventually unable to ride at all on Wednesday due to illness. The Ducati Team rider, who yesterday came in ninth fastest, attended the circuit in the morning but returned to his hotel to rest in a bid to be fit for the third and final day.
Back on track the San Carlo Honda Gresini bikes of Marco Simoncelli and Hiroshi Aoyama continue the RC212V theme, making it five inside the top seven. Working on suspension settings to improve braking stability, an issue which has been highlighted by a number of Honda riders, Simoncelli was the final rider within a second of Stoner as he posted a 2'01.033. Aoyama, riding to find out if major changes made the day before brought any significant benefit, was fractionally over four-tenths off his team-mate.
Colin Edwards (Monster Yamaha Tech 3), Héctor Barberá (Mapfre Aspar) and Álvaro Bautista completed the top ten, the Rizla Suzuki rider's day having been interrupted by illness. He managed 35 laps nevertheless, with a best time of 2'02.035. The sole factory Ducati rider on track Nicky Hayden worked on the setting of his GP11 and set a best time of 2'02.208, with Pramac Racing's Desmosedicis belonging to Randy de Puniet and Loris Capirossi closely matched. Karel Abraham (Cardion AB Motoracing), who had a fall right at the end of the day, Toni Elías (LCR Honda) and Cal Crutchlow (Monster Yamaha Tech 3) completed the timesheet.
---
Sports Illustrated Swimsuit Issue 2011
Tuesday Feb 15th - The 2011 edition of the annual Sports Illustrated Swimsuit Issue hit the newstands this week, again with some of America's most beautiful models shot in exotic locations around the world by top sports and fashion photographers. Our favorite model in this year's issue is newcomer Kat Upton pictured above and below. Kate, just 18 years old , is a Midwest native who always dreamed of being a model. Fantasy became reality three years ago when she walked into an open call and booked her first job. Since then she has been the face for Guess Lingerie and appeared on the cover of Cosmopolitan Bride.
The models and photo shoots from the 2011 SI Swimsuit Edition will be featured in all the different editions of the 2012 Sports Illustrated Swimsuit Calendars which will be availble this summer as always, here at FastDates.com in the Calendar Collector Store

You can order the 2011 Sports Illustated Swimsuit Edition magazine now from us here online by clicking on the cover at right .

We're excited to say that beautiful 5' 9" tall Kate Upton (below) is also just one of four SI models who was also nude body painted by our FastDates.com Calendar makeup artist Joanne Gair to appear nude in the Bodypaint section of the magazine and their next SI Bodypaint Calendar. You can find out much more about this year's 2011 SI Swimsuit edition and the models with pictures and videos at SportsIllustrated.cnn.com/swimsuit/



2011 SI Magazine
Sports Illustrates Swimsui

t
| | |
| --- | --- |
| | Kate Upton in nude bodypait by Joanne Gair |
| | |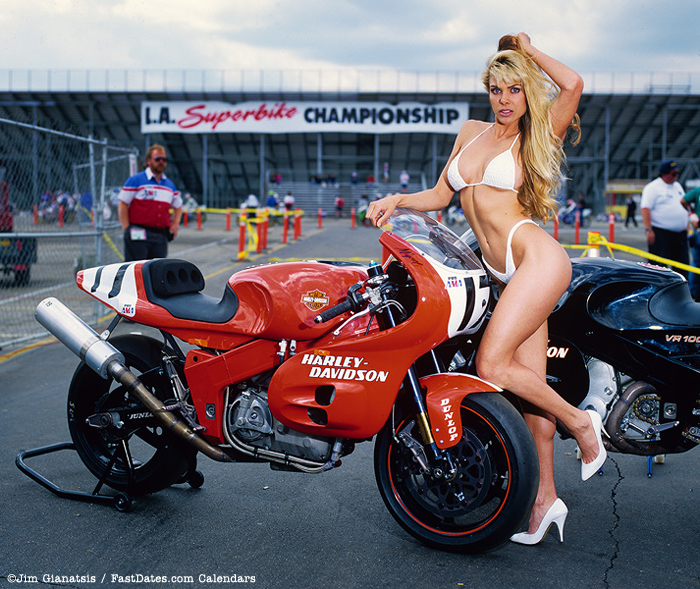 Linda Sobek with Miguel DuHamels Harley-Davidson VR1000 Superbike featured in the 1995 Fast Dates Calendar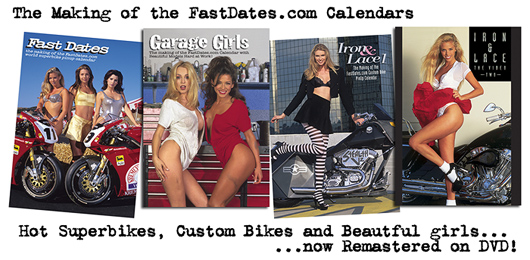 The Making of the FasDates.com Calendars DVD movies available in the FastDates.com Video Store.
---
There's more! Go to Pit Lane News Next Page

Also Visit: Fast Dates Calendar News • Iron & Lace Calendar News
Calendar Girl News • Meet the Models • Paddock Garage

Calendar Kittens, Paddock Garage, Screensavers, Iron & Lace Garage





MotorcycleSuperstore.com
Some of our Calendar Kittens can also at Playboy's website...



FREE! New Met-Art Model Galley Updated Daily - Stop Back Each Day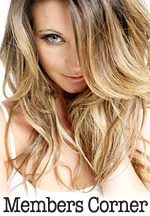 Hot Bikes, Sexy Kittens
Your Exclusive Grid Pass
also includes....
---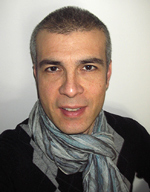 Corrado Cecchinelli appointed MotoGP Director of Technology


Feb 14th - Corrado Cecchinelli has been appointed as the Director of Technology for the FIM MotoGP World Championship. The experienced Italian will oversee and be responsible for all technical developments relating to the three World Championship categories; 125cc, Moto2 and MotoGP.
One of the main functions of Cecchinelli's role will include the development of new regulations regarding the implementation of the Moto3 category and the new 1000cc engine capacity in MotoGP, both of which come into effect in 2012. He will also play a key role in providing a technical link between manufacturers and suppliers and the organisations involved in the governing of the World Championship, which include the FIM, the MSMA, IRTA and Dorna.
Cecchinelli has an extensive amount of experience and knowledge in motorcycling, and after obtaining a degree in Mechanical Engineering – in which he specialised in automobile mechanics – he worked for Piaggio for two years. A five-year period working on Ducati's superbike project then followed between 1997 and 2002, and from 2003 to 2005 Cecchinelli was Technical Director for the Borgo Panigale factory's MotoGP team. In 2006 Cecchinelli took up the post of Vice Director General at Ducati Corse, a position he held until the end of 2010 prior to his appointment as MotoGP Director of Technology.
Larry Pegram's
Superbike Family Series Premiers on Discovery HD TV Feb 28th - Mar 16th
Feb 15th - Our good buddy Kaming Ko who is a top supporter of Ducati in the AMA Superbike Championship, has told us about on new TV Series premiering on HD TV the end of this month. Staring his roadracing buddy Larry Pegram,"Superbike Family" follows the family owned and operated Pegram Race Team's journey to compete against full factory race efforts on the AMA Pro Road Racing Series."
Program Broadcast Times are:

Saturday, February 26th
11am - Superbike Family Ep.1
11:30am - Superbike Family Ep.2
Saturday, March 5th
11am - Superbike Family Ep 3
11:30am Superbike Family Ep.4
Saturday, March 12th
11am - Superbike Family Ep.5
11:30am Superbike Family Ep.6
It may be a slight exageration for them to say that Larry competes against 'full factory race efforts" in AMA Pro Superbike. Truthfully, these days in the Daytona Motorsports Group run series it's fallen to privateer teams on stock bikes in an unpopular race series. What gets on TV these days is a TV show you produce and pay for yourself. We're sure Larry leads an exciting life on a tight budget with his wife and kids, going to club level road course in small towns around America, but...

We'd much rather be watching Valentino Rossi from San Marino, Italy, jet setting around the world competiting in the MotoGP Championship, and on off weekends racing World Rally cars and Formula One Ferraris.
Or maybe maybe follow 2-time World Superbike Champion Troy Corser living in Monte Carlo, going to wild parties with his sponsor Pussy Energy Drink, developing and racing BMW racebikes in the WSBK Championship.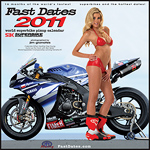 2011 Calendars!
with FastDates.com Calendar Kitten, Ducati Corse Grid Girl
and Playboy Playmate
Heather Rae Young!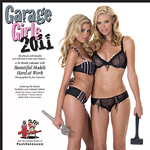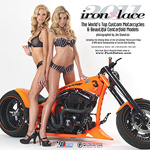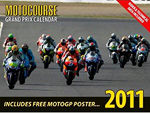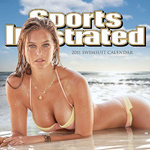 Click for even more Calendars!


2011 SI Magazine
Sports Illustrates Swimsuit
---
Carlos almost equals
Casey Stoner's
MotoGP Lap Record!
Carlos Checa / Althera Ducati Smashes Superbike lap Record on Day 2 of Testing at Phillip Island
Phillip Island (Australia), Tuesday 22nd February 2011: the Althea Racing team, and rider Carlos Checa, concluded testing at the Phillip Island track today, with fantastic results.The Spanish rider, having been fastest on track yesterday, improved even further today, lowering his best time of yesterday by another eight tenths of a second to record a 1m30.578. With this extremely impressive time, Carlos and his Ducati 1198 also smash Laconi's 2009 Superpole lap record by half a second.
During the morning, on a very fast track, Carlos and his Althea Racing technicians were able to proceed with the planned work without interruptions, today concentrating mainly on tyre wear. Althea's flagbearer completed 26 laps during the morning, recording the flying lap just prior to the end of the session to close ahead of the pack once again, and six tenths ahead of second placed Guintoli, also on board the Ducati. To better illustrate just how impressive Checa's performance was here today, Casey Stoner, winner of the 2010 MotoGP round at Phillip Island, also made the fastest lap of that race, a 1m30.4, just a tenth of a second quicker than Carlos and his Ducati 1198 today.
In the last session of the afternoon, track conditions didn't allow riders to make any further improvements and so the Althea Racing team instead made the most of the track time to check that both bikes were working well.
Over these two days of testing, Carlos clocked up a total of 116 laps, with a best time of 1m30.578, set this morning. Now the rider and his team can enjoy two days of relaxation before returning to the track on Friday, ready for the challenge that the inaugural round of the 2011 World Superbike Championship will bring.
Carlos Checa - "I'd say that the test went extremely well, we worked well with the tyres and I felt comfortable on the bike right from the start. I was a little worried as we have not ested much over the winter but we did a great job here. I thank the entire team and also Pirelli for all their hard work which allowed me to record some fast times. We've found a strong rhythm and are very satisfied. The Ducati always goes well at Phillip Island so we'll try to make the most of this opportunity and focus on achieving great results on Sunday."
Genesio Bevilacqua – General Manager di Althea Racing
"I'm very happy with the outcome of the tests and the consistant speed demonstrated by our bike and by Carlos, who rode it to perfection. Other important teams tested at this track over the winter, gaining an advantage with regard to bike set-up but our team has worked extraordinarily well over these two days. Carlos dominated every session and his mental state is exactly what we need to be able to score some strong results on Sunday."
TIMES:
1. Carlos Checa (Ducati) 1m30.5; 2. Guintoli (Ducati) 1m31.1; 3. Rea (Honda) 1m31.2; 4. Smrz (Ducati) 1m31.6; 5.Lascorz (Kawasaki) 1m31.8; 6. Biaggi (Aprilia) 1m31.8; 7. Fabrizio (Suzuki) 1m32.1; 8. Melandri (Yamaha) 1m32.1
Jonthan Rea 3rd Quickest on Castrol Honda despite firey crash and injuries Tues 22nd February - Jonathan Rea crashed during a World Superbike championship testing session at Phillip Island in Australia this afternoon, potentially jeopardising his participation in this weekend's opening round of the 2011 championship.

Rea had set the third quickest time in this morning's session on day two of an official WSBK test and was on his first lap this afternoon when he crashed at Phillip Island's fast turn three, getting off his Castrol Honda CBR1000RR at around 210kph (130mph).

Rea dislocated the ring finger on his left hand but was later transferred to The Alfred hospital in Melbourne to undergo x-rays and scans on his left wrist. Despite the crash, the 24-year-old set the third fastest overall time of the test, with Carlos Checa and Sylvain Guintoli taking the top two slots.

His Castrol Honda team-mate, Ruben Xaus, meanwhile set the 13th fastest time over the two days. The Spanish rider continues to familiarise himself with the CBR1000RR after severely curtailed winter testing time, and has been able to improve his times in each of the testing sessions at Phillip Island.

Jonathan Rea – best lap 1m31.206s - "I'm so frustrated because we were just about there on race pace and everything was feeling really good. Early in this afternoon's session, I was in turn three and winding it on when I suddenly felt the rear squirming and then I realised the bike was on fire. Basically I had to get off it quickly and unfortunately it was at 130mph, which is quick enough. My finger and wrist are sore – in fact I'm pretty sore all over – but I'm still waiting for the final diagnosis. At the moment it's too early to know how I'll be feeling at the weekend, but I certainly didn't want to start this season the way I finished the last one. I know it's one of those things that you don't expect and can't prepare for, but it's nobody's fault and we'll just have to hope I can be back on it soon."

Ruben Xaus – best lap 1m32.405s - "We've had four days here now and done many laps on the bike, which I really needed. It's like when you go to school and you need to put in the study hours to improve. We had a few problems in the first test last week when we struggled for grip opening the throttle. Johnny has given me some help and his set-up, which is completely different to what we had last week, seems to be a way around that and during these last two days we have shifted more weight to the front of the bike and it's definitely improved things. We've worked step-by-step, especially working to stop the bike jumping around a bit at the rear. We've got a couple of days to relax and analyse things now, but that's the only thing that's slowing me down a little. I'd like to be closer to the front, of course, but we haven't had the best weather during our winter tests, so we just haven't done as many laps as some others. The times are still quite close though, so I'm looking forward to getting back on the bike this weekend and getting the season started, which I hope will be the same for Johnny."

Ronald ten Kate – team manager - "The testing was going well until the start of this afternoon's session when Jonathan had a very big crash. He was not to blame at all for the crash, which came at high speed when the machine started to leak oil on his rear tyre and caught fire. Jonathan was forced to jump off at one of the fastest corners of the track. We hope he'll be back on the bike with us soon. On Ruben's side we are step-by-step improving the set-up, but we're sure we'll master it and have the puzzle sorted by the weekend. He's been going faster in every session and we aim to keep things going in that direction."
Fabrizio 7th Quickest on Lone Alstare Suzuki
Feb 22 -Team Suzuki Alstare rider Michel Fabrizio ended the two-day tests at Phillip Island in Australia, in the lead-up to this weekend's opening round of the 2011 World Superbike Championship, with the seventh quickest overall time and felt he could've gone quicker.
Throughout the two days, which took place in a variety of weather conditions, Fabrizio suffered from front-end chatter and was unable to push as hard as he would have liked.
Spaniard Carlos Checa (Ducati) topped the overall standings, with a lap of 1:30.578, well over second quicker than the official lap record of 1:31.826 set by local hero Troy Corser in 2007. Second quickest was Sylvain Guintoli (Ducati) with Jonathan Rea (Honda) third.
Michel Fabrizio - 7th, 1:32.113: -"Although the two days were generally good, I am a little disappointed that I didn't go any faster. I had a lot of front end chatter and that was mainly due to the fact that the front tyre was too hard. I know if I had been able to use a softer front today I would've gone at least four-tenths-of a-second quicker. It was a bit frustrating because the rest was more or less ok. I had a little crash this afternoon and that was because the front end was too hard and I couldn't feel exactly what it was doing and I couldn't get enough feedback. Fortunately I only hurt two fingers of my right hand and even the bike wasn't really damaged - just a broken footpeg and a few scrapes on the fairing.
"Every time I get on my GSX-R1000 and put in laps, I get used to the bike more and more. The team is working very hard and I am trying to get the utmost from the bike and be as competitive as possible. Now that we have seen how all the other bikes are performing, it gives a clearer picture of what we have to do. For sure the race this coming weekend is going to very hard but, if I can qualify well, there is no reason why I cannot get a good result and that's what I'll be chasing."
Yamaha World Superbike Team Wrap Up Phillip Island Test
Feb 22nd - 2011 Yamaha World Superbike riders Eugene Laverty and Marco Melandri today completed the second of two days testing at the Phillip Island circuit ahead of the season opening round this coming weekend. Both riders spent the sessions working on set up to deliver consistent pace for the Australian circuit. The team achieved their target of testing all updates for the 2011 R1 race bike, and will now take a couple of days rest in preparation for the two races on Sunday 27th February.
Italian rider Marco Melandri is still recovering from his previous shoulder operation and so rode less on the final sessions to give himself enough time to rest before the weekend
Marco Melandri, Yamaha World Superbike Team, 8th, 1'32.122 - "I am very happy because I feel a big improvement from my shoulder. The second day was still quite difficult though, I didn't ride a lot as my shoulder was having some pain. The bike has made a small improvement over the last test and we have a good plan to make it even better for the race. My physical condition for the race distance is a question mark but we will see what happens on Sunday!"
Eugene Laverty, Yamaha World Superbike Team, 9th, 1'32.137 - "It's been a tough test but we're making progress bit by bit. We're focusing on consistency for the races, that's been the focus since we started the test. We've found that now and all we need is a little bit more pace. I'm excited about the race, it's a strange track like no other and requires a unique set up. I think it's going to be the smart guys who are there at the end of the race."
BMW Team Struggles
with Bike SetUp
Both Leon Haslam (GBR) and Troy Corser (AUS) completed a lot of laps and made good progress with the set-up of the BMW S 1000 RR. Their respective crews compared the different tyre compounds and worked on chassis and suspension set-up.
Leon Haslam: Test kilometres: 561 (126 laps) Fastest lap Monday: 1:32.578 min (P9)/ Fastest lap Tuesday: 1:32.413 min (P14)
"We had a few issues to resolve over the course of the two day test. This morning I lost the front of the bike twice and crashed. We have made some progress with the electronics which has helped alot. The lap times in the afternoon were slower for everybody but even so we seem to have made some improvement. While I was way off the pace this morning, I was only six tenths of a second in the afternoon. Tomorrow we have a day off and we will all try to recover for Friday."
Troy Corser: Test kilometres: 471 (106 laps) Fastest lap Monday: 1:33.255 min (P14)/ Fastest lap Tuesday: 1:32.994 min (P16) - "We already tested here a couple of weeks ago, and we tried a lot of different things here
yesterday and today. So far, it is difficult to judge whether we went in the right direction. We will know more on Friday. The conditions today have been close to perfect. It was not too warm for the tyres and it is not too windy today. I am not surprised that Carlos Checa was able to beat the Superbike lap record. Tomorrow will be a day off, before we head into the first race weekend of the season."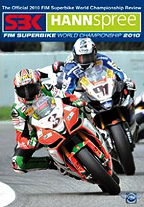 World Superbike Review
Click to find DVD Coverage of Every Year!
MotoGP Review
Click to find DVD Coverage of Every Year!
---
New Roadrace Books, Videos and Playstation
Cycle News Returns
Cycle News, now owed by the Mag Group, is back with an online digital edition. It is free for now, but for how long? Local event coverage is gone. I don't know if the Motocross and Streetbike mix can continue with event type being so more narrowly focused today. But they are definitely more event current online, than traditional... mixed focus print magazines like Cycle World.
Cycle News Online
---
New PlayStation
Racing Games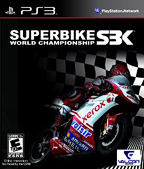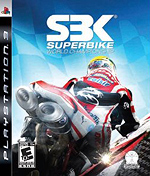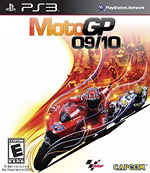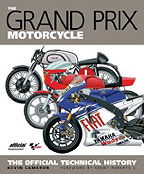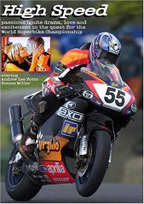 High Speed - the Movie
The best motorcyce racing movie ever made! Filmed on location at the World Superbike races , this an exciting romantic drama staring beautiful British actress Sienna Miller.
---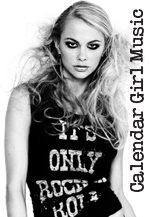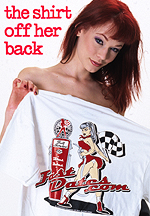 Order the Official
FastDates.com &
LA Calendar Bike Show
T-Shirts!
Moto2 racer Fonsi Nieto forced to retire from last year's Indy MotoGP injury just six weeks before the start of the 2011 season
February 9, 2011 - Fonsi Nieto has announced his decision to retire from professional motorcycling competition with immediate effect, and will therefore not take part in this year's Moto2 World Championship for which he was set to enter with the G22 Racing team.
The Spanish rider, who was preparing to compete in his second Moto2 campaign, has taken the decision after being unable to overcome the physical issues caused by his accident at Indianapolis last year.
After announcing his retirement at a press conference in a Madrid hotel on Monday, Nieto said: "I've weighed up this decision during the past few days and have spoken with my family and my cousins, which includes the team I was due to ride with this year. I did not want any problems or misunderstandings, and I think they were glad when I told them."
"I go to the gym every day but after five minutes I have to stop," said Nieto. "Faced with the possibility of not being able to do everything I wanted to properly, I preferred to retire, although this is a decision I will have to deal with forever.
The G22 team, managed by brothers Pablo and Ginete Nieto has yet to announce plans to replace Fonsi for the coming season.
Yamaha Announces its 2011 Road Racing Teams and Welcomes Monster Energy Sponsorship
Josh Hayes will ride an R1 sponsored by Monster Energy drinks in '11 DMG Superbike.

Cypress CA, Feb 16h 2011 - Yamaha Motor Corporation U.S. is very pleased to announce its complete road racing plans for 2011 that include a new Monster Energy title sponsorship for the Graves /Yamaha team featuring reigning AMA American Superbike champion Josh Hayes piloting the potent cross plane crankshaft equipped YZF-R1, and Daytona 200 winner Josh Herrin on the YZF-R6.
"Creating the Monster Energy Graves Motorsports Yamaha team connects our brand with one of the most respected racing programs and two of the best riders in the country" said Alex Dunstan, Motorsports Manager for Monster Energy. "Having the American Superbike #1 plate represent the #1 energy drink in the U.S. is a natural fit for our company and we look forward to kicking off the season at Daytona!"
Additionally, three new teams will be welcomed back to the Yamaha family - the Yamaha Extended Service/ Pat Clark Sports/Graves Yamaha Team, HT Moto Racing, and Team LTD Racing
The Yamaha Extended Service/ Pat Clark Sports/Graves Yamaha team will field AMA American Superbike contender Chris Clark on the championship winning YZF-R1 prepared by Graves Motorsports. Joining Chris on the team will be AMA Daytona Sportbike contender Tommy Aquino on the Graves Motorsports prepared YZF-R6.
"Yamaha Extended Service is very proud to be part of this racing effort," said Mo Murray of Yamaha's customer support group, "and we cannot think of a better way to show our support than with the excitement that road racing brings to thousands of our customers!"
Returning to Yamaha is history making racer Melissa Paris, the first woman to ever qualify for an FIM World Championship Supersport round. The wife of AMA American Superbike Champion Josh Hayes, Melissa will return to the AMA Daytona Sportbike class with the HT Moto Racing Team in 2011.
New to the Yamaha family but not new to winning is Team LTD Racing who will field Huntley Nash in the AMA Daytona Sportbike class and Thomas Puerta and David Gaviria in the AMA Supersport class. All three riders will be aboard the championship winning YZF-R6.
"Last season we showed what the R1 is capable of by winning the American Superbike title and we can't wait to get started in 2011", said Keith McCarty, Division Manager for Yamaha's Racing Department." From our new partner Monster Energy to all of our associated teams, we feel we have once again assembled the best teams in the paddock!"
The Monster Energy/Graves Motorsports/Yamaha team as well as the Yamaha Extended Service/ Pat Clark Sports/Graves Yamaha team has chosen to outfit their race machines with Yamaha's exclusive line of GYTR (Genuine Yamaha Technology Racing) products and YAMALUBE high performance lubricants. Team HT Moto racing will also use YAMALUBE for the 2011 season.
Yamaha is also pleased to continue to support road racing at all levels with our 2011 Road Race Contingency Program. Details and enrollment are available online at www.yamaha-motor.com/rrcontingency.