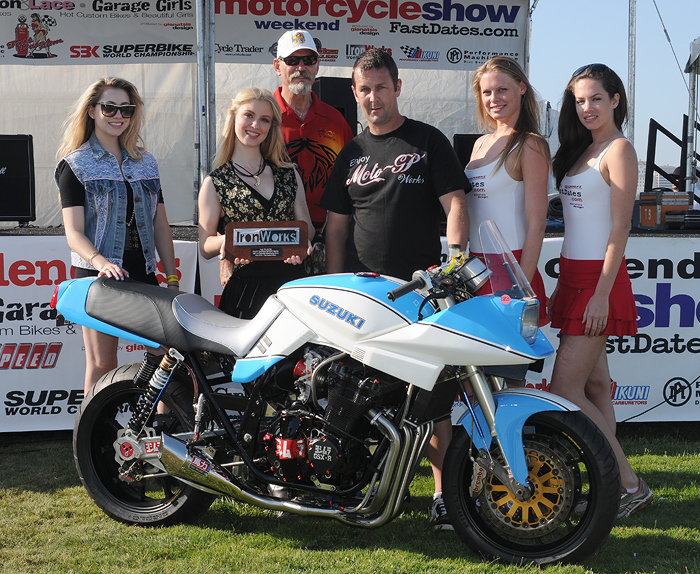 Left to right: Actress, singer songwriter and host Elizabeth Nicole, 18-year old magician Krystan Lambert from Fox TV's "Masters of Illusion", Keith "Bandit" Ball of Bikernet.com, Calendar Bike Building Championship Sportbike Class winner Chris Redpath / MotoGPwerks.com with his Sportbike Class winning 1981 Suzuki Katana Retro-Mod Superbike, singer songwriter Katie Cole, Calendar Show producer Jim Gianatsis, Calendar Kittens Melody Schuster and Candise Lakota. Click to go BIG


The Hottest, Rockingest, Sexiest, Best Motorcycle Show on The Planet!
Brown & Koro Motorcycle Attorneys present the 19th Annual 2010
LA Calendar Motorcycle Show & Calendar Girl Music Festival Weekend
We Have A Winner! Chris Redpatch takes 2010 Sportbike Class Win
Long Beach, CA, July 18th 2010 -Chris Redpath / MotoGPwerks.com beat out some serious competion in this year's Sportbike class in the Calendar Bike Building Championship to claim 1st Place with his beautiful 1981 Suzuki Katana Retro-Mod Superbike with MotoGP suspension and telemetry, traction control, all hooked up to an 836cc Yoshimura GSXR Race Engine. This was Chris first ever attempt to enter a bike at the LA Calendar Motorcycle Show.
In cause you don't know who Chris is, this New Zealander has an extensive background in motorcycle roadracing, having worked for the legendary John Britten in his small workshop building the Britten V-twin superbikes. He has also worked as a team machanic and engineer for many top roadracing teams both in 500cc MotoGP and for Yoshimura Suzuki in AMA Superbike back in the 1980s. Chris now owns his on motorcycle shop MotoGPwerks.com in Anaheim, CA, where he currently has a extensive 44 bike collection of historic racebikes. His next project is building an all new Britten Superbike from the ground up using the last spare engine which John Britten's wife recently gave him.
Calendar Show producer and Fastdates.com Calendar photographer Jim Ginatsis photographed Chris' winning Katana in the Gianatsis Design studios on Monday following the Show with a pair of beautiful Calendar Kittens including USGP grid girl and racer Roger Hayden's former girlfriend Brit Sheltstad for the next Fast Dates World Superbike Calendar.
Complete 2010 LA Calendar Motorcycle Show COVERAGE HERE
---
It may have been "One Small Step" for mankind on the moonscape of Laguna Seca, but it was "One Big Step" for Jorge Lorenzo as he took the Red Bull USGP win in Monterey towards his domination of the 2010 MotoGP World Roadracing Championship. It was also nice to see that Lorenzo now shares Yamaha teammate Rossi's flair for showmanship and humor.

MotoGP World Championship, Laguna Seca USA, Round 9 of 18
Lorenzo Stakes his Claim on Laguna and the Championship
Laguna Seca Raceway, Monterey CA, July 15th - Jorge Lorenzo (Fiat Yamaha) took a brilliant sixth victory of the season at Laguna Seca today, romping home to win by over three seconds from Casey Stoner (Marlboo Ducati) . His team-mate Valentino Rossi (Fiat Yamaha) made a triumphant return to the podium just seven weeks after breaking his right leg, overhauling Andrea Dovizioso (Repso; Honda) during a thrilling last ten laps to finish third.
Starting from pole for the fifth time in a row, Lorenzo lost ground to his rivals at the fearsome downhill turn one and was relegated to third first time around. For the first few laps there was little he could do except hang on behind Pedrosa and Stoner but on the sixth lap Stoner ran wide and Lorenzo stormed through to take second. By now Pedrosa was nearly a second clear but Lorenzo's pace had begun to improve and he started to push as hard as he could and exert some pressure on his fellow Spaniard. On lap twelve, with the gap now narrowed to half a second, Pedrosa crashed out and left Lorenzo in the lead and from then on it was plain sailing for the 23-year-old as he expertly controlled his advantage over Stoner to bring it home and take his second win on US soil. Today's victory was his 11th in MotoGP, his 32nd in all classes and his 10th successive podium.
Rossi had suffered all weekend with pain in both his leg and his shoulder and today looked like it was going to be a tough day for the reigning champion, unable as he was to make any further headway after passing Nicky Hayden for fifth position. Once Pedrosa had crashed out however and with Ben Spies exerting pressure on him from behind Rossi's fighting instinct kicked in as he spied a podium possibility, gradually closing down a two second gap to Dovizioso to come within striking distance with six laps remaining. On the 27th lap he made his move and passed his countryman, managing to hold him off over the last couple of laps to make a popular return to the podium.

While still injured, Rossi showed in his race return this past week in German that he is prepared to go toe to toe for
the win at Laguna Seca with the front runners like teammate Jorge.
Preview: Laguna marks MotoGP season midway point
Red Bull U.S. Grand Prix, July 23-25th -The MotoGP riders and teams complete what will have been a busy schedule of five races in six weekends at Laguna Seca on Sunday as round nine of the 2010 campaign, the Red Bull U.S. Grand Prix, heralds the halfway point in the season – one which has already been packed with plenty of drama.
Arriving at this stage in the season Jorge Lorenzo sits atop of the Championship with a 47-point advantage, and his second place in Germany maintained his form of finishing inside the top two in every race so far this season. The Fiat Yamaha rider is also the first since Valentino Rossi in 2005 to have opened the campaign with eight successive podiums. Last year Lorenzo finished third in the race despite injuries in qualifying, and he will be going for a first premier class win at Laguna – the shortest circuit on the current GP schedule at 3.61km long.
With victory at Sachsenring in the last round Dani Pedrosa drew Honda level with Yamaha on 57 wins each in the four-stroke MotoGP era, and on a personal level maintained his hold on second in the Championship. Winner of last year's race at Laguna the Repsol Honda man is going for his first back-to-back victories in the premier class this weekend.
Andrea Dovizioso is still hunting his first win of the season and will aim to improve on his best previous result of fourth at the American circuit from 2008, the Repsol Honda rider currently sits third in the standings. In fourth Casey Stoner is also striving for his first 2010 win, and he has a good record at the track having won and finished second and fourth in the previous three seasons.

Ben Spies, one of our home county favorites at Laguna, will move up next season to take Valentino's seat on the factory Yamaha squad.
Heading up the home contingent will be Ducati Team's Nicky Hayden, currently fifth overall. Since his victory at the circuit in 2006 no American rider has been on the podium at Laguna, something he, Ben Spies – who has AMA superbike experience at Laguna and finished eighth as a 2008 MotoGP wildcard there – and Colin Edwards of the Monster Yamaha Tech 3 team will be desperate to change.
Valentino Rossi's recovery will continue, although the reigning World Champion displayed in his battle until the last corner the final podium spot at Sachsenring that he is already highly competitive after his return from injury. The Fiat Yamaha rider has a single victory at Laguna, from 2008, and last year finished second, and now continues his attempt to recover ground in the Championship. The Italian and his team-mate Lorenzo will be displaying special new liveries on their M1 machines as well.
Randy de Puniet suffered fractures to both the tibia and fibula in his left leg in Germany and will be substituted for by Roger Lee Hayden on the LCR Honda team, making it a fourth American on the grid.
San Carlo Honda Gresini pair Marco Simoncelli and Marco Melandri, Páginas Amarillas Aspar rookie Héctor Barberá, Rizla Suzuki's Loris Capirossi and Álvaro Bautista and Pramac Racing duo Aleix Espargaró and Mika Kallio will all be looking for strong results, with Alex de Angelis continuing on the RC212V of the Interwetten Honda MotoGP Team as a substitute for the injured Hiroshi Aoyama. The first practice session gets underway on Friday 23rd at 1.55pm local time.
Team Yamaha riders Lorenzo and Rossi sported special Fiat livery this weekend featuring the pictures of fans downloaded from the internet, to celebrate the launch of the car manufacturer's new Fiat 500 compact to America.

Lorenzo Tops Laguna Qualifying
Qualifying Day 2, July 24th - Jorge Lorenzo took his fifth consecutive pole position of the campaign on Saturday with a fantastic display in qualifying at Laguna Seca, in which he and Casey Stoner battled to the very end for top spot on the starting grid. The World Championship leader won a marvellous contest with the Australian for pole at the Red Bull U.S. Grand Prix, with a blistering late lap of 1'20.978 to take his 40th career pole.
A satisfied Lorenzo commented, "It is an impressive achievement to take five poles in a row but it was hard. It's not so important to get pole position, but it is better to make it. Casey set some very quick lap times and I didn't know if I was going to make it. I did one lap which wasn't fast enough and I just thought to myself to push even harder one more time and I did it."
Ducati's Stoner had competed with Lorenzo and his Yamaha for the latter half of the session and led for much of it, his time of 1'21.169 the best of a consistent set of fast laps. The Australian looked to be on the verge of his second pole of the season but eventually ended the session 0.191s off the Spaniard. The battle for victory at the Californian track at 2pm local time tomorrow afternoon looks certain to feature the two rivals.
Securing third spot on the grid and taking his first ever front-row start in the MotoGP class, Repsol Honda's Andrea Dovizioso was a fraction over six-tenths off Lorenzo's marker, thus underlining the level to which the top two had pushed one another. The Italian set his best time on his 36th and final lap.
Heading up the second row, which was separated by 0.071s, will be last year's race winner Dani Pedrosa (Repsol Honda), who was just under four-hundredths off his team-mate. Monster Yamaha Tech 3 rider Ben Spies was impressive once more and will go for home glory from fifth after his final lap slotted him in front of Valentino Rossi, as the reigning World Champion secured sixth, repeating his position from both free practice sessions as he continues his recovery from a broken leg.
The top ten was completed by American duo Nicky Hayden (Ducati Team) and Colin Edwards (Monster Yamaha Tech3), and rookies Marco Simoncelli (San Carlo Honda Gresini Team) and Héctor Barberá (Páginas Amarillas Aspar).
Mika Kallio (Pramac Racing) had a crash at the top of the corkscrew at the very end of the session, following his fall in the morning practice, and Roger Lee Hayden (LCR Honda) had a run off at the same spot and another at turn nine in a complicated session for the stand-in.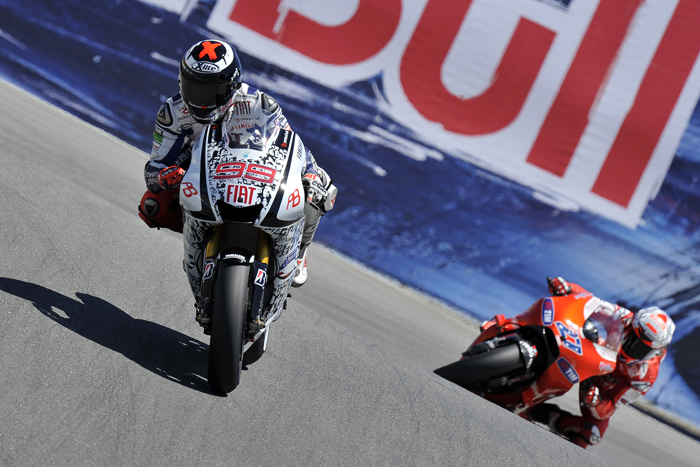 Race winner Lorenzo leads Stoner down the Corkscrew.
Sixth win for Lorenzo as Stoner and Rossi finish on the podium at Laguna
Race Report Red Bull U.S Grand Prix: Sunday July 25th - Jorge Lorenzo's Championship lead was stretched to 72 points at Laguna Seca as the Fiat Yamaha rider won the Red Bull U.S. Grand Prix ahead of Casey Stoner and Valentino Rossi, in a round nine race that saw Dani Pedrosa crash out while leading.
The race had begun strongly for the Honda side, with Dani Pedrosa (Repsol Honda) jetting into the lead in front of Stoner and Lorenzo. Lorenzo passed the Australian on the sixth of 32 laps of the 3610m circuit in the hills outside of Monterey, California and began to chase Pedrosa. The two Spaniards quickly pulled out and threatened to make the race a runaway.
A trademark lightning start from Pedrosa saw him lead into turn one of the first lap and the Spaniard appeared to be making a similar break for victory as he had done last time out at Sachsenring, as he set a fierce pace at the front of the race. However, on Lap 11 and with Lorenzo pressuring him for the lead the Repsol Honda rider crashed out at turn five. Pedrosa had the front end slide away when he hit a bump while entering the left-hand turn, a corner that would claim two more riders. Pedrosa crash out of the lead leaft his fellow Spaniard to take his M1 to a sixth win of the season as he tasted victory at the Californian circuit for the first time.
In second place, 3.517s behind Lorenzo's Fiat Yamaha, Ducati's Casey Stoner scored his best result of the season so far – his fourth podium in a row – and a comfortable finish with a distance of almost ten seconds back to third place. That was taken by Valentino Rossi, the reigning World Champion achieving a superb podium finish in only his second race back from injury and one in which he worked hard throughout the race.
There were early ends to the race for Spanish rookies Álvaro Bautista and Héctor Barberá, the former crashing whilst the latter retired, with neither making it past the fourth lap. By that stage Pedrosa was already away at the front with Stoner matching him for pace, but on lap five Lorenzo – who had dropped to fourth at the start – managed to pass the Australian who ran wide at turn three.
Then the drama really kicked in as Pedrosa crashed, leaving Lorenzo first with Stoner not far behind, and Andrea Dovizioso in third with a two-second margin over his pursuers. However, Rossi quickly closed the gap on his compatriot, eventually passing the Repsol Honda rider for third place with five laps to go.
As the tyres started to go off towards the end there were changes further down the order, as Ben Spies and Nicky Hayden fought for the honour of finishing as the highest placed American, a duel that presented plenty of enthralling moments of its own. Lorenzo eventually crossed the line with a comfortable margin over his pursuers, to take his sixth win of the season.
"This track has been a painful one for me in the past, which was why it was important to come here, finish the race and win," said Lorenzo. "I was sat in third place after the start and I said 'okay, we're here and it's time to push now'. Casey made a mistake and I got past him and I could see that Dani was riding at 110% and could crash. And he did."
"Now I can go on my holiday and relax; throw away all the tension and pressure and comeback ready to continue the season at Brno," added the Championship leader.
Casey Stoner brought his Ducati Desmosedici home in second place to secure the best result of his 2010 campaign thus far. "Everything seemed to be working perfectly at the start," explained Stoner. "I wanted to close on Dani to put in a pass, but I lost the front a couple of times trying to reduce the gap. The third time the front closed on me Jorge came past. I was lucky to keep the bike on two wheels today; with a bit more confidence in the front I might have been able to close the gap on Jorge, and I did try, but today I had to settle for second place."
"Jorge is riding well; he's very fast, very consistent and, at this point, he's a worthy champion," concluded the Australian.
Rossi managed to hold off a late charge from Dovizioso, retaining third place at the chequered flag and finishing on the podium just seven weeks after breaking his leg in practice for the Italian Grand Prix at Mugello. "It was a good result for us and very important to come back on the podium so soon after the crash," declared Rossi. "It's been a difficult weekend for us, with problems in every session, but this morning we found a good set-up for the race. It took me a few laps to find my rhythm and I had a great battle with Dovizioso at the end. After Casey beat me last week I was determined not to make the same mistake and I rode a very good last lap."
Rossi ahead of Hayden and Spies, who would fall back and be passed by Dovizioso in the closing laps.

Hayden edged out Spies for fifth place, with the latter's teammate, Colin Edwards, seventh. The top ten was completed by Marco Melandri, Mika Kallio and Loris Capirossi. The remaining two riders to finish the race in 11th and 12th were Roger Lee Hayden, a temporary replacement for the injured Randy de Puniet on the LCR Honda and Alex de Angelis, who was standing in for Hiroshi Aoyama on the Interwetten Honda for the second time.
Marco Simoncelli suffered the disappointment of crashing out two-thirds of the way through the race when battling with teammate Melandri for eighth, whilst Aleix Espargaró fell three laps from the end when in a top ten position.
Dani Pedrosa (Repsol Honda RC212V): DNF "At the time that I crashed I was pushing hard to maintain the gap to Lorenzo and my rhythm was good. Unfortunately though I hit a bump on the way into the corner and I couldn't do anything – I was down. It's very, very disappointing obviously but this can happen when you're trying everything to win. You have to push as much as you can and take risks – and I really wanted to win this race. The one thing we can do now is to remember that we were having a good race until this moment, and we were leading the race – this is what I want to take from the weekend. You cannot sit there with your arms crossed thinking about what could have been. For the whole weekend, me and the team were working well and we put ourselves in a winning position. It hasn't worked out for us but we'll come back fighting at the next one."
Lorenzo now has 210 points with a near 3 race win lead, with Pedrosa remaining second in the standings on 138 and Dovizioso third on 115.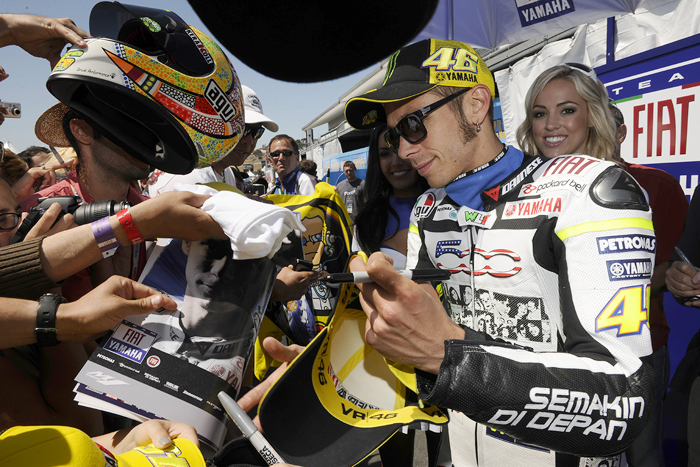 The Doctor in consultation with his patients.

MotoGP Results
Race Classification MotoGP : (32 laps = 115.52 km)
Pos / Rider / Nat / Team / Motorcycle / Time/ KM/H / Gap
1 / Jorge LORENZO / SPA / Fiat Yamaha Team / YAMAHA / 43'54.873 / 157.833 /
2 / Casey STONER / AUS / Ducati Team / DUCATI / 43'58.390 / 157.623 / 3.517
3 / Valentino ROSSI / ITA / Fiat Yamaha Team / YAMAHA / 44'08.293 / 157.033 / 13.42
4 / Andrea DOVIZIOSO / ITA / Repsol Honda Team / HONDA / 44'09.061 / 156.988 / 14.188
5 / Nicky HAYDEN / USA / Ducati Team / DUCATI / 44'09.474 / 156.963 / 14.601
6 / Ben SPIES / USA / Monster Yamaha Tech 3 / YAMAHA / 44'13.910 / 156.701 / 19.037
7 / Colin EDWARDS / USA / Monster Yamaha Tech 3 / YAMAHA / 44'35.594 / 155.431 / 40.721
8 / Marco MELANDRI / ITA / San Carlo Honda Gresini / HONDA / 44'42.092 / 155.055 / 47.219
9 / Mika KALLIO / FIN / Pramac Racing Team / DUCATI / 44'47.686 / 154.732 / 52.813
10 / Loris CAPIROSSI / ITA / Rizla Suzuki MotoGP / SUZUKI / 44'47.687 / 154.732 / 52.814
11 / Roger Lee HAYDEN / USA / LCR Honda MotoGP / HONDA / 45'08.962 / 153.517 / 1'14.089
12 / Alex DE ANGELIS / RSM / Interwetten Honda MotoGP / HONDA / 45'09.539 / 153.484 / 1'14.666
Pole Position: Jorge LORENZO 1'20.978 160.488 Km/h
Fastest Lap (New record): Casey STONER 1'21.376 159.703 Km/h Lap 4
Old Circuit Record Lap: Casey STONER 1'21.488 159.483 Km/h 2008
Circuit Best Lap: Casey STONER 1'20.700 161.040 Km/h 2008
World Championship Positions:
1 LORENZO 210, 2 PEDROSA 138, 3 DOVIZIOSO 115, 4 STONER 103, 5 ROSSI 90,
6 HAYDEN 89, 7 SPIES 77, 8 DE PUNIET 69, 9 MELANDRI 53, 10 SIMONCELLI 49,
11 EDWARDS 48, 12 BARBERA 41, 13 CAPIROSSI 36, 14 KALLIO 31, 15 ESPARGARO 28.
---
World Superbike Champions and MotoGP stars Colin Edwards and ben Spies, Jay Leno and current 2010 MotoGP points leader Jorge Lorenzo.

Yamaha's GP stars present Leno with ex-Bostrom R1 Superbike
Burbank, Ca, July 21, 2010 – The stars of the MotoGP World Championship made their way to California this week. They're headed for Laguna Seca, of course, but on Tuesday you could not have been blamed for thinking the race would be held in Burbank. The suburb north of LA is normally home to a lot of television and film production and star sightings are commonplace, but on Tuesday it was teeming with motorcycle racers… Fiat Yamaha's championship leader Jorge Lorenzo, Monster Tech 3 Yamaha riders Ben Spies and Colin Edwards; Yamaha legends Kenny Roberts Sr., Eddie Lawson, and Wayne Rainey – even AMA Superbike championship leader Josh Hayes and Ben Bostrom were all spotted in the nondescript warehouse district near Burbank's Bob Hope Airport – not a typical transfer point on the way to Laguna Seca.

But avid motorcyclists know that Burbank is also the location of Jay Leno's famous 'Big Dog Garage.' Leno, host of the Tonight Show, is a member of the AMA Hall of Fame. His garage (actually a 70,000 sq. ft. complex with several full time employees) houses over 200 motorcycles and cars – ranging from pioneer motorcycles like his 1918 Pope to an 800-horsepower 'Ecojet' car tuned to run on recycled cooking oil. It's definitely a garage and not just a collection, since virtually every vehicle is licensed and insured; Jay rides and drives all of them. The latest addition to Jay's fleet is fast and exotic, even by his standards – an ex-Eric Bostrom AMA Superbike.

Jay with Bostrom's Superbike and Yamaha team owner Chuck Graves

"Last Fall, Jay auctioned off a custom Star V-Max to benefit Bailey's Cafe, a charity that we both support," said Bob Starr. "We were thrilled with the results of that auction; it benefited a very worthy cause. But we realized that when he sold his V-Max, it left him without a Yamaha in the garage."

"We wanted to make sure that Jay had a unique bike, that reflects his uniquely effective role as an ambassador for our sport," Starr continued. "This R1 Superbike is not something that can be purchased at any price. It is virtually as-ridden by Eric. We put it into storage at the end of the 2008 season. We just asked Chuck Graves to go through it and make sure it was ready to ride again." The bike was a surprise gift for Leno, who thought he'd only agreed to host a dinner for Yamaha's MotoGP riders.

It was hard to tell who was more star-struck. Jay and his garage staff met a 'who's who' of Yamaha racing history. But even legends like Eddie Lawson do a double-take when they see the scope of Jay's garage and workshop. "There are so many vehicles in here," said Lawson, "that are just works of art."

Since all his bikes get ridden, it will be up to garage manager Bernard Juchli to find a place to hang a license plate on this factory superbike. When we asked Bernard how he'd manage to register it, he smiled and replied, "I can't reveal that."

The job of going through the ultra-trick R1 fell to Team Yamaha's Chuck Graves. Graves made a few concessions to making the bike 'streetable'; swapping the Magneti Marelli ECU for a YEC unit, and the race dash for one with a speedometer. But the engine internals, fork, swingarm and more are pure factory unobtanium. "This bike was built before we homologated parts," said Graves, "so really, a lot of these components just aren't for sale, at any price."
In all, over 100 of Yamaha's 'friends and family,' and representatives from Dorna and Mazda Raceway Laguna Seca, attended the event, which included a great meal prepared by none other than Yamaha-USA's own racing boss Keith McCarty. Tim Collins of Alpinestars presented Jay with a custom set of leathers to match the bike, and Troy Lee added a fantastic custom-painted Arai helmet, which included signatures and elements from the designs used by the legends and MotoGP riders at the dinner.

When he posed for photos with Lorenzo, Spies, and Edwards he quipped, "Yeah, this is great – I love being the slowest guy in the room."
After dinner, as the event wound down, the riders prepared to travel up the coast to Laguna Seca and Jay – who works at his comedy as hard as Ben Spies works at his cardio fitness – went home to write the next Tonight Show opening monologue. Jay couldn't attend the races, as he was already committed to an event in Detroit this weekend. But it's just a question of time before he takes his R1 up the Rock Store. If you see him there and think, 'Wow, that looks like a genuine factory bike,' it's because that's what it is."
---
AMA Pro National Guard SuperBike Championship, Mid-Ohio USA, Round 6 of 10
Bostrom Takes Goes from Pole to Victory Lane in
National Guard SuperBike Battle at Mazda Raceway Laguna Seca
Sixth Different Winners in SuperBike in 2010 Season; Hayes Now Leads Hayden by Nine Points
MONTEREY, Calif. (July 25, 2010) - Today's AMA Pro National Guard SuperBike race at the Red Bull U.S. Grand Prix was won by a rider who loves everything about Mazda Raceway Laguna Seca and he has the record here to prove it. Ben Bostrom and his Pat Clark Motorsports Yamaha team culminated a very special weekend by winning from the pole position to capture his third career AMA Pro SuperBike victory. Bostrom also won here last year in Daytona SportBike and also a World SuperBike race here in 1999.
Finishing second was points leader Josh Hayes aboard his Team Graves Yamaha. Hayes led the race early and fought all the way until the checkered flag on what was on paper a fine weekend. Hayes was disappointed with himself but he admitted that this was a difficult track for him and he paid tribute to his Team Graves Yamaha team for their hard work in giving him a bike he could win with. Third place went to Rockstar Makita Suzuki rider Tommy Hayden. Hayden maintained second in the points standings despite having a weekend where he felt he didn't get the best from himself and his machine. Once again, his mental toughness was on display as he took a solid points haul when his situation wasn't at its best.
Ben Bostrom almost gave the game away early on in the race when he came into the famous Corkscrew turns at the top of the circuit and had a big moment under braking and had to run off the track and rejoin, albeit very carefully! Streaking by was a very strong starting Jake Holden on his M4 Monster Energy Suzuki as he took full advantage of the moment to lead until Hayes got by a fine riding Holden in a hold-your-breath pass on the front straight.
Hayes and Holden were side-by-side coming out of the last corner and held station right next to each other until Hayes was able to squeak by to take the lead that he would hold for the next 12 laps. It took Bostrom a little while but he eventually got by Holden for second and set sail after Hayes. Bostrom closed up on Hayes and the two rode in synchronized fashion for a number of laps until Bostrom got by Hayes in turn five on lap 15. Hayes didn't let up whatsoever but Bostrom was in sync on a track he loves and he captured his third career AMA Pro SuperBike win in fine fashion.
Ben wasn't the only Bostrom that had a great day at Mazda Raceway Laguna Seca, his brother Eric, riding the new Cycle World Attack Performance Yoshimura Suzuki put in a stellar performance in only his second appearance this year. Starting sixth, he fell back to 16th at the start and then began a sterling comeback ride to seventh at the flag. He battled his way back into contention with the likes of Geoff May on his Buell, a strong running Chris Peris on the Team Iron Horse BMW and Brett McCormick who rewarded the hard work of his Jordan Suzuki team with eighth place after a couple of off-track excursions in yesterday's qualifying sessions.
Foremost Insurance Ducati's Larry Pegram also ran well today, continuing his solid year. He and Jake Zemke aboard his National Guard Jordan Suzuki had their own battle but Pegram was able to pull away from Jake to finish fifth with Zemke in sixth well ahead of the aforementioned Eric Bostrom in seventh.
But it was Ben Bostrom's day. He said yesterday that if he didn't lead right away he would go and get the win and he did just that. Josh Hayes and Tommy Hayden stayed in lock step in the championship chase by finishing together, therefore not allowing the other to break away on points. Bostrom commented on his day, "Every time I ride into this track, it reminds me of home, I love the fog and when I can ride up here and see the blue sky start to break through, it makes me happy and a happy rider rides well."
Hayes talked about his day, "I wanted to win here, this has always been a very, very difficult racetrack for me. I don't have a single excuse, I had a great motorcycle but I was very inconsistent this week but I am happy with second. Now we are going to two tracks that are really good for me that I had great weekends last year so I want to hurry up and get there and let's get back to business."
AMA Superbike Results
POS NO. RIDER(S) TEAM BIKE INTERVAL GAP BEST LAP POINTS
1 155 Ben Bostrom Pat Clark Motorsports Yamaha YZF-R1 23 Laps WINNER 1:24.823
2 4 Josh Hayes Team Graves Yamaha Yamaha YZF-R1 0.440 0.440 1:24.691
3 22 Tommy Hayden Rockstar ·Makita ·Suzuki Suzuki GSX-R1000 7.331 6.891 1:24.929
4 3 Jake Holden M4 Monster Energy Suzuki Suzuki GSX-R1000 10.170 2.839 1:24.752
5 72 Larry Pegram Foremost Insurance ·Pegram Racing Ducati 1098R 18.033 7.862 1:25.297
6 54 Jake Zemke National Guard Jordan Suzuki Suzuki GSX-R1000 22.257 4.224 1:25.202
7 32 Eric Bostrom Cycle World Attack Performance Yoshimura Suzuki Suzuki GSX-R1000 35.516 13.259 1:25.813
8 23 Brett McCormick Jordan Suzuki Suzuki GSX-R1000 40.806 5.290 1:26.098
9 10 Chris Peris Team Iron Horse BMW ·ESP BMW S1000RR 41.817 1.010 1:25.621
10 99 Geoff May Erik Buell Racing Buell 1125RR 42.126 0.309 1:26.451
11 44 Taylor Knapp RidersDiscount.com Suzuki GSX-R1000 46.969 4.843 1:26.428
12 57 Jeremy Toye San Diego BMW Racing Powered by Lees Cycle BMW S1000RR 1:03.394 16.424 1:26.973
13 77 Ricky Corey RCR Yamaha Yamaha YZF-R1 1:10.563 7.169 1:26.792
14 7 Jason Pridmore Celtic Racing Suzuki GSX-R1000 1:19.026 8.462 1:26.232
15 121 Hawk Mazzotta Ace Racing Yamaha YZF-R1 22 Laps 1 Lap 1:28.729
16 46 Brian Parriott Sutter Home Family Vineyards Racing Team Aprilia RSV1000R Factory 3.712 3.712 1:29.019
17 42 Chris Siebenhaar BCS Racing Suzuki GSX-R1000 3.971 0.259 1:28.997
18 63 Skip Salenius Run 1 Racing Motorsports Suzuki GSX-R1000 7.197 3.226 1:29.124
19 58 Steve Atlas MotoUSA Yoshimura Suzuki Suzuki GSX-R1000 21.356 14.159 1:29.470
20 12 Trent Gibson Gibson Motorsports Suzuki GSX-R1000 29.984 8.628 1:29.874
21 48 Chris Clark Pat Clark Motorsports Yamaha YZF-R1 20 Laps 2 Laps 1:27.106
22 269 Johnny Rock Page Aussie Dave Racing Suzuki GSX-R1000 16 Laps 4 Laps 1:30.873
23 18 Chris Ulrich M4 Monster Energy Suzuki Suzuki GSX-R1000 2 Laps 14 Laps 1:25.905
24 8 Miguel Duhamel Moto Forza/Nova Tac Racing Ducati 1098R DNS DNS -no times-
---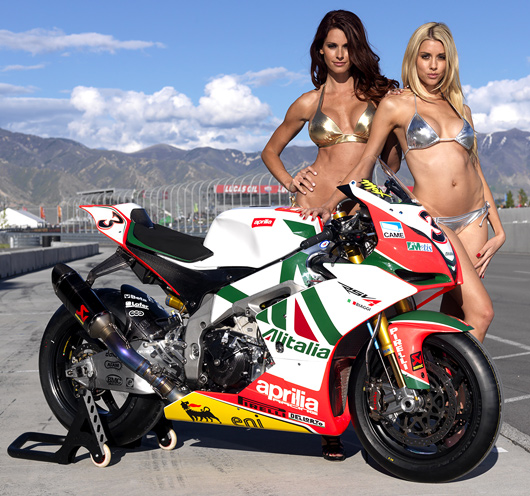 The Fast Dates Calendar Kittens heat up the track at Miller World Superbike!
Click for Complete Coverage
The Making of the FastDates.com Calendars now on DVD!
Sure, we may be slow getting around to some things, one of those being the re mastering of our infamous Making of the FastDates.com Calendars movies from VHS tape to high definition DVD. But now thanks to the help of Amazon.com we've entered the 21st century and you can stuff into your Computer or Big Screen DVD player the fastest, hottest, wettest, sexiest motorcycle movies ever made!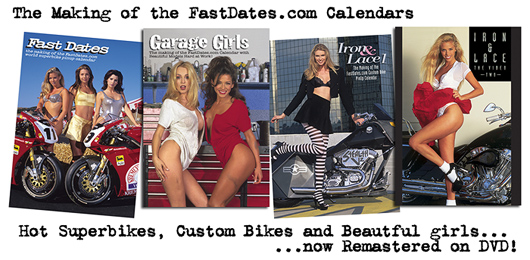 The making of the FasDates.com Calendars DVD movies are available from Amazon.com and in the FastDates.com Video Store.
---
New Ducati Cruiser to be unveiled at EICMA Milan in November
July 20th 2010 – Ducati of Italy has denied rumors for the last year that they were building a cruiser street bike, but now with the leak of these official skecth and testing photos the rumors are no more. Expect this new Ducati street cruiser will be introduced on the company's stand at the International Motorcycle Show at Milan this November.
The sketch if, authentic confirms, the Project 0803 nomenclature that print magazine Motorcycle News has been using and more importantly highlights the presence of the torquey 150bhp, Multistrada 1200 engine known as the Testastretta 11º. Specifications include Brembo monobloc calipers, the de rigueur Ducati trellis frame, traction control and possible anti-lock brakes, and ride by wire throttle. The claim of a 40º lean angle speaks to Ducati's desire to make even a power cruiser handle the occasional turn. And not the machined PM style sport wheels.
We think this new Ducati cruiser should prove fairly successful to the over 40 year old crowd who have outgrown sportbike ergonomics for the street, and might otherwise buy a Yamaha V-Max or Kawasaki KZ1000. We'd still like see a hard core Streetfighter in a new version with the more comfortable sit-up ergonomics for street riding as well, with taller handlebars and forward placed foot controls as featured here in the Cruiser and the Multistrada.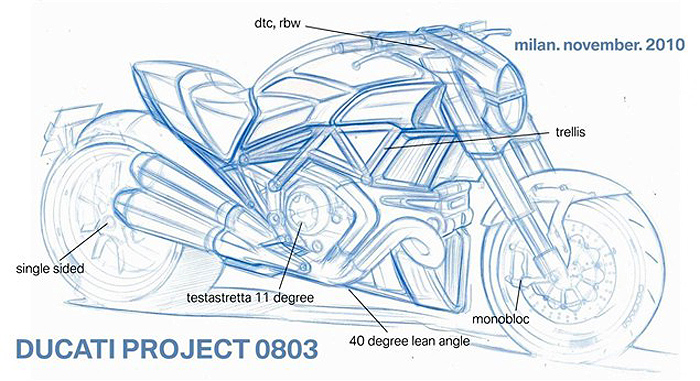 ---
There's more! Go to Pit Lane News Previous Page

Also Visit: Fast Dates Calendar News • Iron & Lace Calendar News
Calendar Girl News • Meet the Models • Paddock Garage

Calendar Kittens, Paddock Garage, Screensavers, Iron & Lace Garage




MotorcycleSuperstore.com
Some of our Calendar Kittens can also at Playboy's website...


FREE! New Met-Art Model Galley Updated Daily - Stop Back Each Day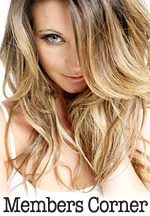 Hot Bikes, Sexy Kittens
Your Exclusive Grid Pass
also includes....
---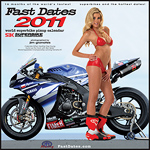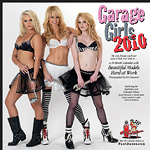 2011 Calendars!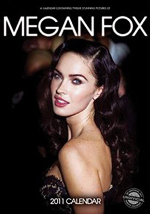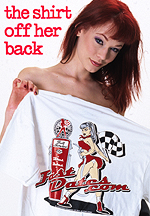 Order the Official
FastDates.com &
LA Calendar Bike Show
T-Shirts!
---
STONER SECOND AT LAGUNA SECA, POSITIVE FIFTH PLACE FOR HAYDEN
July 25th - Ducati Team rider Casey Stoner continued his recent podium streak with a solid second place in the USGP, whilst Nicky Hayden claimed local honour as the first American across the line in fifth after a breathtaking challenge for the podium.
Stoner started well from the front row of the grid and was running in second place behind Dani Pedrosa when he set the fastest lap of the race on lap four, breaking his own circuit record from 2008 with a stunning 1'21.376. A little problem saw the Australian concede a place to Jorge Lorenzo on the fifth lap but he benefited from a crash for Pedrosa six laps later and was unchallenged from that point onwards, securing his best finish of the season so far and his fourth rostrum in succession.
Hayden started from seventh on the grid and eventually overcame his compatriot Ben Spies after a race-long battle that had the raucous crowd on their feet, chasing down Valentino Rossi and Andrea Dovizioso for a podium finish over the final few laps but missing out by just 1.2 seconds.
CASEY STONER (Ducati Team) 2nd
"The bike felt good at the start of the race but at this circuit you always have to wait for a lap, a lap and a half for the tyres to warm up. As soon as everything felt alright I thought I'd try to push and make a pass on Dani for the lead but I immediately lost the front. I pulled myself back together and tried to hunt him down again but made another little mistake. Another lap or two later I closed the front again and ran well wide, I was almost off the track. At that point I decided just to gather myself, ride smooth and consistent and try not to lose too much time to the two guys in front of me. I started to pull them in but lost the front again. It was a shame because the bike felt good around most of the circuit, we just struggled with the front in a couple of corners. Having said that I'm happy and thankful to my guys because we were able to put up more of a fight this weekend."
NICKY HAYDEN – (Ducati Team) 5th
"We had a little problem with the bike when I did my practice start this morning and it happened again in the race but we put up a fight as best we could. The last five laps I was over my head, doing my fastest laps of the weekend almost because I thought there was a chance we might be able to get on the box if the guys in front made a mistake. I dug as deep as I could but it wasn't enough today. My first two years here at Laguna Seca were much more fun, that's for sure, but hopefully we can be back here fighting for the win next year – that's the goal. I want to say thanks to all my guys for their hard work this weekend and to all the fans here at Laguna, their support is incredible – I'm just sorry I couldn't be on the podium for them."
Top ten for Capirossi as unlucky Bautista is taken out
Rizla Suzuki riders Loris Capirossi and Álvaro Bautista both had frustrating races at Laguna Seca today, but for very different reasons.
Capirossi brought his Rizla Suzuki home in 10th position after initially being given ninth in the classification. Video evidence was used to show that Mika Kallio crossed the line just in-front of Capirossi by only 0.001 seconds. Capirossi had battled hard through the whole race to preserve his position after a poor first few laps had cost him dearly in the standings, but unfortunately lost out on a hard-fought ninth in the final metre.
Bautista was yet again the victim of another incident as Aleix Espargaro knocked Suzuki's Spanish rider out of the race at the start of the third lap. Bautista had already got into a good rhythm and had passed a couple of other riders before Espargaro's intervention bought his race to an abrupt end for the second week in succession.
Over 51,000 people filled the hillsides around the Laguna Seca circuit to see Jorge Lorenzo record his sixth victory of the season and further strengthen his position at the head of the World Championship standings.

The whole MotoGP paddock will now have a short mid-season break, before re-grouping for the next round of the championship at Brno in the Czech Republic on Sunday 15th August.

Loris Capirossi:
"I think we did our job today because our rhythm is about half-a-second slower than qualifying and that's where we were. I tried to do a different line on every one of the 32 laps to try and improve my time in the third section, but I struggled with front feeling. The race was quite tough and at the end I got in a fight with Kallio and Espargaro. On the last lap I tried to close the door to protect my place, but it seems he got me right on the line. I thought I was in front but the video shows he beat me. I don't really care whether it was ninth or tenth because it's not good enough and we have to go up the leader-board!"

Álvaro Bautista:
"I had a poor start because the bike wheelied too much and I lost some positions, but in the first couple of laps I felt good and was able to pass some other riders. I felt good on the bike and at the start of the third lap I passed Espargaro on the first corner and as I made the normal line to the second turn, which is two consecutive corners, he was in the middle of the last turn and hit me in the body and I crashed. This is very disappointing because I felt really very good and had been able to overtake other riders quite easily. It has been a bad start for me here in Laguna Seca, but we must make sure we keep the hard work going at the next races."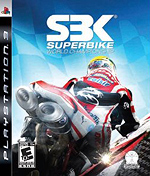 New Playstation!
Superbike & MotoGP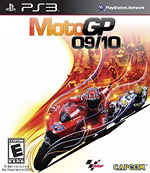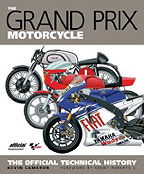 Kevin Cameron's
New Book!
by America's Favorite
Motorcycle Technical Guru
Rumors and Announcements for 2012
Matt Mladin to Return to AMA Superbike!
July 19th - Matt Mladin is bored as hell with retirement Down Under in Australia and wants to return to America again, particularly now that the current AMA Superbike class is a cherry pick of club racers and he can virtually guarantee race wins and a potential Championship title for a new employer
Our newest Source says US Suzuki made him a 100x a millionaire, but this time around he will race for American Honda. We are guessing Honda wants to buy its way back into the winners circle in AMA like they are trying to do in MotoGP.
And the money being offered must be more than enough that Mladin would want to ride for an uncompetitive American Honda team that couldn't hit its ass with both hands the last decade when it tried to build its own race bikes.

The solution,of course, is for American Honda to subcontract out Matt Mladin to Kevin Erion at Erion Racing who is far more capabele of delivering American Honda the AMA title for a lot less money then they might try, particulalry in the current economy.
Ducati and Stoner to part company the end of 2010 season after 4 fantastic years....
Ducati Corse Press Release,
BolognaFriday Jul 09, 2010-
The Valencia Grand Prix on November 7th 2010 will be the event that concludes four years of extraordinary collaboration between Ducati and Casey Stoner. An important relationship characterized by a strong reciprocal esteem and many victories, among which the first MotoGP World Title for both the Italian manufacturer and the Australian rider.
Stoner arrived in Ducati in 2007 and, riding the Desmosedici GP7 that was making its debut in the new 800cc category, he took his first victory in the very first race, embarking on a path that would lead to the world title later in that same year and many more successes during subsequent seasons.
Ducati would like to thank Casey Stoner, who has decided to undertake a new challenge, with gratitude and affection that will always remain.
"I would like to thank Casey on behalf of our fans and our sponsors, but most of all on behalf of all the people working at Ducati," commented Filippo Preziosi, Ducati Corse General Director. "The victories and emotions he gave us, rewarded all the hard work and sacrifice we made. In these four years together we have had a lot of great moments. Securing the 2007 MotoGP World Championship title and the victory at Mugello in 2009 were moments that we will never forget. In Casey we not only found an incredibly talented rider, but also an honest and loyal guy and that's why there will always be a strong and sincere bond between us, even as a competitor."
"I must thank Ducati for giving me such a great opportunity to race and win with them over these past four years" commented Casey Stoner. "They took a gamble when they signed me at the end of 2006 as I was unknown, but as we worked together we were able to win a Championship, many races and challenge for the Championship in the last two seasons. I have now decided to move on and I will have new challenges in the future and different obstacles to overcome, but I will not forget these years with Ducati and the people I have had the privilege to work so closely with. So a big thanks to Ducati and all our sponsors who we have shared success with while achieving lifelong goals"
Honda Racing to Have 3 Man Squad in 20111 to recapture the MotoGP Crown
Honda Motorsport 7/9/10 - HRC is delighted to announce that Casey Stoner will become a factory Honda rider in next year's MotoGP World Championship. The Australian 2007 World Champion, who rode in the Honda LCR Team in his debut MotoGP season in 2006, will rejoin Honda after four seasons with Ducati. Honda's complete factory team line-up for 2011 will be officially presented later in the season.
HRC Vice President Shuhei Nakamoto said:
"We are very pleased that Casey will join Honda again next year. Clearly he is one of the top riders in MotoGP and he will bring valuable speed and experience to our team. In the factory Honda squad we already have two very strong and experienced riders in Dani Pedrosa and Andrea Dovizioso who are performing very well and currently hold second and third positions in the 2010 World Championship. HRC hopes also to retain these two riders for next year - giving us what would be a truly formidable line-up."
The biggest move, still unconfirmed officially, is reigning 2009 MotoGP World Champion Valentino Rossi leaving Yamaha with his complete support team of mechanics and manager Jeremy Burgess and moving to Ducati.

It has been known talk e for a couple of years now that the 5-time Italian World Champion was hoping to end his career racing for an Italian manufacturer, and in particular Ducati.

Adding to Valentino's decision to make that move now, sooner than later, was his statement last year that he did not want to remain at Yamaha if they had two number one riders on the team, he and Jorge Lorenzo. With Jorge now leading the 2010 Championship on a bike that Valentino developed, the line in the sand had been crossed.
And we might guess that Valentino's crash and resulting broken leg at Misano last month while fighting team mate Jorge for the race lead, made Rossi realize even more dramatically he needed to make the planed move now, and that his career might not last many more years.
The real shocker though, is the work that Casey Stoner is leaving the highly competitive Ducati, with his complete support team, and the bike which won him the 2008 MotoGP World Championship.
We would guess this has a lot to do with the recent budget cuts at Ducati which saw both the top team managers and engineers at Ducati Corse MotoGP and Ducati Corse Superbike let go last fall, and move to Honda and BMW respectively this year.

That and the fact Honda had vowed last year they would buy their way back to the top of the podium in MotoGP, even if they had to do it with non-Japanese riders and engineers.
Ducati probably just didn't have the money to match what Honda has offered Stoner. And with the knowledge that Rossi would be joining them anyway next season, Ducati just didn't see the need to beak the bank to try and keep Stoner.
Ducati's other regretful decision, one of many they seem to be making these days, is that they will still probably continue to keep American rider Nicky Hadyen for next year, despite the fact he can't get anywhere close to winning a race again. Ducati North America somehow thinks having Hayen on the team is critical for bike sales in the American market. That is just plain stupid. Customers buy bikes when they win races, not when they loose. Americans bought a lot of Ducati's because foreigners Carl Fogarty, Troy Bayliss and casey Stoner won on them. Not because of Ben Bostrom, Neil Hodgson and Nicky Hayden loosing on them. - Editor
Rossi and Fiat to Ducati
Ben Spies to factory Yamaha Squad
It is still not officially confirmed, but Stoner's move to Honda next season opens the way for Valentino Rossi to move to Stoner's vacant spot on the Ducati team where Vale will finish his racing career at home with the Italian team.
It is also known that Italian car maker Fiat has not renewed its sponsorship of the Yamaha MotoGP team for 2011. They initially sponsored the Yamaha team because Italy's favorite rider was with them. Now with Italy's top rider on an Italian bike cabableof winning the MotoGP Championship, we can almost guarantee the Italian car manufacturer will be moving its sponsorship to the Ducati team next year. Te only uncertainity is want color the bikes will be - Ducati / Marlboro Red
---


KTM RC8R



Aprilia RSX1000


Kawasaki Z1000
---
Chris Vermeulen
confirms knee surgery
Kawasaki WSBK Rider to miss rest of 2010 season
July 21st - Kawasaki Racing Team rider Chris Vermeulen will undergo a knee operation this Friday, after being declared unfit to ride for the remainder of the Hannspree World Superbike Season.

Chris attended several consultations last week with a renowned sports surgeon, Dr Pruna, in Barcelona where he underwent further scans to analyze the extent of his complicated right-knee injury. The decision was made yesterday for Chris to undergo key-hole surgery to repair the two of the three damaged ligaments, providing the stability in the knee that has been such a problem for Chris over the last few months.

Although Chris should be mobile within a week after the operation, the post- rehabilitation will be intensive therefore he will be based at his residence in Andorra, near to Barcelona, for physiotherapy for two months after the operation. A full recovery is estimated between four to six months.

Chris has been suffering with the injury since the Phillip Island race and is relieved to finally have a plan of action to ensure a return to full fitness in time for the 2011 Kawasaki race programme.

Chris Vermeulen: "The decision to sit out of the remainder of the 2010 race and test season was a mutual one from both me and the team. It is only too apparent that I have not been able to recuperate from my right knee injury sustained at Phillip Island and the crash in Brno further set me back. The team have been patient with my slow recovery but it is not in my best interest or the teams to continue with the lack of progress we've made in a championship which is so competitive, even when you are 100% fit! I have sought expert medical advice in Barcelona this week where the specialists have advised I have key-hole surgery to clean-up the damaged ligaments. I have been informed that I will be able to walk soon after but I'll have to undergo extensive physiotherapy for at least two months so we will be based in Andorra for the time being! I will keep you posted after the operation via my website. "

Akira Yanagawa will replace Vermeulen for the Silverstone round of the Hannspree World Superbike Championship. An announcement will follow regarding who will ride the ZX-10R for the Kawasaki Racing Team for the last three rounds.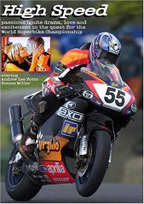 High Speed - the Movie
The best motorcyce racing movie ever made! Filmed on location at World Superbike, this an exciting romantic drama staring beautiful actress Sienna Miller.


Erotica Archives
FREE New Model
Galley Updated Daily
Warning Contains Nudit
---
Michael Locke Leaving Amid Top Management Changes at Ducati North America
Cupertino, Calif. (16 July 2010) – Ducati Motor Holding announces today that Michael Lock, CEO of Ducati North America, is leaving the company at the end of July.
Michael joined Ducati in 2002 in the UK, and in early 2003 moved to the USA to head up the management team at Ducati North America's headquarters in Cupertino, CA. Over the next seven years Lock's team made many changes to Ducati's organization, distribution, marketing and service operations.

Lock's hard work culminated in Ducati achieving its highest ever US market share in 2009, increasing Canadian sales four-fold between 2003-2009, and taking over responsibility for the brand in Mexico earlier this year. As well as setting sales records, Lock transformed DNA's communication strategies and delivered numerous highlights including the Monster Challenges, high profile retail promotions with brands such as Oakley and Puma, and the successful conquering of Pikes Peak with the Multistrada 1200 just this past June.

"I have experienced and participated in an amazing journey at Ducati. In a few short years we have been able to transform our brand into the most feared and admired European motorcycle by competitors and enthusiasts alike. It has been a privilege to be involved and I look forward to watching the brand soar to new heights over the coming years." Said Lock from his office Cupertino, CA.

"Michael has been the driving force behind the great success Ducati has enjoyed in North America this past seven years. His ambition, passion and his unwavering determination has established our beloved brand as the object of desire for any motorcyclist. He has nurtured the brand, developed the dealer network and put together an outstanding team in the US, Canada and Mexico alike." Said Cristiano Silei; Vice President Sales at Ducati Motor Holding in Bologna, Italy.

While Lock moves on to pursue other opportunities, Ducati North America is looking to finish a challenging year strongly. The much-admired Multistrada 1200 has been winning awards, while the recent arrival of the Monster 796 to dealer showrooms has spurred sales even further.
Cristiano Silei will assume the position of CEO of DNA for the interim while retaining his current position as Vice President of Sales at Ducati Motor Holding.

"North America is the most important international market for Ducati and the one I personally know the best. I am excited to be supporting DNA's Senior Managers to set and implement policy for the new season. Our goals are to support our dealer network and keep improving our market share thanks to an ever expanding product line-up, innovative branding and sound commercial policies".
According to one insider we know, Locke's departure from Ducati NA was a mutual decision.
The factory wasn't happy with some things at Ducati in the USA, and Locke was frustrated with some of the directions the factory was taking. But in the current economy, particularly in the motorcycle industry, no one leaves a well paid management job of the own accord. It should be noted, however, that Ducati's sales are only down 30% in the current economy, while Japanese motorcycle sales in the USA are down some 90% from 3 years ago.