Interview with Valentino Rossi
and his Yamaha Team on his release from hospital
June 11th 2010, Italy - Injured Valentino Rossi has left the CTO Hospital In Florence Italy, where he was taken for his operation after suffering broken leg from a high side in Saturday practive at the Mugelo MotoGP this past weekend. After the 2 surgeries to fist rpair the break, and then to cloe the wound, Vale was flown to his local hospital at Cattolica, near his home in Misano, Italy, to meet the doctors who will be attending to him while he continues his recovery from his house. The folloling are interviews with Rossi, the Yamaha Fiat Team and his Doctor to update us on what happened at the race to cause the crash, his operation, and the recovery.
1. Vale, first question: how are you and are you still in pain?
"The positive thing is that the worst is past and that the two operations went well, so everything is okay. Now I am expecting a difficult period, in which I have to be aware of the risk of infection and in which I must remain with the leg constantly elevated. Then there will come a second key period, when I will be able to start my rehabilitation and, with support on the leg, will be able to start to walk around with crutches."
2. Dr. Buzzi talked about a rehabilitation period of about five or six months, what do you think?
"It's to be expected that Dr. Buzzi has been very cautious in his prognosis. I want to heal the injury; that is the only thing I'm interested in. If I miss four races or six races, it doesn't make any difference. The right time to return could be Brno, but it won't necessarily be like this."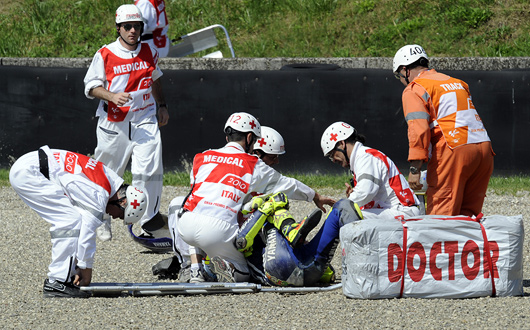 3. Do you remember the accident?
"I remember everything perfectly. I didn't hit my head, I didn't hit anything else. The airbag in my leathers worked very well and my helmet was just slightly scratched. I don't have a single bruise! The problem was that I landed on my leg, and it was stuck under my body. If I had landed on my back it would have been different. I had a new tyre and I'd done two laps, then I slowed down because I had Barbera behind me. When I came back onto the racing line Pedrosa arrived and I didn't want to cause a problem for him so I moved again but then when I reopened the gas, it happened suddenly and unexpectedly. Seven seconds were enough to make the tyre drop temperature dramatically. The error was mine."
4. Who would you like to thank?
"First of all I want to thank Professor Buzzi of the CTO Careggi in Florence and all of his staff, because they were brilliant.

Fortunately, doing it at Mugello meant I wasn't far from the Careggi and this was very lucky. I also want to thank everybody else at the Careggi and all the nurses because they treated me so well, then the staff at the Clinica Mobile and the marshals and officers at the Mugello circuit. Finally, a big hello and particular thanks to all the fans because never, not even for a second, have they let me forget their affection and support. The messages I saw on Sunday on television from the circuit were beautiful."
5. At any time since the accident has there been a moment when you have said "stop racing motorcycles"?
"Sincerely, I haven't felt any fear. I was a bit horrified when I saw the leg, yes...but the thing I dislike the most is to miss so many races! I will take all the time I need and be sure not to do anything stupid because I want to return quickly, but only if my condition allows it. I know I have a bike for next year and I don't need to rush my return to demonstrate anything. I could miss just four races but I still wouldn't come back to win the championship. It's better to be careful, finish the rehabilitation in the best way and come back to race for many more years. I've heard of many other sportsmen, a lot in fact, who have had the same problem as me. One example for everyone: Mark Webber called me and he has had an exposed fracture of the right leg. He told me to be very patient and that I would have some moments of discomfort, but that in the end recovery was guaranteed."
6. Now you have some time at home to rest and to think...
"Yes, now I have a lot of time at home to rest, to recover and to think. Firstly, I want to use this time to improve some things. I want to improve my English, learn something new, read a lot. Basically, I want to improve and learn. This I will do for sure. If your question instead is referring to 2011, this incident will not influence my choices for next year in any way. Last Saturday hasn't changed anything. I just have one broken leg extra! The result of 2010, therefore, has never been relevant to my decisions for the future."
7. During your enforced rest, will you also be working on your injured shoulder?
"Definitely, yes. This is one of the few positive things about this incident; finally I can work on the rehabilitation of the shoulder, in no hurry, without operations and without races. From tomorrow I will restart the exercises, lying on my bed, and I am certain that when I return the shoulder will be completely recovered. When I come back I will be in perfect shape, although it won't mean that I can win straight away. When you return after an enforced break you not only have to think about the body, but also the mind. I won't be able to come back and win immediately."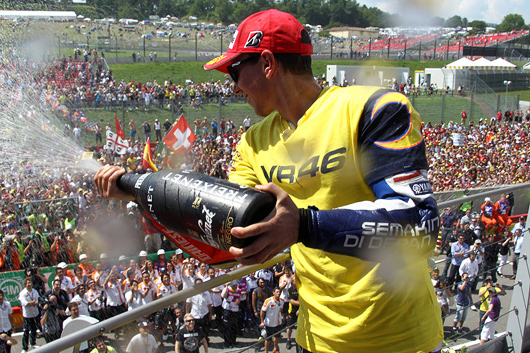 Jorge Lorenzo paid tribute to his injured teammate by wearing Rossi's VR46 T-shirt on the Victory Podium at Mugello. With his 2nd place behind Dani Pedrosa at Mugello, Lorenzo now holds a signficant 25 point lead in the MotoGP Wororld Championship.

Additional Q&A with Yamaha Management and Dr. Buzzi
1. What caused the accident? Was it rider error or a bike/tyre issue?
Davide Brivio, Fiat Yamaha Team Manager: Valentino Rossi's crew: "Valentino was on his first flying lap with new hard tyres. At 'Arrabbiata 2' Valentino slowed down to let another rider pass, because he was following him. When Valentino opened the throttle again at 'Biondetti', the first corner on the left, having ridden for about a quarter of the track at a very low speed, the rear tyre had cooled down and lost grip suddenly, causing the crash. When Valentino lost the rear of the bike his speed was approximately 180kph and when he hit the ground it was approximately 150kph."
2. What were Valentino's exact injuries?
Professor Roberto Buzzi, MD, Trauma Unit, Careggi Hospital, Florence, Italy: "Valentino suffered a 'grade 2' open fracture of the distal third right tibia, as well as a bifocal fracture of the fibula."
3. What exactly was done in the operation?
Professor Roberto Buzzi: "Debridement and lavage, stabilisation with locked intramedullary nailing and a VAC (vacuum assisted closure) application on Saturday 5th June. Then a second look and delayed primary closure on Monday 7th June."
4. What is the expected recovery time for VR?
Professor Roberto Buzzi: "Six months."
5. At which race can we expect him back?
Davide Brivio: "It is very difficult to say now. We will have to see, step by step, how his recovery goes. Around 45 days after the accident we will have a clearer picture about his condition. In the meantime he will be busy with the rehabilitation. At the moment we think it's unlikely that he will be back within the next two months. If everything goes well we might see him racing in August or September."
6. Where will he be spending his recovery time? Will he be attending any races?
Davide Brivio: "Valentino left the CTO in Florence today and travelled to Cattolica to meet with doctors close to his home. He will probably spend his entire recovery at home. We want Valentino to concentrate fully on his recovery and rehabilitation, therefore we will not involve him in any activities until he is back to the best physical condition. He will not be attending any races until that time, so the next time we will see Valentino at a track it means that he is ready to race again."
7. Will anything be done to his shoulder during this time?
Davide Brivio: "Yes, of course the next couple of months will be very useful for the shoulder recovery as well. His doctors will be attending to this as well. Due to the recent accident the shoulder rehabilitation program has had to be updated because he has had to change some exercises, but from tomorrow he will be starting to work on the shoulder as well."
8. When will Yamaha field a replacement? Why not straight away?
Lin Jarvis, Managing Director, Yamaha Motor Racing: "Firstly let me say that I am very happy that Vale has left the hospital today to return to his home area. This is a good sign as it means that his recovery is proceeding well and now he will start the rehabilitation program that will return him to full fitness. Concerning the replacement rider - we have decided to field a replacement rider from the Catalunya Grand Prix on 4th July. We have chosen the Catalunya Grand Prix to respect our Team Participation obligations to the MotoGP championship and also to take time to select the most suitable rider and to make sure we're organised and well prepared for this new situation."
9. Who will the replacement be?
Lin Jarvis: "At this moment I am unable to tell you who the rider will be because we have not yet made a definitive decision. We expect to be able to inform you of our plan next week or at the latest at the Silverstone MotoGP event."
10. Who are the staff members not coming to Silverstone and Assen?
Lin Jarvis: "The Fiat Yamaha Team members working closely with Valentino will not come to Silverstone or Assen, i.e. his Team Manager, his Crew Chief and his mechanics. They will return in Barcelona and they will support the stand-in rider. All other Team and Corporate staff members will attend the coming races as usual."
11. How does this affect your sponsors? Are they okay about missing two races?
Lin Jarvis: "We have been receiving messages of solidarity and understanding from all of our sponsors, without exception. They, like Yamaha, are all looking forward to Valentino returning in perfect shape. Valentino's garage will be set up in Silverstone and Assen and both his YZR-M1s will be there for the fans to see."
12. Will Valentino be meeting the media during his recovery time?
William Favero, Communications Manager, Yamaha Motor Racing: "Valentino will not be giving any interviews to press or television during his recovery time. All Yamaha wants is for him to focus on his rehabilitation and make a full recovery. Yamaha will arrange a press conference with Valentino in due course. In the meantime we will make sure that our sponsors, the fans and the international media are kept updated about his condition through our official spokesmen and team press releases, with the same efficiency and transparency with which we have treated this issue so far."
---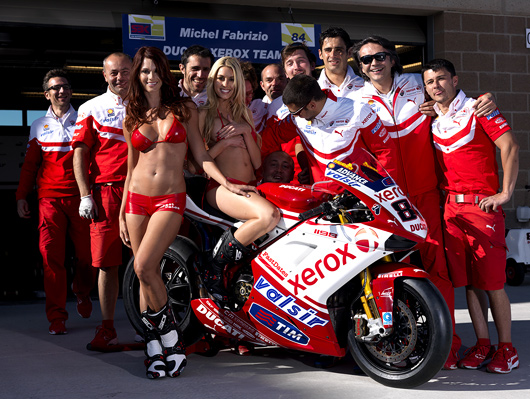 Heather and Jaime heat up the Ducati Corse pits at Miller World Superbike. Somehow Heather seems to have lost her her bikini top in the middel of the shoot, no thanks to rider Michel Fabrizio. Click to GO BIG

Hannspree World Superbike Championship, Miller USA Round 7 of 13
Playboy's hottest new Playmates become FastDates.com Calendar Kittens
and Team Ducati Corse Grid Girls at Miller USA World Superbike
Jaimee and Heather appeard at 2010's Miller USA World Superbike May 29-31st
with team Ducati Corse, and next at the LA Calendar Motorcycle Show July 18th!
June 1st, 2010 - Playboy magazine's hottest, sexiest, most beautiful new 2010 Playmates, Miss January Jaime Faith Edmonson, and Miss February Heather Rae Young, joined FastDates.com Calender producer Jim Gianatsis as the official SBK World Superbike Fast Dates Calendar Kittens at the Miller Motorsports USA World Superbike round May 29-31st 2010.
The crew started the race weekend off being photographed for the next Fast Dates World Superbike PinUp Calendar with all the top factory team race bikes. Both Calendar Kittens then served on race day with multi-time SBK World Championship winning team Ducati Corse to be their official grid girls for their two factory riders, Noriyuki Haga and Michel Fabrizio.

All the revealing details with pictures in Fast Dates Calendar News.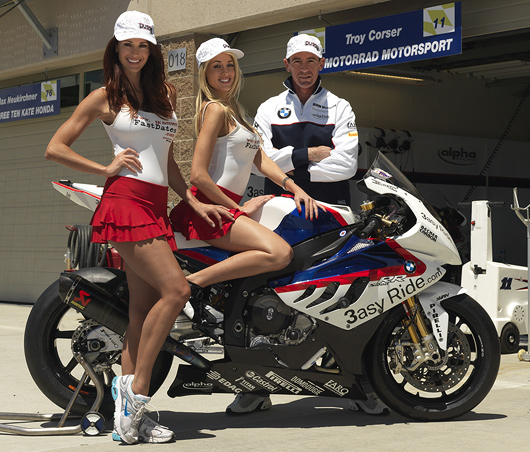 Post Cards from our 2010 Miller Fast Dates Calendar Shoot
Click to go BIG


The Calendar Kittens made new friends quite easily. Heather loosing her top also helped.

Above: Heather keeps Michel Fabrizio cool on the grid, coming

Right: Jaime with Haga on the starting grid.

...and going.

Post Race One Interviews, Checa gets the Pirelli Fastest Lap Award after his break doen handed Biaggii the win.

Making friends again, this time with Ruben Xsus.

Beautful grid girls were everywhere!

Ducati Corse team manager Ernesto Marinelli enjoys another set of potent high performance twins

Calendar Kittens still making friends again, this time with ...

...Troy Corser.
Note the "Pussy" caps! Troy's energy drink sponsor in Europe.

Mad max's Aprilia RSV4
never lookd better!

Little known facts: Michel Fabrizio's nick name / logo is "Hurricane".

Michel Fabrizio's front number "84" includes the inscription 21 x 4 = 84 as a tribute to his mentor, veteran Troy Baylliss who was his Ducati team mate during Michel's first season in WSB in 2008

Nori's spare #2 1198RF sits waiting in the Pit Box incase of problems with the #1 bike on the race sighting la.

Italian playboy Michel Fabrizio and our Playboy Playmates.

Jacob Smurz and his
bootylicious grid girl.

Heather and Jaime warm up Carlos Checa's 2010 Althea Ducati 1198RS which is often in front of the factory Ducati Corse bikes.

Veteran motojournalist Kel Edge gets more "Pussy" than he can handle!

Kel Edge stalks Heather Rae and Troy Corser.
---
The Return of Troy Bayliss to World Superbike?
June 1st, Miller Motorsports, Utah - While we were hanging out with Ducati Corse at the Miller Motorsports USA World Superbike last week, I ask team manager Ernesto Marinelli about the possibility of Ducati's 3-time World Superbike Champion coming out of retirement to race for the team again. His 52 World Superbike victories on Ducati are second only to Carl Fogarty. As we know from Ducati Corse press releases, Bayliss has been flying in to Italy from his home in Australia to do development testing on the race bikes for the team.
Ernesto told me that Troy is possibly interested in racing again, but it is just still too early in the 2010 season to make any determination for next year 2011. The final decision for Troy depends on how his wife Kim feels about his returning to racing. Troy, Kim and their two children left their European home base in Monaco at the end of 2008 and returned to their family home in Taree, Australia. For Troy to return to the World Superbike Championship now would require even longer airplane flights from Australia to follow the tour. Unless of course, Troy relocated back to Europe for part of the year, spending more time away from the family.
We can image that the small town of Taree can feel very small and confiding after you've lived in Monaco for 10 years, ridden road bikes in the Alps, and have been jetting around the world and treated like royalty.
How anxious is Ducati Corse to have Bayliss return from retirement? One only has to look at the current points standing in the 2010 Superbike Championship to see Noriyuki Haga down in 5th place and Michel Fabrizio in 10th, the lowest factory Ducati rider ranking in Ducati's 20 year involvement with the series except for the 2000 season when Fogarty broke his shoulder. Last year 2009 Haga and Michel finished the Championship on top in 2nd-3rd behind Ben Spies.
I asked Ernesto if there would be room on the Corse team for 3 riders in 2011 and he said "No", that Ducati only has the budget and resources for a 2-rider team. I believe both Haga's and Fabrizio's current factory contracts are ending his year, so unless either of them goes on a winning streak real soon, Ducati tends not to keep riders who don't finish in the top three.
Would Ducati be foolish to bring back Troy Bayliss at the age of 42? Hardly foolish, as Troy has always been in incredible physical shape thanks to his road bike training, while other riders near his age like Troy Corse and Carlos Checa remain at the top of the game. One only needs to look at Michael Schumacher in Formula One, who has made a successful return to top of car racing after a 3 year retirement.
Ducati is usually the last team to announce their new rider signings each year, so don't expect to hear anything from the team until on or after the Imola WSB round in Italy on September 25th. - Jim Gianatsis
---
---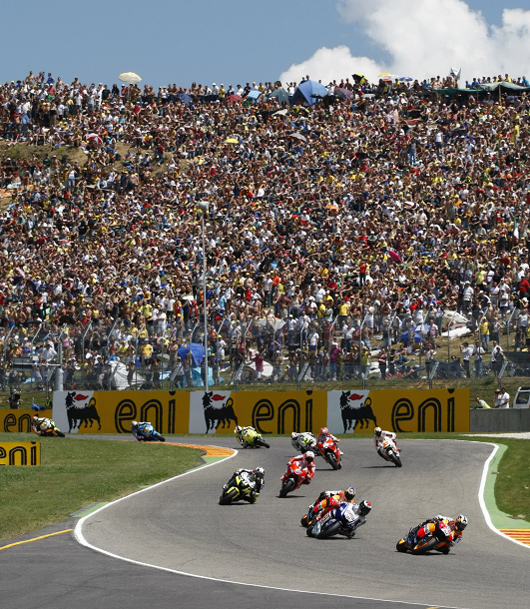 The Mugello circuit was packed. Pedrosa leads the start down the hill ahead of Lorenzo and Dovizioso.
MotoGP World Championship, Mugelo Italy Round 4 of 18
Rosi Injured in Saturday Practice
Dominate Victory for Danny Pedrosa at Mugello MotoGP
Gran Premio d'Italia TIM - Sunday 6 June - Dani Pedrosa rode a start-to-finish victory at Mugello on Sunday as he took his maiden win of the 2010 campaign at the Gran Premio d'Italia TIM. The Spaniard, who had only converted three of his previous fourteen premier-class pole positions into wins prior to this race, never looked like relinquishing the lead he held from turn one of the opening lap as he crossed the finish line 4.014 seconds clear of the rest of the field.
The whole of MotoGP had been rocked on Saturday by the crash of Valentino Rossi, which left the World Champion in a Florence hospital recovering from an operation to his broken right shin. However the Mugello crowd responded, with over 76,000 fans packing the hillsides, many draped in yellow and offering support to their hero Rossi.
Sporting a t-shirt on the podium in the famous yellow colour of his stricken team-mate, World Championship leader Jorge Lorenzo was unable to take advantage of his rival's absence. The Fiat Yamaha rider was forced to settle for second place having been unable to replicate his impressive practice pace, however he still extended his lead at the top of the standings.
Undoubtedly Lorenzo will be disappointed, unable to keep tabs on Repsol Honda's Pedrosa, whose lead had stretched to 7.309s at the mid-point of the race.
Behind race winner Pedrosa, his Repsol Honda team mate Dovizioso enjoyed a thrilling battle with Lorenzo, chasing hard from the start, then charging past on lap three. He stayed in second place for three laps, but then Lorenzo fought back. As the race went on, Dovizioso stayed close to Lorenzo, and even when the gap crew, he managed to close it down again. In the end, however, the Italian didn't quite have the pace to mount a final attack and crossed the line two seconds behind. The result was his third podium from the first four races.
Melandri (33), dePunie (14) t, and Stoner (27) played a race ong duel over 4th place with Stoner finally coming out on top. Close behind them Ben Spies (11) tried to join the party, but never got the invitation.

The three-way battle for fourth place was a hugely entertaining highlight of the race, with Melandri and de Puniet fighting with 2009 Mugello winner Casey Stoner (Ducati) all the way, the trio watched from a small distance by rookie Ben Spies (Yamaha). Top privateer De Puniet was riding an inspired race and managed to work his way into fourth place, but in the final stages he slipped back behind Stoner and Melandri, who lost out to Stoner on the last lap. Melandri's ride was particularly remarkable, since he had struggled in practice and only qualified 14th. Stoner eventually pushed his struggling Ducati to the limit to claim fourth as he beat Melandri and de Puniet in a last-lap dash.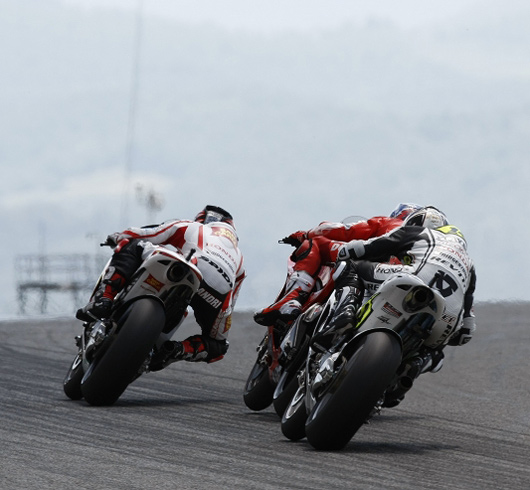 Spies finished seventh in his first race at the circuit, with another rookie impressing in the shape of Aleix Espargaró who took eighth. Simoncelli had recovered from an early mistake in time to take ninth, with Loris Capirossi tenth.
Lorenzo now has 90 points at the top of the Championship, with Pedrosa second on 65. The absent Rossi is third on 61 with his return date unknown, whilst Dovizioso's podium takes him to 58 in fourth.
Dani Pedrosa, Repsol Honda RC212V: 1st - "It's an unbelievable feeling to win again and I'm so happy for myself and the Repsol Honda Team. We've been working really hard and we had some problems through the winter and in the first races, so I'm really delighted with this victory, especially after leading at Jerez for so long but not quite making it. It looks like we are back near where we need to be and the team deserves the victory. I had a great feeling on the bike today, especially at the beginning section of the race and I could open up a gap. To be honest I didn't see who was behind me, I just looked for the gap on my pit board and tried to ride consistently. It's important that we are competitive now because we have one weekend off and then three races in a row. The next race is at Silverstone which is a legendary track so I hope that we can match this kind of performance there - and also that this part of England has better weather! I'd like to thank the team again for this result. And I also want to thank the fans here for pushing for Valentino because he's having a hard time and everyone in the paddock wishes him well."
Andrea Dovizioso, Repsol Honda RC212V: 3rd- "It's so special to be on the podium at Mugello in front of my home crowd because I've never made the podium in MotoGP here – I always had to watch it on the TV in the garage! It was a really emotional experience up there with all the fans supporting us. I made a good start and this was really important for my race. I wanted to finish the race fighting with Lorenzo because I think it could have been a good battle on the last lap, but I couldn't catch him. We are getting closer to the front but we are not quite there yet and we have to take the next step so that we can fight for victories. Three podium finishes is a good start to the season and is very important for the championship, and it's thanks to the hard work we've done over the winter and in the first races. I'd like to say congratulations to Dani on the win because he had an incredible pace, and this is an extra motivation for us to take that extra step forward so we can fight for the win."
Race Classification MotoGP: (23 laps = 120.635 km
Pos / Rider / Nat / Team / Motorcycle / Time/ KM/H / Gap
1 / Dani PEDROSA / SPA / Repsol Honda Team / HONDA / 42'28.066 / 170.437 /
2 / Jorge LORENZO / SPA / Fiat Yamaha Team / YAMAHA / 42'32.080 / 170.169 / 4.014
3 / Andrea DOVIZIOSO / ITA / Repsol Honda Team / HONDA / 42'34.262 / 170.024 / 6.196
4 / Casey STONER / AUS / Ducati Marlboro Team / DUCATI / 42'53.769 / 168.735 / 25.703
5 / Marco MELANDRI / ITA / San Carlo Honda Gresini / HONDA / 42'53.801 / 168.733 / 25.735
6 / Randy DE PUNIET / FRA / LCR Honda MotoGP / HONDA / 42'54.031 / 168.718 / 25.965
7 / Ben SPIES / USA / Monster Yamaha Tech 3 / YAMAHA / 42'56.872 / 168.532 / 28.806
8 / Aleix ESPARGARO / SPA / Pramac Racing Team / DUCATI / 43'08.238 / 167.792 / 40.172
9 / Marco SIMONCELLI / ITA / San Carlo Honda Gresini / HONDA / 43'09.460 / 167.712 / 41.394
10 / Loris CAPIROSSI / ITA / Rizla Suzuki MotoGP / SUZUKI / 43'10.173 / 167.666 / 42.107
11 / Hiroshi AOYAMA / JPN / Interwetten Honda MotoGP / HONDA / 43'11.161 / 167.602 / 43.095
12 / Hector BARBERA / SPA / Paginas Amarillas Aspar / DUCATI / 43'11.429 / 167.585 / 43.363
13 / Colin EDWARDS / USA / Monster Yamaha Tech 3 / YAMAHA / 43'42.459 / 165.602 / 1'14.393
14 / Alvaro BAUTISTA / SPA / Rizla Suzuki MotoGP / SUZUKI / 43'52.455 / 164.973 / 1'24.389
Pole Position: Dani PEDROSA 1'48.819 173.517 Km/h
Fastest Lap (New record): Dani PEDROSA 1'49.531 172.389 Km/h Lap 5
Old Circuit Record Lap: Casey STONER 1'50.003 171.649 Km/h
Circuit Best Lap: Valentino ROSSI 1'48.130 174.623 Km/h 2008
World Championship Positions:
1 LORENZO 90, 2 PEDROSA 65, 3 ROSSI 61, 4 DOVIZIOSO 58, 5 HAYDEN 39,
6 DE PUNIET 36, 7 MELANDRI 32, 8 STONER 24, 9 SIMONCELLI 23, 10 SPIES 20,
11 BARBERA 19, 12 EDWARDS 19, 13 AOYAMA 18, 14 ESPARGARO 16, 15 CAPIROSSI 13.
---
The Making of the FastDates.com Calendars now on DVD!
Sure, we may be slow getting around to some things, one of those being the re mastering of our infamous Making of the FastDates.com Calendars movies from VHS tape to high definition DVD. But now thanks to the help of Amazon.com we've entered the 21st century and you can stuff into your Computer or Big Screen DVD player the fastest, hottest, wettest, sexiest motorcycle movies ever made!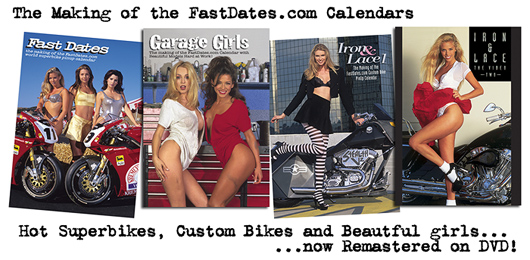 The making of the FasDates.com Calendars DVD movies are available from Amazon.com and in the FastDates.com Video Store.
---
There's more! Go to Pit Lane News Previous Page

Also Visit: Fast Dates Calendar News • Iron & Lace Calendar News
Calendar Girl News • Meet the Models • Paddock Garage

Calendar Kittens, Paddock Garage, Screensavers, Iron & Lace Garage




MotorcycleSuperstore.com
Some of our Calendar Kittens can also at Playboy's website...


FREE! New Met-Art Model Galley Updated Daily - Stop Back Each Day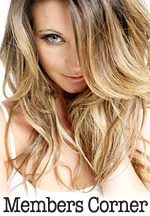 Hot Bikes, Sexy Kittens
Your Exclusive Grid Pass
also includes....
---
---
Valentino Rossi recovering well following surgery
06/06/2010 - Following surgery to repair his broken right leg yesterday afternoon, Valentino Rossi is recovering well at the Centro Traumatologico Ortopedico in Florence, Italy.
Dr. Roberto Buzzi of the CTO, who performed the operation, gave the following update this morning: "Valentino is recovering well following yesterday's operation and his morale seems to be high in the circumstances. Tomorrow we will wash and stitch the wound. He has been moved to a more normal room in the hospital and the only requests he has made are for peace and quiet, privacy and a television on which to watch today's race!"
Rossi sustained the injury during a crash yesterday morning, in practice for today's Grand Prix of Italy.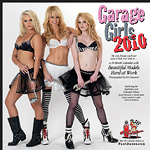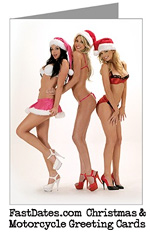 ---
POSITIVE FOURTH PLACE FOR STONER AT MUGELLO AS HAYDEN CRASHES OUT
Mugello, June 6th - Casey Stoner picked up an important fourth place finish at Mugello today following a combative but well-planned race. Nicky Hayden, meanwhile, crashed out of the same battle for a top six finish.
The Australian certainly made the most of the package beneath him today. Aware that he didn't have the pace to run with the front three, he tucked in behind Randy De Puniet and Marco Melandri for the majority of the race before making a decisive attack for fourth place on the final lap.
Nicky Hayden didn't make the best of starts from fourth on the grid and his race ended on the sixth lap when he was pushing to make up ground, running wide and sliding from his GP10 into the gravel.
CASEY STONER (Ducati Marlboro Team) 4th
"To be honest we expected to be a little bit better after this morning's warm-up but maybe the conditions were a little too hot for the changes we made and the tyre we ran in the race. The left side of the tyre was working really well but I just couldn't get the right side hooked up and I was running wide, losing the front a bit, but I managed to stay on. Once I got ahead of Marco and Randy in the early stages of the race I was pushing to get away but couldn't so I decided to sit back and attack them on the last lap. I suppose in that respect I got the job done bit it's not exactly what I would have liked for this race because it's a track I like and it's Ducati's home race."
NICKY HAYDEN – (Ducati Marlboro Team) DNF
"I screwed the start up and got beat up into turn one but I was able to make a couple of passes and thought I could fight for it. My rhythm wasn't that good and I was just trying to make up too much time into that downhill corner. It was a rider error and it's a bummer because it's the team's home race and they've all worked really hard. All I can say is I'm sorry - that one was on me. I'm completely okay so that's the good thing but it still hurts. Thankfully there are still a lot of races to go."
CLAUDIO DOMENICALI - (Ducati Motor Holding General Director)
"A fourth place at Mugello is obviously not totally satisfactory for us but it was a good race nevertheless, especially at the end. Casey showed his character, he knew he didn't have the pace to fight for the podium so he waited for the right moment to secure the best possible result. For some reason, which we are going to analyse, he didn't have the grip we expected him to have after the changes we made this morning but he definitely got the best out of what he had. Nicky didn't make a great start and in an attempt to make up ground he went wide in one corner and crashed, but overall he showed once again that he is competitive and he confirmed that with another excellent qualifying session and by fighting in the top five in the race."


KTM RC8R



Aprilia RSX1000


Kawasaki Z1000
---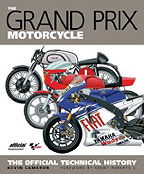 Kevin Cameron's
New Book!
by America's Favorite
Motorcycle Technical Guru
---


Calendar Show Debute
July 18th 2010
of Recording Star
Singer / Songwriter
Sara Haze!
This exciting new Soulful Pop Rocker will knock your socks off!

Click to hear and order Sara's latest CD!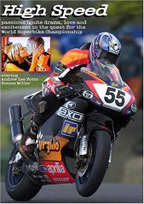 High Speed - the Movie
The best motorcyce racing movie ever made! Filmed on location at World Superbike, this an exciting romantic drama staring beautiful actress Sienna Miller.


Erotica Archives
FREE New Model
Galley Updated Daily
Warning Contains Nudity
---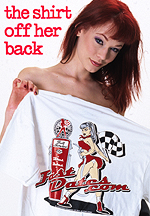 Order the Official
FastDates.com &
LA Calendar Bike Show
T-Shirts!
---
Twice from 15 to Fifth:
Troy Corser (AUS) scored two more top five finishes for Team BMW Motorrad
Motorsport on Monday in Salt Lake City in the 2010 FIM Superbike World Championship. Team mate Ruben
Xaus (ESP) finished tenth and 11th on the seventh race weekend in Utah. For the young team it was the second
best result so far. In total, in 2010 the team has finished in the top five six times.
In the manufacturers' standings Team BMW Motorrad Motorsport has now scored 130 points and is in sixth. In 2009 after seven races the team had only scored 60 points. Troy has scored 127 points in the rider's championship and is seventh, while Ruben is in 14th with 53 points.
Race 1: Troy proved to be a great starter: Just before turn 1, he made it from 15th on the grid to fourth. He was passed by Leon Haslam (GBR) and Noriyuki Haga (JPN) on lap six. He finished the race fifth as Carlos Checa(ESP) had to retire. Ruben started well and was eighth after the first lap. He finished tenth.
Race 2: Again, a rocket start for Troy - he jumped from 15th to third. Ruben made up four positions at the start. Unfortunately neither rider was able to maintain this position, and finally finished fifth and 11th respectively.
Troy Corser: Bike:
BMW S 1000 RR
Result Race 1: 5th , Gap to 1st: 00:11.150 min / Fastest Lap Race 1: 1:49.038 min
Result Race 2: 5th , Gap to 1st: 00:09.473 min / Fastest Lap Race 2: 1:48.432 min
"Overall, we should be happy today. Nevertheless I was disappointed with the Superpole result as I had to start both races from the fourth row. In the first race I had to fight with chattering, and I had some trouble with the edge grip. We changed the rear spring and made a few adjustments. The bike definitely felt better, but the
problem came back again when the tyre went away after a couple of laps. We now know what we have toimprove."
Ruben Xaus:
Bike: BMW S 1000 RR
Result Race 1: 10th , Gap to 1st : 00:16.502 min / Fastest Lap Race 1: 1:49.309 min
Result Race 2: 11th , Gap to 1st : 00:26.823 min / Fastest Lap Race 2: 1:49.132 min
"To be honest I am disappointed with today. I got great starts in both races and I was right with the top guys. I just couldn't do the times over the race distance. The team and I have worked tirelessly all weekend and made
some real steps forward, but today we just couldn't make it happen in the races. Still the team did a great jobmand I must thank them for that, and also compliments to Troy because he did so well. I just wish I could have been up there with him. I hope we can join him at the front in Misano."
Berthold Hauser (BMW Motorrad Motorsport Director):
"It is good to go back to Europe with two more top five results. After Sunday's Superpole result I was not expecting to do as well as we did today. I am really happy with the performance from both Troy and Ruben.
Nevertheless, we had some problems today, especially with tyre wear. We have to learn from that, and we know that we still have some work to do. Last year at this circuit in particular we struggled - so to achieve what we did today is a real step forward. Congratulations to the entire team once again for what they have achieved with a lot
of hard work. I feel sorry for Carlos Checa who did a great job today but was very unlucky."
Solid Points in Each Race for Kawasaki's Tom Sykes and Chris Vermulen
WSBK, Salt Lake City, June 1st -
Kawasaki Racing Team riders Tom Sykes and Chris Vermeulen scored points in each Miller Motorsports Park race today, maintaining their championship positions.
The riders also improved on their qualifying positions in each race, as they got to grips with the big and fast corners at Miller, during another intense day of race action in the Superbike World Championship.
In the first 21-lap contest Sykes was 13th in a lone race in the last laps. Chris was 15th, unlucky to lose a place on the last lap.
In the second race, with track temperatures much higher than in race one, Chris was 14th at the start of the race, finally scoring 13th place, one ahead of Tom. Sykes had tangled with another rider early on and was down to 19th at one stage.
Tom is still 15th overall, now on 42 points, Chris 19th on nine. The next round is at Misano on 27 June.
Tom Sykes: "We started the weekend in good shape but although we were consistent with lap times and we improved on last year's times, it was still not fast enough. I had a decent launch in both races but in race two I got tangled up with a Ducati rider and lost a few places, which put us in a disastrous 19th place. Middle race distance we struggled with handling into the long left-handed corners but I fought back as hard as I could to finish within the points. I guess that is a positive from the weekend. I'm sorry for the boys but I did the best I could and I look forward to getting things back-on track and running nearer the front at Misano."
Chris Vermeulen: "A difficult weekend but we scored points in both races. It was my first time here and we improved the bike all weekend. At a circuit like this with really long corners we struggled to make the turns and we do not have the fastest bike right now. We have some work to do still. We made some changes race one to race two because I struggled with front tyre durability again, and we made it a lot better. Consistency and speed was faster, and I think that I was eight seconds nearer the front. That was a good step forward for us."
Difficult Weekend at Miller for Honda Ten Kate Riders
Jonathan Rea took hard-earned 14th and eighth places finishes in today's two seventh round World Superbike races at Miller Motorsports Park in the USA. His team-mate Max Neukirchner also struggled at the 4.907km circuit near Salt Lake City, placing 12th in the two 21-lap encounters.
Both outings were won by Max Biaggi after early leader Carlos Checa ran into electrical problems, as Rea and Neukirchner complained of handling problems with their machines.
Rea crashed at the beginning of lap three in the first race, but remounted in last place to begin a dogged fight back to 14th place at the flag and two championship points. However, changes to his front fork settings for race two did not improve his bike's handling and the 23-year-old was forced to settle for eighth.
Neukirchner suffered similar handling issues and, starting from 16th place on the grid, the German rider struggled to make any impact on the standings. T he Hannspree Ten Kate Honda team is now looking forward to an upcoming two-day test at Assen in The Netherlands, before heading for round eight of the championship at Misano, Italy on 25-27 June.
Jonathan Rea – 14th and 8th
It's quite hard to take many positives out of the weekend really. We've had big problems all weekend and nothing we tried did anything to fix them. We made a big – and I mean BIG – change to the front of the bike for race two, but the characteristics were exactly the same. Unfortunately, I'm missing the first day of our test at Assen because I'm riding in the 300km race at Suzuka, but there's plenty for Max and the team to be working through. I really hope we can get something to take to the next race at Misano, because I have some great memories of that round last year.
Max Neukirchner – 12th & 12th
We tried something different for the second race because in the first one the bike was pitching too much – diving too fast under the brakes and coming up too quickly under acceleration. We thought the change would work but it didn't, so we have another two disappointing results to take away from this race. I hope we can have two really positive days at the Assen test in two weeks, because there is a lot we need to get through. It's frustrating because I know I can do better than what my results are showing.
Ronald ten Kate – team manager
There is no hiding from the fact that this has been a bad weekend for us. With the chatter that both riders experienced, they could only ride around and make laps. We now have a two-day test at Assen where we will try quite a few new bits and pieces because we have to be in better shape at Misano. Having said that, Miller is the last race this year where we didn't have suspension data from Ohlins (The team used White Power Suspenison here last year). We start at Misano with at least some reference points from last year. We hope that data will yield much better results for the rest of the season.



New Premier MotorLand Aragón Circuit in Spain to host the FIM Superbike World Championship for the next three years
Rome, Wednesday 19 May 2010 -The newly-built MotorLand Aragón in Spain is set to host a round of the FIM Superbike World Championship for the next three years, following an agreement signed this morning. The circuit, which was designed by German architect Hermann Tilke, will now appear in the calendars of the two most important global motorcycling competitions; in spite of its short history, it will now be consolidated as one of the world's elite tracks, hosting the World Superbike round in 2011, 2012 and 2013 and following on from the MotoGP round in September of this year.

This morning an agreement was signed before the international press, in the Aragón regional government headquarters between MotorLand and Infront Motor Sports in the presence of MotorLand president and Aragón Government vice-president José Angel Biel, the regional minister of commerce, tourism and industry Arturo Aliaga, the CEO of MotorLand Antonio Gasión, the CEO of Infront Motor Sports Paolo Flammini, and the Ducati Superbike rider, Carlos Checa.

Paolo Flammini declared: "Motorland is a very new circuit and it's already at the top. To have MotoGP and Superbike in its first years of activity demonstrates that it is a top-level circuit. The Superbike World Championship requires requisites of maximum safety and top-class facilities to be in a position to guarantee the presence of high numbers of spectators and Motorland is able to offer all this."

Carlos Checa added: "Superbike races offer a well-balanced sporting spectacle and for this reason they are spectacular, also for everyone watching on TV. Motorland is a circuit that respects all the standards to host a world-class race. I am happy to be able to race Superbike here next year and I hope to win!"

The race in Alcañiz, close to Zaragoza in northern Spain, will take place in the spring of next year and also in 2012 and 2013.
Visit
motorlandaragon.com
Ducati Factory Riders to fight it out at massive World Ducati Week 2010
Celebration with Playboy Bunny Bike Wash!
World Ducati Weekís Saturday night (12 June) will feature an all-star Drag Race along Misanoís start/finish straight on asphalt-ripping Ducati Streetfighters. The knockout challenge will line-up factory riders Nicky Hayden and Casey Stoner from the Ducati MotoGP Team and Michel Fabrizio and Noriyuki Haga from the Ducati Xerox Superbike Team, as well as Ducati guest stars Carlos Checa, Shane Byrne, Ducati MotoGP test rider, Franco Battaini and the legendary Troy Bayliss.
With tens of thousands of passionate fans already signed-up to attend the sixth edition of World Ducati Week, titled ìThe Red Planet Returnsî, final details for the massive event at the Misano World Circuit in Italy are now being put into place. Celebrating the soul and community spirit of Ducati motorcycles, World Ducati Week 2010 is sure to be one of the biggest motorcycling parties ever along the riviera of Italyís Emilia Romagna region.
Attracting a record number of entrants, the Ducati Garage Contest is set to pitch bike-builders against each other in a customised shoot-out of Trellis frames, dry clutches and special swingarms on show for mass admiration. The 10 best specials, selected by a panel of judges, will remain on display for everyone to see throughout the WDW event.
A Test Ride area for the entire 2010 Ducati range is also likely to be a huge hit, as riders will be able to test any one of the bikes in the current line-up, including the brand new ë4-bikes-in-1í Multistrada 1200. In fact, lucky holders of a 4-Day Pass will be entered into a fantastic prize draw with the magnificent Multistrada 1200 going to the first name pulled out of the hat. A Travel Experience holiday will be up for grabs for the second name and a thrilling AMG-Mercedes Driving Academy safe driving course at the Imola race track for the third.
The Ducati Vintage Contest will remember the prestigious history of the Ducati factory and provide a moment of pure glory for the beautiful classic bikes that always attract huge crowds at WDW. Any visitor can present their own vintage Ducati at the event, with eligible categories being single-cylinder models produced between 1946 and 1978, and twin-cylinder models from 1971 to 1990. A special team of judges, including Livio Lodi, Curator of the Ducati Museum, and Gianluigi Mengoli, Chairman of the Ducati Foundation, will choose the best restored and maintained machines and the winning owner will be crowned King or Queen of the Red Planet.
A special round of the exciting Ducati Desmo Challenge championship will also take place at Misano and offer all Elite license-holder enthusiasts the excitement of a single-brand race series in front of a huge crowd. Following the great success of this event in 2007, both the British and Dutch Ducati series will join the Italian Ducati championship for the WDW2010 event. The Dutch Ducati Dealer Cup championship consists of eight races held on legendary circuits across Europe and is open to all Ducati models including 1098, 848, 998 and 749 as well as special models like the Pierobon or the NCR Millona. The British-based 848 Challenge, organised by Ducati UK and the New Era Motorcycle Club, will be divided into two races in which entrants will compete with Ducati 848 and 848 Dark models in standard form apart from race fairings, tyres and exhausts. From Friday to Sunday the track will form the perfect venue for the hotly contested races in these major national trophies.
ìThe Red Planet Returnsî event will even present some big screen action with a genuine cinematic spaceship ready to transport everyone to an incredible selection of movie thrills in pure Ducati style. Showing non-stop screenings of all the Desmo scenes from memorable films, visitors will also get a chance to view the trailers from all upcoming releases.
On Sunday, 13 June, in a challenge that combines entertainment, travel, discovery and experience, Paolo Pirozzi, President of the Ducati Dreams Club of Naples, will blast-off from the Red Planet of Misano aboard a new Multistrada 1200 S for an amazing year-long, round-the-world trip. Stopping off at 80 Official Ducati Clubs across five continents, his trip will not only represent a great biking adventure, but also a genuine celebration of the passion shared by Ducatisti all around the world.
In what is lining-up to be the biggest World Ducati Week party ever and a celebration of everything Ducati, motorcyclists from all over the world are sure to enjoy breathing an atmosphere of pure motorcycle enthusiasm, where even the Bike Wash is a popular relaxation spot and unexpected source of entertainment with busy Playboy bunnies!
Ticket purchase and a constantly updated programme are available online on a dedicated WDW website at wdw2010.ducati.com.

For a look at a prevous
WDW go to
PitBoard2004WDW01.HTM