Meanwhile, over in Japan with Team Yamaha's MotoGP grid girls....
California Legal Alert!
California Motorcycle Smog Test Bill Passes Out Of Committee
We Need Your Help! Write Fax or Call your State Senator NOW!!
HELP GUYS! – ACT NOW or NO MORE AFTERMARKET CARBURETORS, EXHAUST SYSTEMS, RECALIBRATED FUEL INJECTION, CUSTOM BIKES AND ENGINE PARTS, CHARCOAL CANISTER REMOVAL, DUCATI PERFORMANCE PARTS, ETC.
Sacramento, CA, Wed, April 22nd - SB 435 has passed out of the California Senate Transportation & Housing Committee and is expected to be on the California Senate Floor before the end of April. This measure calls for smog checks, beginning in 2012 for motorcycles 2000 model year and later for owners to be able to re-register them. The California Motorcycle Dealers Assn. has concluded that there is not enough benefit and that there is the potential for discouring potential owners. The author of the bill claims (?) that including motorcycle in the smog check program will eliminate 5.2 tons of smog daily. That is a tiny amount compared with the 1,406 tons of smog produced every day from all mobile sources. This is not something any motorcyclist can ignore. Your sport will be seriously affected by this bill.
• Motorcycles do not contribute enough pollution to warrant being included in a smog check program
• Motorcycle, becasue of their low mileage usage and a much higher gas mileage than cars or trucks, represent less than 3%* of the total for all mobile source emissions.
• The cost to implement and conduct a motorcycle smog check program will cost California more than the value of the emissions it's estimated to save.

(*Note: We don't know where in the hell they got this big number of 3% - possibly based on the number of car versus motorcycle registrations in California? But as you know almost no one rides their motorcycle to work during the week - everyone drives a car.

This week I drove my car down the I-405 in greater Los Angeles from my home in the San Fernando Valley to Long Beach and back, a 2.5 hour drive, some 90 miles and back in heavy traffic. During the trip I encountered probably 250,000 automobiles or more in both directions on the freeway, and only 6 motorcyclists! In rural areas it's probably even less:.
That percentage equates to just 0.00002% of bikes driven in greater Los Angeles
during the weekday compared to cars!!!
Not the 3% as the legislators claim. As a motorcycle enthusiast I own 6 registered motorcycles, but like most of us I generally only ride one of them for recreation, usually on Sundays - that's just 4 times a month, and usually under 50 miles per ride. - Editor)

• A smog check program for motorcycles will discourage a new motorcycle purchase and encourage infrequent useage owners to stop using them.
• Motorcycle smog checks were eliminated in one Arizona county when the program did not reduce emissions enough. *If motorcycles have to be returned to stock condition, finding original parts for older bikes will be impossible because historically, not enough spare parts were made.
We need to do two things IMMEDIATELY:
1). Contact the CA State Department of Transportation Senators who wrote this Bill:
Sen. Alen Lowenthel (Chair) , Fax 916 327 9113 / Ph (916) 651-4027
Sen Robert Huff (Vice Chair) , fax 916 324 0922 / Ph (916) 651-4027
Sen. Fran Pauley, Fax (916) 324-4823 / Ph (916) 651-4023
2). Find out who your state Senator is. Then fax, call or write them asking for a "NO" vote on SB 435. 2. Also contact the below nine Senators: Ron Calderon 916-327-8755 fax 916-651-4030 ph senator.calderon@sen.ca.gov Lou Correa 916-323-2323 fax 916-651-4034 ph senator.correa@sen.ca.gov Dean Florez 916-327-5989 fax 916-651-4016 ph senator.florez@sen.ca.gov Gloria Negrete McLeod 916-445-0128 fax 916-651-4032 ph senator.negrete@sen.ca.gov Alex Padilla 916-324-6645 fax 916-651-4020 ph senator.padilla@sen.ca.gov Tim Darrell Steinberg 916-323-2263 fax 916-651-4006 ph senator.steinberg@sen.ca.gov Pat Wiggins 916-323-6958 fax 916-651-4002 ph senator.wiggins@sen.ca.gov Rod Wright 916-445-3712 fax 916-651-4025 ph senator.wright@sen.ca.gov Leyland Yee 916-327-2186 fax 916-651-4008 ph senator.yee@sen.ca.gov

You can find your own State Senator by: 1. Accessing the state senate website at : www.senate.ca.gov. 2.Click on District Maps. 3. Then click on Your Senator. 4. Enter your street and city address and zip.
---
Ben Spies was quick at Assen, but a Race 2 crash hindered his Championship aspirations.

SBK Hannespree Word Superbike Championship, Assen Round 4 of 14
Spies and Haga share double Dutch Superbike thrillers at Assen
Assen, Holland, April 24-26th, 2009- Ben Spies (Yamaha World Superbike) and Noriyuki Haga (Ducati Xerox) continued their two-way domination of the 2009 Hannspree FIM Superbike World Championship at the Assen TT Circuit in the Netherlands by taking a win apiece in front of 76,000 spectators.

The Texan pulled out a fantastic pass on his Japanese rival to take a last-gasp win in the first race, but then crashed out of race 2 early on, leaving Haga the winner. Leon Haslam rode superbly to take home two podiums for the Stiggy Racing Honda team, while Jakub Smrz (Guandalini Ducati) scored his best-ever result with third in race 2. In the championship Haga now has a 60-point lead over Spies, 180 to 120.
Ben Spies dices with Johthan Rea on classic post war Simplex mopeds.
Preview: WSBK riders try out 'Solex' for size at Assen
Assen, Thursday 23rd April 2009 - Several top World Superbike riders had a chance to try out Solex bicycles for size today in the centre of Assen in the run-up to the Dutch Round of the championship taking place at the TT Circuit this weekend.
Noriyuki Haga (Ducati Xerox), Ben Spies (Yamaha World Superbike), Jonathan Rea (Hannspree Ten Kate Honda) and Ruben Xaus (BMW Motorrad), together with Dutch World Supersport contenders Barry Veneman (Hoegee Suzuki) and Arie Vos (Veidec Racing RES Software Honda) were the riders chosen for the pre-race media event for the fourth round.
Following a greeting from the Mayor of Assen, the riders went around town for a couple of hundred metres on the 49 cc machines before posing for photographs and conducting interviews with the national and international media present.
Noriyuki Haga: "My history at Assen has been rocky, up and down to say the least but I'm looking forward to riding this track on the 1198, it should be interesting. We know that the Ducati performs there as Troy won both races last year, we had a good fight in Race 2 I recall, and so it should be another good weekend; Checa and Neukirchner went well there last year and they, as well as Spies and I, are likely to be running at the front, so we should see more great racing."
Ben Spies: "Assen looks good, I've played it a bit on Playstation last week so I got some good seat time in! I've always wanted to ride here, the changes aren't probably as rider-friendly as they used to be because everyone seemed to like the old circuit more but for me it's a little bit easier to learn. It's got a couple of tricky spots and seems like a nice flowing track. We've just got to get up to speed."
Jonathan Rea: "It's one of my favourites, only about 45 minutes up the road from the team's workshop. To be honest, we're not happy as the whole team at the start of the season, but we did a bit of testing at an oval track near the workshop and went back to zero again on the engine management. The bike seems to be more user-friendly now, so unlike Valencia I'm coming here really confident."
Ruben Xaus: "Assen has always been a good place for me and this weekend looks great. I like this track but this weekend it's special with a new team and a new project. We're working hard, it's not easy, but everyone knew that. Sometimes I'm biting my lips because I want to be in the front part of the grid always, and right now I'm not there yet, so I need to work harder on this situation."
The Dutch Round of the Hannspree FIM Superbike World Championship takes place from Friday 24 thru Sunday 26 April. World Superbike free practice and qualifying are held on the first two days, with Superpole scheduled for Saturday at 15.00. The two 22-lap (100.210 km) Superbike races are scheduled to run on Saturday at 12.00 and 15.30, with the 21-lap (95.655 km) Supersport race at 13.25 local time.
SpeedTV Boadcast USA
Sunday 26 April 2009 Superbike Race 1 15:00 - 16:00 Delayed
Sunday 26 April 2009 Superbike Race 2 16:00 - 17:00 Delayed
Monday 27 April 2009 Superbike Race 1 03:00 - 04:00 Repeat
Monday 27 April 2009 Superbike Race 2 04:00 - 05:00 Repeat
Spies Tops Friday Practice at Assen
Assen, Friday April 24th - Ben Spies (Yamaha World Superbike) powered to the provisional pole at the end of the first day of action at Assen. The Texan, a total newcomer to the Dutch track, set an impressive time of 1 minute 38.747 seconds, four-tenths of a second away from last year's record time of Bayliss in qualifying, but which was obtained on qualifying tyres. Spies was the only rider to dip under the 1'39 mark, but the session was a hard-fought affair as behind the Yamaha there were 15 riders in the space of 1 second.
Second time of the day went to Jakub Smrz (Ducati Guandalini), a fraction ahead of the four-cylinder machines of Yukio Kagayama (Suzuki Alstare) and Carlos Checa (Hannspree Ten Kate Honda). Fifth place went to Michel Fabrizio (Ducati Xerox), the first Italian in the standings, while a convincing Regis Laconi (Ducati DFX) and the other Suzuki Alstare machine of Max Neukirchner, together with Jonathan Rea (Hannspree Ten Kate Honda) make up the provisional front row.
Troy Corser put in another positive performance on his BMW S1000 RR to take the eleventh quickest slot, one position in front of the championship leader Noriyuki Haga (Ducati Xerox), who lapped in a good race pace. Tom Sykes (Yamaha World Superbike) crashed out towards the end of the session, while Assen proved to be an unfortunate circuit once again for John Hopkins (Stiggy Racing Honda), who crashed heavily in the morning's free practice session. The American dislocated his left hip in the crash and will miss the race. Tomorrow a decision will be taken on any eventual further measures and how long he needs for recovery.
Friday Times: 1. Spies B. (USA) Yamaha YZF R1 1'38.747; 2. Smrz J. (CZE) Ducati 1098R 1'39.055; 3. Kagayama Y. (JPN) Suzuki GSX-R 1000 K9 1'39.128; 4. Checa C. (ESP) Honda CBR1000RR 1'39.141; 5. Fabrizio M. (ITA) Ducati 1098R 1'39.238; 6. Laconi R. (FRA) Ducati 1098R 1'39.246; 7. Neukirchner M. (GER) Suzuki GSX-R 1000 K9 1'39.265; 8. Rea J. (GBR) Honda CBR1000RR 1'39.359; 9. Kiyonari R. (JPN) Honda CBR1000RR 1'39.506; 10. Haslam L. (GBR) Honda CBR1000RR 1'39.585; 11. Corser T. (AUS) BMW S1000 RR 1'39.597; 12. Haga N. (JPN) Ducati 1098R 1'39.621; 13. Byrne S. (GBR) Ducati 1098R 1'39.784; 14. Muggeridge K. (AUS) Suzuki GSX-R 1000 K9 1'39.897; 15. Sykes T. (GBR) Yamaha YZF R1 1'39.899; 16. Biaggi M. (ITA) Aprilia RSV4 Factory 1'39.93
Spies' Superpole steamroller continues for Yamaha at Assen
Assen, Saturday 25th - Ben Spies (Yamaha World Superbike) notched up his fourth successive Superpole crown in a row at the Assen TT Circuit today, a record for a start of the season run, and just two poles away from Doug Polen's all-time record of six during the 1991 season. The Texan once again made the session his own, powering to a time of 1 minute 37.626 seconds and pulverizing the previous record held by Bayliss in 1'38.355. The Yamaha man was pushed hard all the way however as he strove to improve on the 1'38.765 time of Jakub Smrz (Guandalini Ducati), who will start alongside. The front row also sees Britain's Leon Haslam (Stiggy Racing) in third place, once again the top Honda runner, and championship leader Noriyuki Haga (Ducati Xerox) in fourth.
Ben Spies: "It went good. Row 1 is good for us but I wish they gave points for this, it's a couple more feet ahead on the starting line and you have an advantage. I'm really happy with the bike on race tyres, obviously the times are a little slower but the balance for me is better. The bike's working good, the team's making headway and it's getting better every session so I think it's going to be a good battle tomorrow. Assen is a great track and has got a lot of history, so I'm having fun."
Jakub Smrz: "We did a really good Superpole and the team did a great job. My bike is perfect, now we have to concentrate on the races tomorrow, because the last two weekends were not really lucky for me. We worked well on the race set-up, which seems to be OK. Now I just have to make a good start and follow the leaders or stay up at the front."
Leon Haslam: "It's fantastic and a big credit to the team. The circuit for me has got a lot of history so to get a front row start I'm over the moon! Hopefully we can convert it into two podiums. John unfortunately will miss everything this weekend but the team has worked hard and I feel we've got a really good race set-up for tomorrow, hopefully we can give the British fans something to look at!"
Fifth position on row 2 went to Michel Fabrizio (Ducati Xerox), ahead of Max Neukirchner (Suzuki Alstare), the German looking quick on race pace, with Carlos Checa (Hannspree Ten Kate Honda) seventh, while Tom Sykes (Yamaha World Superbike) had a positive run for eighth after his two crashes today. Disappointment for Max Biaggi (Aprilia Racing), who will start from the third row, together with Regis Laconi (Ducati), who expected a better position after lapping on top form in qualifying, while Troy Corser lines his BMW Motorrad machine up on the fourth row.
Superpole Times: 1. Spies B. (USA) Yamaha YZF R1 1'37.626; 2. Smrz J. (CZE) Ducati 1098R 1'37.765; 3. Haslam L. (GBR) Honda CBR1000RR 1'38.072; 4. Haga N. (JPN) Ducati 1098R 1'38.202; 5. Fabrizio M. (ITA) Ducati 1098R 1'38.215; 6. Neukirchner M. (GER) Suzuki GSX-R 1000 K9 1'38.353; 7. Checa C. (ESP) Honda CBR1000RR 1'38.640; 8. Sykes T. (GBR) Yamaha YZF R1 1'38.790; 9. Kagayama Y. (JPN) Suzuki GSX-R 1000 K9 1'38.288; 10. Biaggi M. (ITA) Aprilia RSV4 Factory 1'38.441; 11. Rea J. (GBR) Honda CBR1000RR 1'38.510; 12. Laconi R. (FRA) Ducati 1098R 1'38.521; 13. Muggeridge K. (AUS) Suzuki GSX-R 1000 K9 1'38.802; 14. Byrne S. (GBR) Ducati 1098R 1'38.811; 15. Corser T. (AUS) BMW S1000 RR 1'38.906; 16. Kiyonari R. (JPN) Honda CBR1000RR 1'39.079

Here is (19) Spies pulling off from (75) Neukirchner and (41) Haga on the opening las of race 2 before both Spies and Neukirchner crashed out.
Race 1: Spies Nips Haga in Last Corner for the Win
Spies took his fourth win of the season by forcing his way past points leader Haga in a thrilling final lap. The decisive move came a couple of turns from the flag, and the Texan then closed the door on his rival to win. Third place went to Haslam, who had the satisfaction of recording a new lap record. Yamaha's good all-round performance was completed with fourth place for Tom Sykes, the British rider finishing ahead of Max Biaggi (Aprilia), well up again after struggling in qualifying. Sixth place went to Smrz, while Michel Fabrizio could only manage eighth with the second factory Ducati. Troy Corser put in a good performance on the BMW, while Max Neukirchner (Suzuki Alstare) could only finish 13th after crashing out from second place and then rejoining. Carlos Checa (Hannspree Ten Kate Honda) also crashed out while trying to catch up after a poor start.
Ben Spies: "I was trying to set a really good pace in the first few laps, but just didn't have the same feeling I had in practice with the bike, and Nori came by and I saw nobody was behind Haslam, so I just sat back and watched. When the tyres started going off we made some moves, there were some close moments with Leon but we kept it clean. I knew I had to go and I fought it out with Nori over the last two laps. Actually I didn't know where to pass Nori, but I got a good run and it was close."
Noriyuki Haga: "I am a little bit disappointed but we did a very good race. I got a good start but just at the beginning of the race Ben was quite faster and I tried to catch up with him. It was difficult because I had a little problem with the bike. I caught up again and passed him and tried to push but couldn't. So at this point I just lost a few points for the championship."
Leon Haslam: "I felt really good to be fair, the race pace was good and I was just sitting behind Nori. I was losing a lot of time out of the hairpin and onto the start-finish straight and was trying to match Nori through there and the next minute me and Spies had a good elbow session but it was a fantastic race and again a big thanks to the team to give me a package to do that."
Superbike Race 1 Results: 1. Spies B. (USA) Yamaha YZF R1 36'31.338 (164,628 kph); 2. Haga N. (JPN) Ducati 1098R 0.154; 3. Haslam L. (GBR) Honda CBR1000RR 0.779; 4. Sykes T. (GBR) Yamaha YZF R1 8.775; 5. Biaggi M. (ITA) Aprilia RSV4 Factory 11.275; 6. Smrz J. (CZE) Ducati 1098R 16.126; 7. Rea J. (GBR) Honda CBR1000RR 19.555; 8. Laconi R. (FRA) Ducati 1098R 19.760; 9. Fabrizio M. (ITA) Ducati 1098R 23.006; 10. Corser T. (AUS) BMW S1000 RR 24.285; 11. Byrne S. (GBR) Ducati 1098R 26.003; 12. Muggeridge K. (AUS) Suzuki GSX-R 1000 K9 27.814; 13. Neukirchner M. (GER) Suzuki GSX-R 1000 K9 36.962; 14. Xaus R. (ESP) BMW S1000 RR 39.025; 15. Kiyonari R. (JPN) Honda CBR1000RR 41.505; 16. Roberts B. (AUS) Ducati 1098R 41.810
The early laps of Race 2, Haga (41) pulls away with the lead after Spies has crashed out, Neukirchner (76) is reeled in by the fast running Brit Leon Halsem (11 Stigey Honda). Max soon take a bad fall himself on the Alstare Suzuki, but woud remount in last position and work back up to 16th before the finish.
Race 2: Spies Crashes from Lead on 2nd lap, Haga Romps to Victory
The outcome was decided on lap 2 when Spies slid off into the gravel while in the lead. This left Haga with an unchallenged run to the flag as he leveled the score with Spies with his fourth win of the year, together with a new fastest lap. Haslam improved on his result in the first encounter with a second place in race 2, the British rider now proving to be a true podium contender. Smrz scored his first-ever career podium in third, the Czech rider getting the better of Fabrizio in the final stages. The Italian had a broken gearbox in the end but managed to bring his 1098 home fourth. In the all-British battle for fifth, Jonathan Rea (Hannspree Ten Kate Honda) got the edge over Sykes. Suzuki's disappointing weekend was completed with a ninth place for Neukirchner and 12th for Yukio Kagayama. Corser scored another tenth place for BMW, just ahead of team-mate Ruben Xaus. Biaggi's race came to an end at the start with a clutch problem, while Shinya Nakano failed to take the start after his crash in race 1 in which he damaged his previously operated-on shoulder.
Noriyuki Haga: "First of all, I'm sorry for Ben and his crash, I hope he is fine. After the first race we changed the suspension a little bit and the bike was really comfortable, so a big thanks to everyone in the team. I think it's nine years since I won here, in 2000, so I'm very happy and now I'm looking forward to Monza."
Leon Haslam: "I was a little bit ambitious into the first turn but I thought the pace was OK. I rose through to pass Fabrizio, but it took me a lot of the race and when I finally did get past, there wasn't much left and maybe with the cooler conditions the grip wasn't quite so high. I made a few little mistakes but managed to get enough of a break to run into second."
Jakub Smrz: "I was just staying behind Michel and he had a problem or something, it was really close but I could just pass him at the finish. I'm really happy because everybody said before that I can be fast only in qualifying, so now I showed everyone that I can be fast in the race as well and it's a great result for me and the team."
Superbike Race 2 Results: 1. Haga N. (JPN) Ducati 1098R 36'31.712 (164,6 kph); 2. Haslam L. (GBR) Honda CBR1000RR 2.678; 3. Smrz J. (CZE) Ducati 1098R 4.603; 4. Fabrizio M. (ITA) Ducati 1098R 8.981; 5. Rea J. (GBR) Honda CBR1000RR 12.104; 6. Sykes T. (GBR) Yamaha YZF R1 14.575; 7. Checa C. (ESP) Honda CBR1000RR 17.449; 8. Byrne S. (GBR) Ducati 1098R 17.729; 9. Neukirchner M. (GER) Suzuki GSX-R 1000 K9 18.167; 10. Corser T. (AUS) BMW S1000 RR 25.056; 11. Xaus R. (ESP) BMW S1000 RR 32.617; 12. Kagayama Y. (JPN) Suzuki GSX-R 1000 K9 32.688; 13. Roberts B. (AUS) Ducati 1098R 37.415; 14. Baiocco M. (ITA) Kawasaki ZX 10R 55.088; 15. Scassa L. (ITA) Kawasaki ZX 10R 55.325; 16. Laconi R. (FRA) Ducati 1098R 1'18.514
Points (after 4 of 14 rounds): 1. Haga 180; 2. Spies 120; 3. Haslam 94; 4. Fabrizio 80; 5. Neukirchner 75; 6. Sykes 70; 7. Biaggi 65; 8. Laconi 64; 9. Rea 53; 10. Smrz 44. Manufacturers: 1. Ducati 180; 2. Yamaha 145; 3. Honda 109; 4. Suzuki 76; 5. Aprilia 68; 6 BMW 43; 7. Kawasaki 10.
Heated Supersport battle with (50) Laverty, (26) Lascorz.

World 600cc Supersport to Eugene Laverty on Parkalga sr Honda
The Supersport race saw a second win of the year for Irishman Eugene Laverty (Parkalgar Honda), who held off a last-lap attack from Cal Crutchlow (Yamaha World Supersport), the new points leader. Third went to Joan Lascorz (Kawasaki Motocard.com), who led for much of the race before losing out to his two rivals in the final stages. Fabien Foret (Yamaha World Supersport) was again up at the front, the Frenchman scoring his best result of the season in fourth, while Kenan Sofuoglu (Hannspree Ten Kate Honda) managed to salvage a fifth place in a disappointing day for the Dutch team, who lost Andrew Pitt in a crash while fighting for a podium place. Mark Aitchison (Althea Honda) was next up, ahead of fellow Aussie Anthony West (Stiggy Racing Honda) and Dutchman Barry Veneman (Hoegee Suzuki).
Supersport 600cc Results: 1. Laverty E. (IRL) Honda CBR600RR 35'45.160 (160,528 kph); 2. Crutchlow C. (GBR) Yamaha YZF R6 0.10; 3. Lascorz J. (ESP) Kawasaki ZX-6R 0.178; 4. Foret F. (FRA) Yamaha YZF R6 1.777; 5. Sofuoglu K. (TUR) Honda CBR600RR 1.901; 6. Aitchison M. (AUS) Honda CBR600RR 5.492; 7. West A. (AUS) Honda CBR600RR 12.551; 8. Veneman B. (NED)Su zuki GSX-R600 12.841
Points (after 4 of 14 rounds): 1. Crutchlow 74; 2. Laverty 68; 3. Sofuoglu 65; 4. West 52; 5. Pitt 43; 6. Aitchison 34; 7. Foret 28; 8. Lascorz 27.
---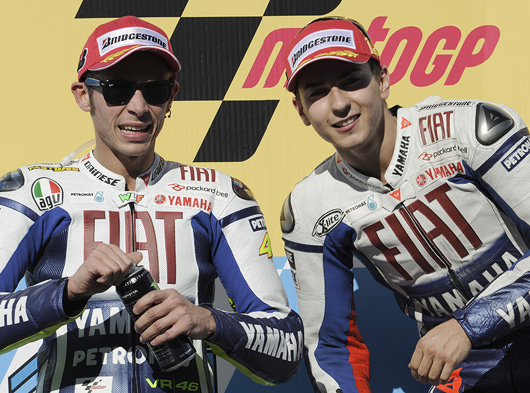 Yamahas' 1-2 podium at Motegi


2009 MotoGP World Championship , Round 2 of 17, Polini Grand Prix of Japan
Fiat Yamaha's Lorenzo and Rossi
seal incredible one-two in Japanese GP
Polini Grand Prix of Japan, Motegi,, April 24-26th - After it looked at one point on race-day as if the Grand Prix of Japan would be a complete washout, the sun broke through the dark clouds and streamed onto the Motegi circuit as the Fiat Yamaha team enjoyed a clean sweep of the top two spots. With qualifying having been cancelled yesterday due to the heavy rain, both riders started the race from the front row of the grid according to their times from Friday's free practice. Following a stunning race, Jorge Lorenzo took the glory of standing on the top step of the podium, after coming through a brilliant scrap with his team-mate Valentino Rossi, who finished a close second.
Dani Pedrosa (Repsol Honda RC212V) celebrated 50 years of Honda excellence in the World Championships by taking a hard-fought third place, from eleventh on the grid, in the company's home race on the Twin Ring Motegi circuit, while Jorge Lorenzo (Fiat Yamaha) held off teammate Valentino Rossi for the victory.
Pedrosa's teammate Andrea Dovizioso battled for a podium spot until the final few laps when he fell back to finish a close fifth to the fourth place finisher, Casey Stoner (Ducati Marlboro)
Rossi Tops Stoner in Practive for Japanese MotoGP
Friday 24th, Report Day 1 - Valentino Rossi was quicker than Casey Stoner on Friday in Japan. That was the result that everyone was awaiting after the latter's dominance in Qatar, but the Italian's fightback doesn't tell the whole story of the first free practice session for the Polini Grand Prix of Japan.
Reigning World Champion and 2008 racewinner Rossi left his final push to the last possible moment, cutting more than half a second off his previous best time in the session to edge out the current series leader. The Italian stopped the clock at 1'48.545 to bring an end to Stoner's perfect record in practice, qualifying and warmup sessions in 2009.
Ducati Marlboro man Stoner threw himself into the challenge with an early 1'48.601 lap of the Twin Ring Motegi circuit, but elected to return to the garage instead of returning fire once Rossi had taken the advantage.
Rossi's Fiat Yamaha teammate Jorge Lorenzo had expressed his desire to record times closer to those of Stoner in the run-up to Japan and, like Rossi, his ultimate lap was also his most effective. The Spaniard was the final rider to go round in under 1'49.
Chris Vermeulen and Loris Capirossi showed that Rizla Suzuki's efforts to improve the GSV-R over the winter had been something of a success, both in the top six at a track that did not go well for the duo in 2008. They sandwiched satellite Yamaha rider Colin Edwards on the timesheet, whilst the top ten also included fastest Honda rider Andrea Dovizioso, Hayate Racing surprise Marco Melandri, 2007 podium finisher Toni Elías and Monster Tech3 Yamaha's James Toseland.
Home rider Yuki Takahashi ran off track in the session, whilst fellow rookie Mika Kallio had a spectacular highside –from which he returned to action during the 45-minute run.
Valentino Rossi - Position: 1s : (1'48.545) Laps: 18 - "This is a very good start because we're at the top and this is very important! The conditions today were hard and it was difficult to reach the limit and work to the maximum with the bike and tyres, but it looks like we have a good potential here so I am happy. It's important to be in front, even though it's only Friday, because in Qatar we were second in every session and really we don't like second so much; for sure first is much better! Tomorrow it seems it may rain but we haven't had the chance to try the new Bridgestone rain tyres yet so I think that this could be an important chance for us to understand how they are. It will be interesting and I hope they are good!"
Casey Stoner 2nd (1'48.601) - "We're not too far from setting some very decent lap times and considering how cold it was this afternoon I think everything has gone as well as we could have expected. It looks as though the weather forecast is not good for tomorrow so this session might not turn out to be so important in terms of qualifying, but then if it's dry again on Sunday it could turn out to be crucial. In general the bike feels quite good - we need to try and find a bit more grip on the rear and we have a few ideas that we think could work – but now it's just a case of seeing what the heavens throw at us tomorrow and dealing with that as best we can."
Nicky Hayden – (Ducati Marlboro Team) 13th (1'50.393) - "The track was quite slippery when we first went out and the air felt so cold, with the humidity, it felt like it could rain any second. We certainly had to be careful getting some heat into the left side of the rear and into the front. We tried a few things out with the set-up – I ran both bikes and worked in the direction we'd found in Qatar, where the balance of the bike had felt much better in the later laps, with less fuel on board. Obviously the lap time isn't great but we improved with every run and pretty much every lap, we got a good number laps in just in case it does rain tomorrow and we worked out a basic direction we need to take for the race, so I'm satisfied. "
Circuit Record: Casey Stoner (Ducati - 2008), 1'55.153, 168.193 Km/h
Best Pole: Jorge Lorenzo (Yamaha - 2008), 1'53.927, 170.003 Km/h
Fiat Yamaha's Lorenzo and Rossi seal incredible one-two in Japanese GP
Sunday April 26th - The race may prove to be one of the most difficult of the season for the riders, who went into the second grand prix of the season with a number of questions. The only dry session was Friday, when the temperature was 10C colder than on race day. Saturday's practice was held in a steady rain and qualifying was rained out. Which meant the teams had to make educated guesses on everything from suspension to tires, and some of those guesses were proven wrong.
Rossi was away at the start, with Pedrosa in hot pursuit after making a bullet start from 11th on the grid. The Spaniard forced the action in the early going, despite still having limited mobility in his left knee.On the third lap Rossi's teammate Lorenzo came past, while Dovizioso chased Pedrosa.
Now came the heart of the race, with the Yamaha riders being chased by the Honda riders and both teams fighting among themselves for bragging rights. Lorenzo made a pass of Rossi on the ninth lap, but wasn't able to break away. It was only when Rossi had a slight problem just past the mid-point in the 24-lap race that Lorenzo was able to put a second on his teammate.
A few laps later and it was Pedrosa Rossi had to contend with. The world champion hung tough until the 15th lap when Rossi made a mistake that cost him a second and dropped him closer to the clutches of Pedrosa.Pedrosa made his first move up in the inside in turn one on lap 17, but Rossi immediately struck back. Pedrosa tried him again in turn five, but couldn't make a clean pass. It was on the run down the back straight that Pedrosa snuck by into the 90 degree right that leads into the tunnel.Rossi fought back on the 19th lap, taking Pedrosa in turn five before the first tunnel. From there he was able to hold onto second, but finished 1.304 secs. back of Lorenzo, who won by 1.304s.
Dovizioso chased Pedrosa closely in the first half before his pace slowed slightly in the second half. It was then that Stoner made a run after struggling with front brake problems in the beginning. Stoner passed Dovizioso for fourth in turn three on the 23rd of 24 laps.
LCR Honda's Randy De Puniet finished 11th in the midst of a four-rider battle for ninth that went to James Toseland (Monster Energy Yamaha Tech 3). San Carlo Honda Gresini's De Angelis, starting his 150th GP, finished two spots behind in 13th . More than most riders, De Angelis was handicapped by the lack of dry practice. The settings he chose for the race clearly didn't work and he did his best to keep the group in front of him in sight, only to fade at the end.
Toni Elias (San Carlo Honda Gresini) had worked his way up to eighth place before what he described as a "stupid crash" put him to the back of the field. Despite losing valuable time, the Spaniard remounted to score the final point in 15th place. Scot Racing Team MotoGP's Yuki Takahashi failed to finish his home race. The Japanese rider crashed among a tight pack of riders in turn five on the first lap.
With Lorenzo leading the championship on 40 points, one ahead of Rossi, the MotoGP World Championship moves on to his home race at Jerez in just a week's time.
Lorenzo (98) blows past Rossi and Pedrosa.

Jorge Lorenzo - Position: 1stTime: 43'47.238 "First of all I just want to thank my team, my Mum, Dad and whole family, my friends and all the team workers. Also Yamaha, as it is their home race, it was a difficult race because I didn't really get a very good start, I think I even finished the first lap in third or fourth. After that I began to catch up the pace. I passed Valentino and opened up a little gap, about a second and a half, and he was following me very hard. I had to ride the best I can to get the victory."
Valentino Rossi - Position: 2ndTime: + 1.304 - "It was a great race, long, very difficult and also physical. I got a really good start from the front row, but there was a part of the race that I wasn't quite able to ride like I wanted, there was some kind of problem and I wasn't fast enough to pull away. I lost time from Jorge and then was involved in a battle with Dani and then in the last part of the race I was able to step up my pace and pick my lines, setting some good lap times. I tried to come back but unfortunately Lorenzo was too far away. It's a good race, second place is not a victory but it's still twenty points for the championship. I think the championship will become very interesting now because we have four riders ready to battle for wins at the end."
Dani Pedrosa, Repsol Honda: 3rd: "I'm very happy with this result. I've had injury problems for a long time - since last October - and so to be on the podium in the second race of the season is fantastic for me, and really we didn't expect this so soon. I got a good start - the start was really the key part of my race - and I was able to get away with the front group. I couldn't really believe it when I stayed with them because I was expecting to drop back after maybe one or two laps. But then it was lap five or six and I was still there and I was thinking, 'this is unbelievable'. In the end I was near the front for the whole race, had a good battle for second, and finished on the podium so this is great. We still have to sort out some issues on the machine, but it's a very positive result going in to the Jerez, and I'd like to say big thanks to the team and the fans."
Daniele Romagnoli - Lorenzo Team Manager: "I'm really happy about today's result, we didn't expect a victory, maybe we were just thinking about the podium, so I'm extremely happy. We did a great job on Friday and I think that was the key because we worked a lot around the harder tyre and in the end that was the good one. With the information and the data we collected, today we just had to do some fine-tuning to the bike and it has brought us this special victory, and we are able to show the world how strong Yamaha is. Jerez will be a great battle, like today it will be a big show and so i am looking forward to that event."
Davide Brivio - Rossi Team Manager: "First of all, congratulations to Jorge, who rode very well, and congratulations to Yamaha, because this result confirms the great job we have done in the last months. We are always very fast and for the second time this year we have two riders on the podium. Night or day, we are always there! Valentino took a very important second place, because our target is to be always there. Now we are looking forward to going back to Europe for a very important phase of the championship and it is crucial to start this time on top".
MotoGP Race Classification: (24 laps = 115.224 km)
Pos/ Rider / Nat / Team / Motorcycle / Time/ KM/H / Gap
1 / Jorge LORENZO / SPA / Fiat Yamaha Team / YAMAHA / 43'47.238 / 157.886 /
2 / Valentino ROSSI / ITA / Fiat Yamaha Team / YAMAHA / 43'48.542 / 157.808 / 1.304
3 / Dani PEDROSA / SPA / Repsol Honda Team / HONDA / 43'51.001 / 157.661 / 3.763
4 / Casey STONER / AUS / Ducati Marlboro Team / DUCATI / 43'52.929 / 157.545 / 5.691
5 / Andrea DOVIZIOSO / ITA / Repsol Honda Team / HONDA / 43'56.445 / 157.335 / 9.207
6 / Marco MELANDRI / ITA / Hayate Racing Team / KAWASAKI / 44'17.793 / 156.071 / 30.555
7 / Loris CAPIROSSI / ITA / Rizla Suzuki MotoGP / SUZUKI / 44'19.994 / 155.942 / 32.756
8 / Mika KALLIO / FIN / Pramac Racing / DUCATI / 44'26.654 / 155.553 / 39.416
9 / James TOSELAND / GBR / Monster Yamaha Tech 3 / YAMAHA / 44'30.344 / 155.338 / 43.106
10 / Chris VERMEULEN / AUS / Rizla Suzuki MotoGP / SUZUKI / 44'30.483 / 155.330 / 43.245
11 / Randy DE PUNIET / FRA / LCR Honda MotoGP / HONDA / 44'32.072 / 155.237 / 44.834
12 / Colin EDWARDS / USA / Monster Yamaha Tech 3 / YAMAHA / 44'33.778 / 155.138 / 46.540
13 / Alex DE ANGELIS / RSM / San Carlo Honda Gresini / HONDA / 44'40.763 / 154.734 / 53.525
14 / Niccolo CANEPA / ITA / Pramac Racing / DUCATI / 45'09.042 / 153.119 / 1'21.804
15 / Toni ELIAS / SPA / San Carlo Honda Gresini / HONDA / 44'25.681 / 149.126 / 1 lap
Pole Position: Valentino ROSSI 1'48.545 159.229 Km/h
Fastest Lap : Jorge LORENZO 1'48.477 159.329 Km/h Lap 15
Circuit Record Lap:2008 Casey STONER 1'47.091 161.391 Km/h
Circuit Best Lap: Jorge LORENZO 1'45.543 163.758 Km/h 2008
Final World Championship Positions:
1 LORENZO 41, 2 ROSSI 40, 3 STONER 38, 4 DOVIZIOSO 22, 5 PEDROSA 21,
6 EDWARDS 17, 7 KALLIO 16, 8 VERMEULEN 15, 9 DE ANGELIS 13,
10 MELANDRI 12, 11 DE PUNIET 11, 12 CAPIROSSI 9, 13 ELIAS 8, 14 TOSELAND 7,
15 HAYDEN 4.
250cc Race Classification (23 laps = 110.423 km)
1 / Alvaro BAUTISTA / SPA / Mapfre Aspar Team / APRILIA / 44'06.488 / 150.207 /
2 / Hiroshi AOYAMA / JPN / Scot Racing Team 250cc / HONDA / 44'12.377 / 149.874 / 5.889
3 / Mattia PASINI / ITA / Team Toth Aprilia / APRILIA / 44'28.320 / 148.978 / 21.832
4 / Gabor TALMACSI / HUN / Balatonring Team / APRILIA / 44'32.394 / 148.751 / 25.906
5 / Alex DEBON / SPA / Aeropuerto-Castello-Blusens / APRILIA / 44'37.273 / 148.480 / 30.785
6 / Shuhei AOYAMA / JPN / Harc-Pro / HONDA / 44'40.276 / 148.314 / 33.788
7 / Lukas PESEK / CZE / Auto Kelly - CP / APRILIA / 44'43.460 / 148.138 / 36.972
8 / Thomas LUTHI / SWI / Emmi - Caffe Latte / APRILIA / 44'47.506 / 147.915 / 41.018
9 / Karel ABRAHAM / CZE / Cardion AB Motoracing / APRILIA / 44'48.137 / 147.880 / 41.649
10 / Shoya TOMIZAWA / JPN / CIP Moto - GP250 / HONDA / 44'59.351 / 147.266 / 52.863
11 / Hector BARBERA / SPA / Pepe World Team / APRILIA / 45'07.376 / 146.829 / 1'00.888
12 / Raffaele DE ROSA / ITA / Scot Racing Team 250cc / HONDA / 45'12.835 / 146.534 / 1'06.347
13 / Imre TOTH / HUN / Team Toth Aprilia / APRILIA / 45'59.637 / 144.048 / 1'53.149
14 / Kazuki WATANABE / JPN / Bardral Racing with SJ-R / YAMAHA / 44'08.992 / 143.541 / 1 lap
15 / Vladimir LEONOV / RUS / Viessmann Kiefer Racing / APRILIA / 44'36.925 / 142.043 / 1 lap
Pole Position: Marco SIMONCELLI 1'53.093 152.826 Km/h
Fastest Lap: Alvaro BAUTISTA 1'54.047 151.548 Km/h Lap 20
Circuit Record Lap: Alvaro BAUTISTA 1'51.412 155.132 Km/h 2008
Circuit Best Lap: Shuhei AOYAMA 1'51.327 155.250 Km/h 2007
Final World Championship Positions:
1 BAUTISTA 34, 2 AOYAMA 33, 3 BARBERA 30, 4 CLUZEL 20, 5 TALMACSI 19, 6 LUTHI 18,
7 PASINI 16, 8 DI MEGLIO 16, 9 DE ROSA 15, 10 DEBON 13, 11 PESEK 12, 12 AOYAMA 10,
13 TOMIZAWA 10, 14 WILAIROT 8, 15 ABRAHAM 7.
---
The Official SBK 2008/2009 Yearbook
Commerating the 20th Anniversary
of World Superbike and
Troy Bayliss' 3rd World Championship Title

The World Superbike Championship is a spectacle for the technical enthusiast with modified production bikes representing the point of contact between the most advanced technology and the machines that we see darting along the public roads every day. The official Superbike World Championship book has always tried to transmit this important fact through its pictures.

From the 2008 edition, that message is further developed and goes even deeper into the technical aspects of the sport, so extremely interesting to the most competent fans. But as well as the bikes, the men of the category are able to maintain close contact with their public. That is why champions and their colleagues recount their human side as well as their sports career, aspects to which ample space has been given in the Superbike annual. There is no lack of chapters devoted to other categories (Supersport, Superstock 1000, Superstock 600), which complete the world championship program. All highlighted by the most spectacular pictures of the season.
---
New FastDates.com Greeting Cards!
It's been nearly impossible for motorcycle enthusiasts to find cool motorcycle related greeting cards, but now through our new association with CafePress, a print-on-demand publisher, I am excitied to now offer you the first selection in a new line of official FastDates.com Calendars Greeting Cards. This first Card features our beautiful Calendar Kitten Tiffany Toth getting down for action behind the bubble of the incredible Ducati 1098S Tri Colore limited edition Superbike. Cards are printed on high quality card stock with a glassy front, measure a large 5x7 inches and come packaged (10) per box with envelopes. - Cheers! Jim Gianatsis
Order at CafePress.com/FastDates
Below - Just in case you can't get enough, here's one more look, of Tiffany who is featured in all 3 of our 2009 FastDates.com Calendars, and in some very sexy pictorials in Members Corner!
---
There's more! Go to Pit Lane News Previous Page
Also Visit: Fast Dates Calendar News • Iron & Lace Calendar News
Calendar Girl News • Meet the Models • Paddock Garage
Calendar Kittens, The Paddock Garage, Screensavers, Iron & Lace Garage


MotorcycleSuperstore.com


Now Available
2009 FastDates.com Calendars


The Official SBK
2008/2009 Yearbook
Awesome in full color! Commerating the 21st Anniversary of World Superbike
Troy Bayliss' 3rd World Championship Title>
PLus a technical look at ll the bikes, and a preview of Ben Spies and Noriyuki Haga battleing for the 2009 Champiosnhip!
We bought it ourselves and totally recommend it!
---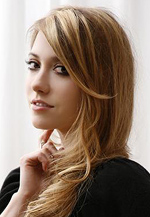 Calendar Kitten and
Singer Songwriter Actress
Elizabeth Nicole
Premiers 2 new Movies!
April 20th 2009 - One of favorite singer songwriters Elizabeth Nicole, who performed at our 2008 LA Calednar Motorcycle Show and Calendar Girl Muisc Festival,is also a vetern actress who has two brand new Hollywood feature movies premiering this month and next.
Her first movie is called "All Ages Night' about the problems of teens growing up in Hollywood and it is making its film festival premier on April 29th - See Elizabeth Nicole in All Ages Night - movie premiere on Wed, April 29 at 6:15pm at the Newport Beach Film Festival - buy tickets here http://newportbeach.bside.com
Her 2nd movie is called "Cornered' where she costars with vetern actor Steve Gootenburg. Elizabeth will be jetting off to the French Rivera next month for the world premier of the movie at the Cannes Film Festival.
If you can't join Elizabeth for her movie premiers, at least check out and buy her music on her MySpace.com/Elizabeth Nicole page. Elizabeth wrote and recorded all the songs in her ablum in her bedroom at home, playing all the instruments on a computer keyboard and singing all the backup vocals. Incredibly talented and beautiful!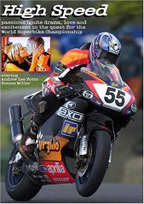 High Speed - the Movie
The best motorcyce racing movie ever made! Filmed on location at World Superbike, this an exciting romantic drama staring beautiful actress Sienna Miller.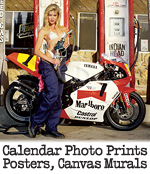 More 2009 Pin Up Model
& Motorcycle Calendars...

---
HAGA (DUCATI XEROX) BREAKS NINE YEAR ASSEN CURSE WITH RACE 2 TRIUMPH AT THE TT CIRCUIT
Assen (The Netherlands) Sunday 26th April: The Dutch crowds were witness to two spectacular Superbike races today at the historic TT circuit and Noriyuki Haga (Ducati Xerox) followed up a second place finish in Race 1 with a brilliant victory in Race 2, his second win at this track after the first, achieved nine years back in the year 2000.
In Race 1 Ducati Xerox rider Noriyuki Haga did not made a brilliant start and spent the first laps playing catch up to Ben Spies and Max Neukirchner. Once the second-placed Suzuki rider was out of the way, after an unfortunate fall during lap six, Noriyuki was able to choose his moment carefully to pass Spies during the twelfth lap. He subsequently held on to the lead ahead of Spies and Englishman Haslam until the very last lap when the American executed a well-timed pass that left Nitro-Nori with no time to retaliate, meaning that man in red Haga just missed on victory by a tenth of a second.
Meanwhile Noriyuki's team-mate Michel lost a few positions due to a not particularly fast start and although he made up a few places by mid-race, the ensuing close battle between himself, Smrz, Rea and Laconi made things tough and Fabrizio thus concluded Race 1 in ninth position.
In Race 2 Noriyuki got off to a flying start and went straight to the head of the pack, a fraction of a second behind Spies, who passed the leader's baton on to Haga during the second lap when he highsided in spectacular fashion and was thus forced to retire from the race. Haga then ran a lonely race up front, with team-mate Fabrizio and Honda rider Haslam fighting behind him for the second and third positions. Unfortunately Michel, who held off fourth-placed Smrz for the majority of the race, began to have problems getting his 1198 into gear during the final laps and eventually this meant that he just lost out on third, having to settle for a fourth place finish.
Noriyuki's performance today means that he has further increased his championship lead, with 180 points and a 60 point advantage over second-placed Spies. The manufactures championship continues to be led by Ducati with 180 points, ahead of Yamaha with 145.
Noriyuki Haga (Race 1 – 2nd, Race 2 - winner)
"It's been a great day for us and after nine years I have finally won again at Assen; I am very happy. In Race 1 I was a little disappointed to just lose out on the win on the very last lap but it was a great race. I set off strong but Spies and Haslam rode so hard today. First I had to push hard to catch Spies which was quite difficult as my bike was still not working perfectly and then to hold the lead was not easy either as the two of them were breathing down my neck. We changed the setting of the bike slightly for Race 2 and I was extremely comfortable on it. I'm sorry that Ben fell as I think we would have had another good battle but for me and my team it's been a very good day. I thank my engineer, my team, Ducati and the sponsors and now we head to Monza for the next challenge."
Speaking with David Tardozzi at Ducati Corse
April 22nd - Next Month at the Miller Motorsporet World Superbike race, Salt Lake City. FastDates.com will be joining the reigning World Championship Ducati Corse team to photograph their bikes and have Fast Dates Calendar Kitten Sabella shake serve as their 2009 season points leader Noriyuki Haga's grid girl for the race. In the meantime, SBK's Jullian Thomas had a chance to sit down and talk to the Ducati Corse superbike team manager Davide Tardozzi abut Haga and the season, thus far...
At the end of last season Davide Tardozzi, Ducati Corse's long-serving and successful Superbike team manager, found himself in the unenviable position of having to replace the legend, Troy Bayliss. When Noriyuki Haga won the opening round at Phillip Island on his first appearance on the factory 1098 machine, the decision to sign up the Japanese rider was fully vindicated. Now with Haga leading the table from Spies by 40 points, the change-over would appear to have gone smoothly. WorldSBK.com spoke to Tardozzi about the start of the season.
Did you expect Haga to get off to a Bayliss-like start in the championship?
"Yes, because I spoke to him a lot and I got the impression he would start the season well and with the right approach. Nori has looked calm and tranquil in these early stages, he believes a lot in the bike and the team and the results can be seen on the track, where he has interpreted all the situations perfectly and got the maximum out of them. When he didn't win against Spies it was because it was impossible and for this reason he never saw it as a defeat. His aim is to win the world title and he is racing with that in mind".
Were there a few fears that switching from an extrovert, communicative rider like Bayliss to someone who is basically the opposite might create an imbalance within the team?
"You can't sign Haga and ask him to be like Bayliss. They are two completely different characters, each one with his pros and cons. Troy was a lot more expansive but Nori is also lightening up and has already integrated well within the team. Out on the track, Bayliss was a rider who had to be calmed down and tranquillized, Haga has great self-control and generates a sense of tranquillity around him, especially now he has learnt to trust in the team".
Looking at the first three rounds of the championship, with three wins apiece for Haga and Spies, do you think the battle for the title will be a private affair between these two riders?
"It's very likely, because I think they have something extra over the others. But during the season there will for sure be other riders who can win races, Max Biaggi, Max Neukirchner and even our own Michel Fabrizio for example".
Michel had a great pre-season, then lost his way a bit but was back on it at Valencia: will that form be definite from now on?
"Some people might not agree with what I'm saying but I am convinced Michel has the potential to stay with Haga and Spies. The difference at the moment is that Michel must become more aware of what he is capable of. He takes to the track anxious to prove, instead he should calm down a bit and have more faith in his means, because he has the qualities".
A quick word about the new entries, Aprilia and BMW: do you think they have lived up to, down to or fully respected the expectations so far?
"They have done what I expected them to do, that is Aprilia competitive immediately and BMW playing catch-up. The real difference in the two situations has been experience: at Noale they know how to go racing, in Germany they still have to learn because they started from zero. In any case, both have invested a lot in their projects, and I'm sure that BMW will, like Aprilia, become competitive in the future".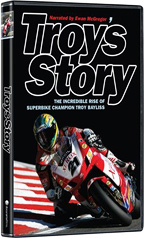 Troy's Story
The story of now 3-Time World Superbike Champion Troy Bayliss narrated by Ewan McGreggor. The video is made up of (6) 30-minute TV shows about the Champion's career and his life, beginning with his film footage of Troy taling about his minibike racing career at age 6 years! We bought it and totally recommend it!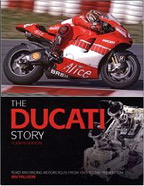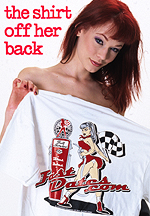 Order the Official
FastDates.com &
LA Calendar Bike Show
T-Shirts!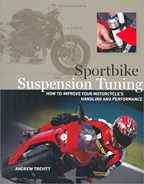 Sponsors, Purse, Additional Details Announced for Larry H. Miller Superbike Challenge
on USA World Superbike Weekend
TOOELE VALLEY, UTAH (April 17, 2009) — The Utah SportBike Association (UtahSBA) today released additional information about the Larry H. Miller Superbike Challenge, which will serve as a support event to the HANNspree FIM Superbike World Championship and FIM World Supersport Championship over the weekend of May 29-31, 2009.
The Larry H. Miller Superbike Challenge will be comprised of two UtahSBA classes, GTO and GTU, each of which will have a separate 30-minute race. Event sponsors will be the Utah Sports Commission, Plaza Cycle and Zantrex-3.
The purse for the event will total $55,000. The GTO race will pay a total of $30,000 with $8,000 to win, $6,000 for second, $4,000 for third, and will pay through 20th place, with 12-20 receiving $200. In the GTU race, the winner will receive $6,000 of a total purse of $20,000, with $4,000 for second, $3,000 for third and payment through 16th position, with 11th through 16th receiving $200. In addition, there will be $5,000 available for a King of Clubs award, to the group or club whose representatives obtain a combined best result.
In order to be eligible to enter, a racer must satisfy the following requirements: 1) be an AMA Member, 2) hold a current expert class or equivalent road racing license from a recognized club (including but not limited to CMRA, CCS, AHRMA, OMRA, WMRRA, USGPRU, UtahSBA, MRA, AFM, WSMC, WERA), 3) must have held an expert class license for at least one full year, and 4) must be at least 14 years of age. Alternatively, a racer may hold an AMA Pro Racing license (the license will satisfy all requirements listed above), or may petition for inclusion due to special circumstances. Racers and all of their support personnel must sign UtahSBA and AMA waivers of liability; for racers under the legal age, waivers must be signed by both parents or legal guardians.
The UtahSBA has created a new website specifically for this event, and entrants are advised to register online and get additional information at www.SuperbikeChallenge.com.
"We are thrilled to have the support of great sponsors like the Utah Sports Commission, Plaza Cycle and Zantrex-3 to make this event, and this generous purse, possible," said Lance Lee, President of the UtahSBA. "The level of interest has been huge, and now that registration is open we're sure that the fields will fill very quickly, so we encourage anyone who wants to race to register immediately.
"As always, working with the staff at Miller Motorsports Park has been terrific, and we are very excited to be part of what is going to be a fantastic weekend. We're ready to go racing right now!"
The HANNspree FIM Superbike World Championship returns to Miller Motorsports Park over the weekend of May 29-31, 2009, and will be joined by the FIM World Supersport Championship and the Larry H. Miller Superbike Challenge. Tickets for the event are on sale now at www.MMPTix.com.
For more information on Miller Motorsports Park, call the track at (435) 277-RACE (7223) or visit the website at millermotorsportspark.com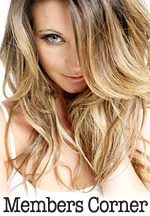 Members Corner
Hot Bikes, Sexy Kittens
Get Your Exclusive Grid Pass
aslo includes....
---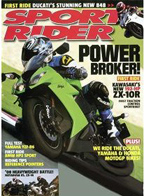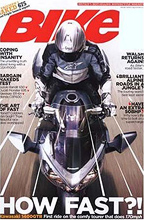 Notes from
Motegi MotoGP
It was 50 years ago this June that Naomi Taniguchi scored Honda's first World Championship point at the Isle of Man. Naomi Taniguchi, a spry and lively 73, paraded a replica of his RC142 prior to the MotoGP race. He was joined by Kunimitsu Takahashi, 69, the first Japanese rider to win a World Championship Grand Prix on a Honda. Takahashi rode the RC164 that Jim Redman rode to the 1963 250cc World Championship. Freddie Spencer, a three-time world champion for Honda, rode the radical 1984 NSR500 that featured the famous "upside-down" design, with the exhaust chamber above the engine and the fuel tank below it.
Laguna Seca
MotoGP Pit Walk
A recent email from Mazda Raceway at Laguna Seca hipped us to some interesting news for the USGP weekend. FYI: "Fans with a Friday or a 3-Day general admission ticket and paddock pass will be able to experience on Friday, July 3 The MotoGP Pit Walk, which will take place between 11 AM - 1 PM. Fans will be able to see what goes on inside the MotoGP pits and garages up close and personal, and it is expected that some of the star riders will be meeting fans and signing autographs." Tickets must be purchased from Laguna. Click for tix or call 1-800-327-7322 for info. As usual we'll be there between turns 2 and 3. Start making plans!
AMA Pro Racing Announces Daytona SportBike Addition to Mazda Raceway Laguna Seca Round
Schedule Change Completes the Set of Top-Tier Rider Talent on Event Roster
DAYTONA BEACH, Fla. (April 27, 2009) - With approval from event organizers, AMA Pro Racing and Mazda Raceway Laguna Seca today announced the addition of AMA Pro Daytona SportBike presented by AMSOIL to the weekend schedule of the Red Bull U.S. Grand Prix, complementing the already notable schedule of premier international motorcycle racing including the MotoGP World Championship and AMA Pro National Guard American Superbike presented by Parts Unlimited, as well as AMA Pro SuperSport presented by Shoei.

"We are very excited to bring the Daytona SportBike division to the Monterey Peninsula," said AMA Pro Racing President Roger Edmondson. "The Daytona SportBike riders will round out the world-class talent already scheduled to participate and the intense competition will provide the fans with as thrilling an experience as you can get in motorsports."

On-track activity will begin on Friday, July 3rd with MotoGP and AMA Pro Practice. Saturday, July 4th will see MotoGP and AMA Pro Qualifying and will end with the AMA Pro SuperSport race. Each premier class will have one race, ending the weekend on Sunday with the AMA Pro American Superbike, AMA Pro Daytona SportBike and MotoGP World Championship finals.

"We are showcasing the premier overseas and American motorcycle riders," said Gill Campbell CEO/general manager, Mazda Raceway Laguna Seca. "During the Red Bull U.S. Grand Prix you will be able to watch the amazing talents of our U.S. riders - Nicky Hayden, Colin Edwards and Ben Bostrom."

The event weekend will see a racing reunion for the championship-winning Hayden brothers across the three premier classes, with 2002 AMA Pro American Superbike and 2006 World Champion Nicky Hayden in MotoGP, 2005 AMA Pro SuperSport Champion Tommy Hayden in AMA Pro American Superbike, and 2007 AMA Pro SuperSport Champion Roger Hayden in AMA Pro Daytona SportBike.

"It's kind of cool to have everyone race together and it's great for my family - less stressful for my parents - to see us race all together and not be spread out all over the world," said Tommy Hayden, rider of the No. 22 Rockstar/Makita Suzuki GSX-R1000. "So it's really great for all of us and we always look forward to that race weekend."

"This will be the fifth year that we all get to be together at this race," added Roger Hayden, who will compete aboard the No. 95 Monster Energy Attack Kawasaki Ninja ZX-6R. "I really like having the whole family there. It's nice to be able to race and also cheer on my brothers at the same time."
S&S Engines Now Certified to Meet California Emissions Standards
April 24th - S&S Cycle of LaCrosse and Viola, Wisconsin has received executive orders from the California Air Recourses Board (CARB), which allows S&S to sell engines for "new build" custom bikes in the State of California.
The engines covered by the executive orders are the S&S V100C, V113C, V124C and X117C. The V100C, V113C, and V124C are carbureted engines with displacements of 100, 113, and 124 cubic inches respectively. The X117C is S&S Cycle's proprietary fuel injected 56° X-Wedge™ engine with a displacement of 117 cubic inches. Again, all of these engines are intended for "new build" custom motorcycles.

The V-Series engines are compatible with 1984-'99 style custom chassis designed for Harley-Davidson® Evolution® big twin engines, and are available in natural, wrinkle black powder coat and polished finishes. The X-Wedge engine requires a specially designed chassis to accommodate the X-Wedge engine mounts. The X117C is available in silver or wrinkle black powder coat, and polished finishes.

S&S CA engines are similar to the existing S&S 49-State EPA engines, but were made compliant with California evaporative emissions requirements with the addition of a carbon canister, a vapor valve, an evaporative hose routing label, and a sealed air cleaner assembly on the carbureted models. Additional restrictions have also been applied to the maximum capacity of the fuel tank and the distance between the fuel tank and engine.
S&S CA engines are available only through qualified S&S dealers. To become qualified, a dealer is required to pass a simple on-line class and test. This is to ensure that the selling dealer is familiar with the special requirements for compliance. Once these requirements have been met for a particular engine, S&S will issue a Manufacturer's Statement of Origin (MSO) for the engine. At that time, the motorcycle will be deemed certified, and the owner will be able obtain a title, and registration. The bike can then be offered for sale, sold, or ridden with no mileage or use restrictions.
It should be noted that these engines cannot legally be used to replace the engine in a previously registered vehicle. Looking ahead, S&S is currently working toward approval of one or more replacement engines for 1984-'99 Harley-Davidson big twin motorcycles originally equipped with Evolution engines. Executive orders approving replacement engines are expected sometime before the end of the year. This will allow S&S Cycle to provide owners of older Harley-Davidson motorcycles with an emissions legal performance upgrade and an alternative to rebuilding a worn stock engine.
S&S Cycle has been a leading manufacturer of performance engines and replacement parts for v-twin motorcycles for over 50 years. The company's headquarters and manufacturing facilities are based in Viola, Wisconsin. More information can be found at www.sscycle.com.