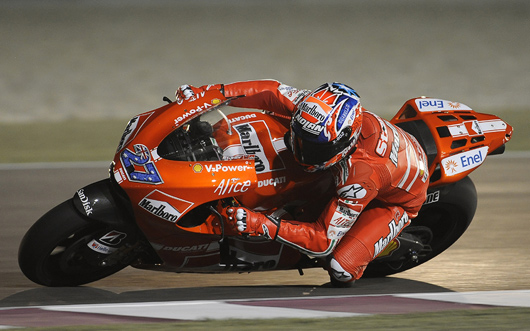 Stoner Tops MotoGP Night Testing at Qatar
Qatar, March 1-3, 2009 - Ducati Corse's Casey Stoner finished up this week's 3-day night MotoGP team testing at the Losail Circuit in Qatar a full 1-sceond quicker than his closest rival. In the final day of the test when Casey set his quickest time, the radical new frameless GP09 machine was also fitted with a carbon fibre swingarm, the first for a MotoGP machine. The complete MotoGP testing report from Qatar is in the Tire Chatter column at right.
---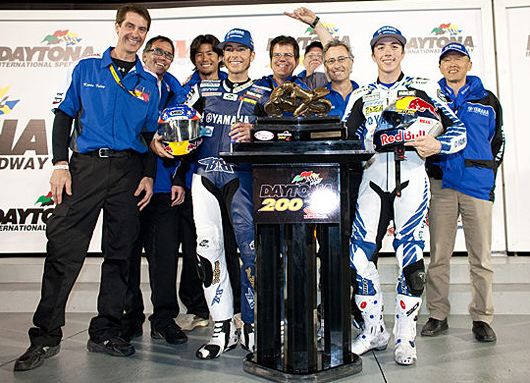 Ben Bostrom (left) and team mate Josh Harrin (right) share the Daytona 200 Victory Podium with their Yamaha team.
AMA / DMG 2009 National Roadracing Championship Round 1, Daytona

170 Entries Usher in New AMA Pro Road Racing Era in Season-Opener at Daytona
Preview: Biggest Daytona 200 by Honda Entry in Four Years Inaugural Night Race
DAYTONA BEACH, Fla. (February 26, 2009) - A full field of motorcycles and international riders - including 84 AMA Pro DaytonaSportBike entries for the 68th annual Daytona 200 by Honda - is heading to Daytona International Speedway next week for the debut event of the new AMA Pro Road Racing series.

AMA Pro Road Racing's four series have attracted a combined total of 170 entries, including the biggest field in four years and one of the largest in decades for the Daytona 200 by Honda. The race will be part of AMA Pro Road Racing's historic opening weekend with the first night running of the Daytona 200 under the lights, Friday, March 6. The advent of the new Daytona SportBike class will also bring the Daytona 200 action back to the full 3.55-mile legendary Daytona road course for the first time since 2004.

The AMA Pro American Superbike division shares the spotlight with the Daytona SportBikes at Daytona and attracted a strong entry of 41 motorcycles for its debut 2009 race. A 15-lap American Superbike sprint at 3:30 p.m. highlights the racing on Thursday, March 5, while the Daytona SportBike Daytona 200 starts at 8 p.m. Friday night for 57 laps under the lights.

With AMA Pro Road Racing's pair of premier classes accounting for 125 of the 170 entries, the starting field in each race will be full of past, present and future legends of AMA Pro Road Racing. Former Daytona 200 winners Jake Zemke (No. 1x Erion Racing Honda CBR600RR), Steve Rapp (No. 15 Black Hole Racing Aprilia RSV) and reigning race champion Chaz Davies (No. 57 Factory Aprilia/Millennium Technologies Team Aprilia RSV) will join record five-time winner Miguel Duhamel (No. 17 Team Suzuki/Blackfoot/Picotte Racing Suzuki GSX-R600) in looking for another Daytona 200 victory.

600ccDaytona Under the Kight s on Friday Night
Top riders gunning for a first Daytona 200 win include factory Yamaha teammates Ben Bostrom (No. 1s Team Graves Yamaha YZF-R6) and Josh Hayes (No. 4 Team Graves Yamaha YZF-R6), who is looking to avenge 2008's heartbreak after what appeared to be a convincing victory was taken away when his motorcycle failed post-race inspection. Chris Peris (No. 10 Erion Racing Honda CBR600RR), Jamie Hacking (No. 88 Monster Energy/Attack Kawasaki Ninja ZX-6R), teammates Jason DiSalvo (No. 40 M4 Suzuki GSX-R600) and Martin Cardenas (No. 36 M4 Suzuki GSX-R600) and Yamaha's young standouts Josh Herrin (No. 8 Team Graves Yamaha YZF-R6) and 16-year-old Tommy Aquino (No. 6 Team Graves Yamaha YZF-R6) will also be among the dozens of riders with a legitimate shot at victory.

Proven 600cc racing bikes from Honda, Yamaha, Suzuki and Kawasaki anchor the Daytona 200 entry list but the new Daytona SportBike class is home to a diverse lineup of motorcycles. Rapp and Davies are joined in the Aprilia camp by Hooters Aprilia teammates Shane Narbonne (No. 12 Hooters Aprilia RSV) and Ryan Elleby (No. 21 Hooters Aprilia RSV), Ty Howard (No. 67 Ridesmart Motorcycle Schools Aprilia RSV), Scott Jensen (No. 76 Black Hole Racing Aprilia RSV) and Ben Thompson (No. 97 Factory Aprilia/Millennium Technologies Team Aprilia RSV).

Buell is also well represented with six 1125Rs entered for Danny Eslick (No. 9 Bruce Rossmeyer's Daytona Racing/RMR Buell 1125R), Shawn Higbee (No.11 Higbee-Racing.com Buell1125R), Bryan Bemisderfer (No. 98 HDFR Buell 1125R), Latus teammates Josh Bryan (No. 45 Latus Motor Racing Buell 1125R) and Alan Schmidt (No. 54 Latus Motor Racing Buell 1125R) and Michael Barnes (No. 34 GEICO Powersports/RMR Buell 1125R). Barnes is recovering from a third metacarpal fracture hand injury from an early February testing accident but is using this weekend's CCS event to assess his readiness for the Daytona 200.
A pair of Ducati 848s are entered for Calvin Martinez (No. 20 Wisconsin Racing Ducati 848) and Gene Burcham (No. 94 GBR Motors Ducati 848) as well as two Triumph Daytona 675s for Mark Crozier (No. 14 Crozier Motorsports Triumph Daytona 675) and second-generation rider Justin Filice (No. 30 Bud Light Lime/R & B Motorsports Triumph Daytona 675), son of AMA Pro Hall-of-Famer Jimmy Filice.
Flag-to-flag coverage of the Daytona 200 by Honda will air on SPEED Friday, March 6, at 8:30 p.m. ET.

American Superbike Stars on Saturay Night
While the AMA Pro Daytona SportBike riders will shine in the Friday-night lights of the Daytona 200, the stars of AMA Pro American Superbike will take the spotlight on Thursday afternoon.

In addition to moonlighting in the 200 on their Yamaha Daytona SportBikes, Bostrom (No. 2 Yamaha Motor Corp. USA Yamaha R1) and Hayes (No. 4 Yamaha Motor Corp. USA Yamaha R1) will contest the full 2009 American Superbike season on Yamaha's latest R1 motorcycle. They will be among the American Superbike stars looking to kick off the year with a victory at Daytona and Bostrom and Hayes lead a seven-bike Yamaha American Superbike entry.

Another top threat is six-time defending Daytona American Superbike race winner Mat Mladin (No. 7 Rockstar/Makita Yoshimura Suzuki GSX-R1000) who is looking for his second Daytona win in a row and fourth in five years. Mladin's teammates at Yoshimura Suzuki include quick Americans Tommy Hayden (No. 22 Rockstar/Makita Yoshimura Suzuki GSX-R1000) and Blake Young (No. 79 Rockstar/Makita Yoshimura Suzuki GSX-R1000).

Other Suzuki threats come from Jordan Suzuki, Roadracingworld.com/M4 and Team Hooters. The Michael Jordan-owned Jordan Suzuki effort includes bikes for Georgia-based riders Aaron Yates (No. 23 Jordan Suzuki GSX-R1000) and Geoff May (No. 54 National Guard Jordan Suzuki GSX-R1000), Chris Ulrich rides for M4 (No. 18 Roadracingworld.com Suzuki GSX-R1000) and Daytona 200 competitors Narbonne (No. 12 Hooters Suzuki GSX-R1000) and Elleby (No. 21 Hooters Suzuki GSX-R1000) are also on Team Hooters American Superbikes. In total, a class-high 25 Suzuki GSX-R1000s are entered in the American Superbike race.

Honda's charge is led by former World Superbike Champion Neil Hodgson (No. 100 Corona Extra Honda CBR1000RR) and Australia's Aaron Gobert (No. 96 AGR Inc. Honda CBR1000RR) who top a five-bike Honda entry.

A lone Buell and three Ducatis will also be in the hunt. Higbee (No. 11 Higbee-Racing.com Buell 1125CR) rides the Buell while Larry Pegram (No. 72 Foremost Insurance/Pegram Racing Ducati 1098R) is expected to be the pacesetter of the trio of Italian-made motorcycles.
The American Superbike race will be featured in the premiere of the new AMA Pro Prime Time on SPEED Saturday, March 21, at 11 p.m. ET (8 p.m. PT).

SuperSport Send Off
The Daytona 200 by Honda weekend also marks the debut of the new AMA Pro SuperSport class, which is AMA Pro's showcase of America's future motorcycle racing stars today. The proving ground series is reserved strictly for up-and-coming riders between the ages of 16 and 21 who compete on 600cc sport bikes that are only minimally modified from what you will find at your local Suzuki, Yamaha, Kawasaki, Honda and other motorcycle dealerships.

SuperSport is also divided into East and West Championships although the Daytona kick-off is a combined race that has attracted two dozen young up and comers. The green flag is scheduled to drop for the 12-lap SuperSport race at 2 p.m. on Thursday.

A second combined East/West race will be held later in the year at Heartland Park Topeka while a SuperSport Shootout Finale will be held during the season-ending AMA Pro Road Racing weekend back at Daytona in October.

New SunTrust Moto-GT Moniker
The fourth and final series in the 2009 AMA Pro Road Racing lineup is the renamed AMA Pro SunTrust Moto-GT class. It is the only class in AMA Pro Road Racing that features multi-class racing with teams of riders that share a single motorcycle in a race. The original SunTrust
MOTO-ST name has been slightly revamped to AMA Pro SunTrust Moto-GT, which reflects
some class adjustments and the fact that even more motorcycles are now eligible.

The biggest changes are that the competition is no longer strictly reserved for two-cylinder motorcycles and that the previous three classes have been narrowed to just two, making it easier for race fans to follow both the overall battle while watching a "race within a race." The former premier SST category has been renamed GT1 and will feature a wider mix of potentially more powerful multi-cylinder motorcycles.

The former GST and ST classes have been essentially replaced by GT2. Two-cylinder motorcycles remain the only type allowed in GT2, but variety is also part of the mix with several different types of bikes and engines eligible.

While things have been shaken up as far as classes and eligible motorcycles are concerned, the format of the racing has changed little. Team and multi-rider based, several riders share each competing bike and SunTrust Moto-GT is the only series in AMA Pro Road Racing that features rider changes during pit stops. SunTrust Moto-GT also features a variety of riders, from young up-and-coming talent to Hall-of-Famers like Jay Springsteen (No. 9 Pair-A-Nines Kawasaki Ninja 650R GT2) and former Daytona 200 winner John Ashmead (No. 37 Old Pros Racing Kawasaki Ninja ZX-6R GT1).

The season-opening two-hour SunTrust Moto-GT race will be run at 4 p.m. on Friday, March 6.

Cool Contingency Cash
The total team support package for the 2009 season-opening Daytona 200 by Honda weekend, March 4 - 6, is the richest purse in the event's history with a total of $286,000 on the line.

The lucrative Daytona weekend, however, is just the kick-off event to potentially even more bonuses available to AMA Pro Road Racing competitors this season. More than $1.8 million in posted contingency awards from AMA Pro Road Racing and its proud contingency partners is up for grabs by eligible competitors this season.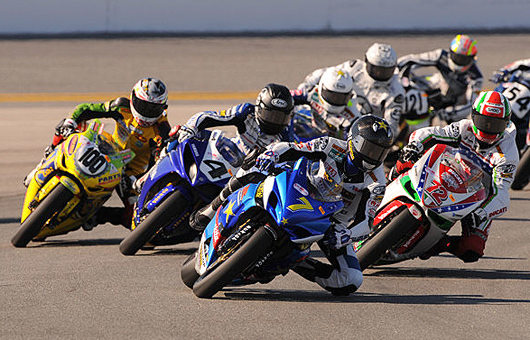 The Superbike race with Matt Mladin (7) our front dives into Turn One on the start ahead of Hodgson (1000 and Josh Hayes (4). Larry Pegram (7) is on the Ducati NA bike was in contention for the lead until he lost his traction control and had to drop back to 4th.
Mat Mladin Wins Daytona Superbike Season Opener
Daytona International Speedway, Florida, March 6th - Rockstar Makita Suzuki's Mat Mladin celebrated his 73rd AMA Superbike victory by taking the win at Thursday's Daytona International Speedway in Daytona Beach, Florida. The six-time AMA Superbike Champion also captured the coveted pole position in the new Superpole procedure, taking his 56th career pole position.
Rockstar Makita Suzuki's Tommy Hayden qualified right behind Mladin and rode an impressive 15-lap race. Hayden got a rough start but worked his way up into third place. Right down to the wire, he was battling for second position and the final result was a photo finish with Hayden taking third.
The team's newest team member, Blake Young, started the season strong by carding an impressive fifth-place finish in his first AMA Superbike race with his new team.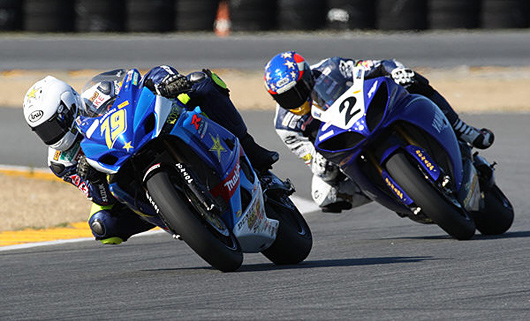 Tommy Hayden fights off Ben Bostrom

Mat Mladin: "It was an interesting race, that's for sure. It's always nice to get any win, obviously, and with all the new stuff this year it was really nice to get one for the Rockstar Makita Suzuki team and keep that Suzuki win streak alive. Now I'm looking forward t the next race at Fontana, and the boys will be getting home and doing a little work and doing a few things so we can go to Fontana and have a bit of a go."
Tommy Hayden: "I felt like I was riding pretty good and my Rockstar Makita Suzuki GSX-R1000 was definitely working very well. Considering I got a little confused with the new starting process and was 10th off the line, this result is all right. Fortunately, I was able to get up to the front-runners pretty easily. And with Mat being a little wounded today, I thought this was my day to get a win but I came up a little bit short. We'll do a few things before the next race at Fontana and come back strong."
Blake Young: "I have to admit it would have been nice to be up on the podium with Mat and Tommy today, but since this is my first Superbike race on the Rockstar Makita Suzuki GSX-R1000, and running new tyres and after very little testing, I'm OK with fifth place. But every day, I'm getting to know my new crew better and I know we'll come back for Fontana with a better bike and hopefully a better result."
Superbike Results: 1 Mat Mladin (Rockstar Makita Suzuki), 2 Neil Hodgson (Honda), 3 Tommy Hayden (Rockstar Makita Suzuki), 4 Larry Pegram (Ducati), 5 Blake Young (Rockstar Makita Suzuki), 6 Ben Bostrom (Yamaha), 7 Aaron Yates (Jordan Suzuki), 8 Josh Hayes (Yamaha), 9 Michael Laverty (Suzuki), 10 Geoff May (National Guard Jordan Suzuki).
Griding for the start of the 200 Daytona 200 Superstock race, the stadium's multi-colored seatbacks disguise the fact the stadium seating was nearly empty. The Speedway's electical bill this evening probably cost more than spectator ticket revenue brought in.
Josh Hayes Robbed of the Race Lead Twice by Yellow and Red Flags
as NASCAR reshapes the AMA Roadracing Championship
Ben Bostrom Scores First Daytona 200 by Honda
in a Win in for Team Graves Yamaha Under the Lights
Bostrom Leads 1-2 Yamaha YZF-R6 Finish with Teammate Josh Herrin

Daytona Beach, FL, March 6, 2009 - Ben Bostrom took the lead from M4 Suzuki rider Jason DiSalvo on the run through Daytona International Speedway's tri-oval on Lap 53 and then joined young teammate Josh Herrin in scoring a one-two finish for Team Graves Yamaha Friday in the Daytona 200 by Honda AMA Pro Daytona SportBike presented by AMSOIL race.
Described by SpeedTV race commentator Brain Drebber in hiscoverage with Freddie Spencer as the "Most Significant Motorcycle Race in America", Drebber the supposedly race savvy announcer, was kissing ass all night to the race series organizer and somehow had forgotten about the the much more prestegious current U.S. MotoGP rounds at Laguna Seca and Indianapolis, the World Superbike round at Miller Motorsports Park, UT, and the AMA Superbike Championship with its Distributor backed factory teams. The reality was the 2009 edition of the Daytona 200 now produced and owned by the Daytona Motorsports Group - hiding under the old AMA nomenclature, was effectively a big club race with the grid filled out by American factory "B" Riders on Distributor Support teams, and Privateers.
The Daytona 200 Miler in it reincarnation as a night time race for slightly modified 600cc Superstock bikes, played out before a meager crowd of around 5,000 spectators at best. It was run like a NASCAR orchestrated spoof to keep keep the race lead tight with 2 Yellow Caution Flags to bunch up the leaders at necessary times, and even an unnecessary Red Flag to help some of the teams regroup.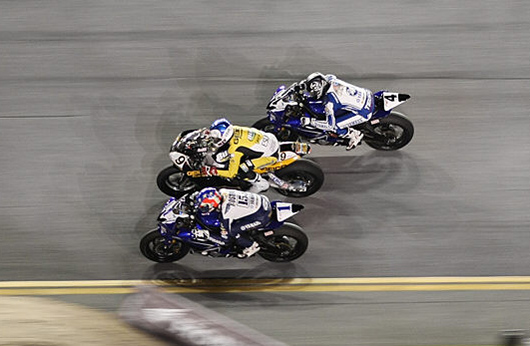 Bostrom (1), DeSalvo (9) and Hayes (4) side by side on the front banking. The 600 cc Supersport bikes were evenly matched and the racing was close.
Barely mentioned in the AMA press release following the event was racer Josh Hayes on one of the other Graves Motorsports Yamaha YR6s, who rode away from Ben Bostrom and the lead riders twice in the race, only to have his runaway lead pulled back in by two of the races' Yellow and Red Flags (DMG owner Bill France is notorious for throwing the Yellow Flag in the middle of a NASCAR race using any sort of excuse, if the leaders get too strung out, the purpose to keep the race interesting show for fans. The excuses this race include some insignificant bleacher light being turned off, to any time a rider in the back of the pack fell down even if they were safely away from the track.
Then the 2nd Yellow Flag restart turned into a major cock-up as then race leader Ben Bostrom was mistakenly waved past the pace car to re circulate the entire track and catch back up again. The entire entry field had to be paced for 3 more laps as Ben sped around the course and caught back up to the front of the field. On the restart with just 8 laps to go, Hayes was the lead pack with Bostrom fighting for the win again, when his rear tire stepped out under power, caught and high sided Josh over the bars to end his race. Bostrom went on to pull out a small 1-second lead over teammate Josh Herrin and Suzuki's Jason Disalvo.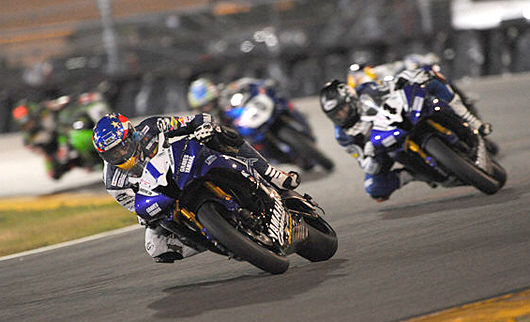 Bostrom (1) leads Joah Hayes in the closing laps just before Josh's (4) highside.
Starting first on the grid on his No. 1s Yamaha YZF-R6 after winning the pole in Thursday's single-bike Superpole qualifying, Bostrom became the first rider since Miguel Duhamel in 2005 to win America's premier motorcycle road race from the top starting spot. He won his first career Daytona 200 victory in his fifth start and had a previous best finish of second in 2003.

"I've tried to win this thing," Bostrom said. "We have been on the pole here twice now and I have lost the race here by two-thousandths of a second. I know what it's like in the heart when you take second at Daytona. It hurts. Now I know what it's like to win."

Bostrom led from the start, lost the lead momentarily in the infield to Danny Eslick and the No. 9 Bruce Rossmeyer's Daytona Racing/RMR Buell 1125R on the opening lap, but then powered past Eslick to officially lead Lap 1. From there, Bostrom stayed in the lead pack for the entire race, frequently swapping the top spots with Eslick, Team Graves Yamaha teammates Herrin and Josh Hayes (No. 4 Yamaha YZF-R6) and M4 Suzuki teammates DiSalvo and Martin Cardenas.

"The race was really intense and under the lights it was really spectacular," Bostrom said. "When we started out, there were several of us going tooth and nail at the front. I loved every minute of it."

Bostrom crossed the finish line .554 of a second ahead of Herrin's similar No. 8 Team Graves Yamaha YZF-R6 while DiSalvo finished third on his No. 40 Team M4 Suzuki GSX-R600.

The race was slowed by two safety car periods, including the first on lap 36 due to a temporary lighting failure on the back straight. A red flag was shown a few laps later when the fourth Team Graves rider, Tommy Aquino (No. 6 Yamaha YZF-R6), went down after being hit from behind when the field jammed up while slowing behind the safety car. Aquino was examined and released from the infield medical center and the field was reformed for a single-file restart.

After a few warm-up laps, racing resumed only to see the safety car return a few laps later for the downed bike of Kris Turner (No. 3 Team M4 Suzuki GSX-R600). The race returned to green on Lap 49 for a dash to the finish with Bostrom, Hayes, Herrin and DiSalvo at the point. DiSalvo took the lead on Lap 52 as he battled with the three Graves Yamahas.

"The M4 Suzuki was running really strong up top out there," DiSalvo said. "I think if we could have been a little bit closer and had a little bit better preparation coming into the final lap we could have made a run. We could have got the double draft and I was sitting in third thinking this was going to work out, but it wasn't to be tonight."

After Bostrom took the lead for good, Hayes was in hot pursuit only to lose control of his Yamaha exiting the infield's east horseshoe section. Hayes was uninjured after the tumble but will have to wait another year for his next shot at what is becoming an elusive Daytona 200 victory. He led a race high 27 laps, Bostrom led 22 laps, Cardenas - who finished eighth - was in front for four laps and DiSalvo and Herrin each led a single lap.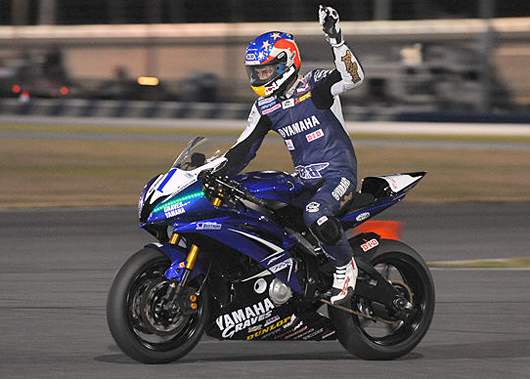 Daytona 200 winner ben Bostrom

"It was a really awesome race and really eventful and probably one of the most exciting races I have been in," Herrin said. "For being my first 200, actually for my first race over 20 laps, I think I did really good and I am really happy with it. We got a Yamaha one-two finish and that might be the first time that has been done in the 200."

Jamie Hacking (No. 88 Monster Energy Attack Kawasaki Ninja ZX-6R) and Shawn Higbee (No. 11 Higbee-Racing.com Buell 1125R) rounded out the top five to make it four different manufacturers represented in the top-five finishers.

Next up for AMA Pro Road Racing is the AMA Pro Suzuki Superbike Challenge, Round 2 of 2009's schedule at Auto Club Speedway, March 20 - 22.
Daytona 200 SportBike Final
1. Ben Bostrom (Yamaha), 2. Josh Herrin (Yamaha), 3. Jason DiSalvo (Suzuki), 4. Jamie Hacking (Kawasaki)
5. Shawn Higbee (Buell), 6. Chaz Davies (Aprilia), 7. Dane Westby (Yamaha), 8. Martin Cardenas (Suzuki)
9. Leandro Mercado(Kawasaki), 10. Jake Zemke (Honda)
---
Ben Spies took the top podium step in Race 2 with an arm around Race 1 winner Noriyuki Hagam, and brit Ron Haslam 3rd.

Hannspree FIM Superbike World Championship, Round 1 Phillip Island
The Best Superbike Season Ever! Haga & Spies On Top Down Under
2009 World Superbike Kick Off at Phillip Island
Phillip Island, Sunday 1st March 2009 -Noriyuki Haga (Ducati Xerox) took his 1098R to the win in his first race for the factory Ducati squad in the opening round of the Hannspree FIM Superbike World Championship at Phillip Island, Australia. The Japanese rider got the better of German Max Neukirchner (Suzuki Alstare) on the final lap to score his 34th win. Race 2 saw a sensational maiden triumph for WSB rookie Ben Spies (Yamaha Italia) from Texas, who took his Yamaha R1 to the win over Haga. The Australian Round of the championship was watched by a record 69,300 spectators, 6% up on last year's figure. COMPLETE REPORT
Ben Spies (19) fights off Nori Haga (19) in an exciting battle for the lead in Race Two.
---
Now in the Iron & Lace Garage! The factory Ducati Corse 1198R 09 World Superbike with big detailed screen saver size photos, with and without the fairing, and full technical specifications. CLICK HERE
---
New FastDates.com Greeting Cards!
It's been nearly impossible for motorcycle enthusiasts to find cool motorcycle related greeting cards, but now through our new association with CafePress, a print-on-demand publisher, I am excitied to now offer you the first selection in a new line of official FastDates.com Calendars Greeting Cards. This first Card features our beautiful Calendar Kitten Tiffany Toth getting down for action behind the bubble of the incredible Ducati 1098S Tri Colore limited edition Superbike. Cards are printed on high quality card stock with a glassy front, measure a large 5x7 inches and come packaged (10) per box with envelopes. - Cheers! Jim Gianatsis
Order at CafePress.com/FastDates
Below - Just in case you can't get enough, here's one more look, of Tiffany who is featured in all 3 of our 2009 FastDates.com Calendars, and in some very sexy pictorials in Members Corner!
...and from Amazon.com - CLICK BELOW TO SHOP FOR OFFICIAL TEAM DUCATI APPAREL
---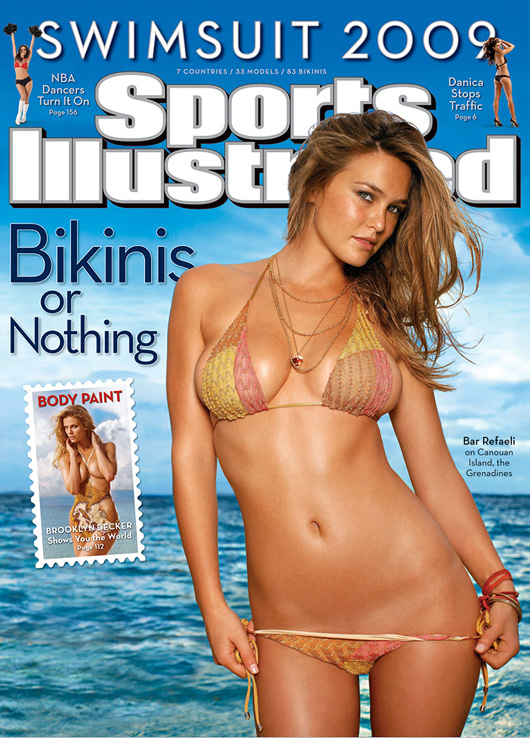 Sports Illustrated Swimsuit 2009
Deluxe Wall Calendar 15x15

Click to Order




Sports Illustrated Swimsuit 2009
Wall Calendar 12x12 inches

Click to Order


Sports Illustrated Swimsuit
2009 Magazine
2009 Sports Illustrated Magazine Swimsuit Edition
February 12th, 2009 - The 2009 Sports Illustrated Swimsuit Edition magazine hit the newsstands on February 12th and continued to set the bar with the world's most beautiful supermodels photographed in nearly there swimsuits in exotic locations around the world by top fashion photographers. And in the case of the "Body Painting" section of the magazine, the girls actually wore nothing at all. Photography and models for the 2009 magazine shoot are also featured in the 2009 Sports Illustrated Calendars in the 13-inch and 15-inch edition available here on line through Amazon.com. You can also purchase the 2009 Sports Illustrated Swimsuit Edition magazine by clicking on the cover above.
Our favorite SI models again this year include returning cover model Bar Rafaeli form Israel, Brooklyn Decker and Tori Praver from California. But we also wouldn't kick out of bed the other SI beauties- Kim Cloutier, Cintia Dicker, Lucia Dvorska, Esti Ginzburg, Jessica Gomez, Melissa Harlo, Jessica Hart, Julie Henderson, Damaris Lewis, Jarah Mariano, Ariel Meredth, Tori Praver, Hilary Rhoda, Daniela Sarahyba, Irina Shayk, Ann V and Jessica White.
Also making her return this year is sexy Indy Car winner Danica Patrick stripping down to her bare weight minimum for tech scrutinering We don't get to see Women's Tennis Association fomer #1 pro hottie Maria Sharapova since she's been side lined with a shoulder injury the past 12 months (but Maria still finds time to cash her $30 million a year in endorsement checks). But we do get to see in revealing swimwear and videos three of her hottest teen Russian opponents on the court: Daniela Hantuchova, Tatiana Golovin and Maria Kitilenko.
Lot's of FREE PinUP Model Calendar Stuff in Calendar Girl News!



Our kind of sand Bar, Bar Rafaeli that is...
---
There's more! Go to Pit Lane News Previous Page0
Also Visit: Fast Dates Calendar News • Iron & Lace Calendar News
Calendar Girl News • Meet the Models • Paddock Garage
Calendar Kittens, The Paddock Garage, Screensavers, Iron & Lace Garage

Many of our Calendar Kittens can also be seen at Playboy's website...



World Premier!
2009 FastDates.com Calendars
Shocker!
SpeedTV Does Not Broadcast AMA Superbike Race at Daytona
March 10th - SpeedTV did not cover the AMA National Championship 1000cc Superbike race which took place on the unusual day of Thursday afternoon March 6th at Daytona Speeday. This is the first time in over 10 years that SpeedTV has been covering the AMA nationals that the most important class in the AMA National championship was not broadcast.
We are going to speculate that SpeedTV did not cove the race for a few reasons including the AMA series promoters the Daytona Motorsports Group wanting principally to promote and focus on their new "premier' class the 600cc "Daytona Superbike Class' of B-caliber riders on superstock bikes.
Then consider the poor economy and the reduced participation of factory distributor teams in the Superbike Championship, and a cut back in advertsing budgets from the U.S. motorcycle distributors not wanting to support the Superbike broadcast.
For SpeedTV is was more affordable to show reruns of stock programs like Pinks and the stunt riding show Superbikers, then to pay a film crew to cover the National Championship 1000cc Superbike race on Thursday at Daytona. It will be interesting to see if this budget cutback and policy continues for the rest of the 2009 AMA Superbike Championshp season.
Either way, DMG gets what it wants: To promote the 600cc Daytona Superbike Class as their premier class in the AMA Championshp.
FIM ANNOUNCES IMMEDIATE CHANGES TO THE 2009 MOTOGP REGULATIONS TO REDUCE COSTS
Wednesday 18th February - The Grand Prix Commission, composed of Messrs. Carmelo Ezpeleta (Dorna, Chairman), Claude Danis (FIM), Hervé Poncharal (IRTA) and Takanao Tsubouchi (MSMA), in the presence of Messrs Vito Ippolito (FIM President), Ignacio Verneda (FIM Sport Director), Javier Alonso (Dorna) and M. Paul Butler (Secretary of the meeting), in a meeting held on February 18 in FIM Headquarters in Mies, unanimously decided to introduce the following amendments to the Road Racing World Championship Grand Prix Regulations – immediate application.
1. From Czech GP, maximum 5 engines can be used in 8 races. No changing of parts will be permitted except daily maintenance.
2. Ceramic composite materials are not permitted for brakes disc or pads.
3. Launch control system is not permitted.
4. Electronic controlled suspension is not permitted.
5. Only 2 post race tests at Catalunya and Czech GP for development purposes using test riders only are permitted.
Casey Stoner / Ducati
Top 3 Days of MotoGP Night Testing at Losail
1 Second Quickest!
Tuesday, 03 March 2009
As the MotoGP Official Night Test came to a conclusion at midnight in Qatar on Tuesday it was Casey Stoner who sat proudly at the head of the timesheet.
Winner of the last two MotoGP races at the Losail International Circuit, including last year's historical first ever floodlit Grand Prix, Casey Stoner showed his strength around the 5.38km desert track again on Tuesday night.

The night time practice visit to Qatar, the second preseason test for the 2009 MotoGP field, ended with Stoner setting the pace just as he did in the opening test of the year in Malaysia in February.
Stoner's best effort of 1'55.744 was recorded shortly after 9pm on the 22nd of his 31 turns under the floodlights, the Australian completing far fewer laps than any of his rivals. The test saw him successfully debut a new carbon fibre swingarm on the Desmosedici GP9, though he was unable to undertake a race simulation and kept to short bursts on track as he rebuilds the strength in his left wrist, which was operated on over the winter.

Stoner crashed without consequence on turn two around ten minutes after setting his best time, but was back out on track within an hour.

Last year's Qatar poleman Jorge Lorenzo (Fiat Yamaha) got closest to Stoner on the timesheet, though he was nearly a full second (0.989s) behind the Ducati rider, with his best time registered late in the evening. Lorenzo's colleague Valentino Rossi completed the top three with a 1'56.972 effort as the only other rider to go round under the 1'57 mark, the Italian satisfied with a new electronics system on the Yamaha M1.

The top five was rounded off by Rizla Suzuki's Chris Vermeulen, his best time arriving on the last of his 70 laps, and Stoner's new team-mate for 2009 Nicky Hayden.

Also featuring in the top ten were Vermeulen's Suzuki colleague Loris Capirossi, fastest Honda representative Randy de Puniet, factory Honda newcomer Andrea Dovizioso, the experienced Colin Edwards and San Carlo Honda Gresini's Alex de Angelis.

There were also crashes for Capirossi on turn six, Niccolo Canepa at turn 13 and Yuki Takahasi at turn three, but all three riders were reportedly unhurt.

The next outing for the MotoGP riders is the Official MotoGP Test at the Jerez circuit in southern Spain which takes place on 28th & 29th March. They will then return to Qatar for the first Grand Prix of the year on 10th-12th April.
Qatar Night Test, Day 3
1. Casey Stoner, Ducati Marlboro Team - 1'55.744 (31)
2. Jorge Lorenzo, Fiat Yamaha Team - 1'56.733 (82)
3. Valentino Rossi, Fiat Yamaha Team - 1'56.972 (75)
4. Chris Vermeulen, Suzuki MotoGP - 1'57.224 (70)
5. Nicky Hayden, Ducati Marlboro Team - 1'57.225 (53)
6. Loris Capirossi, Suzuki MotoGP - 1'57.253 (42)
7. Randy De Puniet, LCR Honda MotoGP - 1'57.401 (77)
8. Andrea Dovizioso, Repsol Honda - 1'57.449 (74)
9. Colin Edwards, Monster Yamaha Tech3 - 1'57.515 (46)
10. Alex De Angelis, San Carlo Honda Gresini - 1'57.591 (61)
11. Toni Elias, San Carlo Honda Greini - 1'57.804 (66)
12. Mika Kallio, Pramac Racing - 1'57.938 (54)
13. Niccolo Canepa, Pramac Racing - 1'57.946 (50)
14. Yuki Takahashi, Scot Racing Team - 1'58.412 (61)
15. James Toseland, Monster Yamaha Tech3 - 1'58.786 (51)
16. Marco Melandri, Hayate Racing Team - 1'58.851 (73)
Pedrosa to Undergo Surgery on Arm and Knee
Tuesday, 03 March 2009
Back in Barcelona following his Qatar test crash, Dani Pedrosa will need an operation on his left arm on Wednesday to fit a screw in a fractured radius bone, with his injured left knee also in need of surgery.
Having had a full medical assessment at the USP Institut Universitari Dexeus clinic in his native Barcelona on Tuesday, as a result of his Monday night Qatar test crash, Repsol Honda's Dani Pedrosa has been diagnosed with a fractured left radius (one of the bones in the forearm) and a severely cut and bruised left knee.
Pedrosa flew back to Spain on Tuesday and went straight to his trusted surgeon Doctor Mir's clinic, where he was also operated on in December having originally injured his left knee last season in Australia. The knee has been further damaged and will require skin graft surgery.
His left arm, meanwhile, requires a supportive screw insertion in order to heal the fractured radius bone more rapidly than if left unsupported.
Pedrosa did not stay at the clinic overnight and will therefore return on Wednesday to go under the surgeon's knife again. It is unclear as yet how this will affect his preseason preparations with just over a month to go before the first race of the year.
Hungarian GP promoters request race postponement to 2010
March 11th - Balatonring Zrt., event promoter for the Hungarian Grand Prix, have spoken to MotoGP Rights Holders Dorna Sports with a request to postpone this year's race until 2010. The request will be sent to the FIM for approval.
The decision owes to a delay in the construction process that means that the circuit would not be complete in time for the September 20th race, a result of harsh winter weather and the current financial situation that has hit Hungary and affected the funding process.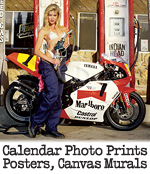 More 2009 Pin Up Model
& Motorcycle Calendars...

---
2009 AMA Superbike Season Kicks off
Under the Lights March 6th
The 2009 AMA Pro Road Racing season will begin at Daytona the first weekend in March. The weekend will be highlighted by the first Daytona 200 by Honda under the lights, Friday, March 6, for the AMA Pro Daytona SportBike division. The Daytona kick-off will also feature AMA Pro American Superbike competition and races for additional AMA Pro Road Racing championships.
AMA Pro Racing is the premier professional motorcycle racing organization in North America, operating a full schedule of events and championships for a variety of motorcycle disciplines. From its Daytona Beach headquarters, the organization operates and manages AMA Pro Road Racing, which includes AMA Pro American Superbike, AMA Pro Daytona SportBike, AMA Pro SuperSport, AMA Pro SunTrust Moto-GT and the Red Bull AMA U.S. Rookies Cup in addition to the AMA Pro Flat Track Championship. Learn more about AMA Pro Racing at www.amaproracing.com.
DuHamel to Race Daytona
Miguel DuHamel , Multi-time Daytona 200 winner and former Superbike champion confirmed that he will race a GSX-R600 in the Daytona 200 next month.
The former AMA Superbike Champion will ride for the Blackfoot Suzuki team, based out of Canada and run by former factory Suzuki, Harley-Davidson and Ducati rider Pascal Picotte.
"It's all good," DuHamel said this morning from Los Angeles. "Pascal was keen to do this as was Alan and I thought, 'Hey, it's Daytona'. The team is a solid one and Pascal is a great team manager. I'm looking forward to doing them proud.
Miguel said the off-season passed with few job offers. "I'm serious, I look at some of the guys who now have rides in the US and I think, 'Who the hell are some of these guys? What have they done?' I don't even recognize their names."
Unfortunately the reality,which Miguel isn't grasping, is that roadracing in America is now at a club level and paid factory rides are few, and are only going to riders capable of winning races today, not ten years ago.
It's better to go out on the top, and use than well earned celebrity status to secure a new motorcycle industry career, then throw it away while trying to continue on as a non paid privateer in a club livel series.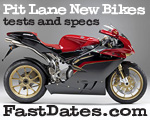 Talking with the
World Champions!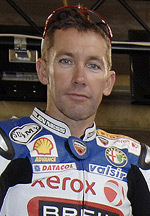 Troy Bayliss Interview
10 Questions for the 3-Time World Supebike Champion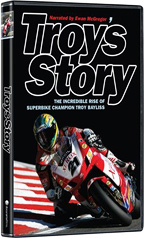 Troy's Story
The story of now 3-Time World Superbike Champion Troy Bayliss narrated by Ewan McGreggor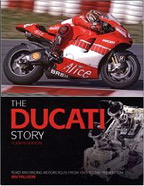 Alstare BRUX Suzuki Team Takes Podium at Phillip Island
March 1.st -Team Suzuki Alstare Brux riders Max Neukirchner and Yukio Kagayama raced their GSX-R1000s to second and third places in the opening race at today's World Superbike Championship opener at Phillip Island in Australia.
And, although both riders experienced grip problems in race two - with Neukirchner sixth and Kagayama eighth - Neukirchner left the circuit holding second place in the Championship.
Max Neukirchner - Race 1: 2nd, Race 2: 6th: "I was very happy with the first race and thought I could win it after a big fight with Nori. But I made a little mistake on the last lap and that was enough for Nori to take the chequered flag and push me to second. But for me, second is a great start to the season and it is a good way to say thank you to my team for all the hard work over the winter. I had some problems with chatter in race two and also got caught up in a lot of traffic and found it not easy to get through it. I lost three seconds on the front group and that was too much to make up. The grip level seemed quite a bit down in race two and it was not possible to go any faster. If I had gone any quicker, I may have crashed and I didn't want that as Yukio and I have not had a single crash all weekend!"
Yukio Kagayama - Race 1: 3rd, Race 2: 8th: "I am so happy to be on the podium again because the last time was a very long time ago - Brno in 2007. I am a racer and I like to win, so the first race was a good feeling for me. The bike was almost the same in race two, but the grip level was much different and I had some chattering and many slides. Also, I had a problem with my left boot and it was not so easy to use the shifter. If I didn't have that problem, I'm sure I could've caught and passed at least two riders in front of me. But it's a good feeling to be on the podium again and also good because I didn't crash this weekend."
Brux Is New Team Title Sponsor for Alstare
Team Alstare Suzuki has announced that dental company Brux will be its title sponsor in this year's World Superbike Championship.
From now on, the team will be known as Team Suzuki Alstare Brux.

Brux is a product of QuattroTi Dentech - an Italian company which is a leader in the dentistry industry. Brux is a sports mouthguard developed to improve the quality of the riding in relation to comfort and safety. For this reason, Team Alstare racers choose Brux in order to maximise their performance and level of endurance.
Team Suzuki Alstare Brux's 2009 bikes are all new - in looks and design. The riders are racing the new Suzuki GSX-R 1000 K9s with livery designed with the company's brand and colours.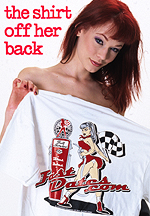 Order the Official
FastDates.com &
LA Calendar Bike Show
T-Shirts!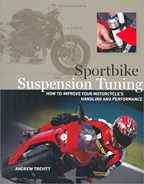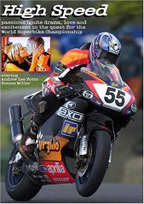 High Speed - the Movie
The best motorcyce racing movie ever made! Filmed on location at World Superbike, this an exciting romantic drama staring beautiful actress Sienna Miller.
---
New Kawasaki Europe Racing Team Website Online!
The new 2009 Kawasaki Racing Team Website produced by Kawasaki Europe is now on line and will cover the factory team's performances in the upcoing World Superbike Chapionship which kicks off March 1st at Phillip Island.
Kawasaki will be competing in this championship with the recently formed Kawasaki Superbike Racing Team (riders: Broc Parkes and Makoto Tamada). During recent tests in a.o. Portimao and several Spanish tracks, the riders are coming to grips with the Ninja ZX-10R and the team is making serious steps forward. Today starts another important test for the WSBK team, in Phillip Island. For sure, they'll be ready for the first race!
Kawasaki Motors Europe is also a major contributor to the newly formed Kawasaki Provec Motocard.com team, which will defend our green colour in the World Supersport Championship this year. Results so far have been very promising! Our newly signed rider Joan Lascorz has already smashed lap records during tests on several tracks on the 2009 Ninja ZX-6R and also his team-mate Katsuaki Fujiwara is getting the pace.
The Kawasaki Europe Webiste will also cover the World Motocross Championshp. Check it out at:
kawasaki-racingteam.eu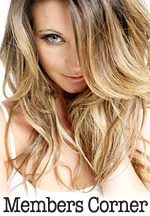 Members Corner
Hot Bikes, Sexy Kittens
Get Your Exclusive Grid Pass
aslo includes....
---
0000000