Capirossi Out, Ben Spies In at British MotoGP, as Vermeulen Progressess
Rizla Suzuki 12/06/08 - Rizla Suzuki MotoGP will give reigning American Superbike Champion Ben Spies his MotoGP debut at next weekend's June 22nd British Grand Prix, following confirmation that Loris Capirossi will be unfit for the Donington race due to injuries.
The 23-year-old American from Longview in Texas was due to make his Rizla Suzuki MotoGP debut as a wildcard rider at next month's USGP in California, but he has been drafted in early to replace Capirossi who suffered a broken right hand at Catalunya last weekend. Capirossi is now targeting a return at the following weekend's race at Assen in The Netherlands and will continue to work on his fitness to try and achieve this goal.
Chris Vermeulen will be returning to the scene of one of his podium successes in 2007 when he takes to the track at the 4,023m long Donington Park circuit. Suzuki's Australian star finished third in wet weather conditions at the British venue last year and will be looking to continue with the improvement in form that both he and the Suzuki GSV-R have shown in recent races.
The British GP is the 'official' home round for Rizla Suzuki MotoGP with the team's headquarters based near Bournemouth in England, and many fans will be expected at trackside to cheer on the 'boys in blue'. Donington Park is situated on the Leicestershire and Derbyshire borders right in middle of England and it is not a circuit that rewards outright power, but one that repays smooth and consistent riding ability with fast laps. Donington is certainly a track of two-halves; from the start/finish straight into the sweeping Craner Curves and through long right-handers on to a downhill straight the circuit is one of the most flowing tracks in the world, but it then features two hairpins and three first-gear corners in a row making for very exciting slow speed action as riders are able to make last gasp out-braking manoeuvres right at the end of the lap.
Rizla Suzuki MotoGP will be at Donington Park early this year so it can participate in the Riders for Health Day of Champions (www.riders.org) as both riders and team members alike will participate in various events to raise money for a worthy cause, culminating in a huge fund-raising auction in the evening.
Track action will get underway on Friday with two free practice sessions and a further free session on Saturday morning. The hour-long qualifying takes place on Saturday afternoon as riders fight it out against the clock to get the best grid positions for the 30-lap race that starts at 15.00hrs local time (14.00hrs GMT) on Sunday 22nd June.
Chris Vermeulen: "We have improved over the last couple of races and we need to keep that going. It is no secret that I have not had the best of starts to the season but I know we can turn things around. We tried a lot of different things in the test at Catalunya on the Monday and found some stuff that will help us go forward not just in Britain but at other tracks as well. Donington is like a home race for me as I spent a lot of my early career racing in the UK so it is always good for me to come back here and I'll be hoping to put on a good show for all the fans and give my mostly UK based team something to shout about!"
Ben Spies: "I was excited that my first GP was to be at Laguna Seca in the States, but I'm now more excited by this! I think this will be a good thing for me to start out at Donington; it is a track I don't know so I have no pressure. I haven't done any testing on the bike or with race and qualifying tyres so I am not really expected to do anything much, so I can just go out there and learn how everything works and enjoy the event. This will be good for when we get back to the wildcard races in Laguna and Indianapolis because I know those tracks and I'll have some knowledge of the bike and be able to put my head down and go for it there. This is great for me to get the chance, but it is in an unfortunate way that I am there because of the injury to Loris and I wish him all the best on a full recovery. I hope I can represent everybody really good and just want to go out there and have some fun!"
Loris Capirossi: "I'm really disappointed not to be racing at Donington as it is the team's home Grand Prix and I know there will be a lot of fans there that have come to see us. I tried to get fit and although Dr Costa says the break is healing well, it won't be good for me to race there as it won't be strong enough. So I hope to be back for Assen. I wish Ben all the best on his debut, but he shouldn't get too comfortable on my bike because I want it back soon!"
---

Rossi, Stoner and Pedrossa contiued their track fight at the Podium.

FIM World MotoGP Championship, Gran Premio d'Italia Alice Round 7 of 18
Pedrosa Reels Back In On Rossi with
Runaway Win at Catalunya Home Track
Catalan Grand Prix at Montmelo, Spain, June 6-8th - Dani Pedrosa (Repsol Honda RC212V) was in a class of his own here in Barcelona winning by 2.8 seconds from Valentino Rossi (Yamaha) second and Casey Stoner (Ducati) who was third. His margin of victory, however, understates the crushing nature of this triumph on home soil.
The Spanish sensation has now won here on a 125cc machine, a 250 and now in MotoGP. He's also wrapped up wins in two of the three Spanish races this year and remains Honda's most reliable points finisher this season – he's never been out of the top four in seven races now.

Valentino Rossi's YZR-M1 and the team's grid girls carried a one-off livery for the Grand Prix of Catalunya this weekend in celebration of the European Football Championships, which begin on Sunday. The championship leader's bike has been specially painted in the style of the shirts of the Italian national team, the 'Azzurri', ahead of their opening game against Holland on Monday following the race. Rossi alsowore leathers designed in the same vein and even his famous number 46 has undergone a change for the weekend. CLICK to GO BIG
Pedrosa Tops Practice, Lorenzo Suffers Another Bad Crash
Saturday Practice, June 6th - The fastest rider in the opening practice session, Dani Pedrosa made it two-from-two in the Friday MotoGP runs at the Circuit de Catalunya by further improving his times in the afternoon. The Spaniard began the preparations for his home race with a 1´43.017 lap of the tricky Barcelona track, which caught out half of the 18-rider field in one form or another.
Pedrosa was among the participants to take a fall, crashing his standard engine-powered Repsol Honda RC212V with just over ten minutes to go in the second session, immediately after clocking the fastest time of the day. He was unhurt in the crash.
Second fastest in the combined standings was Loris Capirossi, continuing his upturn in form onboard the Rizla Suzuki GSV-R. He trailed Pedrosa by just 0.006, with the top four covered by less than a tenth of a second. Capirossi ran off track twice in the afternoon run.
The remainder of the aforementioned top four were Fiat Yamaha´s Valentino Rossi and Ducati Marlboro´s Casey Stoner, after an eventful day for both riders. Rossi attracted attention for his special `Azzurri´ themed livery and leathers, whilst Stoner had early problems with the track that led to his crashing and running-off in the morning.
Alex de Angelis maintained his Mugello momentum with the fifth fastest time, ahead of Rizla Suzuki man Chris Vermeulen and his own San Carlo Honda Gresini teammate Shinya Nakano.
Learning the Catalunya circuit, James Toseland was eighth fastest, whilst the top ten was completed by American duo Nicky Hayden and Colin Edwards.
The biggest crash of the afternoon befell Jorge Lorenzo, local rider and World Championship contender. He hit the ground from a highside at a lower altitude than that of his Shanghai spill, but his momentum made for a bumpy journey through the gravel trap. The Fiat Yamaha man was taken to the Clinica Mobile and took no further part in the afternoon session, with the latest news on his condition indicating a fractured right ring finger and an ankle contusion, and head concussion. This was on top of the 2 broken ankles he was still mending from his highside in Shanghi, and 2 other crash injuries. Doctors would not release Joge to race on Sunday as he was lsited in Good Condition, but would be held in hospital for observatin.
Another rider stopping early was John Hopkins, who completed just a handful of laps before a highside on his Kawasaki Ninja ZX-RR, whilst Randy de Puniet had his second crash of the day in the afternoon outing.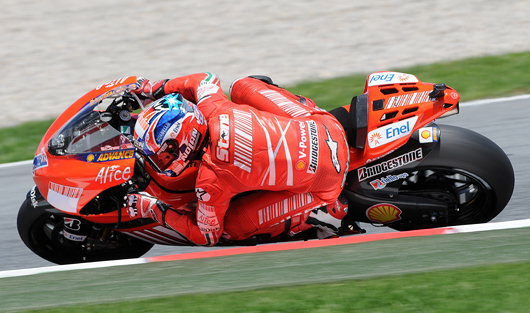 Casey Stoner Tops Saturday Pole
Saturday June 7th - With his first pole position since the race at Misano in 2007, World Champion Casey Stoner broke his nine-month top spot drought in qualifying for the Gran Premi Cinzano de Catalunya. The Australian did so with a new record time of 1´41.186, preventing a home pole for Repsol Honda´s Dani Pedrosa.
Last year´s racewinner, Stoner had a spectacular last lap of the Barcelona circuit where he cut his teeth in the Spanish championship, putting behind him any grip problems experienced early on Friday. The 22 year-old had been fastest in the previous two practice sessions.
For Pedrosa, another front row and leadership of the BMW M Award will not come as too much of a disappointment, with his other immediate title rivals either down the order or out of action. A bike problem early on left him without time to test his race tyres, and using his second machine.
The Repsol Honda representation on the front row will be two-strong tomorrow afternoon, Nicky Hayden taking off from the first line of attack for the first time in 2007. He put his cards on the table late on in the session, with only extremely impressive runs from Stoner and Pedrosa ousting him from the top spot.
On the front row last year, Randy de Puniet was using a different machine and tyres to those of 2007, taking his Michelin-shod LCR Honda to the head of the second line. The Frenchman is still suffering from a finger injury picked up in Mugello, but showed that he has some serious pace despite the pain.
Tech 3 Yamaha´s Colin Edwards and James Toseland completed the top six, astonishingly all within the pole position record set by Valentino Rossi last season. Edwards in particular is very confident for the race, having worked for distance over the past two days.
Andrea Dovizioso had a lot of work to do in order to correct a rear end problem from Friday, but appeared to have got to the root of the issue as he took seventh spot. The third row also includes Rizla Suzuki´s Chris Vermeulen and Fiat Yamaha´s World Championship-leading rider Valentino Rossi, who lost his chance of pole when he caught his wheel on the grass late on.
There was a final five minute crash for Marco Melandri in the hour-long session, and also some usage of the newly-asphalted chicane run-off section by Loris Capirossi.
Meanwhile, an update from the Institut Dexeus in Barcelona confirmed Jorge Lorenzo, who crashed in yesterday's practice, is recovering well in hospital after hitting his head and injuring his right hand. He will remain under observation for the next 24 hours whilst resting up and missing his home race.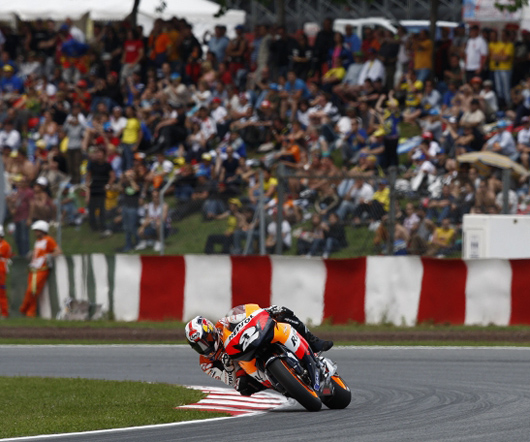 Dani had the whoe race to himself with a lead that extended up to 7 seconds by mid race.

Pedrosa Sends 130,000 Spanish Fans Home Happy
Race Day. Sunday June 8th - A breakaway plan from Dani Pedrosa worked to perfection in the Gran Premi Cinzano de Catalunya, as he took the holeshot at his home race and never looked back. The win ended a long premier class run without a local winner in Barcelona, stretching back to 1999 and a popular triumph for Alex Criville.
Keen to avoid a battle between himself and predicted podium finishers Casey Stoner and Valentino Rossi, the Repsol Honda rider burst out of the blocks and set about putting space between himself and the rest of the field. A new circuit record was made by Pedrosa by the second lap, and he kept the pace up throughout the 25 lap race.
Dani fired in a fastest lap on the third tour of this 4.727km Montmelo track. His 1m 42.617s time an early indicator that he was the man to beat. By the time lap four rolled around he was a full three seconds ahead of Stoner who had regained second spot. Barring error or disaster Pedrosa was unstoppable.
Rossi had a terrible start, here charging through the top half of the feild past Chris Vermeulen on the Suzuki.

Rossi had moved up to fourth by lap seven of this 25-lap affair and Dovi had retaken Stoner for second at precisely the same point on track the Aussie World Champion had made the mistake on lap one. Dani was blissfully unaware of all this, now more than five seconds clear of his rivals.
Dovi was slipping slightly off the pace now on lap eight and Rossi soon overhauled him for third, taking second off Stoner that same lap. Dovi would lose touch with the duo dicing for second but his mature ride to fourth signaled he will be a podium proposition in this class very shortly.
As mid-race distance approached Alex de Angelis (San Carlo Honda Gresini RC212V) crashed out in an incident involving Loris Capirossi (Suzuki) too. The San Marinese man looked capable of a mid top-ten finish. De Puniet's race would be cut short on the next lap when he crashed while defending sixth spot.
The Stoner/Rossi battle was the main event with Dani disappearing over the horizon, but down the order there were several spirited disputes for the points places and with just 13 riders remaining in the race after that rash of crashes, all places were worth points.
Andrea Dovizioso was spot on in his Saturday prediction, having noted that all three of last year´s rostrum finishers would repeat their form in 2008. What the JiR Team Scot rider was not so sure about was his own form, but a fourth place -equalling his previous best MotoGP finish from Qatar- was a remarkable performance for the highest placing satellite rider.
As in qualifying, the Tech 3 Yamaha pairing of Colin Edwards and James Toseland took fifth and sixth place, respectively, with the latter holding off Rizla Suzuki´s Chris Vermeulen. In a sprint to the line. Nicky Hayden, Shinya Nakano and John Hopkins completed the first ten past the chequered flag.
The race was littered with retirements at the midway point, with Alex de Angelis, Loris Capirossi and Randy de Puniet all crashing out in quick succession. Toni Elias had just a few laps earlier been shown the black flag for not obeying an order for a ride-through penalty.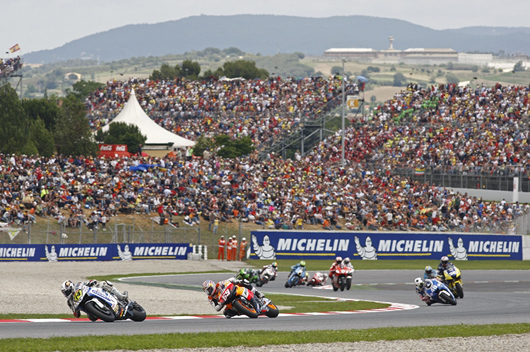 Dani Pedrosa invited 130,000 of his closest friends to his party at Catalunya.
Dani Pedrosa, Repsol Honda: 1st. - "I'm very happy about this win, my thanks to all the people around me. Today was also very important for the championship, I am now five points closer to the lead, but there are still many races ahead of us, so we need to keep pushing and be consistent. We had a few issues in practice here, so my team was thinking what they could do and they made a small adjustment before the race that improved the bike and helped me to run that pace. Once again, a big thanks to them. I couldn't believe the fans, it seems like every year there are more and more. I'm very happy they were here because I know it was difficult to get into the track today. I was all alone, pushing to go faster and faster and I could see everyone cheering me on. At one point I lost a bit of concentration, but I got my focus back and kept pushing. Now we have two days of tests which will be very important for the next few races."
Valentino Rossi 2nd +2.806 - "I think that this was quite a good race! It's a long time since we've had a good fight for the top positions like that and today it was like last year with Stoner, but for second instead of first place! I was able to come out on top this year and I am honestly very happy with today's result. After three almost perfect races, yesterday was a very hard day for us but last night we had a very good meeting and today we were able to be much more competitive. My target was the podium so to come second is excellent. I want to watch the race on TV now because I had a lot of fun today and made some good overtakes, with my M1 and my Bridgestone tyres working very well to the end. Once I passed Stoner I tried to go away from him but it wasn't possible, so then I knew it would be a great battle to the end. Pedrosa was incredibly strong today and I think it's impossible to say whether or not I could have gone with him even if I had started from the front.

As it was we were penalised by our grid position and, with Pedrosa as fast as this, from the third row it was impossible. In these circumstances I am very happy that we only lost five points to him, we're still leading the championship and I had a great race, so I am content! Tomorrow we will have a test and I think it will be quite interesting to see what we can find out about what happened this weekend and how we can improve for Donington. Thanks to all my team and congratulations to Dani."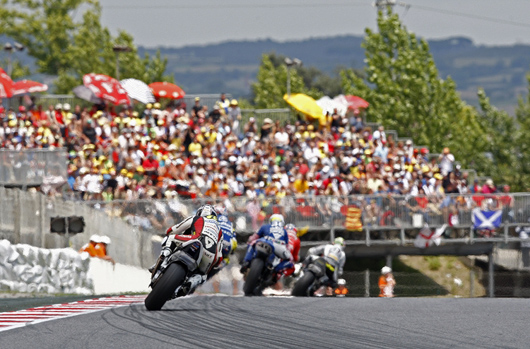 MotoGP Race Classification: (25 laps = 118.175 km)
Pos/ Rider / Nat / Team / Motorcycle / Time/ KM/H / Gap
1 / Dani PEDROSA / SPA / Repsol Honda Team / HONDA / 43'02.175 / 164.756 /
2 / Valentino ROSSI / ITA / Fiat Yamaha Team / YAMAHA / 43'04.981 / 164.577 / 2.806
3 / Casey STONER / AUS / Ducati Marlboro Team / DUCATI / 43'05.518 / 164.543 / 3.343
4 / Andrea DOVIZIOSO / ITA / JiR Team Scot MotoGP / HONDA / 43'13.068 / 164.064 / 10.893
5 / Colin EDWARDS / USA / Tech 3 Yamaha / YAMAHA / 43'18.601 / 163.715 / 16.426
6 / James TOSELAND / GBR / Tech 3 Yamaha / YAMAHA / 43'23.657 / 163.397 / 21.482
7 / Chris VERMEULEN / AUS / Rizla Suzuki MotoGP / SUZUKI / 43'23.723 / 163.392 / 21.548
8 / Nicky HAYDEN / USA / Repsol Honda Team / HONDA / 43'24.455 / 163.347 / 22.280
9 / Shinya NAKANO / JPN / San Carlo Honda Gresini / HONDA / 43'24.550 / 163.341 / 22.375
10 / John HOPKINS / USA / Kawasaki Racing Team / KAWASAKI / 43'49.010 / 161.821 / 46.835
11 / Marco MELANDRI / ITA / Ducati Marlboro Team / DUCATI / 44'00.166 / 161.137 / 57.991
12 / Anthony WEST / AUS / Kawasaki Racing Team / KAWASAKI / 44'01.343 / 161.065 / 59.168
13 / Sylvain GUINTOLI / FRA / Alice Team / DUCATI / 44'02.954 / 160.967 / 1'00.779
Pole Position: Casey STONER 1'41.186 168.177 Km/h
Fastest Lap (New record): Dani PEDROSA 1'42.358 166.251 Km/h Lap 4
Circuit Record Lap: Nicky HAYDEN 1'43.048 165.138 Km/h 2006
Circuit Best Lap: Casey STONER 1'41.186 168.177 Km/h 2008
World Championship Positions:
1 ROSSI 142, 2 PEDROSA 135, 3 LORENZO 94, 4 STONER 92, 5 EDWARDS 69,
6 DOVIZIOSO 57, 7 TOSELAND 53, 8 CAPIROSSI 51, 9 HAYDEN 48, 10 NAKANO 42,
11 VERMEULEN 40, 12 HOPKINS 32, 13 MELANDRI 29, 14 DE ANGELIS 24, 15 ELIAS 24.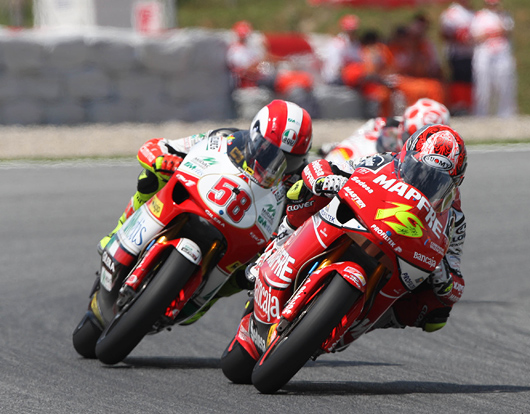 Simoncelli fights off Bautisa and Barbera on the last lap in 250cc.

Simoncelli on Gileria Closes 250c Championship Lead
Marco Simoncelli cut the lead in the 250cc World Championship to just three points with his second consecutive race victory, which came after a thrilling last lap battle with Alvaro Bautista.
Whilst there may have been controversy surrounding his Mugello maiden win, the Metis Gilera rider´s latest triumph was inarguably a clean one. Bautista had just to hold Simoncelli off on the 23rd and final lap, but found himself experiencing yet more bad luck as the in-form Italian pressured him into running wide. Attempting to make up ground, Mapfre Aspar rider Bautista could not close Simoncelli down on the final corners, and had to settle for second place in a race that by all accounts should have been his.
The previous man to lose out to Simoncelli, Hector Barbera completed the podium places at his home race. The Team Toth Aprilia rider had been fighting early on with the leading duo, but could not avoid a breakaway and had simply to keep his cool and round off the rostrum.
Alex Debon came in fourth, continuing his assault on the title, whilst Thomas Luthi and Mattia Pasini also featured in the top six. Hiroshi Aoyama was the highest placing KTM rider in seventh, with teammate and World Championship leader Mika Kallio forced into retirement with a mechanical failure for the first time this season. Hector Faubel, Julian Simon and Lukas Pesek were the final threesome in the top ten.

Race Classification 250cc: (23 laps = 108.721 km)
Pos / Rider / Nat / Team / Motorcycle / Time / KM/H / Gap
1 / Marco SIMONCELLI / ITA / Metis Gilera / GILERA / 41'01.859 / 158.983 /
2 / Alvaro BAUTISTA / SPA / Mapfre Aspar Team / APRILIA / 41'01.898 / 158.981 / 0.039
3 / Hector BARBERA / SPA / Team Toth Aprilia / APRILIA / 41'13.150 / 158.257 / 11.291
4 / Alex DEBON / SPA / Lotus Aprilia / APRILIA / 41'23.232 / 157.615 / 21.373
5 / Thomas LUTHI / SWI / Emmi - Caffe Latte / APRILIA / 41'28.480 / 157.283 / 26.621
6 / Mattia PASINI / ITA / Polaris World / APRILIA / 41'28.579 / 157.276 / 26.720
7 / Hiroshi AOYAMA / JPN / Red Bull KTM 250 / KTM / 41'37.677 / 156.703 / 35.818
8 / Hector FAUBEL / SPA / Mapfre Aspar Team / APRILIA / 41'38.180 / 156.672 / 36.321
9 / Julian SIMON / SPA / Repsol KTM 250cc / KTM / 41'38.823 / 156.631 / 36.964
10 / Lukas PESEK / CZE / Auto Kelly - CP / APRILIA / 41'43.096 / 156.364 / 41.237
11 / Ratthapark WILAIROT / THA / Thai Honda PTT SAG / HONDA / 41'54.250 / 155.670 / 52.391
12 / Yuki TAKAHASHI / JPN / JiR Team Scot 250 / HONDA / 41'58.515 / 155.407 / 56.656
13 / Alex BALDOLINI / ITA / Matteoni Racing / APRILIA / 42'01.141 / 155.245 / 59.282
14 / Manuel POGGIALI / RSM / Campetella Racing / GILERA / 42'04.362 / 155.047 / 1'02.503
15 / Fabrizio LAI / ITA / Campetella Racing / GILERA / 42'04.515 / 155.037 / 1'02.656
Pole Position: Alvaro BAUTISTA 1'45.636 161.092 Km/h
Fastest Lap: Alvaro BAUTISTA 1'46.143 160.323 Km/h Lap 21
Circuit Record Lap: Alex DE ANGELIS 1'45.925 160.653 Km/h 2007
Circuit Best Lap: Jorge LORENZO 1'45.098 161.917 Km/h 2007
World Championship Positions:
1 KALLIO 106, 2 SIMONCELLI 103, 3 PASINI 98, 4 DEBON 92, 5 AOYAMA 70, 6 BARBERA 69,
7 TAKAHASHI 63, 8 BAUTISTA 61, 9 LUTHI 46, 10 SIMON 43, 11 ESPARGARO 40,
12 LOCATELLI 34, 13 FAUBEL 33, 14 WILAIROT 30, 15 ABRAHAM 21
---
Carlos Checa (7) was in complete control this weekend with Superpole and Doube Race Wins as World Superbike made its triuphant return to America.

SBK Hannspree FIM World Superbike Championship, Salt Lake City Round 6 of 15
Miller Motorsports Does it Right as World Superbike Returns to America
Checa / Ten Kate Honda Throws a Double Knockout Punch
as Bad Luck Reduces Troy Bayliss Once Unbeatable Points Lead

June 1st, 2008, Miller Motorsports park, Toole, Utah, USA - Carlos Checa (Hannspree Ten Kate Honda CBR1000RR) scored his first ever World Superbike Championship race win at the all-new WSB venue of Miller Motorsports Park in America, and then followed it up with an even more impressive second victory in race two, taking Honda to 100 wins in this category of racing. Complete coverage HERE
Carlos Checa was in complete control when World Superbike made its triuphant return to America.
"Road to 8 Hours" Suzuka Superbike 300km
Yoshimura Suzuki's Kagayama and Teshima Win Suzuki 300K Warm Up,
Checa and Kiyonari take close second
Suzuka, Japan, June 8th - The Suzuka 300km race, the pre-Suzuka 8 Hours race, took place today, June 8th and the Honda factory duo of Carlos Checa, frsh from his doube World Superbke race win at Miller Motorsports USA, and Ryuichi Kiyonari, riding for the DREAM Honda Racing Team finished a close second in the 52 lap-race. The race was won by the factory of jpan Yoshimura Suzuki team of Kosuke Akiyoshi and former World Superbike regular Yukio Kagayama
Checa had set second best time of 2'08"240 during the timed practice which took place on Saturday. Yoshimura Suzuki men, Kosuke Akiyoshi and Yukio Kagayama snatching pole position, Akiyoshi marking a lap time of 2m 08.052s. The second DREAM Honda Racing CBR1000RRW, in the hands of Yusuke Teshima and Jonathan Rea finished in fifth place.
The 2008 CBR1000RRW the Honda teams raced at Suzuka is completely new, both engine and chassis. Not all the Honda teams are completely comfortable with the machine set-up but their aim was to gather as much data as possible from the 300km race in preparation for the coming Suzuka 8 Hours race on July 27.
As Michelin wished to concentrate on MotoGP, DREAM Honda Racing Team #11 of Checa and Kiyonari used Bridgestone tyres while the #33 DREAM Honda Racing Team of Rae and Teshima ran Dunlop for today's race.
At 13:00, the riders made the traditional Le Mans style start. Kiyonari made a good but at turn three a multiple crash involving eight riders, Rae, who won the corresponding race last season, and fellow Honda rider Leon Haslam among them, brought out the red flag. Haslam, who was accompanied by his father Ron, was sidelined for the day and didn't have a chance to show his riding skill at Suzuka this time.
The delayed start took place at 13:50 and it was Kiyo who again made a good start followed by the two Yoshimura Suzuki's of #12 Daisaku Sakai and #34 Kosuke Akiyoshi. Akiyoshi passed both Kiyonari and Sakai on lap four and from then on led the field until the rider change over. Kiyonari battled with Sakai for second place till the end of his stint.
Akiyoshi passed his Yoshimura machine to Norio Kagayama and Kiyonari the CBR1000RRW to Carlos Checa. At that time the difference between the two was more than 15 seconds.
From that point on Checa mounted a superb fight back charge, lapping in the 2m 09s bracket continuously. It looked like the battle between the top two would be decided at the finish line, but the inevitable back markers played a telling roll in the proceedings hampering Checa's progress in the later stages denying the Spaniard the potential opportunity of a race victory.
Checa crossed the finish line a mere 2.336 seconds down on Kagayama. Third place went to the Yoshimura of Daisaku Sakai and Atsushi Watanabe. Yamaha rider Katsuyuki Nakasuga, who rode the race on his own, finished fourth, with the DREAM Honda Racing Team pairing of Rea and Teshima fifth.
Sixth place went to the Team Green Kawasaki of Akira Yanagawa with the F.C.C. TSR CBR1000RR pairing of Shinichi Ito and Satoshi Tsujimura finishing seventh. Tatsuya Yamaguchi and Cal Crutchlow raced to eighth for Moriwaki MOTUL Racing. The Sakurai Honda of Kazuma Tsuda took ninth place with Yuji Sato and Yuichi Takeda rounding out the top ten finishers, both teams one lap down.
Carlos Checa (2nd) - "I always want to win races. So it was disappointing to finish second but considering I was riding new machine with new partner using Bridgestone tyre for the first time, it was not so bad to finish second. We found out the issues we have to solve by the 8 hr race. We must improve handling. When I was catching up Kagayama,I was trying more than 100%. But there were many back markers and that would easily change a second or so of my lap times. Still I was pushing hard to put pressure on Kagayama."
Pos / Team / Riders / Laps / Bike / Time
1 / Yoshimura Suzuki with JOMO / Kosuke Akiyoshi(25 laps)/Yukio Kagayama (27 laps) / 52laps / Suzuki GSX-R1000 / 1:54'03.706 / 159.23km/h
2 / DREAM Honda Racing Team 11 / Ryuichi Kiyonari(25 laps)/Carlos Checa(27laps) / 52 laps / Honda CBR1000RR / 1:54'06.042
3 /Yoshimura Suzuki with DensoIRIDIUM POWER / Daisaku Sakai(25 laps)/AtsushiWatanabe(27 laps) / 52laps / Suzuki GSX-R1000/ 1:54'47.077
4 / YSP PRESTO Racing / Katsuyuki Nakasuga(52 laps) / Yamaha YZF-R1 / 1:55'02.192
5 / DREAM Honda Racing Team 33 / Jonathan Rea(24 laps)/Yusuke Teshima(28 laps) / 52 laps / Honda CBR1000RR / 1:55'15.704
6 / TEAM GREEN / Akira Yanagawa(52 laps) / Kawasaki ZX-10R / 1:55'17.066
7 / F.C.C.TSR / Takeshi Tsujimura(25laps)/Shinichi Ito(27 laps) / 52 laps / Honda CBR1000RR / 1:55'57.020
8 / Moriwaki MOTULRacing / Tatsuya Yamaguchi.(25 laps)./Cal Crutchrou(27laps) / 52 laps / Honda CBR1000RR / 1:56'07.926
9 / Team Sakurai Honda / Kazuma Tsuda(51 laps) / Honda CBR1000RR / 1:56'02.526 / 1Lap
10 / Y's gear racing / Yuji Sato(31 laps)/Yuichi Takeda(20 laps) / 51laps / Yamaha YZF-R1/ 1:56'06.142
---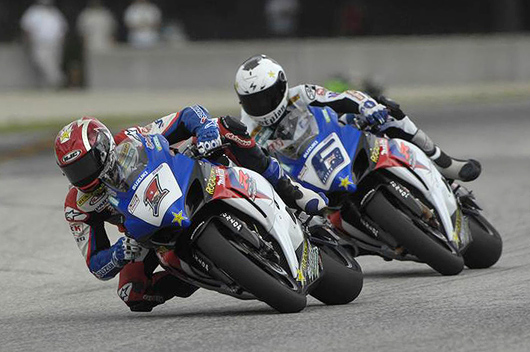 It was Spies (1), Mladin (6), and Mladin (6), Spies (1) for the road America weekend.
AMA Superbike Championship at Road America, Round 6 of 11
Spies and Mladin do Road America, Spies Breaks Record
Road America, Wisconsin, June 7-8yh, 2008 - Team Rockstar Mikita Yoshimuras Suzuki's Ben Spies and Mat Mladin trade wins victories in both Saturday and Sunday's rounds of the AMA Superbike Championship at at Road America. Monster Kawasaki's ZX-10 mounted Jamie Hacking placed3rd both races, while Honda's Neil Hodgson scored double 4th places for the Honda CBR1000RR in the ongoing repeat of this year's AMA Superbike Championship.
Ben Spies Wins on Saturday with a Record 7 Consecutive Wins
Roockstar Makita Suzuki Factory Racing's Ben Spies won Saturday's AMA Superbike race at Road America in Elkhart Lake, Wisconsin - a record-breaking seven AMA Superbike wins on the trot! The two-time AMA Superbike Champion was the pole-sitter in this race - the first of two in the double-header weekend - and led all 16 laps to victory on his Rockstar Makita Suzuki GSX-R1000. In addition to this being Spies' seventh win of the season, it also marks his 25th AMA Superbike career win.
Six-time AMA Superbike Champion Mat Mladin got off the line with his team mate and battled for the lead. In the end, however, Mladin brought home a strong second-place result. Rockstar Makita Suzuki Factory Racing's Tommy Hayden is recovering from injuries sustained at a recent round of AMA Superbike and did not race.
Ben Spies: "The weekend was really good, other than my throwing the bike down in practice this morning. It was a tough race, the pace was really hot. Mat was staying right there, making me work for it. I've got to thank my guys because they had to build me a new bike after I crashed. We're going to do everything we can to try and win another one tomorrow on the Rockstar Makita Suzuki GSX-R1000. Right now we want to get another Superbike title and if we accomplish that by winning races and setting records, then great. But basically, we need to finish in front of Mat and to do that we're just going to keep doing what we've been doing because that seems to be working for us."
Mat Mladin: "We're going to go back and try to get the bike a little better tonight and try for a better race tomorrow. We tried our hardest today on the Rockstar Makita Suzuki GSX-R1000 but Ben was too quick for us today. His bike was fast, we were slower all weekend and we've been struggling a bit on the straights… But after about four or five laps, I tried to put it in tight underneath him but I couldn't quite make it stick. We need to find some straight-line speed to give us a chance. We'll see if we can give him more of a hurry-up tomorrow."
Friendly teammates? Mladin plants his front wheel up Ben's butt!

Mladin Wins Race 2 on Sunday
Sunday June 9th - Rockstar Makita Suzuki Factory Racing's Mat Mladin captured the win in the second of two AMA Superbike races at Road America in Elkhart Lake, Wisconsin, on Sunday. In spite of semi-wet conditions, six-time AMA Superbike Champion Mladin rode hard on his Rockstar Makita Suzuki GSXR-1000 and picked up his fourth win of the season and his 67th career AMA Superbike victory.
Suzuki team mate Ben Spies challenged Mladin for the lead multiple times during the 16-lap race before bringing home a second-place result. Two-time defending AMA Superbike Champion - who won Saturday's race - currently leads the points chase in AMA Superbike and Mladin is in second place.
Ben Spies: "It was a good race but it was just difficult to fly up in there after it had been raining all morning. Today we went with a bit of a set-up change on the Rockstar Makita Suzuki GSX-R1000 and between that and how green the track was; I was just hanging on by a thread all during the race. I just wasn't comfortable running Mat's pace in the end. I tried to stay there but he was riding really good and his confidence is high. We didn't have it today but hopefully we'll come back at Laguna Seca next month and be strong."
Mat Mladin: "It was a good race for us and we just tried really hard to get the win. I just had to keep pushing and try to get on top of Ben and get some more wins. The Rockstar Makita Suzuki GSX-R1000 was a completely different bike today than it was yesterday. We gambled with a set-up change that helped us not lose time in certain areas of the track."
Saturday Superbike:
1. Ben Spies (Rockstar Suz)
2. Mat Mladin (Rockstar Suz)
3. Jamie Hacking (Kawasaki)
4. Neil Hodgson (Honda)
5. Miguel Duhamel (Honda)
6. Aaron Yates (Jordan Suzuki)
7. Jason Disalvo (Yamaha)
8. Eric Bostrom (Yamaha)
9. Geoff May (Jordan Suzuki)
10. Alastair Seeley (Suzuki)
Sunday Superbike:
1. Mat Mladin (Rockstar Suzuki)
2. Ben Spies (Rockstar Suzuki)
3. Jamie Hacking (Kawasaki)
4. Neil Hodgson (Honda)
5. Eric Bostrom (Yamaha)
6. Miguel Duhamel (Honda)
7. Geoff May (Jordan Suzuki)
8. Aaron Yates (Jordan Suzuki)
9. Alastair Seeley (Suzuki)
10. Chris Peris (Suzuki)
Championship Standings:
1. Ben Spies (Suzuki) 308
2. Mat Mladin (Suzuki) 269
3. Neil Hodgson (Honda) 239
4. Jamie Hacking (Kawasaki) 234
5. Jason DiSalvo (Yamaha) 222
6. Eric Bostrom (Yamaha) 205
7. Miguel Duhamel (Honda) 187
8. Aaron Yates (Suzuki) 186
9. Matt Lynn (Honda) 158
10. Geoff May (Suzuki) 153
---


$86,000 in Cash and Awardsin the Calendar Bike Building Championship
for Custom & High Performance Street & Sportbikes
Performance Machine presents the
17th Annual 2008 LA Calendar Motorcycle Show Weekend featuring Calendar Bike Building Championship, Dyno Shootout, & Music Festival

July 12-13th 2008, Queen Mary Event Park, Long Beach - The 17th annual Los Angeles Calendar Motorcycle Show Weekend presented by Performance Machine, America's premier custom, cruiser, performance and sportbike weekend returns to the Queen Mary Event Park in Long Beach on July 12-13th, 2008. Join 20,000 streetbike motorcycle and music enthusiasts for the world's most exciting 2-day motorcycle event weekend in the beautiful Queen Mary Event Park on the grass alongside the Pacific Ocean! This is the world's premier motorcycle show weekend featuring 200 major motorcycle and parts manufacturers, selected product and apparel venders.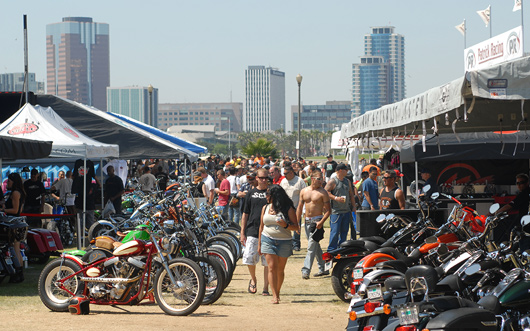 The weekend features many of the world's top Pro and Amateur street bike builders in attendance to compete in the Performance Machine Calendar Show Bike Building Championship with a bulging purse of $86,000 in cash and awards*. There are 10 individual classes for American V-Twin and Metric Street Custom, Performance, Classic, Bobber, Chopper and Sportbike motorcycles.

The coveted Performance Machine Best of Show Trophy is awarded for the top overall bike at the Show and includes a $3,000 cash prize, an additional $7,000 in product awards bringing the total awards to $10,000 overall, plus the winning bike and builder receives an editorial bike feature in Iron Works magazine and the Iron & Lace Calendar photographed by Show producer Jim Gianatsis.
Performance Machine also offers is own trophy for the Best Performance Machine Equipped Bike with a $5,000 product award from Performance Machine products, Other favorite classes include the Iron Works magazine sponsored Radical Pro Builder, the Mikuni American HR Carburetor sponsored American V-Twin Performance, and the Fast Dates Calendar sponsored Sportbike Class.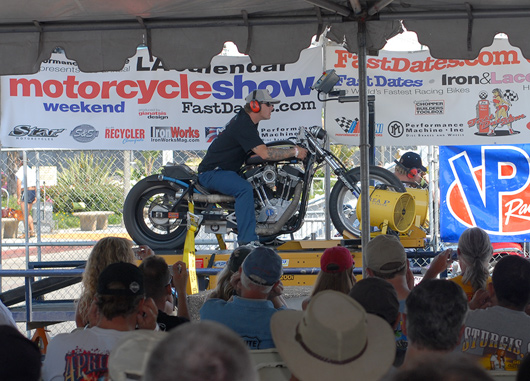 A high performance drag bike tackles the S&S Cycle World Record Dyno.
Join in the excitement of the Calendar Show's exclusive S&S Cycle World Championship Horsepower Dyno Shoot Out hosted by Kerry Bryant of Area P Exhaust Systems. World Record runs are open up to anyone, including the change to see just how strong your streetbike really is. Classes & Awards for all stock and modified American V-Twin and Metric Sportbikes.
Date and Time: July 12th Saturday 10am - 7pm, July 13th Sunday 10am - 6pm
Admission: $25 1-Day $35 2-Days, Children $10.
Location: The Queen Mary Event park, 1126 Queens Highway, Long Beach, CA 90802
Queen Mary Information & Reservations: Ph 562.435.3511
Event Website: http://www.FastDates.com/BIKESHOW.HTM
---
There's more! Go to Pit Lane News NEXT PAGE

Hot Calendar Girl and Bike News! Go to: Fast Dates • Calendar Girls • Iron & Lace



Calendar Kittens, The Paddock Garage, Screensavers, Iron & Lace Garage


Many of our Calendar Kittens can also be seen at Playboy's website...


BikerKiss.com - the largest biker personals site!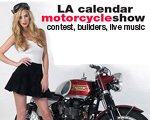 You're Invited to
America's Premier
Custom & Sportbike
Event Weekend!
$86,000 Bike Building Championship
World Record Dyno Shootout!
Calendar Girl Music Festival




The Calendar Motorcycle Show and Calendar Girl Muisc Festival are hosted by beautiful singer songwriter Kari Kimmel
---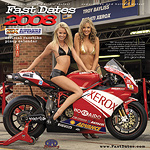 Almost Sold Out!
16-month Calendar starts Sept
2008 Fast Dates &
Garage Girls Calendars

---
Members Only Preview!
2009 Fast Dates Calendar
2009 Iron & Lace Calendar
2009 Garage Girls Calendar
Join our Members Corner today at get an exclusive look at the upcoming 2009 FastDates.com calendar now, before its public release at our big LA Calendar Motorcycle Show July 12-13th!
Featured are full-size 15 inch calendar screensaver pages for your monitor with the top bikes of the 2007 SBK World Superbike and MotoGP World Championship with our beautiful Calendar Kittens. Also includes all our current 2008 and past years Calendars !
---
Rider Notes from
Catalunya MotoGP
Valentino Rossi put yesterday's poor qualifying behind him today with a characteristic charge through the field from ninth on the grid to take second in the Grand Prix of Catalunya. By the time Rossi made it through the pack the race-winner Dani Pedrosa was already some way off in front, but Rossi had a lively battle with Casey Stoner over the last few laps, a replay of last year's race but with the Italian prevailing this time.
After some hard work by his team and engineers overnight, it was clear from this morning's warm-up that Rossi was in better shape and the Italian began his race with the podium as his target. Starting form ninth, he gained one place on the first lap when he passed James Toseland and then made his way steadily through the field, out-braking several riders into turn one on consecutive laps and eventually passing first Andrea Dovizioso and then Stoner to take second on lap nine. Rossi tried to leave Stoner behind but the Australian remained in touch and passed him back on lap 17, sparking an entertaining battle for second spot over the closing stages of the race. Rossi eventually made the decisive move at the start of the penultimate lap and held on to cross the line just over half a second ahead of his rival, with Pedrosa 2.806 seconds in front.
An important 20-point haul sees Rossi hang on to his championship lead, seven points ahead of Pedrosa, whilst Lorenzo is still just ahead of Stoner in third despite having to miss today's race while he recovers from Friday's crash. It was another double top-six finish for the Tech 3 Yamaha Team meanwhile, with Colin Edwards and James Toseland finishing in their grid spots of fifth and sixth.
Andrea Dovi4th: "Dani was incredibly fast today, but I was able to stay with Valentino and Casey and was able to keep that pace. The level of competition was very high but when Vale passed Stoner I lost half a second and sadly I was not able to regain this time. Fourth is the same result as Qatar, but the value of this race is different: that was my first MotoGP race but now I have more experience, so this is why I'm looking at improved race-by race results. If I hadn't lost that half-second I could have fought for the podium and the final satisfaction could have been even bigger."
Nicky Hayden ,8th: "Something in the set-up is hurting tyre life, it's quite frustrating. We were in there early and thought we might be on for a good result and then we lost touch and went backward. The rear brake went out towards the end which didn't help things. Eighth place is not what we want. Now we've got a really important two days of testing. I'm certainly looking forward to it, hopefully we can get a couple of things sorted out."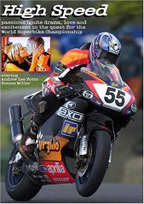 High Speed - the Movie
The best motorcyce racing movie ever made! Filmed on location at World Superbike, this an exciting romantic drama staring beautiful actress Sienna Miller.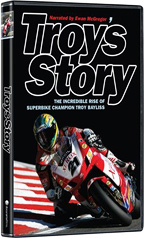 Troy's Story
The story of 2-Time World Superbike Champion Troy Bayliss narrated by Ewan McGreggor
Hot New Book!
---
FIM and MotoGP help promote
World Environment Day
Gran Premi Cinzano de Catalunya

June 5th- The FIM was one of the first international sporting federations to have signed an agreement with the United Nations Environmental Programme, at the end of 2006. This year, the FIM increased the number of celebrations of World Environment Day around the world over the past week during FIM World Championship events, in order to underline the importance of protecting the environment.
This weekend, the Gran Premi Cinzano de Catalunya, seventh round of the FIM MotoGP World Championship, will be the most ecologically sound MotoGP event to date.
Organised by Dorna and the FIM, a visit to a plastic material recycling factory took place today with 125cc and 250cc riders. Another celebration will take place tomorrow at the Circuit de Catalunya with MotoGP riders taking part in the recycling of various items, a process available to all members of the public who attend the race weekend.
The Circuit de Catalunya was recently awarded the ISO14001:2004 for Environmental Management Standards. This entails having on site over 300 yellow recycling recipients (for plastic, cans and other packaging), and 9 further blue containers for card and paper in areas such as the press room.
Furthermore the racetrack is completely accessible by local public transport systems during the weekend (train and bus). It is expected that during this first year of implementation, the circuit will generate up to 100 tons worth of recyclable material.
MotoGP's most complete TV coverage ever
Gran Premi Cinzano de Catalunya

Friday June 6th - This weekend's Gran Premi Cinzano de Catalunya inaugurates a new era in the television coverage of the MotoGP World Championship. Commercial rights-holders of the series and producers of the world television broadcast, Dorna Sports this weekend will employ 128 separate cameras to cover every angle of the Grand Prix. It is a figure that few sporting events can match.
The miniature onboard cameras installed on the bikes give fans at home incredible shots from the rider's perspective, and are the closest thing to actually being on the motorcycles themselves. To heighten the drama from the onboards, Dorna has consistently increased the amount of mini-cameras, which boast the latest digital technology and rely on MotoGP Radio Frequency supplier Gigawave for a clear signal.
For the first time in history this weekend, all the bikes on the MotoGP grid will have at least three onboard cameras fitted, with a total of 90 being used during the MotoGP race alone. There are a further 8 used in the 250cc category, with 3 more installed in the BMW "Safety Car".
Eleven MotoGP bikes will have the three standard mini-cameras installed (Front, Rear, Tail), and the seven remaining bikes will have four. On these seven an extra special camera is fitted alongside the three standard cameras. For the Gran Premi Cinzano de Catalunya, the distribution is as follows.
1. Valentino Rossi: clutch hand
2. Dani Pedrosa: throttle and front brake
3. Jorge Lorenzo: view of rider from dashboard
4. Casey Stoner: front tyre – Bridgestone
5. Colin Edwards: front tyre – Michelin
6. Toni Elias: side rear cam, front facing
7. Loris Capirossi: right knee
Each MotoGP rider has two bikes, and for most riders both bikes have onboard cameras installed. As such, if there is a change of bike, a crash or even a 'flag-to-flag' race, the coverage is unaffected.
In total 28 bikes have been fitted with cameras; with 28 front, 28 rear, 26 tail cameras and 8 special cameras.
In 250, the top four riders in the championship each have one bike fitted with two cameras, a front and rear. In the Safety Car the three cameras are a rear facing camera, an interior "cockpit" camera and a camera showing the driver and co-driver.
Obviously the action will also be covered by the usual external cameras over every single inch of the asphalt with 27 cameras in total: 21 trackside, four RF cameras in Pit Lane, one in the helicopter and one paddock camera.
The International Programme Feed will have a total of 128 cameras at its disposal, which represents a new record.
Boulder Ducati, among many new teams ,
to join World Superbike in 2009 with a 2-Rider Team
June 2nd - The resurgence of World Superbike popularity continues to grow with Boulder Ducati, CO, announcing that it will field a 2-rider team aboard Ducati 1098RS bikes in the 2009 Championship. This is in addition to the all new factory teams and bikes arriving in 2009 from BMW and Aprilia.
Boulder Ducati intends to run its new 2-rider team from a base in Italy (close to the Ducati factory in Bologna?) with one American rider and one experienced European on the team. The American rider being mentioned is Jake Zemke. While the Eupopean rider might be former Ducati Corse team rider Lorenzi Lanzi, now racing for the RG Ducati team which may not be funded for 2009.
Other teams which might possibly join the World Superbike grid in 2009 include twoof the otp teams in the British Superbike Championship. GSE Racing will come for sure if the BSC throws out the 1200cc Ducati bike fromthe class. While Neil Hodgson's old team the HM Plant are talking of returning with 2 british riders as well.
Any way you look at it, the current 32-rider grid limit in SBK World Superbike will easily be exceed in 2009, from its current level of 29 riders making the trip across the pond to race a Miller Motorsports this past weekend, to possibly a packed grid of 40 riders.
For comparrision in MotoGP, the huge expense and lack of available factry spec equiment for privateerr teams has that series struggling to keep 19 riders on the grid.
After the spec tire rule in World Superbike chased off all the Japanese teams 3 years ago, the practicality has proven itself, and now all the Japanes end even more privateer teams s are back in World Superbke in record numbers.
---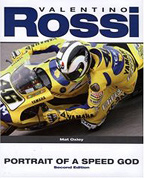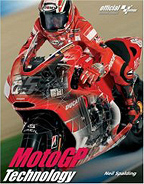 ---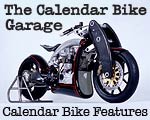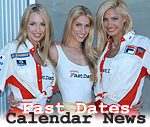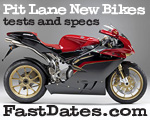 ---
---
Sands vs. Rooke
Calendar Bike Build Off
See the world's two hottest custom sportbikes featured in the 2008 Fast Dates and Iron & Lace Calendars being built and raced by Roland Sands and Jesse Rooke for Discovery Channel's Biker Build Off
Roland Sands builds the
KR Tracker Calendar Show Bike
New Blood DVD
features Roland Sands building and riding the extraordinary Roland Sands Design / Kenny Roberts KR 990cc 5-cylinder MotoGP powered Retro Board Track Racer. The bike is also featured in the 2008 Fast Dates race bike and Iron & Lace custom bike Calendars with beautiful Playboy Playmate and Calendar Kitten Tamara Witmer in one of our best calendar shots ever and ,featured in the LA Calendar Motorcycle Show advertsing campaigns
and T-Shirt.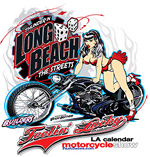 Order the Official
LA Calendar Bike Show
T-Shirts!


DMG Closer to Formulating New Rules for AMA Superbike
June 2nd - Daytona Motorsports Group, the new owners of AMA professional roadracing, are close to finalizing and announcing their new classes and equipment rules for the American roadracing championships 2009.
The word is all the classes including 1000cc Superbike will be restricted to stock production bikes, with the ony available modifications being bolt-on parts like an Exhaust System which a class Sponsor will have to pay a licensing fee, similar to the spec tire rule in World Superbike with Pirelli signing a 3-year contract and licensing fee to get an excluvise for the Championship.
As we pointed out in our recent Pit Board Editorial, we do not think the dumbing down of the bike specifications in AMA Superbike, in particualr, will turn around the class and spectator interest. Instead it will kill it altogether if DMG does not follow the World Superbike rules and classes.
Blowback begins - AMA Superbike and the Daytona Motorsports Group (DMG)
Written by North Denver News
Wednesday, 28 May 2008
The blowback from the effort to transform the AMA Superbike series has begun in earnest.
In a nutshell, two of the AMA series' stalwart riders have made their opinions known-- Honda rider Josh Hayes (who actually doesn't have a Superbike ride) in his hometown newspaper and Suzuki's Mat Mladin from the podium at Infineon a weekend ago. Both strongly condemned the Daytona Motorsports Group(DMG) approach in apocalyptic terms.
Here's the harshest assessment: Bozos from NASCAR, who have already dumbed down sports car racing with weird Harold GrandAm cars, now seek to emasculate Superbike racing. They also want to take manufacturers out their dominant role, and level the playing field. Now the that DMG owns the promotional rights to the AMA roadracing series, we'll get less than the best in machines, reigned in by black boxes and displacement rules, with less than cutting edge rubber. It's a hard pill to swallow for traditionalists, especially those with some passing knowledge of just what it means to ride a superbike at a ragged edge— i.e., outside the performance envelope of 99.995% of the human race.
The economic base of motorcycle racing are the manufacturers. Outside sponsors play a minor role in the sport relative to other motorsports. Part of this is due the image of motorcycles amongst the public, part of due to historical incompetence on the part of the AMA. Outside sponsors also are uncomfortable with the fact people get really hurt, occasionally even killed racing motorcycles. Serious injuries are very rare in AMA racing, but most of the series top stars have seen a surgeon's knife. Can't say that about NASCAR these days. But this reality is true internationally as well. With the exception of Ducati, at the MotoGP level, none of the manufacturers could go racing on sponsorship dollars alone. Both the Suzuki and Kawasaki teams have title sponsors that don't come with title cash. And that's despite killer TV ratings worldwide.
Even though the demographics of racing fans are great, sponsorship is tough, tough sale. Even when the fit is good with branding-- energy drinks being the flavor of the moment-- sponsor dollars are far from a slam dunk.
AMA Superbike racing is perhaps the most Darwinistic form of motorsports in America at the moment. Ostensibly production-based, the evolution of bikes in the past decade and a half have taken them to performance levels that are transcendent. A GSXR-1000 or 1098R (which would have eligble in the previously agreed upon 2009 Superbike rules package), off the showroom floor, perform at a higher level, with current tires, than GP bikes twenty years ago. Imagine if you could buy a car at the local dealer today that would outperform an IndyCar or Formula 1 car from 1988. That's essentially where motorcycles are at today. Production bikes are an apex development, and tweaked into racebikes, they are far more developed than anything but pure prototypes. And at a core level, it is this engineering excellence that DMG wants to kill.
And, ultimately, that's why DMG's disfiguration of AMA Superbike racing will eventually fail, if it is not critically retooled. The hard corps of motorcycle racing fans know that they can go out a buy a bike not far removed from what Mladin races. It will lack his tires and his traction control (although the showroom GSXR has a nifty traction control switch on it), but the basic bike-- frame, motor, is there.
And there is a reason why Superbike racing, in its technical form (as opposed to commercial form), is here today. The evolutionary pathway is a product of the engineering pathway, and the two are so intertwined as to make separating the causal relationships impossible. There has been one moment in recent times that was pivotal— the decision to have fours move to a full liter to regain parity with twins. That was almost certainly a mistake on the race track— electronics and traction control, plus tire development— rapidly eroded the advantage that twins had natively in tire wear. But it did follow the showroom-- customers were buying liter bikes as an aspirational model, first with the Honda CBR900RR, and then with certainly with the 2001 GSX-R. Honda's history with homogolation special 750's also added to demise of the three-quarter liter class. The public just couldn't buy an RC-45, but they could buy an RC-51. What mitigates for the DMG position?
First, Roger Edmondson. Edmondson is a very bright guy, certainly among the sharpest minds associated with motorcycle racing at an executive level in America. Shaped by some hard knocks, Edmondson is also a survivor. It would be hard to bet against Edmondson in a straight fight against the manufacturers, in part because the manufacturers have diffuse interests, and in part because the sponsorship dollars Edmondson might be able to attract are so damn attractive, particularly in a confusing and softening economy. Let's face it, the Japanese manufacturers aren't the most savvy players in the public relations realm. They would have to stand shoulder to shoulder in a protracted battle they might not have the heart or the head for.
Secondly, DMG can see the obvious. When my family was driving home to Colorado from the Miller round last summer, our Nissan Pathfinder was having mechanical difficulties. As a result, we were passed by an astonishing number of NASCAR haulers coming home from Sears Point and AMA teams heading east. The NASCAR haulers were all about drivers and sponsors, we could see from the breakdown lane. The AMA haulers — manufacturers. You had to strain to see the riders names on some trucks. NASCAR's formula for success-- create, nurture, even manufacture star drivers. AMA Superbike doesn't have a formula for success.
Now, I can root for Rob Muzzy's gear-driven cammed ZXR750, even identify such a thing by sound alone at 1000 paces, half a generation on. But I also listen to Rage Against the Machine while reading Alan Greenspan when doing cardio. I understand that I am a statistical outlier that could never be part of the core fan base for a sporting enterprise in America. The AMA has to move beyond gearheads with garage-fulls of trackday bikes to fuel the growth or even the status quo of the sport.
But in the end, NASCAR's coattails are only so long, and motorcycles are not slab-sided billboards, so carefully measured and fettled, undertired with medieval tech. No motorcycle manufacturer, save Harley, can sell backwards-looking technology, and want to be branded as racing such. Even retro-models like the Ducati Sport line, have EFI and wicked suspension. Motorcycles and their riders have always been square pegs, ill-suited to roundy-round NASCAR holes.
As such, Edmondson and DMG will at best have to evolve their current formula to find sustainable success. The fundamental and visceral forces that drive motorcycle racing won't be contained for long.