FastDates.com May 2008
Superbike, MotoGP Racing & Calendar Girl News
Official Calendar of the SBK World Superbike Championship
Home of the official SBK Fast Dates Calendar Kittens

Page 3 - Monza World Superbike
Cital of Speed Crumbles to the Axis Powers

Fast Dates Calendar Kittens announced for
Miller USA World Superbike Calendar Shoot


LATEST FEATURES
• BMW S1000 RR World Superbike ready for Street and Track in 2009!
• High Speed World Superbike Feature Movie Drama Staring Sienna Miller
• Ducati 1098R World Press Intro & Test Ride
• Pirelli Calendar 2008 Million Dollar Supermodels in China
• Casey Stoner - Meet MotoGP's hotest new rider
• BMW HP2 Sport - BMW's First hard core Sportbike for Street and Track
• Ducati Hypermoto R -Exclusive! We make it faster, Tiffany makes it Better!
• 2009 Fast Dates Calendar Shoot at '07 Brands Hatch World Superbike
• 2007 LA Calendar Motorcycle Show Weekend - America's Streetbike Show
• Edelweiss Motorcyclist Alps Challenge - 5 Counties in 7 Days!


High Speed - the Movie
The best motorcyce racing movie ever made! Filmed on location at World Superbike, exciting romantic drama staring beautiful actress Sienna Miller.
World Superbike Returns to America this Month!
Fast Dates Calendar Kittens Team Up with Alstare Suzuki and Monza Race Winner Max Neukircher at Miller Motorsports SBK Race
May 1st 2008 - This month's May page in the 2008 Fast Dates Calendar has us getting ready for the return of World Superbike to America this month at Miller Motorsports Park, UT, May 30-June 1st after a 3 year absence.
We are excited to announce that FastDates.com and producer/photographer Jim Gianatsis will be at Miller for the World Superbike round this month to shoot the next edition of the SBK Fast Dates World Superbike Calendar with all the top factory World and AMA Superbike race team bikes. Our selected models for the Caendar shoot will be beautiful Salt Lake City based professional models Keisa Finley and Michelle Barrett from the Wilhelmia agency Urban Talent.
And then on race day Sunday June 1st, both Ashley and Michelle along with another hot model we scouted from Urban Talent, Ashley Nicholas , will serve as the official Alstare Suzuki grid girls for team riders Max Neukirchner, Yukio Kagayama and Fonsi Nieto. So look for our girls on the starting line in the world TV broadcast of the SBK World Superbike races from Miller Motorsports park, and in the 2010 SBK Fast Dates Calendar to be release just 13 months from now.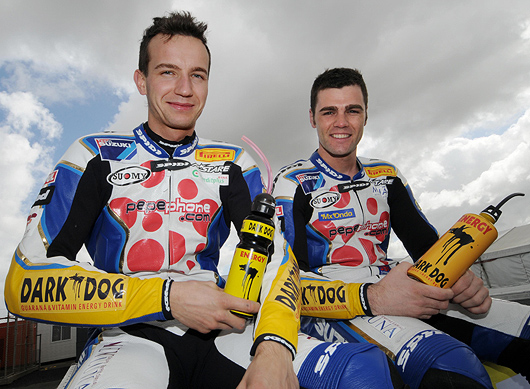 Whay are Alstare Suzuki's Max Neukirchner and Fonzie Nieto smiling? They just found out they'll be receiving
Fast Dates Calendar Kitten pampering at the Miller Motorsports USA World Superbike round!
---
Neukirchner, Haga and Kiyonari share the 2nd Race Podium.
SBK Hannspree FIM World Superbike Championship, Monza Italy Round 5 of 15
The Axis Powers Dominate at the Citadel of Speed
Neukirchner Scores First German Superbike Win with Suzuki
at Monza, Haga Wins Race 2 for Italian Yamaha

Monza (Italy) Sunday May 10th May - Max Neukirchner (Alstare Suzuki) and Noriyuki Haga (Yamaha Motor Italia) shared the wins in the IDS Italian Round of the HANNspree FIM Superbike World Championship at the Autodromo Nazionale di Monza in front of a record crowd of 112,000 spectators.
Race One was the first-ever win for a German rider in World Superbike history came at the end of a sprint finish to the line with Haga, just 0.058 seconds behind at the flag. The final podium place went to championship leader Troy Bayliss (Ducati Xerox) after a late attack by Yukio Kagayama (Suzuki Alstare), who finished fourth despite a couple of errors at the chicane.
In Race Two, Haga took his revence over Neukirchner in the second race rematch, which saw a three-rider sprint for the line. This time the gap between the two was even smaller, 0.009 seconds, the fifth closest finish in the history of Superbike. But today's two winners were almost edged out at the end by an extraordinary Kiyonari (Hannspree Ten Kate Honda) who was in front as they braked for the final entry into the Parabolica.
Security was tight in the Yamaha pits.
Citadel of Speed Preview
Monza, Italy, Thursday 8h May 2008 - As the gates opened at the Autodromo Nazionale di Monza for the traditional SBK Open Paddock, riders taking part in this weekend's races have been facing up to an intense day of PR activity, both inside and outside the circuit.
The first appointment of the day saw six Superbike riders – Troy Bayliss, Max Biaggi, Carlos Checa, Noriyuki Haga, Makoto Tamada and Max Neukirchner, together with the leaders of the other three categories, Joan Lascorz (Supersport), Maxime Berger (Superstock 1000) and Dan Linfoot (Superstock 600) – take part in the traditional pre-event press conference in the delightful 14th century Castello della Bicocca building within the grounds of Pirelli headquarters in Milan.
In front of a packed hall of national and international journalists and TV stations, the riders took the opportunity to talk to the media of their experience of the legendary Monza track and their thoughts about this weekend's upcoming fifth round of the championship.
Championship leader Troy Bayliss (Ducati Xerox) has won six times at Monza, three double wins in 2001, 2002 and 2006, so has a special feeling for the Italian track. "I think Monza is a very special place, not just for me, and I've always enjoyed my time here. It's also special because I started my career with Ducati here in 2000, basically I was signed there and then and I've had a good ride since then. Nori was strong last year but we're doing our best this year and I've love to get a couple of good results in front of the Ducati fans."
"I raced here for the first time in 2007, the track is a bit strange for Superbike and not very twisty, we riders like curves, but I like coming her" declared Max Biaggi (Sterilgarda Go Eleven Ducati). "I've put the Assen race behind me, I'm coming here intending to do a couple of good races on Sunday, hopefully it'll be a nice day and a lot of people will come and see this great championship."
Last year's double winner Noriyuki Haga (Yamaha Motor Italia WSB) is aiming for more of the same on his R1 machine at what is the team's home race. "I won here in 2007, and I want this year to be more of the same. I hope it will be good weather during the weekend, we tested before the Assen race with the rain and when it rains Monza is dangerous. Unfortunately I've lost a lot of points already, now we have to recover."
Following this, nine Superbike riders then ventured out on to the circuit for a three-lap race around the Monza Junior track – The Alfa Romeo Bike Experience - on exclusive 'Stradale' pushbikes kindly supplied by championship sponsor Alfa Romeo. Kawasaki PSG-1 Corse rider Régis Laconi, no mean pushbike rider himself, took home the 'Stradale' bike for the winner after overtaking one of the race favourites Troy Bayliss (Ducati Xerox), who eventually finished third behind Karl Muggeridge (DF Racing).
Monza Lap Records: Race – Noriyuki Haga (Yamaha) 1'46.064 (2007); Superpole – Noriyuki Haga (Yamaha) 1'44.941 (2007); Best lap – Noriyuki Haga (Yamaha) 1'44.941 (2007).
The IDS Italian Round of the HANNspree FIM Superbike World Championship takes place from Friday 9th through Sunday 11th May. The action starts with free practice and qualifying the first two days, followed by WSBK Superpole on Saturday at 16.00. The two 18-lap (104.274 km) Superbike races are scheduled to run on Sunday at 12.00 and 15.30, with the 16-lap (92.688 km) Supersport race at 13.20 local time.
All results, standings and information can be found on www.worldsbk.com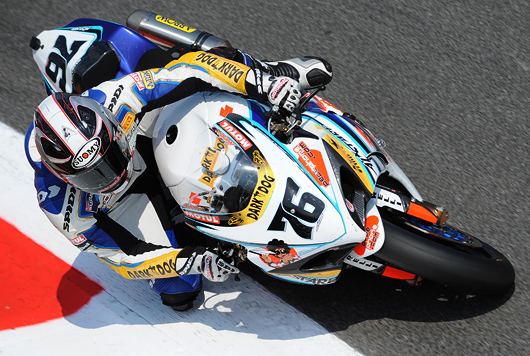 Alstare Suzuki's Max Neukirchner
Neukircher Storms to Friday Provisional Pole
Friday Qualifying, 9th May - Team Alstare Suzuki rider Max Neukirchner was in sensational form today, posting the day's fastest lap in this afternoon's qualifying session at Monza. The young German blitzed the 5.793 kilometre circuit in 1:45.990, breaking the lap record in the process. Over three tenths of a second behind is series leader Troy Bayliss (Ducati) with Suzuki Alstare rider Yukio Kagayama third. Completing the provisional front row is Japanese rider Makoto Tamada (Kawasaki). It was not such a good day for Suzuki Alstare rider Fonsi Nieto. He crashed in the qualifying session, fortunately without injury, and lost time when most of the riders were setting their quick lap times. Fonsi ended eleventh and he and the team know that a lot of good work will have to be done tomorrow to get a good grid position.
Max - 1st, 1:45.990 - I'm happy with how things worked out today and happy because I think we have a pretty good bike set-up. We'll make some small adjustments tomorrow to see if we can improve the bike, but it will not be anything major. Tomorrow we'll do some work on the electronics and maybe the engine-braking to try and get the best possible set-up for raceday. I want to say thank you to Yukio for helping me do my fast lap today. At Monza you need help if you want to set a really good time and Yukio was great.
Friday Qualifying
1 Max Neukirchner (D-Alstare Suzuki) 1:45.990, 2 Bayliss (Aus-Ducati) 1:46.359, 3 Yukio Kagayama (J-Suzuki Alstare) 1:46.371, 4 Tamada (J-Kawasaki) 1:46.404, 5 Smrz (CZ-Ducati) 1:46.604, 6 Muggeridge (Aus-Honda) 1:46.750, 11 Fonsi Nieto (E-Suzuki Alstare) 1:46.990,
Troy Bayliss shattered Haga's lap record frm 2007

Bayliss on the Pole with a Shattered Lap Record!
Bayliss and Ducati Score their 3rd Pole of the Season on Saturday
Saturday SuperPole , 9th May- It took a new lap record by series leader Troy Bayliss (Ducati) to deprive Alstare Suzuki rider Max Neukirchner of a Superpole win at Monza today. Bayliss smashed Noriyuki Haga's 2007 time by well over a second, to take his third Superpole win of the season. Suzuki Alstare rider Yukio Kagayama thought his Superpole lap was a fast one, but was disappointed to find out he'd set the fifth quickest time instead. His team mate Fonsi Nieto made a big improvement in today's practice and qualifying sessions and will start tomorrow's pair of 18-lappers from the second row of the grid.
Troy was the only rider to lap in under 1m45 in this afternoon's Superpole, a result that rewarded the Australian rider with his third pole position of the season for tomorrow's races at the Monza Autodromo, one of his preferred tracks. The hard work that the Ducati Xerox Team put in during the preceding sessions paid off and Troy, having qualified eighth for Superpole, was able to complete a flying lap on board his Ducati 1098 F08.
Troy Bayliss 1m44.9s - " It's been a mixed weekend, and we've struggled a little bit but now it's all come good today after a lot of hard work and we're going much more consistently fast. I feel good riding with the race tyre and I was pretty happy with my Superpole lap time today although I thought that Nori and Max may have gone a little faster than they did. I made a tiny mistake, as did they, but I was able to go fastest in the end. Tomorrow will be a great day of racing and Max has proved himself to be a real contender from now on so it'll definitely be interesting. Nori and Max will surely be up there fighting and the first few laps will be really important I think."
Max - 2nd, 1:45.287 - I'm really happy today because I think we have a good bike set-up and I'm ready for the races. My engine felt strong today and although I made a small mistake in Superpole I'm happy to be on the front row of the grid. Monza is a fast track and I hope to enjoy myself and have some fun tomorrow.
SuperPole Final Qualifying
1 Bayliss (AUS-Ducati) 1.44.931, 2 Max Neukirchner (D-Alstare Suzuki) 1.45.28, 3 Haga (J-Yamaha) 1.45.665, 4 Checa (ESP-Honda) 1.45.766, 5 Yukio Kagayama (J-Suzuki Alstare) 1.45.777, 6 Xaus (ESP-Ducati) 1.45.795, 7 Fonsi Nieto (E-Suzuki Alstare) 1.45.942, Kiyonari (J-Honda) 1.45.975, 9 Biaggi (I-Ducati) 1.46.039, 10 Muggeridge (AUS-Honda) 1.46.065
Bayliss (21) holds a short lived lead in Race One over the faster inline-4s breating down his twin pipes of Haga (41), Neukircher, Kagayama (34) and Nieto (10).
First World Ever Superbike Victory for Germany and Max Neukircher
Haga Takes Race Two as Bayliss DNFs but still increases Points lead
Race One - Neukirchner Takes the Win over Haga and Corser
Monza, Italy Sunday 11th May - Team Alstare Suzuki rider Max Neukirchner took a superb maiden victory at Monza and also went into the record books for being the first German to win a World Superbike Championship race. Ever since Valencia, when he was cruelly robbed of victory on the last lap when he was taken out in a failed lapst lap pass by Carlos Checa. Max has been ready to win and today he emphatically showed that he is a force to be reckoned with this year.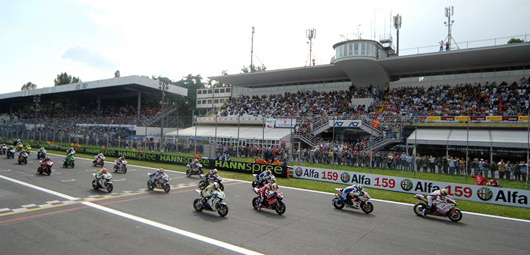 Troy Bayliss leads the start at the classic Monza circuit which has also payed host to decades of Formual One and World Sports Car Championship rounds.

The race started out with pole sitter Troy Bayliss grabbing the lead on the Xerex Ducati, but quickly found himself challengeled immediately bt Alstare Suzuki''s Neukircher his team mate Yukio Kagayama, with Yamaha Italia's Noriyuki Haga soon joining them as they pulled out a gap on the rest of the field. After a few laps Bayliss found his largert displacement 1198cc V-twin Ducati out powered by the higher reving 1000cc 4-cyclinder bikes on the Monza's long straightways and was displaced back to forth by a heated battle for the lead between Neukircher, Kagayama and Haga. Troy would loose about 10 bike lengths on the leaders down the main straights, but would immediately make it back up under braking into the chicanes desite the bigger displacement Ducati havng to run with a 5 kilo /12 lb weight handicap.
Buy mid race the lead battle turn into just a 2-way fight between Neukirchner and Haga, shadowed by Bayliss, as Kagayama missed his braking oint into corners 3 times and continued to run off the track. Max finally took the lead back away from haga gong into the last lap and held it, arriving at the finish line just half a bike like over the Japanse rider to give the German his, and his country's first ever World Superbike race win.
Yukio Kagayama (Suzuki Alstare), who finished fourth despite a couple of errors at the chicane. Max Biaggi (Sterilgarda Go Eleven Ducati) recovered from ninth on the grid to finish fifth. The first Honda to the line was the Hannspree Ten Kate version of Ryuichi Kiyonari in sixth, ahead of Fonsi Nieto (Suzuki Alstare) and Carlos Checa (Hannspree Ten Kate Honda), who lost time at the start after a clash with Nieto. The Spanish rider was relegated to the back of the field but recovered to finish eighth.
Max - 1st Race Race 1: "I am so happy to win my first ever World Superbike race and proud and happy to be the first German rider to do so. It's a great feeling and I'm sure that there'll be much more interest in Germany now. Although I was a bit nervous before the race, I was not nervous in it or at the end. It was easy to be in front in race one and my bike felt very fast on the straights and good in the corners. I knew exactly where Haga was and knew what I had to do to beat him.
Superbike Race 1: (Laps 18 = 104,274 Km)
Pos / Rider / Nat. / Team / Gap
1 / M.NEUKIRCHNER / GER / Suzuki GSX-R1000 / Team Alstare Suzuki / 32'02.851
2 / N.HAGA / JPN / Yamaha YZF-R1 / Yamaha Motor Italia WSB / 0.058
3 / T. BAYLISS / AUS / Ducati 1098 F08 / Ducati Xerox Team / 0.672
4 / Y. KAGAYAMA / JPN / Suzuki GSX-R1000 / Team Suzuki Alstare / 0.771
5 / M.BIAGGI / ITA / Ducati 1098 RS 08 / Sterilgarda Go Eleven / 3.869
6 / R. KIYONARI / JPN / Honda CBR1000RR / Hannspree Ten Kate Honda / 5.995
7 / F. NIETO / ESP / Suzuki GSX-R1000 / Team Suzuki Alstare / 8.788
8 / C. CHECA / ESP / Honda CBR1000RR / Hannspree Ten Kate Honda / 9.374
9 / M.FABRIZIO / ITA / Ducati 1098 F08 / Ducati Xerox Team / 10.667
10 / J. SMRZ / CZE / Ducati 1098 RS 08 / Guandalini Racing by Grifo's / 10.771
11 / G.LAVILLA / ESP / Honda CBR1000RR / Ventaxia VK Honda / 12.180
12 / T. CORSER / AUS / Yamaha YZF-R1 / Yamaha Motor Italia WSB / 14.719
13 / S. NAKATOMI / JPN / Yamaha YZF-R1 / YZF Yamaha / 32.734
14 / L. LANZI / ITA / Ducati 1098 RS 08 / R.G. Team / 36.550
15 / S. GIMBERT / FRA / Yamaha YZF-R1 / Yamaha France Ipone GMT / 36.607
Fastest Lap 3° Noriyuki Haga 1'45.882 196,963 Km/h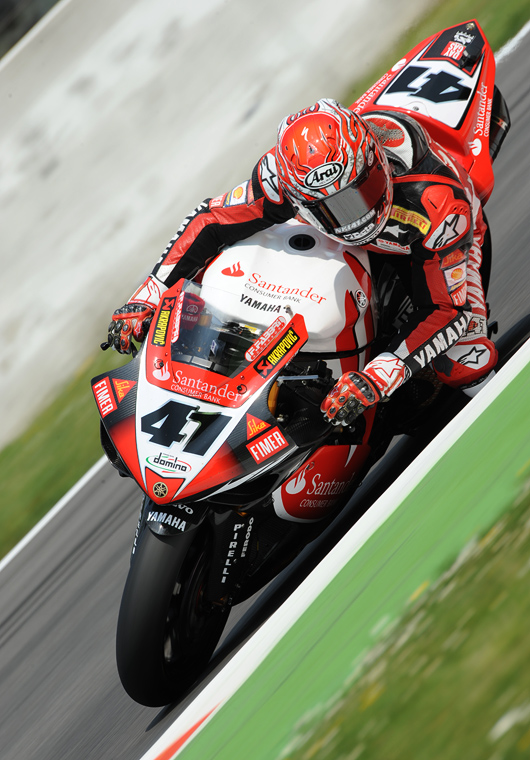 Haga Retruns the Favor to Max in Race Two
It was one of the most exciting World Superbike races ever! Troy Bayliss and Max Neukirchner were race-long contenders for a win in the second race, but then Bayliss' Ducati suffered an unlucky oil leak which forced him to to the pits and quit a wild 4-way battle for the lead. Neukircher battle on and was just beaten to the line in a 3-way photo-finish with Noriyuki Haga (Yamaha) and his Alstare Suzuki teammate Ryuichi Kiyonari! At the end, Neukircher was deprived of victory (and a remarkable double!) by just nine thousandths of a second! Behind Haga and Neukirchner in race two, was Ryuichi Kiyonari (Honda) in third, followed by Fonsi Nieto. Yukio suffered a dramatic crash in the Ascari chicane after just four laps, hurting his ribs and right knee in the process.
Ryuichi Kiyonari (Hannspree Ten Kate Honda CBR1000RR) secured his first ever WSB podium finish today, taking third in race two, after a contest that he could have won. He led the last lap but was passed by eventual winner Noriyuki Haga, who then pushed Kiyonari onto a tight line exiting the Parabolica, preventing him from re-passing. The following rider, Max Neukirchner, therefore took second from Kiyo also, with the time difference from Haga to Kiyonari in third only 0.051 seconds.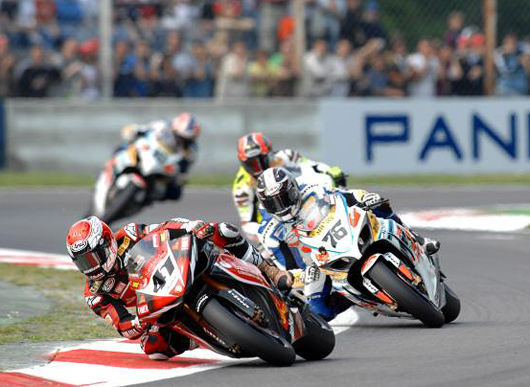 Haga continued to battles for the lead with Neukircher and British Superbike Champ Kiyonari in Race 2 after Bayliss was forced to retire mid way with an oil leak.

Fourth place went to Nieto (Suzuki Alstare), who was also up at the front for much of the race. Michel Fabrizio (Ducati Xerox) brought the first Ducati home in fifth place after a good recovery, ahead of Karl Muggeridge (DF Racing Honda) and Ruben Xaus (Sterilgarda Go Eleven Ducati). An engine oil leak brought an end to the race of Bayliss (Ducati Xerox) while the Australian was entangled in a 4-way battle for the lead after having lead most of the laps up to the mid point of the race.. Both Checa (Hannspree Ten Kate Honda) and Biaggi (Sterilgarda Go Eleven Ducati) retired, the Italian after a contact with the side of Jakub Smr's bike (Guandalini Ducati), in which he picked up a suspected fractured little finger and a cut on the ring finger of his left hand. Smr was way off line on the inside, entering a corner, and Biaggi came up from behind on the race and caught his hand bewteen the two bikes ands nocked to the ground.
During the race Bayliss' 1098 F08 suffered a technical fault, an engine problem that resulted in oil leaking, and which unfortunately led subsequently to his retirement from the race. Despite a DNF, Bayliss' third place finish in Race 1 means that Troy and his Ducati 1098 F08 have nonetheless further increased the championship lead. Ducati team mate Michel Fabrizio rode hard in both races to take ninth and fifth position finishes, and hence 18 extremely important championship points.

Nori celebrates his win of Race Two with a stop in front of the the Yamaha grandstand at Monza.
At the SBK and MotoGP races in Italy the fans of different teams or riders normaly sit together to cheer on their favorite riders.
Noriyuki Haga (2nd and 1st - Yamaha Motor Italia WSB Team) - "In the first race I tried to ride 100% but the feel was not really there. We had a team meeting and we altered the chassis settings and suspension for race two. We got a better feeling and I could push everywhere. I could not calculate for the last few laps I just knew I had to keep in front of everyone. On the last lap I tried to brake hard into the last corner and then passed Kiyonari. I am really happy today because everybody in the garage made a good job, so my thanks go to them."
Max - 2nd Race 2: "I used the same bike and set up for race two, but Haga was a bit quicker in the corners. I was behind him when I suddenly saw a big cloud of smoke coming from his bike. I thought his engine had blown up and waited for him to slow down or pull over, but he kept on going! After half a lap or so, there was no more smoke. I attacked him hard in the last couple of laps, but he just about managed to outdrag me to the line and take the win.
Troy Bayliss (Race 1 - 3rd, Race 2 - DNF) - "I knew today's races would be hard and that proved to be the case. In Race 1 I felt the bike was missing a couple of things and struggling on the long corners but in the end I was happy to take a third place in Race 1. My compliments to Max who takes his first Superbike win, both him and Nori rode a great race and there was nothing I could do to get past them. Race 2? Let's just say I'm happy to leave Monza with a bigger points lead than I had when I arrived."
Yukio - Race 1: 4th, Race 2: DNF - I am very sore after my race two crash! I don't know why I crashed because it happened so quickly and I had no chance of saving it. Maybe there was some dirt and gravel on the side of the track and I hit it and that caused the bike to change direction so violently. It was a big shame because I was thinking of maybe a podium and to end up in the Clinica Mobile was not my idea of how to finish the race. I had some brake problems in race one and that me go straight on in the chicanes sometimes, but I did not want to give up, so I kept pushing as hard as I dared. I hope my injuries are not serious, but I know I'm going to be very sore tomorrow morning.
Troy Corser (12th and 8th - Yamaha Motor Italia WSB Team) - "I struggled to get a good set-up today and the bike didn't feel as fast as we hoped it would. The bike felt unbalanced so I found it difficult braking into corners, the tyre seemed to spin up more on exit making it harder to drive out. I just couldn't get comfortable with it. The bike was better in race two but it didn't really feel better."
Front row qualifier Carlos Checa (Hannspree Ten Kate Honda CBR1000RR) had to fight through to finish eight in the first raceafter loosing his foot off the foot peg off the start and careening off the track, dropping back to 19th by th efirst turn. Checa would crash out of race two, having already run off the track after an earlier incident at the first chicane. He is still second in the championship rankings, but lost points on overall leader Bayliss. Bayliss has 194 to Checa's 116, while race two winner Haga is now third, on 112.
Superbike Race 2: (Laps 18 = 104,274 Km)
Pos / Rider / Nat. / Team / Gap
1 / N.HAGA / JPN / Yamaha YZF-R1 / Yamaha Motor Italia WSB / 32'07.576
2 / M.NEUKIRCHNER / GER / Suzuki GSX-R1000 / Team Alstare Suzuki / 0.009
3 / R. KIYONARI / JPN / Honda CBR1000RR / Hannspree Ten Kate Honda / 0.051
4 / F. NIETO / ESP / Suzuki GSX-R1000 / Team Suzuki Alstare / 4.489
5 / M.FABRIZIO / ITA / Ducati 1098 F08 / Ducati Xerox Team / 10.272
6 / K. MUGGERIDGE / AUS / Honda CBR1000RR / D.F. Racing / 10.376
7 / R. XAUS / ESP / Ducati 1098 RS 08 / Sterilgarda Go Eleven / 10.496
8 / T. CORSER / AUS / Yamaha YZF-R1 / Yamaha Motor Italia WSB / 12.498
9 / A. BADOVINI / ITA / Kawasaki ZX-10R / Team Pedercini / 19.429
10 / G.LAVILLA / ESP / Honda CBR1000RR / Ventaxia VK Honda / 26.373
11 / L. LANZI / ITA / Ducati 1098 RS 08 / R.G. Team / 26.544
12 / S. NAKATOMI / JPN / Yamaha YZF-R1 / YZF Yamaha / 26.895
13 / R. HOLLAND / AUS / Honda CBR1000RR / D.F. Racing - Bertocchi / 27.761
14 / S. GIMBERT / FRA / Yamaha YZF-R1 / Yamaha France Ipone GMT / 29.661
15 / M.BECK / USA / Yamaha YZF-R1 / Yamaha France Ipone GMT / 1'29.001
Fastest Lap 10° Noriyuki Haga 1'46.363 196,072 Km/h
Lap record: 2008 N. Haga 1'45.882 196,960 Km/h
Best Lap: 2008 T.Bayliss 1'44.931 198,750 Km/h
Riders Championship Standings:
1 BAYLISS 194, 2 CHECA 116, 3 HAGA 112, 4 NEUKIRCHNER 111, 5 NIETO 107,
6 CORSER 101, 7 XAUS 90, 8 BIAGGI 65, 9 KIYONARI 65, 10 LAVILLA 59, 11 FABRIZIO 55,
12 KAGAYAMA 54, 13 LANZI 49, 14 SMRZ 41, 15 MUGGERIDGE 35.
Broc Parkes (23) holds a temporary lead over team mate Fabien Foret (99) and Josh Brooks.
Foret Wins 600cc Supersport for Yamaha
Both Fabien Foret and Broc Parkes posted heroic performances in race conditions at Monza, with Foret taking his first win of the 2008 season, by 1.199 seconds, and Parkes finishing third behind Josh Brooks (Hannspree Honda).. Parkes was unsure if he could even ride at all on Wednesday, so his podium finish, his second of the year, was an impressive performance from the tough Australian rider.
Foret pulled through from fifth after an imperfect start to overhaul early leaders Josh Brookes and Parkes, and after taking a firm grip on the lead on lap nine the winning result was never really in doubt. Parkes had a pretty lonely race after putting up a spirited defence of his early leading position, fighting with Brookes for much of the time. He finished only six seconds from victory, and five seconds ahead of the next best rider, Andrew Pitt.
Foret's win places him second in the championship on 71 points to Joan Lascorz's 77, with Parkes third on 65.
Massimo Roccoli (Yamaha Team Italia Lorenzini by Leoni) had a fighting ride at his home track, taking seventh after riding in a group of warring riders, looking for fourth place. Yamaha Spain rider Angel Rodriguez had a solid tenth place but his team-mate David Salom just missed out on a point again, going 16th for the second race in succession.
Fabien Foret (1st - 29'38.261 - Yamaha World Supersport Team)
"I am very pleased to win here. After a tough time in round one at Qatar, I needed points - but I also wanted to win. This was my race; I love this track. I was a bit nervous after problems with my start in previous races so I didn't push it for a bit, but then it started to happen for me. I tried to push every lap from then on. There is still a long way to go in the championship but I am very happy with the win. A big thanks to the team!"
600cc Supersoort: (Laps 16 = 92,688 Km)
Pos / Rider /Nat. / Team / Gap
1 / F. FORET / FRA / Yamaha YZF-R6 / Yamaha World Supersport / 29'38.261
2 / J. BROOKES / AUS / Honda Honda CBR600RR / Hannspree Stiggy Motors. / 1.199
3 / B. PARKES / AUS / Yamaha YZF-R6 / Yamaha World Supersport / 6.736
4 / A. PITT / AUS / Honda CBR600RR / Hannspree Ten Kate Honda / 11.398
5 / R.HARMS / DEN / Honda Honda CBR600RR / Hannspree Stiggy Motors. / 11.477
6 / C. JONES / GBR / Honda CBR600RR / Parkalgar Racing Team / 11.716
7 / M.ROCCOLI / ITA / Yamaha YZF-R6 / Yamaha Lorenzini by Leoni / 11.757
8 / M.LAGRIVE / FRA / Honda CBR600RR / Intermoto Czech / 12.186
9 / J. LASCORZ / ESP / Honda CBR600RR / Glaner Motocard.com / 14.847
10 / A. RODRIGUEZ / ESP / Yamaha YZF-R6 / Yamaha Spain / 15.175
11 / M.AITCHISON / AUS / Triumph 675 / Triumph Italia BE1 Racing / 21.256
12 / C. MIGLIORATI / ITA / Kawasaki ZX-6R / Puccetti Racing Kawasaki / 24.899
13 / G.NANNELLI / ITA / Honda CBR600RR / Hannspree Honda Althea / 25.077
14 / V. KALLIO / FIN / Honda CBR600RR / Benjan Racing Team / 25.160
15 / K. FUJIWARA / JPN / Kawasaki ZX-6R / Kawasaki Gil Motor Sport / 26.429
Fastest Lap 5° Fabien Foret 1'50.430 188,851 Km/h
Lap record: 2007 K. Sofuoglu 1'50.550 188,650 Km/h
Best Lap: 2008 B.Parkes 1'49.868 189,820 Km/h
Riders Championship Standings:
1 LASCORZ 77, 2 FORET 71, 3 PARKES 65, 4 PITT 63, 5 BROOKES 63, 6 JONES 49,
7 REA 41, 8 HARMS 39, 9 LAGRIVE 28, 10 VIZZIELLO 26, 11 ROCCOLI 25, 12 NANNELLI 20,
13 WALKER 20, 14 AITCHISON 20, 15 VENEMAN 19.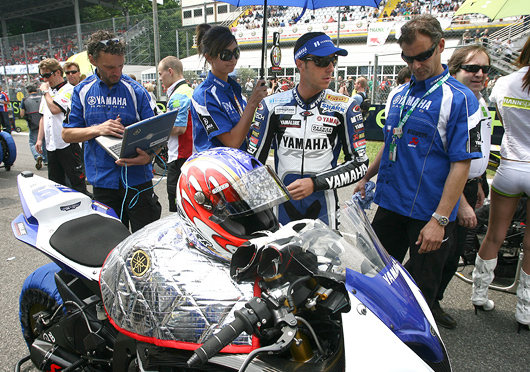 Fabien Foret on the grid at Monza
---
The Doctor is back to making house calls!
MotoGP World Championship, Pramac Grand Prix of China Round 4 of 18
Seriously Injured Wheelchair Bound Jorge Lorenzo Qualifies and Finishes 4th!
Rossi Makes his 2008 Season Return to Victory in Shanghi
Pramac Grand Prix of China, Shanghi, May 2-4th - Fiat Yamaha Team rider Valentino Rossi took an impressive victory in Shanghai today, his second at the circuit having won the inaugural Chinese Grand Prix with Yamaha in 2005. It was Rossi's 89th career victory but his first in seven races, since Estoril last year, as well as his first on Bridgestone tyres. COMPLETE RACE COVERAGE HERE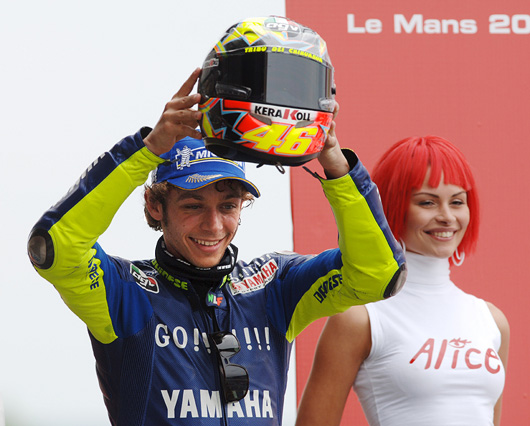 MotoGP World Championship, Alice Grand Prix de Round 5 of 18
Preview Alice Grand Prix de France - Tuesday May 16-18th
After trips to Qatar, Spain, Portugal and China, the MotoGP World Championship is set for its fifth round, the Alice Grand Prix de France, which takes place on May 18th at the historic Le Mans circuit.
The top three riders in the premier class - current series leader Dani Pedrosa, Fiat Yamaha rookie Jorge Lorenzo and his teammate the five-time MotoGP World Champion Valentino Rossi - are separated by just 9 points with a win apiece so far this year. The MotoGP category has seen four winners from as many races, with 2007 World Champion Casey Stoner having taken victory in Qatar, for only the second season since the switch to four-stroke machinery in 2002.
Repsol Honda rider Pedrosa has a respectable record at Le Mans, particularly in the lower cylinder categories. He won the French 125cc race in 2003, and also triumphed in the 2004 and 2005 250cc events. Since arriving in MotoGP he has placed third and fourth respectively at the track, last year answering critics that had cast doubts about his ability to ride in the wet. A podium at this latest round would continue his 100% record of rostrum finishes in 2008, the Spaniard the only rider to do so.
Lorenzo trails his rival by seven points, ending his own perfect podium run in China with fourth place. The result itself doesn't tell the full story of the Fiat Yamaha rookie's weekend in Shanghai, as the reigning 250cc World Champion rode for almost the entire weekend with multiple ankle fractures courtesy of a huge Friday highside. Whilst his less than 100% fitness obviously casts doubt as to his participation in Le Mans, few would be expecting the gutsy debutant to miss out on another opportunity to take the leadership of the World Championship.
Of the four riders in with a chance of leading the series upon departure from France, only third placed Rossi has tasted victory in a premier class Le Mans race. The Italian was triumphant in the 2002 and 2005 Grands Prix, but has spent the past two seasons outside the podium spots. He ended his longest MotoGP win drought since his maiden victory with a vintage display in Shanghai, taking maximum points for the first time since switching to Bridgestone tyres for 2008.
Stoner lies in fourth in the overall classification, returning to the podium in Shanghai after two races outside the rostrum positions. The Ducati Marlboro rider is hungry to return to winning ways and, like Pedrosa, holds a fourth place and third place in his two previous French visits as a MotoGP rider.
Behind the top four, Rizla Suzuki veteran Loris Capirossi is tied with rookie James Toseland on 33 points, with the latter set for an important race at another unknown track. The Tech 3 Yamaha team have strong links to France, particularly through Team Principal Herve Poncharal. This year the French connection for the outfit is even stronger, with their switch in tyre manufacturers to Michelin.
The man who ended Jorge Lorenzo's perfect run of pole positions, Colin Edwards is also representing Tech 3 Yamaha on their home soil, he heads Repsol Honda's Nicky Hayden, MotoGP rookie Andrea Dovizioso and Kawasaki star John Hopkins in the top ten. Last year´s winner of the wet Le Mans race, Rizla Suzuki's Chris Vermeulen, currently lies in fourteenth place.
---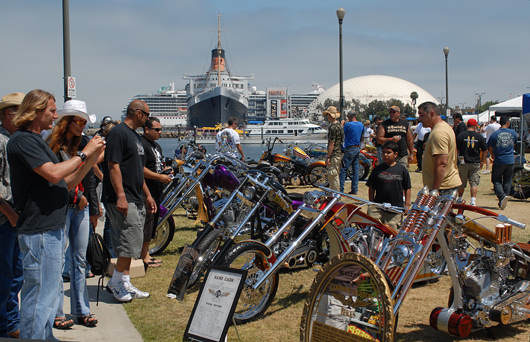 Preview! $86,000 in Cash and Awardsin the Calendar Bike Building Championship
for Custom & High Performance Street & Sportbikes
Performance Machine presents the
17th Annual 2008 LA Calendar Motorcycle Show Weekend
and Calendar Bike Building Championship
July 12-13th 2008, Queen Mary Event Park, Long Beach - The 17th annual Los Angeles Calendar Motorcycle Show Weekend presented by Performance Machine, America's premier custom, cruiser, performance and sportbike weekend returns to the Queen Mary Event Park in Long Beach on July 12-13th, 2008. Join 20,000 streetbike motorcycle and music enthusiasts for the world's most exciting 2-day motorcycle event weekend in the beautiful Queen Mary Event Park on the grass alongside the Pacific Ocean! This is the world's premier motorcycle show weekend featuring 200 major motorcycle and parts manufacturers, selected product and apparel venders.
The weekend features many of the world's top Pro and Amateur street bike builders in attendance to compete in the Performance Machine Calendar Show Bike Building Championship with a bulging purse of $86,000 in cash and awards*. There are 10 individual classes for American V-Twin and Metric Street Custom, Performance, Classic, Bobber, Chopper and Sportbike motorcycles.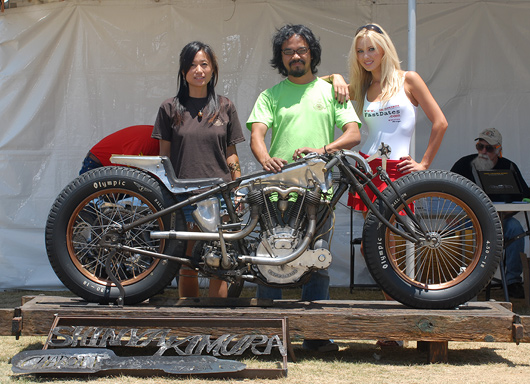 Calendar Kitten and Bike Show hostess Tiffany Toth with legendary Japanese builder Shinya Kimura and his wife, and Shinya's ancient Henderson V-tiwin powered retro racer which Tiffany poses with it the new 2009 Fast Dates and Iron & Lace Calendars which premier at this year's Show. Shinya took Best of Show in 2004, and one of his bikes is featured in the new movie Iron Man.

The coveted Performance Machine Best of Show Trophy is awarded for the top overall bike at the Show and includes a $3,000 cash prize, an additional $7,000 in product awards bringing the total awards to $10,000 overall, plus the winning bike and builder receives an editorial bike feature in Iron Works magazine and the Iron & Lace Calendar photographed by Show producer Jim Gianatsis.
Performance Machine also offers is own trophy for the Best Performance Machine Equipped Bike with a $5,000 product award from Performance Machine products, Other favorite classes include the Iron Works magazine sponsored Radical Pro Builder, the Mikuni American HR Carburetor sponsored American V-Twin Performance, and the Fast Dates Calendar sponsored Sportbike Class.
Spectators can meet top celebrity custom bike builders including last year's best of Show winner Greg Westbury, along with Roland Sands, Russell Mitchell, Shinya Kimura, Joe Takai, Ron Simms, Paul Yaffe, Todd Silicato and dozens more. And attend free Calendar Bike Builder Seminars with the top Calendar builders to learn what it really takes to build some of the world's most innovative and beautiful custom bikes as featured in the Iron & lace and Fast Dates Calendars.
Join in the excitement of the Calendar Show's exclusive S&S Cycle World Championship Horsepower Dyno Shoot Out hosted by Kerry Bryant of Area P Exhaust Systems. World Record runs are open up to anyone, including the change to see just how strong your streetbike really is. Classes & Awards for all stock and modified American V-Twin and Metric Sportbikes.
Included with admission both days is the 2-Day Calendar Girl Music Festival with beautiful girl bands and singers including singer songwriters Kari Kimmel and actress Elizabeth Nicole, Taxi Doll, AC/DC Tribute rock band Whole Lotta Rosies, Lead Zeppelin tribute band Moby Chick, Reckless Driver, plus the sexy Purrfect Angelz dance shows.
The weekend is hosted by Playboy model Tiffany Toth and singer Kari Kimmel, with other FastDates.com Calendar Kittens including Carrie Ann Stroup for the annual world premier of the new 2009 FastDates.com Motorcycle Pin Up Calendars. Carrie will be in the Mikuni display throughout the weekend to offer her free Mikuni HSR Carburetor "Fantasies" poster.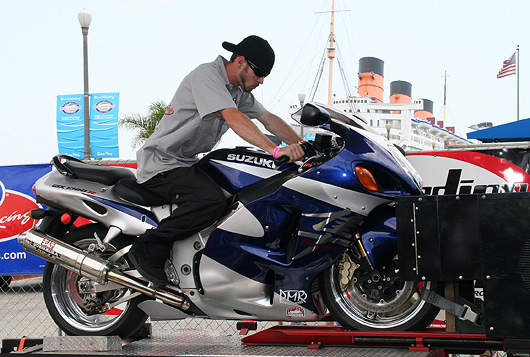 A modified Suzuki Hyabusa 1300 tackles the S&S Cycle World Record Dyno.

Other exciting activities during the weekend include the S&S Cycle World Championship Horsepower Dyno Shoot Out. Plus free Calendar Bike Building Seminars with celebrity Iron & Lace Calendar builders including Roland Sands, Russell Mitchell, Joe Takai and Tod Silicatio, and the Calendar Girl Model Search Pageant and the world premier of the new 2009 FastDates.com Motorcycle PinUp Calendars with the beautiful Calendar Kittens.
Spectators also get complimentary weekend admission aboard the historic Queen Mary Ghost Ship, and entry to the Saturday Night Iron & Lace Calendar Builders Party with a live band in the ship's Observation Bar. Spectators arriving on motorcycles get security parking for just $5 right at the Show's Main Entrance. Should the Queen Mary's on site parking reach capacity, spectators arriving my car will be directed to park in the downtown Long Beach Parking Garages on Shoreline Drive with free Shuttle Busses or paid Taxi Boat rides available from Shoreline Village Marina direct to the Show.
Title and Associate Sponsorship support for the premier streetbike event weekend in America is provided by Performance Machine, Iron Works magazine, S&S Cycle, NOs Energy Drink, ReCycler.com, CycleTrader.com, Thunder Press and Quick Throttle event publications, Speed TV's American Thunder, Mikuni Carburetors, Meguiar's Car Care Products, and the FastDates.com Calendars.

For additional LA Calendar Motorcycle Show & Calendar Girl Music Festival weekend details including the show schedules, hotels and parking information visit www.FastDates.com.
Date and Time: July 12th Saturday 10am - 7pm, July 13th Sunday 10am - 6pm
Admission: $25 1-Day $35 2-Days, Children $10.
Location: The Queen Mary Event park, 1126 Queens Highway, Long Beach, CA 90802
Queen Mary Information & Reservations: Ph 562.435.3511
Event Website: http://www.FastDates.com/BIKESHOW.HTM
---
There's more! Go to Pit Lane News NEXT PAGE

Hot Calendar Girl and Bike News! Go to: Fast Dates • Calendar Girls • Iron & Lace



Calendar Kittens, The Paddock Garage, Screensavers, Iron & Lace Garage




Many of our Calendar Kittens can also be seen at Playboy's website...


BikerKiss.com - the largest biker personals site!