Spring Time in World Superbike....
This month's April page in the 2008 Fast Dates Calendar has us dreaming of springtime and sportbike riding as beautiful World Superbike Fast Dates Calendar Kitten Katie hikes up her skirt alongside Chris " The Stalker" Walker's bright green PSG-1 Kawasaki factory superbike shot at Brands Hatch World Superbike in August. Are you ready to go for a ride? Quite a different weather change from the British Superbike Championship opening round this weekend April 6th 2008 at Brands which was snowed out!
Buy the 2008 Fast Dates Calendar • Download Big Screensaver Photos in Members Corner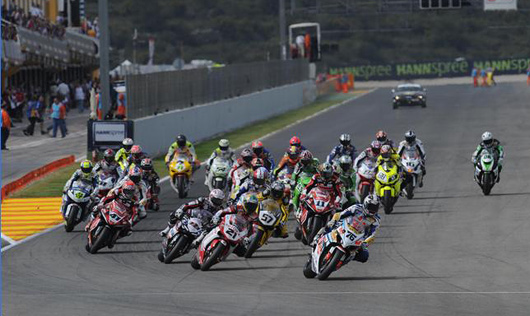 Alstare Suzuki's Max Neukirchner (76) leads from the Pole in Race One at Valencia.
2008 SBK World World Championship / Valencia Spain
Exciting Race Wins for Lanzi and Haga at Valencia
April 6th, 2008, Valencia Spain - Lorenzo Lanzi (RG Ducati) and Noriyuki Haga (Yamaha Motor Italia WSB) took the wins in a spectacular day of action at Valencia in front of 60,000 spectators, a record attendance for World Superbikes at the Spanish circuit.
Preview: Superbike Season Kicks Off in Europe at Valencia
April 03, 2008, Valencia Spain -With the opening two flyaway rounds behind them, competitors in the 2008 HANNspree Superbike World Championship are now on European soil for the third round of the series at the Ricardo Tormo Circuit, Valencia, Spain.
The form guide after two events shows Ducati Xerox Team's Troy Bayliss at the top of the standings with 88 points and three wins to his name in four races, but other riders and teams are now emerging as powerful threats to the Australian, in particular Suzuki Alstare's Fonsi Nieto and Carlos Checa of HANNspree Honda Ten Kate. "Valencia is one of those tracks where I expect everyone to go better and I think those teams that have perhaps been a little behind us with getting ready for the championship will now start to show results," said Bayliss.
At Valencia the 38-year-old points leader will be coming under attack above all from a trio of Spanish riders, all aiming to make a mark at their home circuit. Nieto leads the charge in second place with 61 points and the 29-year-old from Madrid will be looking to add another win to his Qatar victory. "Racing at home is always a bit special and I want to put on a good show for all my fans this weekend - especially after my pair of DNF's last year!" declared Nieto. "There are quite a few Spanish riders in the championship this year and I am hoping that we get a good crowd for the race and can give them something to shout about."
Ruben Xaus is just a couple of points behind on the Sterilgarda Go Eleven Ducati 1098R, but the 30-year-old Catalan scored an outstanding win here last year on the team's 999 and will be particularly keen on doing the same again. "Valencia is my home round. I feel sure there will be a lot of people coming to see me especially after last year's win and the recent test. I'd like to repeat last year's result but I know it's not going to be easy", said Ruben.
The third Spanish rider in the top 5, HANNspree Ten Kate Honda's Carlos Checa, is rapidly getting the hang of Superbike in his rookie year and a maiden win in the category is surely not far away. After the tests a couple of weeks ago, Checa is sure that the bike has made some improvements. "We made some good progress here during the last test and definitely come better prepared than the first two races. This will be my first Superbike race on my home soil and my target is to stay in front and get a good result."
Troy Corser (Yamaha Motor Italia WSB) has so far failed to transform his scintillating form in Superpole, where he leads the special Alfa 159 Superpole Award classification, into good race results, but the Australian is fifth in the table, as team-mate Noriyuki Haga struggles down in ninth place. Germany's Max Neukirchner has stood out on occasions on a second Suzuki Alstare, while another Spanish rider Gregorio Lavilla will be on a 2008 Honda for the first time this year at his home race.
Max Biaggi was the unluckiest rider at Phillip Island, the 36-year-old from Rome twice taking a tumble and coming home with a broken bone in his left wrist. Biaggi has recovered from that spill but sore ligaments may mean he won't be at 100% for the race. "Australia gives me bad memories!" declared Biaggi. "I need time, tomorrow I will try but my main issue is that I still feel pain. I hope to do the races". Michel Fabrizio benefitted from Ducati Xerox's absence from the Valencia tests to fully recover from his start-line crash at Phillip Island and should shine on a track where Ducati have always gone well, while Karl Muggeridge (DF Racing Honda) could spring a surprise after topping the timesheets in the two-day SBK test two weeks ago at the Valencia track.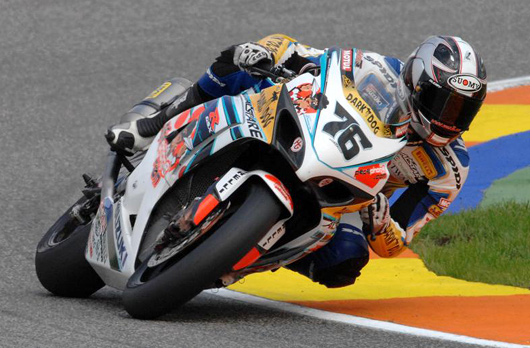 Alstare Suzuki's Max Neukirchner was quickest in Friday Practice with a time of 1m34.806s and followed his Japanese team-mate Yukio Kagayama
Two Suzukis lead the way in Valencia 1st Qualifying
April 4th - Two Suzuki GSX-R1000 machines headed the field in the opening qualifying session for the Spanish WSBK Round at Valencia, but it was German Max Neukirchner with a time of 1m34.806s and his Japanese team-mate Yukio Kagayama, rather than Fonsi Nieto, who were up at the front. The Alstare duo were the only riders to dip under the 1m35s mark. Nieto, currently lying second in the championship, was surprisingly down in sixteenth position after struggling with rear tyre grip.
Carlos Checa took third quickest time on the HANNspree Ten Kate Honda, the Spaniard closely followed by four twin-cylinder Ducati 1098 machines. The factory Xerox pairing of Troy Bayliss and Michel Fabrizio were fourth and fifth, separated by two-hundredths of a second, with Lorenzo Lanzi (RG) and Jakub Smrz (Guandalini) next up.
Régis Laconi (Kawasaki PSG-1 Corse) made progress on the ZX-10R machine, notching up the eighth quickest time, ahead of the Yamaha Motor Italia WSB pairing of Troy Corser and Noriyuki Haga.
Max Biaggi (Sterilgarda Go Eleven Ducati) has so far struggled with his injured left wrist in the two sessions today and is down in 24th position.
World Supersport
Andrew Pitt followed up his Phillip Island win with provisional pole for the third round of the Supersport championship. The HANNspree Ten Kate Honda rider clocked a time of 1m36.773s to shave a couple of tenths off Charpentier's circuit record. Craig Jones (Parkalgar Honda) was three-tenths of a second away in second, followed by the improving Kawasaki ZX-6R machine of Katsuaki Fujiwara. Round 1 winner Broc Parkes was fourth for Yamaha World Supersport ahead of championship leader Joshua Brookes (HANNspree Stiggy Motorsport Honda) and the similar Glaner Motocard.com CBR of the young Spanish rider Joan Lascorz.
Superstock 1000
The opening qualifying session for Superstock 1000 was red-flagged with a couple of minutes remaining after Rene Maehr (KTM) crashed on oil left by Freddy Foray (Suzuki), but was unhurt. New Yamaha WSB tester Claudio Corti broke the Superstock circuit best lap with a time of 1m37.513s to finish ahead of Davide Giugliano (Suzuki) and former champion Alessandro Polita (Ducati). Aussie Brendan Roberts took the Junior Team 1098 to fourth ahead of team-mate Domenico Colucci, while Maehr ended up in an encouraging eighth place for the Austrian KTM team, which is making its championship debut.
Superstock 600
The first session of European 600 Superstock was dominated by Marco Bussolotti (Yamaha Motor Italia Junior Team), the 17-year-old Italian from Ancona posting a new record time of 1'39.951 with his YZF-R6 machine, just a whisker ahead of Frenchman Loris Baz (Yamaha Junior Team) and a similar Yamaha of Danilo Petrucci (Team Trasimeno).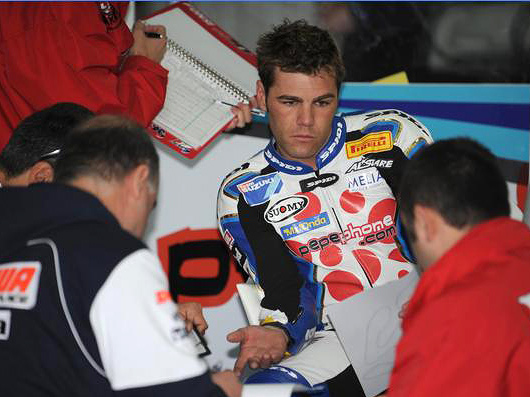 Neukirchner' is cooking up a storm this weekend, "...after mixing throughly, pour into a muffin tray and bake at 375 degrees for 25 minutes."
Neukircher's Stunning Superpole and Suzuki's 1-2 Punch
Final Qualifying & SuperPole Saturay 5th - Alstare Suzuki rider Max Neukirchner stunned his rivals by storming to his first ever Superpole win this afternoon at the Ricardo Tormo circuit, Valencia, smashing the lap record by well over a second in the process. Max's Superpole was something special, but to make it an even better day for the Belgian based team, Suzuki Alstare rider Yukio Kagayama took second place. Third quickest is Troy Bayliss (Ducati), with local hero Ruben Xaus (Ducati) fourth. Team Suzuki Alstare rider Fonsi Nieto suffered grip problems again and finished thirteenth in the 16-rider Superpole shoot-out and so will face an uphill task starting from the fourth row of the grid in tomorrow's races.
Max - 1st, 1:33.805 -I am really happy because my Superpole lap was a great lap, but I feel I have been fast all weekend and I was hoping for a front row grid position. This afternoon's free practice was hotter then the morning and the grip level went down, but fortunately it cooled off a little for Superpole and I was able to really go for it. We didn't make any big changes to the bike from yesterday, because the bike was working so well. For that I'd like to give a big thank you to my whole team.
Yukio - 2nd, 1:33.928 - I knew I had to do something good to beat Troy (Bayliss) in Superpole and I was able to put in a good, fast lap and beat his time. We've done a lot of good work these two days and the hard work has paid off this afternoon. My body is not 100% but, as I said before, that is a good thing because I am riding smoothly and not taking any risks by pushing too hard.
Fonsi - 13th, 1:34.959
Just like yesterday, I had problems with grip - both front and rear - and so I couldn't use the throttle as I wanted to. The rear was spinning quite a bit and I had no confidence about what the bike was going to do today. We did a long run and my laps were consistent, so that is a positive sign. We'll change the bike back to how it was this morning and hopefully it will feel better and more comfortable to ride.
Final Qualifying SuperPole
1 Max Neukirchner (D-Alstare Suzuki) 1:33.805, 2 Yukio Kagayama (J-Suzuki Alstare) 1:33.928, 3 Bayliss (Aus-Ducati) 1:33.976, 4 Xaus (E-Ducati) 1:34.322, 5 Lanzi (I-Ducati) 1:34.370, 6 Kiyonari (J-Honda) 1:34.370, 13 Fonsi Nieto (E-Suzuki Alstare) 1:34.959.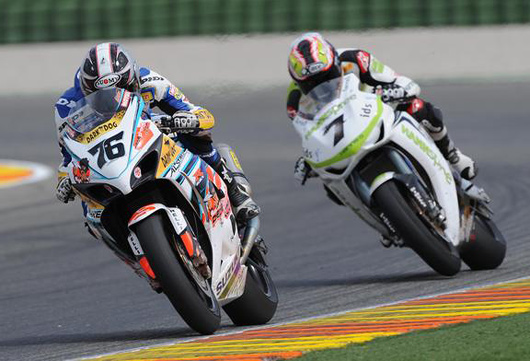 Carlos Checa (7) quickly closes on race leader Max (76) as they head out of the next-to-last turn down to the final corner where Checa will takes them both out.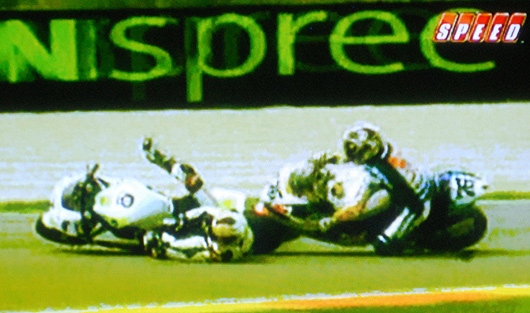 Above: Carlso Checa is down in front Max after going into the last corner too fast in his only chance effort to pass and looses his front whee, slides out and takes out Max's front wheel as well.
Below: Carlos is in front of Max's Suzuki and not readily visible, while Max goes into a head stand and breaks his collarbone right about now.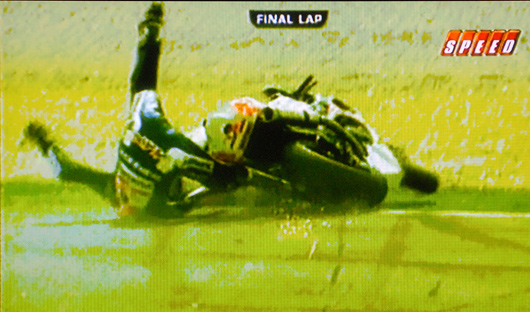 Lanzi Handed Race One Win as Checa Takes Out Neukirchner in Last Corner
Valencia Race One, Sept 6th - Carlos Checa (HANNspree Ten Kate Honda) and Max Neukirchner (PepePhon.com Suzuki Alstare) were the top contenders of Race One. Poor Max led every lap of the race from his well earned pole position, setting his sights on his first World Superbike win on the Francis Bata Alstare Suzuki (newly sponsored by the Spanish phone company PepePhone.com with 1500 of the companies employees in the trackside hospitality are to cheer him on). The track offered very little traction to cold tires on the open laps and a number of ridrs went down when they lost their front ends including Noriuki Haga, Ruben Xaus and Max Biaggi (Sterilgarda Go Eleven Ducati) who remounted but finished out of the points in sixteenth place.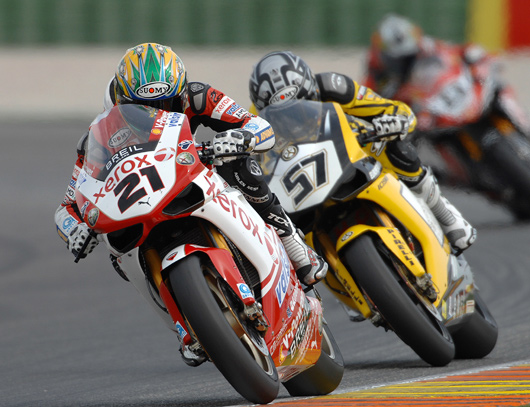 Factory Ducati rider Bayliss on the 1098F08 fights to hold off Lorenzo Lani on the privater Team RG 1098RS.

Neukirchner pulled out a 4 second lead for most of the race, with Troy Bayliss on the works Ducati holding off former teammate Lorenzo lanzi on the private RG Team Ducati for seond place. Then in the last 3rd of the race local favorite, Spainard Carlos Checa on the Ten Kate Honda found a incredible pace that saw him catching the front runenrs by nearly half a second a lap. With $ laps to go he passed both Lanzi and Bayliss and set after leader Neukirchner.
It took Checa the remaining 3 laps to close the gap on leader Neukirchner, and it wasn't until the final corner of the last lap. Checa knew he had no other opportunity to try and pass the race leader before the finish line, so he dived inside, but the Spaniard was going too fast to make the corner and went down, with the rear of his bike taking out the front wheel the German who unfortunately never even saw him coming and went down with him.
Just an inicent victum expecting to take his first ever World Superbike race win in just another few hundered yards, Neukirchner suffered a broken left collarbone in the incident and failed to take part in race 2, while Checa remounted to finish fifth. The race win actually went to Lorenzo Lanzi, the third in his career, after he passed Troy Bayliss (Ducati Xerox) with one lap to go. Troy Corser (Yamaha Motor Italia) and Fonsi Nieto (Suzuki Alstare) were third and fourth.
"For me it's a fantastic result" declared Lanzi. "We worked very well throughout the weekend to get this result. The team is a new one in World Superbikes this year and it's difficult for us. It was a hard-fought race today, Troy is a world champion and is very fast but you need a bit of good luck in racing and I certainly had it today".
Maz Neukirchner out front and alone until the last corner....

Max - Race 1: DNF, Race 2: DNS "I am more then disappointed. I could almost see the chequered flag when suddenly I was hit by Checa. He tried to dive up the inside of me in the last corner, but I don't think there was enough room for him to do what he did and we both crashed. I broke my collarbone but, to make matters worse, he was able to get back on his bike and score some points. My weekend had gone perfectly up to that moment. I had been consistently fast and I had felt very comfortable on the bike. There was no problem for me leading the race, the only problem all weekend was what happened in the last corner."
SUPERBIKE Race 1: (Laps 23 = 92,115 Km)
Pos / Rider / Nat. / Team / Gap
1 / L. LANZI / ITA / Ducati 1098 RS 08 / R.G. Team / 37'01.894
2 / T. BAYLISS / AUS / Ducati 1098 F08 / Ducati Xerox Team / 2.987
3 / T. CORSER / AUS / Yamaha YZF-R1 / Yamaha Motor Italia WSB / 7.287
4 / F. NIETO / ESP / Suzuki GSX-R1000 / Team Suzuki Alstare / 11.992
5 / C. CHECA / ESP / Honda CBR1000RR / Hannspree Ten Kate Honda / 12.824
6 / K. MUGGERIDGE / AUS / Honda CBR1000RR / D.F. Racing / 13.125
7 / G.LAVILLA / ESP / Honda CBR1000RR / Ventaxia VK Honda / 13.191
8 / R. LACONI / FRA / Kawasaki ZX-10R / Kawasaki PSG-1 Corse / 13.906
9 / M.TAMADA / JPN / Kawasaki ZX-10R / Kawasaki PSG-1 Corse / 17.254
10 / R. ROLFO / ITA / Honda CBR1000RR / Hannspree Honda Althea / 18.606
11 / S. NAKATOMI / JPN / Yamaha YZF-R1 / YZF Yamaha / 19.858
12 / K. SOFUOGLU / TUR / Jr. Honda CBR1000RR / Hannspree Ten Kate Honda / 23.350
13 / R. HOLLAND / AUS / Honda CBR1000RR / D.F. Racing - Bertocchi / 23.577
14 / J. SMRZ / CZE / Ducati 1098 RS 08 / Guandalini Racing by Grifo's / 24.082
15 / D. CHECA / ESP / 94 Yamaha YZF-R1 / Yamaha France Ipone GMT / 26.611
Fastest Lap 2° Noriyuki Haga 1'35.131 151,559 Km/h
Race Two winner Noriyuki Haga

Haga Returns to Claim Race Two and Crashing Out in Race One
Valencia Race Two , Sept 6th - Bayliss led for seven laps but was passed by Checa. The Honda man then had a electrical problem on lap 12 and both he and Troy were passed by Haga on lap 12. The Japanese rider was able to hold off Bayliss until the end to take his first win of the year. Bayliss's two second places increased his championship lead to 48 points over Nieto, who could only manage fourth and tenth today. Kiyonari (HANNspree Ten Kate Honda) took his best result of the season in fourth, ahead of Corser, Kagayama, Xaus and Biaggi, who rode a heroic race to finish eighth.
In race two Checa was less than three seconds from the win after having to fight through the pack to lead the race, only for a small electronic problem to lose him some time. Ryuichi Kiyonari (Hannspree Ten Kate Honda CBR1000RR) was a season best fourth, having qualified best Honda in sixth. Lavilla was 11th.
"Of course I am very happy for this result" declared Haga."It was a fast race and unlike the first I actually had a good feeling with the bike. I lost the front and crashed with my first bike in race 1 and had to use my second bike for this one. Honestly today I was quite surprised for the win, but we know which is our problem and the team improvised and found the solutions to let me take the win".
Checa said: "I had a bad start in race one but I made progress and on the last lap I tried to pass at a difficult point, but he closed the door. Unfortunately we both crashed and Max Neukirchner got injured and I hope he is back as soon as possible. This is racing and sometimes these things happen. In the second race I started well and got the lead but I had a traction control problem. I was able to cancel it and regain full power but it was impossible to catch Nori and Troy."
Troy Bayliss (2nd place - race 1, 2nd place - race 2): "I was very happy with my results today, although it was a bit of a strange weekend, having had some problems with the bike in practice and qualifying. My congratulations go to Lorenzo (Lanzi), I'm very happy for him to have taken the win and he really deserved it. I thought I was going to finish in fourth and couldn't believe what then happened with Neukirchner and Checa on the last lap but that's racing I guess and gave me a second place finish.
In race 2 I had a good battle with Nori. At one point I was in a position to fight for the win but in the end Hagi was in control. Anyway, I was hoping for good points as points make prizes and so we move on to the next round in a strong position."
Kagayama (10) fights with Lanzi (84) and Laconi (55).

SUPERBIKE Race 2: (Laps 23 = 92,115 Km)
Pos / Rider / Nat. / Team / Gap
1 / N.HAGA / JPN / Yamaha YZF-R1 / Yamaha Motor Italia WSB / 37'03.759
2 / T. BAYLISS / AUS / Ducati 1098 F08 / Ducati Xerox Team / 1.551
3 / C. CHECA / ESP / Honda CBR1000RR / Hannspree Ten Kate Honda / 2.903
4 / R. KIYONARI / JPN / Honda CBR1000RR / Hannspree Ten Kate Honda / 7.277
5 / T. CORSER / AUS / Yamaha YZF-R1 / Yamaha Motor Italia WSB / 8.051
6 / Y. KAGAYAMA / JPN / Suzuki GSX-R1000 / Team Suzuki Alstare / 9.223
7 / R. XAUS / ESP / Ducati 1098 RS 08 / Sterilgarda Go Eleven / 10.164
8 / M.BIAGGI / ITA / Ducati 1098 RS 08 / Sterilgarda Go Eleven / 10.614
9 / R. LACONI / FRA / Kawasaki ZX-10R / Kawasaki PSG-1 Corse / 17.234
10 / F. NIETO / ESP / Suzuki GSX-R1000 / Team Suzuki Alstare / 18.100
11 / G.LAVILLA / ESP / Honda CBR1000RR / Ventaxia VK Honda / 18.288
12 / L. LANZI / ITA / Ducati 1098 RS 08 / R.G. Team / 18.826
13 / M.FABRIZIO / ITA / Ducati 1098 F08 / Ducati Xerox Team / 21.770
14 / J. SMRZ / CZE / Ducati 1098 RS 08 / Guandalini Racing by Grifo's / 22.872
15 / K. SOFUOGLU / TUR / Jr. Honda CBR1000RR / Hannspree Ten Kate Honda / 25.224
Fastest Lap 6° Carlos Checa 1'35.322 151,256 Km/hh

Lap record: 2003 N. Hodgson 1'35.007 151,760 Km/h
Best Lap: 2008 M. Neukirchner 1'33.805 153,700
Riders Championship Standings:
1 BAYLISS 128, 2 NIETO 80, 3 CORSER 72, 4 CHECA 72, 5 XAUS 68, 6 HAGA 47,
7 BIAGGI 44, 8 LANZI 42, 9 NEUKIRCHNER 39, 10 FABRIZIO 37, 11 LAVILLA 32,
12 KIYONARI 30, 13 SOFUOGLU 22, 14 MUGGERIDGE 20, 15 KAGAYAMA 18.
Haga wits patiently on the grid

600cc World Supersport
Joan Lascorz (Glaner Motocard.com Honda) scored a lights-to-flag win in front of his home crowd, his first victory in the championship. The 23-year-old from Barcelona now has a 16 point lead over Broc Parkes (Yamaha World Supersport), who finished fourth. After poleman Andrew Pitt (HANNspree Ten Kate Honda) had crashed out on lap 5, the battle for the runner-up slot was between Fabien Foret (Yamaha World Supersport) and Craig Jones (Parkalgar Racing Honda), with the Frenchman getting the edge. Gianluca Nannelli (HANNspree Honda Althea) rode to fifth place with an injured shoulder, while points leader Joshua Brookes (HANNspree Stiggy Motorsport) had to retire with a tyre problem.
SUPERSPORT RACE: (Laps 23 = 92,115 Km)
Pos / Rider /Nat. / Team / Gap
1 / J. LASCORZ / ESP / Honda CBR600RR / Glaner Motocard.com / 37'58.607
2 / F. FORET / FRA / Yamaha YZF-R6 / Yamaha World Supersport / 1.125
3 / C. JONES / GBR / Honda CBR600RR / Parkalgar Racing Team / 1.530
4 / B. PARKES / AUS / Yamaha YZF-R6 / Yamaha World Supersport / 10.514
5 / G.NANNELLI / ITA / Honda CBR600RR / Hannspree Honda Althea / 17.492
6 / J. REA / GBR / Honda CBR600RR / Hannspree Ten Kate Honda / 17.602
7 / M.ROCCOLI / ITA / Yamaha YZF-R6 / Yamaha Lorenzini by Leoni / 19.636
8 / A. RODRIGUEZ / ESP / Yamaha YZF-R6 / L'Oreal Men Expert Laglisse / 19.694
9 / C.WALKER / GBR / Kawasaki ZX-6R / Kawasaki Gil Motor Sport / 25.230
10 / M.AITCHISON / AUS / Triumph 675 / Triumph Italia BE1 Racing / 25.702
11 / K. FUJIWARA / JPN / Kawasaki ZX-6R / Kawasaki Gil Motor Sport / 32.370
12 / G.VIZZIELLO / ITA / Honda CBR600RR / Berry Racing / 33.591
13 / M.LAGRIVE / FRA / Honda CBR600RR / Intermoto Czech / 34.706
14 / V. KALLIO / FIN / Honda CBR600RR / Benjan Racing Team / 39.956
15 / M.PRAIA / POR / Honda CBR600RR / Parkalgar Racing Team / 40.227
Fastest Lap 3° Broc Parkes 1'37.590 147,741 Km/h
Lap record: 2007 K. Fujiwara 1'37.570 147,770 Km/h
Best Lap: 2008 J. Lascorz 1'36.649 149,180 Km/h
Riders Championship Standings:
1 LASCORZ 54, 2 PARKES 38, 3 FORET 33, 4 BROOKES 33, 5 JONES 32, 6 PITT 25,
7 HARMS 25, 8 REA 21, 9 VIZZIELLO 18, 10 NANNELLI 17, 11 ROCCOLI 16, 12 WALKER 16,
13 LAGRIVE 14, 14 MCCOY 10, 15 VENEMAN 10.
---

Click to Order

Attend the On Any Sunday movie
Celebrity Reunion Wednesday May 21st
Newport Beach, CA- Things are falling into place for the 2008 On Any Sunday Reunion celebrating Bruce Brown's classic 1971 movie. It's been called the greatest motorcycle movie of all time. The Date is Wednesday, May 21st 2008 so you can be at the Regal Big Six Theater at Fashion Island in Newport Beach, California. Activities start at 4:00 pm with the movie showing at 8pm.

Meet f rom the movie, Bruce Brown, Malcolm Smith (of course), Mert Lawwill, Dave Aldana, Jim Rice, Jim Odom, Gene Romero, Don Emde, Sonny Burres, Don Castro, Walt Fulton, John Hately, Keith Mashburn, Eddie Mulder, Jody Nicholas, Chuck Palmgren, Alan Seymour (producer), Don Shoemaker (cameraman/film editor), John McGowen (dog on tank).
Some well know motorcycle people will also be coming including National motocross champions Bob Hannah, Broc Glover, Jeff Ward, stunt woman Debbie Evans, Debbie's husband trials rider Lane Leavitt, desert racers A.C. Bakken and Mitch Mayes, speedway great Eddie Castro, J.T. Racings John and Rita Gregory, Todd Huffman from the Motocross Files, famous painter and super-motard guy Troy Lee, former 250MX champ Gunner Lindstrom, Honda Racing Bruce Ogilvie (many time winner Baja 500/1000), multi-talented Larry Roeseler, Tom Webb (editor Dirt Bike Mag), Jody Weisel (Editor MX Action) and many, many, more.

There will be a great Moto-Expo with some very unique bikes on hand including some of the actual race bikes from the movie and two very interesting speedway bikes (Maely). And a autograph session for everyone to get their hero's signature on a special On Any Sunday Reunion T-shirt or poster.

Then at 7:15, we move inside the larges theater in the West, the Big 6 theater with it's huge 75' screen. Pre-movie stuff including final auction bids on some very collectible items including a painting (giclee) of Steve McQueen by Troy Lee, some autographed prints from famous motorcycle artist Harry Miller, Some original OAS B&W prints from Don Emde and ????? Then the movie in all it's glory at 8:00 pm. Afterward we'll introduce the stars and the people from the movie and you'll get a chance to ask questions and take pictures of the entire gang!

We hope you can join us for what will probably be the LAST OAS reunion. And it's for a cause that's very special to the Orange County Dualies Motorcycle Club for the past 15 years, the Pediatric Brain Tumor
Foundation. The PBTF has grown to be the largest distributor of research funds in the world in the fight to find a cure for cancerous brain tumors in children. And it's totally supported by the most wonderful people in
the world: Motorcyclists. All profits go to the Pediatric Brain Tumor Foundation and the Dualie members donate their time and expenses so we can raise as much money as possible.

Log on to OnAnySundayReunion.com and get your reunion tickets
---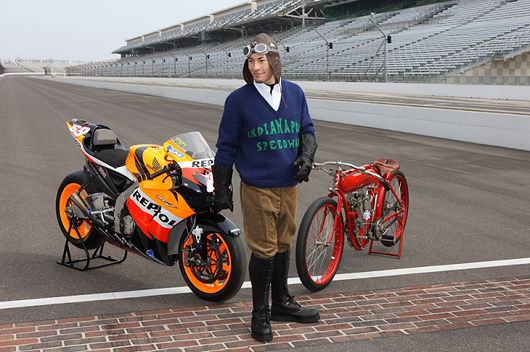 Nicky on the starting line at Indy with his current 2008 Honda MotoGP bike, and an early board track racer which first raced at Indianapolis' inagual event back in 1907.
Nicky Hayden Inaugurates Indianapolis MotoGP Circuit
Indianapolis Motor Speedway, IN, April 7, 2008 - American MotoGP star Nicky Hayden was the honoured guest of the Indianapolis Speedway today where he rode the inaugural lap of the 4.216km circuit that will be the venue for the first ever Indianapolis Grand Prix. The event, round 14 of the 18 round MotoGP World Championship, is scheduled for September 12th – 14th.
MotoGP is gaining popularity in the United States and the Indianapolis GP at the Brickyard will be the second grand prix to be raced in America in 2008 joining Laguna Seca, California that hosts round 11, on the 18-race calendar.
Nicky rode the inaugural lap of the new circuit aboard a vintage Indian motorcycle that had contested the first motorcycle race held at Brickyard in 1909 almost a century ago! He took to the track in period costume wearing the riding gear available to motorcycle racers at the time, leather pants, pullover and leather skull cap.
"When the bike first fired up I wondered what I'd got myself into!" said Hayden, one of those riders who has a lot of respect for racing history. "Then when I was doing about 40mph down the straight it felt like a hundred. I really enjoyed the ride though, especially my old school helmet, that was my favourite part."
"It is a real honour to be the first rider to lap the new Indy track and I can't wait to get out there on a MotoGP bike in September. I expect most of my hometown of Owensboro, Kentucky, to be there. They may have to close the town down that day."
Hayden later rode a Honda CBR1000RR around the 4.216km road course circuit designed specifically for MotoGP, at speeds closer to the 325km/h he is accustomed to travelling at.
Hayden's visit to the Speedway also allowed him to inspect track safety measures taken by the organization and report his findings to the MotoGP safety commission, which looks after rider safety at all MotoGP events, when they meet at this. weekend's Portuguese Grand Prix at Estoril close to Lisbon. During his visit to the historic Indianapolis Motor Speedway, Hayden also took a look around the IMS Hall of Fame Museum.
Nicky crosses the famed brick patch at the finish line, aboard a CBR1000RR Superbike painted in the Indy MotoGP sponsored by Red Bull colors with is race number.

---
There's more! Go to Pit Lane News NEXT PAGE

Hot Calendar Girl and Bike News! Go to: Fast Dates • Calendar Girls • Iron & Lace

Calendar Kittens, The Paddock Garage, Screensavers, Iron & Lace Garage




Many of our Calendar Kittens can also be seen at Playboy's website...


BikerKiss.com - the largest biker personals site!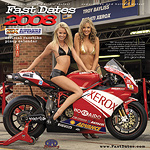 Almost Sold Out!
16-month Calendar starts Sept
2008 Fast Dates &
Garage Girls Calendars

---
Members Only Preview!
2009 Fast Dates Calendar
Join our Members Corner today at get an exclusive look at the upcoming 2009 Fast Dates calendar now, before its public release at our big LA Calendar Motorcycle Show July 12-13th!
Featured are full-size 15 inch calendar screensaver pages for your monitor with the top bikes of the 2007 SBK World Superbike and MotoGP World Championship with our beautiful Calendar Kittens. Also includes all our current 2008 and past years Calendars !
---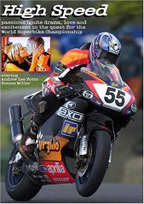 Just Released!
High Speed - the Movie
The best motorcyce racing movie ever made! Filmed on location at World Superbike, this an exciting romantic drama staring beautiful actress Sienna Miller.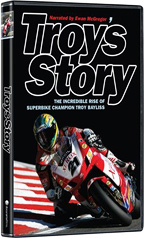 Troy's Story
The story of 2-Time World Superbike Champion Troy Bayliss narrated by Ewan McGreggor
PREVIEW
Grande Premio de Purtugal
Two weeks on from the second round of 2008 MotoGP action in Jerez, the World Championship returns for the third of eighteen races, the bwin.com Grande Premio de Portugal, on April 13th.
Heading into the Portuguese visit, there is a new leader of the MotoGP overall standings for the first time since the third race of 2007. Repsol Honda rider Dani Pedrosa's record of two podium finishes from as many races –including victory at the last round in Jerez- elevates the Spaniard to a provisional top spot with 41 points on the board, usurping reigning World Champion Casey Stoner from the head of the classification for the first time in over a year.
Pedrosa was on the podium at the Estoril Circuit that hosts the Portuguese race for the first time last year, the rostrum having eluded him in all three classes until his second place behind Valentino Rossi in 2007. The Spaniard's style of taking the lead and breaking away from the back has worked in devastating style in his most recent Grand Prix triumphs at Valencia and Jerez, and he will want to impose such a strategy in Portugal.
Fiat Yamaha's Jorge Lorenzo trails fellow countryman and rival Pedrosa by just five points, holding a perfect podium record from his first two races in the premier class. The 250cc World Champion and MotoGP rookie has astounded onlookers with his impressive adaptation to 800cc riding, and has been the man to beat in qualifying after taking two poles in his maiden pair of races. He is the first rider to do so since qualifying records began in 1974.
The Fiat Yamaha outfit, segregated by virtue of a split in tyre manufacturers, currently lead the team standings. They do so through the performances of Lorenzo and five-time MotoGP World Champion Valentino Rossi, who took his 100th MotoGP podium in Jerez with second place. Rossi lies behind new team-mate Lorenzo in the classification, a situation that will urge the Italian on to aspire to a sixth premier class victory on Portuguese soil.
Just one point separates Rossi from fourth placed rider Casey Stoner, who in Jerez had his lowest finish since joining the Ducati Marlboro team for 2007 with eleventh. The MotoGP title holder was on the podium at last year's bwin.com Grande Premio de Portugal, a repeat of which would help put his title defending season back on track. Stoner won the opening race of this season, the first MotoGP night race in Qatar, and will be expected to bounce back immediately to attack for further victories with the Desmosedici GP8.
Like longtime adversary Lorenzo, JiR Team Scot's Andrea Dovizioso is also announcing his arrival in the premier class in fantastic style. Portugal is one of the few tracks at which Dovizioso has consistently out-placed the Spaniard in the lower cylinder categories.
James Toseland, himself a MotoGP debutant this season, is hoping to have some added firepower at his disposal for the visit to Estoril. Until now the Briton has been using a valve-spring engine for his Tech 3 Yamaha satellite M1, but is now expecting to be given the added grunt of the factory pneumatic valve motor as he aims to battle on a level playing field with the MotoGP big guns.
2006 World Champion Nicky Hayden used the latest version of the Honda RC212V for the first time in Jerez, and saw instant improvements. However, the Repsol Honda rider is not one to settle for anything less than a podium finish, and is chasing his first rostrum placing of the year as the series heads to Portugal.
The early championship top ten is completed by Rizla Suzuki's Loris Capirossi, Kawasaki star John Hopkins and San Carlo Gresini Honda man Shinya Nakano.
British Superbike Seasoner Opener Snowed Out!
BrandsHatch, GB, April 6 - Tthe first round of the Bennetts British Superbike Championship at Brands Hatch in Kent had to be abandoned due to heavy snow.
MotorSport Vision Racing, the event organiser, has rescheduled the meeting for May 10th-11th with grid positions from qualifying on April 5th still standing. This means that the Rizla Suzuki pairing of Tom Sykes and Atsushi Watanabe will start from fifth and ninth places respectively.
Both Rizla Suzuki racers were disappointed not to race however it has given Watanabe a chance to learn the arduous 2.3 mile track. "I'm sorry not to race; this is big surprise for me as I never have race cancelled before," he said. "I had not seen snow until I came to England - now I see it a lot. For Thruxton I hope for good weather."
Sykes spent his weekend fine tuning the front end of his Rizla Suzuki and is confident of a strong result on his return to the Brands Hatch GP circuit in May. He said: "It was a very wise and safe decision to cancel the event today. I think it is a good decision by Race Control. Even if the snow had gone it would still have been too cold to run safely.
"It is a shame as I was very confident for my first race with Rizla Suzuki. We wanted to put on a good show for the fans as there has been a good turn out. I'm happy with the information we gained this weekend, it has been useful and I can't wait to get to Thruxton."
All race day, weekend and grandstand tickets will be valid for the revised date, May 10-11th. 10-11th. Round two of the Bennetts British Superbike Championship will take place at Thruxton in Hampshire on the 13th-15th April.
Hot New Book!
---
---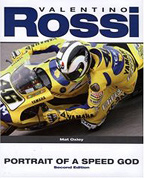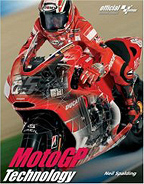 ---
Corser Takes Podium in Race One, 5th in Race Two
Troy left the Ricardo Tormo circuit in Valencia with mixed feelings despite a third place in the first race. In fact, Troy was on course for fifth place in that race, were it not for a crash between Max Neukirchner (Suzuki) and Carlos Checa (Honda) on the very last lap. Neukirchner broke his collarbone in the process and by the time Checa remounted his bike, Troy had charged through to third spot.
Lorenzo Lanzi (Ducati) was surprised to take the win, with Troy Bayliss (Ducati) second.
Troy - Race 1: 3rd - "I was lucky to get a podium in the first race, but accidents happen in racing and sometimes they work for you and something they work against you. Considering I had problems, today and all weekend, third place was a bit of a surprise. I had very little front and rear grip after about five laps in race one and race two was more or less the same."
Troy struggled with grip problems in race two, but kept going and finished fifth. His team mate Noriyuki Haga won the 23-lapper, with Bayliss second and Checa third.
Troy Race 2: 5th "For race two we changed to a slightly softer front, but kept the same rear - the only one that worked for us at all. I just couldn't carry any corner speed and that is how I ride normally. This weekend, I haven't felt confident on the bike at all, so I hope that we can sort this problem out at the Monza tests before our next race in Assen."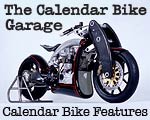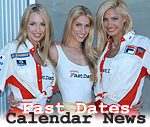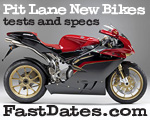 ---
---
Sands vs. Rooke
Calendar Bike Build Off
See the world's two hottest custom sportbikes featured in the 2008 Fast Dates and Iron & Lace Calendars being built and raced by Roland Sands and Jesse Rooke for Discovery Channel's Biker Build Off
Roland Sands builds the
KR Tracker Calendar Show Bike
New Blood DVD
features Roland Sands building and riding the extraordinary Roland Sands Design / Kenny Roberts KR 990cc 5-cylinder MotoGP powered Retro Board Track Racer. The bike is also featured in the 2008 Fast Dates race bike and Iron & Lace custom bike Calendars with beautiful Playboy Playmate and Calendar Kitten Tamara Witmer in one of our best calendar shots ever and ,featured in the LA Calendar Motorcycle Show advertsing campaigns
and T-Shirt.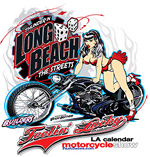 Order the Official
LA Calendar Bike Show
T-Shirts!


MotoGP 2-Day Test
Jerez April 1, 2008.
Fiat Yamaha Team riders fastest at Jerez test
Lorenzo and Rossi
The Fiat Yamaha Team's young Spanish rookie Jorge Lorenzo, who boasts an outstanding record of two pole positions and two podiums from his two MotoGP starts, put in more impressive work today during a one-day test in Jerez. After joining his team-mate Valentino Rossi as part of a Fiat Yamaha double podium yesterday, he posted the fastest time of the day and completed a total of 94 laps.
Another day of Andalucian sunshine today provided Lorenzo and his crew with the chance to work on general setting and their all-important tyre testing programme with Michelin amid slightly more relaxed surroundings. The Mallorcan continued to show his ability and fast rate of progress, not only topping the time sheets on a qualifying tyre but lapping consistenly fast on race tyres. His best time on a race tyre was 1'39.59, over half a second faster than the fastest lap record recorded in yesterday's race and he was the only rider to dip under the 1'38 mark on a qualifying tyre.
Danielle Romagnoli - Team Manager of Jorge Lorenzo
"It was a another really good day today; Jorge's progress is almost unbelievable for us to watch and every day is enjoyable. The most impressive thing today is that we were able to improve on Jorge's race pace from Saturday, which was the best pace of the whole weekend. We continued to work on set-up and improved the front feeling with the help of a new fork setting, and with race tyres today he was very consistent and very fast. We also refined some engine mapping and through this it seems that we've been able to obtain improvement with tyre wear. Michelin had planned a very interesting tyre test for us today with Estoril in mind and we found some good things, especially concerning the rear tyre. Jorge has done a great job at just his second race and today's test gave us a chance to check out some important things that will help us at the next race in Estoril. We're already looking forward to the next challenge but for now I want to thank all the team and Yamaha for their hard work; they deserve a good rest before Portugal!"
After claiming his 100th premier-class podium with a strong second place in the Spanish Grand Prix yesterday, it was straight back to work for Valentino Rossi and the Fiat Yamaha Team as they undertook a full day's testing at Jerez today.
With just two races under their belts since joing forces with Bridgestone, the primary focus of Rossi's crew still remains developing the union between the 2008 Yamaha M1 and the Bridgestone rubber. Yesterday's podium proves they are on the right track but today offered a chance to spend some uninterrupted hours concentrating on just this, with satisfying results all round. Setting was improved in general and Rossi was pleased with some of the new compound tyres he tried, both front and rear and including qualifying tyres. He completed 85 laps in total and his best lap, set with a qualifying tyre, put him second in a time of 1'39.117. His team-mate Jorge Lorenzo also had a good day after his third place yesterday, topping the time sheets with a best lap of 1'38.679.
The team will now have a short break before heading to Estoril in Portugal in ten days time, confident that they are in good shape at this early stage of the season.
Davide Brivio - Team Manager of Valentino Rossi
"Today gave us the chance to spend a whole day working closely with our engineers and Bridgestone on tyres and general bike setting. It's still early days in the Bridgestone-Yamaha relationship so we are still focusing on adapting these two elements in order to create the best package. We got some good feedback today and it seems we improved the feeling in both areas. It's been very important to stay this extra day because the first two races have been quite intense for everyone, so it's good to have time to test in relaxed surroundings without the pressure that comes during a race weekend. We were able to go through things step by step, analyse the details and take on board some information which we hope will be useful in Estoril and beyond. We worked with different front and rear compounds today, and we also tested some qualifying tyres. Of course we're always looking to improve the setting and today we were also abe to improve the stability of the bike in the fast corners. Valentino is happy with the days work and now he and all of the team will have some well deserved rest before the next race."
The Ducati Marlboro Team concluded their visit to Jerez de la Frontera on Monday with a day of tests that both Casey Stoner and Marco Melandri rated as highly positive, despite the Italian having ended the session early due to a crash.
Melandri was not seriously injured in the crash, escaping with damage to a nail on his left hand, and was just disappointed that he didn't get to complete an otherwise satisfactory day of set-up work that had only just begun to bear fruit.
Casey Stoner was much happier, however, having improved his feeling with the front and giving himself extra confidence for the next round of the season, the Grand Prix of Portugal on April 13th.
Casey Stoner (Ducati Marlboro Team), fastest lap on race tyres - 1'40.588; with qualifying tyres - 1'39.218 (59 laps) - "We've done a few different tests on the setting and with the tyres and I'm pretty happy with how it's gone. We tried some different front tyres that gave me a better feeling than I had in the race yesterday, especially under braking, so I can say it was a really positive test. It's a bit of a shame because with just a few small changes to the set-up we had yesterday the situation has improved a lot and we could have had a much better race if we'd gone with this in the first place. The test on qualifying tyres didn't go quite as well because on the best one I ran wide in one corner and without that I would have knocked a few tenths off my best time. It has been the best day we've had at Jerez and it's left me with a good feeling going to Estoril!".
Marco Melandri (Ducati Marlboro Team), fastest lap on race tyres - 1'41.396 (32 laps) - "The day started well and we were working with some success on finding more rear grip when I lost the front and crashed on the way into the final bend. It happened suddenly and my hand got trapped underneath the handlebar. I was lucky not to break any bones in my fingers but it's still really painful because the nail on my middle finger has ripped in half. I don't think it will be a problem for Estoril though. Unfortunately we had to call time on a day that was proving to be important and positive. We had a few things still to try, including the tyre that Casey liked. The changes we've had chance to test have been good and I'm sure we're on the right track to improve my feeling with the Desmosedici
1. Jorge Lorenzo (SPA) Fiat Yamaha Team 1'38.679
2. Valentino Rossi (ITA) Fiat Yamaha Team 1'39.117
3. Casey Stoner (AUS) Ducati Marlboro 1'39.218
4. Randy De Puniet (FRA) LCR Honda MotoGP 1'39.484
5. John Hopkins (USA) Kawasaki Racing 1'39.569
6. Loris Capirossi (ITA) Rizla Suzuki MotoGP 1'39.747
7. Shinya Nakano (JPN) San Carlo Honda Gresini 1'40.034
8. Dani Pedrosa (SPA) Repsol Honda 1'40.116
9. Nicky Hayden (USA) Repsol Honda 1'40.389
10. Andrea Dovizioso (ITA) JiR Team Scot MotoGP 1'40.394
11. Chris Vermeulen (AUS) Rizla Suzuki 1'40.534
12. Alex De Angelis (RSM) San Carlo Honda Gresini 1'41.308
13. Marco Melandri (ITA) Ducati Marlboro 1'41.396
14. Anthony West (AUS) Kawasaki Racing 1'42.132
15. Toni Elias (SPA) Alice Team 1'42.240
16. Olivier Jacque (FRA) Kawasaki Racing 1'42.562
17. Sylvain Guintoli (FRA) Alice Team 1'42.624
Jerez Lap Record - D. Pedrosa (Honda) 2008, 1'40.116
Jerez Best Lap - J. Lorenzo (Yamaha) 2008, 1'38.189

Repsol Honda Team complete successful two-day MotoGP test at Jerez, Spain
The Repsol Honda team leave Jerez satisfied with the results of the two-day post GP test held at the 4.423km Andalusian circuit, venue of the Spanish GP held at the circuit last weekend.
On the opening day of the test Repsol Honda team riders Dani Pedrosa and Nicky Hayden had worked on testing basic machine set up options for the RC212V employing data gathered over two days of grand prix practice and the 27 lap (119.421km) race.
The final day was dedicated almost exclusively to tyre testing with Michelin. Despite sunny weather track conditions were not ideal due to a strong wind that drove sand and debris onto the track top. Both riders tested new 16.5 rear tyres brought to the test by Michelin with encouraging results.
Pedrosa, MotoGP race winner at Jerez on Sunday, has been racing with a standard profile Michelin front tyre so far this season but today he dedicated time evaluating the performance of several different front tyres he had been unable to test during the winter due to injuries sustained in January.
The young Spaniard found was pleased with the results but called a halt to his test programme at 15.00. due to the increasing amount of sand blown onto the circuit.
Team-mate Hayden completed a full day of testing putting in a total of 86 laps setting fastest lap of the day on the last lap of 86 using qualifying tyres.
The Honda supported MotoGP teams racing with RC212V machinery elected to sit out the final day of the test.
Honda rider quotes and lap times.
Nicky Hayden, Repsol Honda: 1m 38.940s on lap 86 of 86.
"Everything went real smooth. We did a lot a work with Michelin, tried to check a few tyres' durability, and I was able to string together a few high 39s on race tyres, which we were pretty happy with. We also tuned the bike a little bit, tuned the rider too, worked on a few things, and overall it's been a real positive day. We've got the chassis working good, now we need to work on the engine because we're coming up to some tracks with big long straightaways."
Dani Pedrosa, Repsol Honda: 1m 40.099s on lap 16 of 41
"Today we worked on tyres with our Michelin technicians and it was a very useful day. We focused mainly on the front tyre, testing different fronts because so far I've only used Michelin's standard profile. We found some interesting solutions. We also tested some rears that Michelin brought here for testing. I didn't use qualifying tyres. These two days have been very important in getting us more familiar with the bike and helping us work some more on setup. I stopped early this afternoon because track conditions weren't so good, the wind was blowing a lot of dust and dirt onto the track."