World Superbike Returns to America this Month!
Fast Dates Calendar Kittens Team Up with Alstare Suzuki at Miller SBK Race
May 1st 2008 - This month's May page in the 2008 Fast Dates Calendar has us getting ready for the return of World Superbike to America this month at Miller Motorsports Park, UT, May 30-June 1st after a 3 year absence. Our beautiful SBK World Superbike Fast Dates Calendar Kitten Katie Pugh (above) adds the icing to former World Superbike Champion Troy Corser's 2006 Alstare Corona Suzuki GSXR1000 factory superbike shot at Brands Hatch World Superbike in August of that year.
Buy the 2008 Fast Dates Calendar • Download Big Screensaver Photos in Members Corner
We are excited to announce that FastDates.com and producer/photographer Jim Gianatsis will be at Miller for the World Superbike round this month to shoot the next edition of the SBK Fast Dates World Superbike Calendar with all the top factory World and AMA Superbike race team bikes. Our selected models for the Caendar shoot will be beautiful Salt Lake City based professional models Ashley Nicholas and Michelle Barrett from the Wilhelmia agency Urban Talent.
And then on race day Sunday June 1st, both Ashley and Michelle along with another hot model we scouted from Urban Talent, Taylor Stone, will serve as the official Alstare Suzuki grid girls for team riders Max Neukirchner, Yukio Kagayama and Fonsi Nieto. So look for our girls on the starting line in the world TV broadcast of the SBK World Superbike races from Miller Motorsports park, and in the 2010 SBK Fast Dates Calendar to be release just 13 months from now
---
If only Hitler had known about the new BMW S1000RR Superbike....
---
The Doctor is back to making house calls!
MotoGP World Championship, Pramac Grand Prix of China Round 4 of 18
Seriously Injured Wheelchair Bound Jorge Lorenzo Qualifies and Finishes 4th!
Rossi Makes his 2008 Season Return to Victory in Shanghi
Pramac Grand Prix of China, Shanghi, May 2-4th - Fiat Yamaha Team rider Valentino Rossi took an impressive victory in Shanghai today, his second at the circuit having won the inaugural Chinese Grand Prix with Yamaha in 2005. It was Rossi's 89th career victory but his first in seven races, since Estoril last year, as well as his first on Bridgestone tyres.
Rossi had looked strong from Friday morning and he was clearly in good shape for the race, but after two days of high temperatures and sunshine, heavy rain throughout the morning threatened to turn the established order on its head. The rain ceased in the late morning however and the track began to dry out with the aid of a warm wind, meaning the race was finally declared dry. Starting from second on the grid behind Colin Edwards, Rossi crossed the line first time in fourth but had made it back to second by the end of the third lap, passing Casey Stoner and pole-sitter Colin Edwards in the process. His next target was Dani Pedrosa and he made his move on the Spaniard at the end of the back straight to take the lead. From then on the Italian led to the chequered flag but it was nail-bitingly close for the majority of the remaining 17 laps, with less than half a second between them and the pair the only two lapping consistently in the 1'59s. On lap 19 Pedrosa began to tail off and Rossi eventually took victory by 3.890 seconds, with Casey Stoner over 15 seconds back in third.
The other side of the garage had an almost equally happy day as Jorge Lorenzo shook off the pain from his fractured ankle to take a brave fourth place, something that was unimaginable after his crash on Friday morning. Rossi is the fourth different rider to win in four races this season and the championship is wide open, with Lorenzo seven points off Pedrosa in second and Rossi just two points behind him in third.

Preview: Pedrosa Ready for A Critical Clash With Lorenzo
The Shanghai International Circuit is situated 40km outside Shanghai and was designed by Hermann Tilke, also responsible for Istanbul Park in Turkey. Shanghai may not be quite as challenging as Istanbul Park, but it makes its own particular set of demands on riders. At 5.281km in length it is among the longer tracks and at 14.4m wide the tarmac leaves plenty of room for imagination when taking racing lines on entry and exit to the 14 turns, seven of which are lefts and seven right-hand corners.
The main straight is the longest in MotoGP at 1202m and this puts a premium on top speed. But acceleration out of the many tight turns is equally vital, as well as stability under the exceptionally heavy braking on the entries. Couple this with turns one and two that double back on themselves at almost 300 degrees and here is a track that requires the utmost work in set-up.
After an intense test session after the Estoril race two weeks ago, most riders are buoyed by the work they did evaluating tyres and the set-up improvements made after sampling the latest rubber. After this race the Grands Prix come thick and fast and there will be little time for major adjustments.

This is a key race. Dani Pedrosa (Repsol Honda RC212V) is tied on points at the top of the table with his arch-rival Jorge Lorenzo (Yamaha) and with just a two week breather after this Grand Prix before a series of five races in just over six weeks across Europe – this encounter is of paramount importance.
Tied at the top with 61 points apiece are the Spanish hotshots Pedrosa and Lorenzo, both so far eclipsing the established former World Champion Valentino Rossi and the current title-holder Casey Stoner (Ducati). Rossi is in touch with 47 points, Stoner still in the mix with 40 after three rounds of this 18-race series.
But if things don't pan out podium-wise in Shanghai the trailing two could soon feel the further effects of the Iberian domination of the title race so far. Rossi won here in 2005 and Stoner last season, Dani taking the victory for Honda in 2006. Lorenzo has won here on a 250. The stage is thus set for an enthralling encounter.
And aside from the top four there are a host of Honda riders ready to hit better form as this title race starts to take shape. The dogged Andrea Dovizioso (JiR Scot Honda RC212V) has demonstrated ample pace and is due a podium. This could be the place where he matches the second and third places he has scored here previously on a 250cc machine.
Nicky Hayden (Repsol Honda RC212V) has got down to the task of revitalising his title credentials as a former World Champion after notching a fourth at Jerez and sliding off while challenging for a podium at Estoril. The Kentucky Kid is ripe for a big score here in China. He might even settle for the second place he achieved in 2006 as he reacquaints himself with the success he sorely missed in 2007.
Rossi Tops Friday Practice, Lorenzo Highsides Spectactularly
May 2nd, Day 1 Friday Practice - Valentino Rossi´s morning lap of 1´59.906 was enough to take the early advantage in the MotoGP combined free practice standings at the Pramac Grand Prix of China, with not even the Italian himself able to beat his hot lap in the second session.
The Fiat Yamaha rider finished second in the afternoon runout, behind 2007 Shanghai racewinner and reigning World Champion Casey Stoner. However, Stoner´s 2´00.186 lap was not sufficient to better Rossi´s marker, falling just over two-tenths of a second short.
Both riders had grip problems on their final outing of the day, avoiding highsides on the sun-heated asphalt but losing time making corrections. Rossi ran off track, a fate that also befell Alice Team´s Toni Elias and Rizla Suzuki´s Loris Capirossi.
The top three in the combined results involved all three previous winners of the Chinese round of the World Championship, with Repsol Honda rider Dani Pedrosa pursuing the leading duo at the scene of his 2006 maiden MotoGP victory.
Claiming a newfound level of comfort with his San Carlo Gresini Honda RC212V in Thursday´s press conference, Shinya Nakano gave weight to his statement by recording the day´s fourth fastest time. He was quicker than the likes of 2007 podium finisher John Hopkins and 2006 World Champion Nicky Hayden, riding the factory version of the Honda machine.
Fully recovered from his Estoril tonsillitis, Alex de Angelis was seventh on the timesheet on the second satellite San Carlo Honda, ahead of Capirossi, JiR Team Scot´s Andrea Dovizioso and Tech 3 Yamaha veteran Colin Edwards.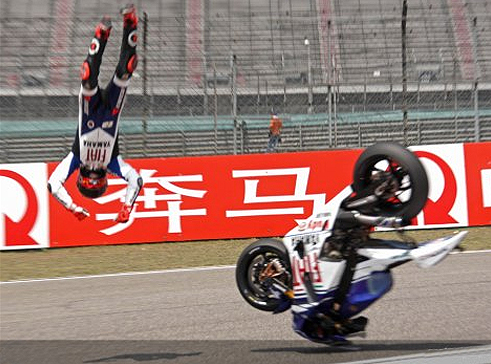 MotoGP World Championship leader Jorge Lorenzo did not come out for the afternoon session, having been taken to hospital for examination. The Spaniard suffered a highside in his first premier class Shanghai session, picking up a chipped bone in his left ankle and some damage to his lower right leg. It is not yet known if the Fiat Yamaha rider will return to action on Saturday as he looks to maintain his 100% pole position record.
Lorenzo Could Ride on Saturday Despite Fractured Ankle
Friday, 02 May 2008 - Clinica Mobile will evaluate rider´s options on Saturday morning, following huge Friday highside. The extent of the injuries incurred by Jorge Lorenzo in the opening MotoGP session has been assessed, after the Spaniard was subjected to an x-ray and examination at the Huashan hospital in Shanghai.
A chipped bone in his left ankle and pain in that of his right side are the consequences of a huge highside onboard his Fiat Yamaha M1. His upper body braced as he took the impact on his forearms, Lorenzo´s injuries have been limited to his lower body.
Whilst he did not ride in the afternoon session, it is possible that he will return to action on Saturday morning. With Clinica Mobile Doctor Claudio Macchiagodena surprisingly citing the fracture-less right ankle as the biggest impediment to Lorenzo´s participation. `The big problem I think is the right ankle, where there isn´t any fracture, because at this moment the rider is suffering a lot of pain, and I´m not sure if he can be ready in time for the qualifying session,´ said the Italian expert upon his patient´s return to the Shanghai paddock.
`He has a little fracture in the left ankle, and I think we can overcome this problem because the riders are used to riding with physical injuries like this one. He´s quiet at the moment, and not angry about what has happened.´
Macchiagodena is being pragmatic in his advice to the Fiat Yamaha rider as to whether he should attempt to ride on Saturday morning. `We have not planned any type of infiltration, in this case it is better to apply ice and massages. Tomorrow morning we are going to take a decision. If the pain is decreased, we could help him to ride, if it is to the contrary then I think it´s better to wait. The rider has the last word.´
Lorenzo´s Team Manager Daniele Romagnoli expressed his thoughts on the incident, which he put down to self-belief rather than any technical problem. `Let´s just say that it was a little bit too much confidence going into turn two; he lost the grip and highsided it,´ said Romagnoli. `We´ll just have to wait and hope that Jorge will be able to ride tomorrow.´
American Colin Edwards is on pole at Shanghi!

Colin Edwards takes Shanghai MotoGP Pole with Record Lap
Seriously Injured Wheelchair Bound Jorge Lorenzo Qualifies 4th!
Pramac Grand Prix of China Day 2- Saturday May 3rd -In the latest chapter of his surprise resurgence with the Tech 3 Yamaha team, Colin Edwards took pole position for the Pramac Grand Prix of China with a last-gasp lap of the Shanghai International Circuit. Having previously been amongst the frontrunners in the practice sessions, Edwards smashed Valentino Rossi´s 2007 pole position record by nearly three tenths of a second with a lap of 1´58.139 in the final stages of the qualifying run. He was the only rider to do so, thus claiming pole position number three of his MotoGP career and his first since moving to the satellite Yamaha outfit.
Rossi himself will start from second place on the grid, with a 1´58.494 lap only slightly slower than his marker from last year. The Italian battled for victory with eventual race winner Casey Stoner in 2007, and a repeat of this could be on the cards if the pair can get past Edwards and break away.
The front row will be completed by 2007 World Champion Stoner, who lines up in the top three for the first time this season. The Australian was in contention for pole throughout the session, before eventually succumbing to the pace of the Yamaha riders.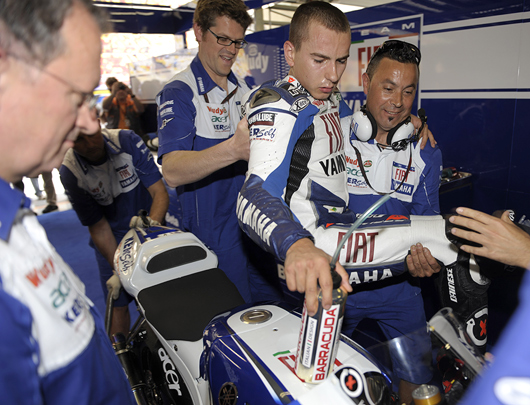 Obviously in pain and unable to walk, Jorge is lifted from his bike after qualifying and unbelievable 4th.
The poleman at all three of the previous 2008 rounds, Jorge Lorenzo will head row two in Shanghai. Lorenzo´s performance was truly remarkable considering the doubts surrounding his participation in the session.
A left ankle fracture and serious bruising in his right leg meant that the Spaniard was not guaranteed to play any part in proceedings, and the extent of his injuries meant that he had to be helped from his bike by crew members. Meanwhile, he nearly repeated his huge highside from yesterday, but had his wits about him to save himself another impact with the asphalt.
Inseparable in the opening three races, Lorenzo and Repsol Honda´s Dani Pedrosa will continue their title battle from the second row of attack, level on points in the current World Championship standings.
Like Edwards a member of the MotoGP veteran´s brigade, Loris Capirossi took the sixth spot on the grid with his Rizla Suzuki GSV-R, the final rider to go round in under 1´59.
The third row is comprised of Tech 3 Yamaha´s second rider James Toseland, Capirossi´s fellow Suzuki man Chris Vermeulen and LCR Honda´s Randy de Puniet. The latter suffered a late crash in an incident-filled session, which included falls for Andrea Dovizioso, Nicky Hayden, Shinya Nakano and John Hopkins.
Jorge is wheelcahir bound after his dranatic crash in practice on Friday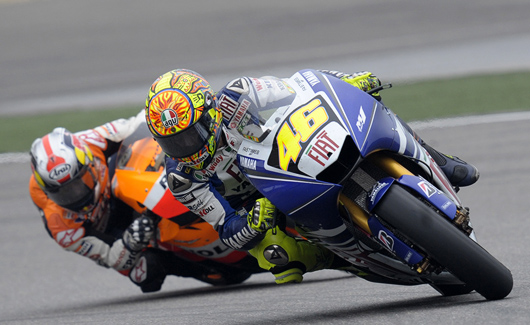 Rossi dices with Pedrosa for the win.
Rossi Ends Win Drought with China Triumph
Report Day 3, Pramac Grand Prix of China, May 4th - Valentino Rossi ended his seven-race winless streak with a vintage display in the Pramac Grand Prix of China, repeating his 2005 triumph at the Shanghai International Circuit to take his first victory since the Portuguese race last September. He battled with new MotoGP World Championship leader Dani Pedrosa for the majority of the race.
Starting from second on the grid, Rossi was involved in an inseparable front group for the opening laps. Eager to avoid a breakaway from Repsol Honda rider Pedrosa, the five-time MotoGP World Champion matched his Spanish rival lap-for-lap before finally sticking a move on him the ninth time around the track. After assuming control, he upped the pace to take his first victory with Bridgestone tyres, setting a new circuit record of 1´59.273 on his 18th lap.
Rossi lies just nine points behind Pedrosa in the standings after becoming the fourth winner in as many races in 2008. Pedrosa tried hard to assume the early advantage, but eventually finished second to continue as the only rider to have placed on the podium at every race so far.
Returning to the rostrum after two races away, 2007 World Champion Casey Stoner completed the top three comprised of each of the previous Shanghai winners. Last year´s victor was unable to play a part in the battle for the win, but now finds himself in a much healthier position in the championship despite not being completely satisfied with the final outcome.
In a result as miraculous as it was mercurial, Jorge Lorenzo took fourth place with a late surge back up the field, playing through the pain of a fractured ankle and other assorted injuries on the occasion of his 21st birthday. Off the podium for the first time this season, the Spaniard nonetheless received a hero´s welcome on his return to the Fiat Yamaha garage. He is now second in the overall standings, seven points behind arch rival Pedrosa.
Marco Melandri had his best result since joining Ducati, in fifth place ahead of 2006 World Champion Nicky Hayden. A tightly bunched group of Tech 3 Yamaha poleman Colin Edwards, Alice Team´s Toni Elias, Suzuki veteran Loris Capirossi and San Carlo Gresini Honda rider Shinya Nakano could have seen any number of combinations to complete the top ten, whilst the only retiree from the race was Chris Vermeulen on the second Rizla Suzuki GSV-R.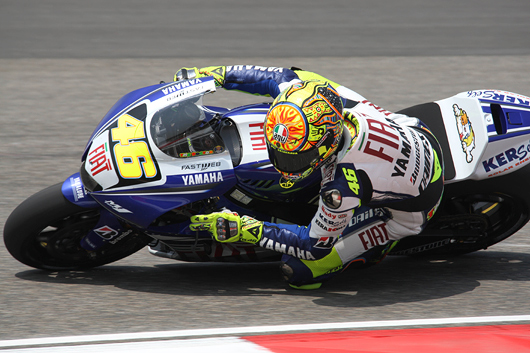 Rossi topped the practice times on Friday for the Grand Prix of China
Valentino Rossi - Race Winner,Time: 44'08.061–"I´m very, very happy, as it´s been a long time without victory. This was a difficult period; we changed tyres and we had to work very hard. I knew that we had good potential and we felt good from Friday. This is the first time that I was able to ride at a good pace after 15 laps.
"This morning I was upset when I saw rain, but when I saw it may be possible to ride in the dry I thought that I could win. I really had to push to beat Dani; it was a great victory for us."
"After seven races it is a great feeling to win again; I am very happy! This is a very important result for us because above all I was able to ride exactly how I wanted from start to finish and this was great fun for me. I had a great battle with Pedrosa and he pushed me hard and to be doing 1'59s until the end was unbelievable! All weekend we were hoping the rain wouldn't come so when we saw it this morning we were quite disappointed, then it started to dry out so we were praying that it would dry completely; we were lucky today!
We worked very well with Bridgestone and together with their technicians we made a late tyre change and it was the right choice because my tyre worked very well until the end, as my times showed! It's the first win for us with Bridgestone so this is a great moment also for this reason and I want to say thank you to them. We were fast from Friday morning here and step by step we've found the perfect set-up and today the hard work paid off for everyone. We've had four races and four different winners so this shows how close the championship is, now we need to keep going because our rivals are all very near. Lorenzo did a great race today with his injuries, so this is a good day for everyone in the team. Thank you to my team and everyone at Yamaha, it's great to be here again."
Dani Pedrosa, 2nd said: "I'm very happy with today's result. We had been expecting a wet race, so to get second today is fantastic and it's 20 good points for the Championship. I started a bit cautious during the early laps because I didn't know what the track conditions were like, but then Valentino and I began to set an extremely fast pace. Lap by lap our rhythm got faster. I had the advantage through the middle section of the track, he had the advantage through the first and last sections. My Michelin tyres were working really well and we were riding at lap record pace all through the race. The wind was very strong today, so my engine was over-revving, which is why I decided to ride a little more conservatively in the final laps to secure second place and the World Championship lead."
Casey Stoner, 3rd - "I'm disappointed to be honest because I know we could have done better today. The bike has worked really well in practice and we thought we had the ideal set-up for today but we changed a couple of things and for one reason or another the package just wasn't as good as before. I made a good start and I was happy with that but even in the first corner I couldn't get the bike turned, Colin Edwards came past me, and that was the story of the race. As the race wore on my lap times improved but it was too little too late and in any case it wouldn't have been enough for me to stick with the lead guys. I'm disappointed this has happened today - not so really for third place which is a good result but for the big gap from the lead. I know we can do much better so we will put this behind us, wipe the slate clean and try to do better next time out."
Jorge Lorenzo - Position: 4Time: +0'22.494 - "Without a doubt, this result today is like a victory for me. On Friday I couldn't imagine being able to ride, then yesterday it was a little bit better and then finally today I was not able just to ride, but to be competitive and enjoy myself as well! I've ridden with a lot of pain in both legs but the staff of the Clinica Mobile made it possible for me to keep going, so I want to thank them. I lost a lot of places early on but in the second half of the race I found my rhythm and then step by step I started to move forwards; in fact I think I made more overtakes than in any race so far in this category!
I stalled the engine on the start line for the warm-up lap, which was a scary moment, but luckily I was able to restart and it wasn't a problem. I want to say congratulations to Valentino for a great victory today as well, I think it's going to be an exciting year. I didn't have any pain in my arms today so hopefully the recent operation has been a success. Now I'm flying back to Barcelona to have treatment on my ankles and I will do everything I can to be back to my physical best in Le Mans. I want to thank Michelin, because my tyres were very good today, as well as Yamaha and all of my guys. I've had a great 21st birthday!"
Results MotoGP: (22 laps = 116.182 km)
Pos/ Rider / Nat / Team / Motorcycle / Time/ KM/H / Gap
1 / Valentino ROSSI / ITA / Fiat Yamaha Team / YAMAHA / 44'08.061 / 157.947 /
2 / Dani PEDROSA / SPA / Repsol Honda Team / HONDA / 44'11.951 / 157.716 / 3.890
3 / Casey STONER / AUS / Ducati Marlboro Team / DUCATI / 44'23.989 / 157.003 / 15.928
4 / Jorge LORENZO / SPA / Fiat Yamaha Team / YAMAHA / 44'30.555 / 156.617 / 22.494
5 / Marco MELANDRI / ITA / Ducati Marlboro Team / DUCATI / 44'35.018 / 156.356 / 26.957
6 / Nicky HAYDEN / USA / Repsol Honda Team / HONDA / 44'36.430 / 156.273 / 28.369
7 / Colin EDWARDS / USA / Tech 3 Yamaha / YAMAHA / 44'37.841 / 156.191 / 29.780
8 / Toni ELIAS / SPA / Alice Team / DUCATI / 44'38.286 / 156.165 / 30.225
9 / Loris CAPIROSSI / ITA / Rizla Suzuki MotoGP / SUZUKI / 44'39.501 / 156.094 / 31.440
10 / Shinya NAKANO / JPN / San Carlo Honda Gresini / HONDA / 44'44.030 / 155.831 / 35.969
11 / Andrea DOVIZIOSO / ITA / JiR Team Scot MotoGP / HONDA / 44'44.307 / 155.814 / 36.246
12 / James TOSELAND / GBR / Tech 3 Yamaha / YAMAHA / 44'51.252 / 155.412 / 43.191
13 / Randy DE PUNIET / FRA / LCR Honda MotoGP / HONDA / 44'51.503 / 155.398 / 43.442
14 / John HOPKINS / USA / Kawasaki Racing Team / KAWASAKI / 44'53.916 / 155.259 / 45.855
15 / Sylvain GUINTOLI / FRA / Alice Team / DUCATI / 44'54.391 / 155.231 / 46.330
Pole Position: Colin EDWARDS 1'58.139 160.925 Km/h
Fastest Lap (New record): Valentino ROSSI 1'59.273 159.395 Km/h Lap 18
Circuit Record Lap: Dani PEDROSA 1'59.318 159.335 Km/h 2006
Circuit Best Lap: Colin EDWARDS 1'58.139 160.925 Km/h 2008
World Championship Positions:
1 PEDROSA 81, 2 LORENZO 74, 3 ROSSI 72, 4 STONER 56, 5 CAPIROSSI 33,
6 TOSELAND 33, 7 EDWARDS 31, 8 HAYDEN 29, 9 DOVIZIOSO 26, 10 HOPKINS 26,
11 MELANDRI 23, 12 NAKANO 22, 13 ELIAS 15, 14 VERMEULEN 14, 15 DE PUNIET 11.

250cc GP to Kallio on Red Bull KTM
Mika Kallio continued his fantastic run of podium finishes with victory in the 250cc Pramac Grand Prix of China, extending his lead in the World Championship.
The Finn headed a Red Bull KTM one-two from teammate Hiroshi Aoyama as he took the Austrian factory´s first win at the Shanghai International Circuit, the duo starting from the front and third rows respectively on the grid.
As in the 125cc race, the poleman took an early bow to leave the field wide open. Portugal race winner Alvaro Bautista had a high speed lowside on the eighth lap, whilst fellow front row starter Julian Simon was forced into retirement after losing control of his Repsol KTM machine on lap five.
In third place, Mattia Pasini braved a temperamental wet tyre when the track dried, bouncing back from the disappointment of two crashes in Estoril. The Polaris World rider came out on top in a battle between himself and Marco Simoncelli, and benefitted from a last lap pair of run-offs from Yuki Takahashi when the Japanese rider seemed assured of a rostrum finish. Coupled with the surprise podium taken on the last lap in Jerez, the unluckiest rider of 2007 appears to have shaken off his demons upon arrival in the 250cc category.
Behind Pasini and Simoncelli, another battle raged on between persistent rivals Lotus Aprilia´s Alex Debon and Team Toth´s Hector Barbera. Despite crashing in the incident with Simon, Debon was able to get back up and edge out his fellow Spaniard.
The heartbroken Takahashi finished seventh onboard the JiR Team Scot Honda, whilst there were great results for Ratthapark Wilairot, Aleix Espargaro and Hector Faubel. Poleman Bautista eventually came in twelve for a valuable addition to his points total.
250cc GP: (21 laps = 110.901 km)
Pos / Rider / Nat / Team / Motorcycle / Time / KM/H / Gap
1 / Mika KALLIO / FIN / Red Bull KTM 250 / KTM / 48'12.217 / 138.040 /
2 / Hiroshi AOYAMA / JPN / Red Bull KTM 250 / KTM / 48'15.455 / 137.886 / 3.238
3 / Mattia PASINI / ITA / Polaris World / APRILIA / 48'26.028 / 137.384 / 13.811
4 / Marco SIMONCELLI / ITA / Metis Gilera / GILERA / 48'30.691 / 137.164 / 18.474
5 / Alex DEBON / SPA / Lotus Aprilia / APRILIA / 48'33.283 / 137.042 / 21.066
6 / Hector BARBERA / SPA / Team Toth Aprilia / APRILIA / 48'37.375 / 136.850 / 25.158
7 / Yuki TAKAHASHI / JPN / JiR Team Scot 250 / HONDA / 48'42.207 / 136.623 / 29.990
8 / Ratthapark WILAIROT / THA / Thai Honda PTT SAG / HONDA / 48'52.088 / 136.163 / 39.871
9 / Aleix ESPARGARO / SPA / Lotus Aprilia / APRILIA / 49'00.561 / 135.771 / 48.344
10 / Hector FAUBEL / SPA / Mapfre Aspar Team / APRILIA / 49'07.687 / 135.443 / 55.470
11 / Roberto LOCATELLI / ITA / Metis Gilera / GILERA / 49'08.049 / 135.426 / 55.832
12 / Alvaro BAUTISTA / SPA / Mapfre Aspar Team / APRILIA / 49'12.659 / 135.214 / 1'00.442
13 / Eugene LAVERTY / IRL / Blusens Aprilia / APRILIA / 49'12.949 / 135.201 / 1'00.732
14 / Fabrizio LAI / ITA / Campetella Racing / GILERA / 49'49.192 / 133.562 / 1'36.975
15 / Doni Tata PRADITA / INA / Yamaha Pertamina Indonesia / YAMAHA / 49'49.297 / 133.557 / 1'37.080
Pole Position: Alvaro BAUTISTA 2'04.882 152.236 Km/h
Fastest Lap: Mika KALLIO 2'15.834 139.962 Km/h Lap 19
Circuit Record Lap: Jorge LORENZO 2'05.738 151.200 Km/h 2007
Circuit Best Lap: Jorge LORENZO 2'04.543 152.650 Km/h 2007
World Championship Positions:
1 KALLIO 82, 2 PASINI 61, 3 BARBERA 49, 4 TAKAHASHI 46, 5 AOYAMA 44, 6 BAUTISTA 39,
7 DEBON 34, 8 SIMONCELLI 33, 9 ESPARGARO 26, 10 SIMON 23, 11 LOCATELLI 21,
12 FAUBEL 19, 13 WILAIROT 18, 14 LUTHI 14, 15 ABRAHAM 12.
---


New Aprilia Dursoduro 750
April is entering the big bore street supermoto wars with their new 750 Dursoduro which should be available soon as a 2009 model. The engine is a DOHC watercooled 749.9cc 90-degree V-twin producing 92hp at 8750 rpm. Trick parts include the aluminum swingarm with direct acting cantilever monshock, and dural superbike style front brakes on lightweight superbike billet wheels with a 3.50 x17 front tire, and a 180x17 rear.
Dry weight is 186 kg / 409 lbs. Its main competiton will , of course, be the trend setting Ducati Hypermoto with its bigger 1080cc aircooled twin produceing 90hp @ 7750 rpm and slightly lighter at 179 kg / 395 lbs.
---
There's more! Go to Pit Lane News NEXT PAGE

Hot Calendar Girl and Bike News! Go to: Fast Dates • Calendar Girls • Iron & Lace



Calendar Kittens, The Paddock Garage, Screensavers, Iron & Lace Garage




Many of our Calendar Kittens can also be seen at Playboy's website...


BikerKiss.com - the largest biker personals site!