Troy Bayliss shares the Assen TT podium for the last time on his farewell tour with Ducati Cores Superbike team manager Davide Tardozzi.
SBK Hannspree World Superbike National Championship, Assen, Netherlands Round 4 of 15
Bayliss does Double Dutch TT Classic
Assen (The Netherlands) Sunday 27th April: Troy Bayliss (Ducati Xerox) celebrated victory once more as he climbed on to the top step of the podium in both of today's races at Assen. Troy and his Ducati 1098 F08 dominated both races, although the Australian rider faced something of a battle against Yamaha rider Haga in the second outing this afternoon. A perfect finish to a weekend in which Bayliss has been consistently strong, and these wins, his fourth and fifth of the ten races held so far this season, mean that his lead in the riders championship is extended to 70 points. Bayliss now holds 178 points and second-placed Checa has so far accumulated 108.
Troy Bayliss (Race 1 - winner, Race 2 - winner) - "I'm very happy of course, it's been an incredible weekend. This is the last time I'll race Superbikes here at Assen. It's perfect in that the first time I raced at this track I had a big battle with Nori and now again here this year. That first year he won and so it's fitting that in my last visit here, this time I was able to beat him. We've been going well all weekend and were able to take pole and then I made a really good start in both races. I think I'm riding for the best team in the paddock at the moment so I thank my guys, the Ducati Xerox Team, again for their hard work, and we go to Monza with 50 extra points in the bag."
Assen Preview
Assen, NL, April 25-27th - The classic Dutch TT circuit at Assen plays host to the fourth round of the HANNspree FIM Superbike World Championship this weekend, after a gap of three weeks from the Spanish Round. There with two second places at Valencia, Troy Bayliss (Ducati Xerox) increased his lead over his closest rivals to 48 points but the Australian is now coming under threat from a number of adversaries, mainly on four-cylinder machines. Regulation-wise, there will be no extra handicap applied to the twin-cylinder 1200s for the next three rounds, as the event average difference between the two types of machines – twins and fours - has so far proved to be insufficient to warrant a change.
At Valencia the twins appeared to struggle against the fours, despite a Ducati 1-2 and a fortuitous win by Lorenzo Lanzi (RG Team) in race 1, because riders from three different manufacturers, Noriyuki Haga (Yamaha Motor Italia WSB), Carlos Checa (HANNspree Ten Kate Honda) and Max Neukirchner (Alstare Suzuki), were all on top form. The Spaniard and the German however had their infamous last-lap, last-corner clash, which eliminated both riders from the top slots and helped Bayliss to boost his points lead.
Second place in the championship is still in the hands of Spain's Fonsi Nieto, but the Alstare Suzuki rider has not had another result to match his Losail win and is coming under pressure from third and fourth placed men, Troy Corser (Yamaha Motor Italia WSB) and Checa, both equal on 72 points.
The Aussie has been on the podium three times this year already, but Assen is somewhat of a jinx for Corser, who is still looking for his first win there and his first win since Phillip Island in 2006. Meanwhile Checa continues to make his mark in Superbike, his CBR rapidly becoming a front-running machine, and both are competitive enough to take their first win this year at Assen.
Ruben Xaus (Sterilgarda Go Eleven Ducati) and Haga are next up with 68 and 47 points respectively. The Spaniard finished the first four races of the season in the top 4, but suffered a setback at Valencia, while Nitro-Nori looked his usual aggressive self in Spain and his season looks likely to start now.
Sterilgarda Go Eleven Ducati's Max Biaggi, seventh overall, has had another three weeks to recover from his wrist fracture, and this will be even more vital for the demanding, switchback-style Dutch circuit. The Italian is in need of a couple of good results so as not to lose touch with the leaders.
Three youngsters round off the top 10. Now with three wins to his name, the most experienced and successful of the three is Lorenzo Lanzi, two points behind Biaggi and three ahead of Neukirchner, who should be fit to race at Assen. Michel Fabrizio (Ducati Xerox) is in tenth position at this stage of the season, ahead of Gregorio Lavilla (Vent-Axia VK Honda) and Ryuichi Kiyonari (HANNspree Ten Kate Honda), who is improving race by race.
Régis Laconi and Makoto Tamada (Kawasaki PSG-1) showed signs of progress in recent testing at Jerez, where both riders succeeded in eliminating much of the chattering that has plagued their ZX-10R machines.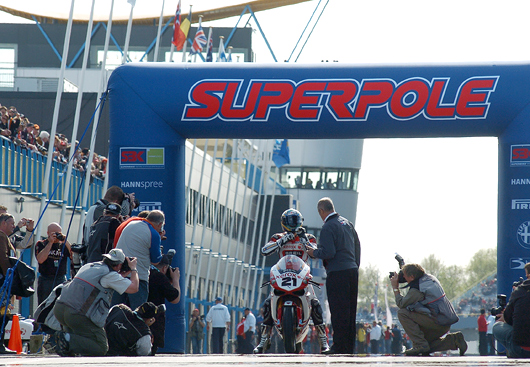 Friday First Qualifying Practice Succumbs to Bayliss
Assen, Friday 25th April 2008 -Troy Bayliss (Ducati Xerox) set the quickest time on the opening day of Superbike qualifying at Assen. The Australian, who hurt his back in a high-speed bicycle crash on Wednesday, was quickest in both the morning's free practice session and in Q1, when he set a time of 1'39.677, the only rider under the 1'40 mark but one second off the lap record. Two Japanese riders were next up in second and third, Noriyuki Haga (Yamaha Motor Italia WSB) and Yukio Kagayama (Suzuki Alstare), Haga writing off his number 1 Yamaha bike when he lost the front at Stekkenwal.
Jakub Smrz (Guandalini Ducati) was an early pace-setter, the Czech Republic rider heading the field until the final stages and eventually finishing fourth overall ahead of Fonsi Nieto (Suzuki Alstare). Kawasaki PSG-1 Corse showed some progress today, Makoto Tamada setting sixth quickest time, but Régis Laconi crashed out on the second ZX-10R.
Max Neukirchner was eighth for Suzuki Alstare, while Max Biaggi (Sterilgarda Go Eleven Ducati) focused mainly on race set-up, setting eleventh quickest time. Carlos Checa (Hannspree Ten Kate Honda) was a couple of places down the timesheets in thirteenth position.
The session was red-flagged with five minutes remaining when Dutch wild-card rider Arie Vos wrote off his Ducati 1098, the bike splitting into two pieces and covering the track with debris. The last few minutes after the re-start saw two more crashes involving Valencia winner Lorenzo Lanzi (RG Ducati) and Smrz.
World Superbike – Q1
1. Bayliss T. (AUS) Ducati 1098 F08 1'39.677
2. Haga N. (JPN) Yamaha YZF-R1 1'40.009
3. Kagayama Y. (JPN) Suzuki GSX-R1000 1'40.036
4. Smrz J. (CZE) Ducati 1098 RS 08 1'40.064
5. Nieto F. (ESP) Suzuki GSX-R1000 1'40.195
6. Tamada M. (JPN) Kawasaki ZX-10R 1'40.278
7. Fabrizio M. (ITA) Ducati 1098 F08 1'40.375
8. Neukirchner M. (GER)Suzuki GSX-R1000 1'40.409
9. Kiyonari R. (JPN) Honda CBR1000RR 1'40.496
10. Lanzi L. (ITA) Ducati 1098 RS 08 1'40.520
11. Biaggi M. (ITA) Ducati 1098 RS 08 1'40.673
12. Muggeridge K. (AUS)Honda CBR1000RR 1'40.695
13. Checa C. (ESP) Honda CBR1000RR 1'40.745
14. Checa D. (ESP) Yamaha YZF-R1 1'40.746
15. Corser T. (AUS) Yamaha YZF-R1 1'40.778
16. Nakatomi S. (JPN) Yamaha YZF-R1 1'40.817
Bayliss and the 1098R Record Fastest Lap Ever to Take Pole
Assen (The Netherlands) Saturday 26th April: Troy Bayliss (Ducati Xerox) powered his 1098 F08 to the top of the Superpole time sheets this afternoon in Assen, taking his second pole position of the 2008 season and recording a new best lap time for a Superbike at the Dutch track. With six riders, and four different manufacturers, lapping in under 1m39, the battle for places on the front row was hard fought today and the Ducati Xerox Team were therefore very satisfied with the results. Team-mate Michel Fabrizio and his mechanics had a few difficulties with both bikes in this afternoon's second qualifying session and, although there was limited time available to resolve the issues before the start of Superpole, Fabrizio still managed to take a third row position on the grid for tomorrow's races.
Troy Bayliss 1m38.4s - "We lost the way a little this morning for some reason and so I was a bit disappointed that I couldn't improve on the qualifying time I set yesterday. It's looking good so far. All the sessions have gone well except for this morning, and the team has been constantly working towards a better set-up. As I managed a good time in free practice this afternoon, I thought I could maybe do a flat 1'38 or high 1'37 during Superpole but it wasn't to be. Anyway I did enough to start from the front row and so although tomorrow's bound to be difficult against these guys, I'm happy with how today finished and I thank the team too for their hard work this weekend."
Superpole Times: Bayliss (Ducati Xerox) 1m38.4s; 2. Haga (Yamaha) 1m38.5s; 3. Xaus (Ducati) 1m38.5s, 4. Corser (Yamaha) 1m38.7s, 5. Neukirchner (Suzuki) 1m38.8s; 6. Checa (Honda) 1m38.8s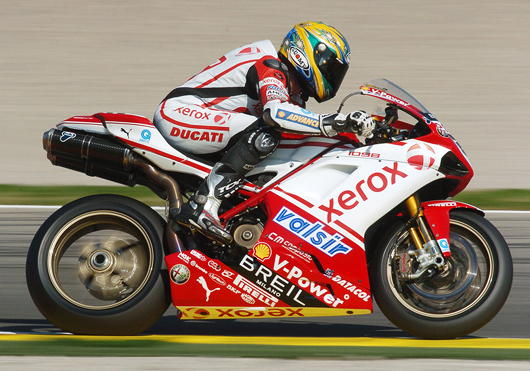 Double Dutch Delight for Bayliss at Assen
Assen, Sunday 27th April 2008: Troy Bayliss (Ducati Xerox) powered to his second double of the year with two convincing wins at the Assen TT Circuit in the Netherlands in the fourth round of the HANNspree FIM Superbike World Championship front of 75,000 spectators.
Race One: Bayliss Checks Out
Bayliss powered to his fifth win at Assen in the opening race after a mistake by early leader Kagayama (Alstare Suzuki) on lap 12 left him with a gap at the chicane. After sitting at the tail end of a 5-way rider freight train fight for the lead up past the mid point of the race. But when Kagayama faded back dramatically, the Australian charged to the front and then increased his lead over the following riders in the final laps to win by a margin of 2 seconds. Carlos Checa (Hannspree Ten Kate Honda) took the runner-up slot, in a sprint to the finish with Max Neukirchner (Suzuki Alstare). Kagayama took fourth from Troy Corser (Yamaha Motor Italia WSB), both riders holding off a late charge by Jakub Smrz (Ducati Guandalini). Seventh and eighth went to Kiyonari (Hannspree Ten Kate Honda) and Tamada (Kawasaki PSG-1 Corse), who faded after a good start. Tenth went to Max Biaggi (Sterilgarda Ducati). A clash in the opening laps eliminated two potential winners, Noriyuki Haga (Yamaha Motor Italia WSB) and Ruben Xaus (Sterilgarda Ducati).
Troy Bayliss: "I'm very happy with the way it turned out of course, but all the other guys were riding really well today. I made a really good start, pushed reasonably hard but Yukio was riding good and when he passed me, I thought I'd follow him for a while. He made a little mistake finally and I thought it was time to put my head down. I was turning round a bit, more than normal, but just wanted to keep an eye on how fast Carlos was coming through basically."
Carlos Checa: "I thought many times about Valencia and didn't want to make the same mistake twice, but Max slowed down a little before the end and when I saw clear road I passed him. He was behind and it was very close but it was nice to fight until the end and get onto the podium."
Max Neukirchner: "It's been a long time since I've been on the podium, the last time was in 2005 and I'm so happy right now to ride for the Suzuki factory team and it's a fantastic podium for me. I did a good job for this race, and also my team, and we worked really hard for this result.
Superbike Race One (Laps 22 = 100,210 Km)
Pos / Rider / Nat. / Team / Gap
1 / T. BAYLISS / AUS / Ducati 1098 F08 / Ducati Xerox Team / 36'50.907
2 / C. CHECA / ESP / Honda CBR1000RR / Hannspree Ten Kate Honda / 2.132
3 / M.NEUKIRCHNER / GER / Suzuki GSX-R1000 / Team Alstare Suzuki / 2.179
4 / Y. KAGAYAMA / JPN / Suzuki GSX-R1000 / Team Suzuki Alstare / 10.919
5 / T. CORSER / AUS / Yamaha YZF-R1 / Yamaha Motor Italia WSB / 11.051
6 / J. SMRZ / CZE / Ducati 1098 RS 08 / Guandalini Racing by Grifo's / 11.979
7 / R. KIYONARI / JPN / Honda CBR1000RR / Hannspree Ten Kate Honda / 15.184
8 / M.TAMADA / JPN / Kawasaki ZX-10R / Kawasaki PSG-1 Corse / 18.395
9 / G.LAVILLA / ESP / Honda CBR1000RR / Ventaxia VK Honda / 18.634
10 / M.BIAGGI / ITA / Ducati 1098 RS 08 / Sterilgarda Go Eleven / 20.699
11 / R. LACONI / FRA / Kawasaki ZX-10R / Kawasaki PSG-1 Corse / 25.759
12 / K. SOFUOGLU / TUR / Jr. Honda CBR1000RR / Hannspree Ten Kate Honda / 26.064
13 / A. BADOVINI / ITA / Kawasaki ZX-10R / Team Pedercini / 35.582
14 / K. MUGGERIDGE / AUS / Honda CBR1000RR / D.F. Racing / 36.266
15 / S. NAKATOMI / JPN / Yamaha YZF-R1 / YZF Yamaha / 37.215
Fastest Lap 3° Max Neukirchner 1'39.395 164,978 Km/h

Like a dog chasing after a piece of raw meet, Haga (41) was relentless on Bayliss

Race Two: Haga Hounds Bayliss to the Finish
Bayliss also took the win in race 2 after leading from lights to flag. He was pushed all the way by Haga, who was never able to pass him and in the end the gap was 0.082 seconds. Thanks to this win, the Australian has now increased his championship lead to 70 points over second-placed Checa. The Spanish rider grabbed the final podium position with a superb recovery from a bad start, overtaking Xaus on the final lap. Fifth place went to Neukirchner, the first Suzuki to the chequered flag, ahead of team-mate Kagayama and Gregorio Lavilla (VentAxia VK Honda). Smrz finished in eighth place, ahead of Tamada (Kawasaki). It was another disappointing race for Max Biaggi, who struggle to twelfth, while Fabrizio retired.
Troy Bayliss: "It's been an incredible weekend, pole and two race wins on the last time I'm going to ride a bike around Assen in a race that's for sure. That was such a hard race to control it like I did, because Nori is so strong. I did all the tricks I could use in the last few laps to hold him off and was lucky enough to get it. I used a harder tyre in the second race and my lap times are a lot more consistent so that was a good choice for sure. I think these guys here with me are my main contenders for the year at the moment."
Noriyuki Haga: "For sure I was unlucky for the first race but I'm very happy for the second place. It was a really tough race with Troy and I was looking for a way I could pass him but I couldn't find one. But I never gave up and tried my best until the last lap. You know, I'm very tired and now I'm looking forward to the next round at Monza, where I won both races last year."
Carlos Checa (Hannspree Ten Kate Honda CBR1000RR) took second and third place finishes at Assen today to become Troy Bayliss' closest challenger in the overall championship fight. Bayliss won both races at Assen and is now on a total of 178 points, with Checa on 108.
The 35-year-old Spaniard was top Honda qualifier in sixth place after Superpole, and the first Honda race finisher in race one, taking second place. In the first 22-lap race Checa rode patiently behind Max Neukirchner before passing in the latter stages and taking his second runner-up position of the season. He was unable to get past Neukirchner early enough to match the late push that saw Bayliss lead by three seconds at one stage, but he still finished only 2.1 seconds from his first World Superbike win.
Carlos Checa: "It was quite a bad start as usual for me, we need to improve that area. Of course it was a very hard race, we made some changes and I was not comfortable at the beginning, but I was able to keep a good pace and catch the guys in front of me and finish on the podium, which for us was a surprise because I didn't expect it at the end."
Superbike Race Two: (Laps 22 = 100,210 Km)
Pos / Rider / Nat. / Team / Gap
1 / T. BAYLISS / AUS / Ducati 1098 F08 / Ducati Xerox Team / 36'46.238
2 / N.HAGA / JPN / Yamaha YZF-R1 / Yamaha Motor Italia WSB / 0.082
3 / C. CHECA / ESP / Honda CBR1000RR / Hannspree Ten Kate Honda / 6.336
4 / R. XAUS / ESP / Ducati 1098 RS 08 / Sterilgarda Go Eleven / 7.575
5 / M.NEUKIRCHNER / GER / Suzuki GSX-R1000 / Team Alstare Suzuki / 8.011
6 / Y. KAGAYAMA / JPN / Suzuki GSX-R1000 / Team Suzuki Alstare / 13.999
7 / G.LAVILLA / ESP / Honda CBR1000RR / Ventaxia VK Honda / 15.215
8 / J. SMRZ / CZE / Ducati 1098 RS 08 / Guandalini Racing by Grifo's / 16.376
9 / M.TAMADA / JPN / Kawasaki ZX-10R / Kawasaki PSG-1 Corse / 17.269
10 / T. CORSER / AUS / Yamaha YZF-R1 / Yamaha Motor Italia WSB / 18.380
11 / F. NIETO / ESP / Suzuki GSX-R1000 / Team Suzuki Alstare / 18.926
12 / M.BIAGGI / ITA / Ducati 1098 RS 08 / Sterilgarda Go Eleven / 21.452
13 / K. MUGGERIDGE / AUS / Honda CBR1000RR / D.F. Racing / 23.794
14 / R. ROLFO / ITA / Honda CBR1000RR / Hannspree Honda Althea / 29.847
15 / S. NAKATOMI / JPN / Yamaha YZF-R1 / YZF Yamaha / 30.252
Fastest Lap 17° Troy Bayliss 1'39.562 164,701 Km/h
Lap record: 2008 Max Neukirchner 1'39.395 164,980 Km/h
Best Lap: 2008 Troy Bayliss 1'38.355 166,720 Km/h
Points (after 4 rounds): Riders – 1. Bayliss (Ducati) 178; 2. Checa (Honda) 108; 3. Corser (Yamaha) 89; 4. Nieto (Suzuki) 85; 5. Xaus (Ducati) 81; 6. Haga (Yamaha) 67; 7. Neukirchner (Suzuki) 66; 8. Biaggi (Ducati) 54, etc. Constructors – 1. Ducati 190; 2. Yamaha 126; 3. Suzuki 113; 4. Honda 109; Kawasaki 37.
Kawasaki's Tamada (100) and Laconi (55) battle mid-pack with Biaggi

Andrew Pitt Wins World Supersport for Ten Kate
Round 4 of the championship was an exciting affair, with the top 13 riders covered by 3 seconds with five laps to go. Six riders were in with a chance of winning as they started the final lap, but in the end victory went to Andrew Pitt (Hannspree Ten Kate Honda), who edged past his team-mate Jonathan Rea at the final chicane to win by a fraction. A Honda 1-2-3 was completed by Spanish rider Joan Lascorz (Glaner Motocard.com), who consolidated his points lead in the championship. Fourth and fifth place went to the two Yamaha World Supersport machines of Fabien Foret and Broc Parkes ahead of Josh Brookes (Hannspree Stiggy Motosport Honda). Craig Jones managed to place his Parkalgar Racing Honda into the lead for a couple of corners on lap 16 but he slipped back in the final stages to finish ninth.
Pitt said: "I was trying to keep myself up front as much as possible, like I did in Phillip Island. Jonathan was very strong and riding smoothly, but on some parts of the track I was faster. On other parts he was, so we kept overtaking each other and swapping positions. Jonathan and I had a couple of close overtakes, maybe too close at some points, but we both got through it and managed to get a great result for the team's home race. Now bring on Monza!"
Rea said: "First, I want to congratulated Andrew who rode a great race. The bike has been pretty good all weekend, it was a big challenge for me to come onto this new circuit and made a pretty good job of learning it. We were banging on the door in the top three all weekend. For me the race was a good example of Supersport racing. We also made a breakthrough with the front tyre this weekend; we chose a different one than we used at the previous rounds. For most of the race I felt I had it under control, until the last lap. I got on the brakes as late as I could, but Andrew was just coming up on the inside. We were both on the limit and had to let the bakes off. That's when I ran wide and got on the wrong line."
SUPERSPORT RACE: (Laps 21 = 95,655 Km)
Pos / Rider /Nat. / Team / Gap
1 / A. PITT / AUS / Honda CBR600RR / Hannspree Ten Kate Honda / 36'10.751
2 / J. REA / GBR / Honda CBR600RR / Hannspree Ten Kate Honda / 0.014
3 / J. LASCORZ / ESP / Honda CBR600RR / Glaner Motocard.com / 0.150
4 / F. FORET / FRA / Yamaha YZF-R6 / Yamaha World Supersport / 0.201
5 / B. PARKES / AUS / Yamaha YZF-R6 / Yamaha World Supersport / 0.283
6 / J. BROOKES / AUS / Honda CBR600RR / Hannspree Stiggy Motors. / 0.447
7 / B. VENEMAN / NED / Suzuki GSX-R600 / RES Software Hoegee Suzuki / 2.050
8 / G.VIZZIELLO / ITA / Honda CBR600RR / Berry Racing / 2.346
9 / C. JONES / GBR / Honda CBR600RR / Parkalgar Racing Team / 2.714
10 / M.LAGRIVE / FRA / Honda CBR600RR / Intermoto Czech / 3.073
11 / M.AITCHISON / AUS / Triumph 675 / Triumph Italia BE1 Racing / 4.070
12 / C.WALKER / GBR / Kawasaki ZX-6R / Kawasaki Gil Motor Sport / 4.863
13 / R.HARMS / DEN / Honda CBR600RR / Hannspree Stiggy Motors. / 5.088
14 / I. CLEMENTI / ITA / Triumph 675 / Triumph Italia BE1 Racing / 16.644
15 / I. DIONISI / ITA / Triumph 675 / Triumph - SC / 21.630
Fastest Lap 4° Gianluca Vizziello 1'42.130 160,560 Km/h
Lap record: 2007 Kenan Sofuoglu 1'42.096 160,610 Km/h
Best Lap: 2008 Broc Parkes 1'40.895 162,530 Km/h
Riders Championship Standings:
1 LASCORZ 70, 2 PITT 50, 3 PARKES 49, 4 FORET 46, 5 BROOKES 43, 6 REA 41,
7 JONES 39, 8 HARMS 28, 9 VIZZIELLO 26, 10 LAGRIVE 20, 11 WALKER 20,
12 VENEMAN 19, 13 NANNELLI 17, 14 ROCCOLI 16, 15 AITCHISON 15.
---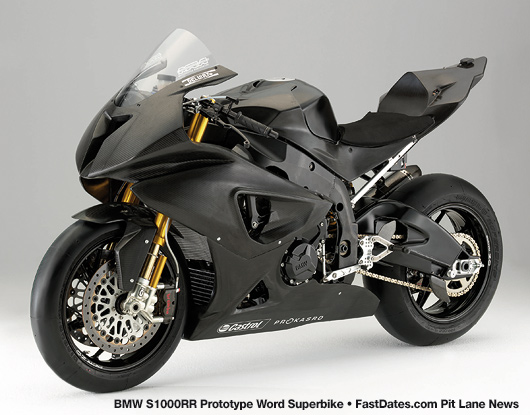 The first sportbike with real aerodynamic downforce? We'd like to see just how much downforce the front fairing and rear seat fairing with side wings generate in a windtunnel at high speed.

Click for large BMW S 1000 RR Screensaver
Almost Ready for Production and Entry into 2009 World Superbike!
BMW Introduces its all new S1000RR 4-cylinder Superbike
Munich, Germay, April 16th, 2008 - BMW Motorcycles today confirmed in press releases their upcoming new 4-cylinder watercooled 1000c Superbike model the S 1000 RR confirmed for production in 2009. And that the release of the bike will coincide with a full factory BMW race team in SBK World Superbike beginnig immediately with the next 2009 race season. The first year's production will be 1,000 bikes to assue homologation for world superbike, with the cost of the high end sportbike costing in the rance of $20,000.
The production prototype is shown here, and it already looks like a race preapred factory superbike with its high-end race-spec piggy back Ohlins front forks and rear shock. The right side view of the bike shows it has the front and real wheel sensing units of BMW's trademark anti-lock braking system which coud also serve as wheel monitors for a traction control system.
The overall design of the bike is very conventional and similar to the current Japanese 1-litre superbikes, in particular to the Yamaha R1, with an aluminum perimeter frame hanging an inline watercoold doube overhead cam engine below it. The fuel tank looks to have a false cover over the front to make space for a pressurized high volume airbox. The bodywork of the prototype is all carbon fibre, which will probably be included on the production bike to support its up market positioning over its Japanese counterparts.
World Superbike is going to be a real treat for race fans next year as BMW, which has proven it has the money, the resources and desire to win in the other upper echelons of motorsports racing from Formula One to World Sports Car Racing, is now setting its sights on motorcycle roadracing in World Superbike. We are guessing, with the right riders, BMW could be on top of the podium in its first race season, just as Ducati did its first yesr in MotoGP.

Click for large BMW S 1000 RR Screensaver

You'll see in the above enlarged closeup photo that the engine is built with smooth finished production molds, as opposed to rough prototype sand casting, so the bike is effectively past its prototype stage and ready for production. Any production delay now is esentially just to order and wait for outside suppliers to manufacturer and deliver all the necessary components like the Ohlins suspension, Brembo brakes, controls, electronics, wheels, etc., before manufacturting and assembly can begin at BMW.
Now let me briefly give you the status of our entry into the Superbike World Championship:
"Today I can confirm that our preparations are proceeding according to plan in every respect: In compliance with the rules of the Series, the new motorcycle will be available to customers in 2009 and we will build 1,000 production models by the end of next year.

We are implementing our racing activities in close cooperation with our partner Alpha-Racing, a specialist very experienced in motorsport. Located near Munich, Alpha-Racing have already started work in a special production hall specifically for this purpose. The process of building up the team is proceeding at full swing and we have already filled the key positions. The team is a combination of specialists from BMW and members of the Alpha-Technik racing crew, as well as further specialists from professional Superbike racing.

Choosing the development and test riders for our racing machine, we are currently operating in a revolving system to gain as much experience as possible. The selection of test riders ranges from experienced riders still active today all the way to young "top guns".

In the upcoming weeks and months we will systematically start production of the racing machine in its individual power and performance stages, testing the new model as we go along.

We naturally realise that the established teams have many years of experience. But we wish to take up this challenge in particular and have put together a highly motivated team precisely for this purpose, a team which will prove the performance of our new motorcycle in professional racing.

Naturally, we will have to go through a certain process of learning – which is precisely why we have set ourselves realistic targets for the time being: In our first year in the Superbike World Championship we seek to bring home several places in the Top 10 and to consistently close the gap to the top teams. In year 2 we plan to catch up with the top teams and to win our first places on the podium. And our medium-term objective, obviously, is to win the World Championship!

So much on this project, the current status of the project and our preparations for entering the World Superbike Championship next year. You have been speculating a lot on the designation of our new model. So let us put an end to this speculation today.BMW Motorrad's first Supersports will be the "S 1000 RR".

In choosing the name and designation of BMW's new Supersports, we are consistently following our nomenclature at BMW Motorrad. In this name, the "S" stands for Supersports, marking a new class of motorcycles from BMW. The "1000" designates the size of the engine, and the "RR" naturally stands for the model itself.
Dear Motorcycle Friends, Many motorcycle magazines have published photos of a racing prototype which we have tested on several racing tracks. Today we would like to show you this racing prototype, offering you an initial impression of the package and the technology. But when you see the motorcycle, please note that neither the design nor the impression of quality are the same as on the production model following at a later point."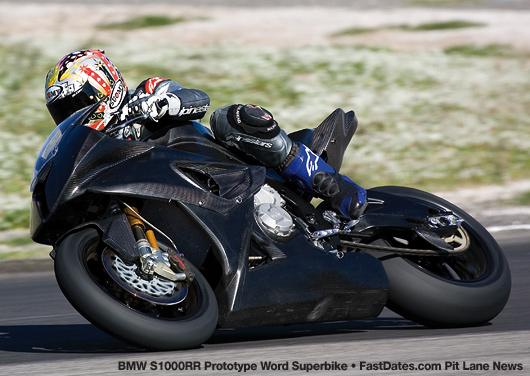 ---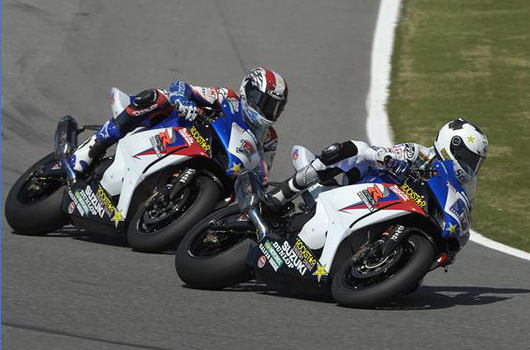 Ben Spies (6) backs it in ahead of temmate Mladin (1) in Saturday's Race, just before dropping it.
AMA Superbike National Championship, CA Speedway Round 3 of 11
Spies leads this week's Yoshimura 1-2-3 Steamroller at California Speedway
California Speedway, Irwindale, CA, Saturday April 20th, Sunday April 27th - Rockstar Makita Suzuki Factory Racing dominated the Suzuki-sponsored double-header AMA Superbike weekend at Auto Club Speedway in Fontana, California, by sweeping the AMA Superbike podium on Saturday's and Sunday's races.
Just like in Saturday's race, defending AMA Superbike Champion Ben Spies took the win on Sunday and was followed home by Rockstar Makita Suzuki team mates Mat Mladin in second and Tommy Hayden in third.
Six-time AMA Superbike Champion Mladin actually led most of the laps in Sunday's race but Spies passed him on the last lap as the two crossed the start-finish line to get the win.
Hayden got a better start in Sunday's race and worked his way into third position to take the final spot on the podium. This is the third-consecutive AMA Superbike podium sweep for the Rockstar Makita Suzuki squad.
Ben Spies: "This is one of the toughest races I've ever been in. I just couldn't make any headway. It's a little easier when you have someone in front of you because you can chase. But certainly the race didn't go the way I would have planned. I was about to be content with second place when I saw Mat run wide. So I put my head down and kept pushing and pushing. I almost gave up with about 15 laps to go but I knew I needed to get as many points as possible. I think for the last 10 laps or so, I was just out of control. Mat definitely made me work for it. I can't believe how fast we were going - we had nothing left at the end of the race, we were pushing the whole time. These two AMA Superbike podium sweeps speak for how good the Rockstar Makita Suzuki team is."
Mat Mladin: "We had a completely different Rockstar Makita Suzuki GSX-R1000 today than we did yesterday and it was a good race for us. We pretty much led all of it but at the end, we just didn't have it. I made a few small mistakes and gave back a little time that proved costly at the end. I did what I could but just couldn't hang on."

Tommy Hayden: "I got a much better start on my Rockstar Makita Suzuki GSX-R1000 today than on Saturday. And thanks to my crew for making some changes to the bike that made my race easier and helped me keep a better pace. The Rockstar Makita Suzuki crew gave me a great motorcycle for the weekend overall and an even better bike for today. Now we have some momentum on our side, and we'll keep plugging away and hopefully get a little closer to my team mates. I'm just happy to do my part in the Rockstar Makita Suzuki one-two-three sweep -- the way it should be."
AMA Superbike Top 10 Finishers:
1. Ben Spies (Rockstar Makita Suzuki)
2. Mat Mladin (Rockstar Makita Suzuki)
3. Tommy Hayden (Rockstar Makita Suzuki)
4. Neil Hodgson (Honda)
5. Jason DiSalvo (Yamaha)
6. Eric Bostrom (Yamaha)
7. Jamie Hacking (Kawasaki)
8. Scott Jensen (Suzuki)
9. Matt Lynn (Honda)
10. Dean Mizdal (Suzuki)
---

Lorenzo and Rossi don't spare the champaign on the Estorial podium.

2008 MotoGP World World Championship / Estoril Round 3 of 18
Lorenzo Takes Maiden MotoGP Victory in Estoril
bwin.com Grande Premio de Portugal April 11-13th, 2008, Estorial, Portugal - Jorge Lorenzo topped off an incredible opening month in MotoGP with his maiden premier class victory today, his first ever career win at Estoril. After three pole positions and two podiums, the Fiat Yamaha Team rookie went one step further to win the Portuguese Grand Prix in fine style, taking joint first in the championship standings in the process. It was also the second double podium of the season for the team, with Valentino Rossi finishing third.
Complete Coverage HERE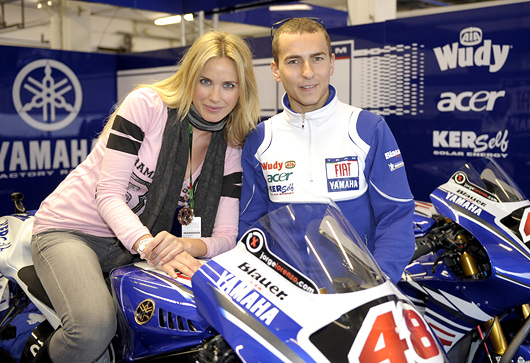 Jorge glams for the camera with Spanish actress Vanessa Romero. And of course, only FastDates.com goes behind the scenes to show you the real action in MotoGP and World Superbike - See Below!
---
There's more! Go to Pit Lane News NEXT PAGE

Hot Calendar Girl and Bike News! Go to: Fast Dates • Calendar Girls • Iron & Lace

Calendar Kittens, The Paddock Garage, Screensavers, Iron & Lace Garage




Many of our Calendar Kittens can also be seen at Playboy's website...


BikerKiss.com - the largest biker personals site!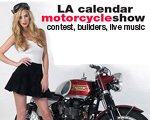 You're Invited to
America's Premier
Custom & Sportbike
Event Weekend!
$86,000 Bike Building Championship
World Record Dyno Shootout!
Calendar Girl Music Festival


---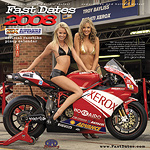 Almost Sold Out!
16-month Calendar starts Sept
2008 Fast Dates &
Garage Girls Calendars

---
Members Only Preview!
2009 Fast Dates Calendar
2009 Iron & Lace Calendar
2009 Garage Girls Calendar
Join our Members Corner today at get an exclusive look at the upcoming 2009 Fast Dates calendar now, before its public release at our big LA Calendar Motorcycle Show July 12-13th!
Featured are full-size 15 inch calendar screensaver pages for your monitor with the top bikes of the 2007 SBK World Superbike and MotoGP World Championship with our beautiful Calendar Kittens. Also includes all our current 2008 and past years Calendars !
---
Course Workers Needed!
Free Admission & Meals to Miller Motorsports World Superbike / AMA Round
Building a world class racetrack in the middle of the Utah dessert some 800 miles away from major population areas, and 25 miles from the nearest hotel is not the brightest of ideas.
But stoke your ego and empty your pocketbook a little further and hold a World Superbike round there, and expecing spectators to come is like inviting Christians to the Roman Coliseum.

And being located 25 miles from the nearest hotel , and 35 miles from Salt Lake City does help. Now comes the relalization from the promoters that they don't have the necessary number of track personel to hold an FIM sanction raced. If you were even contemplating going to Miller for the SBK / AMA Superbike round on May 29-June 1st, here's you chance to chance to hang out inside the track during the race weekend and help pull Noriuki Haga out of the gravel trap:

Official Press Release: Miller Motorsports Park is very excited to be hosting the HANNspree Superbike World Championship StriVectin-SD USA Round presented by HANNspree and the Honda Summit of Speed AMA Superbike Championship, May 29 - June 1.
Many people will be required to make this event happen safely and professionally. Anywhere from 250-300 people will be required to staff this event on track. If we do not have enough people to ensure the safety of the riders, SBK will not run. We will have something for everyone to do.
Things that we are able to offer you include:
*Experience in Flagging, Communications, Flag Marshal, Track Marshal and track responders. EMT/First Responders and Paramedics are needed as well, but will be staffed through our medical team. If you are licensed, let us know and we can connect you with the right person.
*Free Camping in Paddock - RVs (no hook-ups) or Tents (the ground is very hard, so bring an air mattress)
*On-site shower facilities near camping
*On-site Concessions
*Breakfast and Lunch provided Thursday, Friday, Saturday and Sunday
*Dinner provided Thursday, Friday and Saturday
*Kick-off Party on Thursday in downtown Salt Lake City
*Uniforms provided (you will need worker whites - no logos - we will provide vests and rain gear). Prepare for all weather (if you want to look it up on weather.com, our zip code is 84074).
*Free stuff (t-shirts and hats for the days you work)
*The chance to meet some of your favorite riders and their teams
We would like to know the days you will be able to work as soon as you know. Wednesday, Thursday, Friday, Saturday and Sunday are the event days. We would love to have you here on Wednesday if you have no track-working experience. That would allow us another day to train before everything gets crazy. We will do two trainings per day on Monday and Tuesday before practice day on Wednesday. We will train at night for those arriving later. Further information to come on those trainings. Also, let us know if you will be camping, arrival for check-in and RV or tent. Please have all names registered with us for a head count. If you could please fill in this information at the following link, we will add your name to my worker list.
Download here: millermotorsportspark.com
We want to thank you again for wanting to be a part of this exciting event. If you have any questions, please email Kelly Dodson at
Kelly Dodson
On-Track Personnel Coordinator
mmp_ops@
Miller Motorsports Park
2901 North Sheep Lane
Tooele, Utah 84074
(435) 277-8080
StriVectin-SD named
Title Sponsor of HANNspree Superbike World Championship event at
Miller Motorsports Park
Rome, Thursday 17th April 2008 - Miller Motorsports Park is very pleased to announce that it has entered into a wide-ranging partnership with Basic Research, Inc., a Salt Lake City-based manufacturer of cosmetic, fitness and weight-loss products, to help promote and build awareness of the company's products.
StriVectin-SD, a cosmetic cream that helps diminish the appearance of fine lines, wrinkles and crows' feet, will be the title sponsor of the HANNspree Superbike World Championship® event over the weekend of May 29-June 1. The event will now be known as the HANNspree Superbike World Championship®, StriVectin-SD USA Round presented by HANNspree. In addition to its title sponsorship at Miller Motorsports Park, Basic Research will also utilize the global marketing platform of the HANNspree Superbike World Championship® to market StriVectin-SD internationally.
As part of the agreement, Basic Research's range of products will be involved in a variety of sponsorship roles, including a contingency sponsorship of the Ford Racing Mustang Challenge for the Miller Cup and the title sponsorship of the Extreme Action Sports Jam, which will be a downtown party on May 29 at the Gallivan Center in Salt Lake City to promote the HANNspree Superbike World Championship®, StriVectin-SD USA Round presented by HANNspree.
"Basic Research is known worldwide for our innovative, out-of-the-box product development and marketing," said Dennis Gay, CEO of Basic Research. "We tested the waters with our sponsorship of the Zantrex-3/StriVectin NHRA Top Fuel Dragster the past couple of years, and had huge success and got lots of positive feedback on that effort, so getting involved with Miller Motorsports Park and World Superbike was a perfect fit. Besides, I'm a huge race fan, so sometimes it's good to be able to help steer the company in a direction that will be a lot of fun as well as be great PR for both StriVectin and Miller Motorsports Park."
"We very much appreciate the support of Basic Research," said Alan Wilson, CEO and General Manager of Miller Motorsports Park, "and are gratified that they recognize the value of a partnership with Miller Motorsports Park and the international exposure that this agreement will offer. The HANNspree Superbike World Championship® is one of the top three racing series in the world, which is seen by 2 billion television spectators on 95 television networks in 173 countries each year, and offers a fan-friendly format using production-based motorcycles that are derived from those sold in dealerships every day. This event will have a significant impact on the State of Utah, both on a commercial and entertainment level, and we are proud to have Basic Research play such an integral role with our event and our facility."
Paolo Flammini, CEO of FGSport added: "As the worldwide organizers of the HANNspree Superbike World Championship, we are honored that a primary company like Basic Research has decided to support the USA Round hosted by Miller Motorsports Park. The association between the StriVectrin-SD brand and the HANNspree Superbike World Championship – USA Round will certainly guarantee a great national and international exposure to the Basic Research products as well as an opportunity to spread the Superbike World Championship message among a very wide consumer base."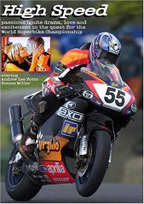 Just Released!
High Speed - the Movie
The best motorcyce racing movie ever made! Filmed on location at World Superbike, this an exciting romantic drama staring beautiful actress Sienna Miller.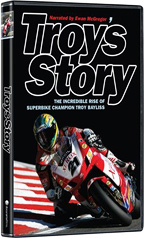 Troy's Story
The story of 2-Time World Superbike Champion Troy Bayliss narrated by Ewan McGreggor
Suzuki Takes 1-2-3 at LeMans 24hr World Endurance Championship
LeMans, France April 20th - Suzuki Endurance Racing Team's number two squad led a SERT GSX-R1000 one-two at the opening round of the World Endurance Championship at Le Mans in France today.
Riders William Costes, Guillaume Dietrich and Barry Veneman took the lead from World Champions Vincent Philippe, Matthieu Lagrive and Julien Da Costa when the number one machine crashed during the night session of the 24-hour race, to win by 11 laps
SERT 2 led for the first hour from Yamaha GMT94 and SERT 1. Yamaha took over temporarily at the second hour and then SERT 1 made a charge to the front - a lead they kept for almost half the race until a crash in the dark, thought to be due to a rabbit running onto the track.
From 16 laps down, the defending champions gradually moved back through the field, climbing into second place behind SERT 2 with five hours to go - a position they held until the flag.
Provisional results: 1 SERT 2 (Suzuki GSX-R1000) 770 laps, 2 SERT 1 (Suzuki GSX-R1000) 759, 3 Acropolis Moto Expert (Yamaha) 756, 4 Infini Team/ Yohann Moto sp (Suzuki) 755, 5 Junior Team Suzuki - LMS (Suzuki) 753.
James Toseland ReSigns with Tech 3 Yamaha for 2009
Yamaha Motor Co. Ltd and Yamaha Motor Racing Srl are delighted to announce that they have signed a two-year extension to their contract with the Tech 3 Team in MotoGP. Yamaha, which has supplied bikes and factory support to the French team since 1999, will continue to do so throughout the 2009 and 2010 seasons. Simultaneously the Tech 3 team and MotoGP debutant James Toseland have already agreed to exercise an option for the 2009 season after the 27-year-old made an instant impact in MotoGP.

The Tech 3 Yamaha Team, which is headed by Team Principal Hervé Poncharal, is currently enjoying a very successful start to the MotoGP season, with American Colin Edwards and Briton James Toseland who has scored top six finishes in his first two races, and claimed a front row start on his debut in Qatar.
James said: ""I am extremely grateful to Tech 3 and Yamaha for giving me this fantastic opportunity," said Toseland. "For them to show confidence and trust in my ability after just two races is very flattering. Signing for 2009 gives me the time to really develop with the team, Yamaha and Michelin.
"When I first tested for Tech 3 last November in Sepang, I knew instantly I'd made the right decision. I knew I could accomplish what I wanted to achieve in MotoGP and that was to prove that I could be competitive. Thanks to Tech 3, Yamaha and Michelin, I have done that after two races.
"The team and Yamaha welcomed me right from the start and gave me 100 per cent backing. The belief shown in me from Tech 3, and in particular Herve Poncharal, has been incredible. Before this season I had never worked with Yamaha, so for me to gain confidence from the factory in such a short space of time is great."
Hot New Book!
---
---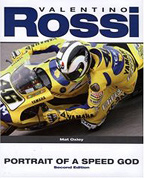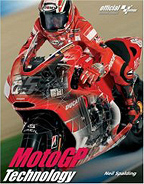 ---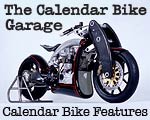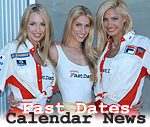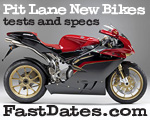 ---
---
Sands vs. Rooke
Calendar Bike Build Off
See the world's two hottest custom sportbikes featured in the 2008 Fast Dates and Iron & Lace Calendars being built and raced by Roland Sands and Jesse Rooke for Discovery Channel's Biker Build Off
Roland Sands builds the
KR Tracker Calendar Show Bike
New Blood DVD
features Roland Sands building and riding the extraordinary Roland Sands Design / Kenny Roberts KR 990cc 5-cylinder MotoGP powered Retro Board Track Racer. The bike is also featured in the 2008 Fast Dates race bike and Iron & Lace custom bike Calendars with beautiful Playboy Playmate and Calendar Kitten Tamara Witmer in one of our best calendar shots ever and ,featured in the LA Calendar Motorcycle Show advertsing campaigns
and T-Shirt.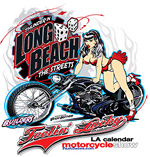 Order the Official
LA Calendar Bike Show
T-Shirts!


Yamaha Begins Construction on New
Cycle Factory in Philippines
April 15, 2008 - Yamaha Motor Co. started construction on its motorcycle factory in the Philippines where manufacturing operations are scheduled to begin in January 2009, according to a company press release.
Investing more than $91 million for construction, Yamaha is expecting the facility to produce 150,000 motorcycle units annually and have an initial workforce of about 270.
The Philippines domestic market currently has an increasing demand for motorcycles, which is backed by a stable economy. In 2007, the demand grew 13 percent over the prior year period to 700,000 units. Currently the motorcycle ownership rate is one unit for every 40 people, and that number is expected to grow to 1 million units by 2010.
The new factory in the Philippines is a part of Yamaha's new three-year management plan covering the period from 2008-2010. This one goal is a "further growth in sales and profitability in the ASEAN region."

Ducati Superbike
Concorso 2008
Ducati North America has announced changes to their the 2008 round of the Superbike Concorso which is a bike contest for Ducati bikes taking place at major motorcycle events across America, which include both wider entry criteria as well as more prizes and, most exciting of all, a Grand Prize VIP trip to Italy awarded at each round (including one for the winner of the online round!).
A key change from last year, entry criteria now include Ducati 900SS (all) in addition to the previously allowed motorcycles - 1972 GTs to 2008 Desmosedici RRs. This includes Supermonos and all 900 and 750 Supersports; if the model was ever raced or reviewed by a magazine as a Superbike, they are a legal entry. Please feel free to contact me if you have questions about this.

2008 also features more chances to win and no final round. Each round produces an overall Grand Prize winner of a trip for two to the Milan Motorcycle show and the Ducati factory to be awarded on the spot at the conclusion of the round. Furthermore, there are more classes; 6 in total plus the people's choice winner. They include categories for best competition bike, best vintage (pre-1988), best modern (1098/DesRR/848), most external beauty, best 1988 - 2007, and the Ducati passion award (miles considered, this is usually an interesting bike with an unusual owner).

Right now, the online round is open and accepting entries. (If you have submitted an entry to any round, online or regional already please contact me to make sure we have your entry, there was a server problem and we got multiples of some and none of others, sorry for this extra trouble). This round is especially attractive to those of you who enjoy a natural advantage because your Ducati's have made an in person impression on the judges and are not relying on the 6 to 8 entry photos only. Many of you already have photos as well so seven minutes might earn you seven days in Italy. If you have already earned a prize in the 2008 Daytona round, your bike is still eligible to enter, it is only ineligible to win the same prize twice (except of course people's choice).

Deadline for entries is April 28th. The round opens for voting on May 1st. Please visit the web site to vote for your favorite after May 1st.

The link to enter the online
round is:
superbikeconcorso.ducatiusa.com
If you have questions about this or any of the other regional rounds feel free to contact Vicky Smith directly at Veloce916@aol.com or 954-673-0877.
For those planning to enter the Laguna Seca MotoGP, Mid Ohio AMA or Indy MotoGP rounds, entry for those is now open and entries are accepted using a formula that includes date of entry - earliest first.