Lorenzo and Rossi don't spare the champaign on the Estorial podium.

2008 MotoGP World World Championship / Estoril Round 3 of 18
Lorenzo Takes Maiden MotoGP Victory in Estoril
bwin.com Grande Premio de Portugal April 11-13th, 2008, Estorial, Portugal - Jorge Lorenzo topped off an incredible opening month in MotoGP with his maiden premier class victory today, his first ever career win at Estoril. After three pole positions and two podiums, the Fiat Yamaha Team rookie went one step further to win the Portuguese Grand Prix in fine style, taking joint first in the championship standings in the process. It was also the second double podium of the season for the team, with Valentino Rossi finishing third.
The first lap was a close battle between Lorenzo, Rossi and Dani Pedrosa with Lorenzo just prevailing over the line. Rossi however then passed him into turn one and pushed on ahead, leaving his team-mate to defend second position from Pedrosa, who was right on his tail. It began to spot with rain but Lorenzo kept his head and kept in touch with Rossi, despite pressure from Pedrosa behind him. On lap 11 Pedrosa made it past Lorenzo and stayed in front of him for two laps, but the Mallorcan was clearly cruising and, after setting the fastest lap of the race so far on lap 12, the Michelin-shod rider passed Pedrosa into turn one and set off after Rossi. He made his move later that lap in typically flamboyant fashion with a bold pass at the chicane and from then on it was a one-man-show as he extended his lead and eventually crossed the line 1.817 seconds in front of Pedrosa, who had passed Rossi on lap 15.
At just 20 years of age, Lorenzo's victory today makes him the youngest rider in premier-class history to take three successive podiums and he now shares the championship lead with Dani Pedrosa on 61 points. Rossi consolidates third with 47 points whilst Fiat Yamaha top the Team's table and Yamaha.


Lorenzo qualifies his M1 Fiat on Pole. Now we'll have to nick name him "Strawberry Head".
Click for a BIG SCREENSAVER

Lorenzo Qualifies on Pole
Saturday April 12th - The man with an affinity for all things golden, Jorge Lorenzo continued to display his MotoGP Midas touch in an amazing qualifying session in Estoril, putting himself on pole for Sunday afternoon´s bwin.com Grande Premio de Portugal and smashing nearly half a second off the pole record set by Fiat Yamaha teammate Valentino Rossi in 2006. Lorenzo clocked a time of 1´35.715 in the final stages of the MotoGP session to maintain his 100% pole position record in the premier class. He becomes the first rider since qualifying records began to take three from three in his rookie season, following on from top spots in Qatar and Jerez.
"We more or less expected this," said the confident Spaniard, adding, "We didn't get a perfect lap, but in the end it was enough for pole. It's like we're in heaven, dreaming; for us everything that happens right now, whether it be pole positions or podiums, is a gift. Tomorrow we will fight as we always do, but still we have no pressure to win races and championships. If victory comes one day, then we'll be the happiest people on earth."
Current World Championship leader Dani Pedrosa once again goes head to head with his countryman and arch-rival, as the only other rider to go round in under 1´36. The Repsol Honda rider has the chance to win consecutive races in MotoGP for the first time, but will have no shortage of competition in Sunday´s race.
The only Bridgestone rider on hand to prevent a Michelin clean sweep at the top of the timesheet, Valentino Rossi defended the Japanese tyre manufacturer´s honour with his first front row since switching to the Bridgestone-shod Yamaha M1 package at the start of the season. He pushed his bike to the limit in his attempts to take pole, forced to make a spectacular save in the final minutes.
Behind the five-time MotoGP World Champion with an enviable record in Portugal, Repsol Honda´s Nicky Hayden has also been going strong during the practice and qualifying sessions. The American heads the second row, ahead of the Tech 3 Yamaha duo of Colin Edwards and James Toseland. It was announced today that the relationship between the team and factory would be extended until the end of 2010, with Toseland onboard the M1 until at least the end of 2009, and the Briton will be looking to justify the decision with another top race result.
Andrea Dovizioso was the fastest satellite Honda in seventh place, onboard the JiR Team Scot RC212V, whilst final Michelin-shod rider Randy de Puniet placed eighth. The Frenchman seemingly lacked confidence with grip after a morning crash, evidenced by his choosing to run the bike off track rather than lean into an early corner.
Reigning MotoGP World Champion Casey Stoner starts from the tail end of the third row in Estoril, after a problematic qualifying run. To add insult to injury, the Australian was also involved in a battle of gestures from new-boy Lorenzo early on in the session.
Kawasaki´s John Hopkins completed the top ten, whilst there was a high-speed lowside crash for Suzuki´s Loris Capirossi once the qualifying rubber went on the GSV-R.
1. 48 Jorge LORENZO SPA Fiat Yamaha Team YAMAHA 1'35.715 24 26 313.3
2. 2 Dani PEDROSA SPA Repsol Honda Team HONDA 1'35.948 26 27 0.233 0.233 312.93
3.. 46 Valentino ROSSI ITA Fiat Yamaha Team YAMAHA 1'36.199 22 27 0.484 0.251 312.
4. 69 Nicky HAYDEN USA Repsol Honda Team HONDA 1'36.266 24 28 0.551 0.067 311.15
5. Colin EDWARDS USA Tech 3 Yamaha YAMAHA 1'36.289 23 24 0.574 0.023 310.2
6. 52 James TOSELAND GBR Tech 3 Yamaha YAMAHA 1'36.790 17 21 1.075 0.501 307.3
7. 4 Andrea DOVIZIOSO ITA JiR Team Scot MotoGP HONDA 1'36.998 23 25 1.283 0.208 307.0
8. 14 Randy DE PUNIET FRA LCR Honda MotoGP HONDA 1'37.223 20 24 1.508 0.225 307.3
9. 1 Casey STONER AUS Ducati Marlboro Team DUCATI 1'37.253 23 24 1.538 0.030 317.4
10 21 John HOPKINS USA Kawasaki Racing Team KAWASAKI 1'37.346 24 26 1.631 0.093 310.4
11. 56 Shinya NAKANO JPN San Carlo Honda Gresini HONDA 1'37.664 24 28 1.949 0.318 308.1
12. 65 Loris CAPIROSSI ITA Rizla Suzuki MotoGP SUZUKI 1'37.786 13 22 2.071 0.122 311.6
13. 7 Chris VERMEULEN AUS Rizla Suzuki MotoGP SUZUKI 1'37.843 18 29 2.128 0.057 306.4
14 24 Toni ELIAS SPA Alice Team DUCATI 1'38.561 21 22 2.846 0.718 315.4
15. 13 Anthony WEST AUS Kawasaki Racing Team KAWASAKI 1'38.775 22 22 3.060 0.214 309.8
16 15 Alex DE ANGELIS RSM San Carlo Honda Gresini HONDA 1'38.823 17 23 3.108 0.048 302.0
17. 33 Marco MELANDRI ITA Ducati Marlboro Team DUCATI 1'39.115 21 25 3.400 0.292 316.7
18. 50 Sylvain GUINTOLI FRA Alice Team DUCATI 1'39.355 21 21 3.640 0.240 311.0
Lornzo (48) moves up on the inside of teammate Rossi (46) to take the race lead. Roossi would drop back to 3rd after being passed by Dani Pedrosa.
Lorenzo Takes Maiden MotoGP Victory in Estoril Thriller
Race Day, Sunday April 13th - In the realisation of a lifelong dream, Jorge Lorenzo took his maiden MotoGP victory in a thrilling bwin.com Grande Premio de Portugal. The Spaniard had an incredible race onboard his Fiat Yamaha M1, and now leads the World Championship after his phenomenal start to 2008.

Lorenzo achieved the `holy trinity´of pole position, fastest lap and race win at the circuit where he had never previously triumphed in the lower cylinder categories, joining 2005 race winner Alex Barros as the only rider to perform the feat in Estoril.
The rider level on points with Lorenzo in the standings – conceding leadership of the classification by virtue of the most recent result - Dani Pedrosa was again the main thorn in his arch rival´s side. The Repsol Honda rider took the holeshot at a packed first corner, but was swamped by fellow front row starters Lorenzo and Valentino Rossi. The trio had a fearsome battle in the opening stages, until Lorenzo passed both he and Rossi definitively and in rapid succession on lap thirteen.
Two laps later, Pedrosa made his push for second place, overtaking Rossi for the final time. He will now have his sights set on China, the scene of his own rookie victory back in 2006.
Five-time MotoGP World Champion Rossi took the second Fiat Yamaha machine to a podium finish, tyre manufacturer Bridgestone´s first ever rostrum at Estoril. His second consecutive podium also helps Fiat Yamaha to the lead in the team standings.
Behind the rostrum battle, fourth spot saw two crashes in quick succession from JiR Team Scot´s Andrea Dovizioso and Repsol Honda´s Nicky Hayden, leaving Colin Edwards to take the position onboard his pneumatic valve engine powered Tech 3 Yamaha.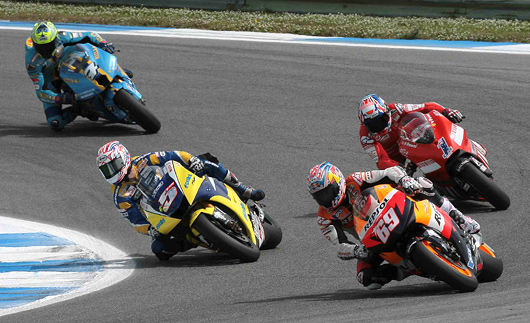 Nicky Hayden (69) was 4th at mid race before crashing out, here followed by Edwards (5), Stoner (1) and (7) Toseland.

John Hopkins had his best finish so far as a Kawasaki rider in fifth, ahead of reigning World Champion Casey Stoner. The Ducati Marlboro man experienced a string of problems in the race, which began with him swapping grid positions with Loris Capirossi after a sighting lap mix-up. He now lies fourth in the standings, ahead of today´s seventh place finisher James Toseland.
Rizla Suzuki´s Chris Vermeulen and Capirossi, alongside San Carlo Honda Gresini newcomer Shinya Nakano, completed the top ten.
Lorenzo plants his victory flg in the trackside gravel after posting his first MotoGP win.

Jorge Lorenzo – Race Winner "Jorge Lorenzo 1st - 45'53.089 - "I feel like I'm in heaven! First of all I have to say thank you to Yamaha and to Fiat because without their confidence in me I wouldn't be here now. I can't believe it and it's really impossible for me to describe my feelings, I'm so happy for everyone! My team did a fantastic job and my Yamaha and my Michelin tyres worked very, very well today.
The start of the race was quite crazy because there were some drops of rain and it looked like it might get worse. Anyway I just carried on and really I can't remember the details of exactly what happened…I remember making my pass on Valentino; I know it was quite a risk so I'm sorry to him but at that point I felt that I could make it and get away from him, so I took the chance and it worked.
I'm so proud of everyone, to be here after just three races and at the top of the championship as well is something that I could never have even dreamed of. We can't afford to relax now however because Pedrosa and Rossi are here as well and they are two very fast and clever riders. I had some pain again in my arms today so tonight we will make a decision about whether or not I will have the operation before China, but for now I'm just going to enjoy this moment!
Dani Pedrosa 2nd +1.817: "After our difficult pre-season it's good to be in this position now, so we are very happy. Today was a good race, the beginning was quite fun, but also a little dangerous because it was raining a bit. When the rain stopped, the pace got faster and faster, so we had to concentrate very hard to maintain tyre grip all the time. Eventually we finished second and we're happy. When Lorenzo started pulling away I still had to pass Rossi, then when I did pass Rossi, Lorenzo already had a gap. I tried to close the gap, or at least maintain it. Finally we got second and it's a good result."
Valentino Rossi 3rd +12.723 - "At the end of the day this isn't a bad result for us because we expected this to be quite a difficult track for us. My M1 worked well today; I got a good start and was able to stay at the front to begin with and have some fun. My Bridgestone tyres were working well but I was thinking about trying to conserve them as much as possible because I knew 28 laps was going to be hard. Unfortunately I couldn't stay with Lorenzo and Pedrosa in the later stages and I started to slide a little bit, but anyway to have two podiums in a row with Bridgestone is very important because we're still in the learning stages of our relationship. I think we've made another step forward this weekend and we have an important test tomorrow - I hope in China we will be able to fight for the win!"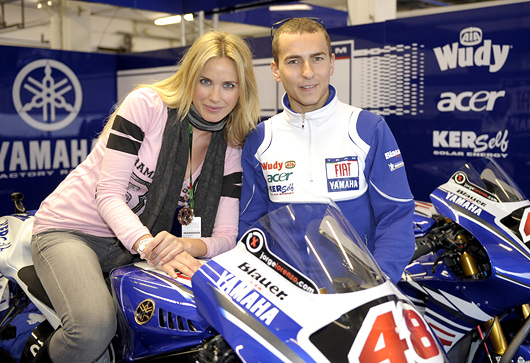 Jorge glams for the camera with Spanish actress Vanessa Romero. And of course, only FastDates.com goes behind the scenes to show you the real action in MotoGP and World Superbike - See Below!
Race Results MotoGP
Race Classification MotoGP : (28 laps = 117.096 km)
Pos/ Rider / Nat / Team / Motorcycle / Time/ KM/H / Gap
1 / Jorge LORENZO / SPA / Fiat Yamaha Team / YAMAHA / 45'53.089 / 153.117 /
2 / Dani PEDROSA / SPA / Repsol Honda Team / HONDA / 45'54.906 / 153.016 / 1.817
3 / Valentino ROSSI / ITA / Fiat Yamaha Team / YAMAHA / 46'05.812 / 152.412 / 12.723
4 / Colin EDWARDS / USA / Tech 3 Yamaha / YAMAHA / 46'10.312 / 152.165 / 17.223
5 / John HOPKINS / USA / Kawasaki Racing Team / KAWASAKI / 46'16.841 / 151.807 / 23.752
6 / Casey STONER / AUS / Ducati Marlboro Team / DUCATI / 46'19.777 / 151.647 / 26.688
7 / James TOSELAND / GBR / Tech 3 Yamaha / YAMAHA / 46'25.720 / 151.323 / 32.631
8 / Chris VERMEULEN / AUS / Rizla Suzuki MotoGP / SUZUKI / 46'29.471 / 151.120 / 36.382
9 / Loris CAPIROSSI / ITA / Rizla Suzuki MotoGP / SUZUKI / 46'31.357 / 151.018 / 38.268
10 / Shinya NAKANO / JPN / San Carlo Honda Gresini / HONDA / 46'32.565 / 150.952 / 39.476
11 / Alex DE ANGELIS / RSM / San Carlo Honda Gresini / HONDA / 46'54.395 / 149.781 / 1'01.306
12 / Toni ELIAS / SPA / Alice Team / DUCATI / 46'56.956 / 149.645 / 1'03.867
13 / Marco MELANDRI / ITA / Ducati Marlboro Team / DUCATI / 47'02.614 / 149.345 / 1'09.525
14 / Sylvain GUINTOLI / FRA / Alice Team / DUCATI / 47'02.723 / 149.340 / 1'09.634
15 / Randy DE PUNIET / FRA / LCR Honda MotoGP / HONDA / 47'04.631 / 149.239 / 1'11.542
Pole Position: Jorge LORENZO 1'35.715 157.291 Km/h
Fastest Lap (New record): Jorge LORENZO 1'37.404 154.564 Km/h Lap 18
Circuit Record Lap: Nicky HAYDEN 1'37.493 154.423 Km/h 2007
Circuit Best Lap: Jorge LORENZO 1'35.715 157.291 Km/h 2008
World Championship Positions:
1 LORENZO 61, 2 PEDROSA 61, 3 ROSSI 47, 4 STONER 40, 5 TOSELAND 29,
6 CAPIROSSI 26, 7 HOPKINS 24, 8 EDWARDS 22, 9 DOVIZIOSO 21, 10 HAYDEN 19,
11 NAKANO 16, 12 VERMEULEN 14, 13 MELANDRI 12, 14 DE PUNIET 8, 15 DE ANGELIS 7
Reigning World Superbike Champion James Toseland's Top Ten finishes in the first 3 MotoGP's this season have seen his contract with Tech 3 Yamaha extended for another year.
Bautista Tops 250cc GP Class
Alvaro Bautista opened his win account for 2008 with a runaway victory in the 250cc Portuguese showdown. The Mapfre Aspar rider was unstoppable from the opening lap, extending a huge gap over his rivals and repeating his triumph from 2007. The Spaniard now has three wins in as many years in Portugal, having also crossed the line first in the 2006 125cc race. He now climbs his way back up the quarter litre standings, following disappointment in Qatar and Jerez.
The rider who collided with Bautista on the final lap in previous round -Metis Gilera´s Marco Simoncelli- was once again the closest man to the Spaniard, albeit this time some seven seconds behind. Taking both his and Gilera´s first podium in the 250cc class, Simoncelli was once again involved in a controversial incident in the final stages of the race. He was chased down by Red Bull KTM rider and new World Championship leader Mika Kallio, who came close to impacting with the Italian in the dash for the line.
Once calmed down after flashing a few heated gestures in Simoncelli´s direction, Kallio will have the comfort of a twelve point lead in the class spurring him on. He continued his impressive run of podium finishes which, combined with a retirement from previous leader Mattia Pasini, puts him in an enviable position in the classification.
After a late push through the field, Thomas Luthi took fourth place for the Emmi-Caffe Latte Aprilia team, ahead of Red Bull KTM´s Hiroshi Aoyama and JiR Team Scot´s Yuki Takahashi. Julian Simon, Hector Barbera and Hector Faubel added to the Spanish top ten contingent, joined by Czech rider Lukas Pesek.
Polaris World rider Pasini crashed not once but twice in the quarter litre race; the Italian fell for the first time when battling with Hiroshi Aoyama for third and, after picking himself and his Aprilia back up, took another tumble when he discovered that his brakes had been damaged in the previous incident.
250cc Race Classification: (26 laps = 108.732 km)
Pos / Rider / Nat / Team / Motorcycle / Time / KM/H / Gap
1 / Alvaro BAUTISTA / SPA / Mapfre Aspar Team / APRILIA / 44'34.257 / 146.371 /
2 / Marco SIMONCELLI / ITA / Metis Gilera / GILERA / 44'41.307 / 145.986 / 7.050
3 / Mika KALLIO / FIN / Red Bull KTM 250 / KTM / 44'41.320 / 145.986 / 7.063
4 / Thomas LUTHI / SWI / Emmi - Caffe Latte / APRILIA / 44'47.255 / 145.663 / 12.998
5 / Hiroshi AOYAMA / JPN / Red Bull KTM 250 / KTM / 44'48.923 / 145.573 / 14.666
6 / Yuki TAKAHASHI / JPN / JiR Team Scot 250 / HONDA / 44'52.755 / 145.366 / 18.498
7 / Julian SIMON / SPA / Repsol KTM 250cc / KTM / 45'01.069 / 144.918 / 26.812
8 / Hector BARBERA / SPA / Team Toth Aprilia / APRILIA / 45'02.269 / 144.854 / 28.012
9 / Hector FAUBEL / SPA / Mapfre Aspar Team / APRILIA / 45'02.545 / 144.839 / 28.288
10 / Lukas PESEK / CZE / Auto Kelly - CP / APRILIA / 45'11.223 / 144.375 / 36.966
11 / Aleix ESPARGARO / SPA / Lotus Aprilia / APRILIA / 45'12.553 / 144.305 / 38.296
12 / Alex BALDOLINI / ITA / Matteoni Racing / APRILIA / 45'26.327 / 143.576 / 52.070
13 / Ratthapark WILAIROT / THA / Thai Honda PTT SAG / HONDA / 45'47.560 / 142.466 / 1'13.303
14 / Federico SANDI / ITA / Zongshen Team of China / APRILIA / 45'51.849 / 142.244 / 1'17.592
15 / Eugene LAVERTY / IRL / Blusens Aprilia / APRILIA / 45'55.620 / 142.049 / 1'21.363
Pole Position: Marco SIMONCELLI 1'40.257 150.166 Km/h
Fastest Lap: Alvaro BAUTISTA 1'41.425 148.436 Km/h Lap 8
Circuit Record Lap: Alvaro BAUTISTA 1'40.521 149.771 Km/h 2007
Circuit Best Lap: Marco SIMONCELLI 1'40.257 150.166 Km/h 2008
World Championship Positions:
1 KALLIO 57, 2 PASINI 45, 3 BARBERA 39, 4 TAKAHASHI 37, 5 BAUTISTA 35, 6 AOYAMA 24,
7 DEBON 23, 8 SIMON 23, 9 SIMONCELLI 20, 10 ESPARGARO 19, 11 LOCATELLI 16,
12 LUTHI 14, 13 FAUBEL 13, 14 ABRAHAM 12, 15 PESEK 12.
---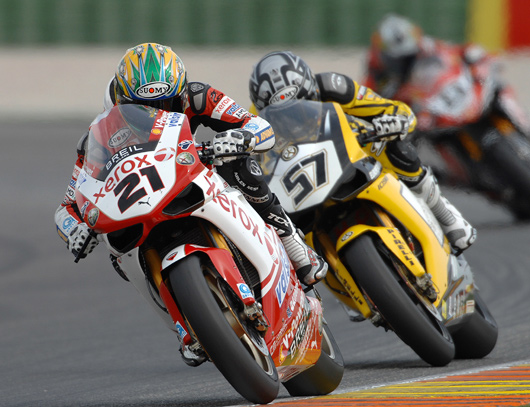 Factory Ducati rider Bayliss on the 1098F08 fights to hold off Lorenzo Lani on the privater Team RG 1098RS.
2008 SBK World World Championship / Valencia Spain
Exciting Race Wins for Lanzi and Haga at Valencia
April 6th, 2008, Valencia Spain - Lorenzo Lanzi (RG Ducati) and Noriyuki Haga (Yamaha Motor Italia WSB) took the wins in a spectacular day of action at Valencia in front of 60,000 spectators, a record attendance for World Superbikes at the Spanish circuit.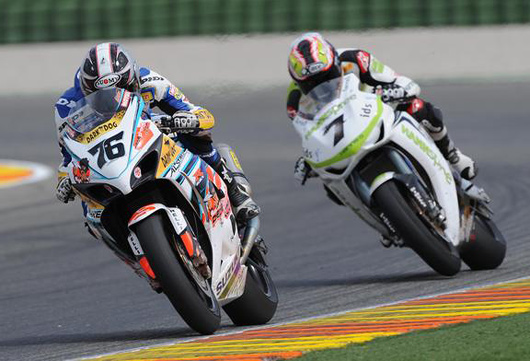 Carlos Checa (7) quickly closes on race leader Max (76) as they head out of the next-to-last turn down to the final corner where Checa will takes them both out.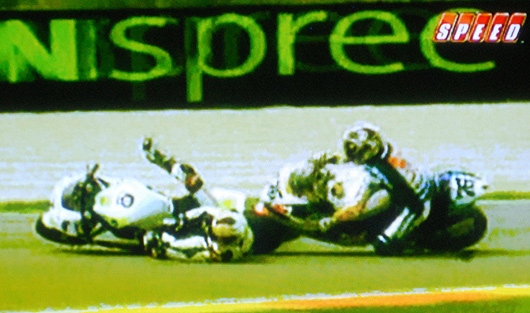 Above: Carlso Checa is down in front Max after going into the last corner too fast in his only chance effort to pass and looses his front whee, slides out and takes out Max's front wheel as well.
Below: Carlos is in front of Max's Suzuki and not readily visible, while Max goes into a head stand and breaks his collarbone right about now.
Lanzi Handed Race One Win as Checa Takes Out Neukirchner in Last Corner
Valencia Race One, Sept 6th - Carlos Checa (HANNspree Ten Kate Honda) and Max Neukirchner (PepePhon.com Suzuki Alstare) were the top contenders of Race One. Poor Max led every lap of the race from his well earned pole position, setting his sights on his first World Superbike win on the Francis Bata Alstare Suzuki (newly sponsored by the Spanish phone company PepePhone.com with 1500 of the companies employees in the trackside hospitality are to cheer him on). The track offered very little traction to cold tires on the open laps and a number of ridrs went down when they lost their front ends including Noriuki Haga, Ruben Xaus and Max Biaggi (Sterilgarda Go Eleven Ducati) who remounted but finished out of the points in sixteenth place.
Complete Valencia World Superbike Coverage Here
---
2-Day Calendar Girl Music Festival to Rock the
LA Calendar Motorcycle Show Weekend July 12-13th 2008
I'ts the biggest showcase of talented female singers since Sarah McLaughlin produced the Lilithfair tour back in the summer of 1998. Join us for the incredible performance lineup at the 2-Day Calendar Girl Music Festival July 12-13th 2008 at the Queen Mary Event Park on the shore of the beautiful Pacific Ocean in Long Beach Harbor, CA, featuring some of the world's most beautiful and talented female singers and girl bands. The Music Festival is part of, and included with admission to the 17th annual LA Calendar Motorcycle Show Weekend, America's premier custom, performace, cruiser and sportbike event.
The all female Calendar Girl Muisc Festival headlines with contemporary pop rock singer sonwriter and recording artists Kari Kimmel on Sunday and actress Elizabeth Nicole on Saturday, two of the most talented and skilled singer songwriters we've ever come across. Comparisons to legends like Carol King, Joni Mitchel, and Carly Simon, to more current artists like Avril Lavigne and Natasha Bedingfield almost fall short when describing the vocal and songwringing skills of both Kari and Elizabeth, who also happen to be drop dead georgeous to fit perfectly the theme of the Calendar Girl Music Festival and the world premier of the new 2009 FastDates.com Motorcycle PinUp Calendars
Kari Kimmel has written and recorded songs for numerous Hollwood movies including Disney's Ella Enchanted and the Wayan Brother's White Chicks, and TV shows Gimore Girls, Laguna Beach, the Bold and the Beautiful. She was originally signed with Virgin records a few years ago and they helped produce her first album A Day in the Life, but just before its release the music market took a down turn and Kari has since made the album available on her own on her website Kari Kimmel.com and her MySpace page. Kari also plays keyboards and guitar, has a style reminisant of her mentor Carol King, and another singer songwriter we like Vonda Shepard. Listen in at MySpace.com/KariKimmel
Elizabeth Nicole, just turned 20, got her start as a 10 year old child actor on TV soaps like Port Charles and 7th Heaven. Later In high school she turned her attention to music writing, singing and playing on keyboards some very sexy pop rock ballads in a style uniquely her own. We first came across Elizabeth and her incredible musical talent on her MySpace.com page about a year ago, hooked up with her as she performed at a couple of small venues around Los Angeles where she totally blew us away in person with her multi musical talents. We just had to have her a our Show before she became to famous. You can buy and download her full album of original songs on her MySpace page - MySpace.com/ElizabethNicole

Ironically since graduating high school, Elizabeth has been leading a double life and has also been adding Hollywood movie actress to her resume. She currently appears as a backup singer in the current hit comedy Walk Hard - The Dewey Cox Story. Has just completed co-staring and singing in the feature musical scene teen drama - All Ages Night, and in the drama thriller Cornered! with Steve Guttenberg.
This is a once in a lifetime opportunity to see and meet Kari and Elizabeth in person as they headline and perform exclusively for the Music Festival their longest extended full band sets ever. These two highly talented and attractive singer songwriters on the verge of breaking out, big time!
Included with the weekend's bill on the main stage are pop rockers Taxi Driver with lead singer Dhana. While Classic rock fans will have more than their fix of heavy metal as the all-girl tribute bands Whole Lotta Rosies - AC/DC, and Moby Chick - Lead Zeplin, will leave blue collar baby boomers weak in the knees. And if that's not enough sexy girls to rock your world, The Purrfect Angelz musical dance troupe, a favorite of our U.S. Military Troops in the Middel East and at Bike Events across America, will be shaking, kicking and dancing their scantly clad bodies both days.
Tickets for the Show Weekend are available on Tickemaster, with Walk-Up Salesalso available at the Main Gate on the Show Weekend. For additional LA Calendar Motorcycle Show & Calendar Girl Music Festival weekend details including the show schedules, hotels and parking information visit Bike Show
---
Spring Time in World Superbike....
This month's April page in the 2008 Fast Dates Calendar has us dreaming of springtime and sportbike riding as beautiful World Superbike Fast Dates Calendar Kitten Katie hikes up her skirt alongside Chris " The Stalker" Walker's bright green PSG-1 Kawasaki factory superbike shot at Brands Hatch World Superbike in August. Are you ready to go for a ride? Quite a different weather change from the British Superbike Championship opening round this weekend April 6th 2008 at Brands which was snowed out!
Buy the 2008 Fast Dates Calendar • Download Big Screensaver Photos in Members Corner
---
Ducati 1098R 08 Adjustabe Steering Head Update
4/15/08 - Ducati Corse has confirmed exclusively to FastDates.com, that the stock steering head internal assembly on the 1098R 08 production Superbike is to designed be pulled out, turned 180 degrees, and then put back into the frame to change the "as delivered" steering head angle from 24.5 to 23.5 degrees.
Available only with the 1098R model's frame (and not the 1098, 1098S, 848), this provides the adjustable 24.5 to 23.5 degrees steering head angle offered on all previous generation 916-999 Ducati Superbike models. However it now requires much more more disassembly and work than the previous externally adjusted toothed cam adjuster. The top triple clamp, the steering damper needs to be removed, the front end of the bike elevated off the ground, and possibly the front forks removed. But the advantage of this new design for a racebike is it allows for use of many other steering angles and offset from center for a plethora of handling adjustments. But at a price of around $750 for each different steering head spacer, no one but Team Ducati is going to be playing with these for different track and rider setups. (See optional part numbers, below)
This is in contradiction to the factory Ducati, World and USA, press launches of the 1098R where the sportbike print publications were eroniously told the steering was fixed and non adjustable at 24.5 degrees and reported as such in Cycle News, Roadracing World, Robb Report Motorcycling, Sport Rider, Motorcyclist and Cycle World, et all. But since most motojurnalists don't own, nor are not really familiar with Ducati Superbikes, they just don't know what works for a Ducati Superbike, and take the published press materials as the word of god.
The Ducati Corse factory Superbike team has always run their bikes at the 23.5 degrees steering head angle, as this is the best setting for quick handling, maneuverability, safety and lap times.And that all the Japanese production superbikes GSXR, CBR, R1, ZX all come fixed at 23.5 degrees to confirm this as the ideal best setting for a superbike. As well as do most MotoGP bikes including the World Championship winning Ducati GP07.
So despite all the glowing press launch reports that the 1098R was an incredibly handling bike, in a controlled press launch environment with no other bikes to compare it to, it might have seemed that way. Plus, there is the kiss-ass factor as you might suspect, and no journalist wants to give a poor review at a new bike lauch that will piss off the manufacturer, have their advertsing pulled pulled from the magazine, and get them blacklisted from future new bike launches as this does happen.
But as a long time Ducati Superbike owner, racer, suspension engineer and moto journalist, I can tell you that all the Ducati Superbike models do not handle very responsively at the stock setting of 24.5 degrees.
We assume Ducati Superbikes are delivered this was for the safety of inexperienced riders on the track. But even then, all other Ducati production street bikes have their steering head angles fixed midway at a quicker 24.0 degrees.
But if the test launch 1098R bikes could have had their steering head angles reset to the ideal 23.5 degree angle, it would have handled even better. Below, direct from our inside sources at the Ducati Corse Rcing Department are the avaialbe stock and optional steerhing head parts for changing the production 1098R's steering angle. - Jim Gianatsis, Editor and Owner Owner: Ducati 916, 996R, 999R, 1098R
Ducati Corse Stock and Optional 1098R Steering Head Components
Part No.

Description

Notes

34310151A

STEERING ANGLE 24° CENTERED

Spacer Only

34310161A

STEERING ANGLE 23,5 OFFSET +5 or 24,5° OFFSET -5

Spacer Only

34310171A

STEERING ANGLE 24° CENTERED OFFSET ±5

Spacer Only

34310191A

STEERING ANGLE 24,5° OFFSET +5 or 23,5° OFFSET -5

Stock, Complete Assy
w/ Bearings

34310201A

STEERING ANGLE 23° CENTERED or 25°

Spacer Only

34310221A

STEERING ANGLE 25° OFFSET -2.5 or 23° OFFSET +2.5

Spacer Only
---
There's more! Go to Pit Lane News NEXT PAGE

Hot Calendar Girl and Bike News! Go to: Fast Dates • Calendar Girls • Iron & Lace

Calendar Kittens, The Paddock Garage, Screensavers, Iron & Lace Garage




Many of our Calendar Kittens can also be seen at Playboy's website...


BikerKiss.com - the largest biker personals site!